Recently we have conducted a study in which we tried to uncover the influence of link placement in LinkedIn's engagement.
Now we continue our journey and extend this research into another platform that is massively populated with links - the almighty Facebook.
There are many places on the internet where marketers often ask where they should place different links in their brand's Facebook posts in order to generate the maximum Facebook engagement possible - inside the actual posts' copy or in the first comment?
This is the question the analysis of 51,054,216 Facebook posts tries to answer, as the findings of this social media study, conducted also in partnership with Lightspan Digital, a digital marketing agency based in Chicago, will reveal reading further.
How does link placement influence Facebook engagement?
A. Summary
Here's a sneak peek of what this study will show:

How the Facebook engagement is influenced by a link placement: how do posts with or without links and posts with a link in the first comment perform?


How many brands post links in the first comment of a Facebook post?


What's the most engaging type of post, with or without a link insertion?
B. Key findings
Here's what we learned after analyzing 51,054,216 Facebook posts from a total of 172,338 Facebook business pages:
Adding a link to a Facebook post reduces the engagement potential by half.


Albums are the most engaging type of post on Facebook.


Brands don't have the habit of placing links in the first comment on Facebook.
1. Facebook posts without links receive double the engagement
The tactic of placing links in social media posts is, of course, meant to drive traffic to a brand's website.
Depending on your type of business, or, put in other words, if you're a b2b or a b2c company you may favor a certain social media platform.
Either we're talking about LinkedIn, Facebook, and probably other social media platforms too, it seems that placing links in the social media posts will lower the engagement level of those posts.
But this is not much of a surprise, given the fact that any platform wants to retain the users as long as possible, this being quite the opposite of what social posts with links intend to do.
And for that, social posts with links are somehow penalized by the social network's algorithms, receiving a lower engagement.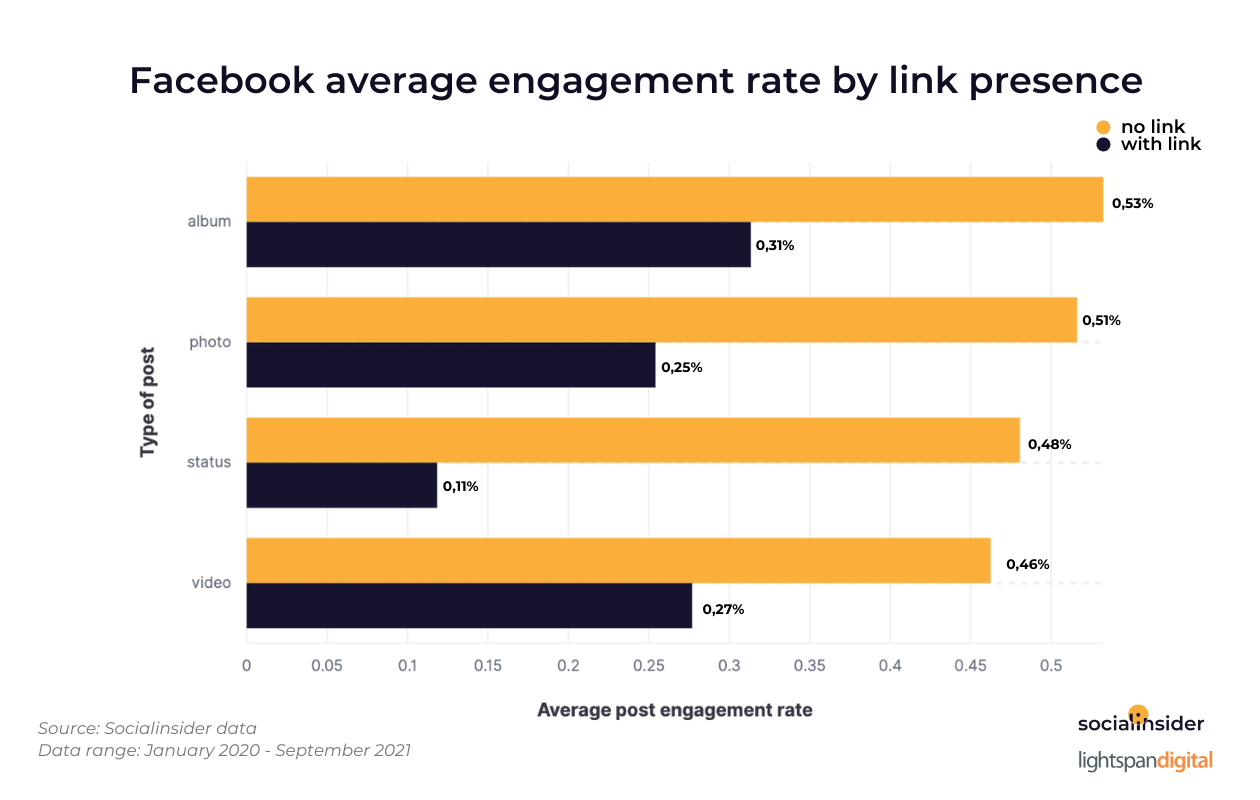 Facebook is a great social media platform that can help you drive traffic to your website. For example, did you know video content has an average click-through rate of 7,97%?
Regardless of this, the album type of post, in both cases, of having or not having a link inserted, remains the one with the greatest engagement on Facebook.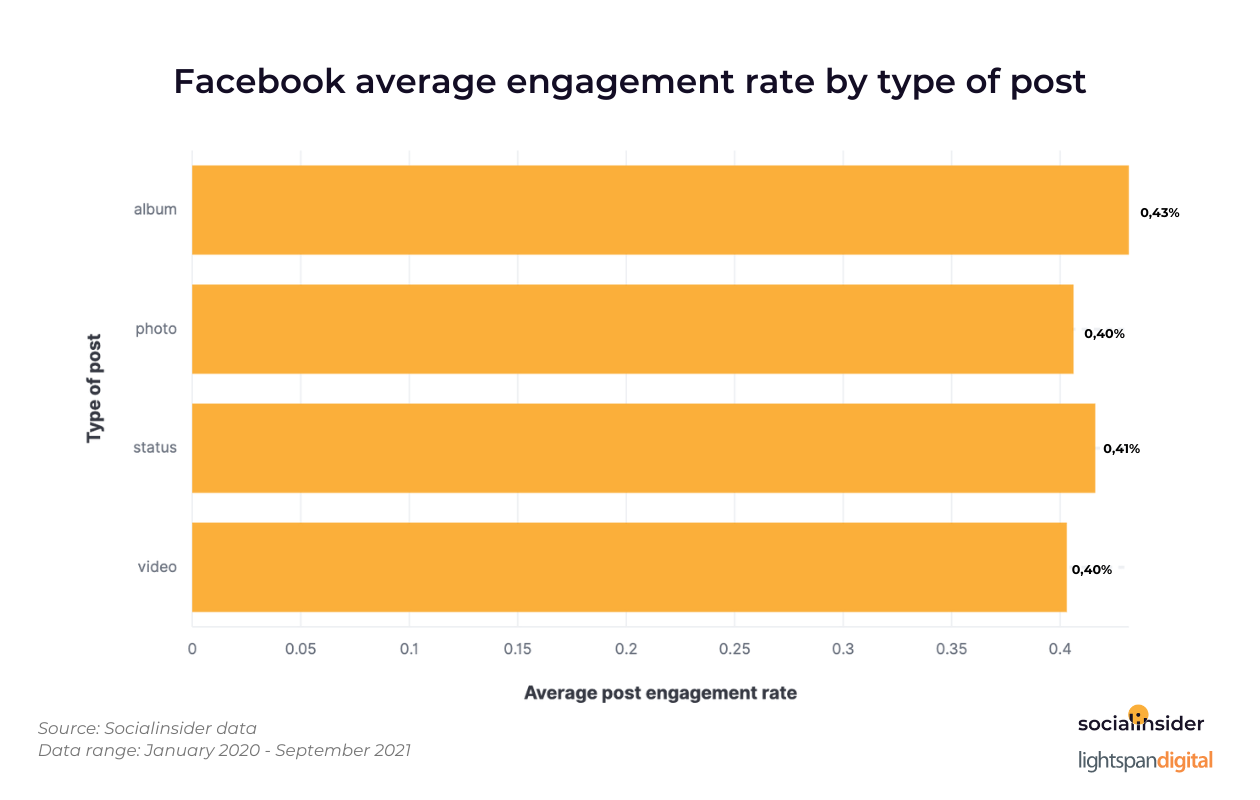 However, when you're defining your business goals, as well as your social media goals for the year, or the quarter, you must consider that Facebook posts with no links gain double the engagement of Facebook posts that have link insertions.
NOTE: If you're still creating status posts on Facebook, remember that placing links can downgrade your engagement from an average of 0,48% to an average of 0,11%.
2. Placing links in the first comment on Facebook is not a common tactic for brands
A tactic that is thought to trick the social algorithms and help social media managers  increase their social engagement once and for all is placing the link related to a certain post in the first comment.
However, this technique is mostly seen in the case of individual pages.
As for Facebook business pages, 99,76% of them don't have the habit of placing a link in the first comment of a Facebook post.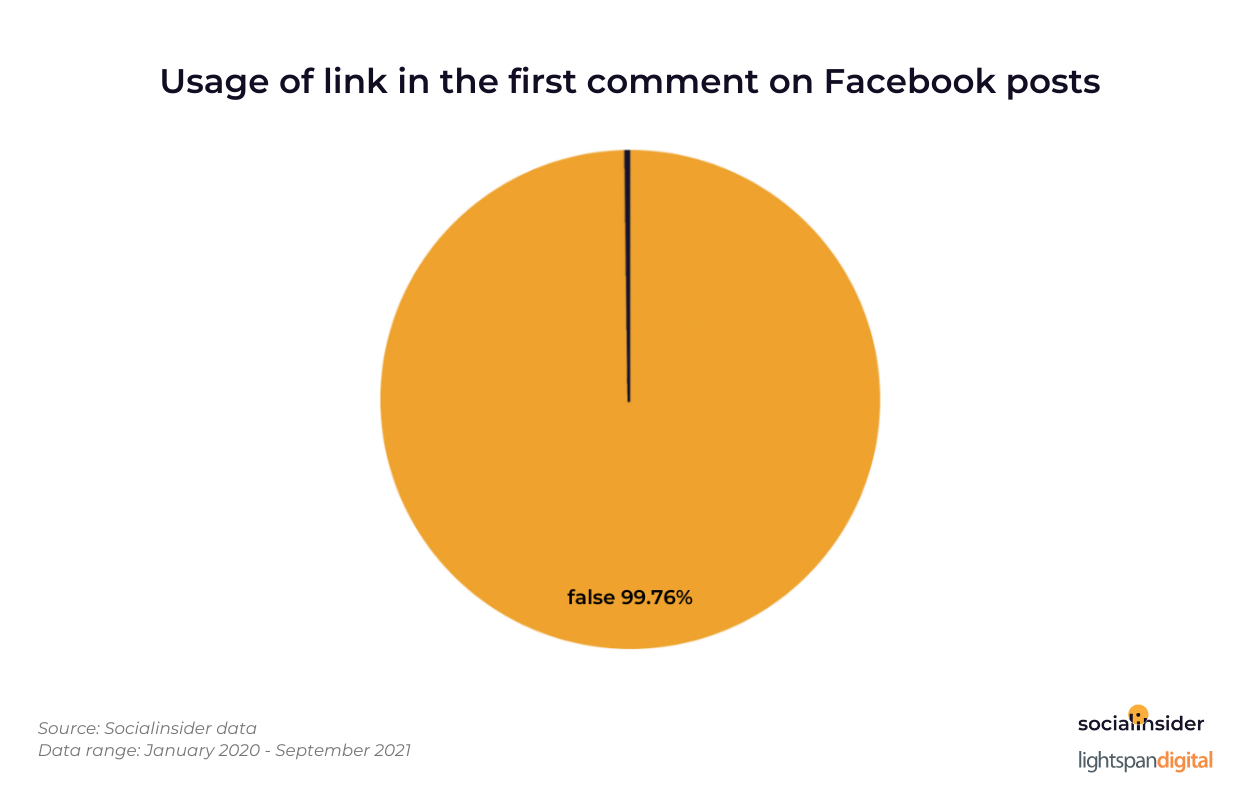 One of the reasons brands may be reluctant about placing a link in the first comment of a Facebook post can be the concern of looking unprofessional by not delivering all the information in one place and nicely packed to the Facebook users.
Besides, when scrolling down, in the mobile format, the comments are not always directly displayed, so there's a fair chance for the link to not get noticed, therefore missing a potential conversion for a brand.
By considering that 98,5% of the Facebook users are using the platform through mobile devices, that would imply to risk losing a great deal of money, which is surely something that brands can't afford.
C. Methodology
To have a clear and sustained conclusion regarding the matter of link placement in Facebook posts and their influence over the engagement, we analyzed 51,054,216 Facebook posts from a total of 172,338 Facebook business pages published between January 2020 and September 2021.
We define engagement as the sum of interactions gained by a Facebook business page - which covers likes (reactions too), comments, and shares.
The average engagement rate per post (by followers) measures the level of interactions an account has through the content published, divided by the number of followers, and multiplied by 100.