Despite being the newest social media platform, TikTok is the most engaging channel of the moment, having an average engagement rate of 5.96%, according to our social media industry benchmarks study.

Even though most social media managers are reluctant to use TikTok, as per Social Media Examiner's Industry Report, there is no denying that this platform yields excellent marketing benefits.

If you are one of the adventurous ones and have already started experimenting with TikTok marketing, you should know by now the importance of running a TikTok audit.

A TikTok audit helps you review your business' overall activity and metrics to assess growth. It's the first step when determining whether you're meeting your business goals.

In this guide, we'll go over a TikTok audit, the main benefits, and a TikTok audit checklist to help you get the best of your marketing benefits.

Let's begin!
How to run a TikTok audit?
1. What is a TikTok audit?
A social media audit is the first step to understanding how your business can best interact with its customers on social networks.

You'll learn what content works best for your audience and what content can be improved or removed from your strategy by doing a social media audit.

Like carrying out an Instagram audit or any other audit, a TikTok audit will help you meet your marketing goals.

If you have a TikTok business account just for fun, but you're not constantly auditing it, your marketing efforts and resources will be in vain.

By running a TikTok audit, you'll get valuable insights into how your brand is performing, and you will confirm that you're moving in the right direction.

Don't get alarmed if your first TikTok audit results aren't positive.
You'll get to decide if you'll focus your budget and resources elsewhere or if your content strategy needs an improvement.
2. Benefits of conducting a TikTok audit
Constantly analyzing your content strategies will provide you with plenty of benefits.
By doing a TikTok audit, you'll be able to:
find what is the most liked, commented, and shared content on your TikTok profile - improve your least-performing content;

review your TikTok strategy - you might be surprised by old ideas that worked better than new ones or vice versa;

determine if there are TikTok videos that no longer comply with your strategy, tone of voice, or brand values;

get rid of fake followers - remember it's about quality, not quantity.
3. Pillars to cover when doing a TikTok audit
Now that you've decided a TikTok audit is what your account needs, it's time to see what pillars you'll have to check.

We've put together this step-by-step guide for your TikTok audit, which can be repeated every time you want to analyze your performance.
3.1. Set your TikTok goals
If you're a social media manager who has worked in this field for a while, you should know that setting clear goals from the beginning is the first step of every marketing process.
If you want to conduct a TikTok audit, you should start by asking yourself a few questions, such as:
Do I want to increase brand awareness through TikTok?

Do I want to grow my audience on TikTok?

Do I want to be perceived as an expert on my niche on TikTok?

Do I want to sell my products/services on TikTok?
You probably already have set some specific business and marketing goals, and your objectives for being on TikTok should align with those.

The reason for establishing clear goals from the very start of your TikTok audit is that all your marketing efforts (budgets, resources, time, etc.) need to be motivated by what you want to achieve.

If by the end of your TikTok audit, you'll conclude that your TikTok marketing efforts are not sustainable, you should probably change your focus elsewhere.
3.2. Audit your TikTok profile
As a highly visual social media platform, first impressions matter more than you think on TikTok.

The second step in your TikTok audit process should be to examine your TikTok profile.
This includes checking your profile picture, bio, CTA, and the overall look of your account.

Let's take one of them at a time.
Start by looking at your profile picture. If your photo is old and no longer matches your visual identity, you should probably update it.

Your profile picture should showcase what your brand does, according to Rachel Pederson, social media strategist and TikTok expert.
It needs to be clear, of high quality and related to your domain of activity.

If you run a TikTok business account, a good profile picture idea is to add your logo.
Like any other social media profile details, you can and should add a bio to your TikTok business account.

TikTok bios are your first and best chance to introduce your business to potential new users.

If a user likes one of your TikTok videos and goes to your profile to watch more of your content, your bio is the first thing they see.

Updating your bio as part of your TikTok audit is crucial as it's your chance to convince users to follow and engage with your account.
You have an 80-character limit to complete your TikTok bio, but you can still create a compelling one by adding emojis and including as many relevant keywords as possible.
Another critical step of auditing your TikTok profile is to include a strong call-to-action (also known as the CTA).

A well-put-together CTA will tell your visitors what to do next if they want to engage with your account.

For example, you could direct your visitors to a blog page, your website, other social media channels, or the podcast you're hosting.
TikTok allows users to add only one link to their bios, so you only have one chance to add the most helpful resources.

Adding a link to your TikTok bio will increase your chances of driving traffic outside the platform to your website.
There are many tools available to help you optimize the TikTok URL from the bio, such as Linkin.bio for TikTok.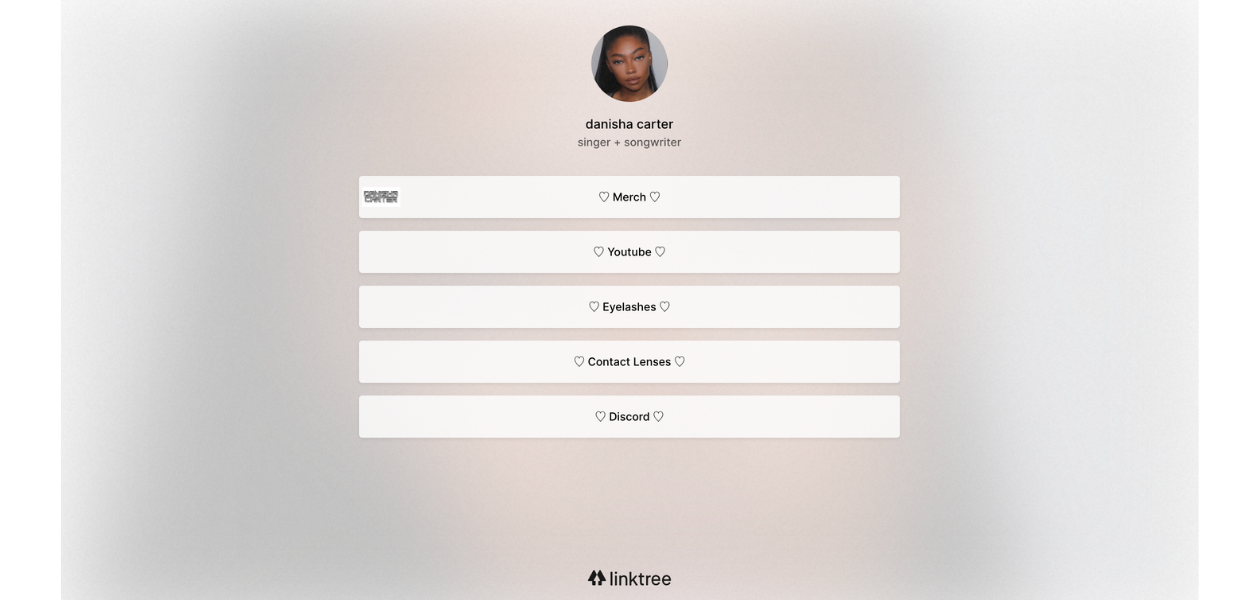 3.3. Do a TikTok content audit
Once you've updated your profile details, it's time to perform a thorough TikTok content audit to determine your top-performing videos and if they align with the goals you've set previously.

One thing you should do is to look at the overall aspect of your TikTok videos.
The content you create should convey specific imagery in-line with your business's visual identity.

Of course, this doesn't mean you should only film videos from the same angle or with the same background. But keeping a particular aesthetic denotes professionalism.

Then, analyze the frequency of your posting. Remember that consistency is vital.

If you haven't posted in a while, it's time to step up your game. If you don't have a regular schedule and only upload content once in a bit, you should create a content calendar and stick with it.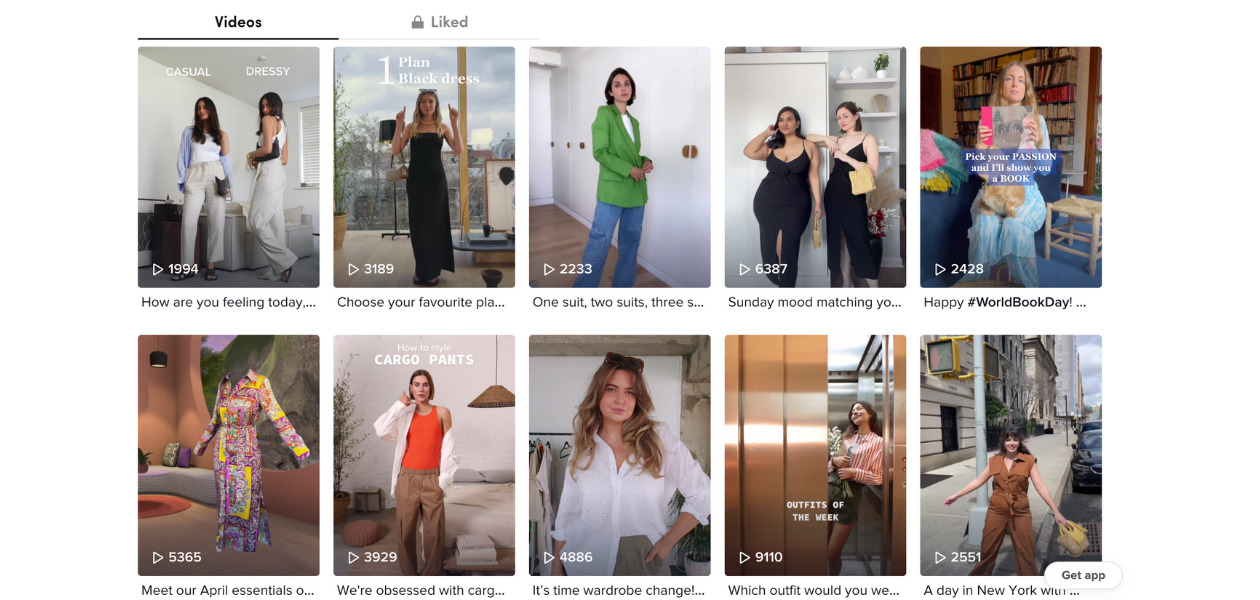 After you've audited the more general aspects of your TikTok content, you need to get into more nitty-gritty aspects and analyze your TikTok strategy.

You can do this phase of your TikTok audit by accessing basic metrics from the analytics dashboard, or if you want to get more in-depth, you can use a third-party TikTok analytics tool.

By analyzing TikTok metrics, you'll get insights into your engagement rates, impressions, audience, and much more.
📌 FYI: You can improve your content performance and measure the success of your TikTok campaigns with Socialinsider! Sign up today to get a 14-day free trial!
And last but not least, take a look at your top-performing TikTok videos. You'll know what kind of content works best for your audience and what content needs improvement.
3.4. Check your TikTok engagement stats
I've already mentioned the importance of analyzing your TikTok content performance. And what better way to do so than by looking at your engagement stats?

Engagement metrics are probably social media managers' go-to stats when determining the success of their social media efforts.

TikTok engagement rates help you measure how people are interacting with your content.
You can access engagement metrics from the native app, but you'll only have access to stats for the last seven, 28, or 60 days.

In Socialinsider, you'll be provided with average engagement rates per profile or post, and you'll also see your engagement evolution over a customized date range.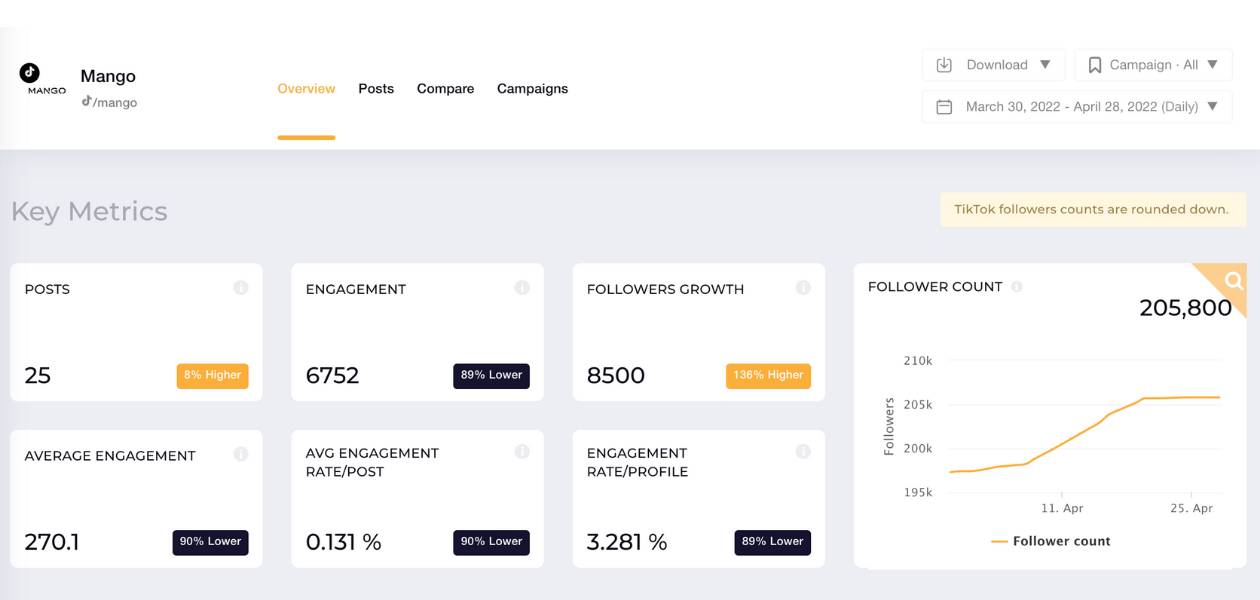 3.5. Perform a TikTok hashtag audit
Hashtags are key to every successful TikTok account.

Users regularly search for topics of interest in the search bar, so it's essential to use hashtags as part of your TikTok strategy, but use them effectively.

Many trends and challenges are created around specific TikTok hashtags, so you can even create a customized hashtag for your business, making it easier to group all your campaigns.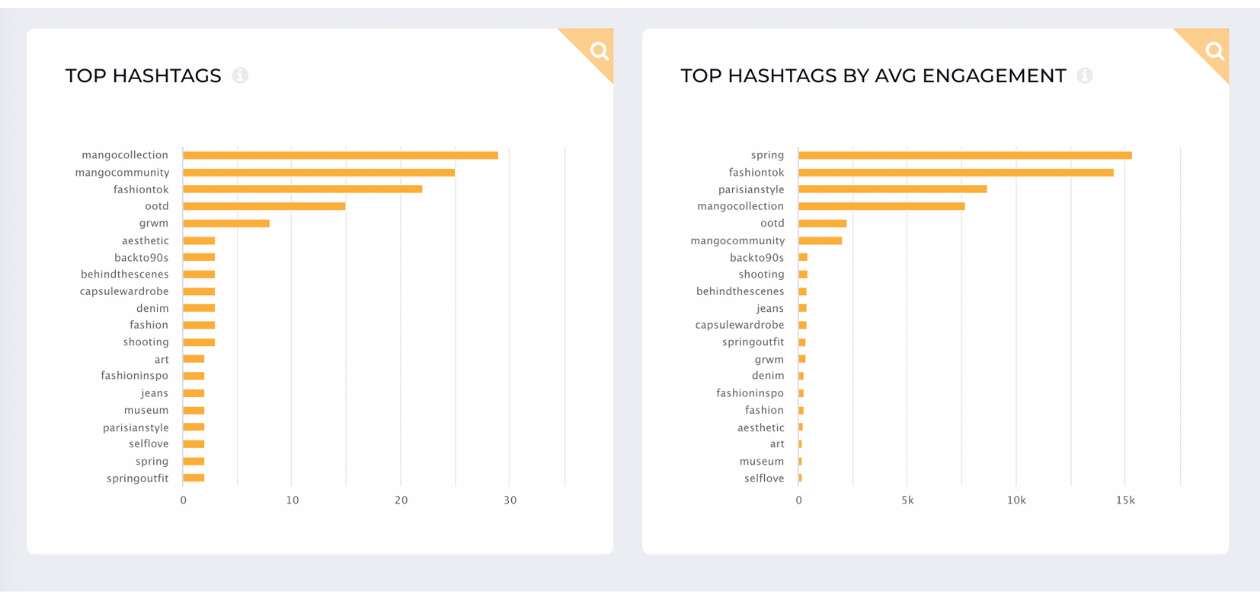 However, using hashtags just for their sake won't benefit you greatly.

By doing a TikTok hashtag audit, you'll see which hashtags have potential and which haven't, and you can also find inspiration for future hashtags by analyzing your competitors.
3.6. Audit your TikTok followers
Auditing your followers is one of the most important pillars of your TikTok audit.

By analyzing your following base, you'll get information about their main interests, demographic, and education, and suddenly, your content creator job will be much easier.

The Follower tab from the TikTok analytics dashboard provides insights about your audience's gender, geographical distribution, and when they're most active online.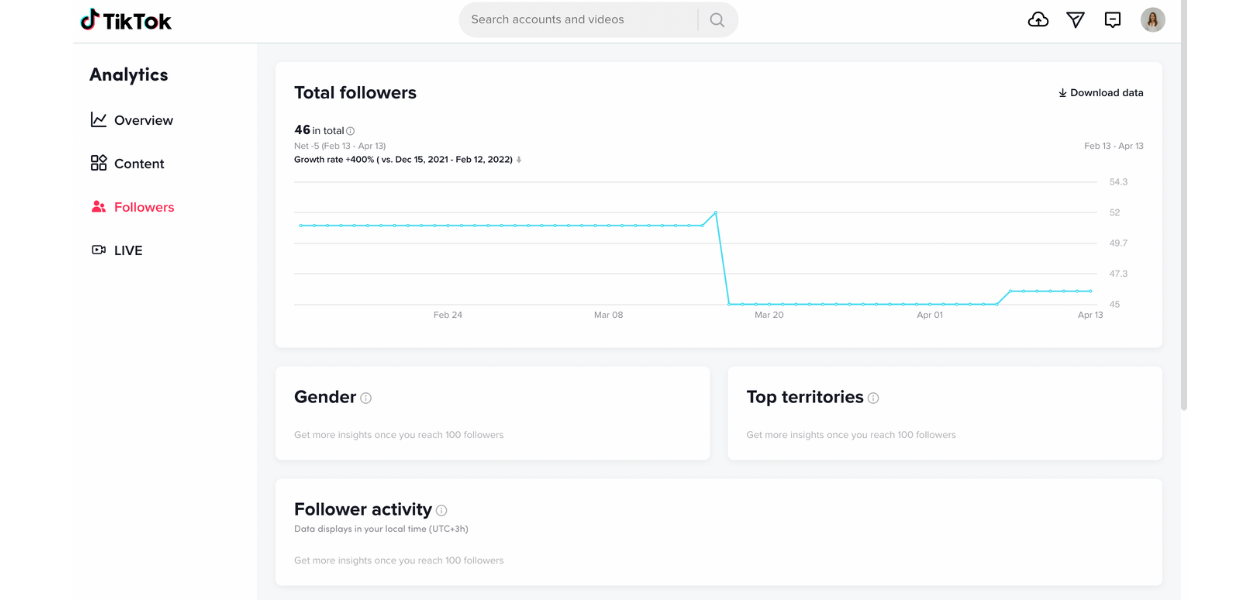 The next thing to do is to assess the quality of your followers and make sure they're not fake.

While big numbers look great on paper, it's no point in having an extensive following base if most of them aren't real people who can engage with the content you publish.

There are a lot of TikTok audit tools on the market to help you out.

HypeAuditor, for instance, offers free TikTok audit reports. All you have to do is enter your account name in the toolbar, and you'll receive a score.

The higher the score, the more chances are your followers are real.
Final thoughts
Conducting a TikTok audit may sound complicated at first, but you must do it at least once per quarter if you want your marketing efforts to be worth it.

Hopefully, this step-by-step guide gave you all the reasons to start doing your TikTok audits and amaze your audience with optimized content.

Remember to save your results and track them over time because a TikTok audit is not a one-time-only process.

Are you ready to see which pillars of your TikTok page need improvement?