Building a social media presence for your brand on Instagram definitely increases your chances of success and improves your ROI.
Instagram is one of the most popular social media platforms, with over 1.20 billion users worldwide. Your chances of getting noticed will increase if you promote your products and services on Instagram.
However, being a marketer who takes care of promoting a brand on all social media platforms can be a challenge.
To ease your work and periodically assess your results, you need to perform an Instagram audit. This evaluation helps you establish what you did right in your campaign and what changes you have to implement.
Let's learn together everything there is to know about Instagram audit.
Audit your Instagram content
1. What is an Instagram audit and why is it useful
An Instagram audit will help you find out whether your posts, stories, videos and Reels help you propel your brand's values and voice into your industry.
The mission of your Instagram content is to attain your brand's objectives. An Instagram audit will help you learn more about your campaign's performance on this platform.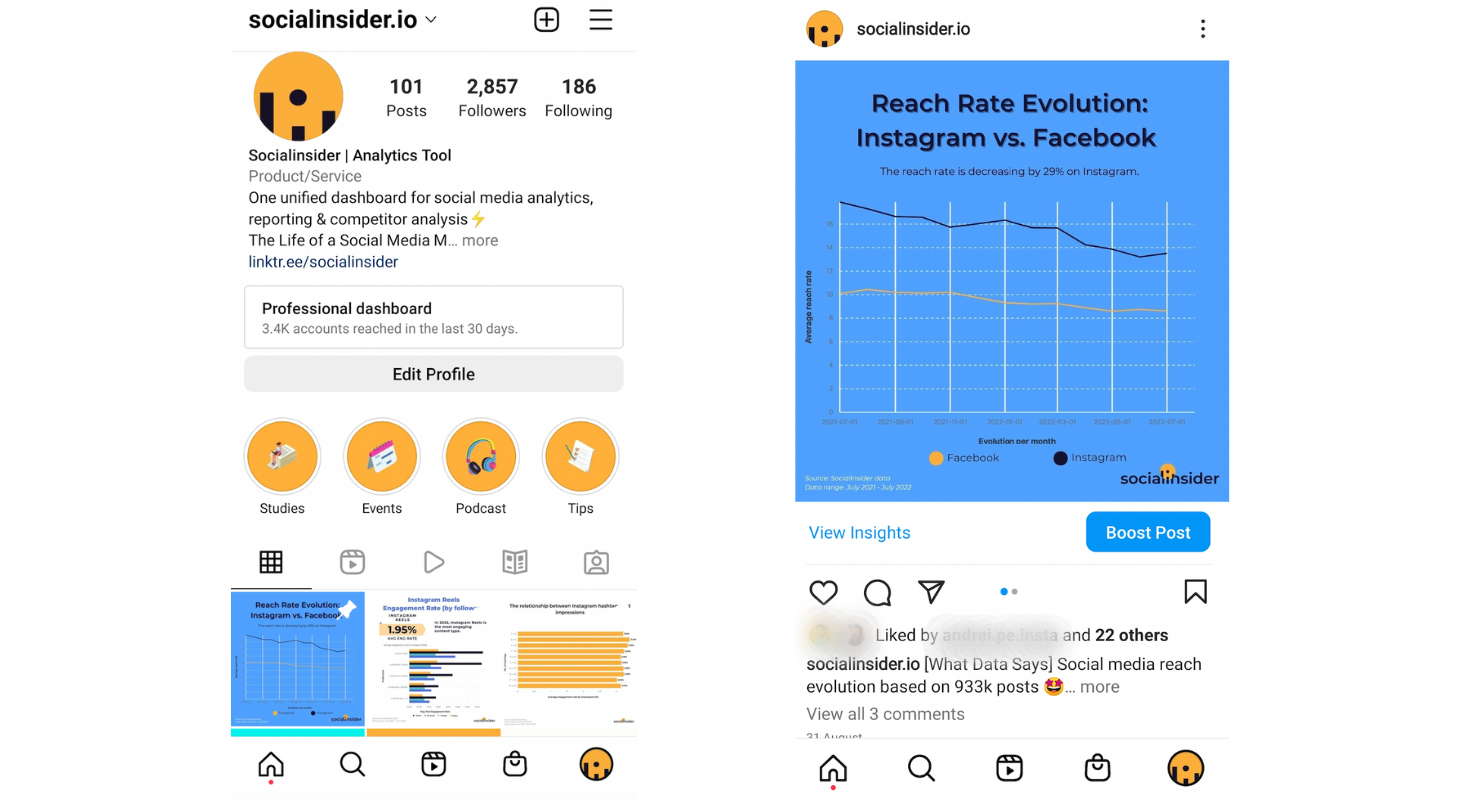 This analysis will inform you whether you are moving in the right direction with your marketing strategy.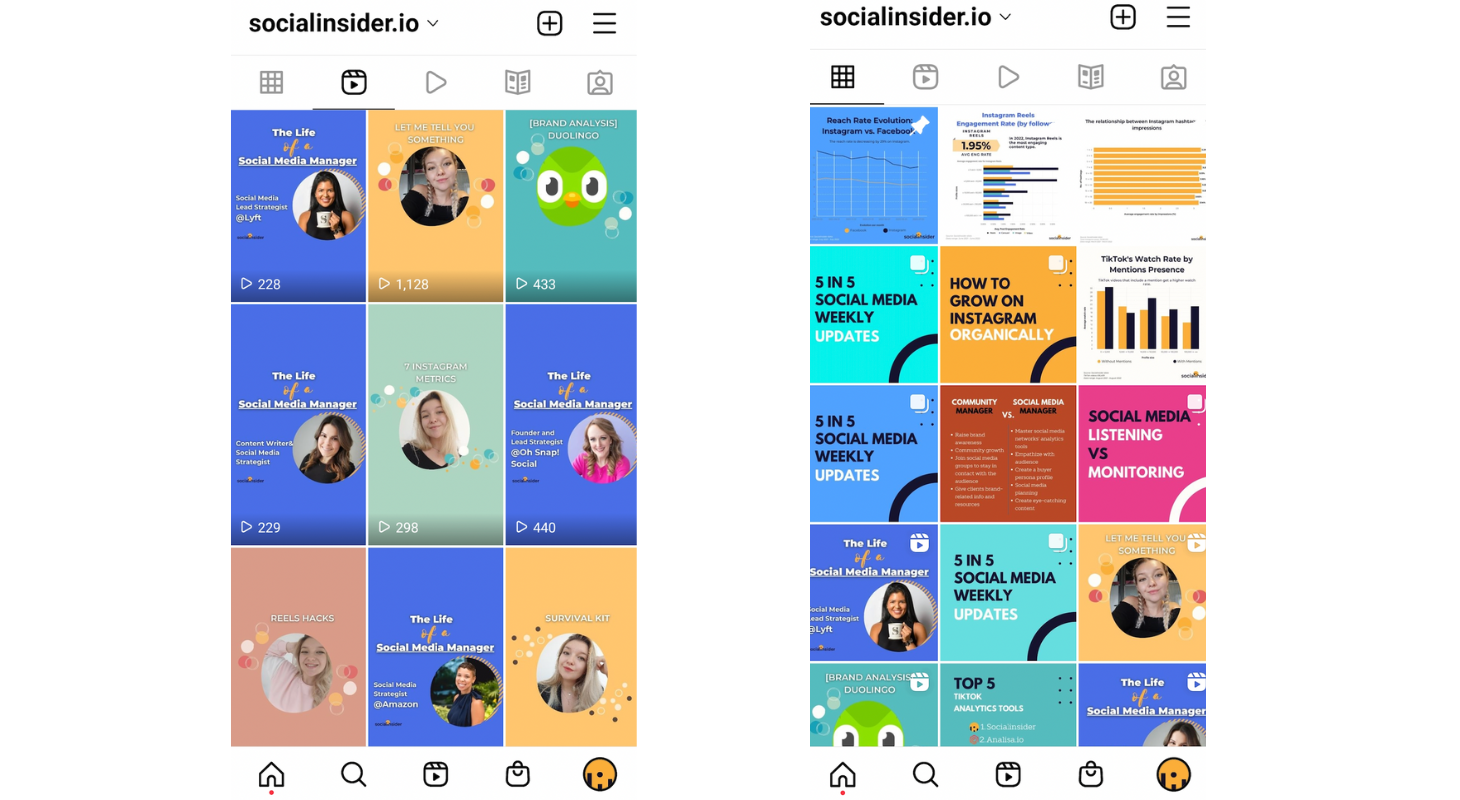 2. How to perform an Instagram audit
Now that you've learned what is an Instagram audit, let's dissect the matter and explore this unknown territory even more.
In what follows, we will show you how to perform an Instagram audit and this step by step guide will certainly clear things up for you.
When you first put up your brand's Instagram profile, make sure the first things you establish after setting your account are your goals.
Sure, your Instagram profile should reflect your brand's values and objectives and the first impression is extremely valuable.
That is why you have to make sure your logo, name, bio and links are all in line with your brand.
If your goal is to increase your follower count, generate leads or sales, you should consider making a list and then filling a spreadsheet with the steps you have to take to attain those goals.
Make sure that you set attainable and realistic expectations and that your timespan for this is long enough to do it right, without being under pressure.
Evaluate your Instagram profile
In case you have had an Instagram account for your business for many years, but just now it has occurred to you that it's time for an audit, you have to make sure everything is in order.
Start by evaluating the way your profile looks like and make the necessary adjustments to inspire followers, clients and future clients.
If they get a sense of novelty perfectly combined with professionalism, then you are doing the right thing.
Change your brand's profile picture, if necessary, and edit your infos, bio and everything you think needs changes.
By giving your Instagram profile a strong on-brand look, you will offer followers a sense of familiarity and a stronger connection with your ideas.
Use the right marketing tools
When you want to go deeper into analyzing your marketing strategy for Instagram, you need to think about the marketing tools you could implement.
Analyze your workflow and choose some marketing tools that feel like the perfect bandaid. You might need scheduling tools or marketing tool to collect user-generated content.
Make sure you choose something that could really save you time and effort, while also proving to be extremely helpful.
Research your community and followers
We all know that making clients happy is part of the job, but make sure you do not lose your identity and purpose along the way.
Otherwise, you will be doing everything for the applause, instead of building a business that is truly meaningful for you.
Research what your followers' interests are and maybe consider a social listening tool to find out what they are saying about your brand behind your back.
Their feedback will surely help you grow and perfect your work. A third-party analytics tool, like Socialinsider, could help you fill in the demographics part in your report.
By using an advanced tool, you will learn your followers' location, interests, gender, age group, work environment and their interests. All this data can help you adapt your work and improve it.
You can change your posting hours depending on when your followers are most active and you can adjust your content depending on the latest trends in your niche.
Review your Instagram content
This step in your Instagram audit process is available only if you've had an Instagram account for a longer period of time.
Maybe you want to radically change the way people perceive you so you need a fresh start.
This means that you have to review your Instagram content. If you feel like some old designs for your posts or ideas you have used in your past no longer suit your objectives, feel free to delete them.
It is better to keep only content that you are really proud of.
You can share many different content formats: Instagram Stories, feed posts, Reels, Instagram Lives, or Guides.
Are you using all of them?
Think about your branding and voice
Your brand's Instagram account should mirror your values and goals. Building your own voice should be a walk in the park if you show people you are a person who wants to tell their story.
It is always important to keep your human part in order to make people resonate with your brand.
Irrespective of how your path to success evolved, telling your own, raw story will make people empathize.
And when you turn on the empathy switch in people, you attract more followers and potential customers by just keeping it natural.
Make sure you are consistent on all your social media platforms. The way you "look" on social media, as a brand, could be a make-or-break factor.
If you have a story and a purpose, this will be enough to build your own voice.
Put together some growth strategies
At the beginning, when developing your Instagram audit, you'd think your primary focus is to expand. Actually, the first thing is to establish your brand's identity.
Then, you can brainstorm together with your marketing team and choose some growth strategies that should bring you more followers, more engagement, and more sales.
And we know that less is more, but not in the case of social media results. After all, Instagram is a competitive space, regardless of the industry you activate in.
In order to stand out from the rest, you need to be bold, proving you have an attitude.
You should consider partnering up with influencers from your niche to expand your horizon.
When you work with like-minded people and brands, you attract more users who share the same interests.
Also you should implement a hashtag strategy and add location to your posts to encourage users to discover you.
Another growth strategy you should include on your list is Instagram ads. Through ads you can propel your organic content to reach even more users' newsfeeds.
Examine your posting frequency
To examine your posting frequency, you could keep an eye on your competitors and see how often they post and what type of content they use.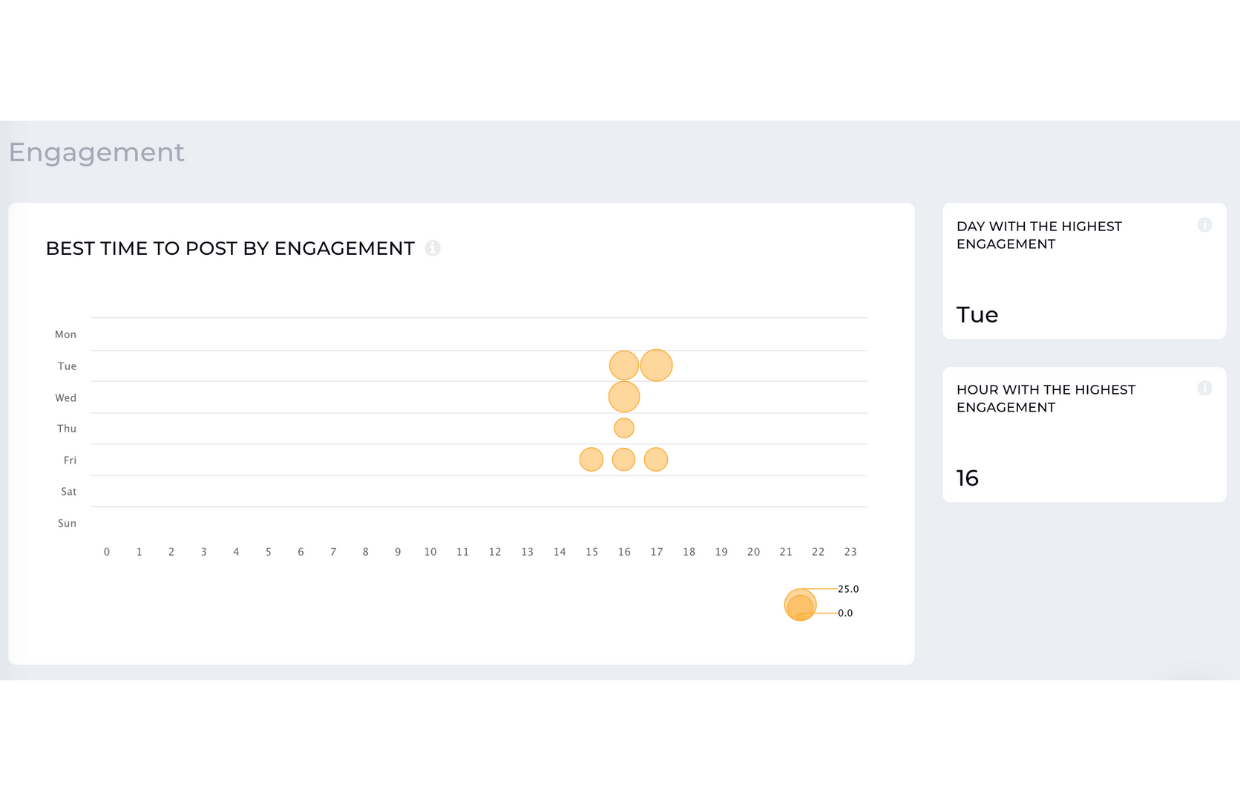 By taking a look at demographics, you find out when your followers are most active. This way, you'll know what are the best posting times to encourage them to engage.
When taking these factors into account, you manage to establish some posting hours and posting frequency to build a community around your brand and fuel brand recognition.
Review your hashtag strategy
If you are using hashtags, make sure you choose the popular ones in your industry, those which are in line with your products and interests.
Hashtags also represent a great growth strategy, opening new doors and offering opportunities for those who don't know how to propagate their content.
On Instagram, the maximum number of hashtags you can use is 30, but marketers suggest that using up to 7 hashtags should be enough.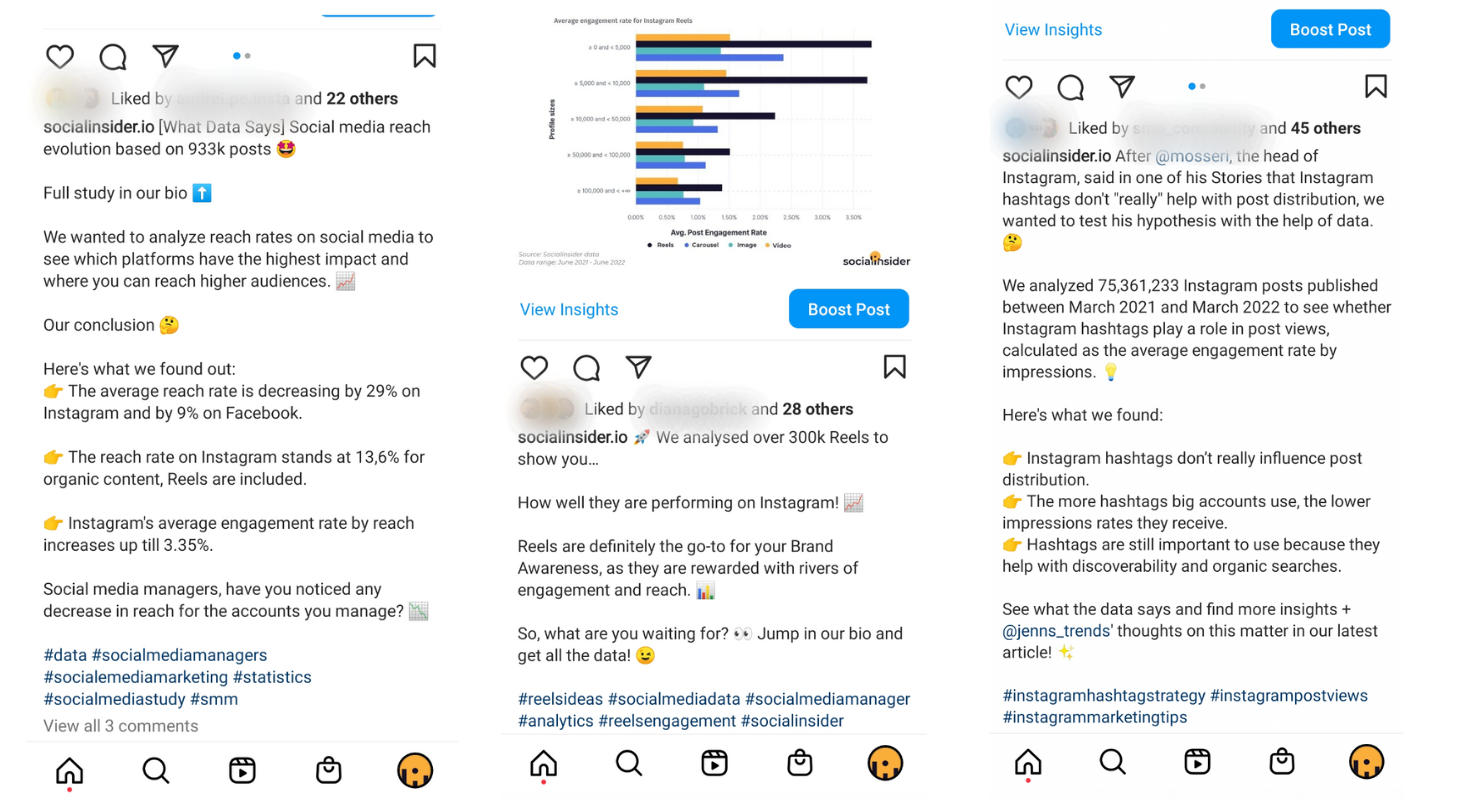 Use niche hashtags and branded hashtags to transform the name of your brand into a star.
If you are one of the users wondering whether to put your Instagram hashtags in the caption or in the first comment, you should know that either of these is ok.
Keep in mind that community-oriented hashtags, hashtags that are relevant to your industry can help you get noticed by your target audience.
Go through your captions and bio
When you review your Instagram profile and start deleting or editing posts, make sure you reread your captions, verify the hashtags you used and edit your bio.
Even if your Instagram bio has a limit of 150 characters, you need to comprise there the essence of your brand.
NEW: You now have the option to add up to 5 links to your Instagram bio, so be sure to take full advantage of this generous feature.

With this new option, you can connect multiple brand-related resources and keep them in your bio permamently, for ease of access.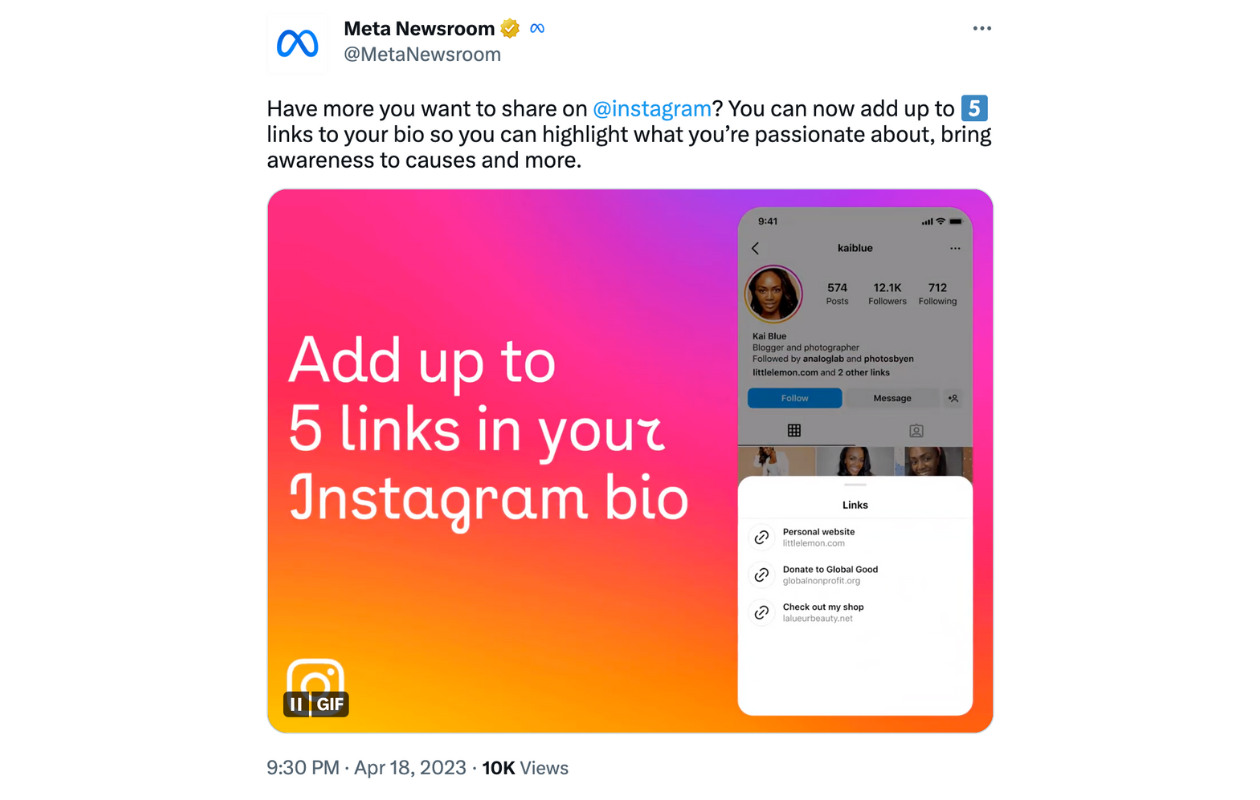 A redo of these sections in your profile might be the best medicine for an Instagram page with a low engagement rate.
Unity and uniform should define your brand's overall image you project on Instagram.
At the end of the day, this is how you get recognized by followers. You have to make it worth it.
Fake followers can become your brand's Instagram page's greatest enemies. Fake followers are bots or accounts which were especially designed to boost follower count for specific brands.
These accounts do not belong to active, engaged users. To detect these fake followers, there are several features that can help you uncover them.
If they have no followers and 0 to 10 posts, they are definitely fake accounts with no human being behind it.
Another trigger for you should be the fact that they do not have a profile picture or have numbers in their username.
After you spot these accounts, make sure you delete them from your following community and block them.
This way, you make sure they won't create more similar accounts to follow you.
3. Benefits of an Instagram audit
It's good to analyze your strategies and periodically perform an Instagram audit because there are plenty of benefits.
By conducting an Instagram audit, you'll be able to see:
what is the most liked, commented, and shared content on your Instagram account
review your strategy - you might discover that your old strategy worked better than your new one
see what Instagram posts no longer comply with your strategy, tone of voice, or brand values
4. 10 tools to perform an Instagram audit
Now that you've learned how to perform an Instagram audit for your brand, you should also know what tools could help you in the process.
Here we provided a list of top Instagram audit tools to benefit your brand.
1.  Socialinsider
Socialinsider is a top-notch analytics tool that can be extremely useful in conducting an Instagram audit. The tool is also adaptable when it comes to performing any kind of audit, offering a massive database.
2. Brandwatch
Another useful Instagram audit tool is Brandwatch. This app offers you a lot of insights regarding best posting times. Also you will find a lot of guidance for the hashtags you should use according to your niche.
3. Sprout Social
Sprout Social is one of the best tools for conducting an Instagram audit. With this app, you are going to discover how to assess your Instagram performance depending on the specific timespan you set.
4. Phlanx
Phlanx is a tool that can really ease your marketing job. Besides helping you establish collaborations with influencers and assessing Instagram influencer audit, you can also audit your brand's profile.
5. Emplifi
Emplifi is a marketing platform that offers you numerous tools to analyze your social media performance, including Instagram audit. The tool provides statistics about your Instagram account, helping you keep a close eye on your evolution.
6. Smartmetrics
Smartmetrics is an Instagram audit tool which can offer over 30 metrics for your brand's account. So you get in-depth details about your content's performance while your campaign unfolds.
7. Minter.io
With Minter.io , you get data about your brand's growth, popular metrics like engagement and views, demographics and reach rate. Basically, you obtain all the needed data to conduct an Instagram audit.
8. Iconosquare
Iconosquare is another Instagram audit tool meant to help you gain insights during your marketing campaign. The app is also equipped with a unique function where they send you a review about your strong and weak points. Isn't that fantastic?
9. HypeAuditor
HypeAuditor is suitable for both Instagram and YouTube audit, offering you in-depth information about your brand's accounts. The data could be easily included in your report when developing your Instagram audit.
10. Quintly
Another useful analytics tool for your business is Quintly. The app offers you the chance to develop your audit based on the KPIs you set for your brand. It can assess more than 350 metrics to help you really get a grip of your Instagram performance.
Final Thoughts
With the help of an Instagram audit, you can easily establish what changes you need to adopt for your marketing campaign.
This type of thorough analysis, in which you closely look at the results of your posts, helps you better know your audience and learn more about how much you can expand.
By performing an Instagram audit, you will be able to get the broader picture about your brand, the quality of your work and how your products and services are perceived by your clients.
Hopefully this complete guide on how to conduct an Instagram audit will come in handy, next time you want to look at your data.