Instagram is the second most used social media platform behind Facebook. The popular visual-first network sees over one billion active monthly users and 500 million daily Instagram Stories.
If your company uses this platform to promote, but you're not entirely happy with your account, I recommend conducting an Instagram audit.
In this article, you will discover what an Instagram audit is, how to run an Instagram audit, and the benefits.
Let's get started!
Audit your Instagram content
1. What is an Instagram audit?
Whether you've been using Instagram for several months or years, running an Instagram audit for your brand is always a good idea.
Why?
The goal is to make sure every Instagram post, story, Reel, or IGTV you share is helping to support your brand's objectives.
If you want to see how your brand is performing, find out if you're moving in the right direction with your strategy or uncover your vulnerabilities, then conduct an Instagram audit.
You will find the answers to all these questions.
2. Benefits of an Instagram audit
It's good to analyze your strategies constantly because there are plenty of benefits. By conducting an Instagram audit, you'll be able to see:
what is the most liked, commented, and shared content on your Instagram account
review your strategy - you might discover that your old strategy worked better than your new one.
see what Instagram posts no longer comply with your strategy, tone of voice, or brand values
3. How to perform an Instagram audit
Let's find out how to perform an Instagram audit in 5 easy steps:
3.1. Set your goals and Instagram KPI's
Before starting an Instagram audit, ask yourself: what are my business goals, and do they align with my Instagram goals?
If you are at the beginning of your business, you might be focused on getting traction with your target customers. In this case, your Instagram goal should be to increase the number of your followers.
Maybe you want to increase your sales, attract more customers or increase engagement.
Once you've set your goals, make sure you can measure them correctly. To do this, you can set several KPIs to track for each purpose.
3.2. Examine your profile
The first thing to do is to see if the profile picture is old and if it is, you should update it immediately.
The best advice here would be to upload your brand's logo as your profile picture. Make sure that you use the correct Instagram profile picture size – 180x180 px.
You need to ensure that your Instagram profile matches your branding and tone.
Next, you have 150 characters to use for your Instagram bio.
This will be your first impression to many people, so make it remarkable. Again, make sure that it is written in the right tone. Your bio should capture the attention of your audience.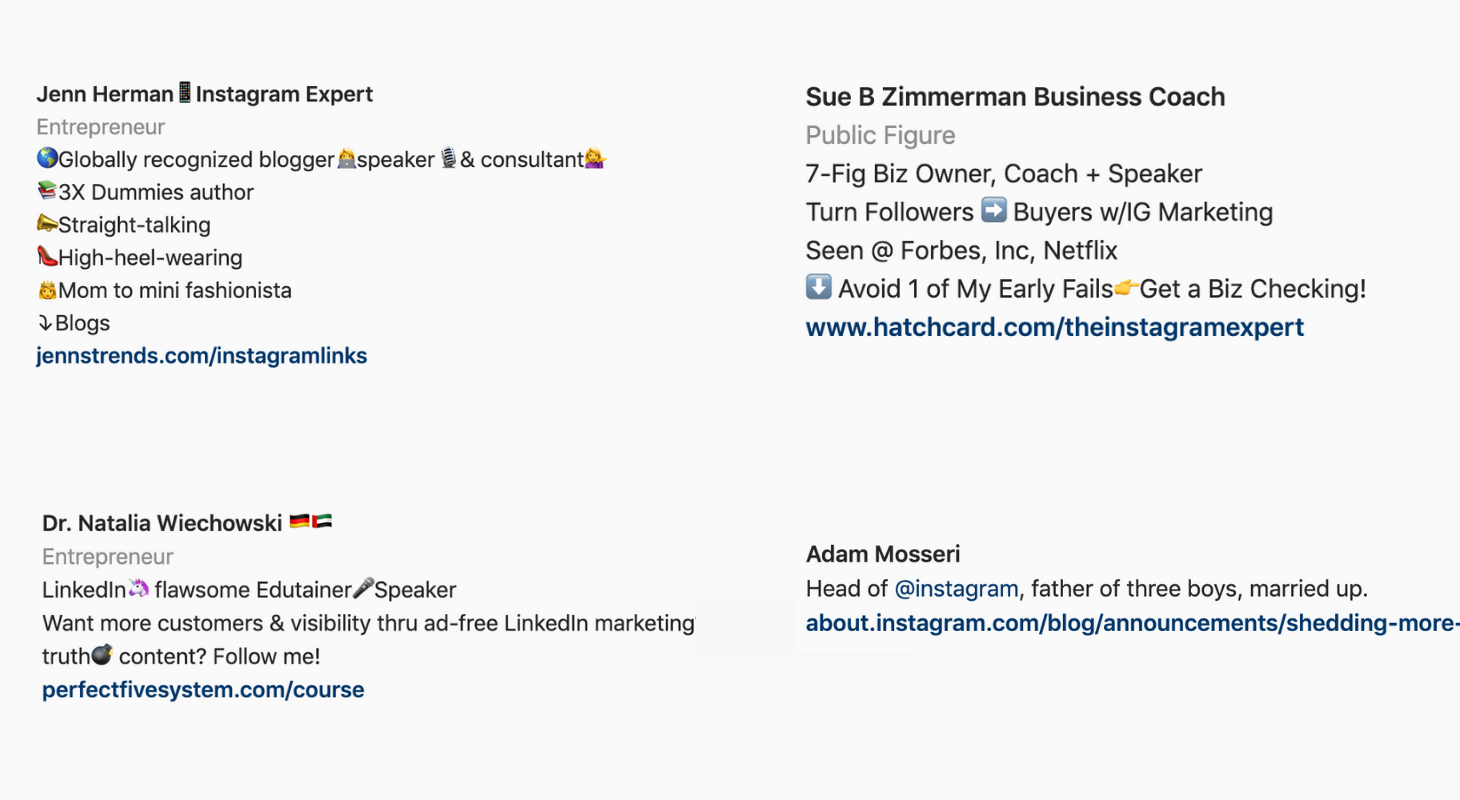 Where do you want to direct your Instagram followers?
You have one place on Instagram where you can place a clickable link on your Instagram bio, so make sure you add the link to your website, blog, or any other page that you want to promote.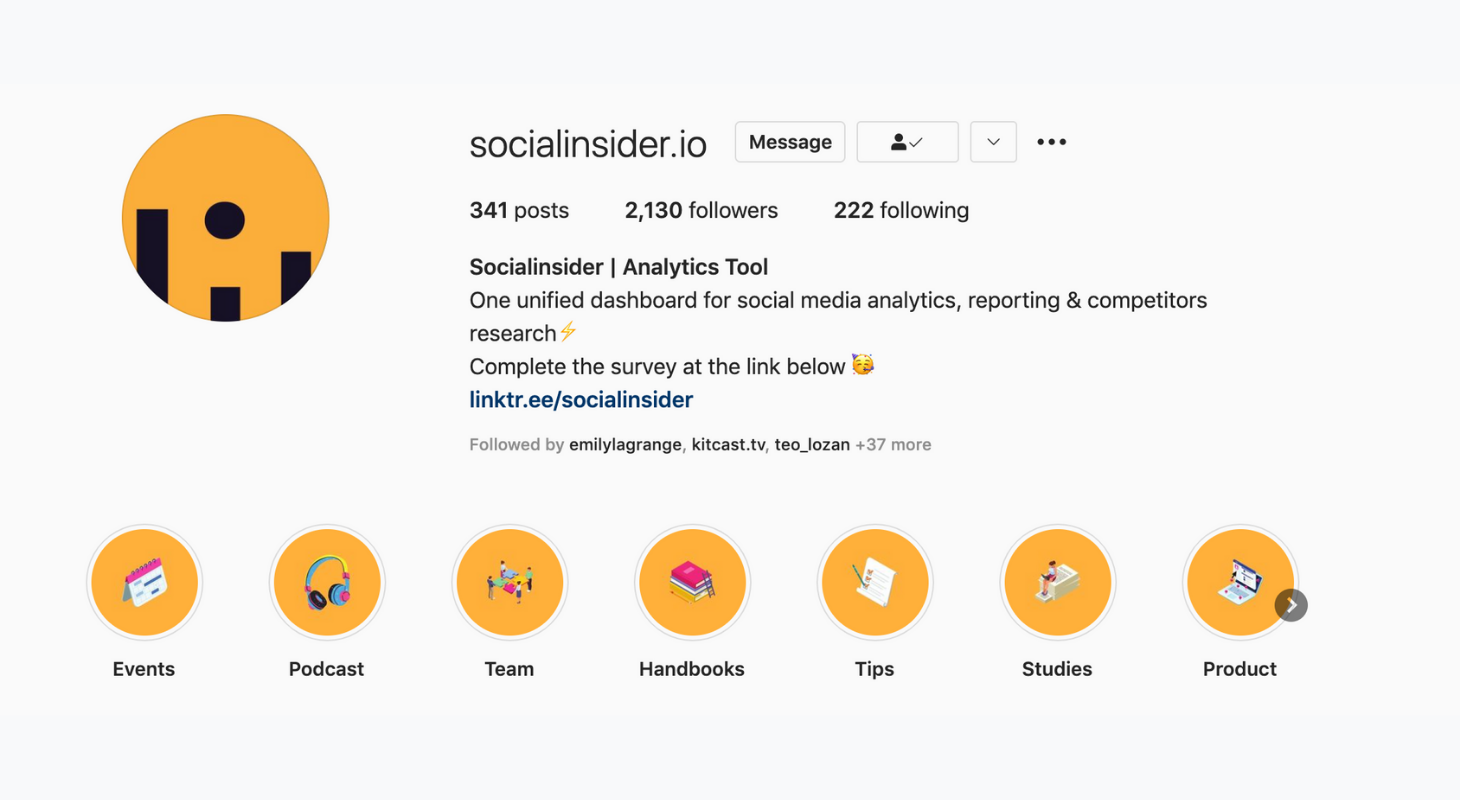 Tip 📌
Adding hashtags to your bio is an excellent way to share your interests with your audience. Try adding a hashtag to your Instagram bio to make it more functional.
3.3. Review the content you share
You can share many different content formats: Instagram Stories, feed posts, Reels, IGTV, Instagram Lives, or Guides.
Are you using all of them?
If you are a feed posts fan, in a recent study, Socialinsider discovered that Instagram carousels bring higher engagement rates for small accounts, so make sure you tell your story using more than a single post.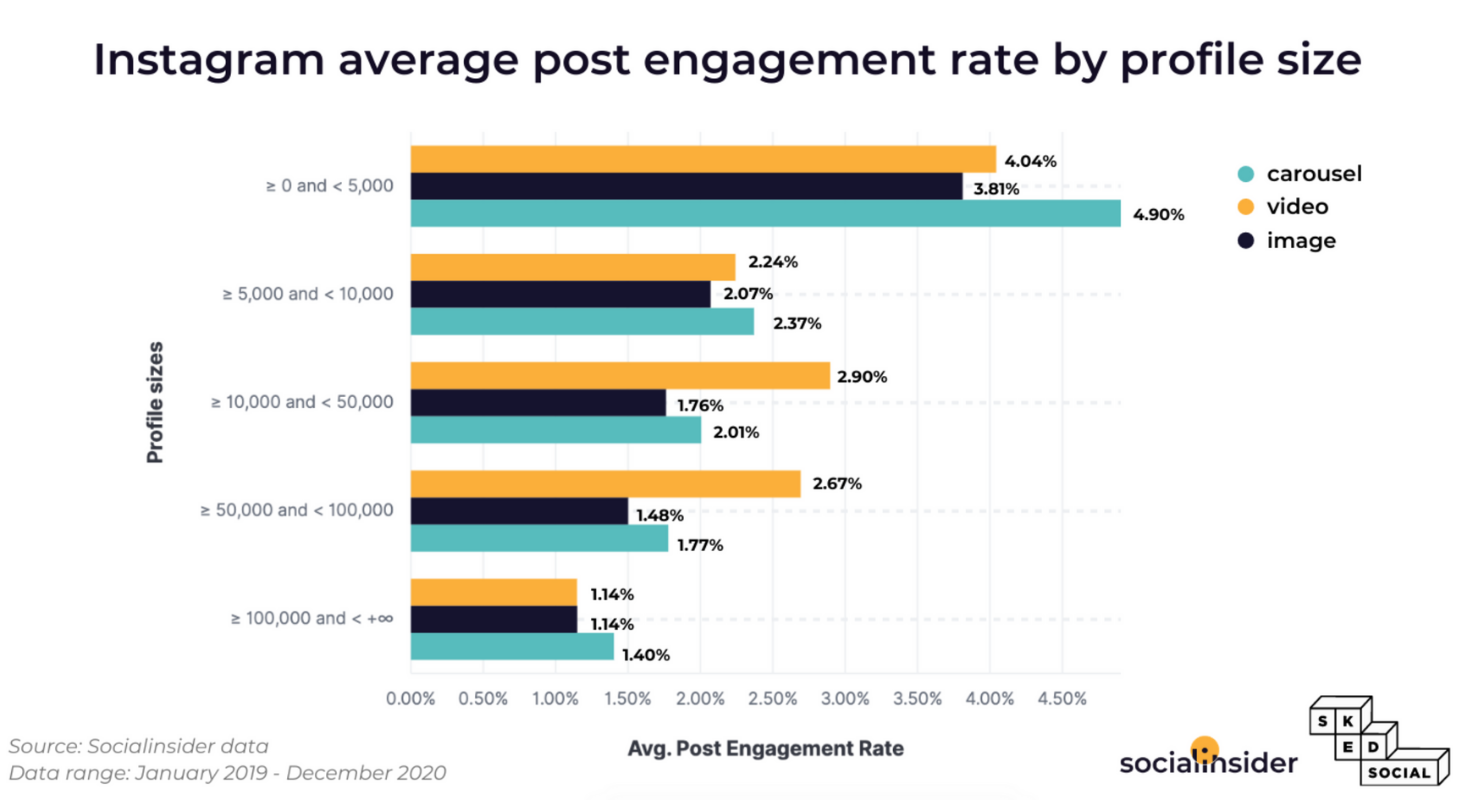 Also, very important, don't forget to review your Instagram Stories strategy.

Instagram Stories can be great for growing engagement, building brand awareness, driving traffic to your website, and even making sales.
Let your followers behind the scenes, take them to your meetings, share pictures with the team, get creative.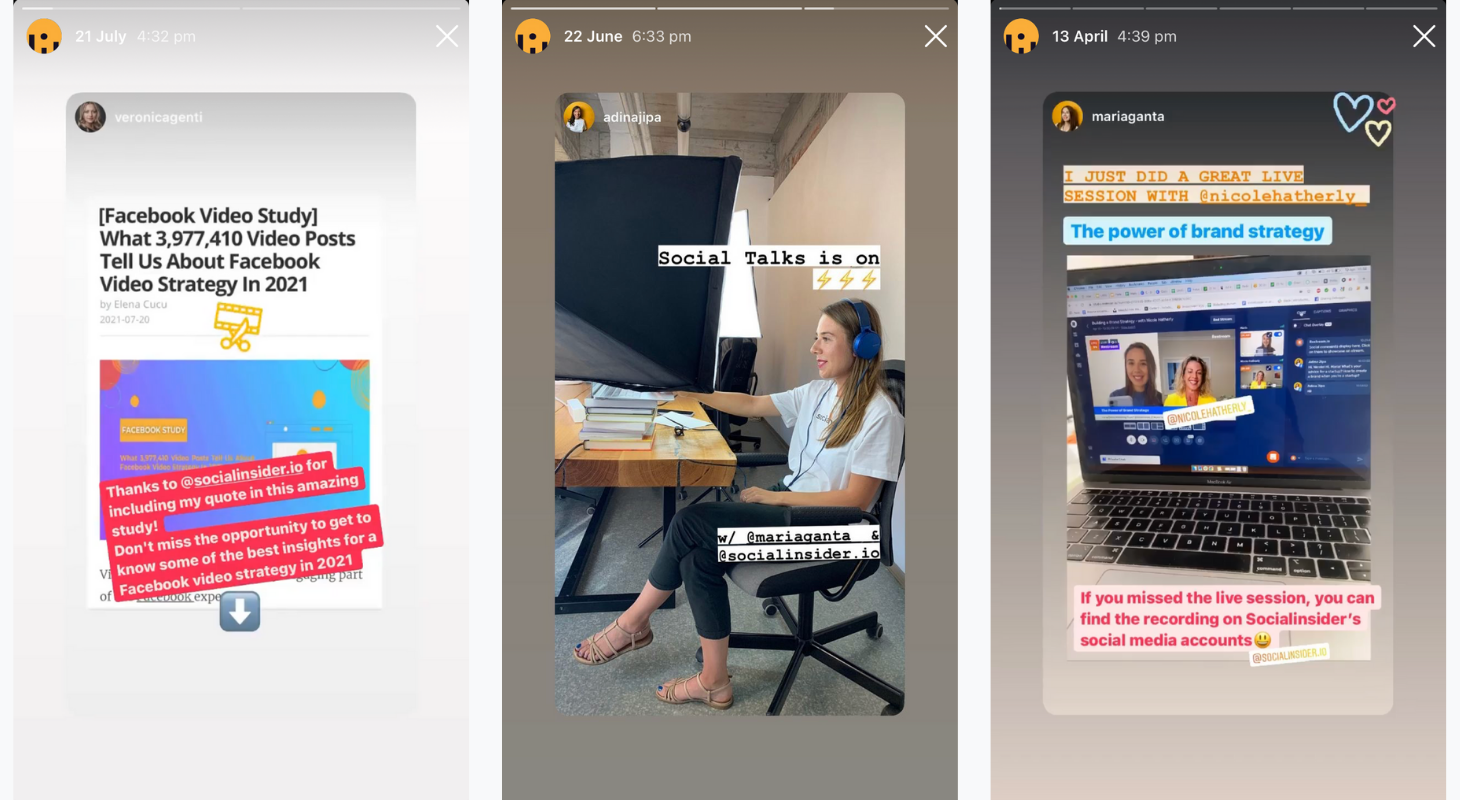 3.4. Analyze your hashtag strategy
Hashtags play an essential part in building your following on Instagram, and you can use up to 30 hashtags with each post.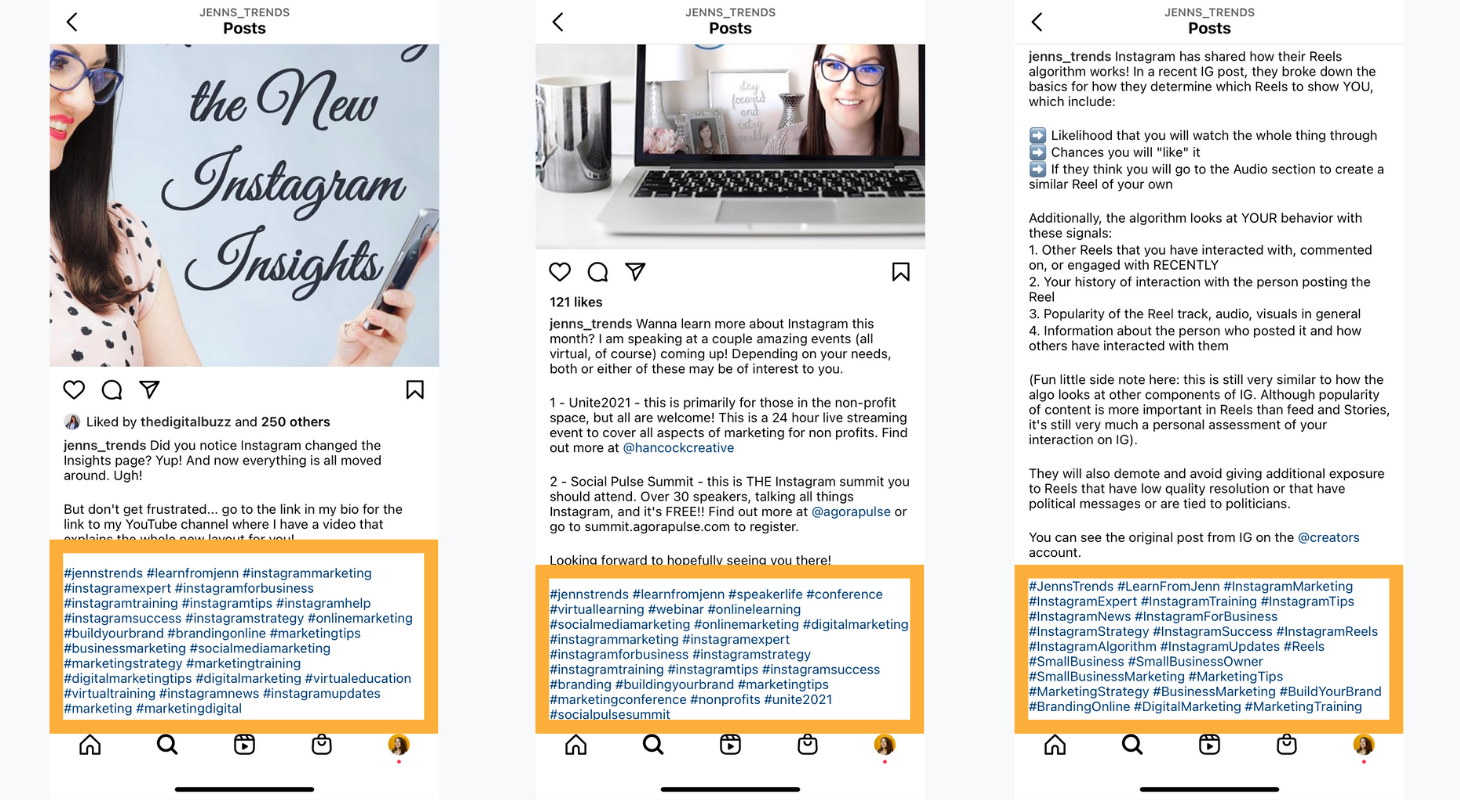 Yes, you can use up to 30 hashtags with each post, but you must use only the hashtags related to the image or video you are sharing.
What I recommend here is to create some branded hashtags and invite your followers to use them as well when they post something related to your brand and business.
Also, try not to use the most popular Instagram hashtags; it's better to use smaller, more niche, and have an engaged audience relevant to your industry.
3.5. Go through your captions
People don't comment on your Instagram posts?
This could mean that your captions are not engaging enough.
Your captions are essential because they give meaning to your Instagram posts.
While conducting your Instagram account audit, take a look at your top-performing posts and analyze their captions.
Are you:
using short captions, or are you writing a mini-blog post
using emojis
asking questions
using hashtags
mentioning other accounts
Answering all these questions will help you understand what makes your posts engaging and how to replicate this to other posts.
Also, make sure that your posts tell a consistent story and have a similar look and feel.
The people who follow you should understand what you have to offer from just looking at your post.
3.6. Examine your posting frequency
Are you posting too much or not enough on Instagram? Or are you posting at a time when you're audience is online?
The number of Instagram posts and the time you publish the content will influence your overall engagement.
You can use Socialinsider to discover the day with the highest engagement and the hour with the highest engagement and publish according to these metrics.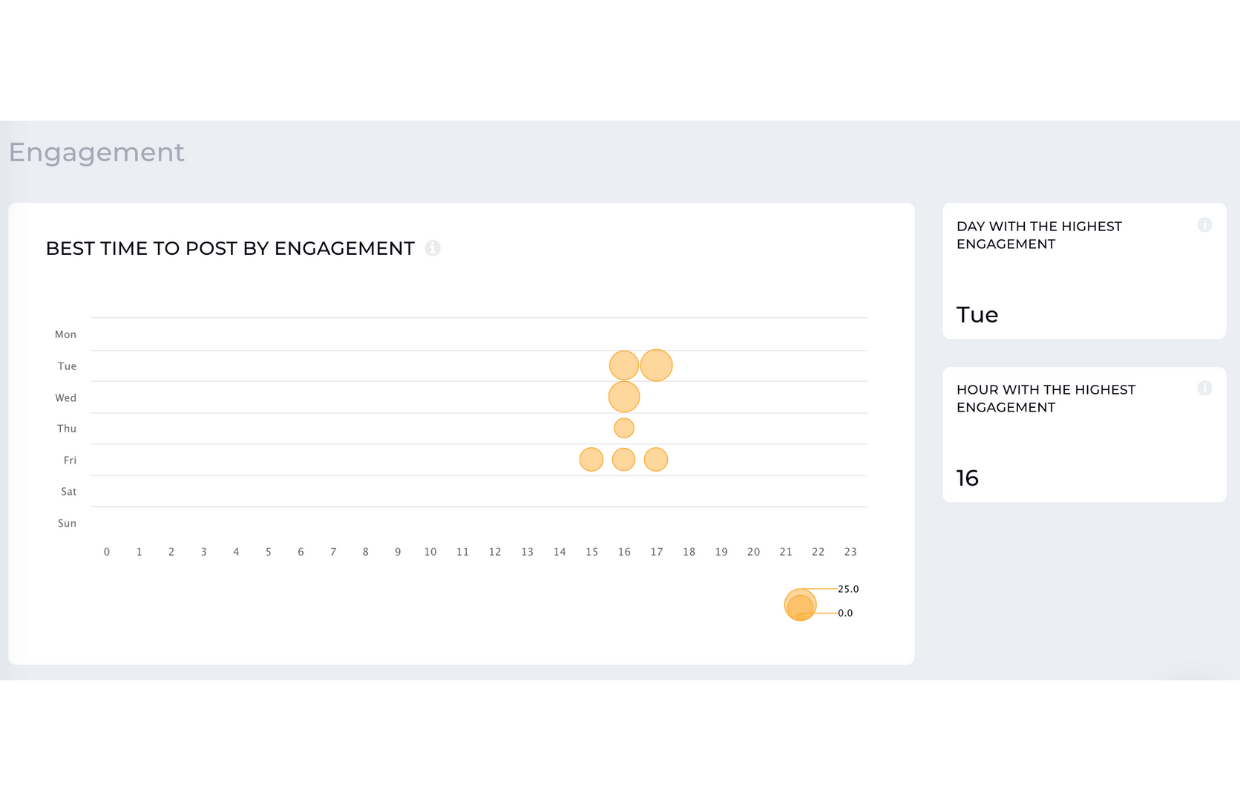 Audit your Instagram followers
An Instagram follower audit is part of your Instagram audit. Auditing your followers helps you understand them better: what they like, what content makes them engage, etc.
4.1. Study your follower's interests
4.2. Remove fake followers
4.1. Study your follower's interests
You can get demographics data from your Instagram insights. Go to your insights and select "Post interactions". From here, you will see your top posts and Stories based on likes, gender distribution, what type of content brought you more followers.
You can also check the other accounts your followers are following to learn more about their interests.
After you study your follower's interests, make sure you create content according to their needs.
4.2. Remove fake followers
Are you getting excessive amounts of followers compared to actual engagements on your posts?
This means you have fake followers. Some tools can help you spot and remove them, or you can do this manually.
Final thoughts
Once you have done all the above steps of your Instagram audit, take note of anything you can do to improve your Instagram account and its usage:
Update your Instagram bio.
Create more engaging captions.
Use more carousels.
Engage more with your followers.
If used right, your Instagram profile can help you level up your business.
---
Related articles: