Instagram has become the ultimate frontier for brands, being at the center of most social media strategies, according to our survey.
With more than 500 million accounts that are using Instagram stories, this feature is one of the main tools both people and brands are using to make their content visible and to engage with followers and audiences.
They are a great choice when you don't want to post a permanent thing. Plus, they come with a lot of features like GIFs, many types of stickers, hashtags, and many other fun add-ons.
While crafting the perfect Instagram stories might take time and energy, you'll experience better engagement. But you'll have a lot more fun than posting photos, carousels or videos in your feed.
Let's see what it takes to edit stories before and after posting them and how to highlight them after 24 hours ⇣
How to edit your Instagram story directly in the app
How to edit your Instagram Story before posting
Once you enter the world of Instagram Stories, we promise you won't get bored. With all these special effects, you'll spend hours just to discover the right combinations for you.
Hashtags have conquered a lot of social platforms since their debut. They are a combination of letters, numbers and even emojis run ahead by the # symbol.
This feature allows you to categorize content and to be found by users that don't necessarily follow your account, but who have an interest in the hashtag topic you're using.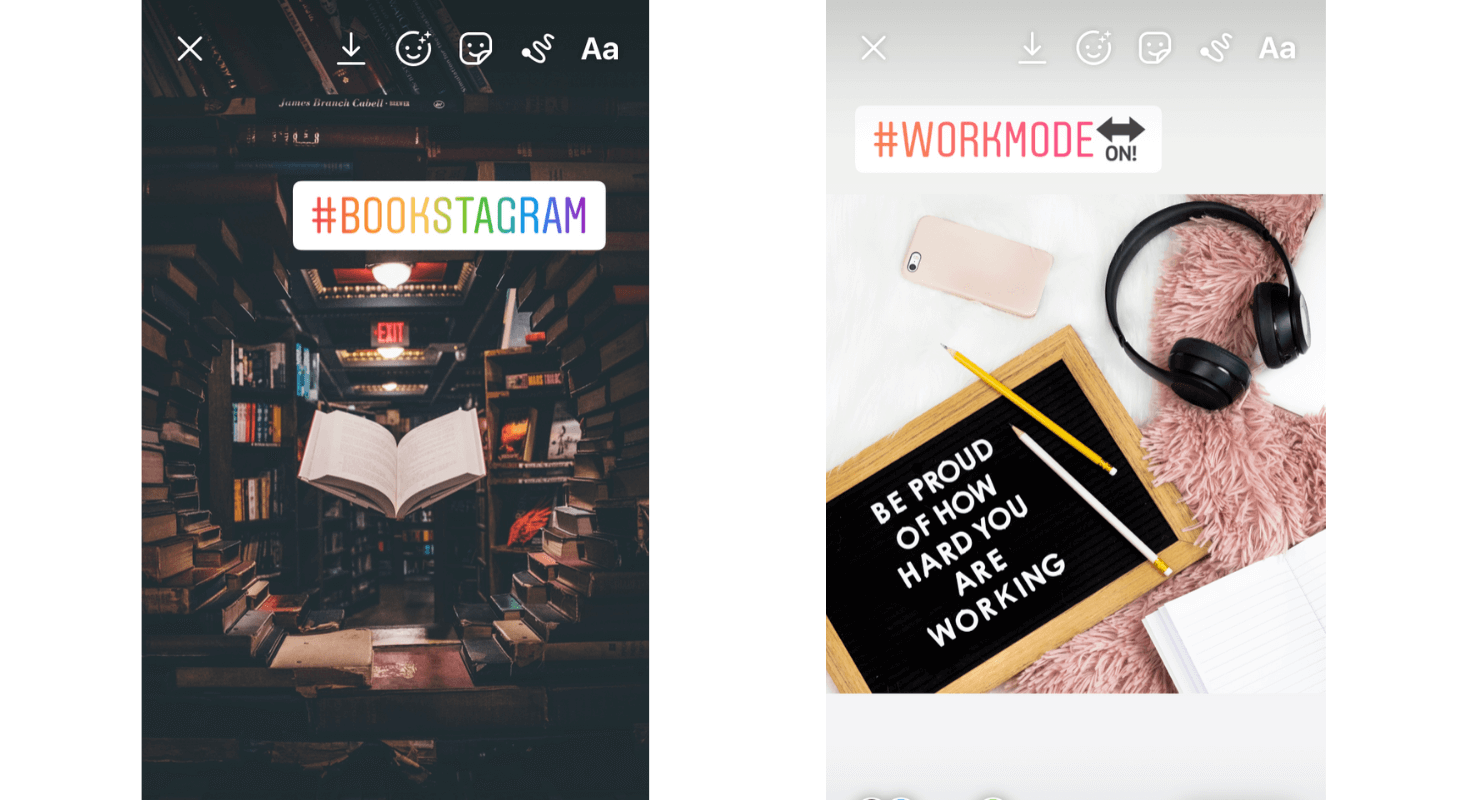 Play around with the text colors and use the perfect one. There are three options you can choose from: grey and white, multicolor, or orange and red.
Tip❗️
Before using a hashtag, check if it's popular (used by many people) to make sure it reaches a wide audience. Also, if a hashtag appears in the suggestions, it's a good indication that it's a popular one.
Question stickers are great because they offer real-time feedback from your followers or people you've managed to reach through your Instagram Stories.

If you decide to use a question sticker and someone answers your question, you have the option to reply. That's great news, as it allows you to start conversations and create relationships with your followers!
Unlike the question stickers, the poll option offers you direct and specific feedback on a certain matter.
You can ask a question that is on your mind, but leave your audience predefined answers such as "Yes" or "No" - at least these are the most common ones.
This works especially well if, for example, you want to implement a certain strategy, but aren't convinced your audience will resonate with it. So you simply ask them.
You can also add emojis instead of answers. Discover all the possibilities and choose the right one for you.
When using it, you're letting users who are not familiar with your brand, but are interested in a related topic, to find you directly on the map.
The location sticker is a very useful tool for promoting your business and letting your followers know where your business is located.
It's also helpful in defining a geographical area of interest for your audience.
For example, if you're a local news brand and are publishing information that concerns mostly people from Toronto, adding a location might better target your audience.
What is the best way to express a feeling, an emotion, a mood or a state of mind? An Emoji sticker, of course. They are there to make your posts stand out and to make your messages more efficient, not to mention they're simply so much fun.
You can combine them with calls to action and other stickers such as poll stickers and they can deliver great results.
Quick tips on creating engaging video Stories
Another highly entertaining option is to post some video stories. It's a great way to convey an important message to your audience.
Just keep in mind a few things:
Try the vertical posting - Data shows that the most successful ones are created in the vertical format;
The standard aspect ratio for Instagram Stories is 9:16;
The video length is limited to 10 seconds - Try to summarize your ideas in this timeframe. If your videos are longer than 15 seconds, they will be chopped into pieces.

How to edit your Instagram Story after posting
Well, let's say you've posted a few Instagram Stories, but one of them is not quite what you wanted or you just spotted a typo. What's to be done? What edits can you make? Well, there's some great news and some bad news.
The great news is that you can make some changes, but the bad news is that you can't drastically change it unless you delete the Story and recreate it from scratch.
To make any change, go to the Story you want to edit, tap the More button and choose Story Settings. You'll bump into Story Controls where you can:
Choose who can see your Story by hiding the people you don't want to see it;
Choose your Close Friends - You can pick a group of friends or followers to share private Instagram Stories posts;
Decide who can reply to your posts - everyone, only people you follow or nobody;
Avoid losing Instagram Stories by saving them to Camera Roll or to Archive (you can only see them after they disappear from your Story).
How to edit Story highlights
Your favorite Stories can have a special place in Story highlights. Located just above your posts, right below bio on your profile page, this feature allows you to save your favourite Stories and make them permanent, instead of letting them disappear after 24 hours.
Here's how to highlight Instagram Stories:
Go to the story you want to highlight and press the Highlight button
Enter a title
Choose a thumbnail
Done
You can edit, remove, promote or delete your highlights any time
If you've already created Highlights but you want to add Stories to one of them:

Go to one of the highlights and tap More
Choose Edit Highlight
Go to Archive and select one or multiple previous Stories
You can Edit Cover and also change the Highlight's name
You can also create a new Highlight and add multiple Stories at once. Here's how:

Go to your Instagram profile.
Tap +New button.
Select the Stories you want to add to your new Highlight or choose one of the Suggested highlights based on location
Tap Next
Name your Highlight and choose your Story cover
Tap Done
Remember! The Stories you add as highlights will remain visible until you delete them, even after the original story disappears. Remember that people who can see your story will be able to see the landmarks as well.
When to post your Instagram Stories
There are many factors you should consider when posting your Instagram Stories. You'll find them all in this article about the best time to post on Instagram, but to summarize, you have to take into account:
Your audience time zone - Look at your followers' location, gender, ages and when they are the most active on the app. You can get all this info only if you have a business account;
Keep an eye on your competitors - If your competitors are doing just fine on Instagram, it means they have a great strategy. It's not recommended to copy their approach, but you can get inspired by looking at when and how they communicate with their audience;
Post it when you're 100% happy with the result  - Don't make quality compromises. If you invest a lot of time into your Instagram account, don't be rushed when you create a Story.  Be creative, be brave, be flamboyant.
How many stories should I post per day
You don't have restrictions when it comes to the number of stories you can post a day, but remember a story will only last 24 hours, so you have to constantly update them.
They are more relaxed, and maybe less polished type of content so they'll allow your company to communicate more informally and with a lot less pressure.
And who said there is no magic number when it comes to Instagram Stories? Well, according to a study we've conducted on more than 135,000 Instagram Stories, brands post about seven days within a month and the optimal number is 6. Consider this the next time you're creating a strategy.
We all know that quantity doesn't mean quality. The more you post, the more you risk overdoing it.
Keep things short and high quality, and don't be afraid to delete Stories if they're not up to par.
Now that you know that you should be posting about 6 Stories per day, you can start crafting and selecting the most engaging ones for your brand.
What to post on Instagram Stories
Now that you know how to edit your stories, it's time to create engaging and attractive ones.
Here's a short list of ideas for your nest Instagram Stories:

Create "How to" tutorials and spice them up with features - This is the best way to use videos.
Announce an event or a special release - Use the Countdown sticker. Users will be able to subscribe and turn on the reminder for themselves and share the countdown to their profile.
Come up with the latest news and trends in your industry - People love to see you have expertise in your field and you're willing to share it with others.
Give special promotions or offers for a limited period of time.

Final thoughts
Instagram is an ever-changing platform and is constantly adding features and improves user experience. If you want your brand to thrive on Instagram, try to think of your profile page as a work of art you're perfecting over time and at your Stories as your most powerful communication and feedback tool.
Let us know what are your favorite Instagram Stories features and if you had trouble finding the right features for delivering your messages.
Related articles: