A lot of people say that money makes the world go round. For me, it's information. Huge hoards of gigabytes transport data from one point to every point. And I find that fascinating.
In the TikTokverse, trends change with the same pace users swipe through videos. Keeping up with all the viral videos can be challenging and overwhelming.
TikTok trends make the online world go round. You are likely to find out about a funny meme, a new study or your daily horoscope before the rest of the people around you.
This article's focus is listing some of the most popular macro TikTok trends and how to create trending videos.
Buckle up! We're going on an adventure.
TikTok trends for 2023
4.1. My boyfriend has 2 girlfriends
4.2. Delulu
4.3. WFH employee at 08:59 a.m.
4.4. It girl
4.5. Surprise, surprise
4.6. Me? Obsessed with you?
4.7. Paint the town red
4.8. Everybody dance now
4.9. Rihanna's "If It's Lovin' That You Want"
4.10. Bentley
4.11. Daylight audio
4.12. Tube girl
4.13. Rapunzel trend
4.14. Italian trend
4.15 Samsinclairfx on Instagram audio
4.16. Half On a Sack - Penguin trend
4.17. Squilliam Dance
4.18. Doja Cat Attention
4.19. Sonido
4.20. Kendrick x Radiohead
4.21. Maisie original sound
4.22. Hi Barbie, hi Ken
4.23. Barbie driving meme
4.24. Dog days are over
4.25. Brunette stunning
4.26. Speed ticket
4.27. Makeba
4.28. Smooth Operator
4.29. My husband
4.30. Beige flag
4.31. I don't do well with the drama
4.32. Wes Anderson
4.33. It's whack-a-doodle time
4.34. Ok, well that's interesting
4.35. Could you be loved
4.36. Hell n back
4.37. Why is everyone acting weird?
4.38. Succession
4.39. Oh no I'm devastated
4.40. I left you alone for five minutes
4.41. Screaming, crying, throwing up
1. Why you need to follow TikTok trends
TikTok trends are videos that have become popular which are widely replicated by users and shared.
By following current TikTok trends, you manage to increase the virality of your brand.
A TikTok video can become a trend due to its songs, hashtags, or the actual content, like dances or challenges.
The reason why you need to follow TikTok trends is that you have greater chances to increase brand awareness and build a community around your brand.
If you're wondering why TikTok is one of the most successful social media platforms, you should know that this happens due to its algorithm.
This fuels the platform with new updates all the time that come in favour of all creators, supporting users' interests.
Here are just a few of the reasons why you need to follow TikTok trends:
Generate buzz around your brand
Increase engagement
Increase brand awareness
Emphasize your uniqueness by following a trend
Maintain relevance for your content
Develop a community around your brand
2. How to find TikTok videos that are trending
Staying up to date is crucial for a brand that is present on TikTok. That is why you should find all the ways to be up to date when it comes to trending videos on TikTok.
Here is where you can find TikTok trends:
Use the "For You" section - TikTok will recommend other videos for you based on your searches and viewing history. This way, you will discover viral trends on TikTok.
Use the "Discover" feature - Here is the place to find the most inspiring TikTok videos. You can explore a whole bunch of different categories and also search by hashtag.
Follow influencers and popular creators - Most of the time, they are the users who start a new trend. You will also get fresh content ideas from them.
Interact with your community - When you accept your community challenges and engage with them in the comment section, you manage to find new ways to create trending videos.
3. How to create trending tiktok videos - A step-by-step guide
By learning how to create trending TikToks you manage to let more people find out about your brand.
You will definitely reach a larger audience and increase engagement. However, it's not all about metrics.
Your TikTok videos should be telling stories with which followers can easily relate. Those stories need to be in line with your brand's values.
This is how you build brand loyalty and capture Gen Z's attention. If you follow these tips and tricks, your TikTok stats will skyrocket.
Here is a step-by-step guide on how to create trending TikTok videos:
Follow famous TikTok accounts to get inspired
Inspiration is everywhere as long as you keep your eyes wide open. The gist here is to follow the right people on TikTok to quickly find out about the latest trends.
Find the right influencers for your brand
You can ask influencers with a high follower count to collaborate with you. This is how you'll increase your community and reach.
Find the influencers who are interested in your niche and industry and resonate with your brand's viewpoint.
Otherwise, your content may not reach the right audience that could also convert into customers.
I know this is about following TikTok trends, but you do not have to copy-paste ideas. Your brand should have its own identity on TikTok.
Make sure your content proves your brand's uniqueness through your products, services and the way you market them.
Hashtags help you separate all TikTok videos into clusters, making them easier to find by users.
However, it's not enough to add as many hashtags as possible to your post if they do not match your topic or industry.
Pay attention to the hashtags used with those specific trends you're following.
To be able to keep up with the trends, you have to always be looking for new ones. Searching and searching restlessly will help you continue to attract followers and increase reach, views and brand awareness.
This can take a lot of time as you need to be scrolling through TikTok and find out what's new.
However, it is useful since you'll discover the hottest trends that you can later apply for your brand.
4. What's trending on TikTok in the first months of this year
TikTok trends in October 2023
4.1.My boyfriend has 2 girlfriends
This new TikTok trend has taken over TikTok. The main idea here is to show the two faces of every woman, the crazy, child-like one and the elegant, feminine one.
And teh results are hilarious. This audio has been used in over 368K videos.
4.2.Delulu
The delulu trend has started a while ago and it's still going strong. The hashtag #delulu on TikTok has been used in 4.2 billion posts.
Most people use the trend to illustrate their delusional scenarios and overthinking in different situations. The funniest ones are those related to relationships.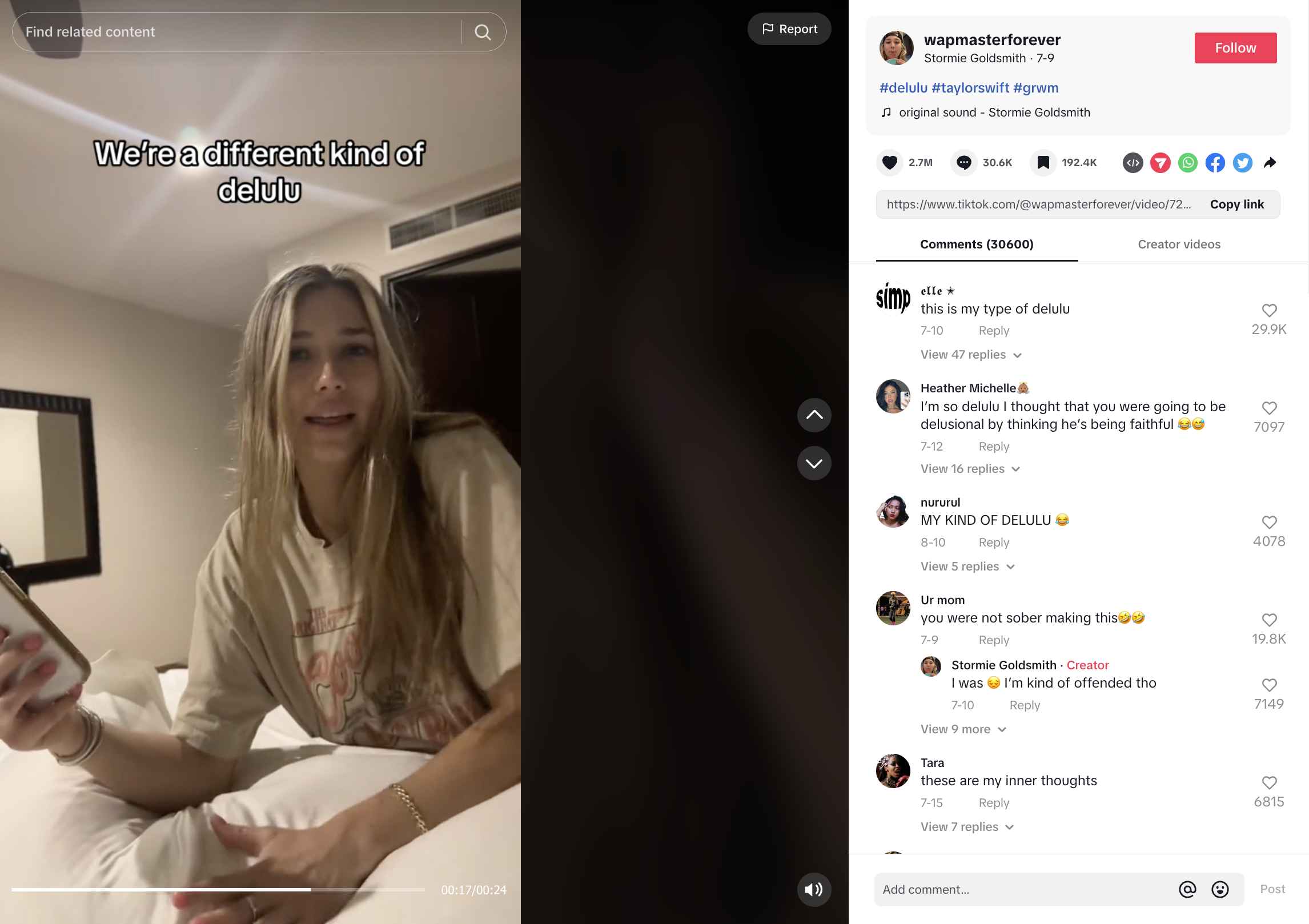 4.3.WFH employee at 08:59 a.m.
This trend regarding work-from-home employees is hilarious. It's bound to illustrate the level of laziness and how everyone wants to sleep for a few more minutes in the morning before starting that important zoom meeting.
4.4.It girl
This trending audio on TikTok is definitely really popular when it comes to underlying the feminine beauty. A lot of girls have used it to showcase their makeup transition and this is how they made their video viral.
The audio has been used in over 155 K TikTok videos.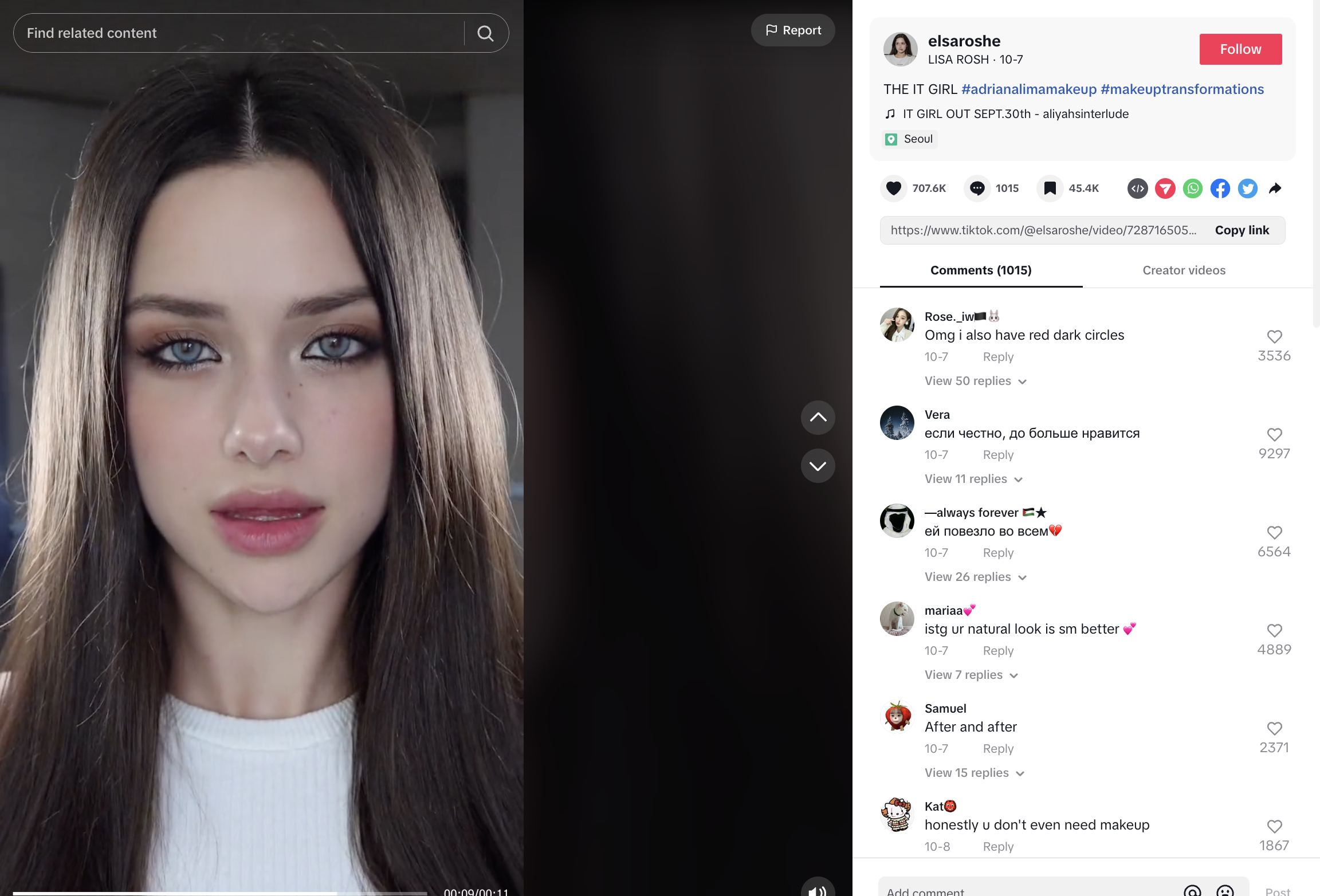 4.5.Suprise suprise
The TikTok trend "Surprise, surprise" has emerged when people started using this GIF with Cilla who sings this original song. TikTok users generally use it to illustrate something they did not expect to happen or to find.
Some of these videos are really funny, like this one, when you see your grandma's cookie box and you know that's a sewing kit, but it's actually cookies. The trending audio that made a lot of TikTok videos viral has been used in 14.9 K TikToks.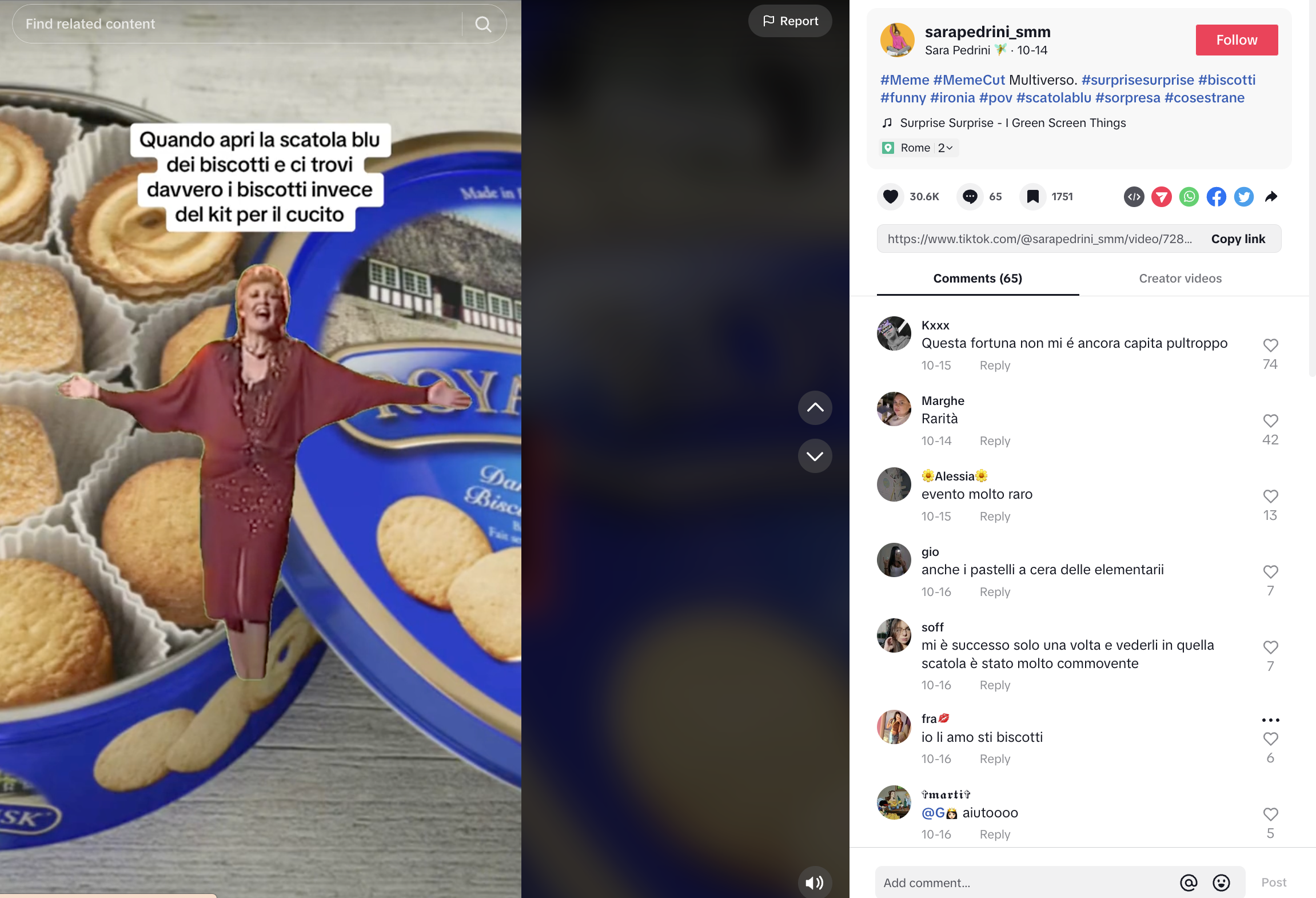 4.6.Me? Obsessed with you?
This hilarious audio has made a lot of TikTokers to use it in videos about their loved ones, their pets or even their favourite drinks.
The trending audio has been used in over 178 K videos.
TikTok trends in September 2023
4.7.Paint the town red
Doja Cat's new song is trending on TikTok and everyone is now using this audio. Most TikTok users use this song in their videos to show a dance they've just choreographed or to display their products or even their new outfit.
A few skilled TikTok girls used the audio in their make-up tutorials, while lip-syncing to Doja Cat's song. Some of the used it for a make-up transition, showcasing the change from a good girl to a bad girl.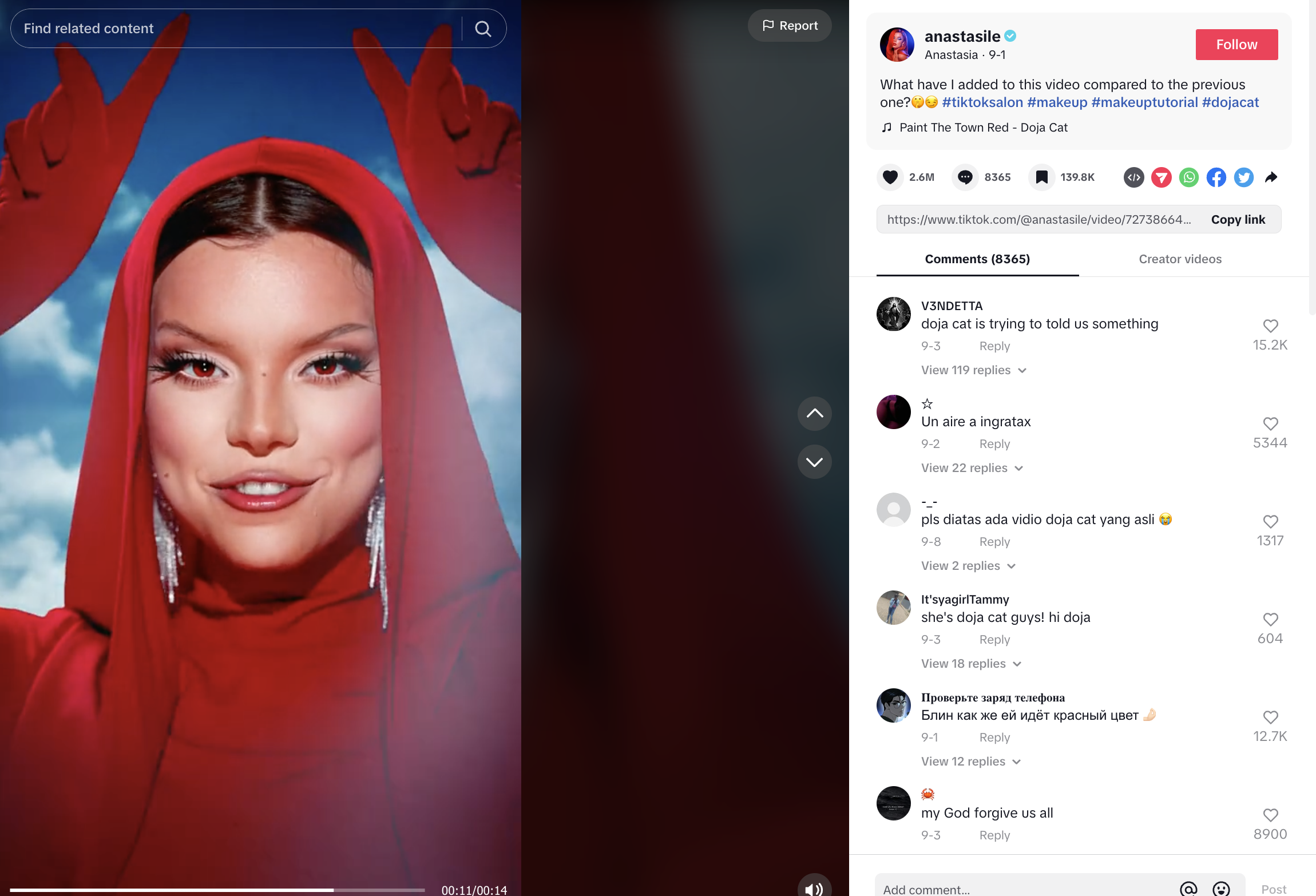 4.8.Everybody dance now
The new version of "Gonna Make You Sweat" created by Paolo Jackson has people going crazy over it on TikTok.
This trending audio makes people start dance competitions on TikTok, with tens of choreographies emerging. Talented users use their skills to dance to this song.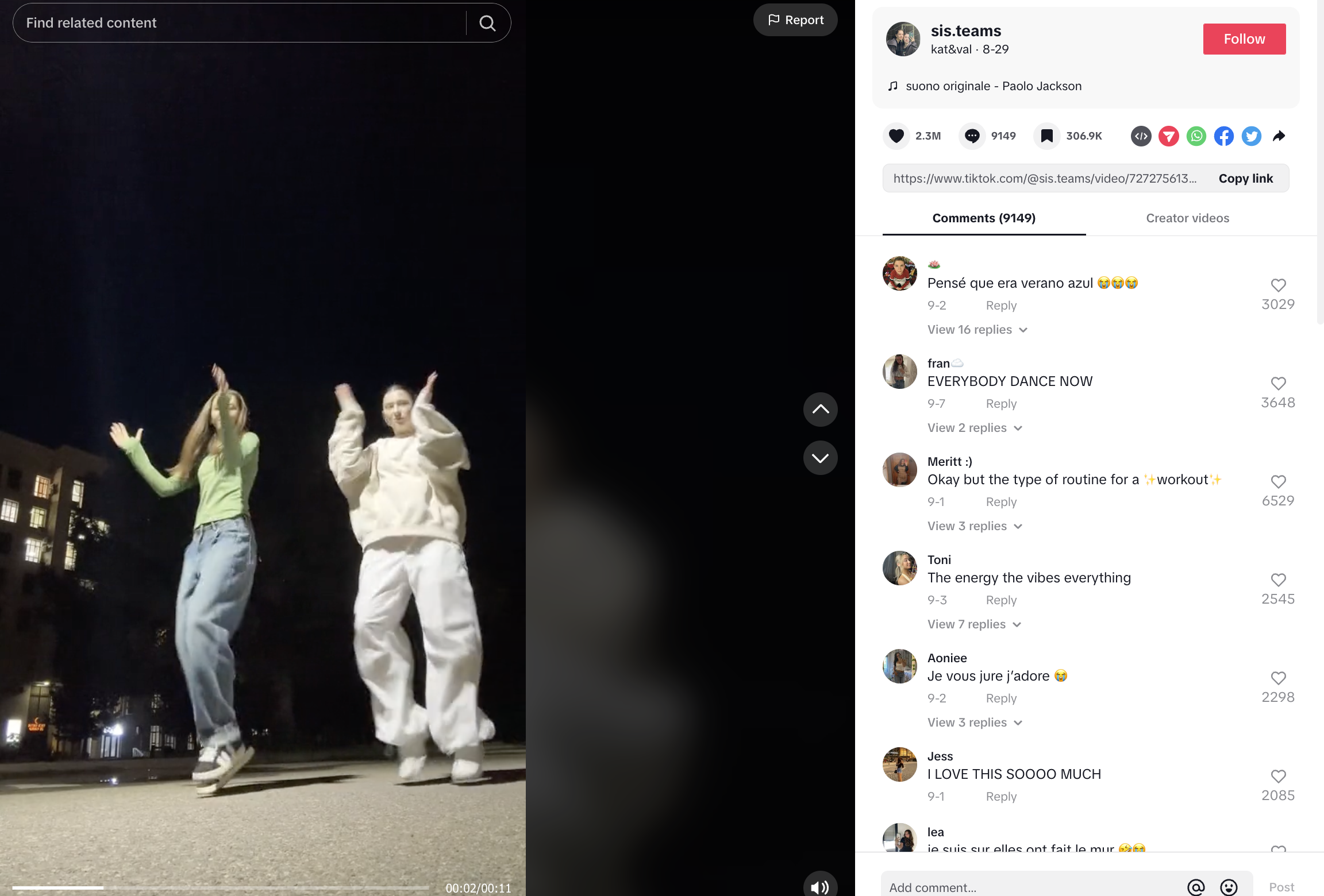 4.9.Rihanna's "If It's Lovin' That You Want"
Rihanna's song that was released 18 years ago gets TikTok users hyped. This new trending audio started a new TikTok challenge and people keep on dancing.
Most users use this audio in dancing challenges or showing their skincare routine.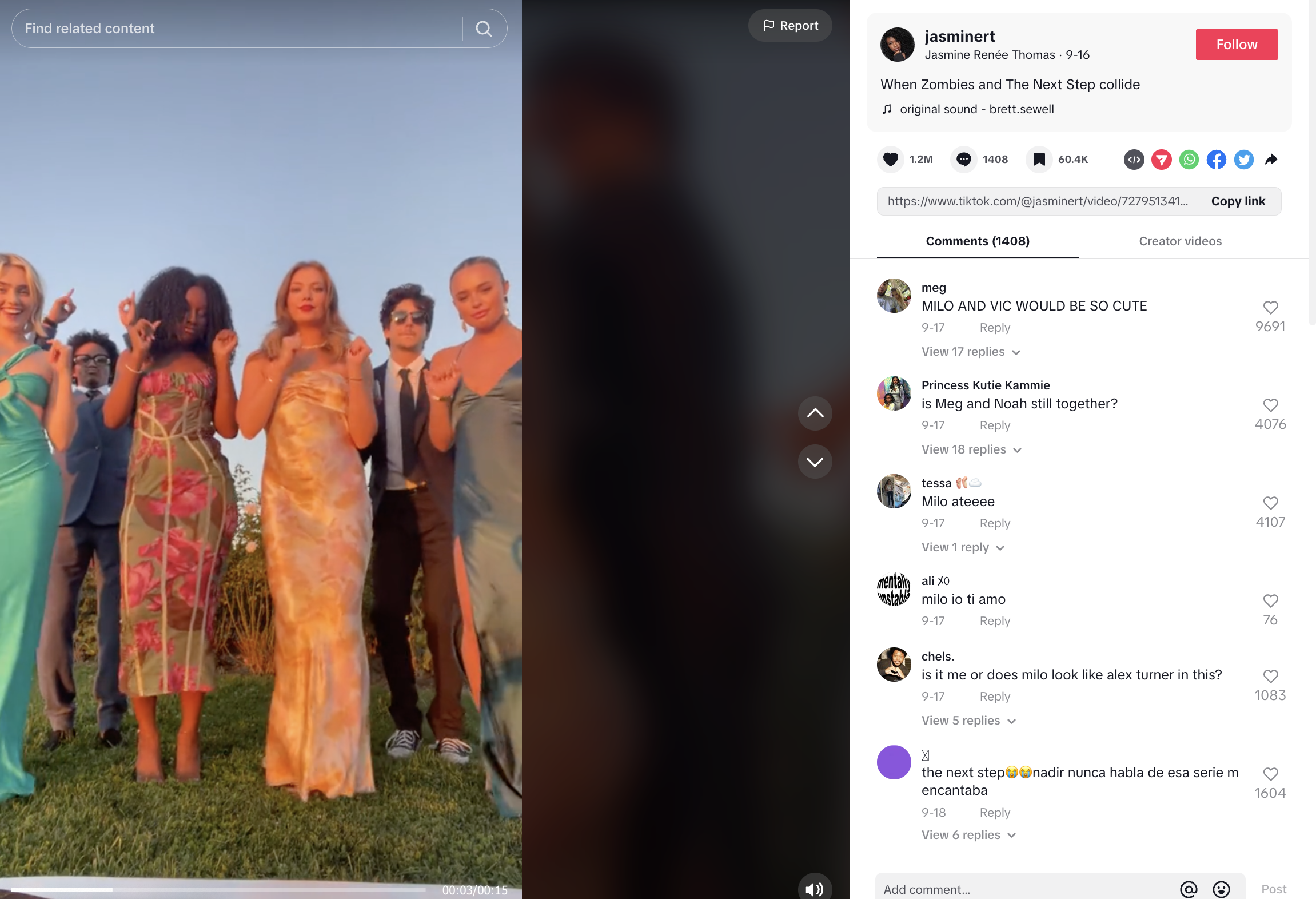 4.10.Bentley
This audio is hilarious. After it has been originally used in an ad for Bentley, TikTok users have been using it to mock other car brands.
The result? Laughs. Lots of laughs.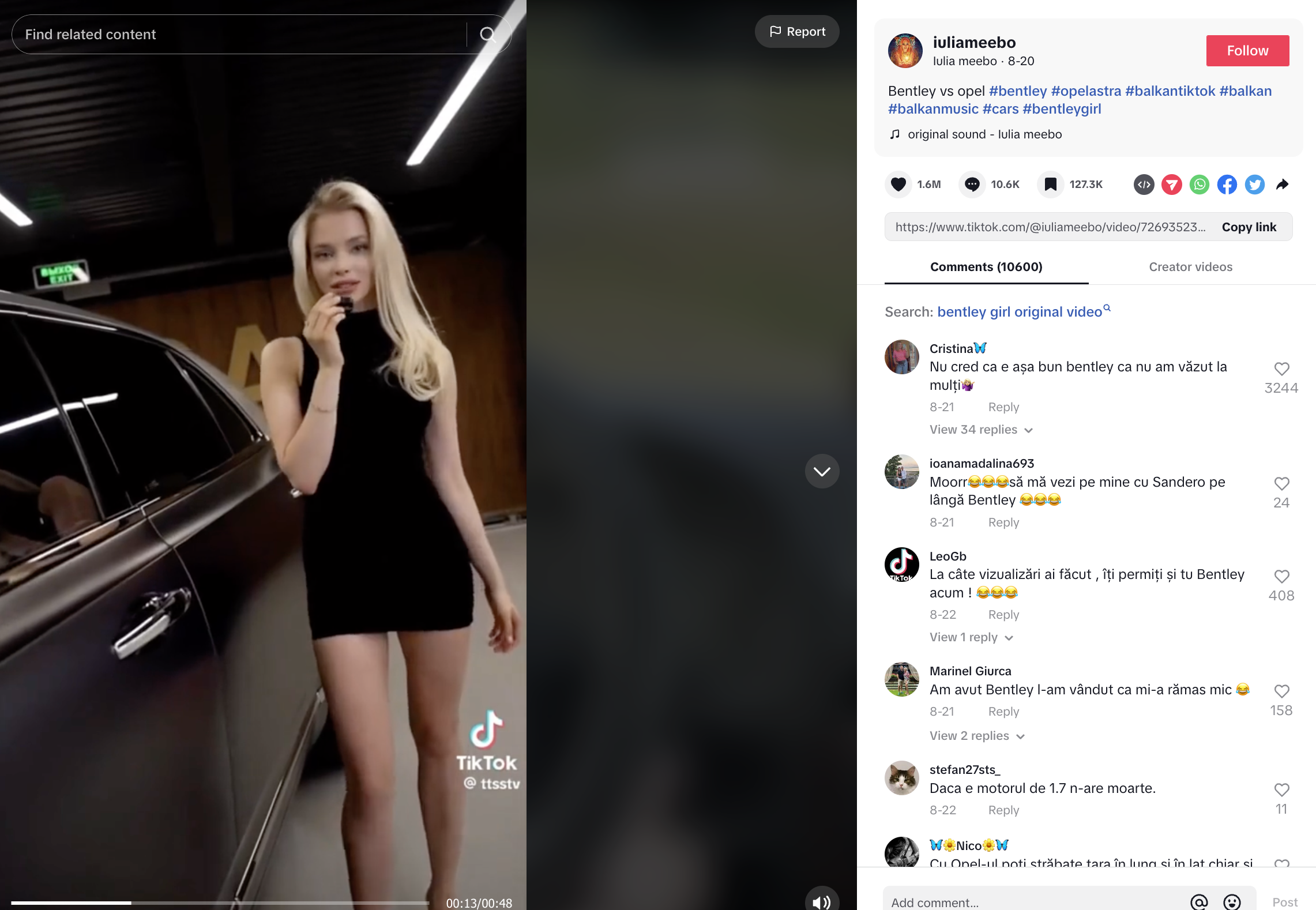 4.11.Daylight audio
A new TikTok dance challenge has emerged after this audio became viral. People dance it out, either when it's about a funny situation or when they just want to show their dancing skills.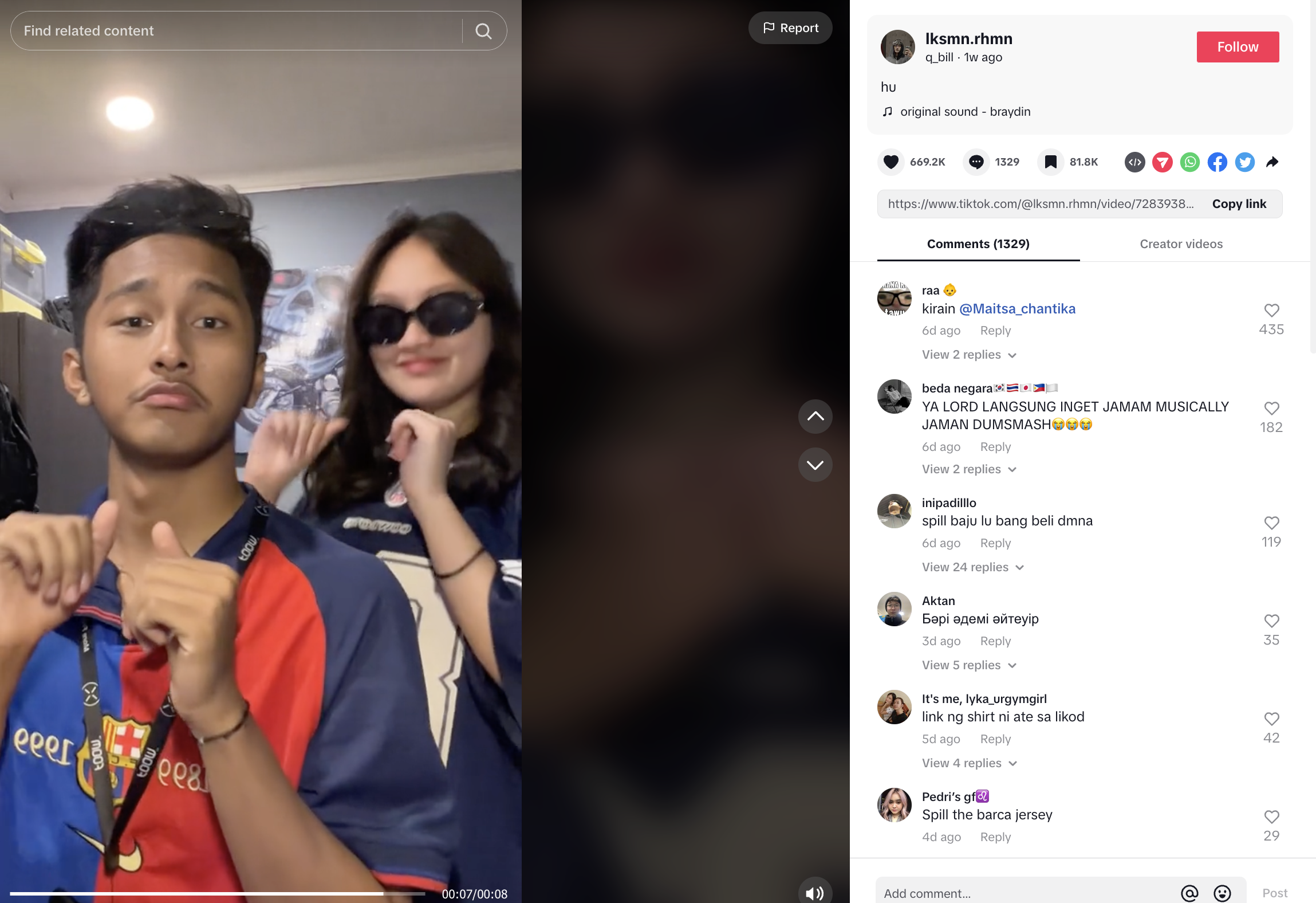 4.12.Tube girl
This new song from Tate McRae called Greedy has got TikTok users on their toes, like literally. On their toes and dancing.
Some even recorded videos in the subway, dancing on this song. Others just love the song and swear they have it on repeat in their playlists. Some users use this audio in their videos for transitions, from day to night or even makeup transformations.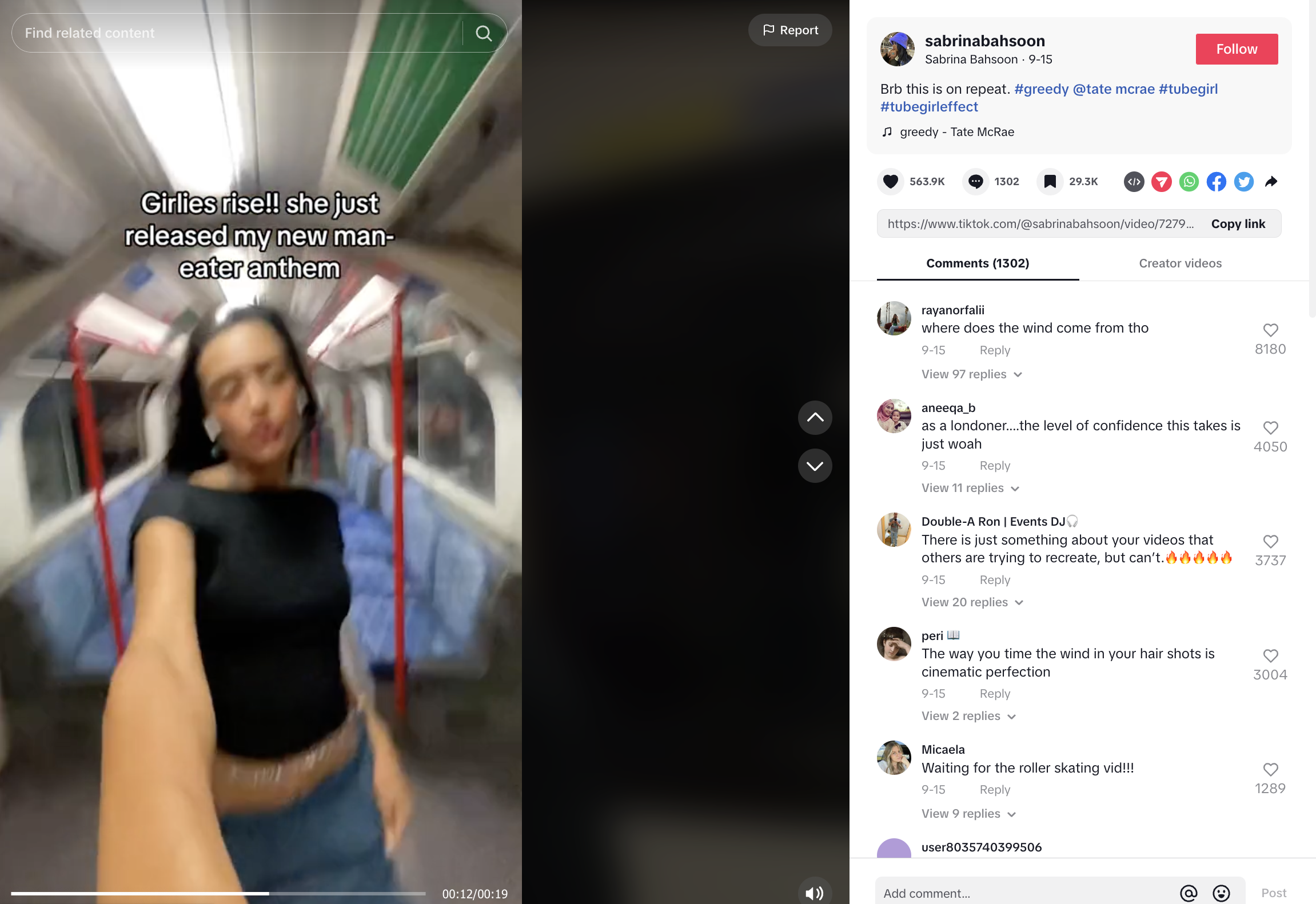 4.13.Rapunzel trend
We've all seen Rapunzel, the cartoon, or we have at least heard of it. This audio from the Disney movie is now trending on TikTok.
Girls use it to showcase make-up transitions or to show their outfits.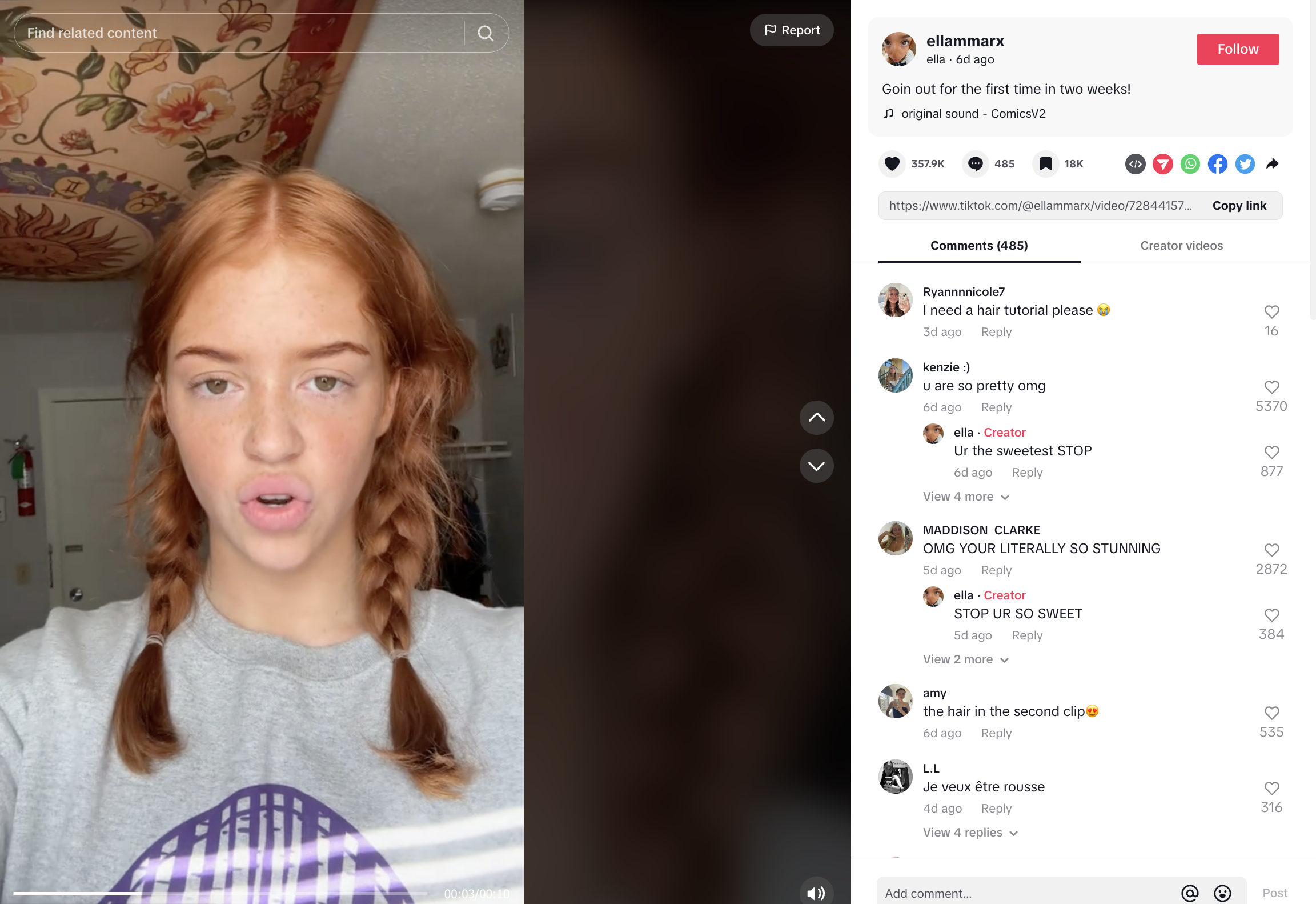 4.14.Italian trend
This new trending audio from Paolo Jackson is perfect for a silly new dance challenge on TikTok.
A lot of users have been using it in their dance videos, showing their new choreographies.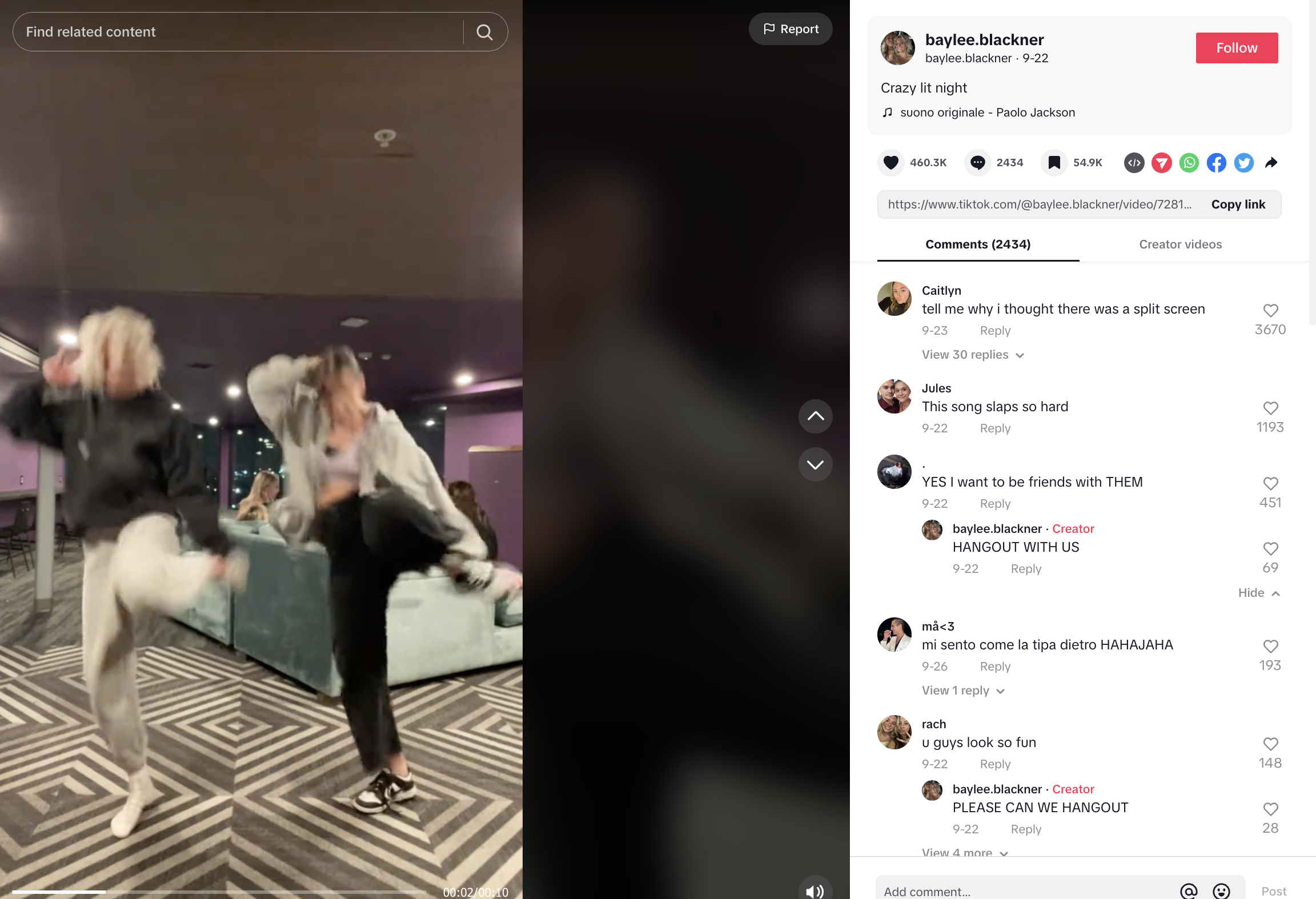 TikTok trends in August 2023
4.15.Samsinclairfx on Instagram audio
On TikTok this audio is now trending, having been used in more than 130K videos. This TikTok trend has been used by followers to showcase transformation.
They chose to highlight gym progress and others used it for makeup transitions. What get's them hyped is the lyrics of the audio.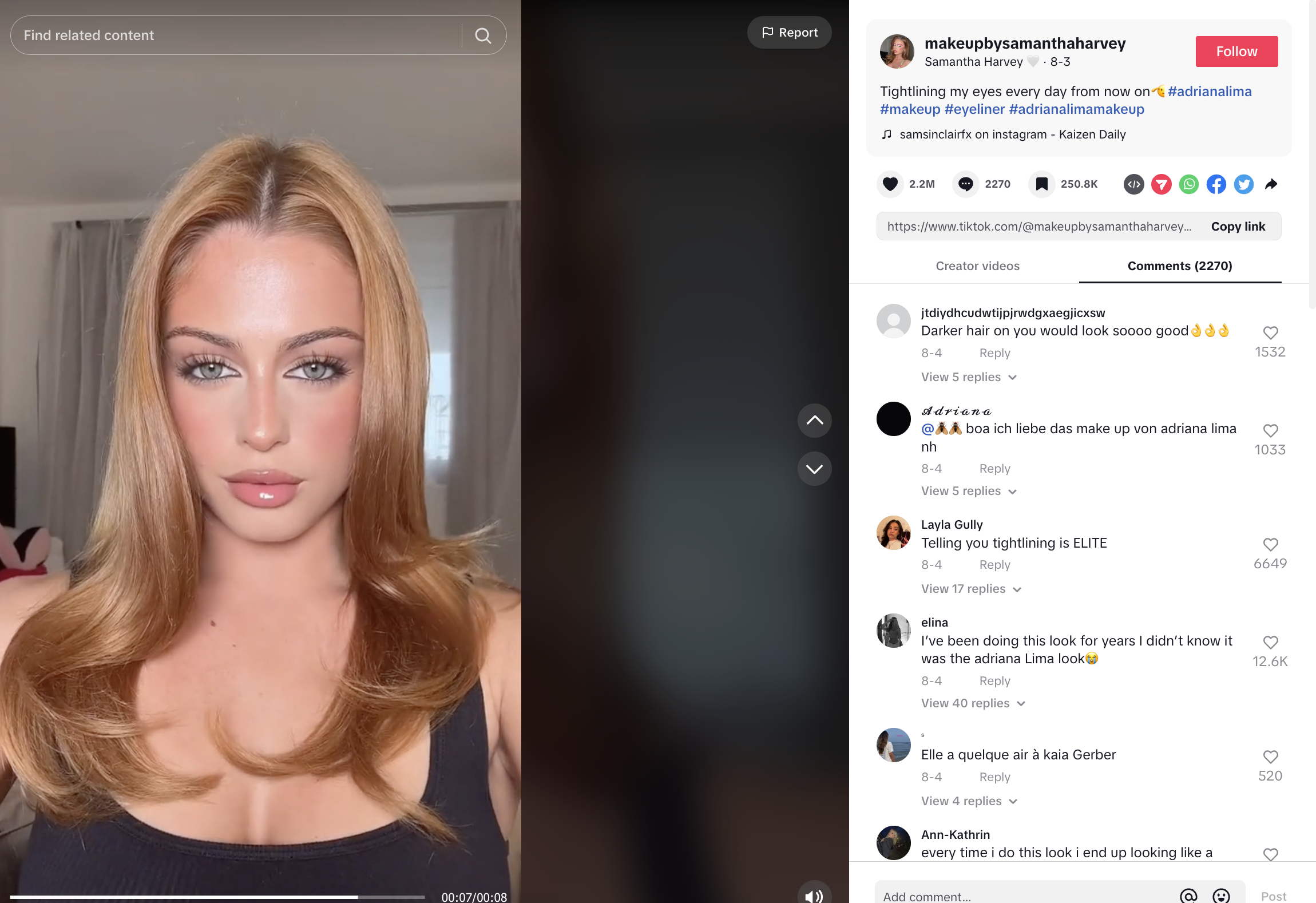 4.16.Half On a Sack - Penguin trend
This TikTok trend with the penguins from the Madagascar movie is hilarious. This audio was used in over 33K videos and still counting.
TikTok users have seen this audio as a new dance challenge. And everyone has challenged their siblings, cousins, friends and all their relatives.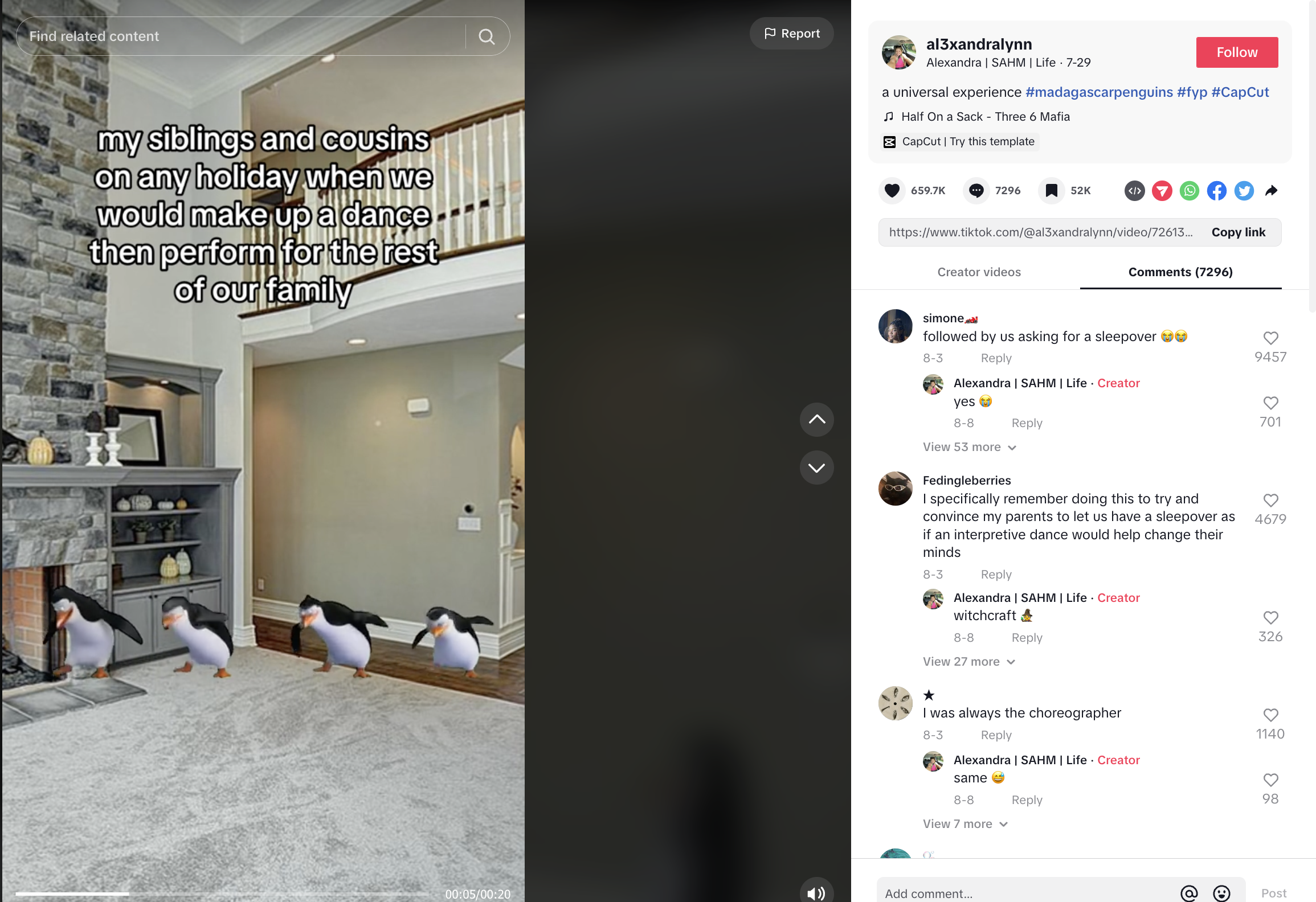 4.17.Squilliam dance
This new trending dance called Squilliam dance is not only funny, but also extremly popular.
By only using this audio and practicing the dance moves, your TikTok video will instantly go viral.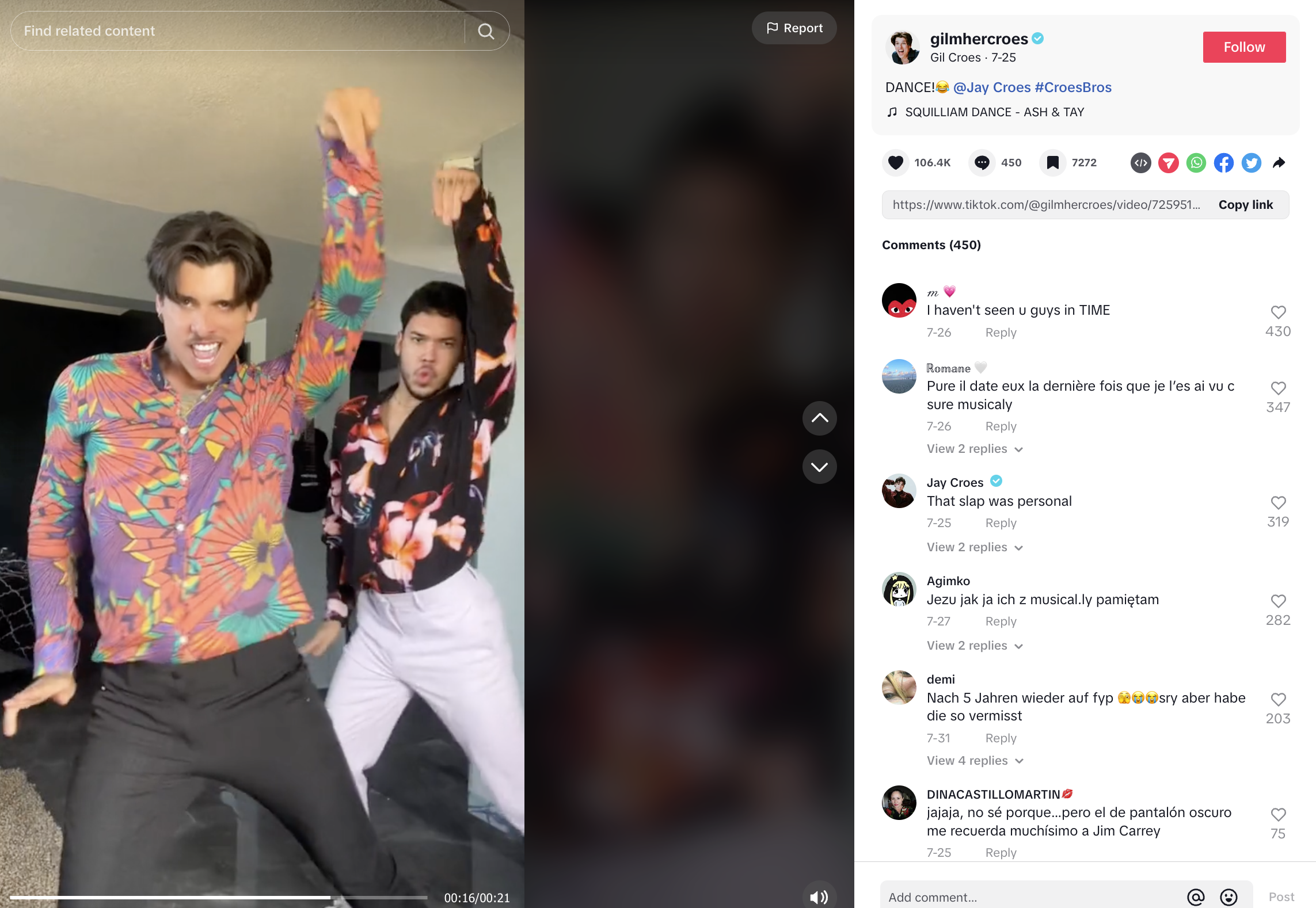 4.18.Doja Cat Attention
Most of TikTok trends usually emerge due to trending audios, just like it happened with Doja Cat's new song.
This trending audio is perfect for transition videos on TikTok. There are already more than 700K TikToks using this audio.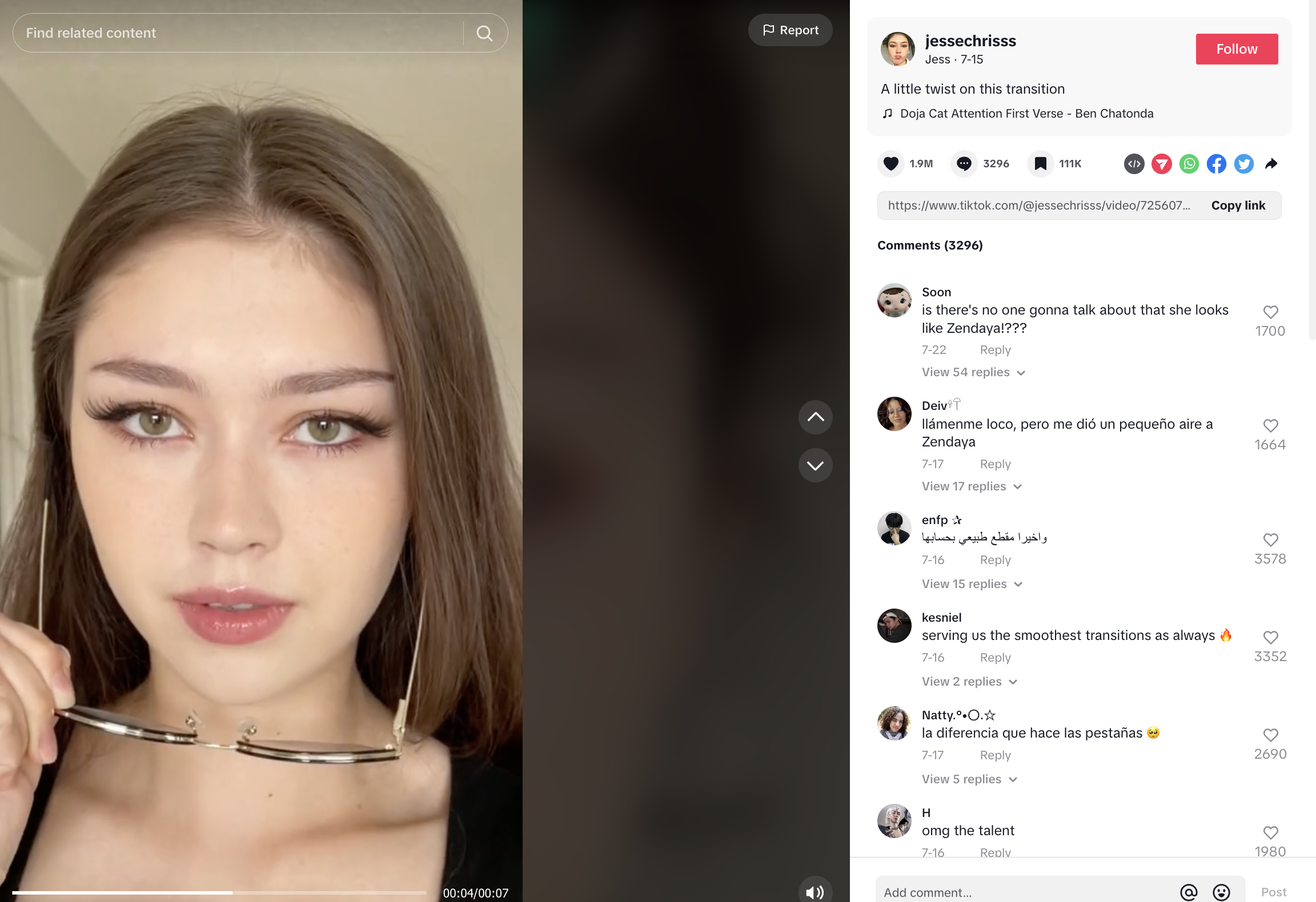 4.19.Sonido original sound
The huge wave of TikTok videos featuring this audio is impressive. The song is a remake after the well-known song "La Bomba".
It seems that TikTokers loved the remake and were all eager to dance to the new old-song again.
People use the trend for dance challenges or to showcase transitions in the dark.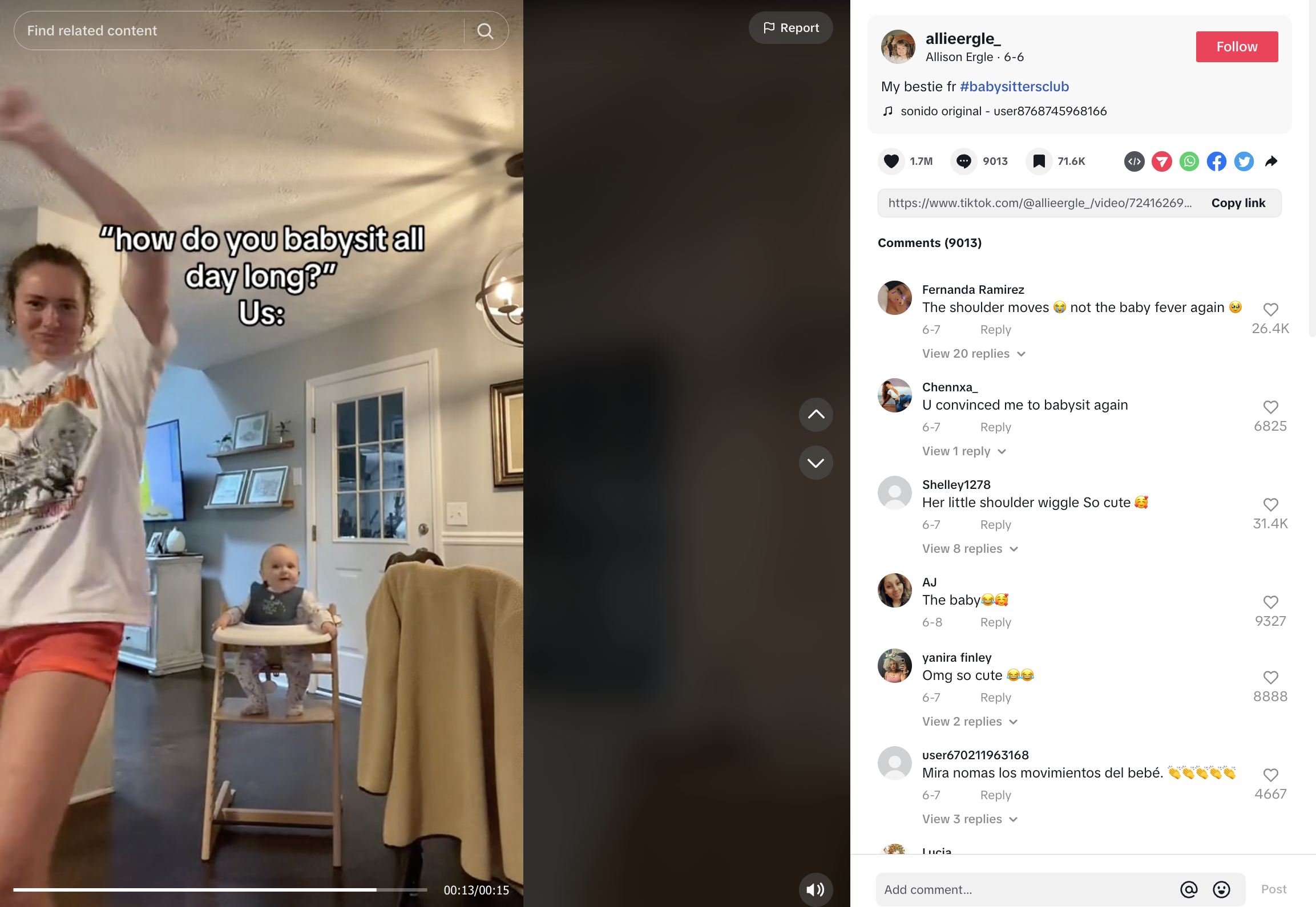 4.20.Maisie original sound
This TikTok trend appeared with a CapCut template that people have been using. The catchy jinggle and the vibes it gives made TikTokers use it in travel videos.
Other users have used this trending audio in videos that show their daily activities, or even for their food recipes.
This audio was used in over 14K videos and still counting. How would you use it?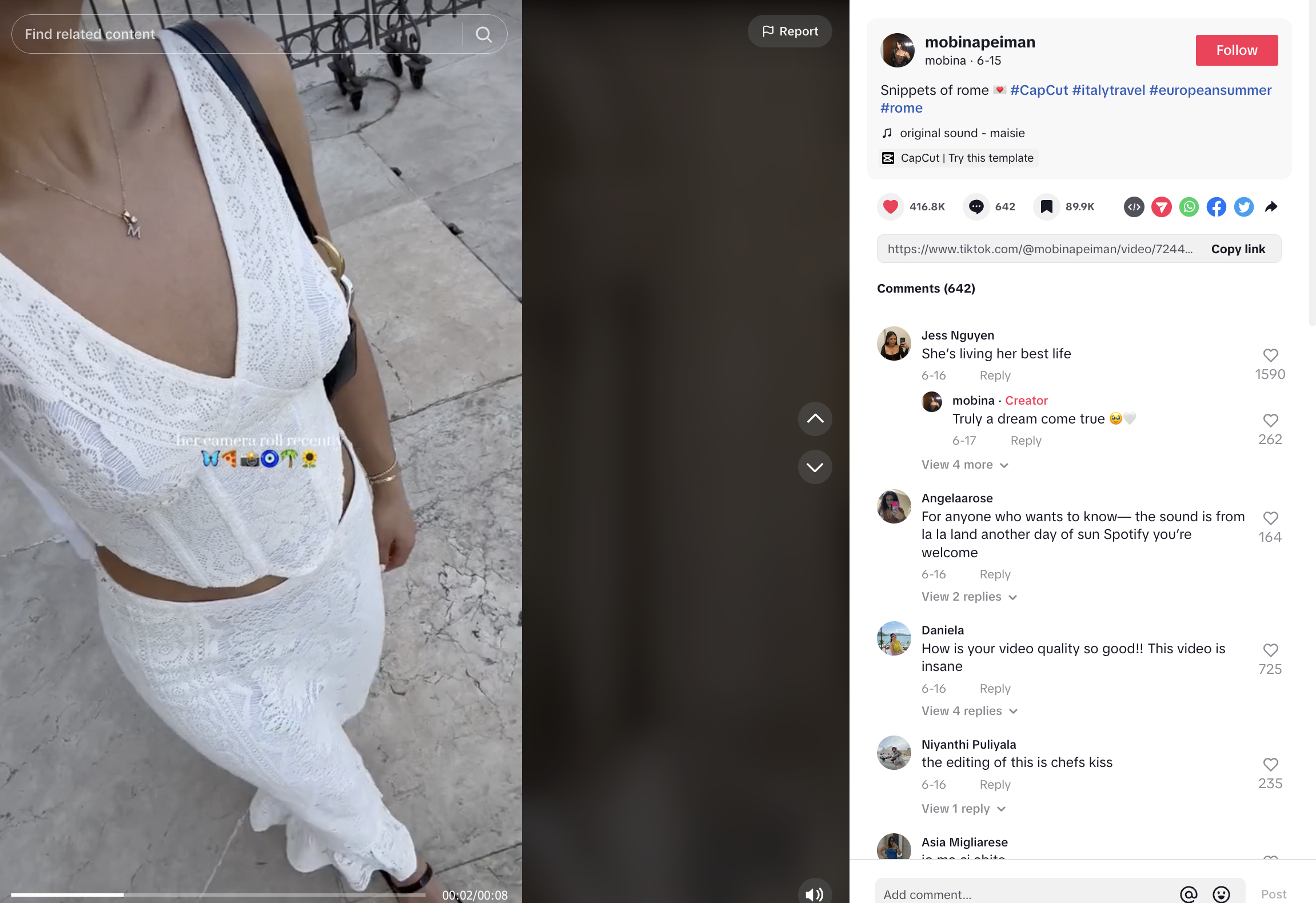 4.21.Kendrick x Radiohead
This trending audio is a mix between two songs and it has quickly became very popular.
The TikTok trending sound was used by more than 60K people and still counting. TikToksers have mainly use it for transition videos or quick shifts between images.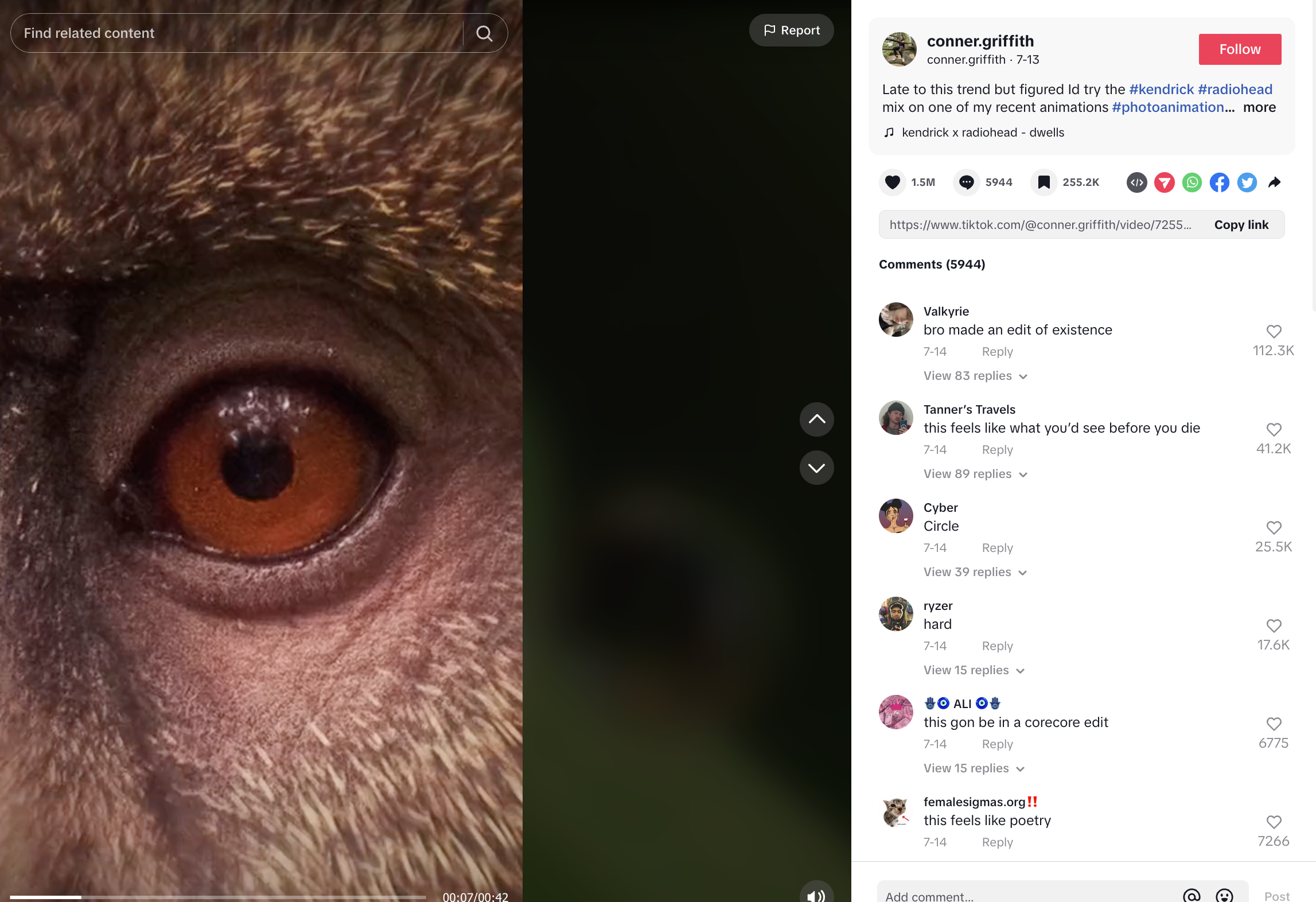 TikTok trends in July 2023
4.22.Hi Barbie, hi Ken
The hype for the Barbie movie set the high really high and increased people's expectations. It did not disappoint, especially when it comes to all the trends that emerged after its launch.
This trending audio on TikTok has become viral after the movie appeared in theatres. It's from the beginning of the movie when the Barbies and the Kens greet each other.
TikTok users have used the audio in videos when showcasing their outfits.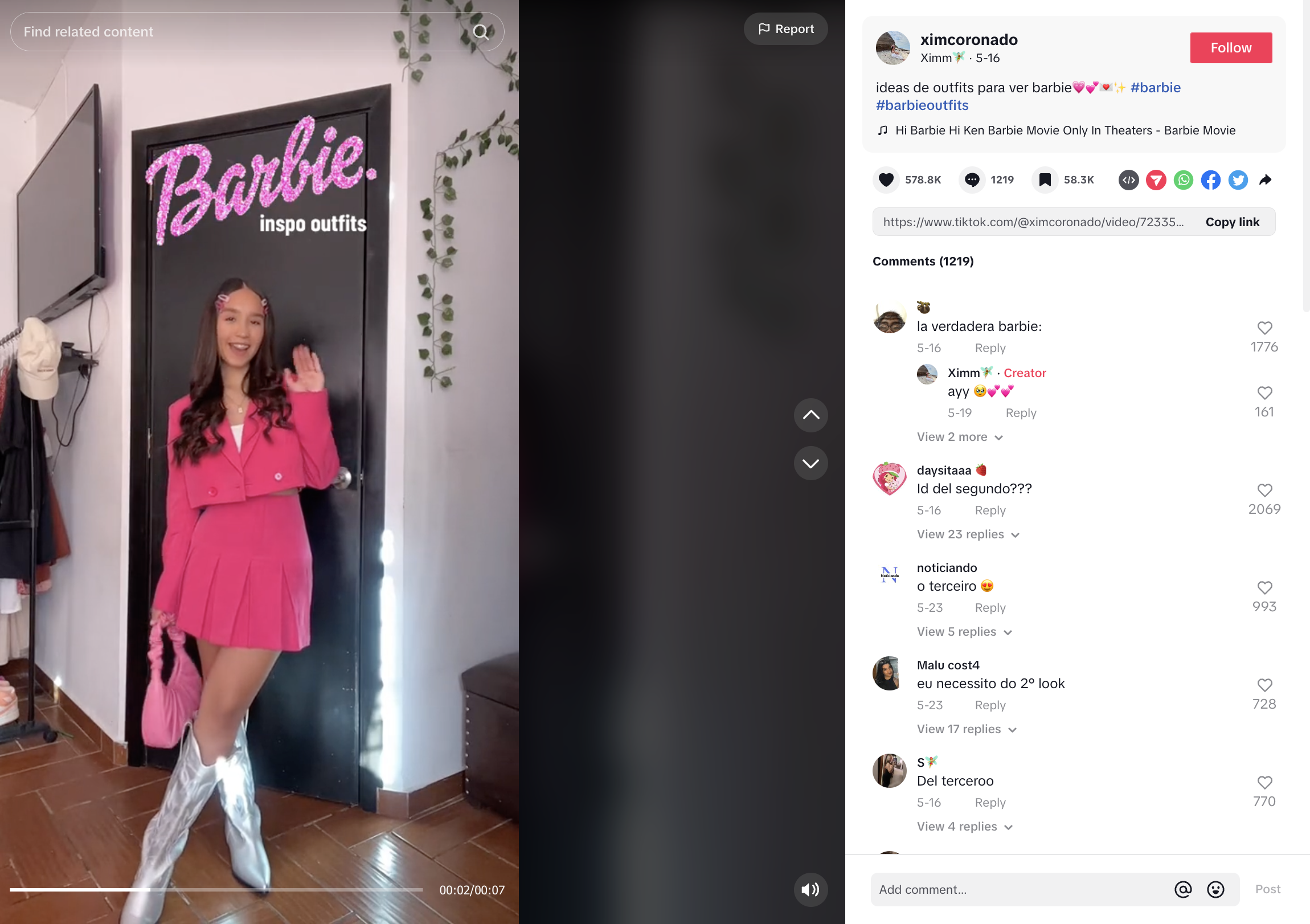 4.23.Barbie driving meme
CapCut is a great source of inspiration. There's no doubt that this tool is now packed with Barbie references, templates and memes.
This meme is ready to turn your video into a viral one if you use it. Just show something you are scared about, just like Barbie gets startled by Ken.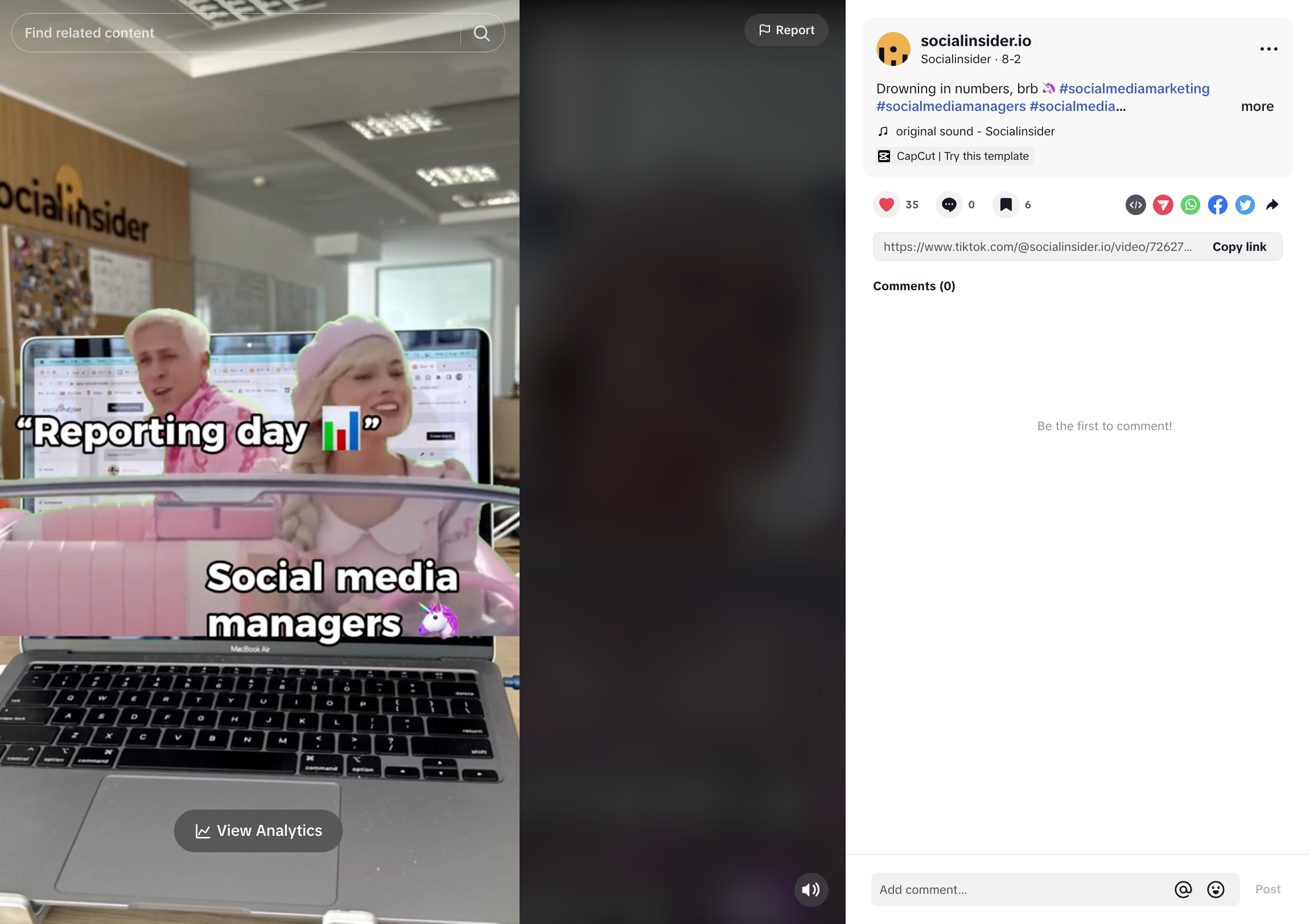 4.24.Dog days are over
This song from Florence + The Machine is now trending on TikTok and people have been using it to, well, run.
Couples and friends use it with different dance moves and at the end they start running. Some of them used this audio when at the beach and they've jumped into the water.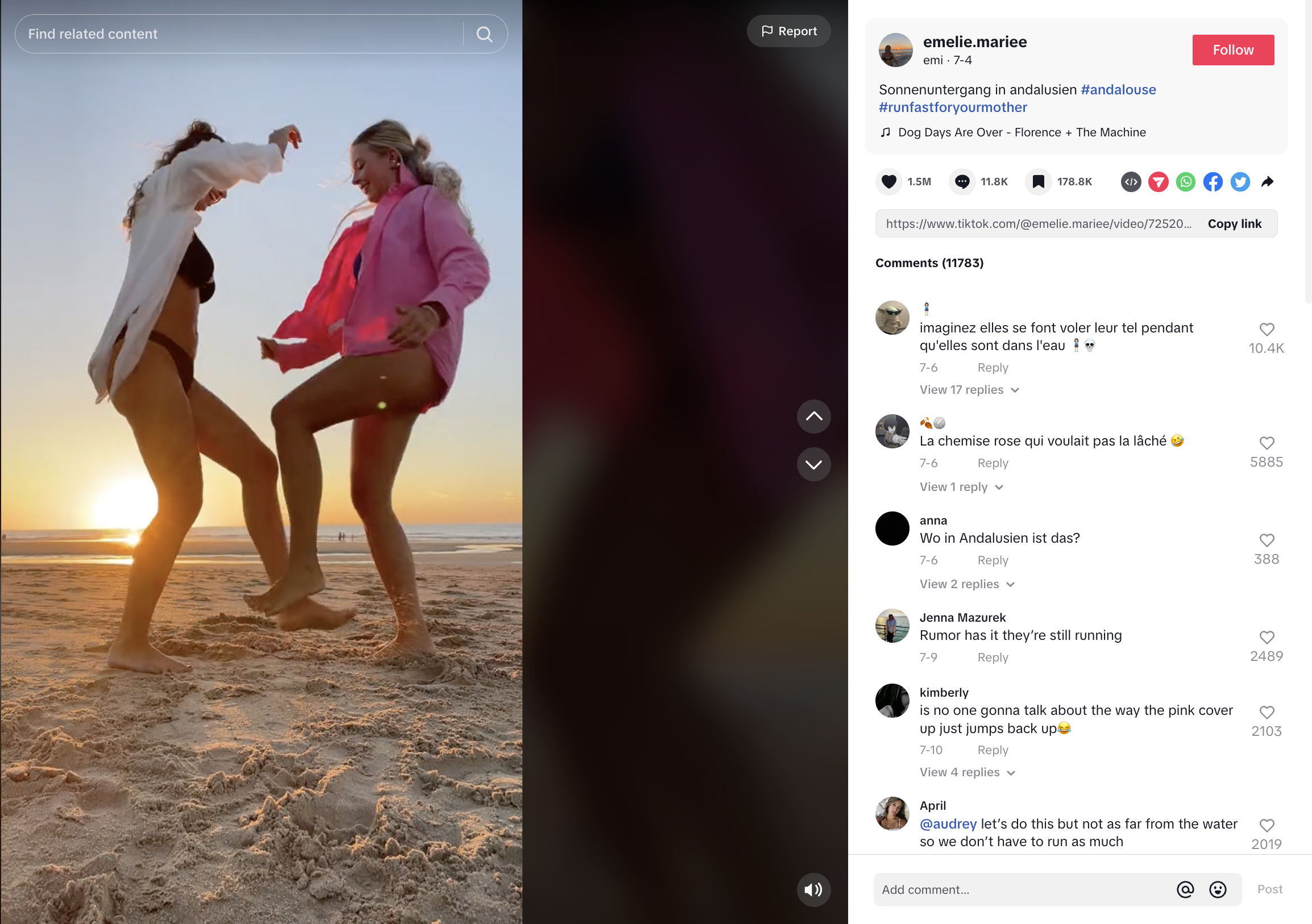 4.25.Brunette stunning
This new trending audio is from the TV series Yellowjackets and it seems to find a place in every brunette girl's video.
Some blonde girls have even used it to show they're proud of their brunette friends.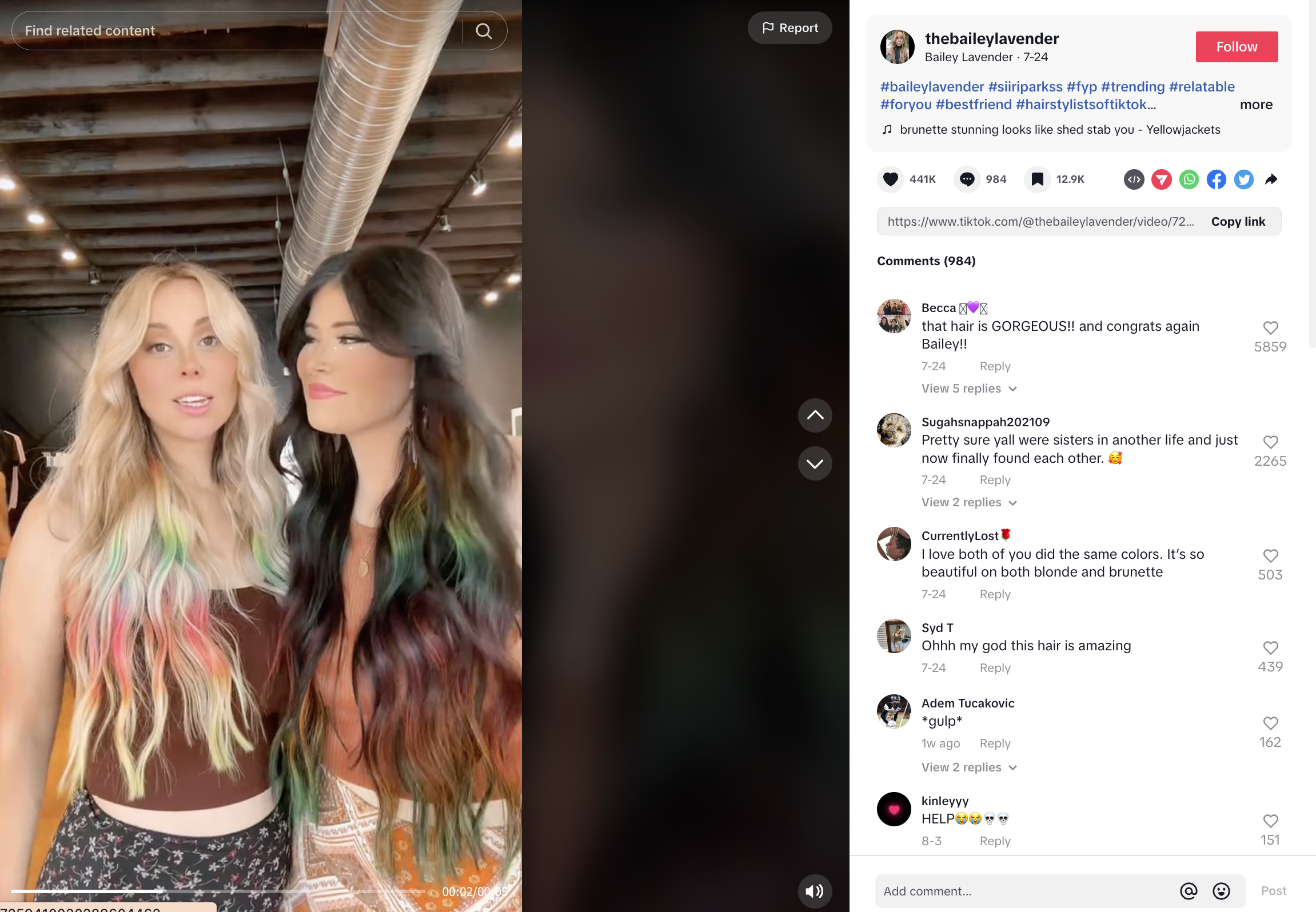 4.26.Speed ticket
When everything goes almost perfectly right, you can use this audio with your TikTok videos.
Some TikTok users integrated this audio to talk about their shopping habits, keeping secrets, their boyfriends and girlfriends or about food.
How would you use it?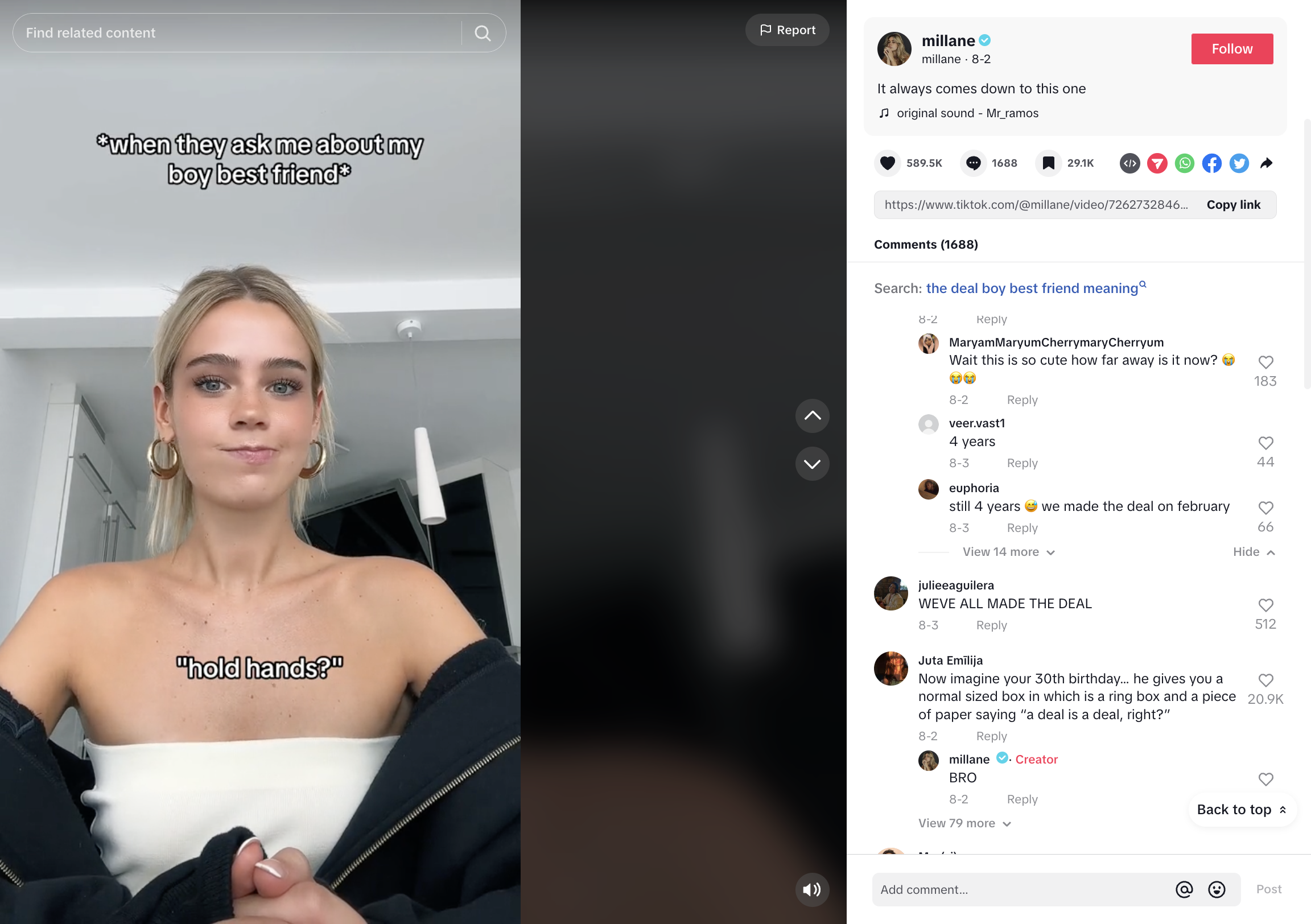 TikTok trends in June 2023
4.27.Makeba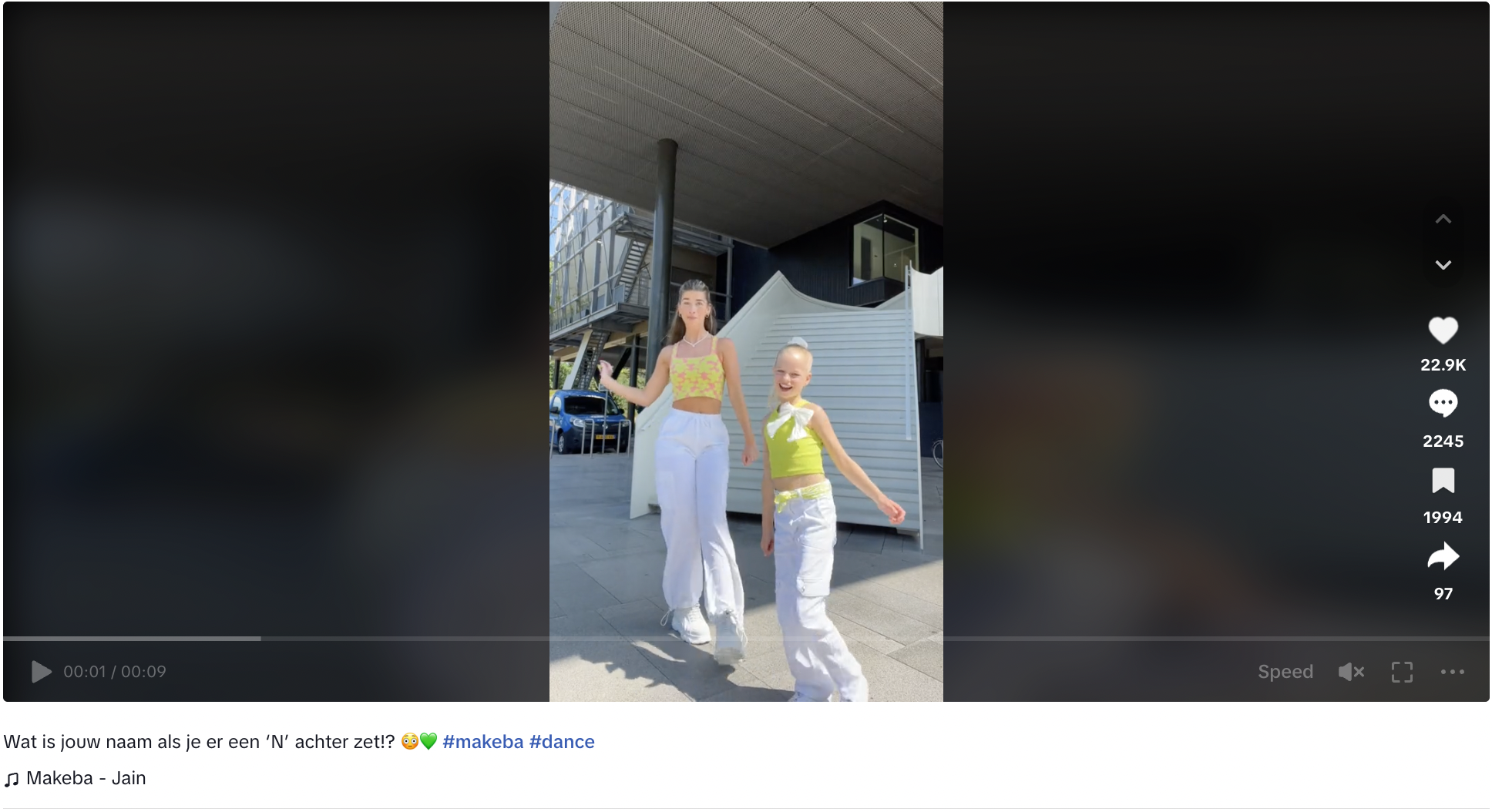 This popular audio and TikTok trend has taken over the whole world. You can hear it everywhere now. Most TikTokers use it in their dancing videos or challenges to make their content as viral as the song.
4.28.Smooth Operator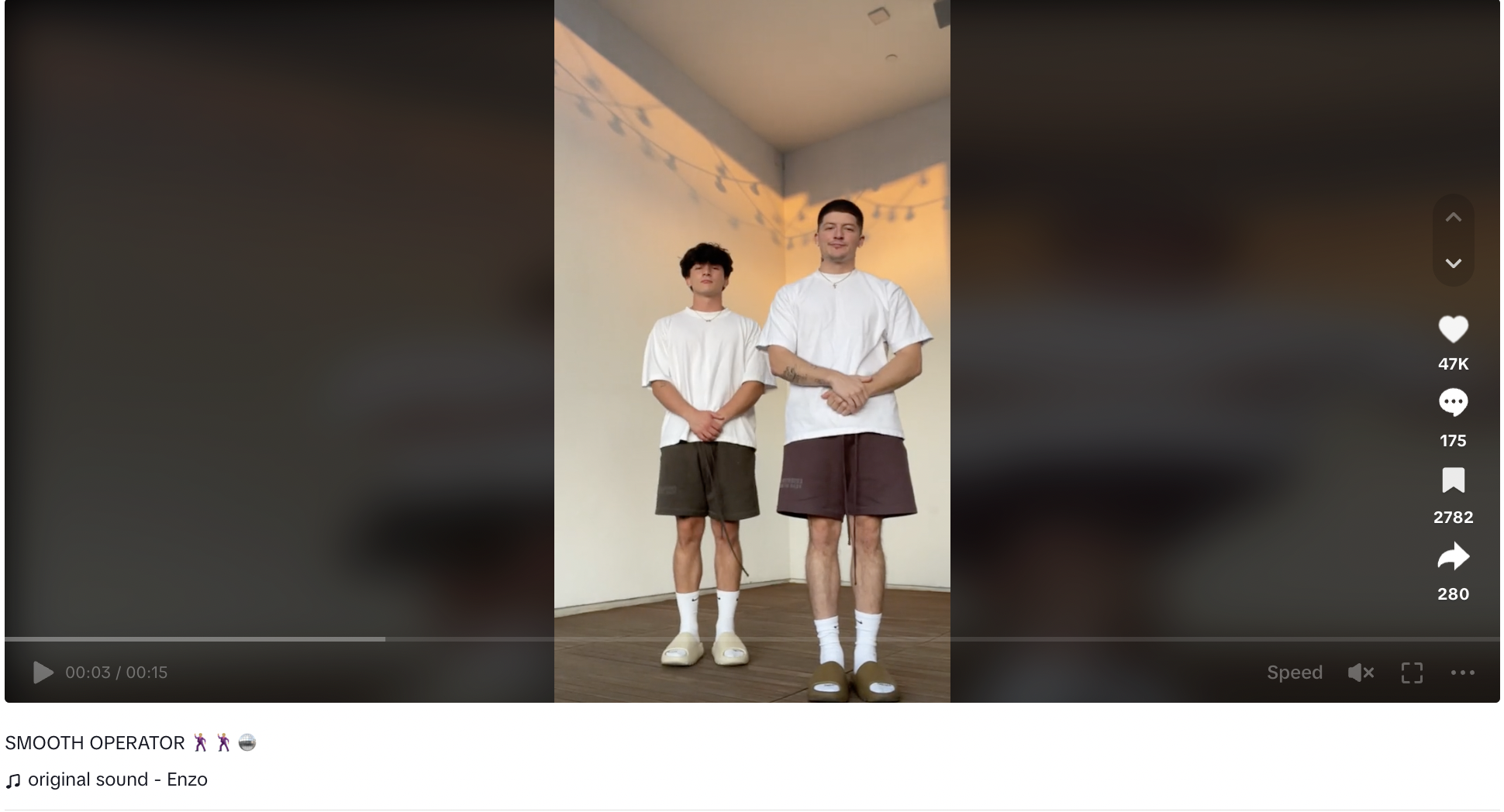 Even if this song from Sade is pretty old, TikTok has found a way to make it trending. People use it for their dance videos and it works wonders.
4.29.My husband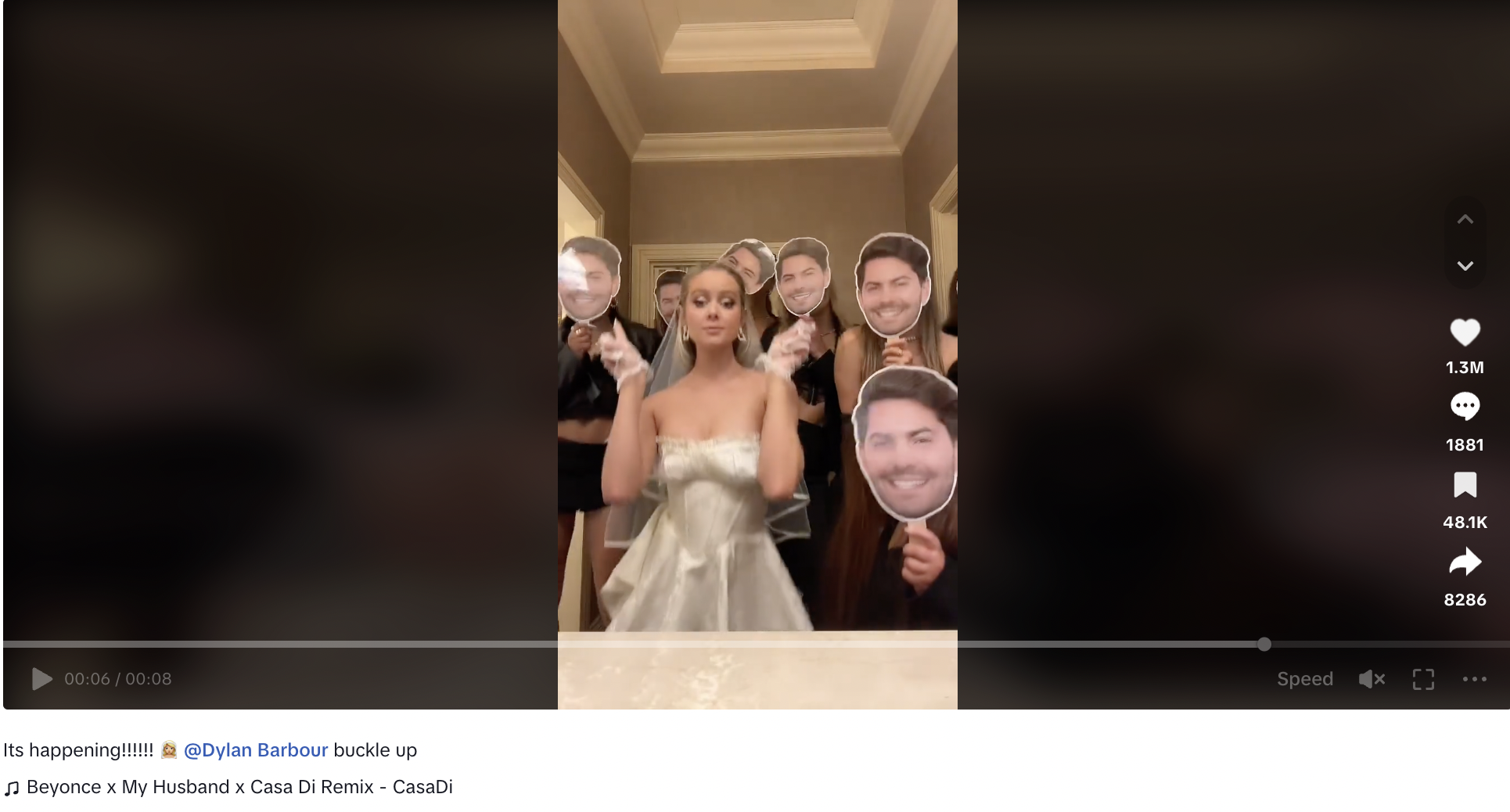 The recipe is simple: if you use a trending audio like this one from Beyonce, chances are your video will become viral. Find the appropriate circumstance to use it, like these girls have.
4.30.Beige flag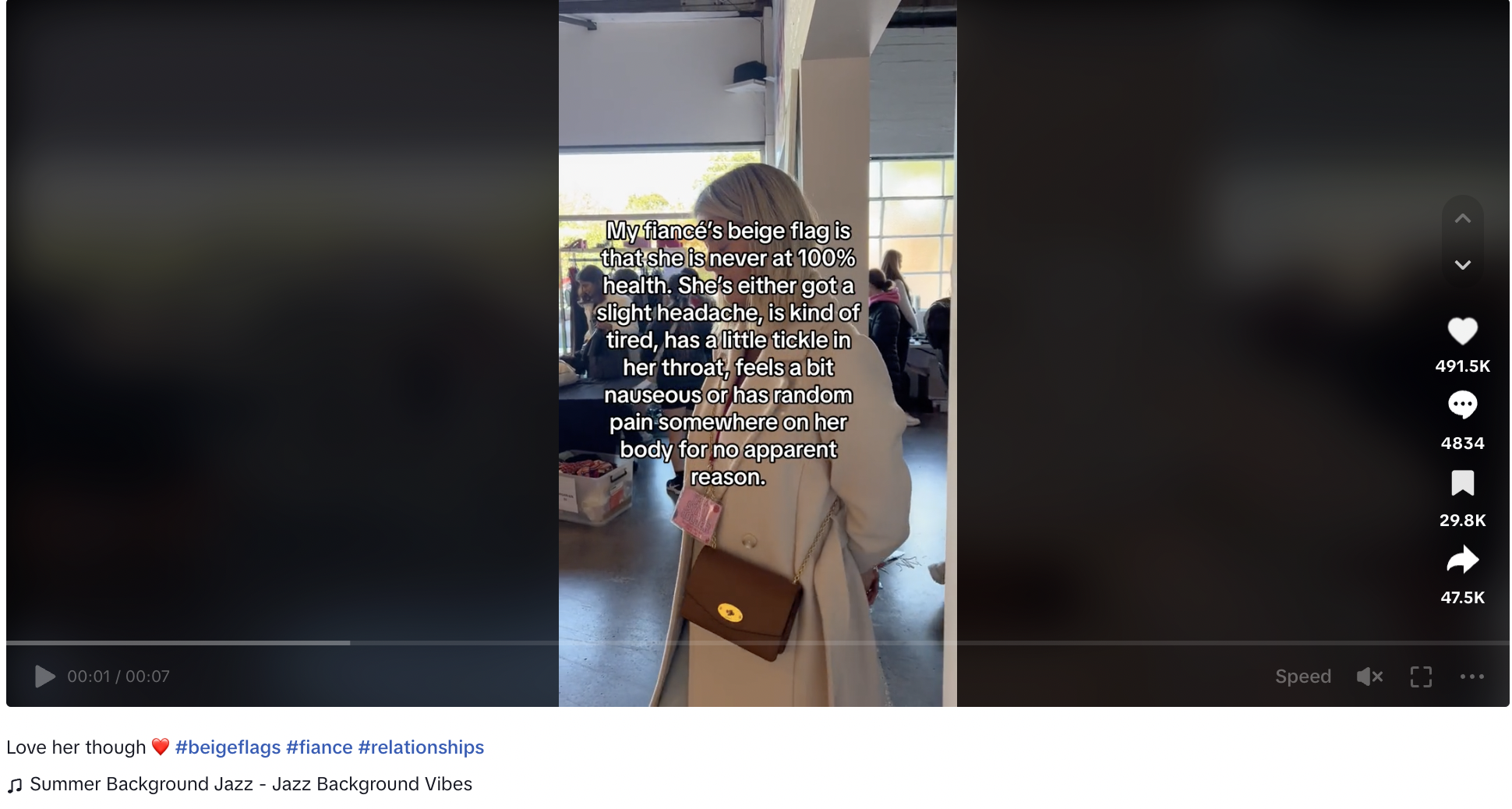 We are all familiar with red flags and green flags in relationships, but beige flags have come to our attention due to TikTok's new trend.
A beige flag is when your partner does something that annoys you but it's not such a big deal.
Use this trend to highlight your partner's annoying personality trait and tell the story.
TikTok trends in May 2023
4.31.I don't do well with the drama
Justin Bieber's song has become popular on TikTok and people use it in their videos to replicate the artist's success.
It's not difficult to find an appropriate context to use this audio. Take your chance and see what happens to your TikTok video.
4.32.Wes Anderson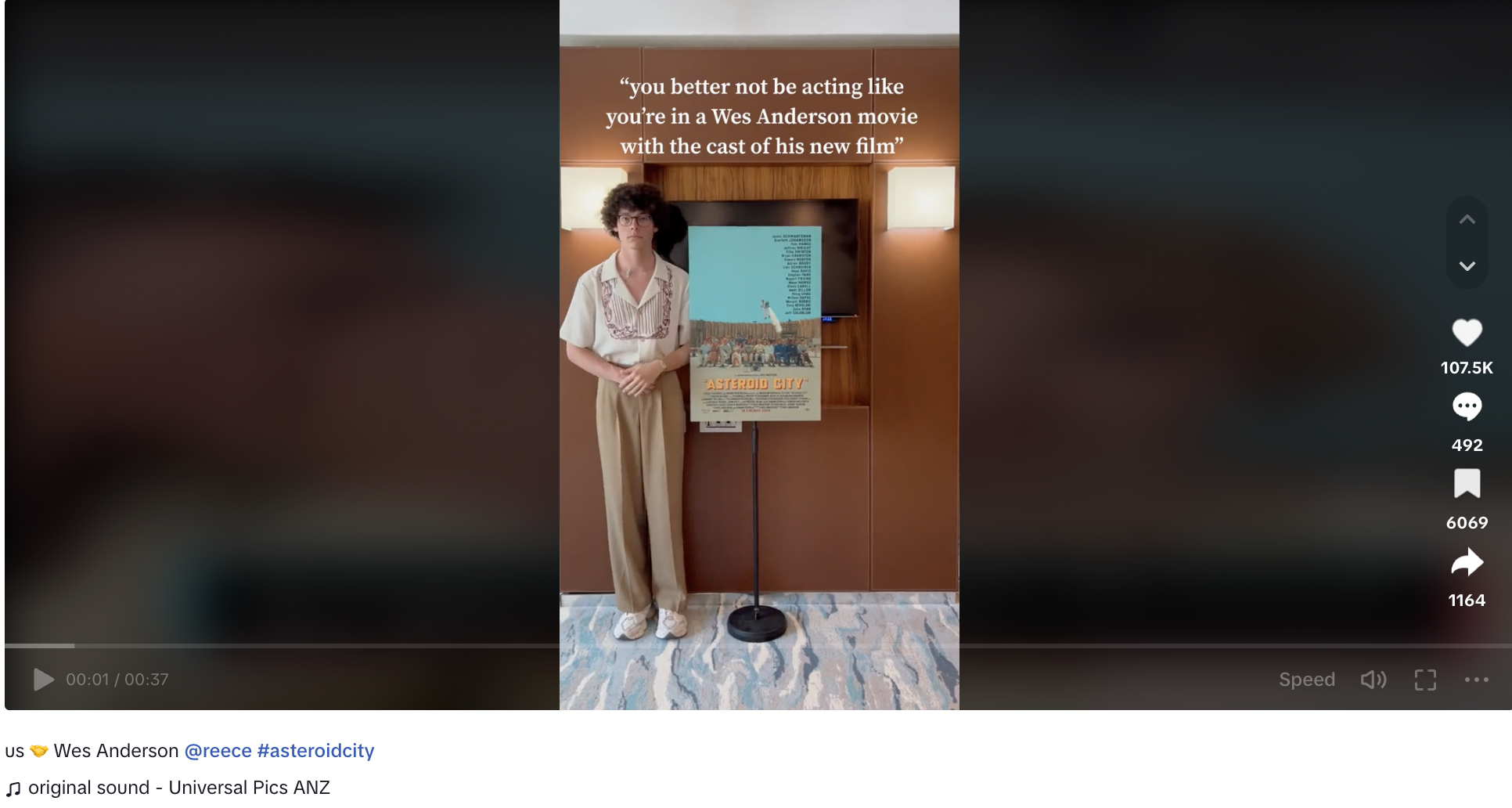 The Wes Anderson trend is everywhere, from ruling Instagram trends to TikTok. When even the stars in Hollywood use it, what's your excuse?
4.33.It's whack-a-doodle time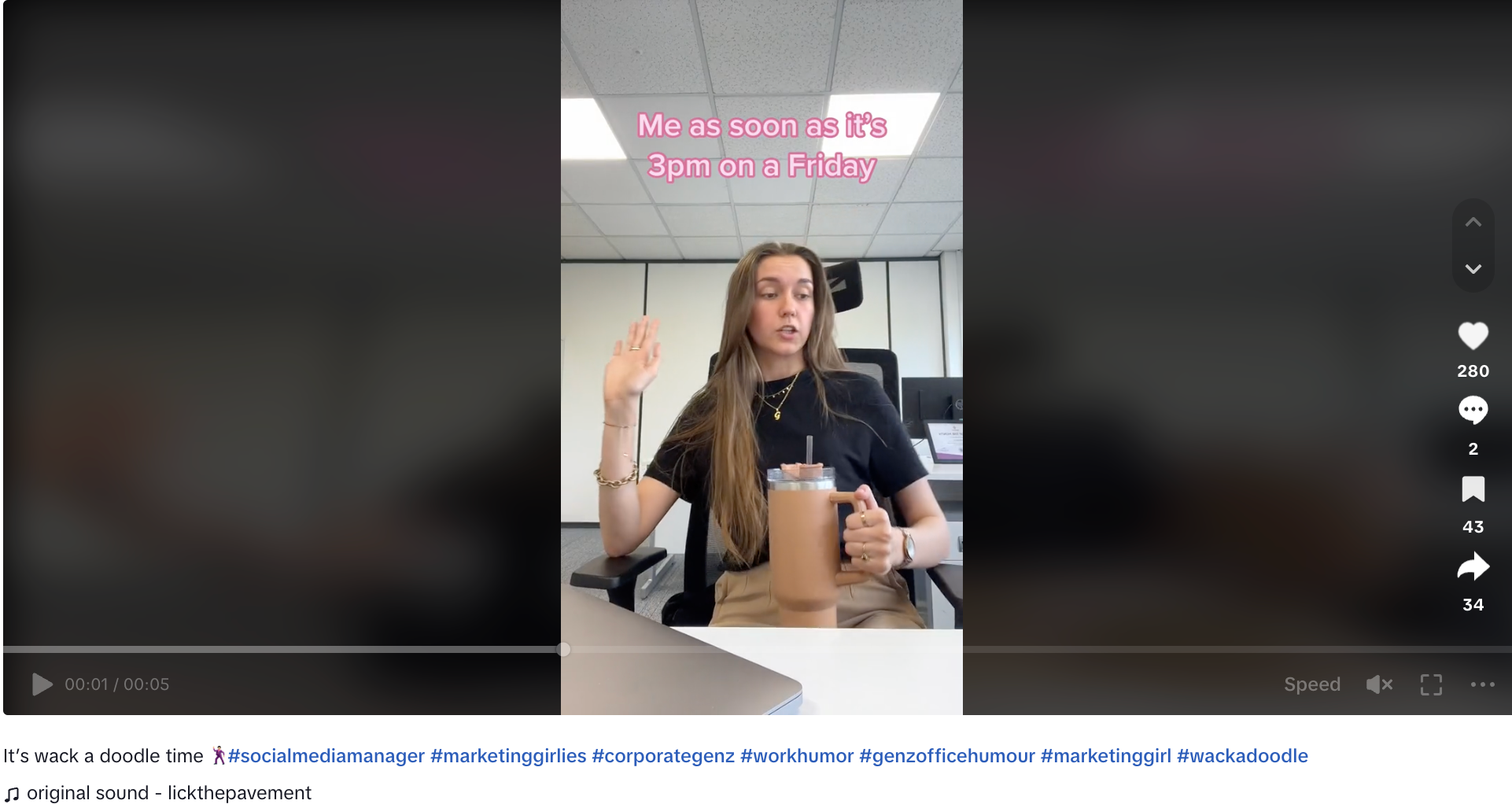 This TikTok trend is perfect for that moment when you're done with work or for when you record your kids doing their mumbo jumbo at home.
Just give it a try and you'll see the number of views rising.
4.34.Ok, well that's interesting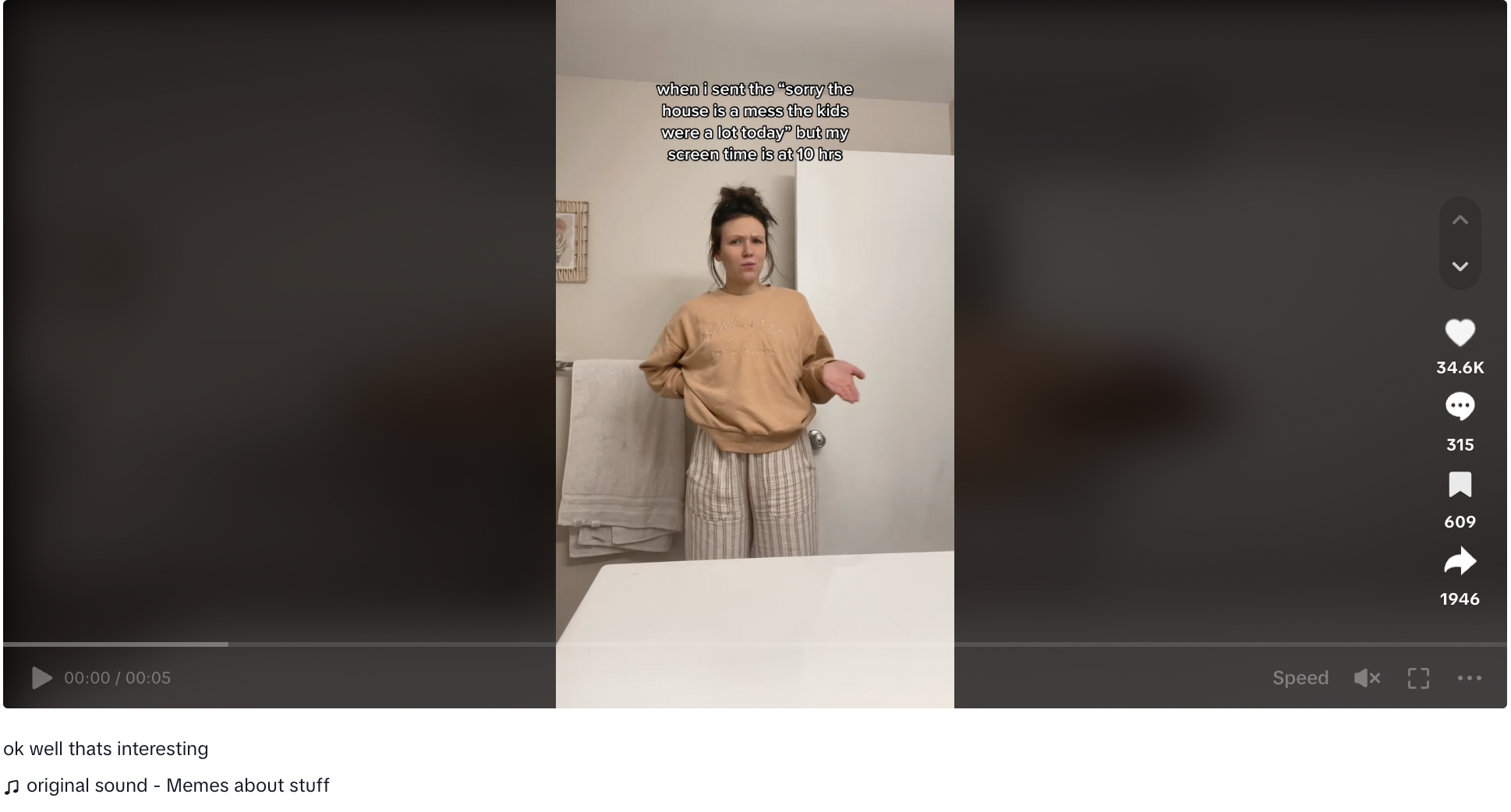 This is new TikTok trend is generally used for those situations when you're trying to excuse yourself but you're actually admitting you're the one to be blamed.
4.35.Could you be loved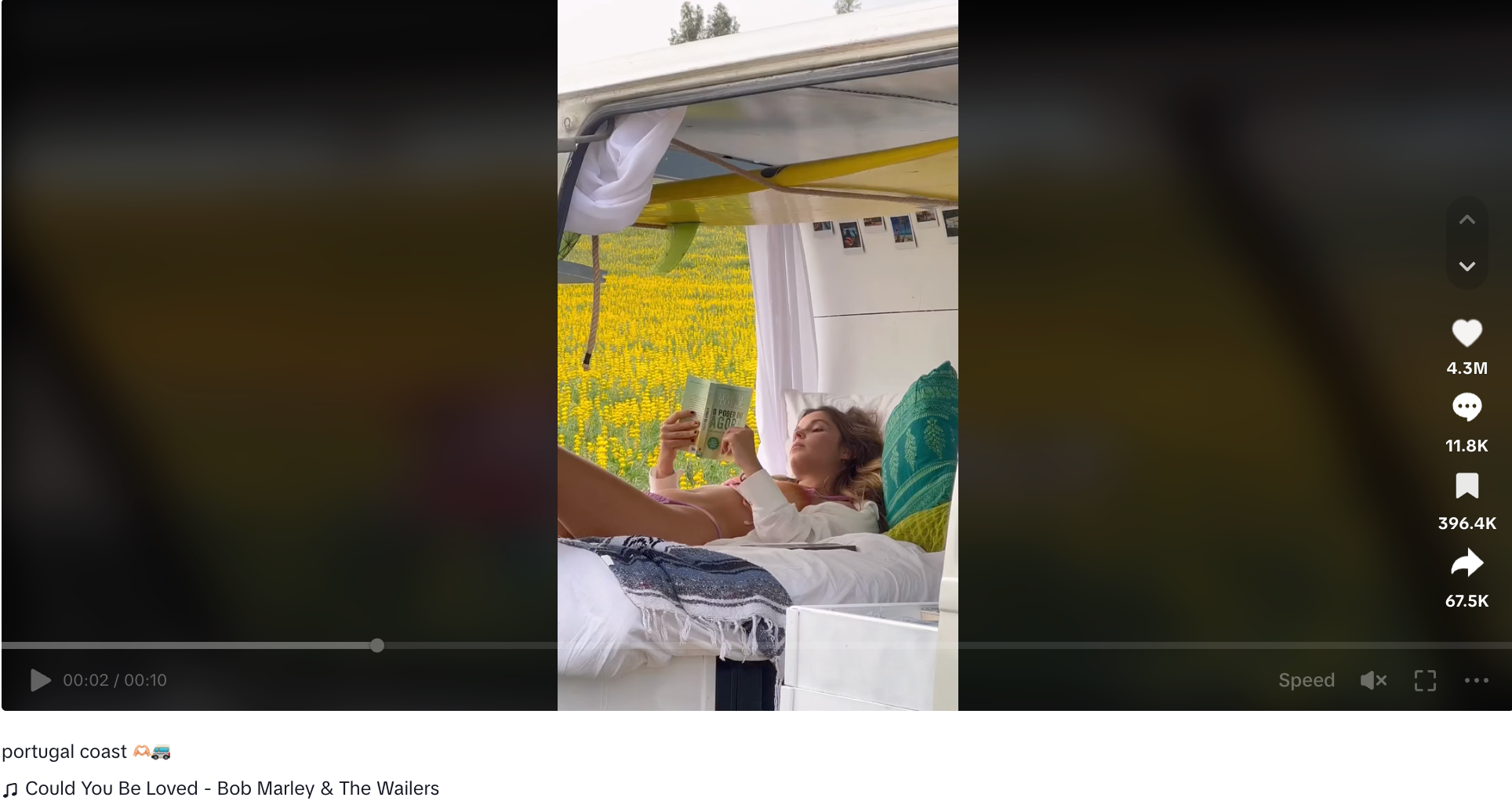 Bob Marley's song "Could you be loved" will never be out of style. This song is forever trending and so could be your TikTok videos.
Go ahead and put this audio over whatever video you like, inspiring others and passing over the good mood it sets.
TikTok trends in April 2023
4.36.Hell n back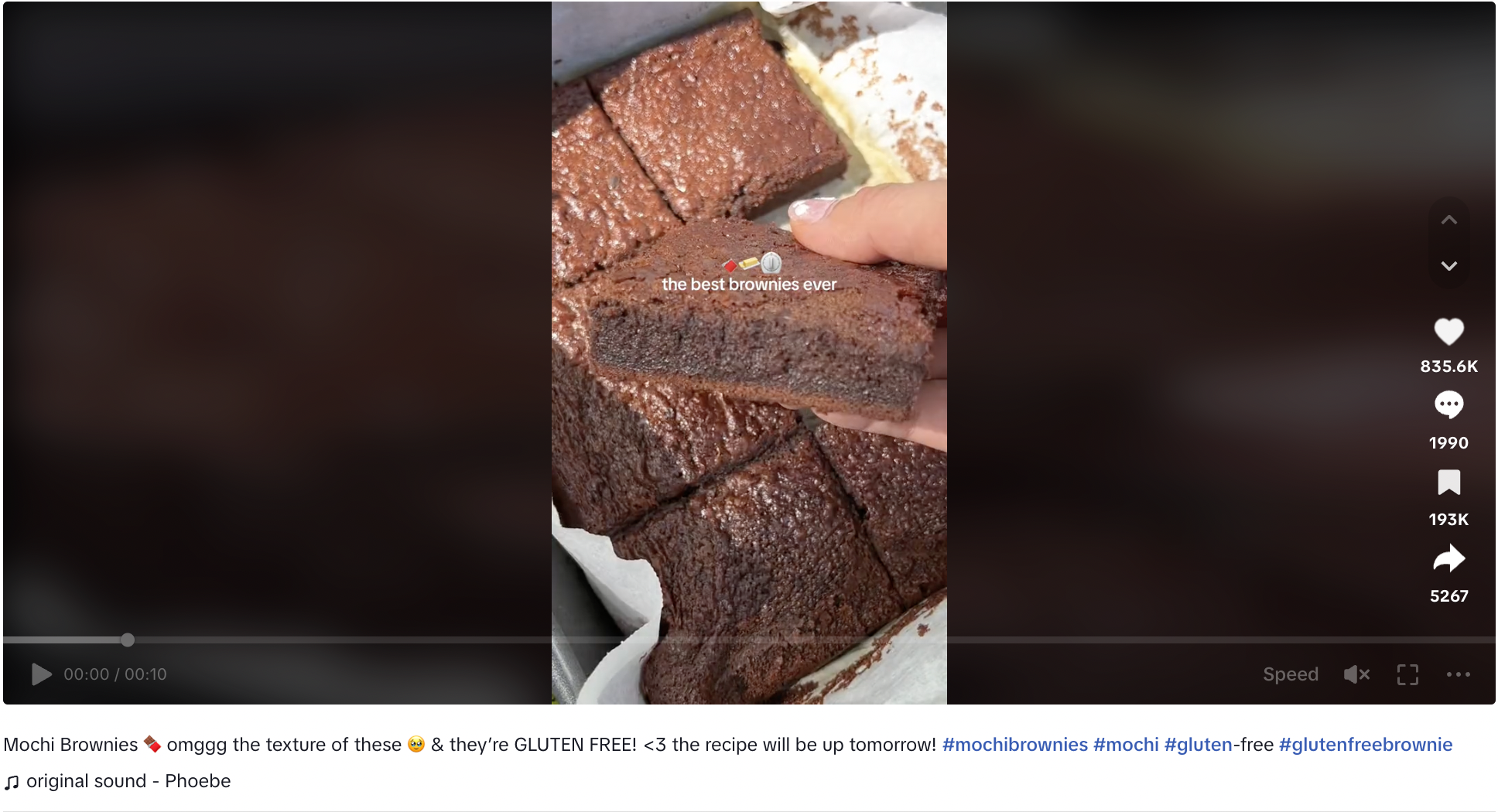 People love recipe videos on TikTok, especially if they feature a cool song like this one.
You can use this TikTok audio for a product reveal or a product swatch, if you are a about to release a new make-up product.
4.37.Why is everyone acting weird?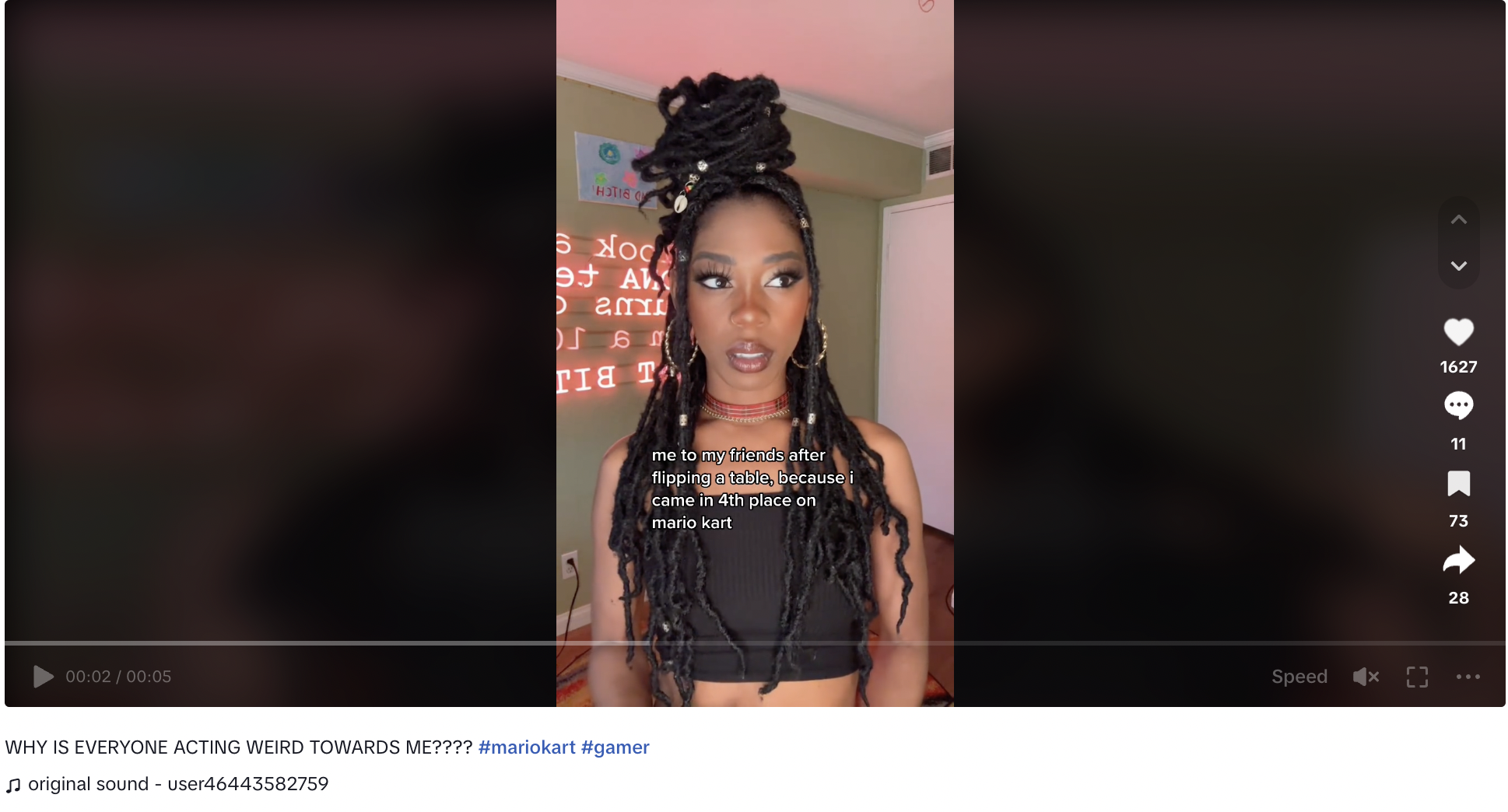 This trending audio is from a TV show but it's so relatable that people have been using it to tell their funny stories with their friends.
4.38.Succession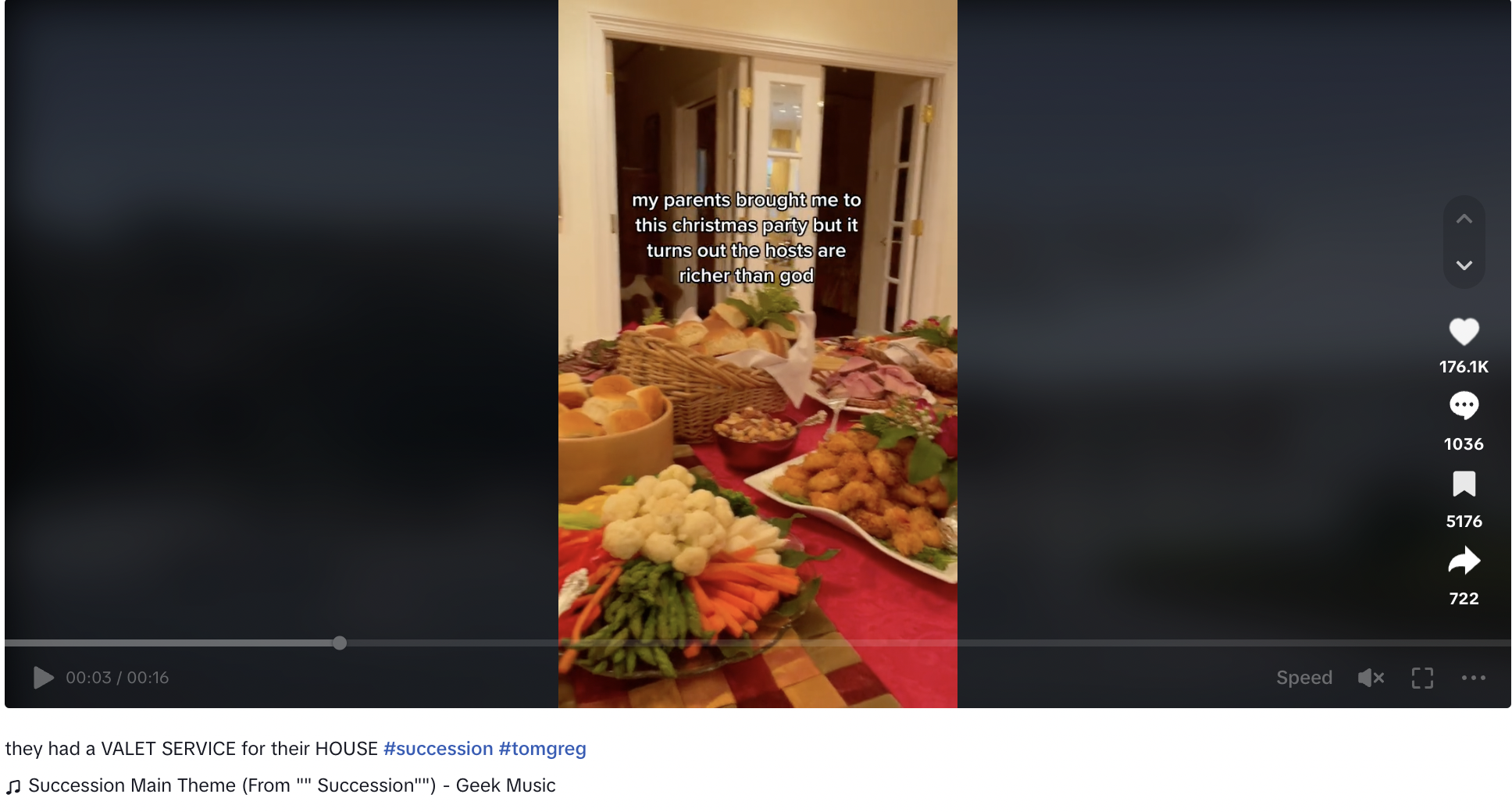 Everybody heard about the TV series Succession, a story about rich people and their pretentious taste (or so I imagine).
The main theme song from the TV series perfectly works with your TikTok videos if you want to highlight something high-class or elegant.
4.39.Oh no I'm devastated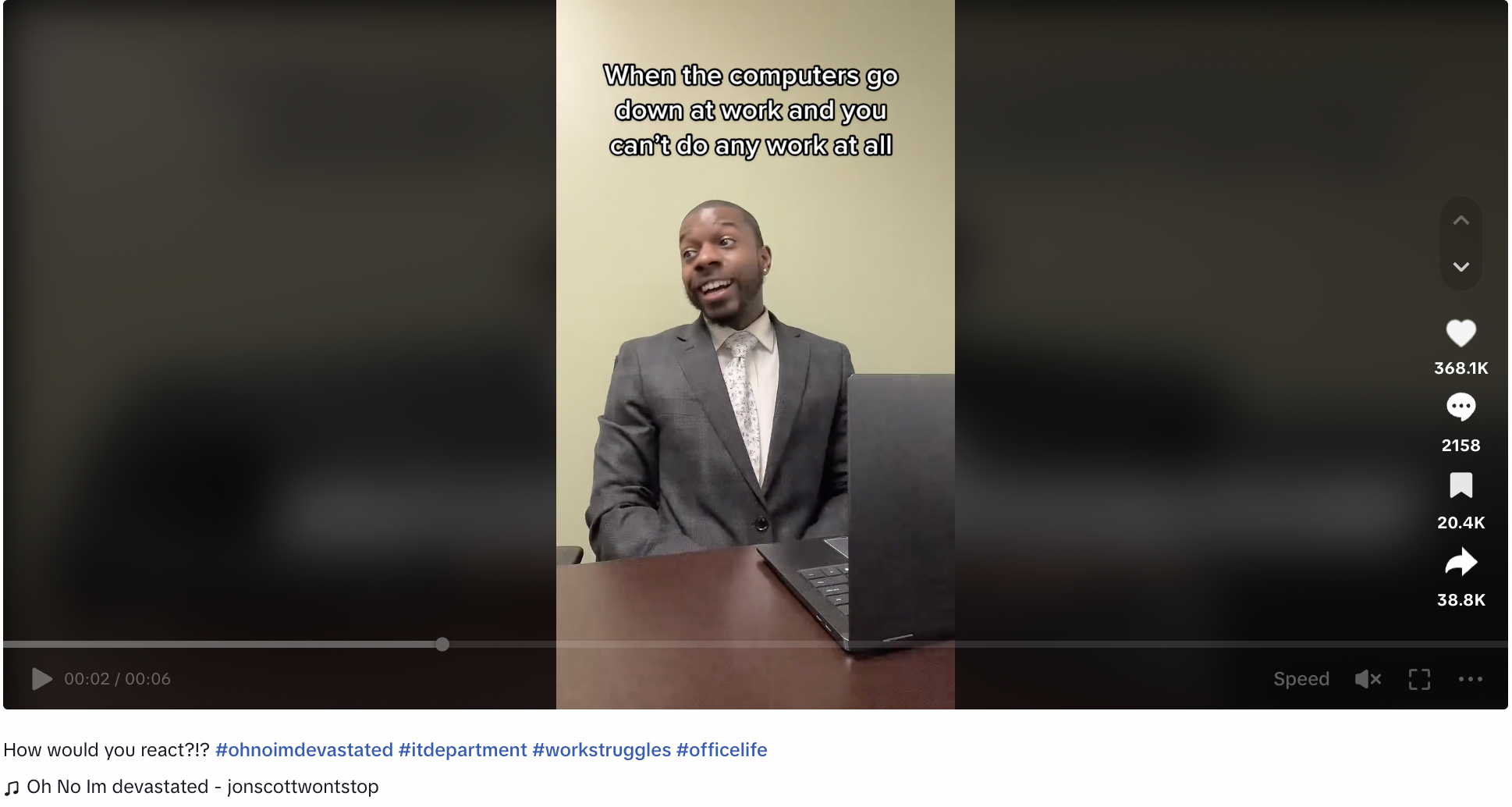 This trending audio on TikTok perfectly describes irony. Use it to emphasize an ironic event or situation.
4.40.I left you alone for five minutes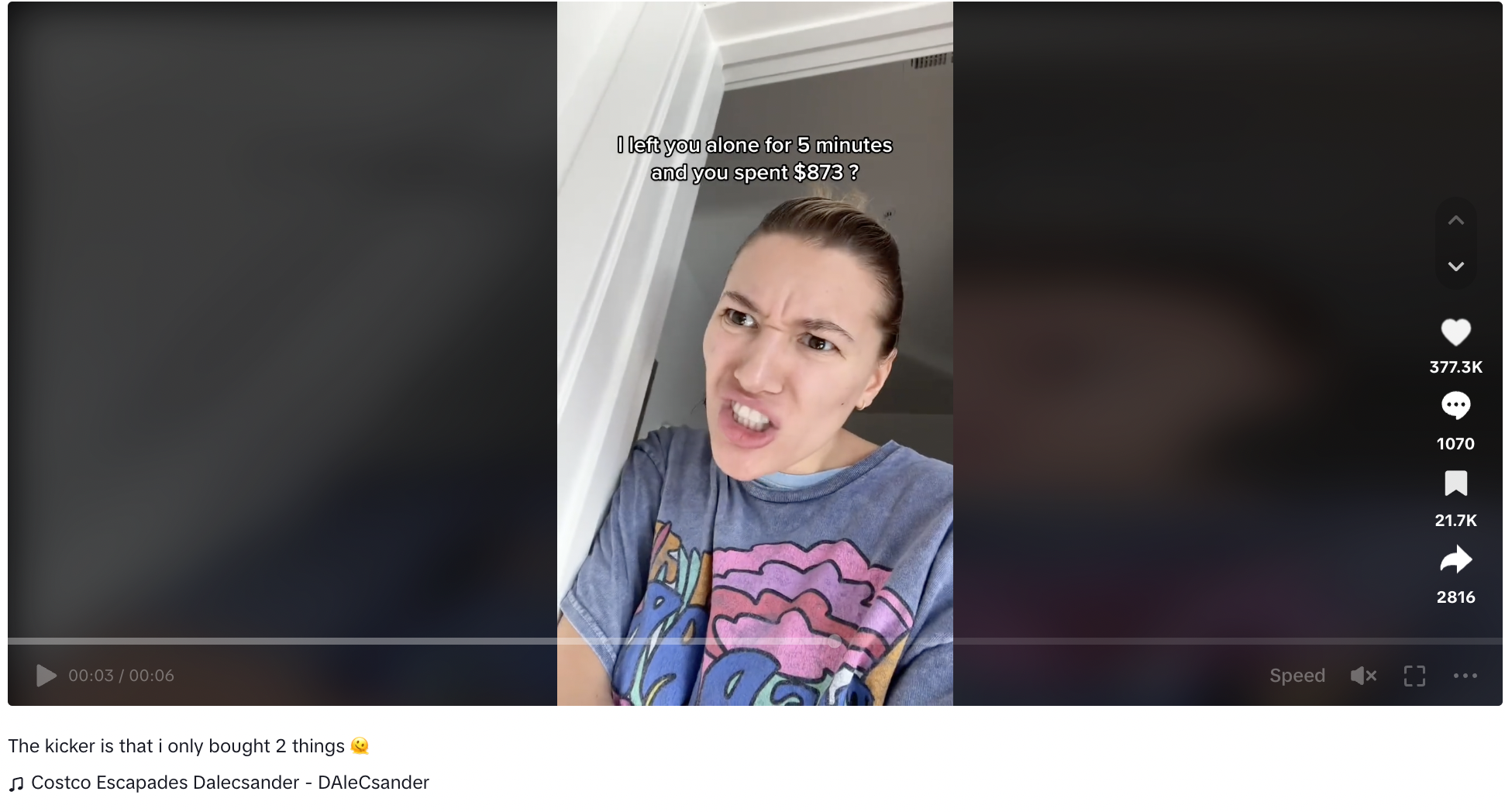 This TikTok trend is perfect for when you know someone spends more than they can afford.  Guilty! Women usually do it.
But you know when you should also use it? When people spend money to buy your products and services.
4.41.Screaming, crying, throwing up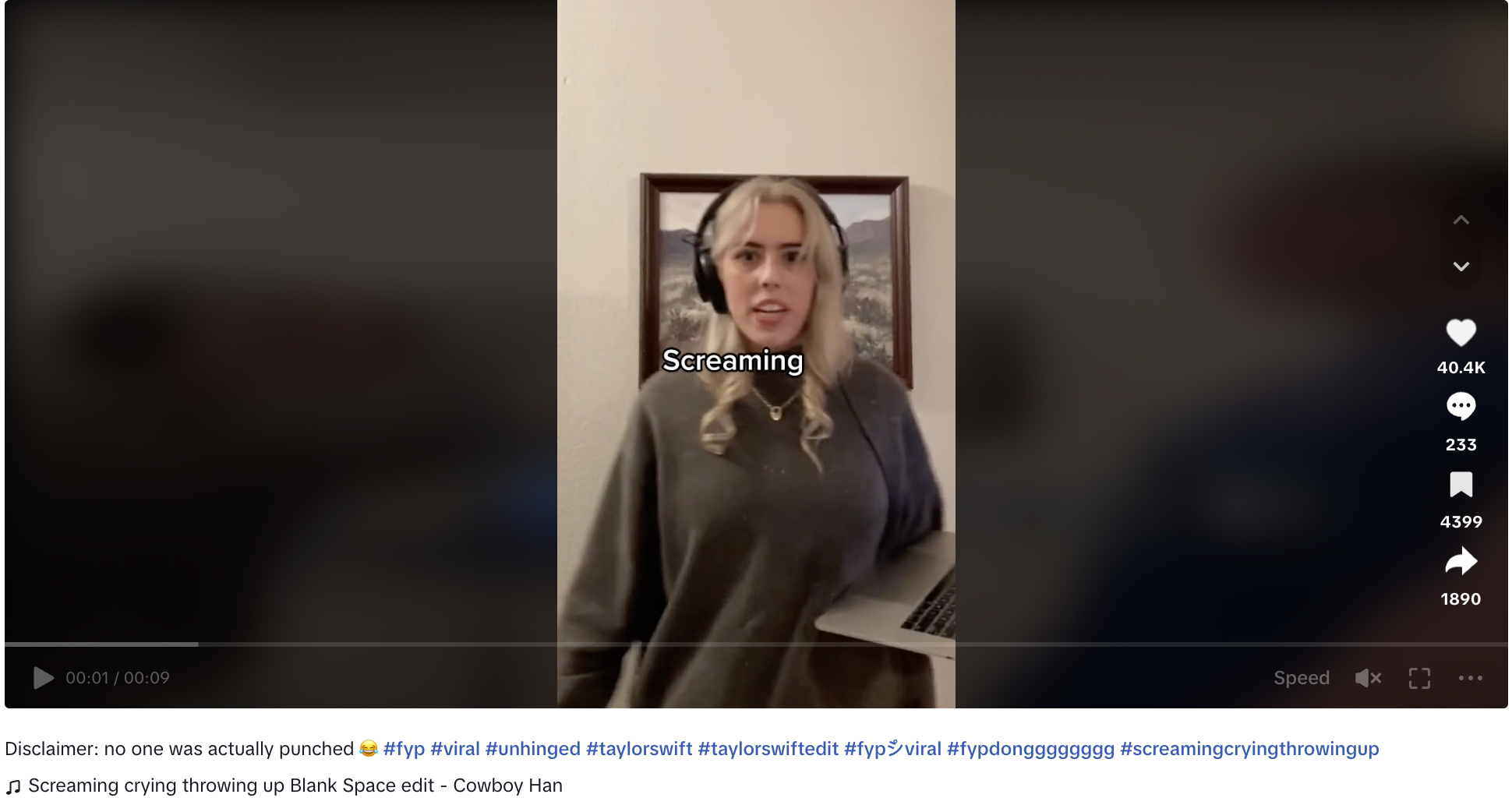 Taylor Swift song has conquered millions of fans and it became so popular during her tour that it's now trending on TikTok.
Use it to display any situation at work. If I were to give you a tip, this audio works hand in hand with the moment when you need to develop your social media report for Q2. Just sayin'.
5. How to find trending TikToks with Socialinsider
When trying to upgrade your TikTok strategy, following trends is the safe way to obtain fast results.
Finding trending TikToks can be done either manually, by scrolling through influencers' content, or you could use a third-party tool to get ahead of your competitors.
Socialinsider is more than just an analytics tool, helping you benchmark against your competitors, against the whole industry, assessing your campaigns performance, reporting and discovering trends for all social media platforms.
Let me show how to use Socialinsider to get TikTok trends and see how this works for you.
I first created a project called "beauty" where I added the social media platforms for Rare Beauty and Haus Labs.
However, I'm just gonna use Rare Beauty's social  media posts for now.
Then, I went to Posts to look at all the posts published in the selected timeframe. I chose to look at data for the last 6 months.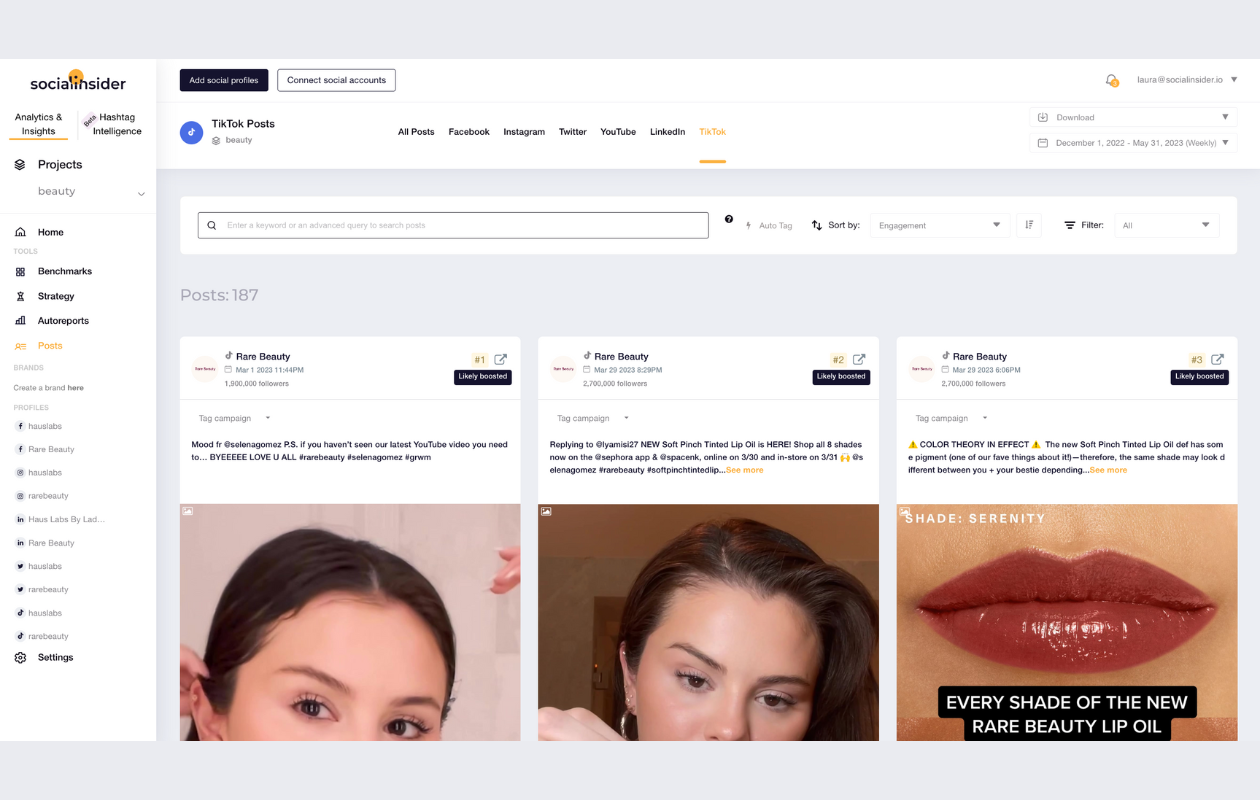 Next, I decided to tag a campaign using the keyword or hashtag "lip oil", knowing that Rare Beauty uses this keyword in their campaign.
There are 187 posts published in the last 6 months on TikTok. The results show that there are 29 posts featuring "lip oil" as the main keyword.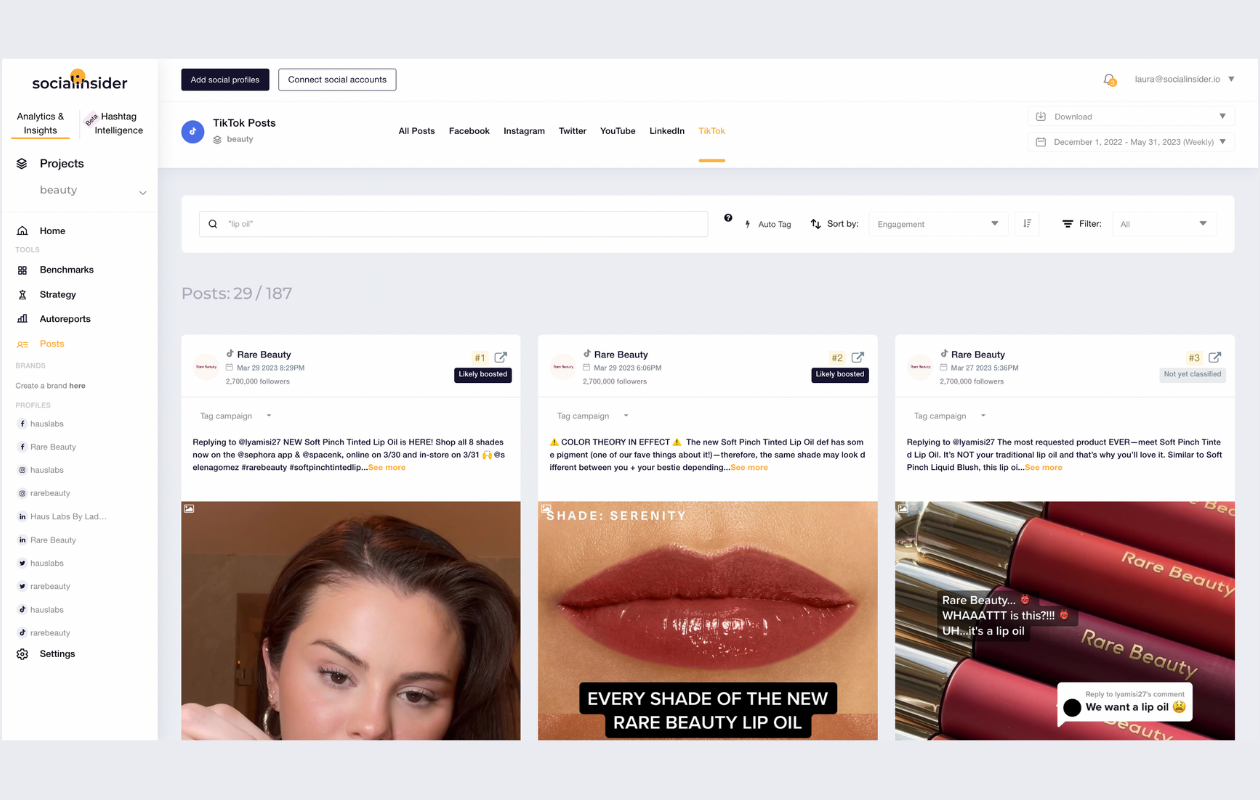 To make sure you gather all the posts using the specific keyword from the campaign you're looking for, you can also use the Auto Tag function.
As expected, I got the same results when it comes to the number of posts.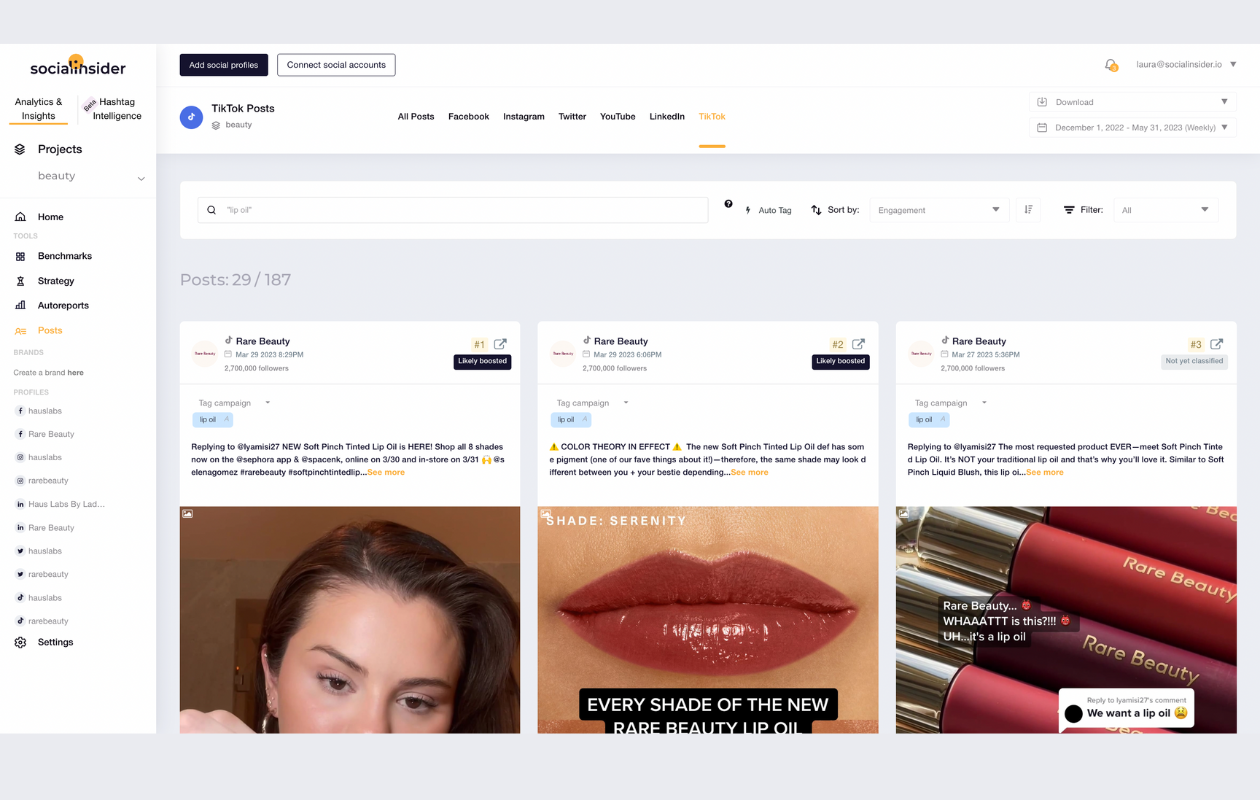 So by making these searches by keyword in TikTok posts you can see which are the latest posts in the campaign, indicating that it's still trending.
Moreover, you can also see individual metrics for every post, like engagement, number of likes, number of comments, shares, plays, and hashtags used.
Next, I wanted to compare the two beauty brands, Rare Beauty and Haus Labs, by using the same keyword "lip oil", knowing they both have campaigns for their products destined for lip makeup.
To see the comparison, I used the Benchmarks feature and I selected TikTok from the menu at the top.
To look at the metrics for the particular campaign "lip oil", I went to the right cornet, to Campaign, near Download.
There I selected the campaign by its name et voila. Here are the key metrics that reflect the performance of these two campaigns for the two brands, on the same topic.
Here you can also see top 3 posts on TikTok for both beauty brands, average posts per day, average engagement rate per video, changes in followers, distribution of engagement, and total followers growth.
If you're wondering how this is helping you find TikTok trends, I got you. First, you get the chance to see how different brands' campaigns perform on a common topic that's trending for both, like "lip oil".
Second, you get to see individual metrics for posts in this campaign, looking at the number of plays and how popular the topic has grown to be among the brand's followers.
Another useful lesson here is that the influencers they work with follow the same patterns in their videos, displaying the brands' products in a funny situation.

What I also noticed, by looking at Rare Beauty's TikTok videos is that the influencers who use a particular product, like their liquid blush, also use the same trending audio.
This is a great trick to learn for when you want to apply it for your own TikTok strategy to make your videos viral.
When searching for this campaign with Socialinsider, I noticed there are 13 posts out of 187 that feature the keyword or hashtag "liquid blush".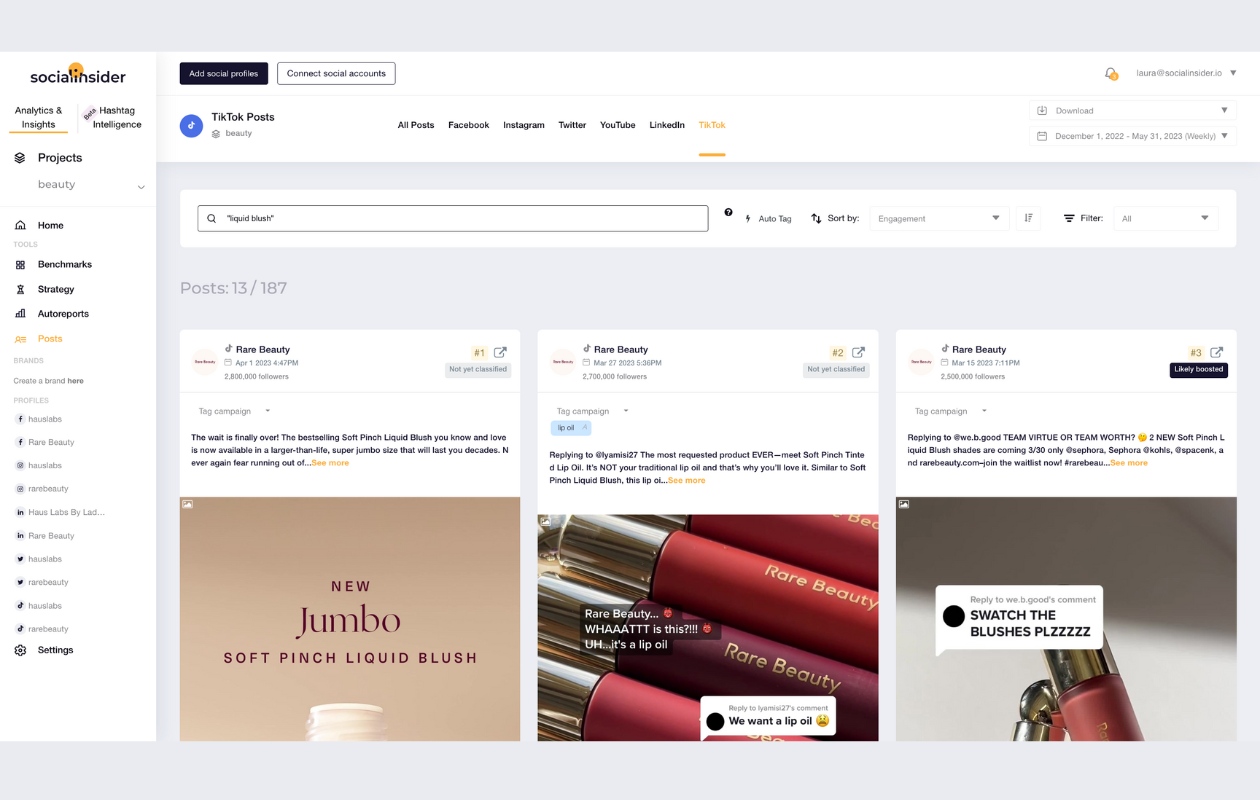 Another type of content creators develop with Rare Beauty's liquid blush are videos in which they overdo their makeup.
The instructions say that you only have to apply one dot of the liquid blush, but some women love it so much that they add more dots.
These hilarious TikTok videos have become viral.
There's no wonder their products sell so fast and they're quickly out of stock. But more about that in our brand analysis article on Rare Beauty's marketing strategy.
Final thoughts
Now that you're all caught up with the latest TikTok trends, all you have to do is put your inspiration and imagination at work.
Test the platform and implement some of the most recent TikTok trends into your strategy for your new campaign and keep an eye on the changes you notice.
All these tips & tricks will help you adjust, adapt and overcome any challenge that comes your way when it comes to your brand TikTok campaign.