A decade ago, the notion of having a dedicated social media team working for you was absurd. Who needs a whole team of people to handle posting on a few social media channels?
Oh, how things have changed.
Now, it's crucial to have at least one person managing multiple aspects of your social media presence - from strategy and social data analytics to video editing and content creation - and help your business live up to its potential.
Looking to build a top-performing social media team from the ground up? Start with why (aka your goals).
Building the ultimate social media team
Step 1: Define your social media goals
Despite being aware of the importance of proper social media positioning, many brands and companies still rush into a hiring spree before having a clear idea of what their social media goals are.
Depending on the size of a business and where it is in its development cycle, goals for social media can look vastly different.
Some brands may be looking to increase awareness and bring in more traffic to their website, others may be looking to generate leads and boost conversions and sales.
Ideally, social media efforts should support and positively impact every stage of the marketing funnel and help you achieve a variety of goals.

Step 2: Determine your team's size
For quite some time, companies believed that social media management is a one-man show.
That's because they had little to no understanding of the variety of tasks that fall under a social media manager's responsibility.
Designing a powerful social media strategy, monitoring social analytics, creating and scheduling content, engaging with the community, reporting… If you ask me, that's a lot of tasks for one single person to handle.
On the other hand, social media has grown exponentially compared to 3 or 6 years ago, which means that more manpower is needed to manage it.

Still, social media marketing teams remain pretty small. According to a recent poll we ran among our own Linkedin community, most social media teams are made up of 1 to 3 people.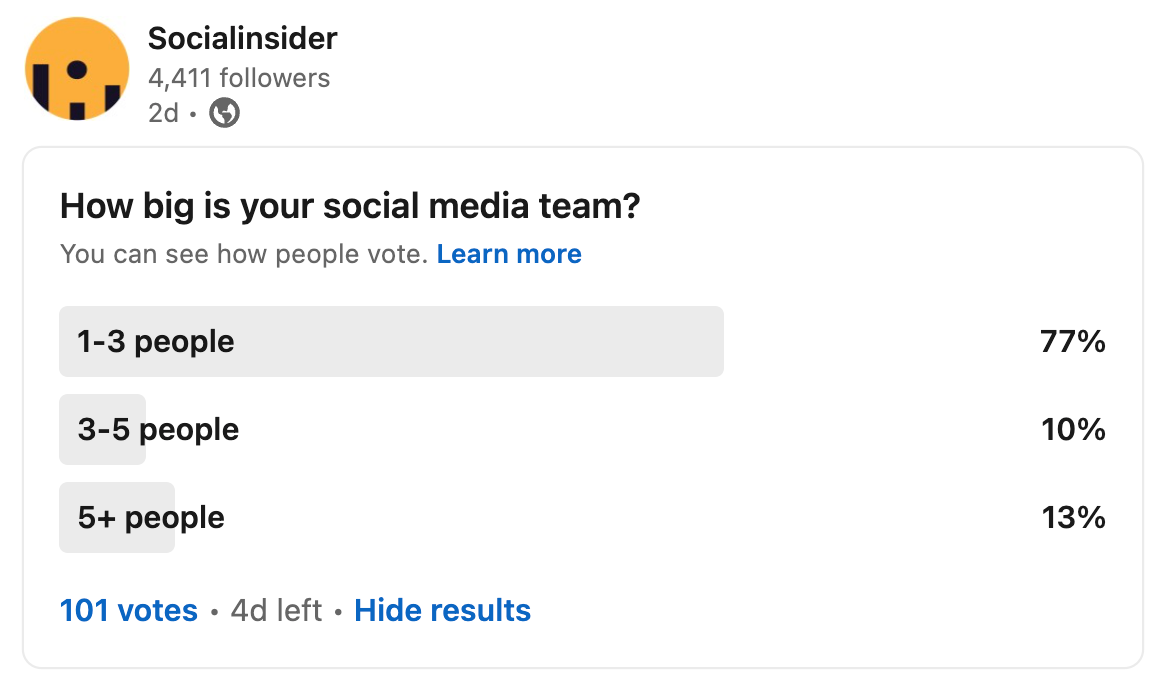 Thanks to the growing popularity of video-first apps like TikTok, companies are now slowly realizing that they need larger teams to cover all aspects of social media management.
To determine your own team's size, you need to have a clear idea of what your objectives are and what jobs need to be done.
As your presence on social media grows and extends to more channels, you'll likely need more people on your team to create content, strategize, track performance and engage with your audience.

There's no hard and fast rule or formula for determining the size of a social media team. The one thing to keep in mind is that overloading one person with a variety of social media team responsibilities might result in poor-quality work.
Step 3: Map out your social media team structure
Once you've decided that you need a larger team to handle your social media management, it's time to map out what the structure of your social media team should be (aka what roles or positions you need to start hiring for).
The main social media team roles you should be looking to fill are:
Social media manager
If you can only afford to hire one person on your social media marketing team, let it be the social media manager (SMM). A social media manager is at the front and center of any social media team.
Depending on the size of your company, the SMM can be in charge of strategy, content creation and performance-tracking, as well as collaborating with other teams (sales, dev, C-level executives, etc) to make sure the content shared on social media aligns with the company's goals and vision.

As your social media team expands, social media managers can start delegating some of their tasks and focus primarily on strategy and ensuring that brand messaging stays coherent across different social media channels.

Content creator
Next up, you should consider hiring someone to handle content creation. Keep in mind though, in this day and age, content means more than copy.
Video content is becoming extremely popular, so hiring someone with a creative mind and video-editing skills that has no problem speaking in front of a camera would be a wise move to make.

Besides video, you will also need a copywriter to handle all the written content shared across different social media platforms. They should have a way with words, adapt the brand voice to match each channel's audience and keep up with the latest trends and news in the industry.

Social media data analyst
No matter how much content you're putting out on social media, you can't know if you're doing a good job until you start tracking your performance.
That's why it's important to have a social media analyst on your team, who can help you make sense of all the different metrics and turn data into a coherent story.
More importantly, a data analyst can help measure the ROI of your brand's social media efforts and provide feedback and actionable insights on how to improve the current strategy.

Community manager
Some companies struggle to understand that social media is a two-way medium, not a broadcast channel.
Engaging with and advocating for the audience, fostering a sense  of community, building brand loyalty and handling customer care are all goals and jobs-to-be-done that fall under a community manager's responsibility.

Graphic designer (optional)
Graphic designers don't have to be part of your core social media team. They can be a common resource shared with other teams. Still, they are an important piece of the social media puzzle.
Having a graphic designer on your side ensures that all visuals shared on social media adhere to the company's brandbook and make it easy for people to engage with your content.

Step 4: Identify key skills for each team role
To hire the right person for every role in your social media team, you need to be aware of the key skills needed for each position.
So let's go over the minimal skillset required for each of your social media team members:

Social media manager - great communication skills (on social and within the company), copywriting know-how, creativity, strategic thinking, organizational skills.
Content creator - excellent copywriting skills, research capabilities, willingness to step in front of the camera (for video content creators)

Social media data analyst - analytical mindset, ability to synthesize information and translate raw data into actionable insights
Community manager - excellent communication skills (empathy is a plus), adaptability to a variety of scenarios, patience
Graphic designer (optional) - creativity and graphic design skills

Common across all these roles is the ability to work in a fast-paced environment and a very dynamic industry, as well as the curiosity to learn and develop new skills.
To find out more about what it takes to be work in social media, check out our lovely chat with Nicole, social media strategist @Amazon.
Step 5: Empower your team with the best social media tools
You did it! You built a great social media team. Now all that's left is to give them the right tools to succeed.
Social media tools come in many varieties, depending on their purpose. You might want to look into:
Using the right tools for your business size and objectives can make a world of difference in how your brand performs on social. Plus, it makes your social media team's life that much easier - which is, in my opinion, the greatest benefit.

In-house vs agency social media team
Faced with the challenge of building a social media team from scratch, you might be tempted to get in touch with an agency in order to outsource your social media projects.

Something to consider when you're trying to hire a social media team: an in-house social media team will be focused solely on your brand and product.
A social media agency usually manages marketing efforts for a portfolio of different clients, but at the end of day, they are more cost-effective.

The choice between the two depends entirely on your situation - budget, goals, flexibility etc.

Final thoughts
We've reached a point where social media teams have become indispensable for the long-term online success of a brand, company or business.
Considering that, it's crucial to learn what it takes to build a powerful team, what skills to look for and what tools to use in order to maximize your chances of acing the marketing game.