If you are a B2B business, you should focus on creating content for LinkedIn.
LinkedIn should be the place where you can meet new customers, engage with your existing ones and learn more about their needs. Also, you can use LinkedIn to share blog posts, announce new features and generate leads.
If you are using this platform but you are not completely happy with your profile, it's time to conduct a LinkedIn audit.
In this article, you will discover what a LinkedIn audit is, a LinkedIn audit checklist, and the benefits of doing this.
Audit your LinkedIn profile
1. What is an LinkedIn audit?
An LinkedIn audit is a great way to know where you are with your brand and identify what you can improve in the future.
The purpose is to make sure every LinkedIn post you share is helping to support your brand's objectives.
2. Benefits of a LinkedIn audit
By conducting a LinkedIn audit, you'll be able to see:
What is the most liked, commented, and shared post you've created
What type of content works best in your brand's case: posts with text or image, video content, LinkedIn articles, posts with a link in the first comment or link in the description, etc.
Reviewing your strategy regularly will show you if you are moving in the right direction or you have to change something.
Speaking about posts with a link in the first comment or link in the description, at Socialinsider, we had this question in mind when talking about our LinkedIn strategy.
Where to place links in LinkedIn posts: first comment or in the description of the post?
After analyzing 86K LinkedIn posts, we discovered 3 important things:
LinkedIn posts with no links perform better across all types of posts
Brands with a LinkedIn presence don't usually post the link in comment
The most performing type of content on LinkedIn is image
Take a look at the graphic below.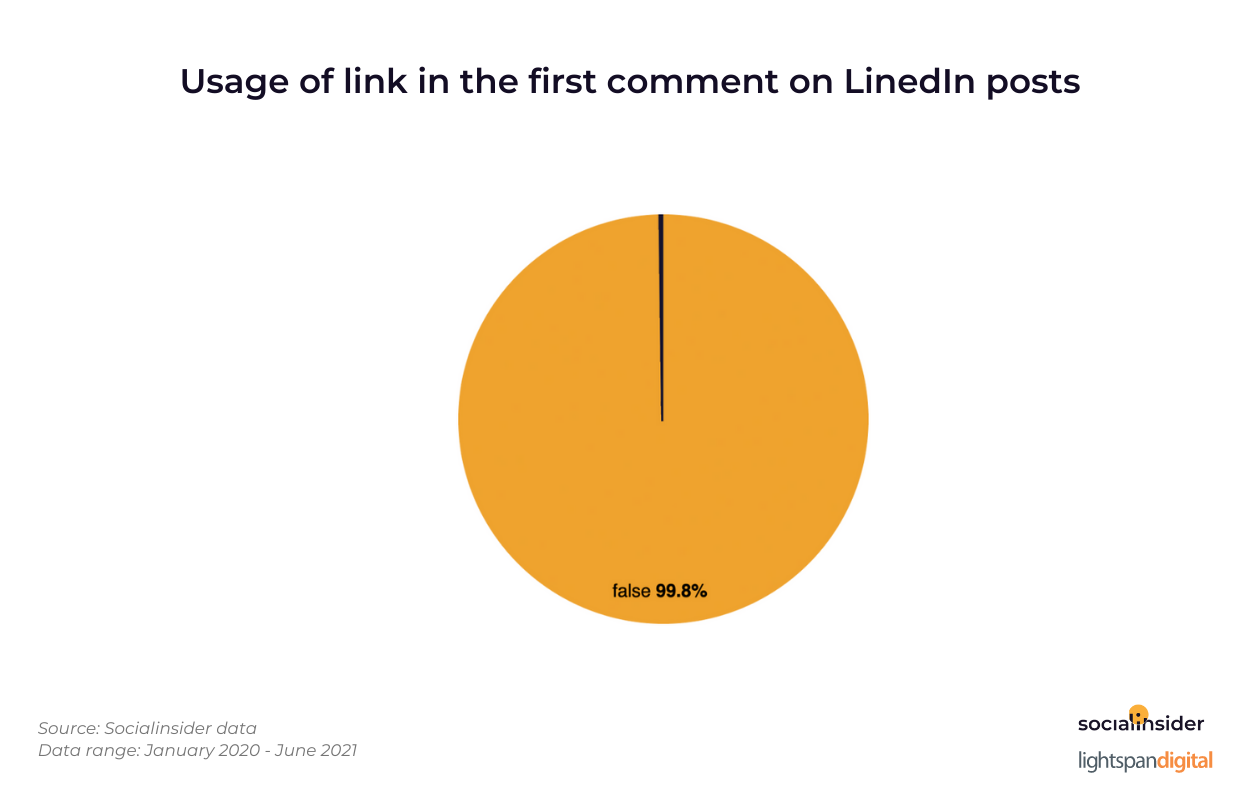 Because we still wanted to place a link along with our LinkedIn posts, we decided to put that link in the post's description.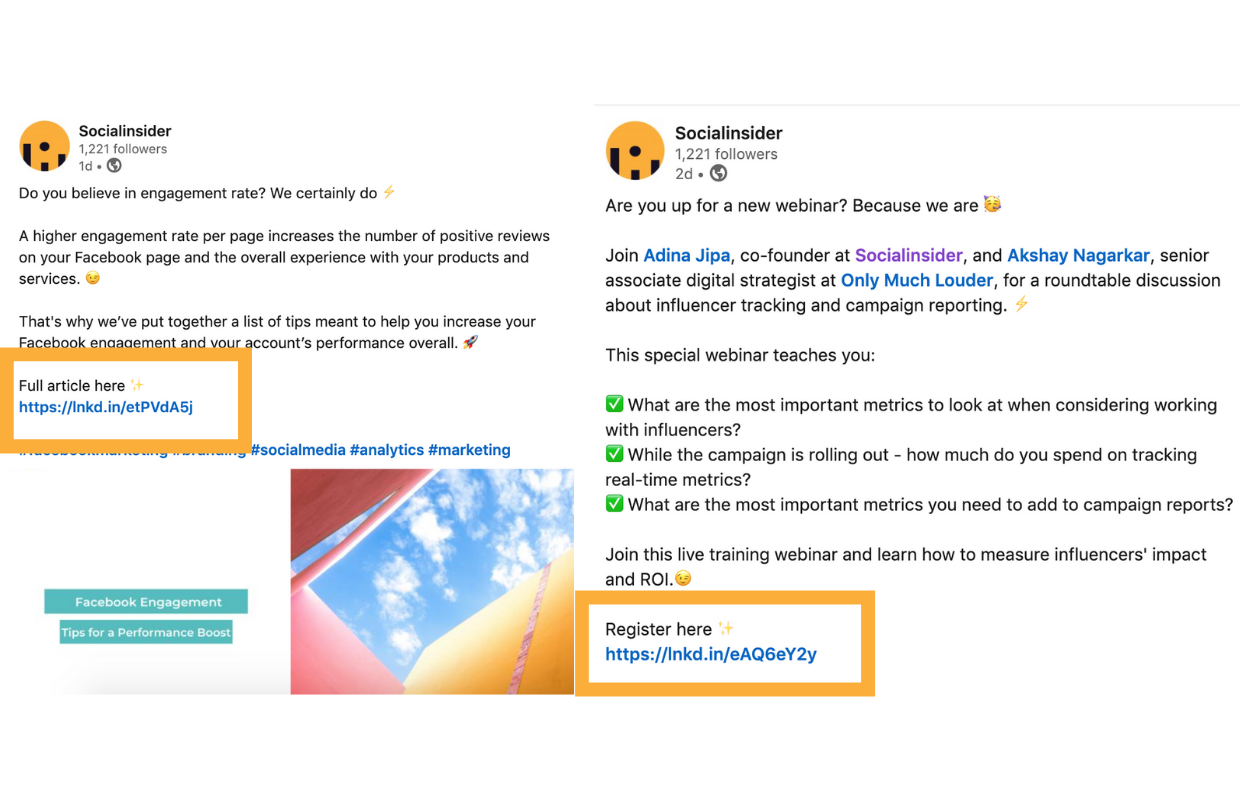 3. How to perform a LinkedIn audit
3.1. Set your LinkedIn goals
3.2. Analyze your LinkedIn profile: profile image, banner image, overview section
3.3. Rate your team
3.4. Analyze your employees' LinkedIn posts
3.5. Identify the correct type of content for your brand on LinkedIn
3.1. Set your LinkedIn goals
What is your top brand's purpose using LinkedIn? Spend some time setting some goals.
It might be about being better known in your field, being an authority, or selling your products. Your goal will determine your approach and behavior on the platform.
3.2. Analyze your LinkedIn profile: profile image, banner image, headline
A clean, professional photo will help your profile stand out in the crowd. As a brand, I recommend you to use your logo as a profile picture.
Does your company page have an engaging banner image?
The Linkedin banner image should indicate what your company does. For example, if your brand is in the beauty sector, a picture with some beauty products may be appropriate.
Because Socialinider is an analytics tool, we've created our banner to let people know that they can use our tool to discover in-depth social media insights.

Before doing the LinkedIn audit for Socialinsider, our banner was not perfect. You can see in the picture below that the text was not completely visible, and this is a problem.

Another good example here is Creatopy, a visual production platform. When you enter for the first time on their LinkedIn profile, you can see that they are a design platform.

The overview section is essential for search and keywords. Like an Instagram bio, your brand's LinkedIn overview section should be interesting and informative at the same time.
It should be able to hook future clients. You need to convince users that adding you to their LinkedIn connections is a great choice.
Let's come back to Socialinsider's LinkedIn profile. When someone enters for the first time on our profile, they can see what Socialinsider is, what they can do with this tool, the website, the industry, when the company was founded, etc.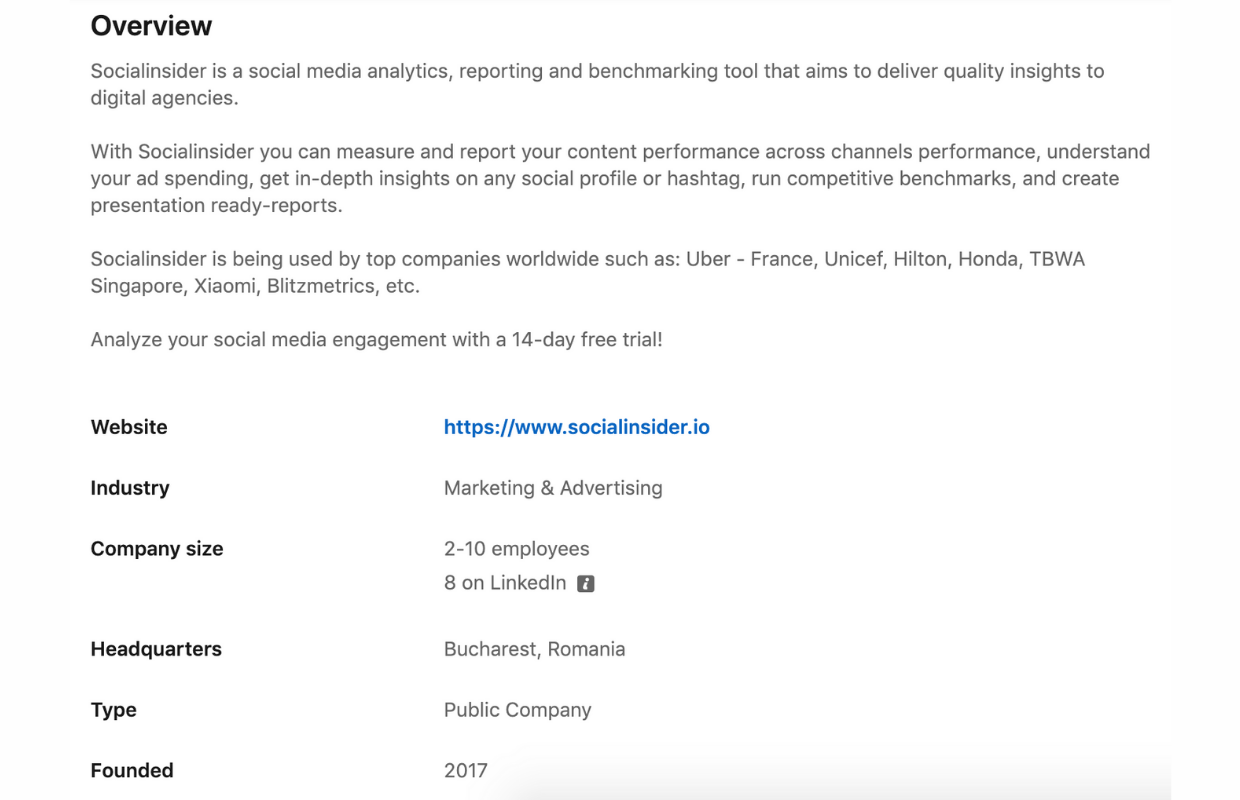 This is also the place where you can place a call to action, such as:
Please visit our website...
Questions? Please e-mail us at...
Follow us here for daily tips
3.3. Rate your team
Have you ever wonder how does your team look to a potential client surveying your company page?
Do they have profile pictures? Are they tagged on your page? You might think that these are only details, but all these details matter when it comes to your brand.
Make sure your team has a presence on LinkedIn because they are your number one ambassadors to promote your brand's message.
For example, I was looking for a social media manager who works at Sephora for a podcast interview. Between Corinne, Amber, and Sarah, I will send a message only to Corinne and Sarah because I can see their face; the two girls have a nice profile picture, which feels more human.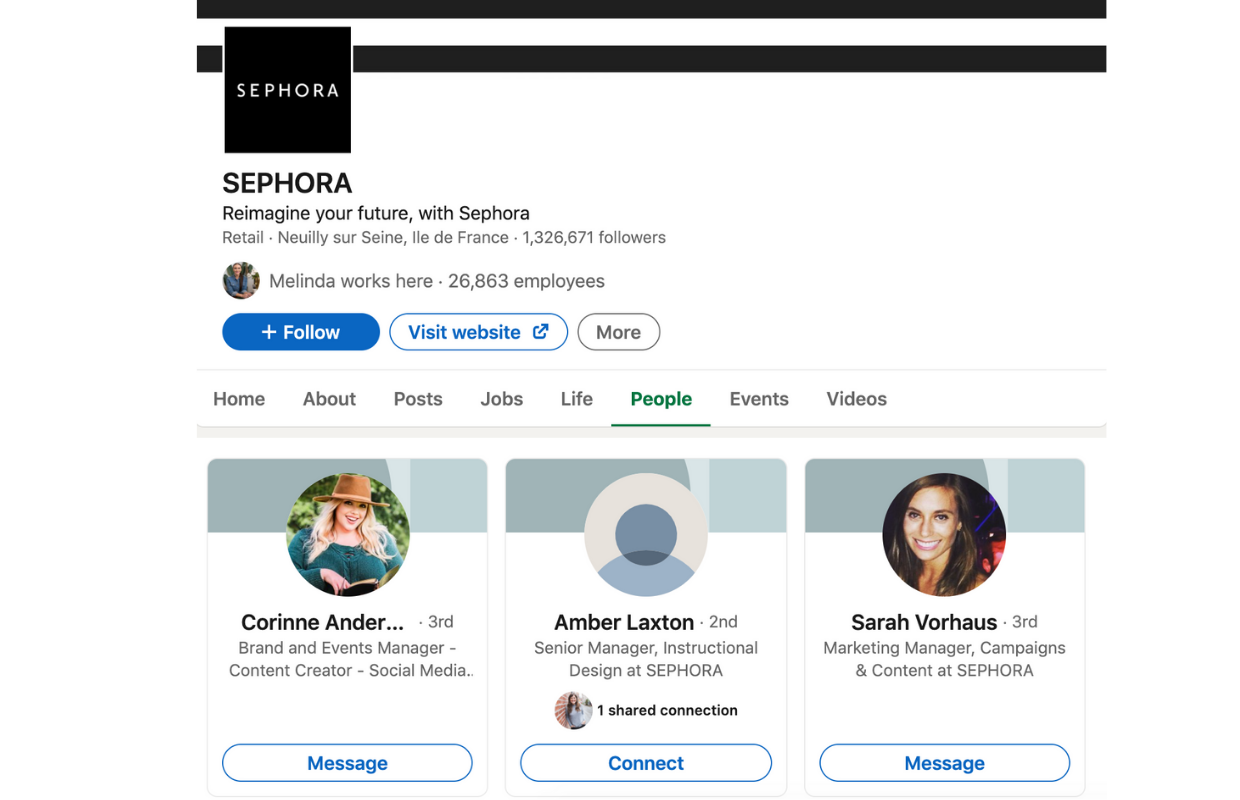 3.4. Analyze your employees' LinkedIn posts
Go to your company's LinkedIn page, and at the top of the page, you will see 'Employee post'; from here, you can analyze all your employee posts.

You can't see what type of content they like, shared, or commented on, but you can see the kind of content they posted on their LinkedIn personal account.
Note! You need to be the admin of the page.
As I was saying earlier, your employees are your brand ambassadors.
You can boost your presence by asking them to share articles from the company's blog, new features, events you are preparing, anything related to your brand.
For example, I am sharing all the articles I write on Socialinsider's blog on my LinkedIn profile. New features, webinars, news and not only. It is essential to mention that you don't have to share everything your company is doing, but you can promote their services using your profile.
Make sure you mention the company name in the post.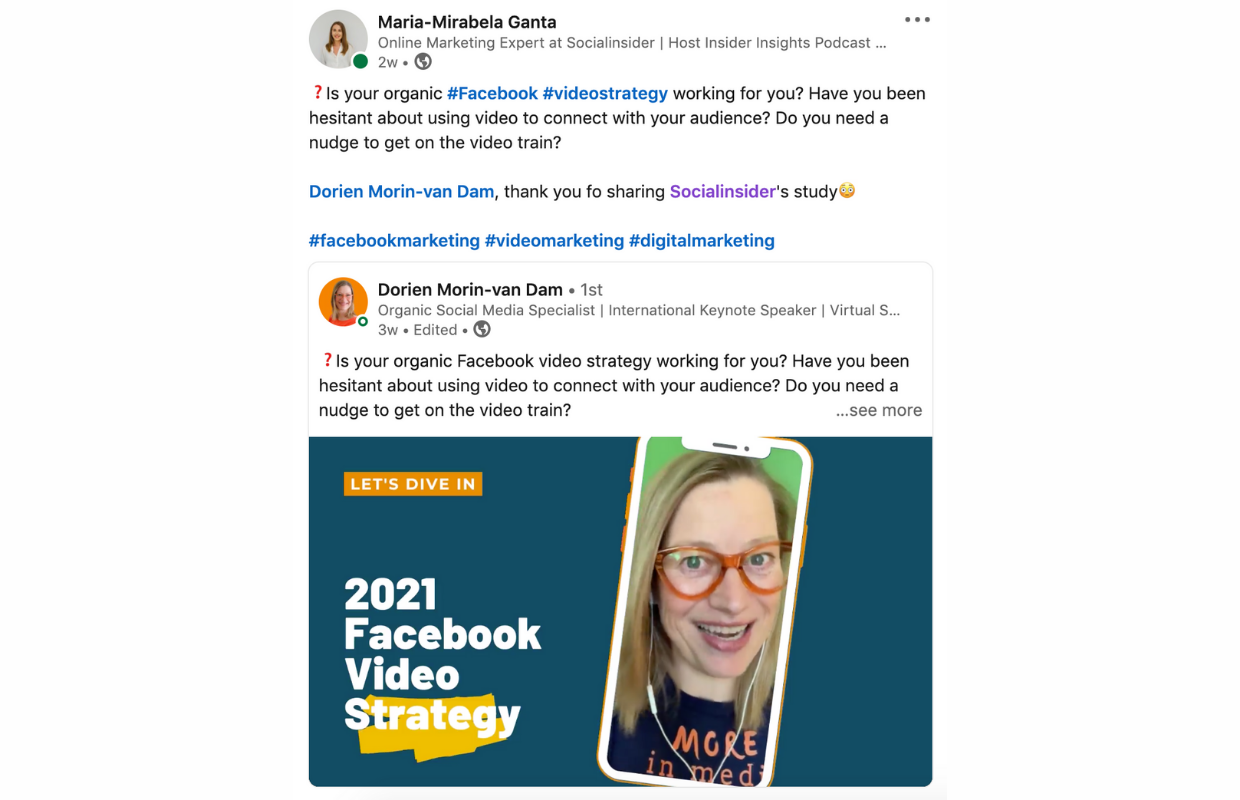 3.5. Identify the correct type of content for your brand on LinkedIn
Measuring what you do on LinkedIn can provide valuable information on what is working for you as a brand and what is not. You will identify the correct type of content for your brand and this will help you better shape your LinkedIn strategy.
Analyzing your posts, you will discover more information about your follower's demographics and what attracts them. Maybe, your connections are interested in video content, and they don't appreciate it when you create text posts.
Take a look at which type of content people are engaging with and create more.
4. Find the right LinkedIn audit tool
Depending on the time you have for conducting your brand's LinkedIn audit, you can either choose to do it manually - which usually implies a greater effort or, if you're in a hurry and want to dig up more in-depth data, opt for a Linkedin audit tool.
One that could help you get the data you need and oversee your brand's LinkedIn presence could the Socialinsider's LinkedIn audit tool, which displays multiple key metrics to look at when doing a LinkedIn audit, such as follower growth and average engagement rate, post's reach, top posts, demographics data, and more.
Moreover, this LinkedIn audit tool also offers the possibility of overseeing your LinkedIn KPIs for different campaigns or ads.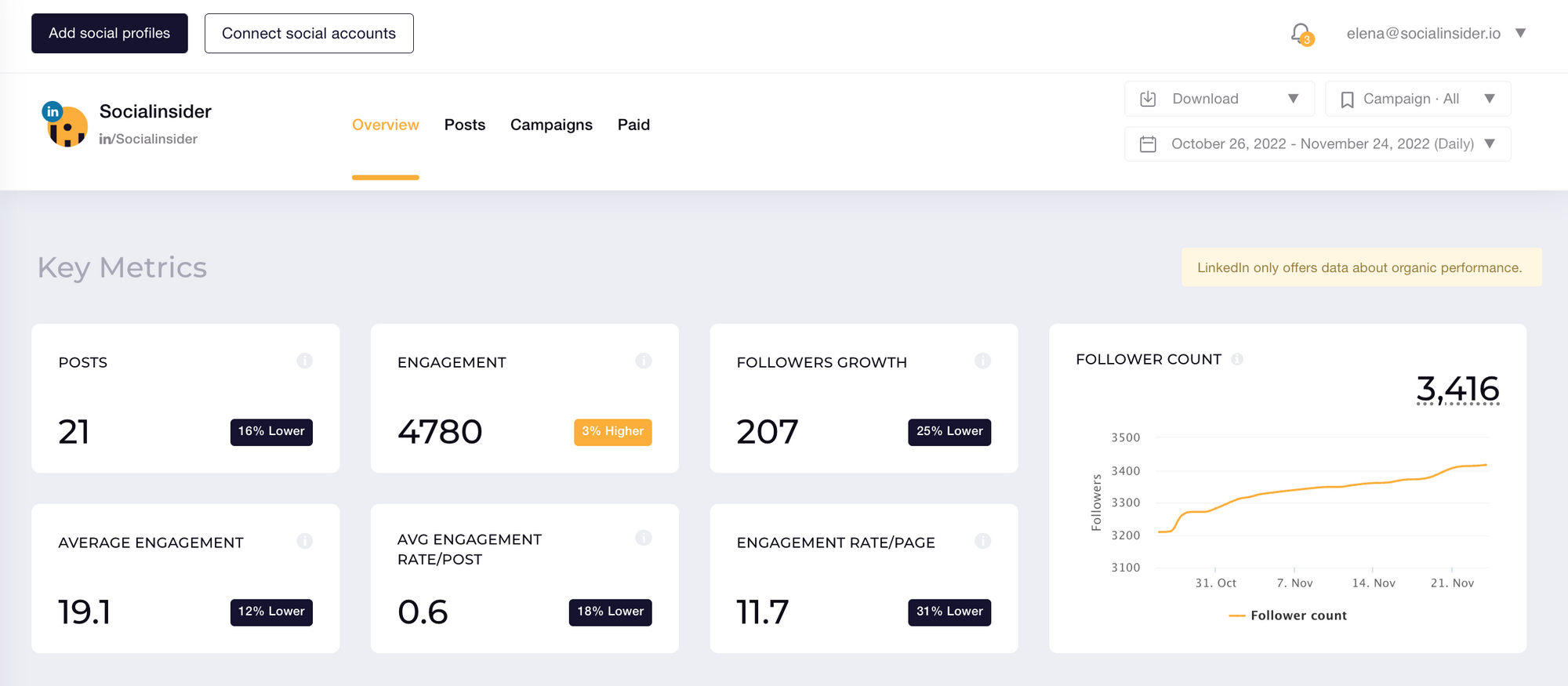 You can also, for instance, check out which of your Linkedin posts performed best in terms of most views (for videos) or clicks, by using the Sort by function and selecting one of these two metrics.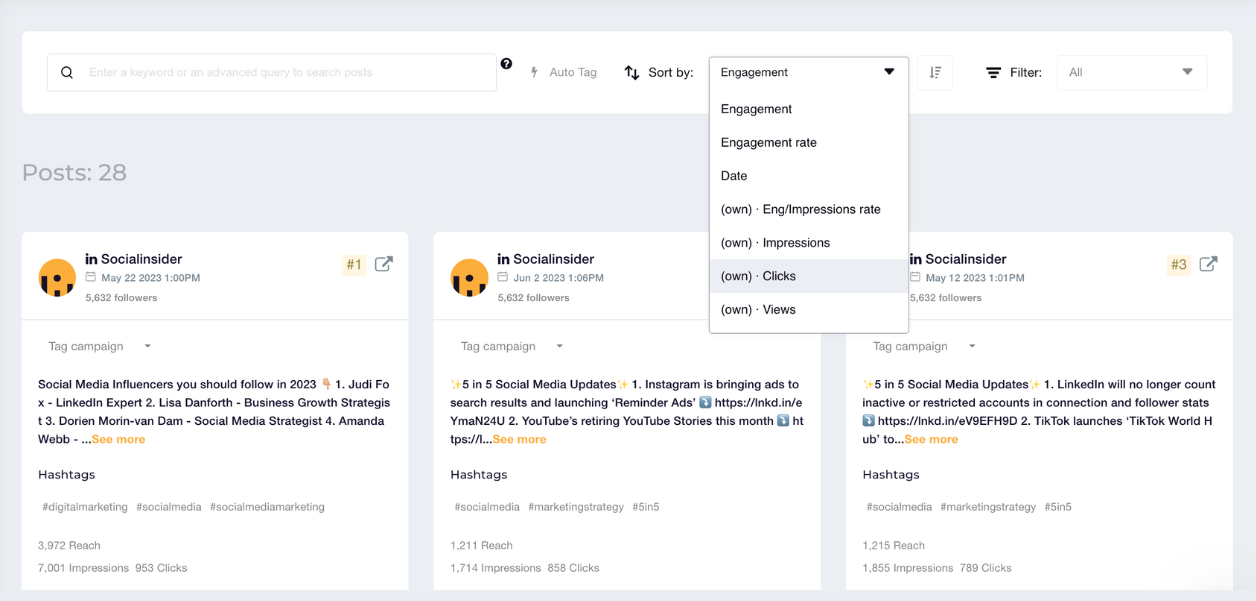 To be really time-effective in your LinkedIn audit process, Socialinsider also allows you to download presentation-ready performance reports for your clients.
Suppose you want to discover more social media apps that could help you prepare a comprehensive LinkedIn audit. In that case, you can also check out our extended list of social media analytics tools available here.
5. Use a LinkedIn audit template to simplify the process
If you're still not fully accustomed to the process of conducting a LinkedIn audit, we've put together for you a LinkedIn audit template to follow to simplify the process.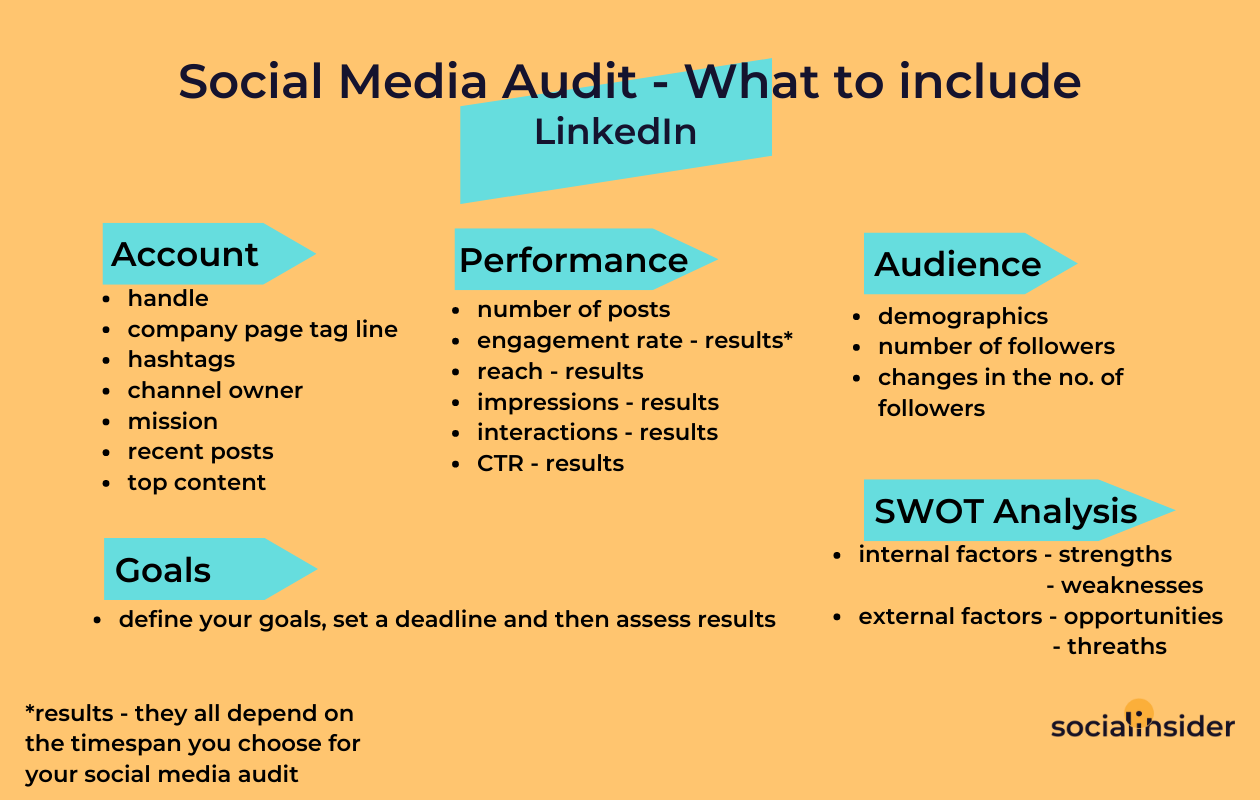 However, depending on your brand's LinkedIn objectives and your focus metrics, you can always make all the adjustments you consider necessary on the above-presented LinkedIn audit template when creating your LinkedIn performance report.
Final thoughts
After finishing all the above steps of your LinkedIn audit, take notes of anything you can do to improve your LinkedIn page presence. Like:
Update your Linkedin profile picture.
Create more engaging content.
Create a better banner image.
Sometimes an audit can indicate that LinkedIn isn't the right network for you, and in this case, you can redirect your efforts to another social network or platform.
Related articles: