LinkedIn was created with the idea of becoming a platform for businesses to create a community of professionals around.
Therefore, with such a big reach potential, brands need to level up their game and stay up to date if they want to thrive, especially given this competitive social media world.
That's why, we decided to conduct a new research to discover where is the average engagement rate located on LinkedIn in 2021, and what types of posts are the most performing.
Here's a sneak peek of what our study revealed. 👇
LinkedIn engagement stats for 2021
A. Summary
What's the type of content mostly used: we look at businesses' preference for a certain type of post.
LinkedIn's engagement rate by post type: we unveil a post's potential of generating engagement.
To what type of posts people usually like and comment: we show to which types of posts people tend to like and comment more.
LinkedIn's impression rate per type of post: we expose the percentage for the number of times that a post is displayed into user's feeds.
What's the average engagement rate by impressions: we analyze the interaction level per view, for those cases in which a post appears multiple times in the same user's feed.
---
No time? Here's a PDF version of this study so you can read the LinkedIn posts performance later on 👇
B. Key insights
By analyzing 39,465 LinkedIn business posts, we discovered the following Linkedin stats:
1. The average engagement rate per post on LinkedIn in 2021 is 0.35%.

2. You can get higher engagement values by using more images for small and large accounts, but for middle sized accounts videos perform better.

3. Half of the brand's posts on LinkedIn are images (49%), the second used type being articles (38%).

4. For generating more likes try either images or videos, according to your profile' size indicator, as follows:
accounts under 5K: should use a mix between images and videos
accounts between 5K - 10K: should focus more on images
accounts between 10K - 50K: should use primarily videos (31%) and secondary images (23%)
accounts between 50K - 100K: should use primarily videos (51%) and secondary articles (23%)
accounts over 100K: should opt for more images (34%) and then videos (31%)

5. Get people to comment more by posting more videos on your large and middle sized accounts, or more images on your smaller profiles.

6. For higher average impression rates, you should use more images for accounts with a maximum of 10K followers, and videos for larger profiles.

7. If you aim at getting high average engagement per impressions on LinkedIn, small accounts should integrate more articles in their social media planning.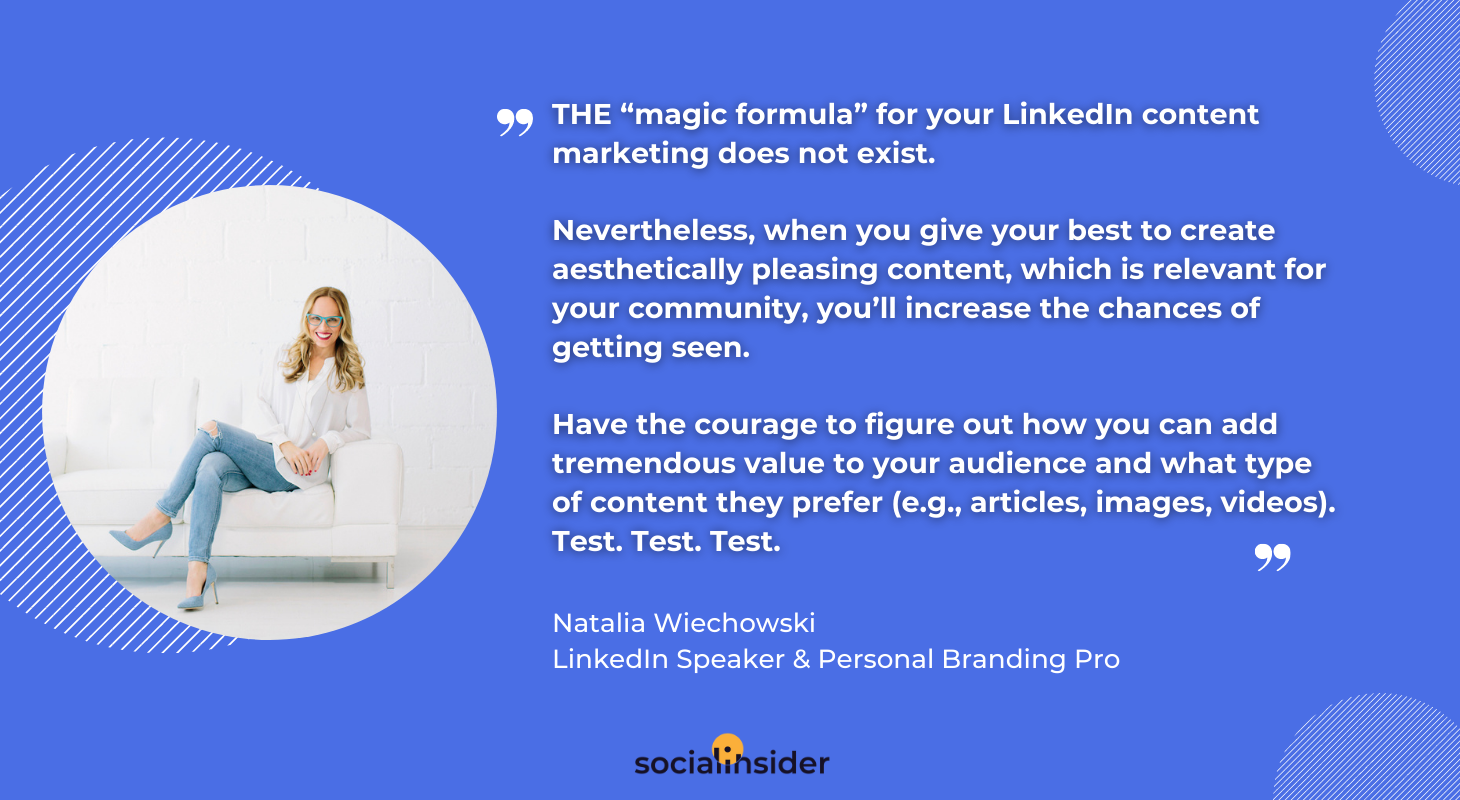 1. LinkedIn's engagement rate values in 2021
What makes LinkedIn special among all the other social media platforms out there is it's more professional orientation and vibe.
Therefore, if people turn to Facebook, Instagram or Youtube to either discover news regarding the worldwide politics or just to watch a couple of cute kitties playing, they do not have the same approach with LinkedIn.
And since its orientation is much more narrow, it is only normal to have a lower engagement rate on LinkedIn than on Instagram, let's say, which for the previous year is somewhere around 0.35%.
Now, the more interesting question is what type of content is highly to generate that maximum value just stated.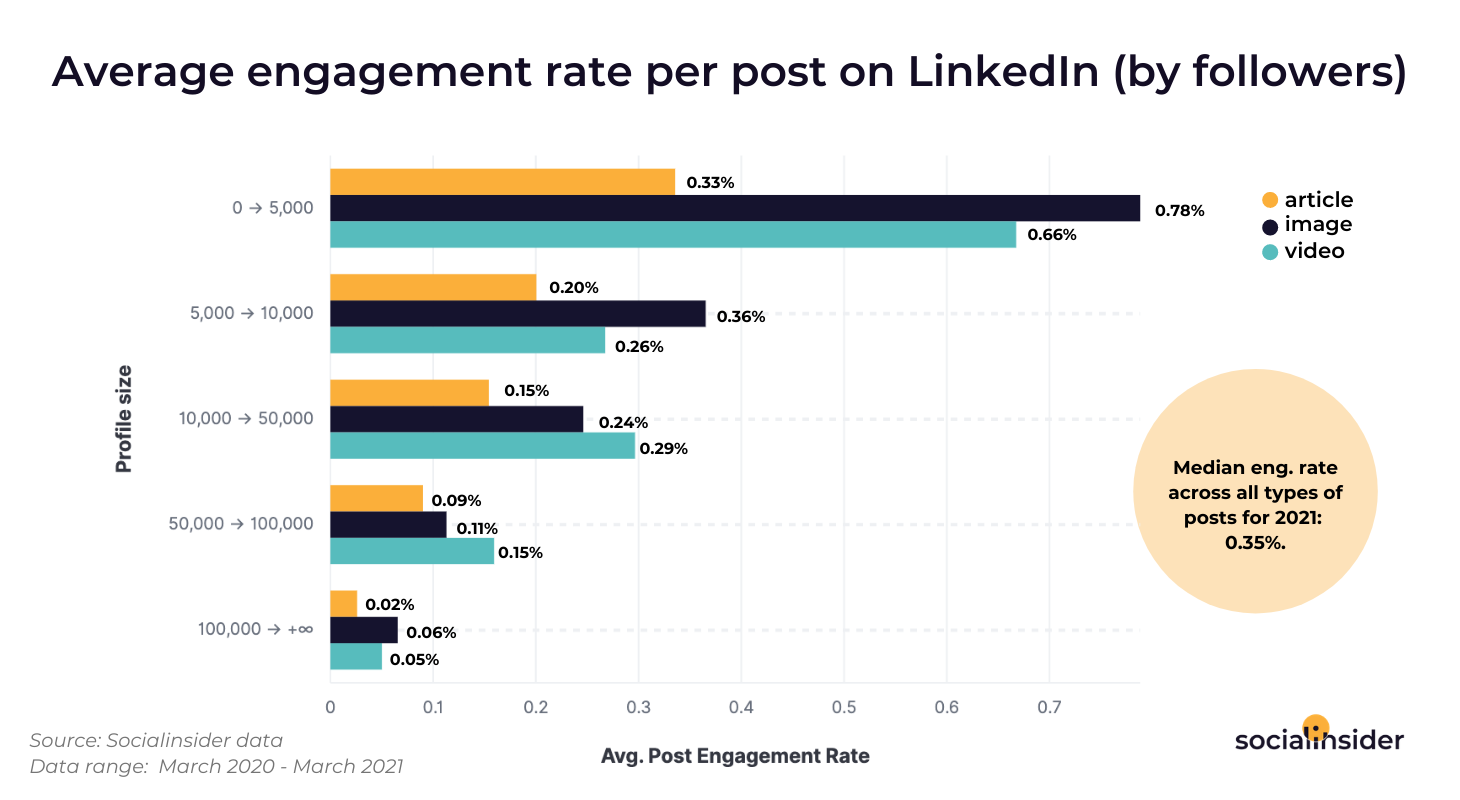 As our LinkedIn analysis has shown, for small (up to 10K) and large accounts (bigger than 100K followers) a higher LinkedIn engagement rate is generated by images, while for middle-sized accounts (between 10K - 100K followers) videos are the ones that perform best.
Just like in Facebook's case, visual content has taken a significant run, because due to the more pressing lack of time, people nowadays prefer seeing instead of reading.
By following the regular pattern of social media, articles have been left behind, today videos being the ones trying to surpass images in terms of engagement.
So, whether you're using infographics or videos to send your messages to your community, remember to make them as visually appealing and relevant as possible.
2. Images make for the most part of brand's posts on LinkedIn
Whether we're talking about charts or regular informative visuals, images are a great way of compressing high volumes of information in a manner that's easy and fast for users to comprehend.
Just like on Instagram, you can save an image and later rapidly consult that piece of information in times of need.
This is a simple reason for which images are the go-to type of posts brands are using on LinkedIn, with a percentage of 49%, followed by articles, with 38%.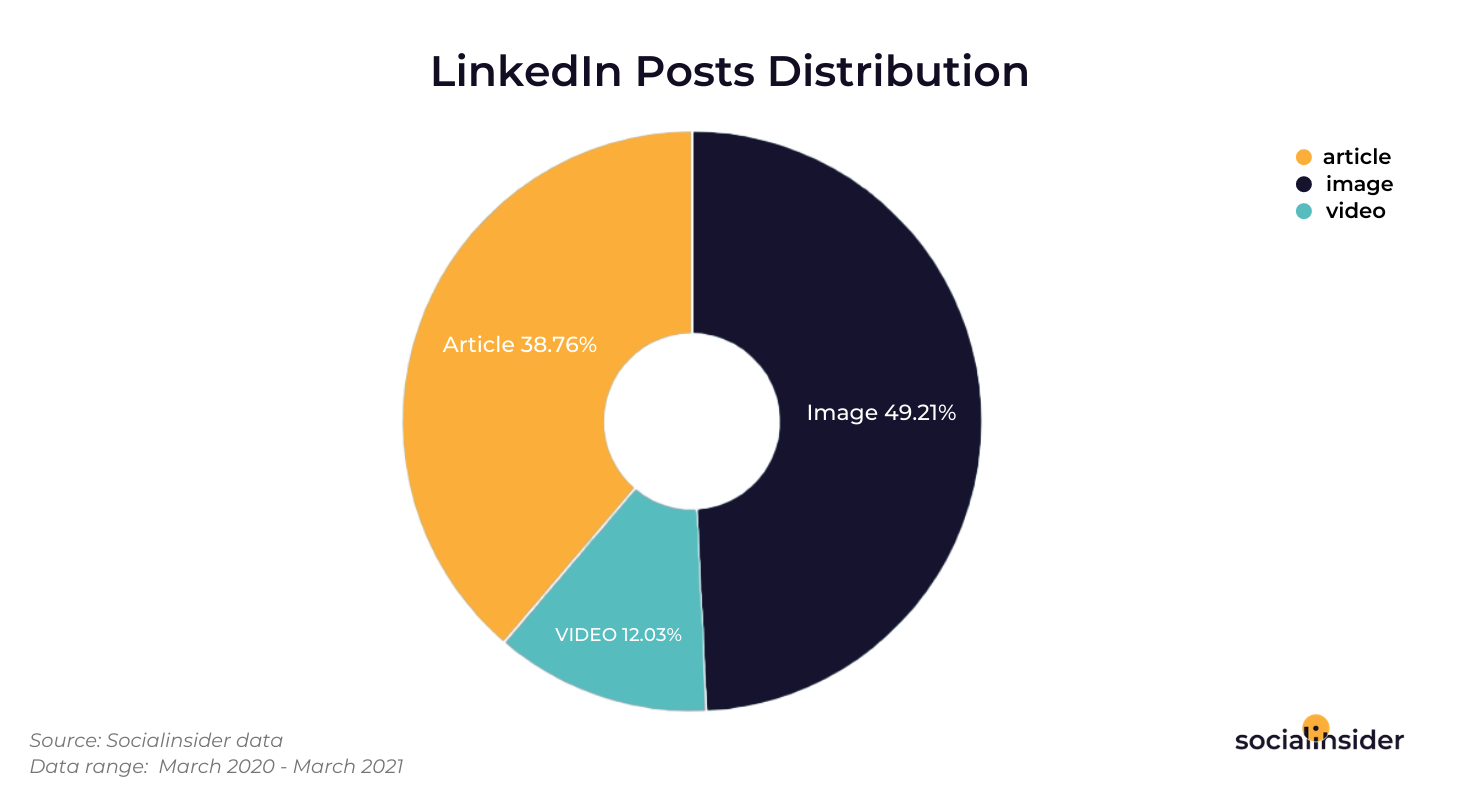 With video marketing still being the one marketers are most struggling with, because of its many angles available, which imply testing a lot, it is only normal to have articles as a second choice.
After all, let's not forget LinkedIn is a platform on which quality and professional related information, which may be treated in a more detailed manner is what matters the most, and articles are still a pretty good way of delivering it.
3. Visually oriented content increases the median number of likes
Getting likes is something people love about social media. And surely LinkedIn is no exception.
Due to its professional status and expectations, the information shared on the platform must be really of interest and helpful for the users.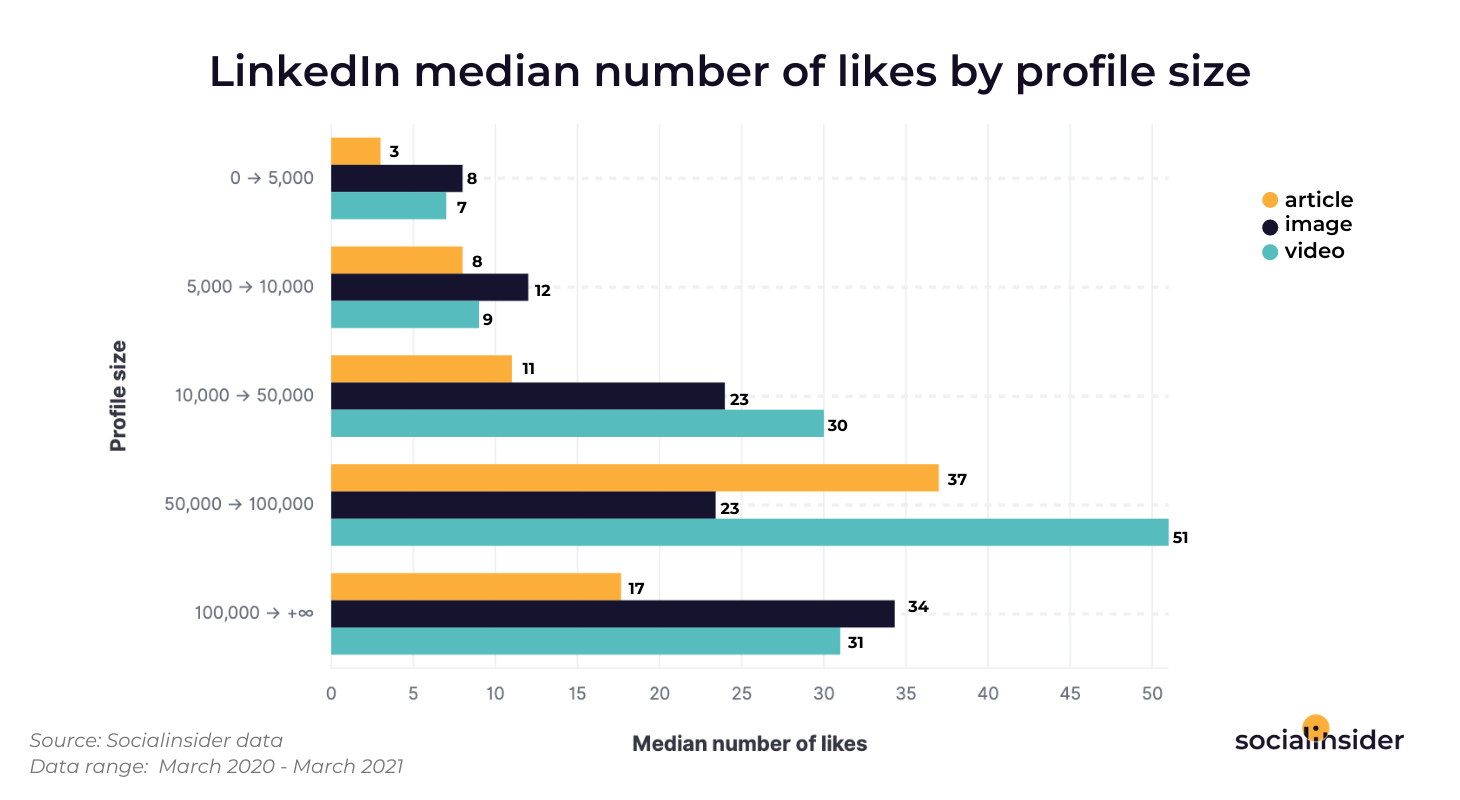 If we add the business' market and personality, we'll see there are a lot of changes when it comes to the type of post best chosen to generate more likes.
In our attempt of understanding Linkedin's trends, we discovered that:
the smallest accounts can try a mix between videos and images, maybe pushing a bit more on images, since this is the type of post that increases the median number of likes for the next bigger accounts (5K - 10K followers).
medium sized accounts should have in mind videos are the posts that bring a bigger number of likes, but a second best option for accounts between 10K - 50K followers are images, while for profiles between 50K - 100 K, articles.
the largest accounts can count on images to win more likes, a second best option being videos.
But as a general rule, either videos should be opted first, either images, it is clear that visually oriented content is the one that steals people's hearts, as these Linkedin metrics show.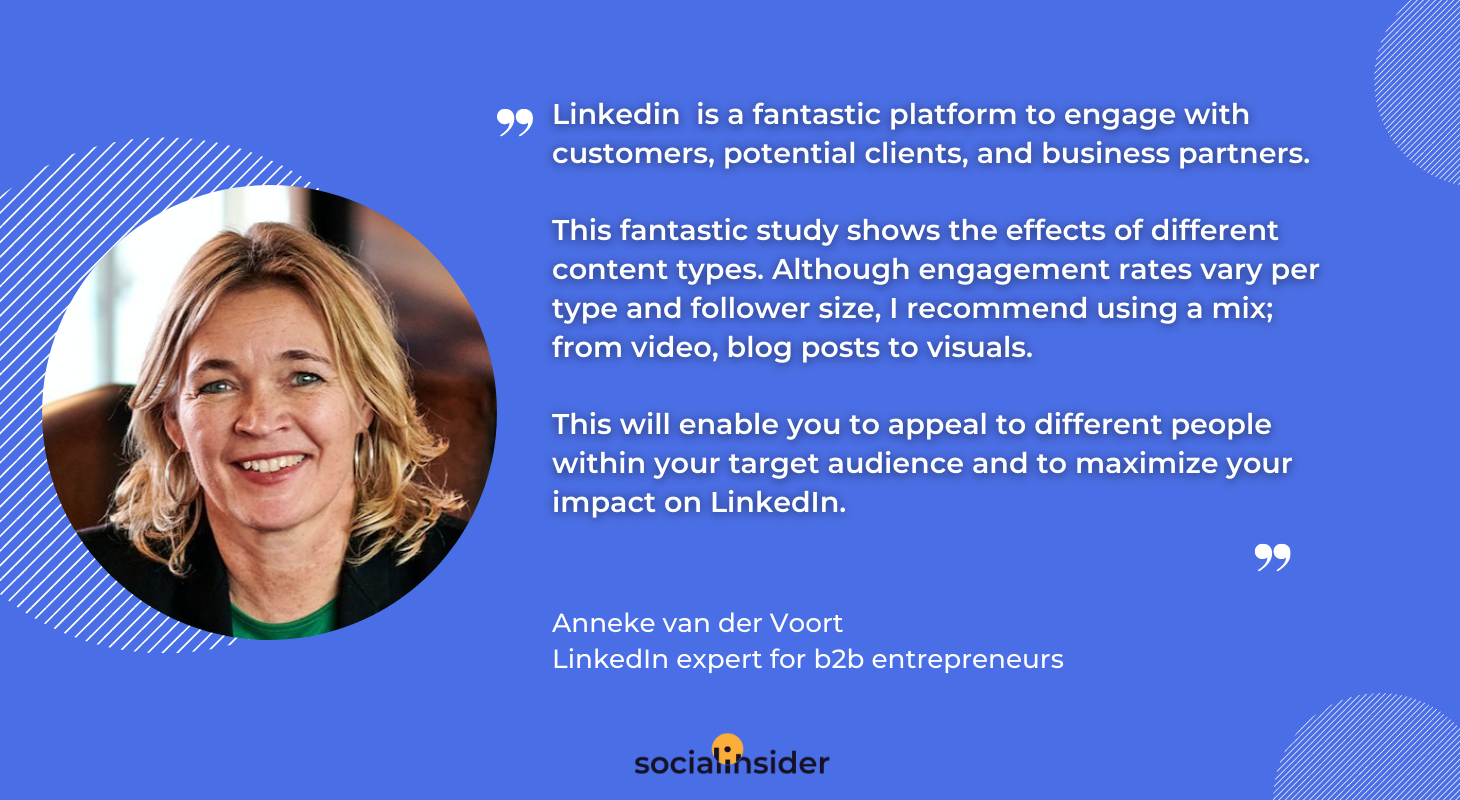 4. Videos make people keener to comment
Having an audience that presents interest in your topics, that's open to communicate and shows involvement is every brand's dream and every social media manager's objective.
And being able to make your followers comment on a daily basis ain't an easy job.
That's why, studying a bit the digital landscape's trends before creating your social media strategy can be more rewarding than you think.
In order to help you with this task, remember there are plenty of LinkedIn analytics tools out there, that you can always turn to.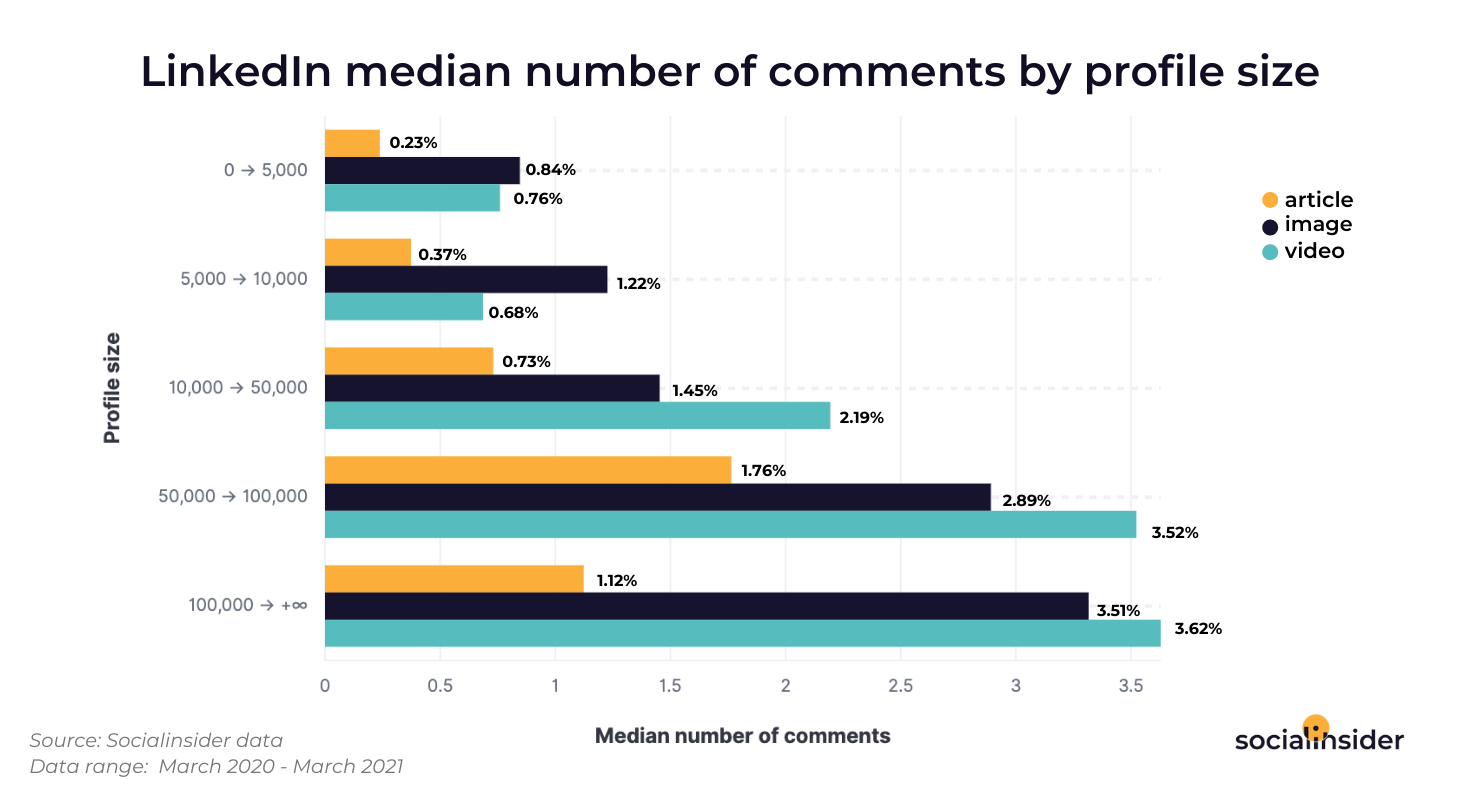 Now that we've seen the power of visual content in terms of engagement through our LinkedIn data, it is only obvious it is winning when talking about comments as well.
There's a constant jog between images and videos, but it's pretty safe to say each of them is winning at some point, depending on the case.
To wrap this one up, based on this LinkedIn analysis, it's safe to say that if you aim for more comments, you should post more images for small accounts (with less than 10K followers), but trust videos will help you with this objective for every other bigger account.
5. Images bring higher average impression rates for small accounts, while videos work better for larger accounts
Moving forward with another Linkedin metric, we've come to the average impression rate. By analyzing which posts had more views, you can skyrocket your marketing strategy.
For example, you can determine which is the best time to post, specifically, for your brand.
By identifying the days in which your posts receive more views you'll be able to optimize your posting schedule in order to deliver the information your community wants to learn about, in the time-window when users are most likely available to view it.
Also, this is a metric you should target to look at especially when thinking about sponsoring some posts, because it will show you which posts are best resonating with your audience.
This is an important step for improving your Linkedin performance, so make sure you always keep an eye on this Linkedin data.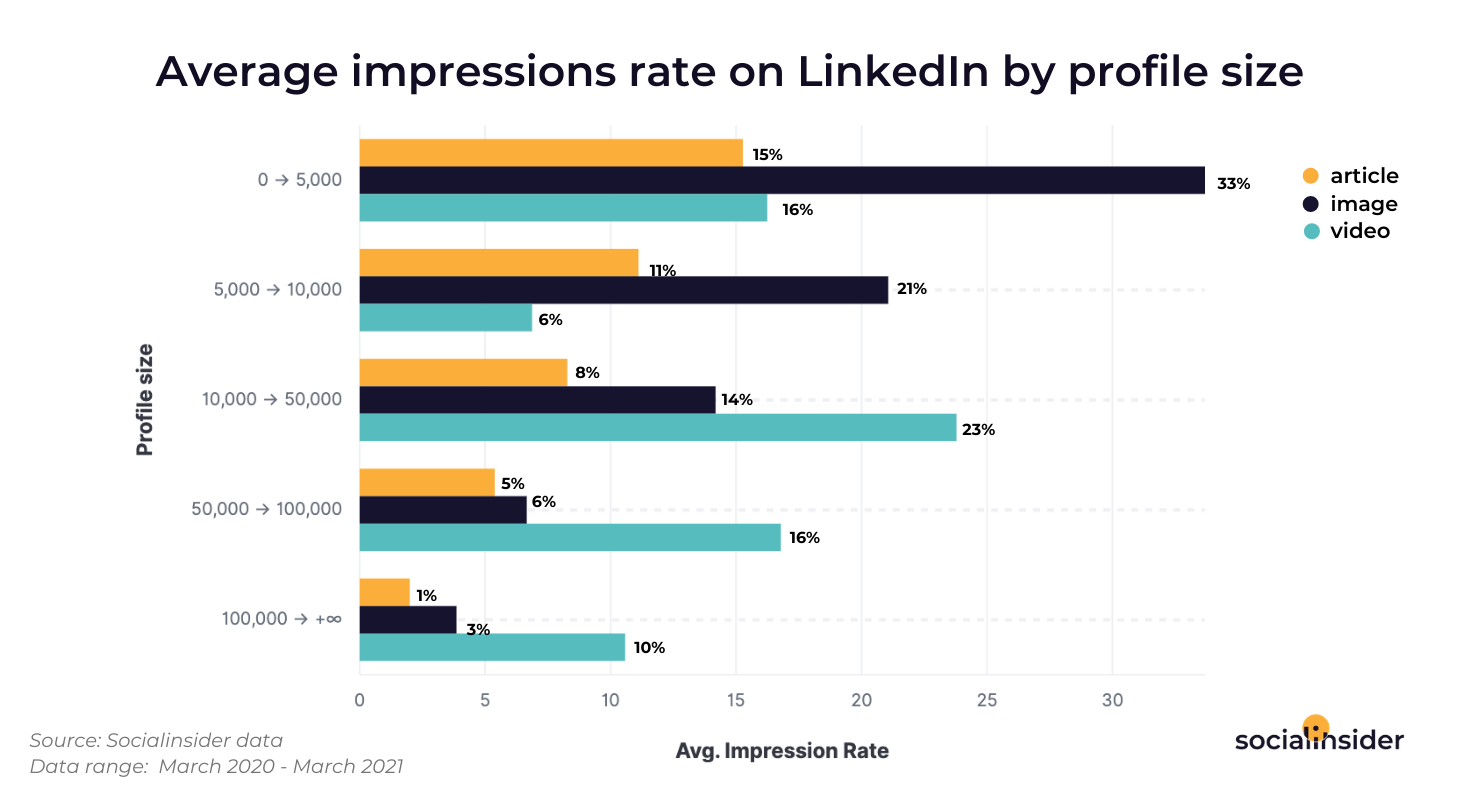 The LinkedIn insights that come out from the graphic above are that for the average impressions rate metric, images generate higher values for accounts with less than 10K followers, while bigger accounts should push more on videos.
Important to note is that the average impressions rate on Linkedin will have a higher value than the engagement one, because the number of people that actually interact with the post seen in feed is smaller.
6. Articles generate the highest average engagement per impressions, especially for small accounts
An objective often paired with the number of impressions is the increase of brand awareness.
And knowing the total Linkedin impressions your page has gained is certainly a good insight always welcomed to have.
But what's even better, in order to establish what percentage of your community is more sensitive to your messages after seeing your posts repeatedly in their feed, you have to pay attention to the average engagement rate by impressions.
By carefully analyzing this metric you can pick up on that type of content that both the platform and the users seem to like and pushing more in that direction may come with the potential of becoming viral.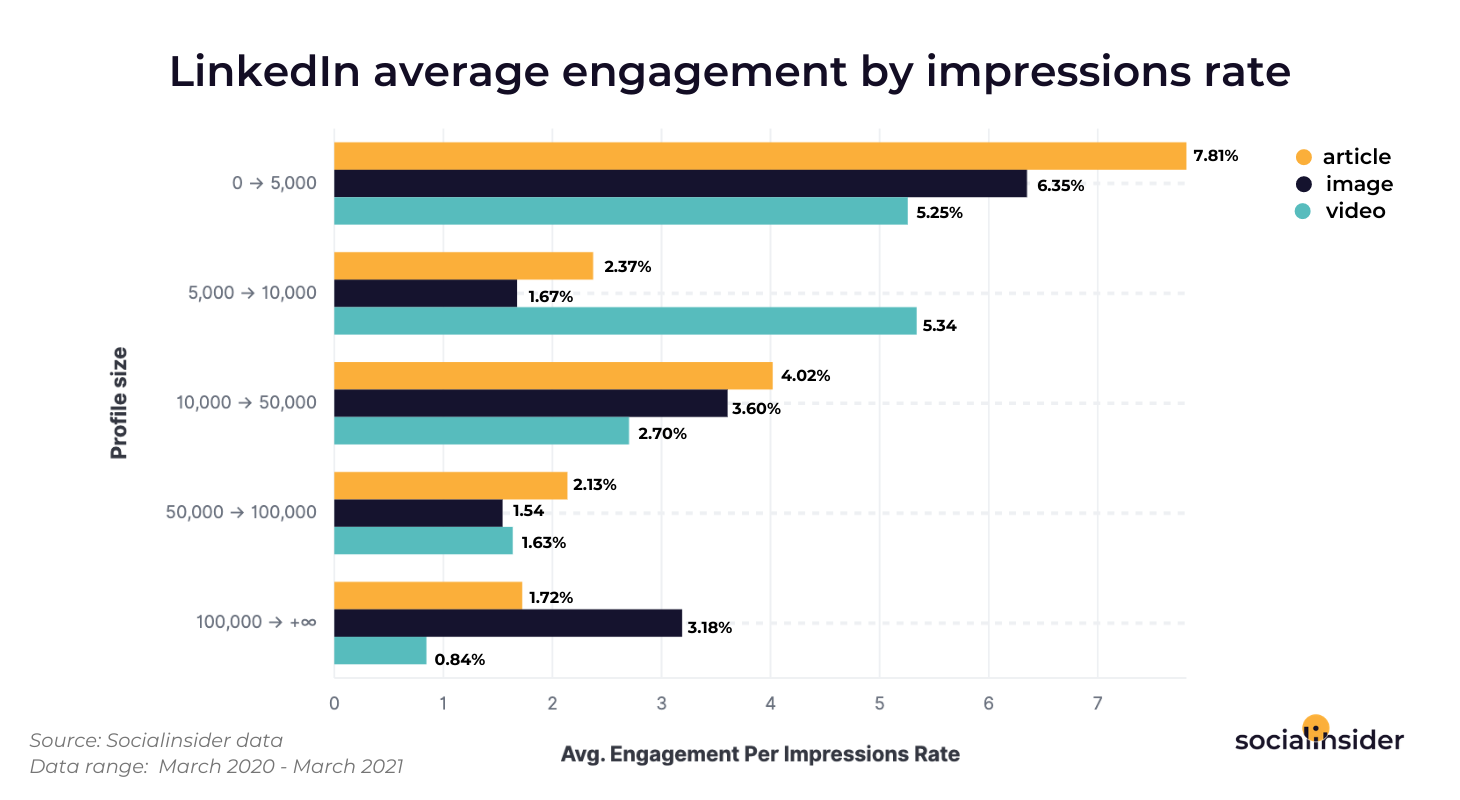 As shown in the graphic above, each typology of profile has its own trait:
videos should be used more for profiles between 5K - 10K.
images for profiles with more than 100K followers.
While in any other case, articles seem to bring the best results, as this report reveals.
What you must remember, as a social media manager, is that the majority of your posts must be thought in order to meet your business objectives.
Consider what your brand, but also your audience needs, do your best to meet these targets in the middle, and your social media successful results will come sooner rather than later.
Final thought
In today's digital world, customers challenge brands everyday, to add real value to their communities, and as a consequence, the rise of visual oriented content has become imminent, since it's a fast, easy and fun way of delivering messages, as our LinkedIn engagement data shows.
And what businesses should not forget is that there are a lot of creative ways in which brands can inform and inspire their audience.
Unlike other platforms, LinkedIn seems to be a pretty homogenous one, with every piece of content having its place and value.
Either we're talking about images, videos, or articles, information really finds its way into people's feeds and minds and regardless of their form, it helps shape and improve the professional environment in which we live.
C. Methodology
The LinkedIn insights presented are the result of the analysis of 39,465 business posts, coming from 2,625 profiles, divided as follows:
profiles under 5K: 962
profiles between 5K - 10K: 475
profiles between 10K - 50K: 682
profiles between 50K - 100K: 186
profiles over 100K: 319

Engagement: represents the sum of likes, comments and shares received for the posts published.
Linkedin Engagement rate: is the sum of likes, comments, and shares received for the posts published, divided by the number of followers the page has, all multiplied by 100.
Median number of likes/comments: is the midpoint value for likes/comments.
Impressions: refers to the number of times a post / an ad has been viewed.
Linkedin average impressions rate: it measures how many impressions a page has, on average.
LinkedIn average engagement rate by impression: it reveals how many people liked or commented on your posts from those who watched repeatedly.
It is calculated by dividing your engagement to your impressions, then multiplied by 100.
Is especially a helpful metric for ads, with which you can see how many times they were displayed in your target's feed.
Related articles: