When social media first entered our lives, we were mesmerized by the advance in technology. But this was more than a decade ago, and now everything has changed.

There is no wonder why, in 2022, LinkedIn is now on top of the game. So, LinkedIn, it's your time to shine now.

LinkedIn made a  simple move by targeting a different audience than any other social platform because it is mainly used for professional networking.

Now, that's precisely why we believe that it's super important to keep track of your performance on LinkedIn. And for that, you need to know the key metrics that will make you be the best in the game.
Let's take a look at the most important LinkedIn metrics that all marketers should know.
LinkedIn analytics: top 8 metrics you should keep an eye on
1. LinkedIn engagement - how to calculate the engagement rate
Probably the most discussed key metric out there (no matter the platform), engagement is definitely important because it shows you the true power of your performance.
There is no accident that I put engagement metrics in the first place. And it's a simple reason for that: this is the way to measure how people interact with the content you publish.
Let's take it literally: to engage means to become involved in something, to be active.
And that's exactly what you want from your audience. You want to engage with your audience, and be just as active.
On LinkedIn, that's the key to keep your business growing. It seems like people understood that because you'll always find them engaging with the content they see.
While engagement on LinkedIn will show you everything you want to know about this interaction, the engagement rate per post will help you get more insights.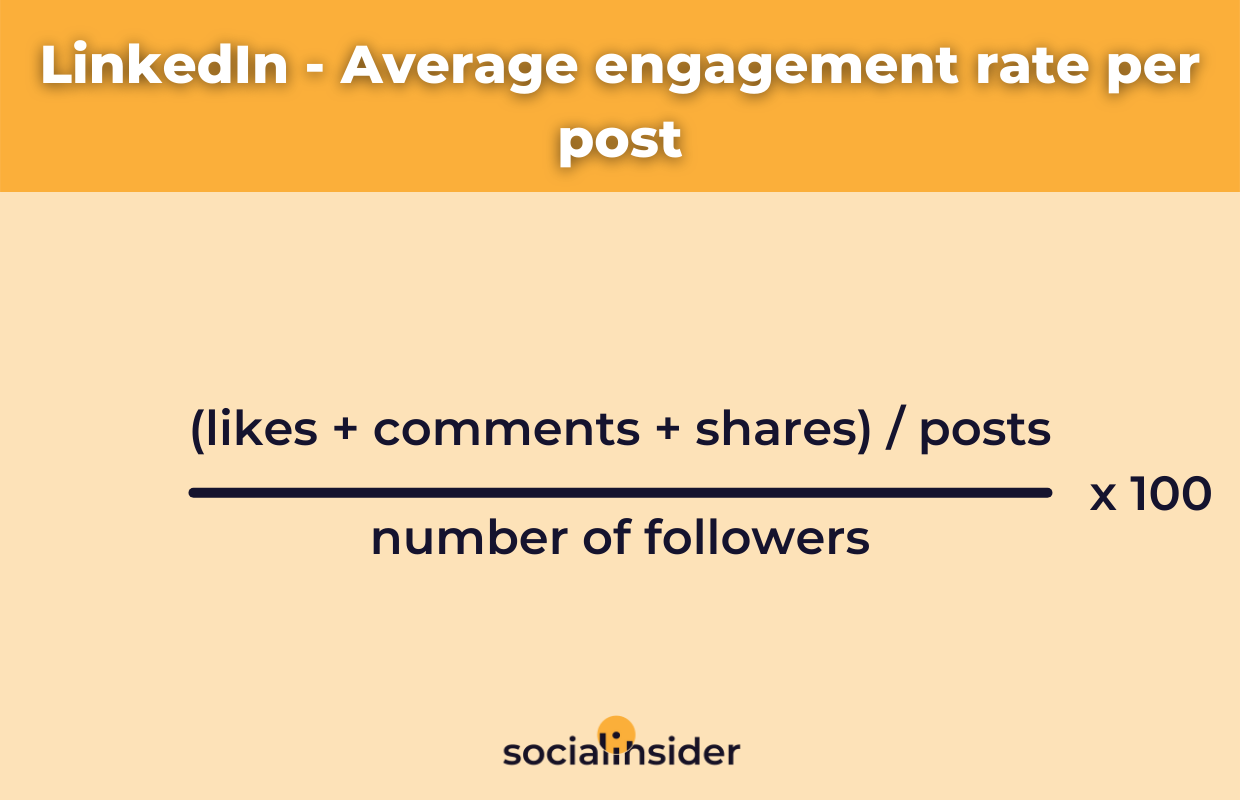 Total engagement on LinkedIn - The number of likes, comments, and shares received for the posts published in the selected time period.
Average engagement rate per post (by followers) on LinkedIn - The engagement of the posts (likes, comments, and shares) divided by the number of posts published in the selected time period.
2. Impressions
While keeping track of your LinkedIn metrics, another essential factor to consider is the number of impressions and unique impressions (or the unique number of people who have seen your business page).
This metric will show you how many times people saw the content you published.
With Socialinsider you can have access to a lot metrics that will help you with the entire process. Of course, there are more analytics tools out there that are waiting for you.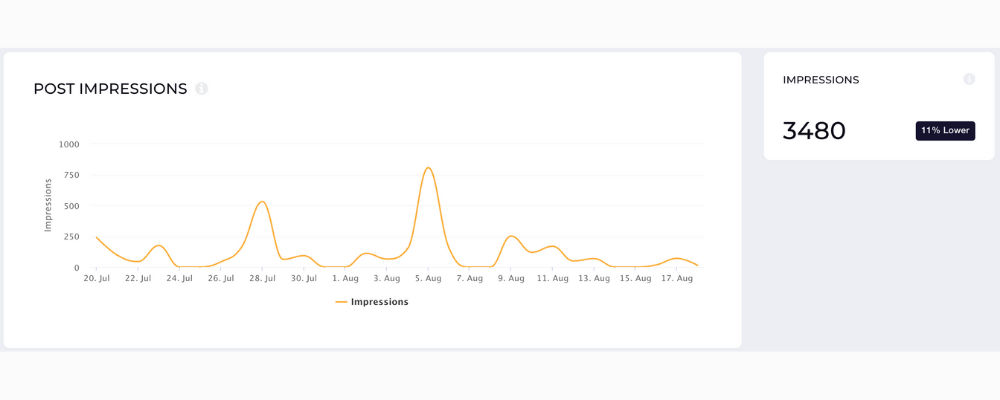 If you want to look at the unique visitors, you should know that this metric is only shown in the native app.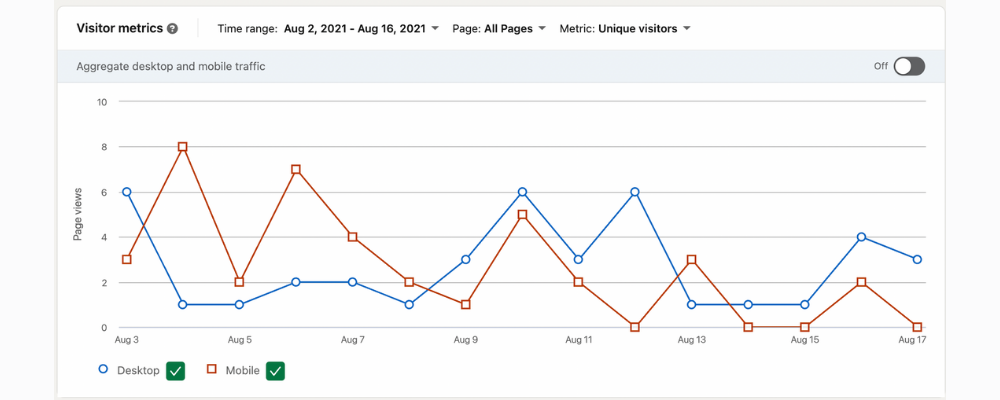 LinkedIn provides analytics for the business pages, and it's very easy to access that.
This metric is important because it shows you how relevant is your content at the end of the day.
We created a comparison between more than 50 social media analytics tools based on G2's grid. Take a look 👀
3. Reach
Now that we talked about impressions, you may already know that reach is based on those.
Reach shows you the number of times your content is seen by LinkedIn users on their feed.
In other words, the number of times that your content is seen by LinkedIn users on their feed. This is tightly related to the number of followers and their interaction with your content, but not only.
4. Clicks
Do you like scrolling?
I mean, of course, we all do this on every platform, but when it comes to this metric, you'd wish that people just stop scrolling.
In other words, clicks represent the one metric that will give you a number of the people who actually click on the content you publish.
Once again, a chart like the one you see below is provided by the native app.
Here's how it looks in LinkedIn Analytics - native dashboard.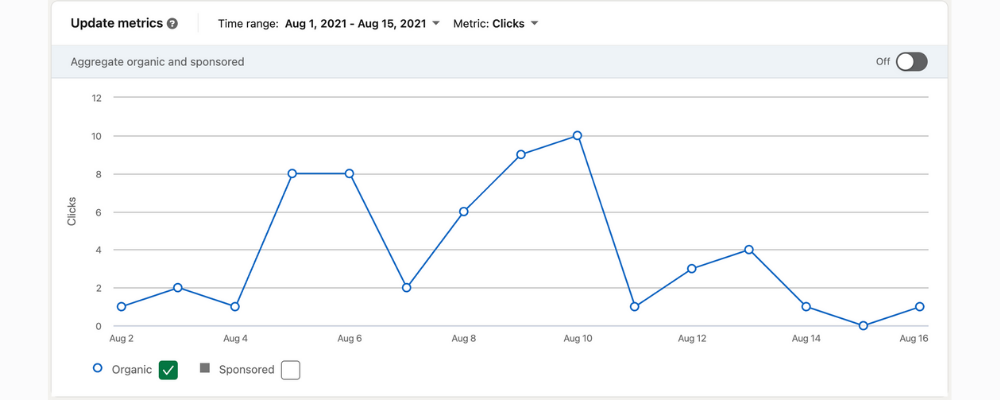 5. Demographics
It's great to know where your audience is coming from. By looking at the charts, you'll have a better understanding of your followers.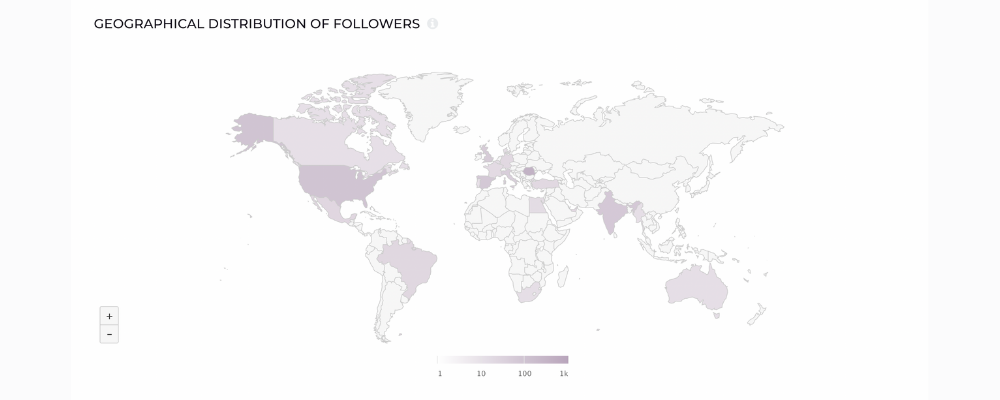 This is important because you may want to make changes in your content based on the insights you're getting.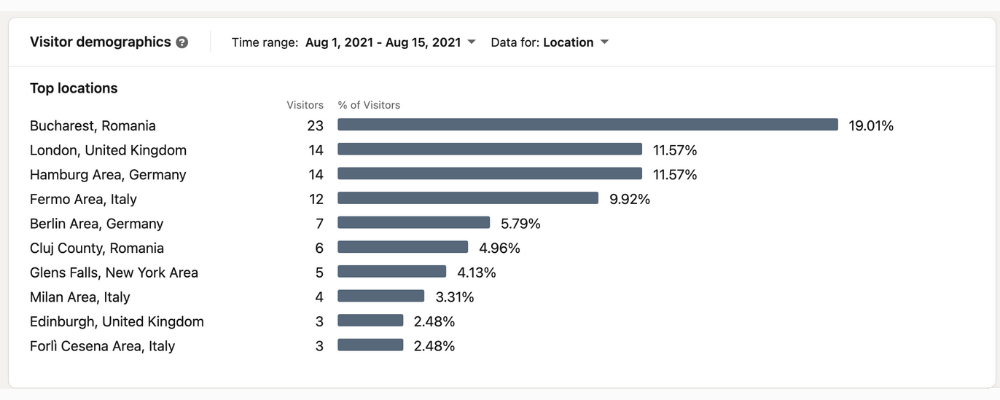 This is how you'll see who exactly is invested in your page and start tailoring your content to meet their demographics.
6. Followers growth
Maybe you're really tired of hearing how important it is to look at this metric. Truth be told, this is not the most important one. Not even close.
But it's a good thing to look at it, from time to time, mainly because it may show you something about the content and your activity in general.
When the numbers drop, it may be because of the lack of activity or maybe because your content wasn't really targeting your audience.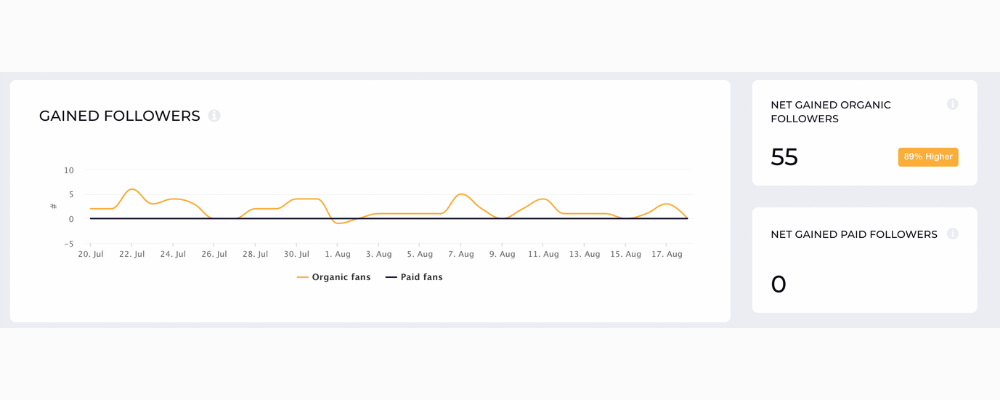 At the same time, it's great to look at the evolution of followers because it will show you the peak of your LinkedIn activity.
If you post consistently and the content makes people react to that, then you may eventually attract even more followers. And that's a double win.
7. Traffic metrics
As always, LinkedIn makes your journey worth the hype.
Accessing LinkedIn analytics, you can monitor all of your page views by seeing the source of all these views.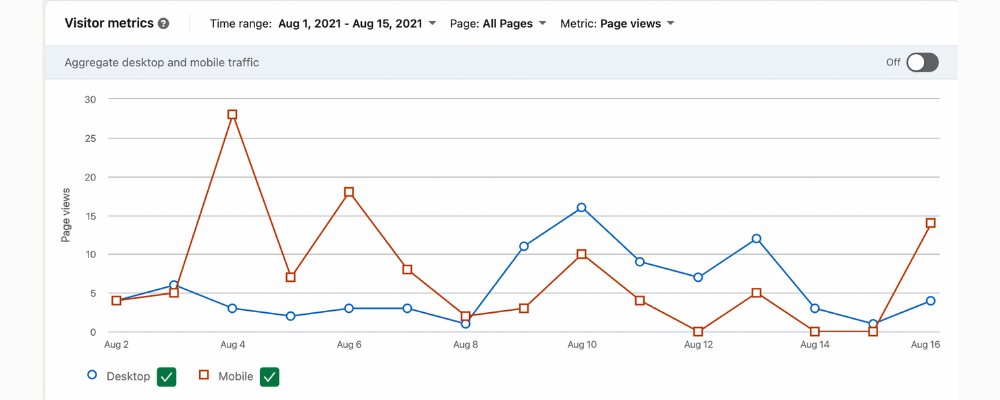 Maybe it's desktop or mobile, but this will offer you a better understanding of the intent and preferences of your audience.
In other words, all your page visits are split up into desktop views and mobile views.

It's great to know this because it could help you improve your content. For example, for the mobile visits, some of your posts may need adjustments in order to appear clearly on all screens.
8. Top job functions of your visitors
Isn't LinkedIn about professional networking? Well, that's right.
This means that the job functions of your visitors are important so you can understand who's coming to your page.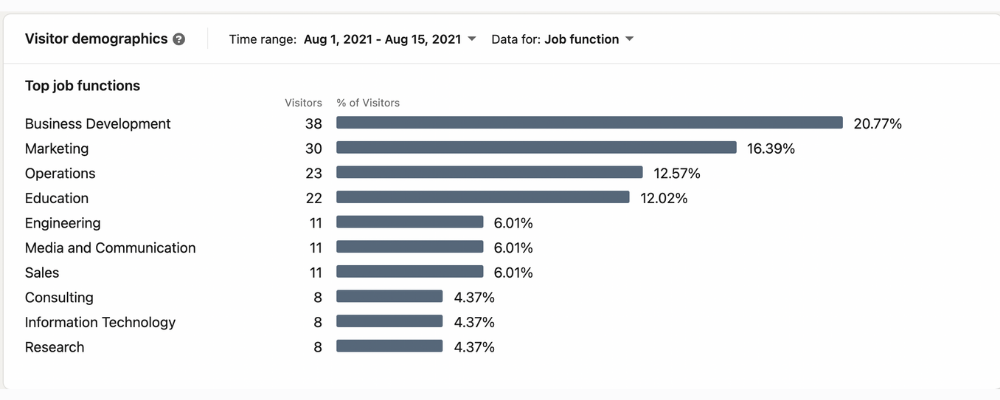 Your business is definitely targeting a certain audience, which means that this metric is more important than you might think. Take a look at where they work because this will also show you how good is your content.
Final thought
With LinkedIn being more popular than ever, it's essential to enter the game and be as good as possible. And data is always by your side when it comes to anything social.
Keep track of your social media performance, look at the most important metrics and learn how to speak the LinkedIn analytics language because it's definitely going to be worth it.
---
Related articles:
[STUDY] LinkedIn Engagement Rate: 39,465 Business Posts Show How Visual Oriented Content Gets Ahead on LinkedIn