There is no question that Instagram is the go-to-platform for businesses' marketing campaigns.
Brands like National Geographic or Nike found the key to Instagram success.
However, managing an Instagram account isn't easy.
We know that Instagram is mostly about visuals, but just posting a photo or a video isn't enough.
Since 90% of users follow at least one brand on Instagram, brands need to step up their game and find different ways to keep their Instagram account fresh and their followers engaged.
I've compiled a list of 12 Instagram ideas and examples to post on your feed that will come in handy if you're sketching your digital marketing strategy on Instagram.
Let's get started!  
Best 12 Instagram post ideas to spice up your account in 2023
1. Release product teasers
Every product release should be communicated with your followers.
Be careful though! If you're too pushy, your followers will feel overwhelmed by your overly-promotional attitude.
This is why product teasers are great Instagram post ideas to talk about your product in simple words.
Check these recent posts from Briogeo, a hair care brand that offers natural products.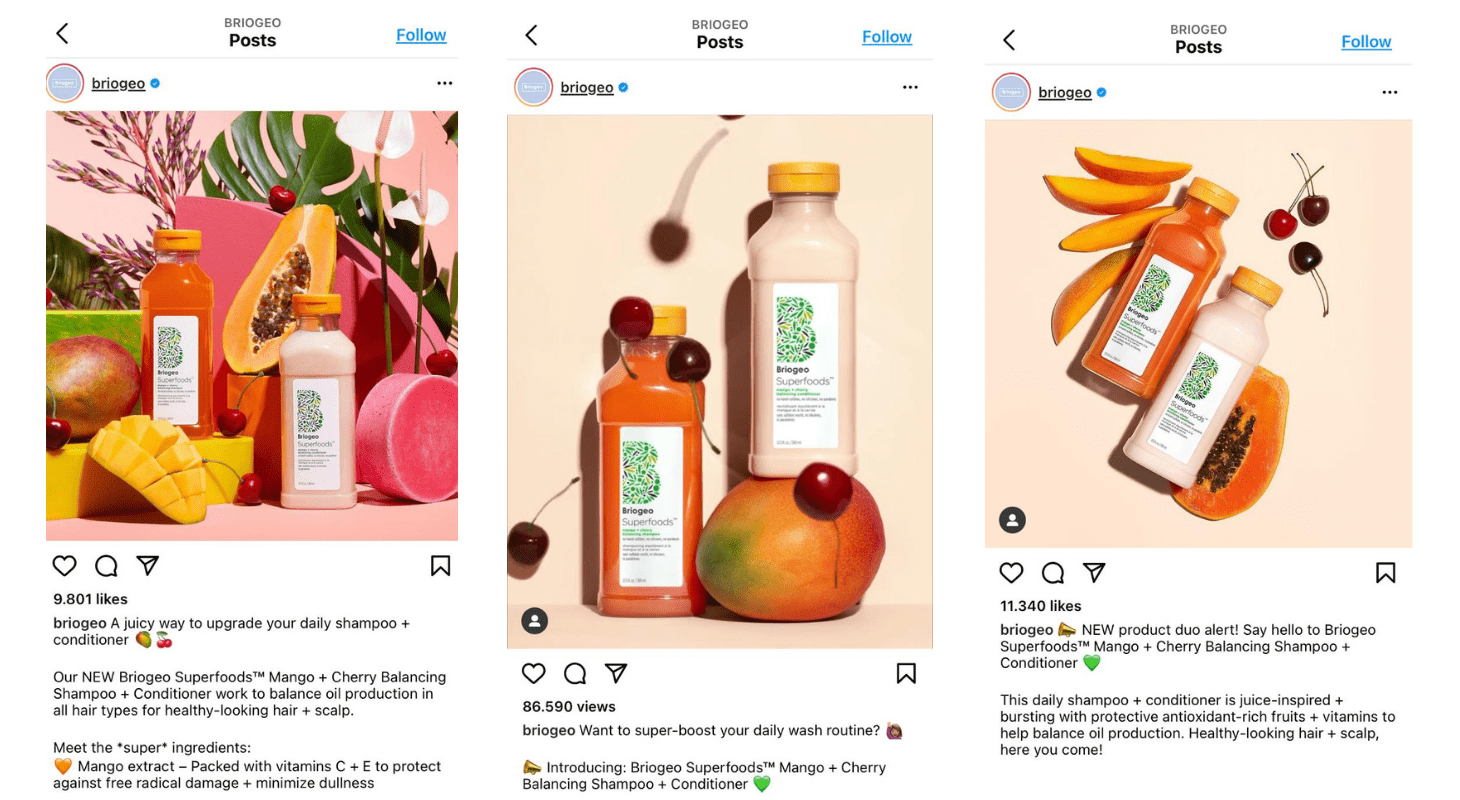 These posts received thousands of likes each, which is huge! The reason for why they work is because they're laid back and don't try to directly sell these products.
It's more likely that people will buy your products if you don't try to throw them in their face.
And even if they don't buy them, at least they will engage with your posts, which is just as important.
Continue reading 👉 [Instagram Study] 102,700,573 Posts Show How Instagram Engagement Rate Decreases Back to Its Initial Values From 2019
2. Partner with influencers
The global influencer market is set to grow from $6 billion in 2020 to $24.1 billion by 2025.
No wonder why more and more businesses decide to partner with influencers to get their brand out in front of others.
Not only influencers are experts in creating brand awareness, but they have trust and authority.
However, raising brand awareness only works with the right influencers. So the first step is to try and identify influencers that are relevant for your industry.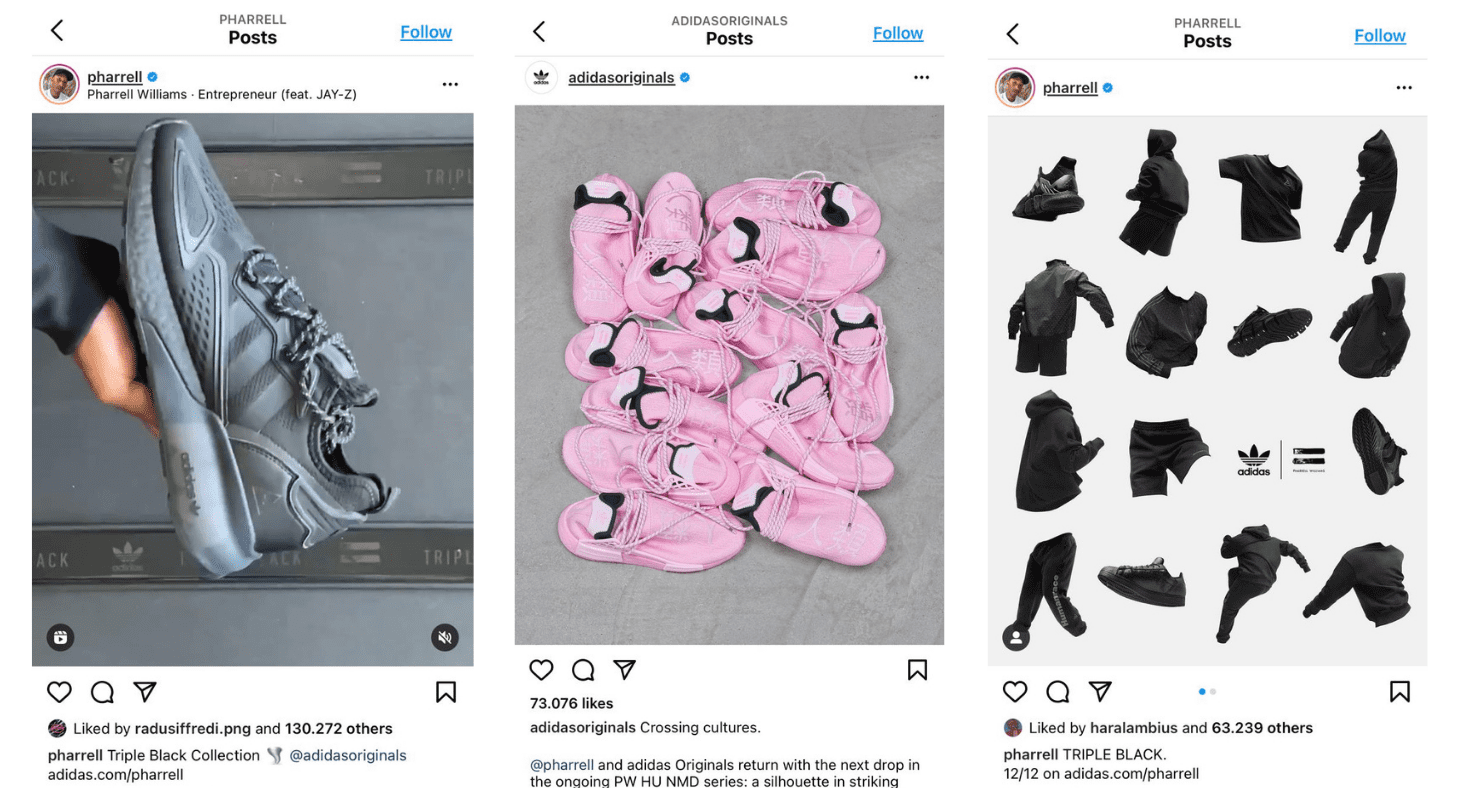 Here are Instagram posts examples of how Adidas Originals partnered with Pharrell Williams, the famous rapper and producer, to announce a new series of sneakers.
Pharrell has 12.8 million followers, which means that Adidas exposed itself to millions of potential new customers.
3. Show you care
Inclusion. Compassion. Authenticity. Visibility.
One of the quickest ways to build trust and loyalty with your audience is to post content on Instagram that shows involvement with your community.
For instance, June is the LGBTQIA+ pride month.
There is no surprise that almost all major brands made campaigns and released special collections in June to celebrate pride month.
If you don't know what to post on Instagram, below are some Instagram content ideas from big footwear companies, like UGG, Dr. Martens, or Converse who decided to show their love and appreciation for the queer community on Instagram.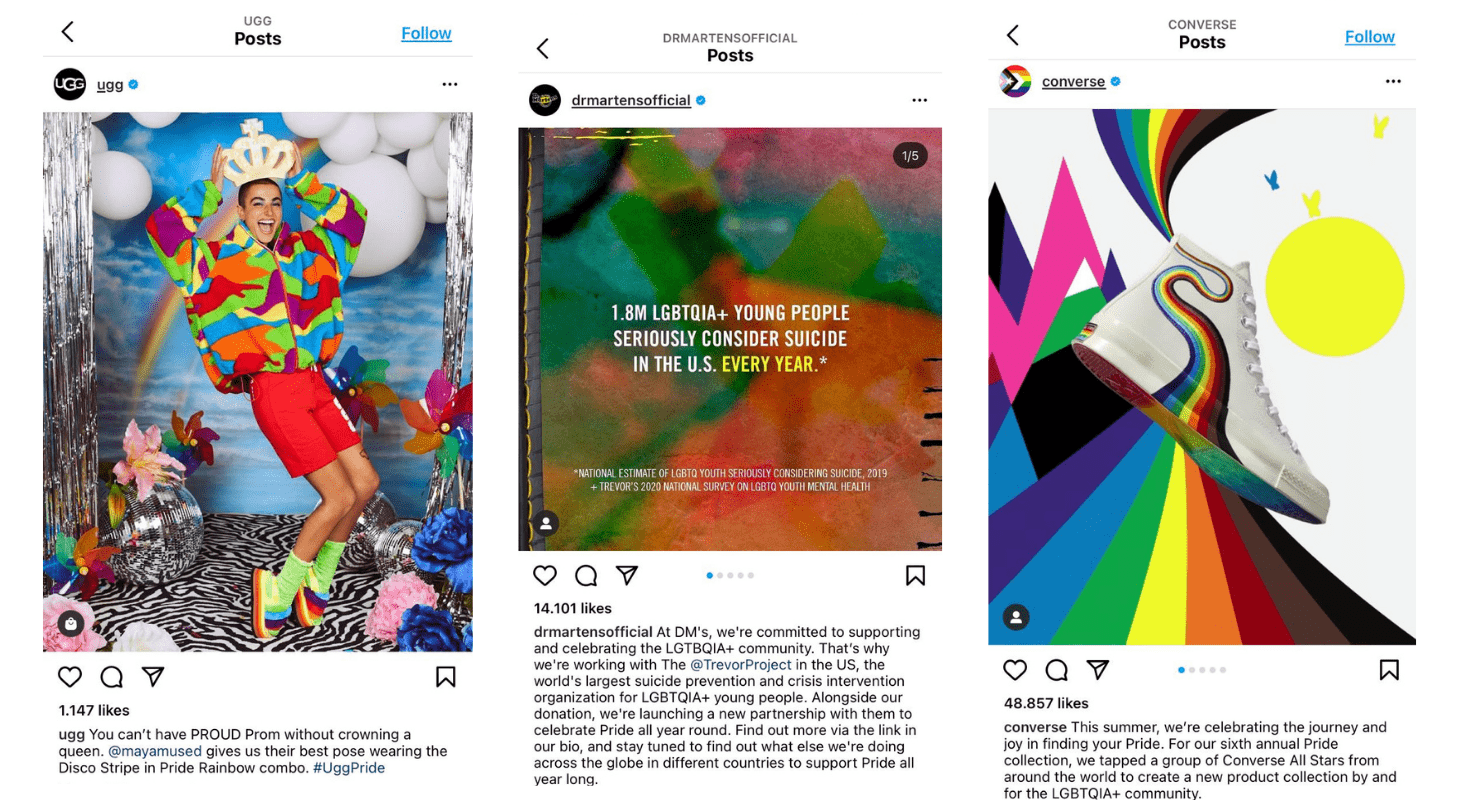 You know that saying – Do good and good will come to you!
4. Give your employees the spotlight
If you're looking for things to post on Instagram, you should turn your attention to content that focuses on your employees.
Sharing your employees' stories is another way of showing your community the human side of your brand.
This Instagram page idea will help you form an emotional connection with your followers and make them trust your brand more.
If you need some inspiration, check out Starbucks' way of connecting with its audience through employee stories.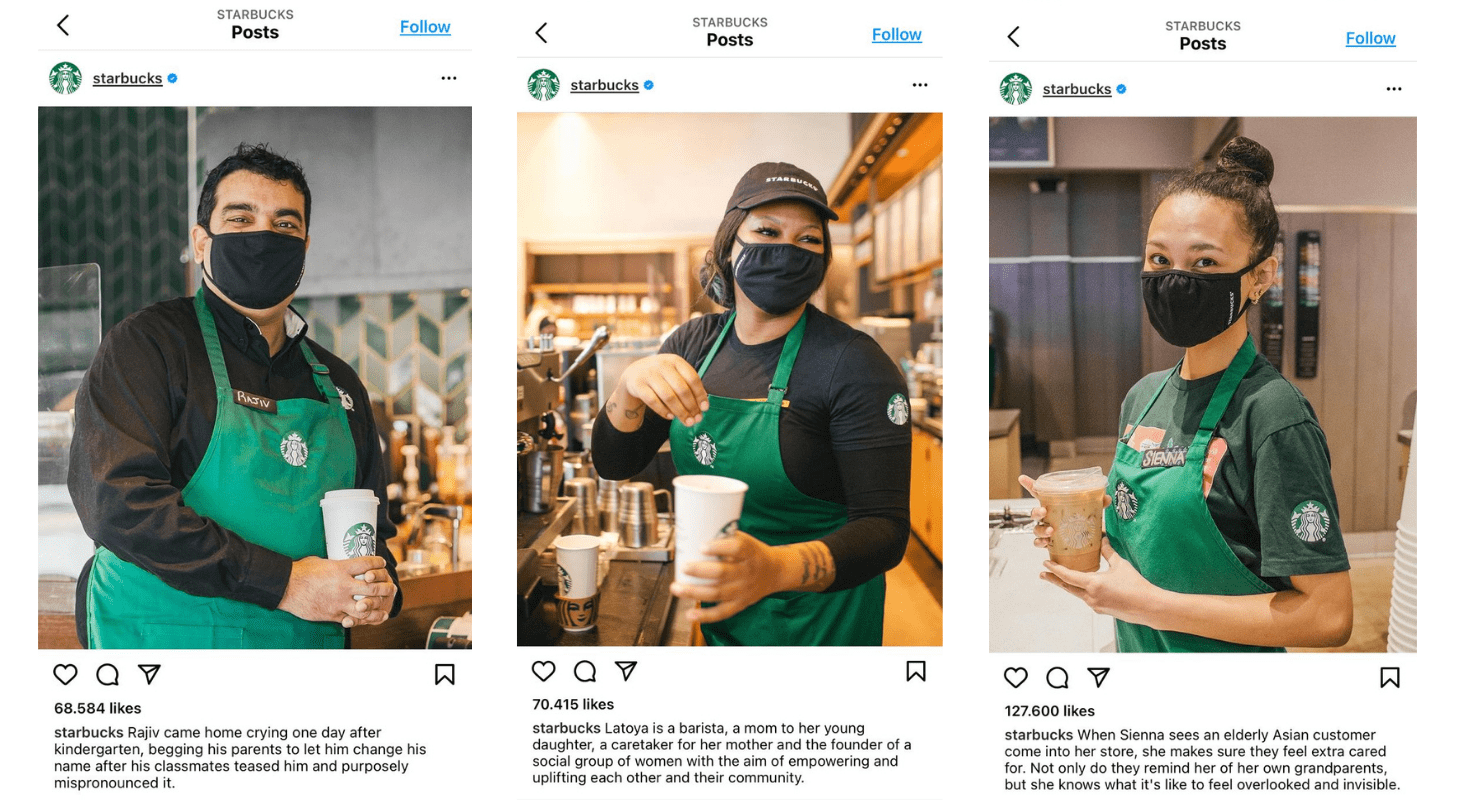 These stories make the brand relatable and accessible. It also shows that they promote inclusiveness and diversity, as they share stories of people with different cultural backgrounds.
5. Hold podcasts with industry leaders
Holding podcasts, interviews, or QA sessions with industry leaders is the ideal content for Instagram if you want to engage more with your audience.
Sharing insights can be extremely helpful for your community and for your brand as well, since it can draw in new followers.
There are a lot of ways to share podcasts on Instagram. You don't necessarily have to get the leader in front of the camera.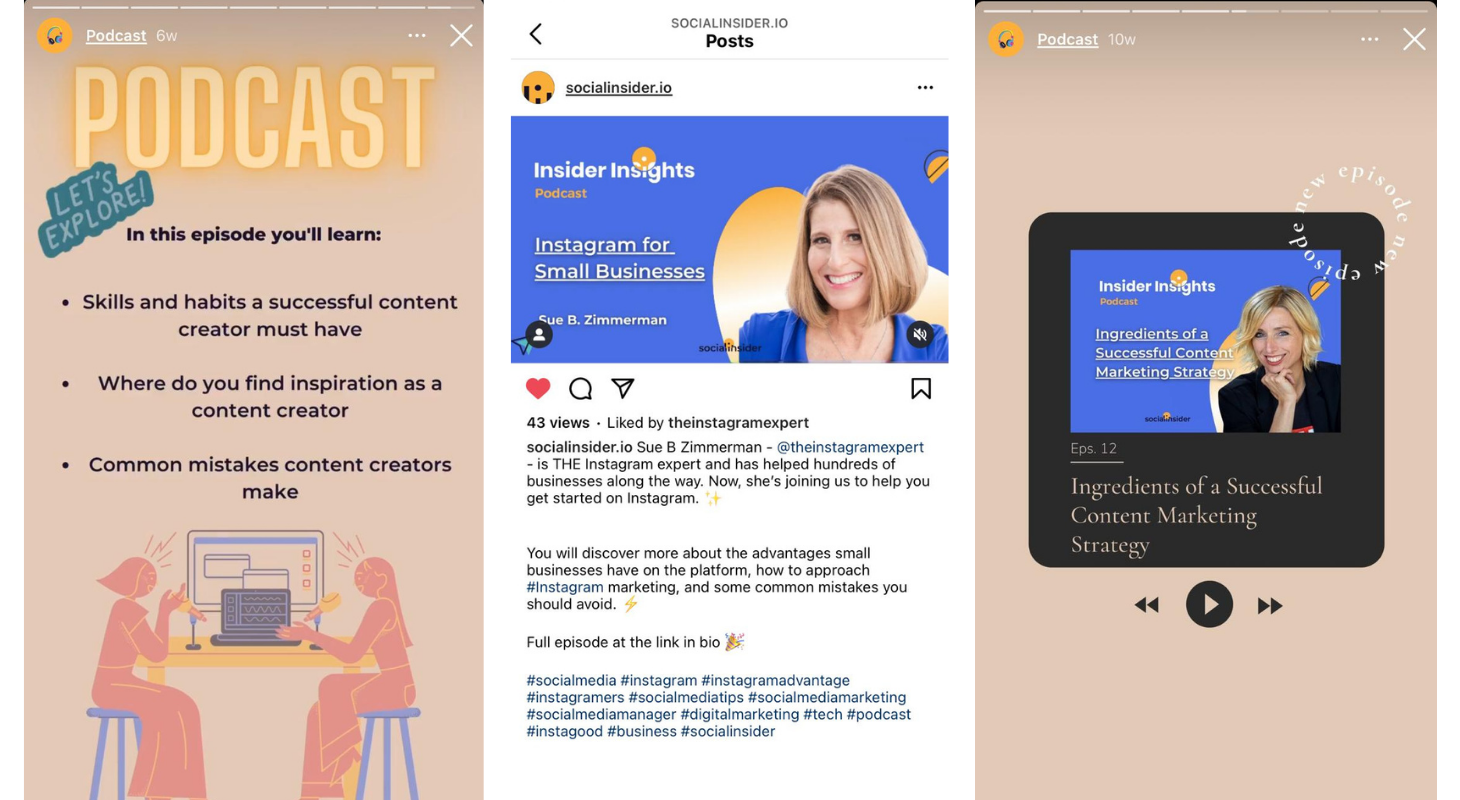 Instead, you can share a snippet of the podcast, add stories, or learning lists like Socialinsider did in the examples from above.
6. Do fun Instagram Reels
One of Instagram's most beloved features, Reels, allows users to create short videos on the platform.
This feature opened a world of possibilities to fun and creative Instagram content for brands.
Whether you are a small business or a large company, Reels are the perfect way to let your audience know you a bit better.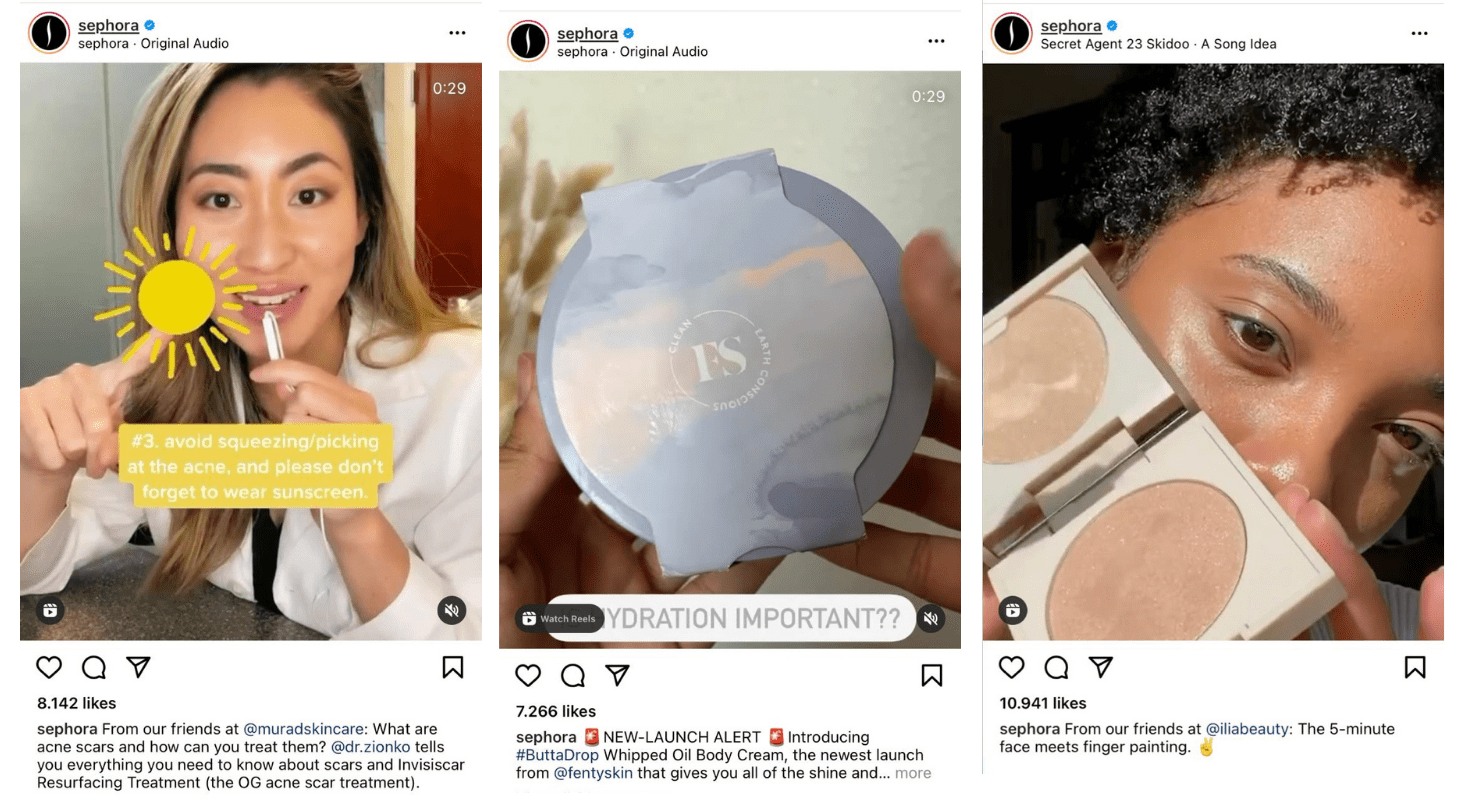 Sephora has great Instagram Reels ideas on its feed. The brand saw the opportunity reels offer and grabbed it!
From tutorials and swatching videos to product presentations, Sephora discovered the recipe for showing their products, building relationships, and engaging with their followers.
7. Run Instagram giveaways
Everyone loves free stuff.
So Instagram giveaways and contests are golden content.
Sure, you'll invest some money in the things you're giving away. But the number of followers and the engagement you'll receive is priceless.
Running Instagram contests offers guaranteed engagement. People will take photos with your products, tag their friends, and spread the word.
Below are some examples of giveaways run by food companies that did it well.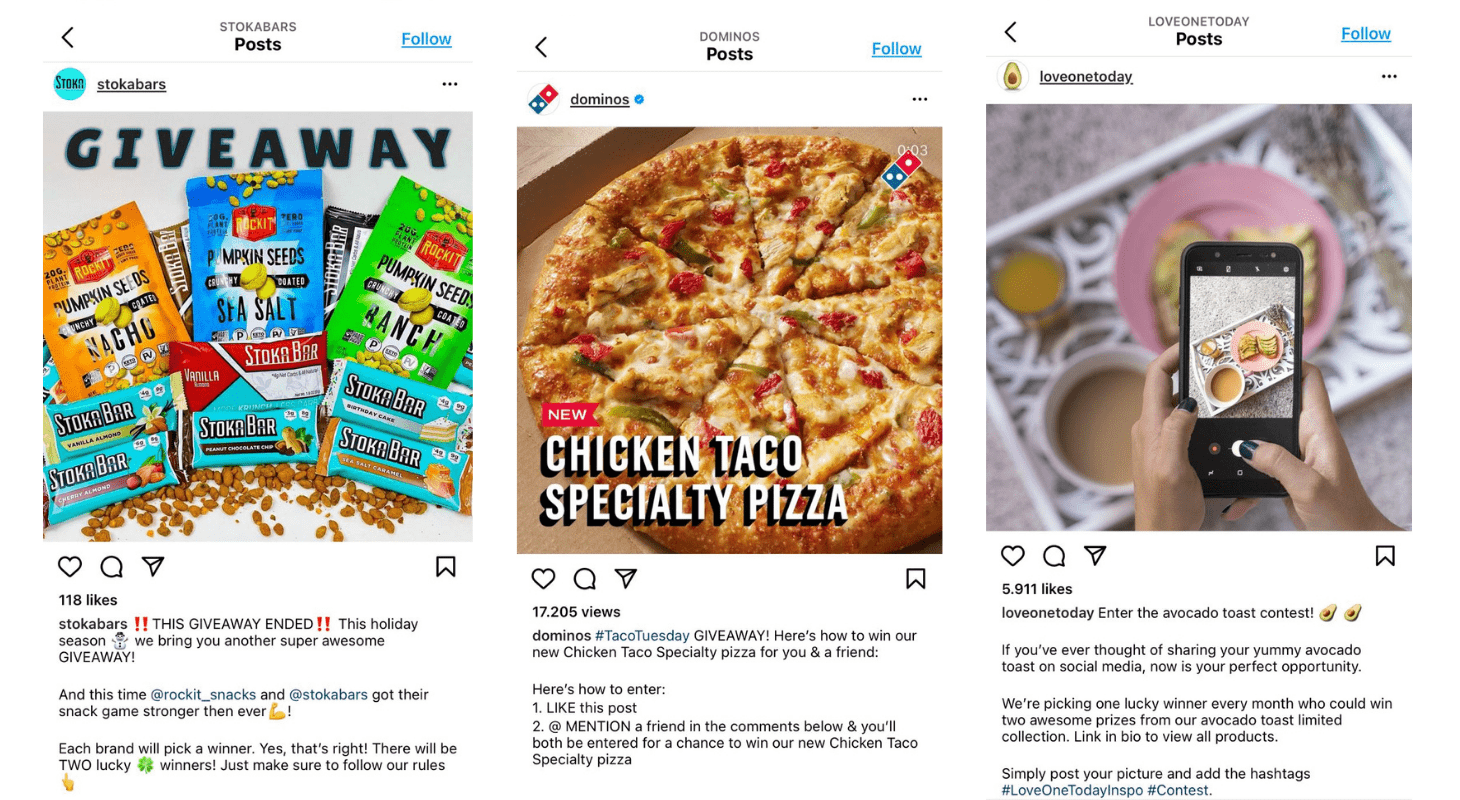 They offered a prize that is relevant for their target audience. And they made it easy to enter the giveaway by clearly stating the steps.
8. Use catchy hashtags
Instagram hashtags are important ways of expanding your audience. The trick is to find the right hashtag for your business.
Using hashtags has a direct impact on how your followers find your account and view your content.
This is why you have to choose them wisely.
Even if there is no such thing as a one size fits all strategy, you should keep in mind that creating content that inspires engagement is mandatory.
I love Tripadvisor's latest campaign, #VacationMissYou, which was created around the idea that people were meant to travel the world, not sit at home all day.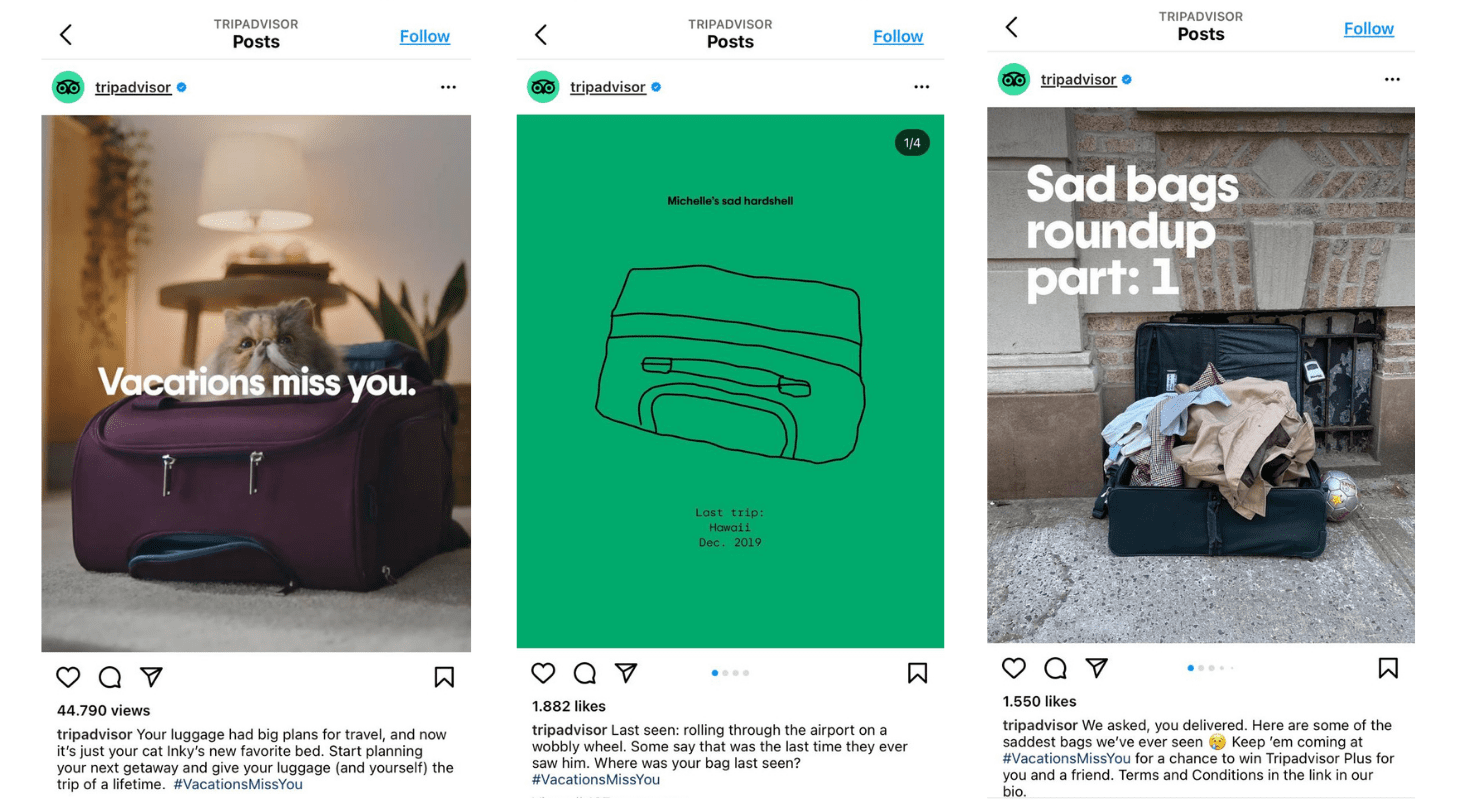 They managed to bring people together during the pandemic by gathering photos of sad bags that wait for their next adventure.
They even added giveaways with tickets for those who shared their saddest bags' experiences. Pretty cool, right?
9. Ask questions in your posts
If you want to learn more about your audience and get valuable information, then asking questions in your Instagram posts might be the key.
Getting direct input from your audience humanizes your posts/brand or what you want to promote.
Asking questions on Instagram enables you to obtain key data from your audience and to better understand their preferences when it comes to your brand.
This is your best opportunity to get real feedback and to adjust your future Instagram strategy depending on the answers.
Sneaker and apparel company Footshop adopted this Instagram idea in their posts, as it shows in the examples from below.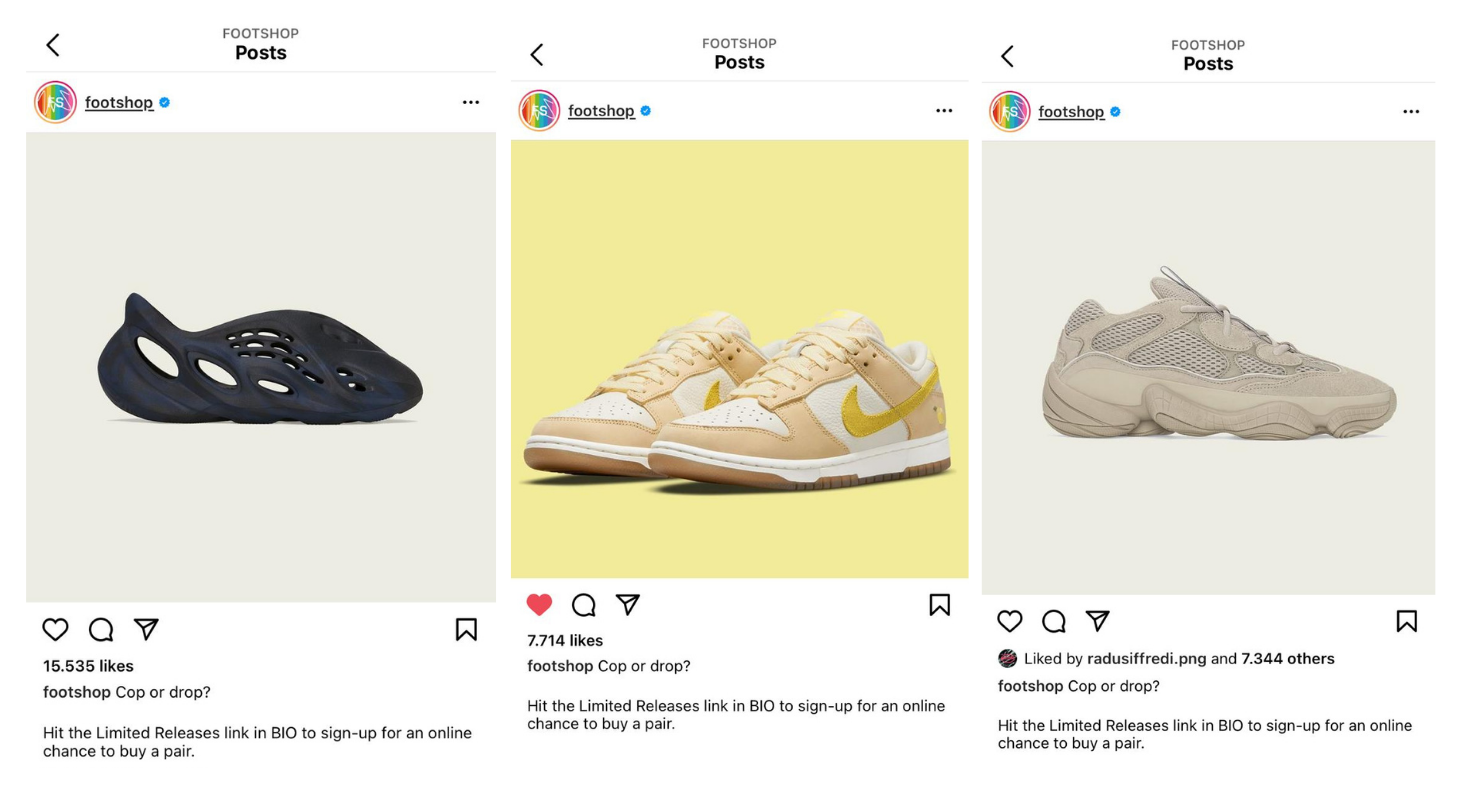 They came up with a simple and catchy question that they ask often when they bring new releases to their website. This allows them to engage in real conversations with their customers.
Cop or drop?
10. Humanize your brand with emojis
Because Instagram is the most visual social media platform, you should use emojis for all captions and comments to ensure a better response from your audience.
Emojis humanize texts and make readers better understand the emotion, context, and message you want to communicate.
They make posts more fun, interactive, and engaging. And they are more likely to catch the user's attention.
WWF, for example, uses a lot of emojis in almost all their Instagram posts.
Their content is usually educational, and with emojis, they share their knowledge with the community and create a visual story around it.
With the help of emojis, WWF encourages people to be more aware of our planet's problems and to try to combat them together.
11. Invite your followers to tag a friend

Don't know what to post on Instagram? Invite your followers to tag their friends!
This approach is often used in combination with contests or giveaways, but they work on their own, too.
A great way to encourage this is to ask your followers to tag their friends in your Instagram post's caption who might genuinely enjoy your products or relate to a certain topic.
Could use some inspiration? See how Hello Kitty does it.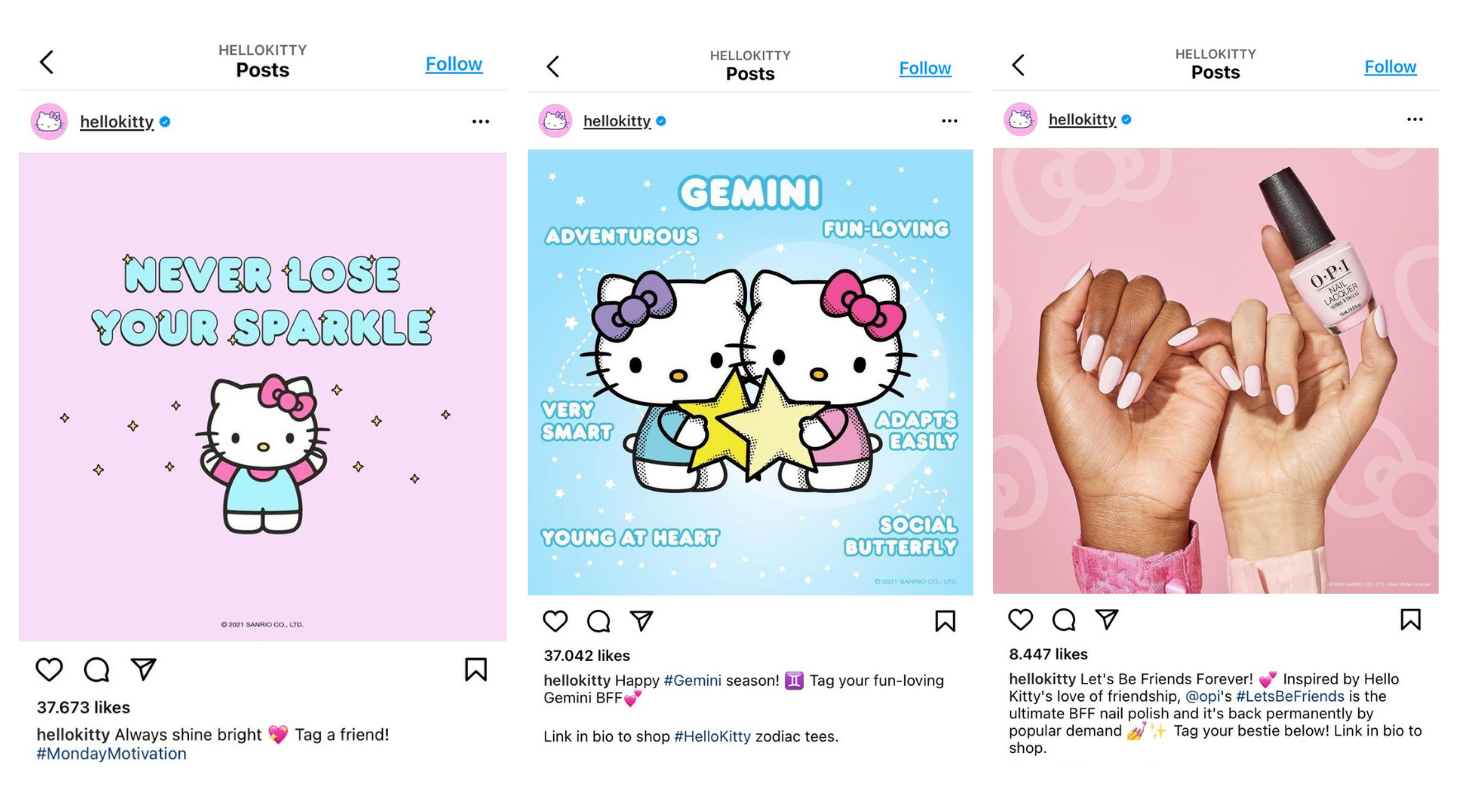 This brand encourages its followers to tag their friends in motivational posts, when they announce new collabs, or simply to engage and create a real conversation. And their followers love it!
12. Share memes
Memes, trends, and challenges are great ideas to post on Instagram if you want to show your audience the fun side of your brand.
If there were meme-only Instagram accounts in the past, brands today are realizing the power of memes, especially when it comes to building a brand identity and increasing engagement.
Memes are shareable, so posting a funny or relevant meme can earn you a lot of likes, comments, shares, and saves.
McDonald's, for example, adopted this creative Instagram post idea and generated tons of engagement through its fun memes.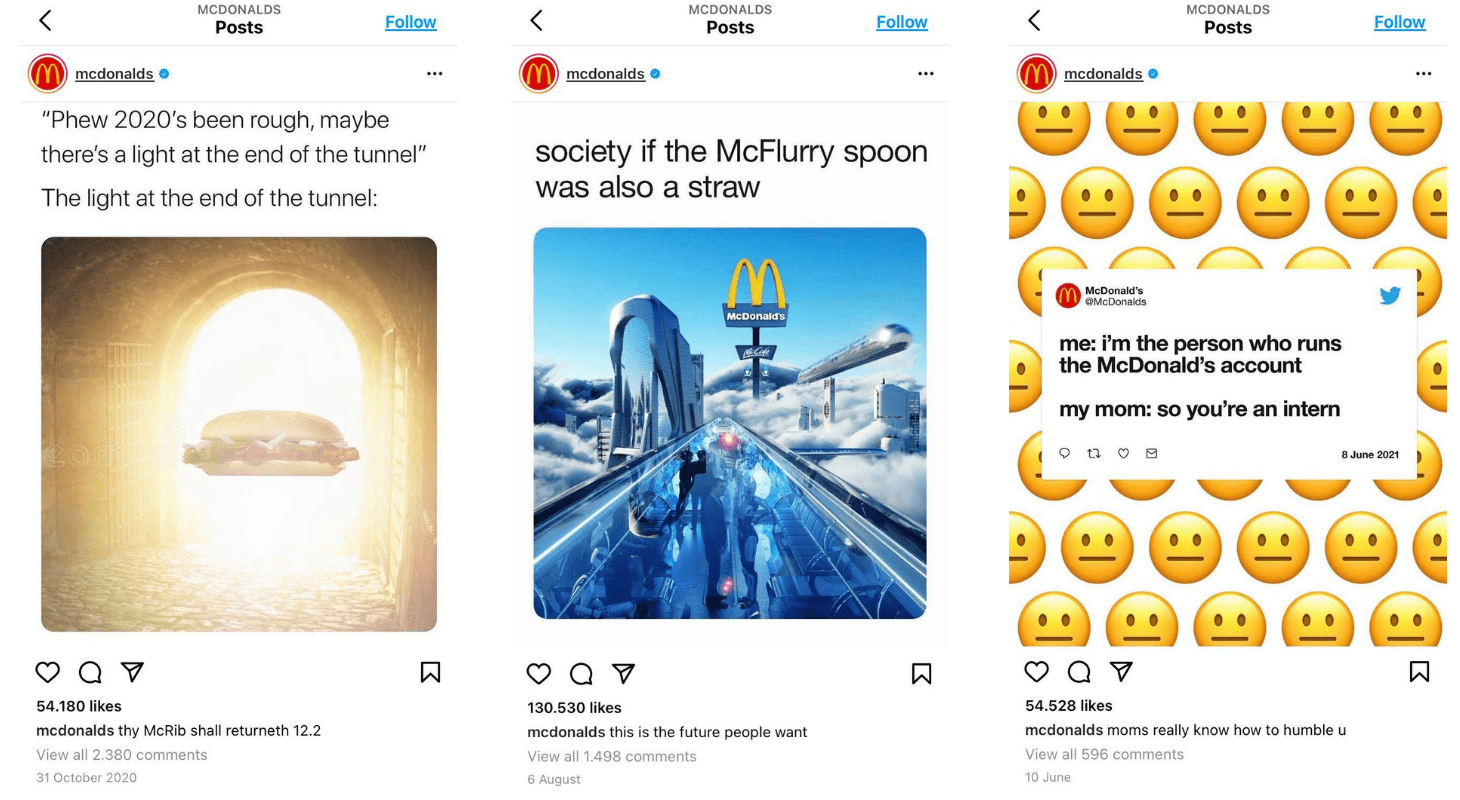 Final thoughts
Do you often ask yourself - what should I post on Instagram?
Luckily, these 12 Instagram post ideas can be integrated into any marketing strategy.
However, keep in mind that the most important thing is to stay honest and true to your values when it comes to creating Instagram content.
Your brand needs to make its voice heard in this ocean of Instagram posts. This is why you shouldn't forget to interact with your followers. They are the engine of your complex machinery.
Now it's up to you to decide which of these Instagram content ideas are suitable for your marketing strategy.