Facebook continues to be one of the most used social media platforms in 2022, so make sure you don't exclude it when planning your marketing strategy.
To make sure you are creating the right strategy for your business, you must analyze the right Facebook metrics.
Especially with the native Facebook analytics tool being removed from the platform last year, and with so many third-party analytics tools on the market, how can you know which is the best for you?
That's why I've prepared this article, mentioning some of the best Facebook analytics tools that are helpful for any marketer in 2023.
Top 21 Facebook analytics tools to discover all the metrics
1. Native Facebook analytics tools
Facebook's announcement about closing its analytics tool may have raised concerns and new challenges for a lot of marketers.
It's no secret that social media managers need Facebook analytics data in order to understand how their content is performing, how the audiences respond to different messages, and if they need to improve something.
But for those of you who relied on the native Facebook analytics tool to do all the reporting, no worries, the platform will not let you high and dry.
Here are 2 alternatives from where you can get all your Facebook analytics data, available on the platform as well.
Facebook Business Suite
Facebook Business Suite is an all in one space for all your Facebook marketing activities, where you can see a lot of insights, for both your organic and sponsored content.
From info about your Facebook posts and stories, to e-commerce insights, or your ads, you can have a solid overview of your brand's performance by checking this analytics tool from Facebook.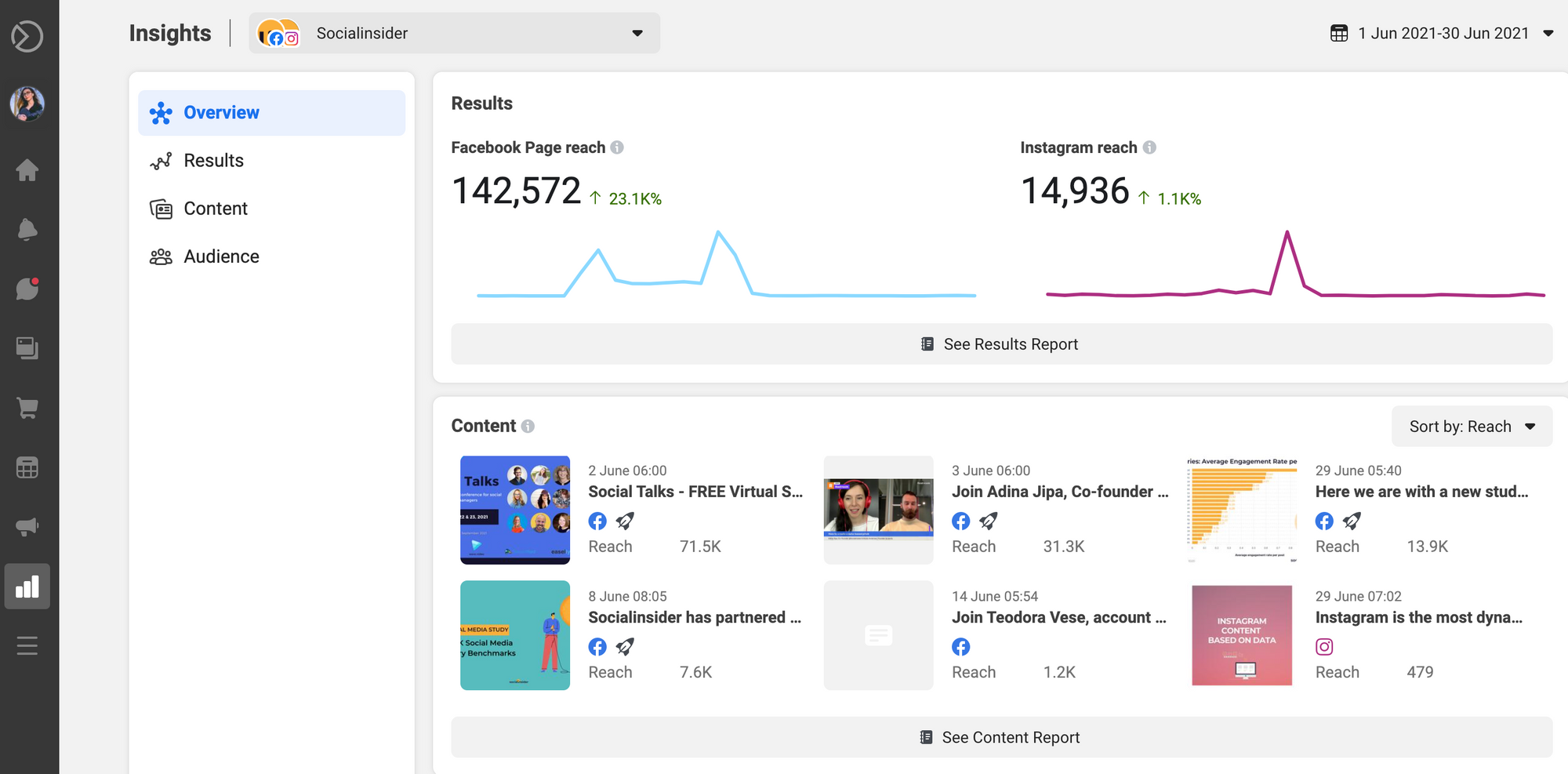 Creator Studio
What is great about Facebook Creator Studio is that it gives in-depth details about the content's performance.
It measures some specific Facebook metrics that are not available in the Facebook Business Suite for example, but are very helpful to understand your audience's attitude and sentiment towards your brand.  Some of them are loyalty and retention.
Isn't it great to know this kind of info about your fans?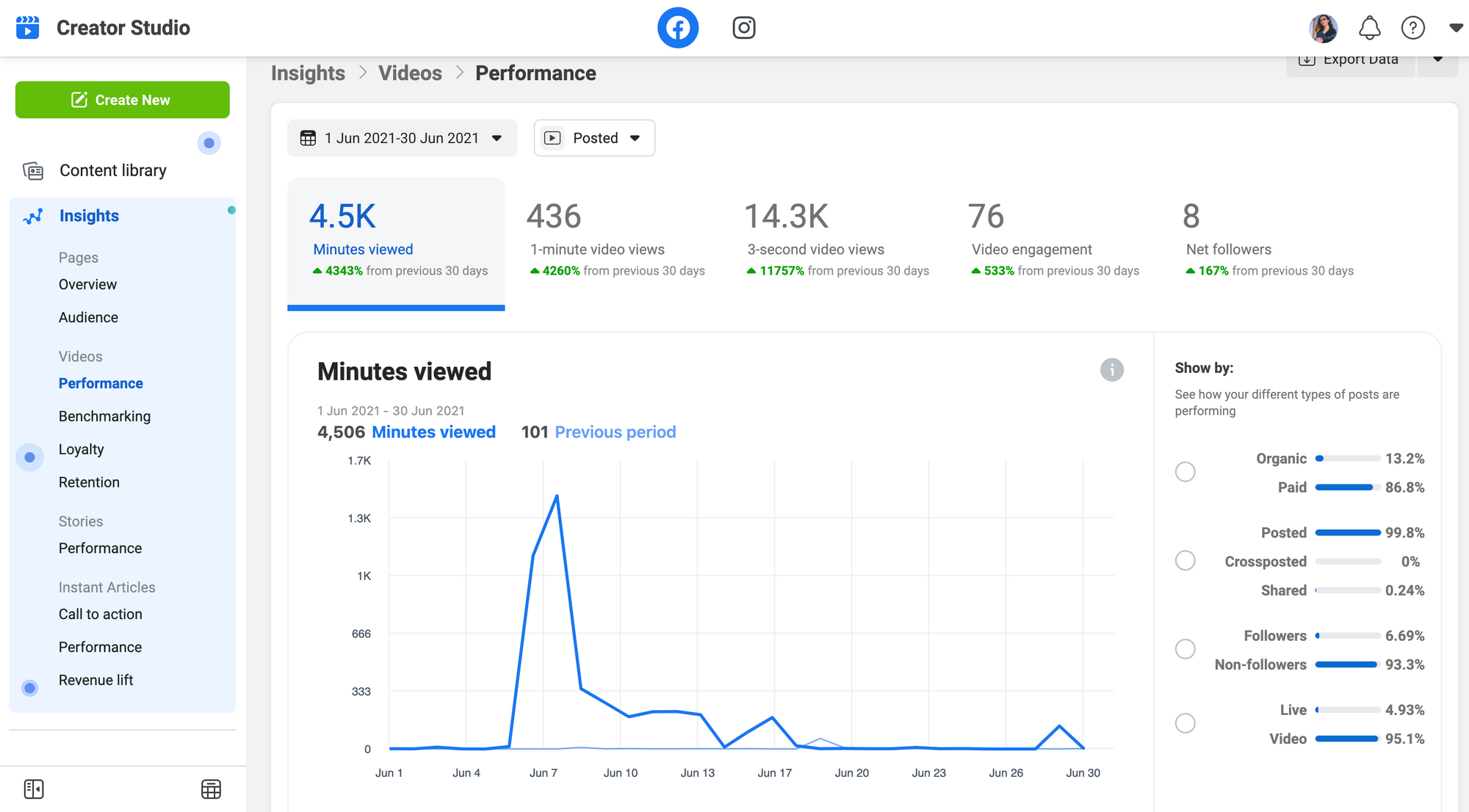 2. Socialinsider
Socialinsider is one of the best analytics tools on the market, offering you data for top social media platforms like Facebook, Instagram, LinkedIn, TikTok and Twitter.
This tool has a lot of other features, apart from analytics, like benchmarking, competitive analysis, and campaign strategy to help you design a better Facebook content strategy.
When you add your Facebook business page in Socialinsider, in the Overview section, you will see a lot of key metrics like:
Engagement metrics: likes, comments, shares, engagement rate per post
Impressions
Follower count
Clicks
Video views
Best performing posts
Demographics data: industry, seniority, function and company size
All the metrics mentioned in this list can be downloaded as a report in multiple formats such as: PDF, PPT, CSV or you can integrate with Looker (Google Data Studio).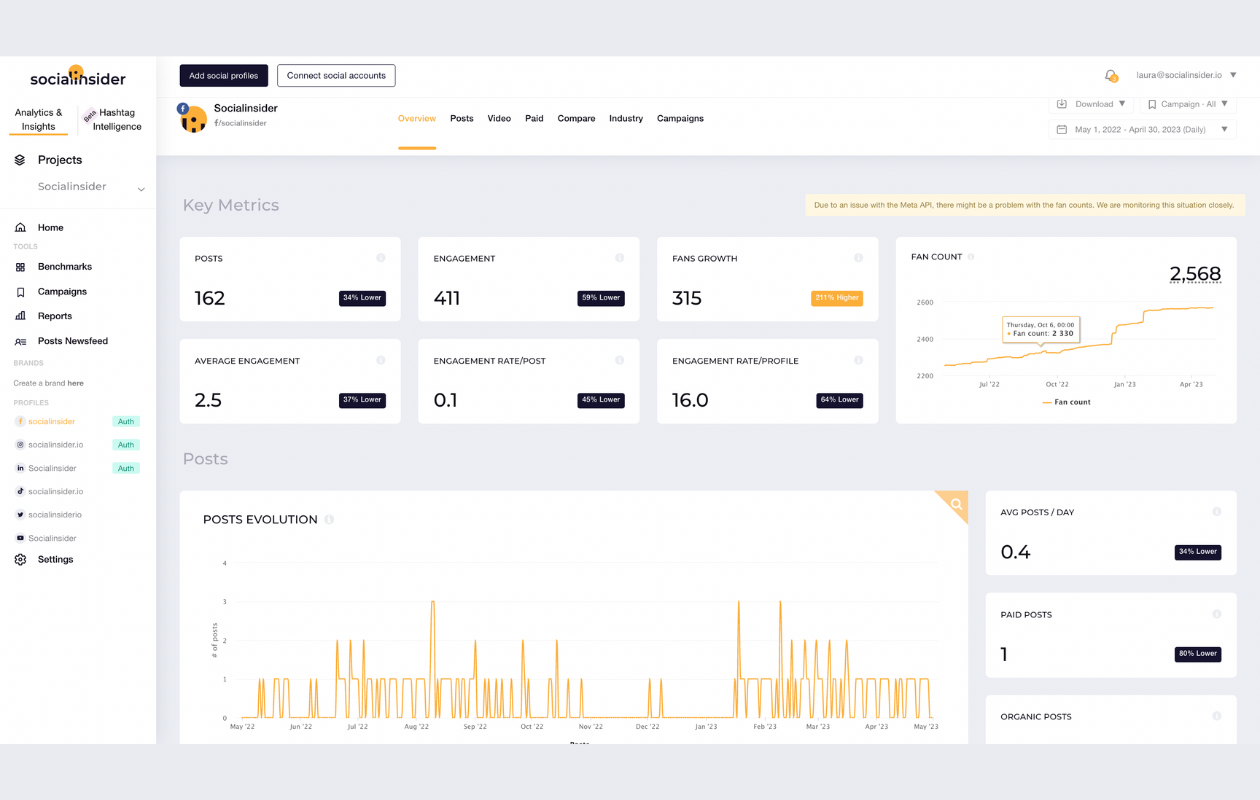 The features that set Socialinsider apart from the rest of the crowd are the Campaign Strategy one and the Competitive Analysis, among others.
I will start with Campaign Strategy. Let's go to the Posts section.
Here you can see all your Facebook posts published in the timeframe you've selected.
I chose to look at data for the last 12 months.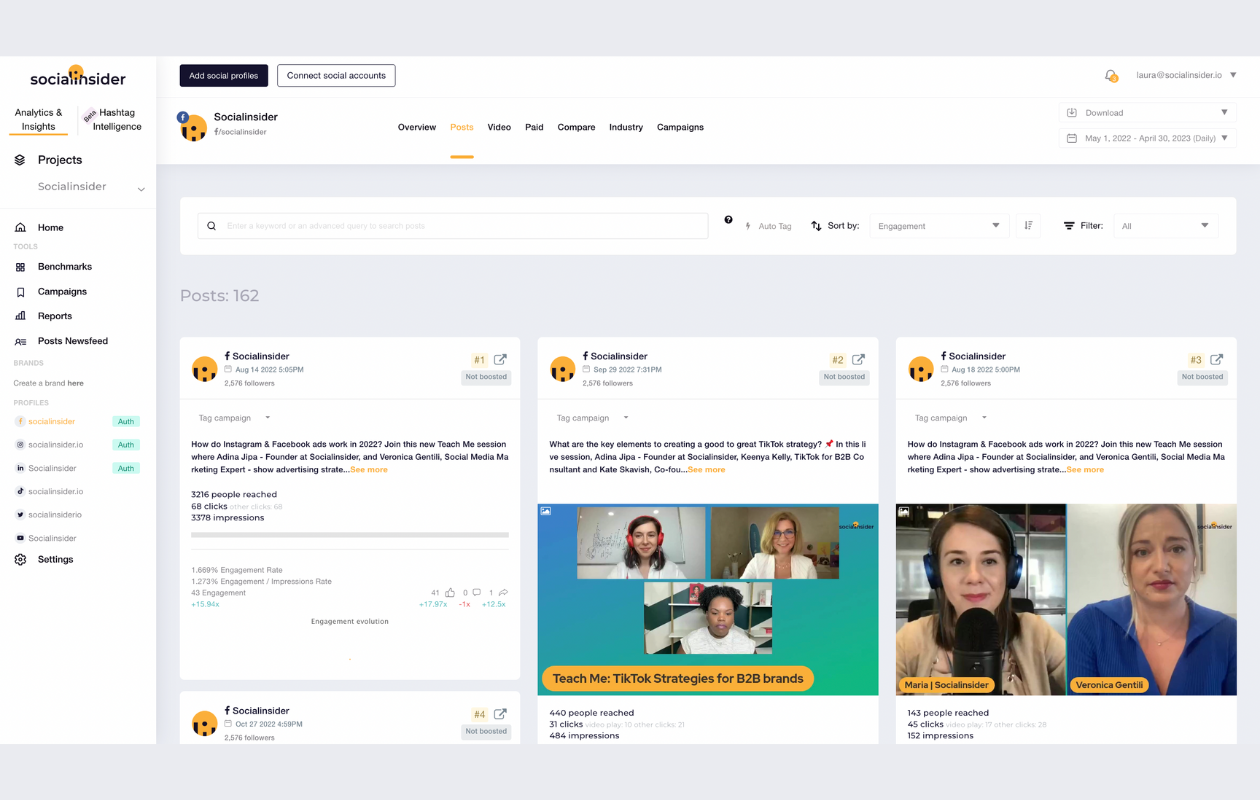 I entered in the searchbar a keyword I know it was used in many of our Facebook posts, like "social media".
Then, I filtered the content by Video to see which were the top performing videos that included that keyword.
This insight is really helpful when you want to adjust your Facebook content strategy.(pune link de la articol related to this) You can easily establish your goals depending on the performance of your posts so far.
This way, when the reporting time will come, you'll know what suggestions are needed to make changes in your content.
Next, I'll search for another keyword and choose to filter posts by using another type of post, like photo.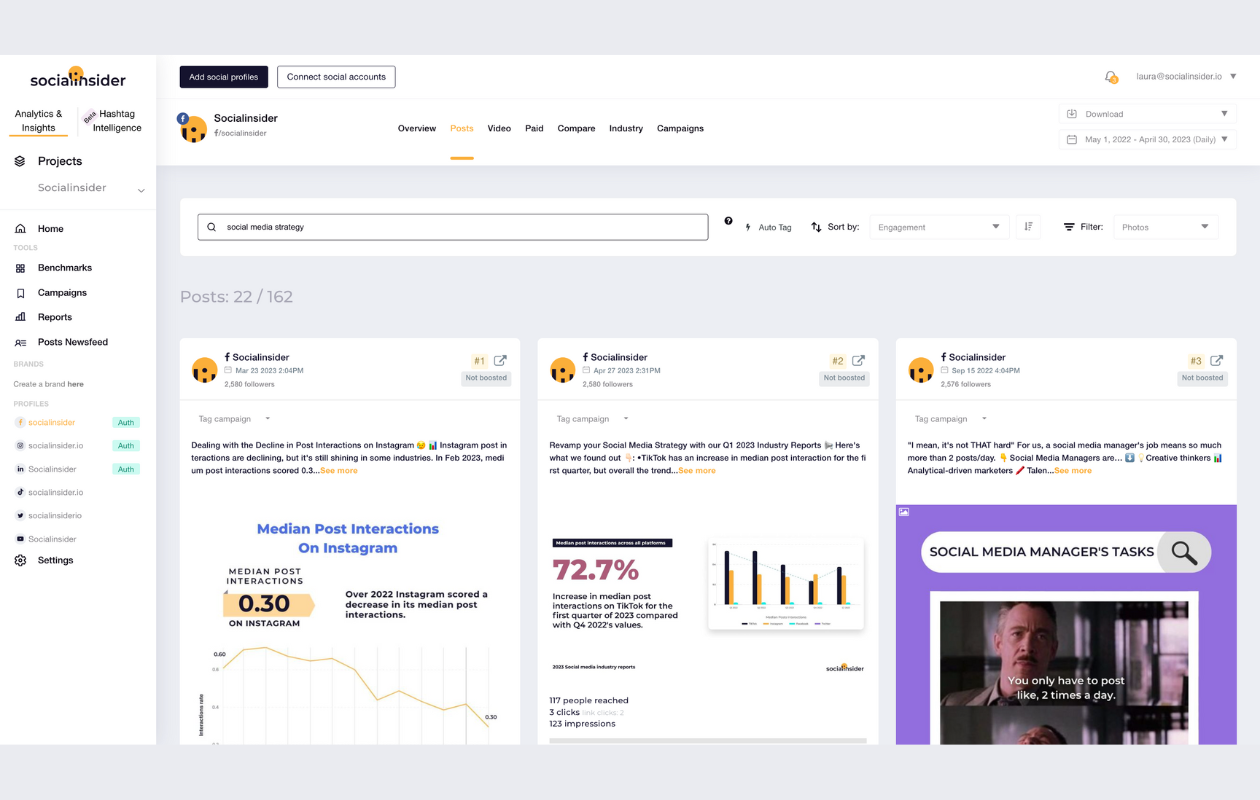 Here you can see there are 22 posts out of 162 photo posts on Facebook that feature the keyword "social media strategy".
By categorizing posts in such clusters, you get to discover patterns in different types of posts and craft a better content strategy for your brand.
Next, let's check the Competitive Analysis feature. I'll go to Benchmarks and it is mandatory to add at least 2 Facebook pages from different brands.
I made a project called "food" and added two competitive brands, McDonald's and Wendy's.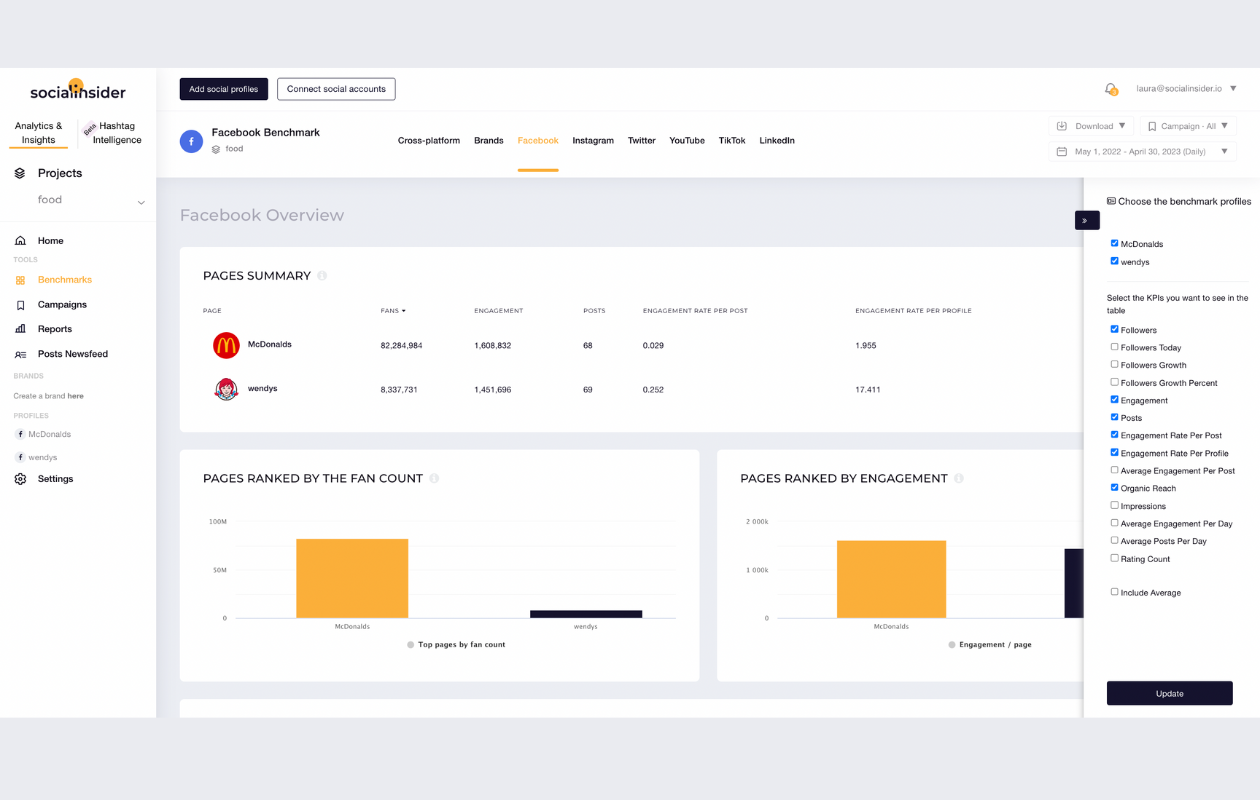 Here you can select the timeframe you want to look at and the specific Facebook metrics you want to compare.
For a well-researched Facebook competitive analysis (pune link catre articolul asta), this feature is pure bliss. You can check a list of top metrics for both Facebook accounts in the first box.
Then, as you scroll down, you will get a comparison based on engagement and one on follower count.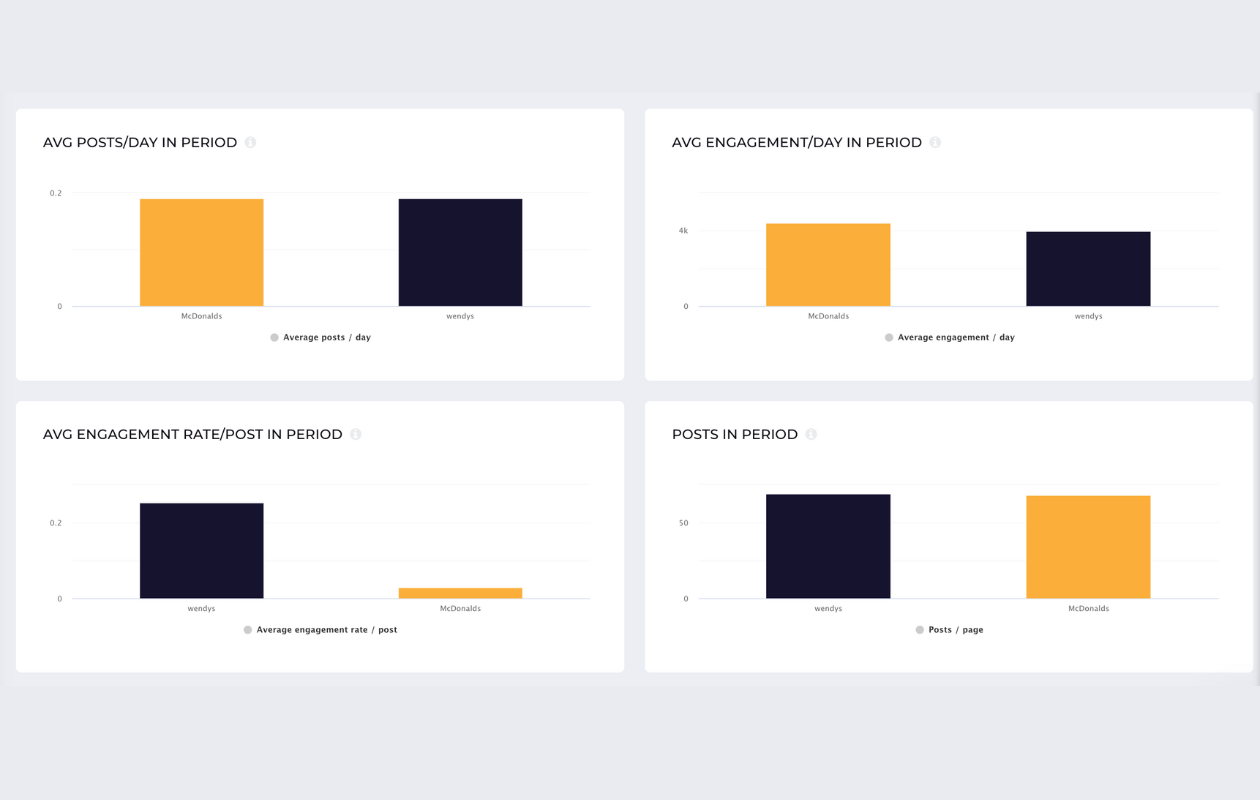 Further down, you see top 3 posts for each of these two accounts, with key metrics for each post.
Lastly, you can see an average of posts published per day in the timeframe you've selected.
All the data you get through these features does not only help you create a better Facebook content strategy, but also inspires you for your future Facebook campaigns and posts.
But wait - there's more!
All your team members can have access to these valuable insights once you add them to a particular project. Once added, you can edit their roles (admin, team or client) based on their involvement in each project, and/or mark them as "read-only user" if you don't want them to change anything.
To start adding your team, members go to Account -> Team.

This feature is only available for the Strategy and Enterprise pricing plans.
Pricing options: starts at $124 per month, and you can also try a free trial.
---
This social media analytics saves a lot of time. If you would have to go to each social profile and track the performance you'd looking for, it would take hours! Socialinsider is very user-friendly. Adding competitor profiles only involves entering a link to the page you'd like to track performance and there are so many options for reporting. - Helen, G2 Crowd.
3. AgoraPulse
AgoraPulse offers publishing, monitoring, social media reporting, and team collaboration for Facebook, Instagram, LinkedIn, and YouTube.
Its Facebook analytics tool is similar to what you'll find in Facebook Insights, but it's easier to work with and provides additional social media reports you won't find in native apps, such as post recommendations or average fan profiling.
With AgoraPulse, you can see what type of content performs better on Facebook. You can also detect major Facebook trends and post insights.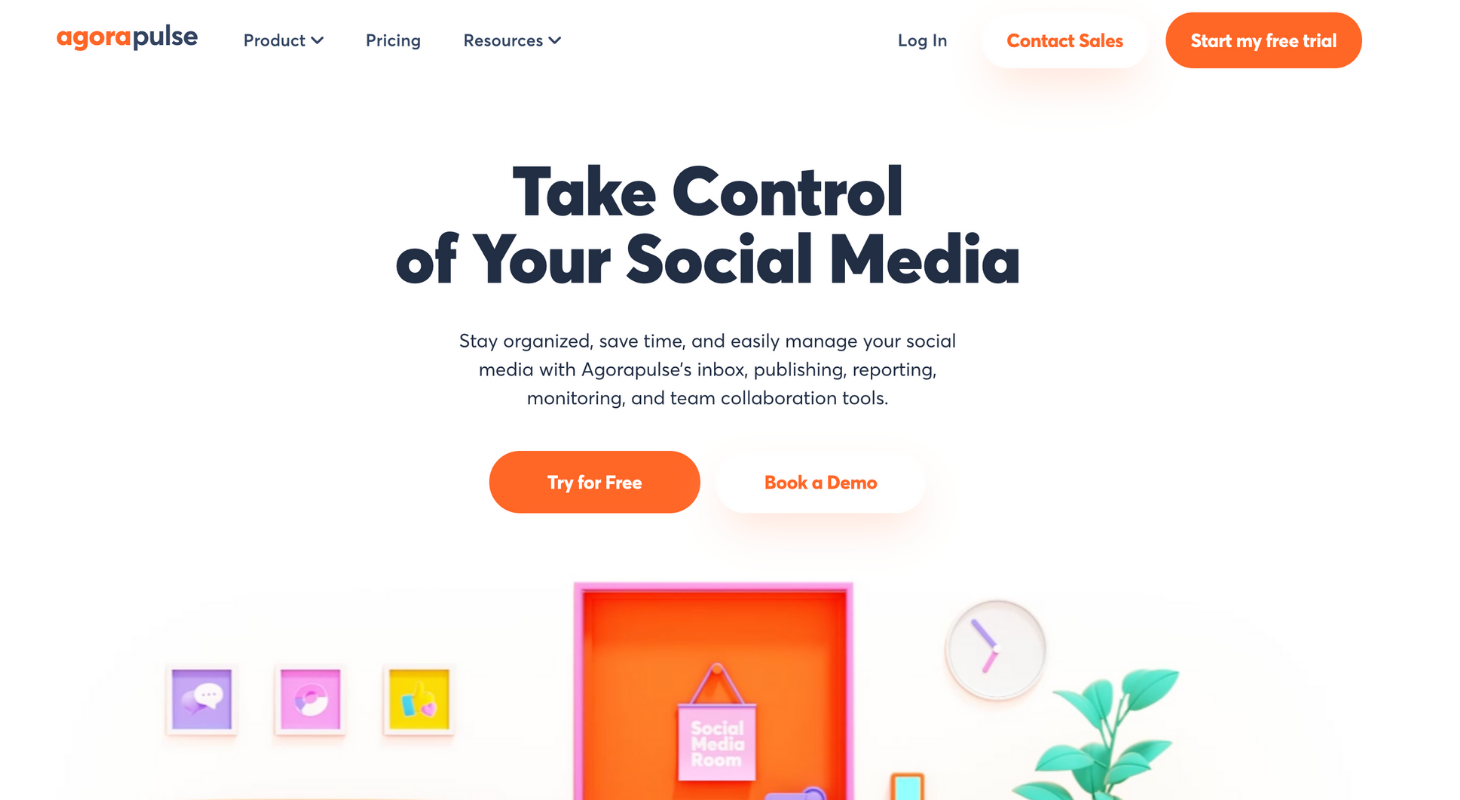 Facebook metrics such as organic reach, paid reach, total reach, clicks, and number of engaged users for the business pages you manage are available in this app.
Pricing options: starts at $99 per month, and they also have a free trial.
---
The interface is very clean, most of the tools are easily accessible for all available functions, and furthermore, the very elegant and friendly design really improves the user experience, makes it more enjoyable. - Andrea, G2 Crowd
4. Buffer
Buffer is a social media analytics tool that helps you measure your Facebook performance, create reports for your clients, and grow your reach, engagement, and sales.
You can see all the data in one intuitive analytics dashboard. It is simple to use and a great tool to improve your social media strategy.
The product is divided into 2 tools: publishing and analyzing social media performance.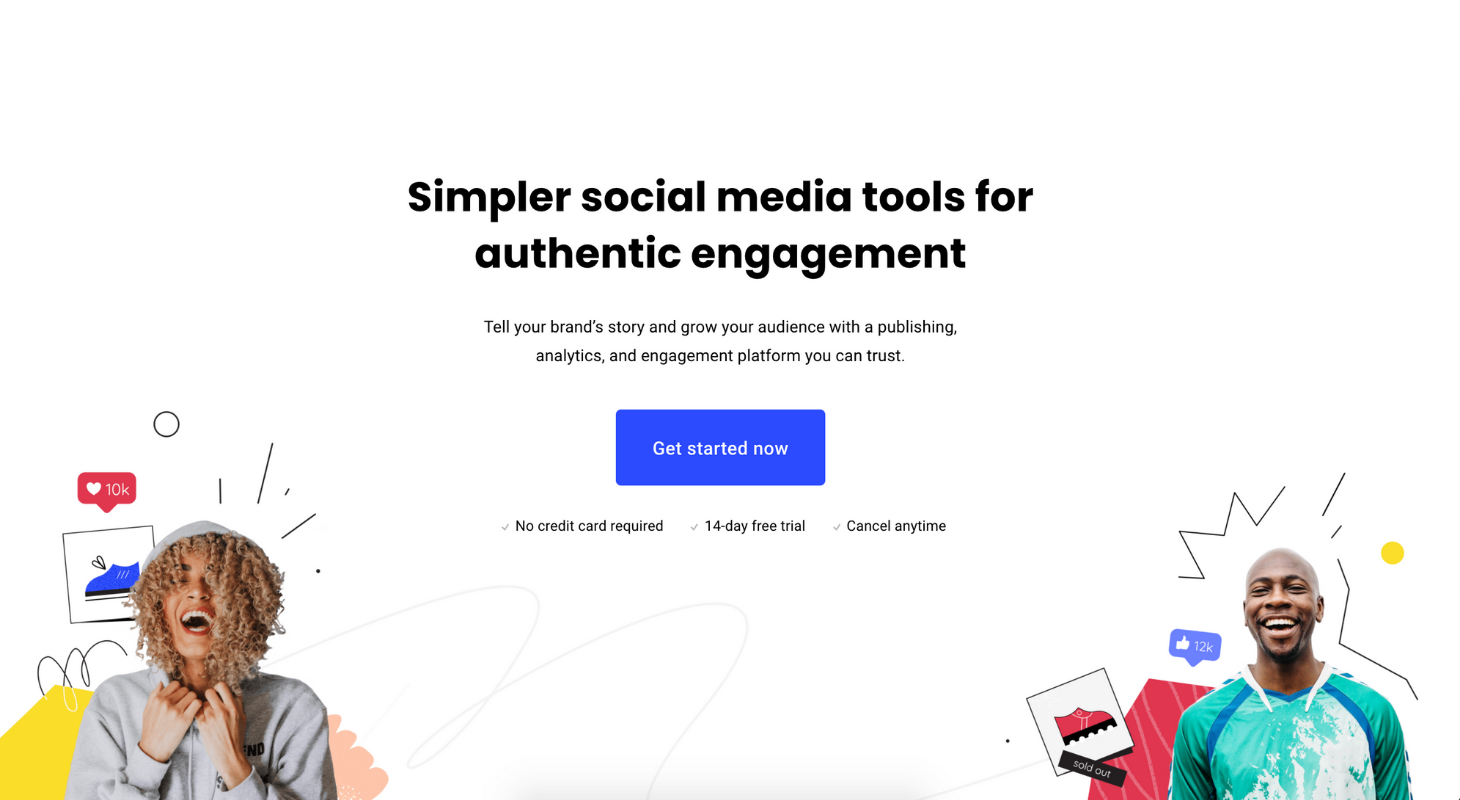 If you're looking for a Facebook analytics tool to do the trick of offering you Facebook analytics data, Buffer will provide you in-depth insights to grow your brand on Facebook.
Pricing options: between $35 and $50 per month for analytics, and they also offer free trial.
---
I have been using Buffer for the last year or so to schedule posts on our social media accounts. It's simple to use and helps us understand how our content is doing through their great analytics tool. - Ameer, G2 Crowd
5. Sprout Social
Sprout Social is a Facebook analysis tool that you can use to analyze and track trends on social media to make sure your content is resonating with your audience.
The platform includes analysis, competitors' comparison, and social media reporting for Facebook.
This is one of those Facebook analytics tools through which you can discover what types of campaigns are working in real-time, and then making sure you adjust them appropriately.
With this Facebook analytics tool, you can manage multiple Facebook pages at once. You can plan your content, engage your audience, and measure your efforts from a single platform.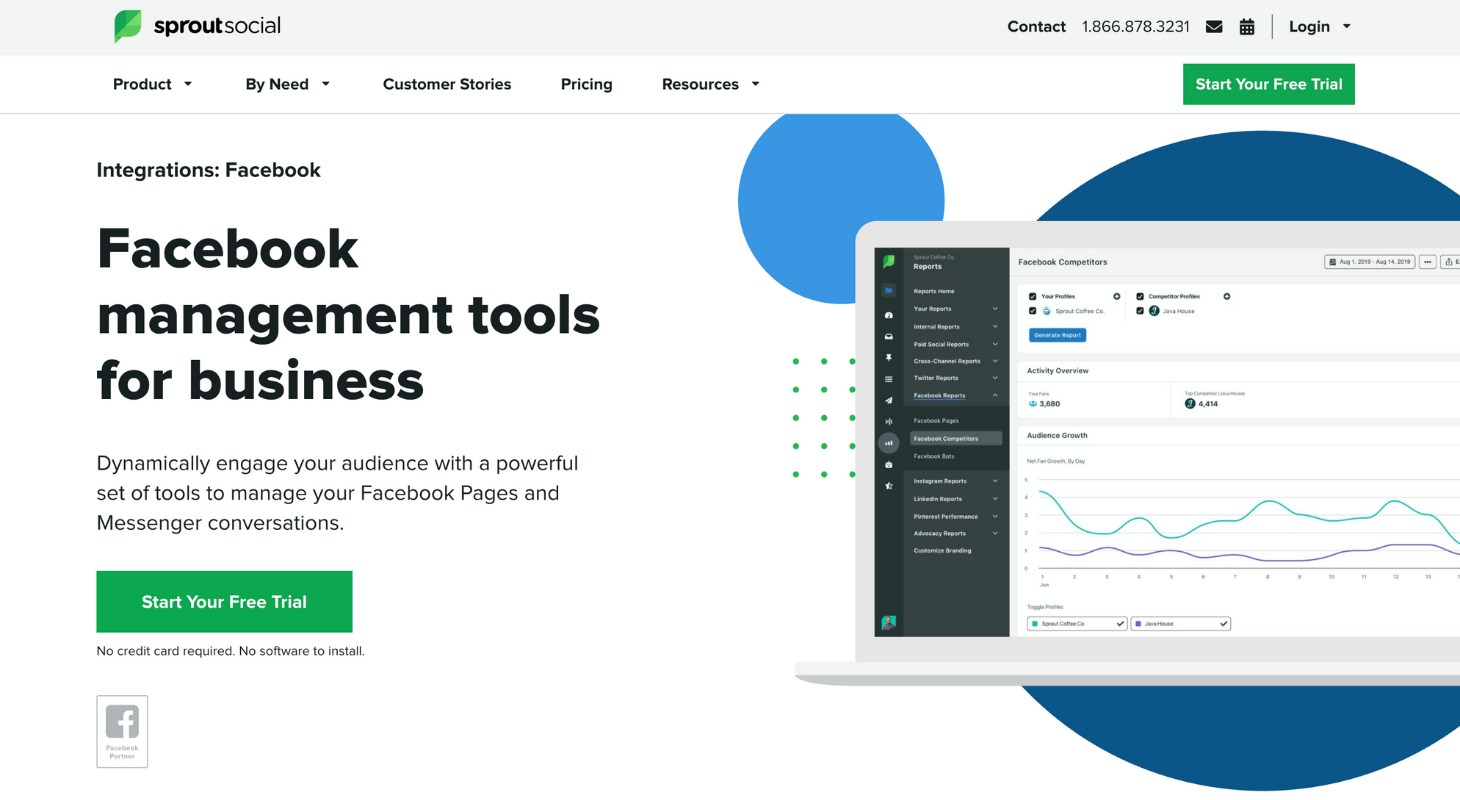 This Facebook analytics tool will help you understand industry averages and benchmark your Facebook performance against your competitors.
Pricing options: ranges between $99 and $249 per month, plus free trial.
---
The platform is easy to learn and easy to use. It fulfills what we were looking for the most in easy content scheduling and management, visual and accurate analytics and a team equipped to advise and operate on an agency level." - Agency in Marketing and Advertising, G2 Crowd
6. SocialPilot
SocialPilot is a social media scheduling and analytics tool aimed at increasing brand awareness and traffic.
With its Facebook ad analytics feature, you can achieve your Facebook marketing goals, generate more leads, boost engagement, and increase conversions.
You can also measure your Facebook performance with insightful analytics and get an accurate picture of where you stand on social media.
Along with analyzing, SocialPilot helps you customize, schedule, and discover new content for your Facebook page.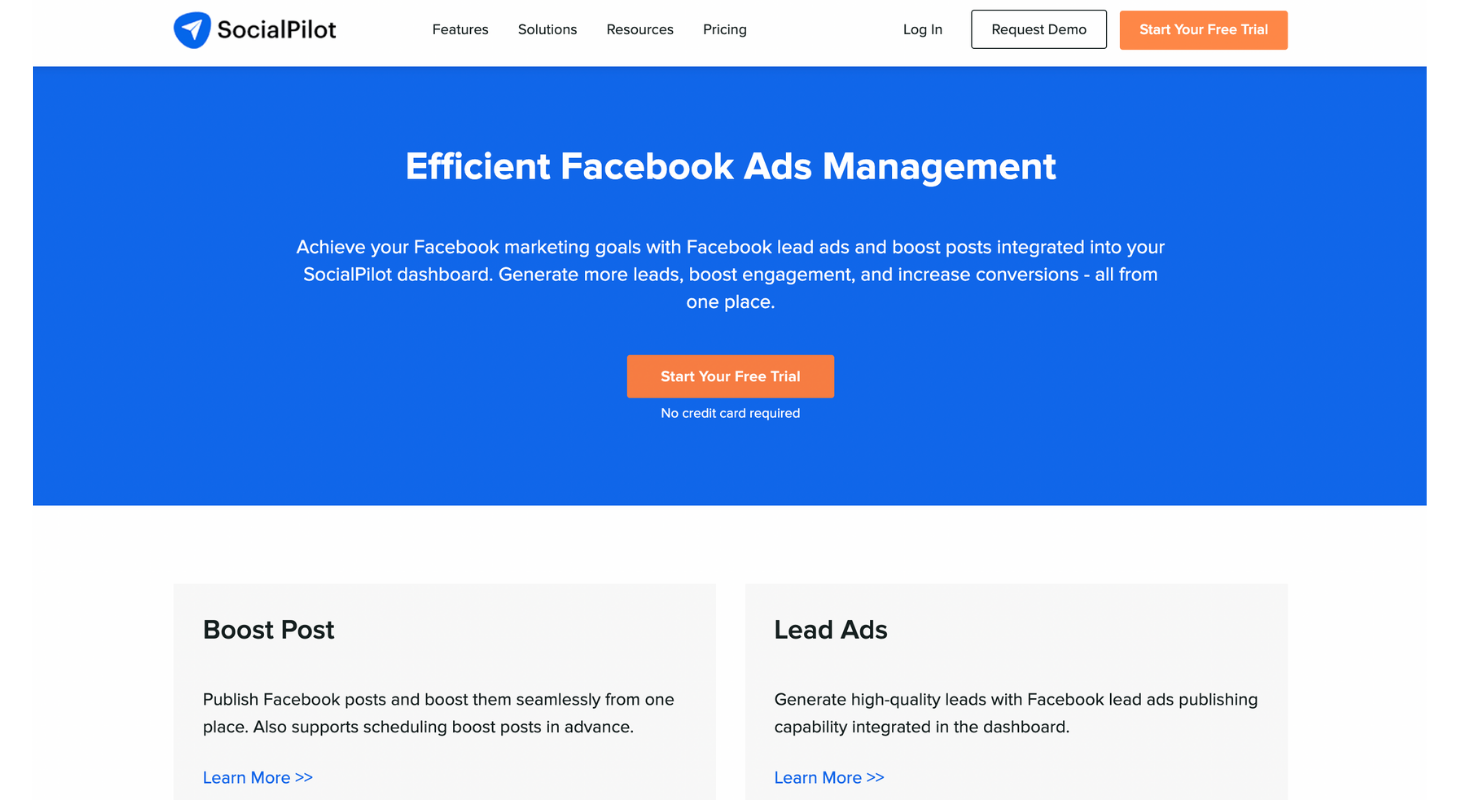 This Facebook insights tool not only analyzes posts from the system but also from other sources, pages, and accounts.
Pricing options: between $30 and $150 monthly, with free trials available for each package.
---
We joined Social Pilot about a year ago. Over time there have been a few problems, usually Facebook's doing, but every one has been resolved. The best thing about it is the speed of response plus the fact they keep going until things are sorted out even when we don't fully grasp it all. - Andrew, G2 Crowd
7. Quintly
Quintly is a Facebook analytics tool that offers a full package. With this Facebook analytics app, you can see how many new fans you gained and monitor how often and when you post.
From fans to content and interactions, this Facebook analytics tool has a wide pool of metrics to choose from if you need a Facebook page analysis.
For example, you can determine how many people are reached by your content and how often they see it.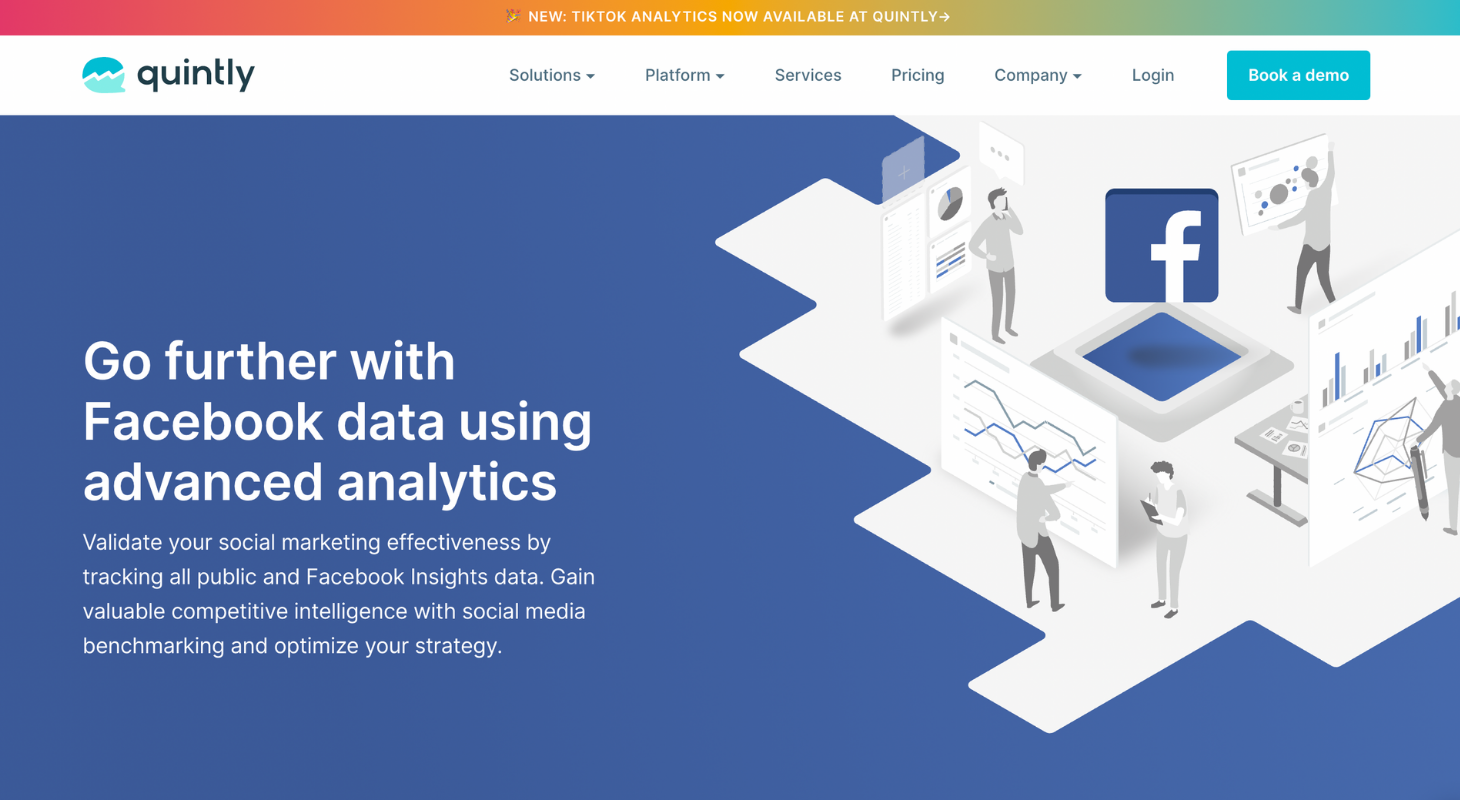 You can also improve your ad results with data on paid performance through Facebook analytics.
Pricing options: starts at $300 per month, no access to a free trial.
---
When I arrived in my agency in 2018, I needed to create fast reports without extra employees or spending more time. I found Quintly and I liked the tool. It is simple and gave us a lot of data about the brands - not only from my profiles, but from competitors too. - Morgana, G2 Crowd
8. Rival IQ
Rival IQ is one of those Facebook analytics tools that can help you track and analyze the Facebook KPIs that matter to your business.
You can also customize and design metrics on flexible dashboards that exactly fit your social media objectives.
If you want to discover how many new fans you gain and when, how often, and when you post and measure what resonates on your followers' timelines, this Facebook analytics tool is what you are looking for.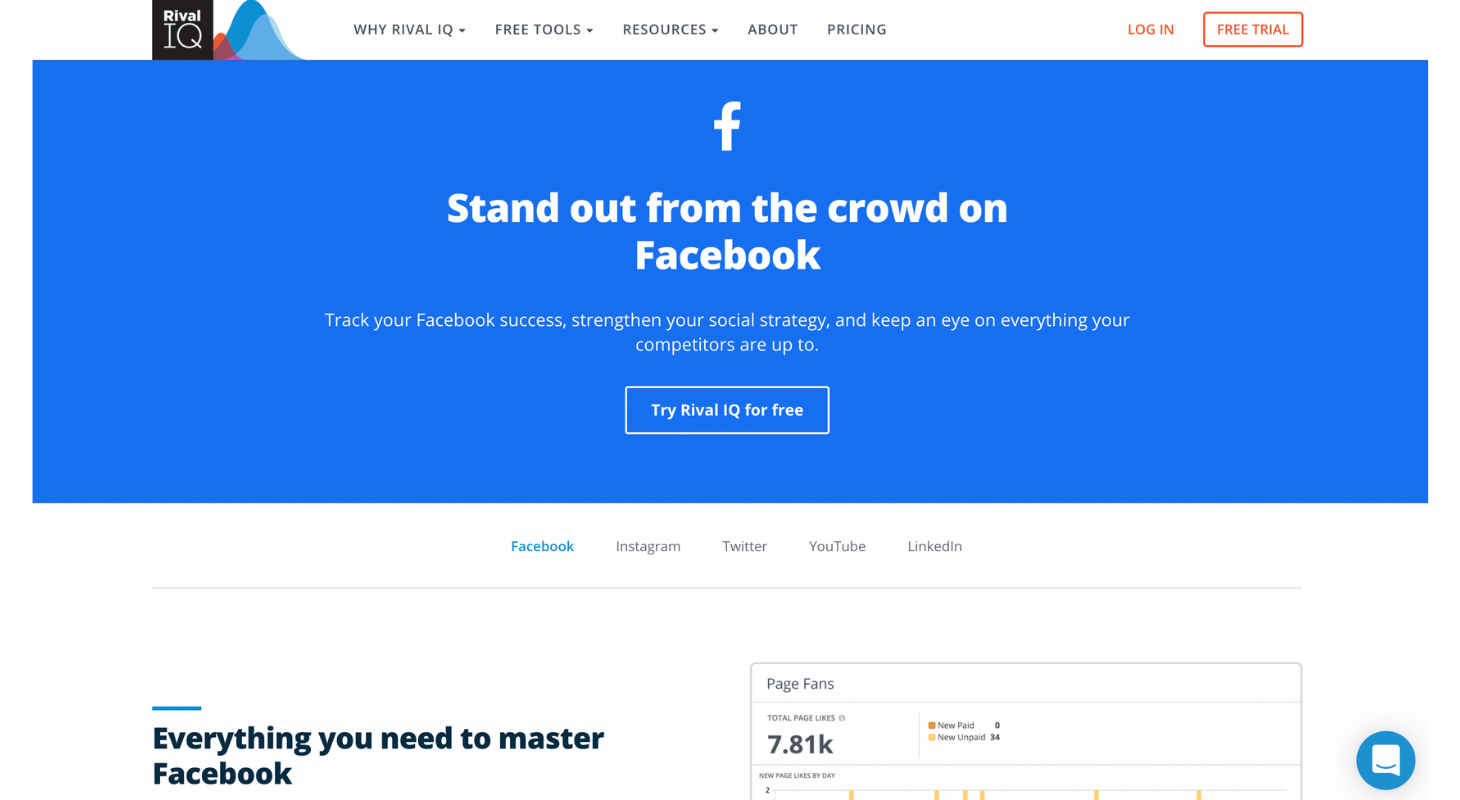 Not only will this Facebook analysis tool allow you to you measure your Facebook performance at a glance, but you will have access to competitive Facebook benchmarking as well.
By closely monitoring your performance, you can run better Facebook ads and campaigns.
Pricing options: between $199 and $499 per month, and you can try it for free, too.
---
We use Rival IQ to organize and monitor our competitive landscape. For each indirect or direct competitor we know about or discover, they are added into Rival IQ, tagged and then we receive email alerts and can build reports based on activity. I really like how the analysis is relative to your own company. -  Kelly, G2 Crowd
9. Brandwatch
The tool offers Facebook audience analytics such as gender, location, profession, and interests. It help you understand Facebook analytics and create a better social media strategy for your brand.
Also, this Facebook analytics tool gives you insights into what your audience members are sharing to uncover popular topics.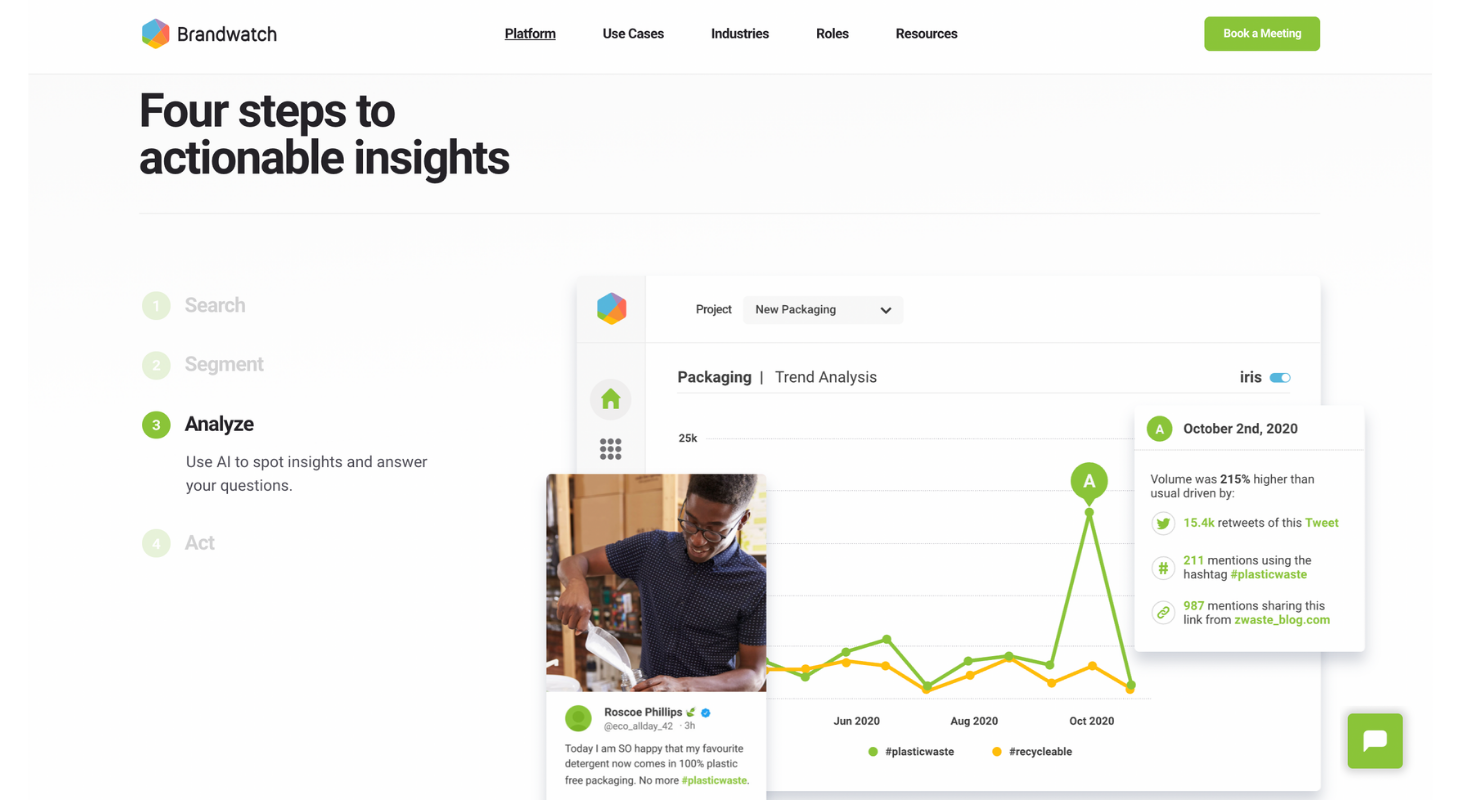 With this Facebook analytics tool you can benchmark your performance against all of your Facebook competitors.
On top of giving you access to a large amount of data, Brandwatch utilizes data to make sense of customers, their needs, wants, and interests.
Pricing options: not disclosed on their website, but you can book a meeting.
---
I love the ability it has to generate many reports and analytics in just a few seconds. It is easy to navigate and gives you a variety of information which is awesome because I've used other social media listening tools before and they only perform one or two functions. - Jessica, G2 Crowd
10. Iconosquare
This is an analytics and social media performance suite that helps its clients monitor their channel growth and optimize their social media strategy.
With Iconosquare, you can automate your Facebook accounts.
If you're looking for advanced Facebook analytics, Iconosquare offers easy-to-read graphs for metrics like follower evolution, average engagement rate per post, reach and more.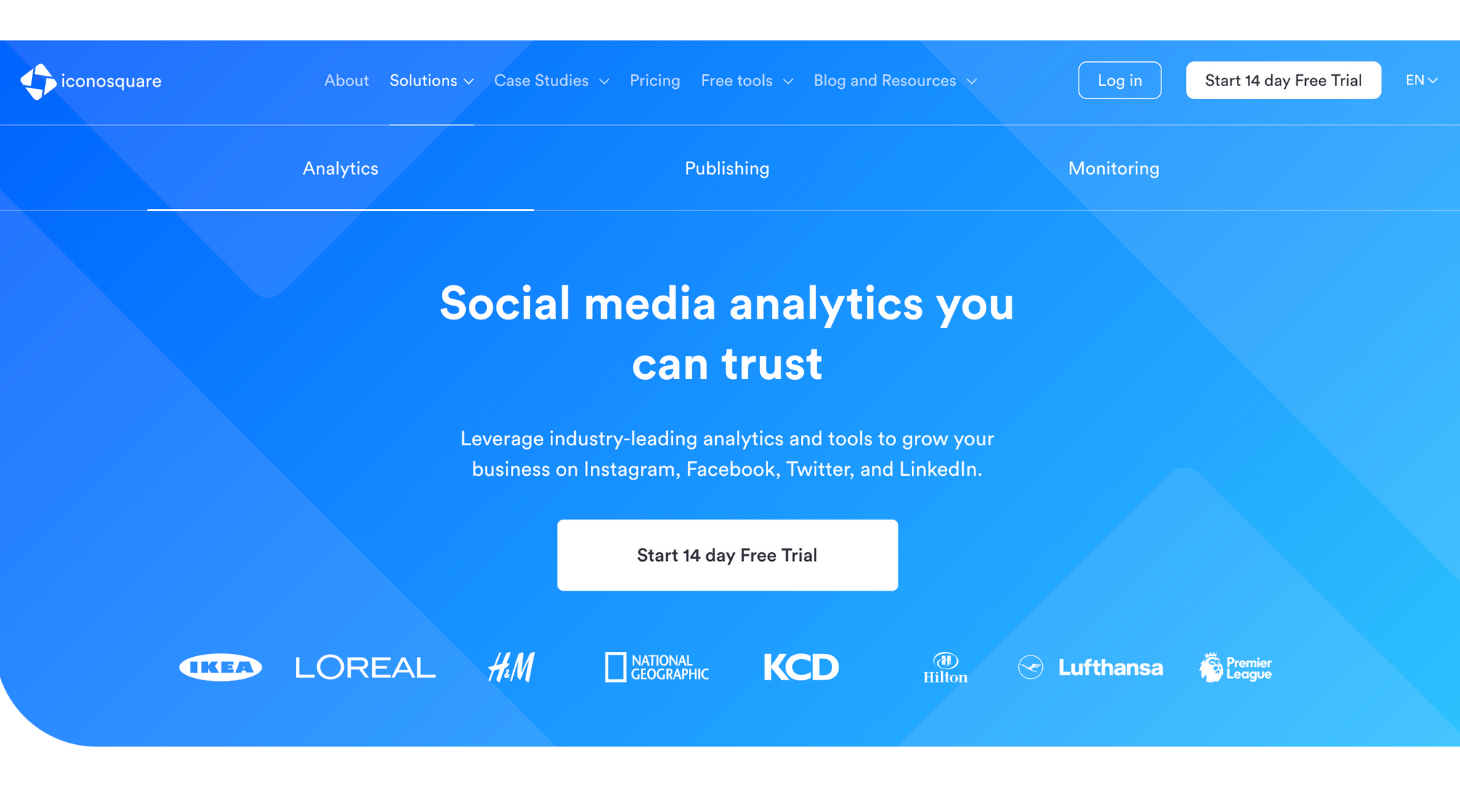 Iconosquare also provides a free feature called Instant Facebook Audit. All you have to do is sign in with your Facebook account, enter your email address, and they will send you a free performance review report.
Pricing options: between $59 and $179 per month, plus free trial.
---
Iconosquare is a great management tool - from scheduling social media posts to providing data and metrics. The analytics are particularly helpful when it comes to interpreting the performance of social media posts and adjusting strategy. - Administrator in Environmental Services, G2 Crowd
11. Sotrender
Sotrender is a reporting and benchmarking tool that covers Facebook, Instagram, Twitter, and YouTube.
Cut down the time you need for preparing monthly reports, scout your competitors' strategy, and answer to Facebook comments and messages with Sotrender's Social Inbox.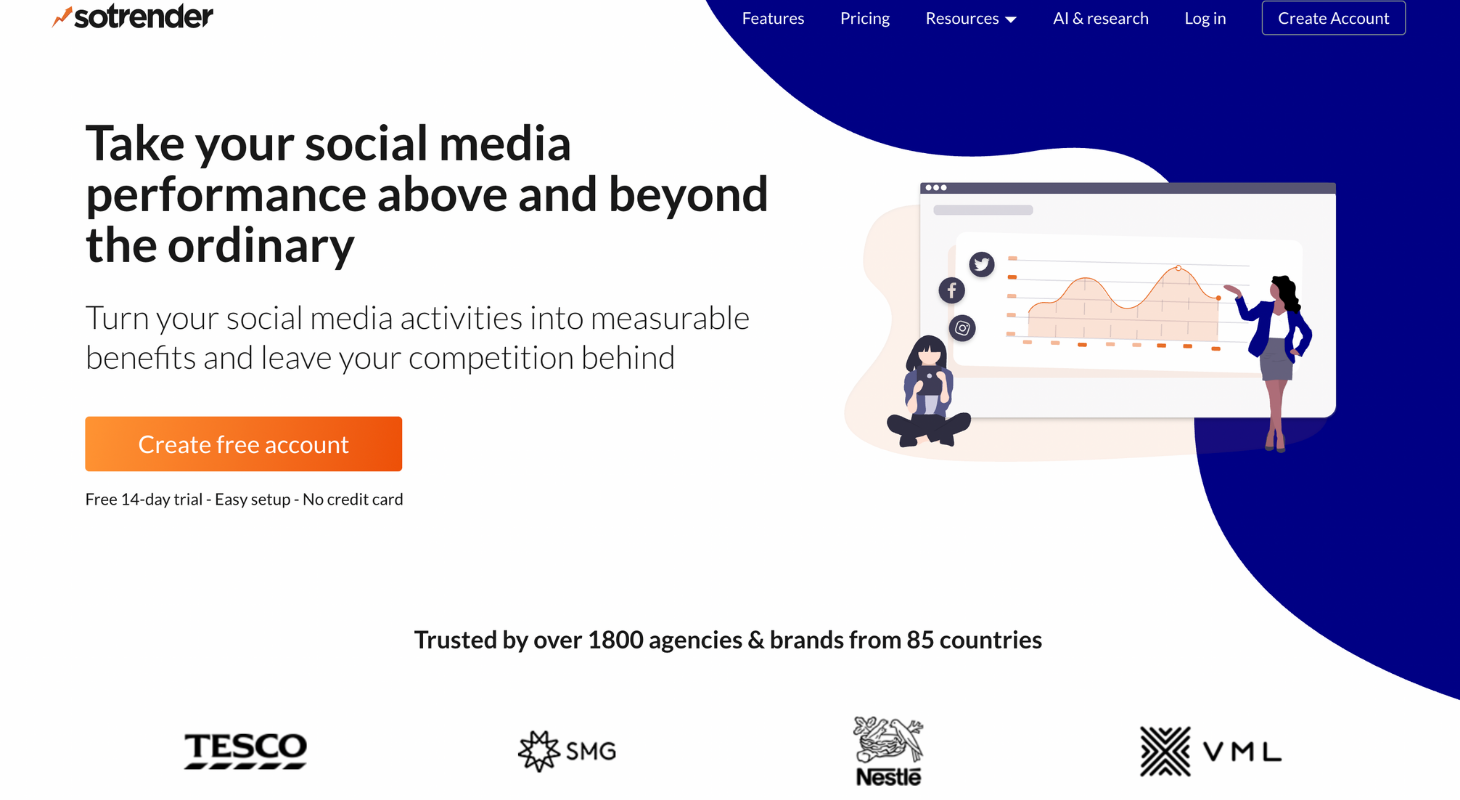 With this Facebook analytics tool, you'll get a full picture of your social performance, discover insights, and analyze what content works best.
Stay on top of your competition by learning more about your competitors' audience and what content they engage with. Create charts displaying a variety of analyses and comparisons to stay up-to-date with your competition.
Pricing options: between $59 and $331 per month, plus free trial.
---
Sotrender is a tool both for agencies & brands and for freelancers. It contains helpful data-driven tips and interactive data visualizations. The tool covers main social media platforms: Facebook, Twitter, Instagram, YouTube and the customer service is really friendly & easy to reach out to. - Ewa, G2 Crow
12. Unmetric
Unmetric is a Facebook analytics tool that helps you compare and benchmark your brand's social media performance.
Through this Facebook analytics tool you can improve your content engagement by understanding what's working for your business, both for your organic and paid posts.
With this Facebook analytics tool, you can also create campaigns to research how the best performing Facebook posts for a certain topic look like.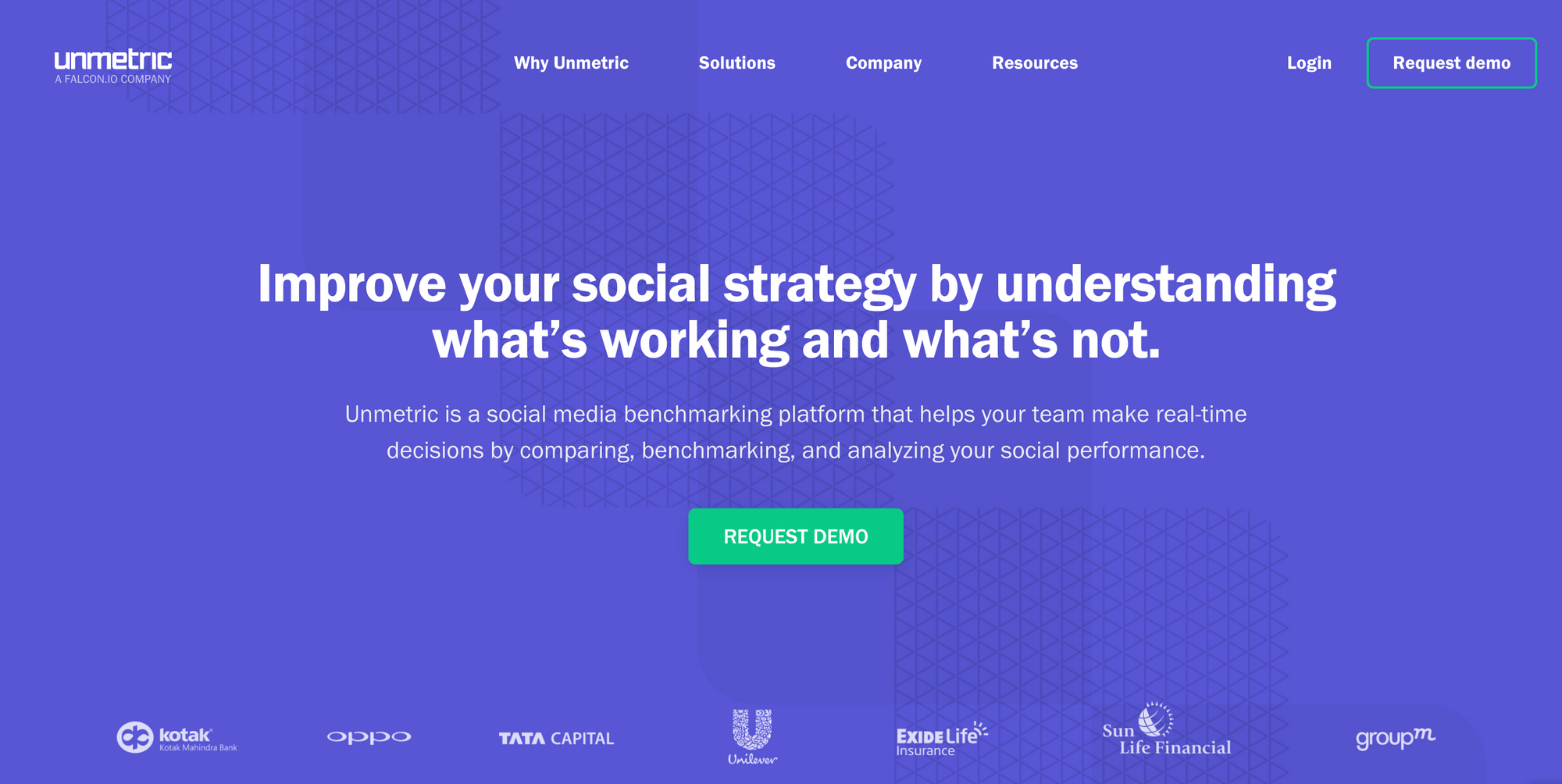 Unmetric is a Facebook analytics tool that also lets you save time when doing your regular reporting, by generating automated social media reports.
Schedule and have your social media reports delivered in your inbox in no time.
Pricing options: this Facebook analytics tool's price starts at $1.000 per month.
Unmetric is a great product to use when you want to see the performance of your social channels in comparison with competitors. Using different date ranges, Unmetric is able to dig into some intense data and provides an overall engagement score to help benchmark performance. - Matt, G2 Crowd

13. Socialbakers
This is a social media tool that offers the whole package.
From publishing and scheduling, to analytics and benchmarks, with added social listening and a bunch of other features, Socialbakers is great in helping you grow by understanding your audience, and improving cross-channel care.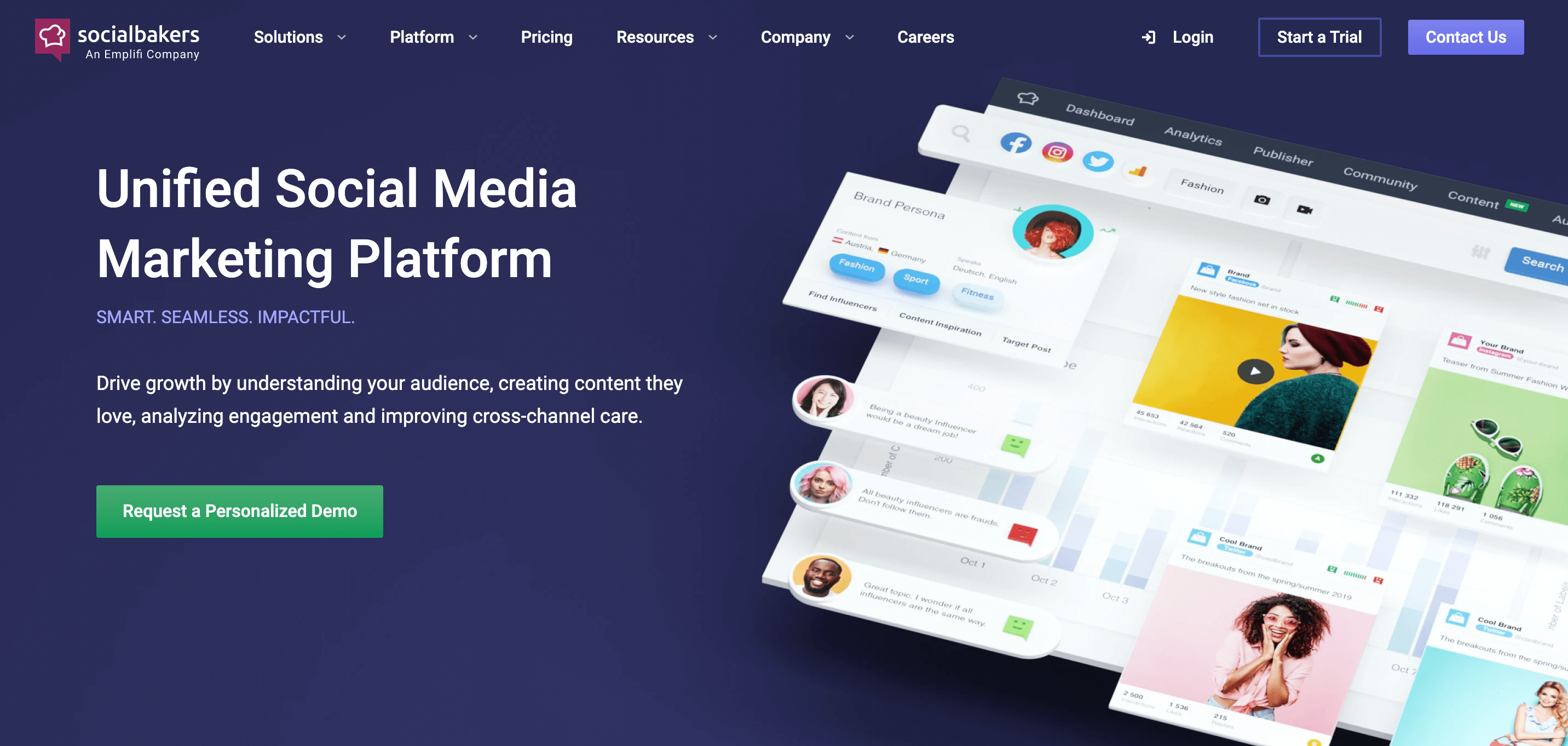 It is one of the best Facebook analytics tools available on the market, allowing you to optimize your content strategy. It is also a great tool if you're into influencer marketing, by the way.
It has a very clean user interface with a lot of easy to use and understand data. It has a lot of additional features, like influencer database and search engine, also content search, which is good for the UGCs and advertisement analysis. - Leslie, G2 Crowd
14. Keyhole
Social media managers can use this Facebook analytics tool to monitor any public Facebook page, track Facebook hashtags, and perform an in-depth competitor analysis.
For those interested in getting sentiment analysis data, Keyhole is a must-try Facebook analytics tool, as it enables such information.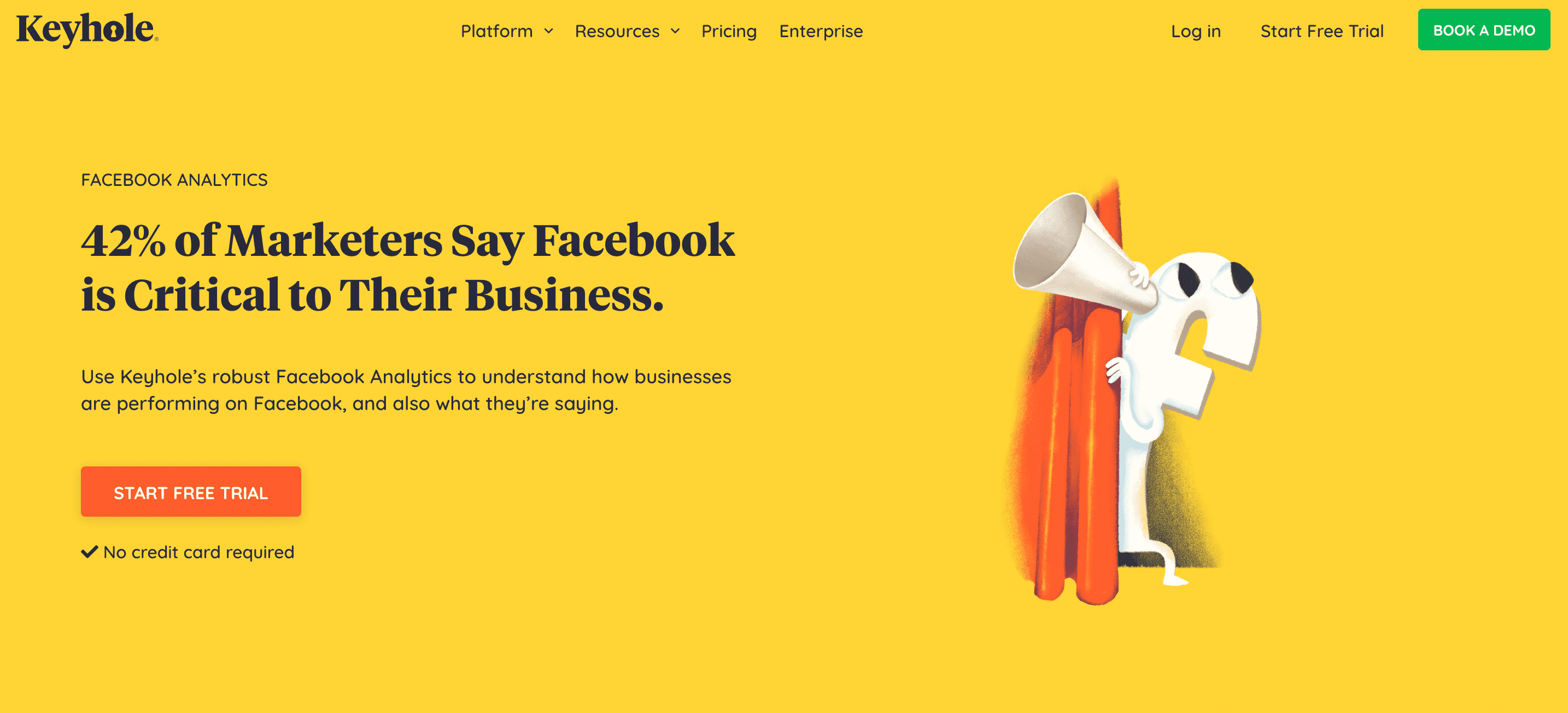 Pricing options: Keyhole offers custom pricing for pages of all sizes.
At the moment, Keyhole is one of the best tools for tracking your mentions and hashtags! The influencer tracking is also a great feature. - User in Marketing and Advertising, G2 Crowd
15. Hootsuite
Hootsuite as well is a social media tool that can turn out to be very helpful to social media managers in a lot of ways. Having multiple features enabled, from scheduling to analytics, Hootsuite offers access to a bunch of KPIs and social media data.
Hootsuite's Facebook analytics features allows users to optimize for better results and discover what's their social media ROI.
With this Facebook analytics tool you can set performance benchmarks and monitor improvements over time, get customizable reports, and many more.
Its customizable dashboards easy-to-read are one of the platform's greatest benefits.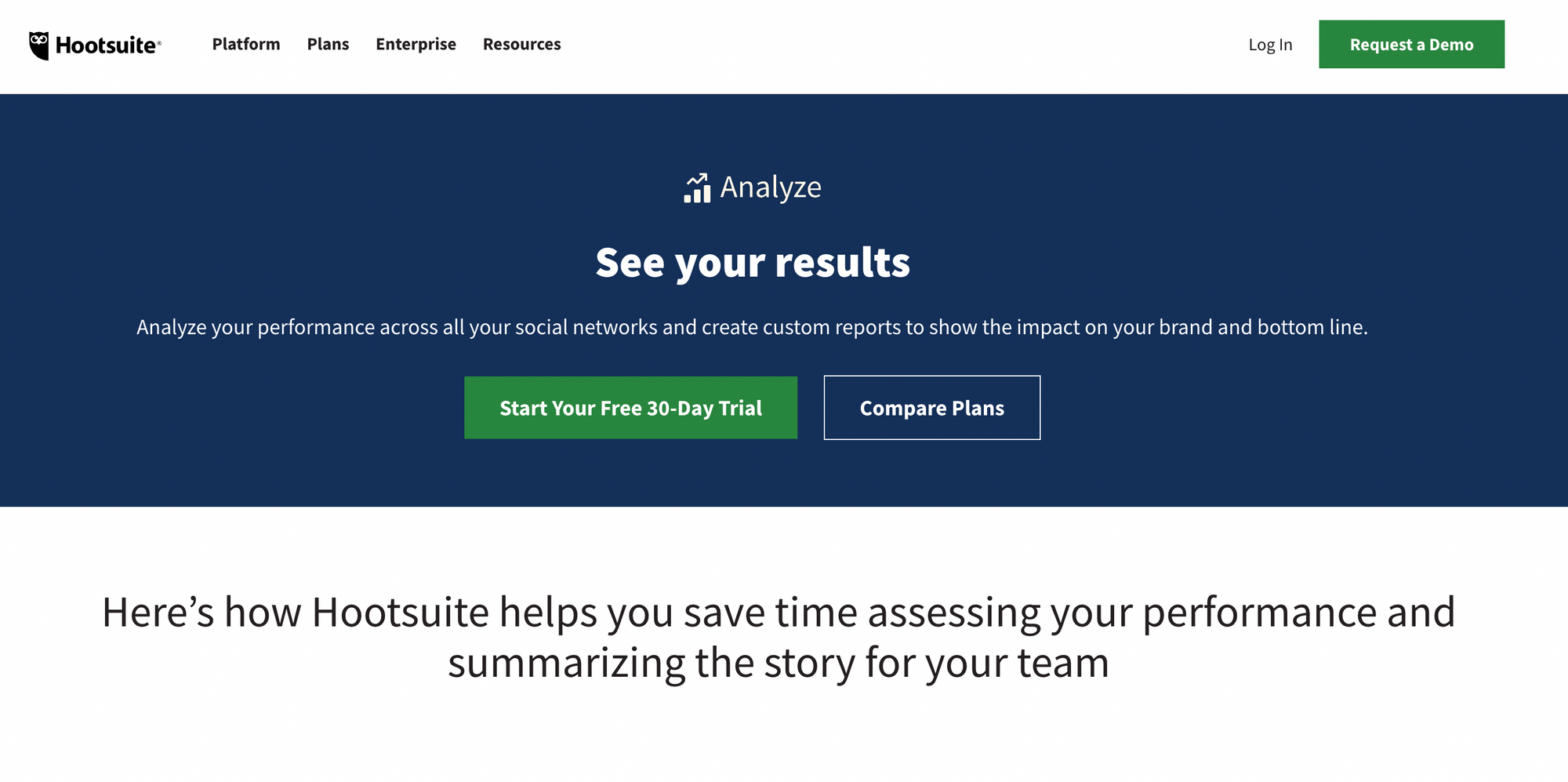 Pricing options: between $49 and $739 per month, plus free trial. It also offers customizable plans.
Being able to see and coordinate our efforts across our myriad of platforms and better understand how to tailor our engagement for each social media has been a huge help as we continue to learn about social media and develop our marketing plans. - Administrator in Defense & Space, G2 Crowd
16. Brand24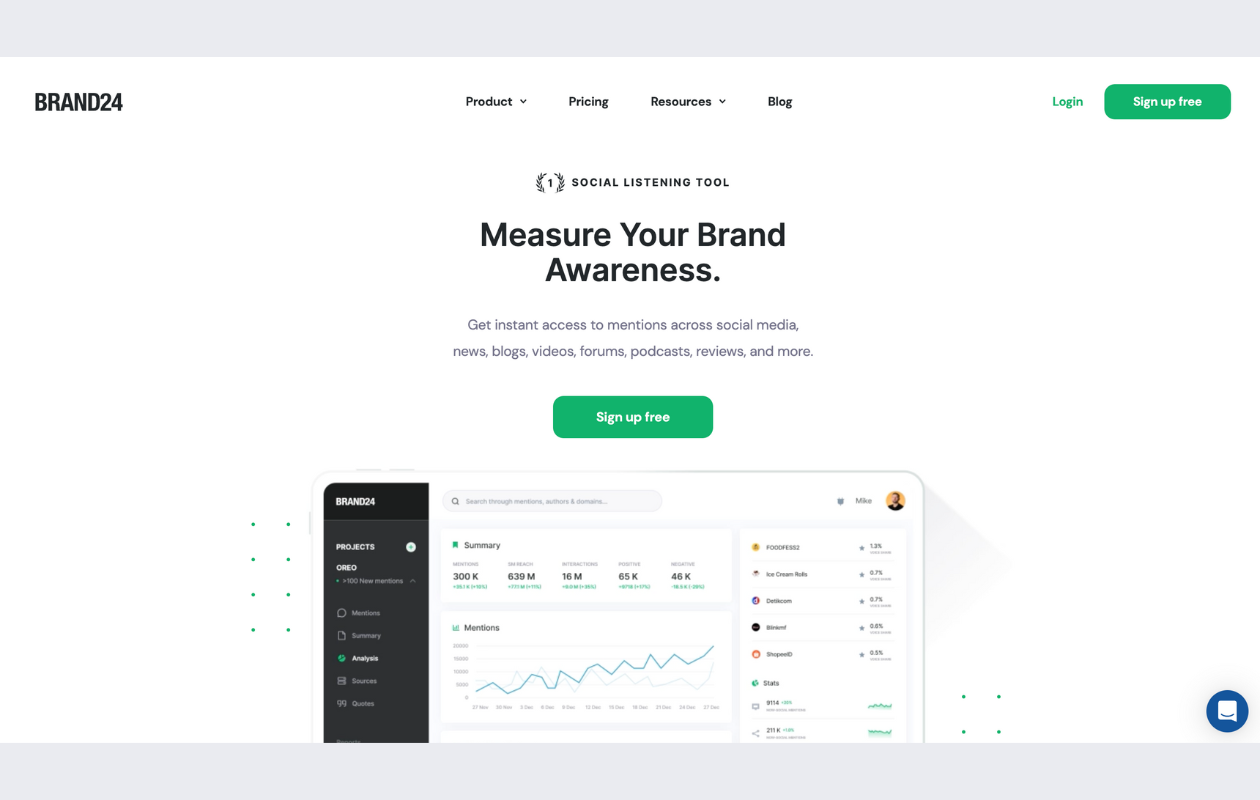 This Facebook analytics tool has a lot to offer, especially since it is known to offer analytics data for other social media platforms like, LinkedIn, Instagram and more.
As a Facebook analytics tool, this app tracks conversations around and about your brand, working as a listening tool. This tool shows you the influence of individual users regarding your brand's mentions.
This way, you'll be able to see how popular your Facebook campaigns become.
However, it also tracks Facebook metrics, helping you monitor your brand's performance.
Pricing options: For this Facebook analytics tool, the starting price is $119/ month.
17. Mention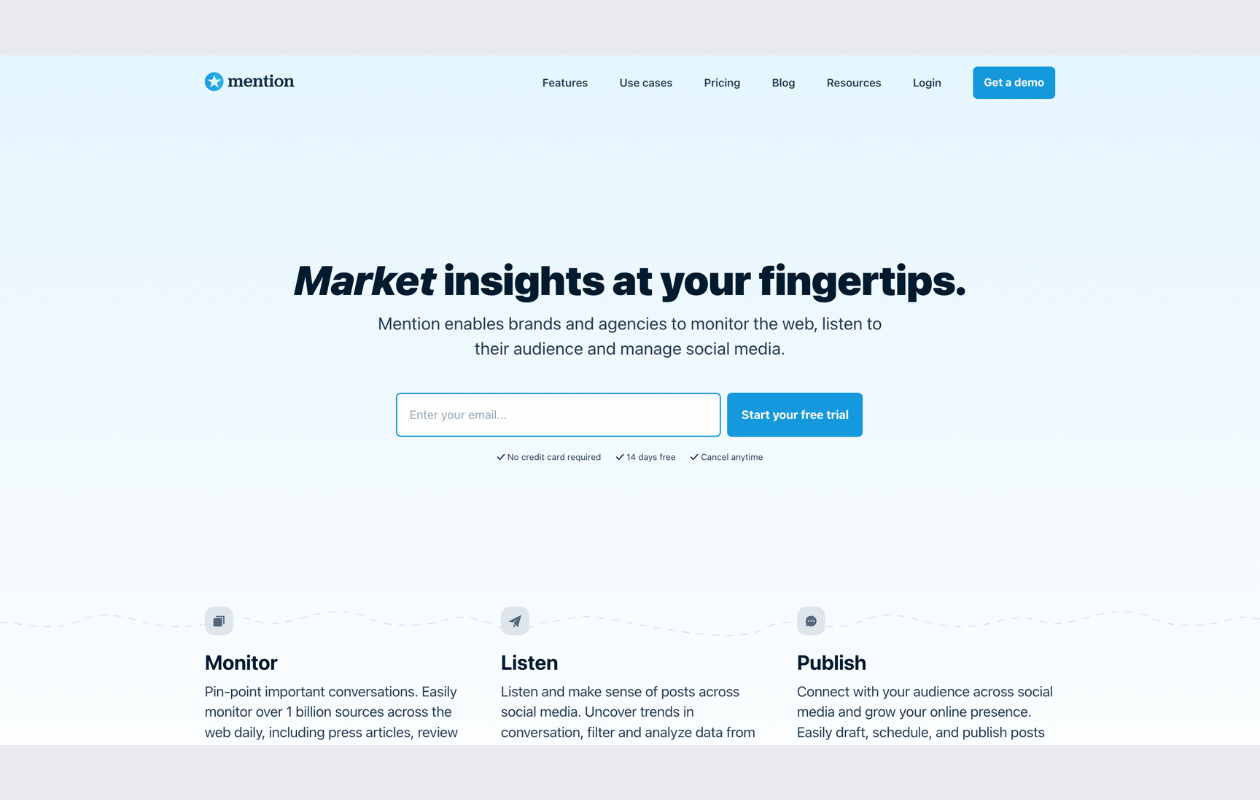 Mention is yet another Facebook analytics tool that helps you track your brand performance on Facebook.
This analytics tool offers you access to a wide library of historical data. With Mention, you get insights for a variety of metrics, illustrated through charts and graphs.
You will be able to check key metrics, like engagement, but you will also see a sentiment analysis and insights about demographics.
Pricing options: You can use this analytics tool for the monthly fee of $99/ month.
18. Oktopost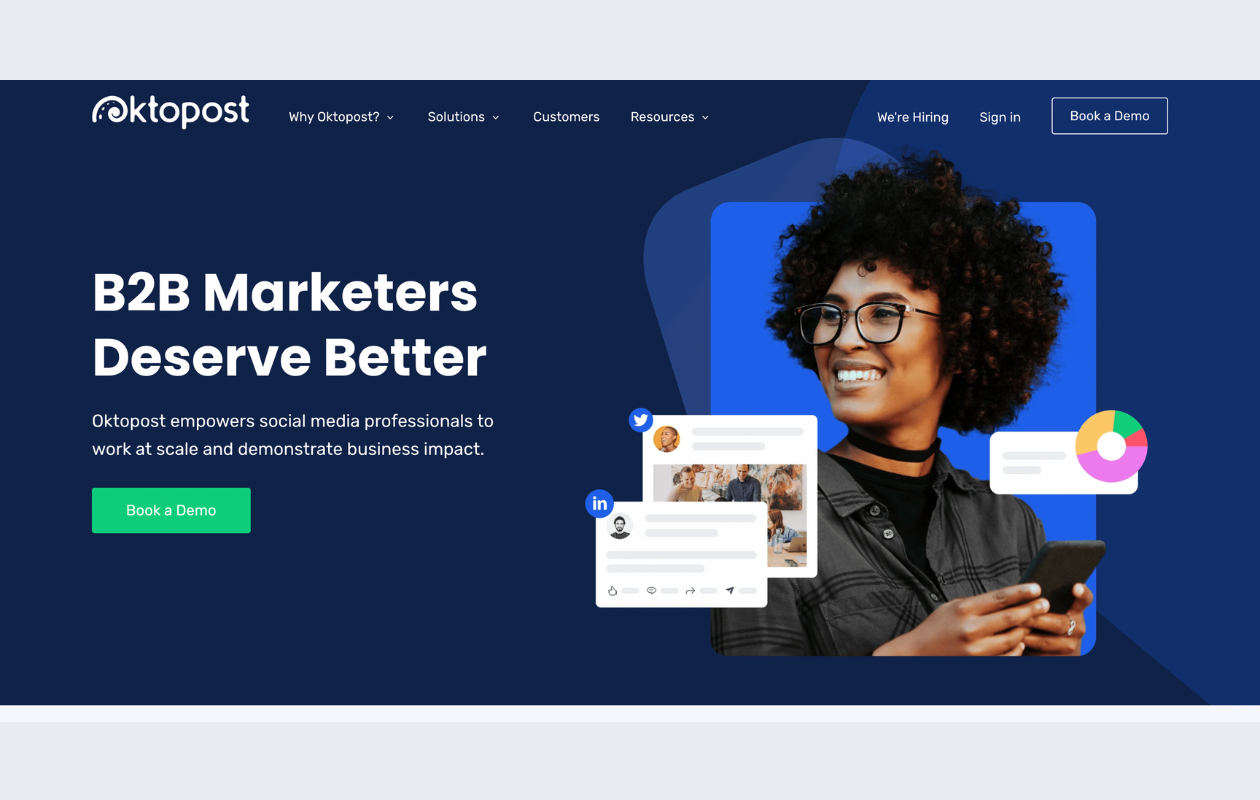 Oktopost is an analytics tool that tracks your brand's conversions on Facebook and accounts for financial actions.
It basically shows you where your customers are coming from, depending on the content you post.
By offering you engagement metrics, this social media tool helps you determine which is the best time to post depending on your audience.
Pricing options: For Oktopost, the pricing is custom, depending on your needs.
19. Emplifi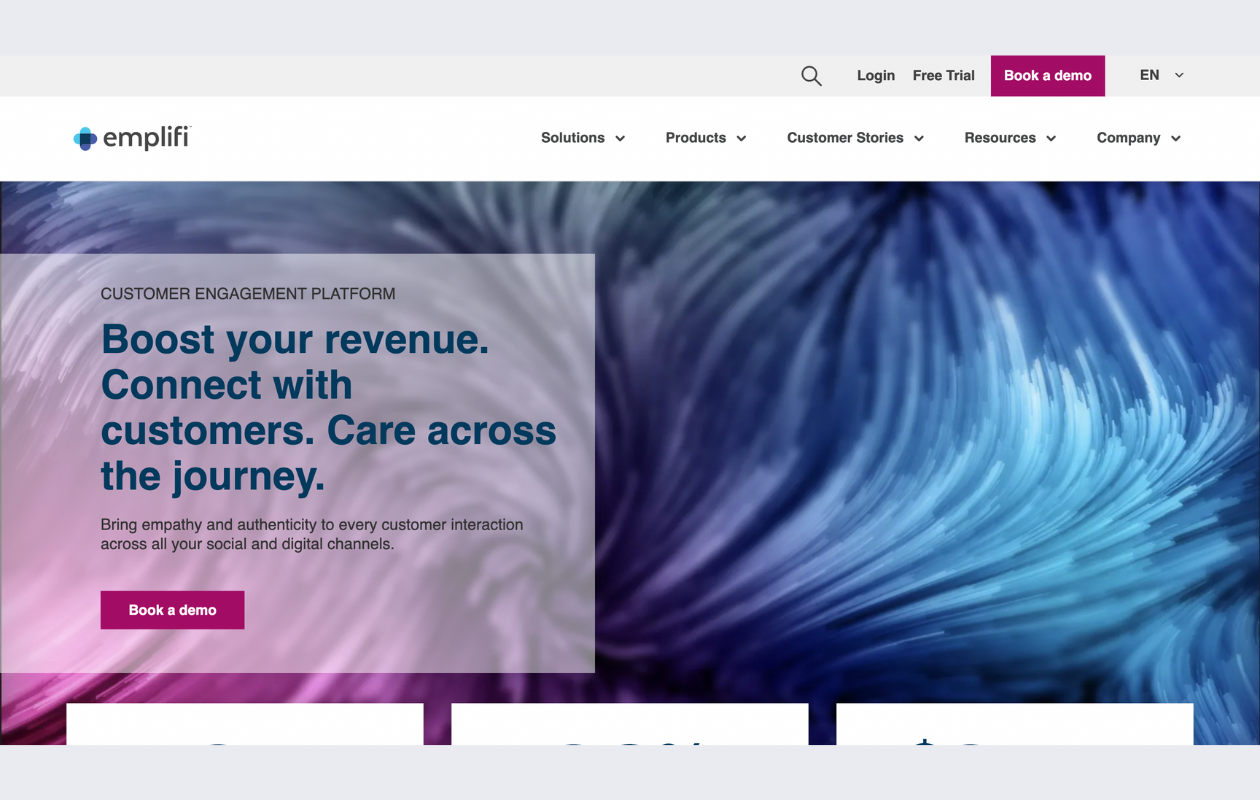 Another helpful Facebook analytics tool is Emplifi. It offers a well-researched set of data, with a lot of useful metrics.
This tool also offers competitive analysis data and benchmarking. You also get insights about paid content and organic content to learn exactly what type of content you should focus more on Facebook.
You will know everything about post performance, helping you adjust your strategy according to your audience's needs.
Pricing options: The starting price for Emplifi is $200/ month.
20. Whatagraph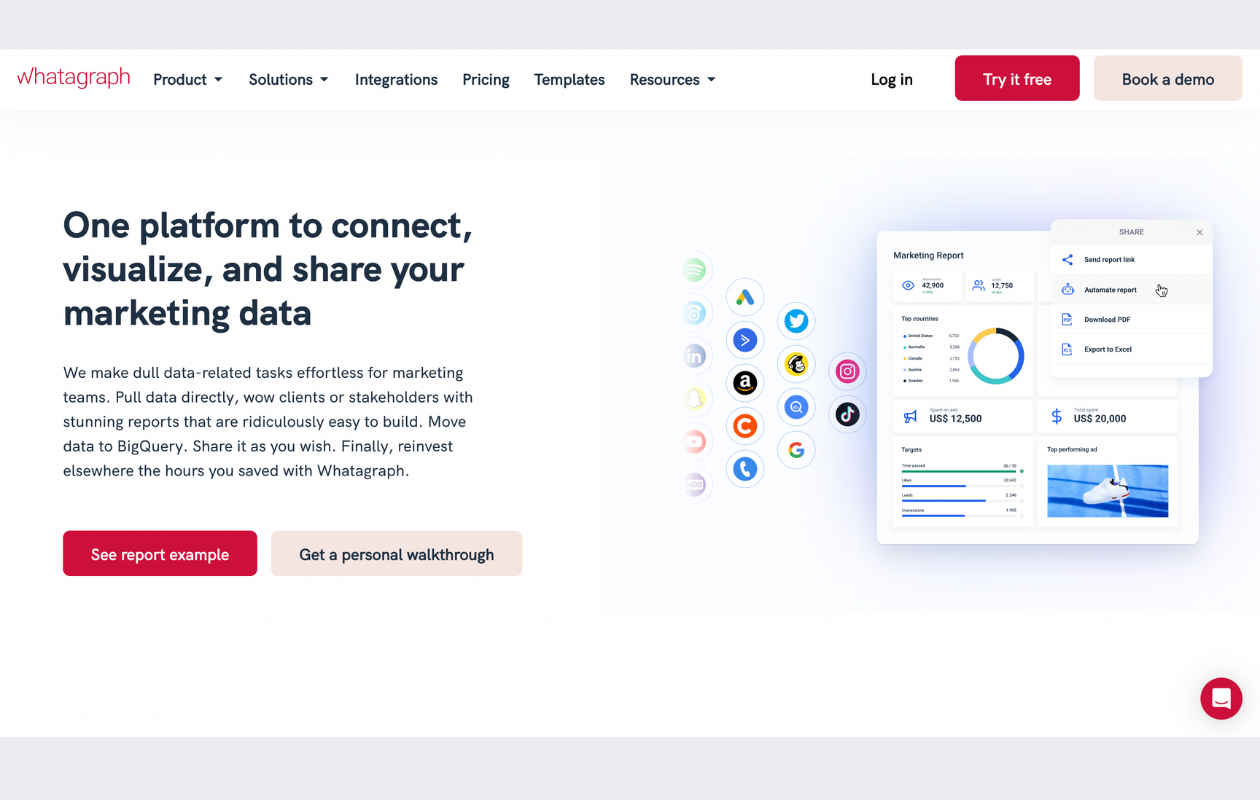 Whatagraph is an analytics tool bound to help you with reporting for Facebook. This tool is destined to in-house marketers and marketing agencies.
By using this Facebook analytics app, you can easily build your monthly, quarterly and yearly reports.
You can also use the tool to measure your KPIs, monitor your brand's performance on Facebook and measure your success strategy.
Pricing options: For this Facebook analytics tool, the starting price is $199/ month.
21. SocialStatus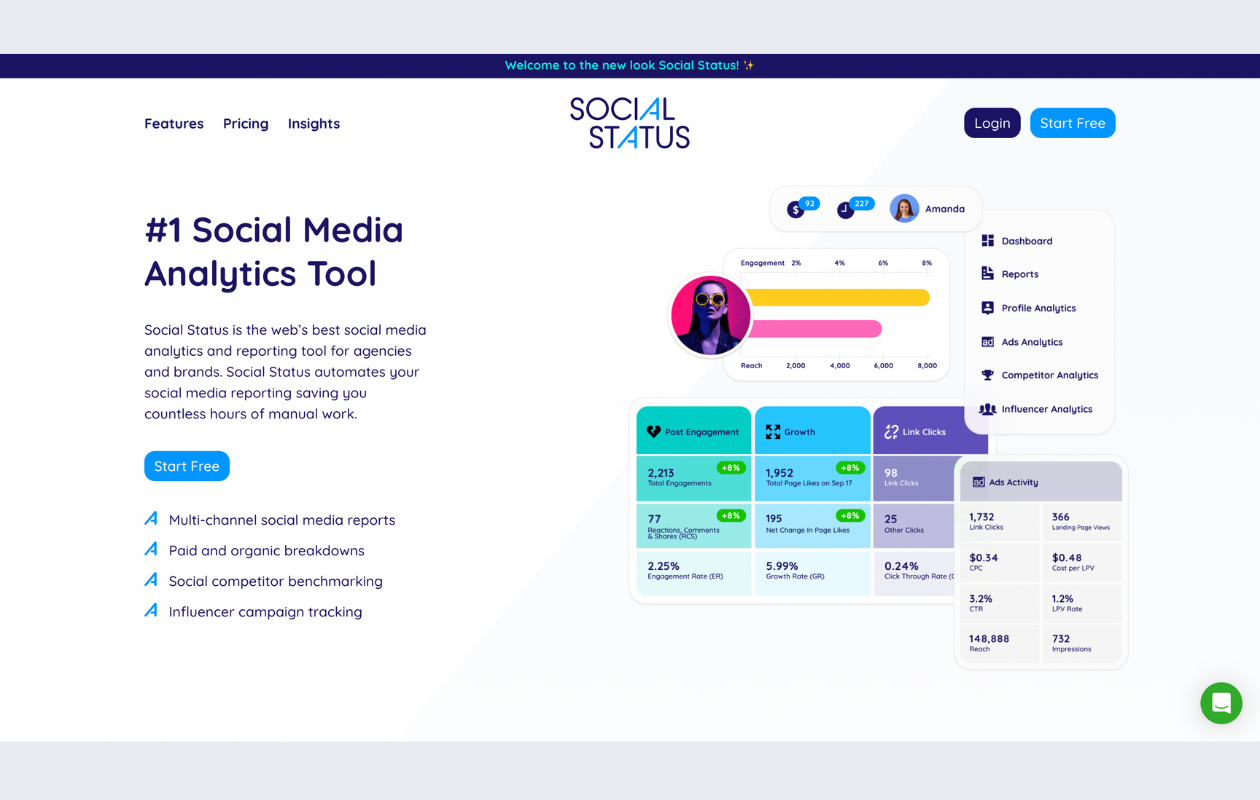 Social Status is a social media analytics tool that also offers insights about your brand's Facebook performance.
The abundance of Facebook features helps you track the most important metrics. This way, you will know what your focus should be depending on your strategy's success.
Social Status also provides a competitive analysis, allowing you to compare your Facebook performance to your competitors.
Moreover, you also get data about your paid content, being able to compare it to your organic performance.
Pricing options: For Social Status, the starting price is $29/ month.
Final Thought
There are far more than 15 Facebook analytics tools on the market, but these are the ones you must try at least once.
But before anything, remember this. 👇
When you purchase a Facebook analytics tool, make sure:
The Facebook metrics you get are helping you grow your strategy.
The Facebook insights tool is easy to use and understand.
There is someone on the support team helping you when you have questions.
It fits your budget.
Almost all Facebook analytics tools that I've mentioned in this article offer a free trial, so go and try them out before deciding which is the perfect match for you and your brand.
Want to discover the whole social media analytics market! Here you can take a look and compare 50+ Social Media Analytics Tools!