Hashtags for social media campaigns are like the waves to the sea: indispensable, simultaneous, always co-existing.
Hashtags are what makes social media campaigns greater and memorable. We all remember at least one social media campaign by its hashtag.
Do you know why? Because that social media campaign wouldn't have been as popular as it was without a hashtag that made it viral.
In what follows, I'll discuss the importance of hashtag campaigns, the benefits they bring to the table and we'll also look at a list of top hashtag campaigns on social media.
Let's dive in!
Creating a social media hashtag campaign - A step-by-step guide
1. What are social media hashtag campaigns
A hashtags campaign is a social media campaign using a specific hashtag to increase brand awareness, build a community and gain user-generated content. The chosen hashtag is a brand-specific one.
To put it simply, hashtags are used as keywords that can help you propel your campaign's posts into the vast world of the internet so that more and more users can see them.
The reason why you use a hashtag to make your social media campaign more visible is to show that your brand resonates with your audience.
If your target audience is made up of people from the age group 24-30 years old, who travel the world, then it's clear that your next campaign should feature a hashtag that they will surely use.
You will get user-generated content through your hashtag campaign because you promote the launch of a product or service that satisfies your audience's needs.
When launching your new giveaway, service or product, you use a hashtag campaign to increase brand awareness and create buzz around that topic.
This way, your campaign's content will become viral and your hashtag will be very popular if everyone in your audience will use it.
The hashtag you choose to represent your campaign should aim towards your audience. At the end of the day, their needs and preferences dictate your success.
👉 Here you can find out more about Twitter hashtags and how to use them in your campaigns.
2. Why hashtags are important for your social media campaign
A social media hashtag campaign can help you grow your brand in many ways. This type of campaigns are really a big deal and here are a few reasons why you should use hashtag campaigns for your social media strategy:
By choosing the right hashtag for your social media campaign, you definitely get to attract more users.
The curiosity building up around the hashtag will help you spread the word about the new launch, products and services.
The catchier the hashtag you choose for your campaign, the bigger the audience you get around your brand.
Make sure the hashtag you choose for your campaign is in line with your brand's values and long-term social media campaign's goal.
This is how you know you promote the right image for your brand.
Increase reach & impressions
As your new social media campaign's hashtag grows more popular, your reach and impressions will increase.
The virality of your hashtag will bring you high values for reach and impressions, while also boosting your engagement.
To promote your new hashtag campaign, you need a lot of help, mainly from your team and departments like legal, but also from collaborators.
You should find the right influencers to promote your brand's new hashtag campaign.
However, the great part is that you can discover influencers when they start using your hashtag in their posts.
The way their posts perform will boost your campaign's performance as well. This will be the sign that shows you they have potential.
Also you have to pay attention to their creativity, other collaborations they had, and assess how much they engage with their community.
All these insights will help you predict if collaborating with a certain influencer will be beneficial for your campaign's goal.
👉 Here you can find out more about TikTok hashtags and how to discover trends.
Get user-generated content
When you launch a hashtag campaign that perfectly suits your audience's preferences and needs, you'll surely get user-generated content.
Those who use your products and are satisfied with what you offer will clearly use your new campaign hashtag and become part of the thread.
When they use your hashtag, their community will find out about you and they will be curious to get to your TikTok or Instagram to find out more.
And, let's face it, there's nothing better than user-generated content. (Maybe just ice cream. Nope, still user-generated content rocks, irrespective of the social media platform we're talking about.)
Increase community engagement
As more users find out about your hashtag campaign through all the user-generated content that creates buzz around you, your community engagement will flourish.
And high values for your social media metrics can make your campaign viral and your brand more popular.

When people use your hashtag in their posts, you get all the content on a specific topic clustered in one place.
Since hashtags are searchable, they will lead users towards a certain discussion, giveaway or launch they are all interested in.
On Twitter, your hashtag campaign will become part of a thread and everyone using that hashtag will be included in the discussion.
3. How to run a social media hashtag campaign
When trying to develop a social media hashtag campaign, you have to start with your goal, your intent. Ask yourself these simple questions:
What are my audience's pains?
What do I want to achieve by launching this product/service?
Do people really need my product/service?
How does my content prove to my audience that I have the solution to their problems?
Is my hashtag relevant for my social media campaign?
In order to find the right hashtag for your social media campaign, you need to go through the same process as you do when searching for your SEO keywords.
When choosing your campaign's hashtag, keep in mind that:
the hashtag needs to be unique (otherwise it can get confused with other brands)
you should not combine more than 3-4 words
the message it conveys should be clear and easy to understand
write it in Title case
make it easy to spell
your hashtag should not be offensive
the "stickiness" of the hashtag matters the most. If it sticks in one's mind, then you did the right thing
use your service or product name in the hashtag
👉 Here you can find out more about Instagram hashtags and how to use them in your content strategy.
The hashtag you choose to represent your campaign could be your brand's name, a keyword frequently used in your niche or industry, or a catchy phrase that works hand in hand with your new service or product.
To make sure it gains even more popularity, you can collaborate with influencers to promote your social media hashtag campaign.
This way, your circle will grow bigger and bigger, your audience will transform into a community and they will build a buzz around your campaign.
How to create a hashtag campaign
To make sure you get all the advantages of a successful hashtag campaign, you need to learn how to craft it first. Now that you know how to choose your hashtag, it's time to learn how to do it.
Learn more about your audience
Learning what your audience's preferences and needs are is crucial for your hashtag campaign.
Analyze the type of posts they interact with to create content accustomed to their likes.
This way, you will be able to craft a hashtag campaign that perfectly suits your brand values and your audience's needs.
When designing the new social media campaign, you have to keep in mind your target audience, designing your buyer persona profile and knowing who you're addressing to through your content.
Keep an eye on your audience's behaviour patterns and use those patterns to your best advantage when crafting your new social strategy.
If you set out on a journey without having your destination in mind, you wouldn't know when and where to stop.
By establishing your hashtag campaign's goal, you get to know how much effort you need to put into that campaign and what resources you will need to attain your purpose.
Do you want to increase community engagement?
Do you want to raise brand awareness?
Do you want your content to become viral?
When you choose your goal, you basically choose your direction after you set a plan on how to achieve that goal.
To boost engagement, you will need a hashtag campaign that aggregates information.
To grow your brand's visibility, you should include your brand's name into the hashtag.
Choose the right platform for your social media hashtag campaign
By learning more about demographics, you will also know where you find your audience.
If they are more active on Instagram, then it's obvious where your campaign should unfold.
The most popular social media platforms that are suitable for hashtag campaigns are Instagram, Twitter and TikTok.
Choose one of them (or even all of them) and launch your new hashtag campaign at the same time to build buzz around your brand's new product launch, giveaway or event.
However, if you plan a hashtag campaign that relies on photos, you should go for Instagram. If you wanna discuss a specific topic, you should choose Twitter.
In case you want users to use your hashtag in videos, your best choice for promoting your campaign is TikTok.
Your hashtag should be easy to spell, easy to spot, easy to stick to one's mind. This combo will definitely make it easier for your audience to use the hashtag.
To make people curious about your new campaign and convince them to be part of it, you need to offer them simple instructions.
Think about giveaways. If they have too many steps to follow, no one will want to sign up for the prize.
You should just ask people to use your hashtag in their post in order to make their user-generated content become part of the thread.
4. How to track your social media hashtag campaigns
Another "how" when it comes to hashtag campaigns is about tracking them. Learning how to track your campaign's performance is what will establish its success.
By looking at analytics, you will know what changes you need to make in your social media content strategy to attain your goal.
You should keep an eye on these key metrics that measure your campaign performance, like:
Impressions
Volume of mentions (positive, negative, neutral), not spammy
Followers growth
Video views
Engagement metrics: likes, comments, shares, engagement rate per post
Clicks
Best performing posts
Demographics data: gender, age, location
Based on these insightful metrics, you will know what changes to make to improve your hashtag campaign's performance.
5. How to choose a hashtag for your campaign
When choosing the suitable hashtag for your new social media campaign, it's important to take into account a few guidelines to make sure you avoid creating confusing word combos and use them as a hashtag.
Here is a list of instructions you should keep an eye on when deciding on the hashtag campaign:
your hashtag should be original and no other brand should have used it to make it appear as your trademark;
your hashtag should rely on trending topics, but not only that. It should be about your brand, but it should not solely rely on promoting it. It should also be about the buyer persona you're targeting through your campaign. Put your creativity at work. For instance, there's L'Oreal's hashtag campaign #WorthIt that says more about the customer, than about the beauty brand itself;
your hashtag needs to be memorable, precise and easy to pronounce. Avoid combining more than 3-4 words. If your hashtag is too long, users will not remember it;
make sure you use your competitors' campaigns only as a source of inspiration and don't replicate their hashtag campaigns. Otherwise, people will tell and you may risk losing followers;
your hashtag needs to be easy to understand, so it's best if you write it in Title case;
the hashtag used for your social media campaign should not be over-promotional and should not include offensive words.
6. Benefits of hashtag campaigns
When developing your hashtag campaign for social media, you get a whole bunch of benefits.
Maybe this list will convince you:
increase brand visibility
fuel brand awareness
quantify and check your content performance
promote your brand's products, services and events
boost the number of followers
engage with your audience
show support for different other campaigns
aggregate information
collect UGC
7. Best practices for a social media hashtag campaign
Hashtag campaigns offer your brand a boost, making your services and products more discoverable.
To make sure you craft a social media hashtag campaign that converts, you could use this list of best practices to make things work in your favour and fuel your brand's growth.
Plan your campaign ahead of time - Without establishing the steps you need to take to launch the campaign, you might get caught in a swirl of other deadlines.
Short & easy to remember hashtags are best
Choose your social media platform wisely - While your hashtag campaign has great results on Twitter, it may be that the same content will not have the same performance on Instagram. Design your hashtag campaign based on your audience's needs.
Don't let your campaign rely only on ads - You should develop content that instantly gains organic traction.
Choose your influencers wisely - Among all those who use your new hashtag campaign, there may be some you could really rely on and hire as influencers to promote your brand. Look closely at their audience and their previous campaigns.
Double check content before hitting the publish button
Engage with your audience
8. Top hashtag campaign examples
Booking - #TravelGenius
Booking has a brilliant campaign, encouraging people who use their services to use their new hashtag when posting pictures or videos from their travels.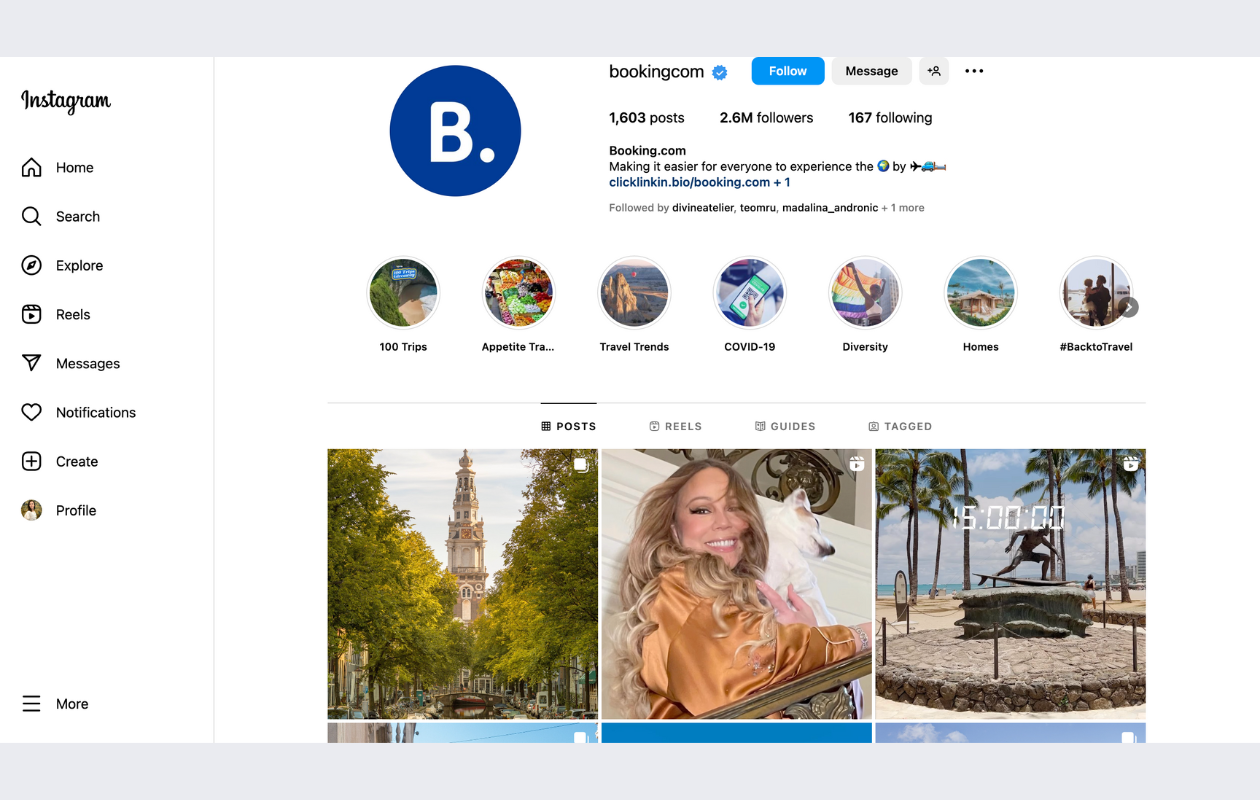 Their hashtag campaign uses "#TravelGenius" and Instagram and TikTok users have already started including it in their posts, proudly showing everyone the amazing places they've travelled with Booking.
The brand collaborates with celebrities who promote their new hashtag campaign. One of them is Mariah Carey.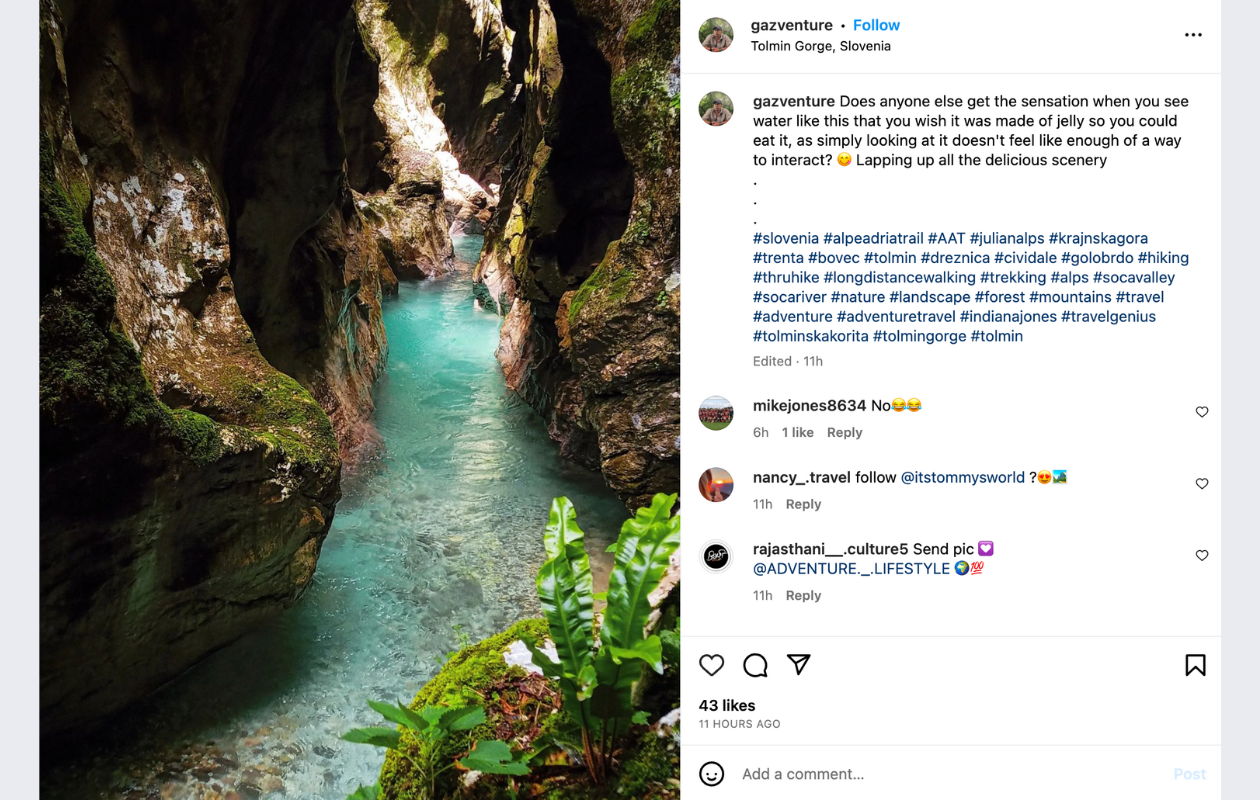 People really take amazing pictures that they include their travel journals and tag Booking.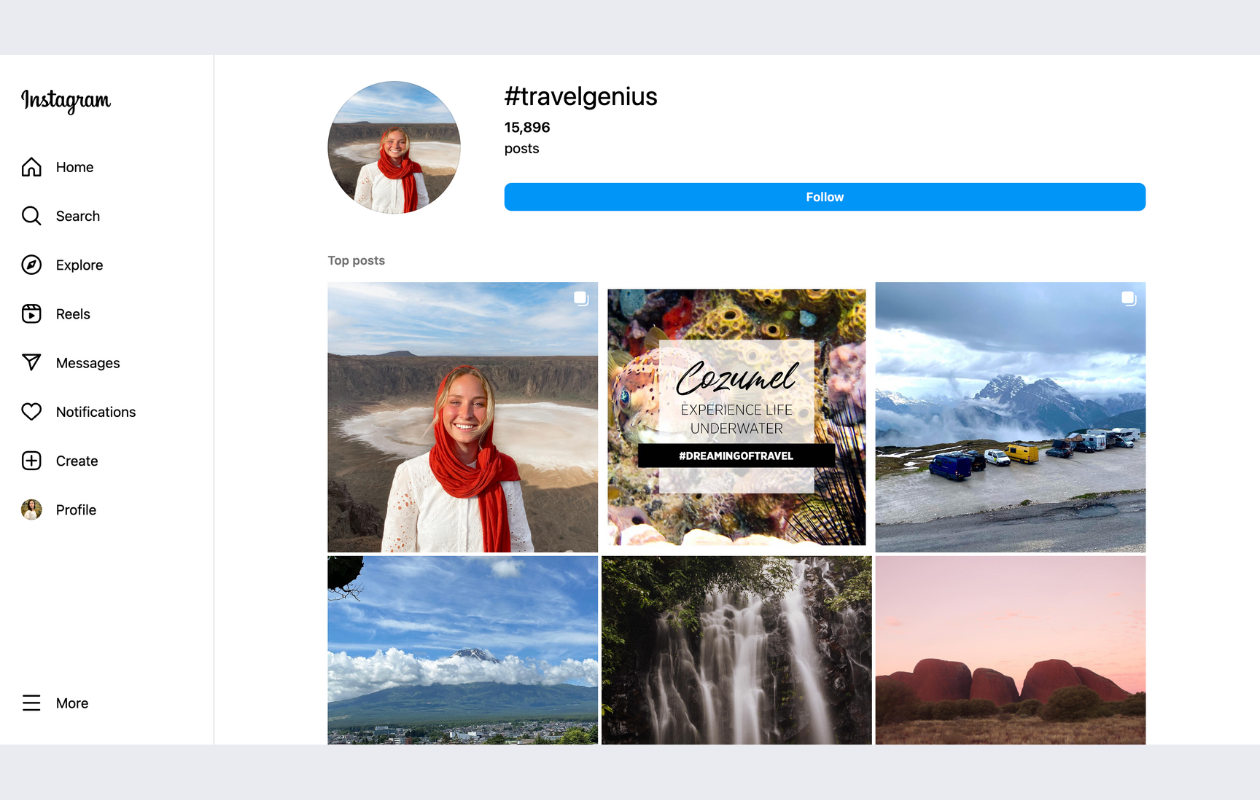 Up to this point, the #TravelGenius hashtag was used in more than 15,000 posts.
Coca Cola - #CocaColaCreations
Coca Cola never seizes to surprise their fans. The brand is currently running a few hashtag campaigns with the help of influencers and stars.
The new campaign using #CocaColaCreations shows people that their soda can now fit everyone's taste. This hashtag was used in more than 24,000 posts so far.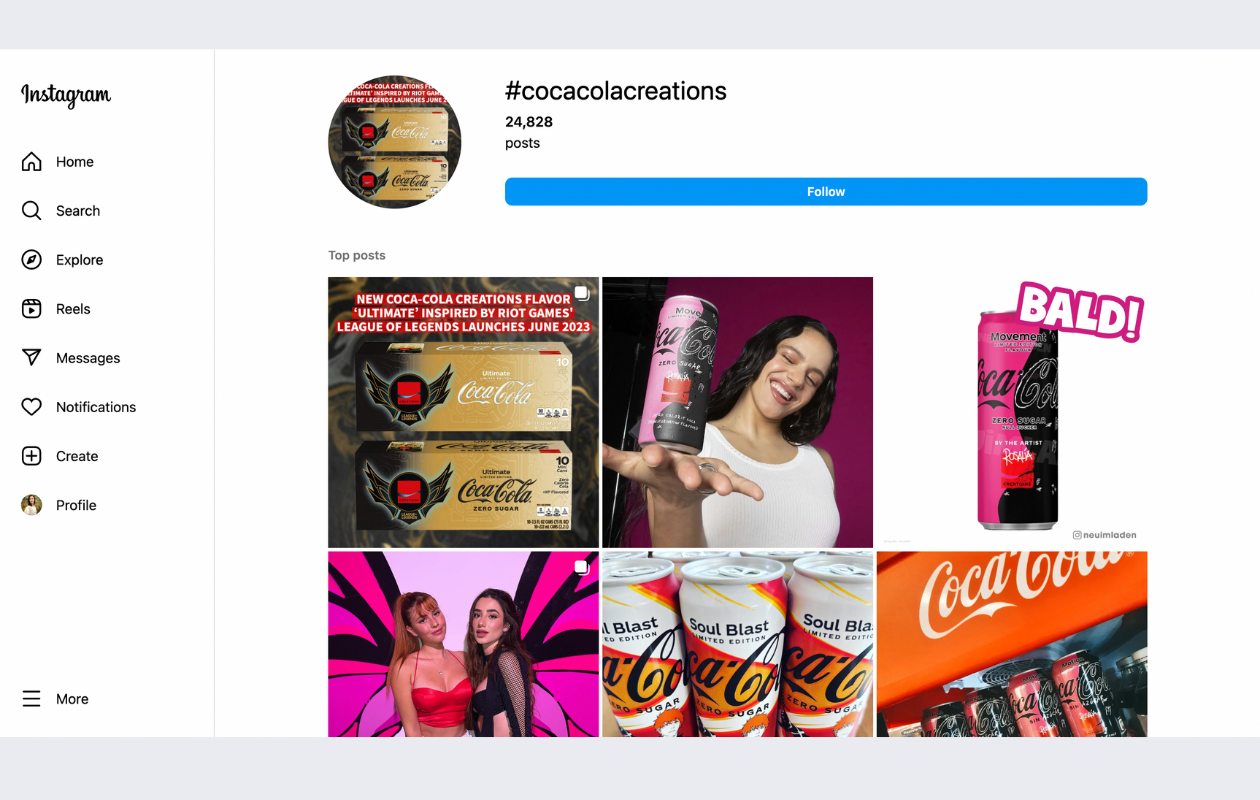 The sodas launched in this campaign have different blends of tastes in a really creative combination.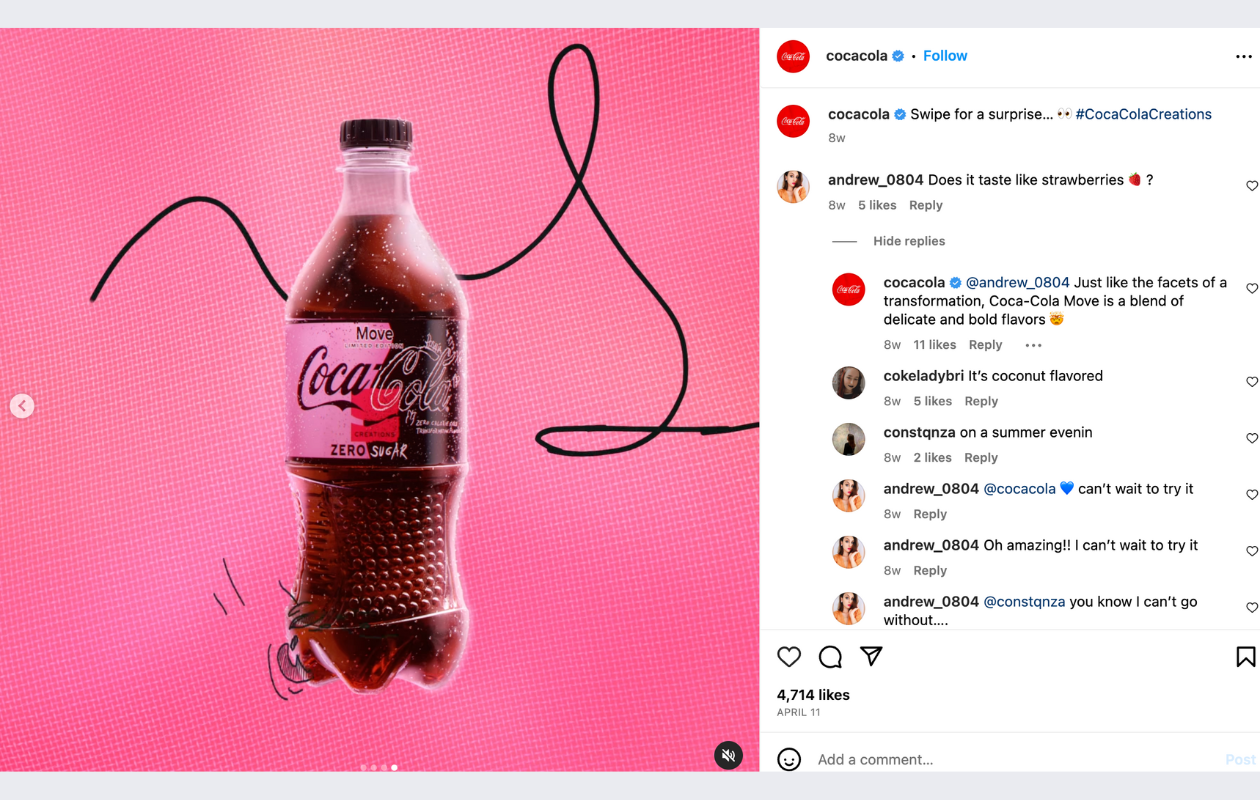 The new campaign encourages users to be bold and try new tastes and experiment new sensations.
A lot of the people who have tried the new sodas have commented on their posts, saying their oppinion about the taste.
The great part is that everyone found their favourite.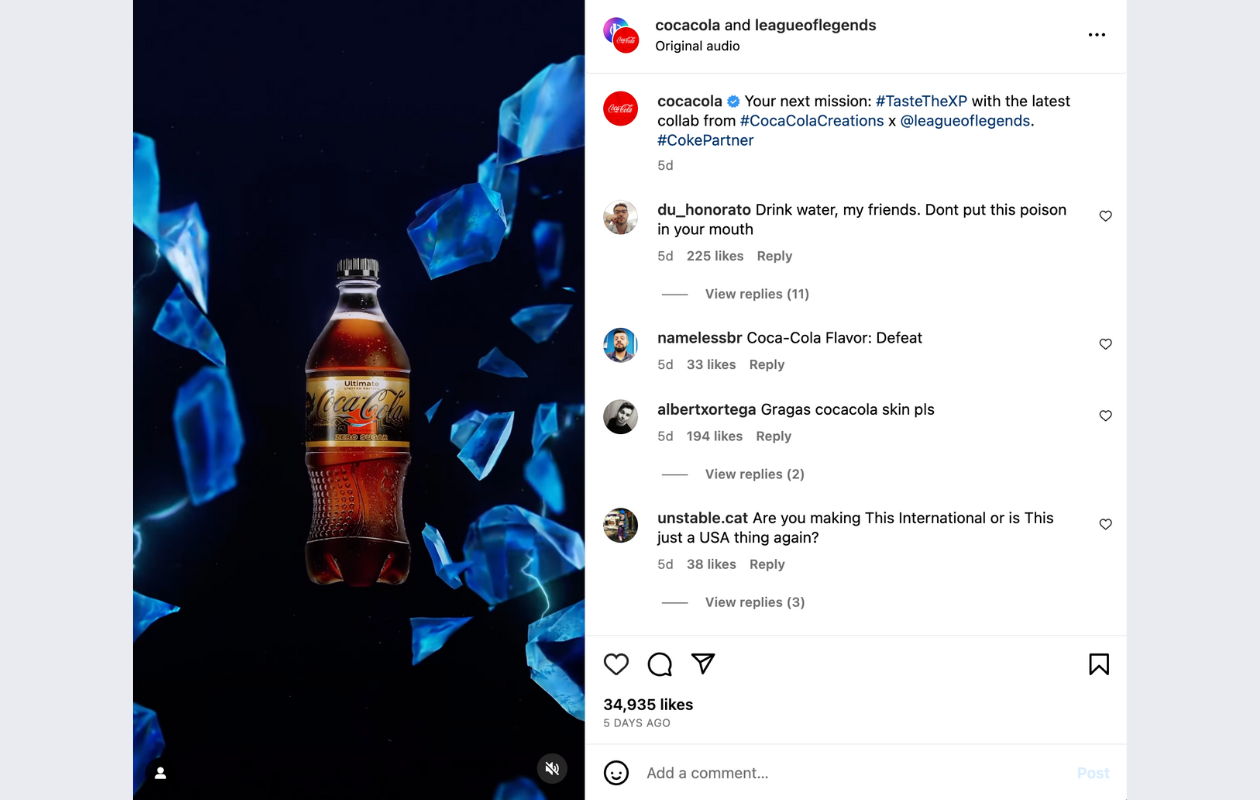 Adidas - #ImpossibleIsNothing
Adidas has empowered their audience since forever, with motivational campaigns and inspiring sportswear, making everyone be on the move.
The new hashtag campaign #ImpossibleIsNothing encourages users to surpass their limits.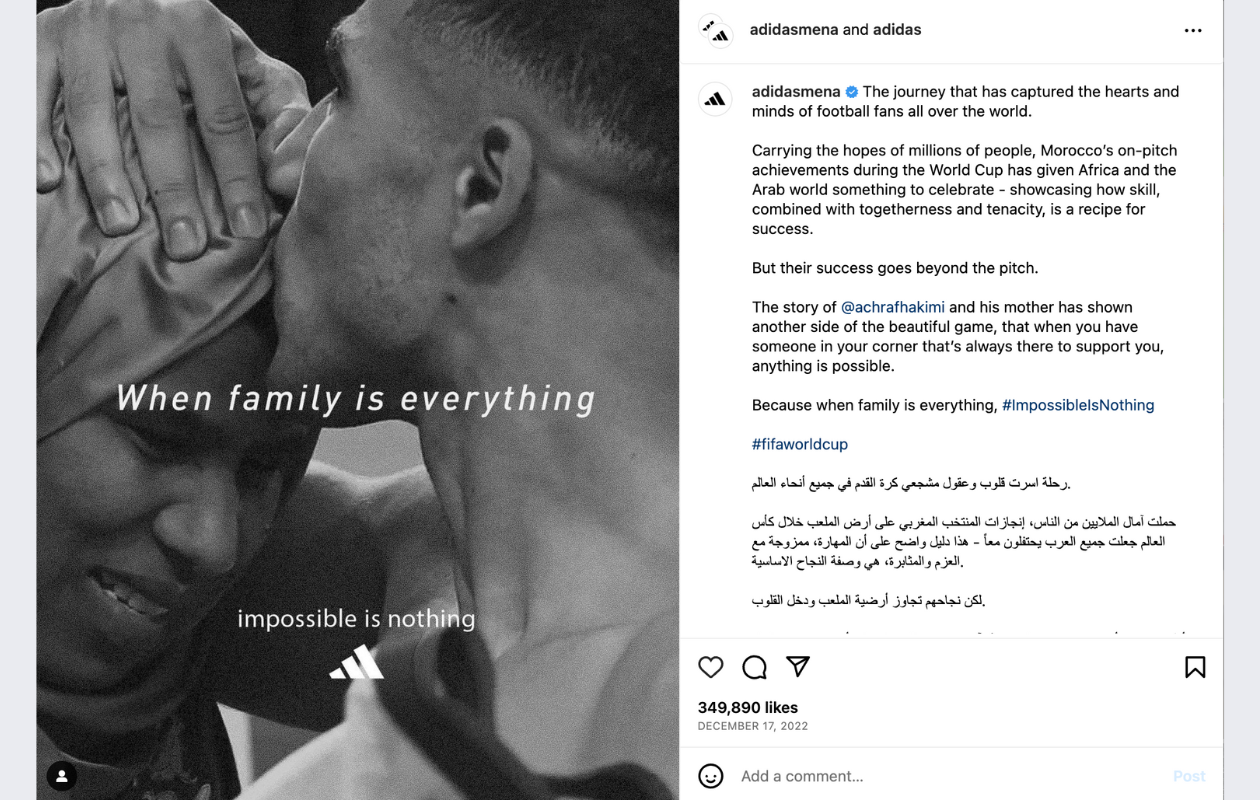 This campaign features a lot of collabs with influencers and sports people who promote Adidas' new hashtag campaign.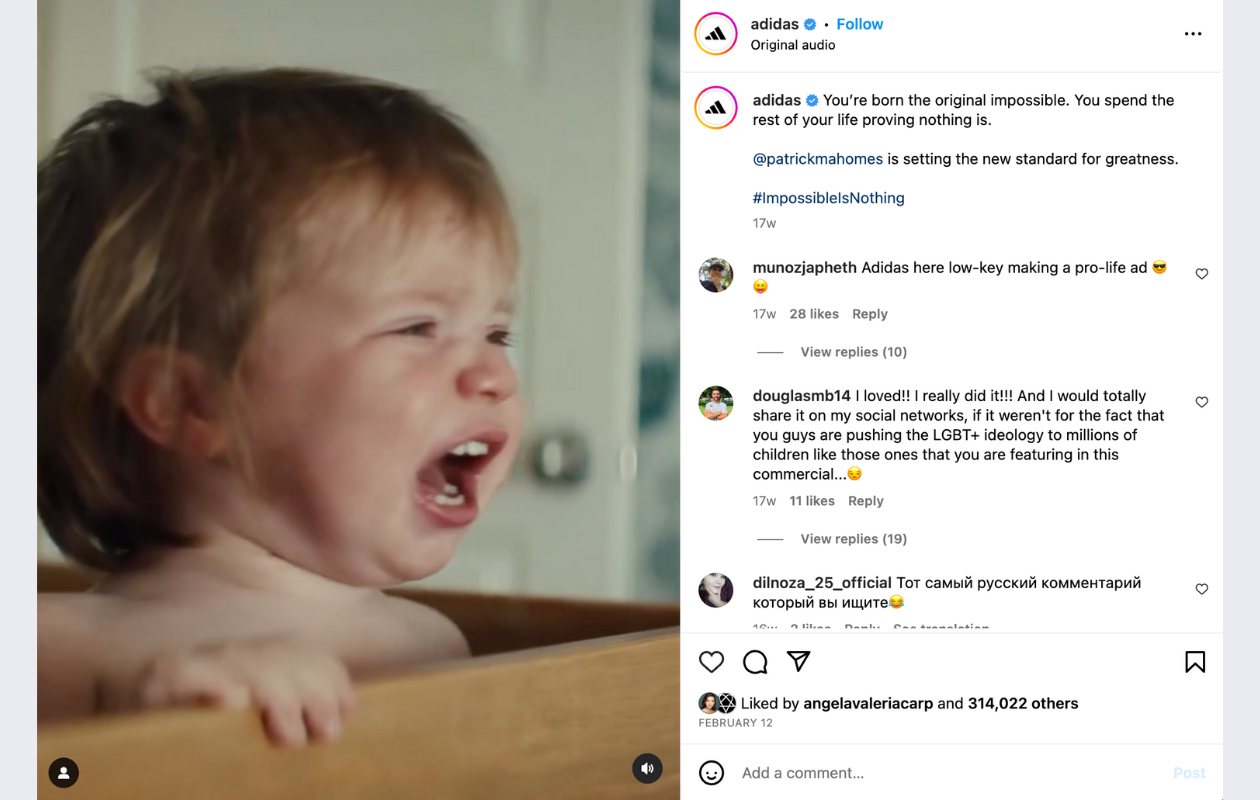 Their hashtag was already used in over 500,000 posts on Instagram. That's an amazing community.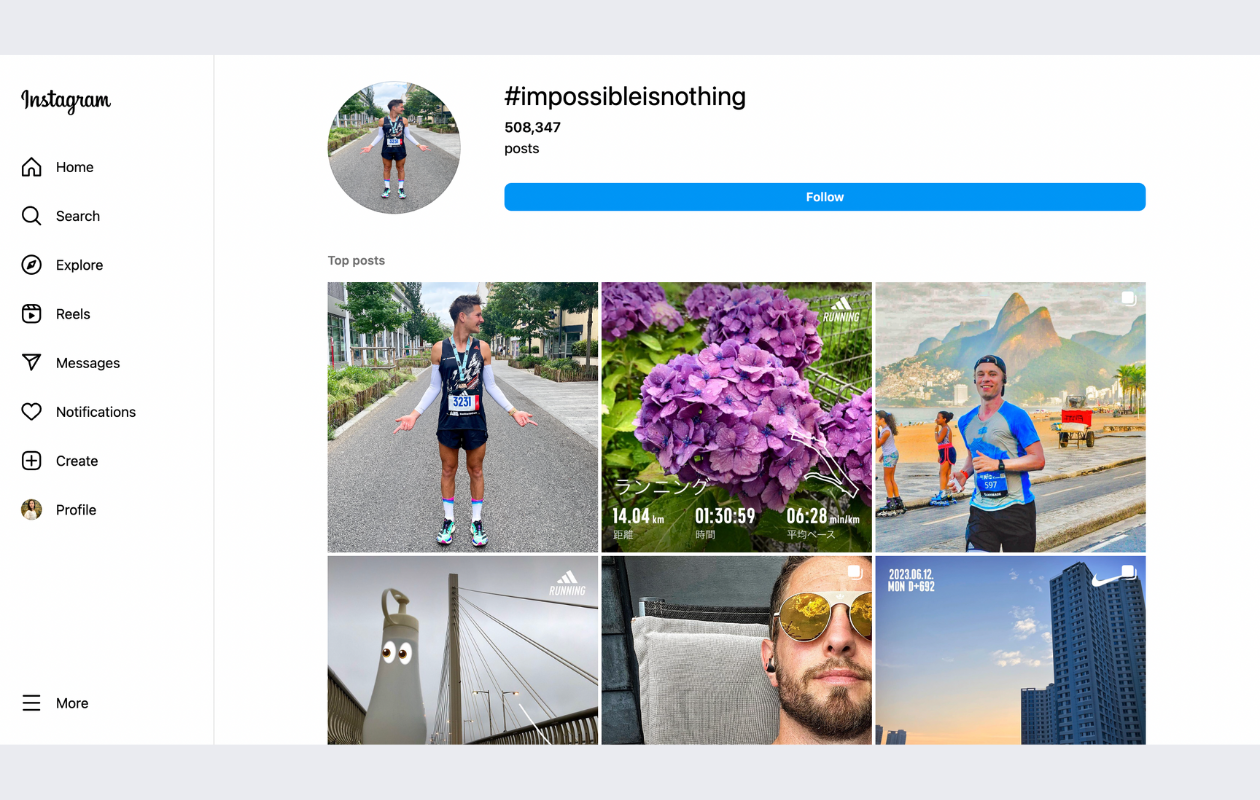 L'Oreal Paris - #GlowParadise
L'Oreal Paris is one of the biggest beauty brands in the world. This brand runs a lot of hashtag campaigns simultaneously since they periodically launch new products they want to promote.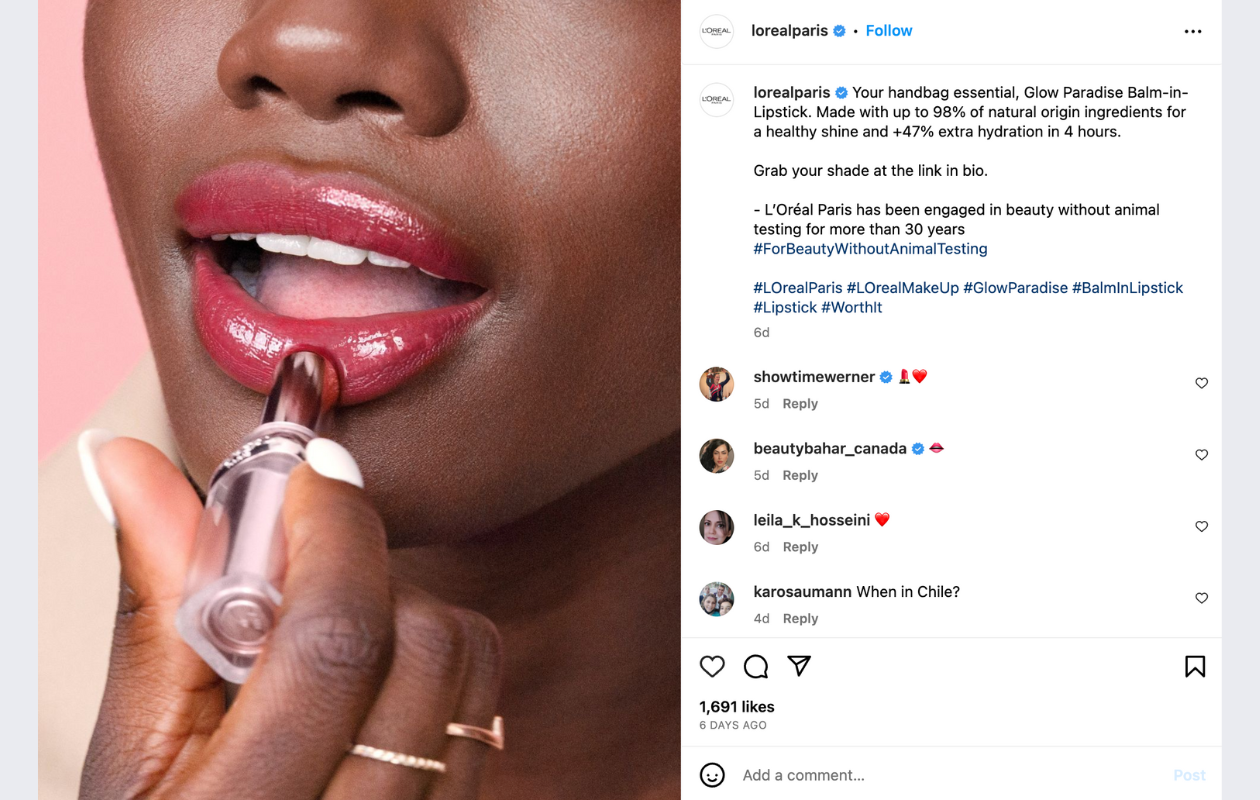 L'Oreal Paris collaborates with many influencers and celebrities, like Camila Cabello, to promote thier new hashtag campaigns.
The hashtag #GlowParadise was used in about 20 posts, but this number is still growing because the campaign has just strated.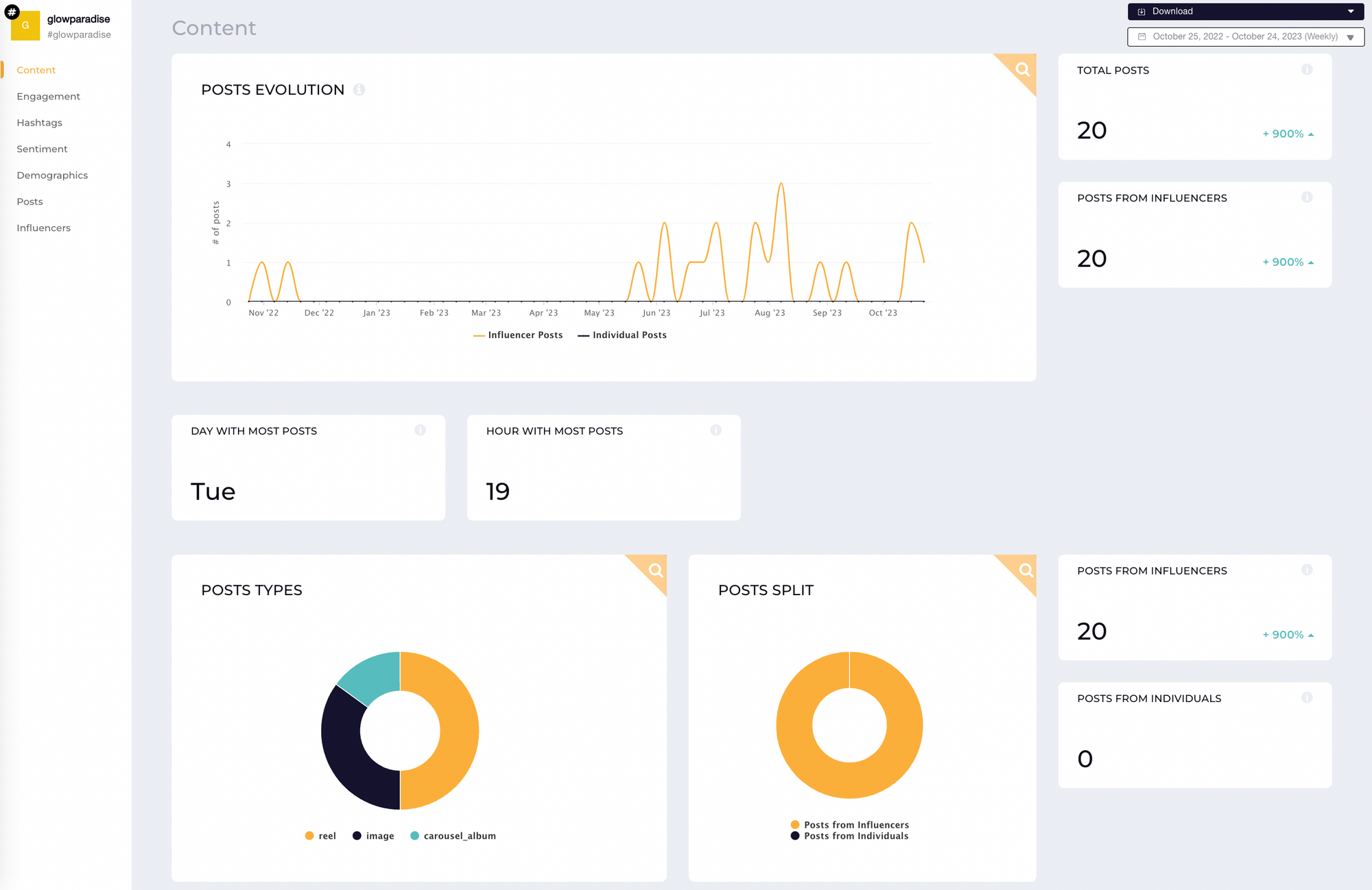 Lays - #DoMeAFlavor
Lays is well-known for their amazingly favlored chips that have a lot of fans all around the world.
This snack brand decided to shock everyone with their new campaign, launching surprising aromas for their crisps.
The hashtag campaign #DoMeAFlavour is about letting their fans come up with new flavours' ideas and the brand chooses some of them to launch them in limited editions.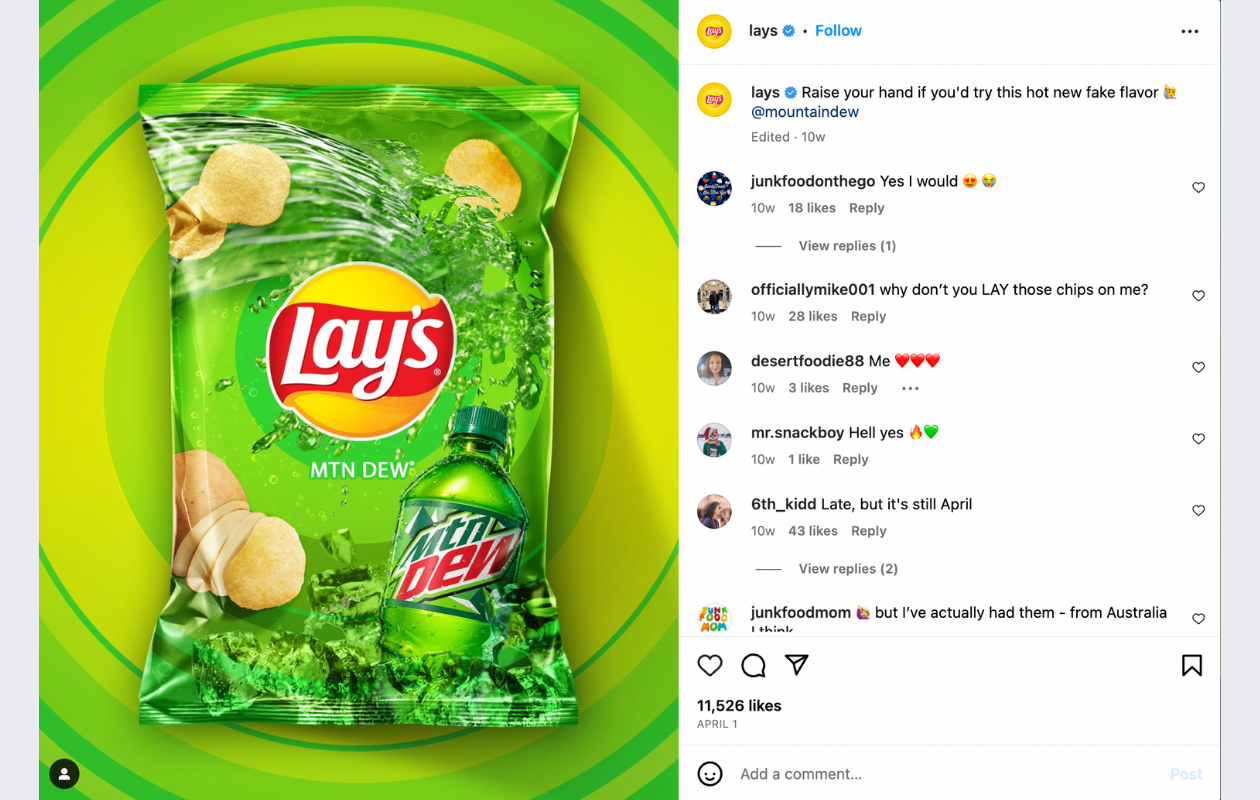 Besides increasing brand awareness, they managed to build a loyal community around the brand, showing their audience their oppinion matters for Lays.
People have asked for the weirdest combos of flavours.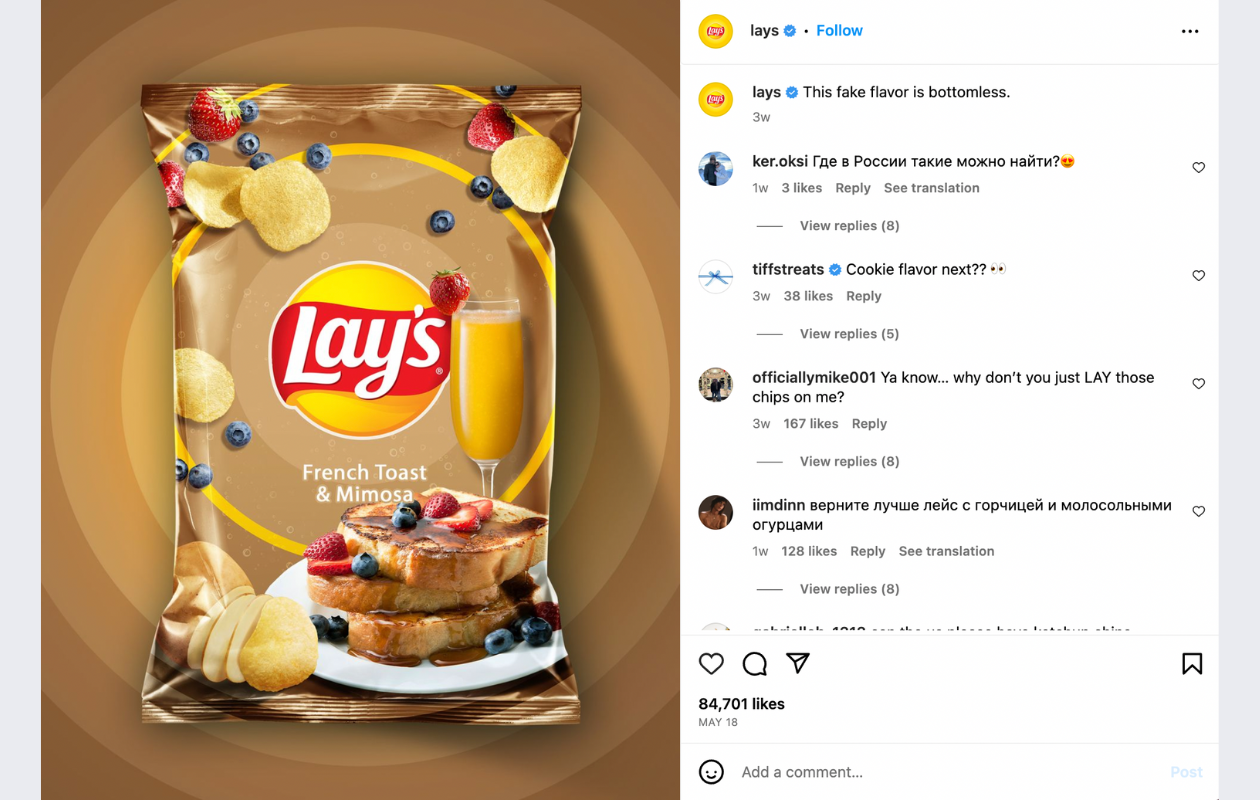 Their new hashtag campaign has over 135 posts so far, but the game has just started.  
However, maybe for some people it's hard to find out about the campaign since the hashtag does not feature the brand's name, even if the pun used is fun and easy to remember.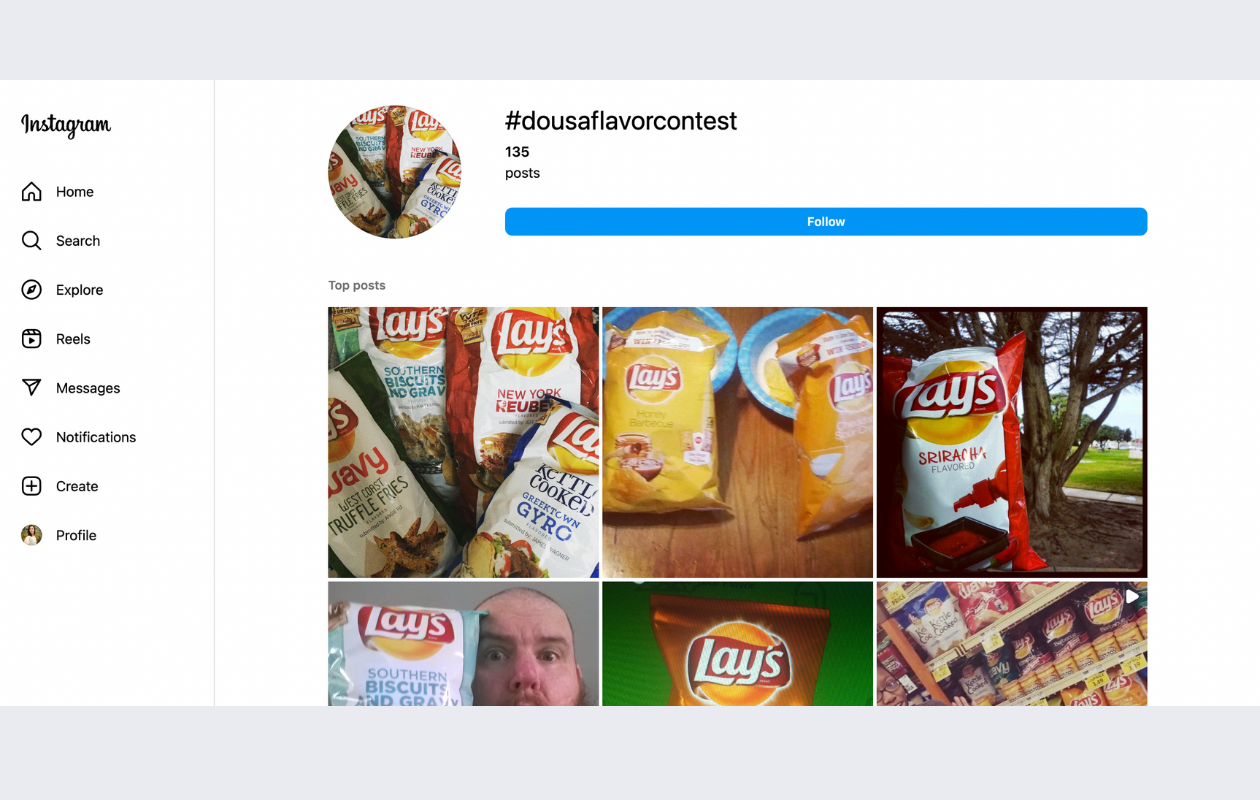 L'Oreal - #LessonOfWorth
L'Oreal has a bunch of inspiring social media hashtag campaigns that empower people and encourage them to trust themselves and their beauty.
This brand talks about beauty like being a unique feature that comes in many forms and, although they sell make-up products, they have ads with actresses who take off the make-up.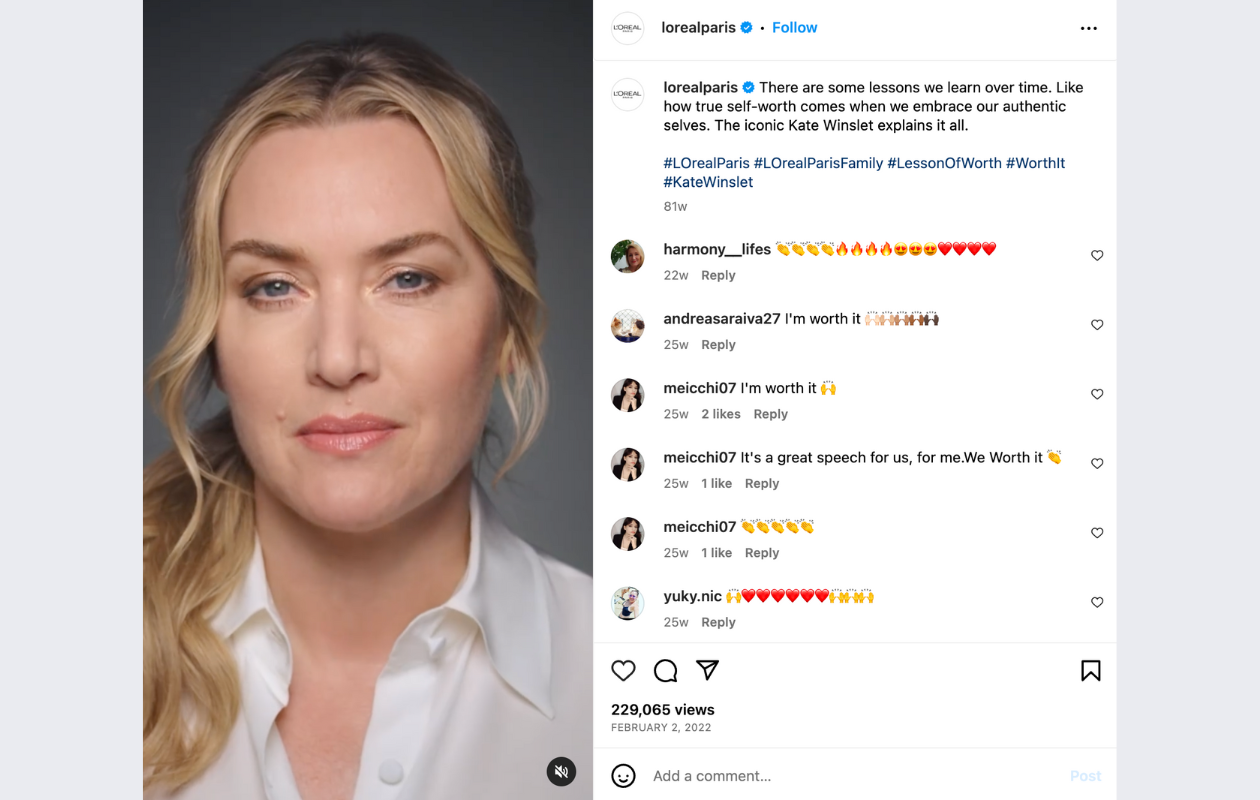 Why? Because they want to be perceived as a relevant brand, one inspired from their followers' lives.
The #LessonsOfWorth hashtag campaign that still runs on their Instagram account is a very powerful social media campaign.
The Reels feature women with great influence, like actresses and TV hosts who are well-known in the entire world. Moreover, they are role models for millions of women out there.
The video with Kate Winslet who talks about self-worth is incredibly inspiring and you cannot help but feel goosebumps when listening to her.
The element of surprise in this video, for the L'Oreal community, is that Kate Winslet takes off her make-up as she speaks, telling her listeners that beauty is not about makeup.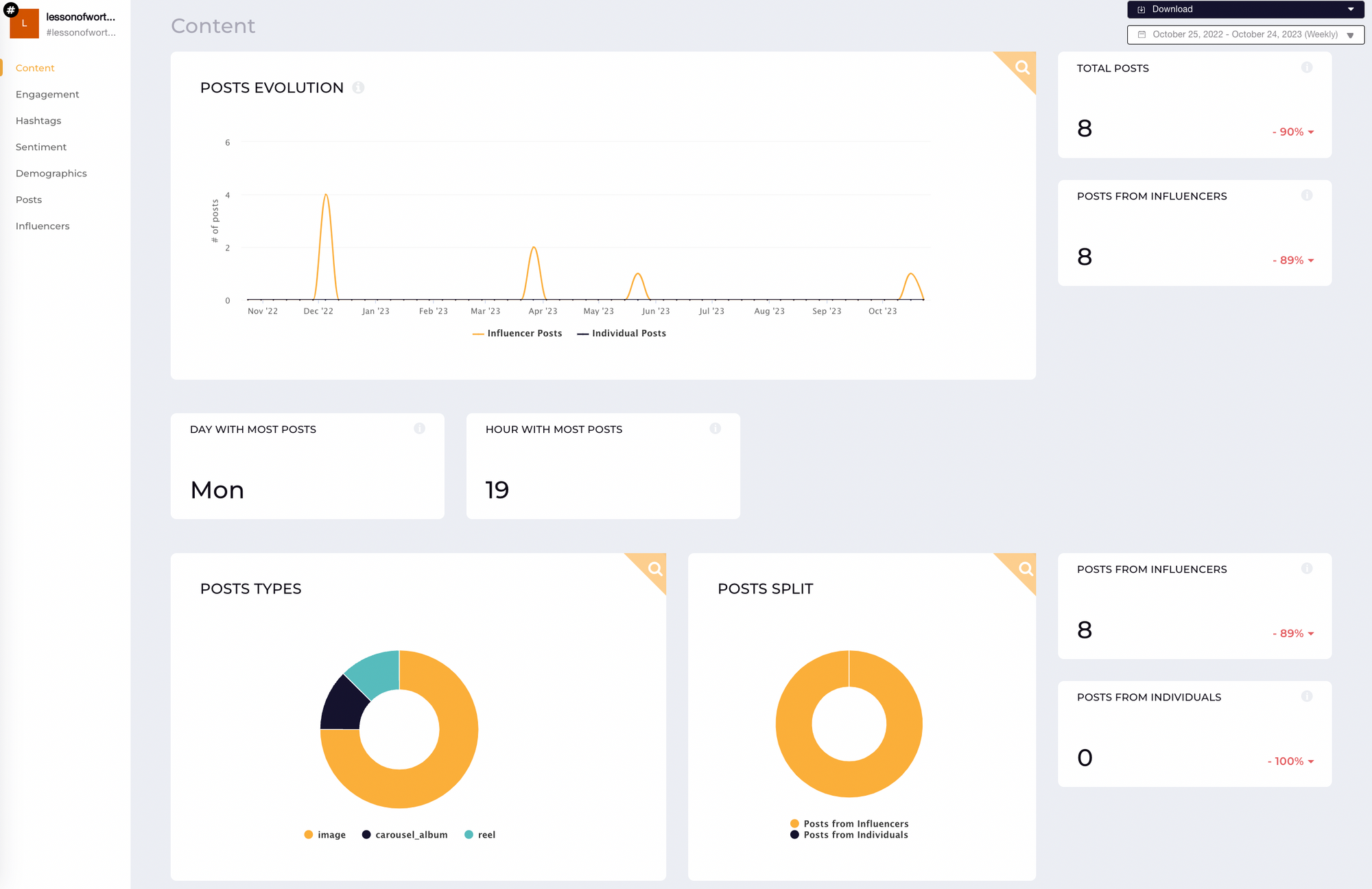 Is L'Oreal leading an anti-makeup campaign here? The answer is no. It's all about smart advertising. It's about telling stories that don't even look like ads. This disguise made their campaign successful.
On TikTok and Instagram, L'Oreal has 24 posts that feature this hashtag.
Sephora - #SephoraSquad
Sephora's hashtag campaign called #SephoraSquad is one of the most used hashtags of theirs, with 85.000 posts.
Even if this beauty brand started this powerful hashtag campaign, the user-generated content that followed was incredible.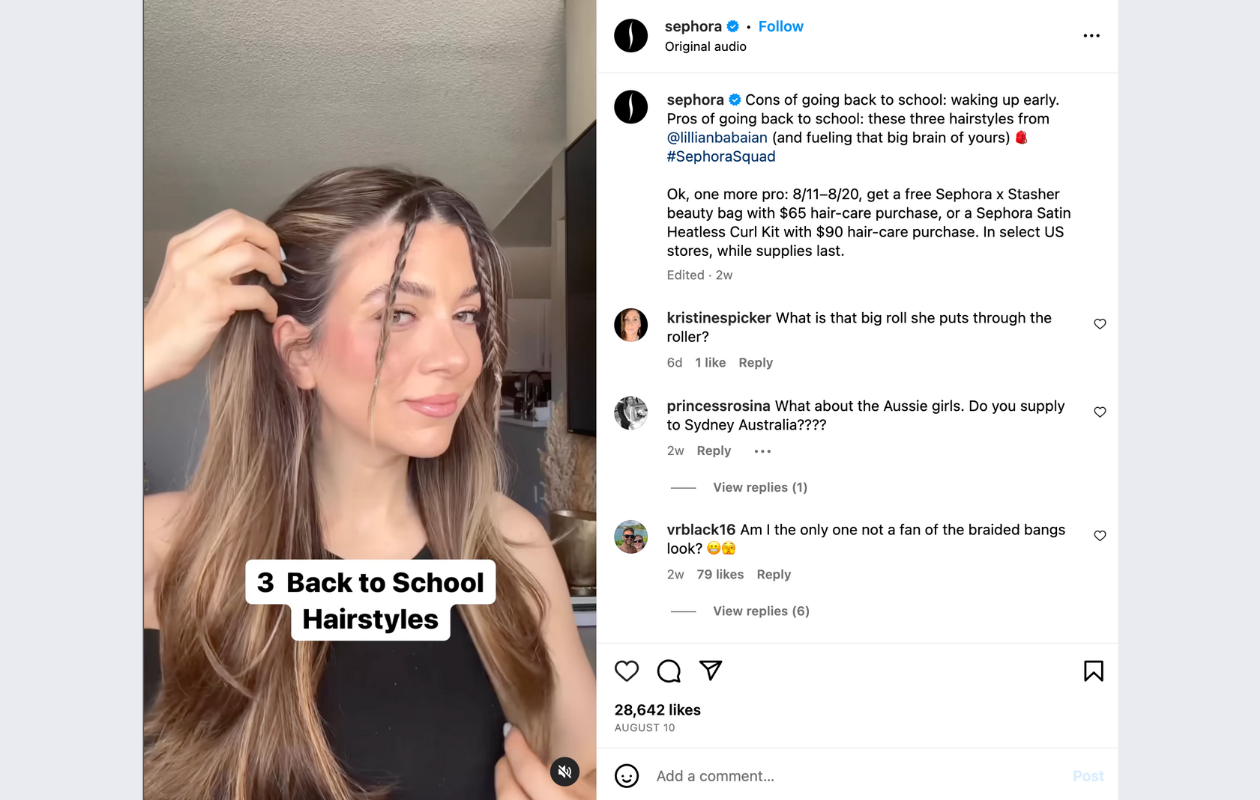 Sephora works with a lot of influencers, both micro and macro-influencers and creators all around the world.
However, building such a strong community around their brand had a positive effect on their hashtag campaign that kept on flourishing.
They started getting a lot of user-generated content from followers who bought their products. The impact of influencers was huge and it proved to work its magic.
The Reels and carousels published by influencers with the brand's latest products helped them build their brand awareness, grow their engagement, enlarge their community and power their visibility.
Sephora posted 3507 posts with this hashtag in the last six months on Instagram.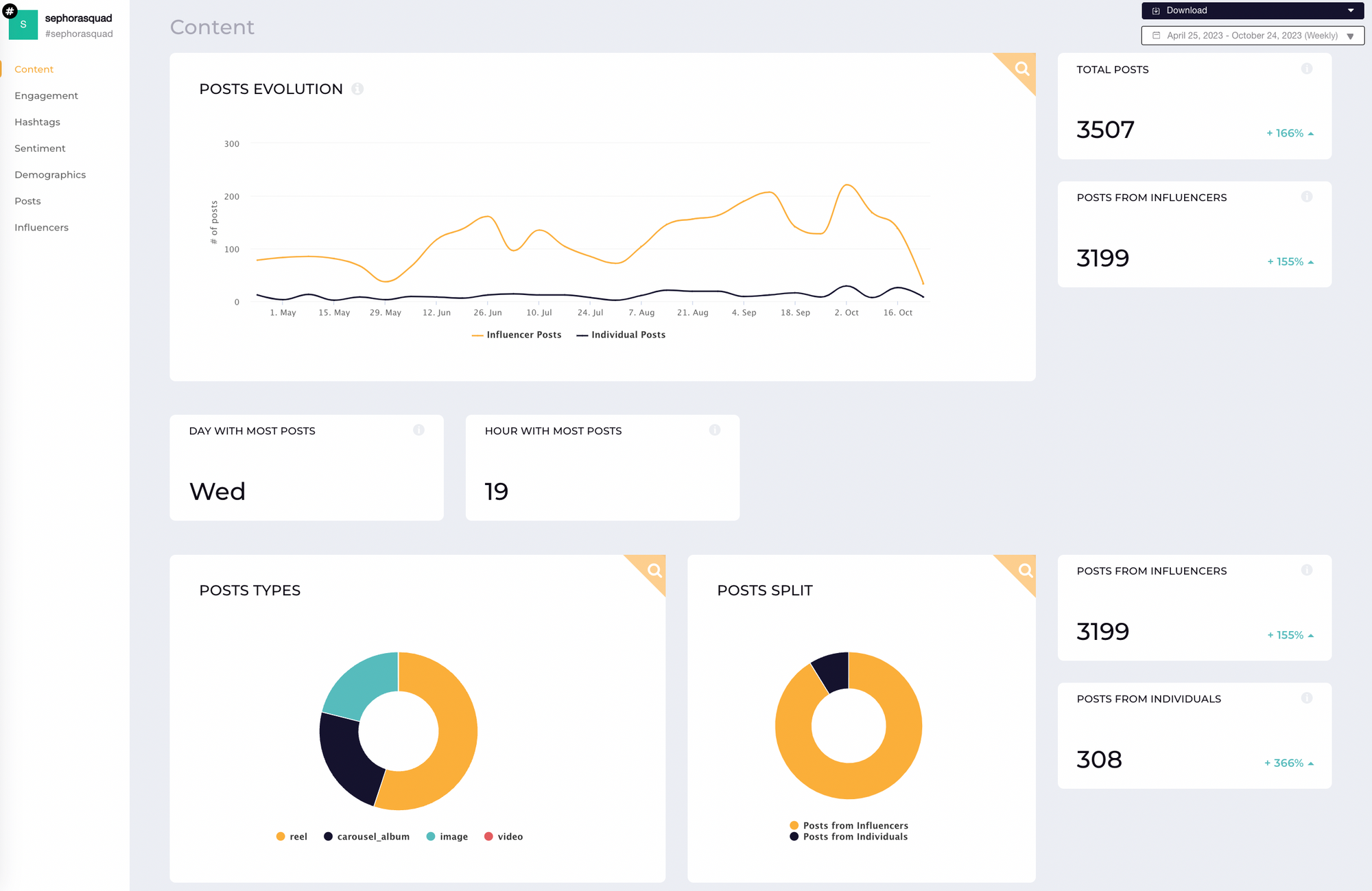 HausLabs - #CleanBeauty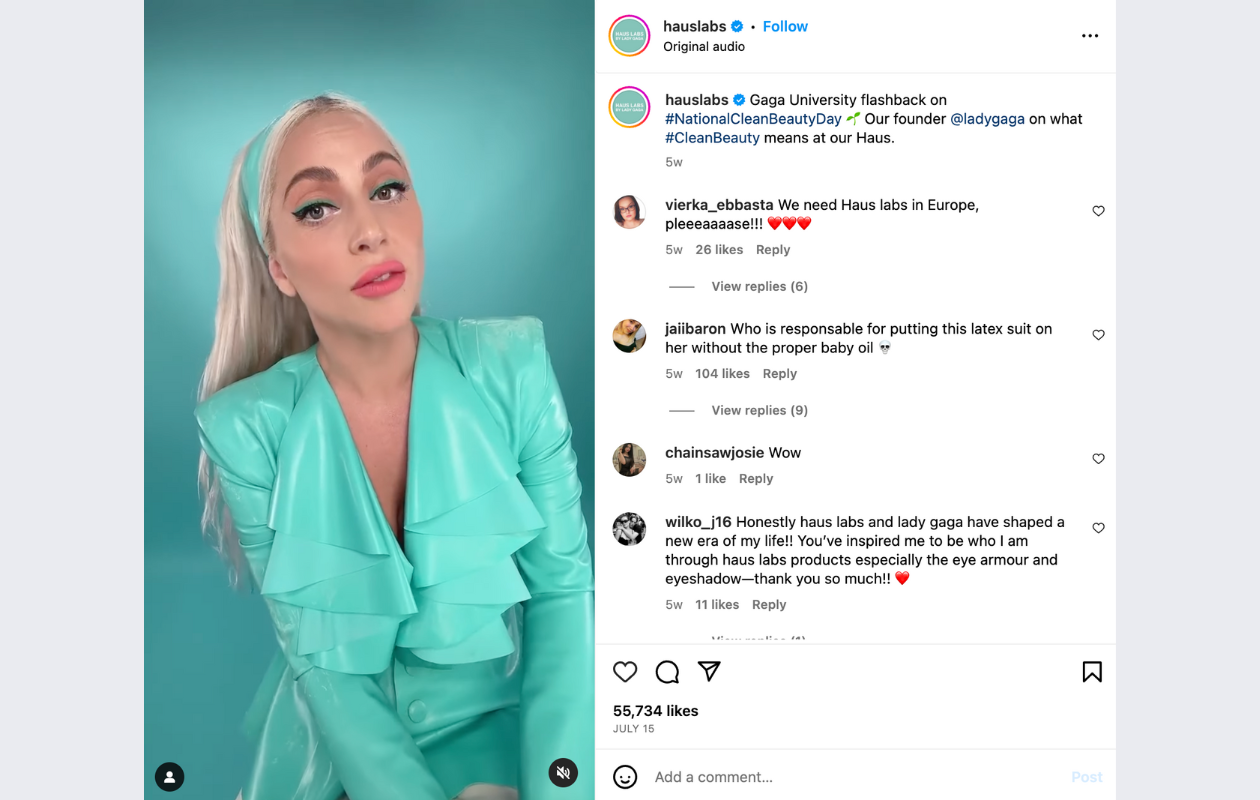 Lady Gaga is not only THE singer. She is an actress and a role model for a lot of women in the entire world.
To promote her beauty brand, she used her own image, building the brand's visibility on her own visibility. And everybody knows she is a huge star.
With the influence she has, she wanted to send a powerful message to followers through her beauty brand HausLabs.
By using the hashtag #CleanBeauty, Lady Gaga launched an awareness campaign about makeup products that are not tested on animals.
The brand trusts the process of their hashtag campaign and probably that's why they used an existing hashtag, without developing a brand hashtag campaign.
#CleanBeauty has over 6 million posts on Instagram. A lot of brands have already used this hashtag to empower their brand awareness and they made it.
There are over 114K posts posted by business accounts on Instagram tagged with this hashtag in the last 6 months.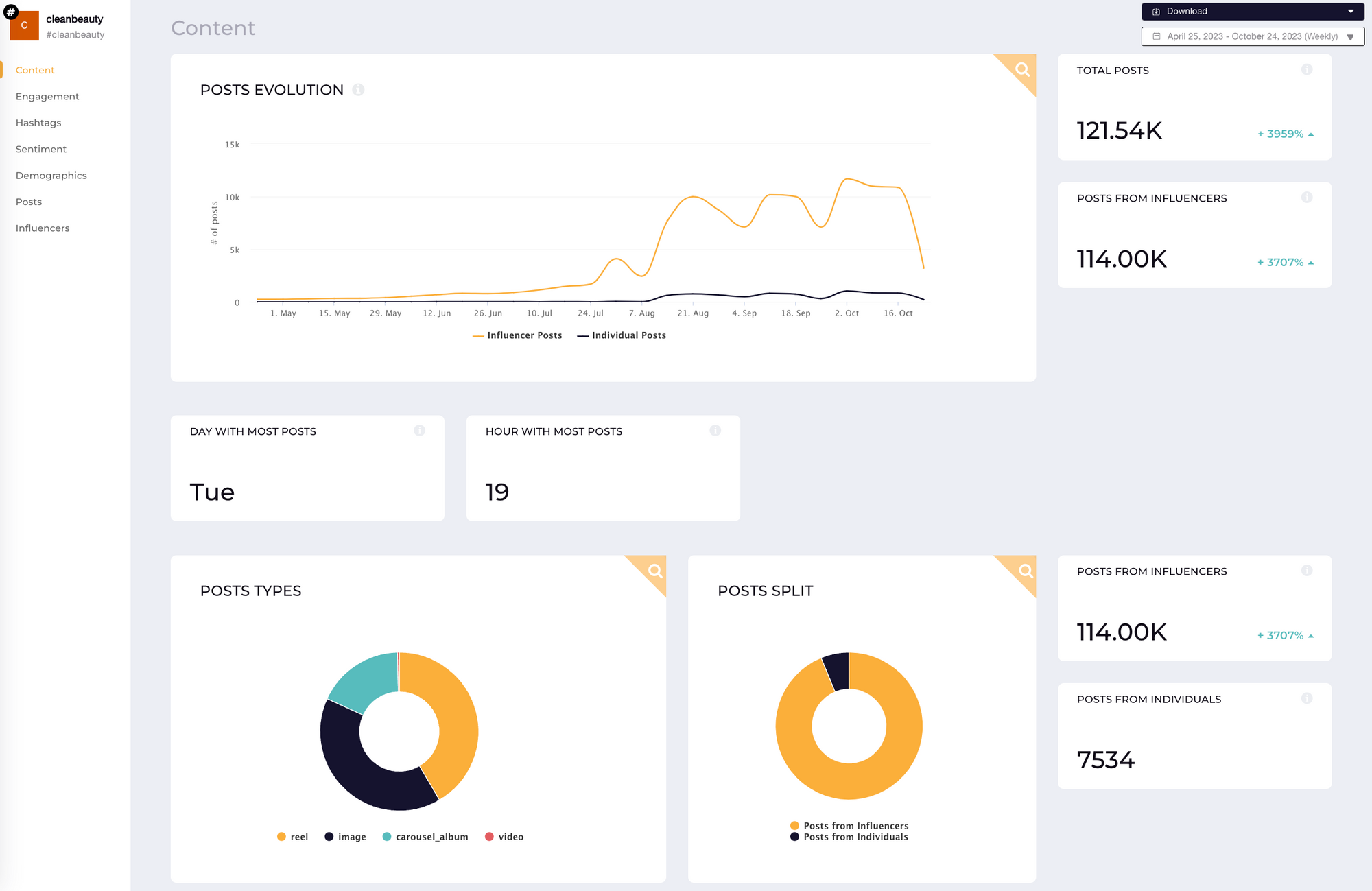 Duolingo - #LanguageLearning
Everyone knows Duolingo has a really strong marketing strategy, having a nice community behind it due to its presence on TikTok and Instagram.
They really know how to build fun and informative content, attracting more clients through the playfulness of their brand.
Duolingo does not only post fun content, but they share fun methods for learning new languages.
Their hashtag campaign #LanguageLearning has skyrocketed, being extremely popular on both TikTok and Instagram.
In the last 6 months, the brand posted 5121 posts with this hashtag.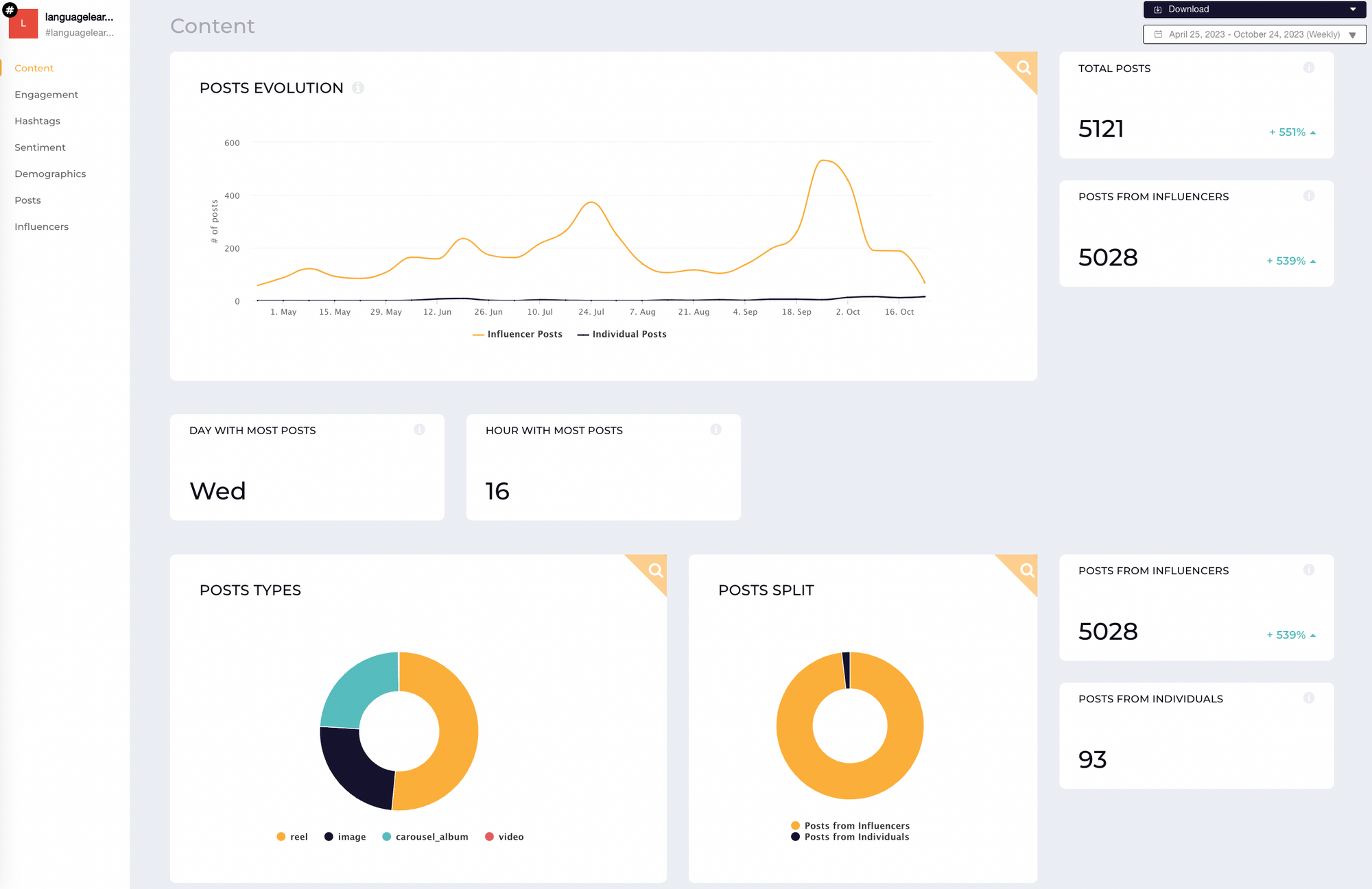 McDonald's - #Grimace
I hope a lot of us remember who Grimace is. If not, well, this purple puppet that looks like a chicken nugget or a potato, it's one of the characters used to be popular in the '90s.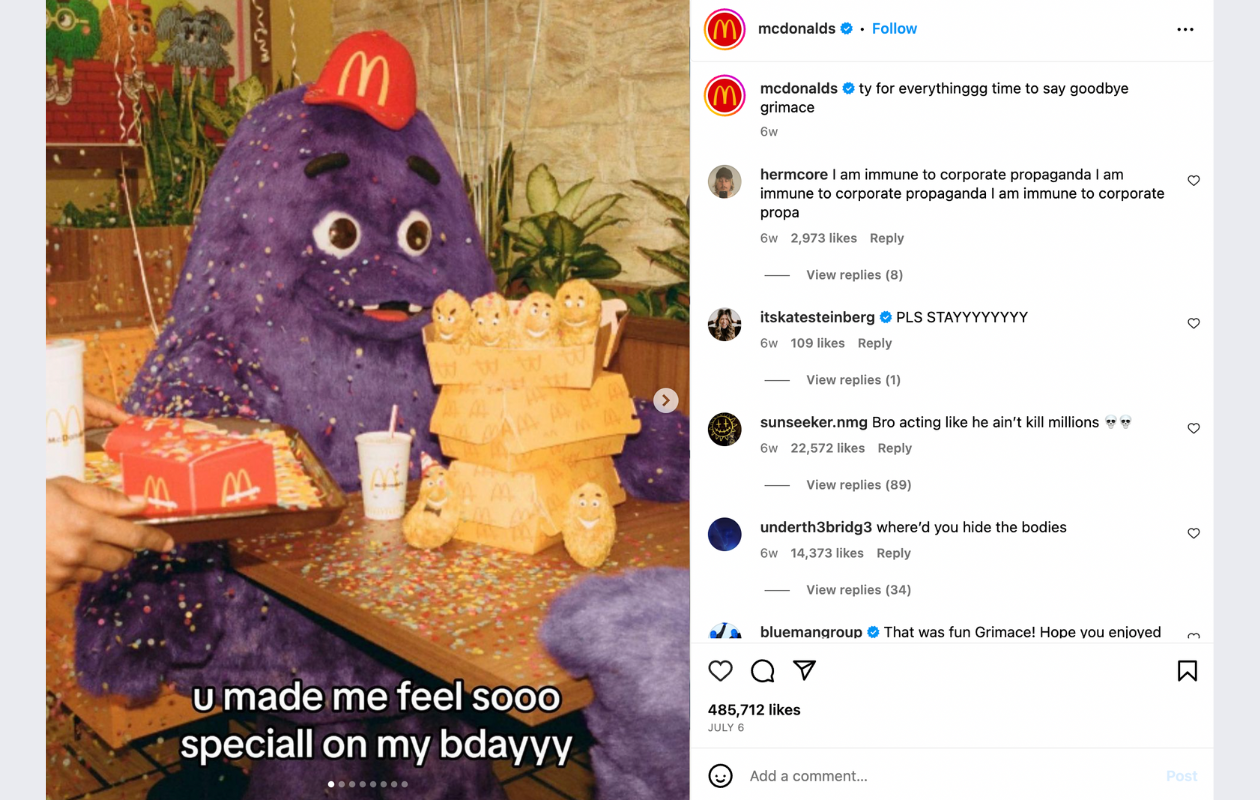 This puppet is the embodiment of a milkshake and McDonald's has recently celebrated Grimace's birthday, building a lot of suspense and hype around it.
The hundreds of social media posts about Grimace from this brand hashtag campaign have taken over the internet in the past few weeks.
McDonald's has published a lot of posts about Grimace, but they didn't always use the hashtag.
There are 1984 tagged posts with #Grimace in the last 6 months on Instagram.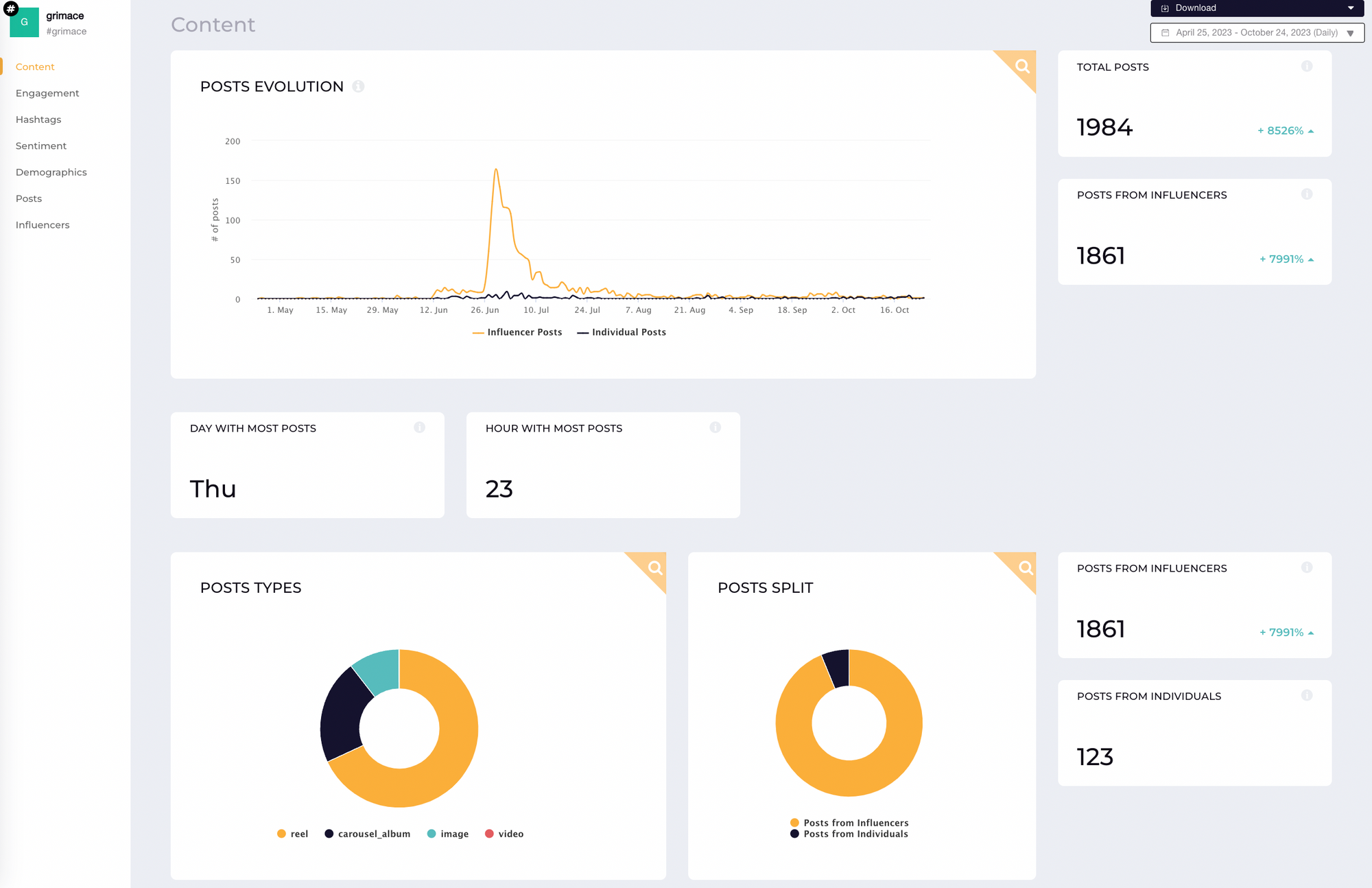 Maison Margiela Fragrances - #SmellsLikeMemories
Maison Margiela is a very well-known retailer that also features a branch for beauty and fragrances. Maison Margiela Fragrances became an absolute sensation when they launched REPLICA, their line of perfumes based on particular memories that can be awakened.
They use the hashtag campaign #SmellsLikeMemories and they've started collaborating with a bunch of artists and influencers.
The brand encouraged artists to cook recipes inspired by their perfumes, paint or sculpt or even create flower installations inspired by their fragrances.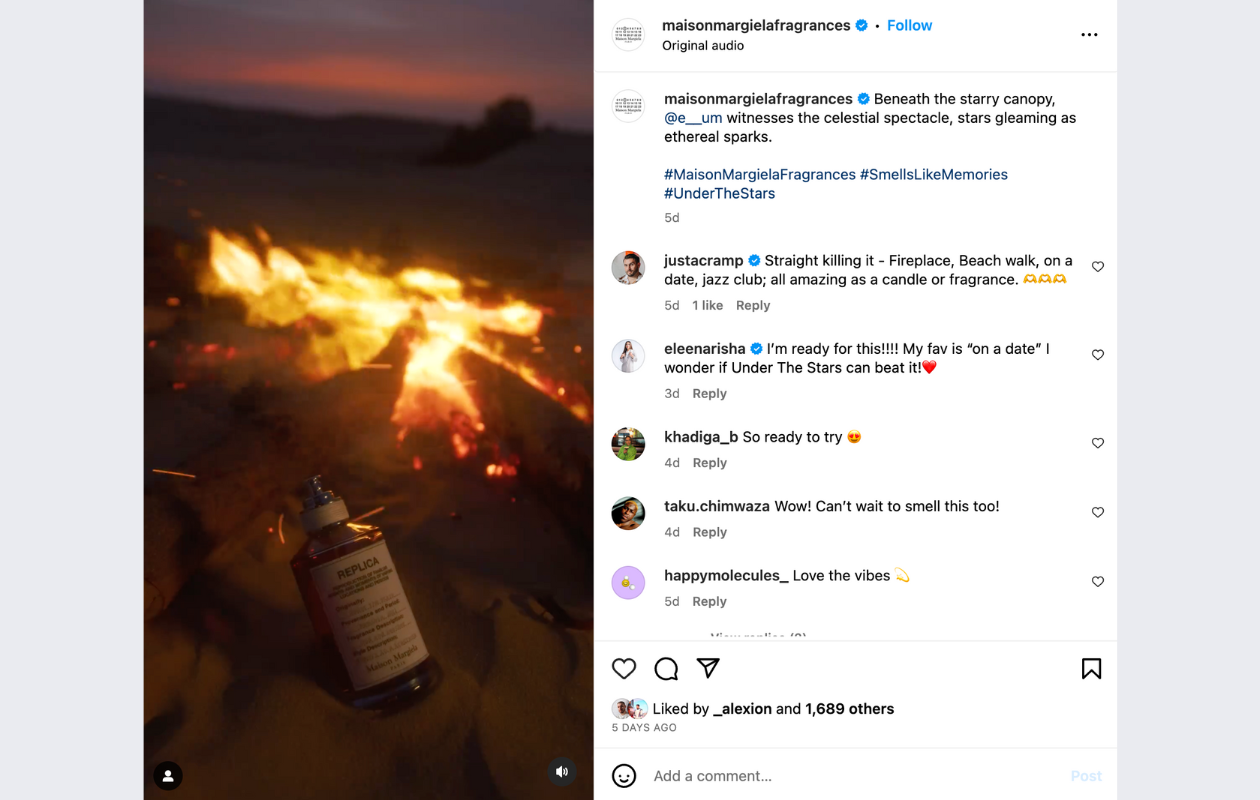 Maison Margiela Fragrances also engages with their followers, replying to their comments and even helping those who want to find a suitable perfume for their preferences.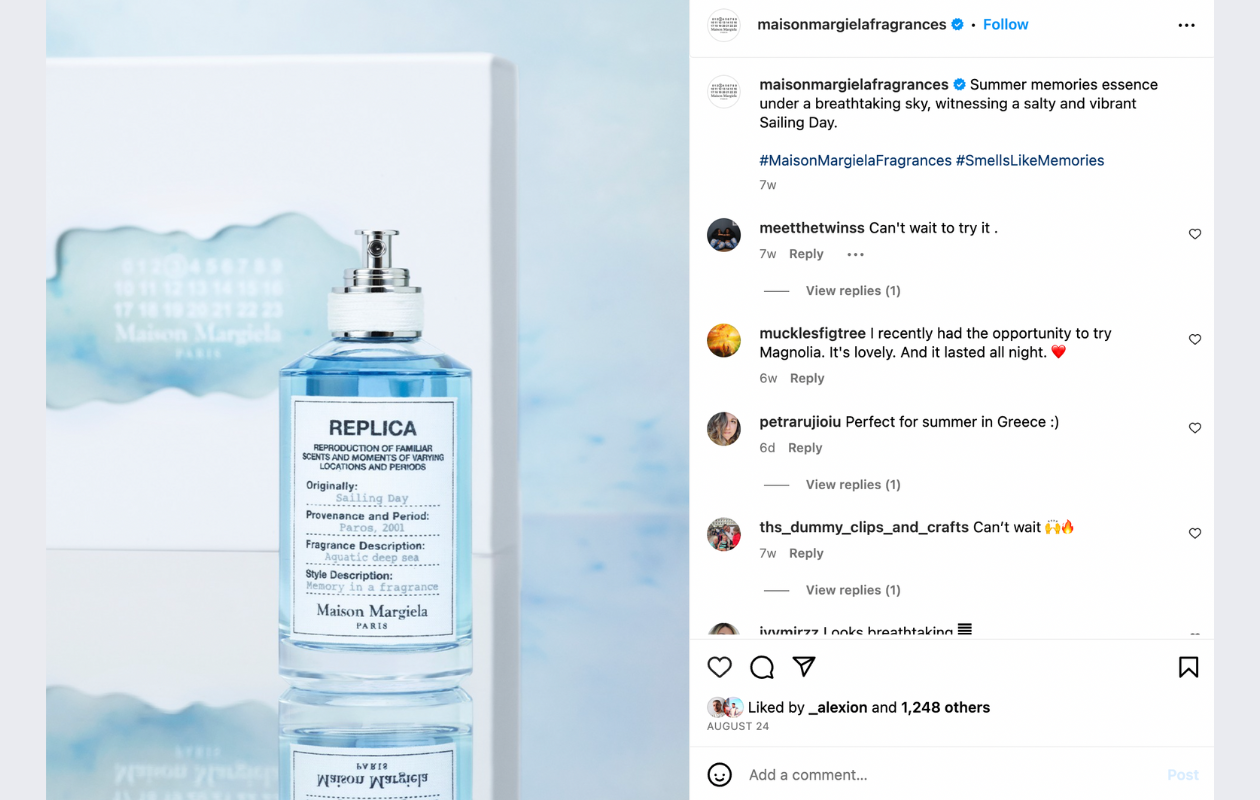 They also collaborate with a bunch of talented influencers who deliver top-notch Reels and talk in poems when they speak about these fragrances.
Their hashtag has been used in over 26.000 posts on Instagram.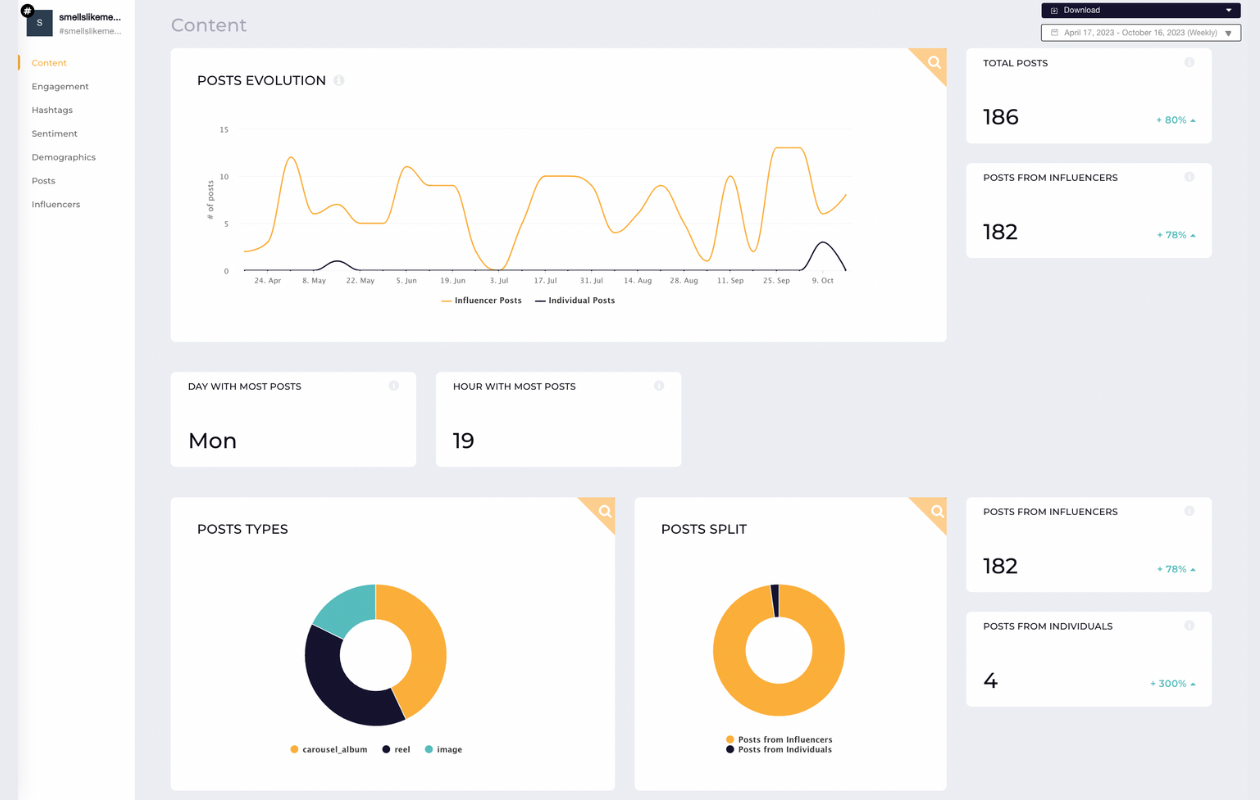 Here, in this brief analysis of the hashtag with Socialinsider's AI Instagram listening tool, you can see that in the last 6 months it has been used in 186 posts.
Most of these posts are from influencers and they have mostly created carousels and Reels.
This brand has even started a hashtag campaign for their refill bottles, using #NeverEndingMemories.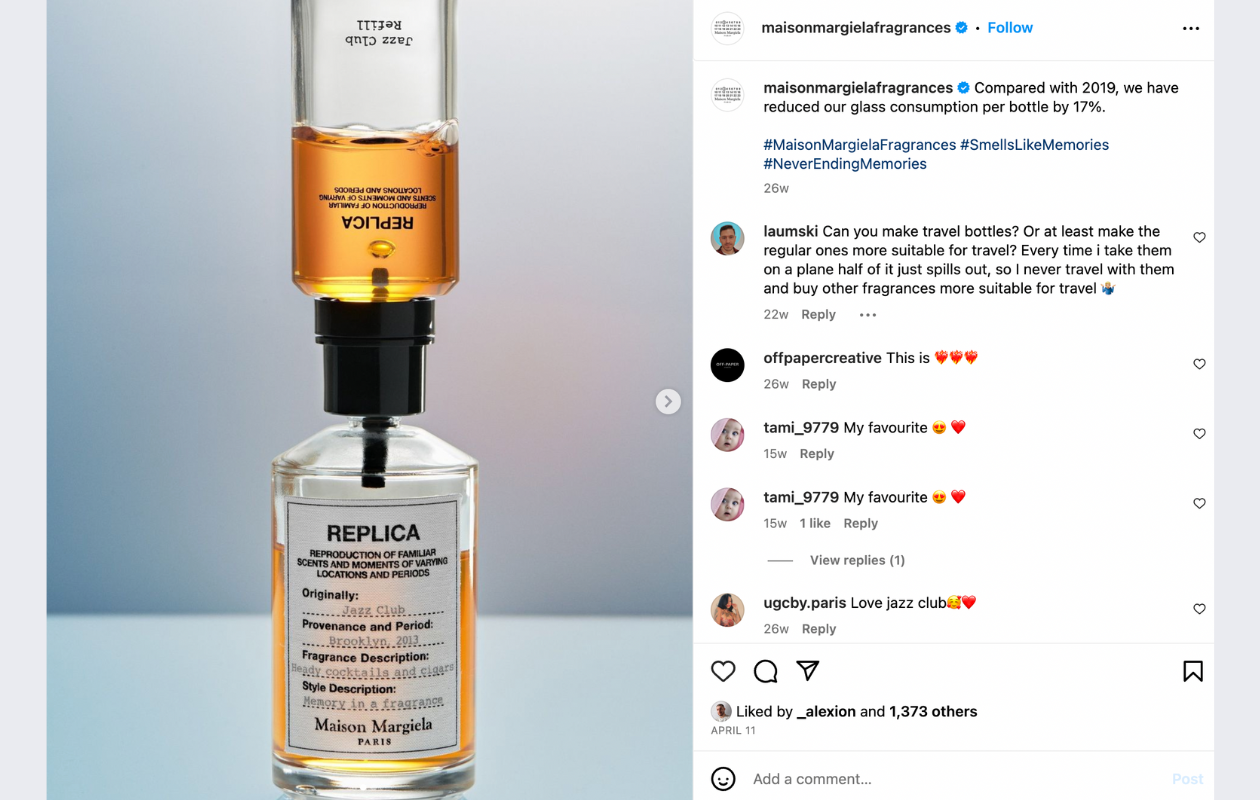 Skittles - #TasteTheRainbow
Skittles is one of THE most popular brand when it comes to sour candy. Along the years, Skittles has launched a bunch of flavours for their sour candies, always keeping customers interested in their products.
Their well-known hashtag campaign that runs for years is #TasteTheRainbow. We all know their TV commercials, where their candies are in the colours of the rainbow.
The hashtag has been used in 678.000 posts on Instagram.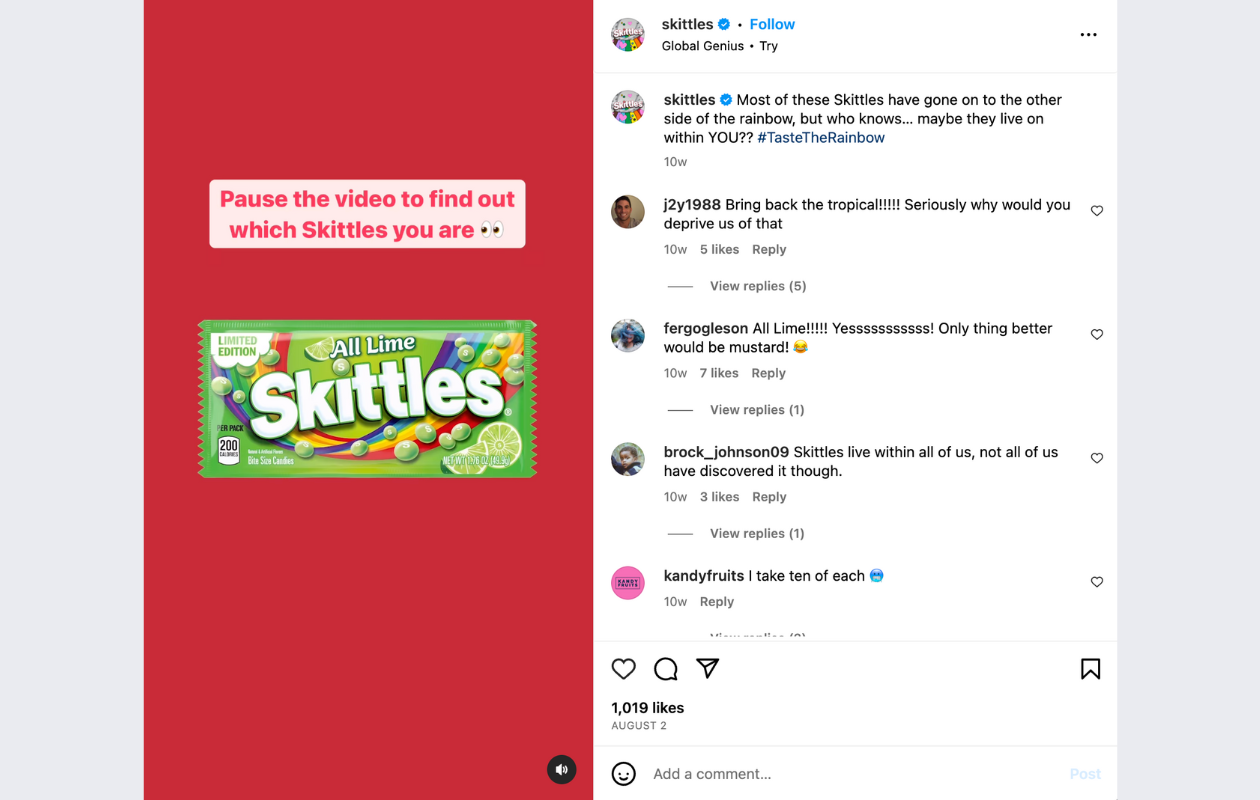 I used Socialinsider's AI Instagram listening tool to search for their hashtag campaign and I discovered that in the last 6 months, this hashtag was used in 527 posts, and 499 of them are from influencers.
The hashtag was primarily used when posting Reels.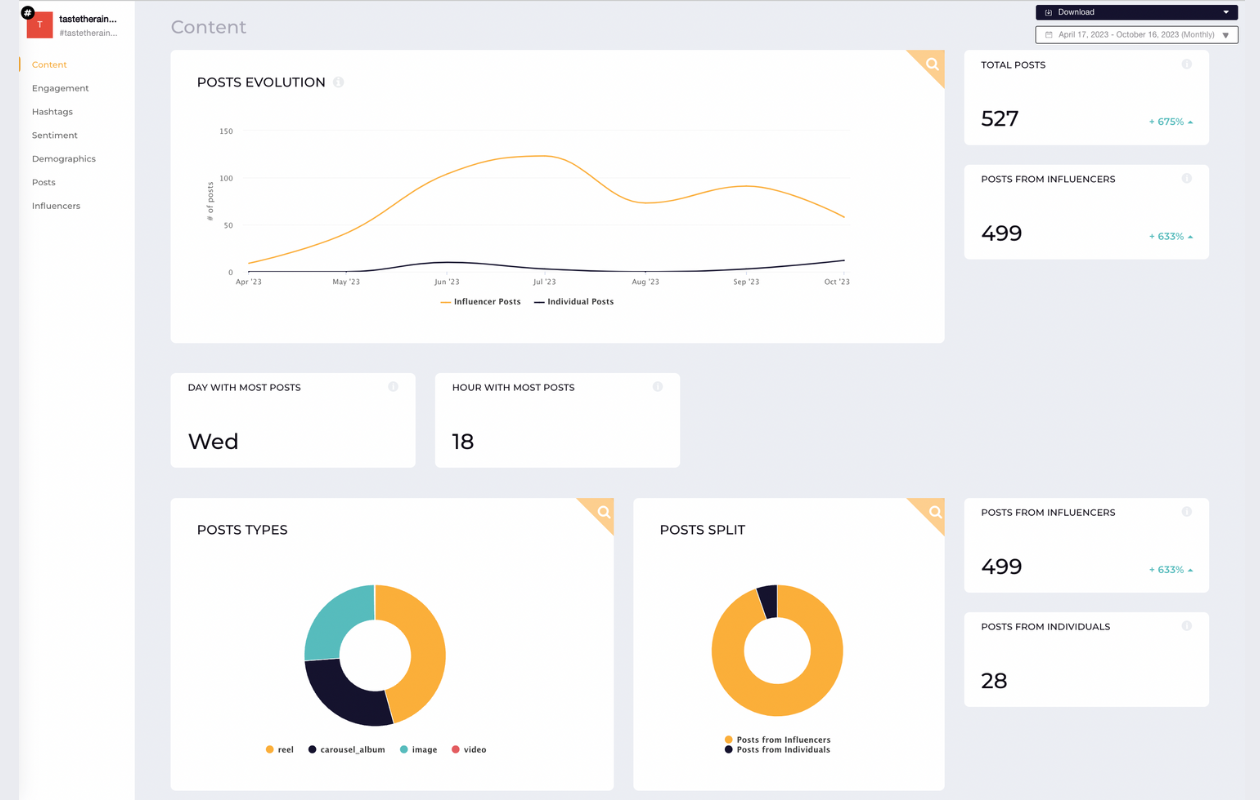 Skittles has used a lot of user-generated content in their campaign and also many posts from the influencers they collaborate with. Some of them have shown in Reels how they integrate Skittles in some weird recipes.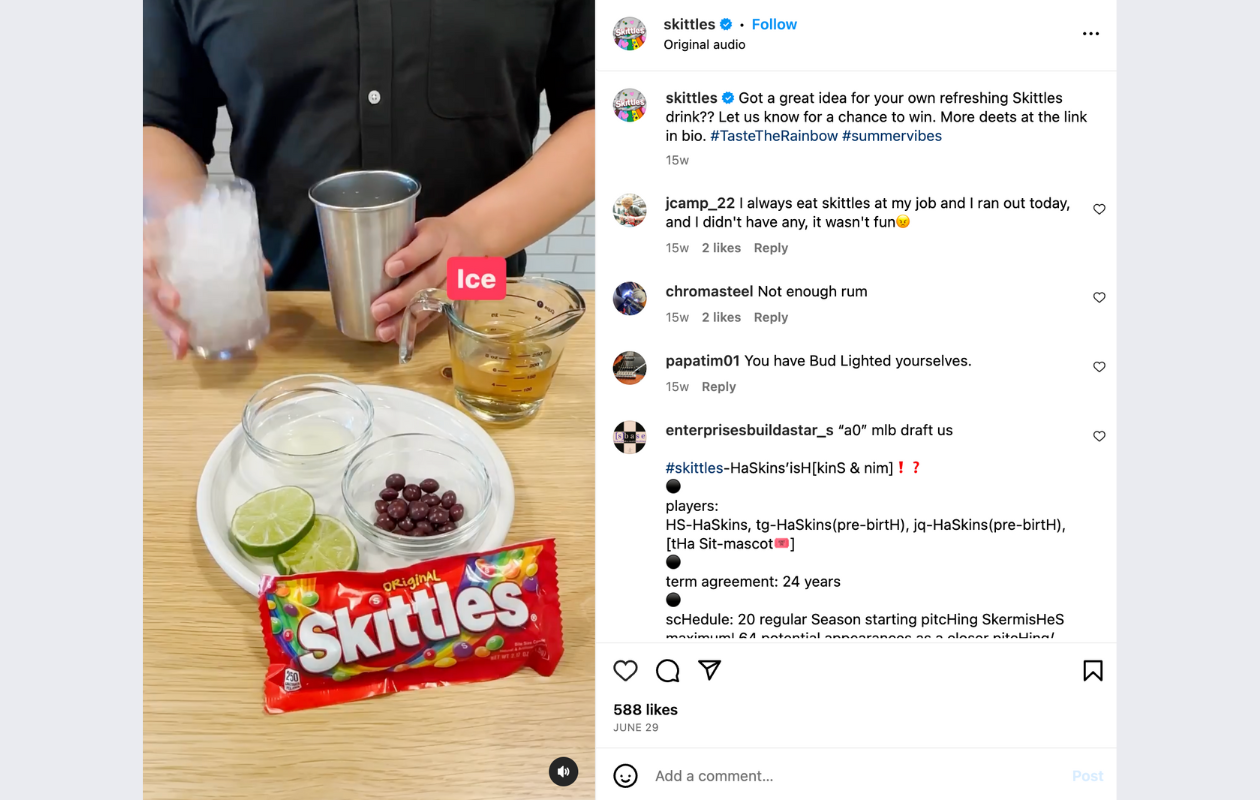 Fenty Beauty - #FentyFam
Fenty Beauty is a beauty brand that is growing in popularity just like Rihanna's family keeps on growing. The brand has extended so much that it also features Fenty Skin, where they focus on developing skincare products.
The #FentyFam hashtag campaign focuses on posts from the women working at Fenty. They record Reels and take pictures of them using Fenty products, while also telling their stories.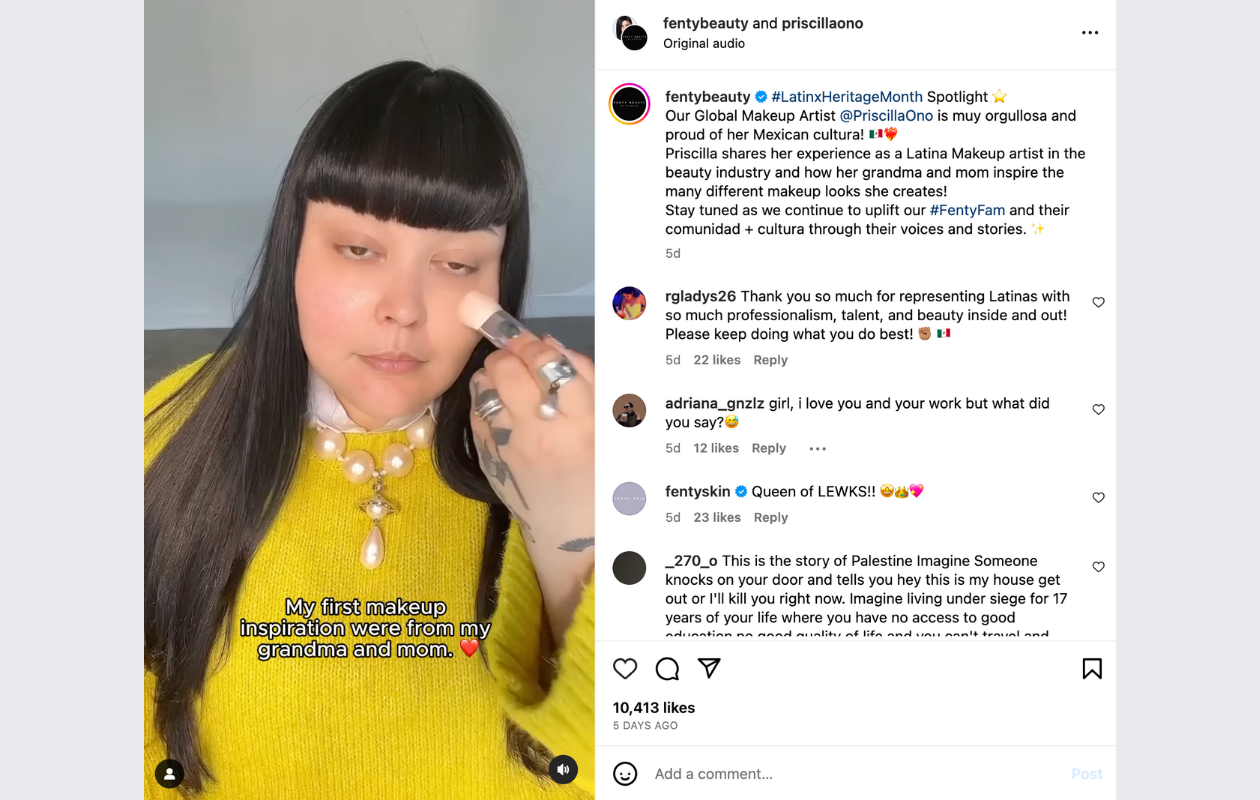 And that's how you get to your customers' hearts: through stories and top-notch products.
This campaign is encouraging Fenty employees and clients to tag the beauty brand when testing their makeup products.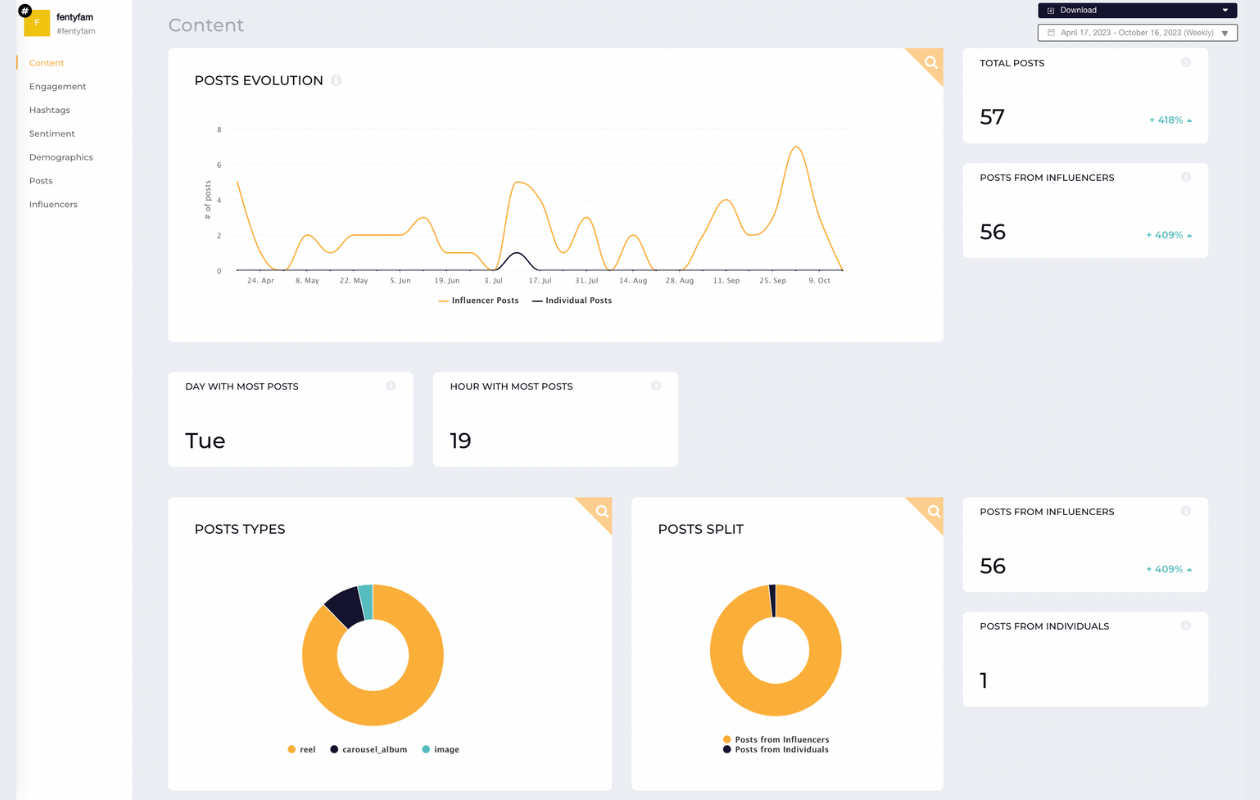 I looked up the hashtag #FentyFam with Socialinsider's AI Instagram listening tool and here are the main results.
In the last 6 months, this hashtag has been used in 57 posts, while 56 of them were published by influencers.
The hashtag from Fenty Beauty was mostly used in Reels on Instagram.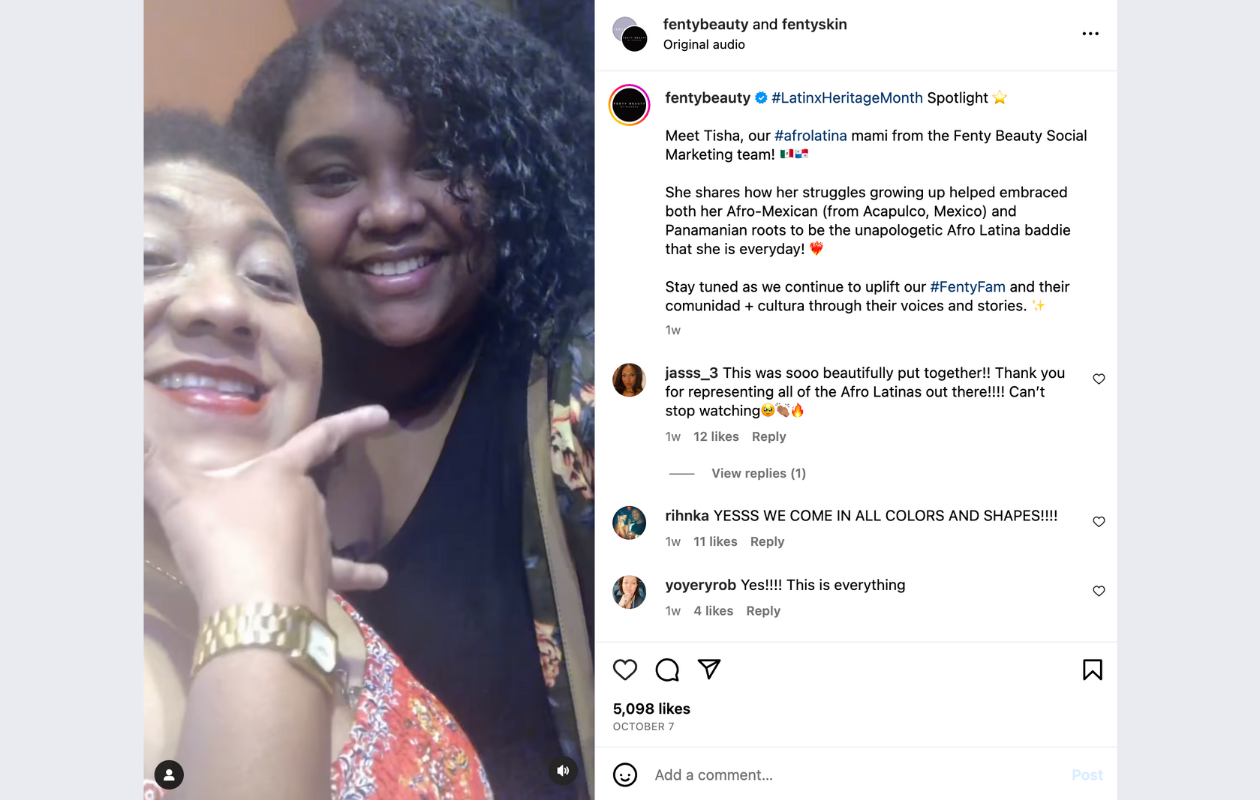 Some of the posts on Fenty Beauty's Instagram show that the beauty brand even planned a Fenty Fam sale for all their employees. Isn't that amazing?
Tarte Cosmetics - #tartecosmetics
Tarte Cosmetics is another beauty brand that took over the makeup-enthusiasts' world. They use a branded hashtag, just like Fenty Beauty.
Their hashtag campaign with #tartecosmetics has been used in over 3 million posts.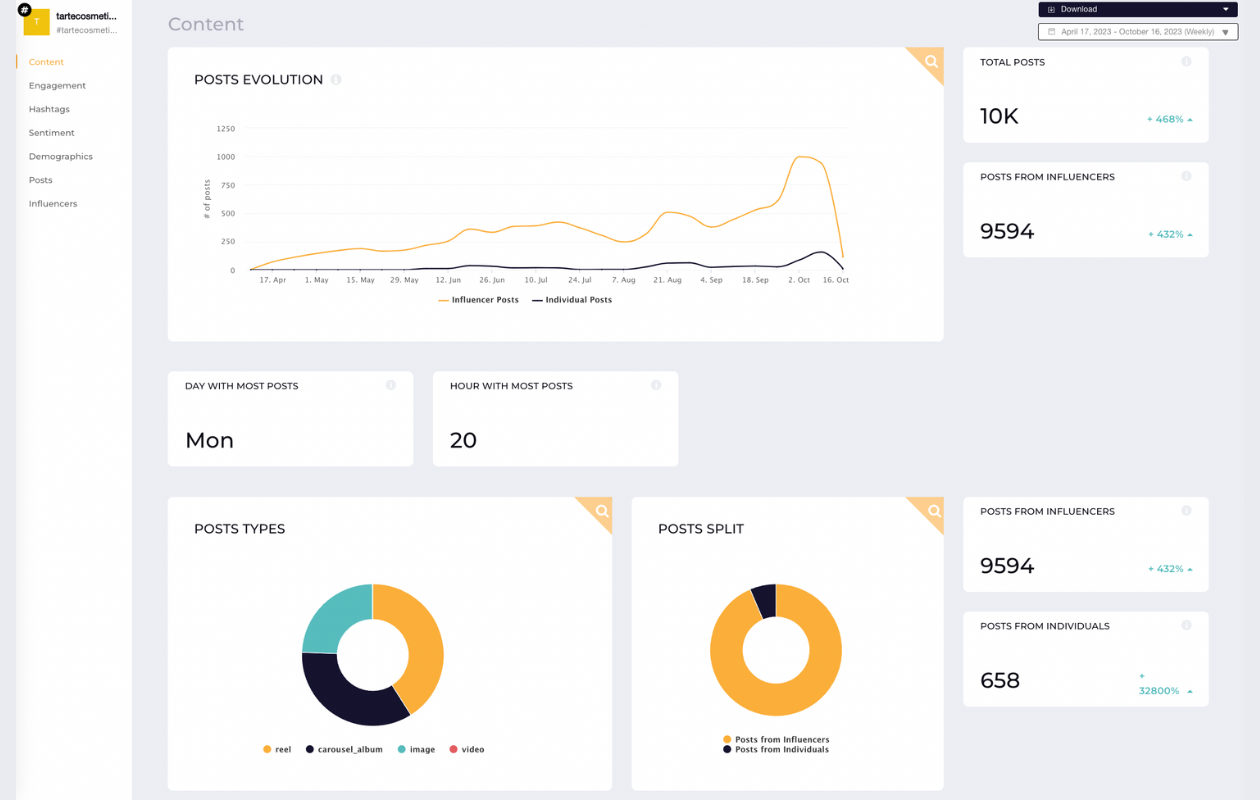 Using Socialinsider's AI Instagram listening tool, I looked into Tarte Cosmetics' hashtag campaign example.
In the last 6 months, this hashtag has been used in over 10K posts, and about 9500 of them were posted by influencers.
They mostly used the branded hashtag from Tarte in Reels and carousels.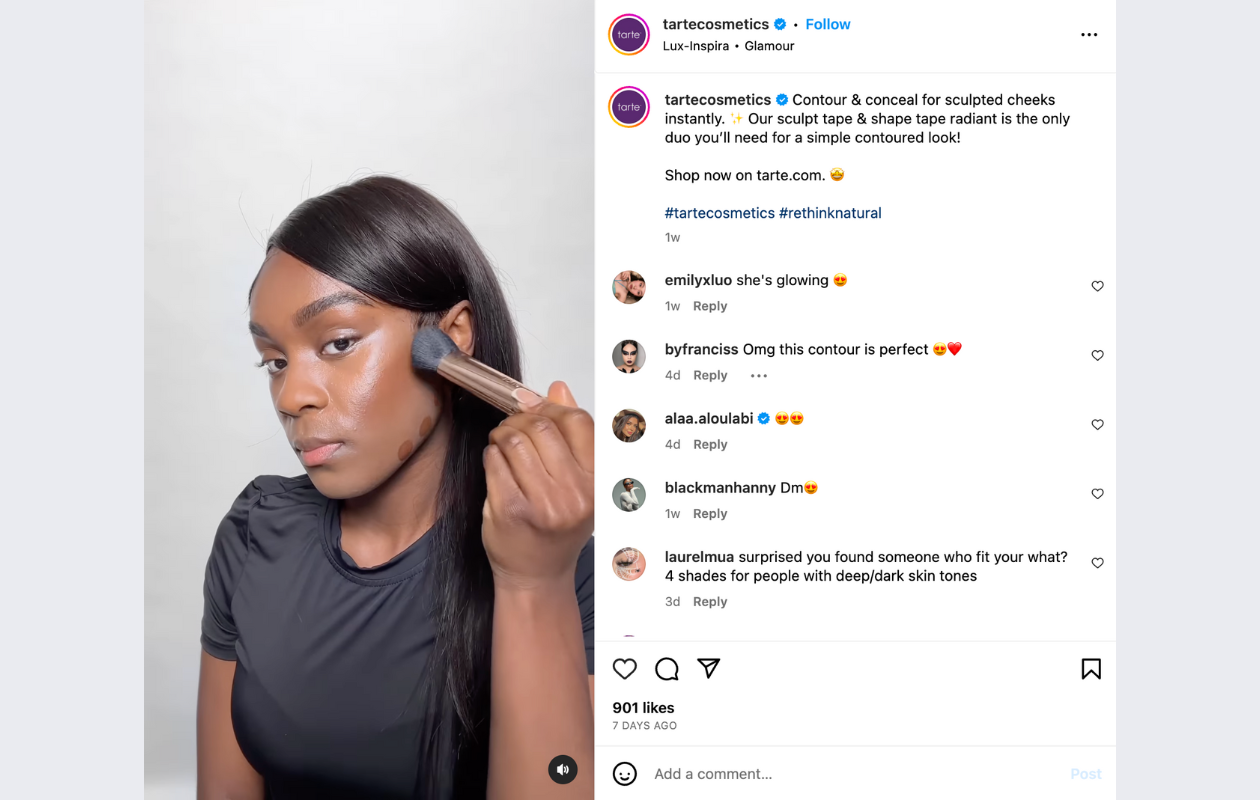 The beauty brand uses a lot of content from the influencers, posting Reels with them when testing the newest beauty products. And this type of content is really satisfying for followers.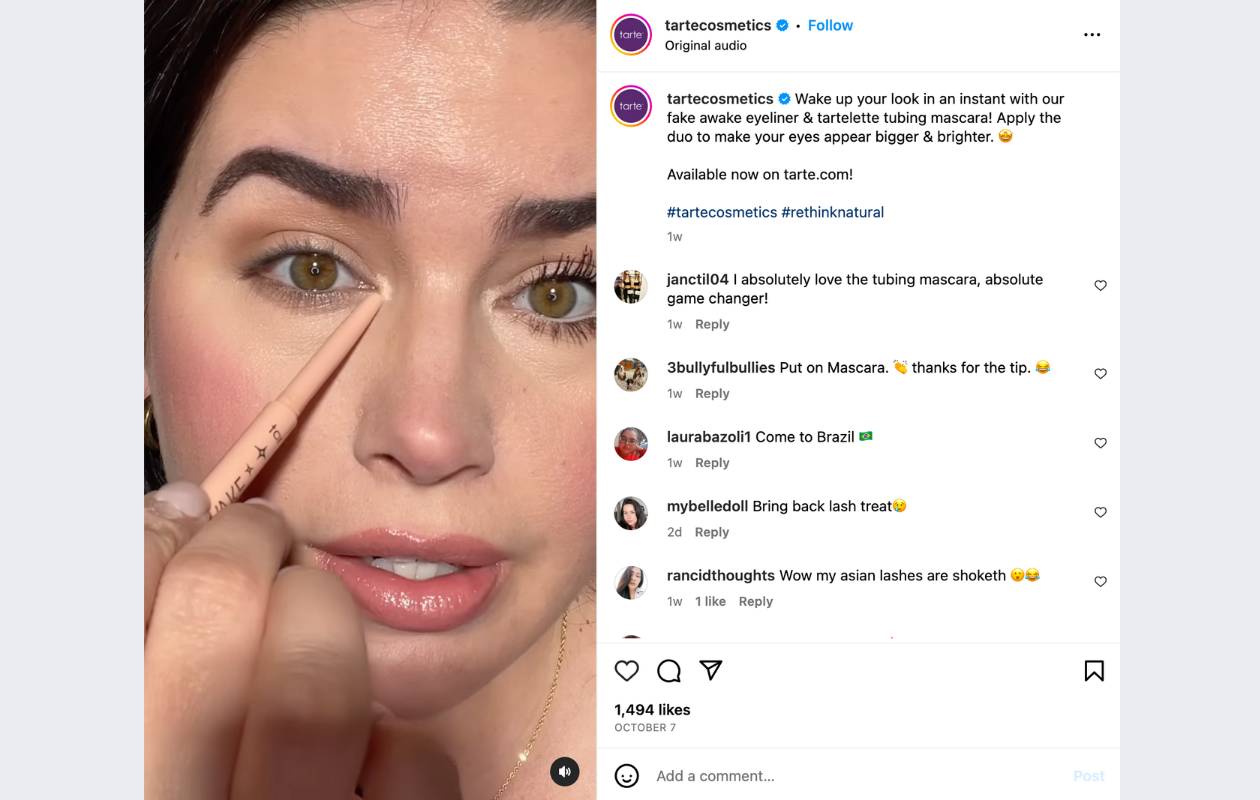 Tarte Cosmetics does its social listening and social audit right since they interact with all the followers who need their guidance when purchasing their products.
Their quick replies to comments about new lipstick shades and blushes really boost their audience loyalty.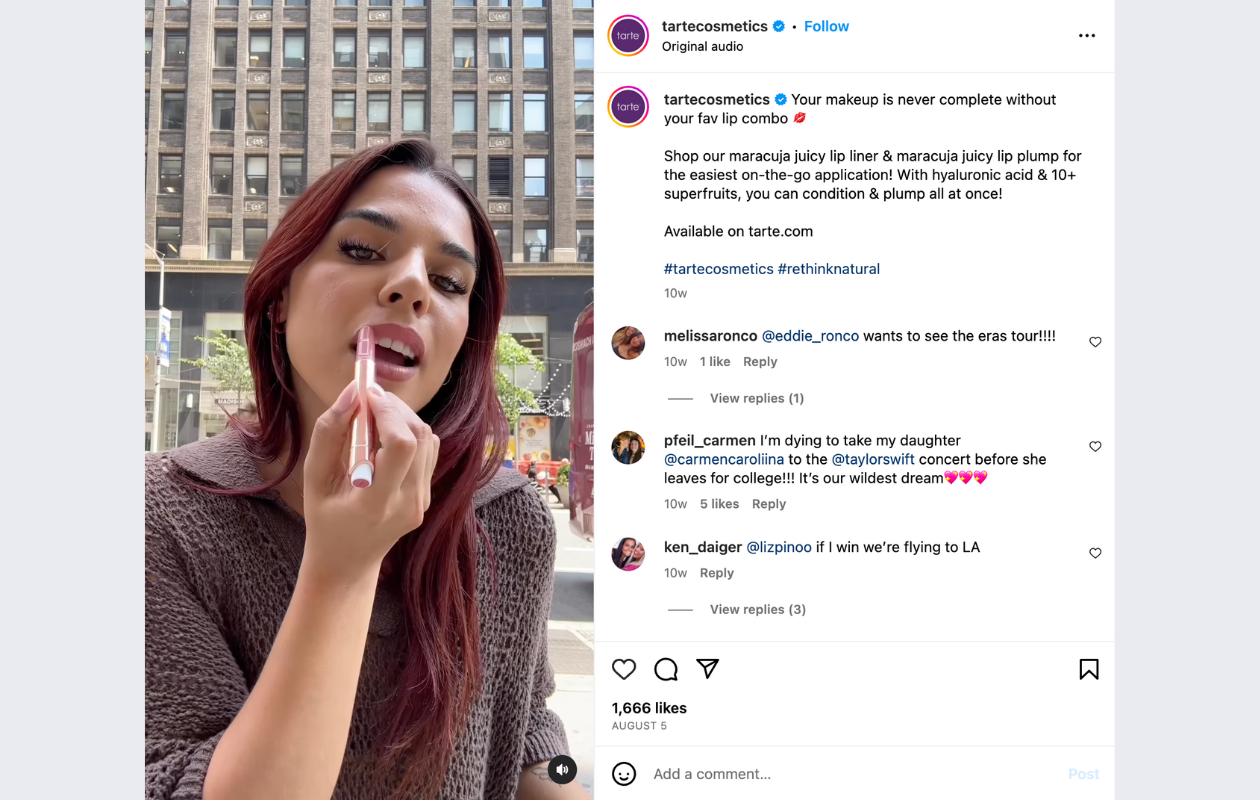 9. How to improve your social media hashtag campaigns with Socialinsider
Since we talked about learning how to improve your hashtag performance after assessing your KPIs, you can trust Socialinsider's features to make it all work smoothly.
This tool offers you a lot of data, but also actionable insights to improve and adjust your social media campaigns as you go.
Socialinsider is a social media analytics tool you can trust, while also helping you with campaign reporting, benchmarking and many other new features.
You can easily perform hashtag tracking by using the auto-tag feature in Posts. Let me show you how to do it.
First, create a project where you can add your brand's social media platforms. I chose Starbucks and I added their Instagram, TikTok and Facebook.
After a close analysis, I found that Starbucks has the same campaign with their Pistachio Latte every year in winter.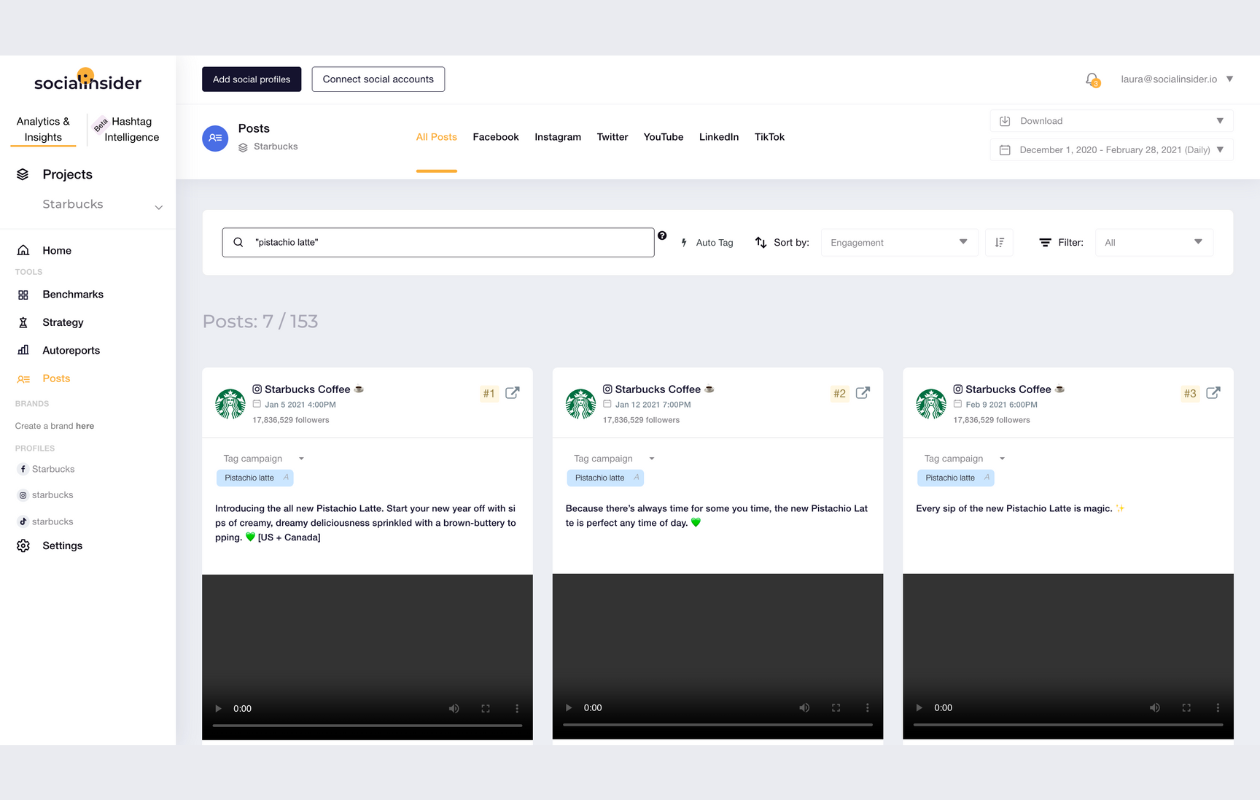 So I created a campaign using the "pistachio latte" hashtag for the timeframe December 2020 - February 2021.
Then I created two other campaigns with the same keyword for other two intervals, namely December 2021 - February 2022, and December 2022 - February 2023.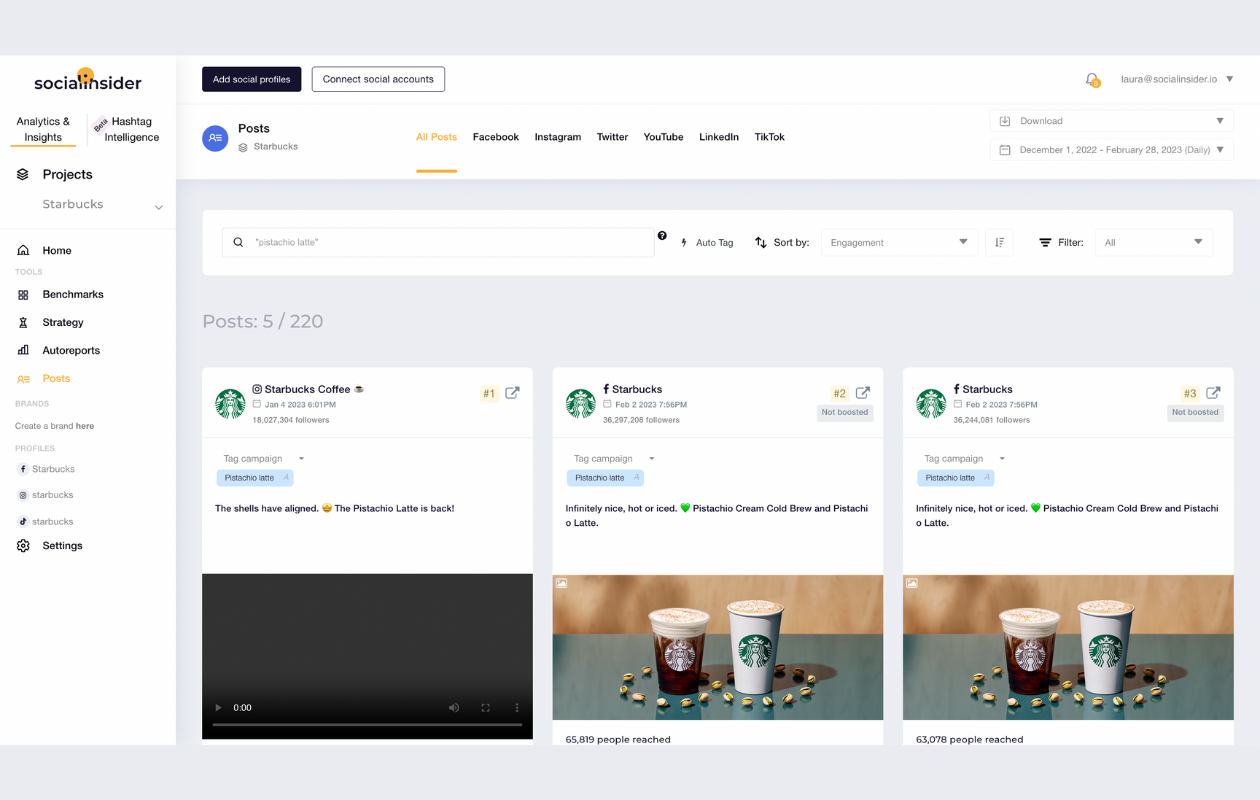 This way, I can track the evolution of this hashtag campaign during 3 different intervals for 3 years. Pretty cool, right?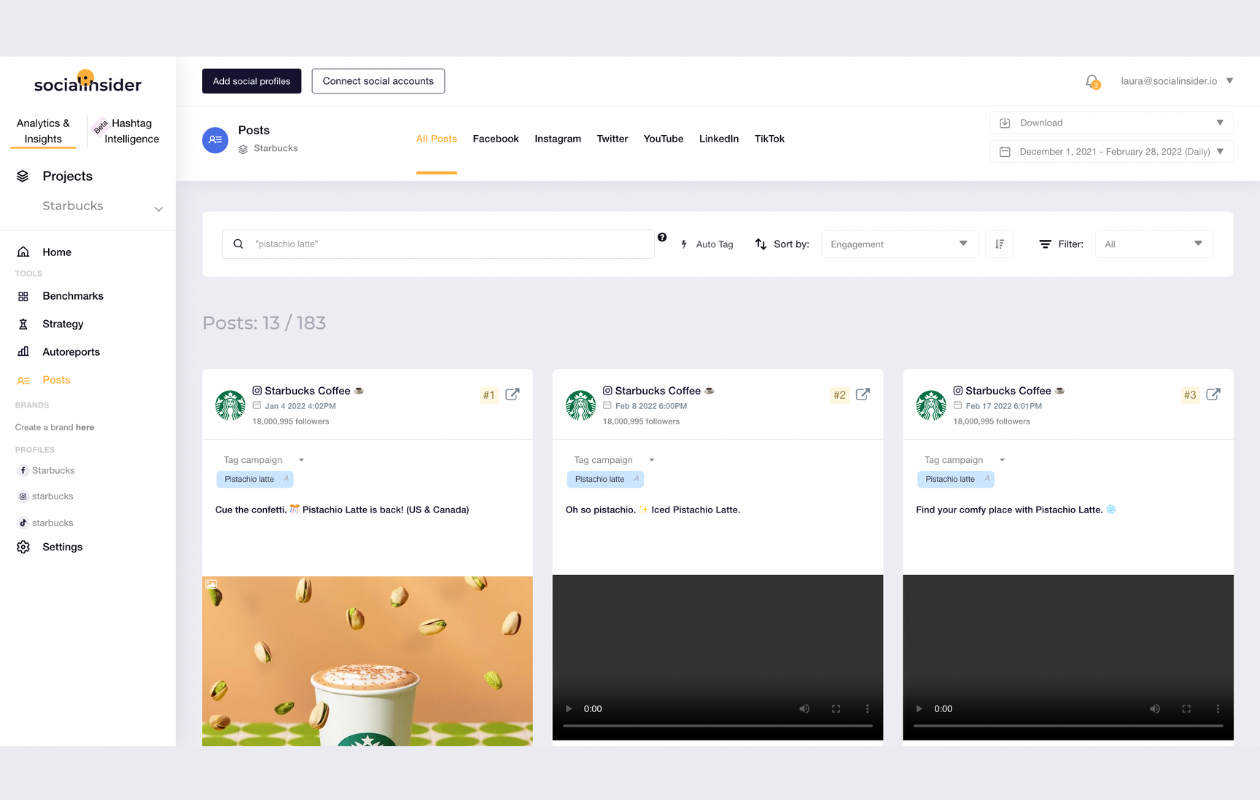 You have to search for every timeframe and auto-tag the campaign in order to perform this head-to-head comparison.
To auto-tag your campaign, you need to click "Auto Tag", right next to the search bar in Posts. After you get this window pops up, you just have to click "Create Auto Tag".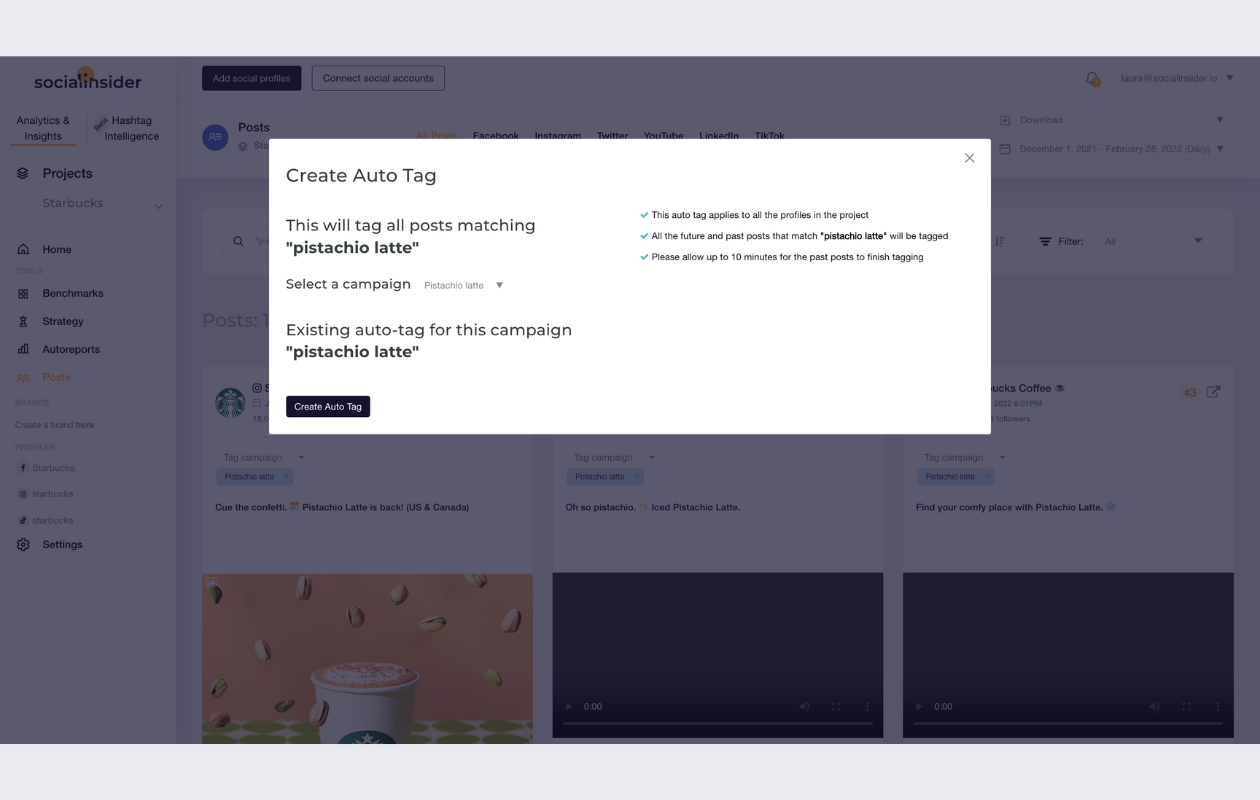 Now, it's time to compare the 3 different timeframes for the same hashtag campaign.
First, I will compare engagement. In the first interval (December 2021 - February 2021), there were 7 posts with this hashtag and the engagement rate was 3.7%. You can see that there were 4 posts for Facebook and 3 posts on Instagram.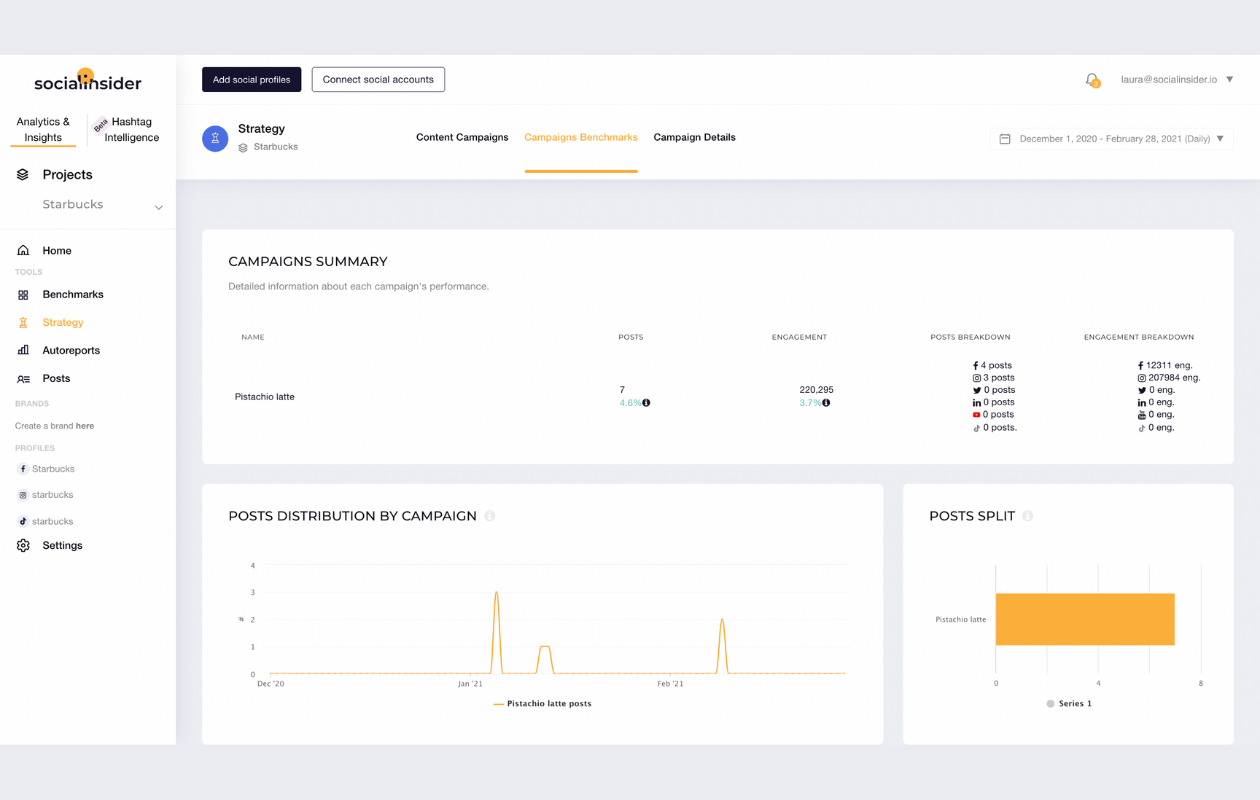 The next interval, December 2021 - February 2022, shows that the hashtag campaign "pistachio latte" had 13 posts, with an engagement rate of 5.8%.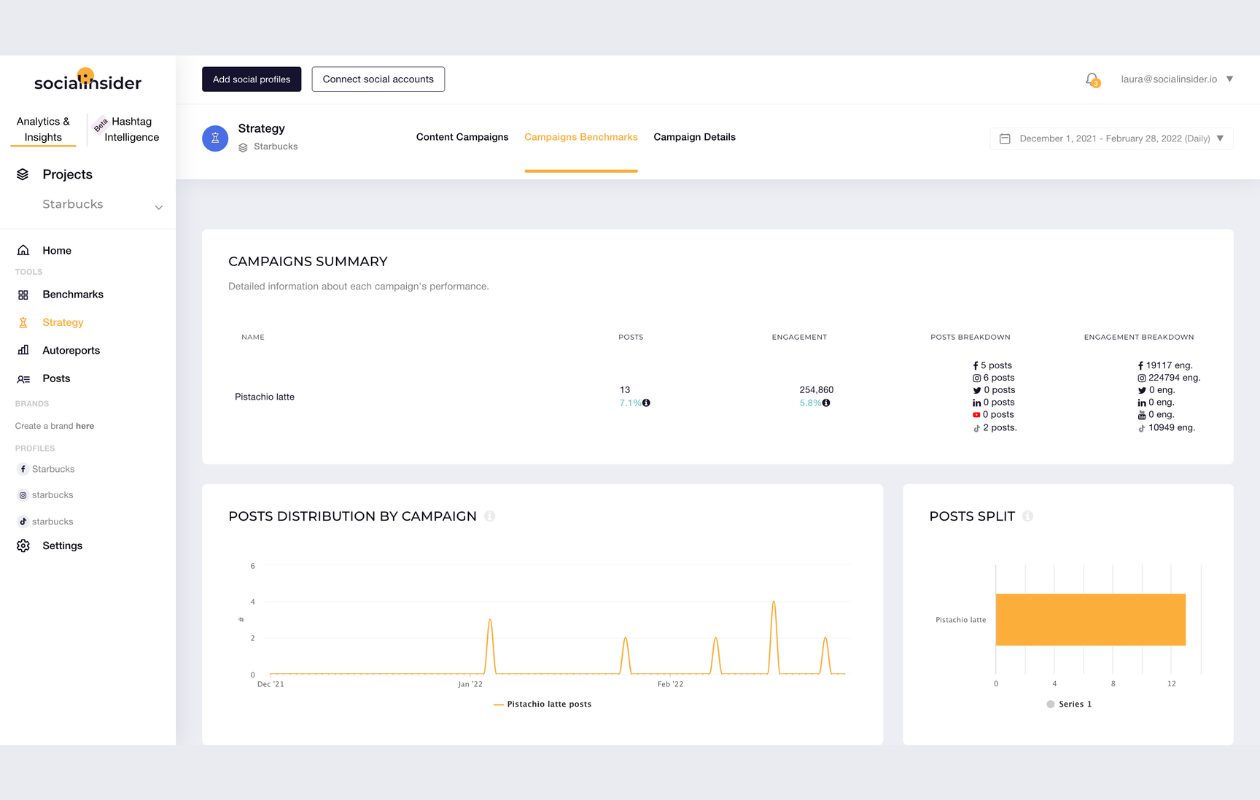 I think the higher engagement is due to the fact that Starbucks started posting more on Instagram than on Facebook (5 vs 4 posts) and they also posted about this campaign on TikTok.
For the third interval, December 2022 - February 2023, the number of posts for the same campaign decreased, with 5 posts on Facebook and only 1 on Instagram, and 0 posts on TikTok.
As a result, the engagement rate has also dropped, indicating 1.2%.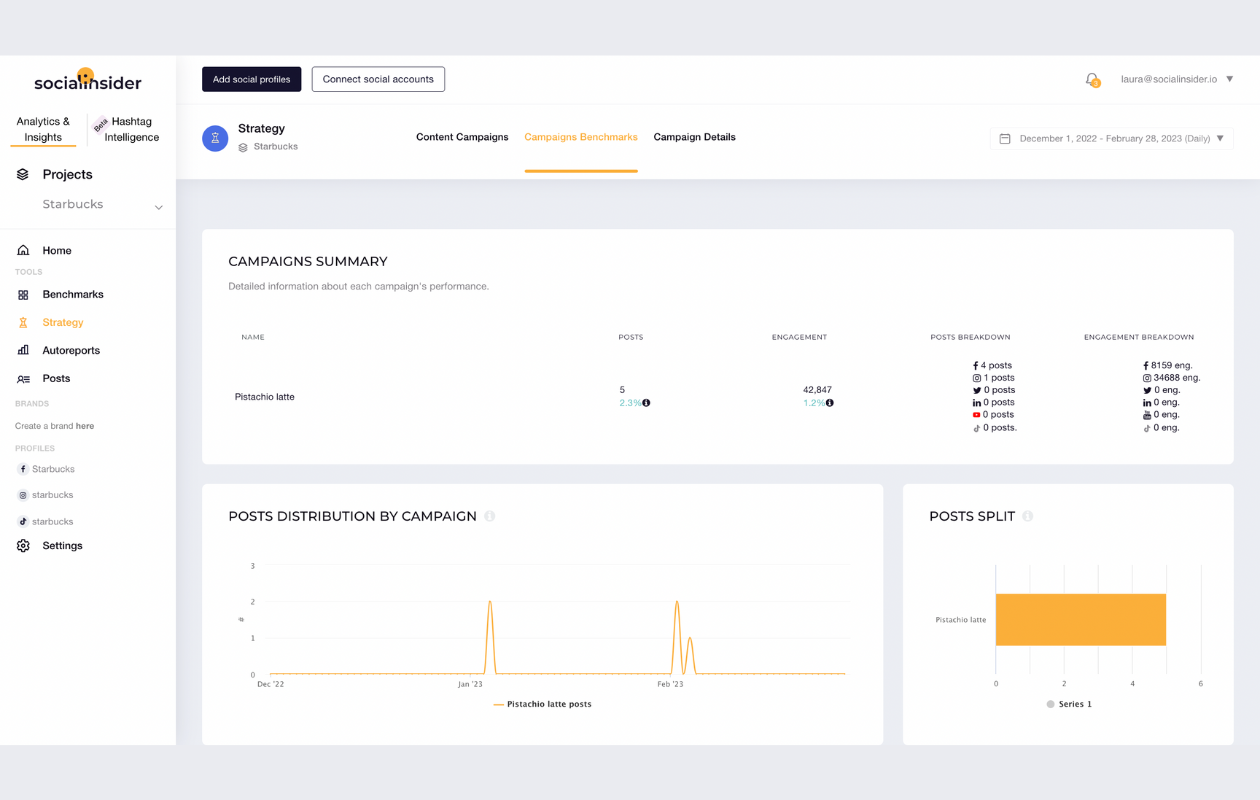 Thanks to this head-to-head comparison on the hashtag campaign "pistachio latte" in 3 different intervals, you can notice that these actionable insights inspire you to adjust a campaign year over year to get better results.
With this hashtag tracking feature you manage to build better social media hashtag campaigns, by learning from the performance of the current campaign.
If you decide that a certain type of post performed better, then for your next campaign you should definitely stick to that.
Use all the actionable insights provided by Socialinsider to build a solid strategy for your brand.
But do you know what's even cooler than this? Getting creators' insights about the use of this hashtag.
Well, the good news is that soon enough Socialinsider will have this feature available, where you can search social media campaigns by hashtags and build clusters with posts from a specific campaign.
This feature will definitely be of great use, especially for brands which promote their hashtag campaigns with the help of influencers.
With the upcoming Socialinsider feature, you will be able to track the posts published by creators who've used your campaign's hashtag.
Final thoughts
Hashtag campaigns can easily transform into a viral trend if the hashtag is catchy enough.
Do your best to come up with a hashtag that does not only represent your brand's values and new product, but also attracts through its playfullness.
These tips and tricks on how to craft a hashtag campaign on social media should be useful when you'll be planning your future campaign.
Make sure you attract your new hashtag campaign attracts your community through creativity and it also serves its purpose at the same time.
Frequently Asked Questions
1.What makes a good hashtag campaign?
Your hashtag should be original. It should not look like a rip-off of your competitor's campaign. It should be precise and easy to understand. Don't combine more than 3-4 words together.
2. What role do hashtags play in a viral campaign?
Hashtags boost engagement by driving traffic to your social media pages. This doesn't just create a larger audience, it also builds a community around your brand. Hashtags encourage customers to connect with each other as well as with your business.
3.What are the 4 types of hashtags?
4 Types Of Hashtags You Need (And How To Pick Them)
Because you can use up to 30 hashtags per post, you have a lot of room to play with different category combinations. When you're building your hashtag sets I recommend drawing from the following 4 categories: location, audience, industry and topical.
4.What is the hashtag reading strategy?
The hashtag strategy is summarizing sentences or paragraphs in a few words. In the SAT/ACT passages, each paragraph will repeat important nouns (can sometimes be other words, but mostly nouns). These are the words that the student will use to find the main idea and use as the hashtag words.
5.What is the rule of hashtags?
With hashtags, the general rule of thumb is less is more. Avoid stuffing your posts full of hashtags. Not only could this deter people from reading your message, it could also lead the social platform to categorize your posts as spam. In general, stick to a few hashtags that are relevant to or describe your post.