Are Instagram Reels giving you headaches?
With 45% of Instagram users interacting with at least one Reel each week, it's no surprise marketers and independent creators are looking to leverage this format to achieve their goals.
To help social media managers get the hang of creating viral Instagram Reels, in this article, we will discuss some of the top Instagram Reels hacks that are bound to get more views.
Top Instagram Reels Hacks
1. Instagram Reels hacks and social media content strategy
Should Reels be part of your social media content strategy?
As consumer expectations evolve, brands must adapt to their needs to remain relevant—especially if the target audience includes millennials and Gen Zers.
It is no news that the immensely popular TikTok inspired the design of Reels. And thanks to this tried-and-true, highly addictive formula, Reels manage to attract and engage users.
Instagram's various features, such as Remix for photos, formats and templates, video clipping, drafts, AR effect, and even timer, also allow brands to experiment with Reels to create authentic, engaging content.
Social media managers should leverage Reels as part of their content strategy to grow their brand by educating their audience, showing the brand's identity and values, and highlighting what sets their products apart from their competitors.
If you're interested in learning more facts about Instagram Reels, you might want to check out our recent study.
2. Instagram Reels hacks to get more views
Now that you've understood the importance of leveraging Instagram's Reels feature—let's talk business.
The bad news is that there is no way to actually hack Instagram's algorithm and get thousands of views in a heartbeat.
However, there are a few things you can do to optimize your Reels and pave your way to success.
If you want to boost views and likes on Instagram Reels, here are 13 tips and tricks you might want to try:
2.1 Share your Reels in-feed
The first thing you can do to boost your Reels' views is to ensure they are also visible on your profile. Storing them in your Reels tabs only may drastically affect the performance of your clip, as it can go unnoticed.
Instagram also allows you to choose a cover image for your Reel so you won't mess up the aesthetic of your feed.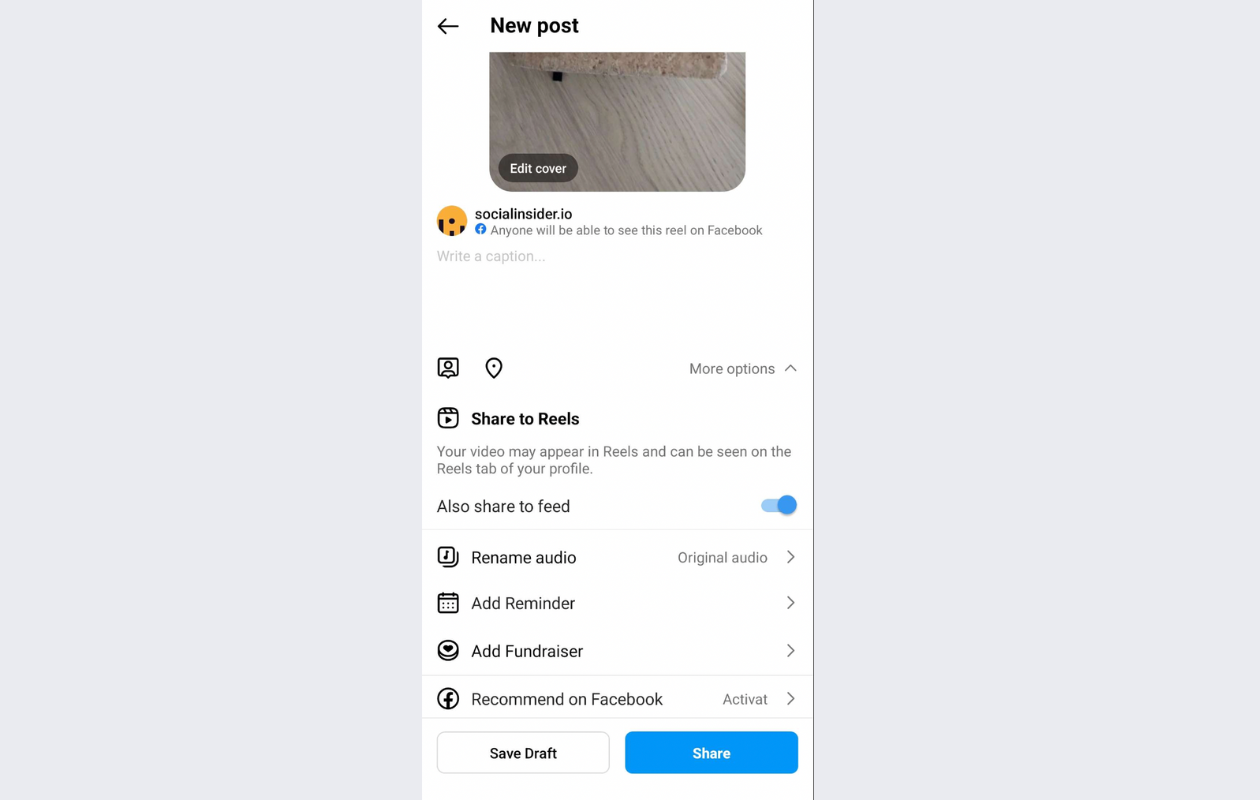 2.2 Don't replicate content from other apps
According to Instagram, Reels that are obviously reused from other apps are deprioritized. This can make your content less likely to appear on the Instagram Explore Page and the Reels tab.
As Instagram offers many editing features, it would be best if you avoided the TikTok watermark at all costs and created your Reel in-app.
This way, you'll increase your chances of users reaching your content.
2.3 Choose an attractive thumbnail
While you might be tempted to think that Instagram can handle choosing the perfect cover for your Reels better, that's not necessarily true.
Try picking a visually attractive thumbnail that can quickly draw the interest of scrollers.
To help viewers identify the type of content you're sharing, you can even add text or a quote as a title. This will add value to the viewer before even seeing the Reel.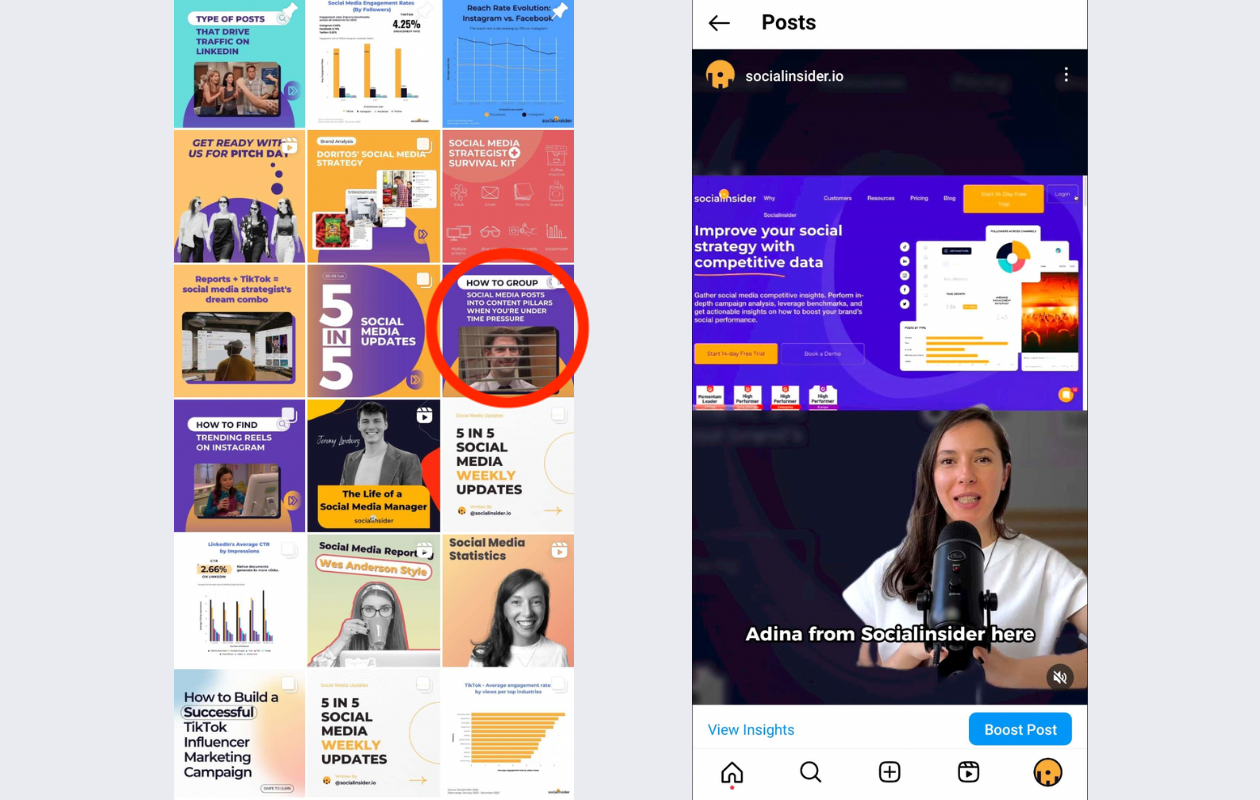 2.4 Pay attention to your text alignment on-screen
Viewers will probably swipe past your video if the text is difficult to read.
Ensure that the text you add is within the 4:5 ratio—especially if you plan to share it on your feed as well. The post will appear more aesthetically pleasing and the text will be easier to read.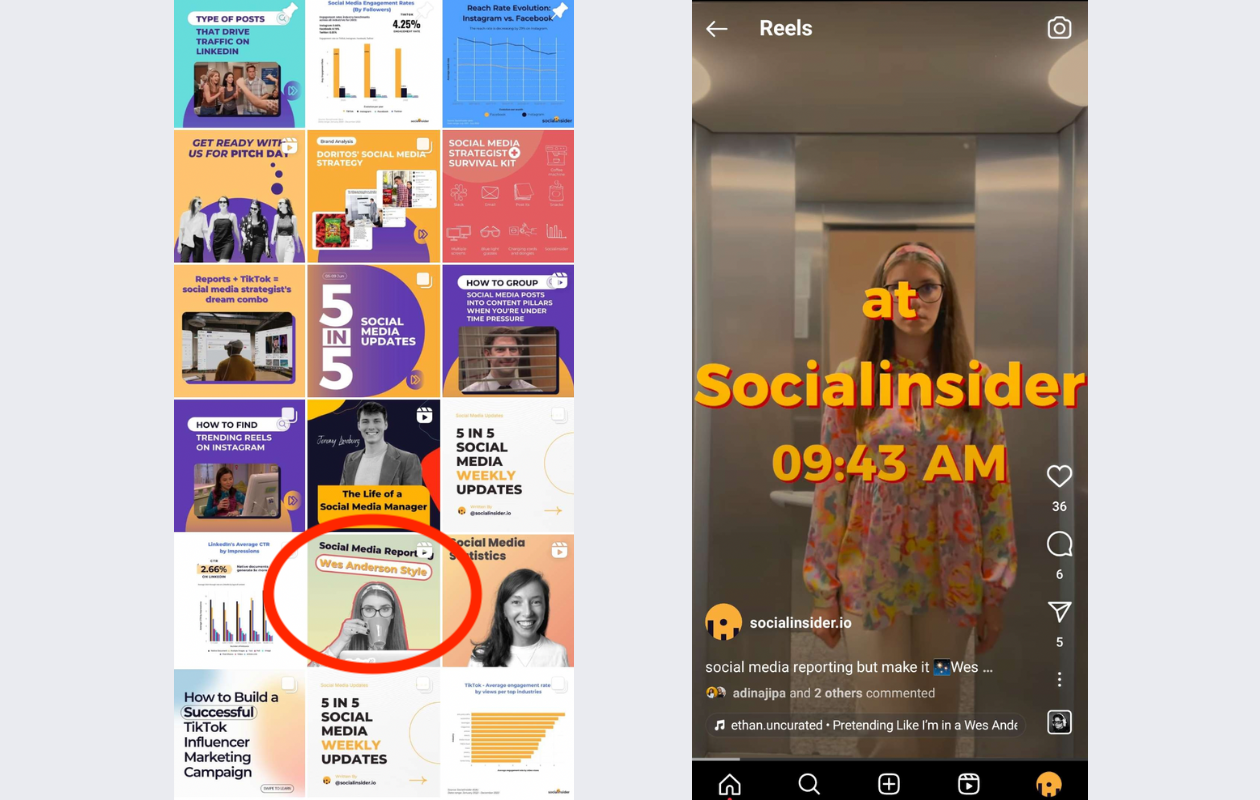 2.5 Experiment with transitions
Using cut-and-transform transitions is an excellent method for engaging users.
When someone comes across a dynamic transition, they are more likely to watch your Reel fully because it piques their curiosity.
However, transitions are difficult to pull off. You'll need to ensure that one scene seamlessly blends into the next.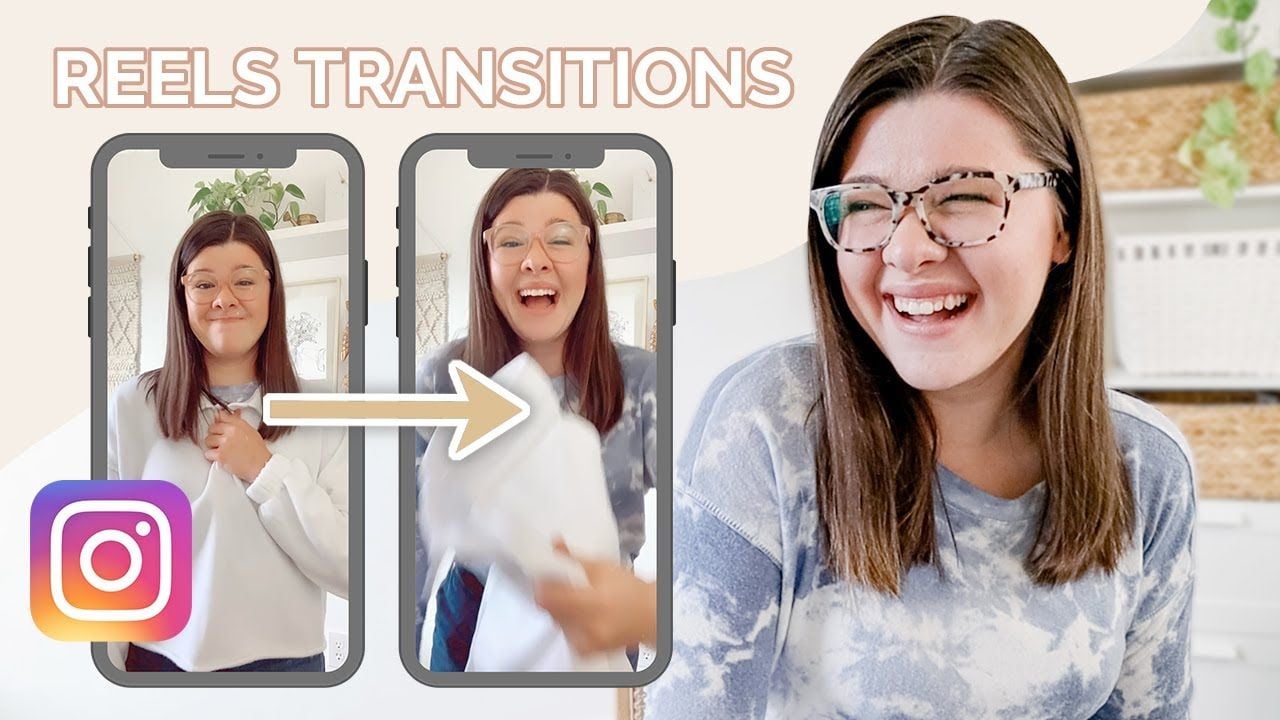 2.6 Create an interesting hook
Keep in mind that your Reel is up against millions of others.
The first seconds of every Reel are the most important. When a user spends more than 3 seconds looking at your Reel, it counts as a view.
You may use text, sounds, a form of salute—or anything that draws attention—to mark the beginning of your video and keep your viewers interested till the end of the clip.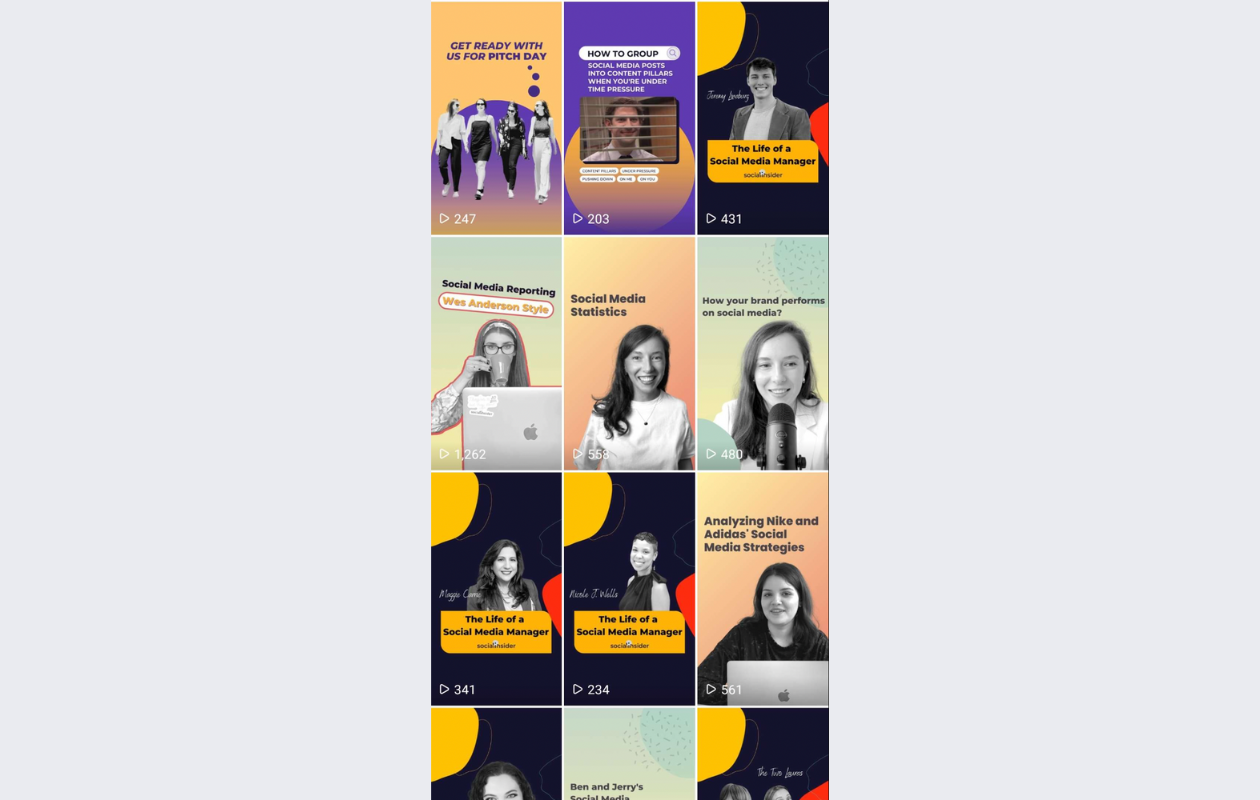 2.7 Use short captions and relevant hashtags
Your caption should be intriguing, alluring, and provide some context for the Reel.
Even though Reels captions on Instagram can be up to 2,200 characters, you should keep them brief—especially if your footage is solely for entertainment.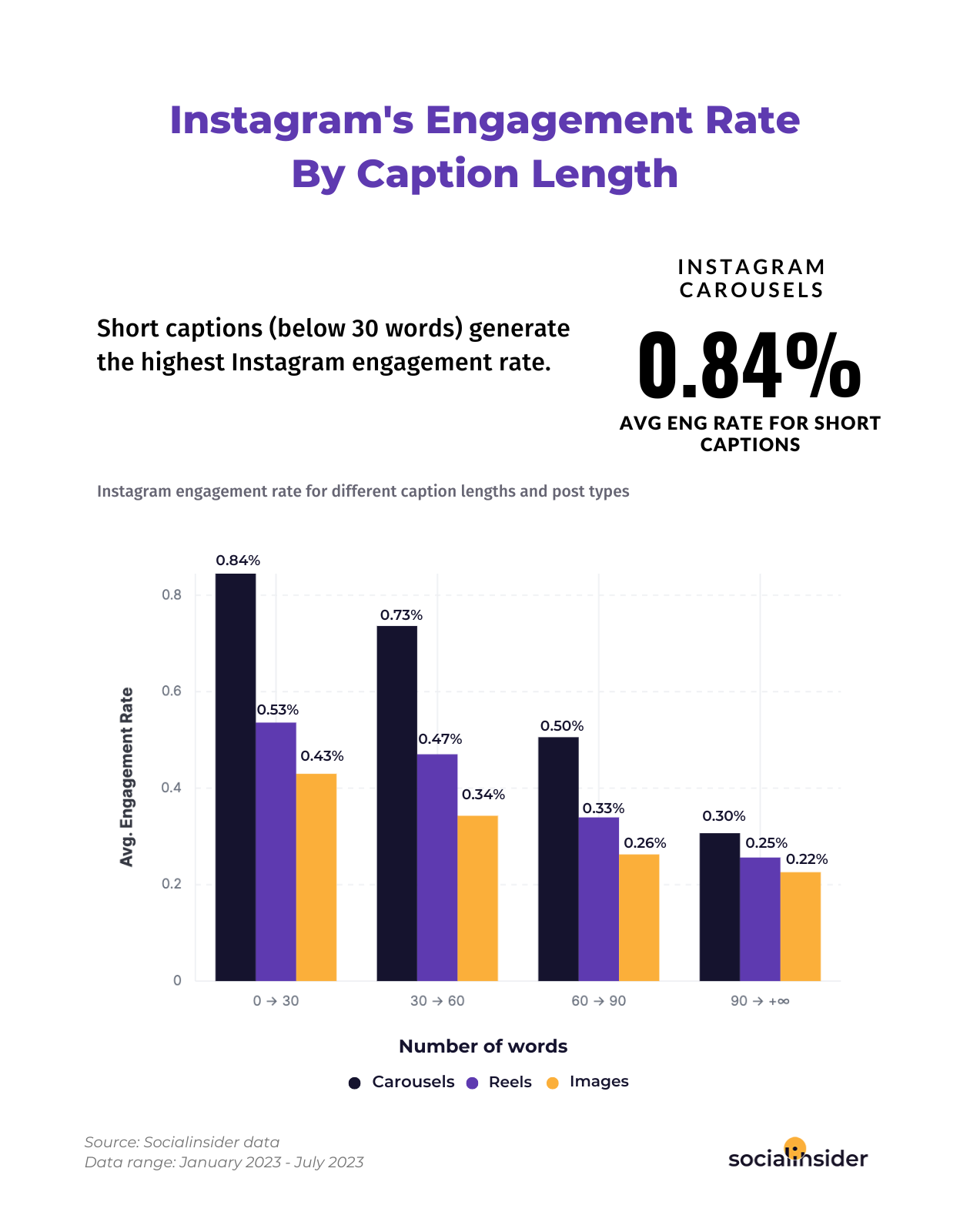 If copywriting is not exactly your strong suit, you might want to take a look at our article and follow these 10 Steps for Creating the Best Instagram Captions.
Once you sort out what your caption should be, don't forget to add a few relevant hashtags.
Hashtags are necessary to help your content appear in more places. But if you use them excessively, your material loses relevance. People will see it as spam and a last-ditch effort to increase views.
Hence, you should use up to 4-5 hashtags per Reel.
2.8 Leverage trending music and sounds
The audio in your Instagram Reels is crucial to their success.
As selecting an engaging audio can compel people to continue listening, the right music can make the difference between a video becoming popular online and not being seen at all.
Many Reels are ruined by unrelated music—which detracts from the effort to make them.
It's as simple as it gets. If your videos include trending sounds, they may have a greater chance of becoming viral and appear in the Explore or Reels tabs.
In fact, audios are so important that Reels are now a way for musicians to make their music popular on Instagram.
But sometimes, choosing the right music for your video can be difficult, but Instagram provides a vast music collection to pick from. Luckily, you can use the search bar to find specific audios or explore trending songs.
You do not need to include music if your reel is dialogue or script-based.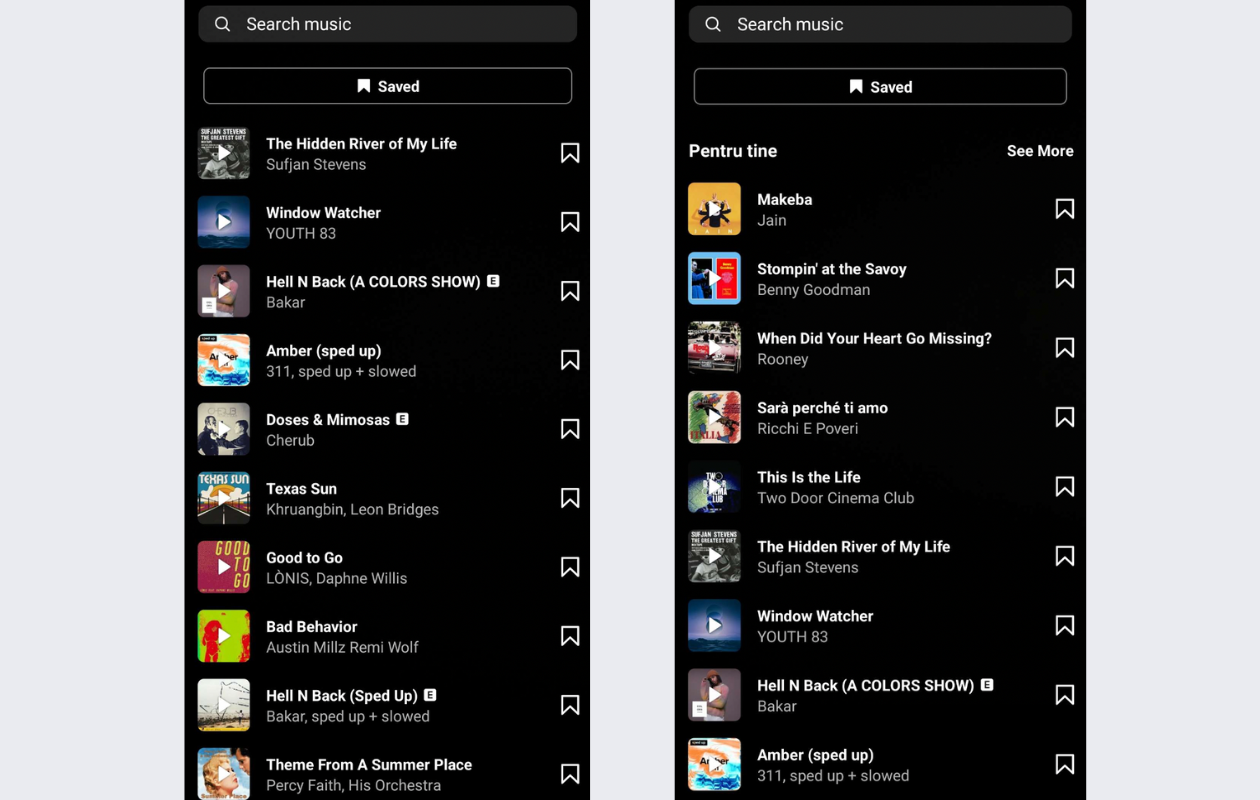 2.9 Jump on the hype trends
Reels trends are temporary, much like TikTok's.
It is essential to keep up with trends and adapt them to your brands, so you increase your chances of getting discovered.
The algorithm prioritizes new content over Reels from the past.
So keep the new drops coming!
You may want to start by spending a few minutes each morning scrolling through the Instagram Reels page and the profiles of other creators to see what they're sharing to jump on a trend before it gets outdated.
If you're unsure of what content and audios are popular right now, you might want to check out these Instagram Reels Trends and Audios Marketers Need to Try Right Now for ideas.
2.10 Engage with similar content
Instagram's algorithm is designed to monitor the content you engage with so it can deliver what interests you.
Instagram tries to provide you with content that is related to a Reel or post that you have previously liked or interacted with in some other manner.
This way, you'll be able to get endless inspiration from other related creators and also make sure your content gets delivered to the right audience.
2.11 Ensure the quality of the video is good
When deciding whether to push forward your Reels, the algorithm takes into account a number of factors, including adherence to the advised video ratio, acceptable video quality, and appropriate lighting.
The more light, the better for filming. Cool tones or window light are always preferred to warmer lighting.
2.12 Create other content apart from Reels
You are more likely to get discovered the more Instagram content you share with the world—posts, stories, videos, live streams.
If someone keeps interacting with your content, the algorithm will track that activity and offer your most recent Reel to them.
2.13 Share your Reels to Instagram Story
Ultimately, remember to share your masterpiece to your Instagram Story to increase your reach.
But make sure you don't spoil the fun!
Try adding a fun caption and partly cover your Instagram Reel with a GIF or image to make your audience curious and encourage it to click and watch the full video.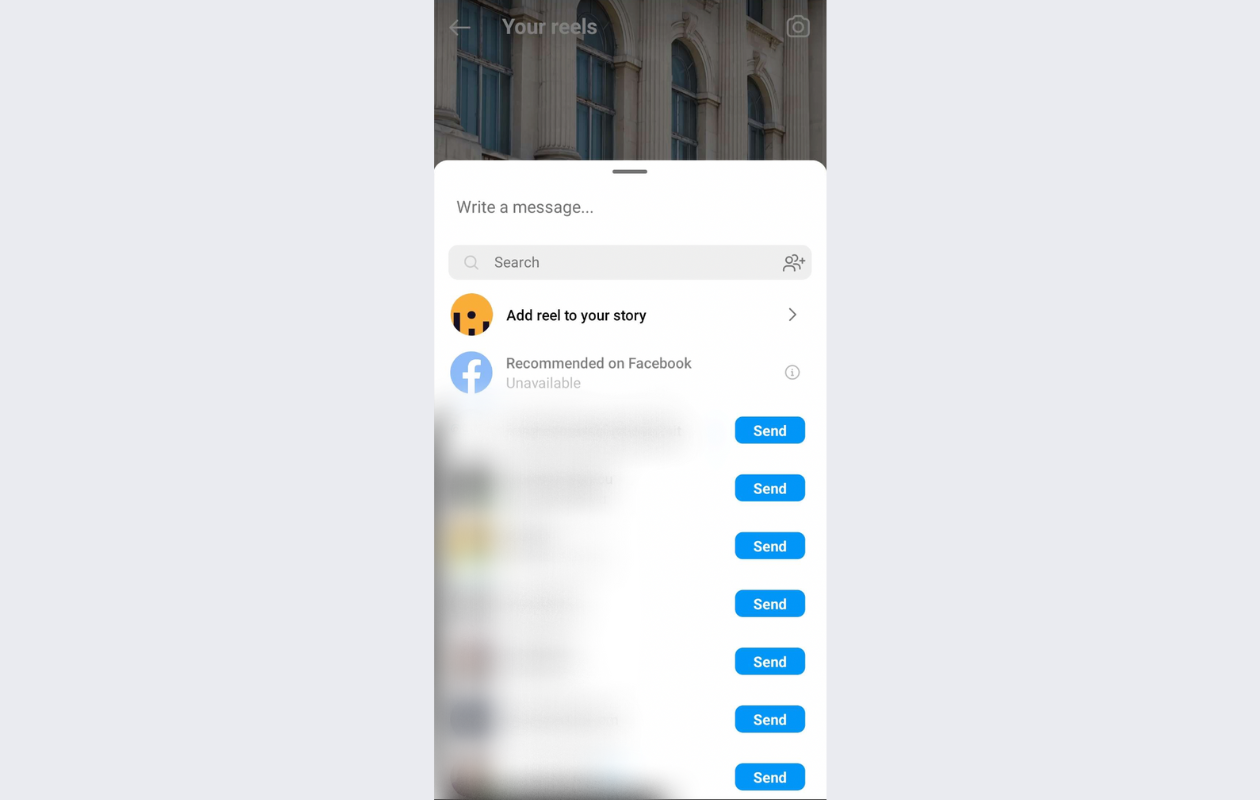 2.14 Use voice filters and sound effects for your Reels
You can spice up your Instagram Reels in so many ways that you may lose count. We talked (almost) everything there is to know about how the video should look like, but you can also work a lot on the audio and voice.
Besides adding voiceover and sound effects, you can also add filters to your voice and change it.
Your voice can sound more fun if you use the filter to talk like a robot, vocalist, an announcer, a giant or someone who sucked the helium out of a balloon.
When it comes to sound effects, you can use the audio editing feature to insert a funny tone in your Reel to draw attention to a key moment.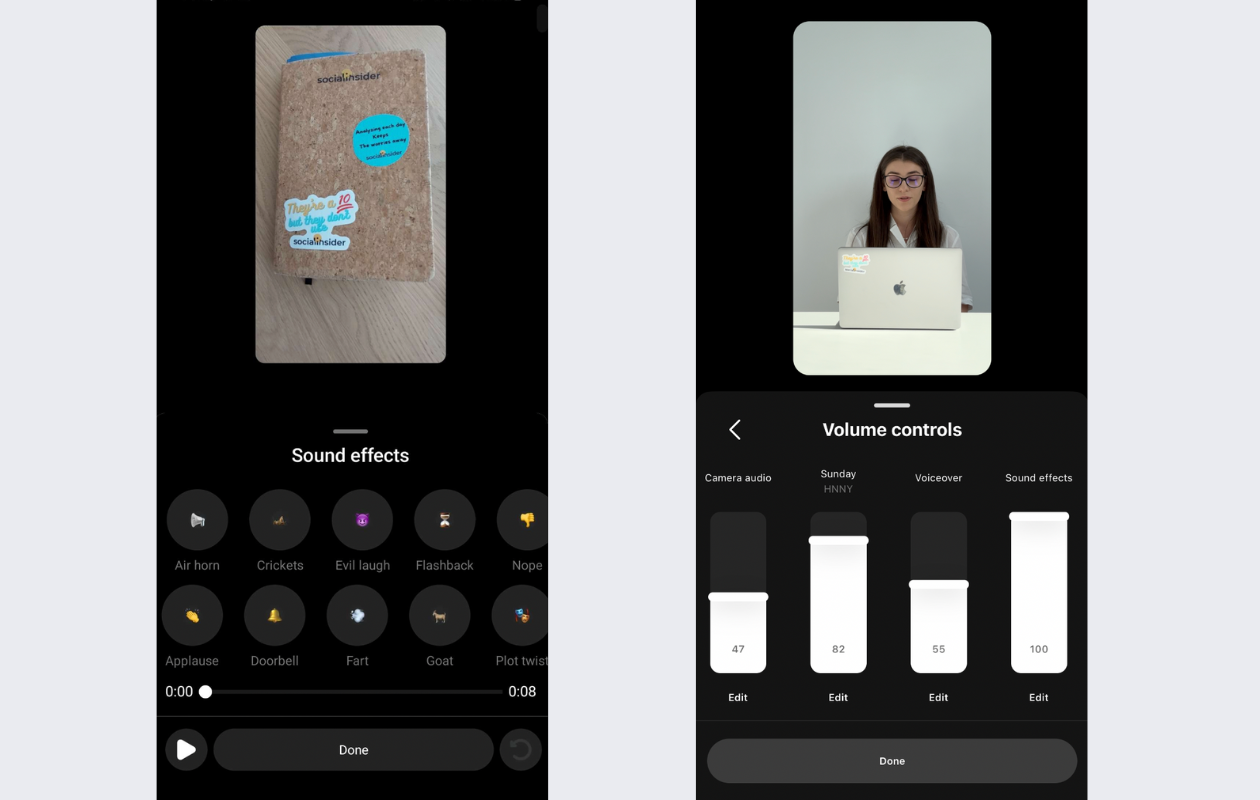 By tapping the music-note icon at the top of the screen, you can add voice filters and sound effects.
These options will not only make your Reels funnier, but these sounds will also attract users' attention when they discover your video content.
2.15 Reply to comments with Reels
This sounds like inception, but I have to reckon that it's pretty cool to answer to a Reel's comment with another Reel.
With this feature, you can turn your comment into a sticker that you can further incorporate into a Reel.
The fact that you can answer comments with a Reel could determine even more users to engage with your content and increase brand awareness.
Your main focus should be to increase impressions and engagement in order to trigger your brand's growth.
When you'll tap to reply to a comment, you will see that there is a small camera icon that you can hit to record a Reel.
If you're wondering how to do it and you need step-by-step guidance, here you'll find what you need.
My advice is to first install your Instagram updates and then try the tricks with Reels in comments.
2.16 Turn highlights into Reels
If you saved some of your Instagram Stories in Highlights, now it's nice to know that you can easily transform them into Reels.
It is clear that you saved in Highlights the valuable data you didn't want to get lost. And now you have the chance to remind people of these insightful Stories by turning them into Reels.
Converting Highlights into Reels helps you attract a wider audience, since users' preferences have now changed due to the tons of updates.
They prefer Reels more than searching for certain infos in your Highlights section.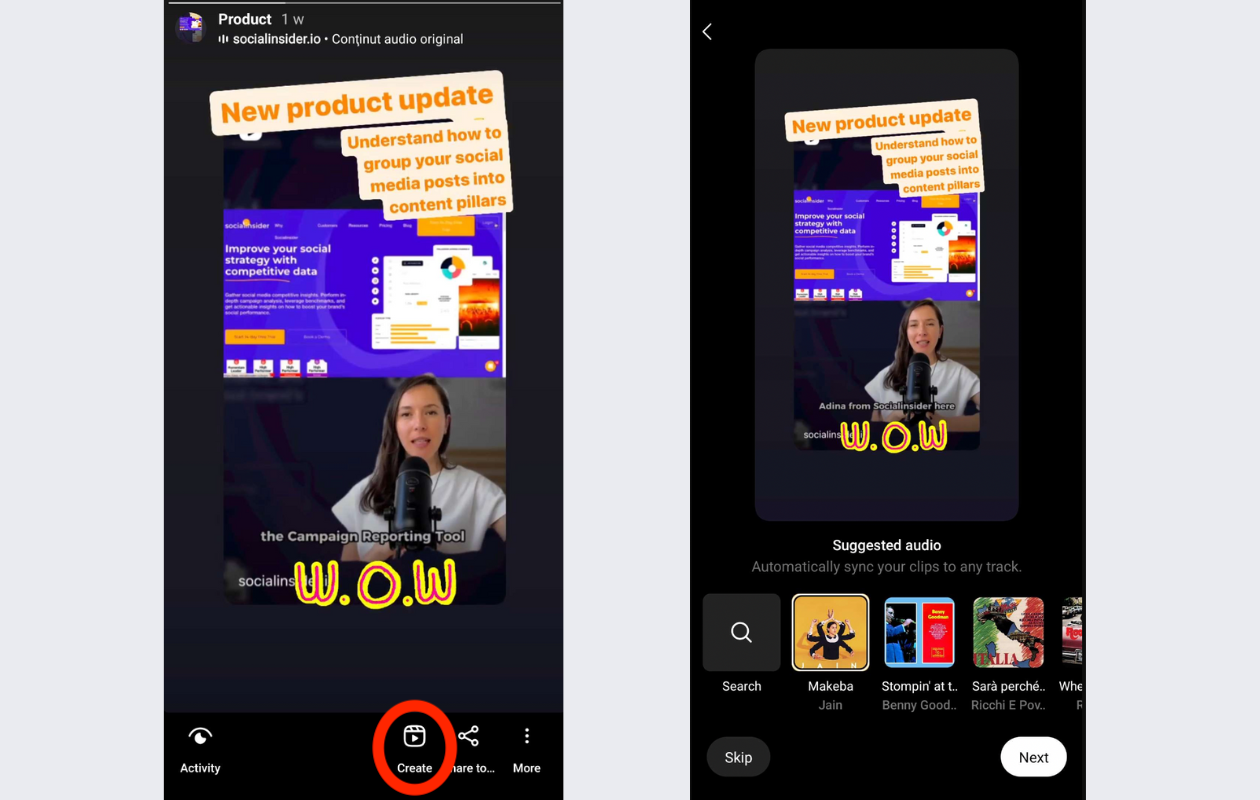 2.17 Learn to lip-sync on Instagram Reels
When it comes to lip-synching to songs, those who managed to practice on TikTok for a while, they'll certainly manage this.
If you're new to lip-synching (just like I am), then let's see how this Instagram Reel hack can change your game and put you on the map with the coolest videos.
The secret to lip-synching is not to learn all the lyrics, but to use time in your favour. All you have to do is use the slow-down app to be able to utter every word.
When you select the sound clip or the song you want to use for your Reel, you need to choose the sound clip's speed.
If you decide to slow it down to 300%, then you will be able to mouth the words.
After you're down, when you'll preview the recording, the music for the Reel will play at normal speed.
2.18 Save songs to use later in your Reels
Like every creator, you probably also scroll through Reels under Discover just to get inspired.
However, when you come across a sound you really like, one that you've found in a lot of viral Reels, you should consider using it, too.
That's why you should take advantage of that Save button to make a list of your favourite sounds and later use them when crafting your Reels.
By bookmarking a song that has a great potential for your future videos, you don't only focus on following virality to become viral, but you'll also get inspired to produce the right Reel for the song you've saved.
2.19 Use templates to create viral Reels
Speaking about virality and every marketer's dream to get tons of views, it's great to focus on a goal and aspire to set a new trend with your Reel.
We have to admit that it's not impossible. If you use a template as an Instagram Reel hack to develop viral Reels, then you have your chance to attain your goal.
By using Instagram Reels templates, this social media app provides you with the necessary examples so you can easily replicate the success of a viral Reel.
You can easily copy the formatting of a viral Reel, using that successful recipe to increase brand awareness.
All you have to do to see the templates is to tap the Reels icon, then the camera button and below the record button you will discover the Templates tab.
Once you tap that tab, you will look at a Reels templates menu full of suggestions for you. The difficult part is to make up your mind when it comes to choosing a template.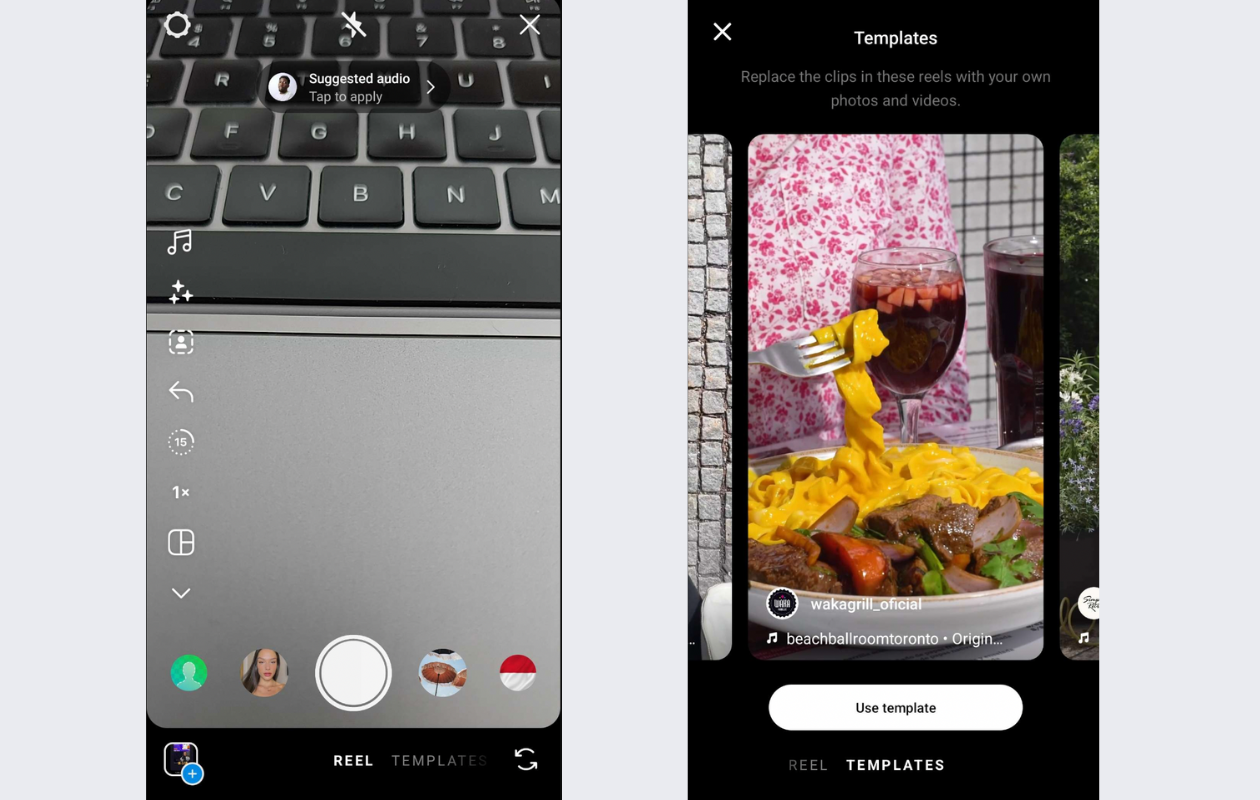 2.20 Add GIFs to your Reels
Another fun Instagram Reel hack you should try is one that involves gifs.
They will surely add more spice and everything nice to your Instagram Reels, making them even more fun.
To add gifs to your Reels, you have to record your Reel and enter the edit mode. Next, you have to go to the Stickers icon and there you'll be able to select whatever gif you'd like.
You can choose a gif or more, depending on what you want to insert in your Reel.
Make sure you correctly set the video frames where a certain gif appears. Lastly, you can publish the Reel as usual.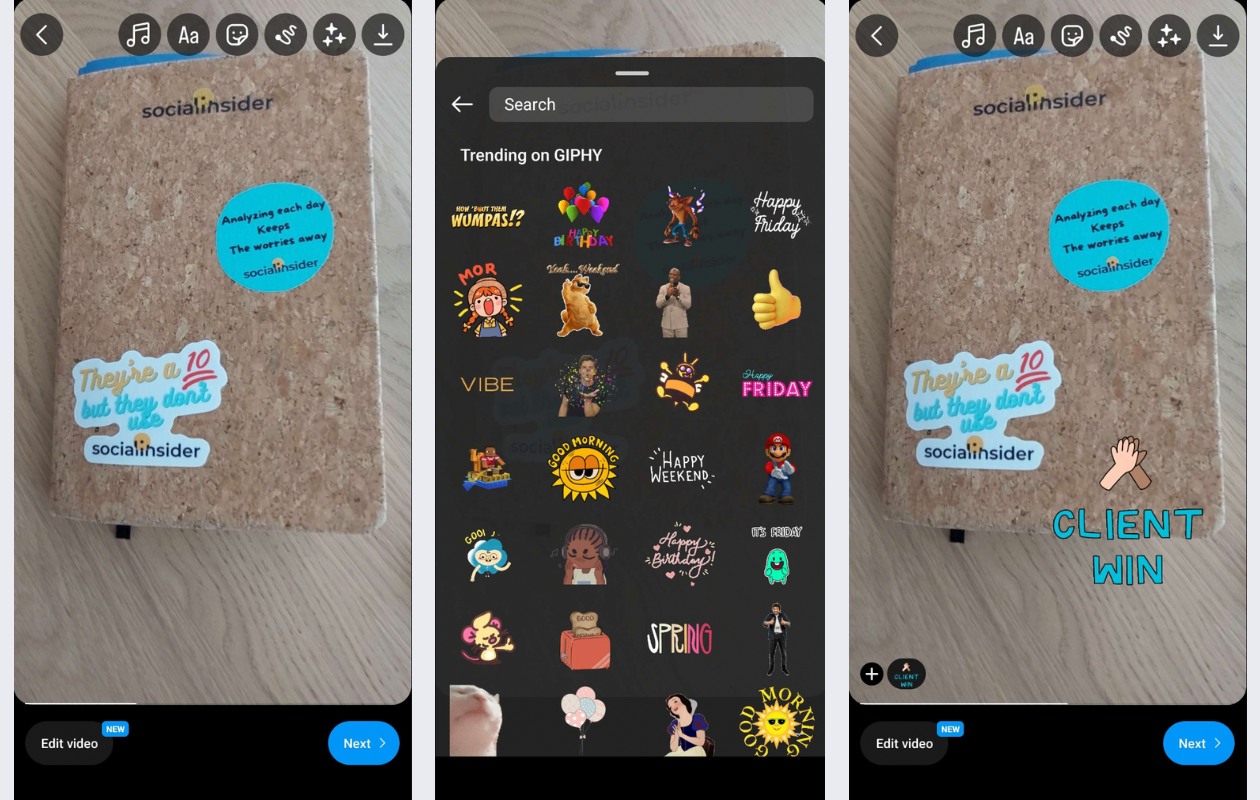 3. Measuring your Instagram Reels performance with Socialinsider
After using a bunch of Instagram Reels hacks to improve your content and determine your audience to engage with your posts, it's time to assess your Reels' performance.
With the proper Instagram analytics tool, you can easily check the performance of your Reels, seeing all key metrics.
What you have to know is that Socialinsider is more than just a social media analytics tool, that offers data for all main social media platforms like Facebook, Instagram, LinkedIn, TikTok, Twitter.
This tool has a lot of other features, like benchmarking, reporting, and campaign strategy, that makes it stand out from the crowd.
For Instagram Reels, you will see important metrics like:
Impressions
Views
Engagement rate per Reel
Likes and comments
Saves
In Overview, you get to see Reels impressions evolution, this being a top metric for Reels.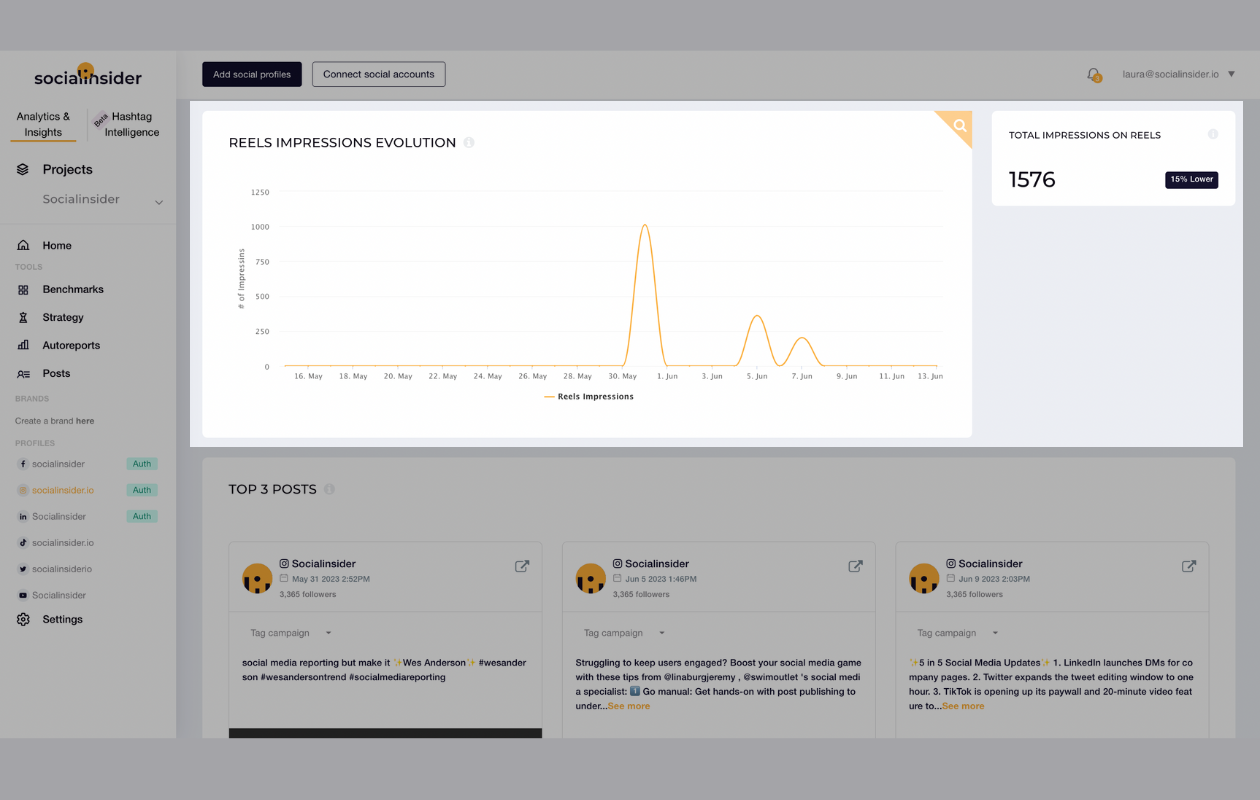 Let's start looking at these Instagram Reels metrics by going to the Posts feature in the dashboard.
Here you can filter the content to only see Reels, analyzing what type of Reels performed best.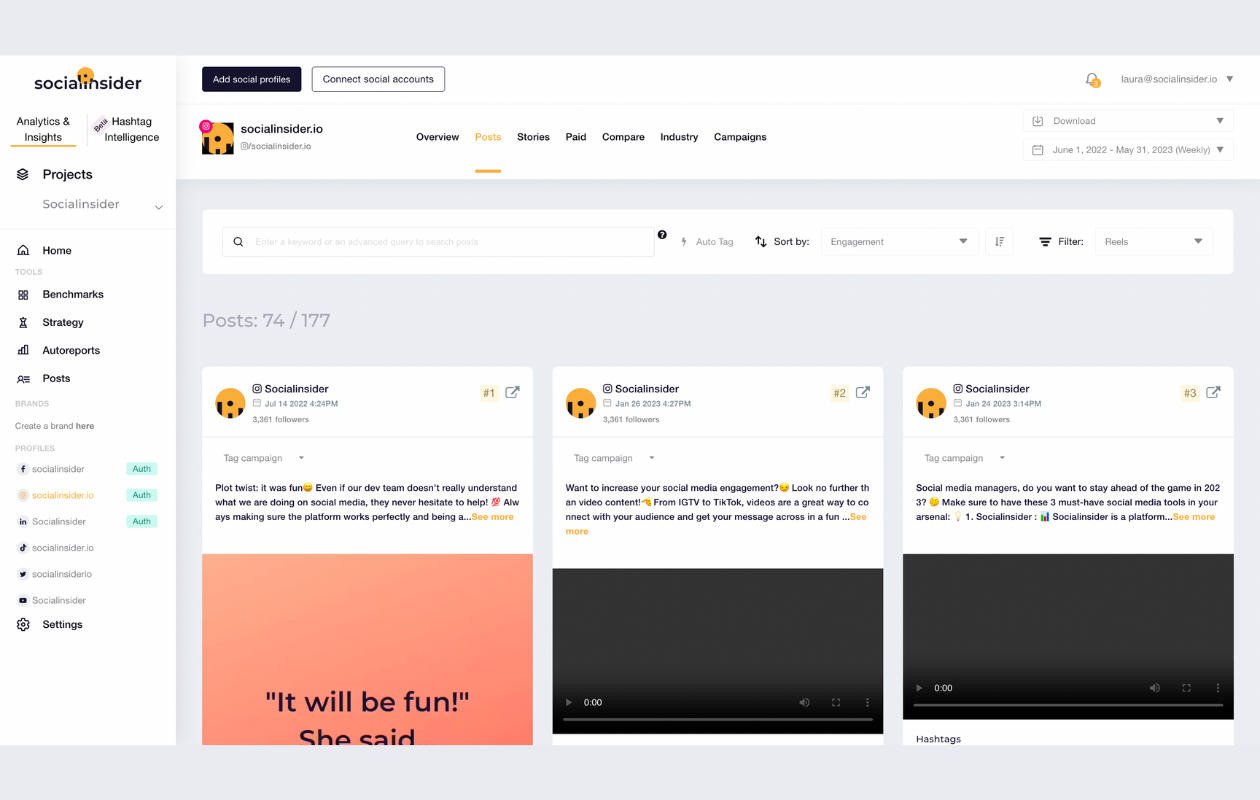 You can see that 74 out of 177 posts are Reels published during the selected timeframe.
If you have a hashtag campaign with Reels using a certain hashtag or keyword, you can definitely search by that keyword and see individual key metrics for every Reel.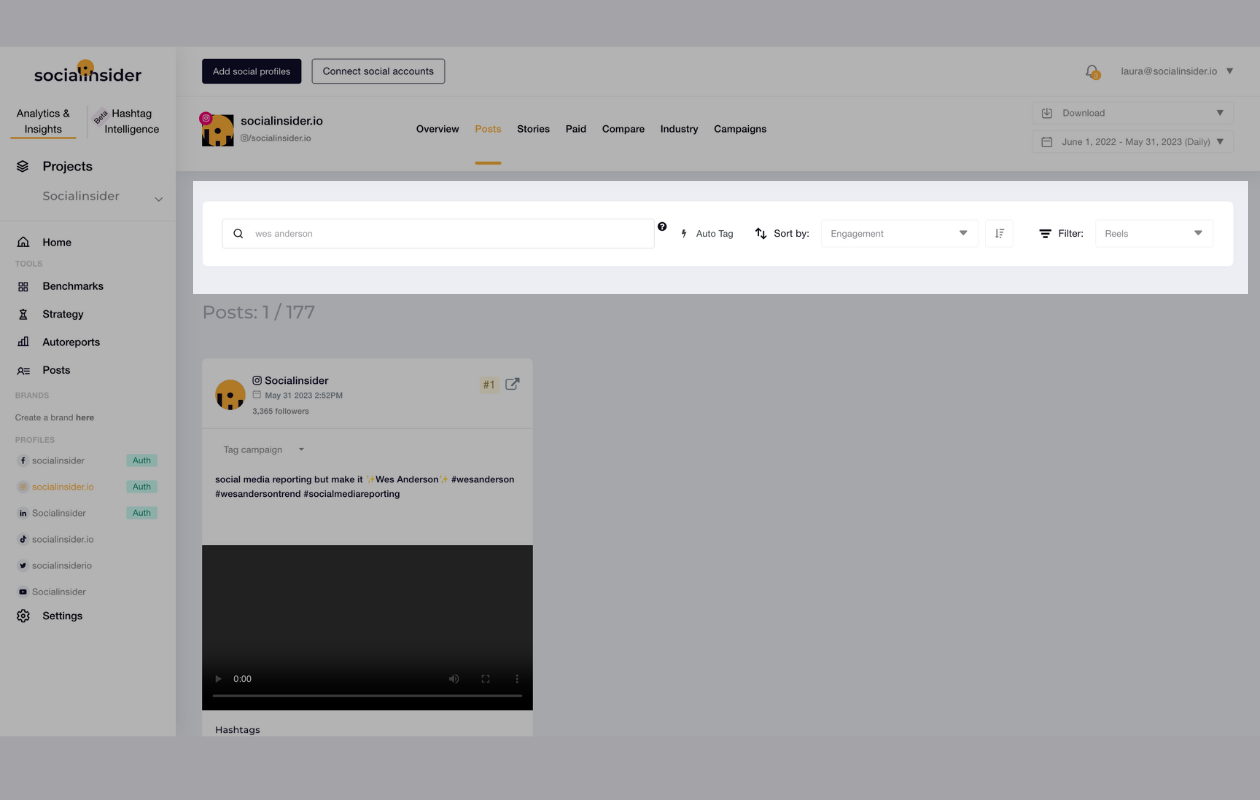 Here I used the keyword "Wes Anderson" since I knew we have a Reel featuring this keyword.
The use of this social media analytics tool helps you get ahead of your competition, inspiring you through all the in-depth insights it can offer.
Getting all the data you need about your Instagram Reels can help you set in place a better content strategy.
4. Why are your Reels not getting enough views?
You've followed every tip in the book, but—according to your monthly Instagram report—your Instagram Reels still don't attract enough views.
The reason for this may be less complicated than you think.
Instagram is constantly seeking to understand your account better to deliver your content to the most relevant audience.
One thing you can do as a brand at an early stage on Instagram is to focus on organically building a fanbase that's genuinely interested in your content.
Unlike TikTok where anyone can become popular overnight, on Instagram, views will always follow fans.
According to Better Marketing, some reasons for your Reels not receiving enough views might also include:

Reusing clips from other platforms such as TikTok
Poor quality of the Reels (too dark or pixelated)
Not adapting your videos to Reels' vertical format
Not experimenting with Instagram tools for creating Reels
Not having a hook in the first 3 seconds of the video
Not posting consistently or not posting enough Reels
Not optimizing your Reels
Final thoughts
Don't underestimate the importance of Reels.
People consume content to be entertained, informed, or inspired.
Instagram is aware of this and will work to promote content that complies to these values.
Creating Reels—at least for now—might just be the most effective tactic for getting your brand in the spotlight and increasing your following.
With Reels, even the smallest account has the potential to grow significantly over time and deliver amazing results in a lot less time than before.
To get more views, all you need to do is make sure you follow our Instagram Reels views hacks, be patient, and add value with every clip you post.