Instagram Story is an Instagram feature that allows users to post images or videos that disappear after 24 hours. Although, if you don't want to lose that content, you have the option to save it to your highlights.
Instagram Story highlights will appear at the top of your Instagram screen.
Instagram Story allows marketers to upload high-quality images directly from their cameras and integrate them into their Story to enable their viewers to understand their products or services better.
You need fresh Instagram Story ideas to better engage with your target audience and improve business visibility.
This Instagram feature gives a humanizing factor to your business, which helps you establish a deeper connection with your audience.
Integrating Instagram Story ideas into your marketing strategy is a must in 2021.
In this article, you will understand the importance of Instagram Story, and you will discover 15 of the best Instagram Story ideas that will help you engage with your audience.
15 Instagram Story ideas for businesses
1. Answer questions
Are you constantly receiving questions from your followers?
Instagram Story is one of the best ways to interact with your target audience and a great place to answer their questions.
You can use the questions sticker and invite your followers to ask you anything, then respond in the following Story.
You can answer by creating a video Story or create text images for people to read.
TIP: If there are questions you're being asked repeatedly, you can save the Instagram Story in which you answer as a highlight.
Then you can direct people to that specific highlight when they have a question you've already answered.
If you want to answer all the questions in a single video,  IGTV, or a live session are a great choice.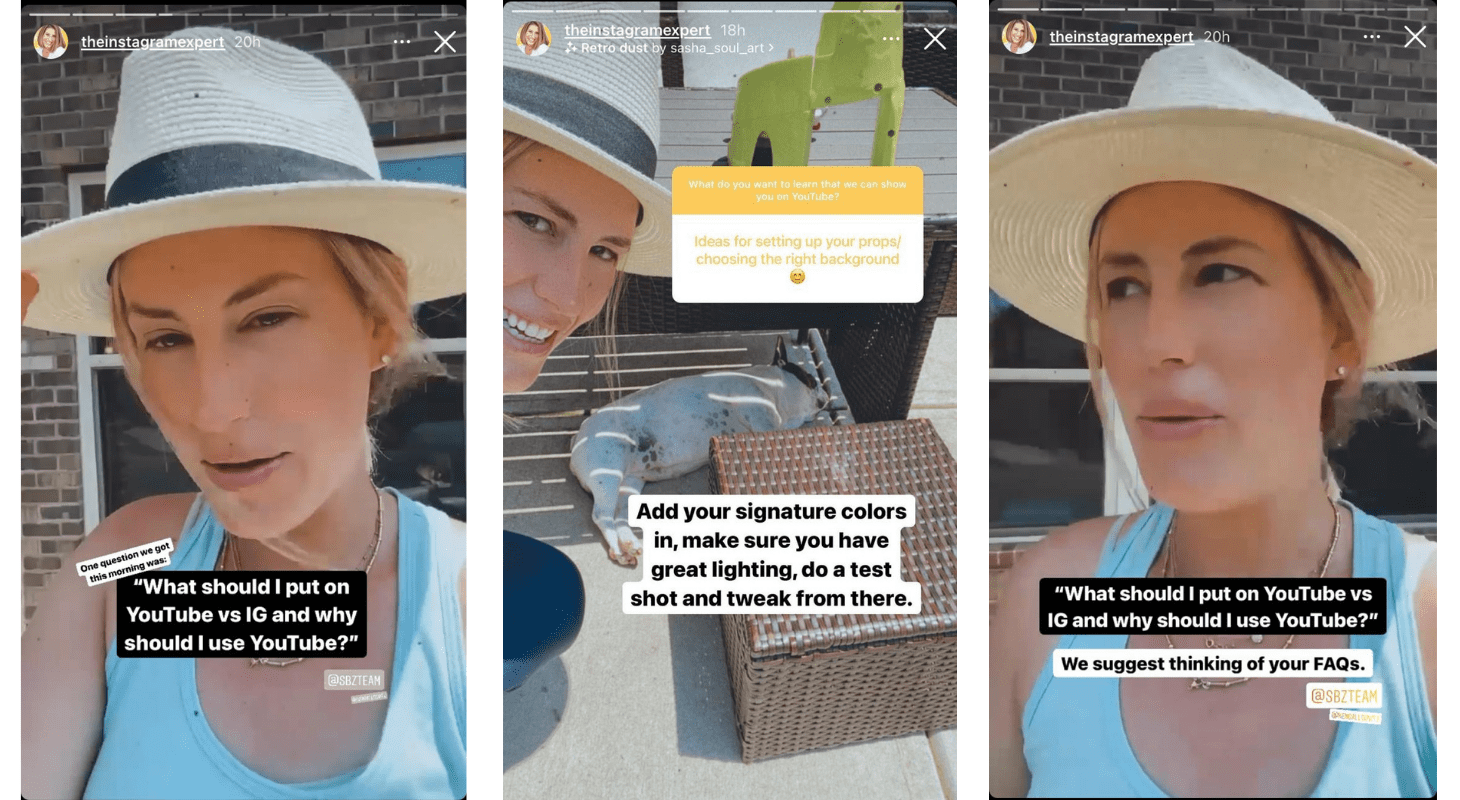 2. Go live
I said earlier that if your followers are sending a lot of questions and you don't always have time to respond, you can go live.
This is an interactive Instagram Story idea to get your followers involved in the conversation.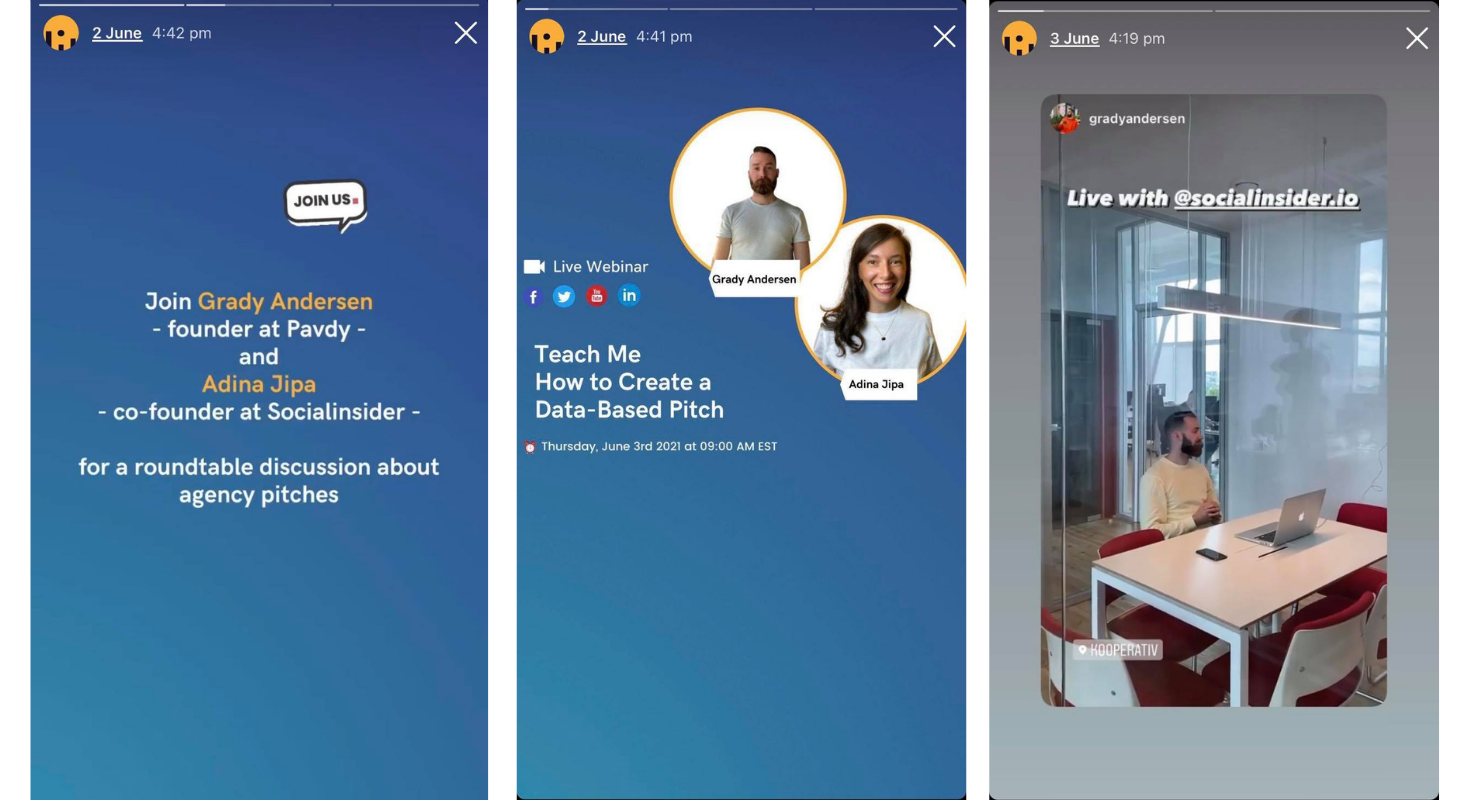 3. Showcase behind the scene content
Have a sweet office, or are you working from home with your cat on your desk near your laptop? Share this with your community.
Behind the scene content is very attractive to the audience because it shows them the other side of your business. Most videos shared on Instagram are usually edited.
However, that is not the case with behind the scene content. They are raw, unedited content that portrays your business as it is.
Behind the scene content is one of those cool Instagram Story idea because it shows your brand as human, which makes you relate well with your audience.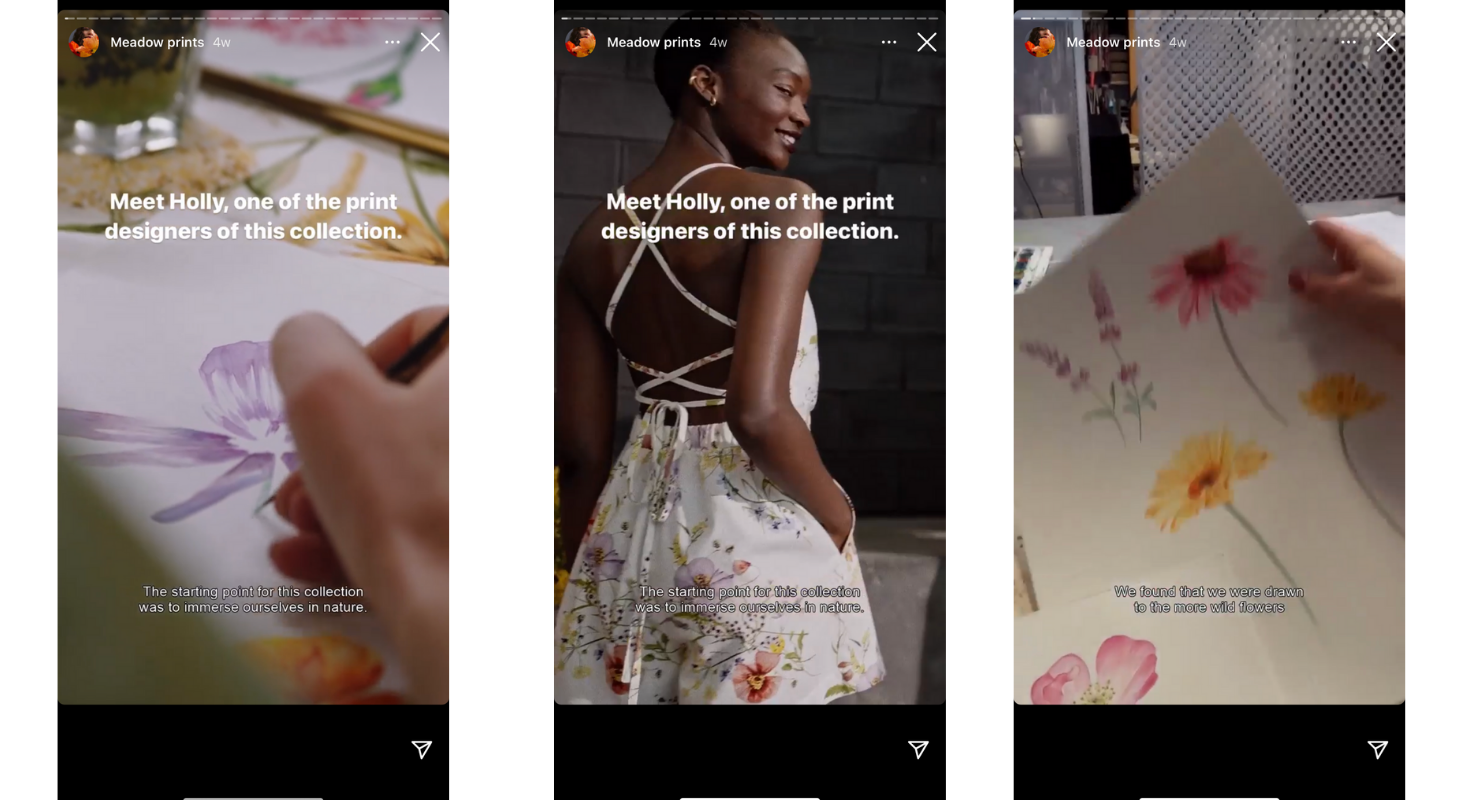 4. Share how something is made
This should be a fun thing to do on Instagram.
Are you making bags, shoes, or anything else? Show your followers the process and create Instagram Story videos that show them how to create something from scratch.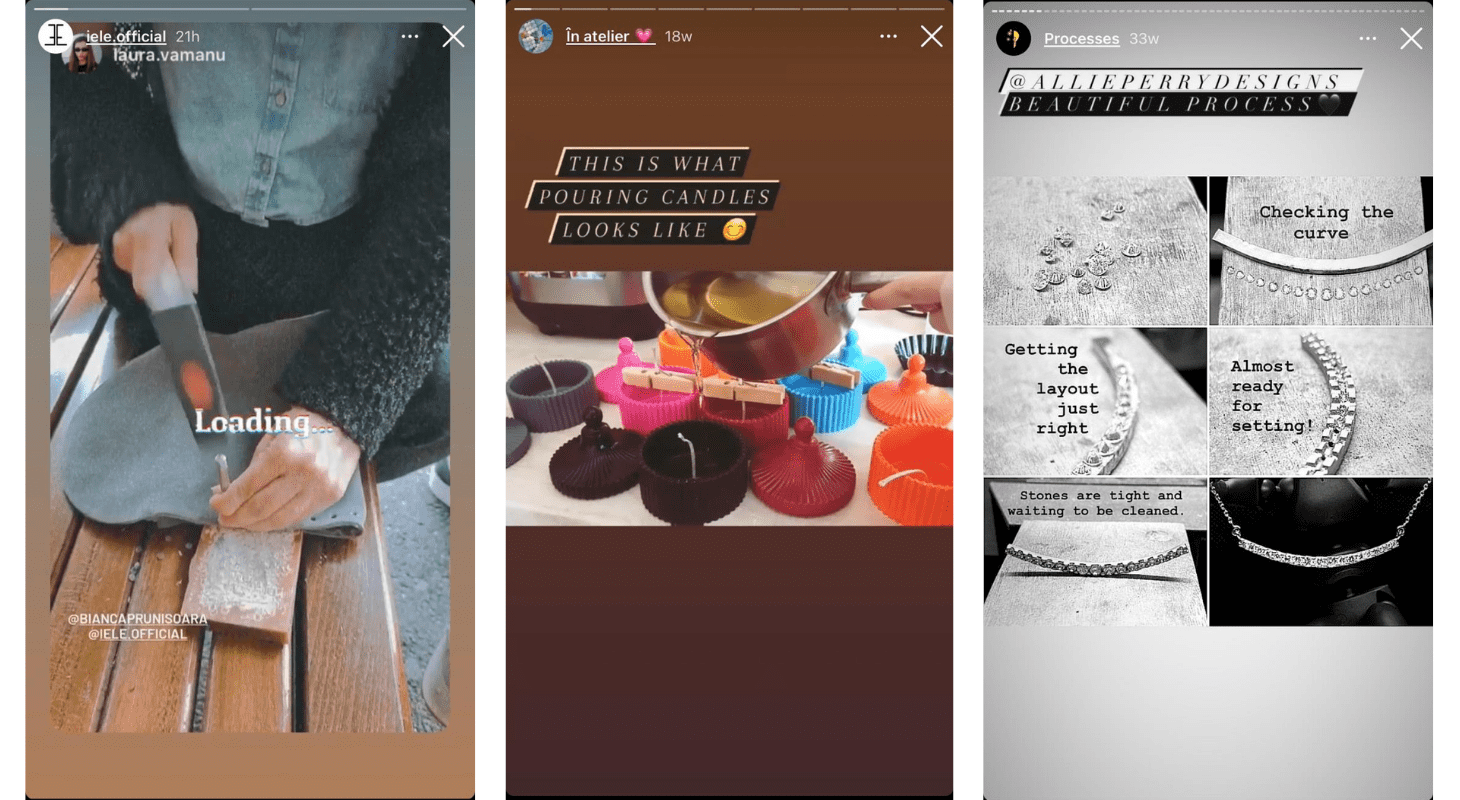 5. Teach your audience something
You can use Instagram Story to teach your followers merely about anything. You can create Story webinars and show them how to use the product better, you can teach them how to create an Instagram strategy to increase engagement, or how to edit Stories.
This is one of those Instagram Story ideas to use when you don't know what to post on Instagram.
And the options you have here are endless.
For example, the Instagram expert Sue B. Zimmerman uses Instagram Story to provide all sorts of helpful advice: how to use the Stories features, how to create lives, how to use IGTV, etc.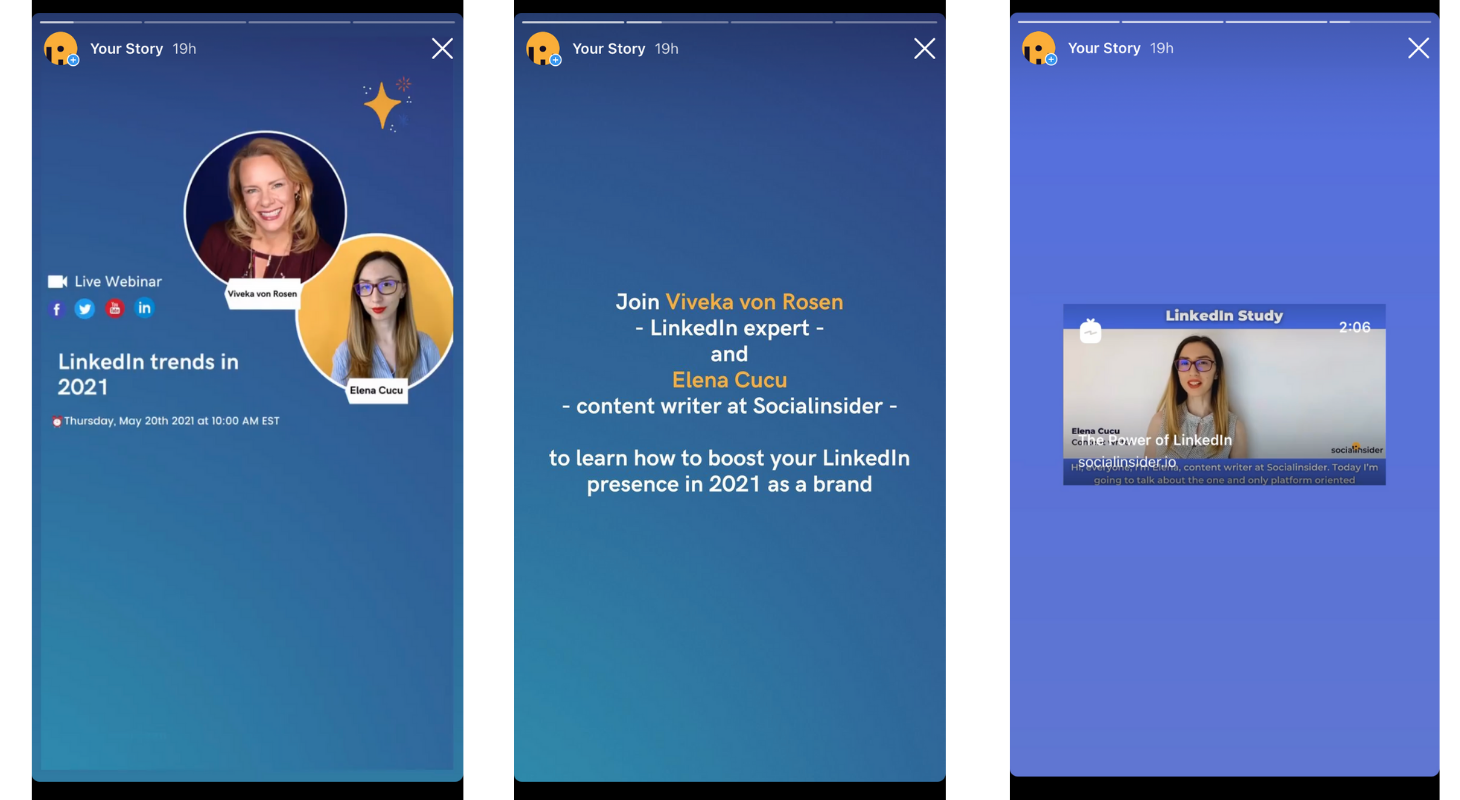 6. Testimonials day
Competitive businesses use testimonials for social proof. Studies have shown that buyers are more likely to take action when they read positive testimonials from clients.
So if you're looking for things to post on Instagram Story, don't hesitate to use this idea.
Testimonials usually give consumers a snapshot of what to expect when they finally decide to use or buy a product from certain brands. A well-crafted testimonial on Instagram Story will trigger your audience to take action.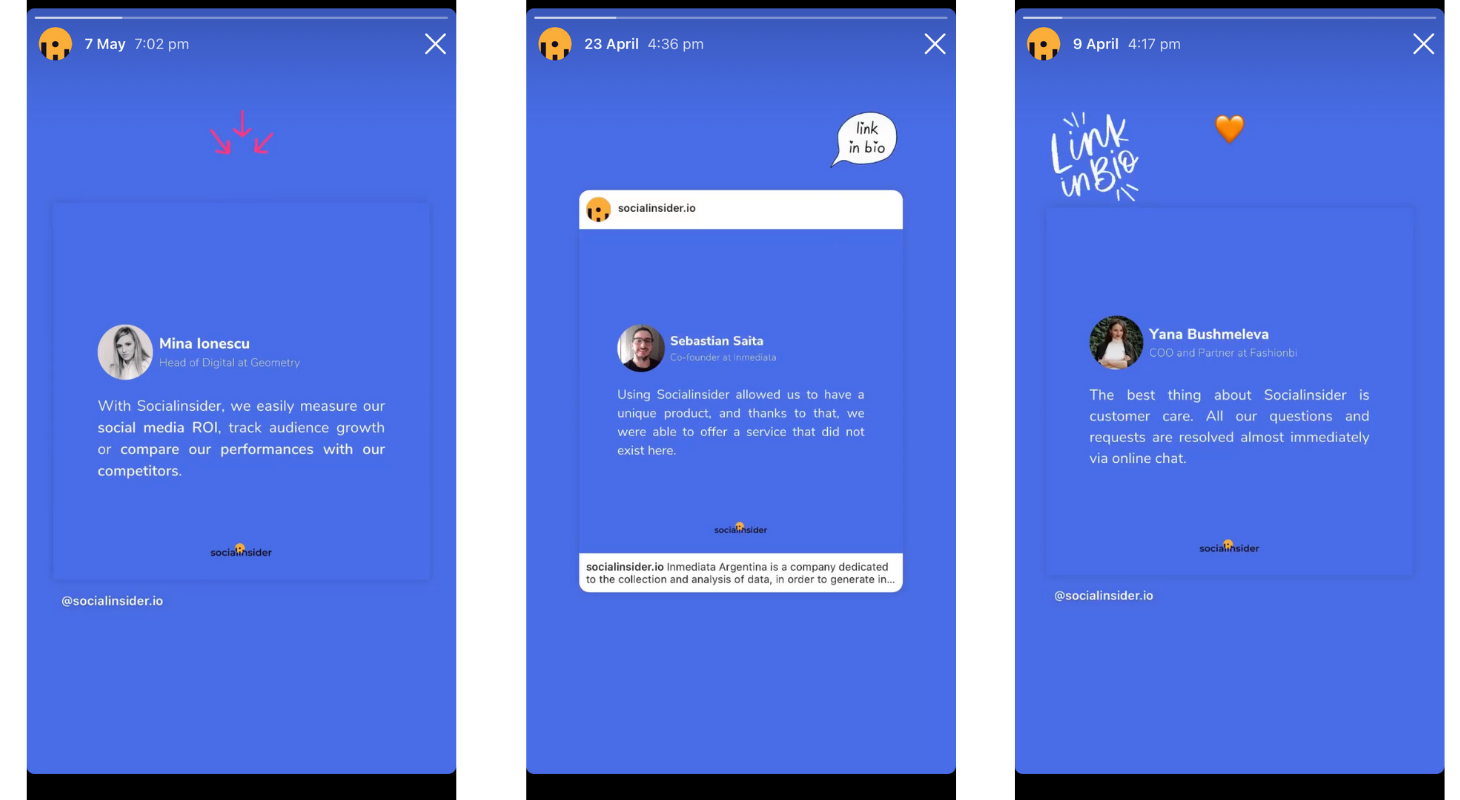 7. Use user-generated content
User-generated content is any form of content that is created by consumers or users about a brand. When it comes to making a buying decision, consumers are more likely to trust fellow consumers who have used the product than brands.
User-generated content can help to generate more engagement when sued on Instagram Stories. This means that your content is more likely to get more comments and likes.
The more users engage with your brands, the higher your post will be prioritized on Instagram feed, a factor that will expose your content to new users.
Thus, involving your audience in your brand's activity becomes a highly effective customer care strategy.
Make sure that when someone mentions you in their Instagram Story, you respond or re-share that post. Let people know that you appreciate what they are doing for you.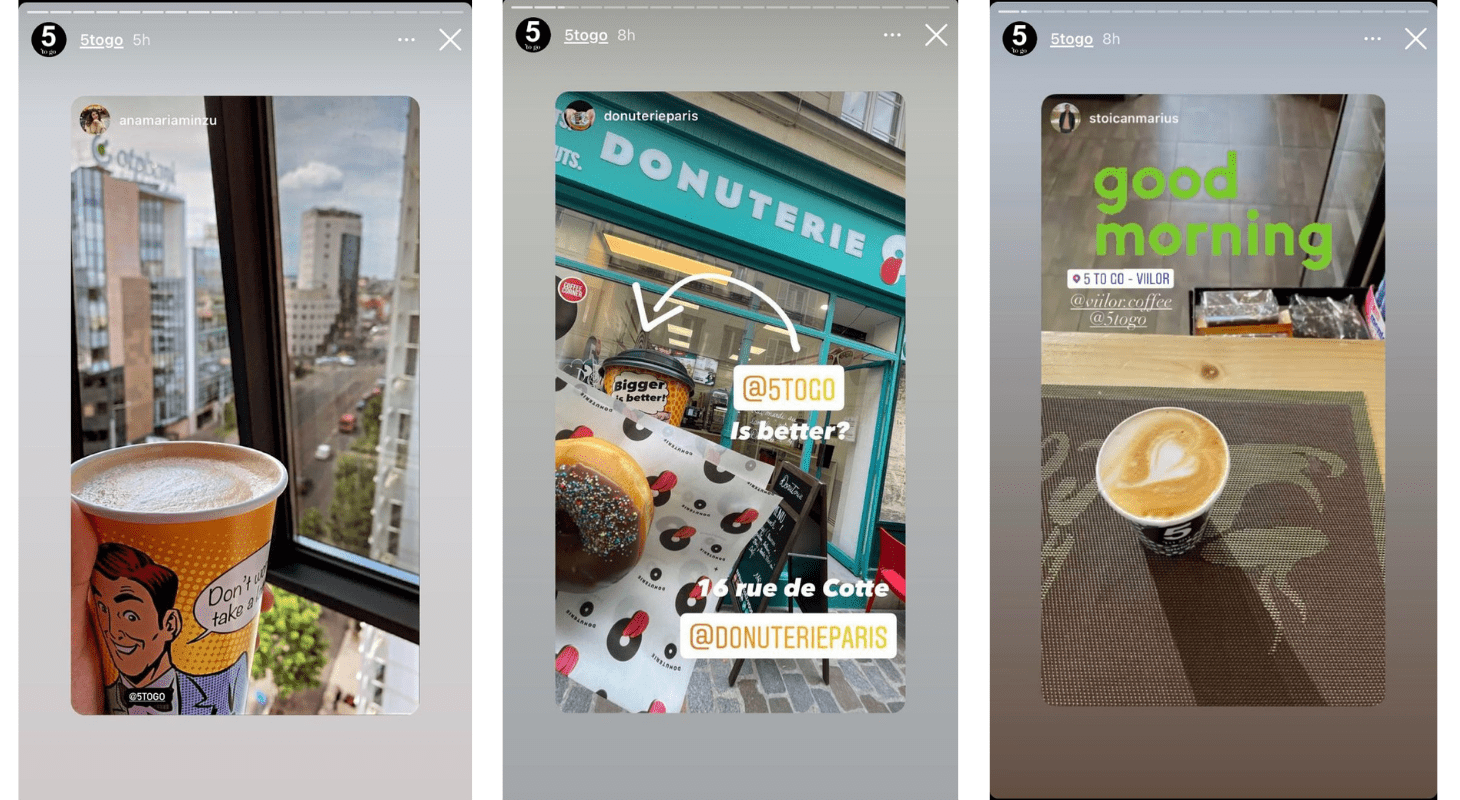 8. Promote your work
Blog posts, podcast episodes, videos - make sure you promote your work with your followers on Instagram Story.
One of the easiest ways to do this is to add links directly to your Instagram Story, allowing users to swipe up and see the piece of work you want to promote. However, that feature is only available to business accounts with more than 10,000 followers.
If you don't have this feature yet, you can add the link you want to promote in your Bio and invite your followers to click the link in Bio.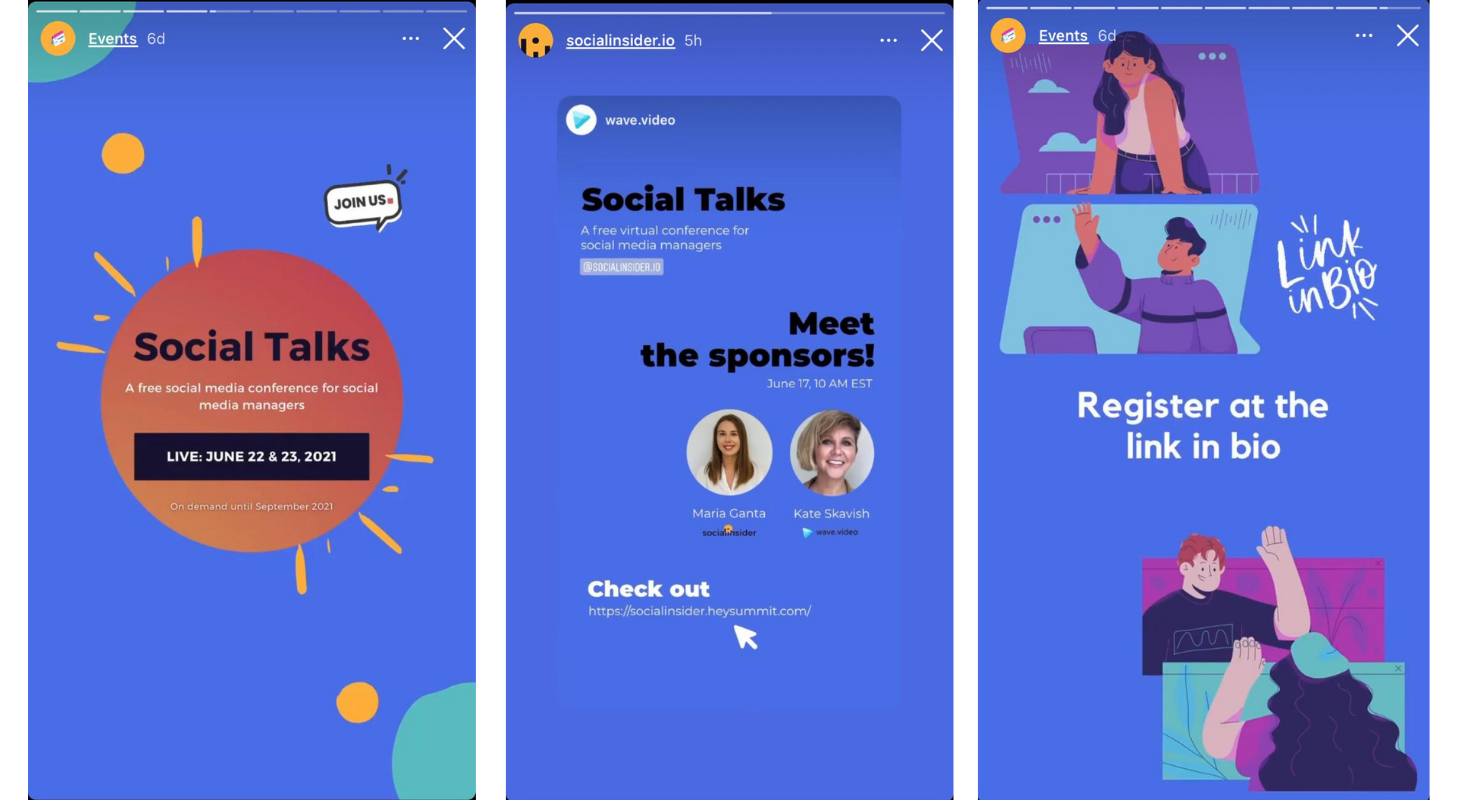 9. Ask for suggestions
Instagram Story is the right place to find out all the answers you need.
Need an opinion on a new feature release?
Wondering which logo color is better?
Want to know what type of content people want to see from your account?
You can use the poll feature or the question sticker and ask your follower's opinions directly. This is an interactive Instagram Story idea to keep your followers close to your brand.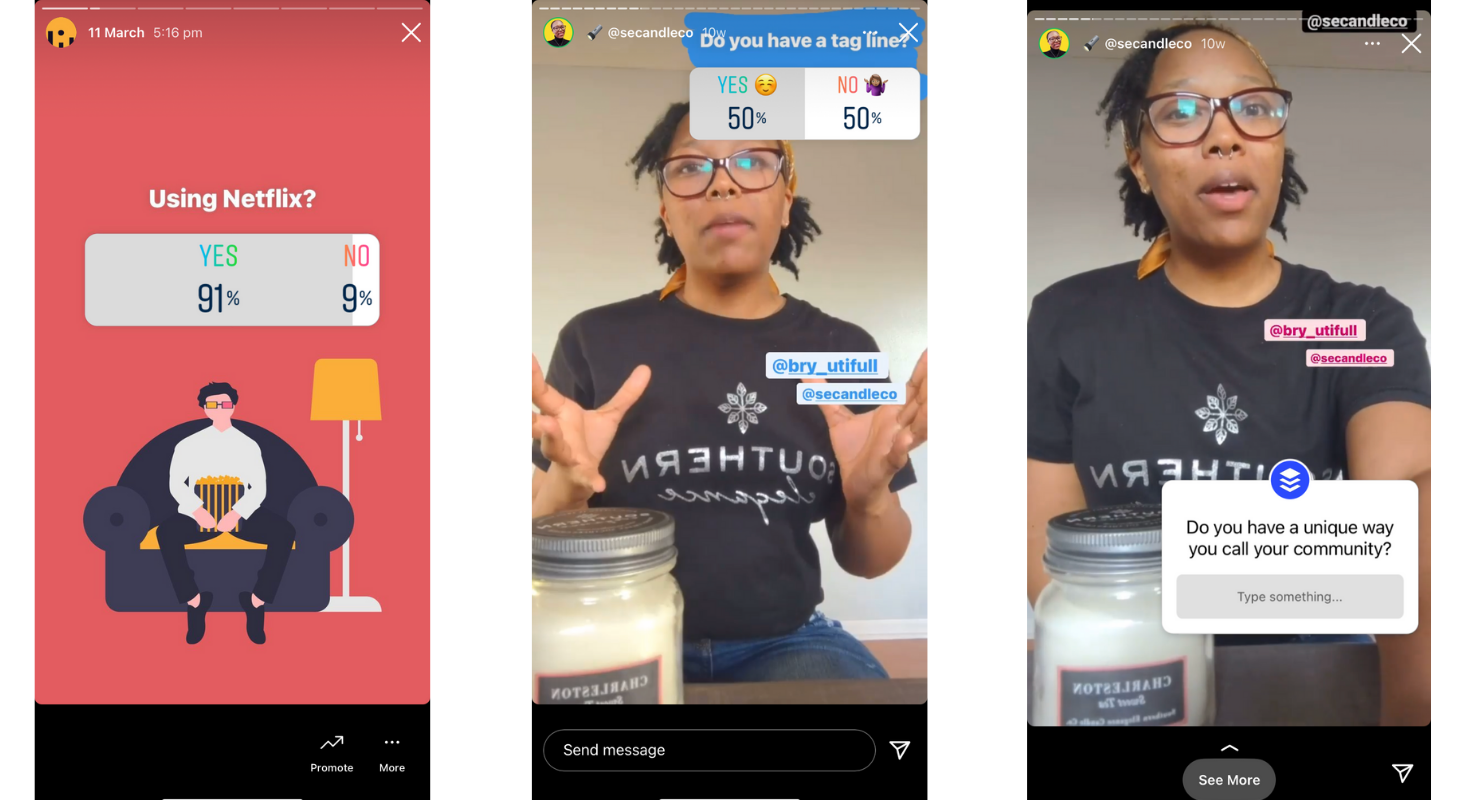 For example, at Socialinsider, we often use these two features to find out our followers' opinions regarding our studies, articles, new features, and more.
10. Use Story highlights
Instagram Story appeared as a feature that allows you to create content that disappears in 24 hours.
But what if you create content that you want to keep?
You can use Stories highlights and save your most essential Stories.
To save a Story, you need to view your own Instagram Story and then tap the "Highlight" button in the bottom right corner of the screen. You can either use that story as a new highlight or add it to an existing one.
For example, the Instagram expert, Sue B. Zimmerman, uses Stories highlights to save her live posts, essential tips, highlight her team, and more.
At Socialinsider, we are also using Stories highlights to showcase our podcast episodes, events, studies, handbooks - our activity.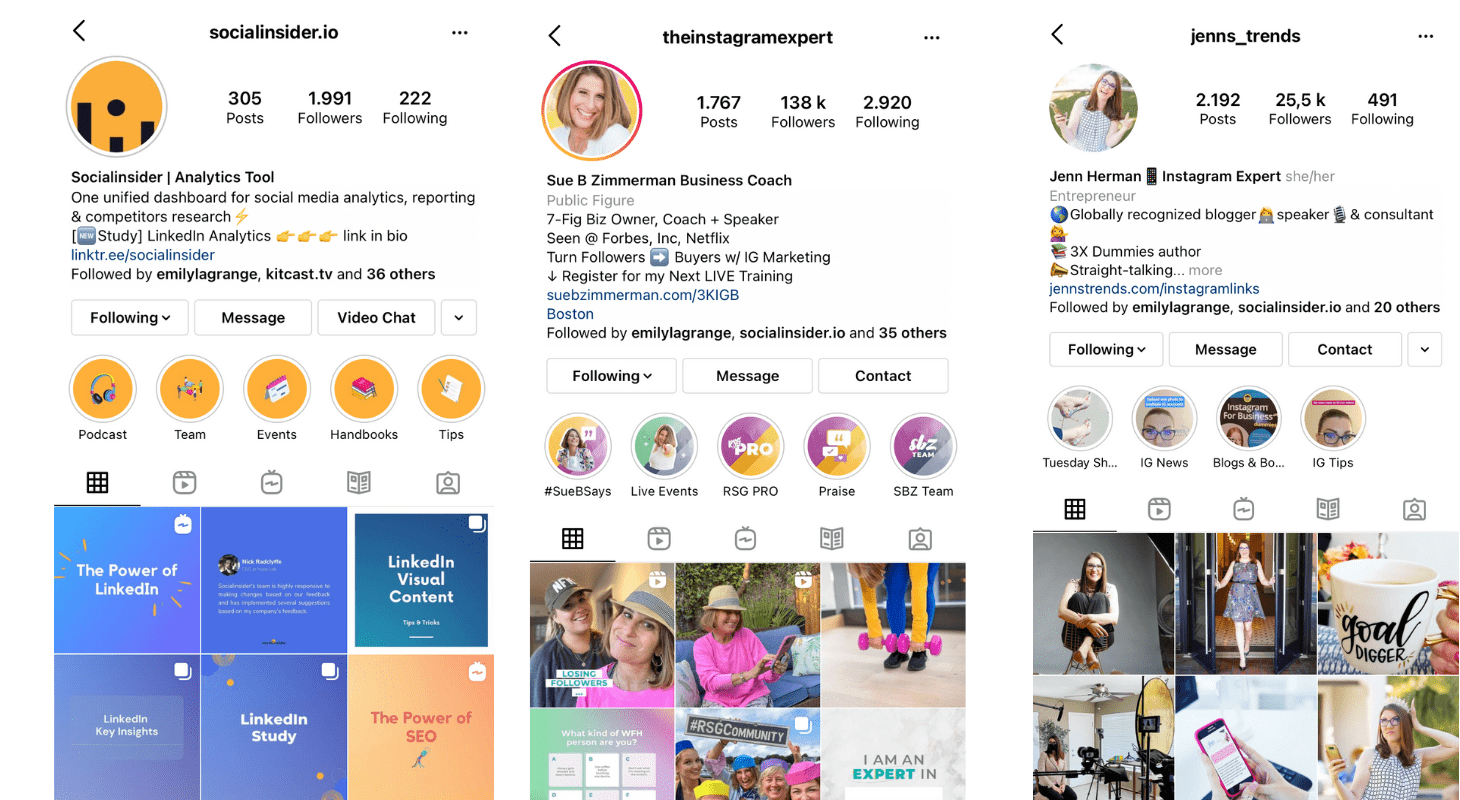 11. Do tutorials
Instead of creating static Stories, you could do a fun tutorial showing your audience how to do something.
Of all the Instagram Story ideas from the list, this is the one you should use if you want to position yourself as an expert in your niche. Just think about what is relevant for your industry.
Whole Foods Market, an American company that sells natural foods, usually does easy and sweet food tutorials on Instagram Story that anyone can replicate in their homes.
12. Play games with your followers
If you've run out of ideas and don't know what things to post on your Story, Instagram has come with many fun tools to play games with your followers.

From the popular poll sticker to the Instagram quiz sticker, you have a lot of creative options to post on Instagram Story.

And what better way to engage with your audience than to keep it animated?

Benefit is a master when it comes to original Instagram Story ideas. Here are just some examples of Instagram game ideas they do once in a while to spice up their account:

story templates
pop quizzes
product scramble
find the emoji
spin the bottle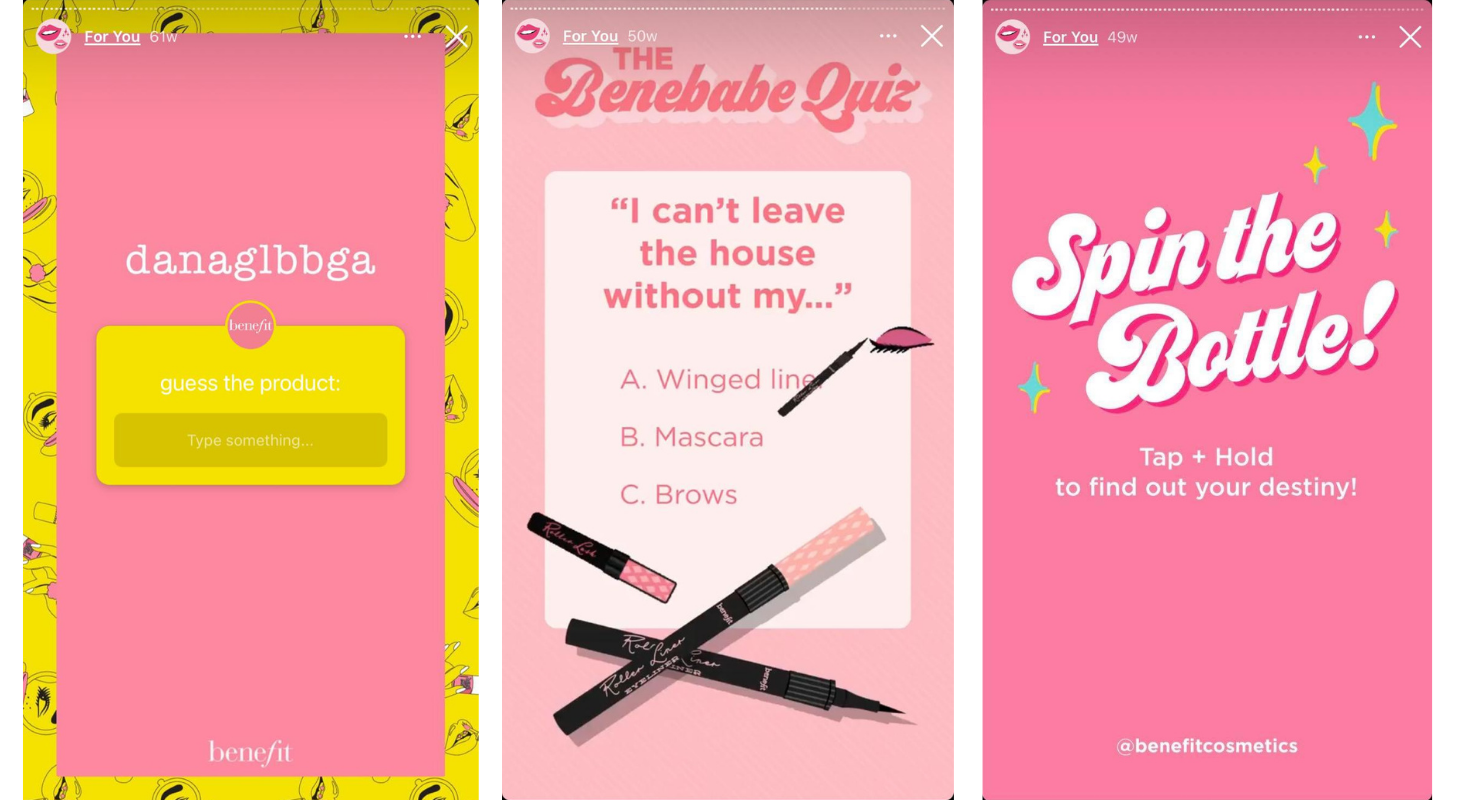 13. Share your posts on stories
If you're feeling stuck and need some Instagram Story ideas, you can also share your newest posts.

Remember that not all your followers see your posts in their feed. Whether they are blog posts, podcasts, studies, or just feed photos, creating an Instagram Story is an excellent idea to let your followers know about them.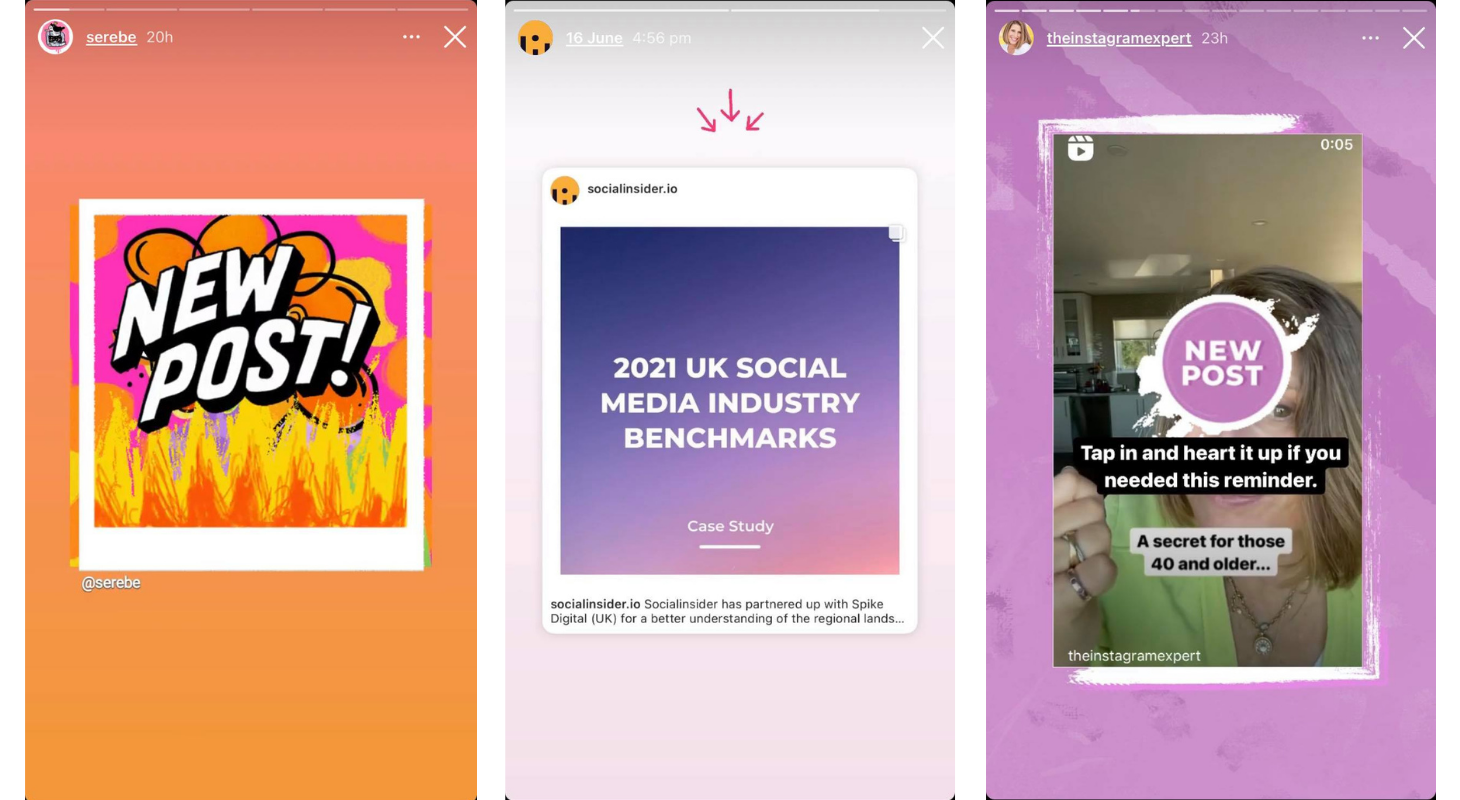 14. Run contests and giveaways
It's not a secret that everyone loves free stuff. Running contests or giveaways is a cool Instagram Story idea that will help you boost your engagement.

The prize can be anything, from samples of your products to free access to your services or personal consultations, depending on what your business does.

Below are some common rules for participants:

ask your followers to post an Instagram Story about something specific and related to your product
ask your followers to tag you in their Stories (they can only tag you if they follow you, so this is a great way to increase your followers' numbers)
stay on top of your notifications and take screenshots because Stories disappear after 24 hours
announce the winners in another Instagram Story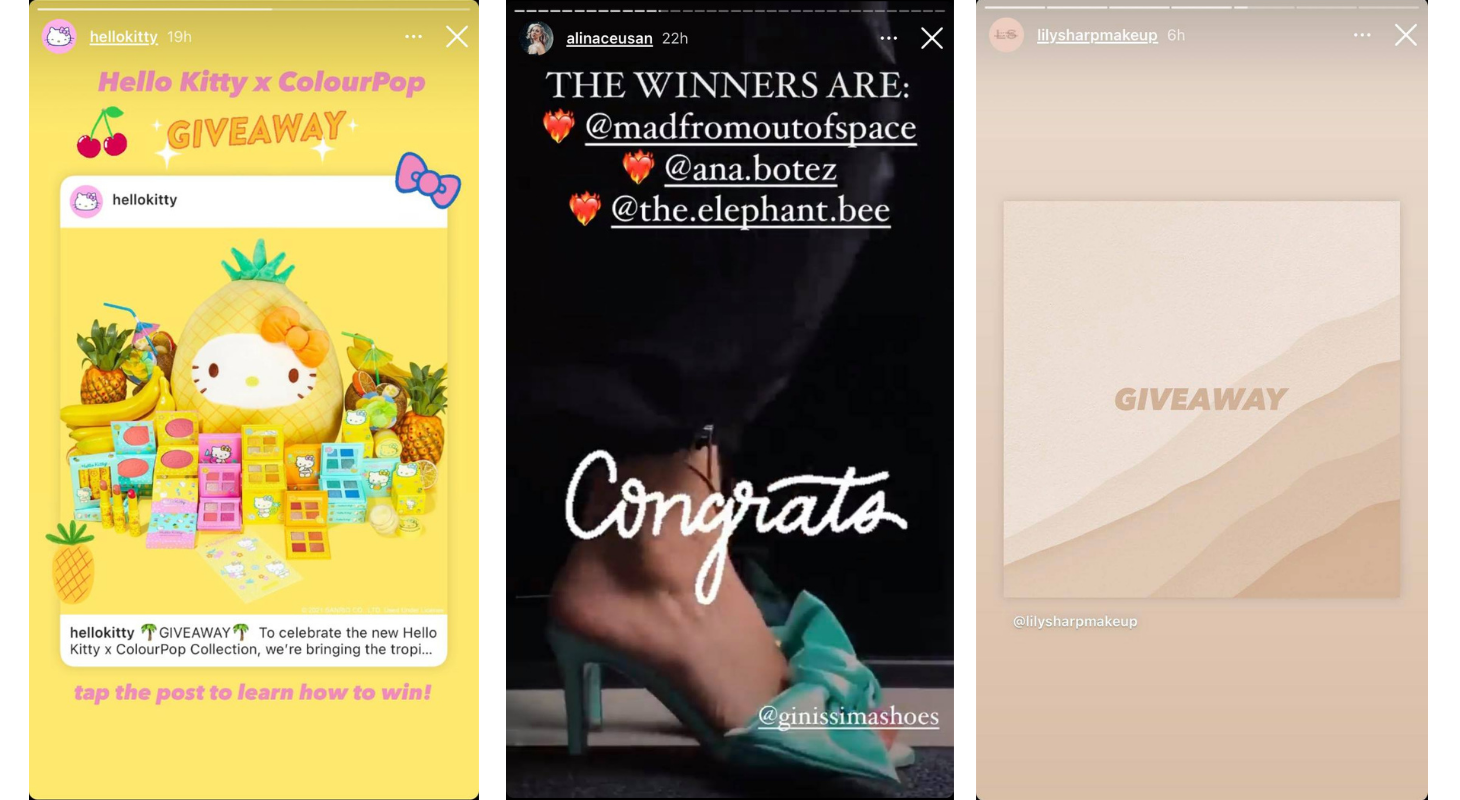 15. Provide sneak peeks
It's in our nature to like feeling special. You can leverage that to your advantage by providing a sneak peek in your Instagram Story whenever you're releasing new products/collections or for upcoming events.

This way, your audience will feel like it's getting special treatment and insider access to something that not everyone has access to.

Need some Instagram Story ideas that fit in this category? Take a look at H&M. The brand made a habit of providing sneak peeks before every new collection release, and it's getting a lot of hype from it!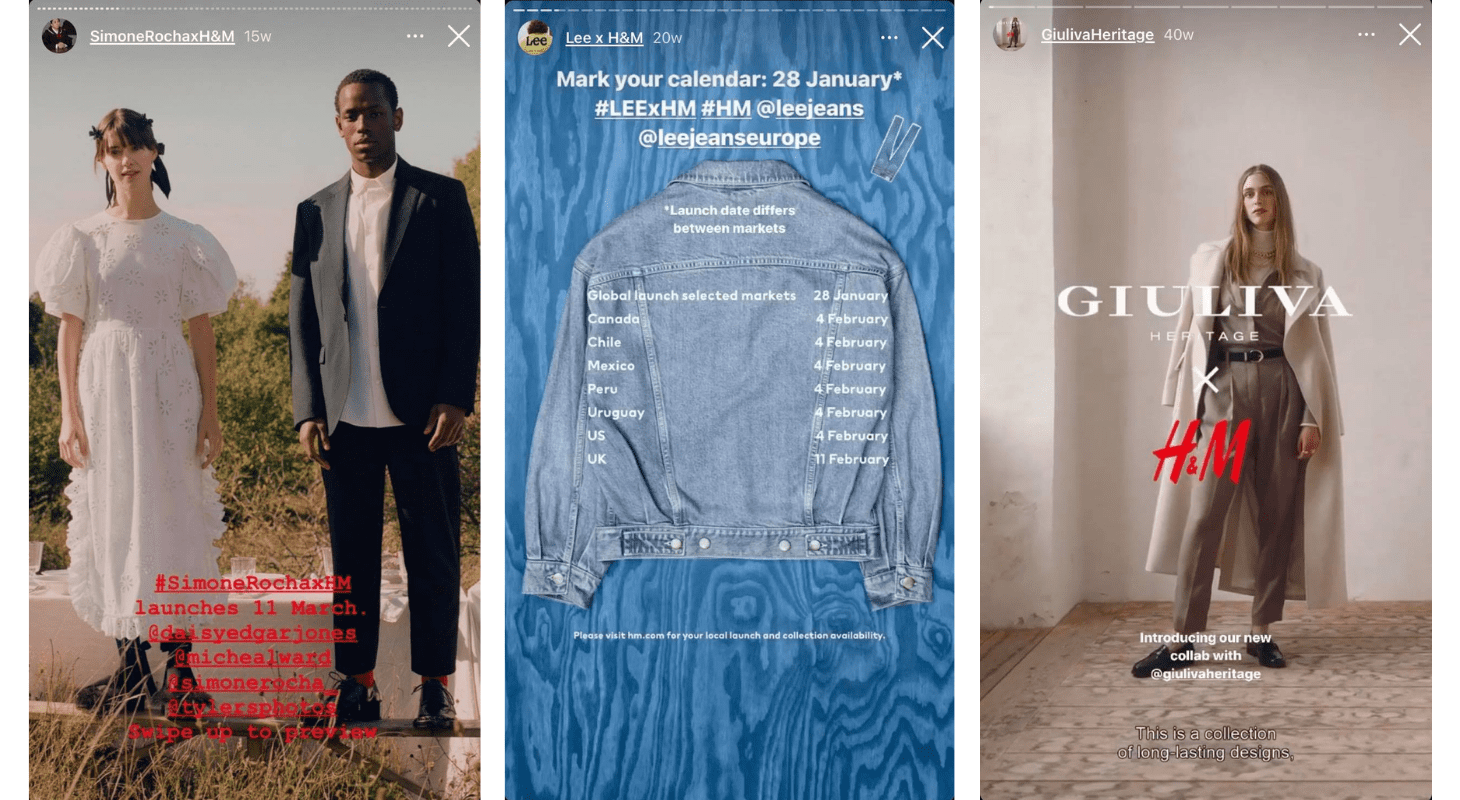 Final thoughts
Instagram Stories are increasing in popularity at a fast pace because their Stories are of higher quality when compared to those on other social media platforms.
Instagram Stories also allows marketers to provide more in-depth information to their target audience to trigger them to take action.
If you want to make your brand more visible, then Instagram Stories are a feature you need to take advantage of. It will make your audience see your business in a way that pictures will not.
So if you're looking for Instagram Story ideas, don't hesitate to get inspiration from this list.