Dear mom, here we go again.

We know how much you love your mom, and that's why we decided to help you out a bit.

Time is precious, so we bet that you're too busy to plan everything in advance. On each noteworthy event, we're trying to keep up with people's wishes. And Mother's Day is one of those days.
For many brands, Mother's Day is an excellent opportunity to generate new sales. Every holiday means a new campaign strategy that could attract more people!

We did a little research, gathered some data, and here we are with the best social media campaign examples on this special day. Yuhuu!
This article is meant to help brands prepare their Mother's Day campaigns this year, but it can also come in handy for those who don't know what to offer their mothers. Besides their unconditional love, of course.

Let's see what I'm talking about!
Best Social Media Campaigns on Mother's Day
Mother's Day campaigns ideas for brands
Mother's Day posts performance on Instagram and Facebook
Mother's Day social media campaigns examples:
---
Mother's Day campaigns ideas for brands
As a brand, you always have to come up with new ideas to improve your product or service. This can't always be easy, and we know that it needs a lot of teamwork.

Either it's Christmas, Valentine's Day, or even Black Friday, you have to put some effort into preparing new campaigns for everybody. But we can assure you that it's going to be worth your time.

Some campaigns will be better than others, and that's very much normal, but maybe you'll get some inspiration from what we're going to show you.

Actually, a simple post means a lot more than you think, but if you feel like starting a full campaign, we support you in every way.
Some tips and tricks that we know would work:
promote your bestselling product
create a new hashtag for this important day
celebrate this day through dedicated posts
partner with another brand or influencer
launch a Mother's Day giveaway
create a gift package
gift cards for special occasions
Now, it's time to learn from some of the best Mother's Day campaigns that we've seen in the last year. Some of them caught our attention big time!

Mother's Day posts performance on Instagram and Facebook
We wanted to find out Mother's Day posts' performance on Facebook and Instagram to see which ones are the most performing.

Brands should go for posting more photos and create albums on Facebook for a higher engagement rate.
Videos come in third place, followed by links that don't perform that well.
In this particular case, we observed that links on Facebook don't return so many reactions, having an engagement rate of less than 0.1%.
The average engagement rate per post on Facebook is 0.30%, while the average engagement rate per post on Instagram is 0.55%.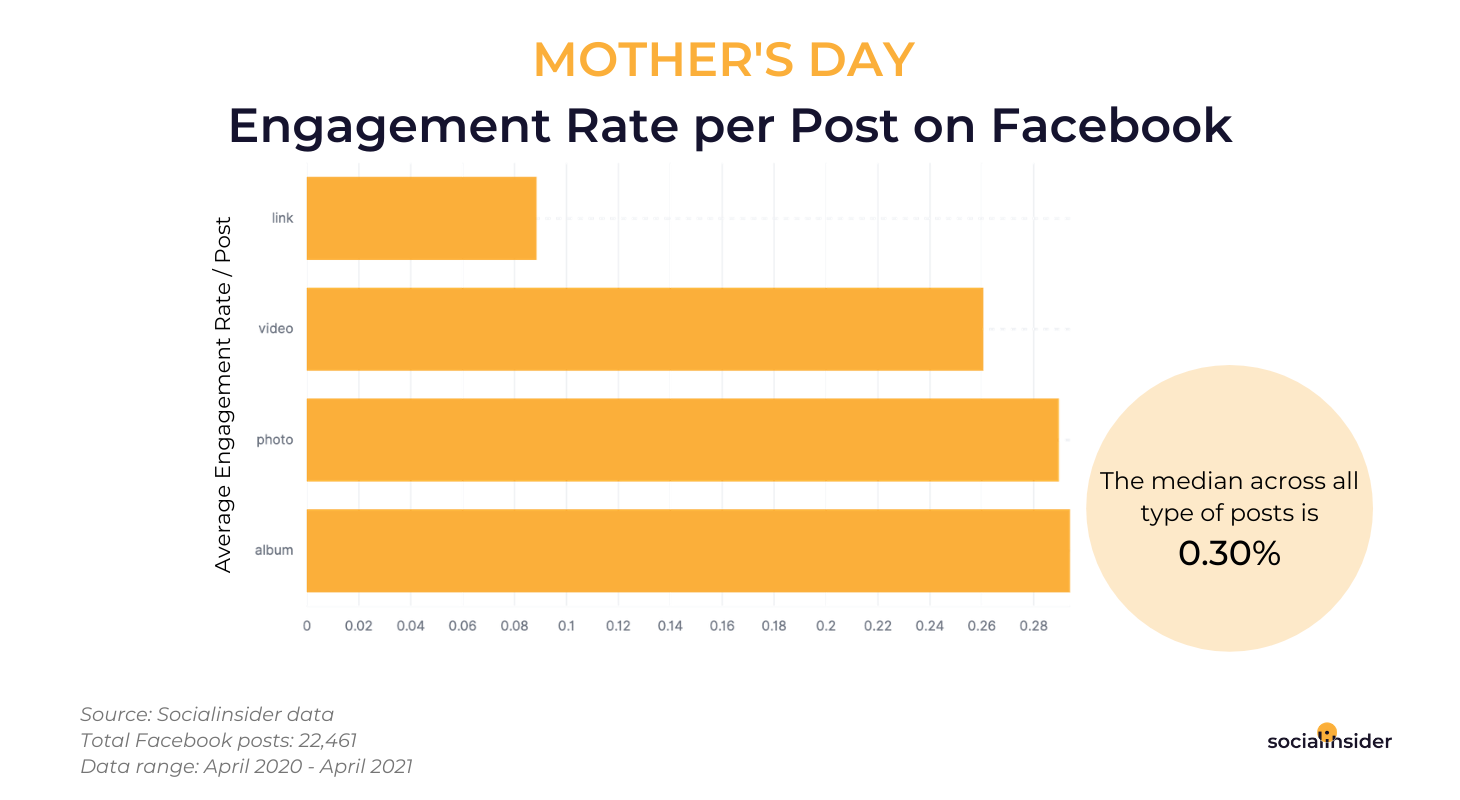 Overall, in 2020, brands published photos (60.01%) and links (15.56%) on Facebook, followed by videos (14.64%) and albums (9.79%).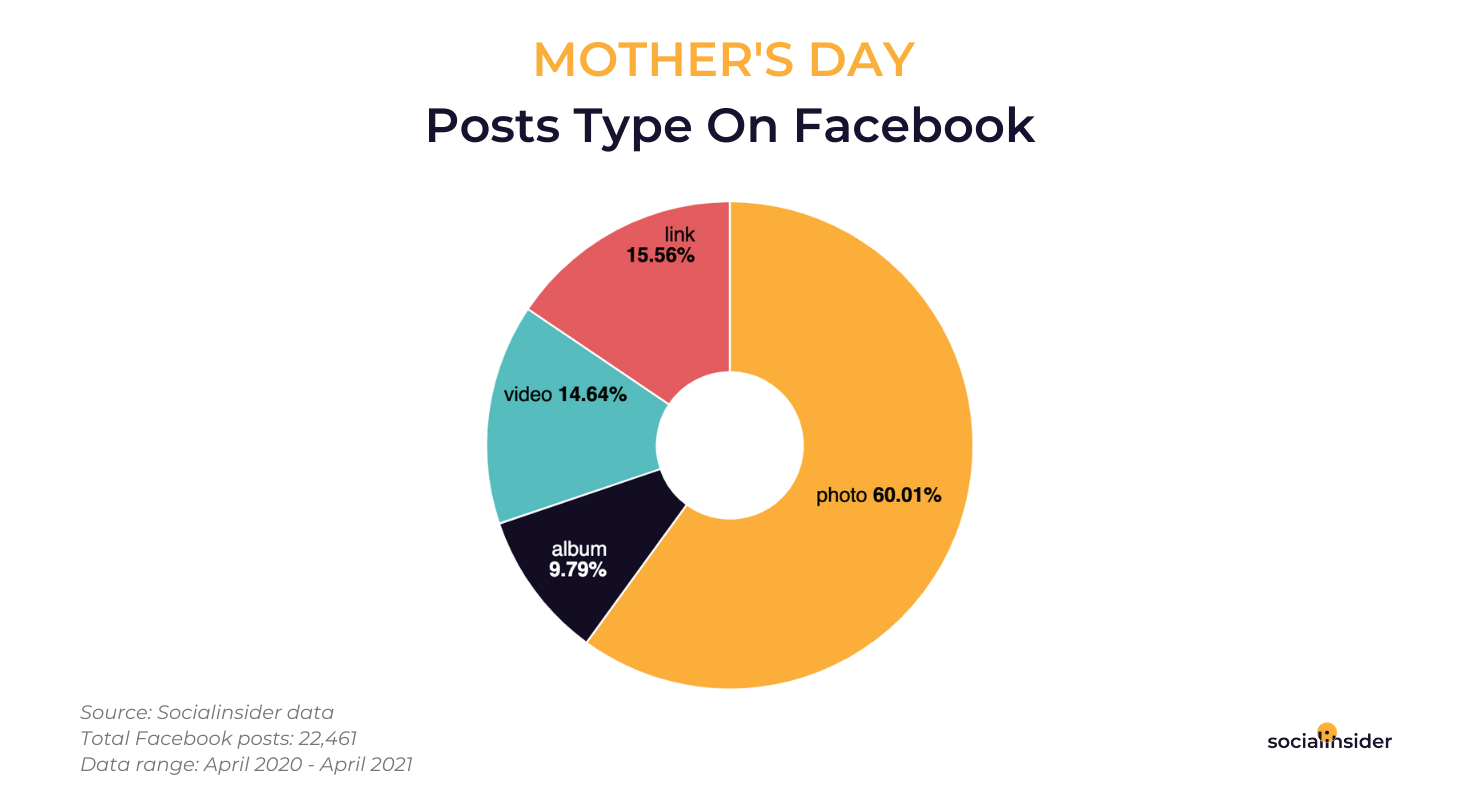 On Instagram, images are the ones that perform the best.
In 2020, most brands published more images (70.1%) on Instagram, followed by carousels (19.68%) and videos (10.22%).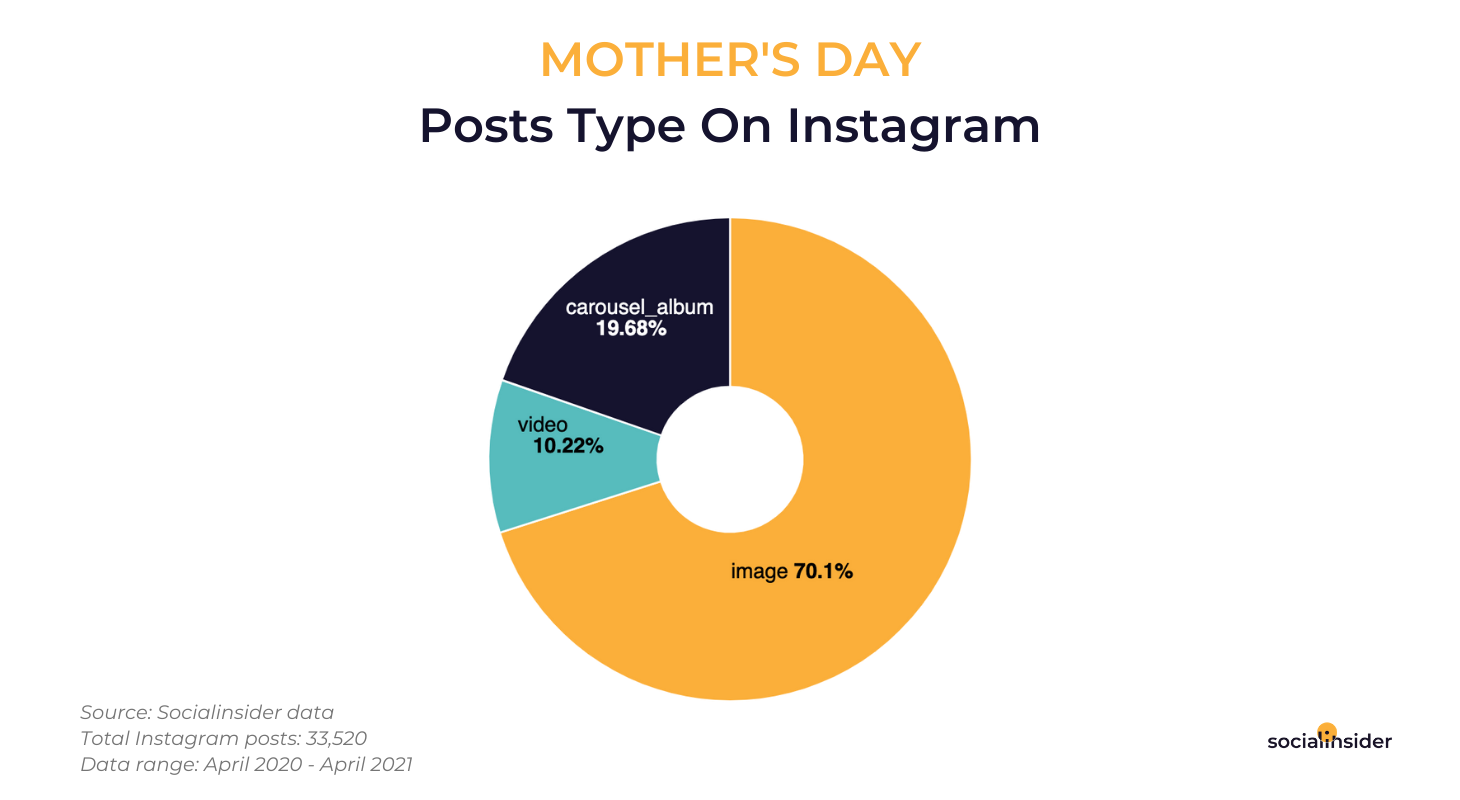 Images are the most performing type of content for Mother's Day, with an average engagement rate per post of 0.57%, followed closely by carousels with 0.56%. Videos come in third place with an average engagement rate per post of 0.51%.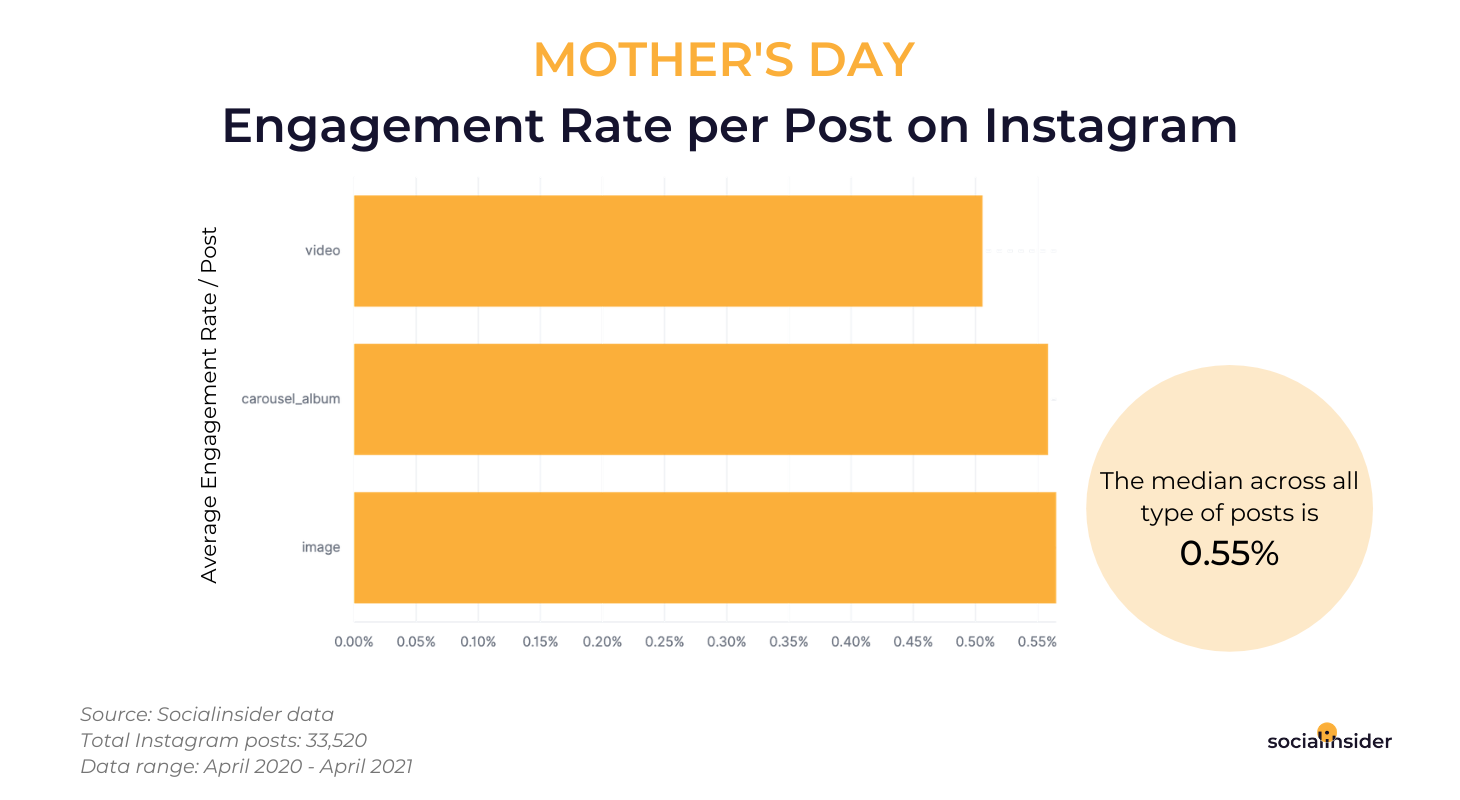 Discover what 102,700,573 posts show us about Instagram Engagement!
Now, we prepared here a short list of examples but from different areas of interest. Variety is important.

Mother's Day social media campaigns examples:
Our mothers deserve our love, but sometimes you could add a few gifts to that. Let's see how the big brands are doing it!
1. Gucci
There is no doubt that all women love bags. We speak facts here!

Gucci is one of those luxury brands that knows how important a bag is for a woman. From a medium bag to a small cross-shoulder one, you can choose whatever you know your mother prefers.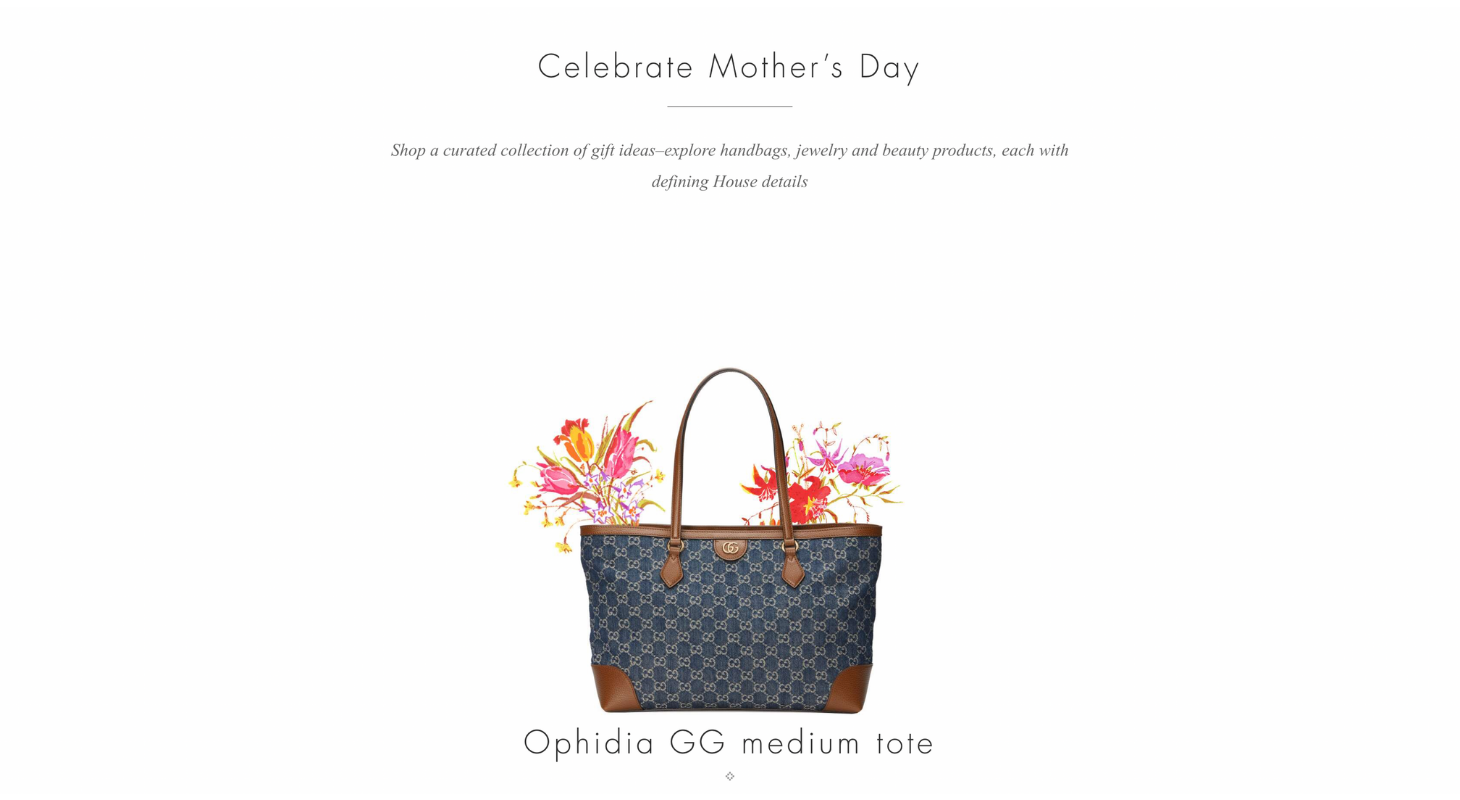 You can surprise her with some sunglasses, an elegant watch, shoes that steal the show, or some beautiful jewelry.  

From a brand perspective, Gucci decided to dive into its most impressive products to promote during Mother's Day. With a soft, delicate color, the brand created a beautiful campaign that focused on femininity.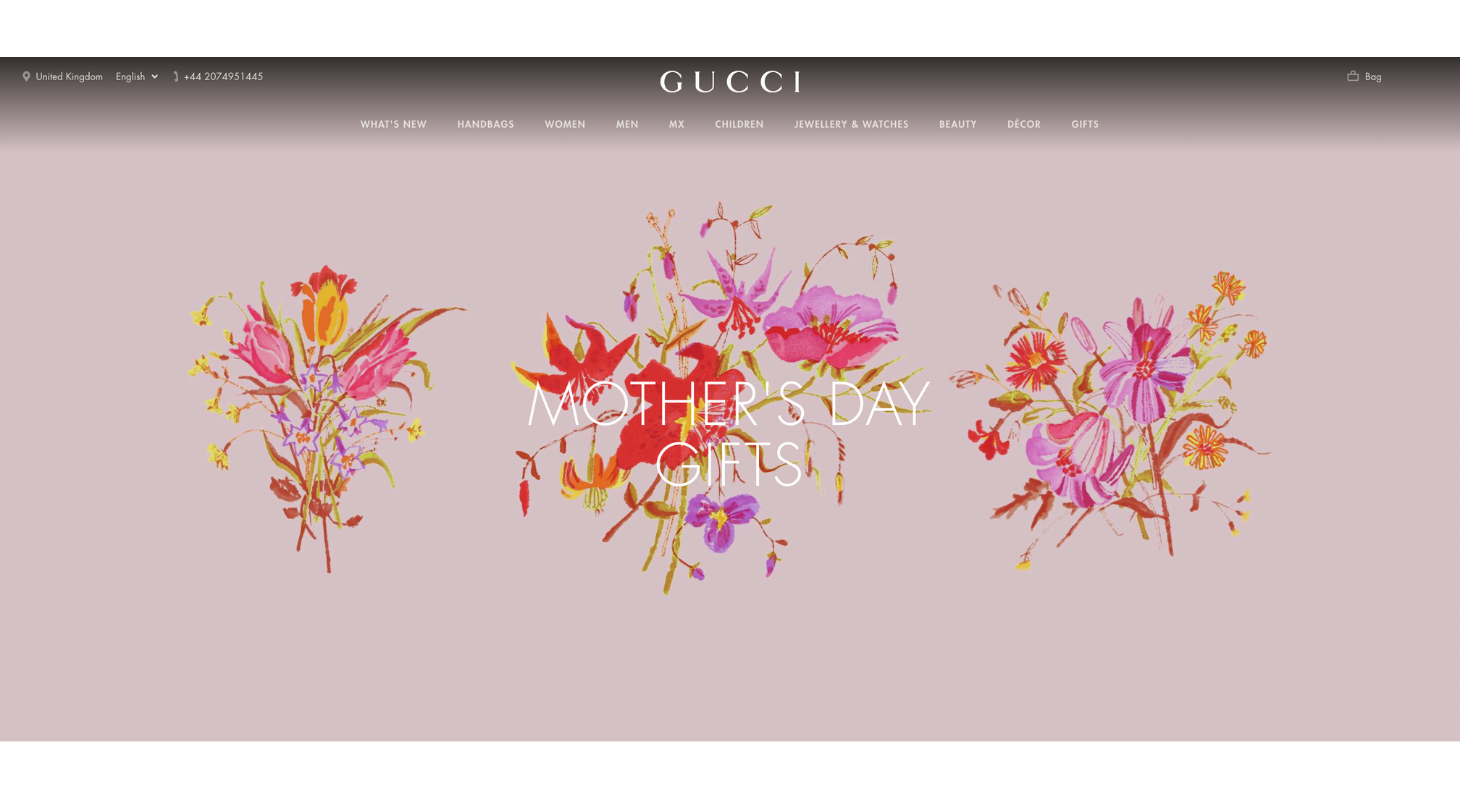 There is no wonder why Gucci is still a beloved fashion brand despite its prices.
2. Tiffany & Co.

Marilyn Monroe once said that "diamonds are a girl's best friend".
Did she lie? No, I don't think so.

Rings, pendants, earrings - you have from where to choose. Their campaign was powerful on social, and it also had a very artsy landing page on their website.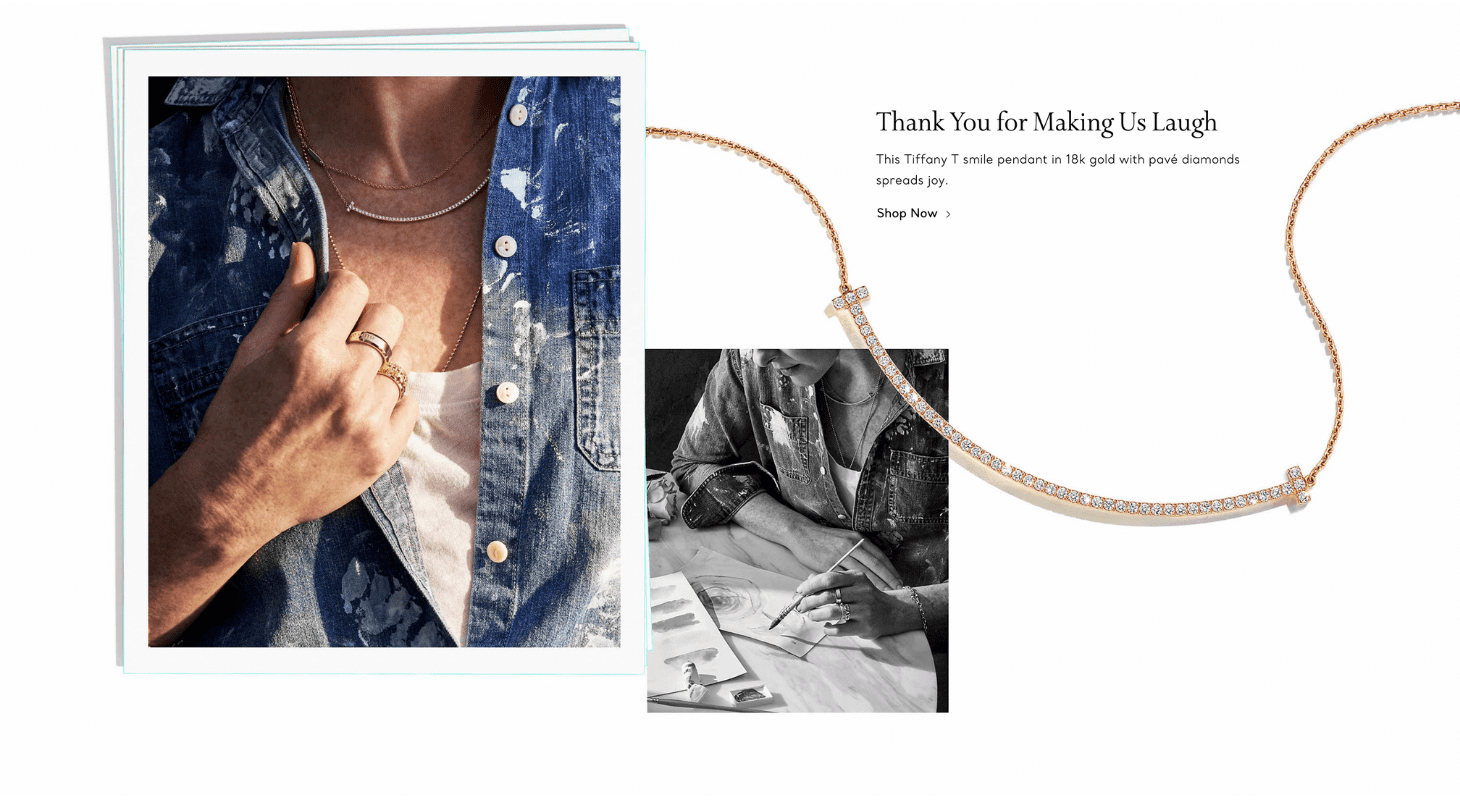 Diamonds never fail. Any mother would be happy to be gifted with an impressive stone that shines in the light.

The American luxury brand created an emotional campaign in 2020, sharing more than just a few rings crafted in 18k rose gold and diamonds. The relationship between mothers and their children is expressed through the purity and beauty of the jewelry.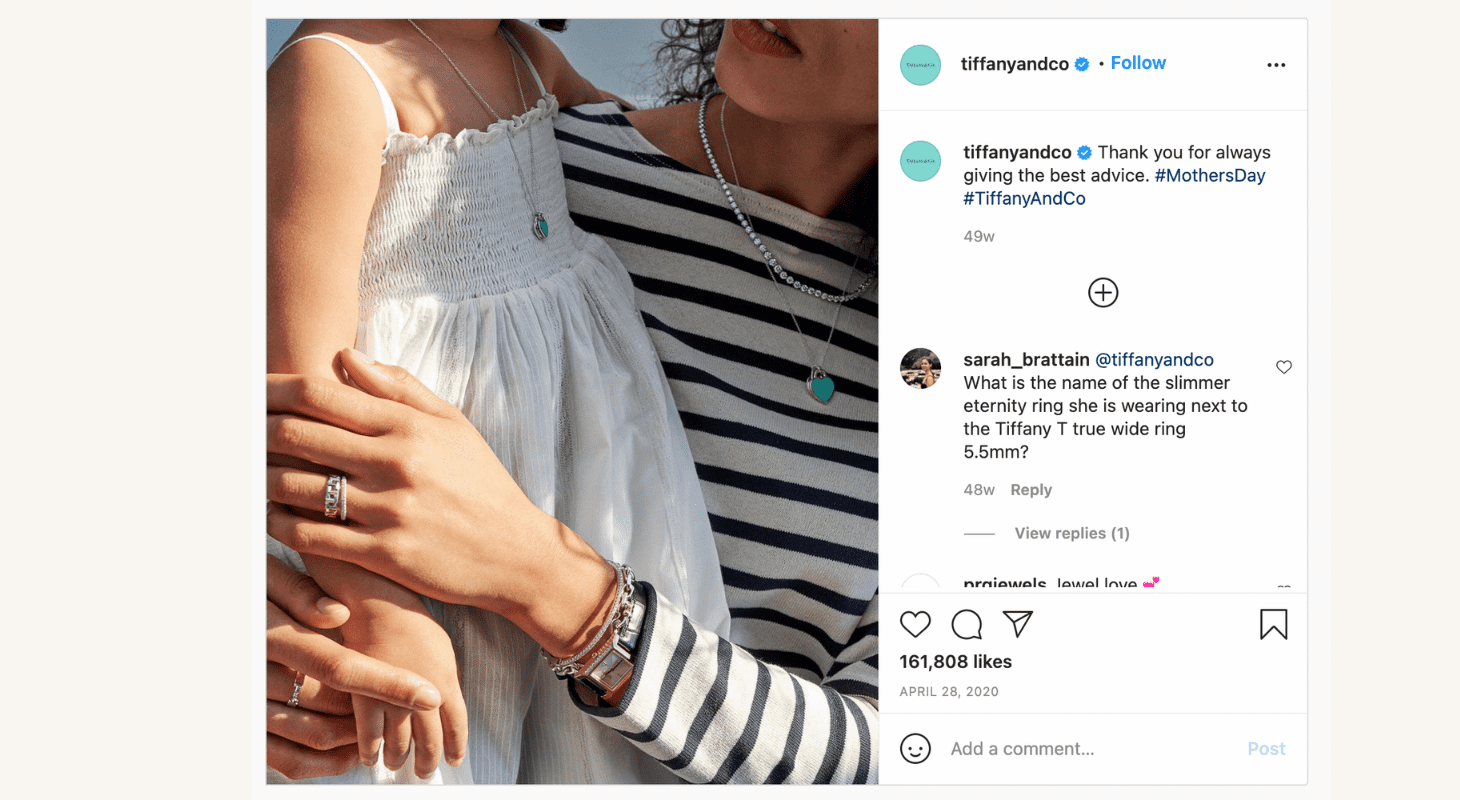 Tiffany & Co. focused on the power of this relationship while also presenting the brightest and the most ravishing pieces of jewelry.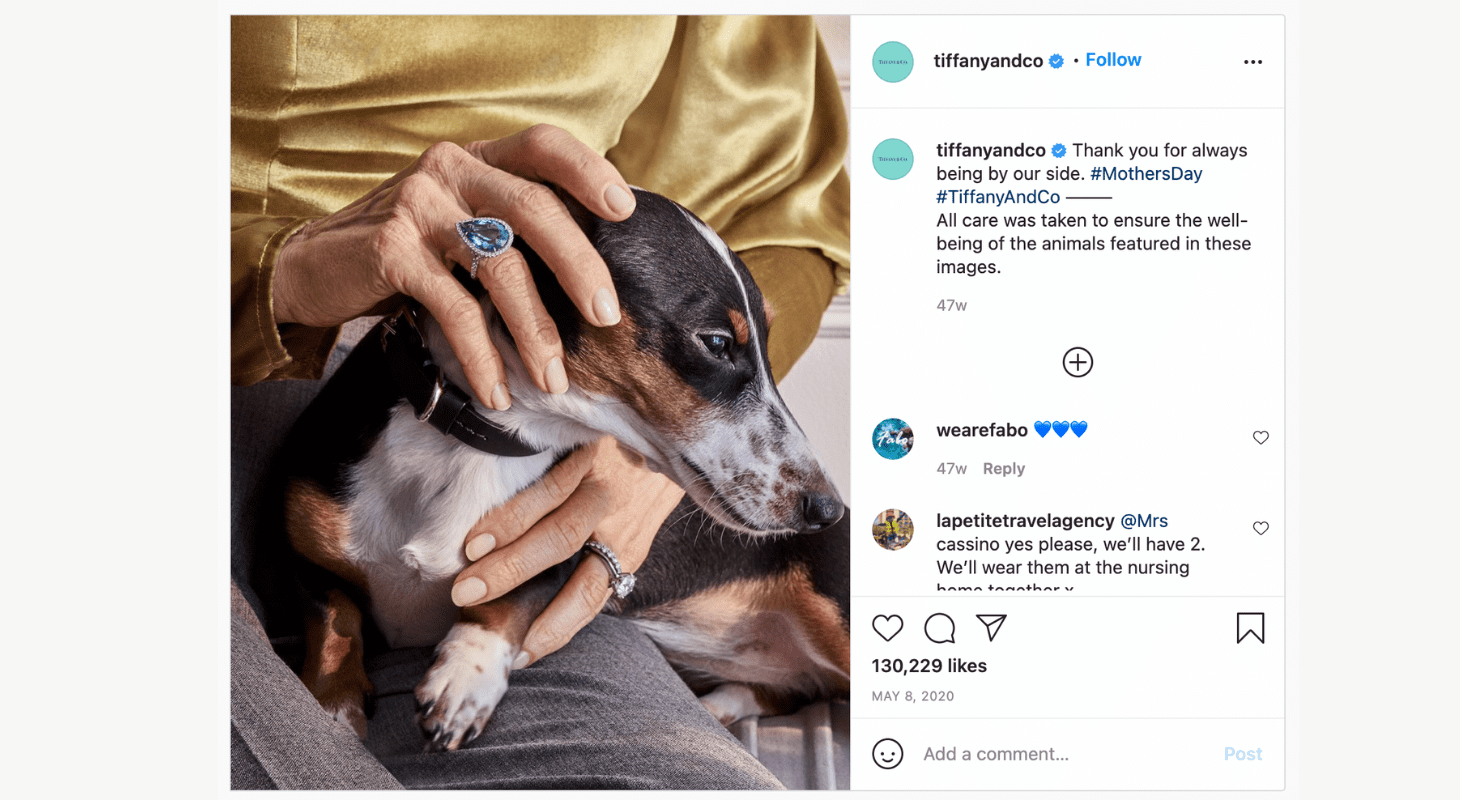 Make your mom feel like Audrey Hepburn in Breakfast at Tiffany's every day with a little shiny gift.

3. The North Face
Knows as one of the best brands that create sportswear and outdoor gear that's perfect for any activity, The North Face dedicated a caring campaign to all strong mothers on this special day.

Women can climb mountains, too, and the brand created a very colorful way of showing some love to them.


All mothers are courageous and empowering, and this brand knows it very well. Depending on what her heart desires, you can choose from camp duffels, backpacks, jackets, running shoes, and more.

The North Face decided to embrace this special day with a few photos showing the relationship between the mother and her children and the relationship between us and mother nature. Being a brand that explores diversity, outdoor activities and encourages adventures of all kinds, it's no surprise to see their way of getting closer to nature as well.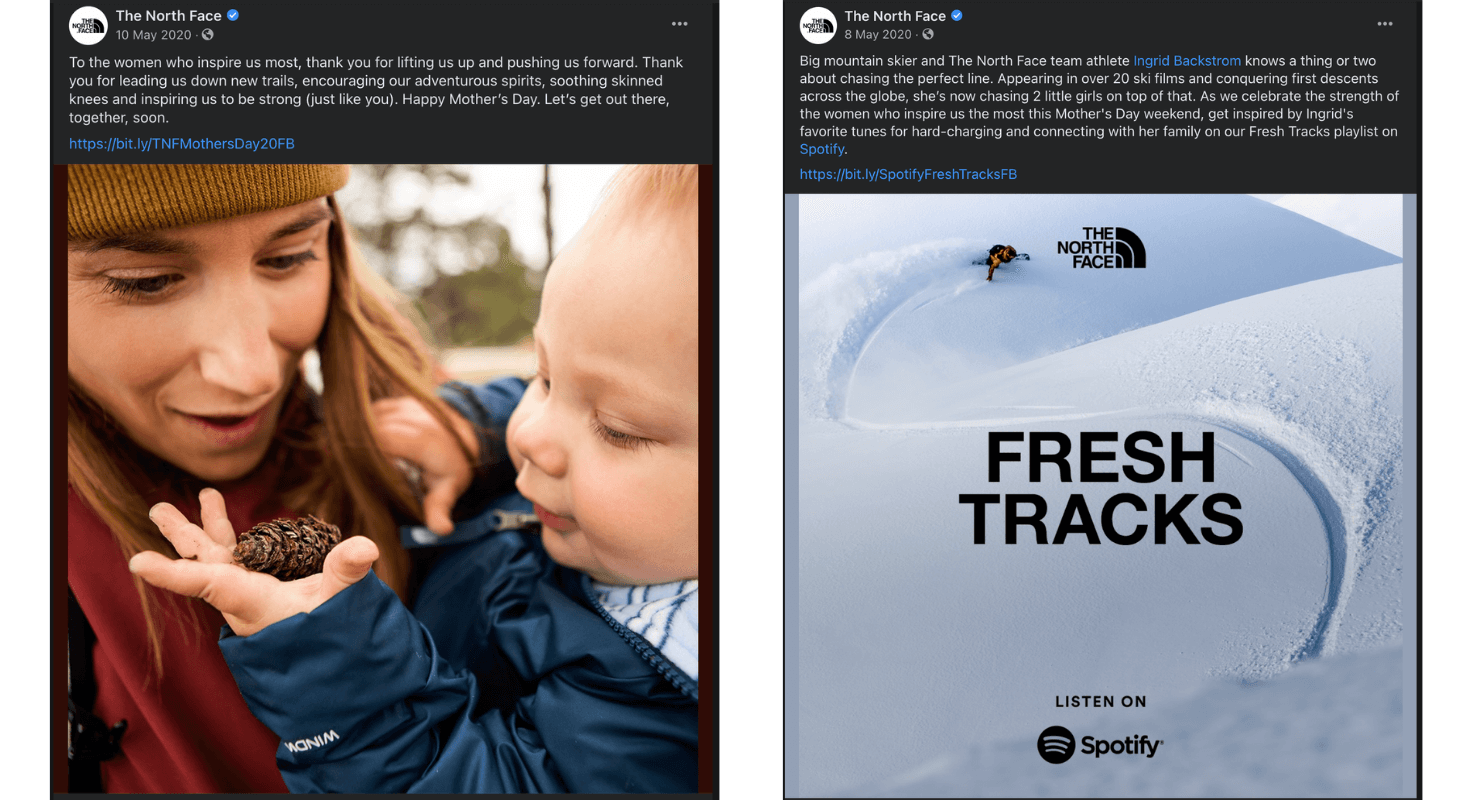 Just like our own mothers, mother nature is always there for us. She is meant to keep us all safe, as well as protecting the planet. Now, when the climate crisis is getting serious, we have to take action and encourage each other to take care of the home we all share.
4. Simon & Schuster

A romance book, fantasy, maybe a biography. From classics to contemporary writers, there has to be at least one book that would make your mother happy.

And the team from Simon & Schuster had the same opinion. This publishing company started a stunning campaign that was born from one question: Who has given you the first book?

For most people, their mothers have encouraged them to read their first book. And this is how Simon & Schuster created this amazing Mother's Day video.
A few writers came forward to talk about their mothers and how they introduced them into the fantastic universe of books.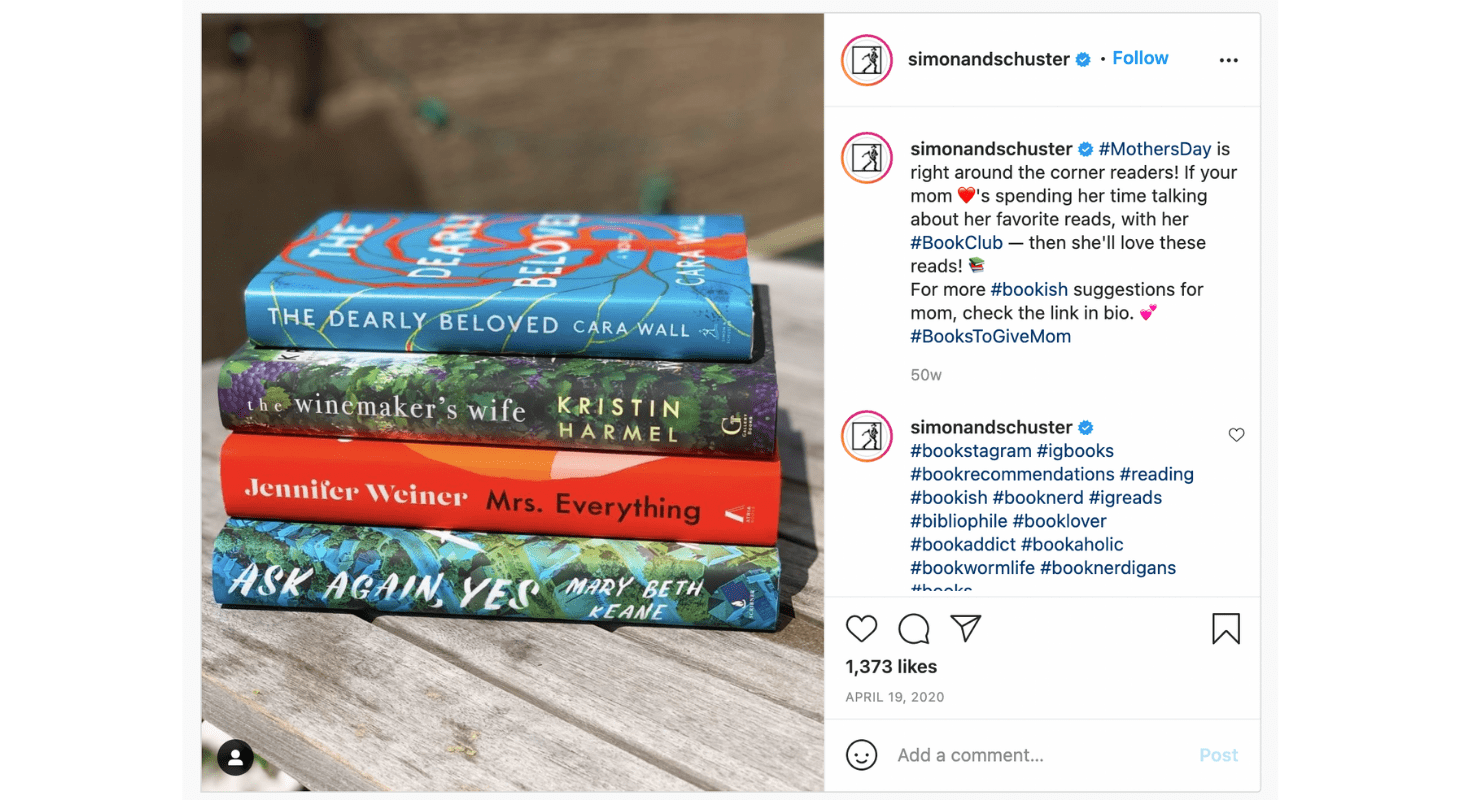 Simon & Schuster has also created the hashtag #BooksToGiveMom, and you can use it on social media to share with everyone the books your mother gave you as a child and the books you are offering her.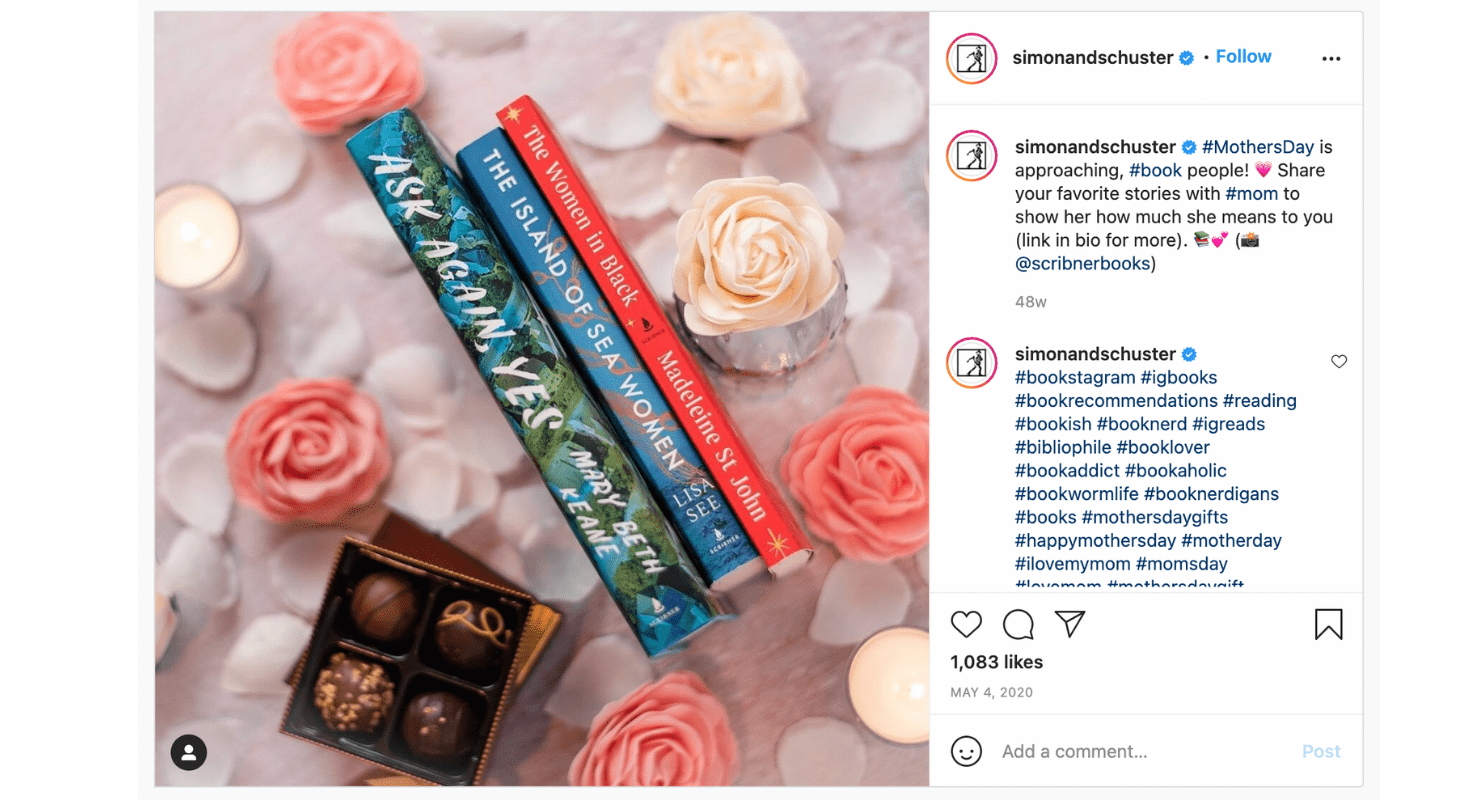 This is a very well thought social media campaign that also has some sort of educational purpose: the brand not only celebrates Mother's Day, but it also encourages people to read more.
5. Ikea
A trip to Ikea feels like a vacation sometimes, so it's the perfect opportunity to buy a gift for your mother.

And the Swedish company, which has been the world's largest furniture retailer since 2008, knows what mothers love.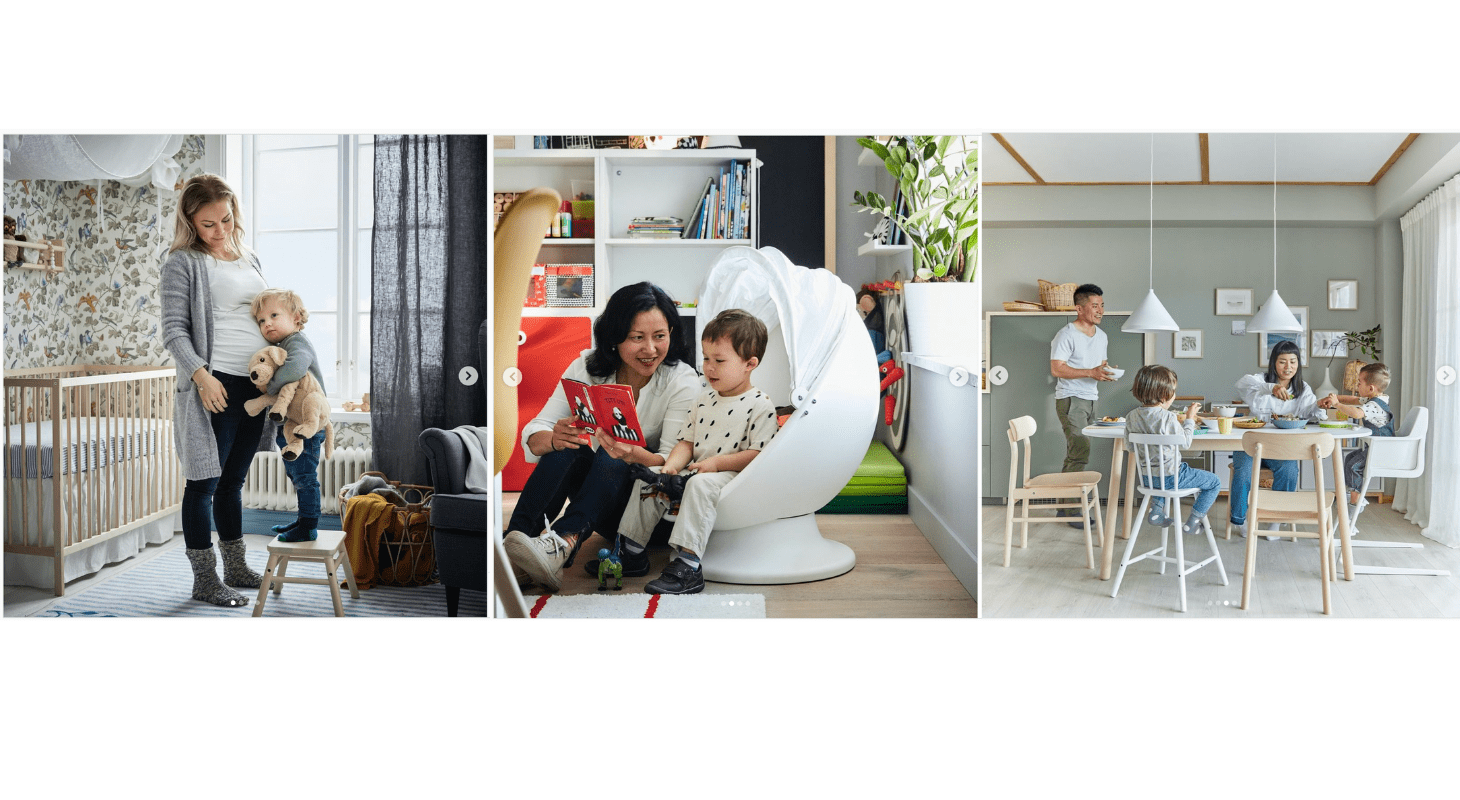 A beautiful plant, a nice painting, or some new shelves to put the books from Simon & Schuster would work really well.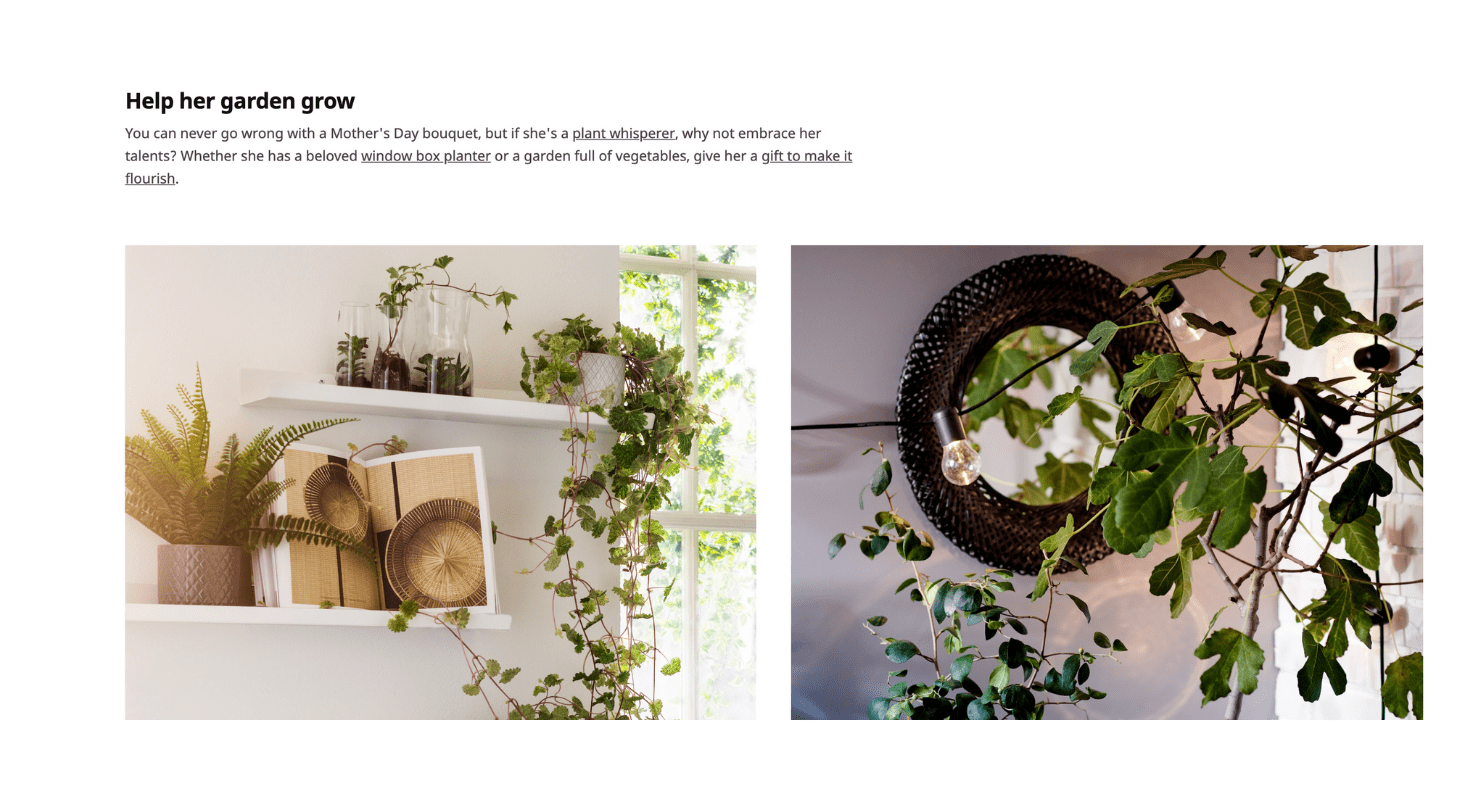 Ikea knows that we all need some "me-time". But mothers all around the world need it more than anyone else probably. That's why this campaign was created for them.

From kitchen tools to make cooking more fun to closet organizer accessories, your mom deserves to make the most out of every experience. Especially now, when we all stay in our homes more than usual. Make it fun!

Ikea Canada launched a special Mother's Day gift guide that aims to inspire us all. This could be helpful if you are not sure what gift to give to your mom.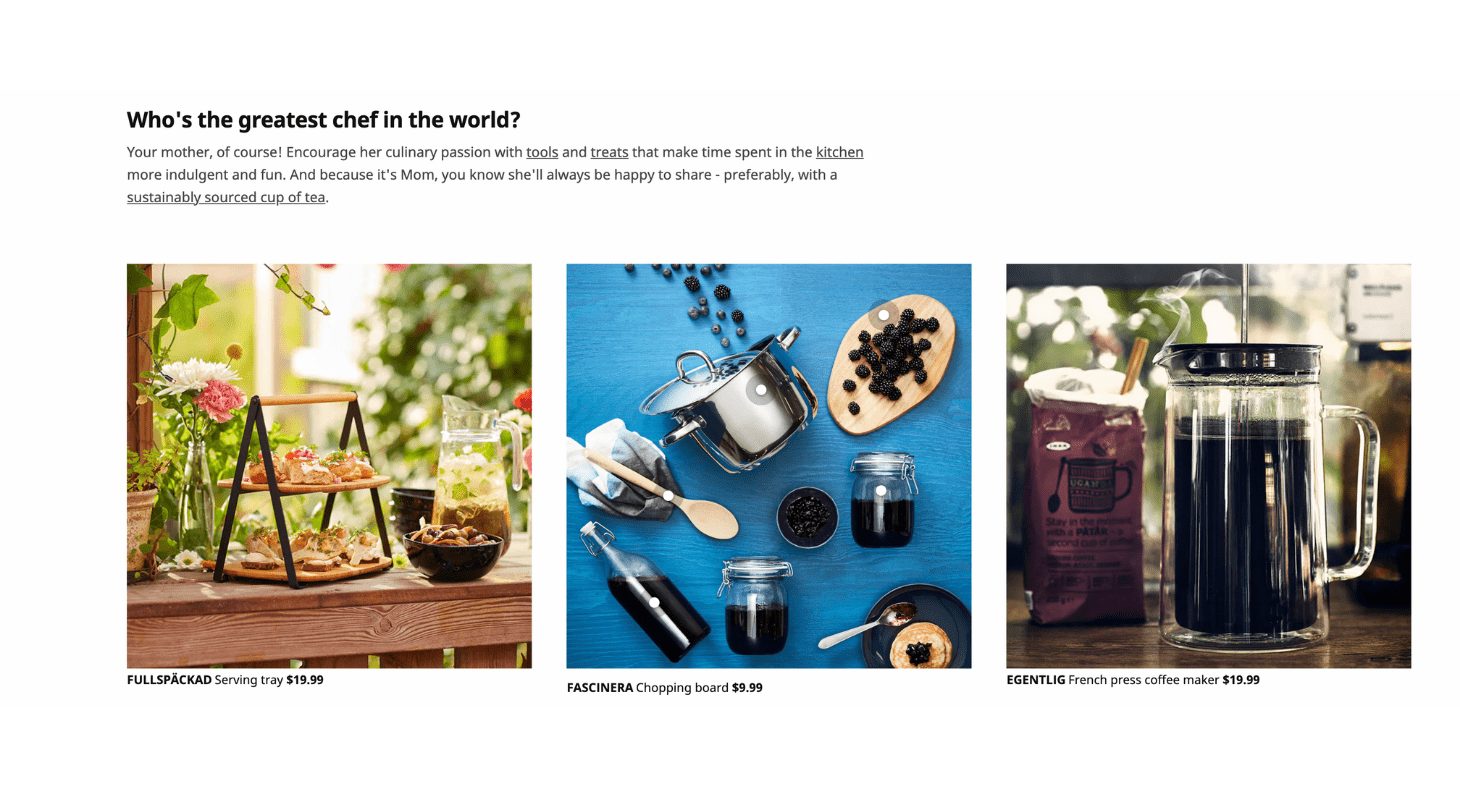 Mothers love their children, but they love a nice armchair to relax just as much. Cheers to that!
6. Lancôme

From a variety of products, be sure that Lancôme is going to be a great choice. We can already tell that your mom will love it.

Lancôme posted a few photos of their most exciting products on social media and a video that shows the mother-daughter love.
The Oscar-winning actress, Lupita Nyong'o, has been named the new face of the French cosmetics giant. The video that was posted on Instagram encourages people to spend some quality time with their mothers.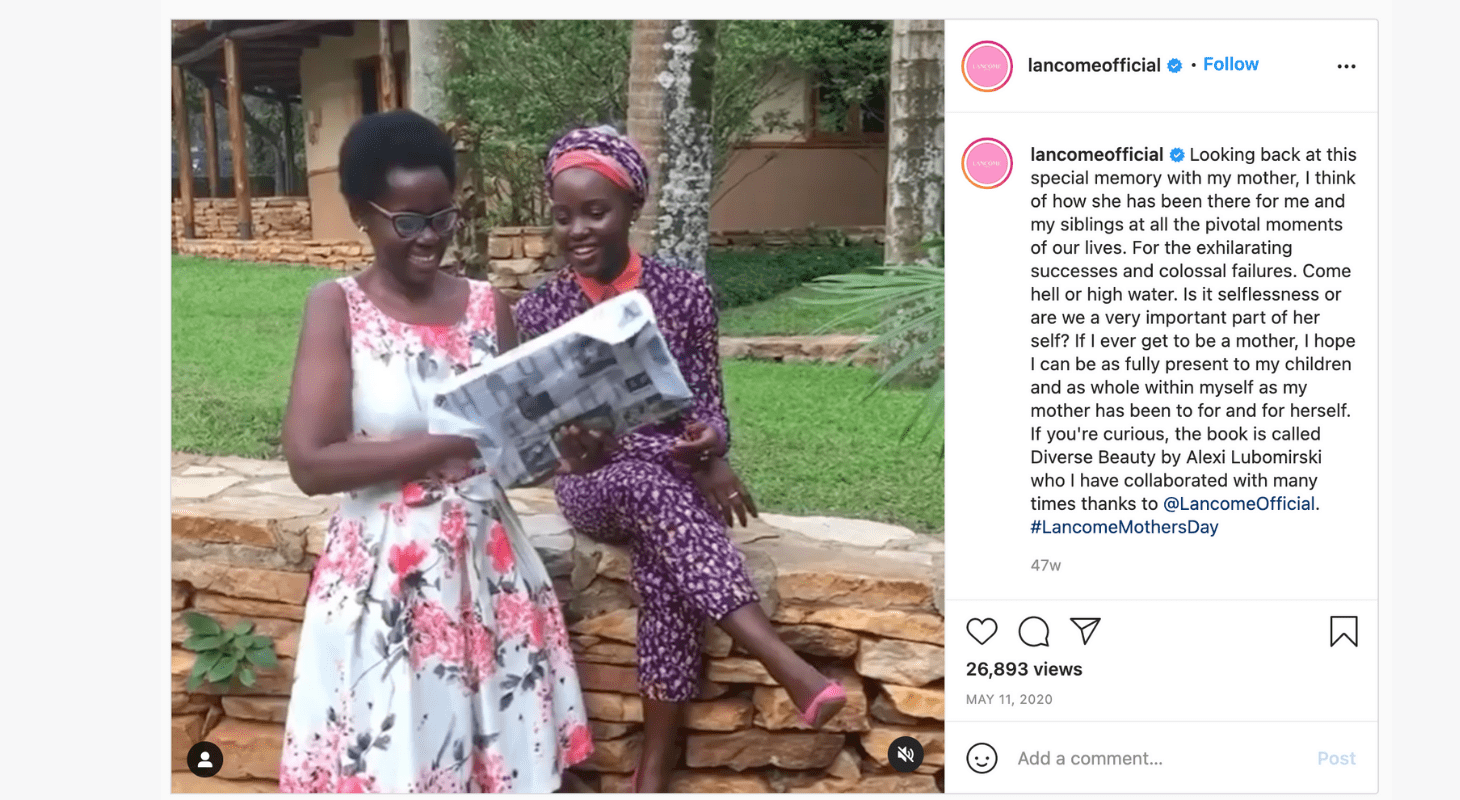 Very nostalgic and emotional, the two women talk about childhood memories and the way they were both there for each other during bad times and good times. This is a very beautiful way of showing the other side of things: it's not always about expensive perfumes and luxurious lifestyles, but it's also about stories that are meant to change the world.

With this beautiful campaign, Lancôme intended to inspire and spark some creativity which people very well received. From a marketing perspective, this worked really lovely for them as they also offered a glimpse into the spectacular lives of their brand ambassadors. We are all human, and this is a powerful message to consider.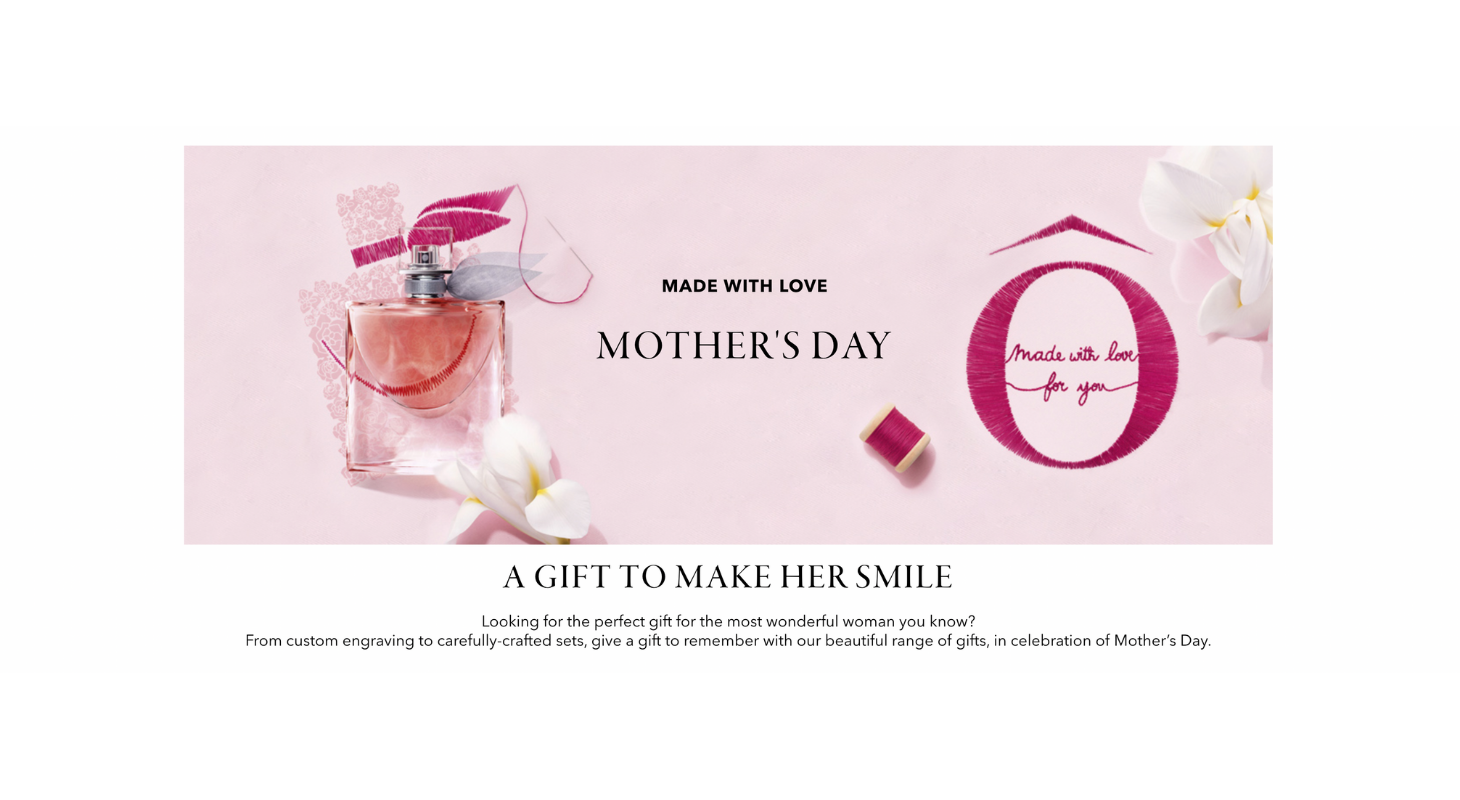 As a brand, Lancôme played it cool with a colorful landing page on their website. They also offered the opportunity of engraving the little bottle of perfume you buy, so you can add some personality to the gift. More points for them!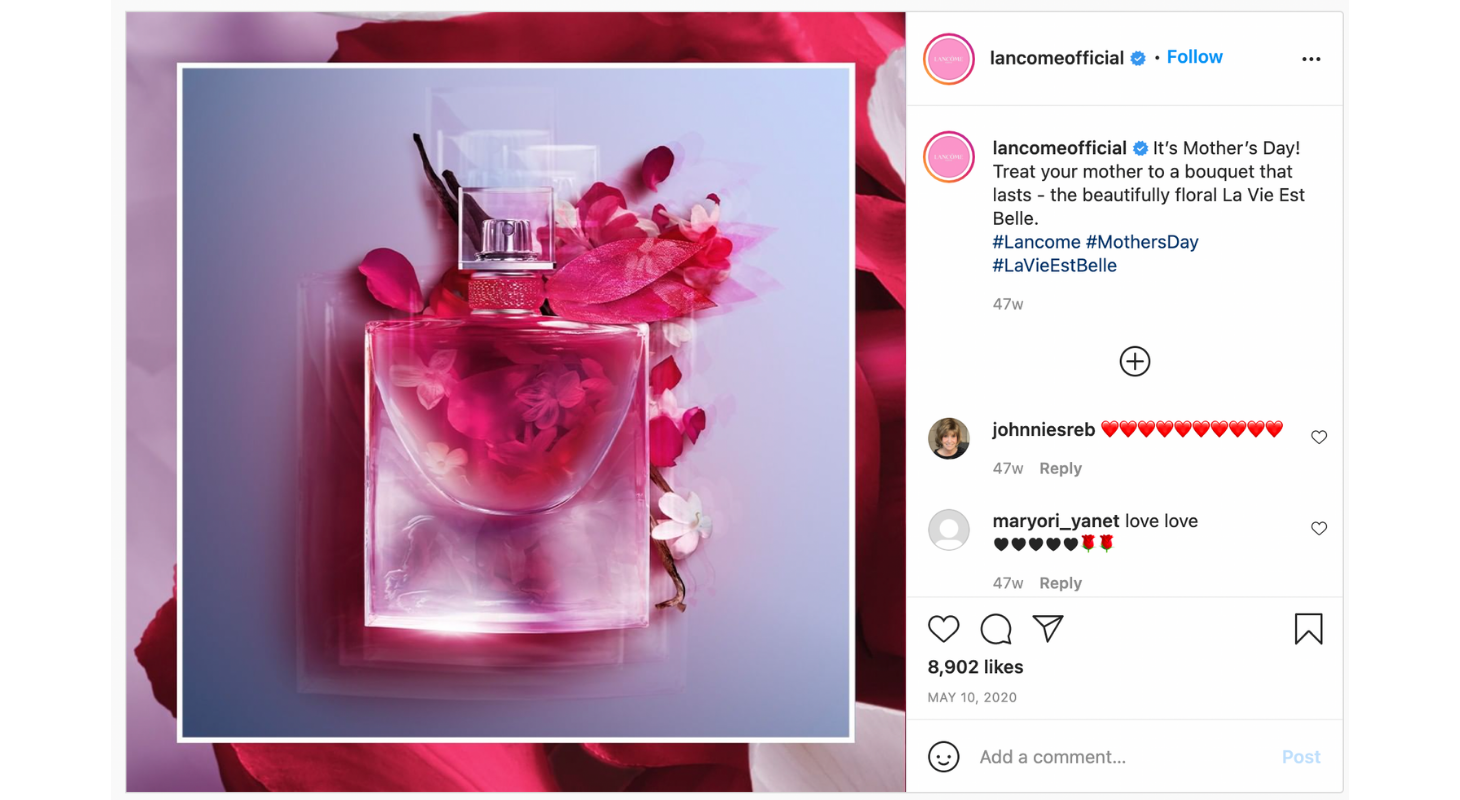 Show some love to your mother! Not just on Mother's Day, but every day.
7. Victoria's Secret
The pinkest campaign comes from the most popular lingerie company out there.

Victoria's Secret encourages mothers to feel confident every day and make some time for themselves. The brand focused a lot on the mother-daughter relationship, and the strong connection women have with each other.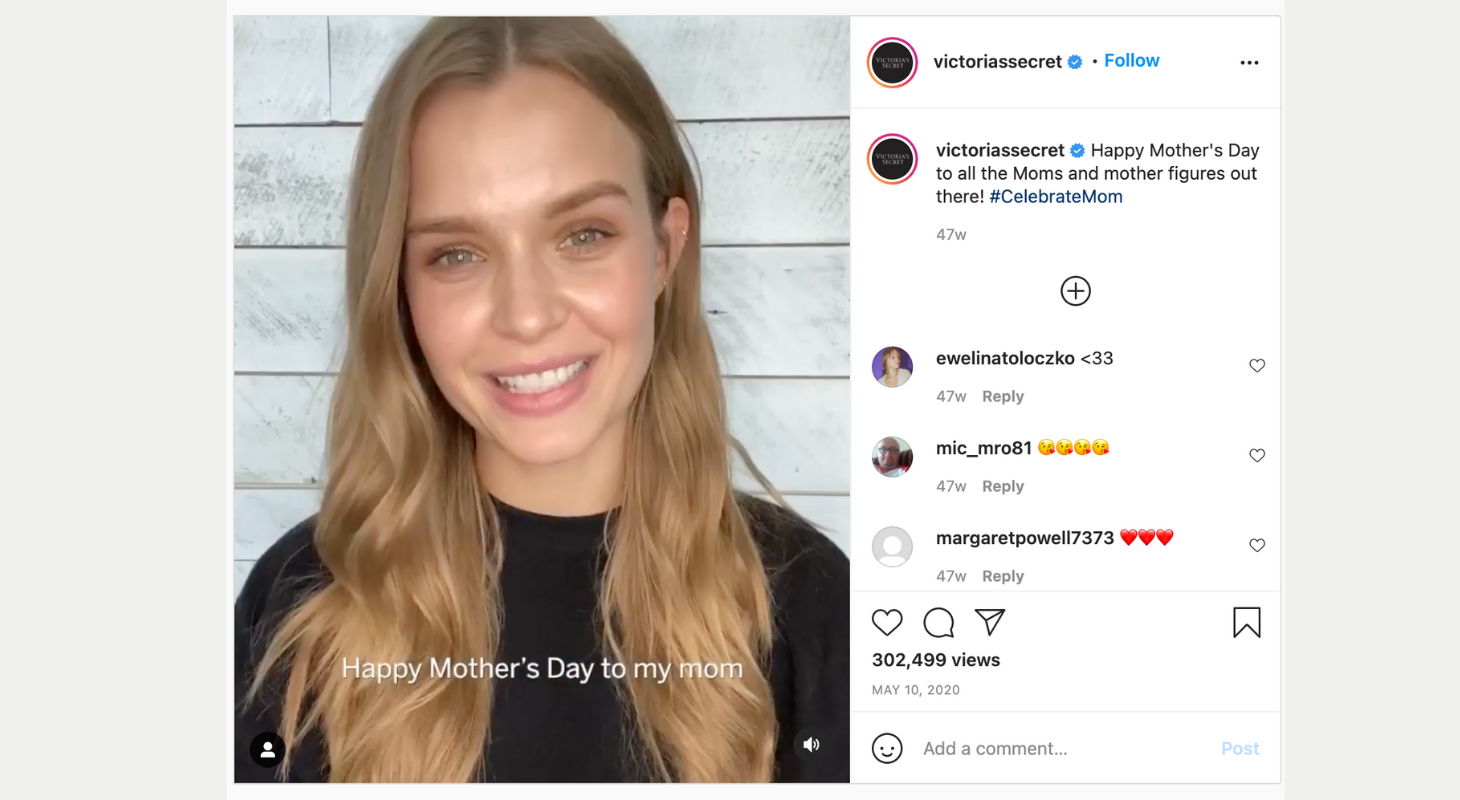 Just as the song says: "This is a man's world/ But it wouldn't mean nothing/ Without a woman or a girl."

James Brown was right, as Victoria's Secret can confirm now. Women are taking over the world, and the American-based brand always makes women feel better with the years.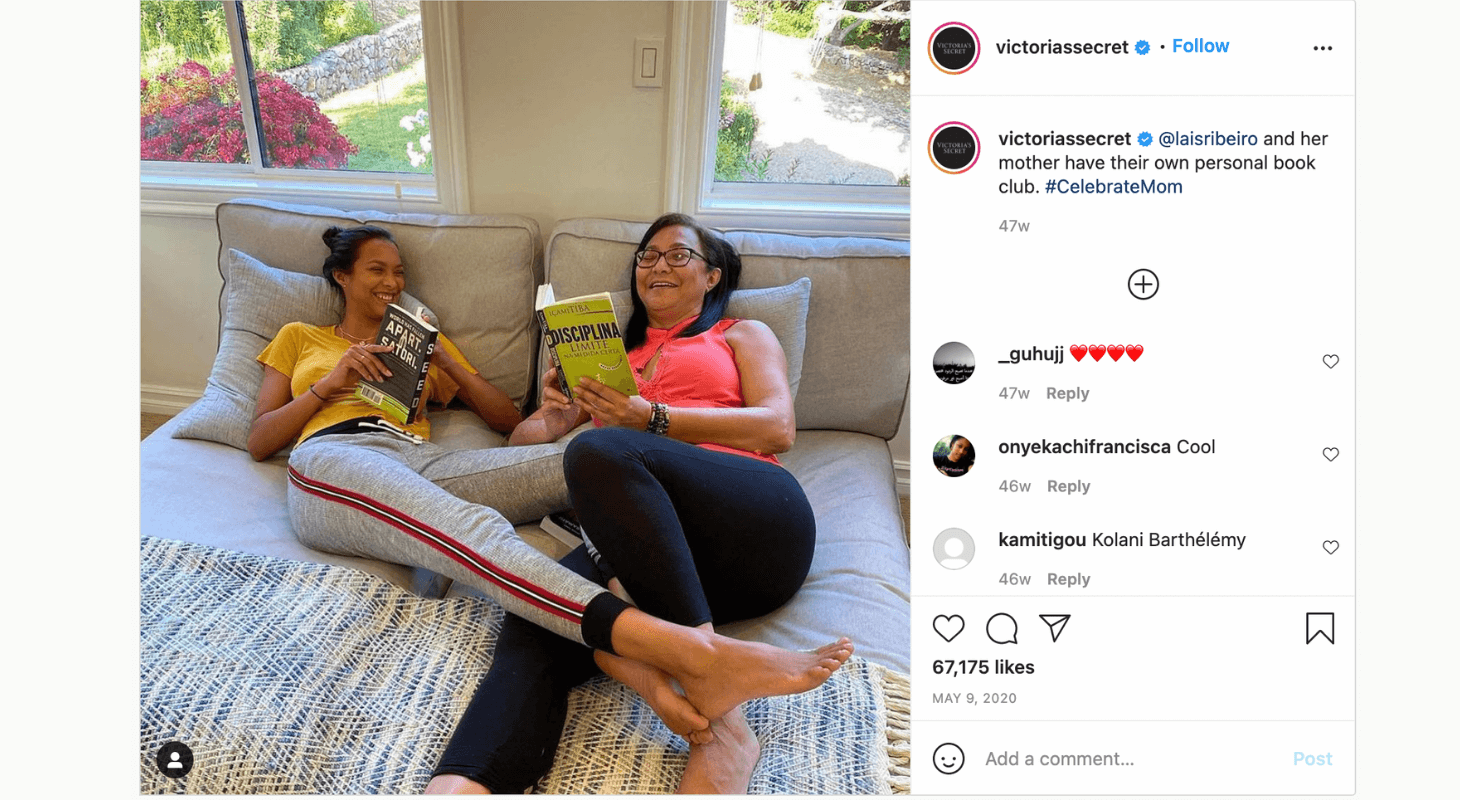 Using the hashtag #CelebrateMom, the brand posted on social media various stories of mothers and daughters, allowing them to inspire more and more women worldwide. In other words, this was a social media campaign done right!
Final thought
Writing this little article got me very nostalgic as well, but it also made me realize that a social media campaign strategy is more important than we might think.
Looking at all these big brands, their teams relies a lot on the performance on social because this is how they can promote their products and attract more and more customers each day.
What can we all learn from this? Any kind of campaign should be very well organized in order to keep people interested and to make them engage with you as a brand.
And don't forget: Show some love to your mother! Not just on Mother's Day, but every day.

Every day is Mother's Day!