Keeping an excellent social media presence is a task that requires a lot of effort and discipline for every company.
An effective way to keep tabs on yours work is by measuring the return of investment (ROI). Keeping track of your social media ROI is essential to proving that your social media efforts are paying off.
Even though it sounds very abstract, in reality, social media ROI is a simple concept: the comparison between the efforts (whether they are money, time, or human resources) put in action and the results.
Marketers' jobs are finished not after they've achieved their goals, but only when they've proven the real value of their efforts. This is why tracking social media ROI is more important than ever.
If you're part of a digital marketing agency and you're in charge of the strategy, implementation, and monitorization, then it's time to see what it takes to provide a comprehensive social media ROI.
Let's dive right in!
The complete guide to social media ROI
1. What is social media ROI
Generally speaking, ROI or "return on investment" is the profit a company is making from an activity for a particular period compared with the amount invested in it.
More specifically, social media ROI is part of a broader account a company is keeping to mark down all the benefits it has after all the efforts invested in managing different platforms.
This includes setting up strategies, implementing them, creating content, and monitoring. ROI is typically measured in terms of monetary value. But social media ROI is different for every business, depending on its objectives.
There are many ways to calculate ROI, but the most acceptable one is this formula: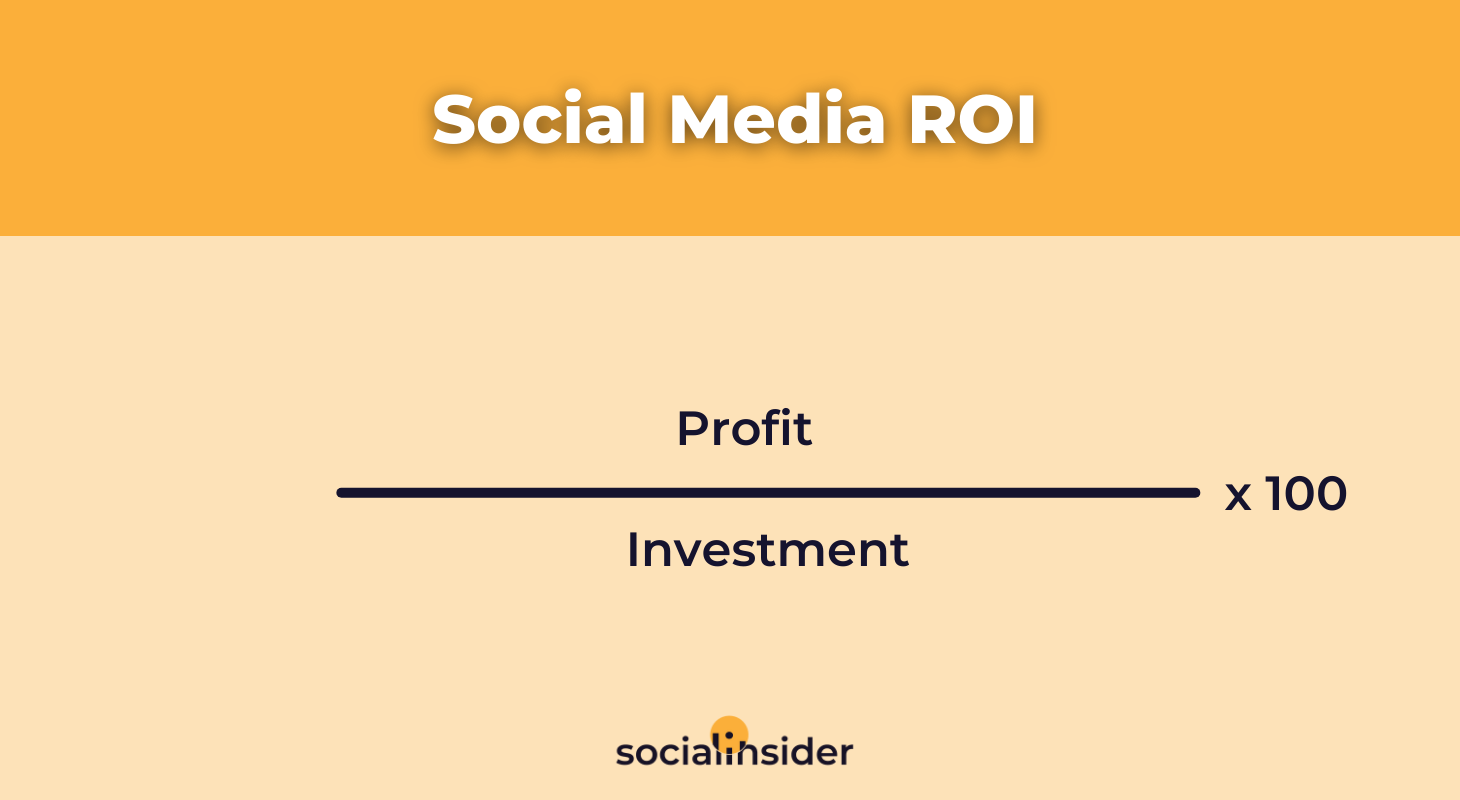 Profit = the money made from social media marketing efforts
Investment = the total cost of your social media marketing efforts
As Alex Khan, the CEO of Attractive Media told us during one of our webinars, there are many variables to take into consideration when calculating social media ROI:
look at the performance marketing
look at the Click-Through Rate (think of how many people are clicking on your ads)
look at how many people are visiting your website
look at the purchase rate (think of how many people who are entering your site are actually buying your products/services)
2. Generating sales and providing social media ROI is a social media bottleneck
As simple as it may appear, ROI is not easy to measure. Converting followers or people who engage on social media platforms into leads or customers is a hard thing to demonstrate, no matter how many customers services tips you apply.
We've conducted a survey to see what are the most difficult social media bottlenecks social media managers and practitioners are dealing with, and proving ROI is one of them.
According to our survey, generating sales and providing social media ROI is a struggle for 35% of respondents.
Moreover, the most common bottlenecks that social media experts are facing are social media traffic, communication with clients, content ideas, identifying the relevant metrics, sales and return on investment, monitoring campaigns and paid ads, reports, competitors, or finding the right social media platform.
After launching a campaign, clients want to see fast results. Sometimes this is possible, and sometimes it's not. This is why transparency plays a significant role. Tell the client from the very beginning what are the tangible results in the short term and what can be done in the long term.
A big job of agencies is to educate their clients and to explain to them that they need to look at the whole journey of their customers, not only on metrics. - Alex Khan, CEO of Attractive Media
For new companies, acquiring leads can be a real struggle. People tend to buy less from companies they barely know. This is why building a strong awareness and gaining a name in the field with social media platforms' help can be an effective way to start.
A power that social media has above all the other marketing tools is the power to engage with its audience through the channels.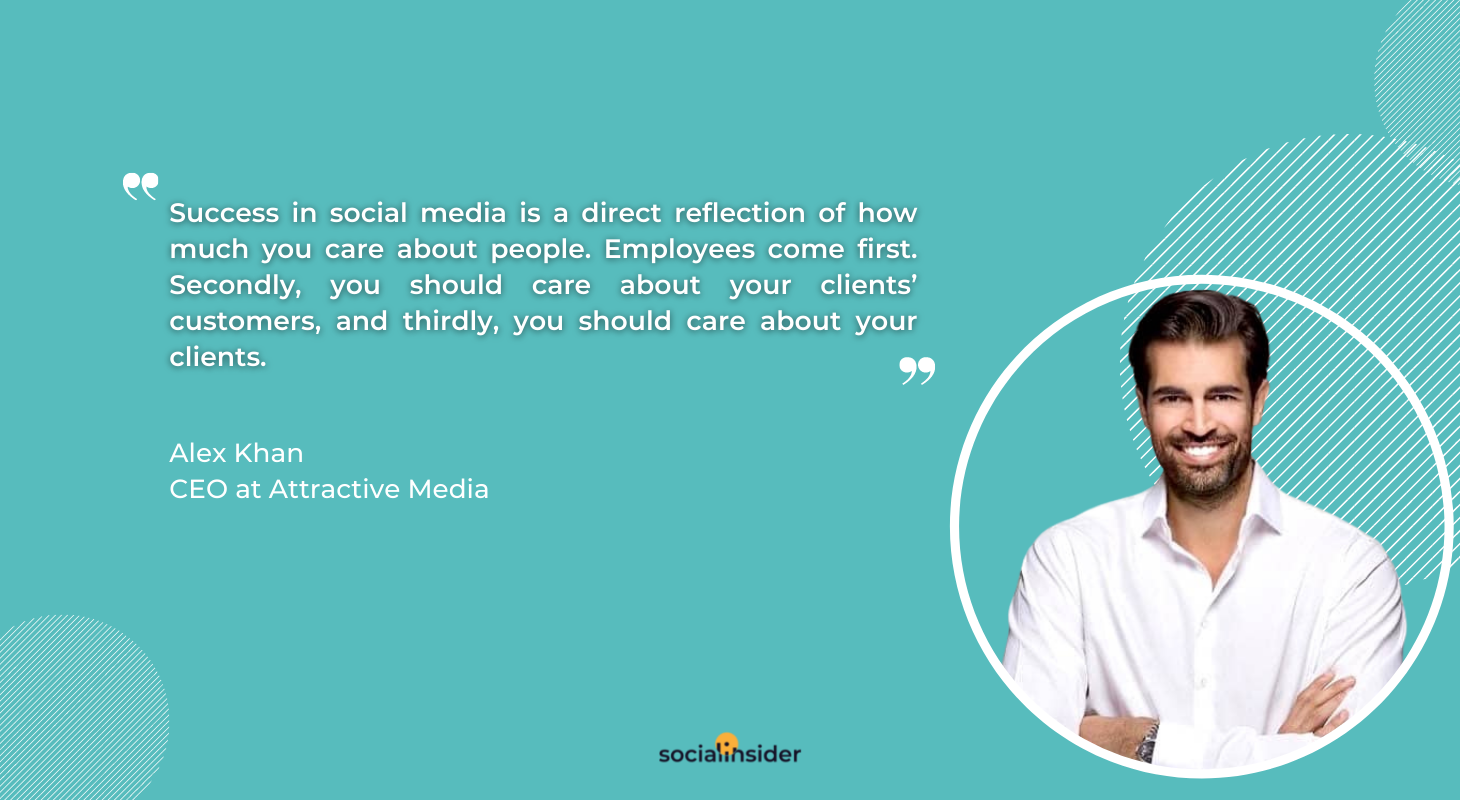 A quick response to an active follower can turn him from a fan to a user of the product or the service and can be just the missing point to convince him of the authenticity and the effort your brand is putting into satisfying customers.
Another great way to engage with potential customers is via Instagram stories.  With all the features, Instagram can be the final frontier to build a strong community.
3. Why do brands need to measure social media ROI
On social media, campaigns have different purposes, and not all are converting into leads. Some of them can aim to increase website traffic, other to improve overall brand engagement or to build awareness or a community, and some target sales or attracting leads.
If you want to be perceived by a credible agency by your clients, show them the data and the proof of your work.
Here are the main reasons why you should be monitoring your social media ROI:
Prove that social media marketing is effective - You want to showcase that this type of marketing is having an impact on the overall company's performance;
Demonstrate the value of your efforts - Some voices claim social media is not efficient to gain leads. Prove them wrong by showing the data.
Be transparent - Accountability is desirable when dealing with budgets and companies' reputation. Make sure you lay out all the costs and the way you are spending both your money and you're allocating time;
Identify the best practices and acknowledge the less efficient ones - Keeping track of all the campaigns, continually monitoring and comparing results can give you a general idea of what's working best and want you might change or adjust. Just make sure this is understood by the client as well;
Better understand your audience - Data can prove to be efficient when getting to know your audience a little more. Because you are continually monitoring, you can see if there are some changes in terms of followers;
Spend money wisely - This is particularly important when explaining that the money you're receiving is meeting the requirements the client is asking.
4. How to calculate social media ROI
Proving ROI is hard, especially when all the marketing budgets are lower.
But not if you have a clear strategy and a proactive attitude when it comes to explaining to your client the data you've gathered.
Here are five easy steps that will help you calculate social media ROI.
Without having a general goal in mind, you'll wander in the dark hoping for the best. Of course, hope is good, but you have to be extra prepared to face reality.
The most common goals companies or social media agencies set for their brand's campaigns are:
Email sign ups
Contact form inquiries
Trials
Purchases
Downloads of the materials
To make the social media ROI more accurate, always set your goals based on defined actions. If someone comments on one of your posts saying they are definitely using your product or service, track their activity to see if they really closed the transaction.
This is an excellent example to showcase to your client.
A common feature of all the above goals is that they are trackable. The most efficient way to track the results is by using a social media analytics app that will show you clear results of your efforts.
Now that you've set your goals for your social media ROI, it's time to track them.
The easiest way to do so is through Google Analytics, which can be your best friend when it comes to proving social media ROI. All you have to do is set up your goals which you defined earlier.
Once you've created your goals in Google Analytics, you can track all of your traffic, including your social media traffic.
Moreover, you'll also see a conversion rate for each social media platform which will help you understand the quality and results of each platform and focus on the ones that drive better results.
You can also track social media interactions (likes, shares, follows, and many more) with a social media analytics tool, like Socialinsider.
For example, Alex told us that Attractive Media, a social media strategy agency, uses Socialinsider to better understand the competition of their clients. They look at who has the best engagement, who has the best posts, how many posts they have, what are their posts about, among others.
After analyzing the competition through Socialinsider's benchmarks feature, they build a landscape and establish specific goals for every month to see the progress for every platform.
Plan in advance the metrics and the types of results you're hoping for
If you want to succeed in your campaign, plan in advance which are the metrics you are going to look at for your social media ROI and align the objectives with the company's objectives.
To see if you've made the right choice, benchmark them against the market and compare them with your competitors' metrics. This way, you'll make sure you're stepping on known paths and you won't make huge mistakes.
Find which are the most relevant metrics using a specialized analytics and benchmarking tool.
Metrics like followers, reach, and impressions are important, but they shouldn't be your mail goals, unless you want to increase your brand awareness. Take a look at your social dashboard to understand your performance and assess social media ROI.
For example, if your main goal is to evaluate your content and understand which content resonates most with your audience, then your key metrics to track should be average engagement and average engagement rate.
The choice of KPIs depends on what matters the most to your business. It means mapping out the KPIs to focus on your social media goals.

If you want to boost sales, some of the metrics you can track are site traffic, daily sales, and conversion rates.
If you need to grow site traffic, then the KPIs could be traffic sources, social shares, click- through rates, page views per visit, and bounce rates
If you need to measure conversions, some of the KPIs to consider include conversion rate, click-through rate, bounce rates, cost per click, and social media conversion rates. - Shane Barker, digital strategist, brand, and influencer consultant
When choosing the metrics you want to track, you should be able to answer these questions:
Does this help in achieving my objective?
How hard is it to track them and compare them with former results?
Does it help me to make decisions (what to do more or less)?
Track your social media costs
At the end of the day, it all comes down to whether you're getting positive or negative ROI from your social media campaigns.
While it may be true that having an active presence on social media platforms is free, the resources you're putting into this are not. So it's important to measure how much you're spending when tracking social media ROI.
Here is what you should take into consideration when calculating ROI:
Time - Time is invaluable. Whether you are a freelancer or have a social media team, keep track of how many hours go into each social media campaign.
Content - Did you hire a copywriter for your texts on your website? Do you have a social media manager who is in charge of your social media content? These are all resources that you should be tracking when measuring social media ROI. If you are the one doing all the content, then this should count toward your time investment.
Social media tools - Do you use a social media analytics tool, like Socialinsider, to track your performance? Then you should add those costs. Calculate this on a per-campaign basis, just like with time.
Ad costs - All the money spent on social media advertising (boosting posts, promoting content, etc.) should be taken into consideration when measuring ROI.
Calculate and report on social media ROI
Now that you've established your goals and tracked your costs, it's time to calculate your social media ROI.
You can find out your social media ROI with the formula I mentioned earlier. You can also figure out the specific ROI for every social platform that you manage by segmenting your earnings and costs and using the same formula.
This way, you will be able to decide which social platform works best and which one requires improvement.
For every social media campaign that brings negative ROI, you can either lower your budgets or make adjustments.
Besides calculating the ROI, it's important to track and report on your metrics and costs on a regular basis. You can present a report every two weeks or at the beginning of each moment.
Final thoughts
ROI has proved to be an efficient tool that helps marketers all around the globe to be focused on specific goals, to measure their achievements, and to make sure the resources are distributed where they are needed the most.
Tracking ROI isn't simple, but now you have all the necessary pieces to complete the social media ROI puzzle.