Thanksgiving - besides the day's relevance on its own - is a very important celebration as it also marks the official beginning of the holiday season.
With it, Thanksgiving equally institutes a switch in the people's regular state of mind, shifting their focus and energy from day-to-day activities to gift shopping sessions and quality family time. This creates a great opportunity for brands to gain their audience's attention and increase sales.
But where to start?
In this article, we've put together a couple of Thanksgiving social media post ideas and examples in case you need some inspiration.
Thanksgiving marketing campaigns
1. What is Thanksgiving and why you should develop a social media campaign
2. Thanksgiving marketing ideas to promote your brand
3. Thanksgiving themes you should include in your social media posts
4. Top Thanksgiving social media campaigns
4.1. Walmart
4.2. Dollar Shave Club
4.3. Durex
4.4. Target
4.5. Redbull
5. Social media insights on #thanksgiving
1. What is Thanksgiving and why you should develop a social media campaign
Thanksgiving is an American tradition where people get together with their friends and family to celebrate the harvest season and the things they are most grateful for.
Usually this holiday is celebrated at the end of November and it also represents the start for the winter holiday season. People start searching for Thanksgiving presents and Christmas shopping and they are surely eager to start early every year.
That's why a lot of brands and retailers set in place their Thanksgiving marketing plan way ahead the start of November, to make sure their products can hit the shelves just in time.
This year, Thanksgiving is celebrated on November 23rd and before this date, people are searching for the right gifts that would genuinely state "I am grateful for you".
Even if Thanksgiving lasts for only a day, to make sure you reach a wider audience with your Thanksgiving marketing campaign, you should create a series of posts to increase your chances of getting noticed and remembered.
Think of it like this - some people respond better to humoristic or emotional content, while others are interested in straightforward offerings.
Integrating multiple social media Thanksgiving posts in your content calendar will increase your chances of hooking different personality types and audiences, which is great. The more, the merrier, right?
What is equally important is to also try out different formats for your Thanksgiving posts for social media so that you keep your audience's interest and excitement by proving how creative you are.
2. Thanksgiving marketing ideas to promote your brand
Start Thanksgiving conversations on social media
Before the holidays begin, it's important to stir conversations about this topic, using keywords related to Thanksgiving.
This way, you'll be sure that your social media posts are on-point SEO-wise and you'll find out more about your customers' needs on Thanksgiving.
Send Thanksgiving email newsletter
A Thanksgiving newsletter campaign is definitely a go-to one if you wanna reach a wide audience.
An email newsletter campaign is a very good marketing idea since it can help you stay in touch with all those who have ever reached your website.
You can remind them to visit your online shop again by presenting them with the Thanksgiving discounts you've prepared.
Relying on this Thanksgiving marketing quirk, where you announce your holiday sales via a newsletter, you'll get more website visits and even more sales. The secret is to include in your newsletter a button towards your website.
Use Instagram polls and CTAs to find out what are your customers needs
A few days before Thanksgiving, you could create a poll on Instagram to find out what products and services are your customers grateful for.
Their answers can inspire you to apply discounts to those exact products, making them happy for the holidays and offering them exactly what they were looking for.
Using strong CTAs in your social media posts paired with impactful visuals will definitely convince them to click the link in your bio or the one in your post.
Thank your community for their support
When developing any type of social media marketing campaign, it's important to acknowledge the importance of your audience in your brand's growing process.
Thanking them for their support and loyalty will surface your brand's human side. Besides satisfying your customers' needs with your products and services, they also need to feel important and appreciated.
Even if this idea may not drive sales, you will be top of mind for them next type they have a need and want to purchase.
Besides thanking your customers and followers, you should also thank your employees for helping your brand flourish and making it all work.
Host a giveaway or make a donation
On Thanksgiving, giveaways and challenges are very popular. People love getting gifts and you can't blame them.
Giveaways help you build excitement around your brand and people will be more eager to explore your variety of products and services.
Developing a contest requires a lot of creativity and it's important to think about the rules you want to implement and what you want to obtain. Do you want more followers? Do you want more engagement, more shares or more saves?
Hosting a giveaway is not an easy job if you need to plan the products you want to offer and make more and more users sign up for it.
If giveaways are not your thing, it's even more generous if you plan a charity work, offering your products to those in need.
Your grand gesture will be much appreciated by your community, creating an even stronger connection with them.
Put up sales and promotions
After setting your sales and promotions on your website, it's time to come up with a few social media posts to reflect that and attract even more users eager to buy for the holidays.
Some of the best promotions are the ones with "buy one, get one 50% off" because it will make them want to buy more.
Use all your tricks to put up your Thanksgiving social media campaign before putting up the Christmas tree.
Rely on user-generated content for your Thanksgiving campaign
If your Thanksgiving social media campaign lasts for a few days, then you can take advantage of all the user-generated content that you'll get after they will get their order.
People get more excited about gifts and shopping during the holiday season and there's a great chance that, if they liked your products, they will post about them.
When you share UGC on the brand's social media channels, you get the chance to increase your engagement.
3. Thanksgiving themes you should include in your social media posts
If you want to build impactful Thanksgiving marketing campaigns, you need to know what words should not miss from your vocabulary.
There are certain themes that need to be part of your social media posts' captions to make sure you attract the audience who is interested in this holiday.
Among the most common themes and symbols for this holiday are: family reunion, gratitude, feast, togetherness, counting blessings, holiday travels, acorns, mayflower, giving, turkey, helping, harvest, pumpkin pie, pecan pie, yams, mashed potatoes, gravy, cranberry sauce.
And when it comes to colors, you should focus on gold, red, brown and orange. Including these words into your vocabulary will attract the right audience.
They will trust you with your Thanksgiving campaign because they will assume that if you talk the talk you also walk the walk.
Therefore, rely on these Thanksgiving symbols and themes in your posts to attract social media users and convince them to buy your seasonal products.
4. Top Thanksgiving social media campaigns
To get inspired, no matter the industry or niche you activate in, it's important to look at Thanksgiving social media campaigns from different areas.
This will help you feel inspired and it will give an idea of how to craft your Thanksgiving marketing strategy.
Here are a few Thanksgiving social media campaigns examples from previous years that will help you get inspired so that you can rework them.
4.1. Walmart
Walmart doesn't need an introduction anymore. This store sells everything you're thinking of.
In 2022, Walmart didn't have a particular Thanksgiving social media campaign, but it did have some posts dedicated to this holiday.
Their posts featured the same keyword, namely "Friendsgiving", the perfect mash-up between Friends and Thanksgiving.
This post was to draw users attention that they can find fresh vegetables and groceries for their Thanksgiving meals.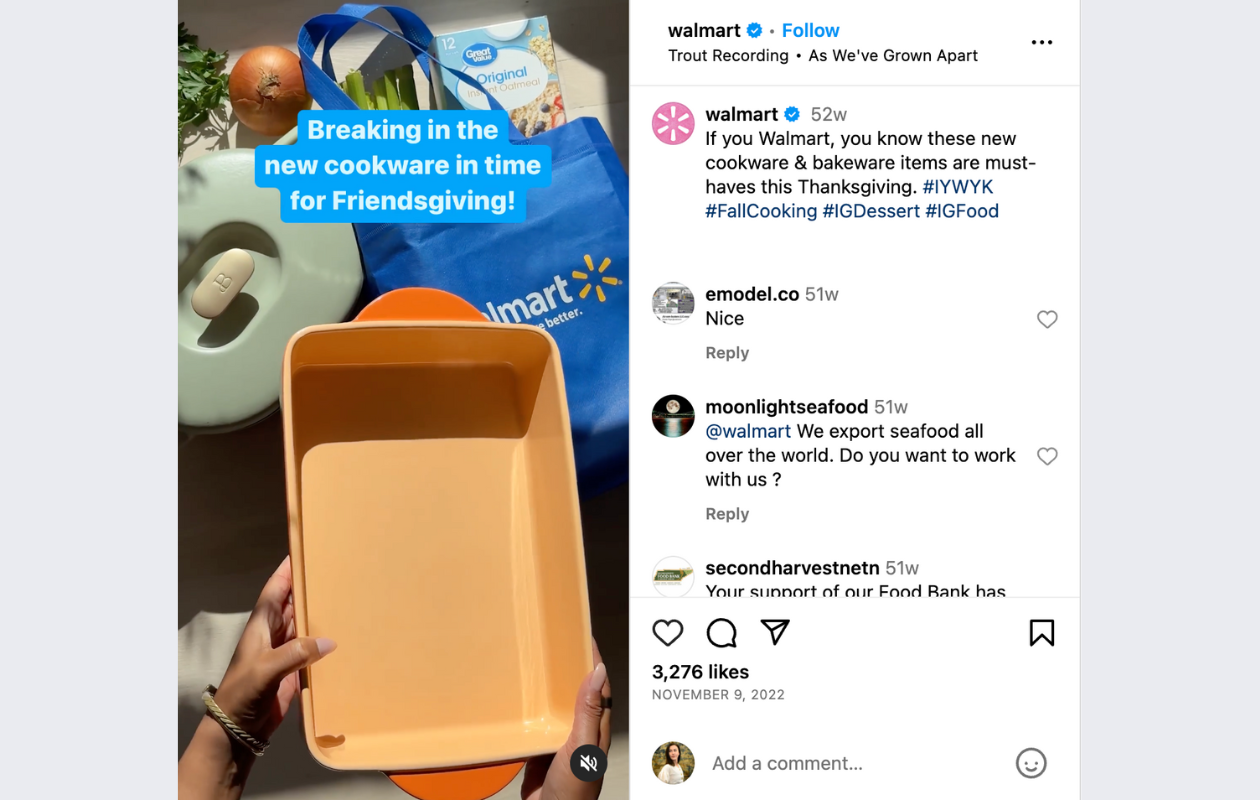 Another post from the same period last year shows some Thanksgiving outfits. This means that their discounts extended to their clothes section as well.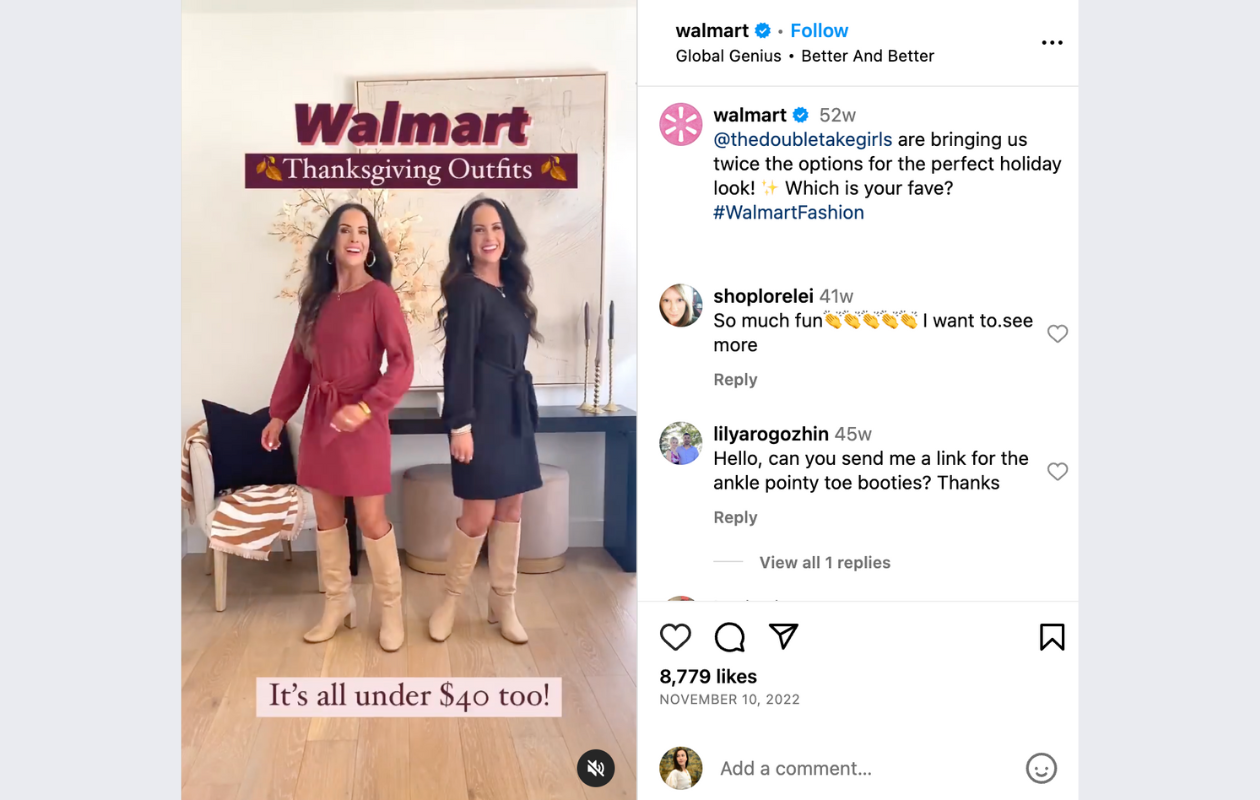 4.2. Dollar Shave Club
Dollar Shave Club is a company that produces shaving products and gadgets to make the shaving process easier for both men and women.
In 2015, for Thanksgiving, they launched a marketing campaign where they made it clear who is part of their audience.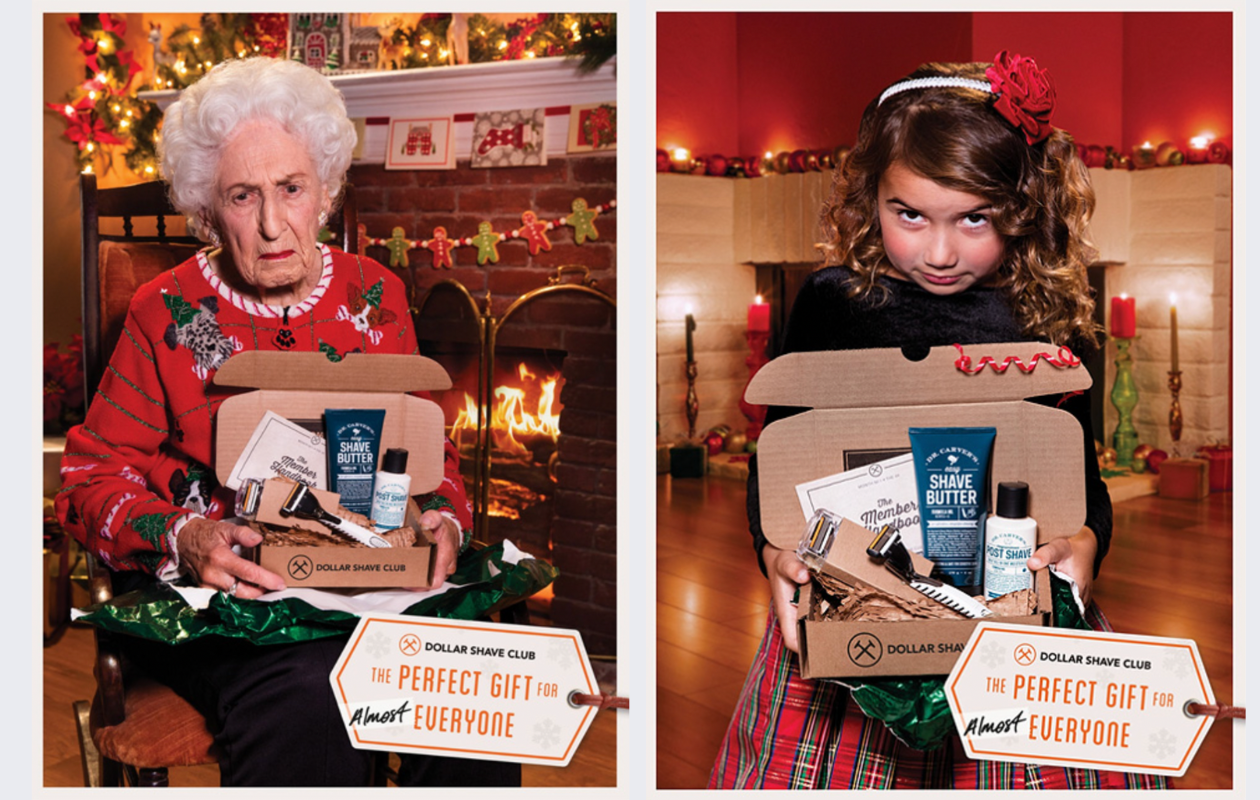 The campaign was called "Perfect gift for almost everyone", underlying that their products can be a perfect gift for everyone, except kids and elderly women.
4.3. Durex
Durex is another well-known brand that doesn't need any introduction. However, the brand is conscious of the fact that its audience didn't always have the guts to order a pack of Durex out loud in a drug store or in a supermarket.
Most of the time, people buy something else along with that pack of condoms to find a pretext. And when they don't need anything else, they buy a pack of gum.
In 2017, on Thanksgiving, Durex China wanted to take a moment to thank Wrigley's, Snickers and Budweiser. Durex discovered that a lot of their customers also bought products from Snickers, Budweiser and Wrigley's.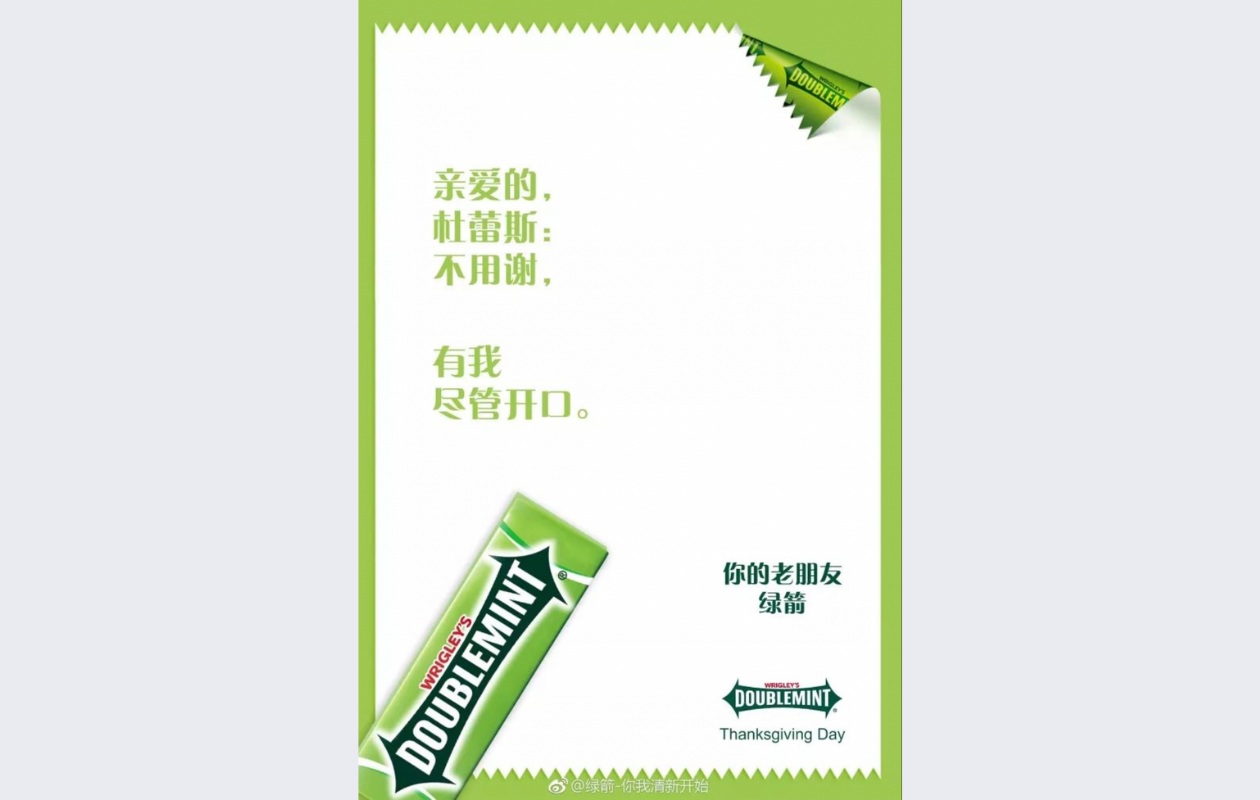 4.4. Target
Target is one of the biggest retail brands in America, selling everything from clothes and toys to cosmetics, home decorations and food of all sorts.
In 2022, Target presented its audience with the most relatable ad for Thanksgiving and Christmas dinners with the whole family.
This SNL commercial where a lot of products from Target were displayed, all of them meant to satisfy all family members' needs.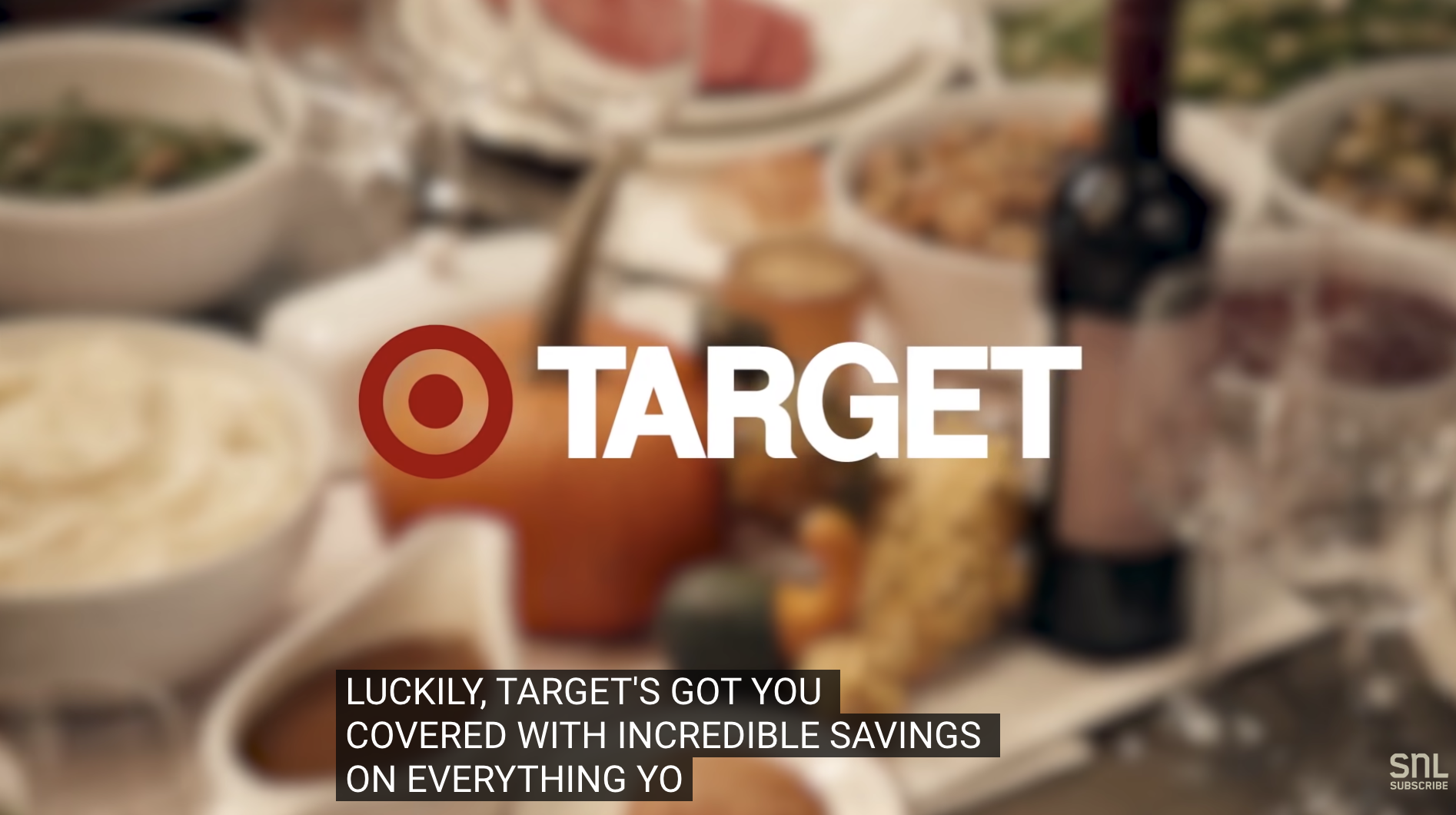 Their Thanksgiving social media marketing campaign relied on a single Instagram post right on Thanksgiving day.
It was this one about Thanksgiving dinner with family.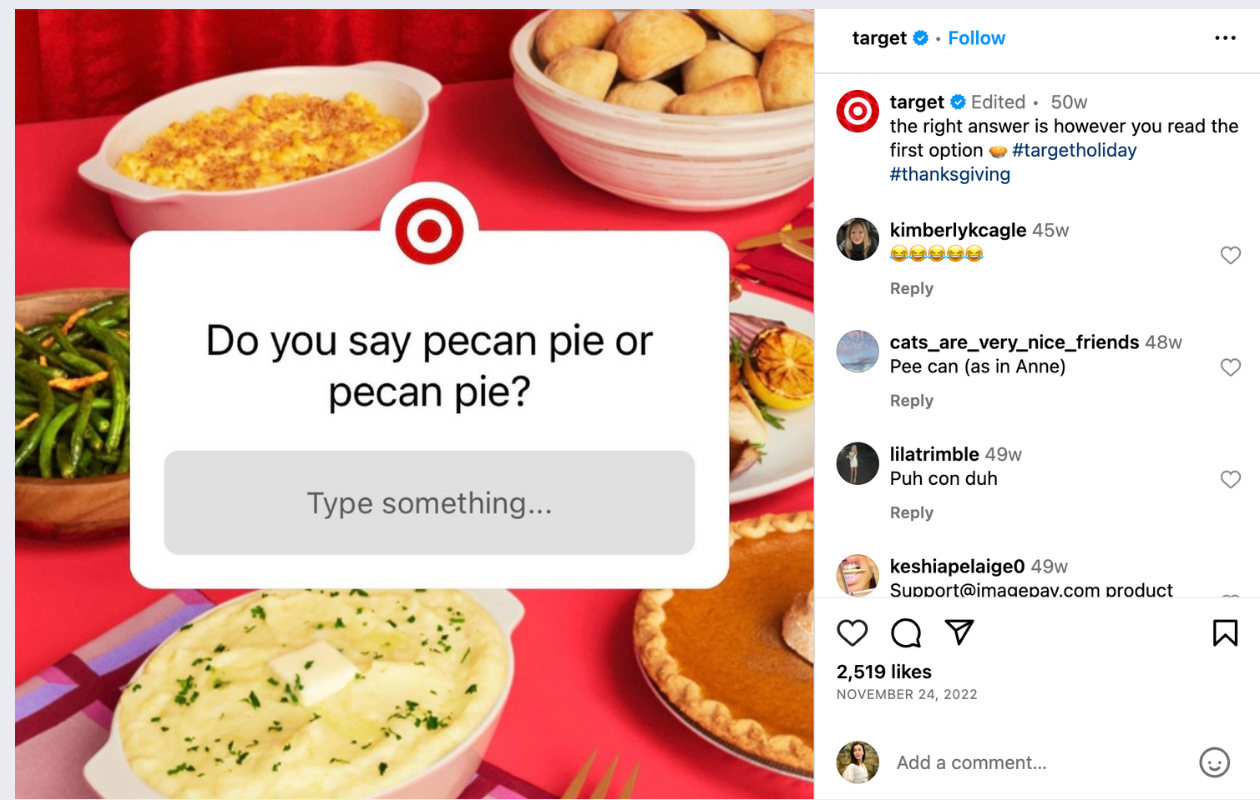 However, before and after that post they had a bunch of Reels and carousels about holiday presents ideas, holiday design, deals, recipes and decorating.
4.5. Redbull
Last year, Red Bull's Thanksgiving campaign featured a funny commercial with farm animals. It seems that some animals conspired so that the turkey couldn't get any energy drink and it got caught.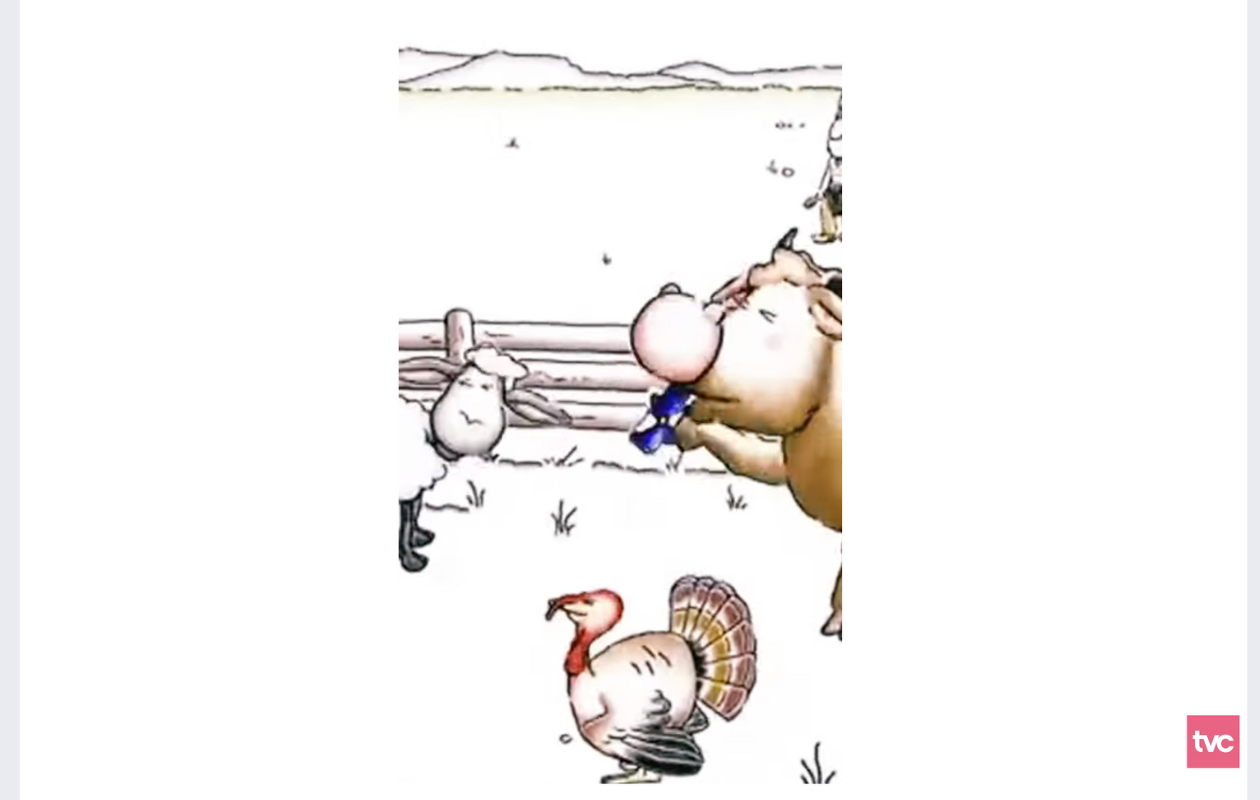 Redbull wanted to tell the story of the turkey's sacrifice and how it didn't get to drink their magic potion. That's why everyone eats roasted turkey for Thanksgiving dinner.
5. Social media insights on #thanksgiving
On Thanksgiving, all roads lead home to our families. This is only the start of family gatherings during the winter season.
With Black Friday being the start of holiday shopping, Thanksgiving sales only help you to continue to add to cart and find the perfect gift for your loved ones.
Developing a Thanksgiving social media campaign means to build a strategy and set some goals to be achieved.
Tagging your campaign with the specific hashtags for this holiday is definitely a step that you should not skip. And to analyze that, you need an AI Instagram listening tool like the one Socialinsider offers.
Besides social media listening, Socialinsider offers a lot more services like campaign reporting, social media analytics and reporting, competitive analysis and API integration.
I wanted to look at the hashtag #thanksgiving first that it's so used in almost all Thanksgiving posts.
During the last 3 months, the top categories in which this hashtag has been frequently used are food, family and beauty.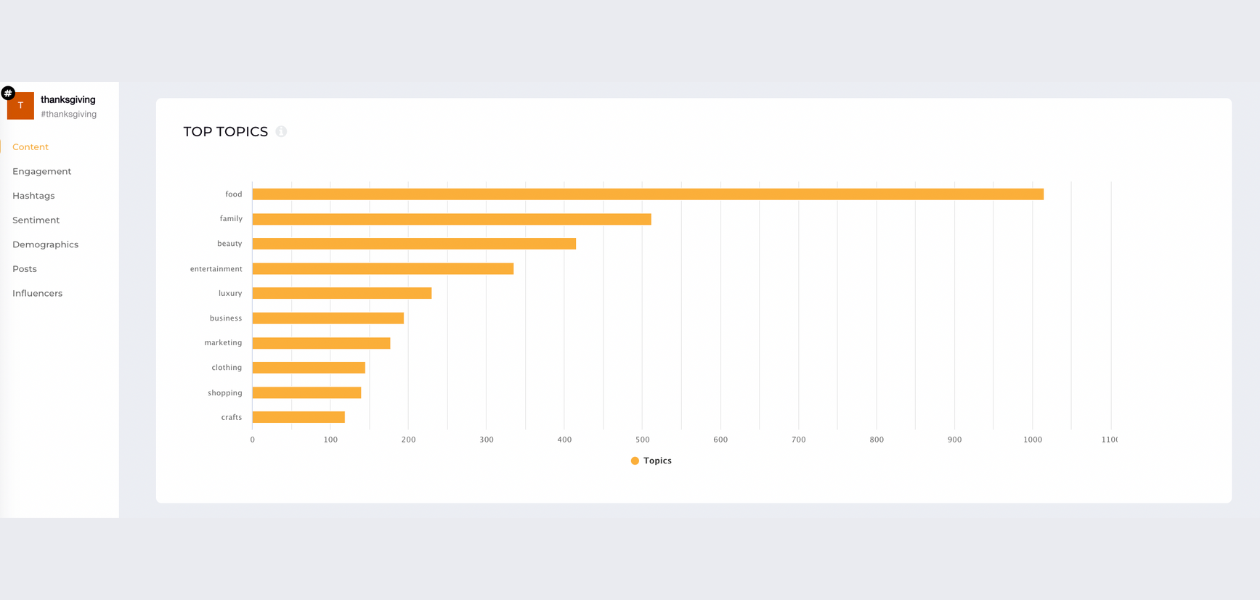 Next, I looked at some metrics that are related to users' emotion. The great news is that when seeing this hashtag at social media posts, people's dominant reaction is joy.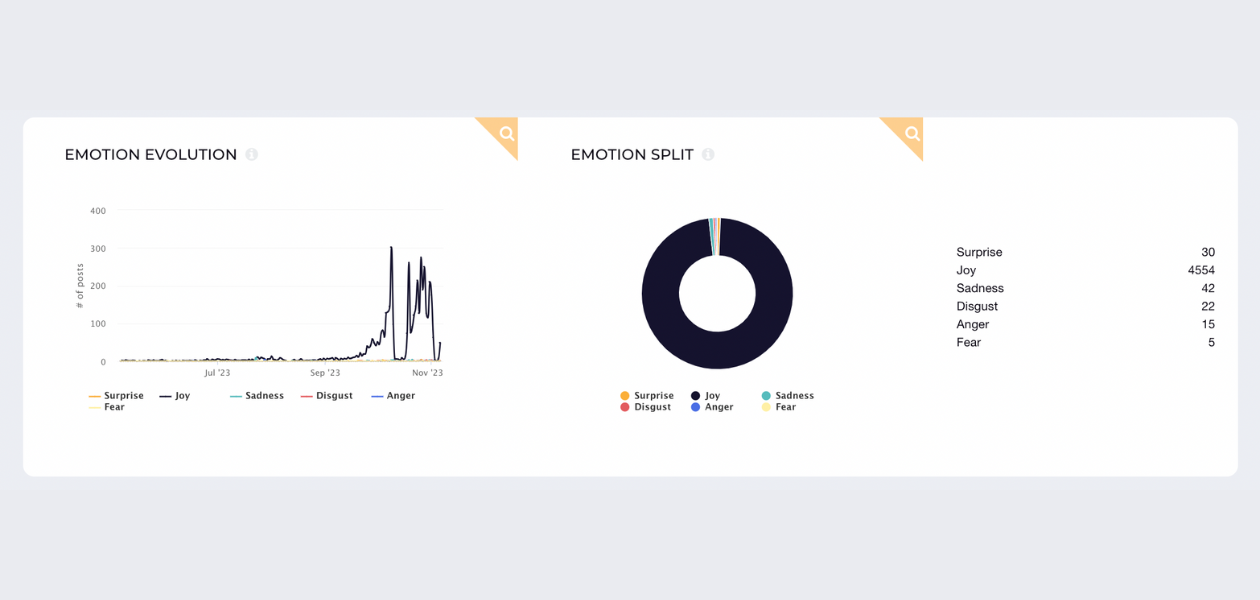 Going even deeper into the detailed insights that Instagram listening offers, I got to see the popular hashtags which are used in combination with the main hashtag #thanksgiving.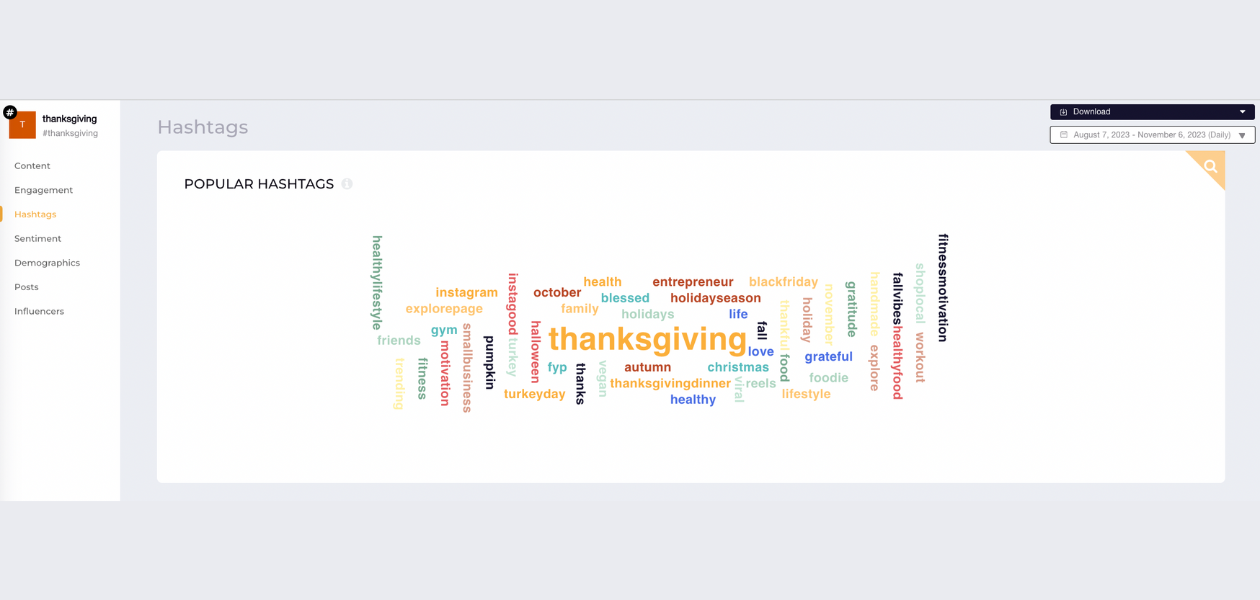 Getting access to all these particular listening metrics can help you get a grip of how to implement your Thanksgiving marketing strategy.
This can even inspire you with some new hashtags and tricks you could try to elevate your marketing game before the holidays.
Final thoughts
Regardless of the concept you'll choose to leverage in your Thanksgiving social media posts, what matters the most is to be as humanly possible in your messages.
Moreover, for increased chances of making people stop scrolling when they see your Thanksgiving social media posts, try to come up with eye-catching designs and images.
The more original those would be, the better.
Frequently Asked Questions
1.What should I post on Facebook for Thanksgiving?
Here are our top 5 Thanksgiving social media post ideas:
Talk about Thanksgiving traditions.
Share how you are celebrating Thanksgiving this year.
Wish your audience a Happy Thanksgiving.
Share your special recipes for Thanksgiving dinner.
Spice up your content with Thanksgiving Day puns and jokes.
2.How do you say Happy thanksgiving professionally?
Happy Thanksgiving Messages For Colleagues
Working with you has always been enjoyable and inspiring!
It's a pleasure working with you.
Thanksgiving is just one more day to say working with you has always been so wonderful.
I'm thankful for all that you do.
3.What are some thanksgiving phrases?
Thanksgiving Sayings
There's always something to be thankful for.
There's always room for seconds.
Give thanks with a grateful heart.
Pumpkin spice and everything nice.
Thankful and blessed.
Pumpkin kisses and harvest wishes.
Leftovers are for quitters.
Eat, drink, and be thankful.
4.How do you thank customers on social media?
Post a customer appreciation social media post.
Reply to comments and direct messages to say thank you.
Re-share user-generated content.
Post a customer review with a thank-you note.
Make a video thanking your customers.
Hold a giveaway to thank your customers.
5.How do you say thank you in marketing?
On behalf of [company name], we wanted to say thank you for your purchase. We're so lucky to have customers like you! Thank you for your support. We truly appreciate your business and look forward to serving you again.