If you want to know how to position your brand against your Instagram competitors, then you should do an Instagram competitive analysis.
Keeping an eye on your Instagram competition yields future benefits, such as providing great insights on what and when to post.
Another benefits is that you can be one step ahead of your Instagram competitors and see what is currently working for them and what's not.
Reading this article you'll learn what is an Instagram competitive analysis and understand how to analyze your competition on Instagram to gain a competitive advantage that will bring you success.
---
Start an Instagram competitive analysis
1. What is an Instagram competitive analysis?
Let's start with a definition. What exactly means to perform a competitive analysis on Instagram?
Competitive analysis or competitive research is a field of strategic research that specializes in the collection and review of information about rival firms.
With this evaluation, you can establish what makes your product or service unique, and therefore what attributes you play in order to attract your target market.
By analyzing your Instagram competitors' accounts and then monitoring them on an ongoing basis, you'll get to know their behavior, enabling you to anticipate their actions and stay one step ahead.
2. Why is it important to research your Instagram competitors?
Finding out who your Instagram competitors are is an essential tactic to determine what kind of threat they present to your financial well-being.
The first step in order to create a killer competitive analysis on Instagram (or any other social media platform) is to establish who is your competition.
There are three types of competitors:
Direct – Businesses that sell the same types of goods and services you do to the same market.
Take these florists accounts for example: @theflowerseekers, @mossandstonefloraldesign, and @floretflower - the common element: flowers.
Indirect – Businesses that sell substitute products, services, or items that can be used in place of yours.
For example, if you own a bakery, an indirect Instagram competitor might be a restaurant.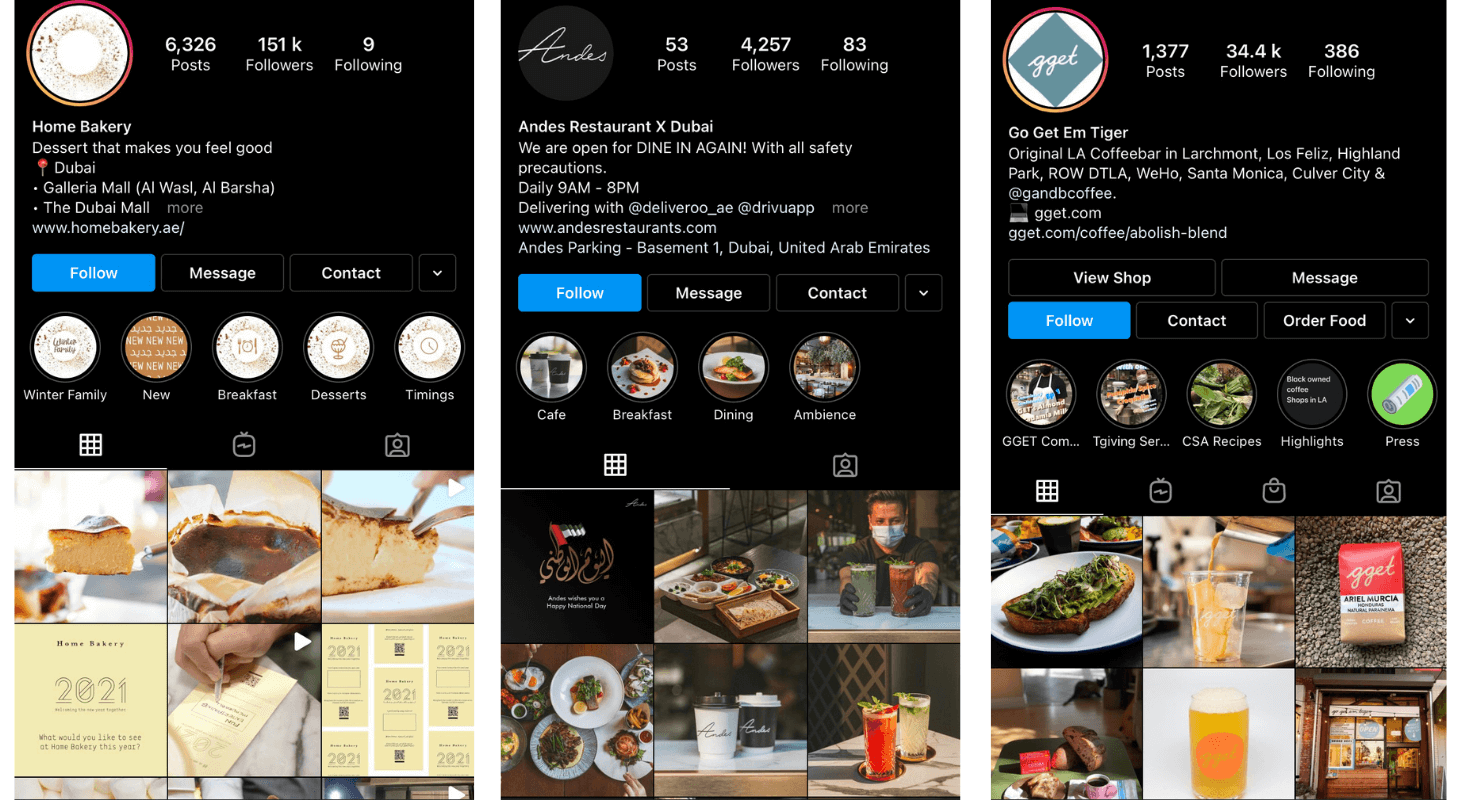 Potential new entrants – Although you can't predict the future, any news you've picked up about new businesses entering your market should be considered as you analyze your current and future Instagram competition.
3. Advantages of doing a social media competitive analysis on Instagram
Doing an Instagram competitive analysis will prove beneficial for your brand in the short and long term.
Gathering data from your Instagram competition will make you understand better where to place your products or services in the marketplace.
The social media game is a red ocean and can prove challenging to stand out from your rivals. Every new angle you find can give you a little advantage and help you move into a blue ocean.
Here are six advantages of doing a social media competitive analysis on Instagram.
Trying to understand your audience is the shorter definition of the term "clarity." Knowing what content your target audience likes to engage with and consume is essential to every Instagram marketing strategy.
Socialinsider's feature called "Posts Newsfeed" can help you achieve exactly that. Below we will look at how you can use this feature to discover your Instagram competitors' posts. We selected the period for the last six months.
Then, you'll see at the top of the dashboard the most engaging Instagram posts, along with their caption and some metrics.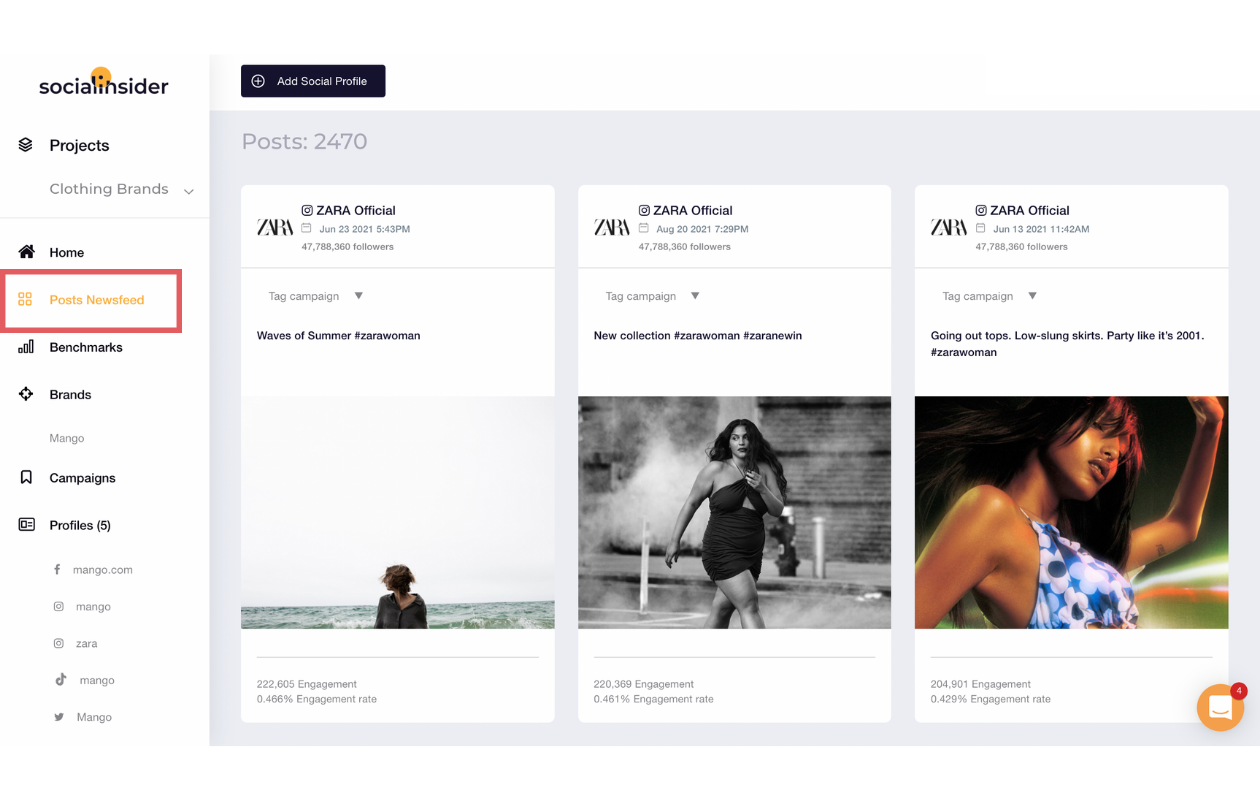 This will give you an idea of what people post and also brainstorm content ideas for your brand. This way, you can be one step ahead of your Instagram competitors!
See where your audience hangs out
Does your audience spend more time watching Reels, or maybe on Instagram stories? Knowing where users spend the most watch time gives you an upper hand over your Instagram rivals.
Based on the research you do above, you can narrow your focus only on a few Instagram features.
Keep in mind that 49.02% of Instagram stories are video, and they outperform image stories on tap forward, according to our Instagram stories study.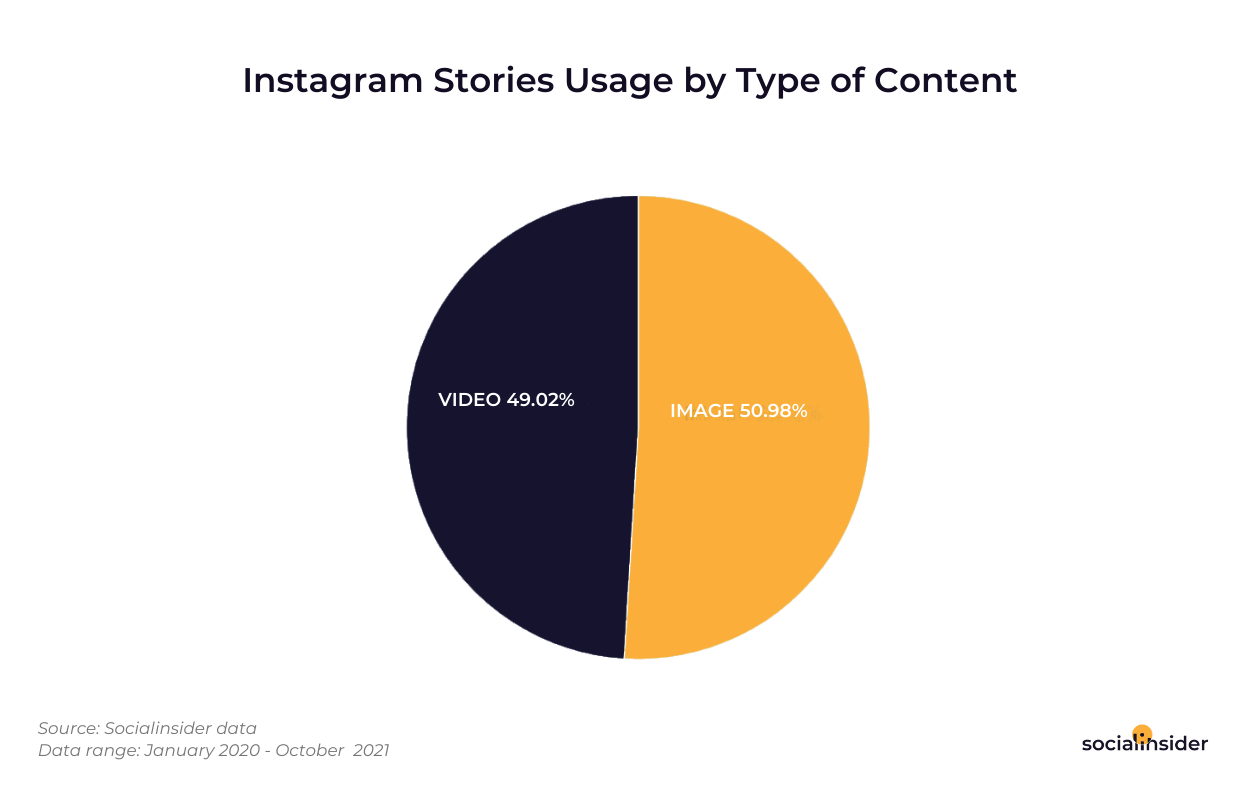 While you do Instagram competitive analysis, keep an open eye for gaps in your rivals' content.
What do I mean by gaps? Maybe your Instagram competitors' content is a little bit dry, or they do not respond to comments. Or they post too rarely.
You can also find different angles of the same story or put your own experience behind it.
For example, behind-the-scenes story videos can showcase your unique personality and brand values.
Craft better Instagram content
As you gain essential knowledge about what your Instagram competitors are posting and being mindful about your own content, you can find a common ground between the two and overpower your current Instagram content strategy.
Creativity comes while you are getting inspired by other big players from your niche. Look at what your Instagram competitors are doing and try your original spin of that type of content.
Benchmark your brand against your Instagram competitors
Knowing where you stand against your Instagram competitors, with the help of a simple analysis, will bring you huge benefits.
Socialinsider offers you the benchmarking feature, which is so easy to use. Just drop some of the competitors' URLs of their social media profiles and then hit "Search."
This Instagram competitor analysis will give you a clear idea of what your rivals are doing good and wrong.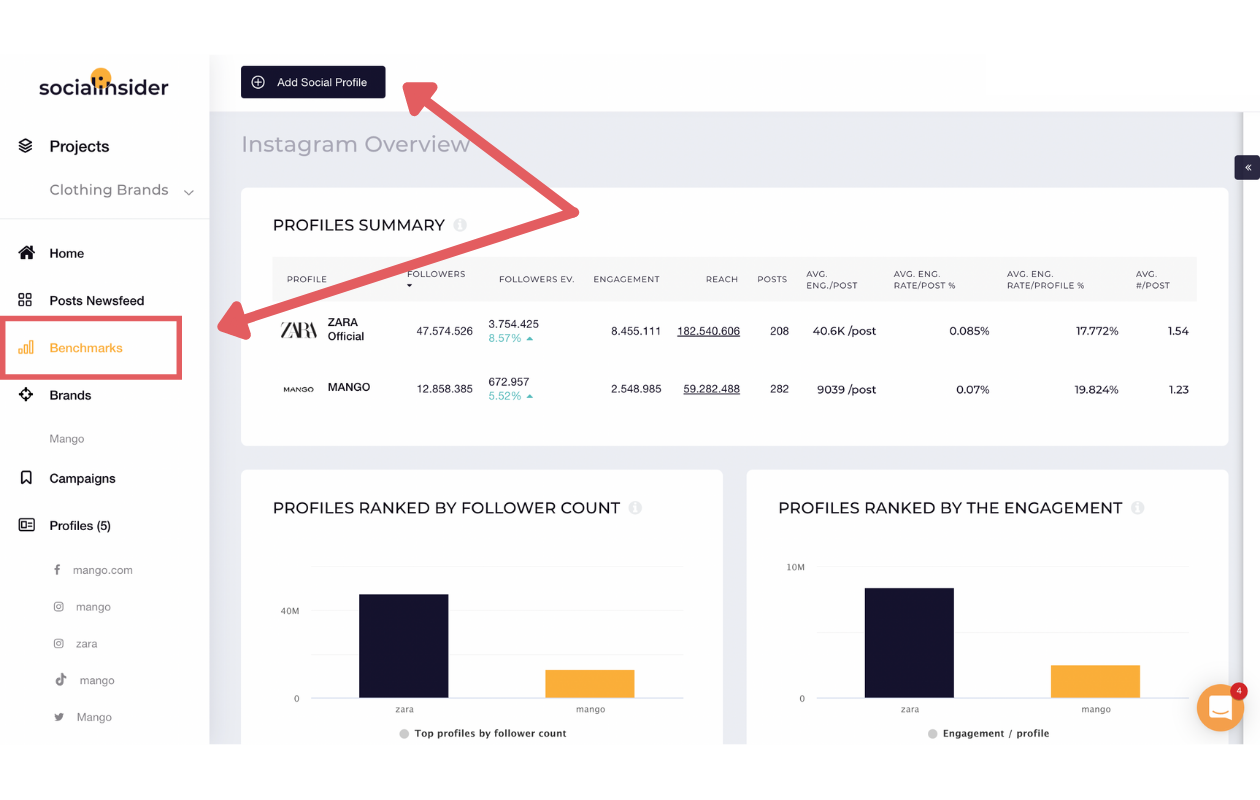 Play with Instagram features
The fun part about working on a social media strategy is the testing part. You can test different features to see if they work or not.
For example, upload a short video up to 15 seconds of your brand as an Instagram Reel. Come back in a few days and see how it performed.
If you think it didn't bring you any returns in the time you invested in its creation, you can ditch Reels from your Instagram content strategy.
According to this method, do the same with the rest of the features. Invest some time to play with them and double down on what works best for you.
4. Metrics to consider when conducting competitive analysis on Instagram
To make sure you perform a correct Instagram competitive analysis, you must choose the right Instagram metrics to analyze.
Followers: The number of followers represents how much social proof a brand has. Social proof is essential in order to stand out in the eye of the potential customer.
Posts: The number of posts is also an interesting Instagram metric. You can see how many posts your rivals are posting and tailor your content calendar based on it.
Likes: Everyone is in a rush to get tons of likes to their posts, but why? Likes validate the quality of a specific post. Also, they give you a sense of achievement that feels good and urges you to replicate the same actions that got you there.
Comments: This is basically the feedback you receive for an Instagram post. Based on the comments, you can see if a post is constructive, motivating, inspiring, or offensive. Comments are another metric that drives engagement.
Engagement: This metric breaks down in two separate metrics: Instagram engagement rate/post and Instagram engagement rate/page.  
Engagement rate per post means how many total reactions a post receives.
The engagement rate per page represents how many total reactions an Instagram page receives.
Top hashtags: This metric represents the most used hashtags that your Instagram competitors are using.
They can be a factor to drive growth to your page if used over time. Some say that you should put the hashtags in the captions, and some argue on the contrary. We say that you can choose to place them wherever you want.
5. How to do an Instagram competitive analysis
Now that we've seen what is an Instagram competitors analysis, what are the advantages, how to establish who your Instagram competition is, and what are the most important metrics to look at, it's time to put all of them in a report.
For instance, if you want to analyze your Instagram competition with the help of Socialinsider, follow the upcoming steps:

Step 1: Add your competitors' Instagram profiles.
Click on the "Add Social Profile" button on the top
Click on "Instagram Competitors' Business Profiles"
Type or paste the Instagram profile link, then click "Verify"
Add the Instagram profile to a project, select the history time for the profile scan then click "Add Instagram Business Profile"
Step 2: Select the period of time on the top right corner.
After that, you'll be able to get a full list of Instagram metrics, such as:
total number of posts
followers' growth
average engagement rate per post
total engagement
top performing posts
type of posts: photo, video, or carousels
posting frequency.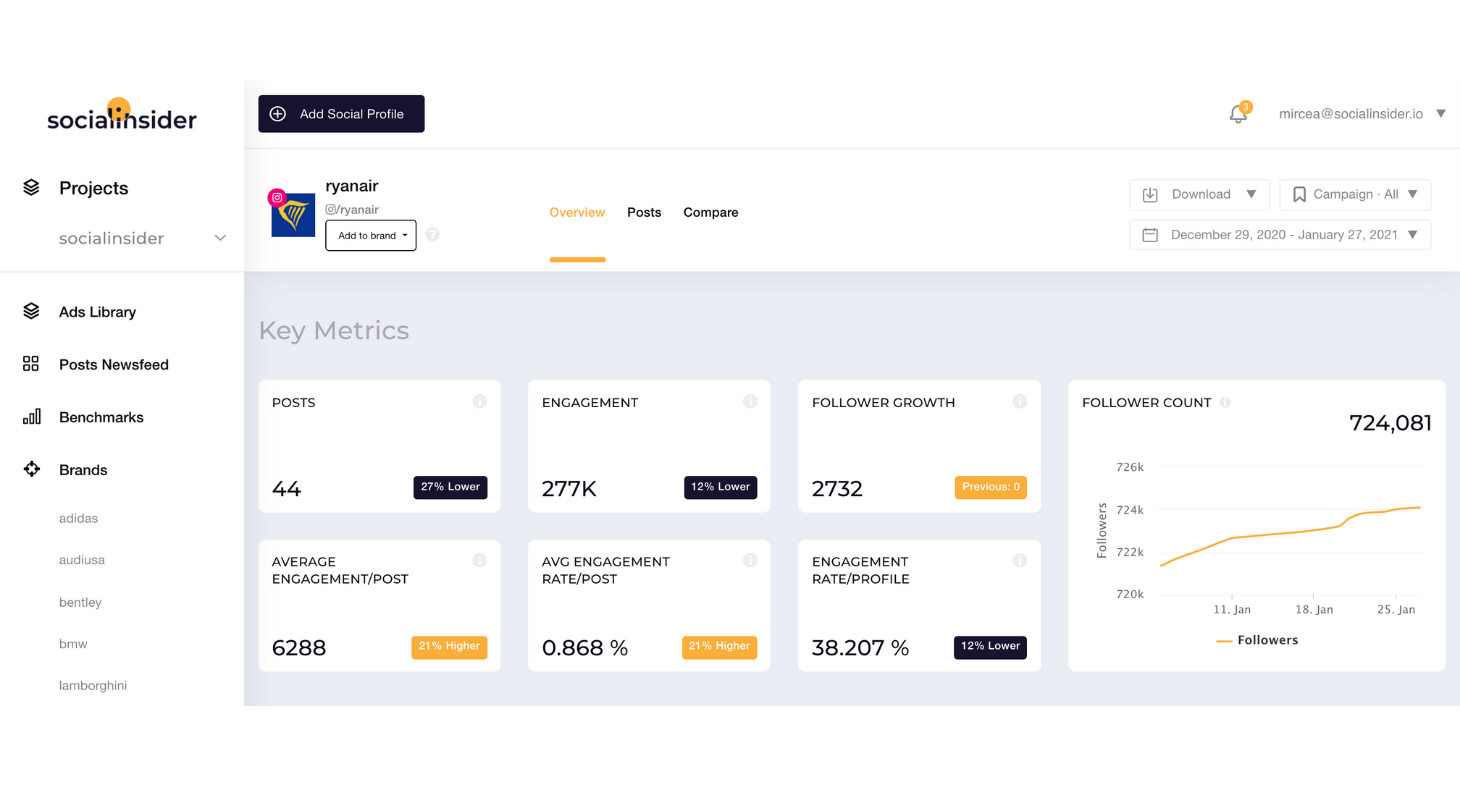 Step 3: Download the report by clicking the "Download" button from the right corner of the dashboard to have access to your Instagram competitors' data whenever you'd like.
You can also do a head-to-head comparison on Instagram and see how you stack up on the most engaging social network.
6. Identify the areas of improvement
We've come to the final step of your Instagram competitive analysis journey.
After performing an Instagram competitive analysis, you'll have a better idea and understanding of what your Instagram competitors are doing.
Take all the information you gathered about each Instagram competitor and identify particular areas that need improvement.
Use what hashtags your Instagram competitors use, add a location, use the same filter, or anything that will increase your engagement level.
Final thoughts
When it comes to Instagram competitive analysis, the engagement on this social media platform should be one of your primary goals.
If you want to stay ahead of you Instagram competitors, then learning how to engage with your audiences is a crucial aspect.
Socialinsider offers you three types of plans, according to your needs: Social Media Manager, Small Agency, and Agency.
Choose the plan that fits you best and start a competitive analysis on Instagram.
---
Related articles:
How to Increase Social Media Engagement: 6 Strategies That Will Help You Boost Your Social Performance
---