In the world of marketing, the most important skill you need to learn is how to market yourself, your work, your projects, your achievements and your products. And what better way to do all that than through a social media pitch deck?
Whether you use it to attract investors or new clients, a well-defined social media pitch deck can help you draw attention to the value of your work, and set the right expectations for the future.
Want to learn what it takes to create the ideal social media marketing deck? Carry on reading to discover tips, tricks and examples to keep in mind as you're designing your social media pitch presentation.
Create the perfect social media deck
1. What is a social media pitch deck?
A social media deck is your social media agency's business card. It provides potential clients with a snapshot of your agency's unique selling points and an overview of the services you offer.
By looking at your social media pitch deck, clients should learn what to expect from a future collaboration and what they stand to gain from working with you.
When designing your pitch deck, you need to focus your attention on two key aspects: information and design. Both have to be balanced.

On the one hand, the presentation needs just to include just enough information to be brief, concise and compelling. On the other hand, the design of your pitch should be clean but visually stimulating, in a way that complements the information on the slides without distracting the client.
2. How to build a social media pitch deck
Crafting a powerful social media marketing deck is a high-stakes project. You're creating your agency's business card here, so the wrong approach / presentation can ruin your chances of signing a new client or securing some funding.
That being said, here are 5 essential steps you should take when building a social media marketing agency pitch deck:

Know your target audience
Regardless of the context of your social media marketing agency or SMMA presentation, you should do your homework when it comes to the people you're presenting to.
Whether that's prospective clients or investors, you should try to get to know as much as you can about their background and expectations and adjust your pitch accordingly.
In other words, having a deep knowledge of your target audience enables you to personalize your pitch so as to align with their needs and pain points. That knowledge can be gained through social media audits, discovery calls and other forms of communication.
Do your competitors research
Just because your agency is the focus of your pitch deck, that doesn't mean you should totally disregard your competitors. On the contrary, you should actually include industry benchmarks in your pitch. These will help establish your agency as an honest company and set realistic expectations for a future collaboration.
Nobody is alone in their industry, so you should identify your direct competition to find out where you stand and what gaps there are in the market.
Using a social media analytics tool like Socialinsider can facilitate the process. Get competitive data, benchmark and track your competitors' performance, all inside the same unified dashboard.
Make it clear what you can do for them
Your social media pitch deck should essentially be a means of marketing your agency to prospective clients and investors. To engage them, you have to have a clear and attractive answer to the question: "why you?".
According to a survey conducted by SEMrush, starting your agency pitch by stating your value proposition ranks high on the importance scale for agencies (66/100).
Aside from that, you should include a breakdown of your services and deliverables. Make this part very clear - it's usually the most anticipated portion of the presentation.

Want to build trust and promote transparency in your future agency-client relationship?  Explain your process. It's the best way to set the right expectations about communication, KPIs, responsibilities and more.

Support your claims with social proof
No matter how engaging your pitch is, your audience won't automatically take your word for it. You need to support the claims you're making with case studies, customer stories and testimonials that attest to your agency's value.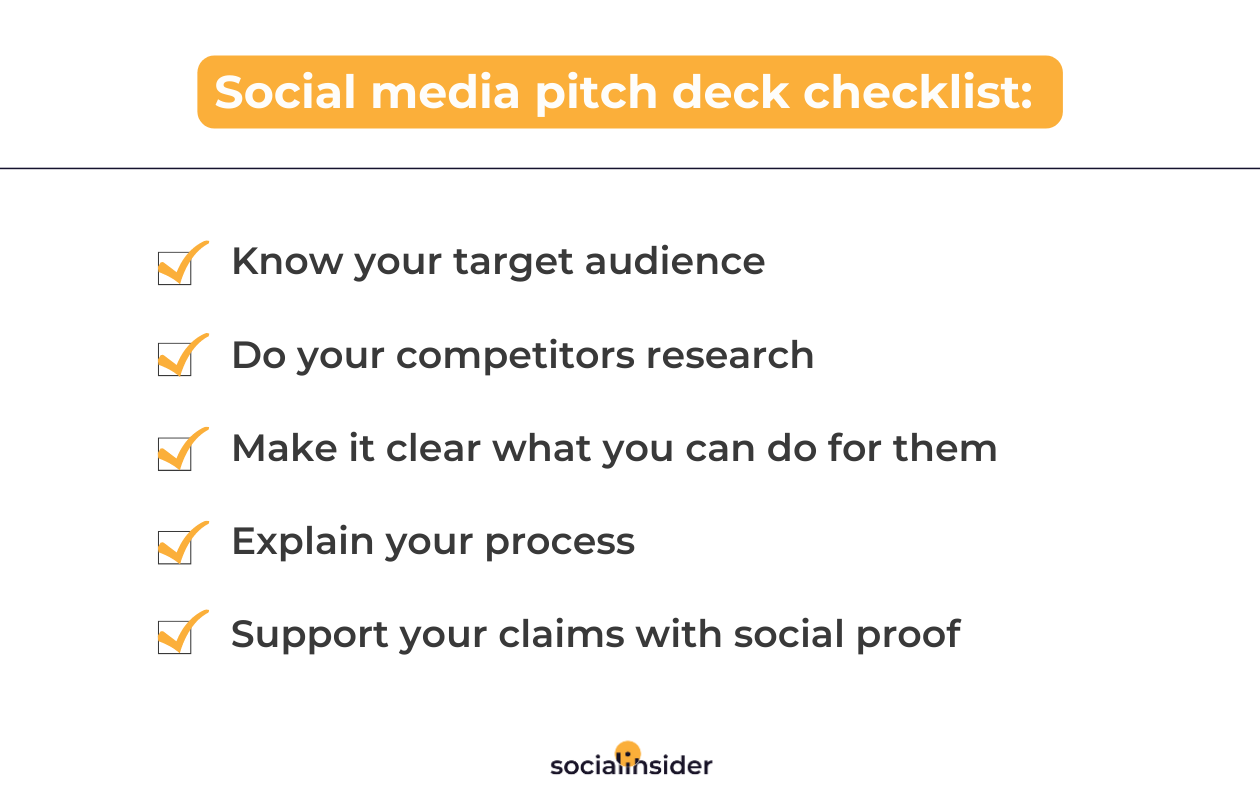 3. Social media pitch deck tips and best practices
Now that you've completed all the steps of building a great social media pitch deck, it's time to discover some tips and best practices.
Keep it brief and visually pleasing.
Your deck has no room for long prose, so keep your ideas and sentences short and to the point. Compensate with visual elements such as photos, graphs or even videos. These will keep your audience engaged or even entertained.
Tell a story.
If told right, stories have unlimited power: to inspire, to persuade and to move people to action. Stories, not stats, are the most memorable - so be sure to translate all the raw data into action points and add a human touch.
Sell both the issue and the solution.
Most social media agencies are heavily focused on marketing their services as the best solution for clients' issues. That's not wrong, but it's an incomplete approach.

Do your homework and identify the main pain points for your audience (do this through research, not assumptions). Then spend some time selling these issues. By emphasizing the gravity of their challenges, you can connect with your audience and establish a solid foundation for a future partnership.
4. How about a social media pitch deck template to get you started?
Finally, let's go over what your social media pitch should include, slide by slide. You can of course take this model and adjust it according to your own needs, services and other variables.
I also included some social media pitch deck examples from various media and tech companies.
Opening slide – include your company's name, the logo and a brief, memorable description, motto or USP
Table of contents – show a list of the topics covered in this presentation
Industry overview - map out main competitors, show how you compare and point out market gaps
Services breakdown – give an overview of the services you offer
Benefits/gains for clients – list specific ways in which your services would help potential clients
Process and toolkit – describe your process and mention some of the main tools you use
Team - Introduce the team (at least the key players if you can't include everyone)
Pricing – display all the pricing plans your agency offers
Final thoughts
Drafting a perfect social media marketing pitch deck might seem daunting, but it's a crucial step for increasing your visibility and getting more clients.
With the tips, tricks and templates listed above - you're now well on your way to building an agency pitch deck that will reach and bring in more clients.
Improve your social media strategy with Socialinsider!
Use in-depth data to measure your social accounts' performance, analyze competitors, and gain insights to improve your strategy.
Start a Trial
Leader in Social Media Analytics Category
High Performer social media analytics tool for brands and businesses.
G2 Crowd
Users Loves US Award
G2 Crowd
Capterra Reviews
Capterra