The social media click-through rate is a social media metric that marketers look at, especially when evaluating their paid ads campaigns and results.
Essential to monitor in the case of pay-per-click campaigns in order to optimize costs and improve the ads, social media CTR is equally important to be analyzed in the case of organic posts as well.
Given that in 2022 social media marketing is at its peak, with TikTok's increasing interest and LinkedIn's growing popularity, it becomes only natural for marketers to wonder which social platform is more likely to generate high results in terms of conversions and ROI.
Follow me in this analysis of 99,007,372 social media posts to discover what click-through rate marketers can get on every social platform in 2022!
Facebook has the highest CTR - 3.86% on average, followed by LinkedIn
As highlighted by our latest LinkedIn content study, this social platform delivers pretty good click-through rates, especially for native documents.
However, with Facebook being the most used social media network used for advertising, most of the eyes are on this particular platform when it comes to monitoring the CTR.
And how about the other social media networks?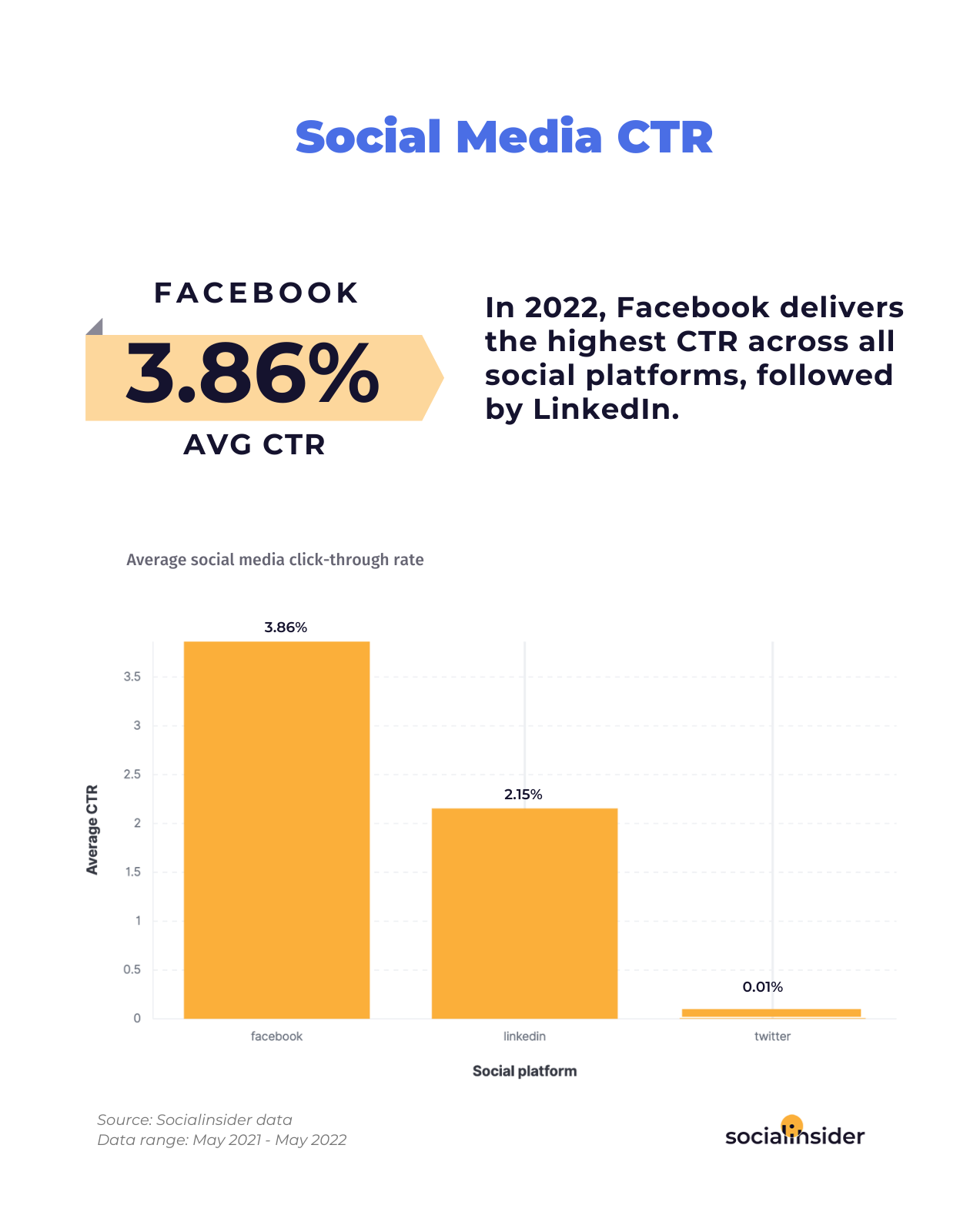 In 2022, while Facebook's CTR is located at an average of 4.02%, LinkedIn also delivers pretty good results in terms of click-through rate, with an average of 3.55%.
Seeing these results, it's no wonder why marketers give so much credit to Facebook ads these days, considering that the platform drives the highest click-through rate across all social channels.
LinkedIn - is undeniably one of the most important social media networks for B2B companies, providing the possibility of gaining huge visibility in front of all the targeted audience segments. Which means these social media CTR stats uncovered some great news.
Twitter, on the other hand - as far as social media click-through rate goes - is pretty much inexistent. Given its low engagement score - of about 0.05%, as indicated by our social media industry benchmarks study, it is no surprise it's not that effective in offering satisfying social media CTR.
Therefore, when aiming to fufill business objectives like improving the overall social media CTR and getting more conversions, marketers should orient their attention and resources towards consolidating their Facebook and LinkedIn strategies.
Methodology
Social media click-through rate: represents the percentage of people who clicked on a social post and is calculated by dividing the number of link clicks by the number of impressions.
This analysis included 99,007,372 social media business posts published between May 2021 - May 2022 on LinkedIn, Facebook, and Twitter.
The other social media platforms, like Instagram and TikTok, were not included because they do not support link clicks, hence being irrelevant for this research's purpose.
The analysis conducted included:
83,983 LinkedIn posts from 772 LinkedIn business pages
56,473,469 Facebook business posts from 128,427 Facebook business pages
42,449,920 Twitter posts from 366,218 Twitter business pages
NOTE: Instagram is not mentioned in this analysis due to the lack of relevant data showing the average click-through rate of Instagram's link in bio, the only metric available for the time being through the platform's API.