Hashtags are a critical element of any social media strategy.
And TikTok is no exception.
TikTok is the home of enormous potential new viewers and TikTok hashtags can help connect with them.
One method to enhance your brand success is to make sure it has a strong TikTok hashtag strategy.
To learn how to grow your TikTok account and boost views using TikTok hashtags, continue reading.
A comprehensive guide to TikTok hashtags
1. What are TikTok hashtags?
TikTok hashtags are a crucial tool to ensure that your content is viewed.
TikTok hashtags are one of the best methods for categorizing content, making it simple for users to identify information that's relevant to them.
2. Why use TikTok hashtags?
Brands may add TikTok hashtags to their captions so that creators can follow the topics they find interesting, get inspired—and not only:
2.1 TikTok hashtags can increase account visibility
Because the TikTok algorithm understands and performs best with categorized content, TikTok hashtags can put you right in front of your potential target audience.
2.2 TikTok hashtags can boost engagement
An increased visibility could also lead to higher TikTok engagement rates.
When more people see your content, there's a probability that many of them will want to interact with your work by liking or commenting.
2.3 TikTok hashtag search can help you discover trends
TikTok hashtags can help you seize the moment and take advantage of the best TikTok trends.
By creating content based on popular TikTok hashtags, your brand can increase visibility and interaction.
2.4 Build a community using TikTok hashtags
You may entice your audience to create videos by using a unique hashtag representing your brand.
Branded TikTok hashtags are a fantastic method of building a solid community around your brand.
This way, you'll be able to build a devoted following of users who find your content useful enough to follow your activities and even share it.
Fenty Beauty is an excellent example of a brand that developed a following and stimulated UGC around the hashtag #fentyface.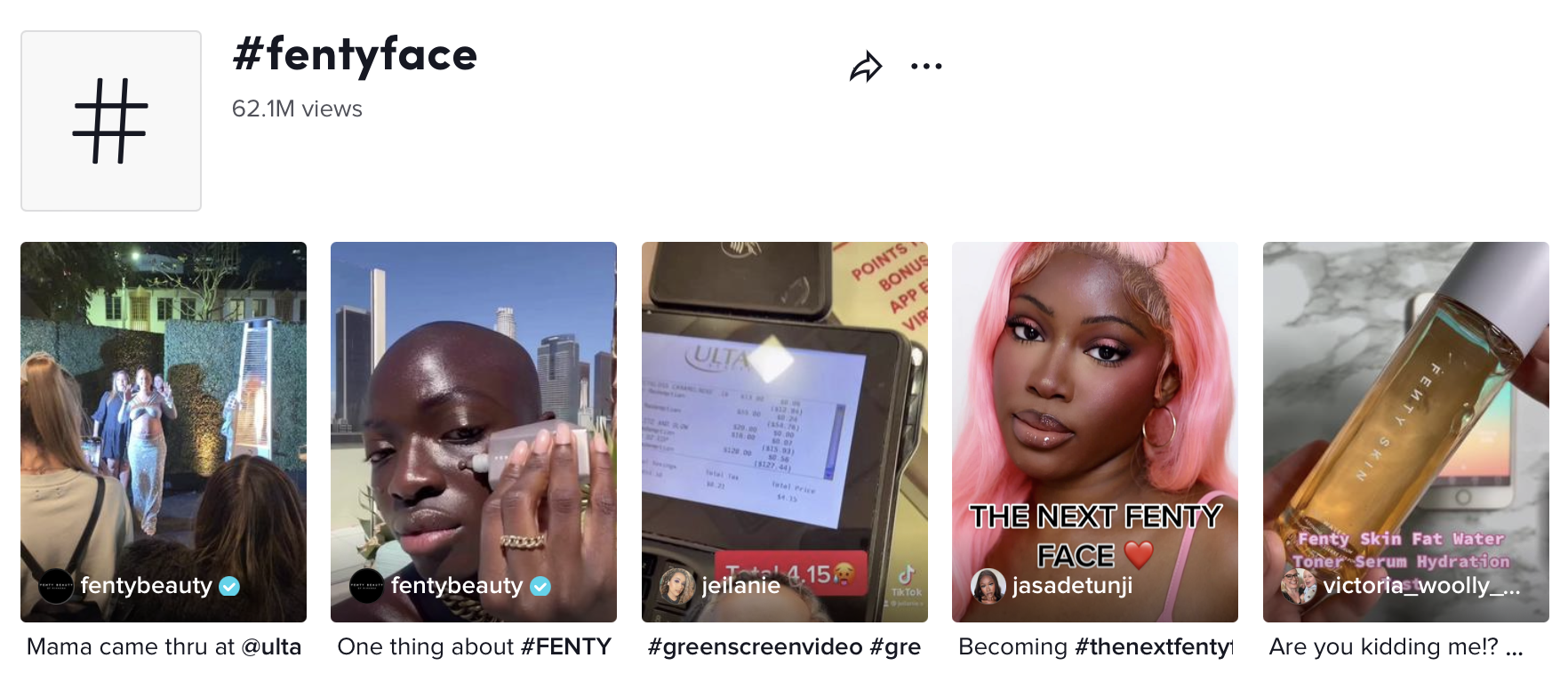 2.5 Hashtags on TikTok can help you find relevant influencers
If you plan on conducting a TikTok influencer marketing campaign, TikTok hashtag search is a terrific technique to help you find new talent and increase your TikTok followers.
Teaming up with TikTok influencers is a popular strategy among marketers because it allows both creators and brands to gain from each other's followings.
3. How do TikTok hashtags work?
Social media managers can leverage TikTok hashtags to expand their TikTok reach organically.
As each TikTok's user For You Page is personalized, the hashtags used in video captions and even in the video itself are taken into account by the TikTok algorithm. The software evaluates the topic of the TikTok and selects which viewers to advertise the video towards.
How many TikTok hashtags should you use?
Technically, there is no restriction on the number of hashtags you can add to promote your TikTok video. You can add as many TikTok hashtags as you wish if they fit into TikTok's 2,200 character limit for captions.
However, it is recommended that you avoid overusing TikTok hashtags—because it can look spammy.
According to experts, TikTok users should use hashtags with purpose and only add three to five hashtags in their captions to optimize their efforts.
When deciding which TikTok hashtags are most appropriate for your type of content, preparing a list of keywords before publishing anything can help speed up the process.
4. How to find trending TikTok hashtags
When choosing hashtags to use for your TikTok caption, prioritize the ones with plenty of views. This makes it more likely that the appropriate audience will find and interact with your content.
Check out the following advice to optimize your TikTok marketing strategy and locate the ideal hashtags to use:
4.1 Use TikTok Creative Center for hashtag trend discovery
Marketers can use TikTok Creative Center's Trend Discovery option to get insights on trending topics, hashtags, music, producers, and videos.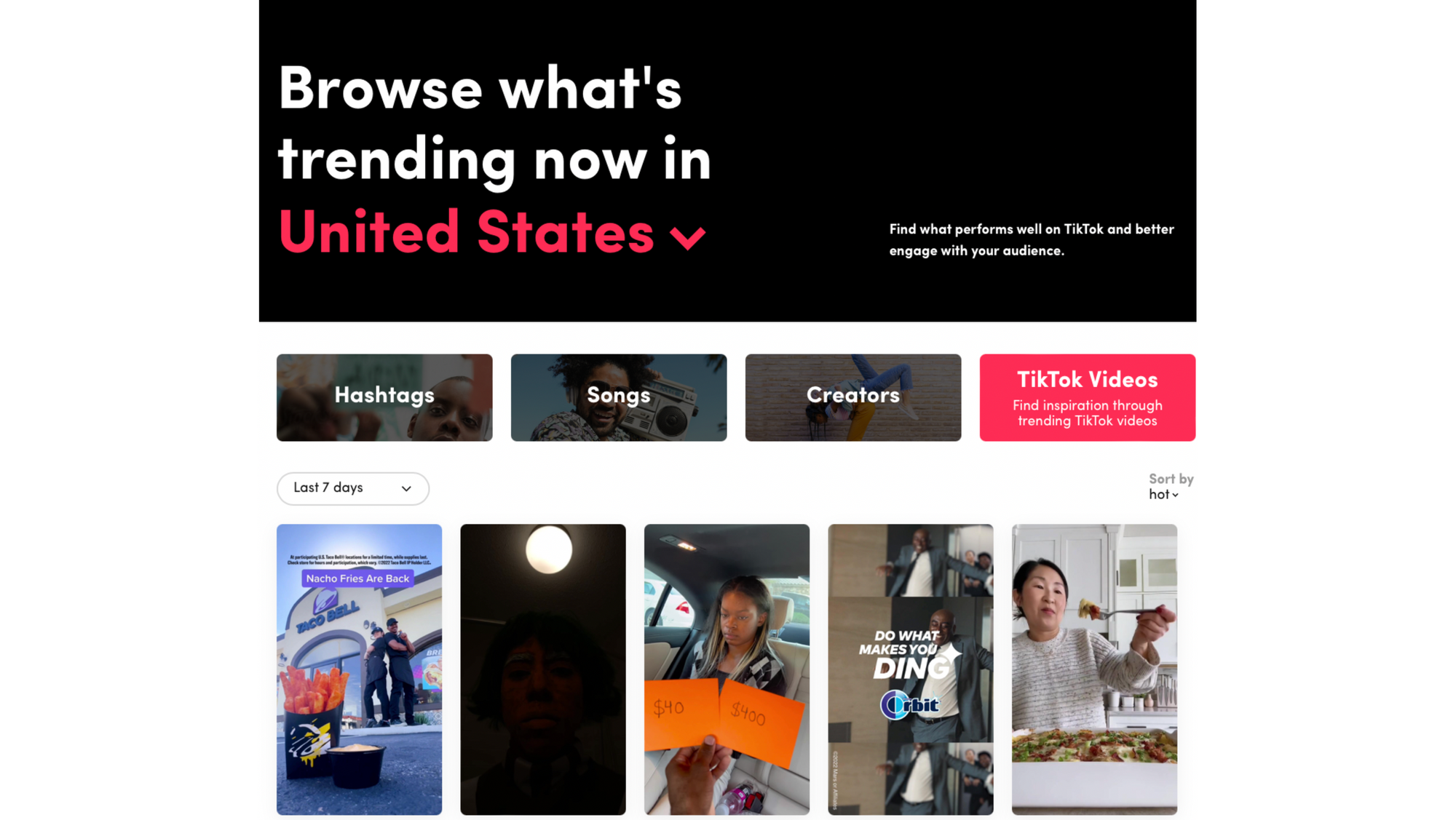 The goal of Trend Discovery is to ease the research process by keeping you updated with what's new and helping upcoming TikTok videos be as successful as possible.
You can filter search results based on your location, industry, or time range.
4.2 Research TikTok hashtags via the Discover page
Some of the most popular TikTok hashtags trending right now are highlighted on the Discover page. Based on the location you are based in, you can scroll through current viral challenges that are associated with a specific RikTok hashtag.
You can enter relevant keywords in the search bar on the Discover page and look up related TikTok hashtags in the Hashtags tab.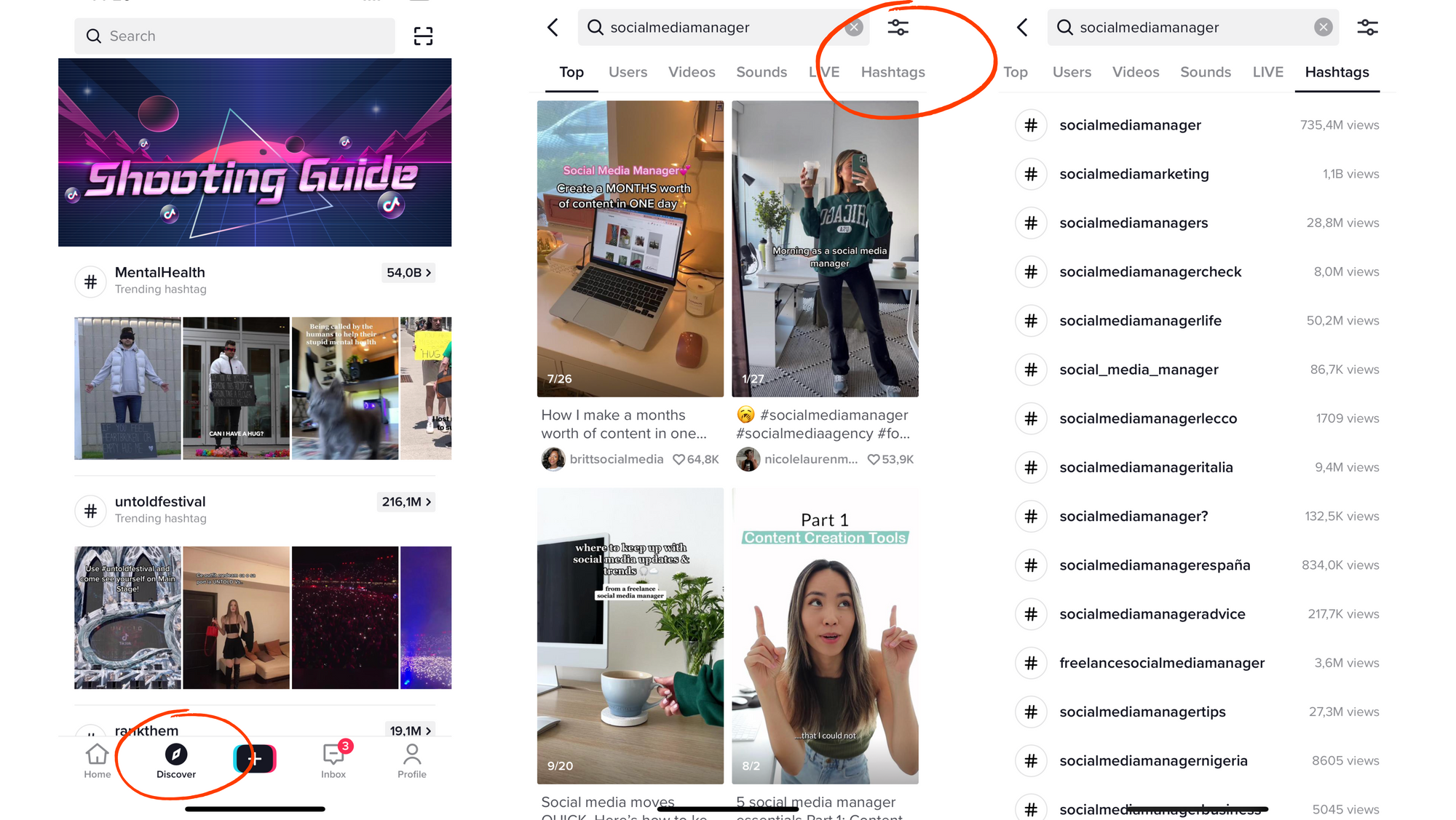 4.3 Keep an eye on your competition's hashtags on TikTok
Peeking at what TikTok hashtags your competitors are using encourages you to attempt reaching out to new audiences or use search terms you may not have thought of before.
Through hashtag research, you can also identify competitors that you were not even aware of.
Moreover, TikTok hashtag research can give you some idea of what others in your business may be doing in terms of TikTok content ideas.
We recommend checking their profiles and content regularly to benchmark your TikTok performance against theirs.
4.4 Use a dedicated TikTok analytics tool
Unlike the app's integrated TikTok Analytics dashboard, which only displays your own content's data, dedicated TikTok analytics tools provide information on your competitors' hashtags.
This way, you can receive complete insights on all relevant TikTok hashtags other brands used, compare the ones that performed well, and make an informed decision.
Once you spot new hashtags in your niche, you can select the ones that fit your content best and include them in your captions to boost your TikTok views.
5. How to use TikTok hashtags—best practices
There is no real way of predicting the impact a specific TikTok hashtag will have on your video.
However, there are a few best TikTok hashtags practices you need to consider to optimize your marketing efforts:
5.1 Follow TikTok hashtags relevant to your niche
Because TikTok trends don't usually last long, a viral hashtag may not remain so popular tomorrow.
Therefore, be careful to research hashtags that are popular now and relevant to your niche.
To keep up-to-date with what's popular on TikTok and what your competitors are doing, you can simply select your desired TikTok hashtag and press Add to Favorites.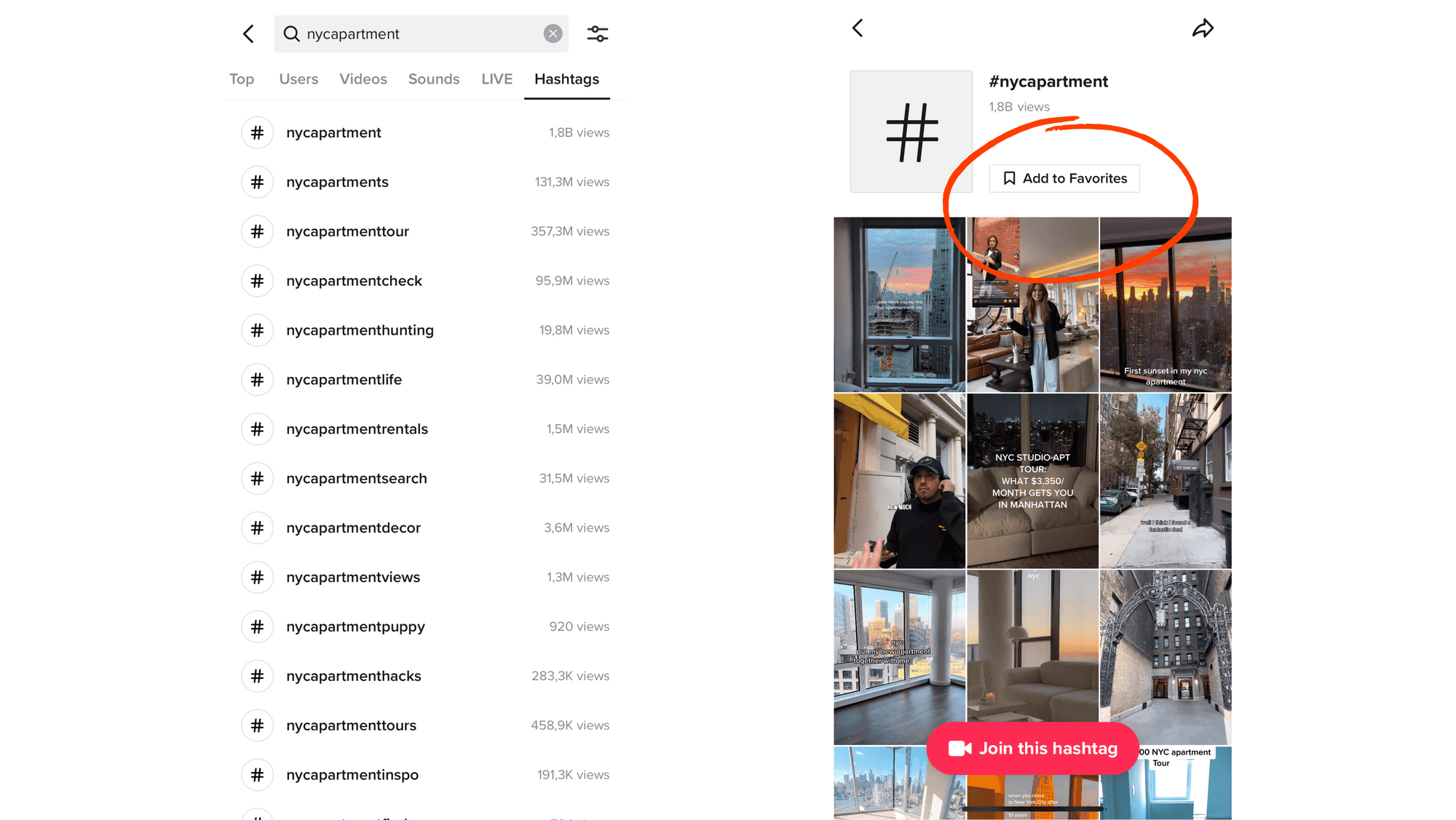 To discover the trendiest hashtags connected to a particular topic, you can alternatively use tools such as TikTok Hashtags or Hashtag Expert. These programs provide information on the volume of postings and page views associated with a specific hashtag.
5.2 Use the most popular hashtags on TikTok wisely
With the highest view counts, the hashtags #fyp, #foryou, #viralvideos, and #trending are among some of the most popular TikTok hashtags.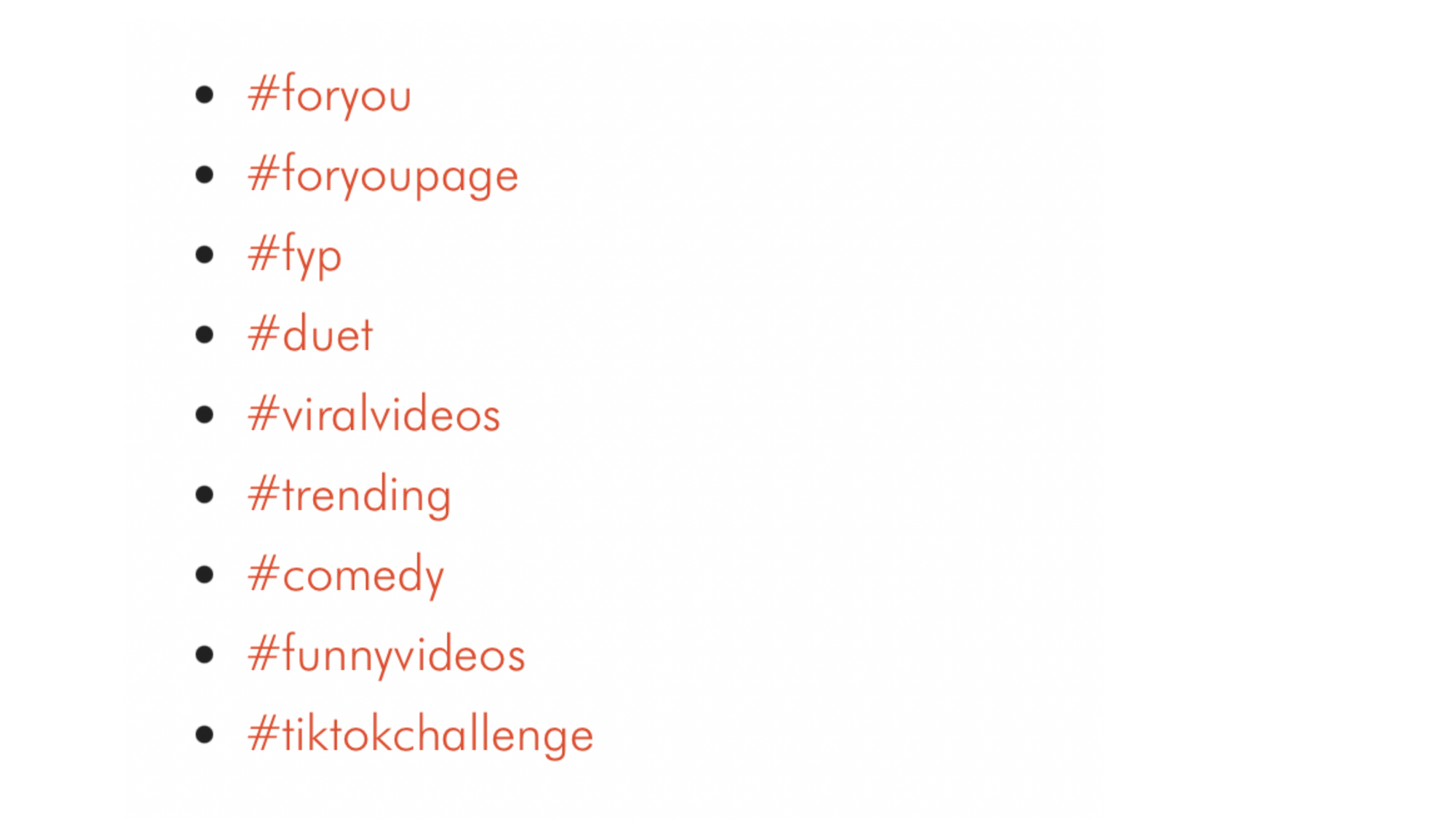 And while using these specific trending hashtags on TikTok might seem like a guaranteed strategy to increase views, keep in mind that they are also highly competitive.
If you continue browsing the Hashtag page, you will eventually see lots of TikToks containing these hashtags, but without many individual views.
Using these popular hashtags makes it challenging to stand apart from your competition.
💡
One trick to maximize your hashtag reach is to mix trending TikTok hashtags with niche ones. This will help you connect with both broad and specific audiences.
5.3 Create a branded TikTok hashtag and challenge
While it's important to use established hashtags to increase views, you can also use a custom-branded TikTok hashtag to generate buzz around your brand and advertise a campaign or product.
The ideal scenario is for users to begin using your hashtag and gather user-generated content. Still, you can always try setting up TikTok ads to promote it.
Additionally, you may create a unique challenge associated with your branded TikTok hashtag that people can use to join.
Starting a TikTok challenge using your brand hashtag is one of the finest ways to increase visibility on the platform.
5.4 Test TikTok hashtags and measure performance
Using the same TikTok hashtags for all your videos might not work for your brand.
Testing different TikTok hashtags for various types of content can help you determine which ones work best for you and help enhance your overall TikTok performance.
Keeping a monthly TikTok analytics report can help you have an overview of your marketing efforts and see where you need improvements.
Last thoughts
On a platform with such tough competition, TikTok hashtags can help your content stand out and bring you more likes and followers.
However, remember that you need more than relying your TikTok marketing strategy entirely on TikTok hashtags to grow your account to its full potential.