At the end of 2018, Instagram announced they are preparing a new kind of Instagram account, created mainly for Instagram influencers and creators - called Instagram Creator Account.
First, they launched it as a test, and only accounts with more than 10,000 followers could use it, now this option is available for all users.
In this article, you'll discover everything you should know about the Instagram creator vs business account.
Let's find out which one is better for your business.
---
Creator account vs. business account on Instagram
---
1. What is an Instagram creator account?
In the beginning, there was the personal account; then, as the platform developed, we were introduced to the Instagram Business profile. More insights for users, more options.
In an attempt to help businesses and influencers, the social media app launched Instagram creator accounts - created for users to efficiently tap into their insights and easily connect with their audience.
2. How to switch to a creator account on Instagram?
If you want to switch to a creator account on Instagram, you have to follow these steps:
Open your Instagram profile
Tap on the '3 line button' in the top right corner
Tap 'Settings'
Select 'Account'
Tap 'Switch to Creator Account'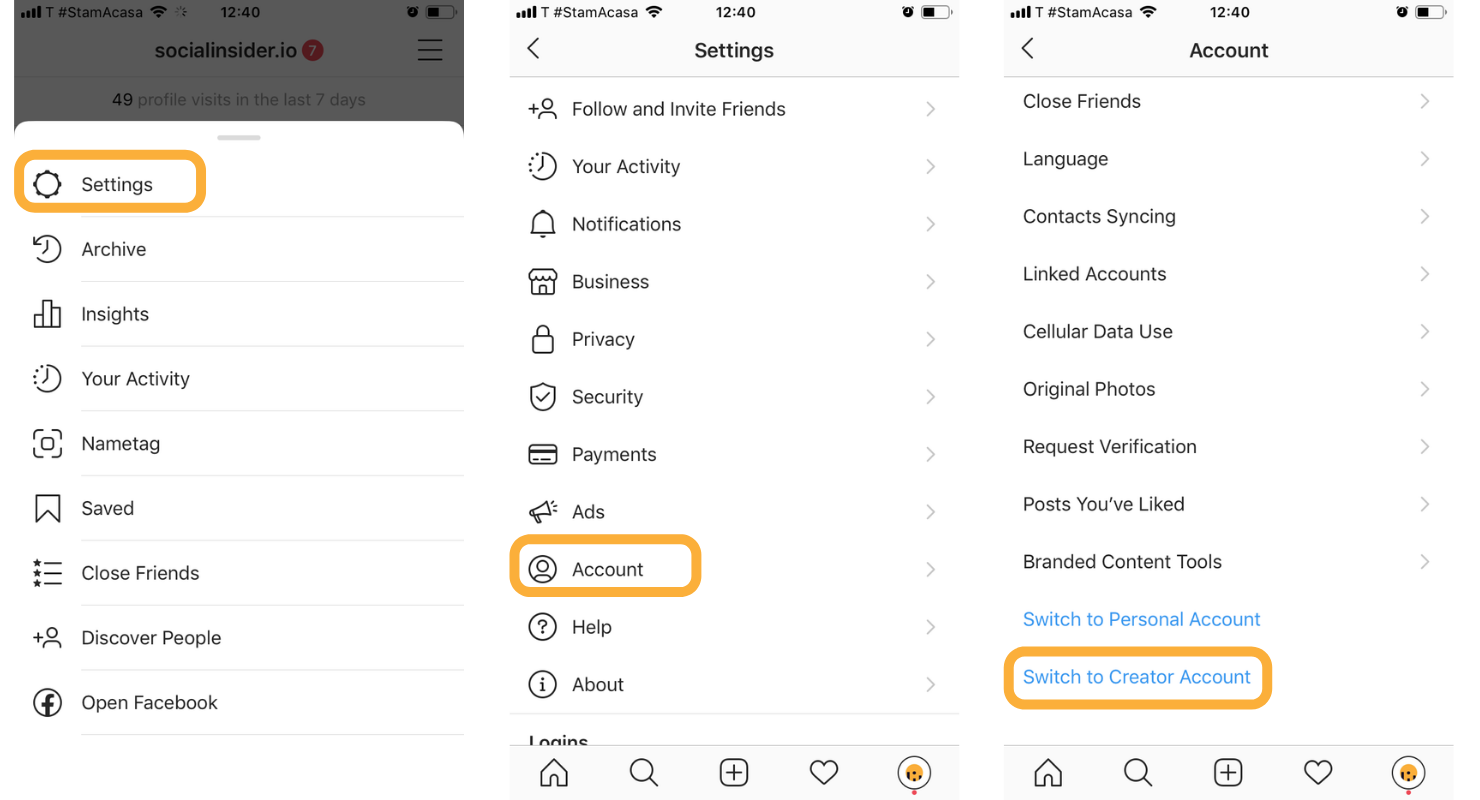 3. The main differences between the Instagram creator vs. business accounts
You probably wonder what the differences between a creator profile and a business one are.
Let's find out the most significant ones.
With a business account, users only have access to their weekly unfollow and follow count. On the other hand, with a creator account, you can see your daily number of unfollow and follows. (also from the last week)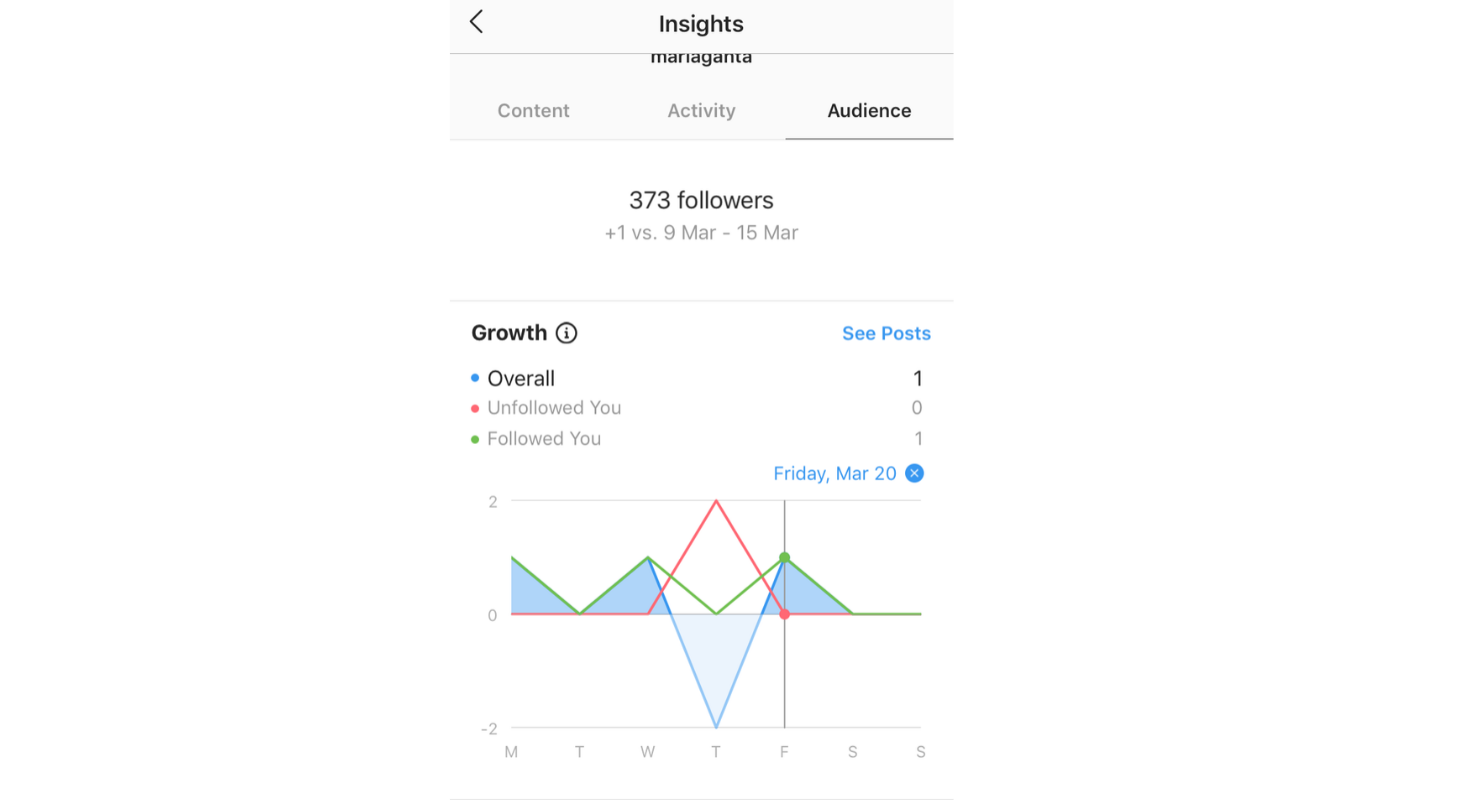 Having this ability is a huge bonus, because you can analyze your content and post according to your follower's needs.
But what if you want to see more about your audience?
Let's say you want to see your follower's situation from the last month, or for the previous year. What then?
The answer is simple; you need an Instagram analytics tool. There are a lot of tools out there, but in this article, I am going to show you the benefits of using Socialinsider.
The main benefit of using Socialinsider is that you have access to your insights from the last 7 days, 14 days, even you can select a custom range of time.
After you select the time range needed, you can see how many followers you gained and how many you lost, like with the creator account.
Using Socialinsider, you can also see what are your most engaging three posts, and three stories from a specific period.
As o conclusion of this point, with a creator account, you have access to more followers insights and features than using a business account.
If you don't want to make the switch, and you want to keep your business account and have more insights, you can always use an analytics tool.
You'll have access to a variety of insights that will help you boost your Instagram engagement, and reach your goals.
Once you choose Creator Profile, you have the opportunity to select from a diversity of options that better describe you and your daily activities: video creator, actor, artist, author, blogger, chef, coach, and more.
Then, you have the option to choose whether you want this to show up under your name or not.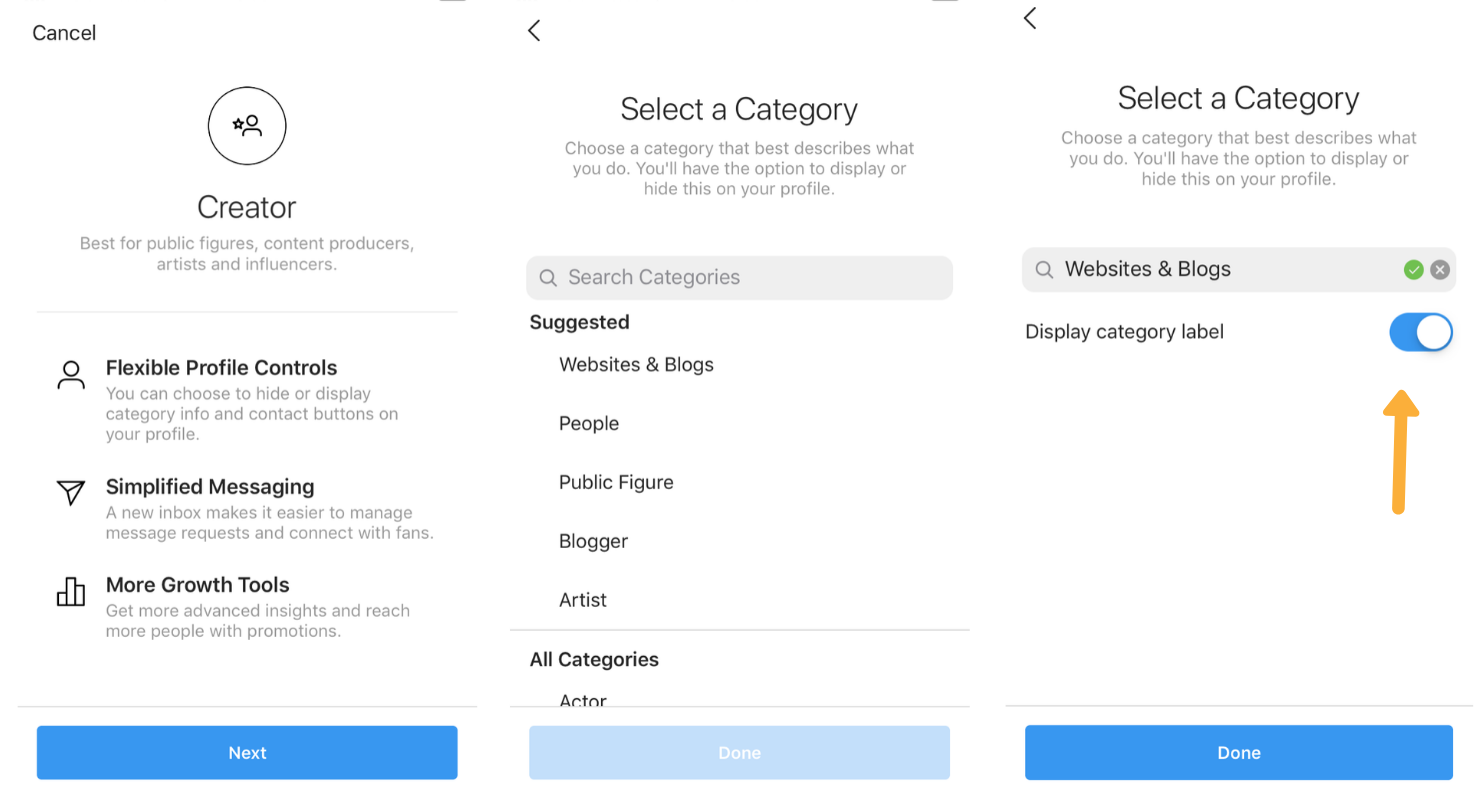 Unlike business accounts, you can eliminate the contact options (email, phone number), making people only to be able to DM you.
The Instagram Creator account comes with filters for direct messages.
When someone new sends you a message, that message will end up in your requests section in your DMs like usual.
The new part here is that Instagram will use the algorithm to decide if the request is possibly more relevant to you than other requests.  If so, the message will be put at the top of the list. (for example, if the message is from a brand, company, or influencer)
Another thing is that once you accept a request message, there are two categories you can put those messages: Primary or General.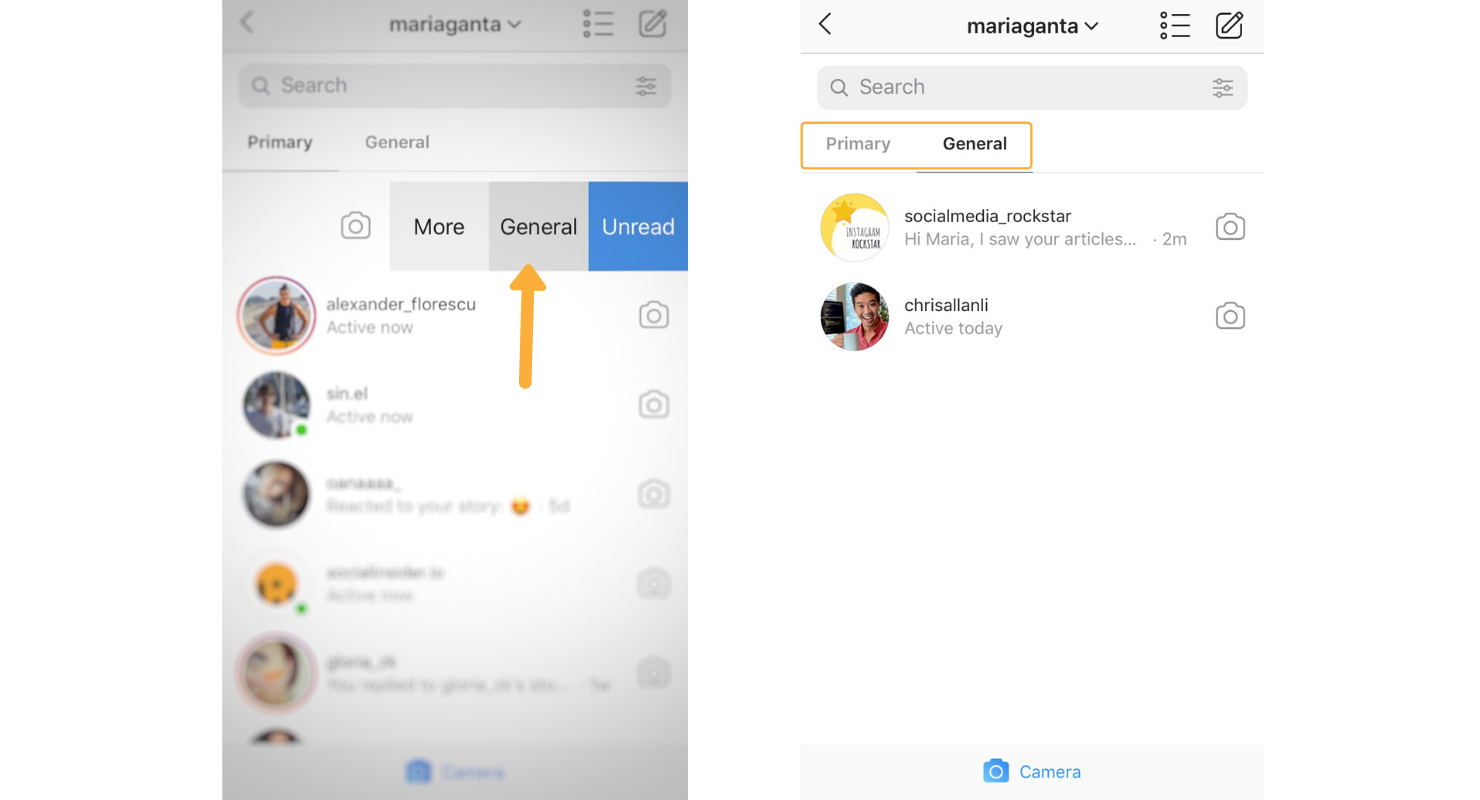 To make things easier, you can now put your friends, family,  brands you work with, in Primary and people you don't know as well, in General.
One of the most appreciated features that came with the Instagram creator account is the ability to make shoppable posts with brands you like.
For influencers, this is a huge win.
Creators can tag products from brands they partner with, creating shoppable posts, and their followers can buy with only a few clicks.
4. Desktop analytics with the creator account
Instagram creator accounts have access to desktop analytics.
The Creator Studio is a platform on your computer, so you have to go to: https://business.facebook.com/creatorstudio, and you'll have access to your analytics.
From here, you can see how many likes & comments each post got, and you have the option to sort your content and see only: videos, photos, carousels, stories, and IGTV.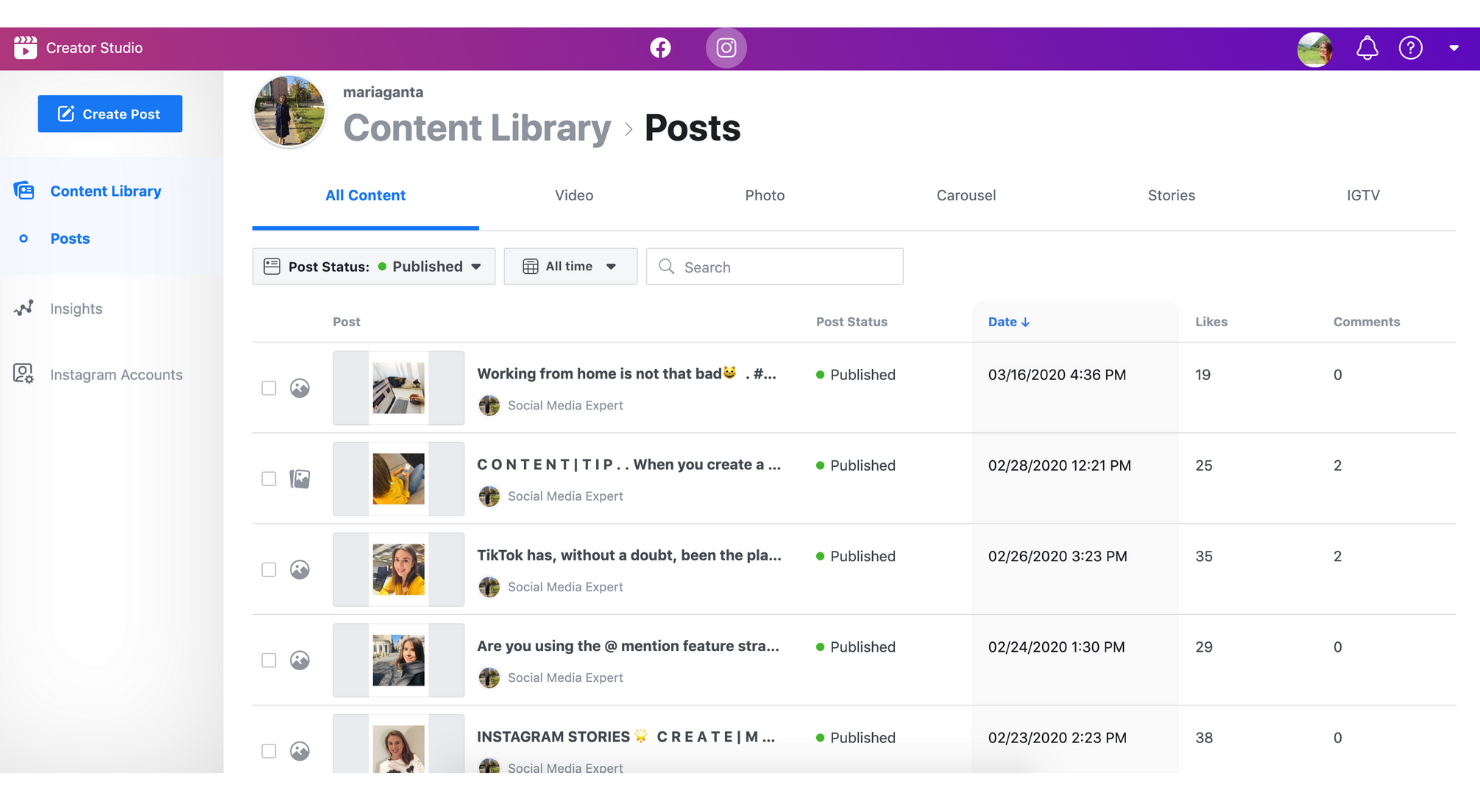 From the sidebar, you can select "insights". Here you'll see how many actions were taken on your account and how many reaches and impressions you've had.
Under activity, you'll see audience insights: the age and gender of your followers; these are some essential elements that you have to pay attention to and create content for your followers needs.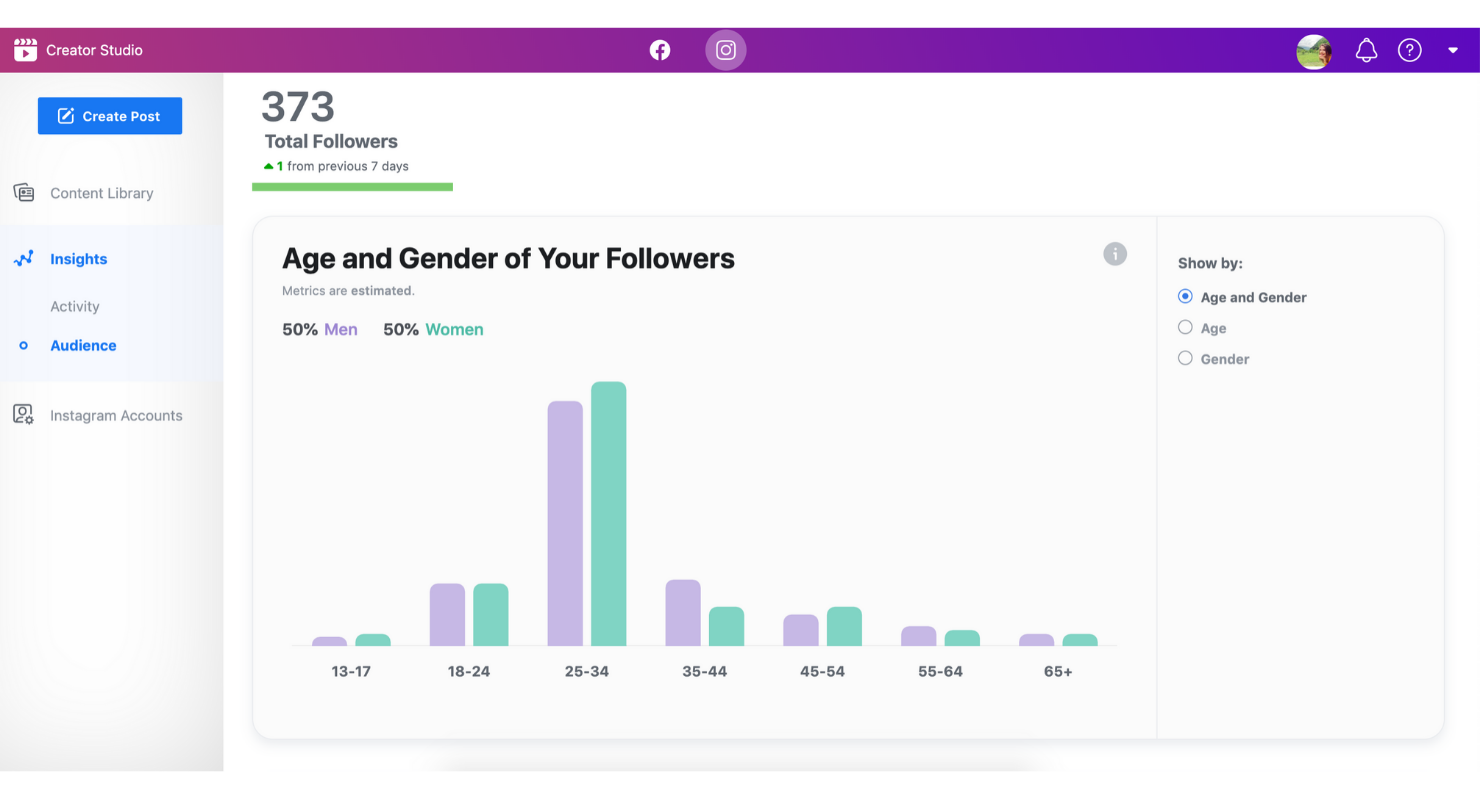 Having all this information on your desktop is very useful, but the creator studio is showing your account activity only from the last seven days.
If you want to see your account insights for more than that, Socialinsider is a good fit.
Not only can you see more than the last week of insights, but you can also view your engagement evolution, and analyze the hashtags you are using.
Final thoughts
What do you think? 🤔
Now that you know the differences between the Instagram creator profiles vs. the Instagram business profiles, are you going to make the switch?
Let me know in the comments below.
---
Related articles
---