At the beginning of November, the hype for the holidays is rising as fast as the sun towards dusk, when the day becomes shorter.
We have sentimental holidays, like Valentine's Day, or the ones meant to bring families together, like Christmas. Still, most notably for marketers, we have Black Friday, which marks the year's busiest shopping day, followed by Cyber Monday.
Digital marketing specialists, the time has come for you to brainstorm with your teams some Black Friday marketing ideas to get creative with your Black Friday marketing campaigns.
If that doesn't work as planned, we got you covered. Today we're gonna discover some Black Friday social media campaigns examples to get fresh ideas.
Black Friday & Cyber Monday marketing
1. What is Black Friday
Black Friday is an American tradition and it's usually the Friday after Thanksgiving, when everyone in the US starts buying presents for Christmas.
Along the years, big brands have decided for themselves when they start their Black Friday sales.
Black Friday comes with sales and discounts both online and offline, in actual shops. In 2018, the eCommerce industry registered record-breaking sales of $6.2 billion, with online sales growing by 23.6% compared to 2017.
Some retailers even keep the discounts up for the whole month of November, depending on their products and stocks.
Black Friday sales can range from 5% off to 70% off. Even if at first only tech giants started these Black Friday sales, in time, many more industries have applied it.
A lot of retailers and brands start preparing their Black Friday marketing strategies months before the big day, creating teaser and planning content ahead.
2. What is Cyber Monday
Cyber Monday is the Monday after Black Friday when the discounts are still there, waiting for everyone to empty the stocks.
Cyber Monday only happens online and it lasts for 24 hours, with millions of retailers applying discounts to their services and products.
The brands' purpose in this case is to get rid of all the products that were discounted on Black Friday. Some even apply more discounts to their products to convince customers to buy more.
Usually, retailers plan their Cyber Monday social media campaign months ahead, at about the same time they plan the Black Friday social media campaign.
3. Instagram listening insights on #blackfriday campaigns
When the cold season comes, the second-favourite holiday is Black Friday. All throughout the year, people are waiting for that one Friday in November when they can find the best deals for their favourite products.
Since Black Friday is just around the corner, let's put into effect Socialinsider's Instagram social listening tool and learn more about the campaign hashtag #blackfriday and its use.
First, after getting the hashtag's insights, these are the top topics that mostly used it in the last 6 months.
This hashtag was mostly used by Instagram accounts that activate in the travel category, while the category that least used it so far was the retail one.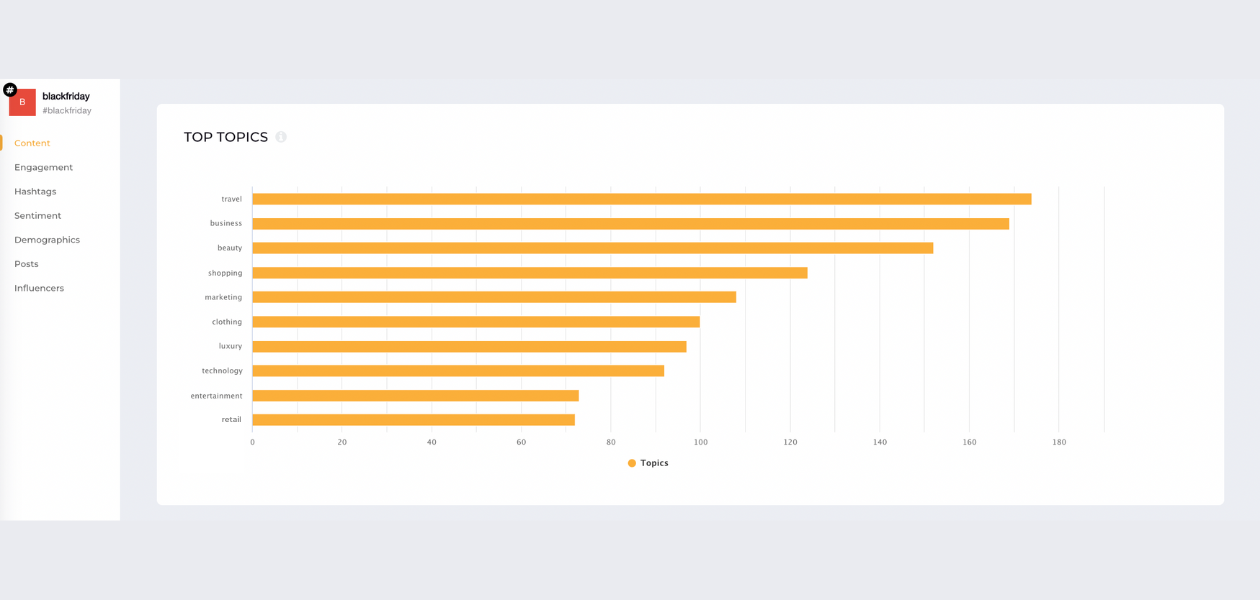 Collecting this data can help you figure out which brands from what categories are promoting Black Friday social media campaigns. Is it the same interest as you? This can help you adjust your social media tactics during your Black Friday campaign.
Next, to learn more about the audience that sees all those Black Friday social media posts, it's time to look at emotion.
Here you can clearly see the split between surprise, joy, sadness, disgust, anger and fear. The dominant emotion is joy.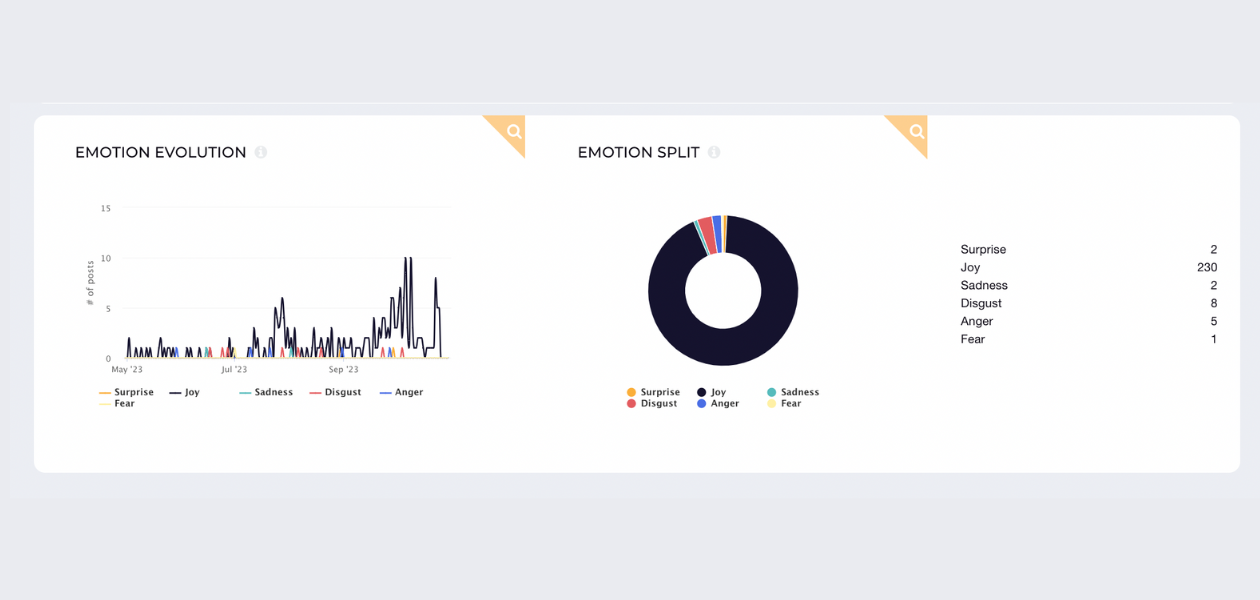 Having this emotion insight helps you trust the process when planning a social media Black Friday campaign.
If your posts are engaging enough, people will show their emotions in their reactions, interactions and the posts they make about your brand.
Another important thing to check when going through all the metrics here in our social listening tool is checking popular hashtags. These are used in the posts which also feature the hashtag #blackfriday.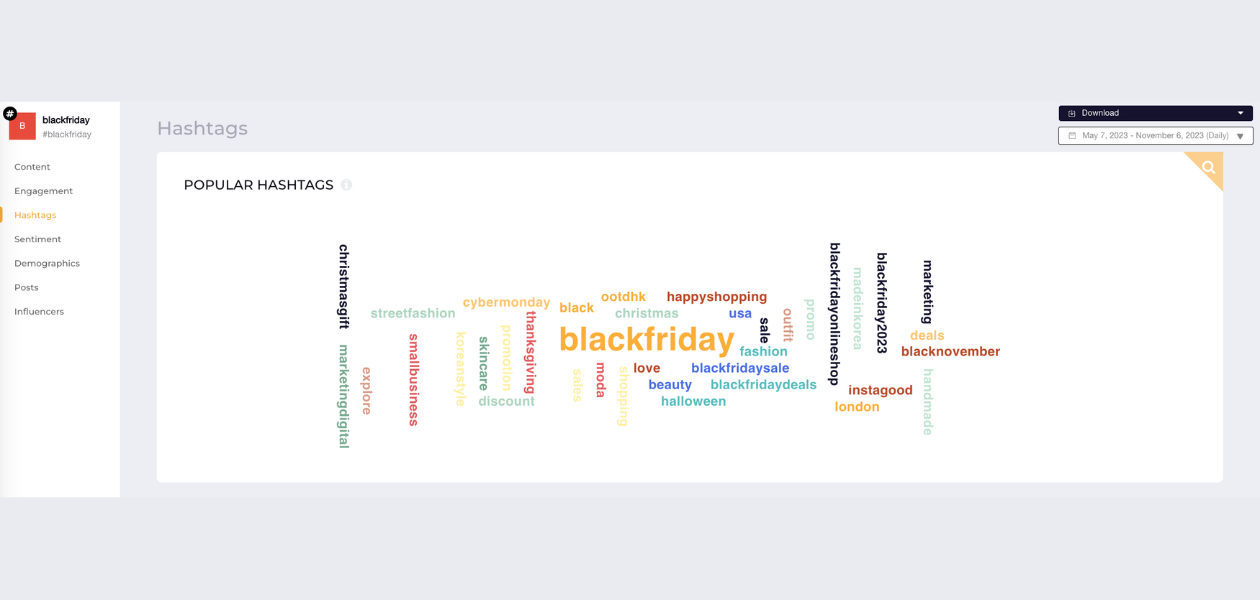 In this way, you will figure out what other hashtags you can add to your Instagram posts to make it reach more people. Adding adjacent hashtags to your main campaign hashtag will help you propel your campaign in front of even more users.
And this is certainly one of your main goals when planning a Black Friday social media campaign. Moreover, this will also bring you more sales.
4. Black Friday social media marketing tips
1.Create a sense of urgency
We all know that Black Friday only lasts for a day. For some brands, it may start earlier and last for a few weeks or even the whole month of November.
No matter how long your Black Friday campaign takes, you have to build up suspense. Make sure you announce your customers beforehand. They would want to take advantage of your Black Friday sales and deals.
The sense of urgency you create through your announcement determines clients to rapidly make a buying decision.
When you capture your clients' attention and encourage users to act now and order your products, you'll see a boost in impressions, engagement and sales.
2.Develop an email marketing campaign
Posting content on social media on Black Friday is not enough. Your Black Friday campaign needs to be extensive, and go on many more levels, including email marketing.
It's important to set up a dedicated Black Friday email marketing campaign and inform your clients about your upcoming sales, the interval in which the offers will be available and the amount of discounts they're gonna get.
You will see your ROI growing because everyone will be paying attention to those Black Friday emails piling up in their inbox.
3.Use hashtags to reach new users
If you and your marketing have already thought of a Black Friday hashtag campaign, that's even better. Using a hashtag like #blackfridaydeals for the deals and offers you're prepping is even more attractive.
By adding a hashtag to your Black Friday social media campaign, you'll attract new users.
People who are already interested in Black Friday discounts will click the hashtag and come across your social media posts.
And then boom! Love at first sight. They are more likely to click your website and scroll through your products.
4.Offer minimum spend reward

This is another trick to keep your customers closer and more engaged. Let's say they add to their cart products in the amount of $70. As a reward, you can offer them free shipping.
As they add products to their cart, they will see on their screen that they are only a few bucks away from getting free shipping.
Do you know what they'll be tempted to do next? Add to cart to exceed the limit and get free shipping. And this will bring more joy to you and your team (and also more money).
5.Offer a free gift with the Black Friday purchase
When a customer buys from you on Black Friday, trying to take advantage of all of your deals, it's only fair you repay them and make them come back to your online shop even when Black Friday is over.
Offer your client a check-out free gift to encourage them to become a returning customer and also tell their friends and family.
6.Look at your clients' abandoned carts
Shopping online is always fun and satisfying for customers. However, there are times when they get distracted by a message they've just received and they simply abandon the cart after adding the products they needed.
Your job is to remind them of the abandoned cart via email. Send them a friendly email telling them that they forget some items in the basket. Maybe you can even offer them a little discount if they complete their order in an hour or something.
This will stimulate  them to actually buy what they added in their cart in the first place.
7.Extend your sales from Black Friday until Cyber Monday
One effective Black Friday marketing strategy that has become very popular recently is extending your sales.
In the past, Black Friday used to be a one-day-only kind of deal, but now, the offers keep rolling until the next Monday, which is known as Cyber Monday.
This basically gives retailers the advantage of having four days of sales. And extending your sales means gaining more customers and profit.
Trust us, if brands like Urban Decay integrated this tactic into their social media strategy, it might be worth giving it a shot for your Black Friday marketing plan as well.
8.Partner with influencers
‌‌One of the marketing strategies for Black Friday that does wonders are influencer's partnerships, priving to be very effective for all sorts of brands.
We recommend turning your attention to TikTok influencer marketing as the platforms offers such an incredible visibility potential.
Equally, if it has worked for you in the past, or you're thinking about starting with a rather safer approach, you can always turn your attention to the old-shcool way of leveraging influencer marketing - by collaborating with Instagram influencers.
Regardless of what you choose, what's most important to remember when deciding to hop in the Black Friday influencer marketing train is to pick the ones that complement your brand.
9.Use TikTok to get more exposure
With TikTok being the hottest social media platform of the moment, brands that jump in earlier on the TikTok marketing train can get in front of new audiences and get huge visibility.
If you're thinking experimenting with the platform, here are a few Black Friday marketing tips that you should apply for this year's campaign, as awell as for TikTok marketing in general:
be authentic;
leverage the latest trends'
use popular songs;
optimize your captions for SEO so that the platform could recommend your content based on interest searches.
If you need some inspiration for your TikTok content calendar creation, here's how Pretty Little Nothing , one of the most successful brands on the platform approached TikTok marketing and succeeded in gaining more than two million followers there.
5. Black Friday social media campaigns examples
Walmart's Black Friday social media campaign
This year, Walmart decided to start their Black Friday campaign on Wednesday, November 8, to surprise everyone.
Some might say they are trying to cheat at this Black Friday social media campaigns competition. Others understand that they're only trying to attract more customers.
Walmart decided to start a Black Friday social media campaign with a unique theme. I bet everyone remembers the "Mean Girls" movie (if no, then go and look it up).
They've based their campaign on the famous movie and even recreated part of the most important moments. They even used the original cast from the movie. I think their marketing team should get a raise.
Their marketing strategy is amazing and it's bound to work because they built on familiarity.
Walmart also took popular phrases and sentences from the movie and adapted them to their Black Friday deals. Genius, ha?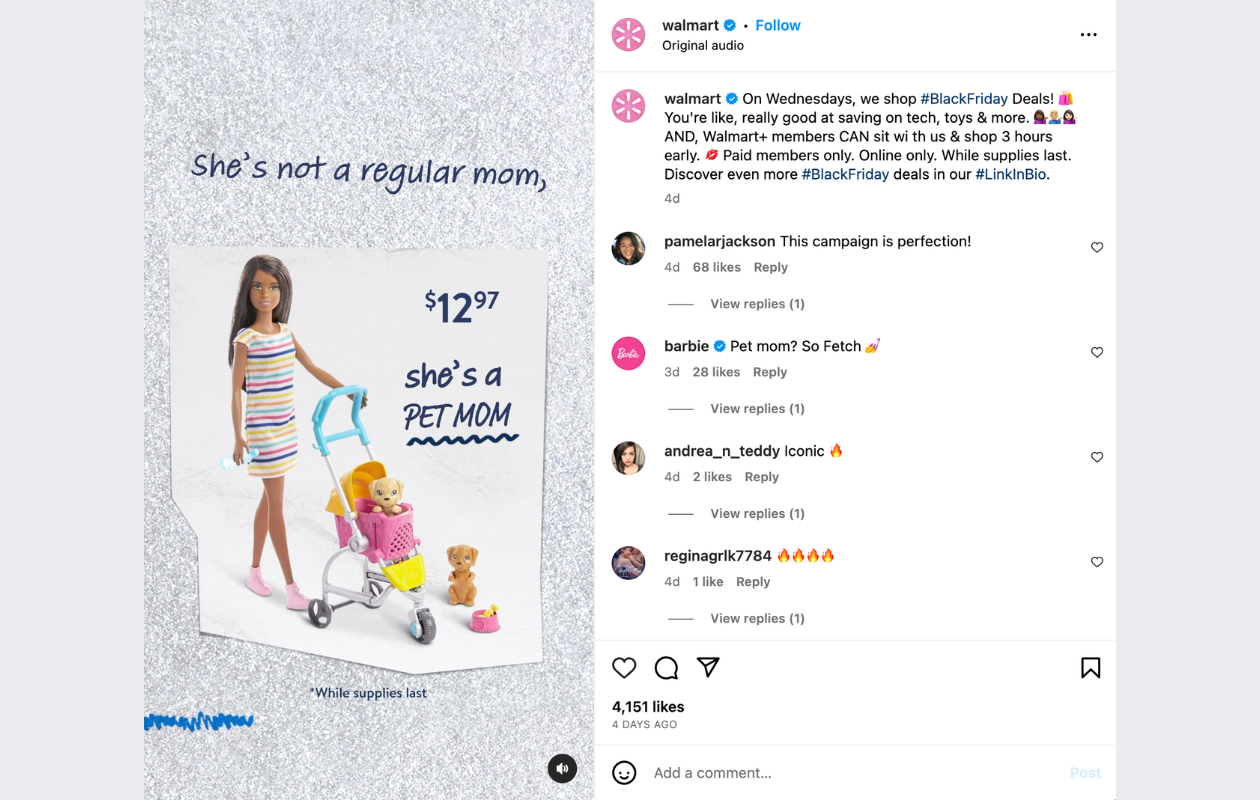 People are always tempted to come to those brands that look friendly and familiar. That's exactly what Walmart decided to do.
This Black Friday social media campaign has a lot of potential.
Shein's Black Friday social media campaign
For Shein, their Black Friday social media campaign is called "11:11" which happens on November 11.
This "11:11" thing also builds familiarity since we know that if you check the time at 11:11 you'll get lucky or the person you think about loves you.
And when luck strikes, with Shein you get 80% discounts and I think this is a pretty good deal.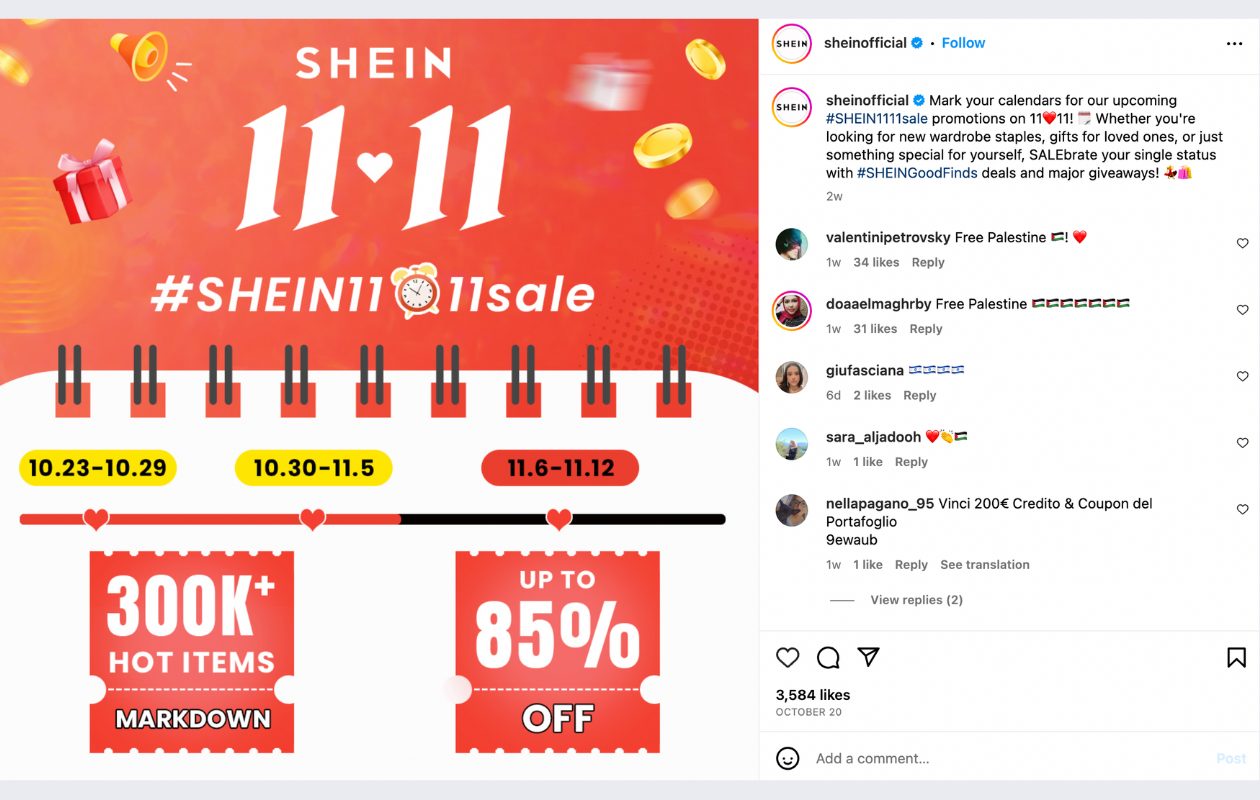 Their marketing plan for the Black Friday social media campaign is really catchy and it makes people wanna set alarms to make sure they don't miss the deals.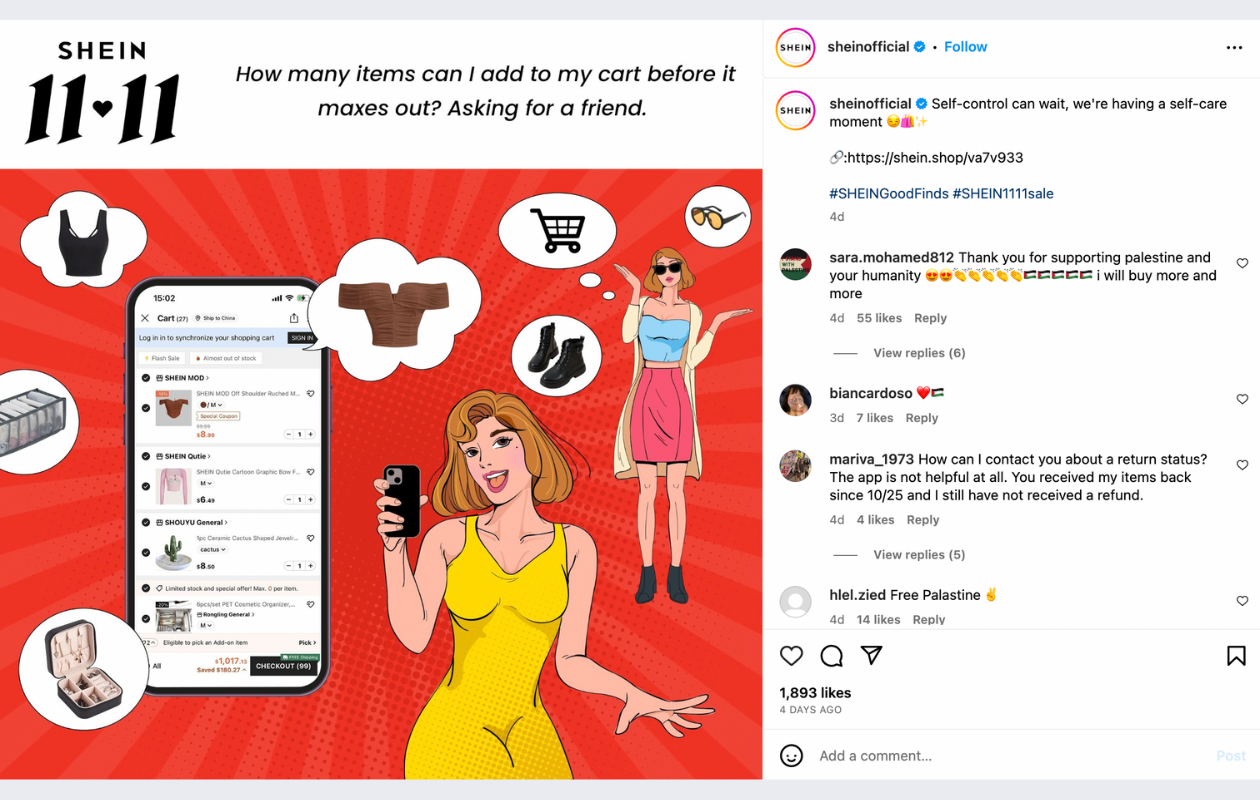 This Black Friday social media campaign definitely has great potential to attract new customers and increase sales since the discounts are as big as 80%.
I bet a lot of people who have already found out about this have added their favourite products to cart just to make sure they manage to get the deals.
Levis's Black Friday social media campaign
Levis is one of the top brands when it comes to jeans and denim clothes. This year, they are also preparing for Black Friday discounts, but they really like to take their time.
On social media, they haven't posted anything yet. However, on their website they've started talking about Black Friday and they've applied some discounts to their products.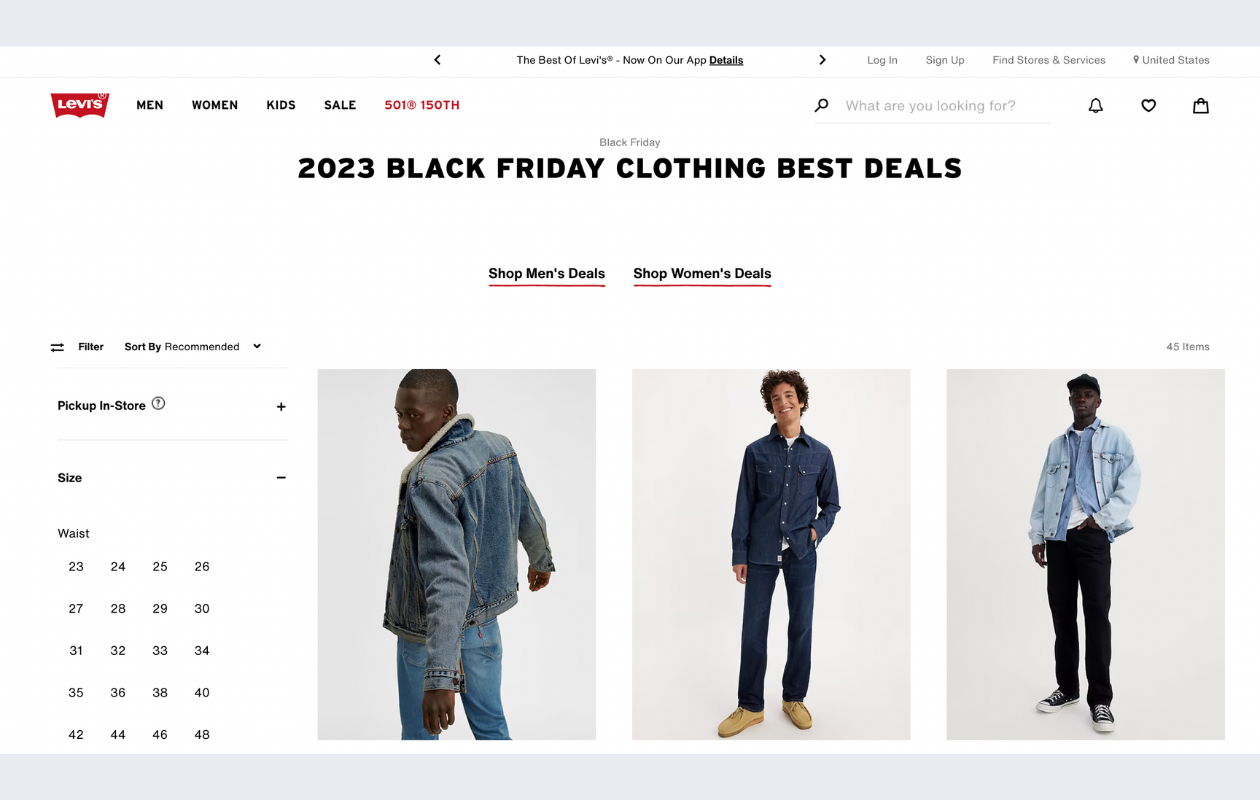 They haven't yet announced a specific date for the biggest deals they are preparing, but they have gradually applied some discounts of 30% or "buy 2 for $49 each".
Boots's Black Friday social media campaign
Boots is well-known for all the beauty and skincare products it sells. Millions of women are in love with this store where they can find best deals for their favourite beauty products.
This year for Black Friday, Boots didn't announce anything on social media yet. However, on their website, they seem to be preparing for massive discounts.
They have even built certain categories of products where you can find the greatest deals for fragrances and make up products.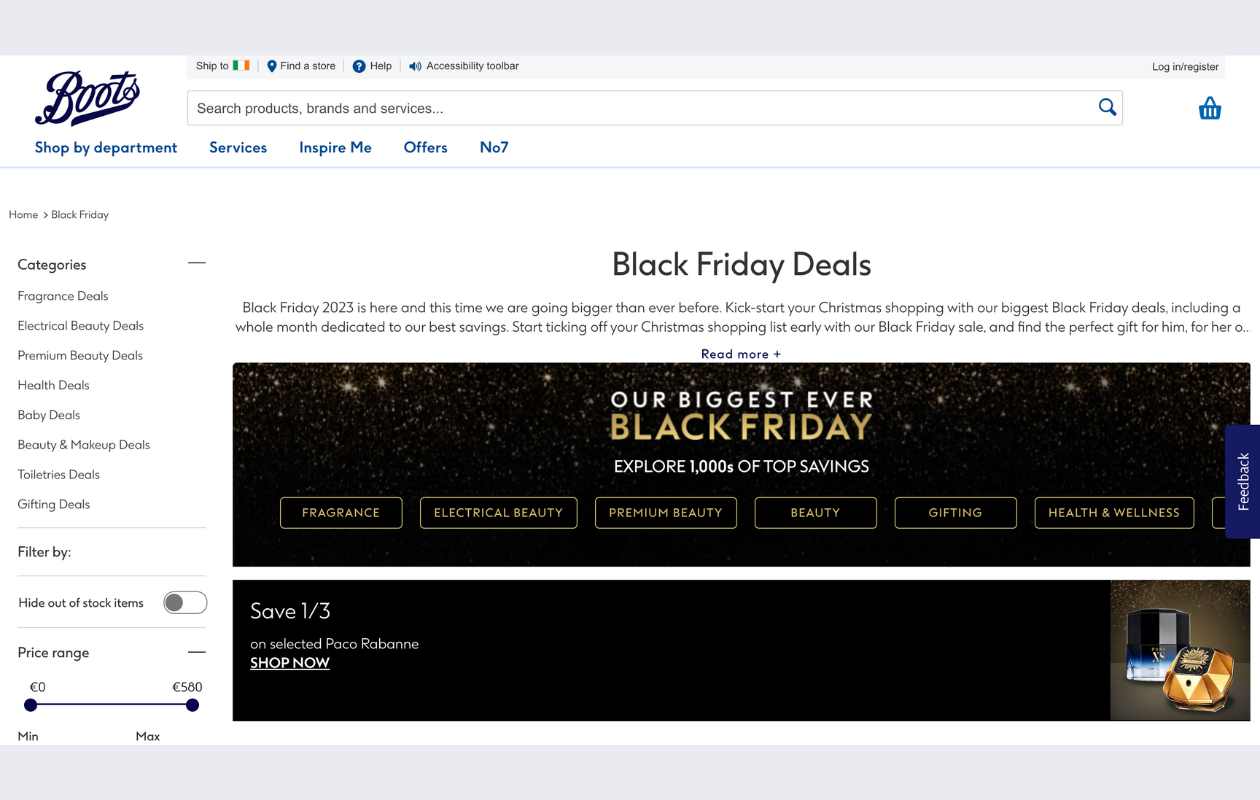 All you have to do is search for your favourites and make sure you get them cheaper and in bigger quantities.
Etsy's Black Friday social media campaign
Etsy is yet another reseller, but this one is different. Here you can find art, inspiration, bags, templates, toys, clothes and a lot more.
The diversity here is impressive. That is why Etsy has different types of discounts for Black Friday, depending on your favourite products and what you're looking for.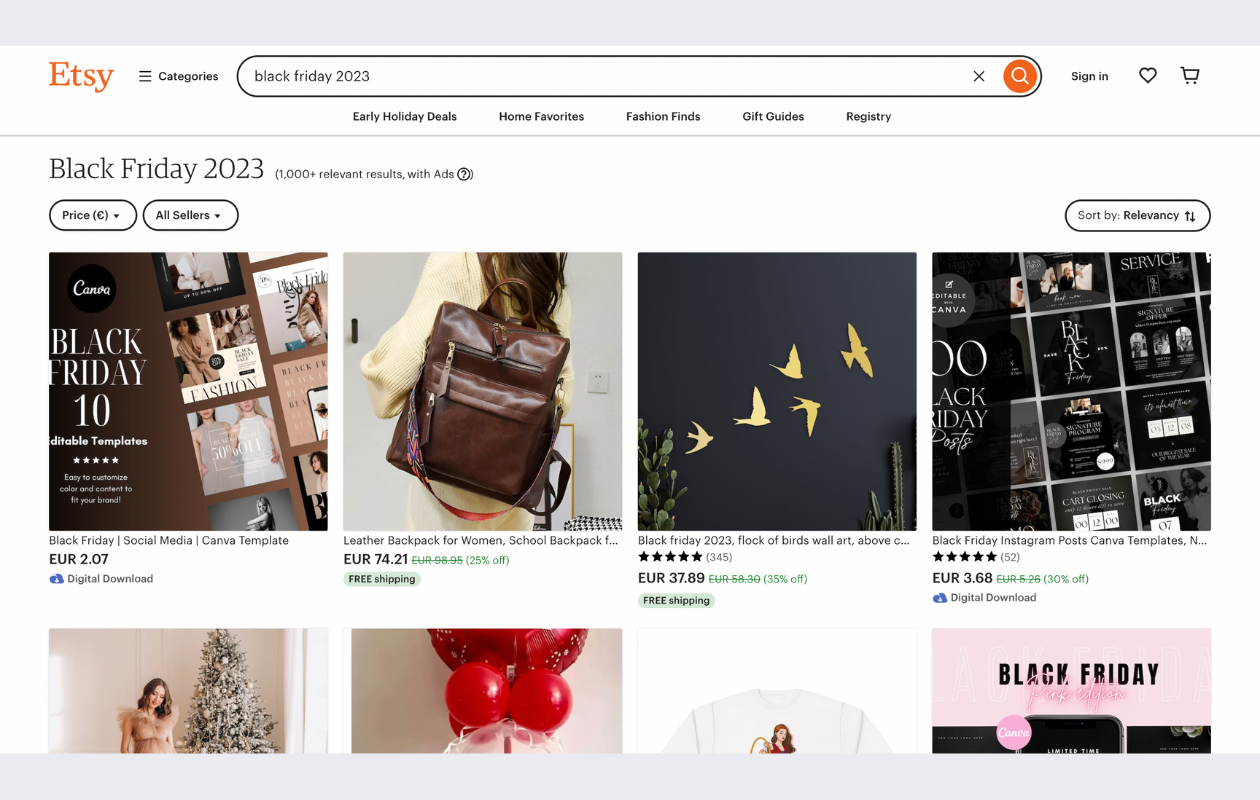 Even if Etsy did not promote this Black Friday campaign on social media, they have it on their website and it's better if you take a look.
Basically, what Etsy does here is to encompass the Black Friday deals from various sellers they work with.
Adidas's Black Friday social media campaign
Adidas is one of the biggest brands when it comes to athleisure attire and sports shoes. Since they have already created history with their quality products, their Black Friday campaigns are top notch.
They haven't yet promoted their upcoming Black Friday campaign on social media, but they have sales for a lot of products on their website.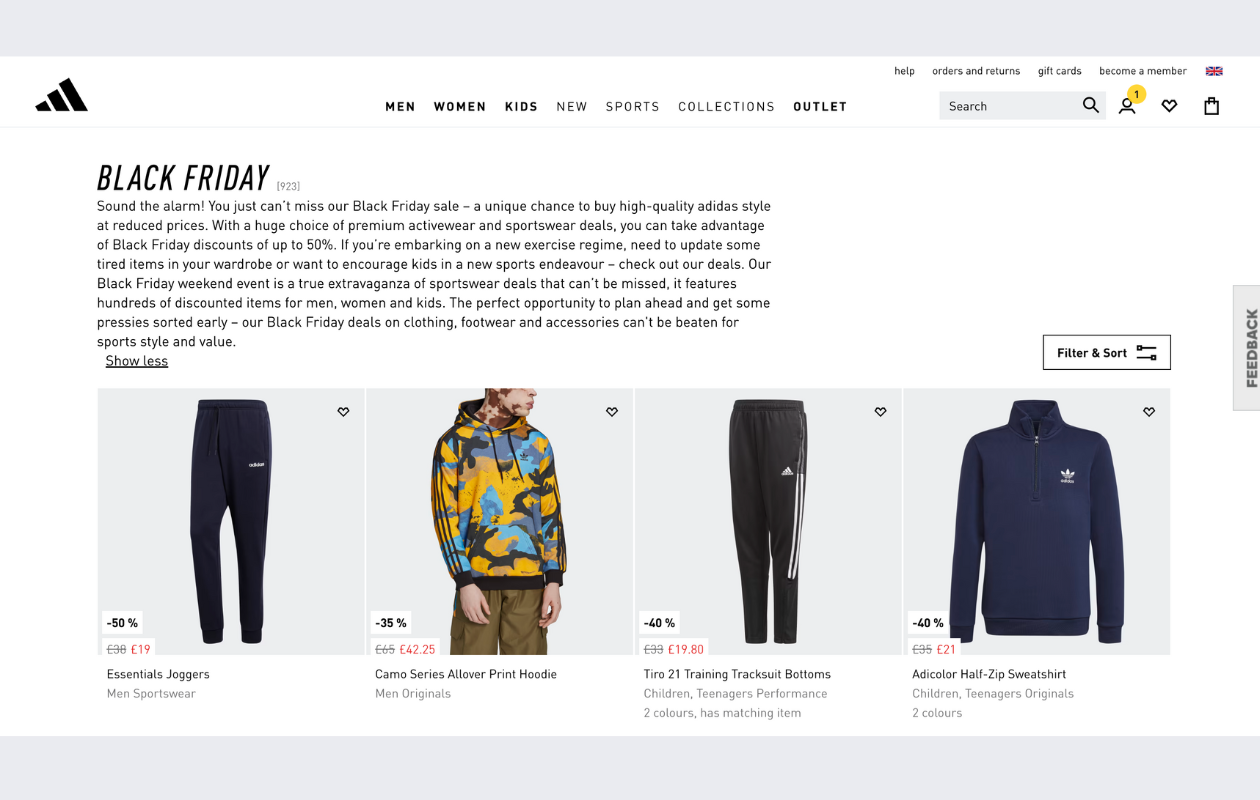 Being a top tire brand that works with celebrities, but satisfies the needs of everyone, Adidas has a lot of experience when it comes to Black Friday campaigns.
That's why they did not create a big fuss out of this on social media and they continue to focus on their other social media campaigns.
Final Thoughts
While you probably won't implement all the marketing ideas for Black Friday mentioned in this article, hopefully, this guide will give you a glimpse into what social media approach you should choose in 2023.
Now, it's time to get your Black Friday marketing strategy started!
Frequently Asked Questions
1.What makes a good Black Friday campaign?
Offer a Buy-One, Get-One 50% Off
This is basically upselling people to buy more than they would have originally. You can even make a variation of this, such as offering 50% off everything on the morning of Black Friday, then buy one, get one 50% off during the afternoon.
2.What are the trends for Black Friday 2023?
What are the biggest trends to look out for this upcoming Black Friday? Some of the biggest trends to look for during BFCM 2023 include higher AOV, an increase in sales from mobile devices, fewer curbside pickups at physical stores, and steeper discounts than ever.
3.Why is Black Friday celebrated?
The phrase "Black Friday" to signify a positive boost in retail sales didn't grow nationwide until the late 1980s, when merchants started to spread the red-to-black profit narrative. Black Friday was described as the day stores began to turn a profit for the year and as the biggest shopping day in the United States.
4.Which country does not participate in Black Friday?
North Korea, Venezuela, Iran, and Afghanistan are the nations that do not participate in Black Friday.
5.How long does Black Friday last?

Actually, Black Friday lasts only one day, i.e. 24 hours. However, many vendors now offer discounts for longer than just one day. For example, you can often find the savings deals even on the Monday after Black Friday. Some stores also run the discounts for the whole week or even the whole month of November.