Available in over 150 countries, and with more than 800 million monthly active users, TikTok was one of the most popular platforms in 2020 among young people and not only, and I'm sure this will remain in 2021.
If your brand's audience includes anyone between the ages of 13 and 35, you should be creating TikTok content right now.
Why?
Because TikTok marketing campaigns can be very successful and can increase your brand's exposure in no time. You have the option to add music, play with a lot of filters, do challenges - in one phrase: you can promote your brands' messages in a funny and unique way.
Make sure you take a look at these metrics because they are a good indicator that your TikTok content works or that you have to change some elements to gain more exposure.
In this article, I've created a list with top TikTok metrics you should be tracking when creating a TikTok marketing strategy in 2021.
Let's start!
---
Most important TikTok metrics
---
1. TikTok analytics
The first thing you should do if you want to have access to your TikTok analytics is to switch to a Pro account.
It is a straightforward method, and it's free. Like you are switching to an Instagram business account.
These are the steps you should follow:
Go to your profile.
Go to settings and click the Manage My Account option.
Click Switch to Pro Account.
Select a featured category for your account: public figure, music/dance, personal blog, education, media, entertainment, sports, etc.
Add your phone number: you'll receive a verification code.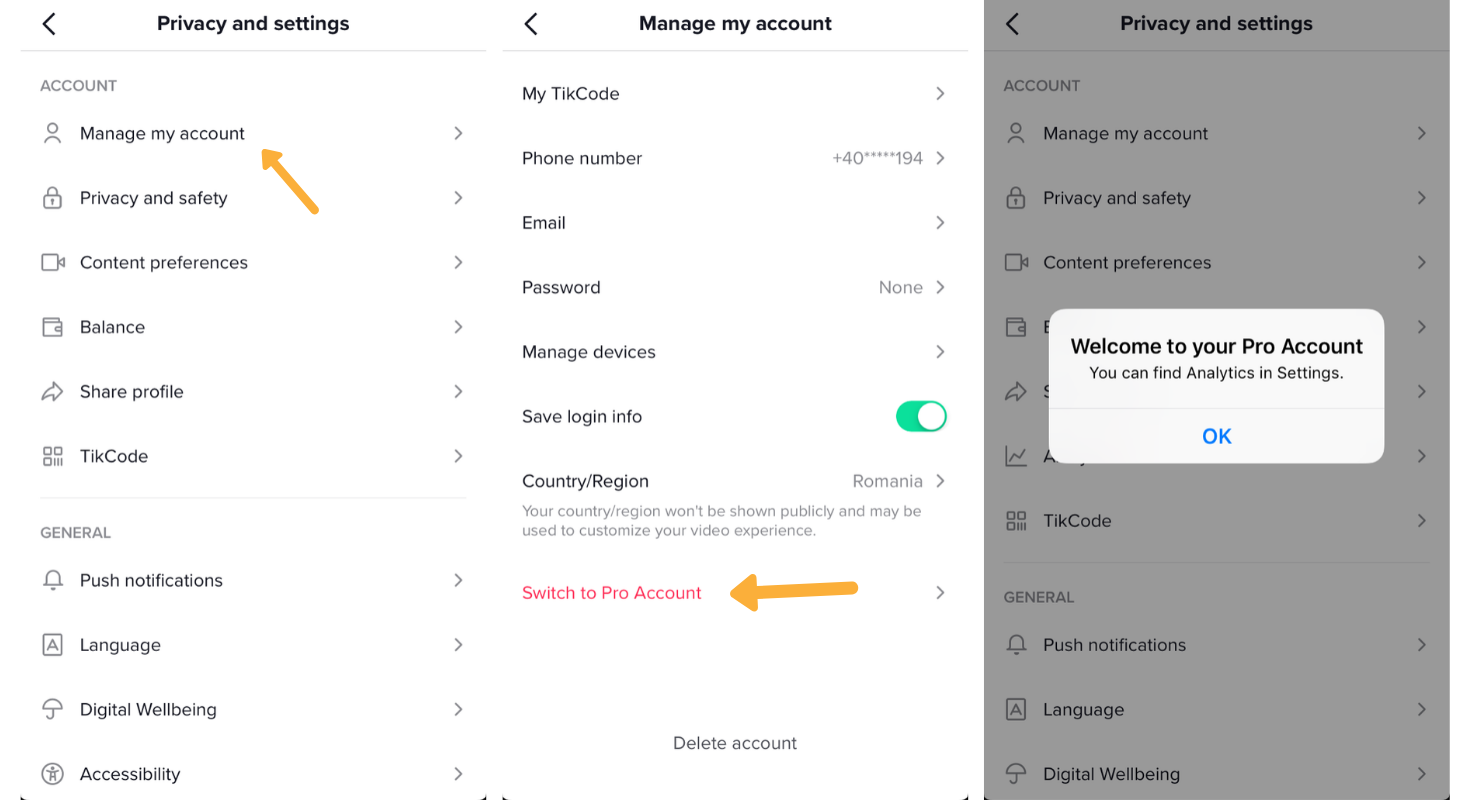 Go to your profile
Tap the 3 lines in the right corner
Select Analytics
Go to www.tiktok.com
Log in to your profile
Under your photo - click "View analytics"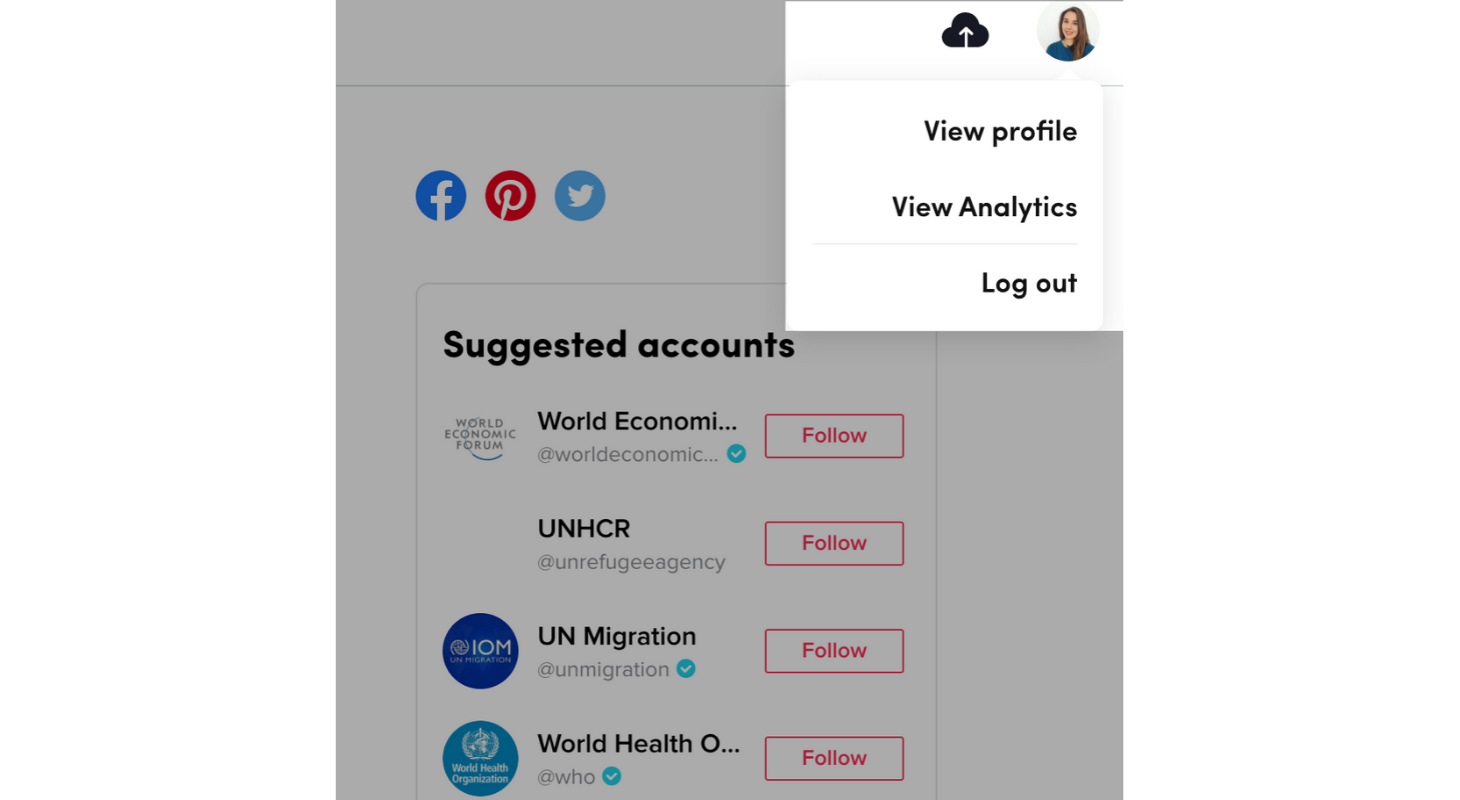 NOTE!
From your desktop, you can download a CSV file with your metrics. (for the last 7-days)
Now that you know how to access your analytics, let's find out what metrics you should analyze to increase engagement and drive conversions.
2. Top TikTok metrics you should track
If you are using TikTok, the number one metric you should follow is video views.
The total number of times your videos were viewed is showing you that your TikTok strategy is good, and people are watching your content.
This is also an important metric to track if you want to be seen out there. The profile views metric is divided by day and shows how many times your TikTok profile was viewed over the past seven days.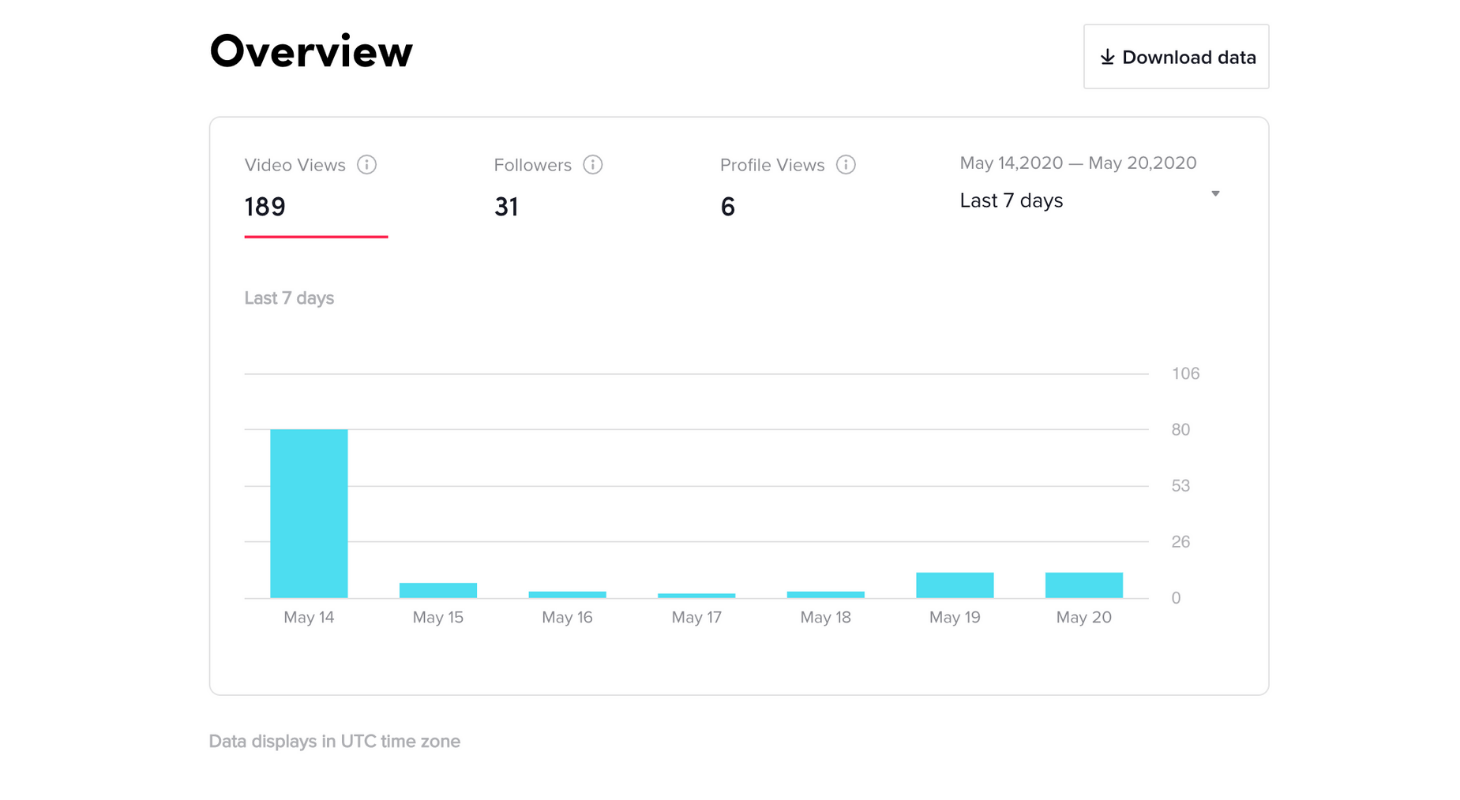 NOTE!
Using the analytics from the native app, you'll be able to see the data only for the past seven days.

If you want to analyze more, you can try TikTok analytics with Socialinsider.
You'll get a complete view of your TikTok profile and your competitor's profiles for the time range you need.
Comments are great because they are like a validation that you are doing a great job. If someone stops at one of your videos to leave a comment, be sure that person will soon return to your profile.
Shares are also a good indicator because, in this way, your content can reach more people and be seen by a broader audience.
The number of likes, comments, and shares per video will help you get a clear view of how your content is resonating with those who have seen it.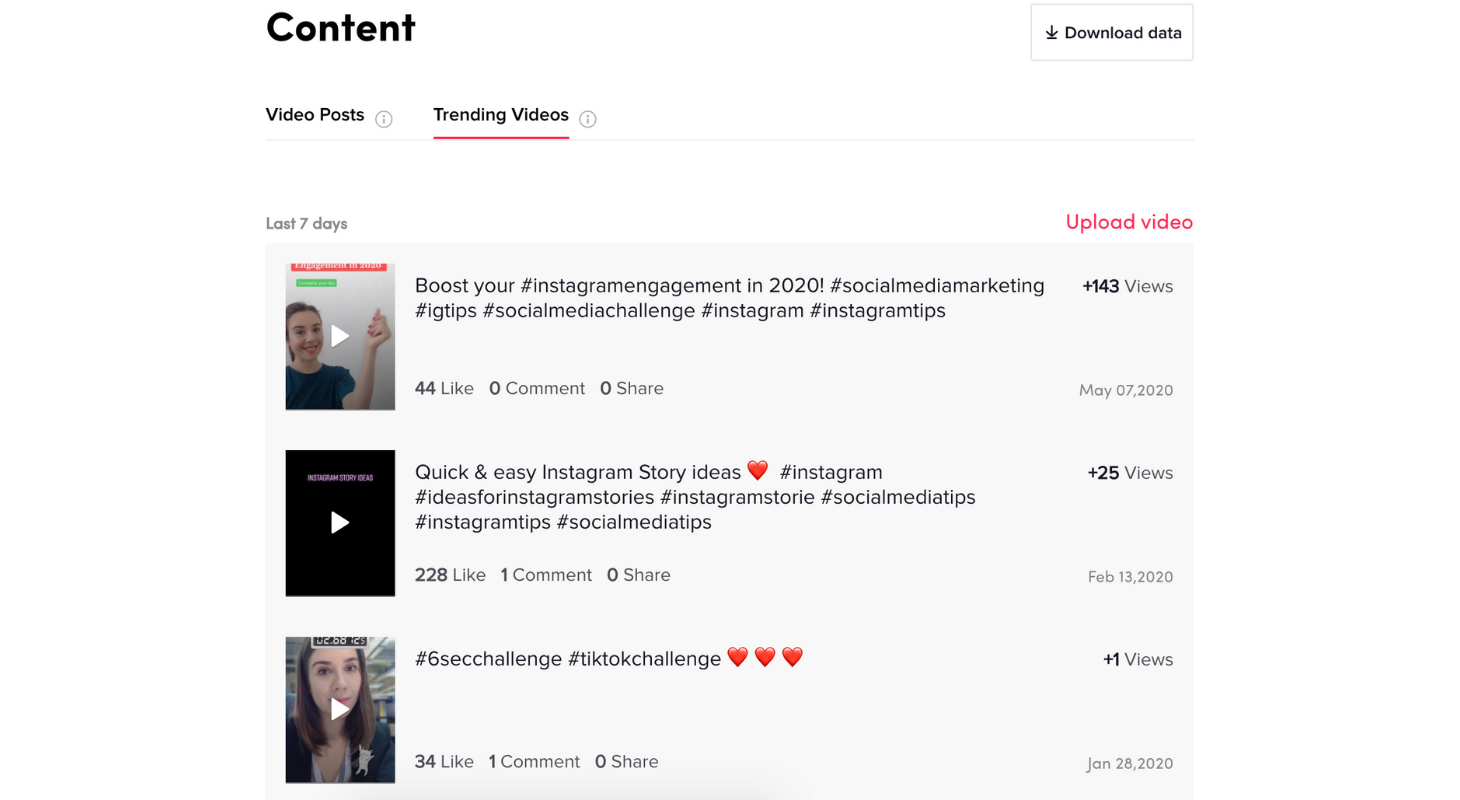 This metric will show you how many followers you've gained or lost every week. If this number drops, you need to change your strategy, because your content does not bring new followers.
The total distribution of followers by their gender. Essential metrics, because depending on the people who follow you, you can create different content.
The distribution of your followers by territory.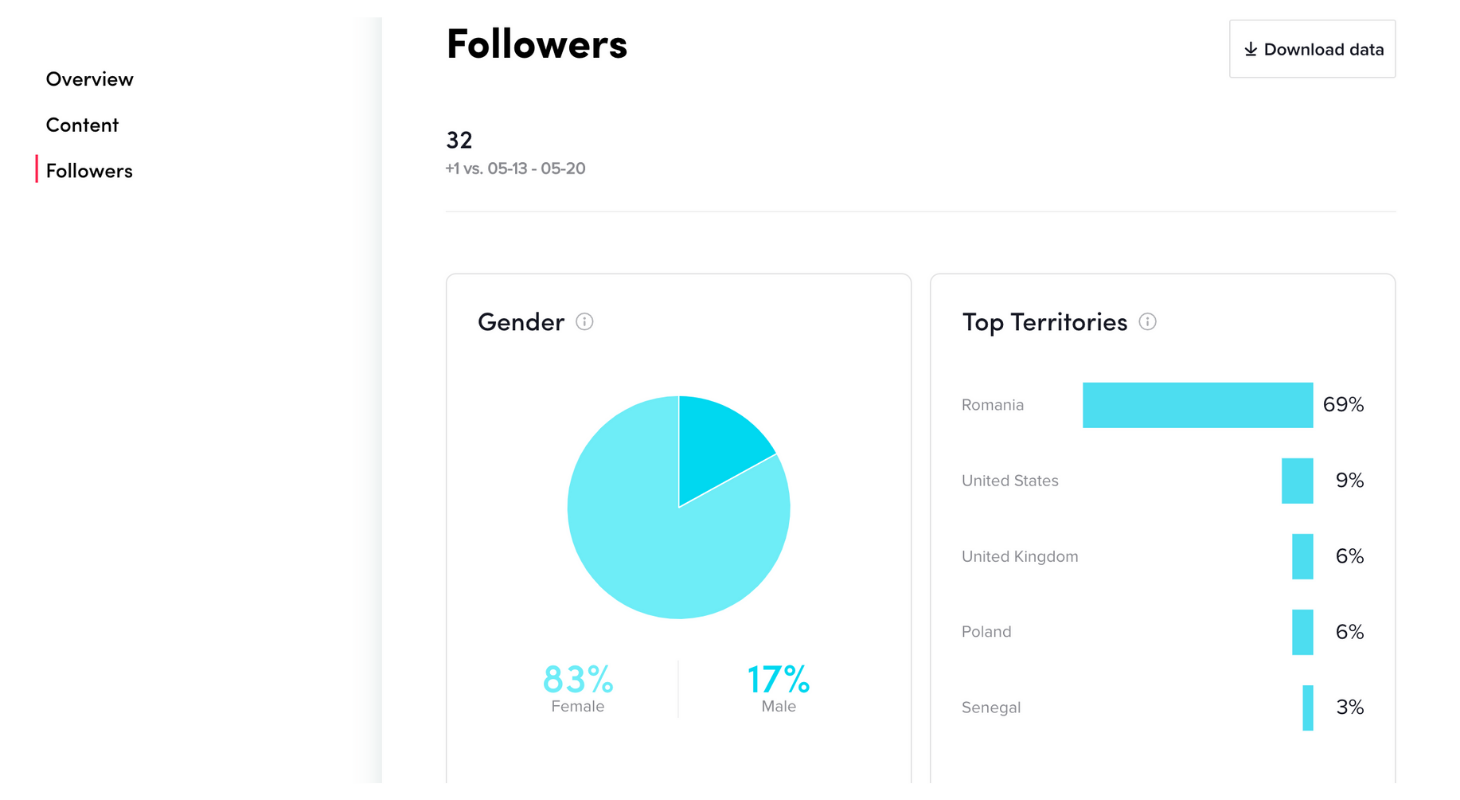 This is an extremely helpful metric because not only does it show you the frequent times and exact dates in which your audience is active, but you can see the times your audience is the least active on TikTok.
Videos your followers watched
From here, you can see videos that are popular among your followers. I think this is the most important metric because I can see what my followers want to see, and I can replicate that content in my own way.
Sounds your followers listened to
Like the above metric, you can use this information to create the best TikTok strategy - you know what your followers want to see, and what are their favorite songs, all you have to go is grab your phone and start filming.
NOTE!
Make sure you save those songs to your ''Favorites'' so that you can use them later. You can do this by tapping on the song and then pressing the bookmark icon.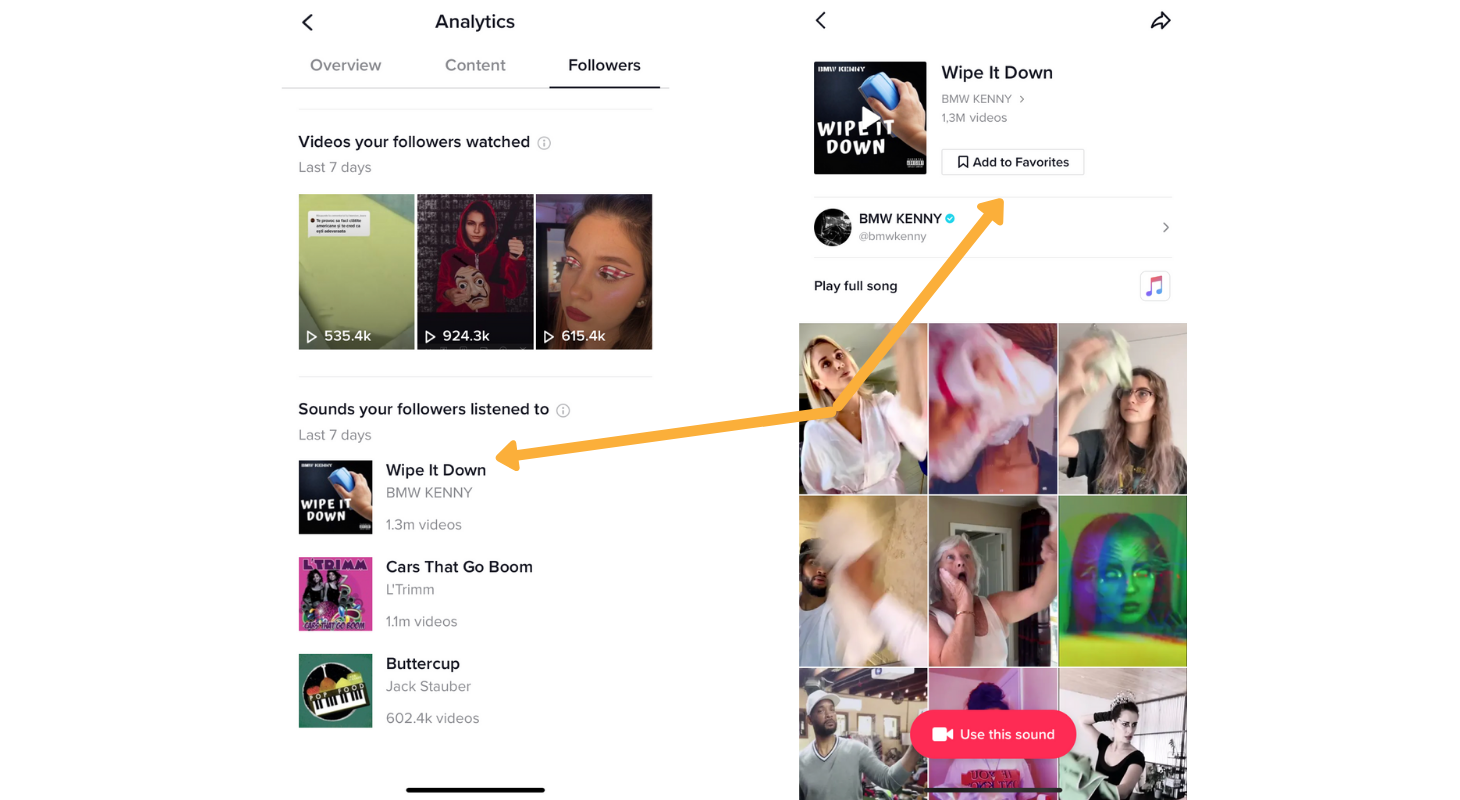 Metrics for a particular post
If you want to see your analytics for an individual post, tap on the video thumbnail to open its unique dashboard. From here, you'll see:
Total like count of post
Total number of comments
The total shares on your video
3. TikTok analytics with Socialinsider
As I was said earlier, from the native app, you can see your TikTok insights only for the last seven days. That's good, but if you want to create a TikTok marketing strategy, you need more data.
With Socialinsider's TikTok analytics feature, you can analyze your performance for more than seven days, and select the time range you need.
Here's a list with TikTok metrics you can track using Socialinsider:
Followers' growth
Total posts
Total engagement
Average engagement rate per post
Average engagement rate per profile
Top 3 posts
Top hashtags
Posts by published hour
Average engagement by published hours
Posts by published day
Average engagement by published day
Engagement evolution
Distribution of likes, comments & shares
Plays evolution
If you want to understand these metrics better, here's a complete guide with TikTok metrics and definitions.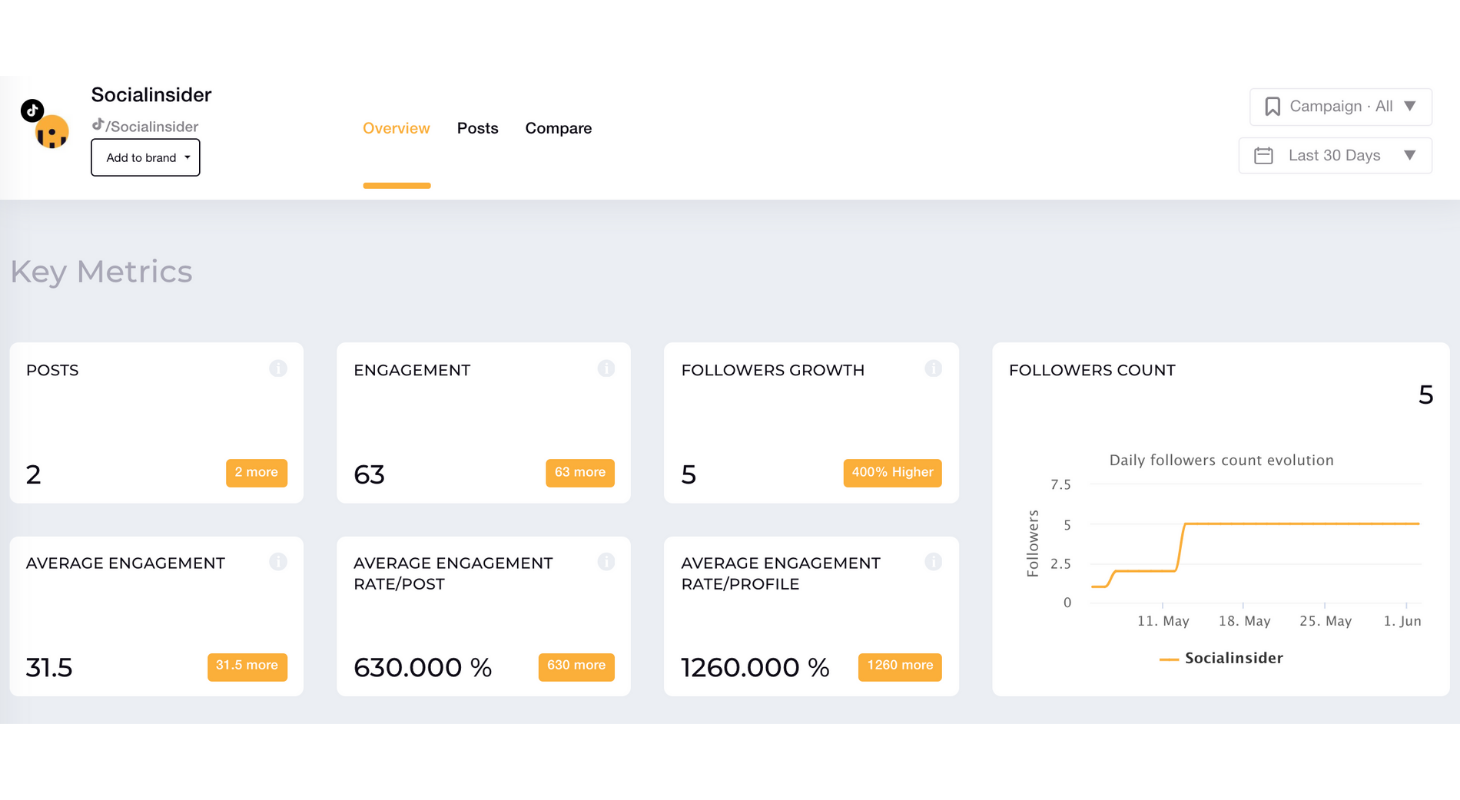 Final thought
Your turn. What TikTok metrics do you follow and which one do you find more useful? Let me know in the comments below!
---
Related articles