Modern marketing is motivated by metrics. This isn't exactly a revolutionary insight, since marketers have used and analyzed data for years.
The new and exciting part is how more and more companies are putting advanced metrics into the hands of anyone with a business account on social media.
As of now, you can upgrade to an Instagram business account in order to view key data about how users are viewing and engaging with your Instagram content. Used properly, these Instagram metrics can promote your business to new heights.
---
Here's a sneak peek at the article:
How can you access Instagram metrics?
In order to view this data, you'll need to switch over to an Instagram Business account. This is probably something you've done already (since it gives you access to ads and makes you easier to contact) but there are plenty of small business marketers who haven't made this switch yet.
You can convert your profile in the Instagram settings page under the Options menu.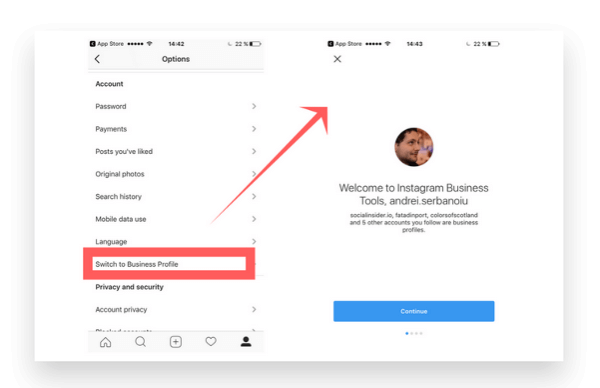 Once you've converted your profile, you're all set to view your metrics. These can be accessed using the Instagram native app.
There will be a new button on your profile that looks like a bar chart right above your number of followers. Tapping this button will take you to a page where you can view all of your profile metrics.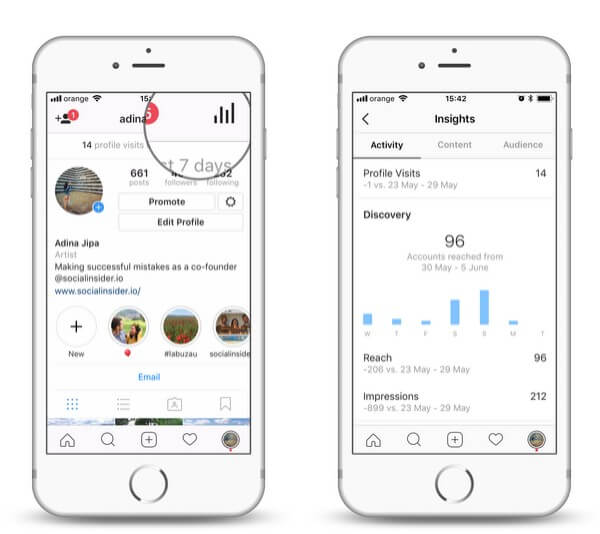 Detailed rundown of all of the metrics Instagram provides
Want to know what the numbers mean? Here's a detailed rundown of all of the metrics Instagram or Instagram analytics tools provide:
Instagram profile stats
1.Interactions
This is the number of times someone has tapped on your profile or post. It's a very useful number that will quickly give you an idea of how far your ideas can spread.
Your interactions count is particularly handy when you combine it with other numbers. If you have a lot of interactions and a small reach number, for example, it means you've attracted a small but loyal fanbase.
2. Profile visits
When a user finds one of your posts out in the wild and wants to know more about your brand, they'll often turn to your profile first.
This number reflects how effective your content is at driving interest towards your business.
3. Reach
Want to know how many unique people your posts reach?
This is the number you want. Just like interactions, this statistic is especially useful when viewed in relation to other numbers.
4. Impressions
This is how often your posts, profile, and Stories have been viewed.
The difference between this number and interactions is that a user has to actually engage with your content to give you an interaction.
Again, the relation between these two metrics is the key to understand how your page is doing.
5. Engagement rate
Engagement rate is split into two numbers: the total number of engagements (likes, comments, and saves) divided by followers, and engagements divided by reach.
Both of these numbers can give you insight about your page and how your marketing strategies can evolve over time.
Don't worry about these metrics dropping as your brand grows over time. As you become more famous, you'll find it much harder to keep every one of your followers engaged.
6. Tags on branded hashtags
This is another metric that measures how effective your Instagram strategies are at getting the public to talk about your brand.
When someone uses one of your branded hashtags to discuss your products it'll get added to this number.
Choosing hashtags carefully and using a marketing approach that gels with your target demographic are both important to get this number to go up.
7. Total engagement
While using an Instagram analytics tool, you'll find this metric. Socialinsider shows you this metric and represent the sum of the engagement for a specific period.
8. Fan growth over time
This metric shows you the ratio between gained followers and the lost ones. Instagram insights - the native app doesn't present this number, but you'll find it using an Instagram analytics tool.
9. Average engagement per post - Instagram
The sum of likes and comments on a given day divided by the number posts on a given day represents the average engagement per post.
10. Average engagement rate per post - Instagram
This metric is my favorite one. It's computed by the sum of likes and comments on a given day divided by the number of posts on a given day divided by the number of followers.
Let's say you have 15 posts in the last 30 days. The sum of likes and comments on each of the last 30 days is 5k. And you have 10k followers on Instagram.
The average engagement rate per post is: (5.000/15)/10.000 = 0.033%.
11. Average engagement rate per page - Instagram
Sum of likes and comments for a period divided by the total fans represents the average engagement rate per page.
Let's say you have a 5k engagement of the last 30 days and 10k followers.
The average engagement rate per page is 5.000/10.000 = 0.5%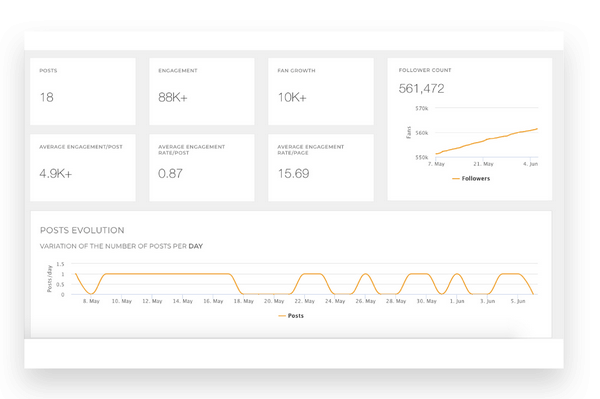 12. Posts evolution
This metric shows you the variation of posts on a given period.
13. Top hashtags
Socialinsider gives you top hashtags used by any Instagram business profiles and the average of hashtags per each post. You can try it with a 7-day free trial.
14. The most engaging posts
Using an Instagram analytics tool, you'll get the most engaging posts.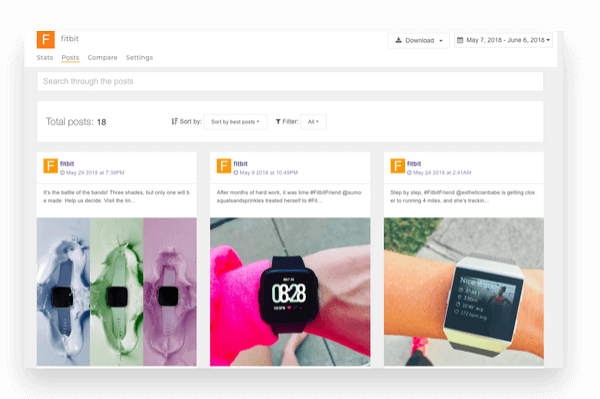 15. Posts by type
This metric shows you what people are sharing on Instagram: image, photo or carousel.
16. When is the best time to post
This metric exposes the time when you should post on Instagram.
Instagram Stories stats:
While the above metrics are valuable for analyzing your profile in general, these Instagram analytics are more specific and can help you curate your Stories to perform better.
1. Impressions
Just like above, this is simply the number of times someone's loaded your Story. It's a handy number, but it's most effective when combined with other metrics.
2. Reach
Reach is defined as the number of unique people who have viewed a Story.
Combine it with impressions to see how many people have viewed a story more than once, or simply use it to measure how effective you're being at promoting your brand.
3. Forward
How many people have tapped forward during your Story. Users tend to tap forward when they're bored with a story and they don't feel engaged.
You want to keep this number low by keeping your content focused, interesting, and to the point. Note that some forward taps can be the result of bad sticker placement or other factors.
4. Back
The number of times someone has gone backward through your Story to view something again.
Back taps are a great sign of viewer interest and engagement. Try to analyze what types of content receive the most back taps and figure out what you can do to keep your fans happy.
5. Exited
"Exits" is the number of times someone has left your Story before it's completed.
This can happen if they close the app, hit the "X" to exit the story manually, or swiped down to get back to their main feed.
The "exit rate" is the ratio of exits to impressions. A Story with a high exit rate might alienate your followers and ultimately cause them to stop following you.
6. Replies
This is the number of DMs you've been received as a result of a Story. Just like the number of back taps, this is a good measure of positive engagement... sometimes. A controversial story might get lots of angry messages too!
Be sure to actually read the content of these messages and make sure that people are happy with the things you're posting.
7. Next story
When someone is bored with a Story but they still want to see what you're posting, they'll skip right to the next Story.
This metric counts the number of times this has happened. Bear in mind that Stories that "tease" an upcoming development will probably increase your "next story" metric since users will want to skip to the good stuff.
8. Live viewers
Instagram Live has some limited support in the metrics screen. It's a good idea to keep track of things like viewer counts yourself, however.
Instagram will tell you how many people watched your broadcast as soon as you close it, so be sure to save the number.
✨ Learn more: Instagram Analytics Tools - The Complete List For Every Budget ✨
Instagram Content Metrics
Just like Stories, your content will also accumulate metrics that you can use to analyze how you're doing. Here are the Instagram metrics that appear for pieces of content you post:
1. Calls
Now that Instagram has added a call button, it will track how often people use it. Use this to track how many phone leads a post has generated.
2. Comments
How many comments you've gotten. Note that this is different from how many people have commented.
A particularly controversial post might get dozens of comments from one or two people.
3. Emails
The number of e-mails that have been sent using the built-in button on Instagram. Just like with calls, this is helpful in tracking lead generation.
4. Engagement
The total number of likes, comments, and saves that a post has received. Combine this with other stats for more insight -- a post with a lot of saves and very few likes is different from a post with a lot of likes and very few saves.
5. Follows
How many people follow your profile as a result of a post.
This means your content is surviving well out in the wild, so pay extra attention to what kind of posts generate this metric.
6. Get directions
The number of times someone has gotten instructions to physically show up at a location referenced in your post. Handy for measuring walk-in leads.
7. Impressions
How many times your content has been loaded into someone's browser or app. Again, useful when combined with reach or engagement.
8. Likes
How many people have "liked" your content. Be sure to compare this with other types of engagement for more insight.
9. Reach
The number of unique viewers who have seen your content. Contrast this with impressions for information about people viewing something more than once, or use this to help put your engagement numbers into perspective.
10. Saved
How many people have saved your content. Contrast this with likes and other types of engagement for additional information.
11. Texts
The number of visitors who have used the "send text" context button to contact you after reading your content. Helpful in measuring lead generation.
12. Website clicks
A metric which measures how many people have gone straight to your website from your Instagram content. Again, useful in measuring lead generation.
13. Views - for video
People won't always play a video that pops up in their feed. This number helps let you know how many people watch your videos and how many prefer more static picture content.
Instagram Demographic Stats:
If you want more information about the demographics of your Instagram followers and viewers, this is the section for you.
1. Gender
The gender distribution of your viewers. Helpful for figuring out how to best promote your content.
2. Age range
How old your viewers are. You'll usually see a pretty diverse spread of numbers, but any concentration in one age range makes it much easier to narrow down where your viewers are cultural.
3. Top locations
Where your viewers are from. If you get a lot of viewers from an unexpected city, state, or country, consider modifying your content slightly to engage with them more.
4. Followers evolution
What's happened with your followers number over time.
Final thought
Your turn. What Instagram metrics do you follow? Do share in the comments below!
*📷 Vasco da Gama Bridge, Lisbon 2017
Start a free Socialinsider trial today and track your Instagram analytics! Report and analyze multiple profiles from one dashboard, quickly evaluate your Instagram performance based on the metrics that matter, understand your hashtags performance and get Stories analytics!
---
Related articles: