How did TikTok evolve so quickly from a niche social media platform for lip-syncing teens to the most widely used app in the western world, threatening to dethrone Facebook completely?
There are several answers to that. TikTok owes its incredible success to various wise decisions—that's true.
However, TikTok's celebrated For You Page and the algorithm that populates it are its most effective tools for attracting and keeping people interested.
But how can brands use the TikTok algorithm to their advantage?
Continue reading to learn more about the TikTok algorithm and how to work with it to make your TikTok content go viral.
Everything you need to know about the TikTok algorithm
How to crack the TikTok algorithm in 2023
3.1. Create your TikTok content around a specific niche
3.2. Hook your audience in the first three seconds of your TikTok
3.3. Keep your TikTok videos in under 30 seconds
3.4. Include relevant keywords in your TikTok captions
3.5. Tack on the right TikTok hashtags
3.6. Optimize your post timing to encourage TikTok engagement
3.7. Engage with other TikTok users
3.8. Use trending sounds on TikTok
3.9. Test out the latest TikTok features
3.10.Measure your TikTok performance
1. What is the TikTok algorithm?
The TikTok algorithm is the driving force behind the platform's growth and popularity among users.
The TikTok algorithm selects which TikTok clips feature on a user's For You Page.
The algorithm makes sure that every TikTok user has a highly customized experience—which is what makes it so compelling. Each user receives a completely different selection of suggested videos.
A user's viewing preferences, as well as many other factors, will influence the types of TikToks that are displayed to them over time.
2. How does the TikTok algorithm work?
As the creators of the app continue to be reluctant to reveal the specifics of the TikTok algorithm's functioning, there needs to be more evidence to back expert opinions.
There are numerous theories regarding the best ways to create viral TikTok content.
However, based on the available data and existing marketing theories, we have put together a list of ranking factors that may influence the TikTok algorithm:
2.1 The TikTok algorithm and user activity
The TikTok algorithm favors user interaction.
Thus, a TikTok video is more likely to be shown to wider audiences the more engagement and views it receives.
Positive signs of engagement consist of likes, comments, shares, completions and re-watches.
2.2 The TikTok algorithm and video information
Interactions with other app users are the direct basis for involvement signals.
Video information signals are generated based on the content visitors search using the Discover tab.
These consist of captions, sounds, hashtags, effects, or trending topics.
2.3 The TikTok algorithm, user preferences & account settings
TikTok's algorithm can also optimize performance by using account and device settings.
These don't have the same weight as the other factors because they depend on one-time settings decisions rather than ongoing activities.
Language preference, location, the type of device, and categories of interest selected as a new user can influence the TikTok algorithm and what gets shown on the For You Page.
3. How to crack the TikTok algorithm in 2023
Understanding the TikTok algorithm can help your brand gain traction on the app and get discovered by the right audiences.
To help social media managers leverage the TikTok algorithm, we've compiled some of the best advice on this topic.
Make sure you have your pen and paper ready. 🤓📝
3.1 Create your TikTok content around a specific niche
Creating your TikToks around a specific niche makes it easier for TikTok's algorithm to classify your content and push it forward to the right people.
By providing content resonating with targeted TikTokers and understanding their most valued subculture, brands may increase trust, brand loyalty, and exposure.
Is your TikTok content idea created around OOTDs, comedy sketches, professional tips, relationship advice, or beauty tutorials?
As you share relevant content to your niche, the TikTok algorithm will start recognizing your expertise and showing your clips to the appropriate audience more frequently.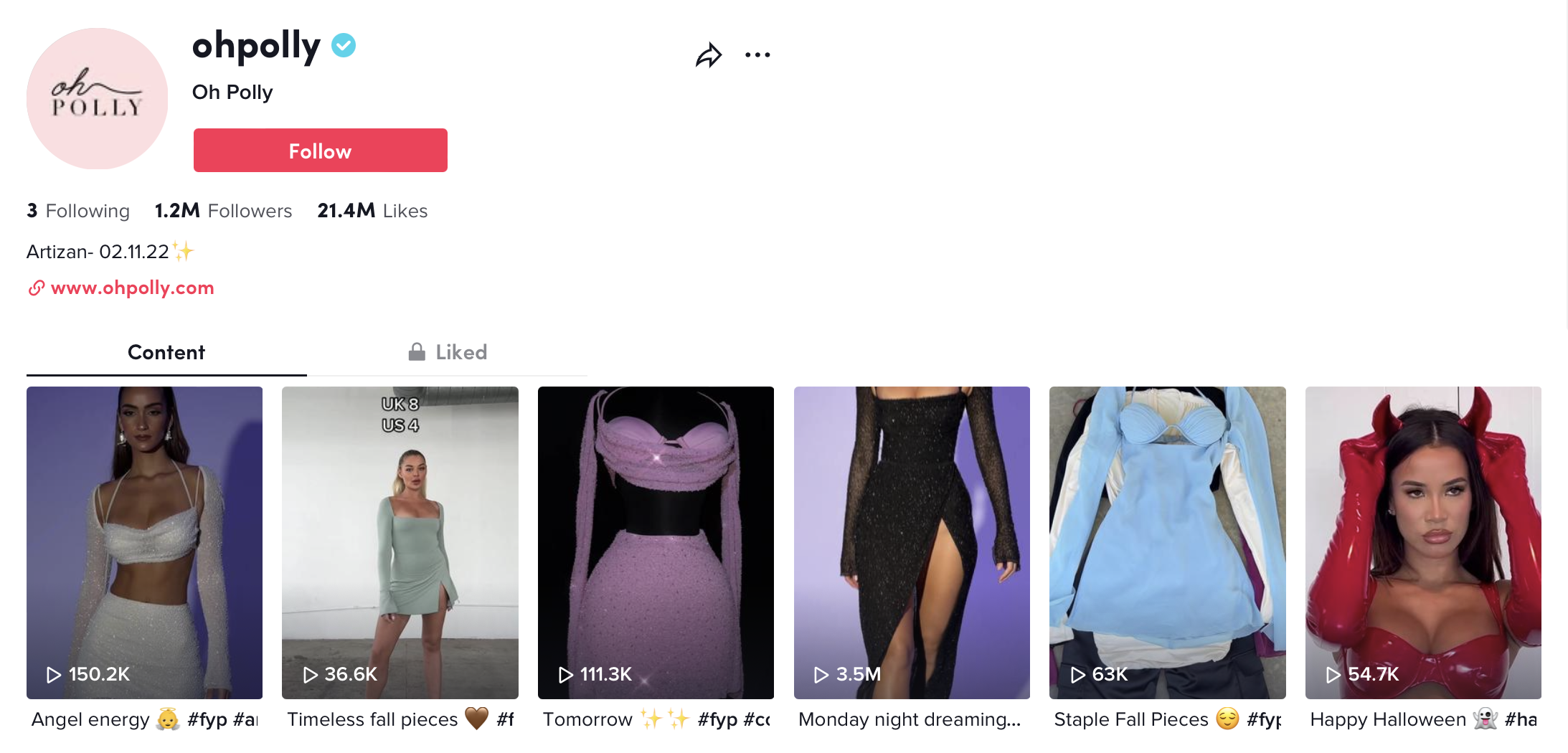 3.2 Hook your audience in the first three seconds of your TikTok
Watching a TikTok video in its entirety is a powerful interest indication when it comes to how the TikTok algorithm pushes content onto the FYP.
However, you usually only have a few seconds to pique a viewer's curiosity and maintain their attention.
The initial three to five seconds of your video should get as much attention as you can because they are so important to its success.
Unfortunately, it is true that if you can't capture users' interest right away, you'll probably lose them.
An engaging Thumbnail, a catchy soundbite, and a creative starting shot are all great examples of how to capture an audience's attention right away.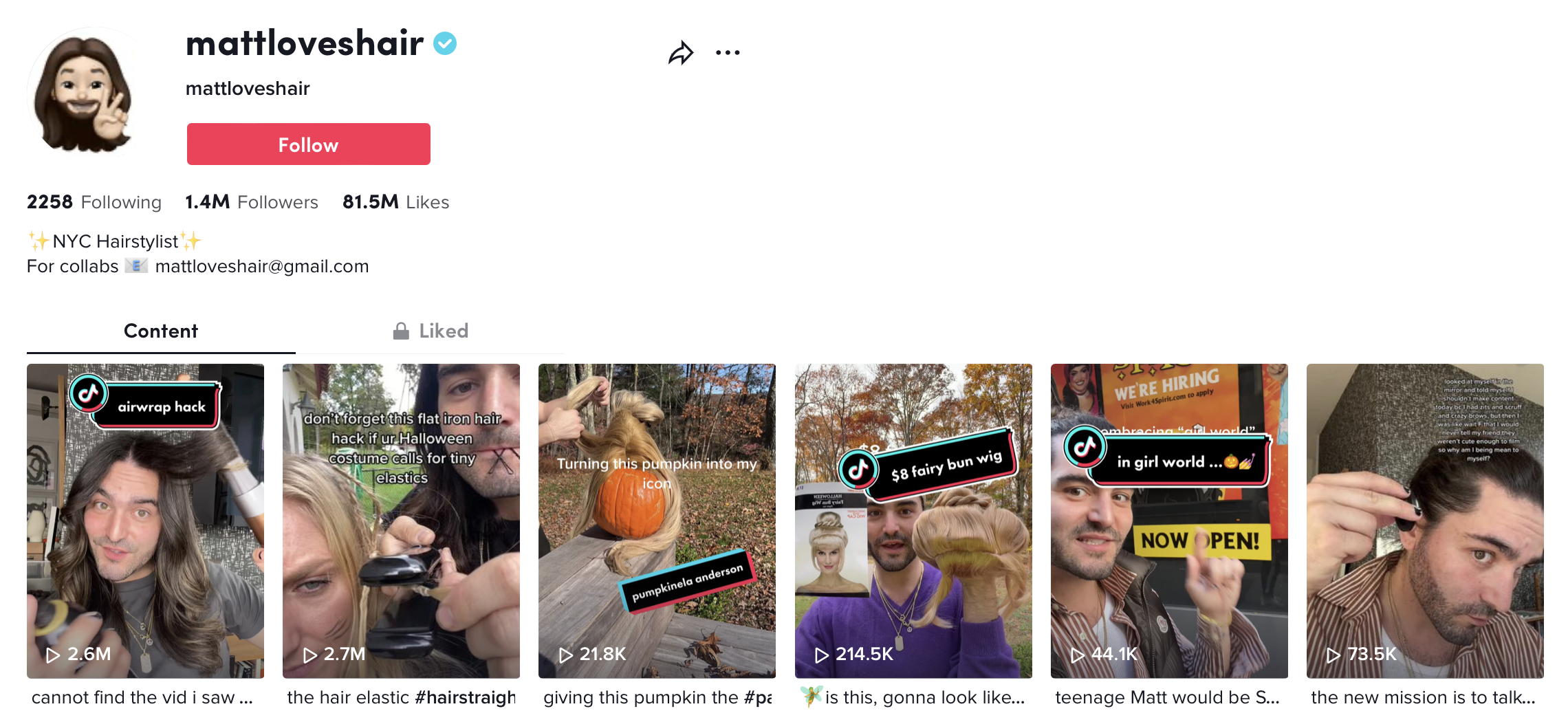 3.3 Keep your TikTok videos in under 30 seconds
Even though you can now upload up to 10 minutes of footage in a single TikTok, you should aim to keep your content as short as possible.
And as the TikTok algorithm promotes content that is watched all the way through, you should keep your video under 30 seconds.
Naturally, this makes it simpler to hold the audience's attention and persuade them to watch it fully or even rewatch it.
If you can't express your idea in just a few seconds, you can break up your TikTok videos into separate parts and submit them one at a time to be consistent with content publishing.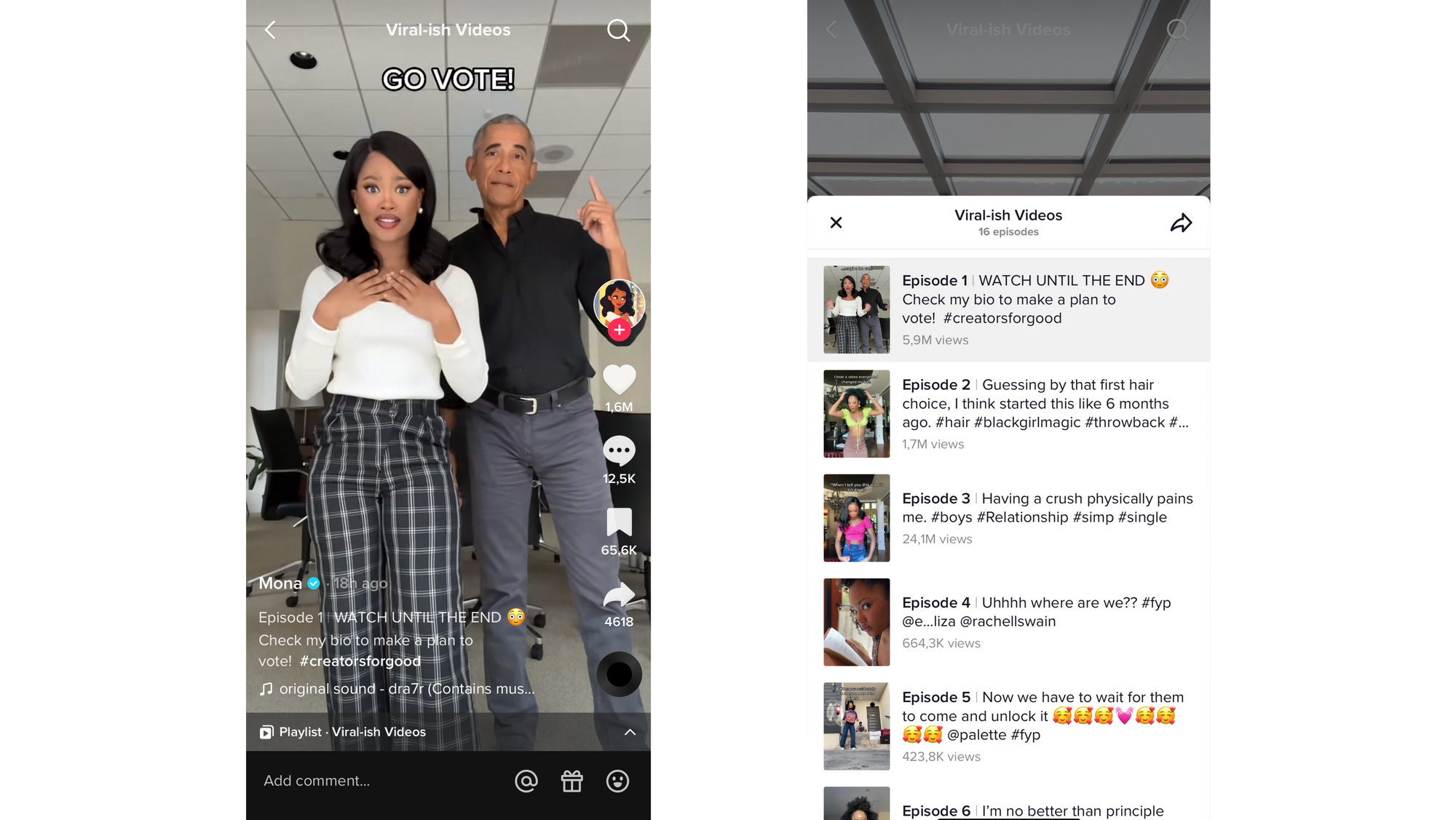 3.4 Include relevant keywords in your TikTok captions
Once you've established your subject matter, try regularly incorporating keywords into your TikTok captions or video content.
This way, you'll give the TikTok algorithm all the information it requires to classify your content correctly.
And even though the app users can now type up to 2,200 characters in their post description, it would be best if you refrained from cramming your TikTok caption with lots of keywords merely for effect.
Instead, deliberately include the keywords in a statement that is understandable and relevant to the topic.
To research related keywords on TikTok, you can start by looking for specific content or creators' accounts by tapping  the search icon in the top right of your screen.
3.5 Tack on the right TikTok hashtags
In addition to creating a keyword-rich caption, social media managers should include hashtags in their TikTok descriptions.
Hashtags help the TikTok algorithm organize content by topics and simplify users' search for content.
To research appropriate TikTok hashtags, you can also use the Search bar from the Discover page.
The most relevant results will show in the Top tab.
However, when it comes to hashtags, please note that the hashtag page displays the videos that started the trend first, and then other popular videos relevant to the trending hashtag.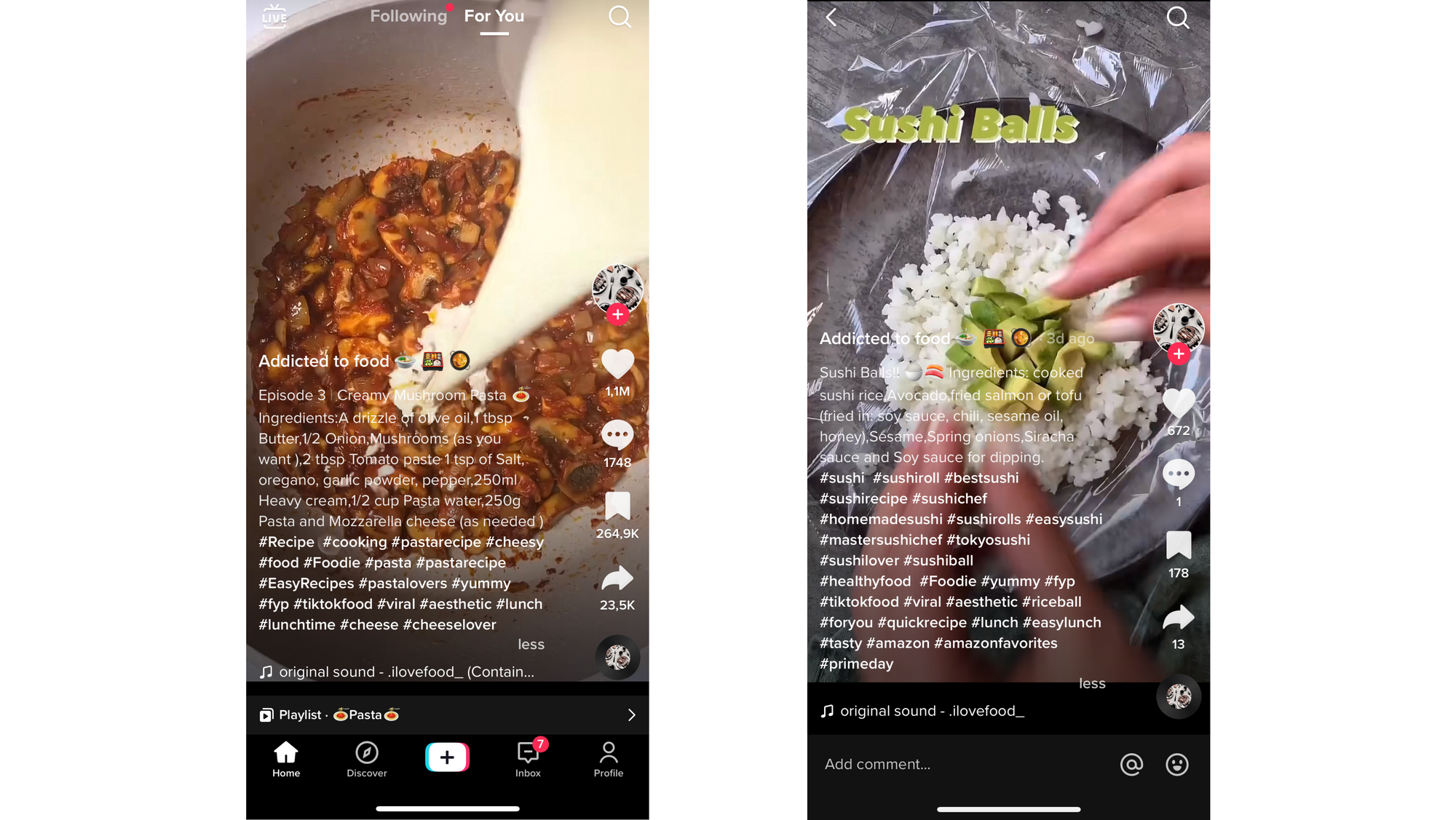 3.6 Optimize your post timing to encourage TikTok engagement
Finding the ideal time to upload on TikTok will increase the number of users who see your content right away.
And the more views it receives, the higher user engagement you'll be able to get on TikTok.
Influencer Marketing Hub provides suggestions for the optimal times to publish TikToks for each day of the week rather than a single centralized time or set of days that stand out as the ideal posting period.
According to IMH data, these are the ideal TikTok posting times (in EST) to help get your videos the most engagement:
Monday: 6 am, 10 am, 10 pm
Tuesday: 2 am, 4 am, 9 am
Wednesday: 7 am, 8 am, 11 pm
Thursday: 9 am, 12 pm, 7 pm
Friday: 5 am, 1 pm, 3 pm
Saturday: 11 am, 7 pm, 8 pm
Sunday: 7 am, 8 am, 4 pm
However, keep in mind that this is not a standard and that each account may have different ideal posting times, depending on the audience that is targeted.
To get more information on your audience's activity and find the best posting time for your own TikTok account, you can check your Followers page or use a comprehensive TikTok analytics tool.
3.7 Engage with other TikTok users
Engagement on TikTok—which includes likes, comments, watch time, and profile views—is one of the TikTok algorithm's ranking factors.
Thus, promoting user engagement might help create a genuine connection with your audience.
TikTok Duetting, Stitching, reacting to a comment, or teaming up with TikTok influencers to create content are excellent methods of engaging with other TikTok users and increasing brand awareness.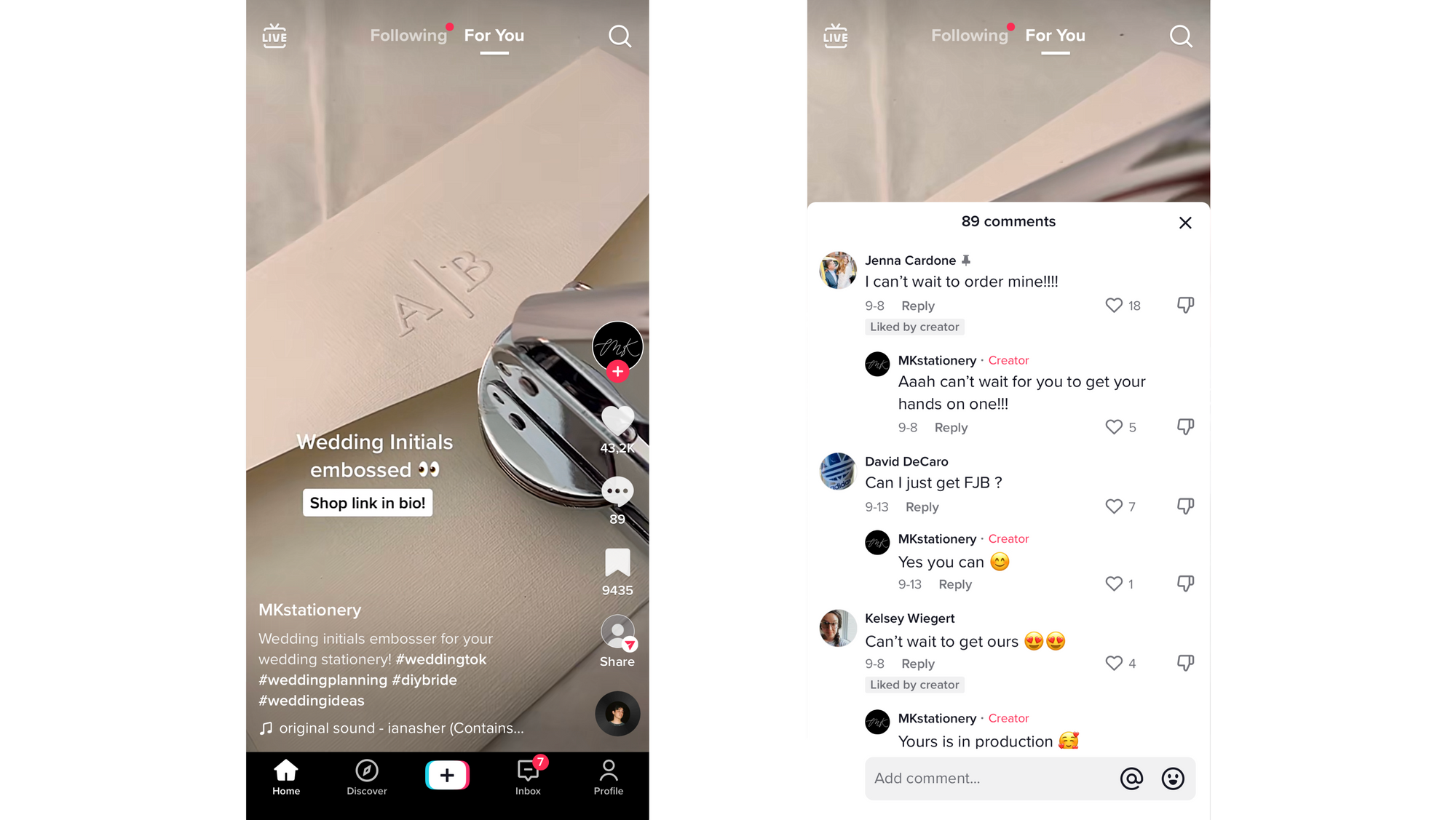 3.8 Use trending sounds on TikTok
TikTok is a platform that focuses heavily on sounds and is one of the few social media networks supporting user audio searches.
Therefore, it should be no surprise that the audio you choose affects how easily people can find your TikTok.
When a user likes a specific video, the TikTok algorithm will suggest videos that use the same music or sound.
TikTok is a crucial instrument for record labels and musicians to promote their work. Even if a song has been outside the mainstream for a long time, it might rise organically on the app.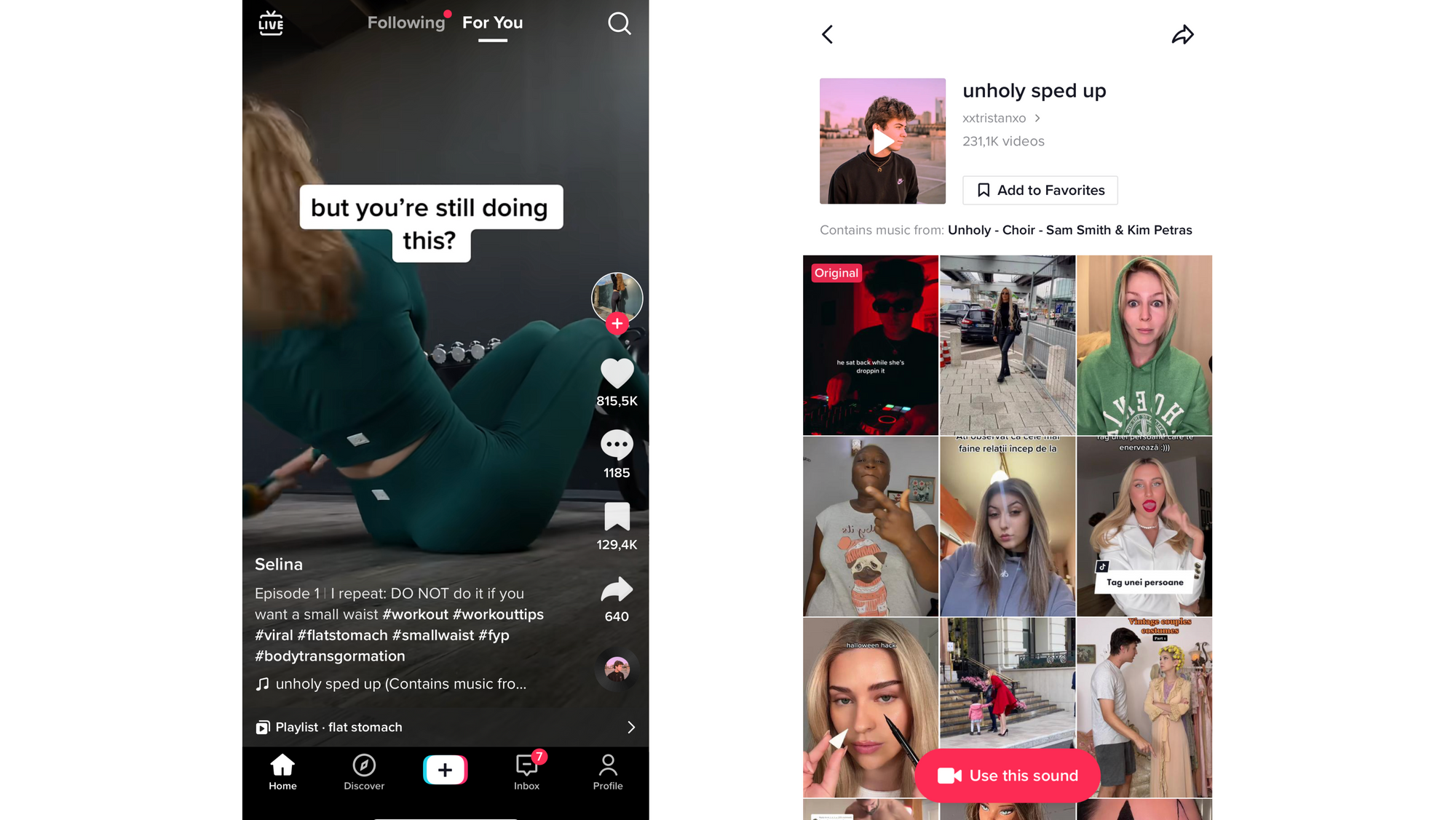 Record labels often pay TikTok influencers to promote a song, encouraging a burst in user-generated content.
Therefore, incorporating trending tunes into your TikTok video could increase the visibility of your content.  
On the contrary, using your own original sounds leads to a slight decrease in the average watch rate.
3.9 Test out the latest TikTok features
Both TikTok and how individuals use it are continuously changing.
What was used mainly for lip-syncing dances has become a platform for building genuine communities and starting social media campaigns.
Marketers must be aware of the new features that TikTok constantly rolls out to incorporate them into their B2B TikTok marketing strategy, encourage engagement, and stay ahead of the competition.
Testing out new TikTok features is essential to gaining data-driven insights regarding your social media marketing activity.
3.10 Measure your TikTok performance
You can only start to forecast TikTok trends and stay ahead of your competition by continuously monitoring what type of content is interesting for your target audience.
To do so, brands may use TikTok Analytics to get an overview of their profile, followers growth and content data.
Alternatively, brands may leverage dedicated TikTok analytics tools to dive into more detailed insights regarding the performance of their content.
You can perform a TikTok audit and a monthly TikTok analytics report to help you better understand what type of content works and generate actionable insights for the future.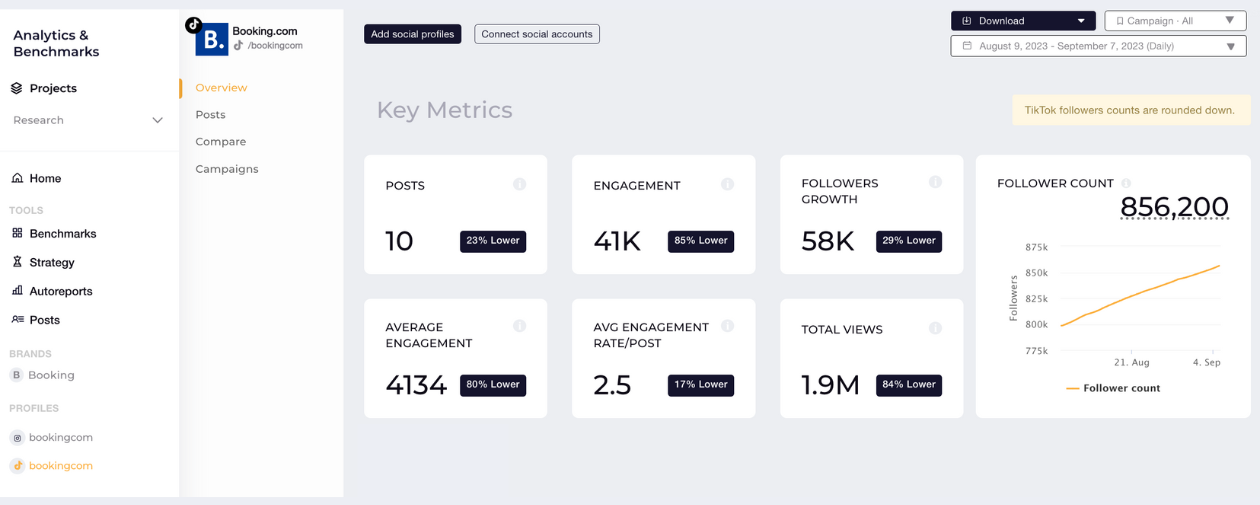 You can see all your key metrics at a glance, but you can also choose to dive deeper into certain metrics and track their evolution across a period of time.
For instance, you can see how many saves your TikToks have gotten lately, and click on the graph to discover exactly what posts are being saved the most:

This data is available both for connected accounts (own) and competitors' accounts.
Last thoughts
The best part of the TikTok algorithm is that it can only take one or two uploads to become viral for a new aesthetic or to become the latest craze overnight.
And since the TikTok algorithm continues to revolutionize content exposure, brands are even more eager to identify and capitalize on these TikTok trends as soon as possible to outpace their rivals.
But because social media algorithms are continuously changing and evolving, the only way to beat the TikTok algorithm and go viral is to experiment with content and find new ways to promote it.