We already know that TikTok won people's hearts from the start and a lot of brands considered this social media platform a challenge at first.
However, as they slowly dipped their toes in this chaotic sea of video content, marketers became even more keen on TikTok marketing, in a quest to design the best strategy.
Brands all over the world make use of the seductive power of short-form videos to attract as many followers as possible. And it seems that the spell is still working.
Today, we're going to look into TikTok marketing, learning how to build a TikTok marketing strategy and what benefits it can provide.
TikTok Marketing - A Complete Guide
---
1. What is TikTok marketing?
TikTok marketing is the process through which you use TikTok to commercialise and promote your brand's products and services.
Many brands that built their TikTok presence use a lot of TikTok marketing tactics to catch users' attention, ranging from organic viral content to TikTok ads and influencer marketing.
2. Why is TikTok good for marketing
When thinking about expanding your business on all social media platforms, TikTok comes with a great advantage.
The other social media platforms show you content from people you already follow, but the amazing part about TikTok is that you can also be exposed to creators' posts you've never heard of or seen before.
The interface of this social media network is to keen users on scrolling, using the app as much as possible.
During their time spent on TikTko, users get as much data through the videos as possible.
You can also add a link to your website through the "link in bio" feature. This will drive traffic to your business' website as well.
The advisable thing to do is to learn as much as possible about your demographics by using a specialised analytics tool.
This way, you will be able to tailor your content to match their needs and expectations, when also promoting your products and services.
3. How to create a TikTok marketing strategy
Learning how to develop a TikTok marketing strategy lies at the foundation of a successful social media campaign. This is what will increase the number of leads, while also driving your sales up.
Here are some of the most useful tips that will help you empower your TikTok marketing.
3.1. Learn everything about TikTok
If you're thinking that you're going to ace this just because you've developed a marketing strategy for other social media platforms, you're wrong.
TikTok is different from Instagram marketing and Facebook marketing. Sure you can develop great TikTok marketing if you do your research well and learn everything there is to know about this platform, from users' behaviour to the types of videos they post.
You have to explore the features of the app and experiments with trends and filters, audios and effects.
Also pay attention to all branded hashtags and learn how to tag your content appropriately to increase engagement. Remember that duets and TikTok dances are the ones that attract more followers.
Try to learn as much as possible about TikTok algorithm and its updates to understand how your content is prioritized and displayed in users' feeds.
3.2. Learn everything about your target audience
When you know your products and services address a specific age group and need, you have to find out more about them.
This way, you will know with what you can come up along the way, designing more products to keep the buyers interested, always returning.
Find out demographics data and explore everything about the hours when they are most active on the platform, their age, occupation, gender and how much time they spend watching your videos.
TikTok is mostly popular with teens and young adults. Adapting your content to suit their age is what they're looking for.
Brainstorm content ideas for your brand to come up with videos that would attract more of your target audience.
3.3. Be authentic
Authenticity sells. Providing different services and products that the rest will always make people curious.
Your content needs to stand out from the crowd, silencing the noise on TikTok to create a blast around your brand.
Moreover, if you satisfy your target audience's needs and add an element of surprise to your services, you will convince them to become loyal to your brand.
However, it is best if you avoid creating videos that sound like sales pitches. People get on social media to be entertained.
Being different on TikTok will pay off, building brand awareness while also increasing the follower count.
3.4. Establish your business' goals
As part of your TikTok marketing, establishing your business' goals will help you develop content that is in line with your brand's values and help you grow.
You may want to build stronger customer-brand relationships, improve brand image and reach a new audience.
Your goals will be the ones that motivate you to work harder. However, you need to set realistic goals, without pushing yourself and your team to the limit.
Your TikTok content should contribute to the accomplishment of your goals.
Do you want higher engagement? You should also engage with your audience in the comment section.
Do you want to increase your follower count? Use more TikTok trends to attract the audience.
Depending on what you want to achieve, you should establish what are the steps you have to take to get there.
3.5. Learn everything about the algorithm
It is true that social media is in a continuous changing process, with updates that emerge as you read this article. And you can't do a thing to stop it.
The same thing applies for the TikTok algorithm. The new updates that occur can change the way users see content.
The algorithm displays content based on the trends and hashtags you use in your videos.
By paying close attention to these details, you can easily design videos that could drive up your engagement.
3.6. Perform a competitive analysis
When designing your TikTok marketing strategy, besides having in mind your products and services, you should also look at what your competitors are doing.
It is best if you're aware of their power, their content, and how their products work. Find at least 3 brands that are part of your niche and market similar products as you do.
Analyze their content and see what type of videos are the most engaging ones. Perform a SWOT analysis to discover your competitors' strong points and weaknesses.
This will help you better mobilize and come up with something better and greater than them.
3.7. Post regularly
The frequency with which you post will set the tone for your brand. However, don't post something just for the sake of posting every day if you don't have something useful to say.
Develop a content calendar where you make sure to leave enough room for trends that may emerge along the way.
Also do everything you can to stick to that calendar. Planning ahead your content will make it easier for you to assess your TikTok performance, search for new trends and plan new campaigns.
3.8. Post high-quality videos
Besides what your videos convey and how they make people feel, your TikTok videos need to be sharper than any pencil in your house.
You should have a high-quality image and audio to prevent users from swiping to someone else's content.
It's really important to rely on 4K videos, with crystal-clear images, that also manage to convey your brand's value and pass on the important message.
In order to do so, you need to invest in great gear, to record high-quality videos. Since smartphones now feature incredible high-resolution cameras, you can easily use the latest technology you already carry with you every day.
High quality videos will only make users want more and stay for more, scrolling through your videos, being hypnotised by your content.
3.9. Incorporate live videos
By going live on TikTok, you will be able to establish powerful human connections. The Live feature allows you to connect with more users since anyone can join and watch your content.
Plan a livestream every week and answer your audience questions and curiosities. Your followers will get a notification when you start your TikTok live. The livestream will appear at the top of their For You page.
Before starting your TikTok live, make sure you put down some ideas and questions you're planning to answer for your audience. This way, the process will run smoothly.
3.10. Make use of all TikTok editing features
Effects, filters, GIF stickers, you name it. These are only a few of TikTok's greatest features that could help you edit, adjust and empower your content.
Taking advantage of all the features for your TikTok strategy will help you create targeted video content for your audience.
Depending on demographics, you can easily adjust your short-form videos to suit your audience's desires.
Use all TikTok tools to make sure your content is eye-catching and relevant for your audience, keeping them wanting to engage more.
3.11. Track your performance
This is one of the most important parts of your TikTok strategy. Assessing your brand's performance on TikTok is crucial.
By checking TikTok analytics, you will find out how your campaign performs, what you'll need to change and when to boost your post campaigns.
It is easier if you use a third-party analytics tool to get a grip of the values of all those TikTok metrics. Moreover, with a specialised analytics tool you get to see a lot more metrics compared with TikTok native analytics.
With a third-party analytics tool, you can get data about engagement evolution, top hashtags, followers' growth, video views and a lot more.
3.12. Engage with followers in the comment section
To increase your TikTok engagement, you have to do more than just post eye-candy videos. It is really important to show your community that you are present and responsive.
That's why engaging with users in the comment section it's helpful. They will get to see the human side of the brand, knowing that you can empathise with them and create a real connection.
3.13. Experiment with trends
Another crucial tip you have to keep count of is trends. Following trends is everything on TikTok.
And I feel that I cannot stress this enough. Using trends in your videos and always being on a hunt to discover the newest ones is what fuels virality.
Trends can help you increase engagement in no time, since users are already familiar with the hype created by the newest topics.
Be one of the brands which always does their research to discover new trends.
3.14. Join creator groups
There are groups of creators on every social media platform. We all know about Facebook groups and Instagram creators' channels.
TikTok has its own community of creators where users get inspired from one another and motivate themselves to become better at their job.
If you just starting with this, you should check TikTok Creators Support, TikTok for Beginners, and TikTok Creators to get creators' insights.
3.15. Use TikTok ads
Like any other social media platform whose popularity is on the rise, TikTok followed the trends and seized the opportunity of generating more revenue by allowing brands to advertise on the platform.
Of course, trying a new app is always interesting, but before starting creating ads just for the sake of it, you must do your homework and see what TikTok ads are about. That's a safe TikTok digital marketing tactic.
3.16. Tap into TikTok influencer marketing
By now it is already known and proven that regardless of any social media platform we're talking about, users trust real people rather than brands.
This is where influencers step in, since they have come to rule the newest platforms, starting with Instagram, all the way to TikTok.
Influence marketing on TikTok brings a more authentic and human dimension to your brand marketing, which in turn can be a huge driving force for increasing brand awareness and engaging your community.
That's why a good TikTok marketing strategy keeps this aspect always in focus. If you're looking for reasons why your TikTok marketing efforts should include some collaborations with influencers, here's a good one - they know best how the platform works.
Usually being early adopters, influencers know the platform's features, what works and what doesn't, and their following is the result of all that testing and learning.
Whether it's TikTok marketing or any other social media platform, when collaborating with influencers, you have to make sure the ones chosen are properly aligned with your brand's personality and values.
4. How to advertise on TikTok
TikTok's growing popularity makes it now one of the perfect platforms where brands can market their products.
With the use of influencer marketing and user-generated content, brands take advertising to a new level.
However, nothing compares to the classical way of doing ads on TikTok. TikTok advertising helps you get more visibility for your content, while more eyes see your content in their feed.
Create your TikTok ad account for TikTok Ads Manager. To do so, you need to go to ads.tiktok.com and start creating your profile, completing all the needed infos. Then the fun begins.
First, you have to establish what exactly you want to be the outcome of your ad campaign. Next, you should decide what type of ads you are going to run.
Here are the alternatives of ad products that TikTok offers for the time being:
Top view ads - these ads play as you open the app
Brand takeover
In-feed ads - are ads that you design. They can be image ads, looking like mini-billboards, video ads and spark ads, which are existing videos that you boost.
Branded hashtag challenge - a hashtag that it's related to your brand
Branded effects - filters and stickers with your brand
Given its fun and entertaining vibe, remember to keep your ads aligned with the platform's orientation, and also your audience's interests and habits.
5. TikTok marketing benefits
Developing your TikTok marketing to make sure you fuel your brand's growth comes with a lot of other benefits.
Here is a list of the benefits of using a TikTok marketing strategy:
TikTok as a search engine
Lately, users have been using TikTok to search for brands and products. That's why a lot of them started using the hashtag #TikTokMadeMeBuyIt.
TikTok has become the third most popular social commerce channel, having more than 9.6 million buyers.
Influencer marketing is the easiest on TikTok
On TikTok, influencer marketing is so easy to put into practice that everyone does it abundantly.
Via influencers, your brand can be easily discovered by users in your target audience.
The flexibility of TikTok's algorithm also helps micro-influencers become more and more popular, helping brands increase reach.
Higher chance of virality
TikTok's algorithm focuses more on discoveries, showing users videos from brands and creators that are related to the topics they've previously searched.
You will see a lot less content from your friends and a lot more from other creators on the platform, increasing the chance for virality while reaching a wider audience.
6. How to do a TikTok post analysis with Socialinsider
Planning a strong and well-researched TikTok strategy is the key to a successful campaign on TikTok.
With the help of an analytics tool, you can easily check your posts performance to figure out what works and what doesn't work for your brand.
Socialinsider is more than an analytics tool, also offering features like competitive analysis, campaign reporting and cross-channel analysis.
Let's take a look at how it works when developing a TikTok post analysis. I chose to look at Haulabs' TikTok profile and I've selected as a time frame the last 3 months.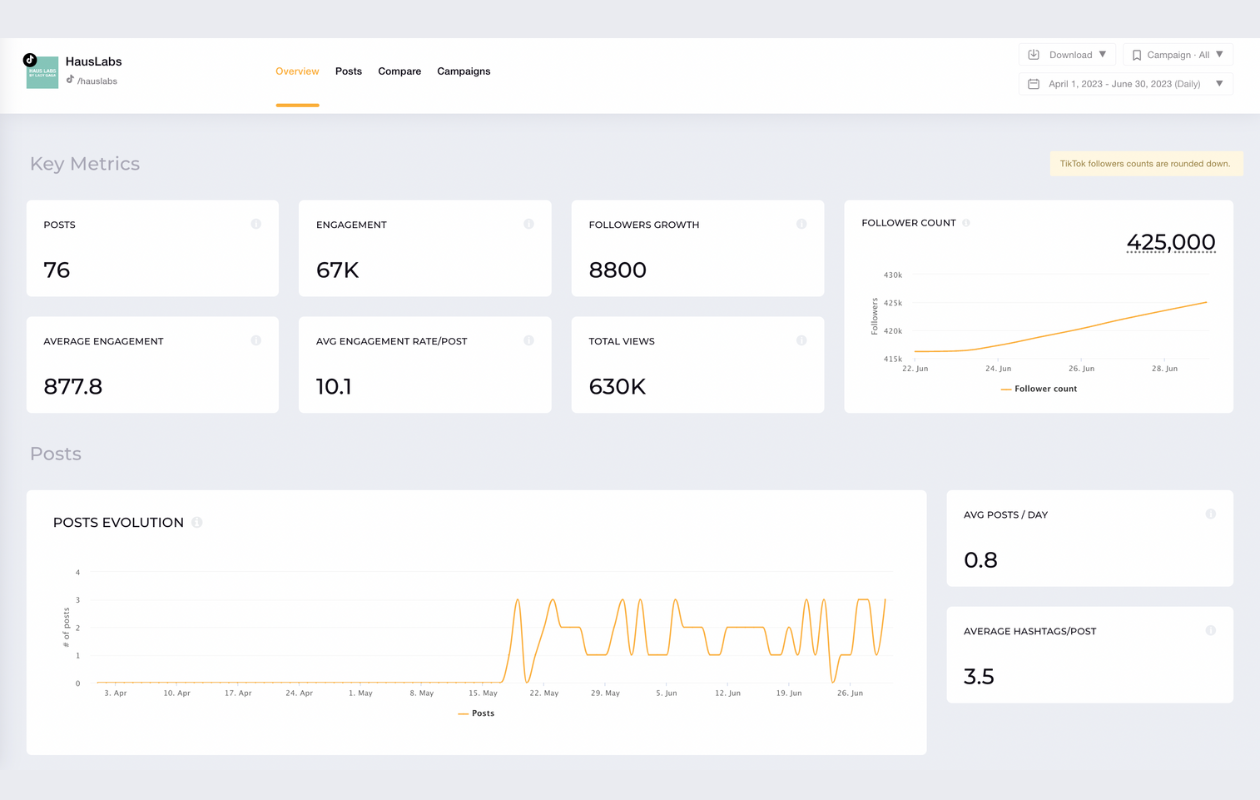 In the overview section, you get to see the values for key metrics like the number of posts, engagement, followers growth, total views and the follower count.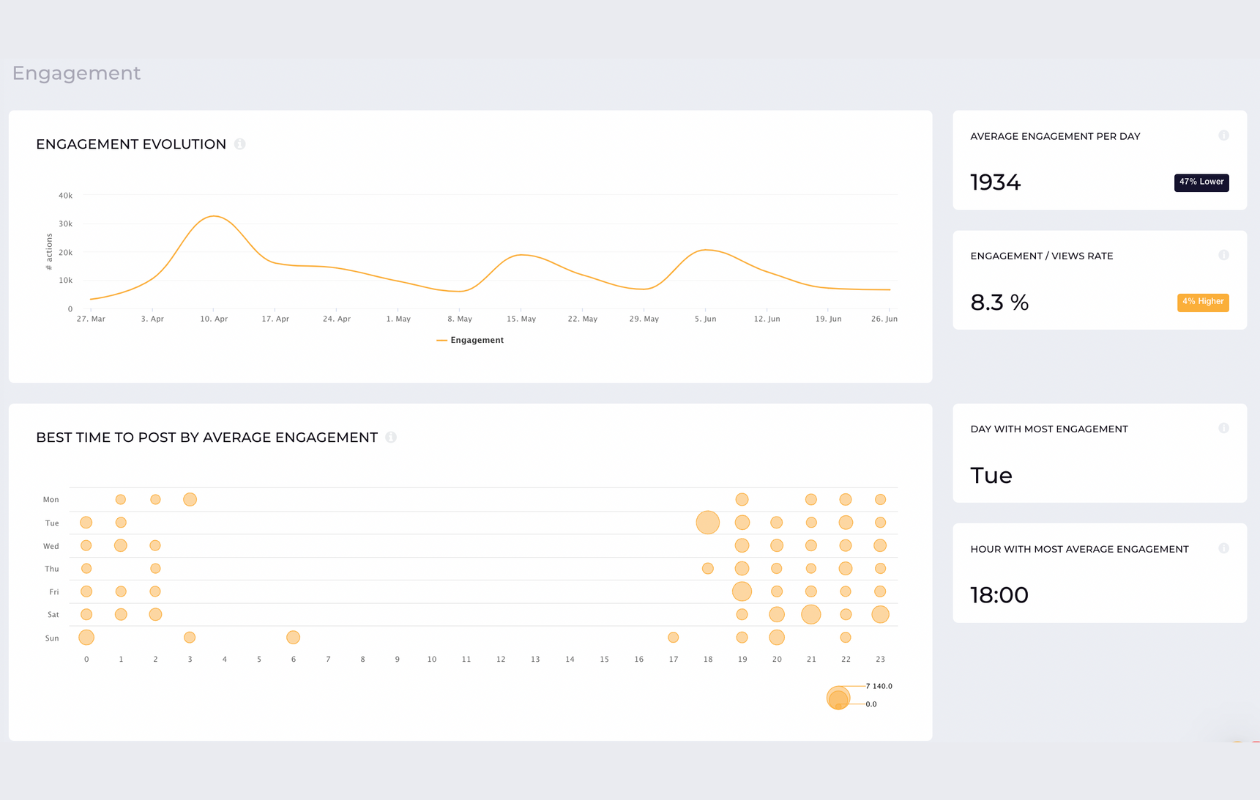 Next, I looked at the engagement section to see the best time to post for this beauty brand and their engagement evolution.
Another great advantage when using this tool is that you can see top 3 posts, with individual key metrics for every post.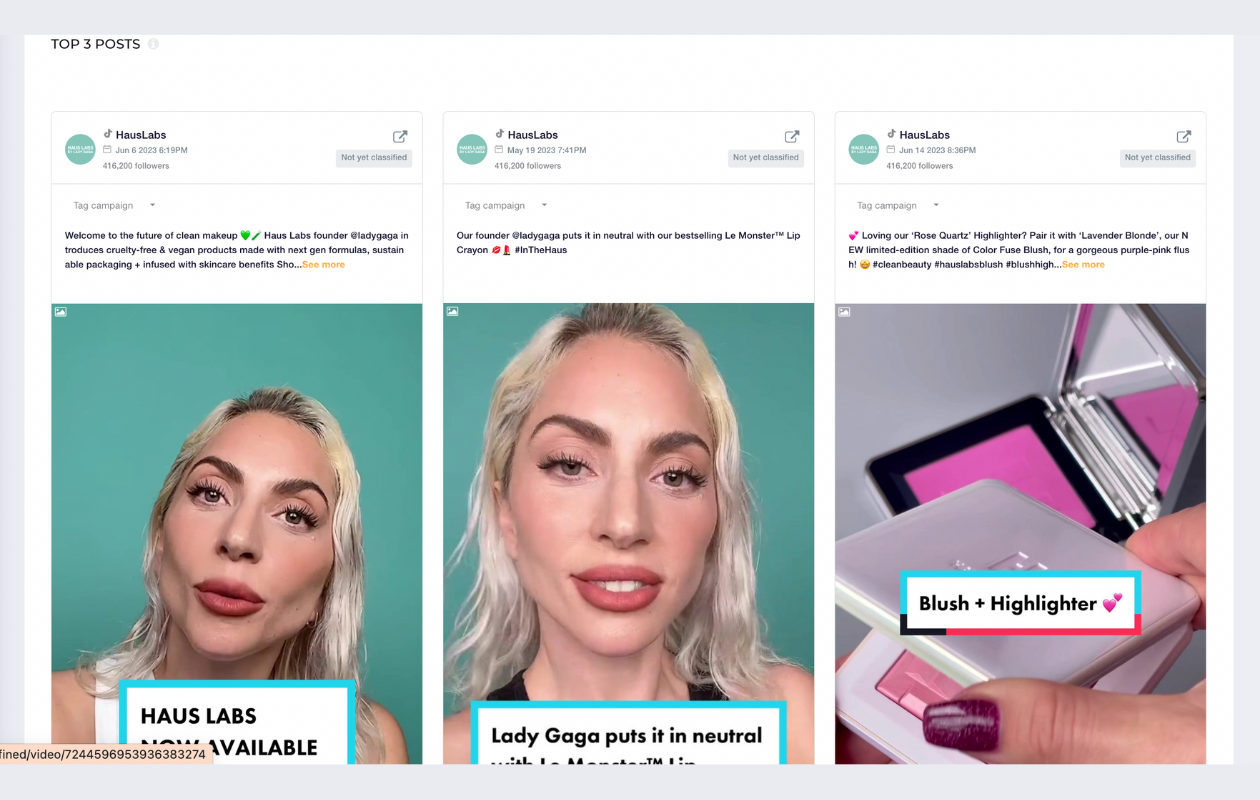 Here you can see metrics like engagement rate, hashtags, likes, comments, shares, views and saves.
All these metrics can indicate what types of TikTok videos perform best and which are the ones with which your audience engages more.
You can also check all the top hashtags used by your brand, seeing which ones had the highest engagement.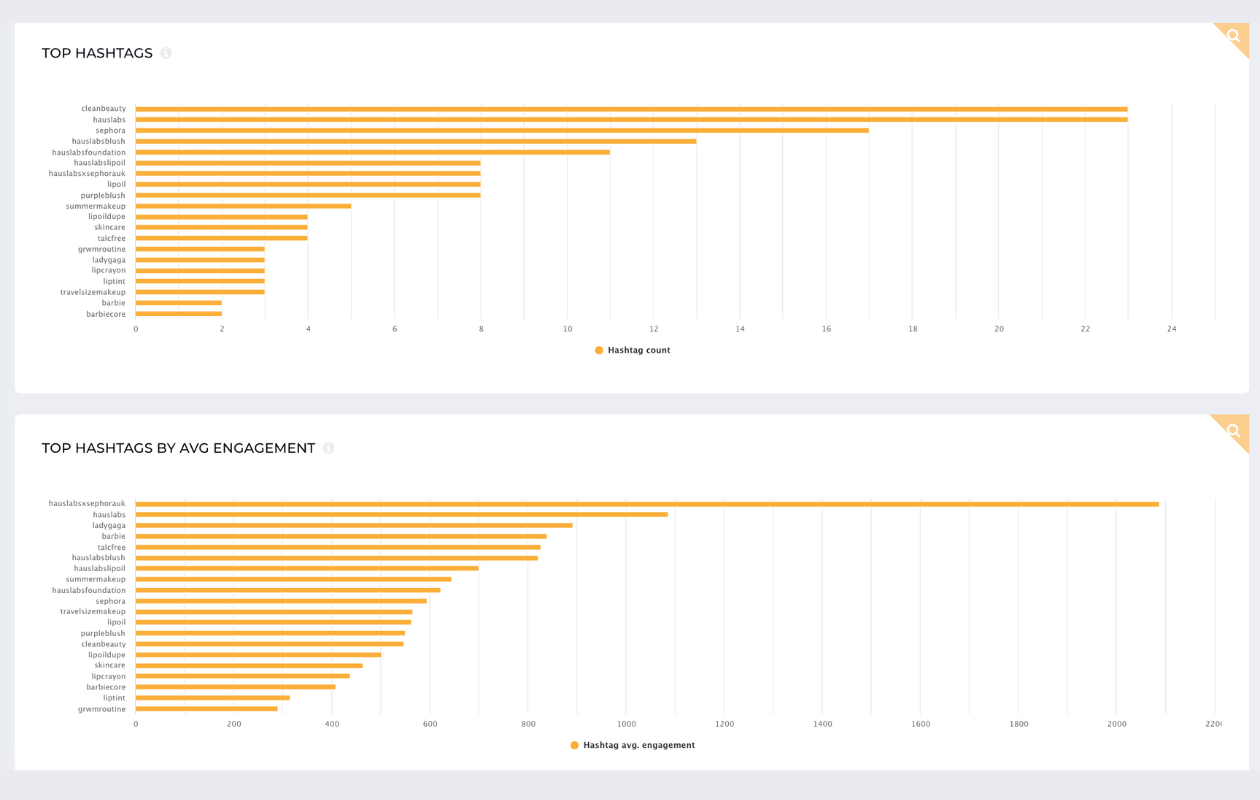 We all know that hashtags are imperative when posting on TikTok because they help you categorise your content on different topics, being easier to find.
The use of TikTok analytics will provide you with actionabe insights about your posts' performance, helping you build a strong TikTok strategy, while paving your way to virality.
Final thoughts
Every social media app has its specific characteristics. TikTok has taken the internet by surprise, and for sure, it is going to stay for as long as people enjoy short-form quality entertainment.
Give your brand a boost and make it more appealing to young people. When doing TikTok marketing for brands, and not only, try to be as creative and original as possible and integrate the brand within the videos, but don't create all the content around the brand.
Frequently Asked Questions:
1. How successful is TikTok marketing?
According to a recent study, about half of TikTok users end up purchasing form brands they see in this app. Therefore, TikTok marketing can work wonders for your brand if you develop a top-notch content strategy and post regular videos.
2. How did TikTok market itself?
ByteDance, the company that owns TikTok, developed a pretty smart marketing campaign. This company started promoting TikTok in the online world, everywhere they knew Gen Z is present, including on YouTube and Snapchat.
3. Is TikTok marketing expensive?
The price for a TikTok ad starts at $10 per CPM (cost per 1000 views). Also, the requirement is to spend at least $500 on a campaign.
4. Why is TikTok better than Instagram for marketing?
When it comes to marketing, the platform which has more raw content, with a greater potential of authenticity is TikTok. This network is also useful for developing brand challenges for users. A TikTok challenge can establish a genuine connection between you and your audience.