Nowadays a brand does not exist if it has no presence on social media.
And as social media is the advocate for the fast-moving world, where people's attention span is narrowing, marketers find it hard to catch everyone's eye.
Using some of the social media best practices, you get to adjust, improve and support your digital marketing efforts.
And the "I got this" attitude will feel right again, knowing that your brand awareness and engagement evolution is thriving.
In what follows, I compiled 26 best practices for social media to help you make the best of your marketing strategy.
Social Media Best Practices for 2023
1. What is a social media best practice
2. 26 top social media best practices for 2023
3. How to implement best practices on social media with Socialinsider
1. What is a social media best practice
A social media best practice is an insight that can help you improve your marketing game, bringing your strategy to the next level.
Some of social media best practices serve as lessons that help you learn what specifically works for you.
We have to admit that in the digital marketing world there is no pre-established recipe that guarantees success for all the brands that follow it.
By following a list of best practices for social media and using all those tips and tricks, you get to see what works and what doesn't work for your brand.
At the end of the day, your brand's growth is going to account for your social media efforts.
2. 26 top social media best practices for 2023
Nothing compares to a looong list of social media best practices to try out for your brand. Aiming for higher purposes requires a lot of work. Here is our list of social media marketing practices:
2.1. Tell your story
If someone asks you how you came up with your brand idea or what's your story, you should be able to say something. Try to answer to these questions when thinking about your brand's story:
What need were you trying to satisfy?
What triggered your brand's idea? (an event, a personal experience, etc)
How did you get started with your brand? What was the next thing you did after the idea that came?
If buyers find that your brand displays empathy, through the products and services you're designing, then you're winning.
2.2. Be authentic
Being authentic in a world where everything was already said and done is not an easy job. After you decide on your services or products, look at what your competitors are doing.
What can you do extra or different than them to stand out from the crowd and place the pin on the map?
Think about the fact that consumers are no longer brand's that are picture perfect. They are searching for authentic, raw experiences, something that hits close to home.
Awakening the sense of familiarity through your services and products it's a sign of authenticity.
2.3. Find out who is your buyer persona
After you set your goals, you need to find out who your buyer persona is. This is one of the most important best practices for social media marketing.
However, learning about your target audience doesn't only mean paying attention to demographics or knowing your buyer persona.
This also refers to finding out about your audience's pain points, inspirations, needs, motivations, and how your products can come in handy.
Depending on the social media platforms you use, your buyer persona may change from one channel to another. Make sure you perform a thorough research to know how to address your customers on every social media network.
2.4. Post diversified content
Some social media strategists may claim they have the perfect recipe for success, when thinking at the best combo of post types on every social media platform.
Well, that combo surely doesn't work for all brands. That's why you have to find out what works and what doesn't work for you.
How? By testing every possible combination. Maybe, at first, try to post more short-form videos and carousels and after you see the results, decide whether you need to change your content strategy or not.
2.5. Develop a social media calendar
An organized agenda cuts down on the stress level, especially when you, as a marketer, feel like you're wearing a lot of hats.
By establishing the order in which you complete your tasks and post your content, your work will be more efficient. Having a great team that waltz through as you tell them is really a blessing for a marketer.
That is why you should confidently use a social media calendar to pin all the important events and prepare some content for them ahead of time.
Post according to the times your audiences are most active on platforms. Find a pattern and use it to your advantage.
2.6. Make high engagement your purpose
When you set your goals, one of the most important ones is getting higher engagement rates. Well, I bet Santa's tired to read that on every social media specialist's list.
Luckily, you can make it happen by yourself if you work hard enough. You need to focus on posting the most engaging types of content, based on the latest trends.
You should definitely rely on short-form videos, images and lives. These are the most engaging types of posts.
2.7. Engage with your audience before publishing and after publishing
This is one of the coolest social media marketing best practices, a trick that not many people use.
Before you publish your next post, make sure you engage with your audience first. Go to some of their profiles and react and comment on their latest posts.
This way, when you'll be publishing your next post, they will be already paying attention to your brand.
After publishing your piece of content, you should engage with your audience again whenever they leave a new comment.
Don't just react to their comments. Write a full answer instead and fuel that conversation in the comment section. You will thank me later.
2.8. Place your star products under spotlight
Launching a new campaign may seem all kinds of…new. Well, besides needing to follow a promo plan, you need to make sure your new campaign also reflects your brand's voice and values.
It is important to promote your new services and products as much as possible, since they are as fresh as buns that got out of the oven.
Pin some of the posts on top of the page so that users see it first when they get to your social media page.
2.9. Experiment with new tech
Now everyone is talking about ChatGPT and all kinds of AI implementation when creating all types of content.
You should show that you're prone to trying out new tech, keeping up with the advancement of technology.
2.10. Integrate memes in your content strategy
Time change and followers are more drawn to fun posts. And since fun = memes, you've gotta do what you've gotta do.
Lately, every social media manager has learned that memes rule. That's why you see them everywhere, even in you competitors' posts.
This is not a trend. Memes are here to stay. You just have to find a way to keep up with trendy memes. And that's different.
If you know for sure that your brand addresses a young audience, then you should definitely insert memes in your social media posts.
This is one of those social media marketing best practices that you should not leave behind.
For example, we changed our LinkedIn strategy and integrated more memes into our content planning.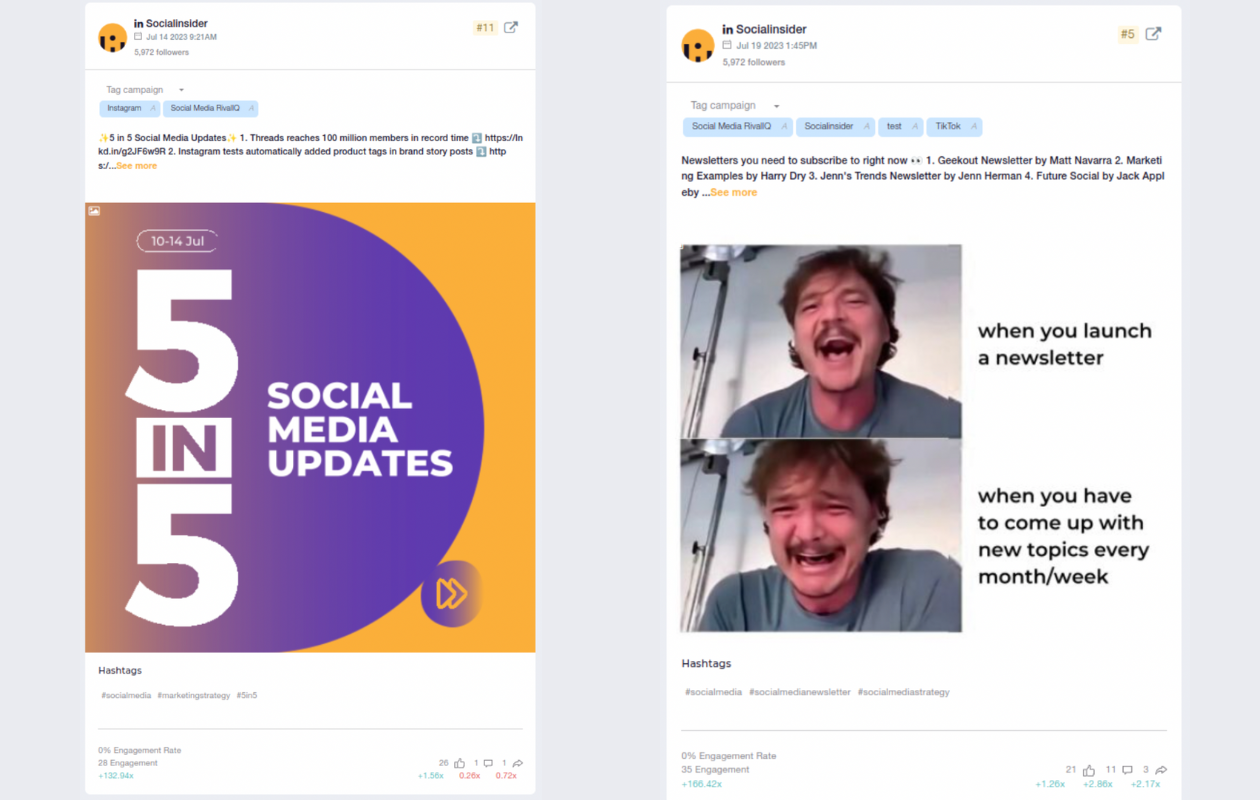 2.11. Follow trends
I cannot stress this enough. Trends are everything. I know I tend to say that a lot about many things, but really.
If you are a social media strategist and you're not aware of all the trends, what are you even doing? Trends are your chance to become viral. You shouldn't leave this to the last minute.
It's true that new trends are emerging all the time. They come in the form of new hashtags for different campaigns and challenges, new audios, dances, and everything in between.
Keep an eye out for the latest trends and try to obtain legal approval before the trend is no longer popular.
2.12. Try to ease your approval process
Speaking of approval process, sometimes this could take days. For a social media manager, this is frustrating, when you know that your team did everything they could to meet the deadline.
That's why it's important to have someone from the legal team always on call, whenever you spot a new trend and you prepare a new post.
Optimize the way your team works with people from other departments or collaborators to make sure you don't miss out on stuff.
2.13. Put together a top-notch social media team
The way you plan your social media calendar and coordinate your team says a lot about your brand's growth potential and success.
You are the conductor and your social media team is an orchestra. Make sure everyone knows their instrument in and out and they collaborate to help each other whenever needed, to deliver their work in time.
2.14. Optimize brand for social commerce
Spot patterns in your customers' behaviour to know exactly where to constantly improve your ads and social commerce.
If your followers go to the links you place in your posts, you should consider improving their shopping experience on social media.
As long as the shopping process runs smoothly, without lags and too many steps to follow, the customer will surely buy your products online.
If they don't get tangled in the process along the way, they'll be ready to complete the buying.
2.15. Have specific content strategies for each social network
Adjusting your overall content strategy to suit your audiences on every social channel is not an easy task.
It requires time and patience to express the same campaign idea in five or six different ways, looking at your products and services from different angles.
Don't ever cross-promote your content between social media platforms even if you want to deliver the same message.
It's better to record different videos and take pictures from different angles before sharing them online.
This may be challenging, but also helpful since it tests a lot of your abilities as a marketing team. Working on social content for different platforms will help you expand your horizon to cater everyone's tastes.
2.16. Upload more short-form videos
Many studies, including one of our own, showed that short-form video is king. Developing short-form video content for every social media platform will surely drive the engagement rate, reach and video views to new highs.
The video completion rate can increase if you post short videos which have a powerful impact, with a funny or inspirational twist.
Users like to see videos which are less edited, natural, that tell a story with which they can empathize. Eye-catching videos that are not too salesy will help you sell more products.
Your videos should tell prospective clients how your products and services are going to solve their problems.
2.17. Analyze your competitors to learn what's working and what's not
The digital marketing world teaches all of us that paying attention actually pays off. That's why it's important to keep an eye on your competitors.
Being aware of their latest updates and product launches, you can get inspired. Moreover, by performing social listening, you will also find out what people say about their products and services.
Do people complain? If yes, how can you come up with the right solution for them? Users' feedback will help you learn what works and what doesn't.
2.18. Keep in mind SEO on social media
One of the social media marketing best practices to keep in mind and use at all times is SEO.
Keywords are crucial for your social media content. That's why SEO matters more than you think in assuring you get indexed by Google.
On TikTok, Instagram and Twitter, keywords can be used in the form of hashtags to make your content fall into different categories.
2.19. Conduct a social media audit
Once every quarter, or even on a monthly basis, a social media audit is required to find out everything about your brand's performance.
This tip is useful after you have already let a marketing campaign unfold and want to see what impact it had on your audience, but also on the industry overall.
Keeping an eye on your brand's evolution helps you learn what changes it may need.
To perform a social media audit, you need a specialised tool to measure your metrics on every social platform that will help you alter your strategy and set new goals.
The results you have obtained up to a point can mould your future campaign into a better one, offering users exactly what they expect you to put on the table.
2.20. Bring customer care to a new level
Another important trick you should integrate into your marketing strategy is related to customer care.
As long as you make your customers happy, your brand will flourish. Being loved by your customers relies on having great customer care, so that they know they can rely on you whenever they need.
Quickly answering queries and having customer care open 24/7 will build your customers' trust.
Make sure you also pay attention to them tagging or mentioning your brand when offering feedback on social media. You'd want to find out first about any complaint so you can solve it as quickly as possible.
2.21. Perform social listening
Social listening is an indispensable tool for a successful marketing strategy in 2023. Analyzing what people say about your brand in the online world is helpful, as you can make adjustments based on customers' requests.
Through social listening you will also be the first to learn about the latest trends you could implement into your marketing strategy.
Social listening and monitoring helps you keep tabs on your audiences' honest likes and dislikes about your brand.
Your job is to make unsatisfied customers change their mind. Being proactive and ready to adjust is what will help you win at this.
2.22. Track on performance data
Social media analytics is key when tracking performance data. Without looking at your social media metrics to check your campaign performance it's hard to determine whether your brand is evolving in the right direction or not.
This is one of the crucial social media best practices for 2023 that should not miss from your "to do" list.
Tracking your social media performance data with the help of a third-party analytics tool will offer you a broader perspective on how much your business has evolved.
Socialinsider can be a great help here. You get in-depth insights on engagement, reach, impressions, content posts analysis , best performing posts, demographics, links, videos views and other metrics.
2.23. Avoid scheduling posts
When scheduling their social media posts, many social media managers complain about the result. Either the tags were not correctly set, the hashtags didn't work and the picture got cropped after posting.
To avoid all these problems and prevent yourself from posting something that doesn't resemble your initial post, you should avoid scheduling.
Some may even say that scheduled posts do not gain as much traction as the instantly-published ones.
If you find a pattern there, then scheduling posts may not bring you any advantages. And it won't save up on time if you constantly need to get back to the post and edit it.
Let's look at some LinkedIn posts from Socialinsider. I selected the time frame 10-17 of July when I know for sure we had scheduled posts.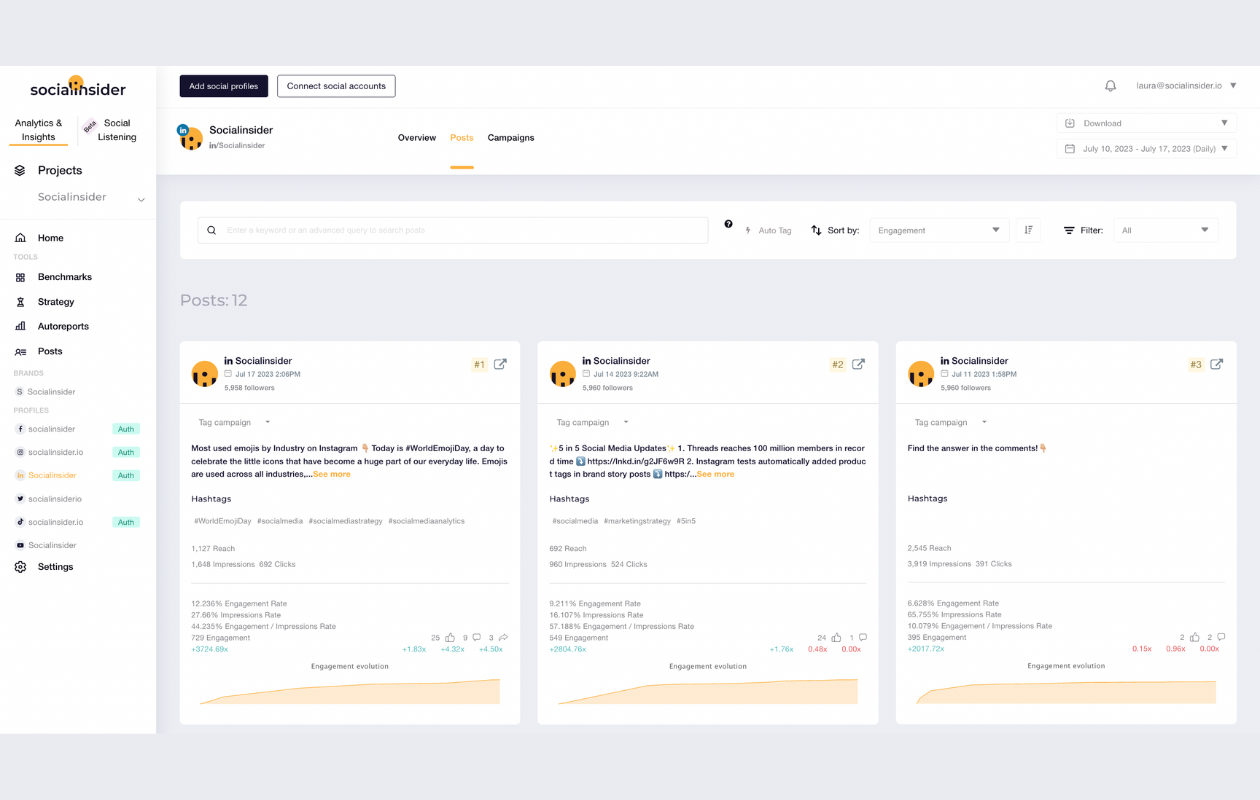 I looked at the key metrics of several of these posts and these are the results.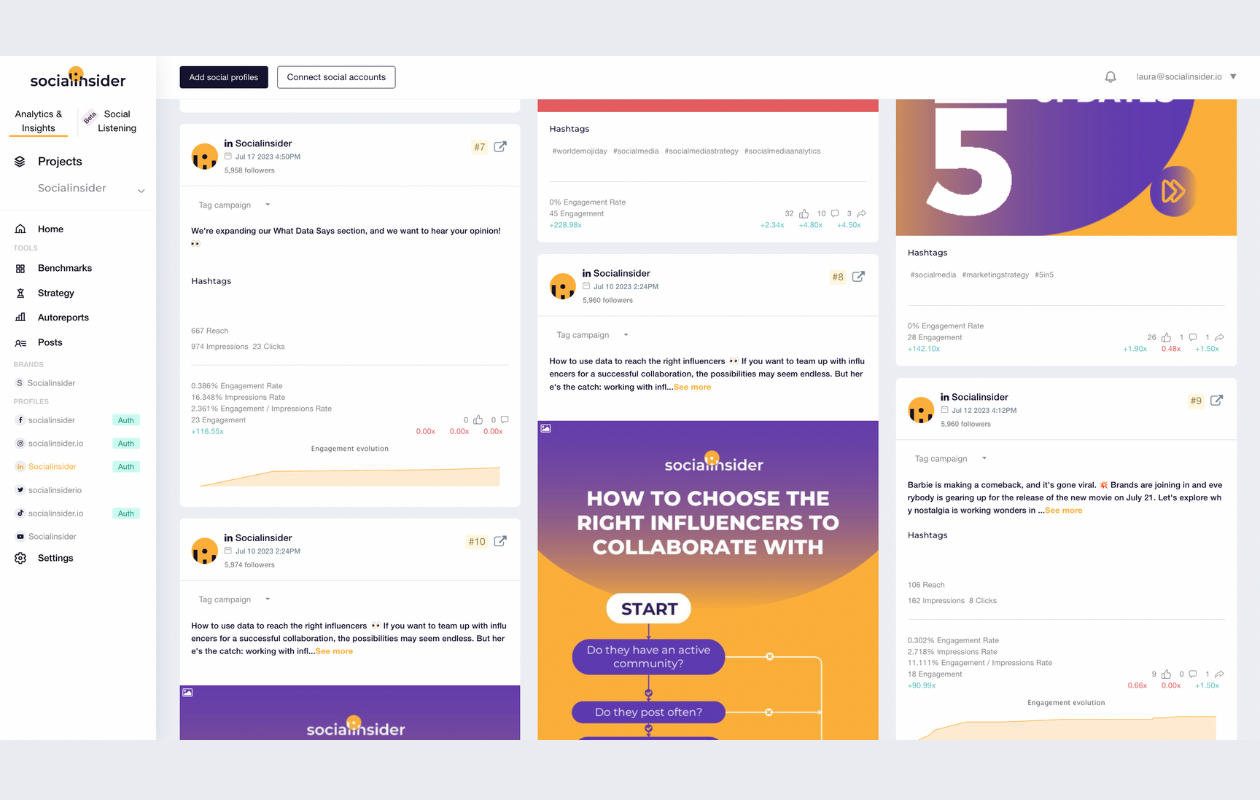 If I compare this time frame with another one, from, let's say, 3 weeks ago, in June, when the posts were directly posted, the results look different.
I chose a similar time frame, 10-17, but this time in June. Only five posts, but with greater results.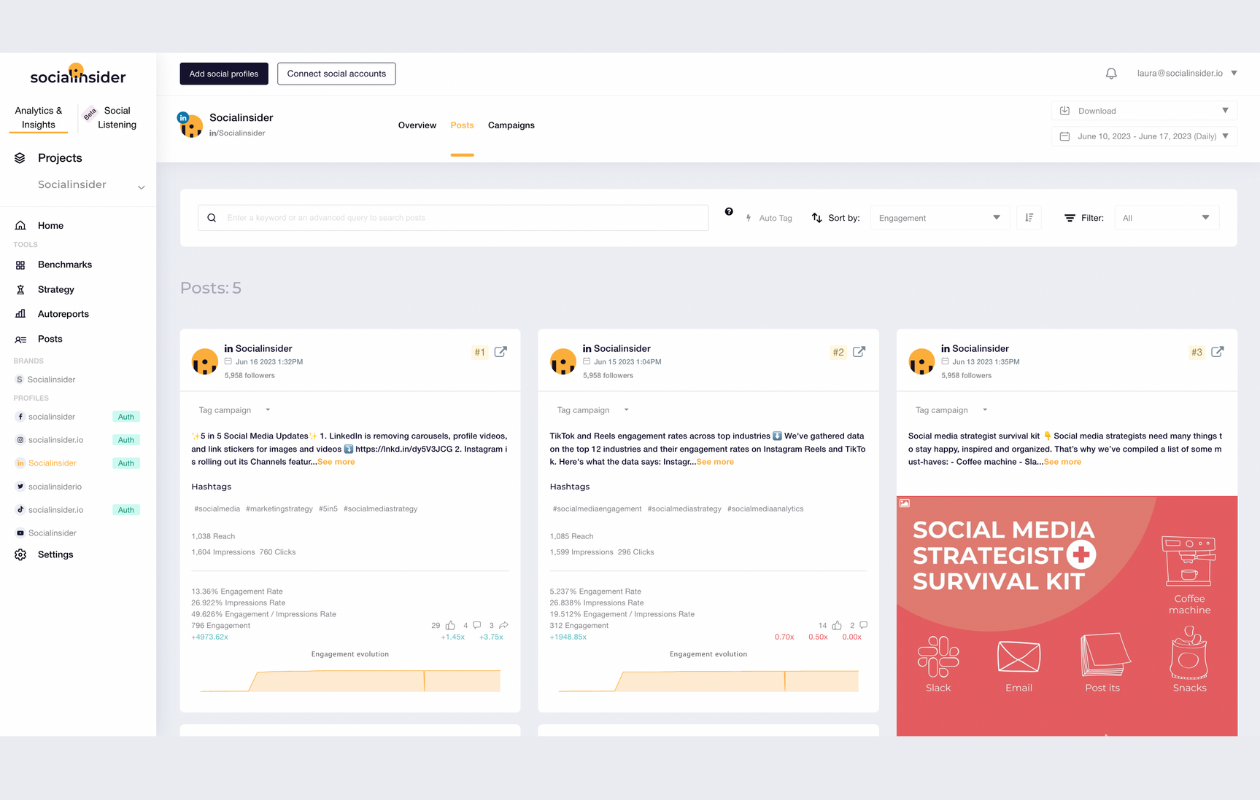 When scrolling down to see the key metrics, I noticed a higher number of likes, comments and clicks.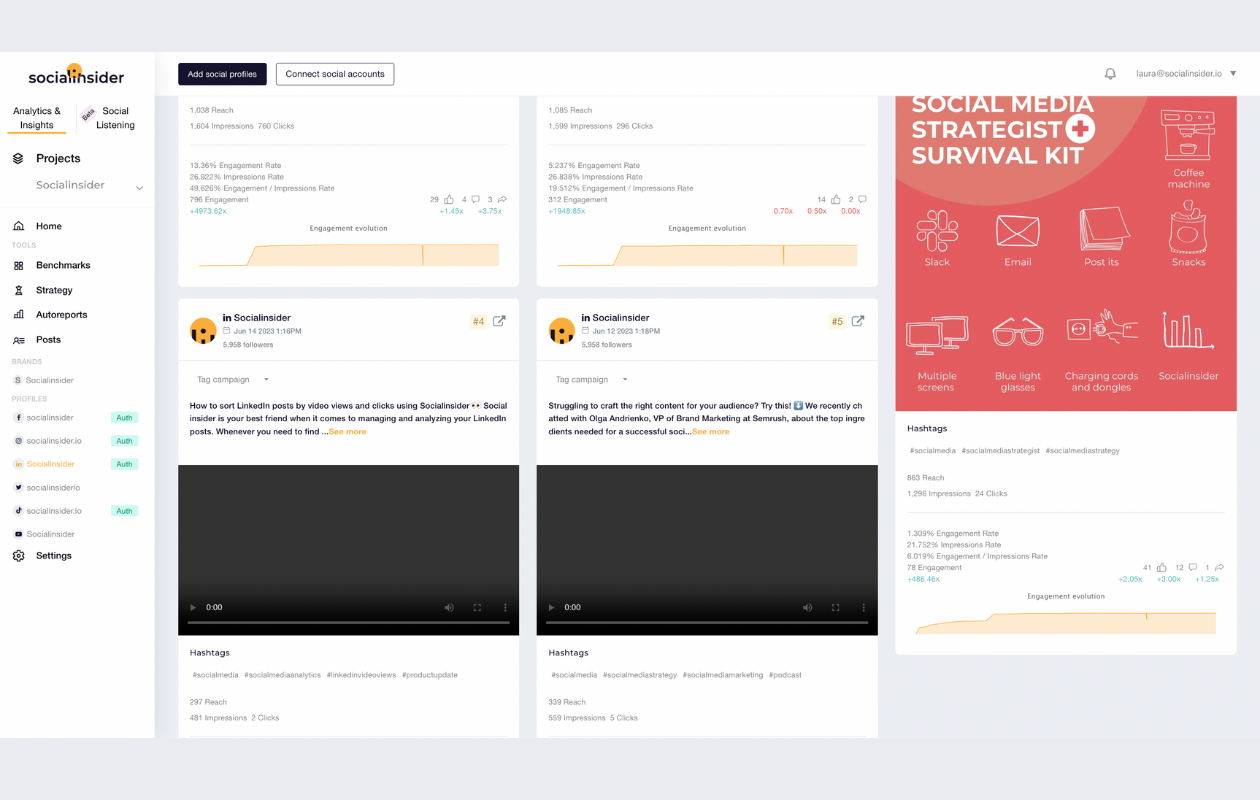 2.24. Research your influencers
By using an influencer marketing tool, you can track influencers and creators' insights to determine who is suitable to work with.
When you decide upon an influencer, the first thing you should look at is whether their values align with your brand's values. Otherwise, you will not have an audience which shares the same interests.
And this means that their huge number of followers will simply disregard your content, since it's not aligned with what they "assigned for" when following that particular influencer.
Metrics like engagement rate, posting frequency, and the overall evolution of the account should be top of mind when doing your influencer's research and analyzing various influencers' accounts.
2.25. Get started with social media advertising
Even if, at first, you tend to rely more on organic traffic, you should consider giving your posts a boost by implementing social media advertising.
By implementing an ads campaign on more social media platforms you increase your chances of reaching more users who do not know about your brand yet.
This way, you will also boost brand recognition, spreading the word about your products and services.
To start with, it's advisable to build a funnel that relies on awareness, consideration and conversion and build content which exemplifies each of these stages.
2.26. Ask customers for feedback
This trick is one of social media best practices for 2023 to implement right away.
When they start to use your products and services, the most important thing for you is to make sure they are happy.
If you get negative reviews, be polite and kind, offering your assistance immediately.
You might change a negative comment into a pleasant experience for your customer in a matter of seconds, if you come up with a quick fix.
Your clients' feedback has a constructive purpose, helping you design better products and services.
3. How to implement best practices on social media with Socialinsider
Using some of the best social media marketing practices above can help you put into effect a great part of your marketing plan, gaining better results.
Socialinsider is a complex social analytics tool, while also offering the social listening feature. This part is still work-in-progress, but we're hopeful it will be revolutionary.
Within the analytics part of our tool, you can also use features like campaign reporting, benchmarking and competitive analysis.
Today I'm going to show you how you can check your brand's results on a certain time frame by using the Brands feature, which helps you conduct a cross-channel analysis.
I added Starbuck's Facebook profile, Instagram profile and TikTok profile and created a brand with them. As a time frame, I selected the last 3 months.
I clicked Brands from the left menu and I got to see all these key metrics. First, you get to see the total number of posts, the brand's average engagement rate, brand gained followers, video views, likes, comments and impressions.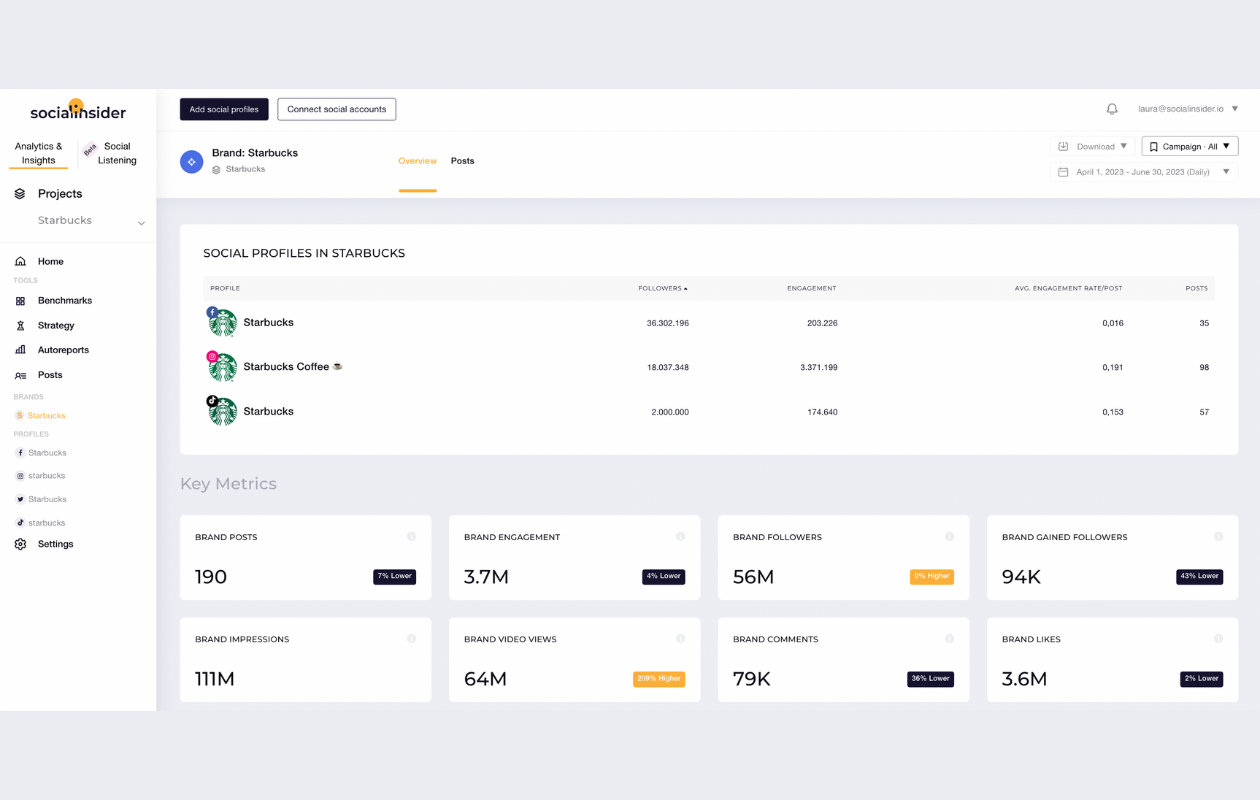 As you compare all the metrics from the platforms you're present on, you get to see on which platform you should focus more.
You should first invest your efforts in the platform that needs your help more. But, and yes, there's a but to consider.
You should also direct your efforts to grow on the platform you got the best results so far. Look at the metrics and then look at your posts.
What posts helped you grow so fast? Could you use similar posts on the rest of the platforms that don't score such high engagement rates?
Think about implementing a social strategy that favours and adjusts to all the social media platforms you're present on.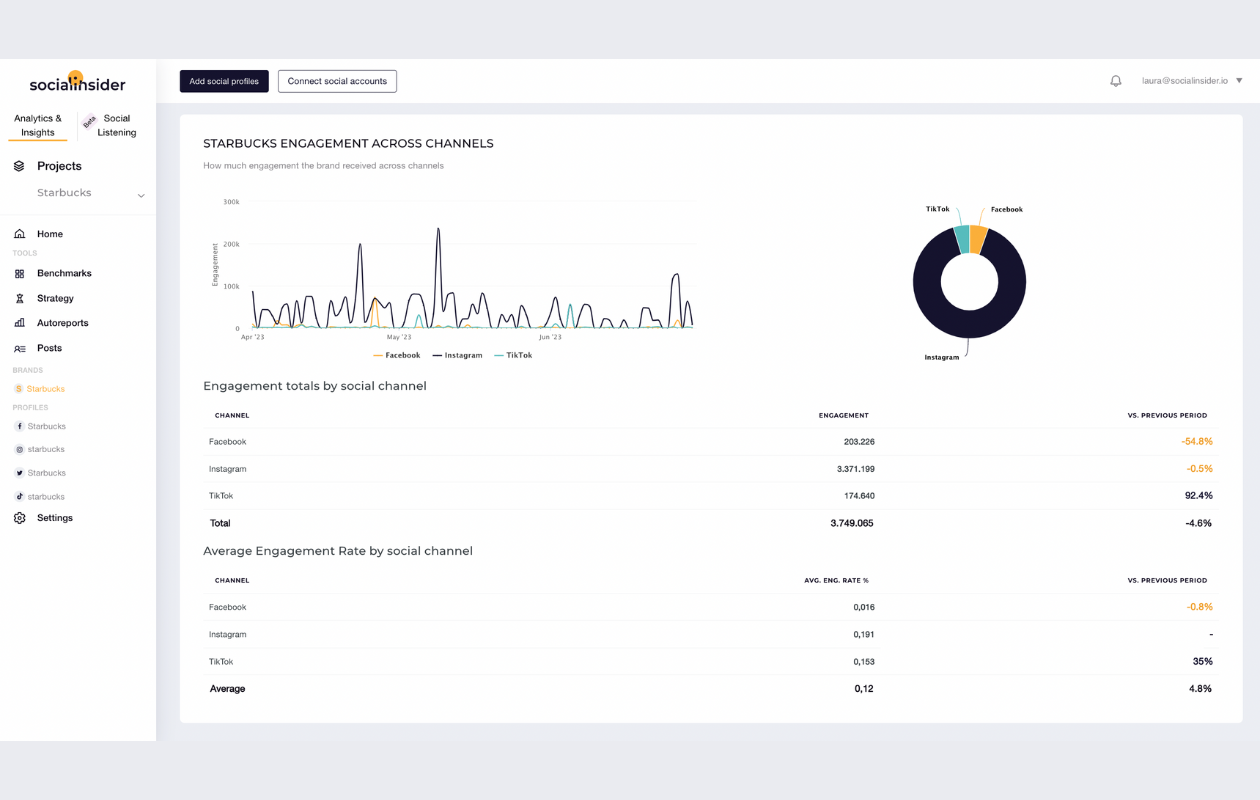 Grasping all this data, you can easily use Socialinsider's features to get a sense of  how a well-researched social media analysis looks like.
With the insights you get via social audit, social listening and social sentiment analysis, you get to adjust your marketing strategy based on the best practices for social media.
Final thoughts
Being popular on social media and creating viral content is every marketer's summer's dream. However, without planning and a clear view about your goals, you won't make it.
Social media platforms are continuously changing, merging new updates and ideas, trends and perspectives that alter users' perceptions.
You have to constantly make sure that you manage to keep up with the best practices for social media in 2023 to ensure your success.