Working in social media these days can be like going on a rollercoaster. Luckily, Twitter is one of the more consistent platforms out there.
However, there are still highs and lows, exciting and hard times you'll have to get through. But the good news is that there are ways to keep your account "neat and clean".
With more than 275 million active users worldwide, Twitter is mostly known for its straight-on point approach due to the 280 characters limit, but also for its ability to stir debates. These characteristics make Twitter perfect for any brand that wants to stand out.
If your company is using the social media platform, but you're not completely happy with your account, try to conduct a Twitter audit.
We'll tell you what is a Twitter audit, what are its benefits and what to look for when you're doing one.
Let's dive in!🤓
How to conduct a Twitter audit
Steps of a complete Twitter audit
Get insights into your Twitter audience
Twitter audit apps and alternatives


What is a Twitter audit?
Successful business stories might have their own paths, but all of them have something in common: a constant analysis of strategies, decisions and how plans are put into practice.
The same should apply for every social media account, including Twitter.
If you want to see how your brand is performing, to determine if you're moving in the right direction or to uncover your weaknesses, then simply conduct a Twitter audit.
Apart from the insights you are tracking and monitoring constantly, a Twitter audit is a real reflection of your activity, engagement, and growth from day one.
To do this thoroughly, you have to analyze all the aspects of your Twitter account: tweets, profile, audience, followers, etc.
Benefits of a Twitter audit
It's good to constantly analyze your efforts and strategies. This is why conducting a Twitter audit every once in a while seems like a good idea.
There are plenty of benefits to doing so:
see what are the most liked, commented and retweeted tweets
review your strategy - you might bring back old ideas if they've worked in the past
get rid of fake followers - it's not about the number of followers, but about the value of them
see what tweets no longer comply with your strategy, tone of voice or brand values
Steps of a complete Twitter audit
Now that you've decided a Twitter audit is what you need to take your account to the next level, let's see how it's better to approach it.
1. Create a strategy
From the beginning of the process, you have to have in mind specific goals. This is why you should ask yourself a few questions:

Do you want to increase your brand awareness?
Do you want to be a trendsetter in your industry?
Do you want to be recognized as an expert in your niche?
Depending on your response, there should exist an associated metric you can use to see if you've met your goal or not.
The next step is to decide if you do your Twitter audit manually or by using a specialized tool. Twitter provides an analytics tool with many useful insights. This could be a good start.
2. Audit your profile
The way your account looks overall says a lot about how much time and effort you're willing to invest into the business account. After all, you want your brand to say that your business has high standards and is attentive to details.
The first thing to do is to see if the profile picture is old and if it is, you should update it.
Try to use a brand-compliant image.
Cheer up the colors or update a picture - consider a picture of the employees at a gathering.
This will make your followers better relate to your company. The optimal size of a photo on Twitter is square and has at least 400×400 pixels.
Then set your eyes on the bio to see if you have to update it.
If your brand's approach has changed over the years, it's time to let your audience see this from the moment they access your Twitter profile.
Don't forget to check your pinned tweet.
This is the most visible on your accounts, so it really matters. Maybe it was chosen during an older campaign or because it was relevant at that specific moment, but this doesn't apply anymore. Refresh it with a new one from time to time.
3. Audit your tweets
It's time to look in-depth and to analyze all your tweets to see how they performed. You can do this by going to Twitter Analytics and clicking on Tweets, or by using a third party specialized analytics tool.
The native app will show you the number of tweets, your top tweets, what tweets have the most replies and what are the result of the promoted posts.
Additionally, in the same period of time, you'll be able to see:
impressions for each tweet (number of times a user has seen a tweet on Twitter),
engagements (total number of times a user has interacted with a tweet)
engagement rate (the number of engagements - clicks, retweets, likes, follows and replies - divided by the total number of impressions).
This step will help you notice which type of tweets get the most engagement (likes, comments, retweets) and which type of content (video, images, text) your followers prefer the most.
Make a list of patterns that you've found and try to replicate your best results by looking at posting frequency, length of tweets, type of tweets or content.
Also, if you find any tweet that is no longer compliant with your brand values, delete it. This is the best approach to keeping your business profile up to date and relevant.
4. Audit your audience
Your audience preferences will make your content creator job easier.
Twitter Analytics app until recently used to show you the main interests of your audiences, such as hobbies, type of news preferred (sports, science, their main occupations, consumer buying style, etc), as well as information about their demographics and education.
This made it much easier to actually know quite a lot about your audience and to target a specific category of people, but this option is no longer available at the moment.
However, you can find out what their preferences by turning to specialized tools. Both Twitter analytics tools as well as Twitter audit tools can help:
with Analytics you can find out who your top mentioners are, their profiles, information about your top posts, information about your fillowers grwoth.
This can help get a clearer picture about who you are talking to
with Audit tools you can pinpoint the fake Twitter accounts that are following you in order to delete them
Remember: Fake accounts following are of no help, and actually hurt your profile
5. Audit who you're following
If you're not the first administrator of the company Twitter account, then you probably don't know all the accounts followed by it.
And even if you are, some accounts might have fooled you into believing they're real, or are simply no longer relevant to your interests.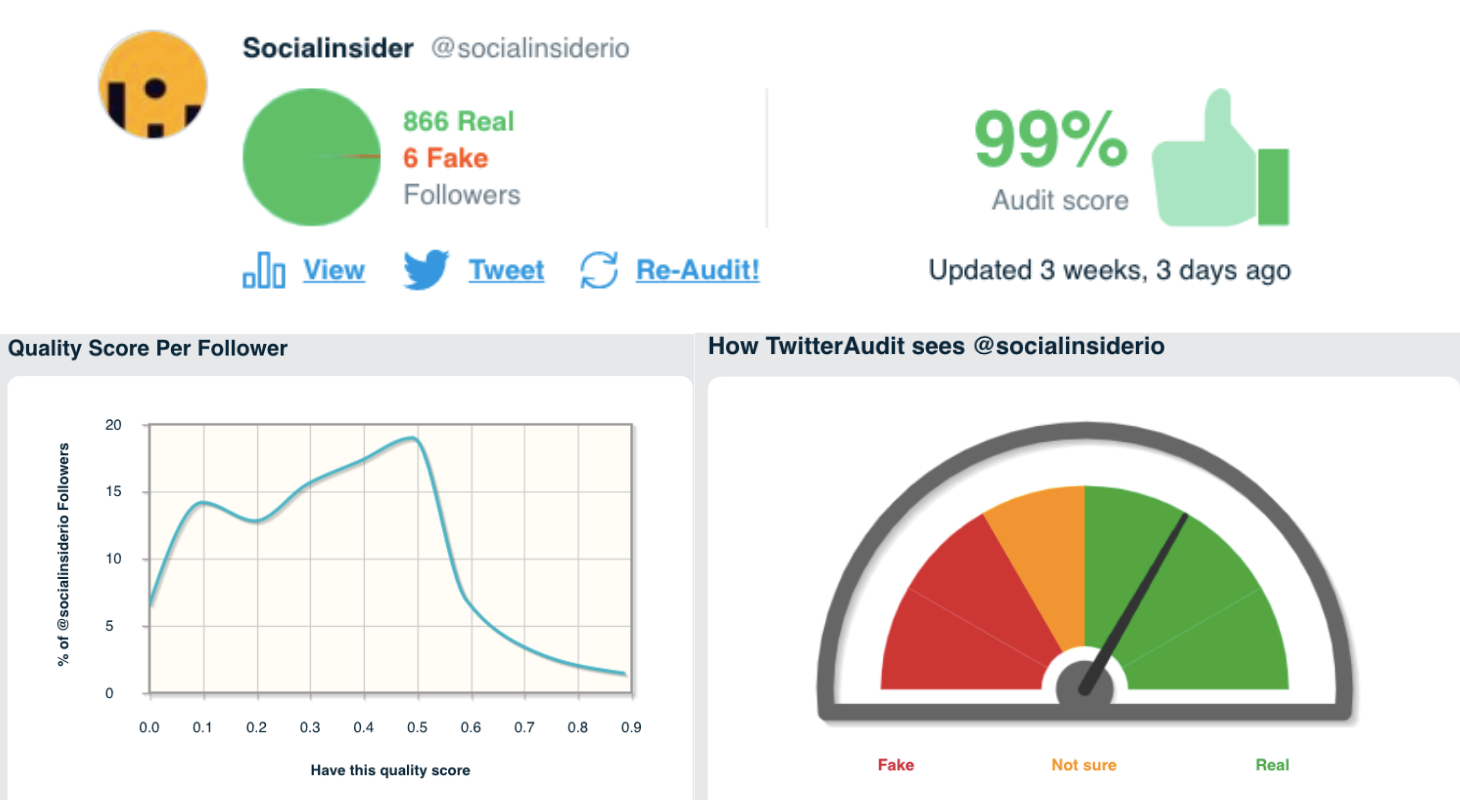 Take a look at the accounts you follow and unfollow those that don't make sense for your business.
After all, the profiles you follow can speak volumes about your own business interests.
6. Make improvements to your Twitter audit score
After going through the above steps you'll have a lot of valuable insights about your account. So, naturally, it's time for some spring cleaning.
Don't hesitate to delete all activity that no longer defines your brand, and write down those tweets that really worked wonders.
Use all of the information in order to improve your future Twitter strategies. And don't be afraid to also go through the value of your current followers.
We all know how hard it is to attract followers and it's even harder to engage with the ones that are genuinely interested in your company's activity and willing to engage.
Despite Twitter being against it, there are many ways to acquire fake followers with accounts made by bots. And it can be tempting.
But building a reputation on fake numbers is not a good idea in the long term. There's power in numbers, but there's more power in engagement numbers. And fake followers can't help with that.
Because fake accounts are almost everywhere, it shouldn't be surprising if your account is followed by some.
By removing the fake followers, you make sure your messages only reach the people that matter and might be real leads for your business.
Inevitably, the engagement rates of your posts will grow, as well as your Twitter audit.
Get insights into your Twitter audience
The native Twitter app offers a lot of insights when it comes to your audience, but if you want to make sure you accomplish a thorough audit, you can go in-depth with the data analysis.
After you delete the unwanted tweets, it's time to check your analytics data for more accuracy.
You can go use Twitter's analytics app, or you can opt for a specialized analytics tool.
The second one will always give you a clearer perspective on the most important metrics for your business, as well as an overview of the top performing posts.
For a comprehensive analysis of your tweets, you can see the distribution of tweets, the average number of tweets/day, what are the top three tweets, your follower's growth, top three mentions and distribution of mentions, as well as top mentioners.
Twitter audit apps and alternatives
If you want a real picture of your account, it's necessary to run an audit from time to time.
To help you get into the nitty-gritty of a Twitter audit, you will most likely need a bit of help digging through all of this information without wasting days on end.
Fortunately, there are a few tools out there that will help you have the results you want, and will prove to be quite helpful in getting rid of those fake accounts connected to your profile.
Here's a list of the most useful tools you can use to spot bot-generated accounts: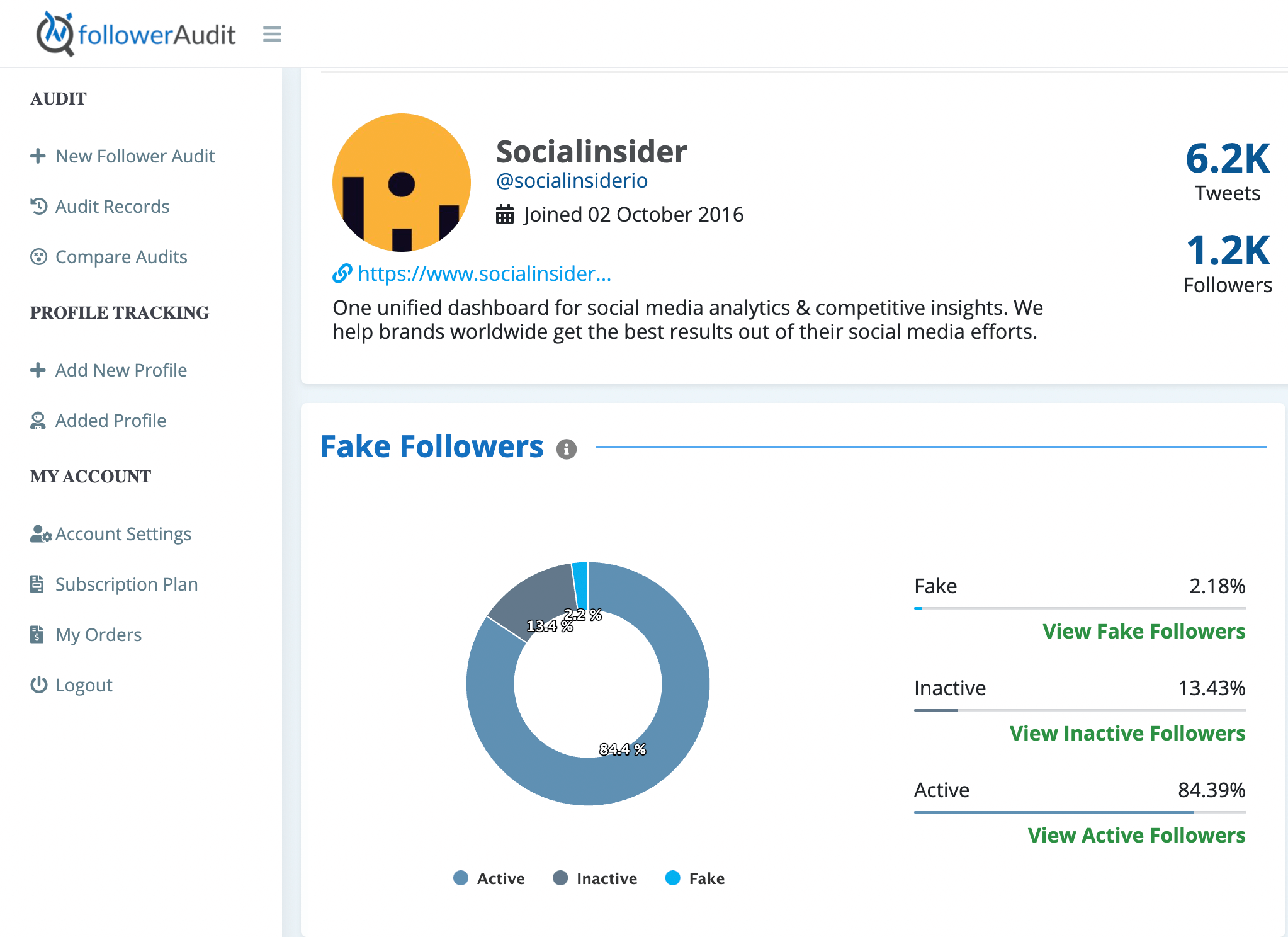 After you've spotted the fake accounts it's time to delete them by blocking them. It's the only way to force them to unfollow.
However, tools will only get you so far, especially depending on the budget you have attributed to your Twitter marketing. It's up to you to ultimately make sure you set up and respect the standards of your account.
Find more Twitter tools that can help your marketing game!
Final thoughts
When you're using different channels to increase your brand awareness, to get leads or to interact with consumers, it's good to know your efforts are paying off. This is why speaking to the right audience really matters.
Now that you know how to do a proper Twitter audit, it's time to conduct the first one.
Depending on how active you are on the platform and how important is this channel for your company, you can do it every once in a while.  
Remember to save your results and compare them with the following ones.
Related articles: