I think you'll agree with me when I say: creating monthly or yearly reports for your clients can be overwhelming. It requires a lot of manual work, to understand the dynamics of the social networks, to include the competitive landscape, and to identify what's working and what has been failing your campaigns.
Well, it turns out you can dramatically save time and energy if you follow these seven steps described here and present your insights in a clear, context-driven way.
In this article, I'll dive into what you should follow if you want to create social media reports for your clients.
Let's get cracking!
7 steps to create social media reports - the definite guide
Define the social media KPIs
Choose which metrics to track
Write about the changes in social media
Use numbers to tell a story
See how your clients rank against top competitors on social media
Celebrate success and embrace failure
Build a plan to act on your report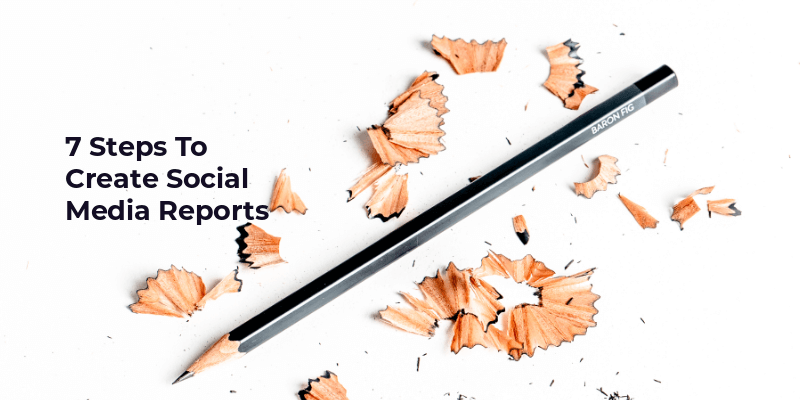 ---
1. Define the social media KPIs
As Buffer said, "a social media report is simply a collection of data and stats." But before starting collecting data, ask yourself why these stats should be on this report. What do you want from your social media reports?
SocialMediaToday classified the reports in three categories:
Regular reports - Use the specific metrics to show your progress on social. Make sure you include competitive social media benchmarks too.
One-off reports - showcase qualitative reports and campaigns performance.
Research reports - add insights on particular topic or trend.
Depending on  the social media report format you choose, make sure you do not focus on managing data solely. You have to extract the insights and trends that can drive the outcomes of your clients.
In social media terms mean to identify the social media metrics that matter and which you can apply in line with the wider business strategies. It also refers to the identification of the data you have to measure as the degree of success when working towards the achievement of the business goals.
Most smart business organizations insist on using KPIs because they want to amplify the potential acquisition and retention value that social media brings to their business.
Moreover, social media is more expensive than it was some years ago. Therefore, social media managers want to know where they are spending most of their money.
Make sure your KPIs are:
Specific
Measurable
Achievable
Relevant
Time Limited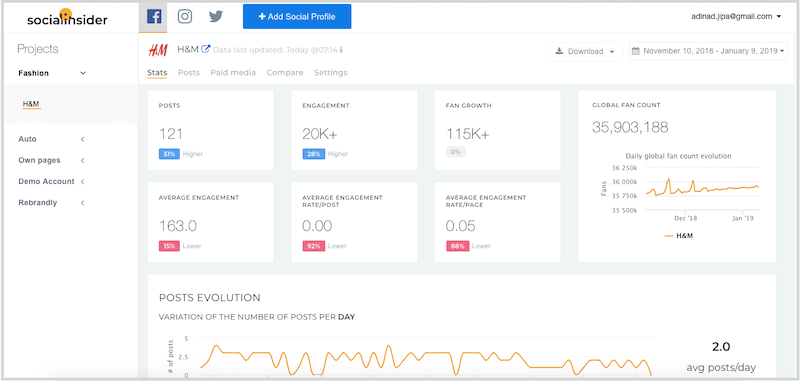 2. Choose which metrics to track
Be wise. Measure numerous metrics on your social media platforms, but make sure you choose the metrics that drive value for your clients and don't follow the vanity metrics.
Here are some of the metrics you should consider:
Leads
Conversions
Reach and impressions
Engagement reports
Audience
Content performance – how many, how often, how successful, what type of content.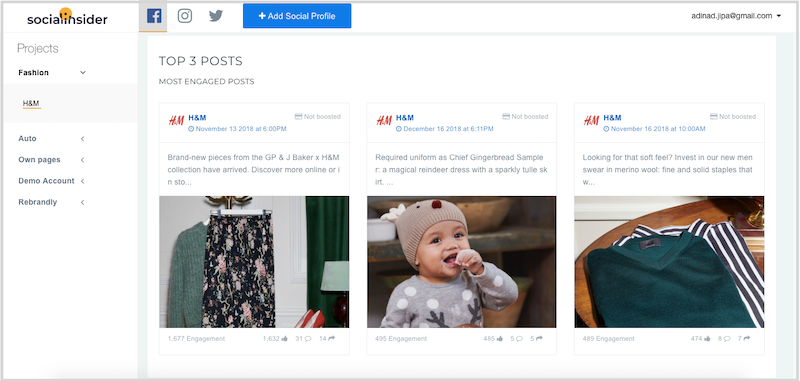 Continue reading: The Complete List Of Instagram Metrics Every Marketer Needs To Know
3. Write about the changes in social media
If you are not updated on the most recent changes and trends on the social media, you are likely to lose to the competitors.
Twitter, Facebook, Instagram, and other platforms have been updating themselves to provide what the modern day businesses and consumers require. You have to include the changes in your social media report.
In the year 2018, we have witnessed a large number of changes in the social media world. For example, Facebook overhauled the News Feed and Ads Manager features which enabled advertisers to search for a combination of headlines, images, and texts using Facebook's algorithm.
The new Dynamic Creative feature allows users to add 30 creative items when posting an ad. After the posting, they can do matching and mixing to determine the best results.
Instagram added hashtags after reprogramming which eliminated the need of searching for content. Sharing content on the platform is as easier as sharing it on Twitter or Facebook. You can follow a hashtag to monitor the hashtags of your brand easily or to target specific topics.
LinkedIn has introduced a new "Groups" feature, possibly to solve the problems associated with lack of engagement and influx of spam. Now, you can access the feature from your homepage and the most recent content from your groups will appear on the homepage feed and on the notifications.
All these social media changes impact the end of the year social media reports where you include an executive summary with the lessons learned.
4. Use the numbers to tell a story
Use your KPIs to tell strategic performance stories. While the idea might not be a revelation in the business's strategic management process, ensure that you will be able to print clear pictures on what is working and what is not working on your marketing strategies when social media.
Choose the viewpoint of the story you'd like to share, a precise way you prefer to tell your story.
Take our latest study for example. We analyzed the social media metrics for Facebook and Instagram Twitter across four business verticals: beauty, fashion, auto, and food, and the viewpoint was to prove which platform generates higher engagement rates for these industries. In case you're wondering, Instagram is the king of social media engagement.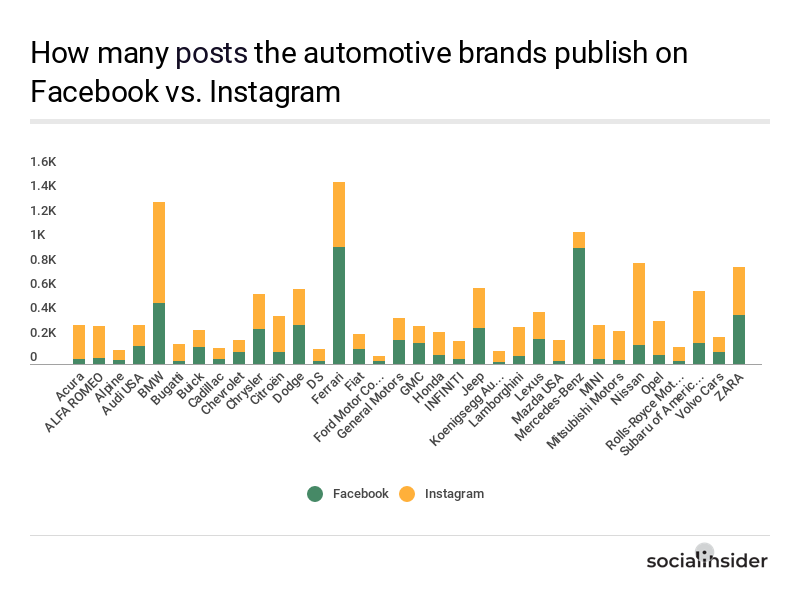 5. See how your clients rank against top competitors on social media
To maximize the performance of your social media, you need to keep an open eye on the competitors' actions on social media. Benchmarking allows you to measure your performance and compare it with your competitors or the overall industry performance.
Running a benchmark across your industries, you'll get:
a better & improved content strategy
your competitors' actions on social media
the latest industry trends
better budgeting planning
6. Celebrate success and embrace failure
Sales and marketing is an important part of any business. A celebration of success as a team is therefore important. By celebrating the success in the report, you will recognize the performance and make the updates and data transparent, clear and real-time.
The major role of managers is to set the targets and to motivate the behavior of their teams to accomplish tasks. That might sound straightforward and easy – it is not.
Businesses experience a disconnection between marketing and sales, which results in blame, broken communication, and frustration. It is more troubling considering that most sales teams waste time on unproductive leads and leave over 70% of the marketing material unused.
To merge the bridge, you will have to bring sales and marketing together and celebrate the process. Include your top campaigns, top followers, content and anything that work  or didn't on your social media campaigns during the year.
7. Build a plan to act on your report
As a social media manager, you'll need to come up with actionable insights for your clients. Before sending your monthly social media reports make sure you write down actionable insights for your industry.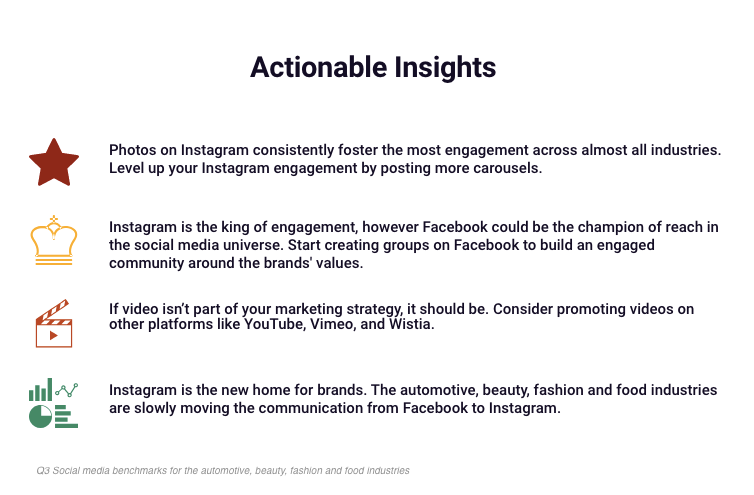 Read the full study here 👉 Third Quarter 2018 Social Media Benchmarks: Automotive, Beauty, Fashion, Food Industries
Final thought
Social media reporting should not overwhelm you anymore. You just need to monitor all the metrics that matter to your business and select a reporting tool that can provide you with helpful data from your social media channel. Present the insights clearly and in a context-driven way.
Report and analyze social media performance for multiple business profiles from one dashboard with Socialinsider! Create social media benchmarks for your clients or industry, generate .pdf or .ppt reports, and automatically send them to clients. - *For users on an Agency plan.
---
Related articles: