Summertime and the livin' is easy when you have the right data by your side.
This summer is already full of new additions and big plans. You're in for an adventure.
1. LinkedIn posts - more sorting options:
So, apparently, this has been a good month for new filtering and sorting options. Don't get me wrong, we love it. Especially because this is something we've been dreaming about for a long time now.
In other words, you can now sort your LinkedIn posts by video views and clicks.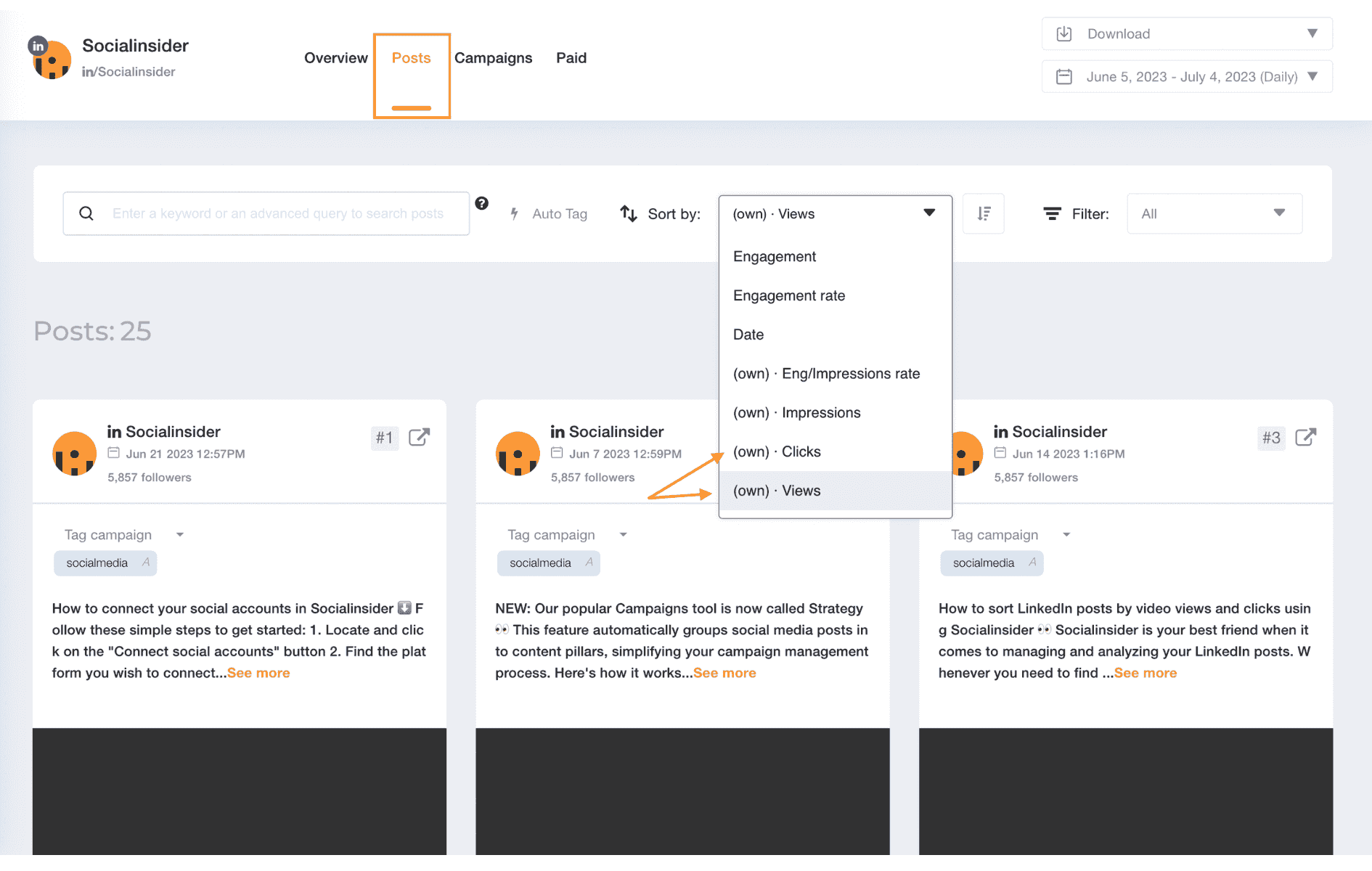 2. Twitter - filtering content:
As mentioned above, there are more filtering options for Tweets as well. The options are as follows:
All Tweets - see all the Tweets published, no matter the type of content (these include Tweets, Replies, Retweets, Quote Retweets)
Tweets - see only the Tweets published by the selected Twitter account
Replies - check out the replies given by the Twitter account
Retweets - all the Retweets in one place
Quote Retweets - and also the Retweets with a personal touch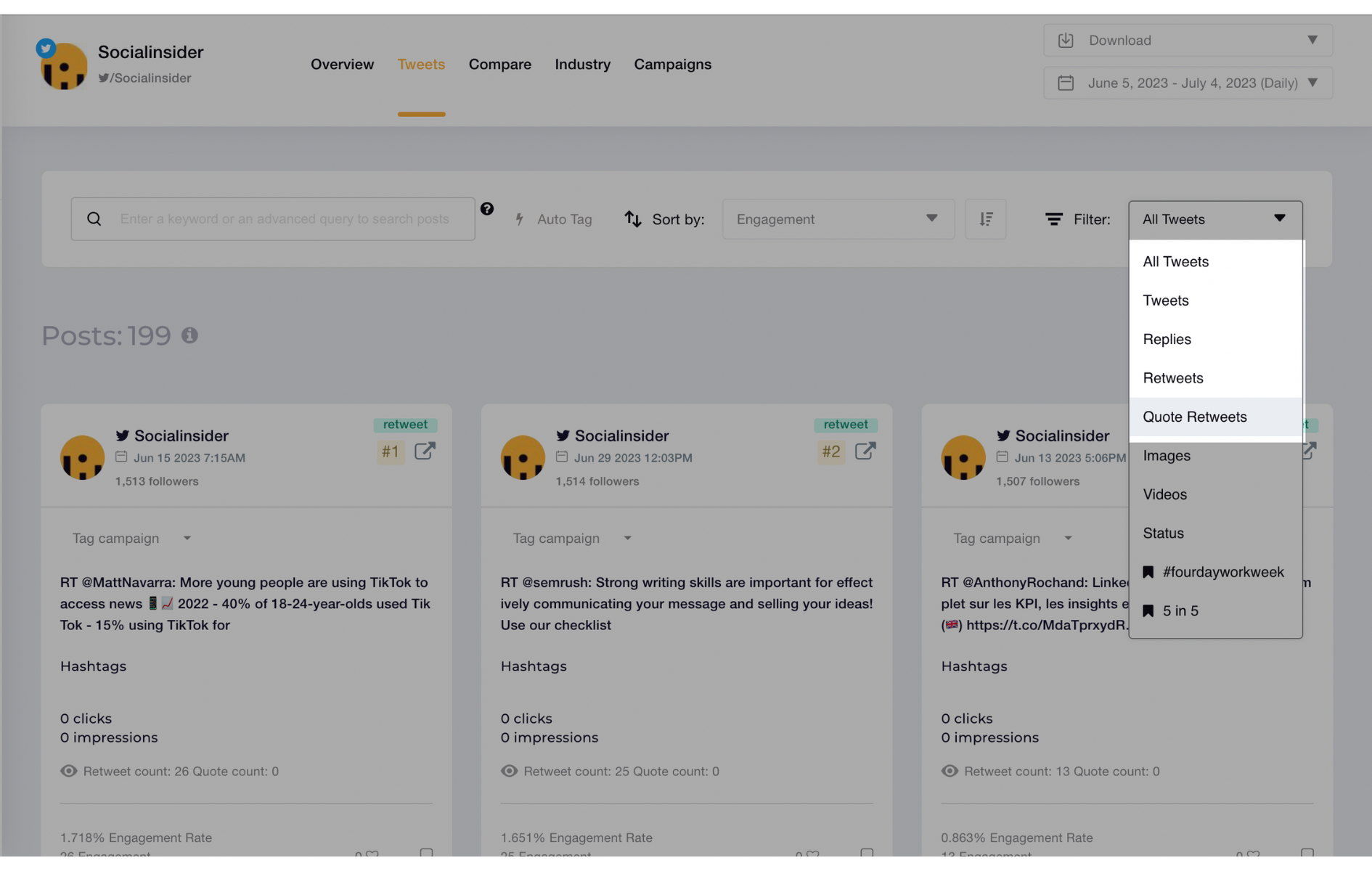 3. Instagram Saves:
We all know how important it is to see the number of saves on your content. This helps you understand what kind of message is more important to your audience.
Some people save memes and inspirational quotes (that would be me), but other people will definitely save some of the posts you publish on Instagram. With Socialinsider, you can easily see these posts because now you can sort them by the number of saves.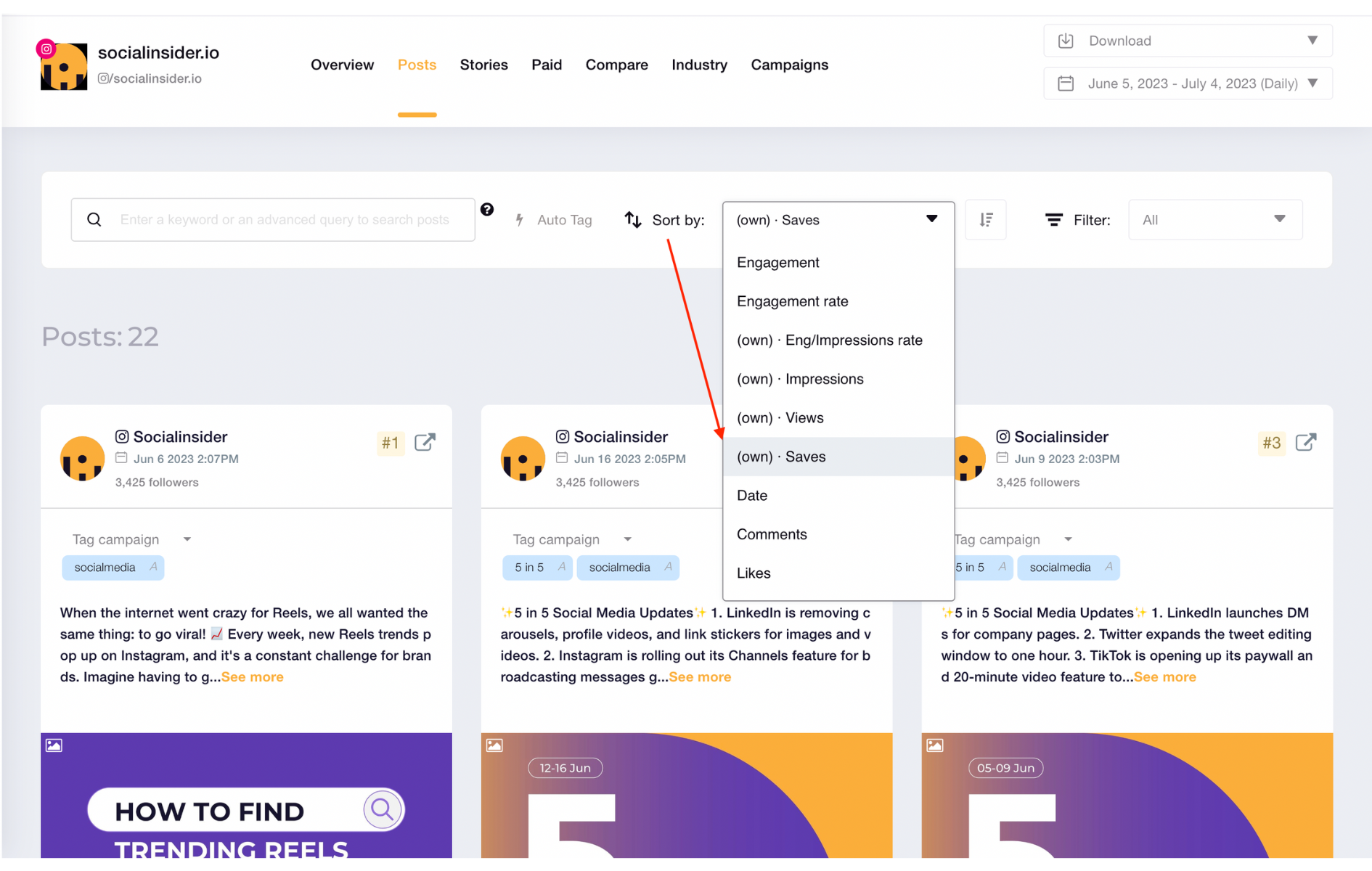 You can also see the number of saves under each post.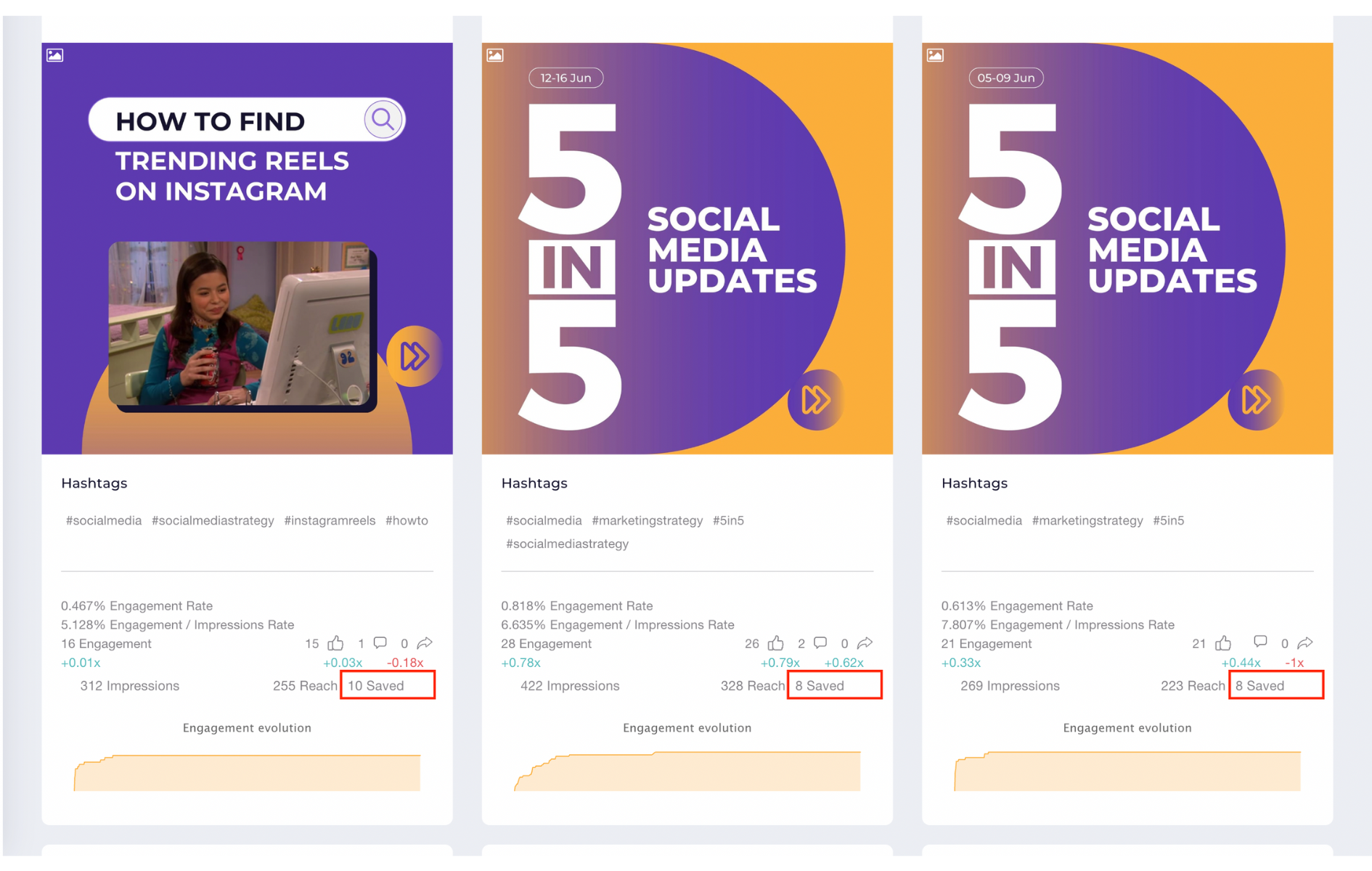 4. Date Picker:
You can now select 'this year' from the date picker in order to see the data for the current year.
This is actually a really cool addition to the dashboard, and we're obsessed.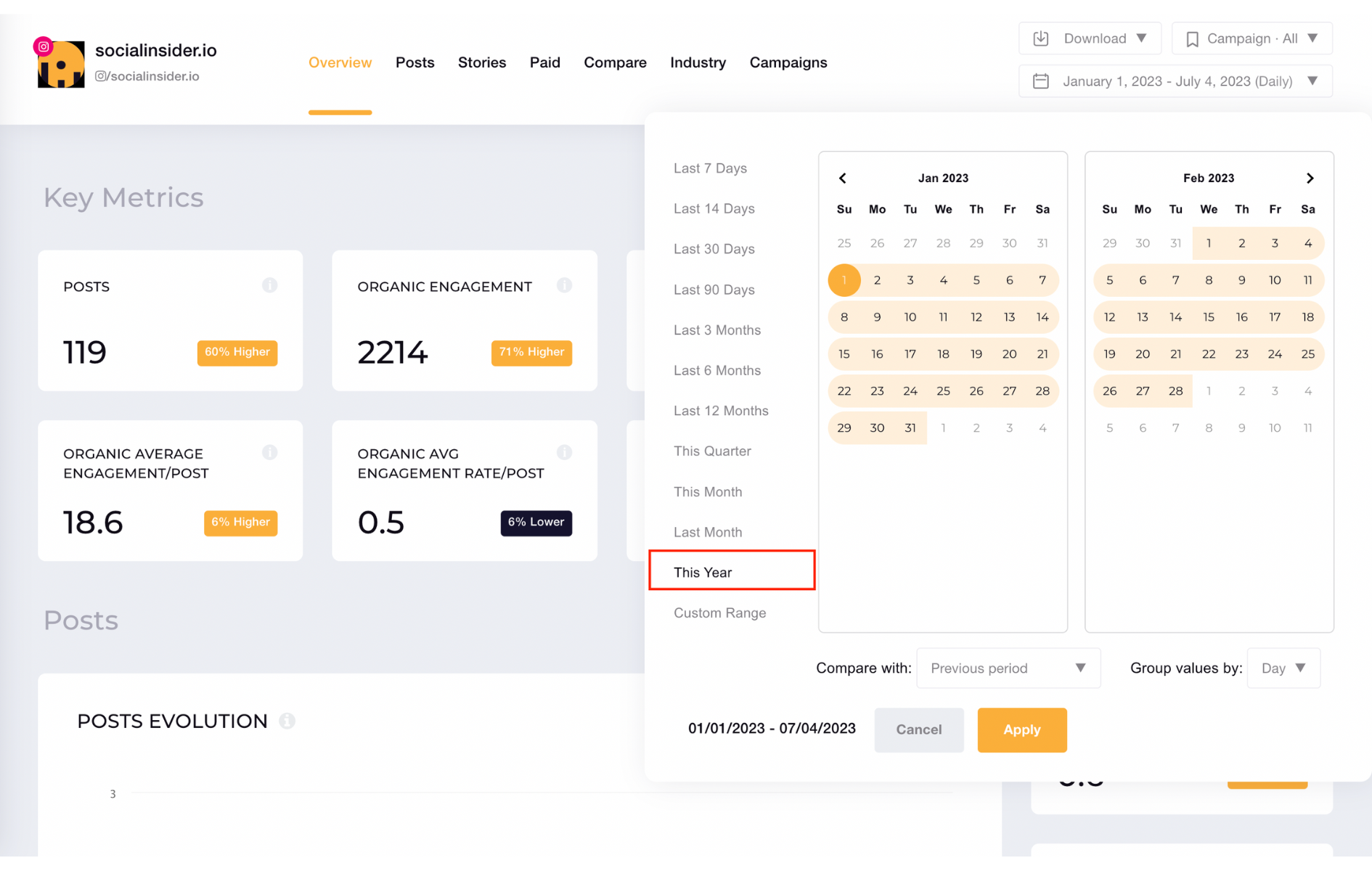 Check out our step-by-step guide on how to properly use the date picker.
5. Edit Team Members:
Up until now, you were able to add team members to your Socialinsider projects. The good thing is that now you can also edit the permissions.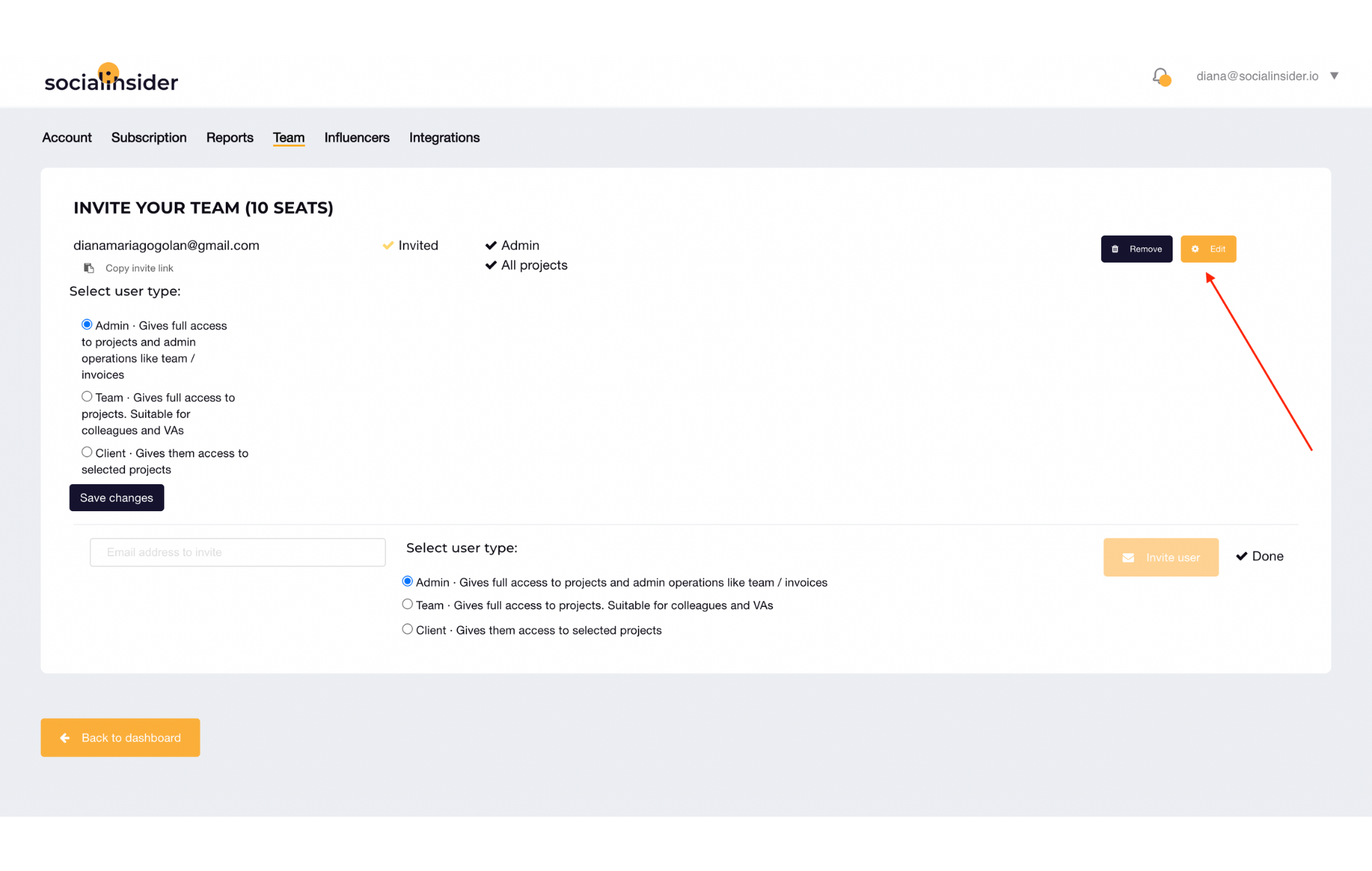 This is important because you might want to change some of the permissions you've previously given to one of your team members.
You can select the user type for each member as follows:
Admin - gives full access to projects and admin operations like team/invoices
Team - gives full access to projects (suitable for colleagues)
Client - gives access to selected projects
Moreover, there are two other options available:
Read-only user - the user can only view data, he can't add or remove profiles and projects
User can authorize profiles - the user can authorize and add accounts that he manages to the projects he's assigned to
After editing a team member, don't forget to click on the save changes button.
Product Improvements 🚀
Twitter Impressions - For the last couple of months, Twitter has been really challenging. But no matter what, we make things work. Elon is doing his thing, but so are we. You can now see all the impressions on each Tweet and even sort all of them by impressions.
YouTube Shorts Reports - Happy to tell you that you can export your YouTube Shorts just like you do with any other type of content. The reporting options are the ones we all love: PDF, PPT, XLS, CSV.