You cannot say "social media" without even thinking about a strategy.
When developing your brand's social media presence, relying on luck it's not an option if you want to be successful.
Social media, irrespective of the platform we have in mind, is continuously changing, like a flowing river. No wave or current resembles another.
Trends come and go and you have to act quickly to remain people's favourite, always paying attention to the audience and  your competitors.
In what follows, I prepared some tips and tricks on developing a social media strategy and you also have a social media strategy template to make your life easier.
How to create a top-notch social media strategy
1. What is a social media strategy?
A social media strategy is a plan through which you make a list of your goals and all the paths you have to take to reach them.
This plan has to follow a step-by-step guide to be able to accomplish everything you wish for your brand in a simple and organised manner. Overcomplicating things is overrated and messy.
Think about it this way: if you are able to explain your social media strategy to a 5-year-old and they get you, then you will be able to attain those goals.
2. Why do brands need a social media content strategy?
This question is as unnatural as asking yourself why you need to breathe. It is clear that you need a social media strategy in order to survive on social media.
If you don't get air in your lungs and your blood is not oxygenating, you, well, stop to exist.
The same thing happens on social media. Without a social  media strategy, you stop to exist. No one will get to know about you or your brand.
To thrive on social media, you need a powerful strategy, with a handful of people behind that really know how to work together to accomplish the brand's goals.
You need to develop a strategy for your social media strategy to establish what's your brand's direction.
Through your well-planned social media content, you will manage to increase brand awareness through your personalized content.
It's not only about better content, but you will also offer your customers improved customer service, being ready to help whenever they make a complaint.
Moreover, with a clear social media strategy put into practice, you will also manage to direct users towards your site and increase traffic.
On social media, it will be easier for you to convert leads and convince people they really need your products and services.
When you put yourself out there and communicate with potential customers directly through social media channels, you can increase website traffic and the likelihood of potential clients becoming loyal customers in the future.
Social media networks frequently roll out shoppable features that help marketers ease the purchasing experience.
As a result, your social media content strategy should use shoppable content to influence potential customers' purchasing decisions and eventually boost sales.
After learning the benefits of having a social media content strategy for your brand, let's look at how to develop one that will set you apart from the competition.
3. How to create a social media strategy in just 6 steps?
The days of creating social media profiles and posting random stuff in the hopes of seeing results are long gone.
Today, social media is an integrated aspect of a company's overall marketing plan.
Regardless of how big or small your business is, having an effective content strategy in place is crucial to reaching your target audience.
And while taking the time and resources needed to develop such a complex plan can be overwhelming, we're here to give a helping hand.
Let's see what it takes to create a successful social media content strategy.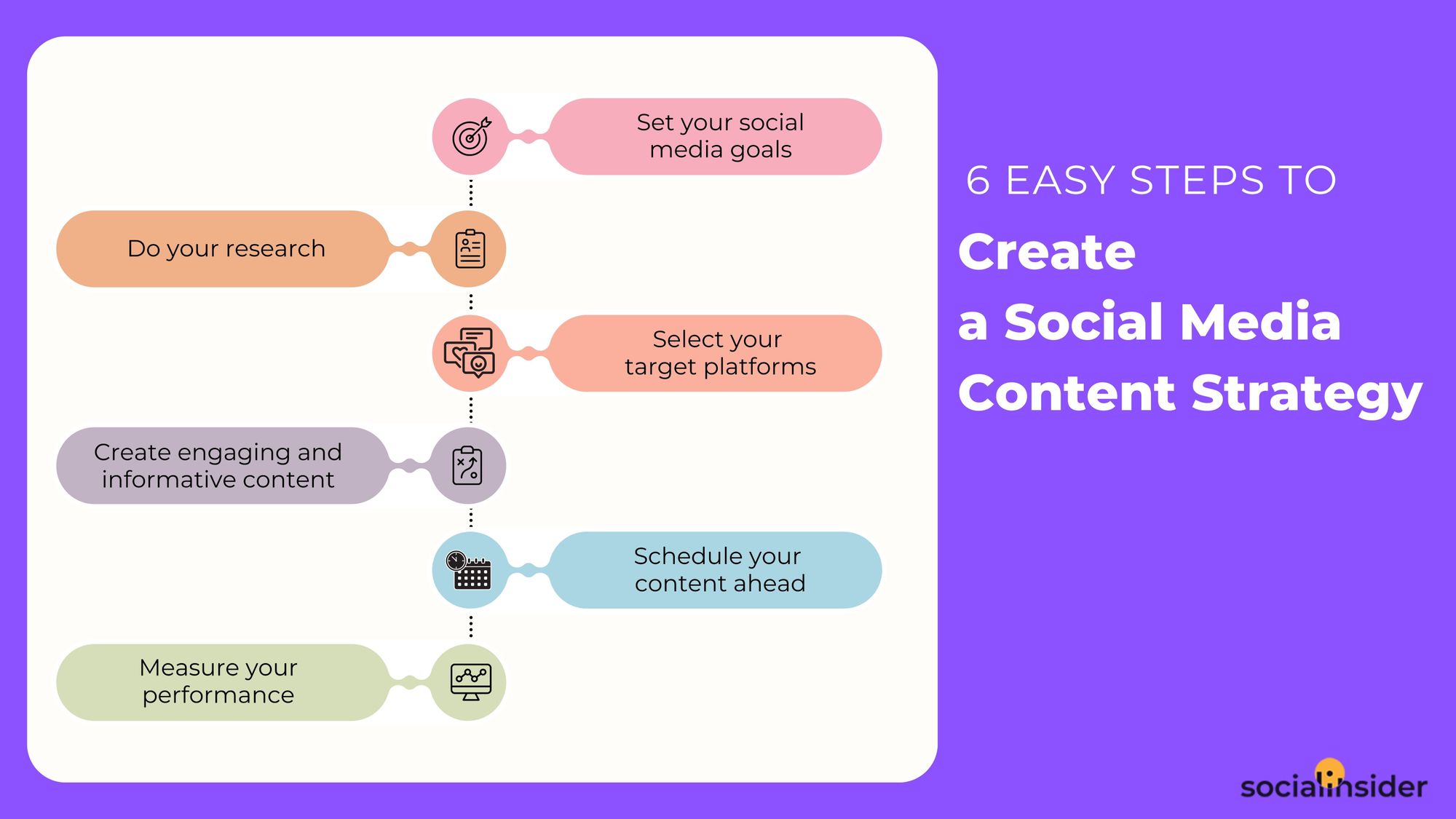 3.1 Set your social media goals
Determining your goals influences how you prioritize your content and prevent wasting your budget on methods that won't bring results.
According to our study on The Life of A Social Media Manager, the primary social media goals of social media managers are increasing brand awareness, growing the brand's audience, and connecting with the audience.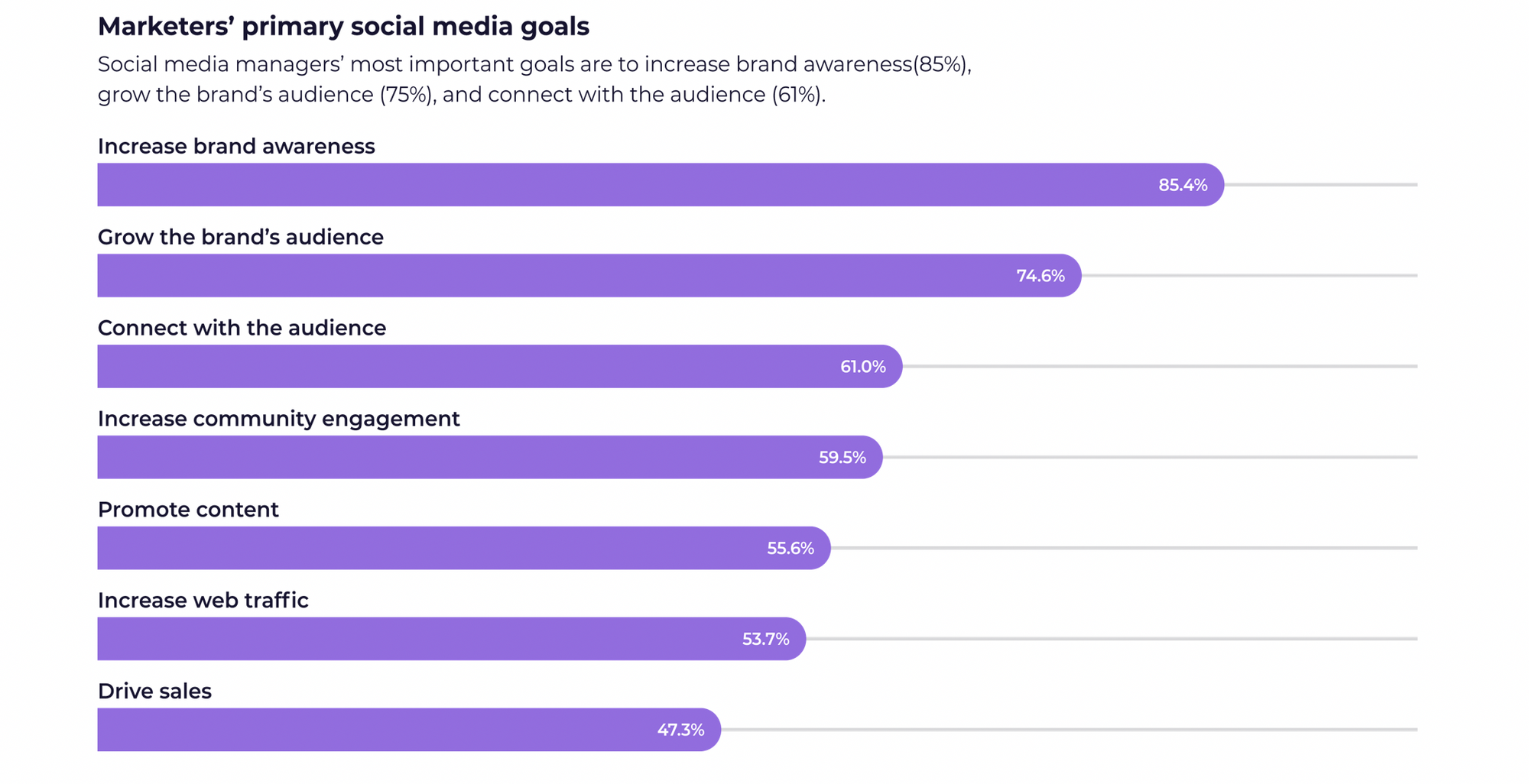 Depending on the goals you set, you will need to work your social media content strategy around them.
You may use our examples below to identify your own brand goals and decide on what kind of content you want to create.
Remember that it is essential that you align your social media goals with your larger business objectives to achieve the best results for your brand.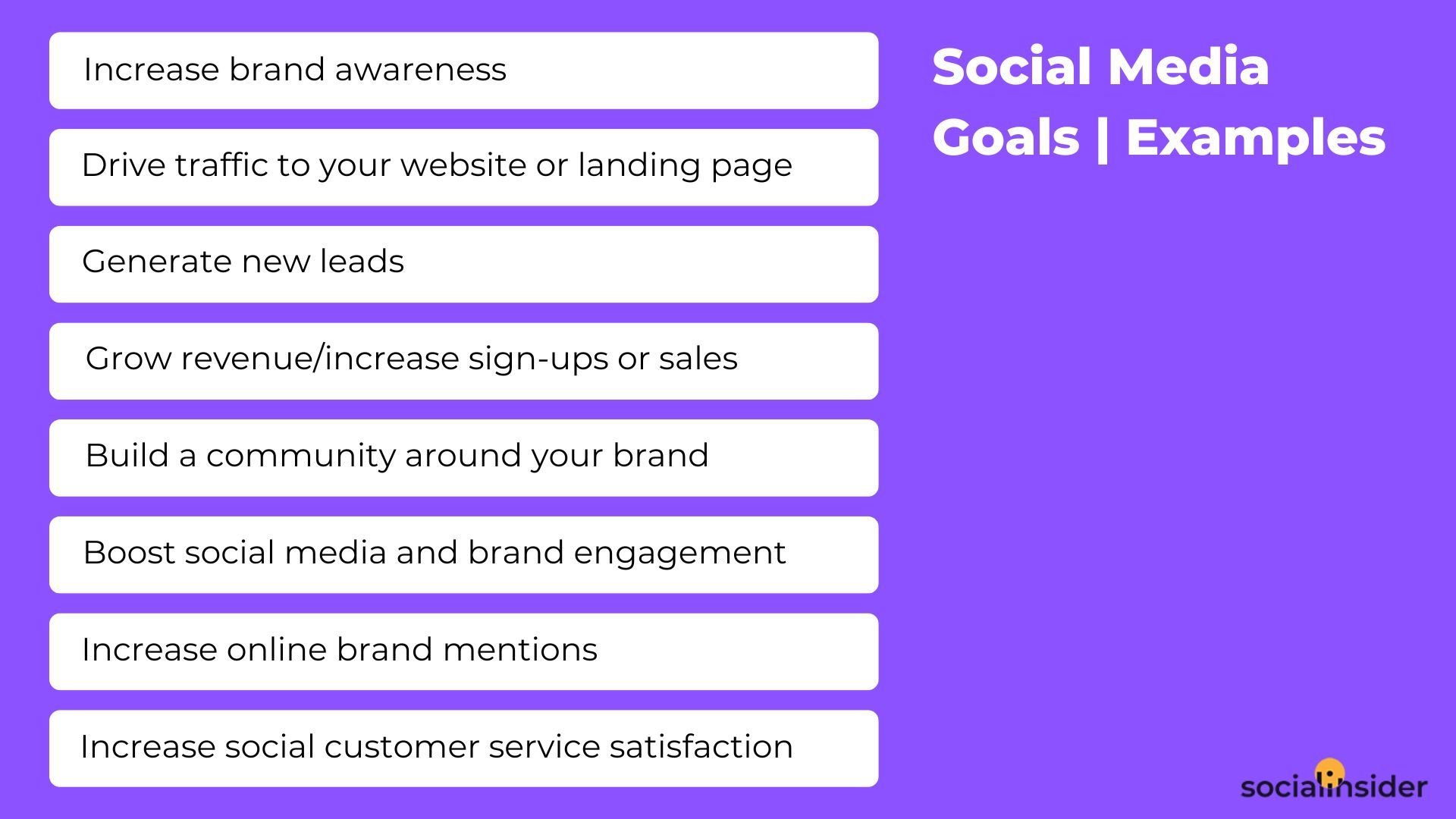 3.2 Do your research
To achieve a successful social media content strategy, there are two main things that you'll need to research first:
Who is your target audience?
The key to success on social media is understanding your audience and what they want to see.
Creating buyer personas is a fantastic way to pinpoint your target audience for social media.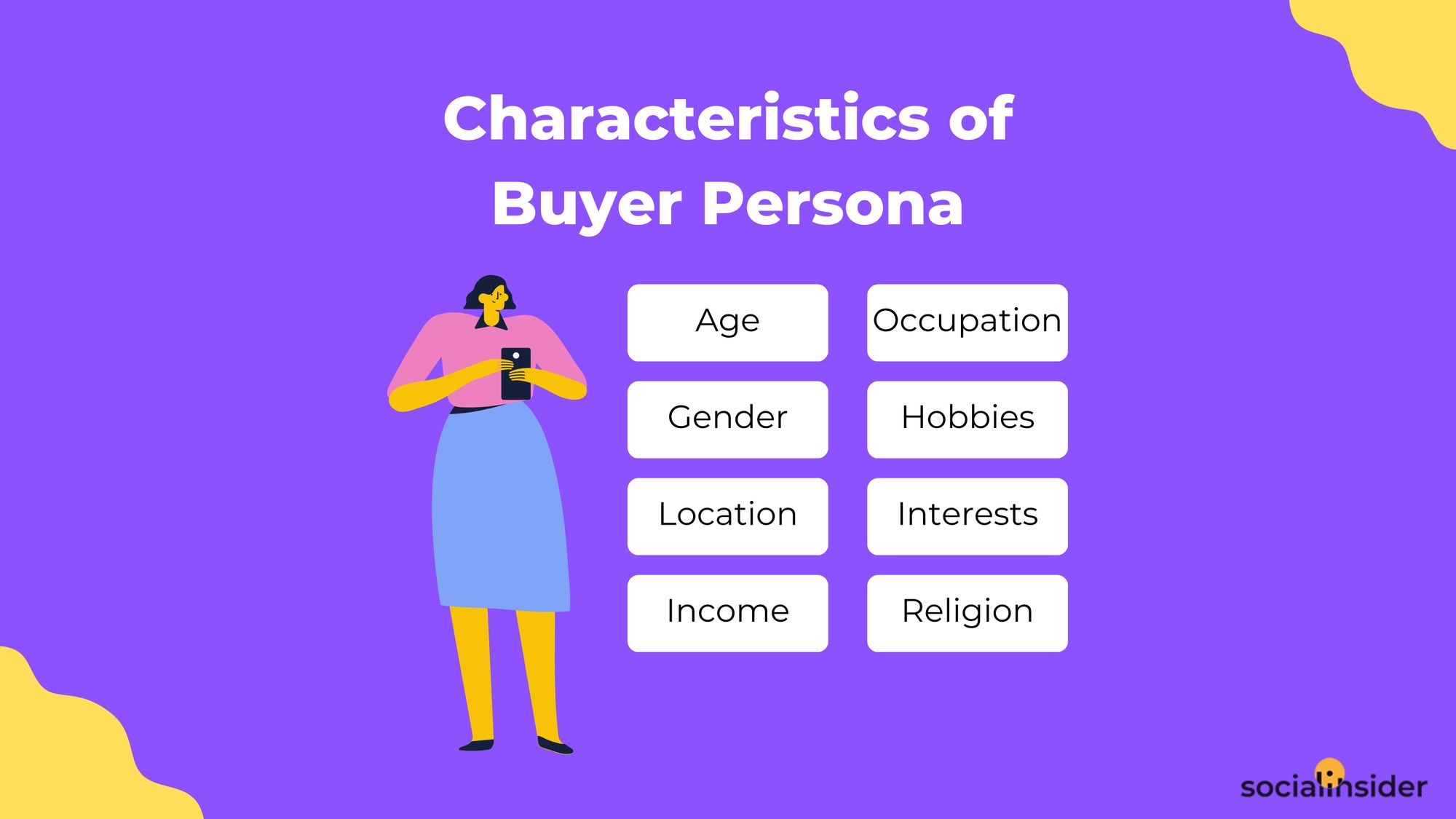 Personas are fictional, detailed profiles of individuals who are part of your target market.
You can give information about your audience's age, location, income, occupation or industry, interests, behaviours, and so on.
The good news is that you can eventually find most of this information in the analytics sections of many social media networks, which will help you identify the right people to address.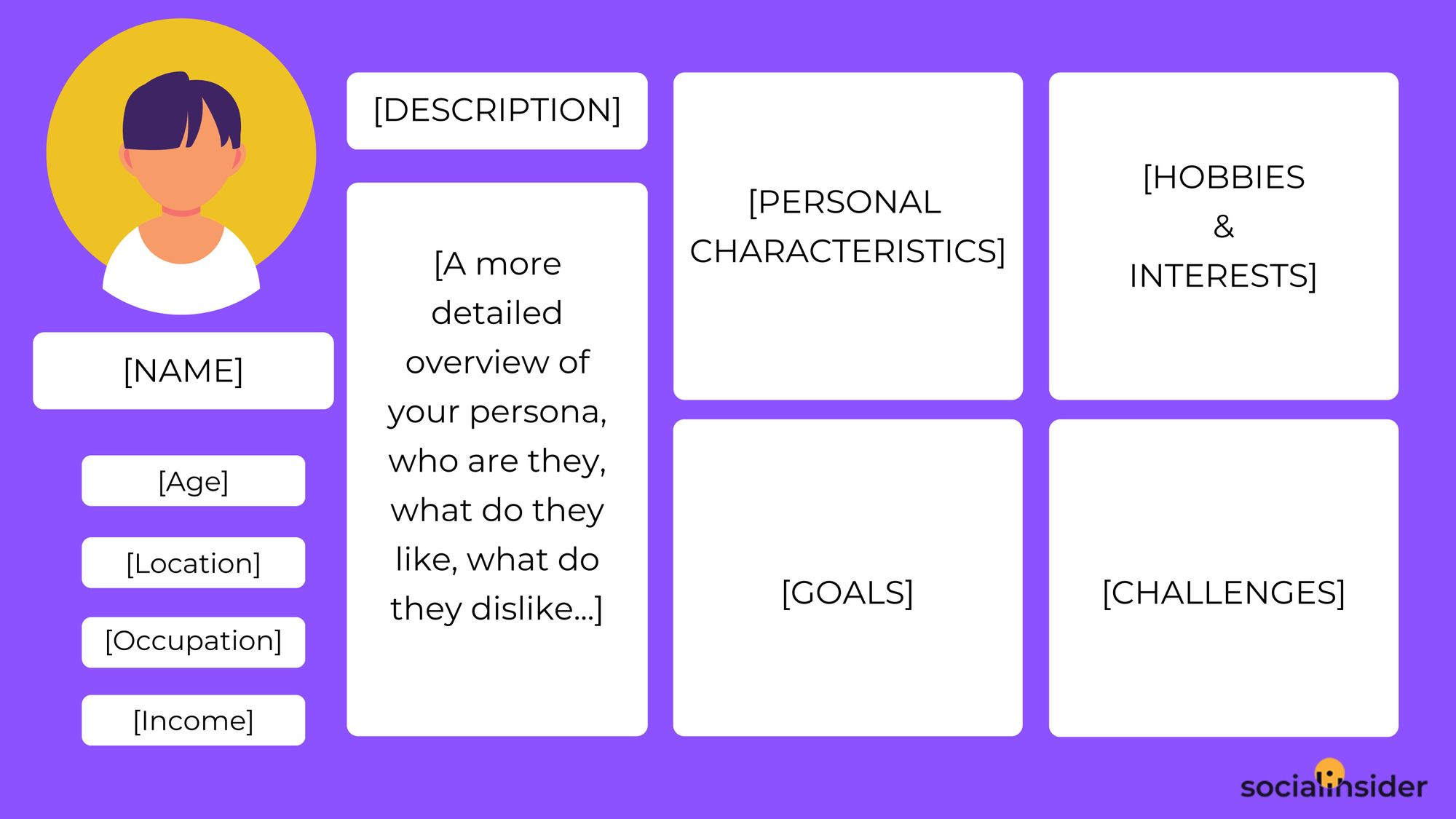 If you don't know where to start, you may want to use our template to sketch out your ideal buyer persona.
Who are your competitors and what are they doing?
Conducting a competitive analysis lets you understand your competitors' identity, strengths, and weaknesses.
If you'd like to have a more visual outlook on your competitors' best assets, you may use our table below.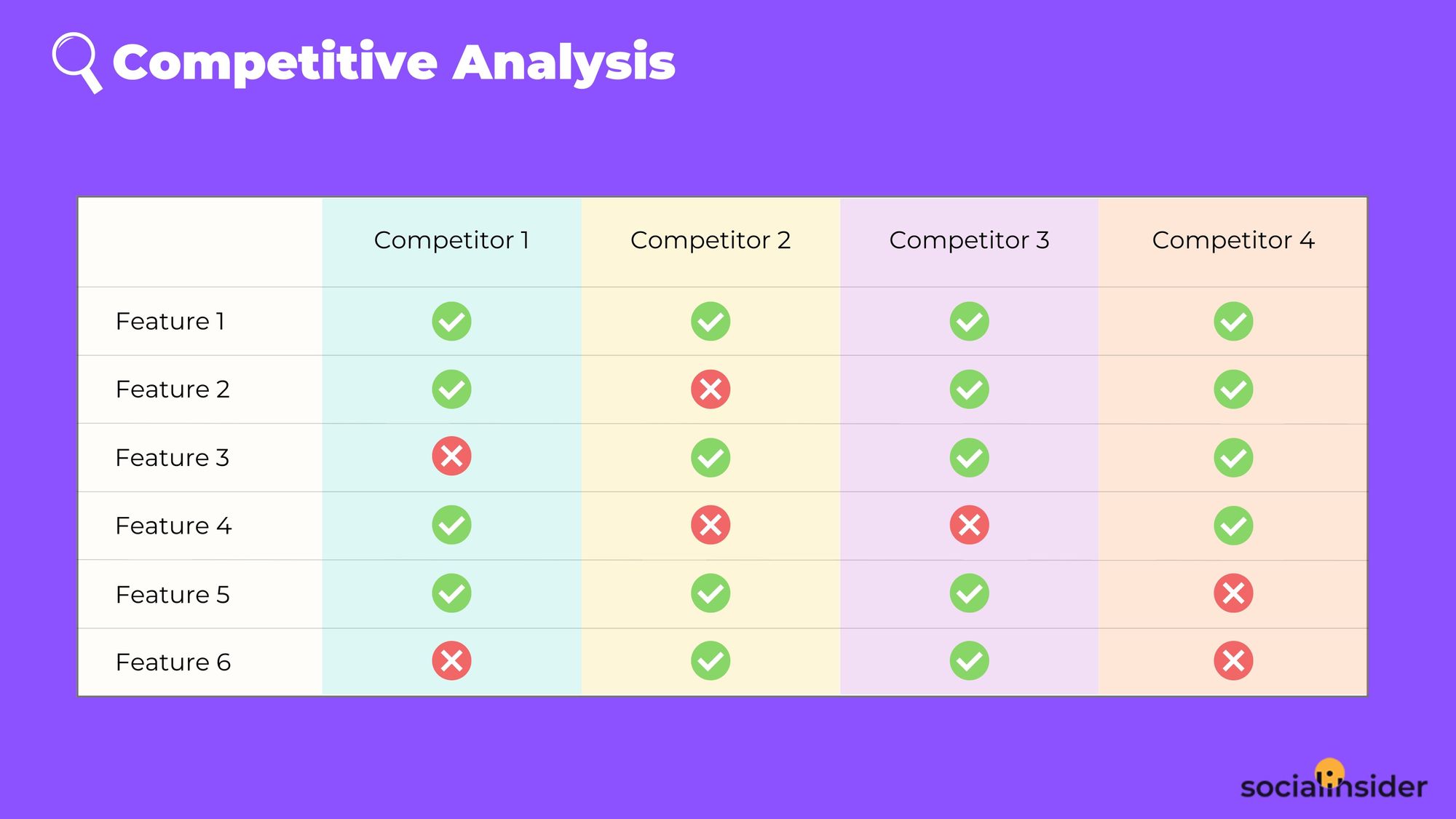 Mapping out their features can help you recognize opportunities.
To create a more comprehensive competitive analysis for social media, you may want to try using our following template.
This way, you'll see exactly where to direct your social media efforts.
If you'd like to know how to calculate the engagement rate for different social media platforms, you can check out our article—where we explain it all.
Alternatively, you can use a free engagement rate calculator to find out how well other brands are performing.
Don't forget that you may also use social media listening tools to track online brand mentions, identify trends before your competitors, and handle communication crises.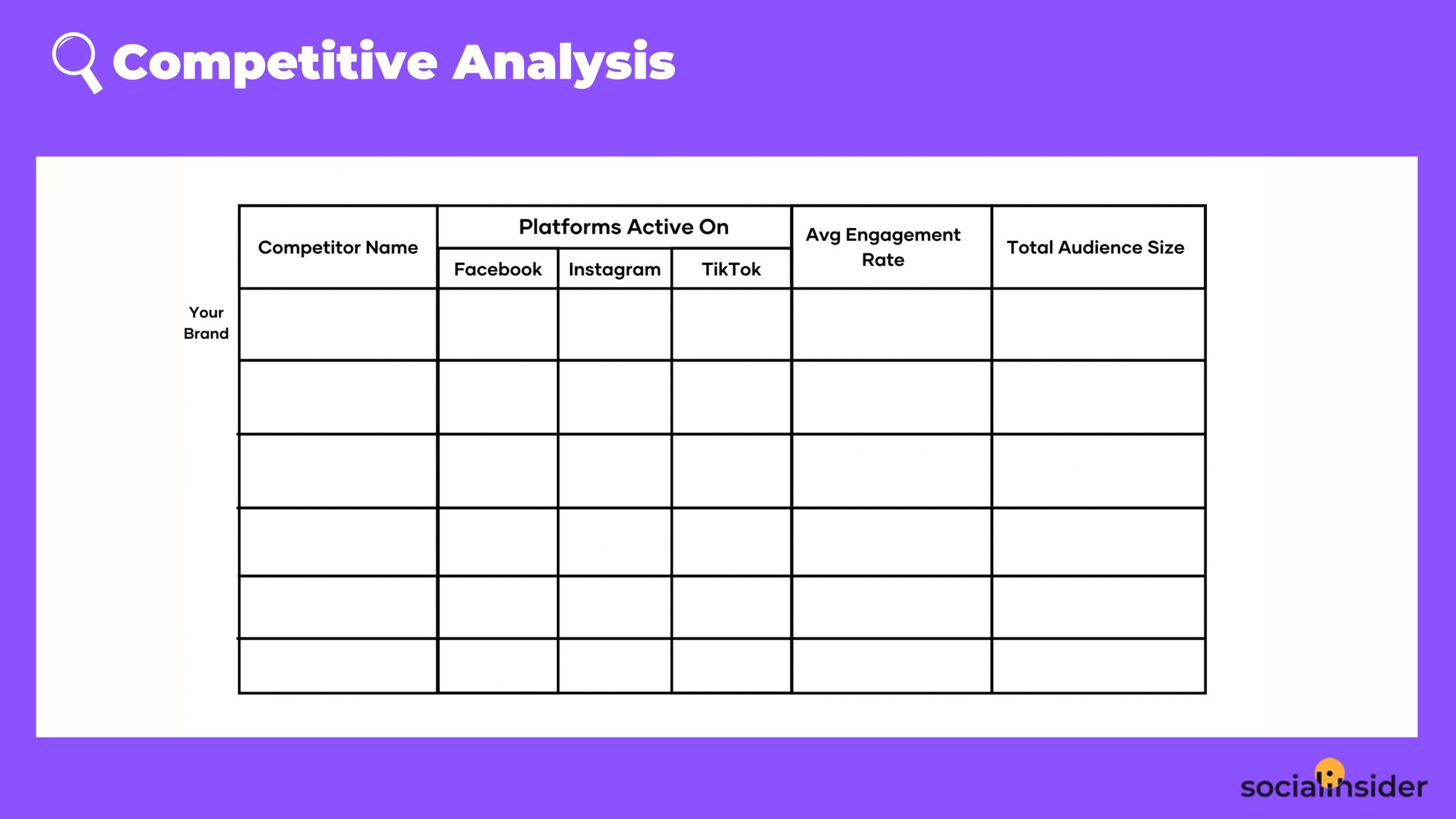 3.3 Select your target platforms
Being on more social media platforms has its obvious advantages.
More visibility increases reach, which increases sales.
The more online platforms your products are available on, the more potential customers you reach, and the more likely they will make a purchase.
However, you don't necessarily need to be active on all social media platforms simply to check that out.
You only need to be on the platforms that are relevant for your target audience.
This is why it is so important to evaluate your target audience, understand the buyer persona and establish your brand identity.
For example, an auto repair shop most probably won't find its crowd on Instagram.
3.4 Create engaging content
It's time we get to the fun part—creating top-notch content.
While content creation may seem like a breeze to non-marketers, it can actually get quite overwhelming.
When creating posts, social media managers should aim for quality over quantity.
Brands need to understand that the overall goal of content creation should be to inform, educate, and entertain—without being overly promotional.
If you've decided which platforms to leverage as part of your strategy, but lack content ideas, you might want to take a look at the few resources we gathered and get inspired.
Even though you don't have to reinvent the wheel, posting the same content across all social media platforms won't help your brand much.
Cross-posting can help social media managers save time and energy.
However, working with already-existing assets and editing them into specific platform-friendly formats is much better.
If you're still unsure why you should adapt your content to each social platform, you might want to check out our article "How will repurposing content help you increase your brand awareness".
Content ideas for different social media platforms:

3.5 Schedule your content ahead
Before starting any campaigns, you have to decide on how frequently and at what times you will post content to key social media platforms.
SEO Guru Semrush recommends:
The easiest way to monitor your postings and see how your feed will look is to create a social media content calendar and plan ahead.
To make content planning easier, you can use our example of a weekly content calendar.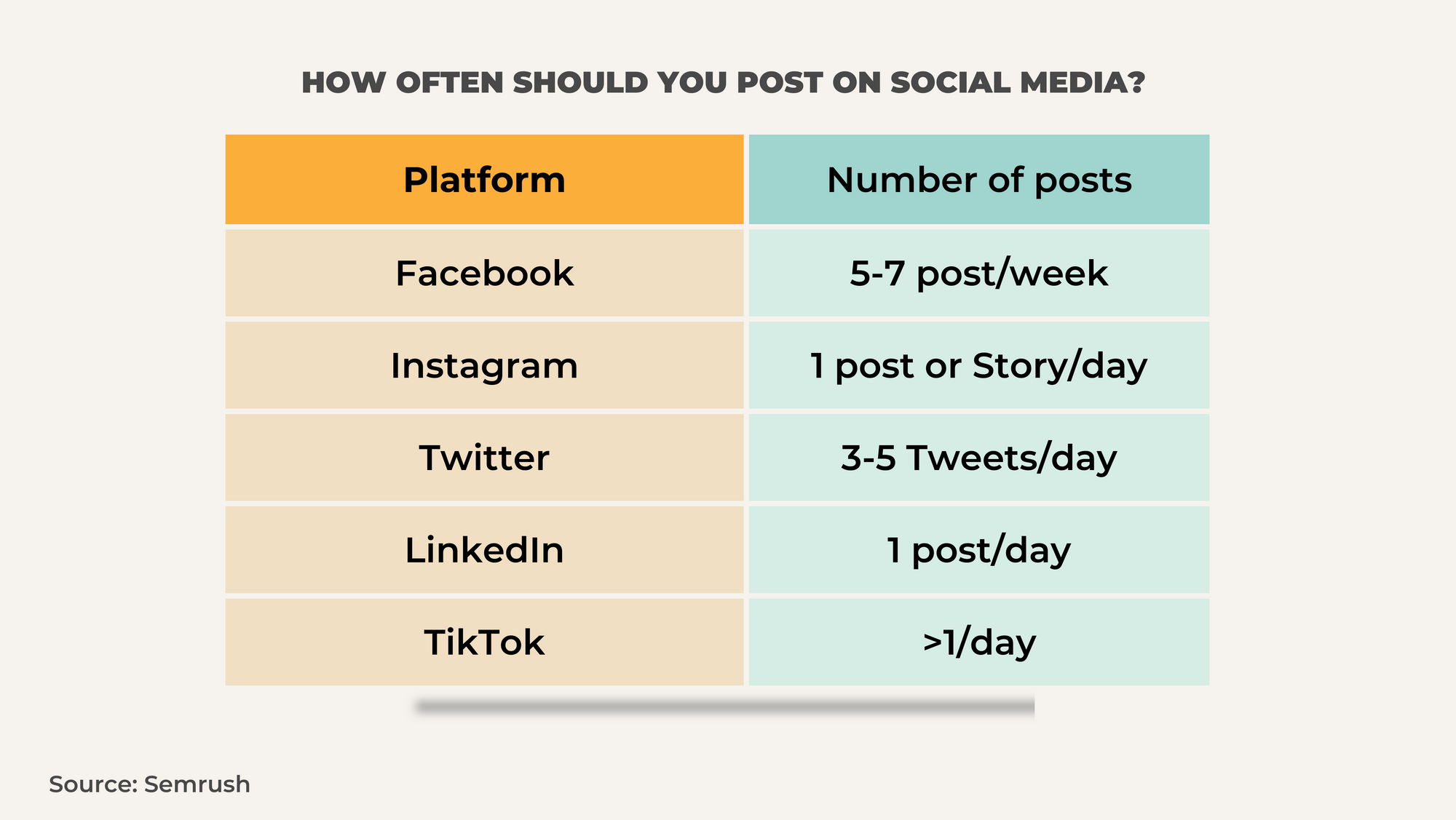 Marketers may also use scheduling tools to automate publishing to social media platforms from a single dashboard, saving significant time.
A good social media strategy, however, includes much more than just planning and publishing your content.
Social media management—which includes finding ways to engage the audience and responding to inquiries—should also be a part of your social media content strategy.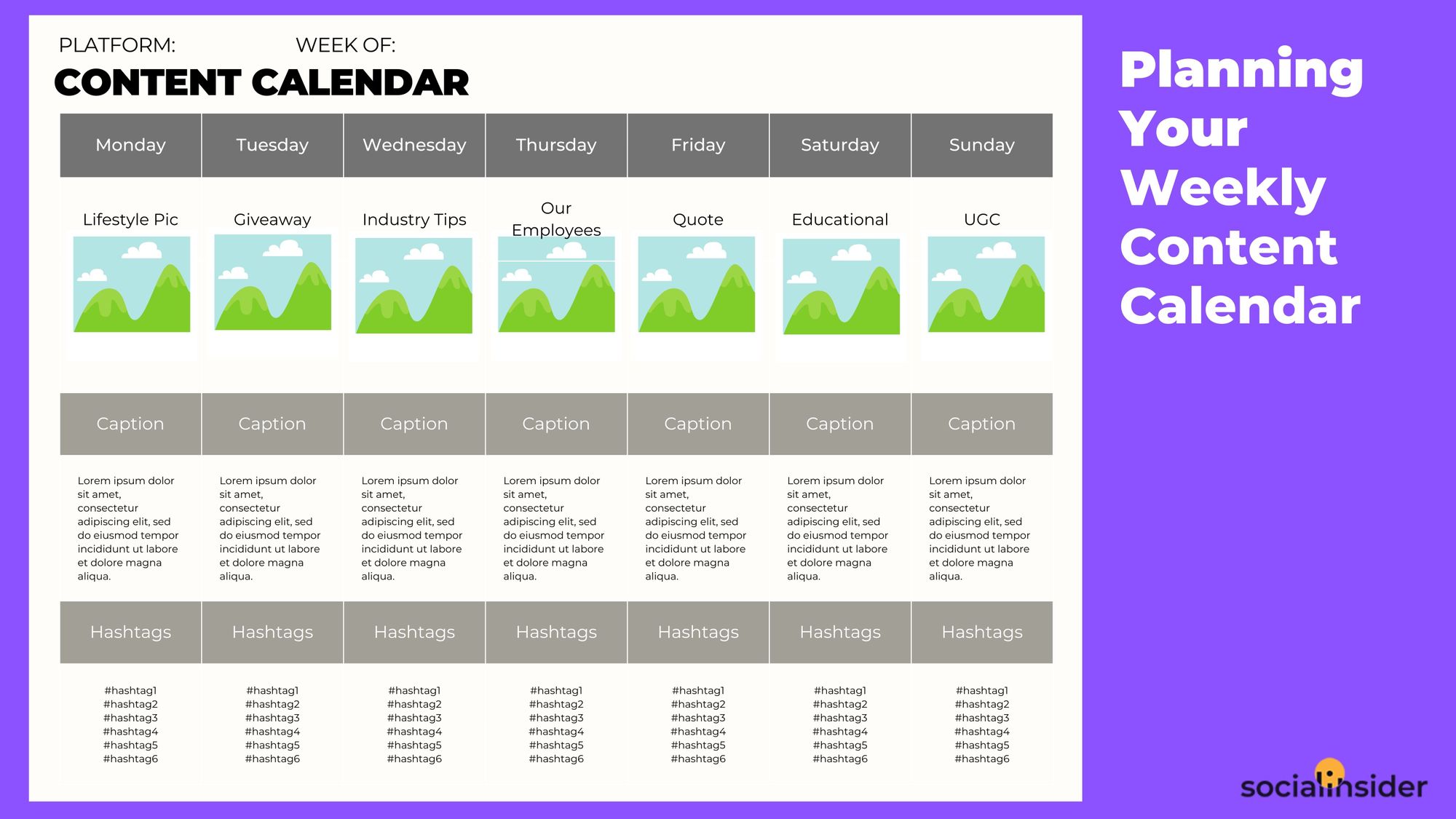 Recommended for you:
9 Budget-Friendly Social Media Scheduling Tools for Solopreneurs & Small Businesses
3.6 Measure your performance
After accomplishing all these steps, it's time for the last and probably most important one: evaluating your progress.
4. How to develop your social media strategy with Socialinsider
Now that we've learned how to create a social media strategy, following the step-by-step guide and completing the social media strategy template, it's time to get even more in-depth insights with our tool, Socialinsider.
To develop your social media strategy with Socialinsider, first you have to set up your account.
Let's imagine your brand is Fenty Beauty. And you're trying to develop a social media strategy by looking at your Valentine's Day campaign.
You start by adding all your social media profiles into the first project you create.
Then, it's time to work with campaigns.
However, you have to be aware of one thing: Only by looking into your previous campaigns, you'll ve able to create a better social media strategy for the next one.
Try to find a past campaign that is similar, in terms of goals, with the one you want to start.
What do I mean by similar? Well, it has to be similar in terms of audience, types of posts and the social media platform you will rely on the most.
I made up a campaign called "vday" based on this hashtag. This means that all posts that have used this hashtag will be included in the campaign.
The campaign will not only include your posts on the "vday" topic, but also your competitors' posts.
And I obtained a campaign with 17 posts with the hashtag "vday", from brands like Haus Labs, Fenty Beauty and M.A.C. Cosmetics, on TikTok, Instagram, Facebook and Twitter.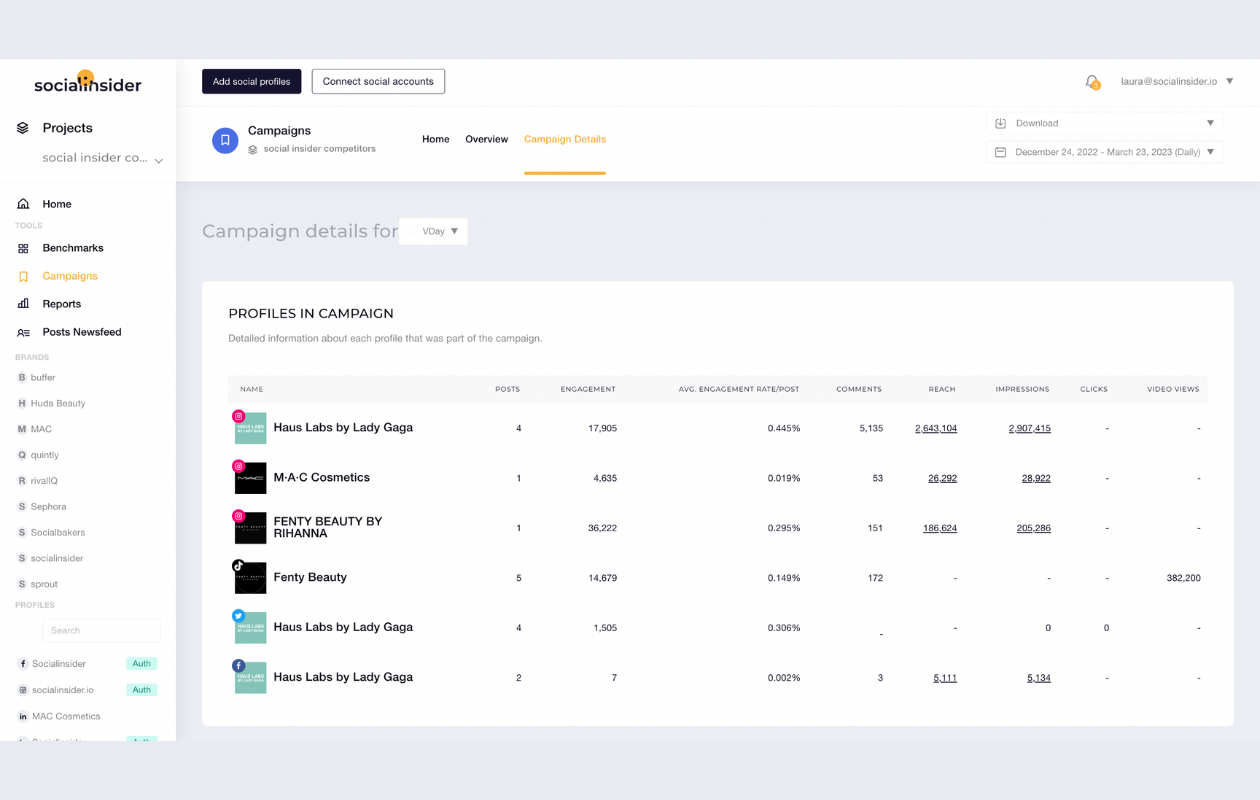 With Socialinsider, you can easily group posts with the same topic by creating campaigns based on keywords or hashtags. You can do this for your own brand but also for your competitors.
In Campaigns you can compare the performance of all these brands for all these social media platforms, with the needed data scanned in a matter of seconds.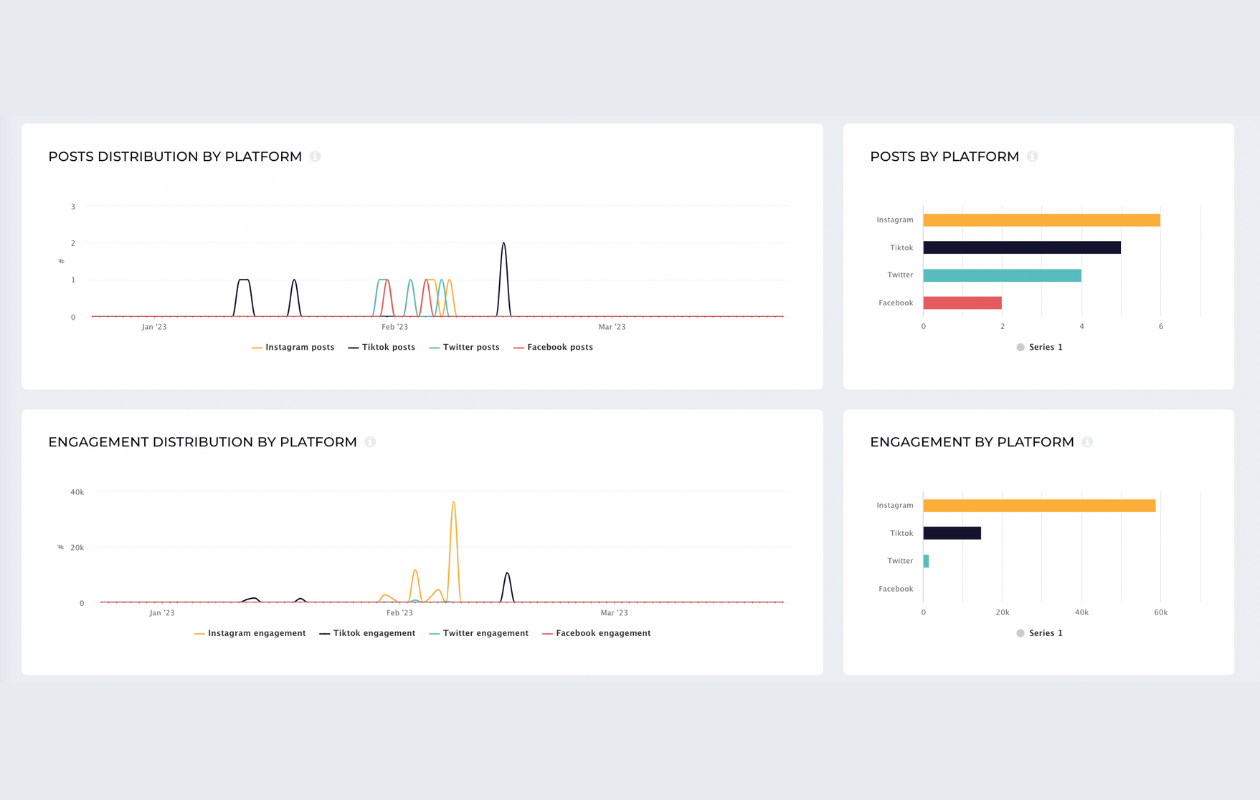 The profiles scan immediately and you can see in-depth data that will surely help you design an even better social media strategy.
Here you can see and compare the most important and relevant metrics for every social media platform.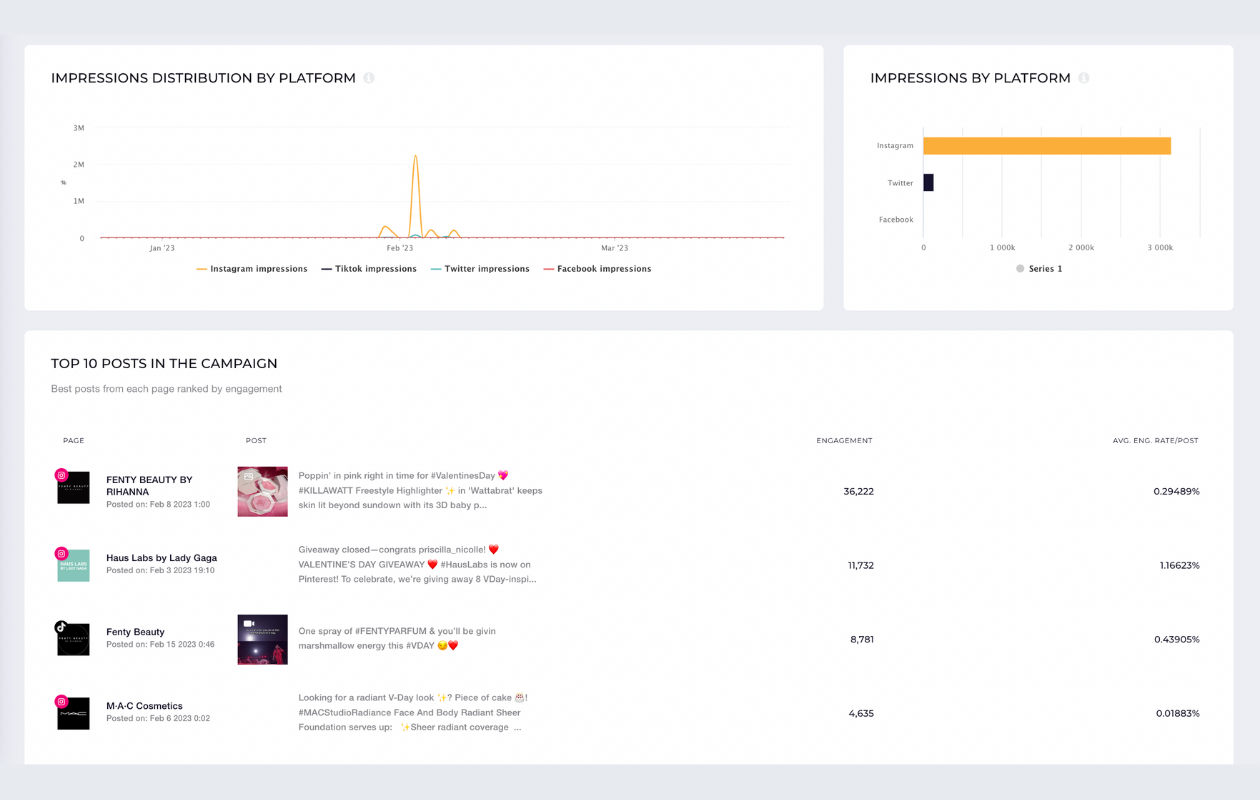 This way, you figure out on which platform your campaign performed better and why, depending on the type of content you used.
Did you use more carousels or more videos?
Did you use a more friendly, playful and funny approach or a more professional, distant tone?
See how you and your competitors used hashtags in the past campaign and try to figure out a better way to integrate hashtags for your new campaign.
Did you include them in the first comment on Instagram or was it in the caption of the post?
Did you use 3 or 5 hashtags?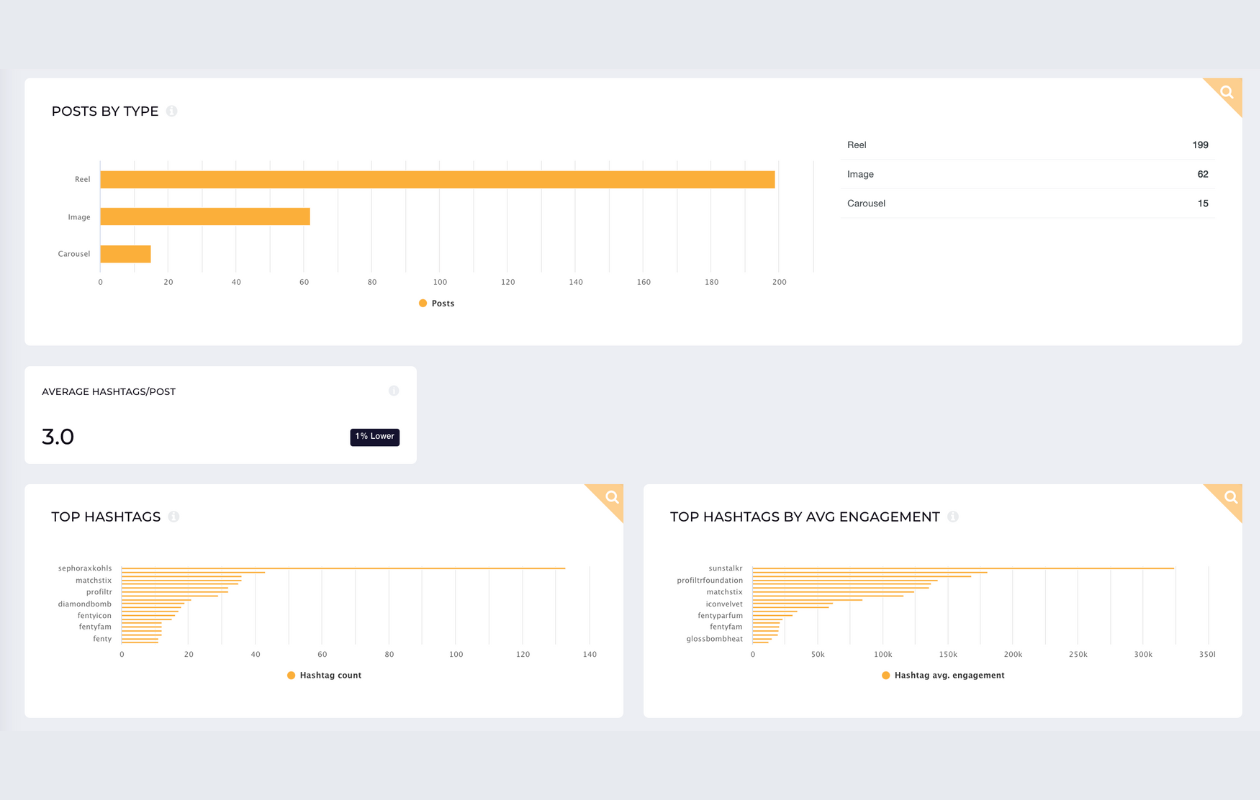 All these insights help you better manage your future actions regarding your plan for a new social media campaign.
It is really important to follow all the steps from the guide and look at the most important metrics to compare your progress from the current campaign with the previous ones, proving you've learned your lessons.
5. How to know if your social media content strategy is working?
Now that you've created and shared your content, you will need to conduct a social media audit.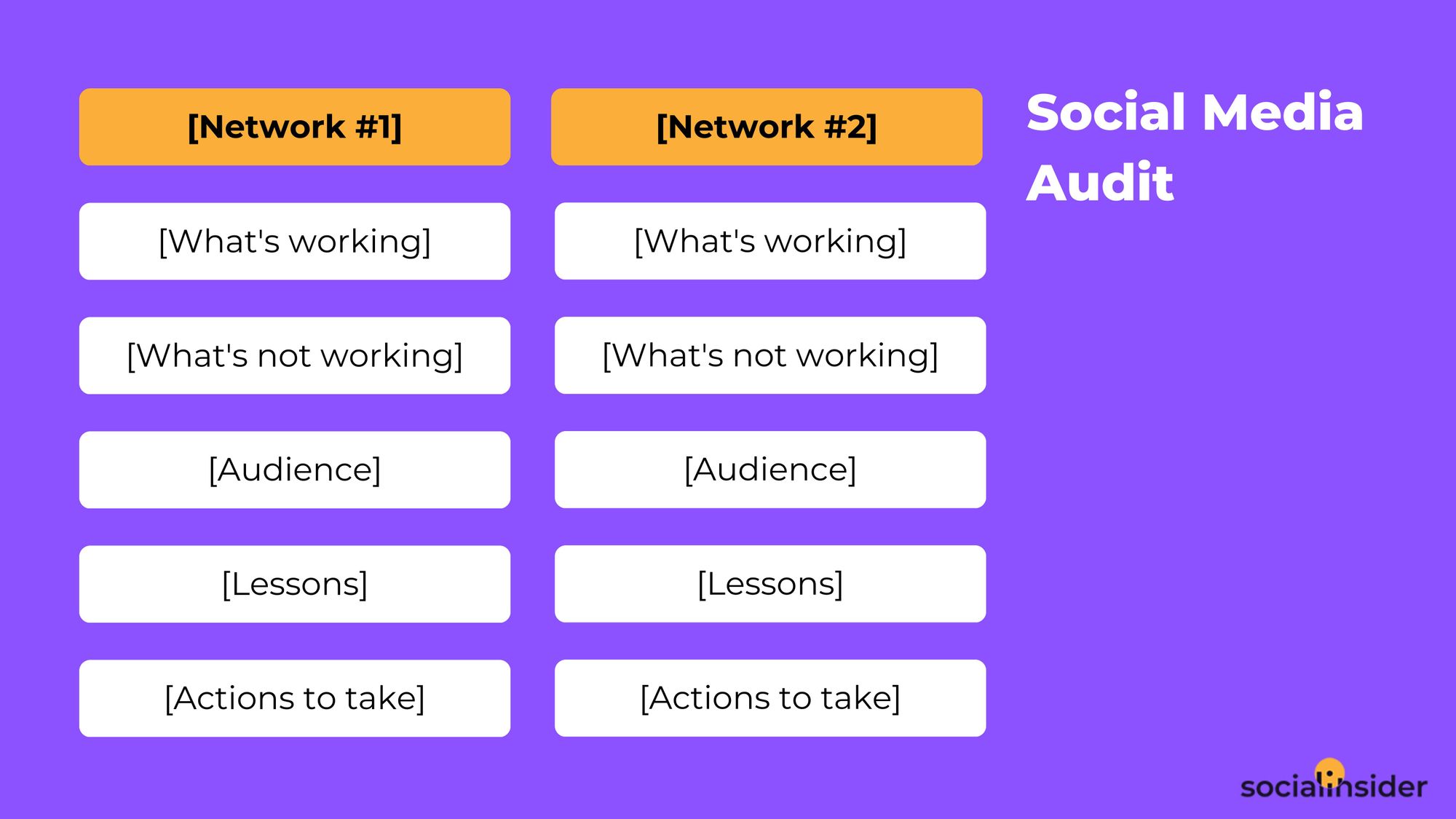 Keeping track of your metrics allows you to determine which type of content resonates best with your audience and whether your content is helping you in achieving your social media objectives.
Based on the platform you chose to leverage, you might want to look into what metrics to use and how they can indicate your content strategy's success:
5.1 Tools to measure performance
You may measure relevant KPIs using the built-in insights and analytics dashboards each social media platform provides.
Additionally, you might want to try a social media analytics tool that integrates all relevant social metrics and KPIs into a single dashboard.
A third-party tool makes collecting and evaluating data easier and may provide a better performance overview.
5.2 Benchmarking
Tracking performance depends upon the goals that you set in the first place.
If, for example, you want to boost engagement and verify if your engagement rate meets the social media standard for each platform, you might want to check out the data we gathered in our social media industry benchmarks study.
To help you stay ahead of your competitors, each quarter, we compile some free comprehensive social media benchmarks reports across 16 industries.
If you're interested in knowing if your performance exceeds the industry average, you can check and download our insightful global data here.
5.3 Social media reporting
Once you've gathered all the information, you may use reporting as a tool for retaining clients and proving the value you provide.
Reporting is one of the most important and valuable aspects of social media marketing—and it needs your full attention.
In your report, you can use the data to compare postings, social media marketing campaigns, and marketing tactics.
You may continually reassess your approach towards your social media content strategy by testing new ideas to see what works and doesn't.
If you're unsure how to keep track of your progress and what to include in your social media report, you might want to check out our article—How to Create Social Media Monthly Reports for Your Clients—first.
6. Social media strategy template
Having all the necessary infos about social media strategy at arm's length may not be enough. That is why you'll find here a social media strategy template to guide you.
Final thoughts
Crafting a social media strategy with Socialinsider is not only really intuitive and simple, but will also bring forwards new useful insights meant to empower your brand.
By having a social media plan, you manage to build brand awareness and increase  your website's traffic. At the end of the day, being organised and paying attention to details will pay off.
Hopefully this step-by-step guide on how to create a social media strategy with Socialinsider is helpful and your next social  media campaign will rock.