Video marketing has taken over the internet!
In the past few years, video marketing on social media has transformed the marketing world. It has proven to be a really effective, interactive and engaging tool and we can all agree to this fact.
According to a research conducted by HubSpot a while back, four out of the top six channels on which worldwide audiences watch videos are social media channels.
Facebook video marketing is trending and via stories, 360° videos, and live videos you can boost your digital marketing strategy sooner than later.
Today, I'm going to share with you a few tips on how to create more engaging Facebook videos and how to produce excellent results in 2022.
Let's dive in ⇣
7 tips to create engaging Facebook videos
1. Create vertical Facebook videos
2. Use shorter captions
3. Try posting videos with lenghts of 2-5 minutes
4. Invest more in live videos
5. Create videos for all the stages of the funnel
6. Choose the right type of video content
7. Add a call to action (CTA)
1. Create vertical videos
There was a time where people who posted vertical Facebook videos were seen as amateurs. However, things have long changed. Most people who use their smartphones to watch Facebook videos prefer to watch them in vertical format.
Actually, the vertical mode is the most used video format and the one that drives the highest level of engagement, as our latest Facebook videos study has shown.
Since most people are using vertically held devices to watch videos, it is only prudent to create Facebook videos in the format they are most used to navigate through.
By choosing to use this particular video format for your brand's Facebook videos, the chances for your followers to start engaging with it more will easily increase.
2. Use shorter captions
The question related to the optimal caption length is one of the topics most discussed by social media managers.
And although there's no one size fits all, short captions up to ten words seem to have greater chances at increasing the Facebook engagement for video posts.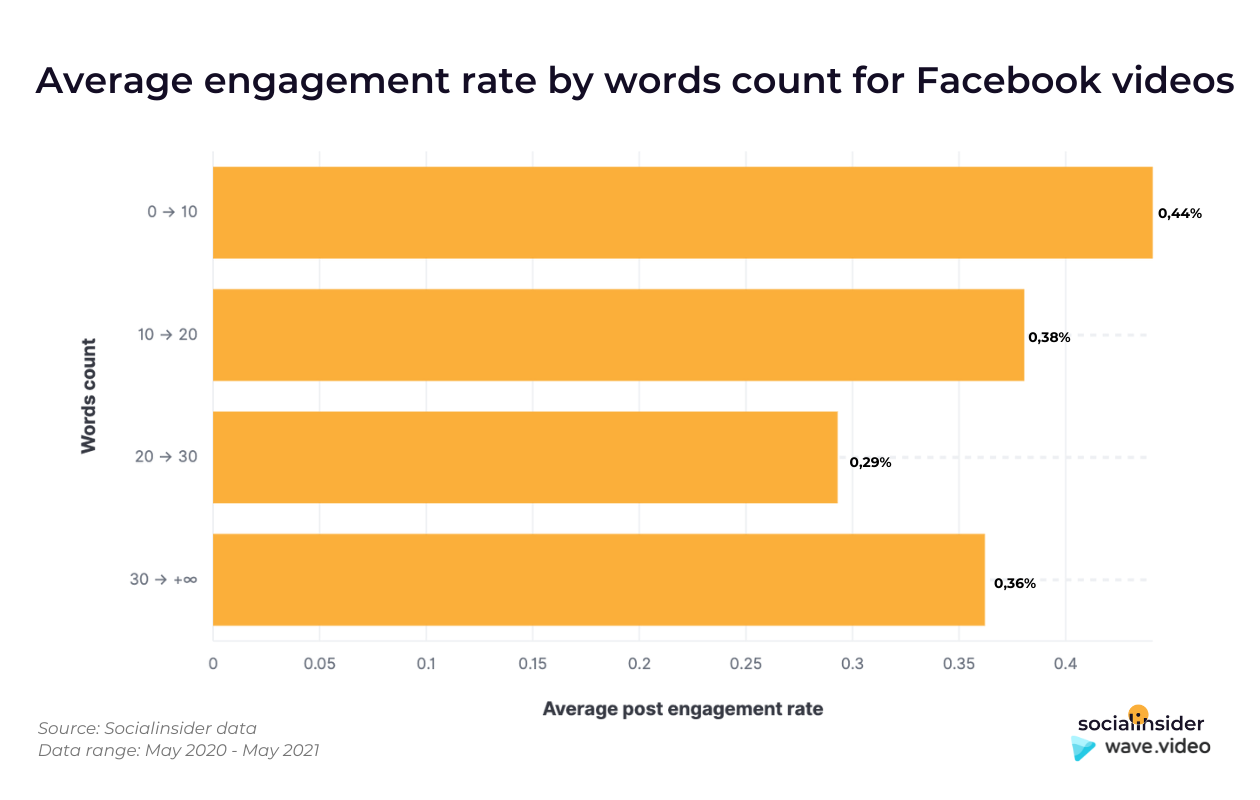 Of course, among all those variables like the brand's activity segment, its personality and the video's objective, it is only normal to test which options and which combinations work best for your business.
Now you have something to start with, let the testing begin!
Talking about captions, there's one more thing to be added. And that is to caption the content of your Facebook videos, as well.
On Facebook, there are over 8 billion videos are watched every day. However, the vast majority of these videos are silenced.
You can be sure captions will make your videos more accessible. The best way to make people consume your video content is by including captions that narrates what is being shown on the screen.
A great thing about captions is that they create viewing flexibility, a factor that is very important to most users. A well-crafted caption with a clear message will surely create a significant change in your Facebook videos.
3. Try posting videos with lenghts of 2-5 minutes
Strictly referring to uploaded Facebook videos, which are different from live sessions, the optimal video length seems to be around 2-5 minutes.
If in the past, people preferred shorter Facebook videos, it seems today they appreciate and get more involved with longer ones.
This may happen because through a longer video, people can get more in-depth, complete and therefore, more helpful pieces of information, which is what they need.
Today's communication world is about the customer, not the brand. And offering that added value is what the online communities are expecting from businesses nowadays.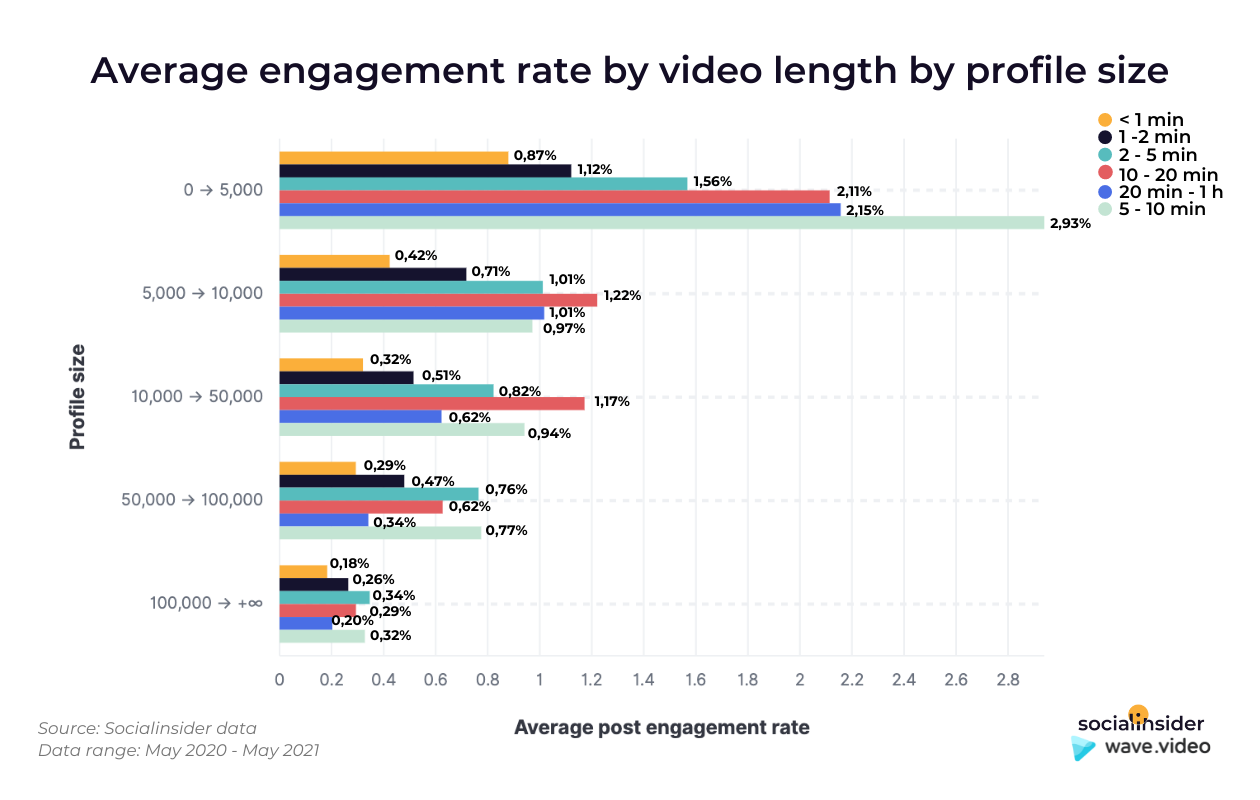 Make the first 5 to 10 seconds of the video count
The first impression is very important in marketing. When you are video marketing on Facebook, you need to hook your audience in the first 5 to 10 seconds. This is the time that will determine if the viewer will continue watching it or will click back to watch the next video.
If you want to capture the viewers' attention, then you need to create a clear and concise introduction.
The best way to engage your audience in the first few seconds is to generate curiosity, either by asking a question or creating suspense.
To create a successful video it's important to maintain the right balance between the use of entertainment and information.
Do not include lengthy information or aggressive selling in your videos because if you do so, viewers will lose interest halfway.
The key to engaging your audience is to make the best use of the first 5 to 10 seconds of your video by demonstrating some new and exciting ideas for your product or service.
4. Invest more in live videos
Multiple studies have shown that live videos have a huge impact on user engagement.
Actually, especially for small and medium-sized accounts (up to 50K followers) live sessions generate double the engagement of pre-recorded Facebook videos.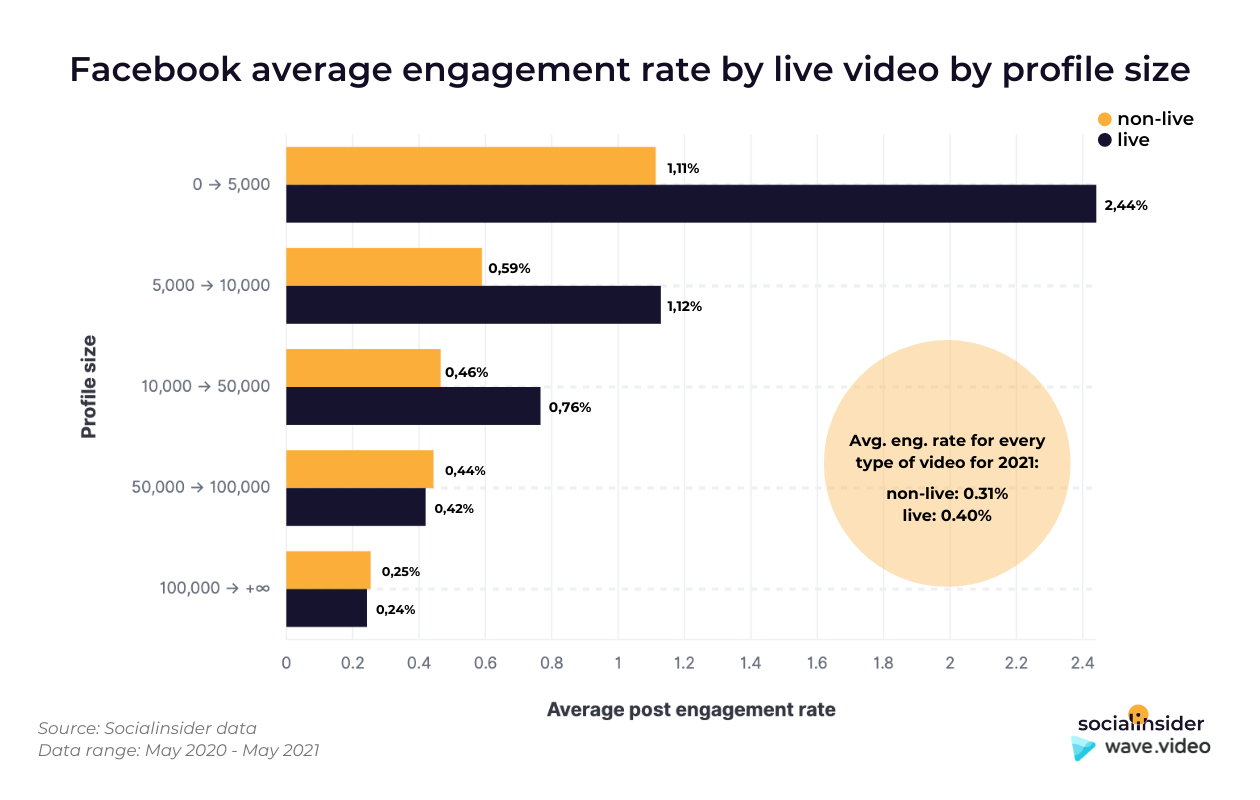 Live videos will help your audience to know your brand better because they are interacting with you one on one.
In a world dominated by massive consumption, where businesses are fighting for the user's attention, many customers tend to turn towards and trust brands that have a human touch, this being one of the great benefits that live video sessions provide.
So, if you want to take your brand to another level, you know what there's to be done. It is time to go live!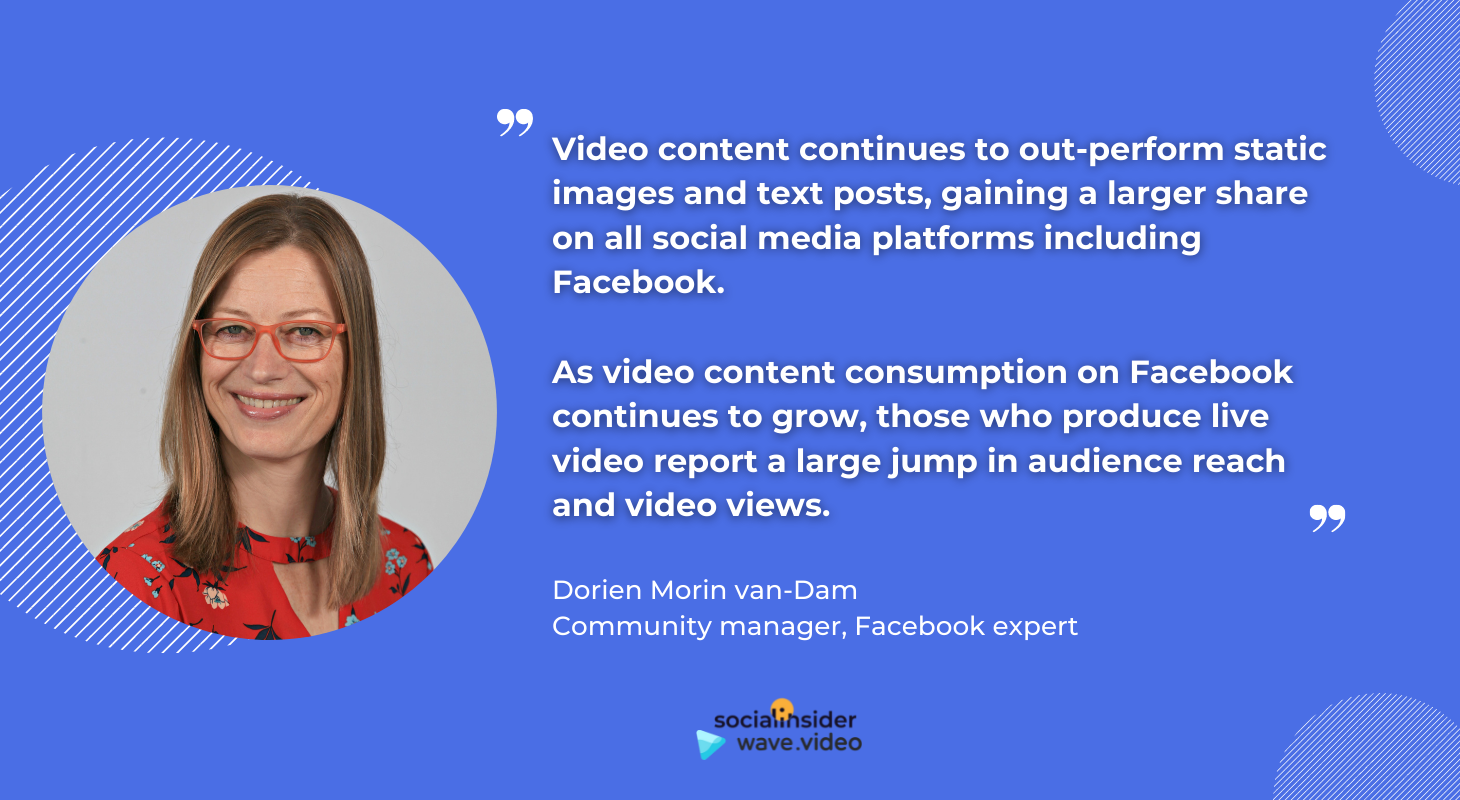 5. Create videos for all the stages of the funnel
The number one reason for which customers love Facebook videos is because it represents a quick and easy way of receiving useful pieces of information.
But, as a marketer, you know that people, based on their placement in the marketing funnel, resonate differently towards the same message.
That's why we've also put together a short list of different types of Facebook, that you'll discover later on. Because to someone that's on the decision stage you must deliver a different piece of information than to the one that's on the awareness stage.
You cannot overwhelm someone with messages in which you encourage them to buy your product when they just started to know you. Trust is built in time.
And the great thing about Facebook videos is that it lets you craft cool and easy to access content for every message's communication direction.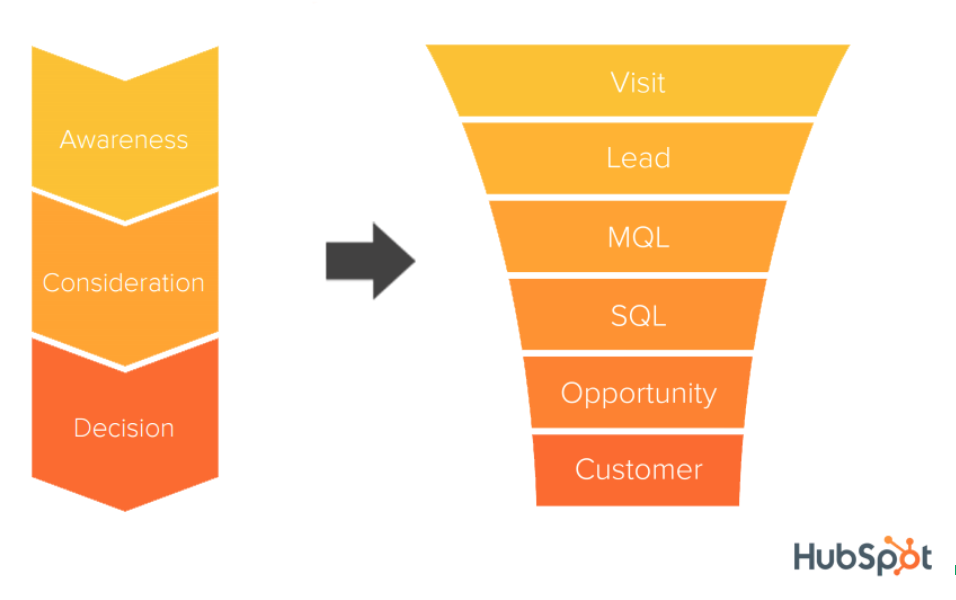 6. Use different types of Facebook videos
Don't be predictable with the type of videos that you post. If you become overly predictable, then users will get bored with your Facebook videos with time.
Instead of posting only one type of video, use a different mix of videos:
user-generated videos
informational videos
tutorial videos
behind the scenes videos
So, if you go live today, post behind the scene video tomorrow to highlight your day to day operations.
This will create excitement to your audience, a factor that will make them watch your videos more. Some viewers will be attracted to live videos while others will be attracted to user-generated videos.
By posting different videos will ensure that none of your audience is left behind. Every viewer will have something to watch.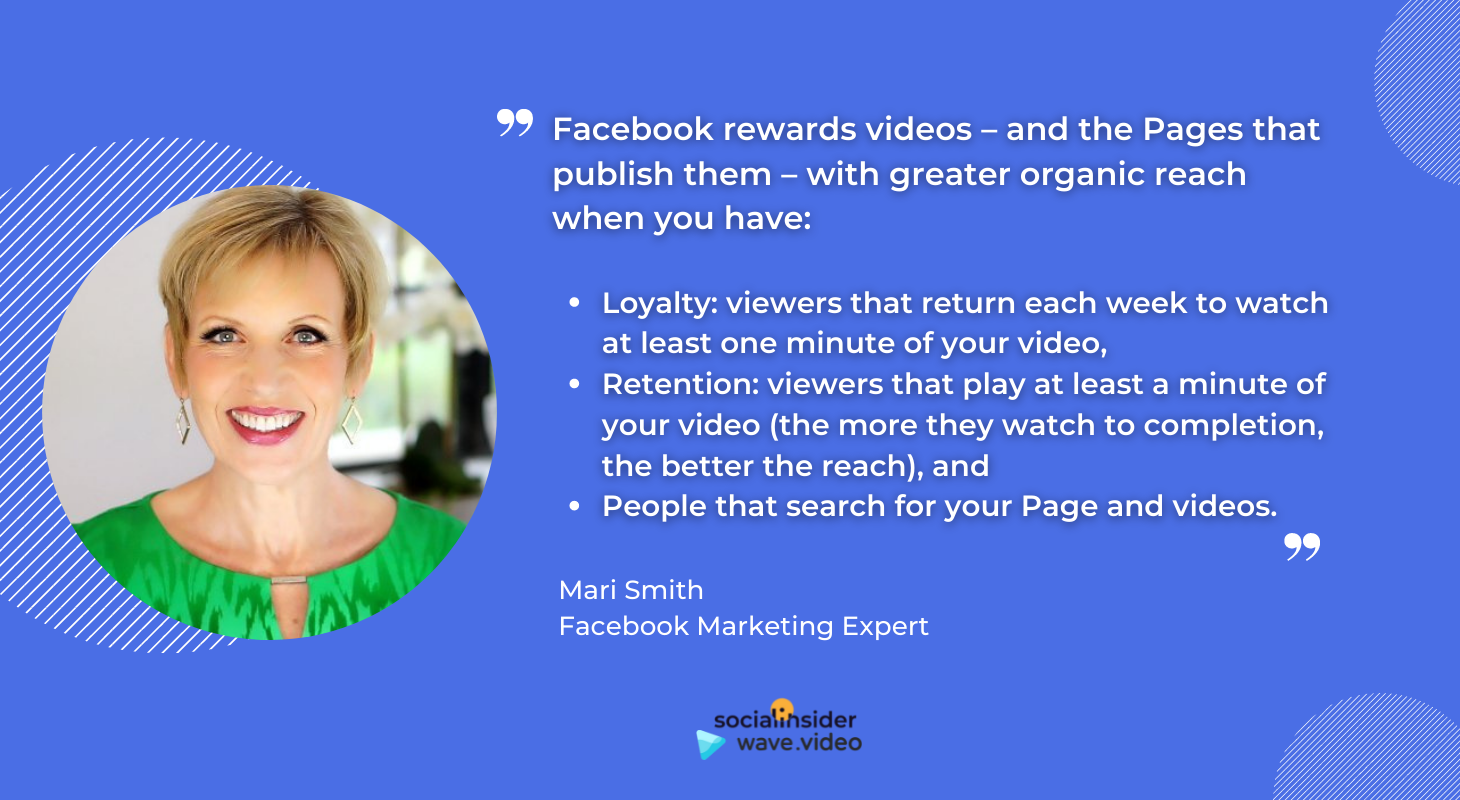 7. Add a call to action (CTA)
The most useful feature of the Facebook video is that you can add the Call to Action button. The CTA tabs have options such as:
Sign Up
Shop Now
Watch Video
Learn More.
The CTA option is great because it helps helps you drive traffic to your page. By pairing your video posts with the right CTA, you'll get the most out of your social media efforts, and certainly the results won't take long to show up.
Final thought
Since the consumption of video content is on the rise, this might be the perfect moment to invest your efforts and budget into creating a Facebook video marketing strategy.
Luckily, the usage of videos on Facebook, which is the ruling social media platform, will not only assist you in growing your business, but will also allow you to engage with a larger audience, which will further help you to draw more traffic to your website.