Developing a solid and effective marketing strategy can become a burden for a social media manager. However, we all know that great, long-term results don't come without hard work.
On LinkedIn, if you take advantage of every in-built marketing feature, you will be able to see your brand's progress in time.
By using LinkedIn marketing features, your social media strategy will take a great turn for the better, helping you in propelling your business on the road to success.
We are here to offer you some tips and tricks on how to use in-built LinkedIn tools to increase brand awareness. Ready? Let's dive in!
13 LinkedIn marketing features to use in 2023
---
What is LinkedIn marketing?
LinkedIn is one of the best social media platforms when it comes to connecting with others that have the same interests as you.
This social media channel focuses more on businesses, job offers and everything in between.
Connecting people who discuss business and share the same work values can help broaden their community.
However, LinkedIn is not only for job seekers and professionals. You can use this platform to talk about your industry and connect with those who could help you further develop your career.
If you learn how to use it effectively, you have a lot to win. Using the whole range of LinkedIn marketing features helps you gain a wider perspective on how to better plan a campaign.
How to use LinkedIn as a marketing tool
When your business is out there on LinkedIn, you know you've got to have a great strategy to rely on in order to promote your brand.
However, salesy posts and in-your-face commercials for your services and products are frowned upon on LinkedIn.
Therefore, you need a LinkedIn marketing strategy to make your content stand out from the crowd.
LinkedIn marketing features come in handy when you've already tried a lot of tools accomplish your goal.
If people learn why they need you in their lives, then they will certainly be more curious about your brand.
A useful thing to keep in mind is that some LinkedIn marketing features are only available for business pages, while others are available for all users, being them creators or individuals who are looking for a new job.
LinkedIn marketing features to upgrade your social media strategy
Making use of a wide list of LinkedIn marketing features can help you ace your marketing game faster than you think.
There are some in-built tools for LinkedIn that you may not know about. That is why we are here to unveil all secrets for this social media platform, debunking some myths about its utility.
Live webinars, podcasts and videos of all kinds have lately became more popular, since the launch of TikTok when every other social media channel wanted to keep up.
Well, even if TikTok's greatest competitor may be Instagram Reels, we should not forget about LinkedIn live.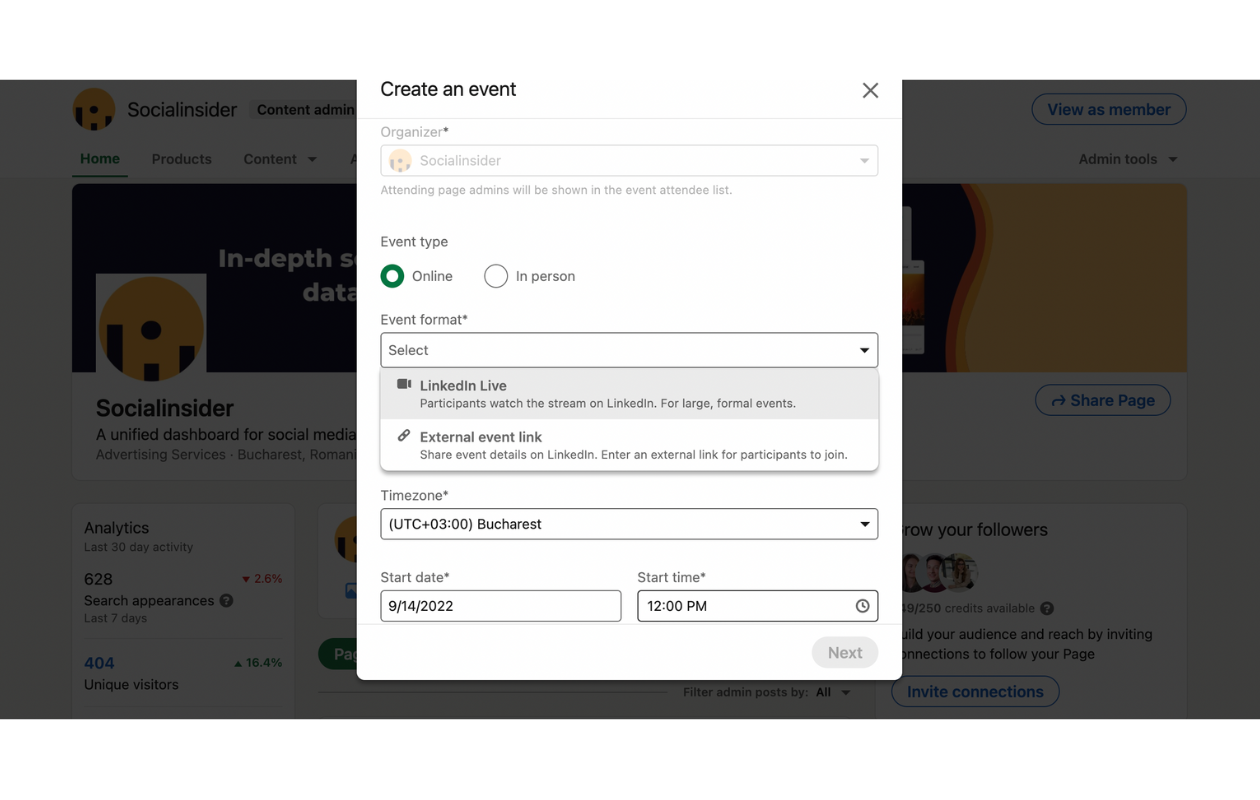 Live streaming is a great opportunity for marketers to be in contact with their audience, answear all their curiosities and be open to new challenges.
You can use LinkedIn Live to host periodical Teach Me sessions for those prospective clients who want to learn how to use your products or services. Isn't it a top-notch idea?
This will surely increase your audience and their interest for your brand. This LinkedIn marketing feature is available for business pages and creators.
Therefore, to get access to LinkedIn Live, you need to fill in a form and apply for this feature. Then the wait begins.
When your company gets the approval, you will be ready to host live events and webinars to make your business prosper.
The good news about this LinkedIn marketing feature is that any member has access to it. The Article feature for Linkedin brings blog posts to a whole new level.
With this tool, you won't need a separate blog to publish your articles. You can write long posts which can substitute classical blog posts.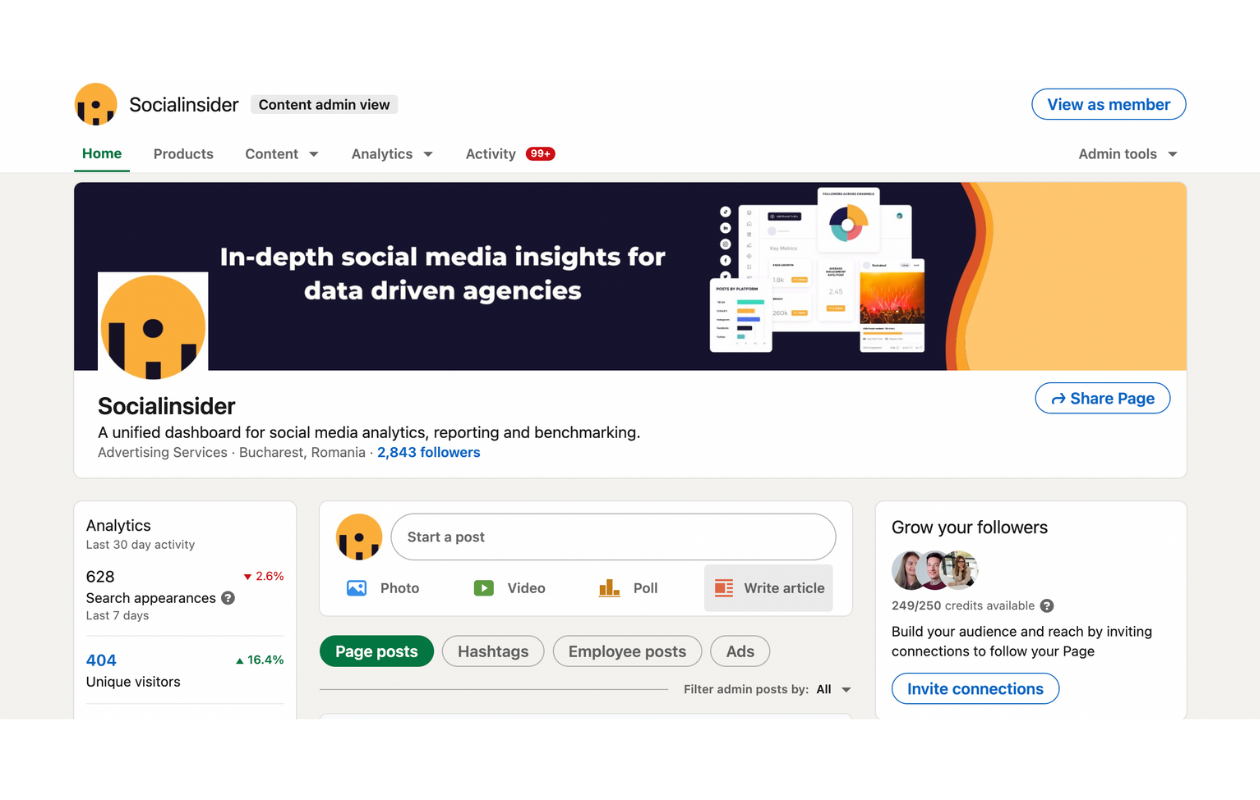 Initially, every company page post had a limit of 1,300 characters. The update that appeared in 2022 now allows marketers to write more, living with the idea that the sky is the limit.  
Actually, now the limit is 100,000 characters, the equivalent of a really intricate blog post.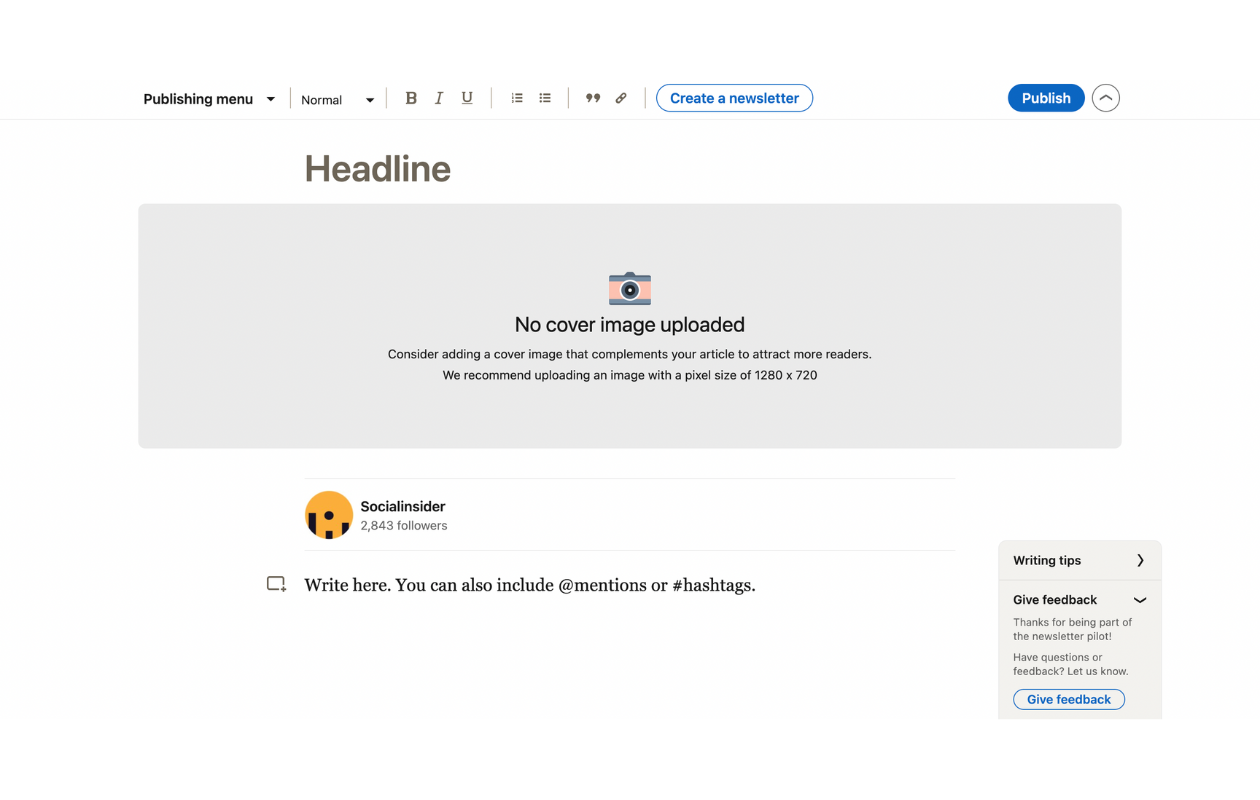 Due to this new LinkedIn marketing feature, company pages can post more about their latest news, in-depth updates, industry trends and shifts.
Embed Clickable Links in Photos, Videos
Recently, it has been issued a new LinkedIn marketing feature meant to help content creators boost their engagement and brand recognition.
Now you can embed clickable links into photo and video posts on LinkedIn. This way, you will be able to drive traffic to your brand's website.
You can add a link sticker to your content only by using LinkedIn on mobile, via the post creation tool.
Since LinkedIn decided to implement this new marketing feature gradually, some users don't have access to it yet.
So be patient if you are one of them. Soon your LinkedIn adventure will improve.
LinkedIn Templates for Image Posts
LinkedIn has lately implemented several visual features for all the non-writing content that users create.
This social media platform is trying to determine users to create more visual content. That is why the latest tool is related to LinkedIn Templates for images.
Since we know that images are way easier to remember than text, then this is clearly a great idea.
You can write a short text on the template and then post it even more quickly, having more chances to get a high number of impressions and interactions, compared to written posts.
This way you get the opportunity to become more creative on your brand's page and develop meaningful content that attracts a bigger audience.
Bringing more value to your LinkedIn page means putting more effort into your work. A LinkedIn newsletter can help you keep your audience close and your clients closer (Yeah, we just changed that old saying).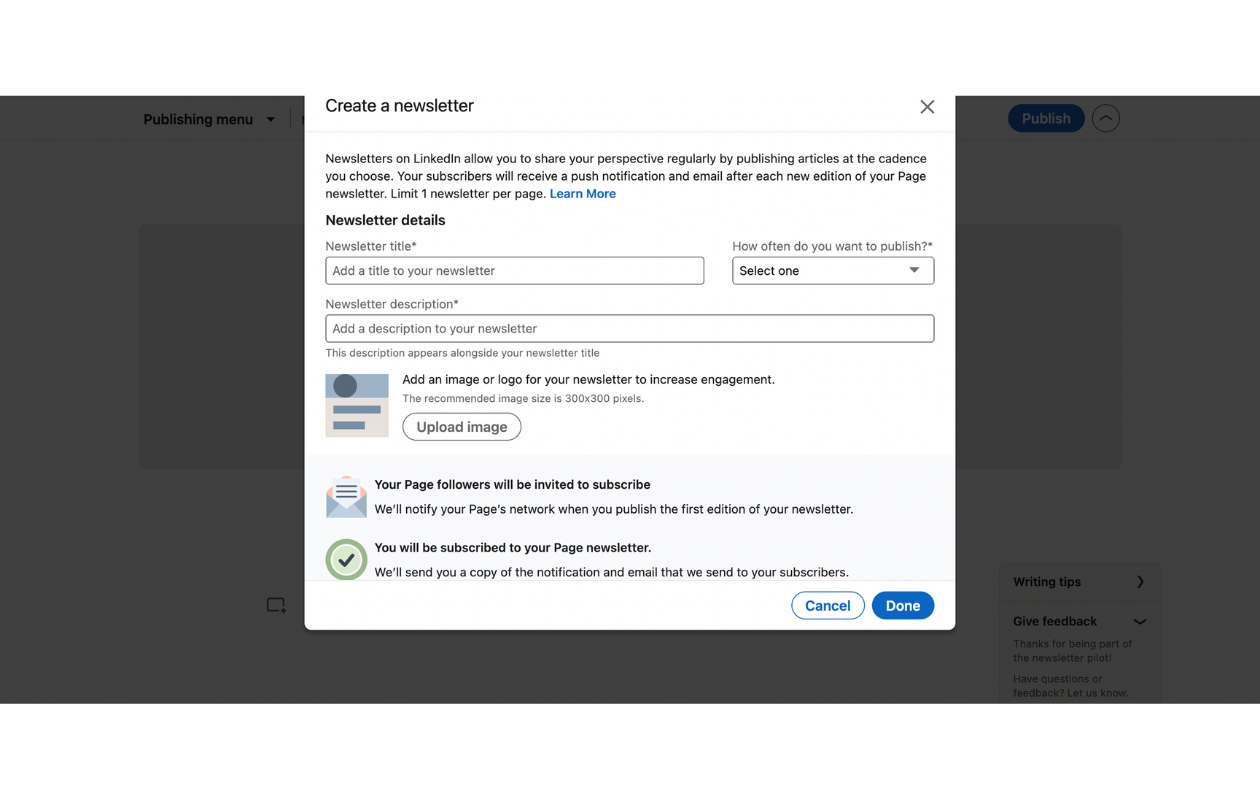 The LinkedIn newsletter tool started being available from 2020 and for those using creator mode, the feature emerged in November 2021.
LinkedIn newsletters are no different from email newsletters, allowing you to send the same content to numerous prospective clients that match the buyer persona.
This way, you could show them your newest blog posts, share with them exclusive content and maybe announce them about your future live events.
Those who are part of your community would really appreciate this type of updates about your brand and the latest trends in your industry.
This year, LinkedIn has launched audio events, taking the marketing game for businesses to the next level.
Audio events or audio chats have become popular on more social media platforms lately. Recently Twitter developed a similar marketing feature that won over users' hearts.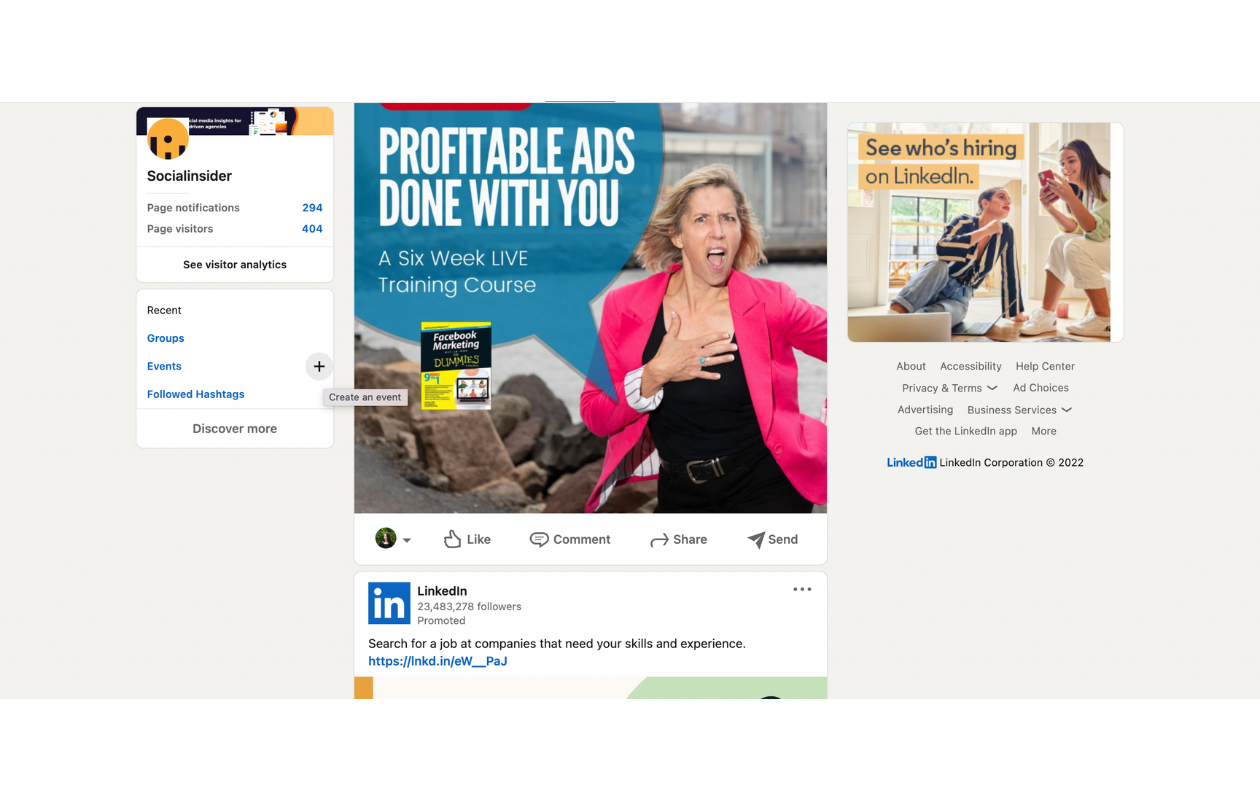 LinkedIn Audio Events offer users the opportunity to have real-time conversations in a casual environment.
Unfortunately, if you want to host an Audio Event as a business page, this is not possible.
However, as an employee of a certain brand, you can hold such an event to represent your business.
Having the advantage of using this LinkedIn marketing feature, members and users could be multi-tasking while participating to an audio event.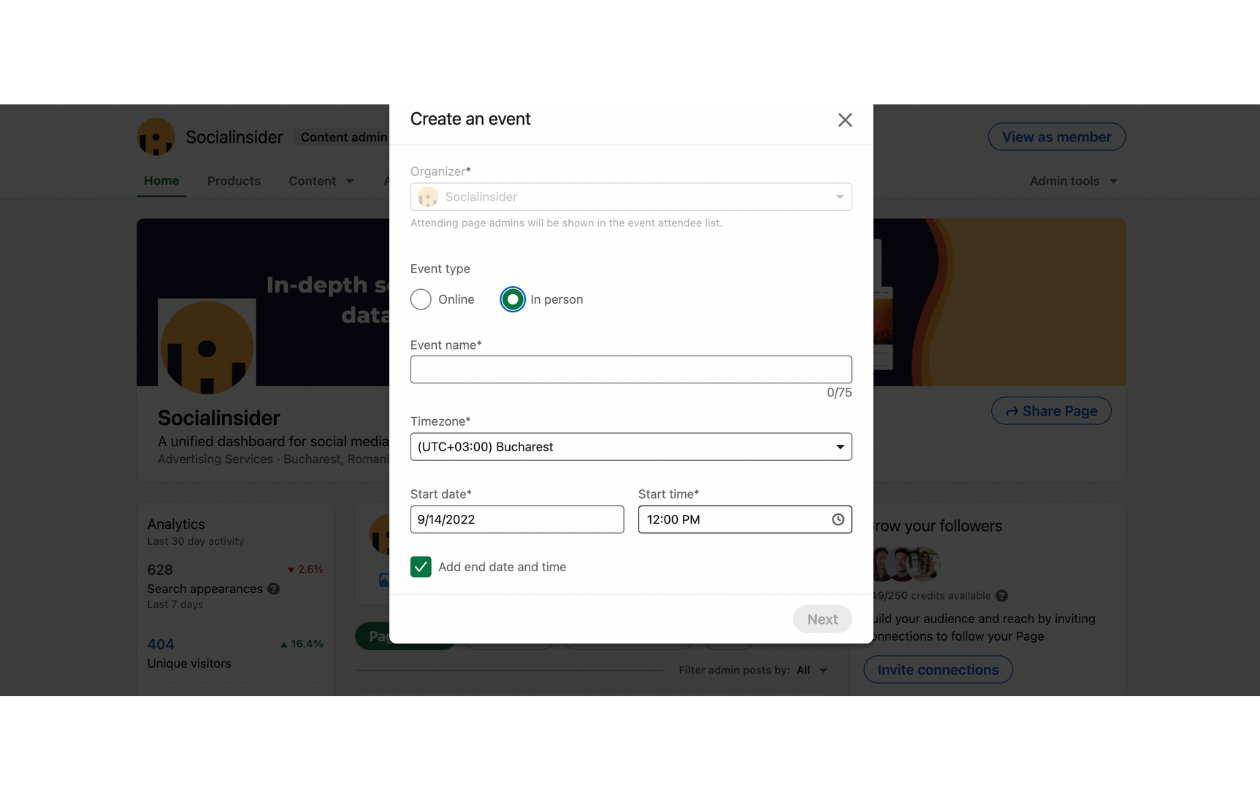 Imagine going for your morning walk while also taking part into a LinkedIn conference. How cool is that?
This LinkedIn marketing feature is similar to listening to a podcast, except you can also join the rest of the speakers in conversation.
All LinkedIn Audio Events are public. This means that anyone can join, even if they do not have an invitation.
To express your opinion during an Audio Event, you just have to go to the Raise your hand feature and start talking.
Another important thing you need to keep in mind about this LinkedIn marketing feature is that Audio Events cannot be recorded or replayed.
This LinkedIn tool can help you challenge your audience, stay in touch with them and stir different talks on topics related to your industry to increase engagement.
Product Pages allow you to show your LinkedIn community what products and services you sell. And we all know that on LinkedIn you find the largest professional community in the world.
Due to this LinkedIn marketing feature, you can transform users' searches into highly-qualified leads.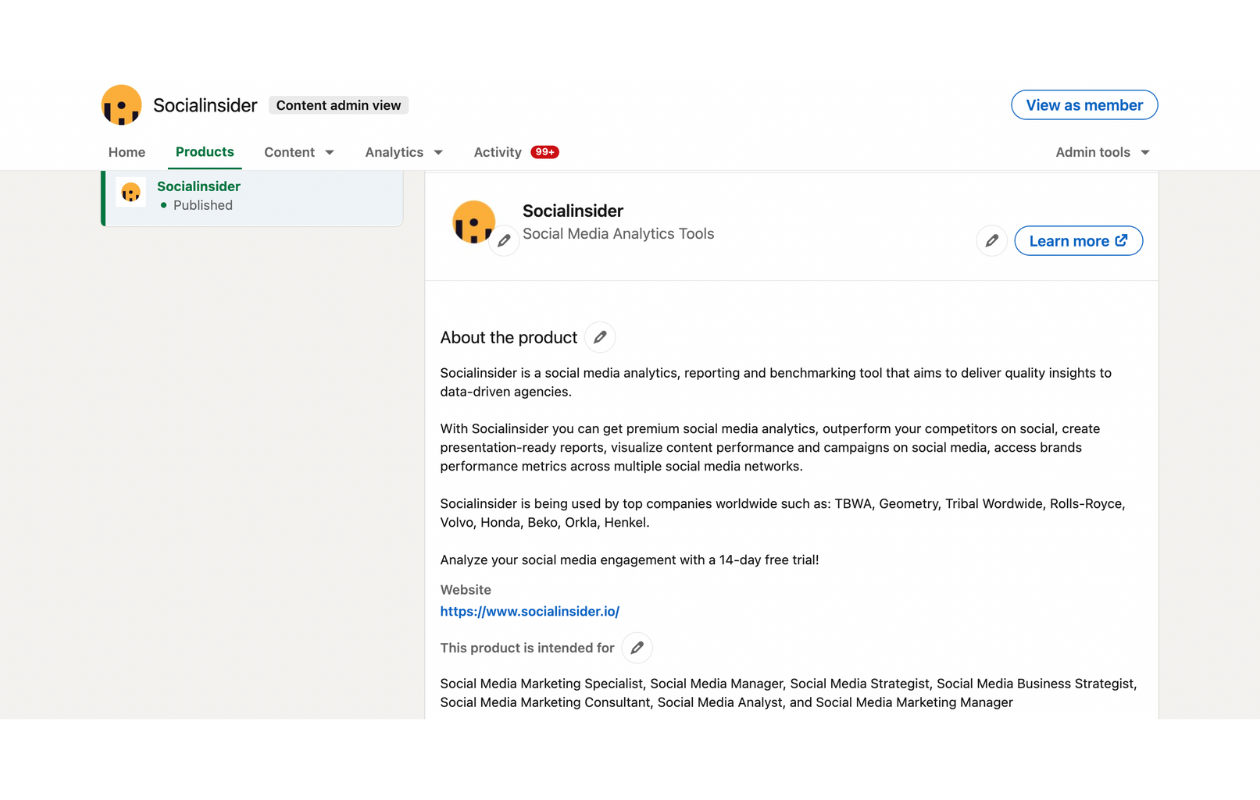 Show your prospects your products through Product Pages and you will also manage to increase the sales.
This LinkedIn marketing feature also has a forum integrated, helping those who are interested to learn more about other recommendations, prices, details and ask questions about your brand's services.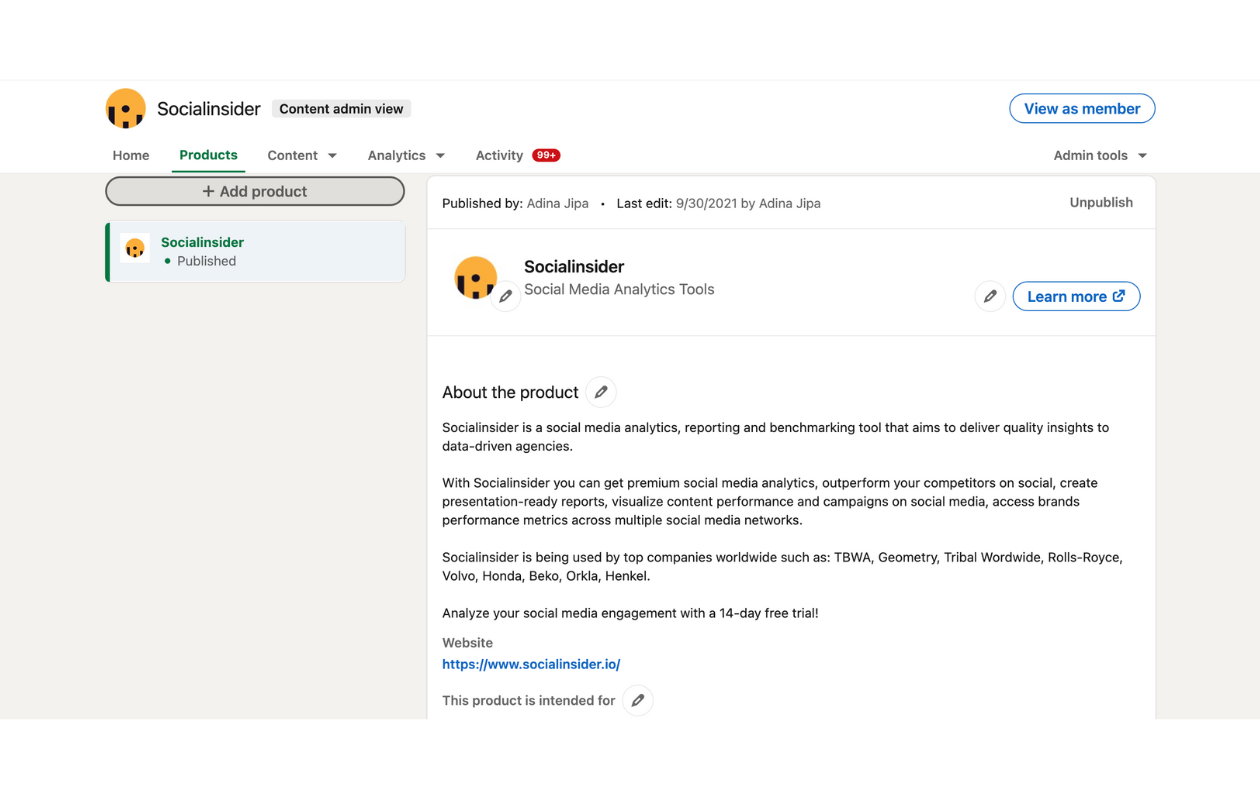 If you want to learn how to start your first Product Page, this is the link you have to access to get the step-by-step guide.
Record your brand's name pronounciation
A new way to show everyone how friendly your brand is relies on a LinkedIn innovative feature that can boost your marketing game.
Recording your brand's name is not only a matter of correcting all those who have always mispronounced your name.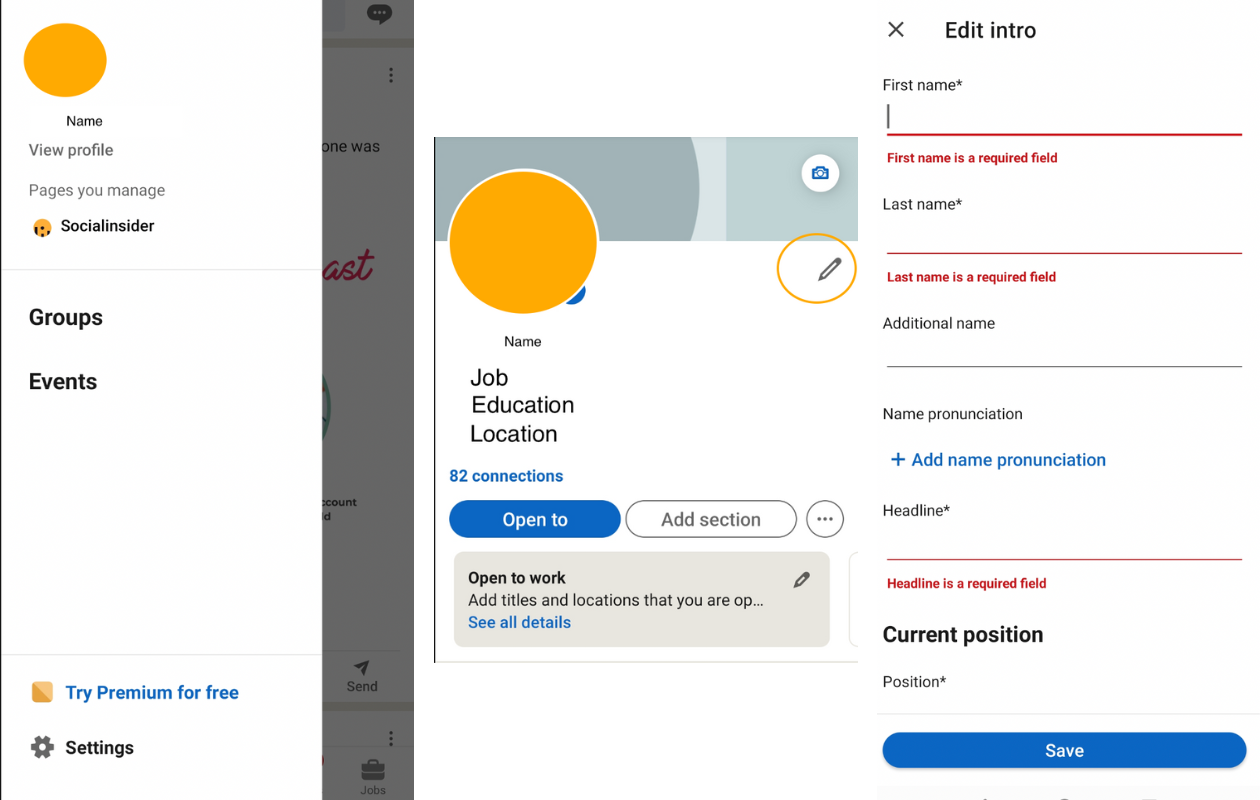 This LinkedIn marketing feature allows you to also register a welcome message for all users who get on your brand's page for the first time.
How nice is that? It is basically like greeting them just like you greet new guests into your home. This LinkedIn marketing feature is available for creators, not for business pages.
We all know that hearing the sweet voice of the man behind the brand can definitely change the way we look at it.
If maybe some clients have already perceived your brand as a tough, strenuous one, it is time to make them change their mind.
Once they hear your voice, they will be more likely to scroll down and learn more about your company.
LinkedIn Employee Advocacy
When you started developing your company, who were the most important pillars? If your answer is your employees, then maybe you should thank them more often.
Employee advocacy refers to brand awareness built by your employees, directly through their LinkedIn posts.
And it is obvious that those who promote the company they are working for are happy employees. Your job is to keep them satisfied.
Employees play the most important part in a business' evolution. A strong and gritty team is able to lead a company to the highest peaks of success.
Passion and determination is what drives us when we love what we do. In a digital world like ours, employee advocacy is key.
Employees advocate for their employers when they feel appreciated and happy with their jobs.
Through employee advocacy, they are encouraged to share the company's values. For instance, if one of your co-workers asks you to share the latest LinkedIn post, you can do it so more people get access to that content.
By spreading the word, you open new gates of possibilities for your brand since more LinkedIn users will learn about it.
Increasing brand awareness is just one of the "side effects" of this LinkedIn practice.
Through this marketing feature, employees also increase views and CTR for their company and may also get collaborations with companies from the same niche.
If you are trying to learn more about your LinkedIn audience, it is time to learn how to use Audience Polls.
Audience Polls is a LinkedIn marketing feature that challenges your community to share their thoughts about your brand, the industry in which you activate or your products.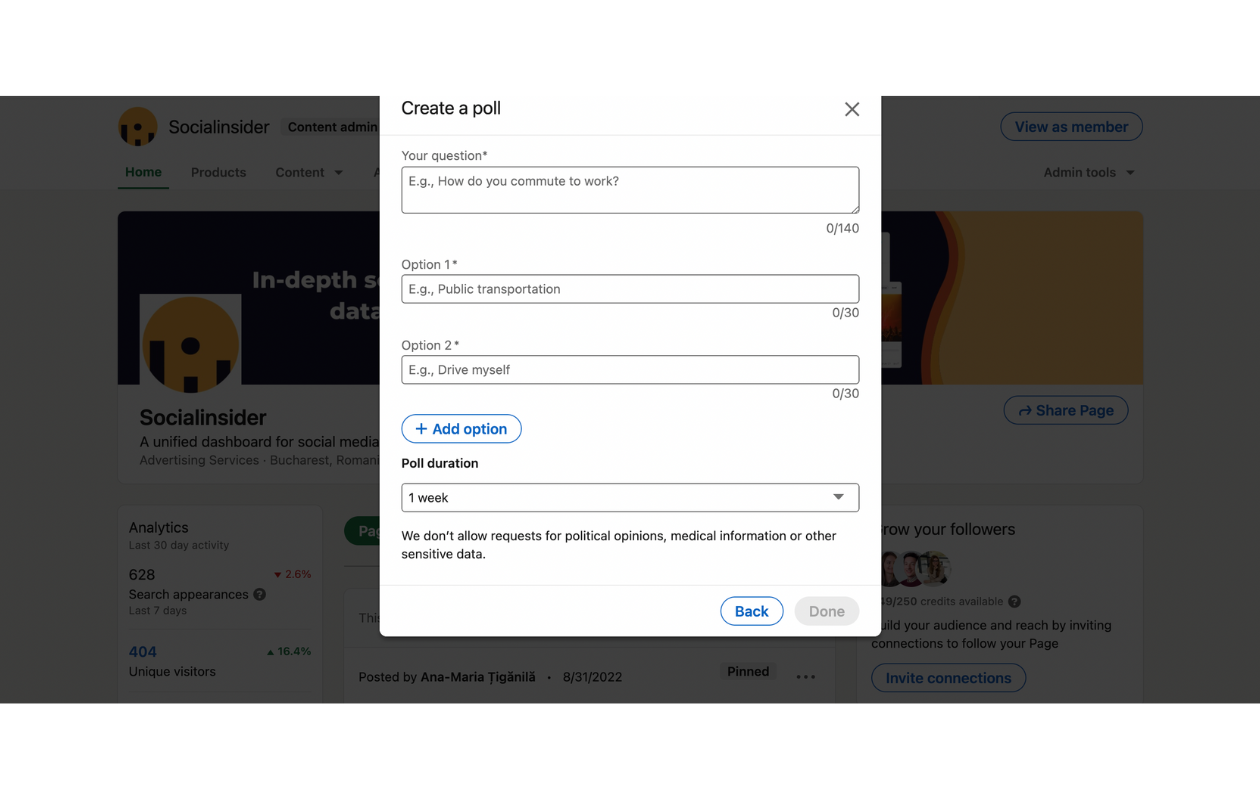 Through this LinkedIn marketing feature, you can ask your customers or prospective clients to answer multiple-choice questions related to your company or their experience with your products.
This way, you can collect useful data about your audience, what their goals are and other details. By answering your LinkedIn polls, it means your audience is interested in your brand and products.
To develop your first LinkedIn poll, you just have to go to the Start a post button and choose Poll from the drop-down menu.
Then you select Create a poll, choose the number of options available for answer and establish the duration of the post.
Click the Next button to establish who can see your poll and then post it. This is one of the most useful LinkedIn marketing features.
If you are tired of only posting pictures accompanied by text, LinkedIn came up with a useful solution that also proved to be effective.
Playful posts which are design-oriented can help you boost engagement, CTR and impressions.
More users will be attracted to your brand if your content has its own personality and it speaks louder than words.
LinkedIn carousel posts are here to make you forget about boring content. This type of post is perfect if you want to publish a step-by-step guide for a product or service, a list of updates, statistics or a few brief ideas from your latest event.
Carousel posts on LinkedIn is a new LinkedIn marketing feature where you can include both videos and photos. The limit is up to 300 slides.
Sharing news and updates with your audience in a more visual manner helps you become more popular, increasing brand awareness.
The best thing about this type of content is that LinkedIn made it downloadable. Yes, that's correct. You now have the option to download carousel posts.
This means that your customers are able to take the info about your business everywhere they go. Your top priority now is to convince them to do it.
Following a certain post combo can really help you succeed, since your audience will soon get accustomed to your type of content and consider that to be your personal trademark.
This is one of the most underrated LinkedIn marketing features that you should definitely take advantage of.
A few unpopular colors, a unique graphic and a friendly voice can certainly put you up there on the wall, making your brand even more visible.
We know this may sound sketchy, like you have done something bad. We assure you that this is not the case.
By hiding your LinkedIn connections you actually prevent other companies that activate in the same industry to steal your partners and clients from you.
And now you may be wondering whether people really do that.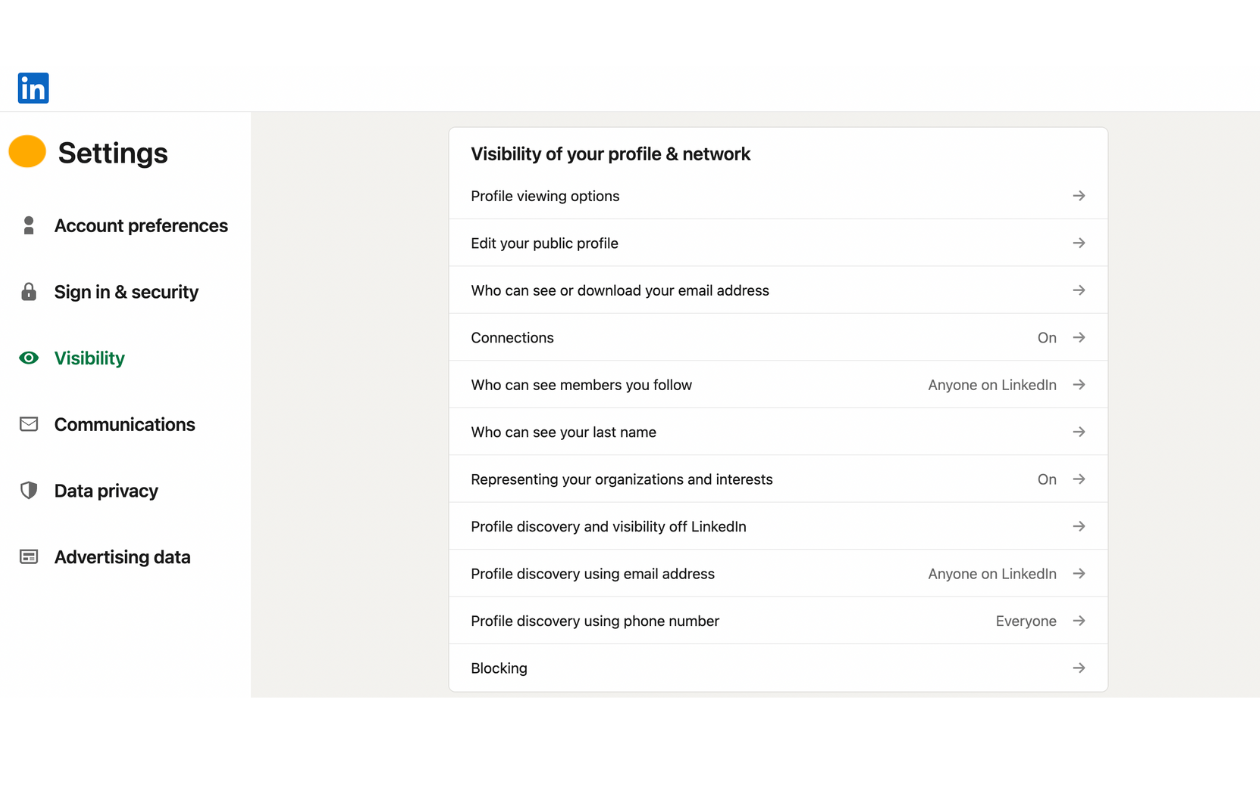 Yes, some marketers with LinkedIn presence look at your list of connections to get inspired.
From Settings, you can make your connections visible only to you or to those who are already connected with you.
You have certainly worked hard to build your LinkedIn community and you wouldn't want to know that you lost everything overnight only because you didn't properly establish the important settings.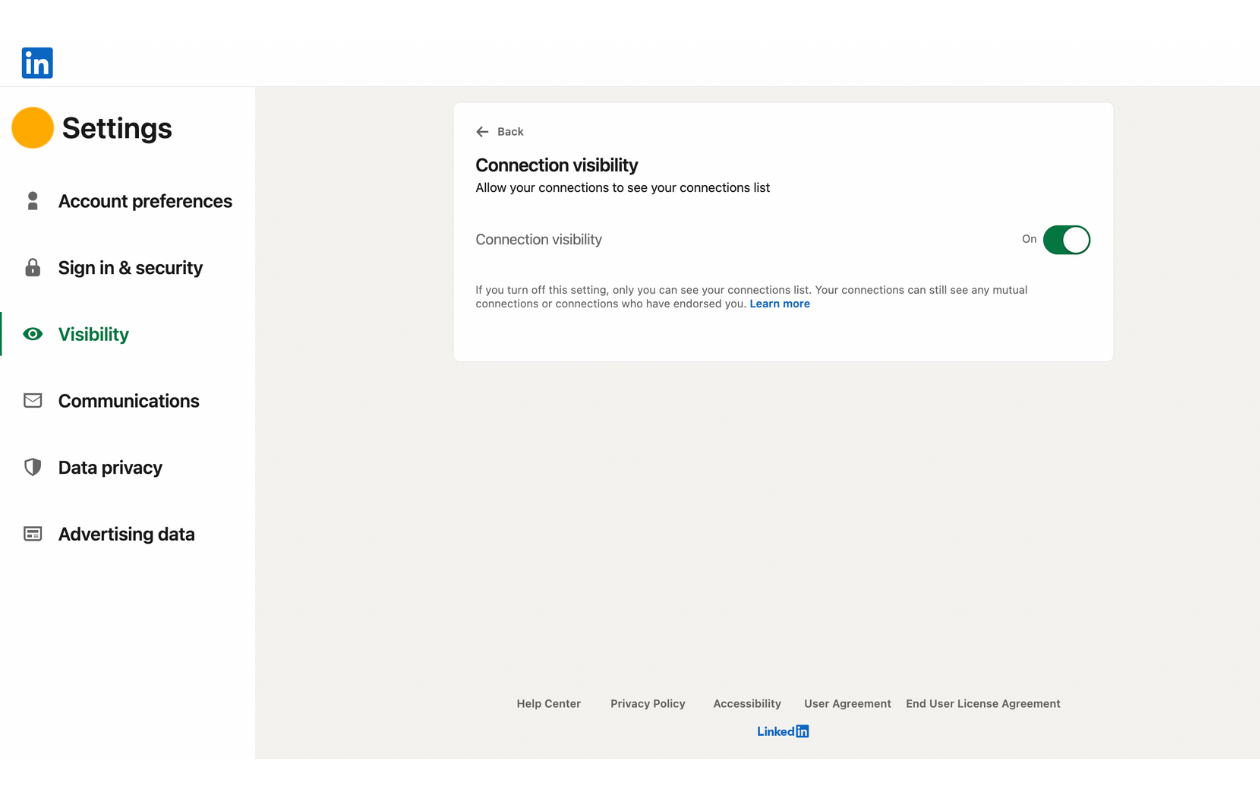 Having your list of connections public can pose a threat to your business since your competitors can easily target your customers. And losing customers is not something you need.
This marketing trick can save you a lot of trouble when it comes to your list of prospects and leads.
Developing content and being creative at all times is a constant struggle (we know it). Irrespective of the type of content you post on your LinkedIn business page, you always want to increase your engagement.
To reduce spam, LinkedIn provides company pages with the opportunity to disable comments for their posts.
This way, you make sure that your community will not get hundreds of notifications with the comments you get.
Different from business pages, individual LinkedIn pages also have a third option which allows users to allow only their connections to comment on posts.
Final thoughts
Choosing unpopular marketing features, ones that not everyone knows about, can really help you boost your progress on social media, leaving everyone wondering how you've done it.
We hope these LinkedIn marketing features will help you change the perspective from which you look at your business. If effectiveness is your middle name, then this list of tools will come in handy.
Do your best to implement some of these new tricks to prove that marketing is not as difficult as they may say. LinkedIn marketing features can really ease your way when developing a new social media strategy.