In its few years of existence, TikTok has evolved from being a lip-syncing and dance challenges platform to being the leading social media network and first-touch channel for various edgy and visionary brands like Duolingo.
These days, it represents not only the fastest growing social media platform but also a top-performing marketing channel for some specific industries.
By analyzing 616k TikTok videos and looking at various TikTok KPIs, such as engagement, video views, and more, together with Wave. video, we have uncovered a couple of TikTok performance benchmarks that are a must-know for today's digital marketers.
Let's dive in!
TikTok performance benchmarks for 2023
1. TikTok's engagement rate by video views records an average of 6.72%
2. TikTok's average watch rate in 2022 is 16.23%
3. TikTok accounts post on average 20 videos per month
4. TikTok videos that include a mention get a higher watch rate
5. Using original songs leads to a slight decrease in the average watch rate
A. Summary
Reading this TikTok benchmarks study, you'll discover:
What's the average engagement rate by views on TikTok: we reveal what is different in the way TikTok calculates engagement compared to other social media platforms and the main differences between engagement calculated by views and by followers.
What is the average watch rate on TikTok in 2022: we uncover how interested are social media users in watching video posts on TikTok.  
How many videos per month do TikTok accounts post on average: this is an indicator of people's interest for investing in TikTok.
TikTok's watch rate correlated with mentions presence: we aim to discover to which extent the presence of a mention influences a video's viewership.
Usage of original songs is a successful or rather ineffective technique for getting more views on TikTok: we look at TikTok's watch rate when integrating within a video an original sound compared to using a trendy song.
B. Key insights
TikTok is the social media platform that in 2022 records the highest engagement levels.
The smallest accounts (from a follower's count perspective) register the highest watch rates.
The average number of videos posted on TikTok within a month is in a continuous increase.
When including a mention, views of a TikTok video are usually higher.
TikTok videos including a trendy song instead of an original video get a slightly higher watch rate.
1.TikTok's engagement rate by video views records an average of 6.72%
With RedBull reaching an audience of over 6.8 million followers on TikTok or with Duolingo increasing its quarterly sales by 51% thanks to its TikTok content strategy, the marketing opportunities TikTok offer become unquestionable.
Although the platform's biggest consumer base consists of Gen Z users, TikTok has grown into a platform that appeals to a much wider variety of audiences than solely Gen Z.
The gradual transition of other social networks' user bases toward TikTok is confirmed by data, emphasized especially when comparing TikTok's KPI with those of other networks.
From an engagement rate perspective, for example, TikTok outperforms the other social platforms with noteworthy percentages.
Being a video-exclusive social network, TikTok displays engagement differently than other platforms. Instead of calculating this KPI depending on the following size or reach, TikTok calculates engagement based on video views.
Following the same pattern, for this study, the average TikTok engagement rate was calculated as the sum of interactions (counting likes, comments, and shares) of a given post divided by the number of video views within a specific timeframe and multiplied by 100.
With an average engagement rate by views of 6.72%, TikTok is the social media platform with the highest engagement levels in 2022.
While throughout 2021, the TikTok engagement rate faced a slightly decreasing path - starting with 2022, it changed its trajectory, now being on an ascending track.
If brands were hesitant so far about jumping on the TikTok trend, the presented TikTok data surely makes a great point for which such a trial is a must these days.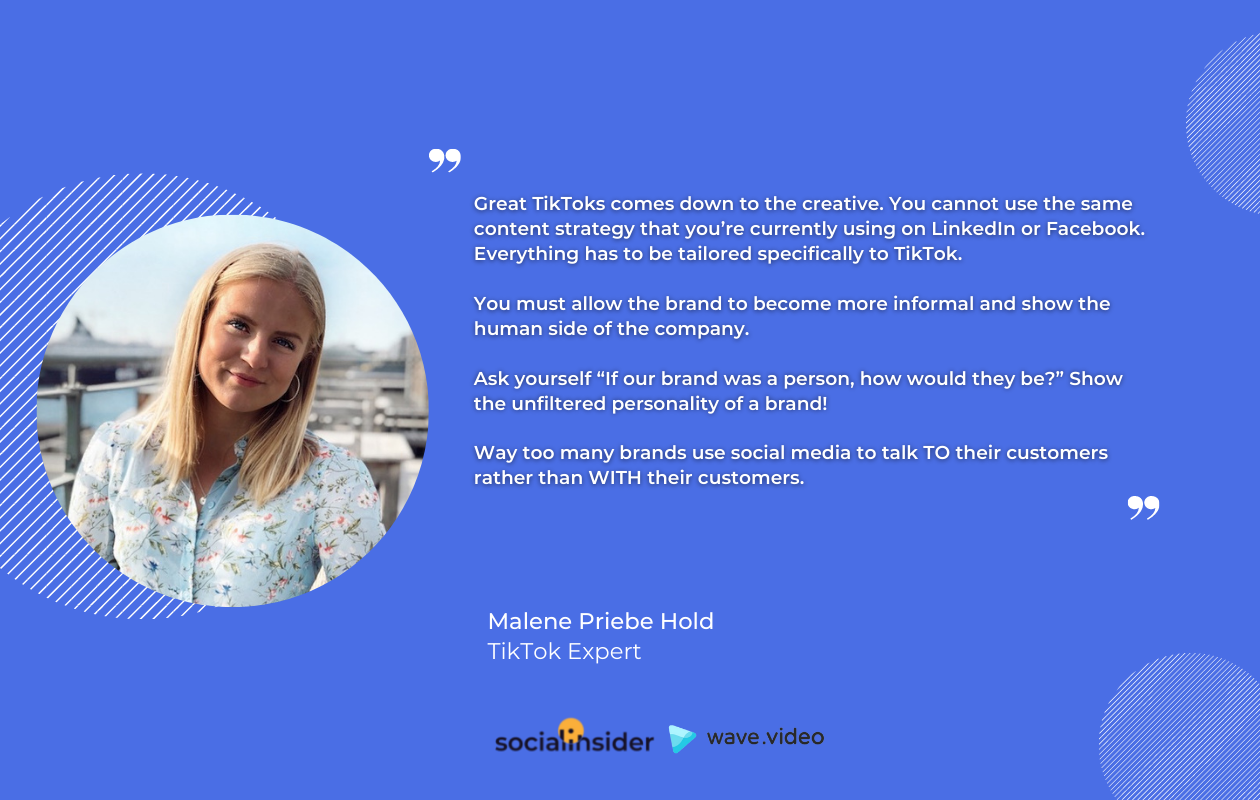 2. TikTok's average watch rate in 2023 is 16.23%
What sets TikTok apart from all the other social media platforms is its unique algorithm and the user's intent, mindset, and behavior when navigating the platform.
If on all the other networks, the following base is probably the number one metric indicating an account's popularity, TikTok's case is a bit different.
Given that TikTok's feed is populated exclusively by videos that are displayed primarily based on topics of interest, being shown based on similar previous searches, here, the most important metric to monitor is the views count.
The average view rate KPI, also known as watch rate, is the metric that reveals the percentage of people who watch an account's TikTok videos.
To count as a view, a TikTok video must be played for at least three seconds.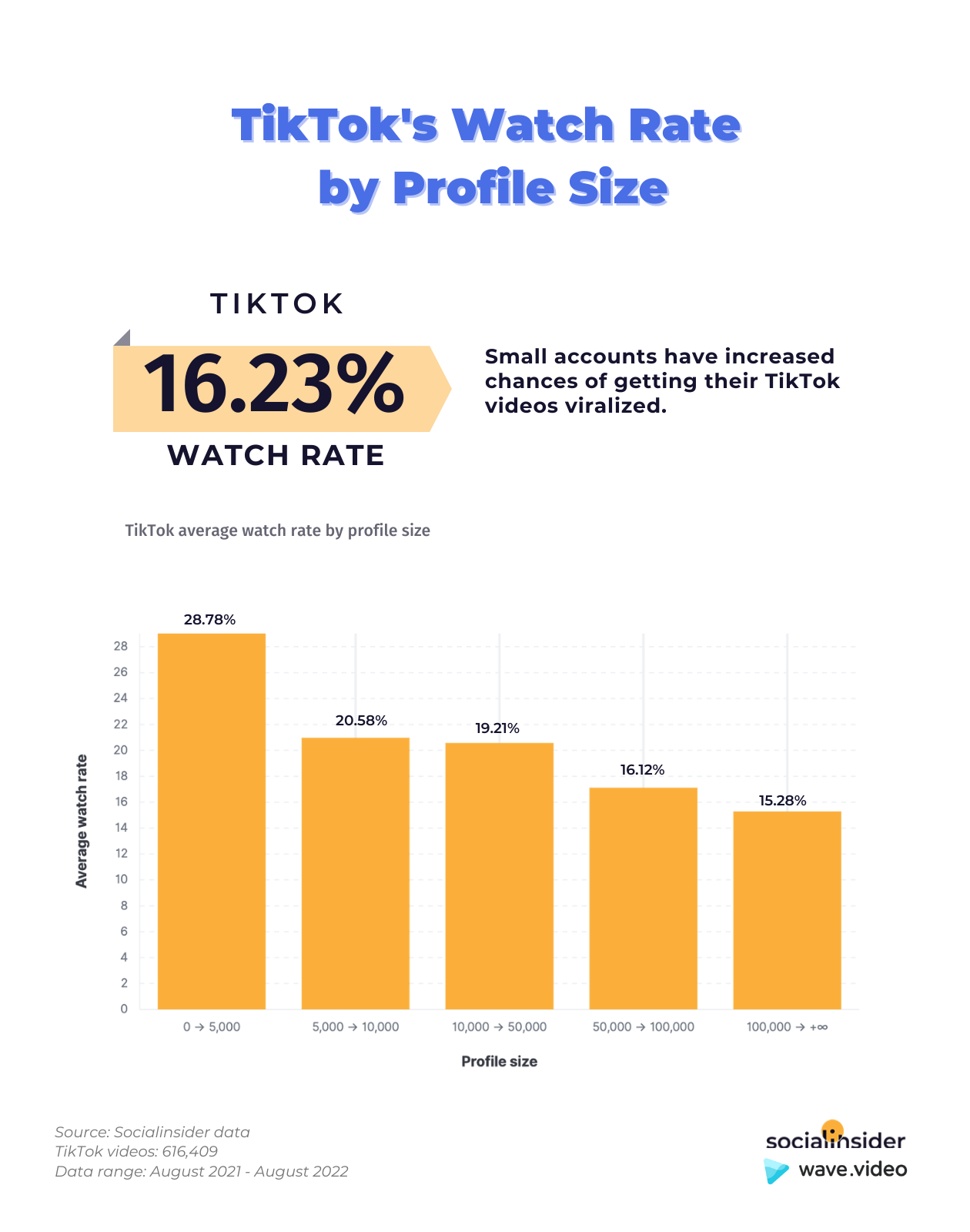 TikTok's algorithm does not necessarily display the content of the profiles followed.

This makes for a great opportunity for smaller businesses - that may not have a substantial marketing budget to increase brand awareness - to stand out and gain great visibility, which data confirmed.

Having an average watch rate of 16.23%, TikTok is the most beloved video social media network of today.

To measure an account's performance from a watch rate perspective, here are some TikTok benchmarks that could help:
the smallest accounts (under 5 K followers) have the highest TikTok watch rate - 28.78% on average;
middle-sized profiles (between 5K - 50K followers) reach average watch rates between 20.58% and 19.21%;
accounts with a fanbase between 50K-100K followers record an average TikTok watch rate of 16.12%;
profiles with over 100K followers get the lowest TikTok watch rates - 15.28% on average.
To calculate the average TikTok watch rate, the post's views count in a given timeframe must be divided by the total number of profile followers and multiplied by 100 to get a percentage.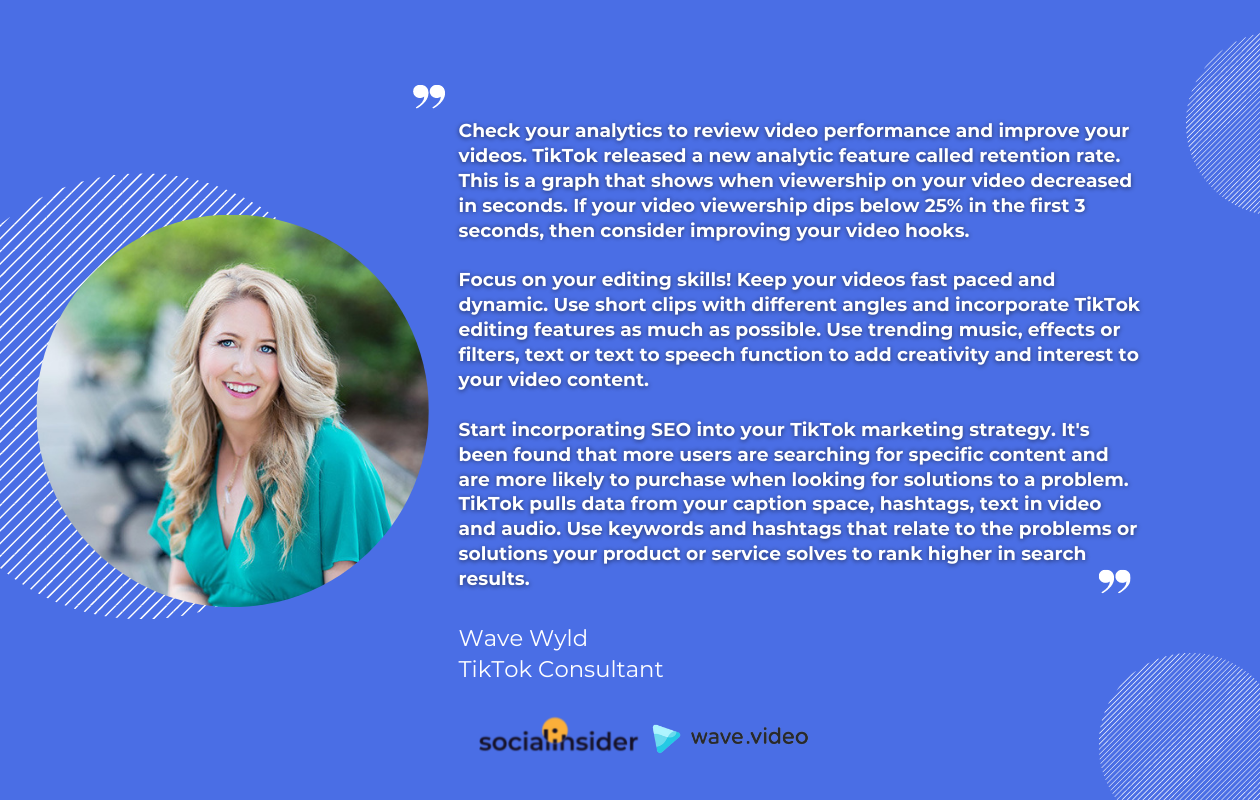 3. TikTok accounts post on average 20 videos per month
For being a quite distinct social media network with new concepts and features, most brands are reluctant about joining the platform just yet.
On the other hand, creators seem very enthusiastic about testing the waters and joining this new, revolutionary, video-oriented social media platform.
And some of them became quickly successful in making waves with their videos on TikTok and gaining a loyal audience.
Social media managers and creators alike know that consistency is key for creating an engaged audience and are taking things seriously when it comes to their TikTok accounts and posts.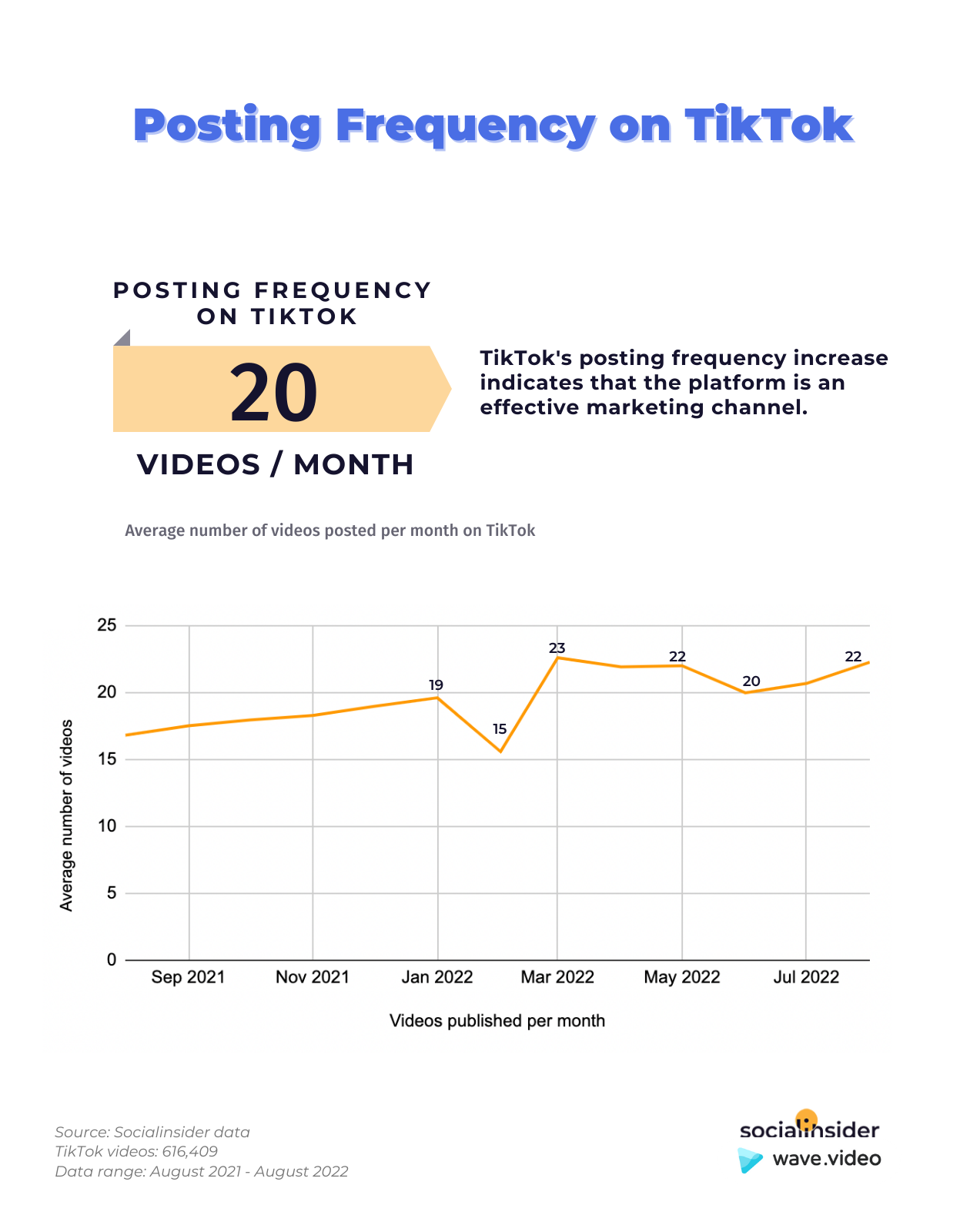 With an average TikTok posting frequency of 20 videos per month and growing year over year, as shown by data, TikTok has the potential to become the social media platform with the highest ROI pretty soon.
4. TikTok videos that include a mention get a higher watch rate
Collabs make for a significant part of TikTok's videos.
With the launch of specially designed features to facilitate collaborations, like TikTok Stitch or Duet, it's pretty obvious the platform itself pushes and encourages video collaborations.
You know that saying - the more, the merrier. Right? - It applies in this case as well.
Compared to the above-named new TikTok features, mentions, on the other hand, are a rather old-fashioned form of partnership. However, equally effective mentions are still frequently used as a collaboration tactic.
Being one of the oldest marketing tricks to earn people's trust, an endorsement initiative is one of the most successful ways to generate brand awareness and a positive brand image.
Probably when invented, social media mentions were created with this very purpose in mind.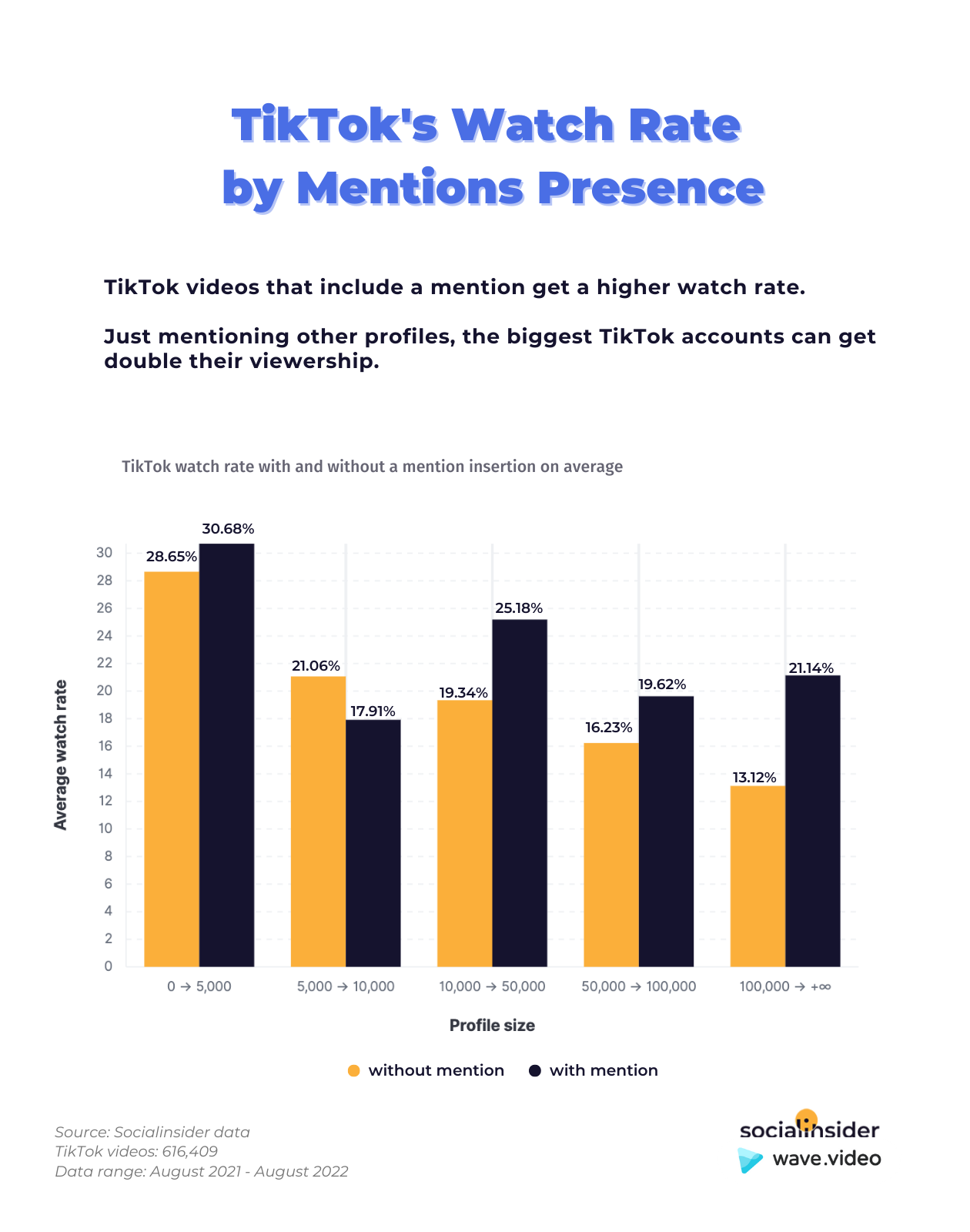 As revealed by our TikTok data analysis, when including a mention in the caption, a TikTok video is likely to increase its viewership.
Adding up to the insights these TikTok stats have uncovered is also that adding a mention is a successful strategy to increase the average TikTok view rate/ watch rate, especially for those accounts that did not acquire a large following yet.
Once again, the smallest accounts get the advantage of having an increased chance of getting more attention and visibility as long as their TikTok videos show creativity, originality, and authenticity.
5. Using original songs leads to a slight decrease in the average watch rate
Creators and brands that have hopped on the TikTok marketing train and earned tremendous visibility within the platform claim there are two focus points when creating a TikTok video: making it entertaining and using a trending song.
Emphasizing the idea that songs are crucial for TikTok videos' popularity, a TikTok sounds study conducted by Influencer Marketing Hub revealed that 90% of TikTok users say that sound is the key element of the TikTok experience.
Being a different type of "endorsement," trendy tunes are more likely to make a TikTok video more appealing simply because the melody itself is popular and beloved.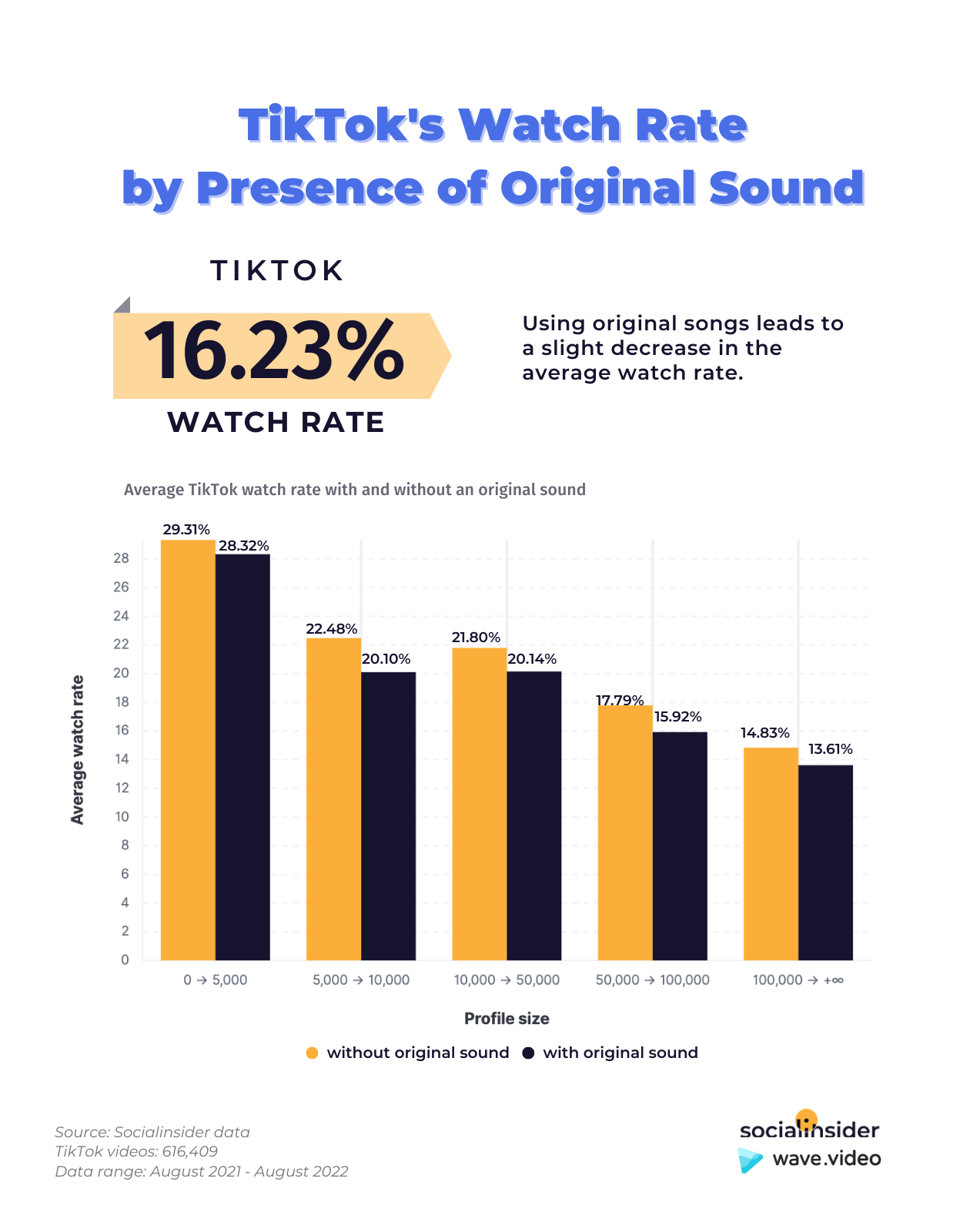 While on TikTok, not every viral video integrated a famous song but rather an original sound, data indicates that the average TikTok watch rate is usually lower when incorporating original tunes.
As for top songs that generate a higher watch rate on TikTok, a few of them are:
Monkeys Spinning Monkeys by Kevin MacLeod
Pieces (solo piano version) by Danilo Stankovic
Sunny Day by Ted Fresco
Aesthetic by Tollan Kim
Still Don't Know My Name by Labrinth
Methodology
The dataset used to uncover these TikTok benchmarks consisted of 616,409 TikTok videos coming from 3,127 TikTok profiles that had an active presence on TikTok from August 2021 - August 2022.