Wondering how to perform a social media competitive analysis? Looking for a free template where to collect competitors' data and stats?
In this article, I'm going to share with you a step-by-step guide on how to create a social media competitive analysis and a template that will make easier to create benchmarks for your industry - free to download, no email required.
Sit back and relax, it is going to be worth your while :)
In a hurry? Download our free social media competitive analysis template or watch our live webinar where Razvan - co-founder @Socialinsider - walks through how to create benchmarks for your industry.
---
6 steps to create a social media competitive analysis
---
#1. Know your competition
The first step is identifying your competition. And you should not stop at knowing them; dig deep to know the major platforms they use.
You could simply google your completion through their various niches. Start by typing the industry-based keywords and search for competitors. Once you identify one competitors search by using keywords like 'alternative to competitor x'.
If you still focus on the local presence, start by searching for regional competition. The best approach is to start the search on the platform you are working with. If you mainly working on Amazon, that is where your search should begin.
When you get search results, group your competitors using the following two criteria:
Indirect or direct competitors. It helps you know the competitors you are fighting with for the same audience as well those who indirectly affect your customer base and sell complementary services. Take our case for example - we could consider Later an indirect competitor because they have an Instagram analytics feature while scheduling is their core feature. However, when we compare feature by feature, we are looking at competitors like RivalIq or Quintly.
The level of competition. Are they local, regional, national or global competitors? It will not make much sense of running a local pizza joint and doing an analysis for McDonald's. You will end up with not much data and waste precious time and resources.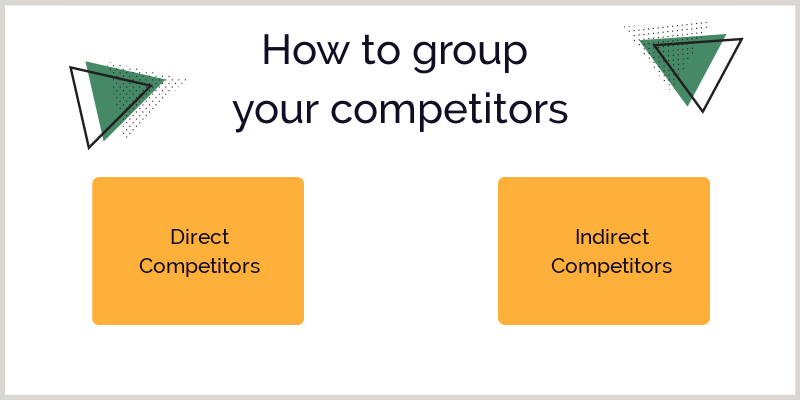 #2. Narrow down to the top 5 competitors
Your focus should be on those who are in one way or another outperforming your business. To successfully identify these top competitors, use these approaches:
Buyer persona: choose the competitors with the same buyer persona as you have.  It helps you focus on the market gap.
Services offered: look at what type of services they are offering.
Business size: choose between - small, medium or large businesses. Search for the customer reach, assets, human resource and any other parameter to help you know how big your competitor's brand is.
Locations where businesses are operating. If they are selling physical goods, see where they are located. If they are selling online and they're running the business from different places, understand if it's reasonable to expand your business too. Your analysis should be able to answer these questions. It gives you an idea of where you can expand your business to.
Once you know who your competitors are, you can put them all into our handy template. This spreadsheet be your place where you'll store all of your monthly or quarterly data.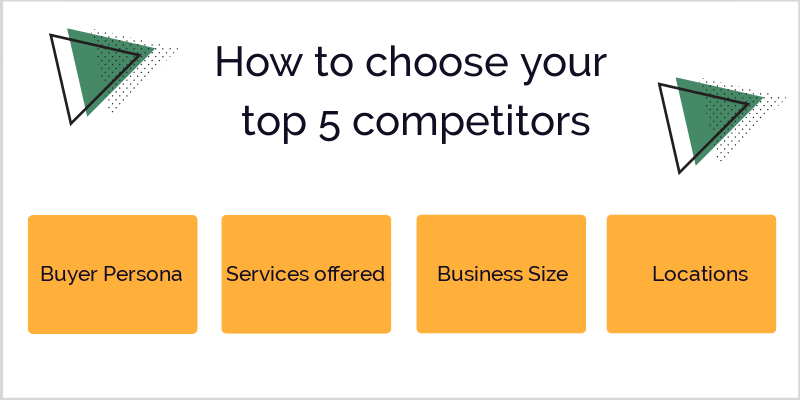 #3. Come up with precise competitive analysis goals
Guide your social media analysis by a set of goals. It helps you steer your analysis to the right direction and get meaningful information at the end of the day. Here are some ideas for your social media goals:
Improve the content strategy
You should know what you are doing right, and what you are not. Get insights into your weak areas on the content strategy.
Identify suitable ideas for the next campaigns
The oncoming festive season is your time to make great deals. Start looking for ways to amplify your performance and win more customers.
Competitors' growth versus yours
How are you faring on market growth? Does the competition outgrow you? Find out what they are doing to keep growing. Implement a digital strategy to maintain a sustainable growth.
You are looking to establish the level of audience engagement your competition has achieved or even hit new heights. It is alright if they are doing way better than you are. Learn their tricks and work your way up.
Find out the type of content that adequately engages the audience
When it comes social media competitive analysis, the engagement on social media should be one of your primary goals. You want to stay ahead of the competition and learning the perfect way to engage audiences is a crucial aspect.
Knowing your social media needs defines the summary of your analysis and shapes your actions.
#4. Choose the social media platforms
Ok, you have a list of top 5 competitors. Wondering what you should do next?
Choose the channels you'll be monitoring. Focus your analysis on what kind of platforms your competition is using to tap into audiences. Finding the platforms is one thing, but you should know why they primarily rely on those platforms. Establish whether your target audiences use such platforms and work on a plan to boost your presence on them.
In your social media competitive analysis template, you'll have different tabs dedicated to each social media channel. Write down your competitors' name, handle or username as well as a link to their profile.
Additionally, add the bio description where you can extract their hashtags or interests by analyzing top keywords used. Interpreting the texts gives you insights for the future social media campaigns, words you could use in your communication or it defines the topic of interests which are great for the paid campaigns.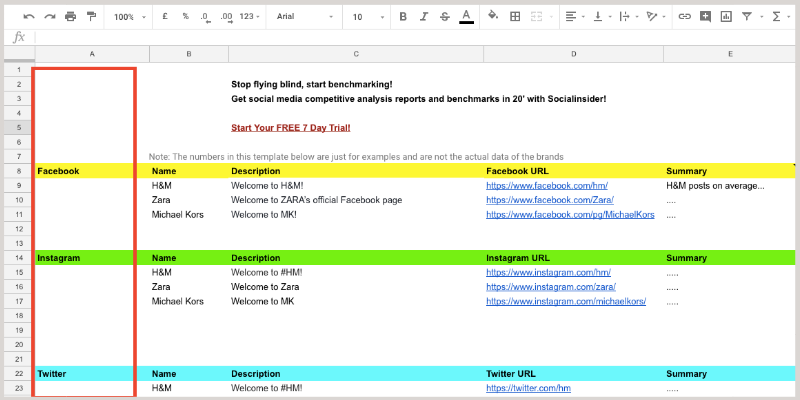 Our spreadsheet includes sections for Facebook, Instagram, and Twitter.
Extend your analysis, and choose any social networks you'd prefer. You'll likely notice most brands in your industry have three or four main platforms in common.
#5. Collect data and stats
What metrics are you looking for? They will help you focus on the important areas and increase the probability of achieving your goals. In this case, here are some metrics you should focus on:
Are your competitors growing their audience quicker than you? It is recommended to get down to the exact number of followers and fans. It gives you the motivation to work your way up to surpass the competition's audience figures. This template has different tabs for each platform where you can add the total numbers.
How many posts per day your competitors are publishing on social media? Focus on the types of content they post, their frequency and time of posting. You can learn a thing or two on what kind of posts the audiences are looking for and the timing to post for maximum engagement.
How engaged is the audience on Facebook vs. Instagram vs. Twitter? You can measure the engagement on social media with the help of a benchmarking tool which offers stats and data for the:
total engagement
average engagement
engagement rate/post
engagement rate/page or profile
engagement evolution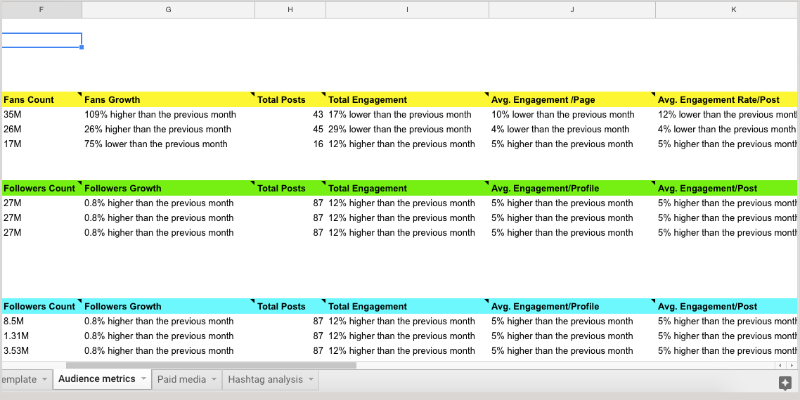 👉 Use Socialinsider's competitor reports to make this process much easier:
None of the social network gives you insights into competitors' paid campaigns. However there two option to search your competitors ads on Facebook:
Use Facebook's ads library
Facebook tries to increase transparency and this year they resealed Facebook's Ads Library - a database where you can search by name, topic or organization and you'll get a list with all active and inactive ads campaigns for that specific search.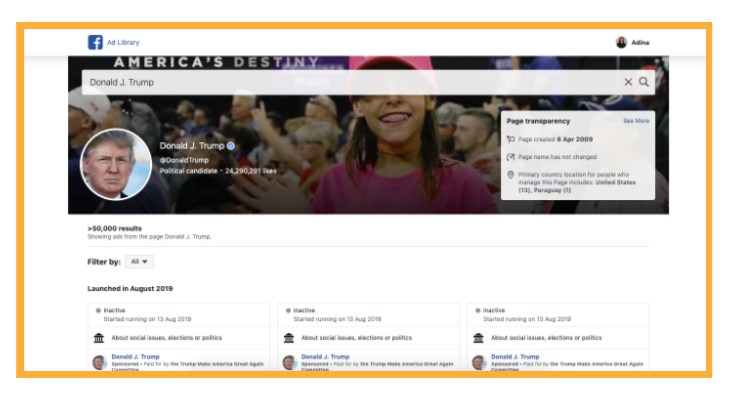 Other tools to spy on your competitor's Facebook ads are:
All of the above tools have database with ads where you search through categories and gives you competitive advantage on design or copy.
Use a benchmark tool which uncover your competitors' boosted content
Keep tabs on your social media competitors' activity with a tool like Socialinsider which shows you what type of content your competitors are boosting and how often.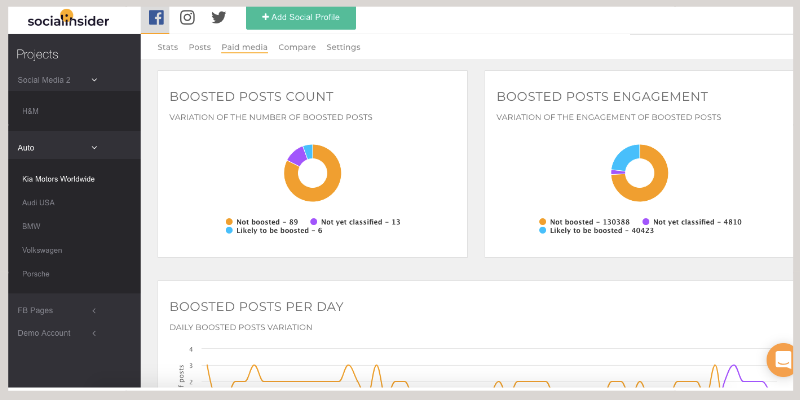 Are they using branded or non-branded hashtags across their  social media platforms?
Dig in to understand why they use the certain kind of tags and whether they are getting good results out of them.
Once you have all the information from your social media analysis research, make sure you add that data to your spreadsheet.
#6. Social media competitive analysis tools
Social media competitors' research is an important part of the competitive analysis for any business, new or established. With social media traffic making a huge chunk of online traffic, you need to know how to get in front of this audience before your competitors or if possible chip away at their audience.
You also need to know about your brand and other brands in your space on online forums, websites, blogs, and social networks so that you can craft an effective digital marketing strategy.
By performing a social media competitive analysis you come to understand what is working and what is not working, so that you can modify and optimize your strategies.
A well-executed strategy will not only result in leads but also convert such leads into customers.
However, to get these important insights into your own social media strategies and those of your competitors, tools can be a great help.
While there are tens of competitors' analytics tools, at their core these tools are all about four things: discovering new sales channels, getting to understand your clients, avoiding mistakes, and learning new and effective strategies from competitors.
In this article, I included four competitors' analysis tools: Socialinsider, Klear, Keyhole, and Brand 24, which specialize in one or two aspects of the competitors' research mentioned above.
6.1. Socialinsider


This social media competitive tool is an analytics tool for agencies though it can also be used by a business that is not necessarily an agency. Socialinsider is important for your business as it possible to compare the performance of your social media campaigns against those of your competition.
What I love best about this tool (I'm biased here, because I'm the co-founder) is that it gives you great insights into the digital strategies of your competitors. It provides analytics for aspects such as content performance, engagement metrics, and the growth over time of their audience.
"Socialinsider gives us a great insight in any Facebook, Instagram or Twitter page, which saves us a lot of time." - said Alex Khan.
Socialinsider does absolutely everything you would expect from a competitive analytics tool made to ease the social media strategy process. With Socialinsider, you can spy on all the best content that your competition is producing, that is getting them great engagement. You can also get some good insights into what is the best performing content, by analyzing their boosted content as most brands boost content their best performing content.
Best of all, the tool makes it easy to customize the report including adding in your own logos and remove unnecessary info before sending to the client.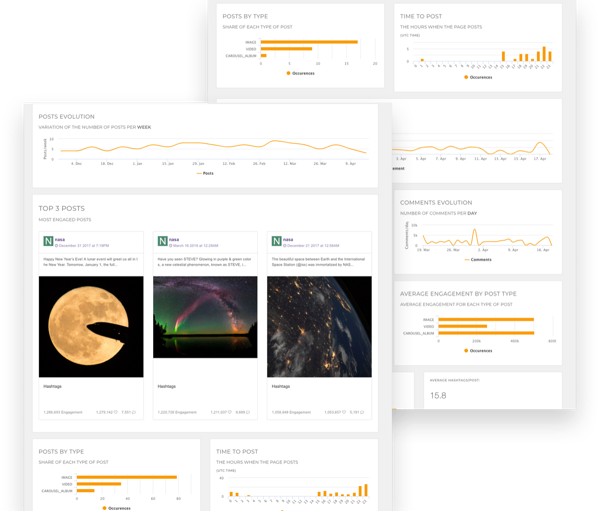 6.2. Klear


Klear is a revolutionary influencer marketing search engine that makes it easy to find the best influencers to promote your products or services. Klear works with YouTube, Instagram, Facebook, and Twitter, and will find the most popular influencers around the world in any category. This makes it very effective at finding the best influencers to promote your product to the most receptive clientele.
The tool is effective at influencer management competitive analytics, as it not only helps you find the best influencers but also makes it easy to manage campaigns and the relationships with influencers. With this tool, you can compare different influencers in a given space, reach out to the one you like best, have them set up a promotion campaign and monitor its performance right from the tool.
With so much information available on your dashboard, you can tweak and optimize campaigns, change influencers, and achieve the best return on your social media campaigns.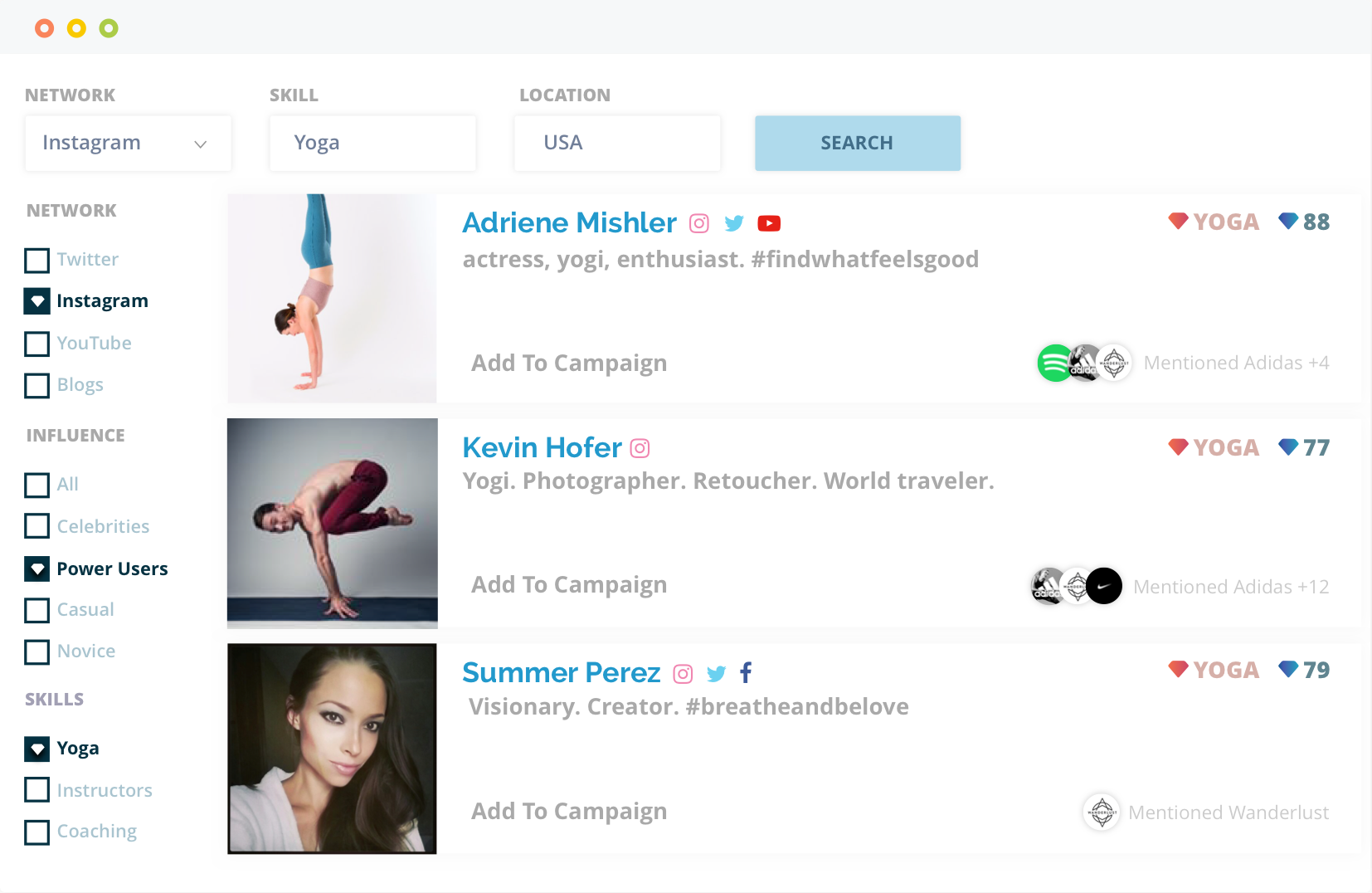 6.3. Keyhole


Keyhole is a more broad-based social media analytics tool that performs several functions for your business. Apart from the usual social media channels such as Instagram, Facebook, and Twitter, Keyhole goes further and provides brand monitoring data for blogs, news, and forums. This provides real-time analytics that updates you whenever your brand is mentioned in any of these channels.
Apart from brand monitoring, the tool also provides event monitoring, campaign monitoring, and influencer marketing.
On influencer marketing, it is similar to Klear as it provides analytics for your campaigns with different influencers so that you can determine the effectiveness and ROI of given campaigns.
Keyhole does make campaign monitoring on the different social networks easy, as it aggregates data across to make it easy to optimize well-performing campaigns and delete poorly performing ones.
Another thing the tool really does well is market research through social listening. You can set up the tool to listen for trends, keywords, and themes in conversations by potential clients, so that you can better target campaigns.
If you are too busy to check up on events, set up event tracking and let the tool monitor the analytics which you can then analyze and tweak at your own pleasure.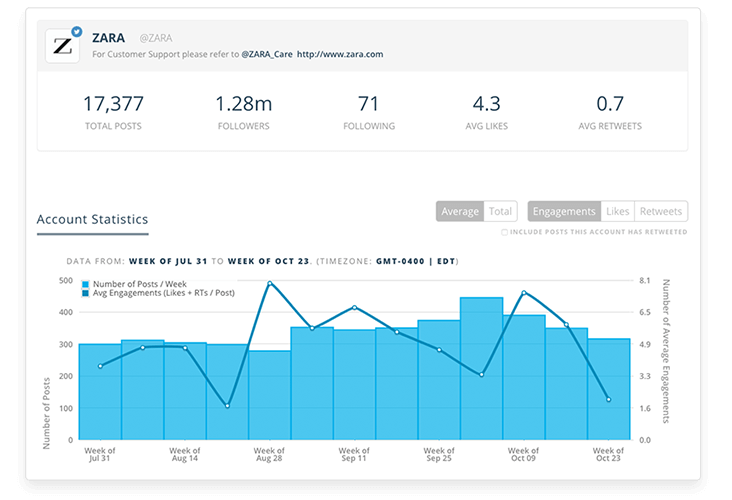 6.4. Brand24


Brand 24 is a more specialized type of competitive analytics tool that helps your business take advantage of brand mentions so that you can reach customers fast, get social insights, and find sales opportunities while they are still hot.
Brand24  allows you to gain social insights such as influencer scores and sentiment analysis of your core client base. Right within the tool, you can segment your analytics with negative, positive, or neutral segments to make better decisions on how to improve perceptions.
You can also set up the tool so that you get real-time updates on certain keywords. You can follow up fast on brand mentions by potential customers or complaints by clients that already purchased.
By doing this you can get ahead of the curve to create a positive brand image by providing an appropriate response. Brand 24 also enhances your sales opportunities as its listening tools can be set up to monitor the social networks and the web in general for themes and topics related to your products.
With such capacities, you can respond faster to clients seeking your products or those of your competitors, and sell them on why your products are the best.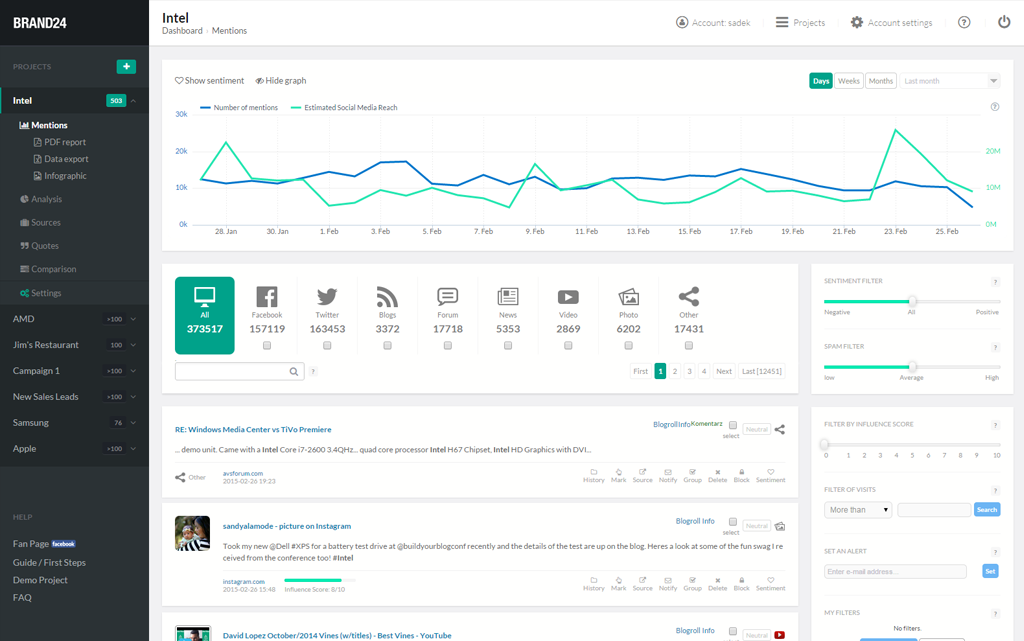 #7. Create an actionable plan from your analysis
This is where the real action begins. You get to work on your analysis as you build it from down up, sideways, horizontally as well vertically.
Take keen attention on the insights you draw from your research and analysis. Whatever you do, do not lose sight of your set goals. Set things in motion using whatever you have learned from the competitors research.
Before finishing your analysis and sending it to managers, follow these steps:
Final thought
It is not rocket science to be a social media marketing guru or make your brand an overnight success story. As long as you follow this social media competitive analysis template, the rest will be easy.
Take time to reorganize your social media analysis, and for sure you will be flying with the eagles. Importantly, keep track of your performance, and effect changes when and where necessary.
Your turn. How do you describe the process of competitors' research?
Report and analyze social media performance for multiple business profiles from one dashboard with Socialinsider! Create social media benchmarks for your clients or industry, generate .pdf or .ppt reports, and automatically send them to clients. - *For users on an Agency plan.
---
Related articles: