Wondering how to increase the engagement level of your Instagram account in 2020?
Instagram is one of the best places to market your brand online visibly and nicely, gain a loyal following, and build a community that supports your business.
That's why today, I am going to share with you 12 easy steps that will help you level-up your Instagram engagement in 2020 and beyond.
Boost Instagram engagement in 2020
---
1. Complete your Instagram bio
Considering that your Instagram profile is the new homepage, having a good Instagram bio is an important step, because this will help you attract new followers.
If you want to get new Instagram followers, they need to quickly understand why they should click that "follow" blue button.
A good Instagram bio explains what's your core business.
A good idea is to speaks directly to your target audience. In this way you'll attract more quality followers who are aligned with your brand and who are more likely to become your customers!
Take a look at Dennis Yu Instagram bio, Alex Khan, or Canva - the minute you read that bio you know if you really want to follow them or not.
Think about how you can use those 150 characters in your Instagram bio to write a copy that attracts both prospective clients and customers — people who are the most likely to press the follow button!
Writing a short but comprehensive bio might be difficult even for an Instagram pro.  If you need some help, you can also turn to a social media advisor. To pick the right one, you can check website ratings to find a match.
2. Add some fun to your posts
Instagram Stories and posts take time and effort, everyone knows that, but doesn't mean you can't have fun creating them.
You are 100% free to express yourself in any way you want to.
Here's how Drift incorporates fun to their Instagram posts.
If you include some fun moments into your strategy, get ready to see some real returns in your comments, shares, and likes!
3. Maintain a schedule
There are a lot of studies that show you the best posting time for social networks. No rule says you must post photos at the same time every day or on the same day every week.
First, ask yourself: "What should my account be known for?"
After you answer this question, you'll see that everything will be smoother. You'll know exactly what you have to post, so you don't have to scout the Internet in search of ideas. No more stress.
All you have to do is post with frequency, and in time you will make a plan that fits you and makes you feel comfortable.
4. Add a location every time you post
If you're looking to boost your exposure and improve your engagement, you need to start tagging locations in your posts!
Studies showed that posts tagged with a location receive a higher engagement rate.
Anyone who's searching for Instagram posts in their neighborhood or city will likely come across yours, and this will be an excellent opportunity to start a good conversation.
For example, if you're posting a story from a festival, party, or social media reunion in New York, you can tag the location with a sticker, and your story might appear in that location's Instagram Stories.
One of my fave pieces of advice for Stories right now is to use the location tag on Stories. BUT, the key is to use the smallest possible location. Tag the actual building, business, venue, or other small area. Instagram knows that the specific location is in a certain neighborhood, in a certain city, near other places, and within a larger geographic area. As a result, tagging the small location could land you in multiple search results for various locations. But if you tag something large (like a whole city), you will not show up in locations for smaller areas. - Jenn Herman, Social Media Strategist, Jenn's Trends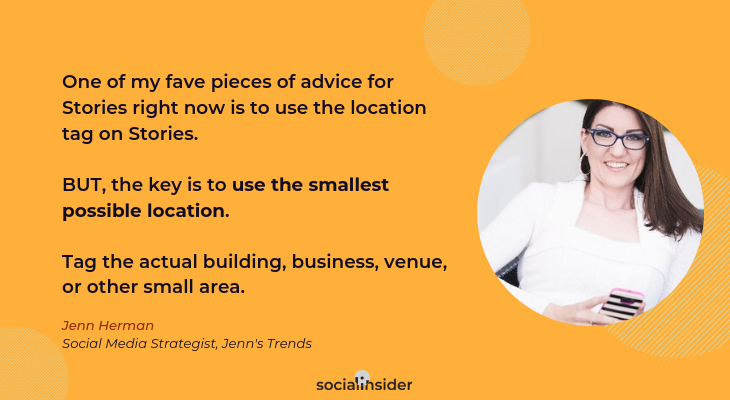 5. Reply to your DMs
This step is essential.
Keeping a relationship with your followers is very important, mainly because they take their time to send you a message.
No matter how big or small your account is, make sure you spend time listening and responding to negative feedback, or positive.
The simple act of showing your followers that you're listening to them is going to help build that community and online conversation. Let them know that they are being heard, respond with an apology, and make it right.
The more comments, likes, shares, and DMs your posts get, the more likely it will be ranked as quality content and it could be displayed to wider audiences on the explore page.
6. Start conversations with Instagram Stories Stickers
Instagram engagement is no longer just likes and comments, in 2020 it also includes engagement from your stories, people following your brand hashtag, IGTV views, and more.
Instagram Stories stickers are a great way to encourage your followers to chat and share their opinions and experiences with you.
You can use the question sticker; this is an excellent opportunity for your followers to get to know your brand better, or get more information about your products. Also, it's an excellent place for you to ask your followers some questions.
Because your followers' opinions matter, you need to start using poll or vote stickers! This sticker will help you understand what your followers' opinions regarding your brand or services are.
7. Use branded hashtags
To get the most out of your hashtag marketing, you'll need to define your goals.
The first and most fundamental aspect of hashtag marketing is having your own branded hashtag.
If you want to increase your Instagram engagement, understanding which hashtags are driving more people to your posts is really important.
Your basic branded hashtag should be used on an ongoing basis, and it should be applied to any post.
Create a branded hashtag for:
Product launches
Product updated
Promotions
Contests
Sponsored Events
Continue reading: How to measure your hashtags performance with Socialinsider!
8. Take a look at your analytics
Do you know how effective your Instagram marketing is? Are you aware of how it interacts with your overall marketing efforts?
It is essential to know what's working and what isn't to increase your Instagram engagement rates.
You can measure your Instagram efforts with an analytics tool like Socialinsider.
This Instagram analytics tool, give you the possibility to track your posts performance, track comments and measure the number of likes your posts receive. Increasing your number of followers and likes it's a continuous goal that requires time and a very well thought strategy.
Here's what you can learn from Instagram analytics:
How many "profile visits" your profile has received within the past week
The total number of "taps" your profile or its posts have received in the past week
How many "website clicks" users made from your profile in the last week
The number of "get directions" or phone calls users placed through your Instagram profile
9. Stick with one Instagram filter
Canva has a study that discovers Clarendon is the most used Instagram filter not only in the US but worldwide.
Brightness is also key to attract viewers and more important, likes.
There are a lot of filters, so play with them for a while, and then stick with the one you feel more comfortable with, and defines you and your business the most.
10. Write shorter Instagram captions
Did you know that your Instagram caption can be up to 2,200 characters long?
However, that doesn't mean you should use all those characters for just your message.
Our data shows that it's better to write less than 10 words, but add extra emojis. Get some ideas about how to write your Instagram posts for more engagement from the study below👇
One of the factors that affects how your Instagram post performs in the algorithm is how people engage with your Instagram content.
So what's an easy way to increase the time people spend looking at your post? Write long and attractive Instagram captions.
This is a great opportunity to keep your audience informed about your brand and business goals, your products, your business mission or anything else that can't be said in a one-liner and a few emojis.
11. Use the right Instagram image Size
There's nothing worse than uploading a photo that gets cut off or doesn't upload the way you envisioned.
Make sure that your photos are not only sized correctly, but are also appealing, because studies show that brighter pictures get 592% more likes than the darker ones.
Instagram sizes are:
Instagram profile photo: 320x320 px
Instagram square photos: 1080x1080 px
Instagram portrait photos: 1080x1350 px
Instagram landscape photos: 1080x566 px
Instagram stories/IGTV: 1080x1920 px
12. Include a link in your Instagram bio
Do you want your audience to view your website, sign up for a newsletter, read your blog articles or know more about you and your business?
Well, you can send them in the right direction by including a link in your Instagram profile description. Just tell your users what the link is for and that they can find it in your Instagram bio.
But if you want to be top of your game when it comes to linking on Instagram, one CTA just isn't enough anymore. You want your audience to know where else you live online - like on other social platforms, your website, your blog, or even your online store.

The issue is that you can't typically send them to all of these places at the same time, especially from Instagram. So you need to use additional tools like Rebrandly LinkGallery, that enable you to link to multiple destinations from a single bio link.

By creating a customizable page to fit your branding, you can host an unlimited number of links for your prospective customers to choose from, giving them more control over how they interact with your brand.
Final thought
If you want to take your Instagram account to the next level of engagement, you have to spend time and put all your creativity in there.
Incorporate these 12 tips in your 2020 Instagram strategy and see how your audience responds!
---
Related articles: