There's no denying video is the present and future of social media marketing. Its dynamic, highly engaging nature is a perfect match for a world that's always on the move.
We already know Gen Z - the second biggest consumer demographic globally, after Millennials - has a soft spot for video content.
With this in mind, the decision to integrate a lot more video content into your marketing strategy should be a no-brainer.
But where to start?
No worries, we got you. Keep on reading to discover 8 compelling video content ideas that will boost your engagement on socials and help you tell better stories.
8 Ways of Using Videos to Reach Your Audience
1. Why is video marketing so important?
Having a video marketing strategy is essential if you want to keep your content fresh, memorable, and measurable.
Users actually prefer video content over almost everything else, including emails, newsletters, blog posts, and downloadable content.
Video content caters to the audience's desire for short, compelling pieces, and it also gives marketers the opportunity to get more creative than ever before. It even offers a better ROI than Google Ads, according to Biteable.
Because video is proving to be a top-performing marketing tool across the board, more and more brands and businesses are using video in their day-to-day social media strategy.
To get a better idea of how powerful video is becoming for social media, let's have a look at some stats. In their 2022 video survey report, Wyzowl found that:
91% of businesses use video as a primary marketing tool (more than ever before!)
41% of marketers adopted video as a marketing tool for the first time in 2022
70% of 'non-video-marketers' are planning to shift their focus to video in 2023
95% of marketers say video marketing has helped them boost brand awareness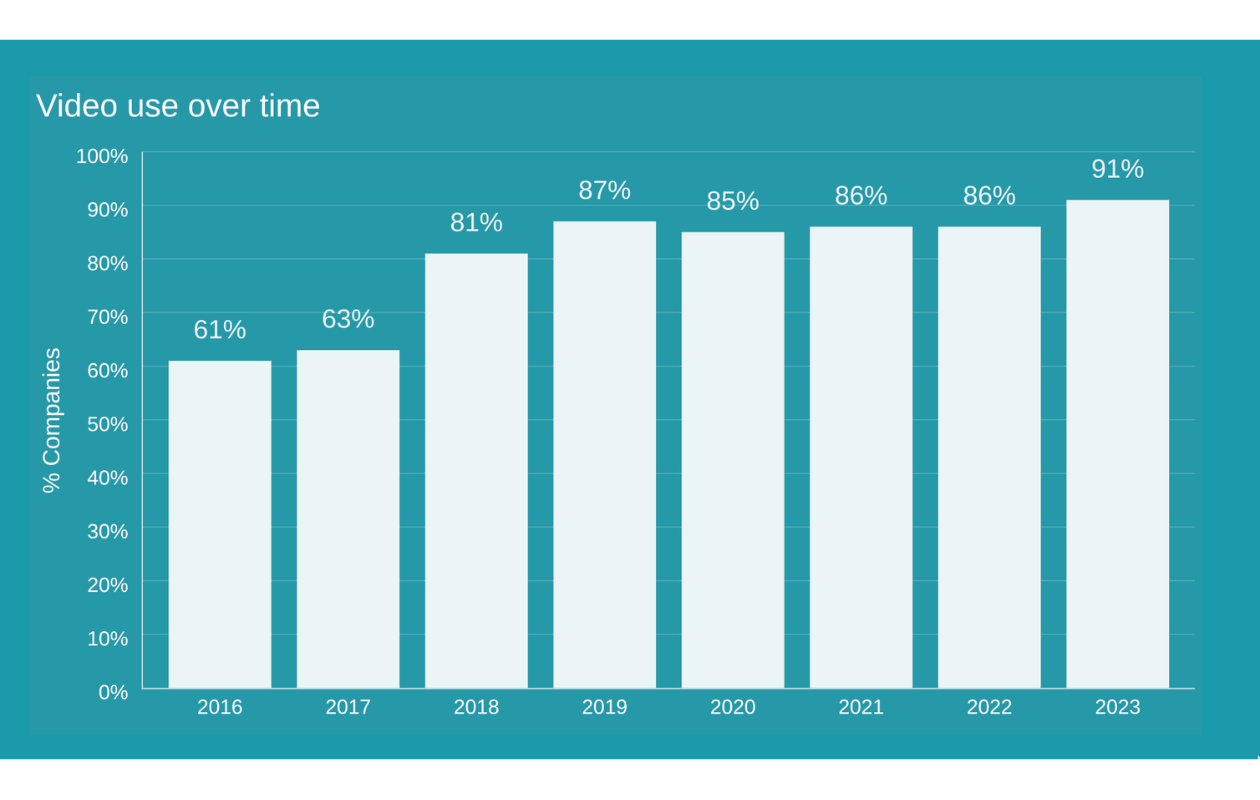 2. Match your video content with your goals
It's easier to get started with video marketing when you have a clear goal in mind. That means knowing what you want to achieve with a particular type of video content.
For instance, for boosting brand awareness, product teasers, Q&As and interviews are a very good place to start. For building trust, videos based around company culture, case studies and testimonials are very effective.
Product launches, announcement videos as well as how-it-works / tutorial videos work wonders when it comes to lead generation & customer retention.
3. Best social media channels for video content
Nowadays, more and more social media platforms are jumping on the video content bandwagon by introducing new video sharing formats such as Instagram Reels, Youtube Shorts and so on.
Still, video marketers tend to gravitate towards video-first channels where they have access to more customization options, as well as in-depth analytics data.
In their video content study, Wyzowl also looked at the most used platforms for sharing video content. As expected, YouTube came out on top, followed by LinkedIn and Instagram.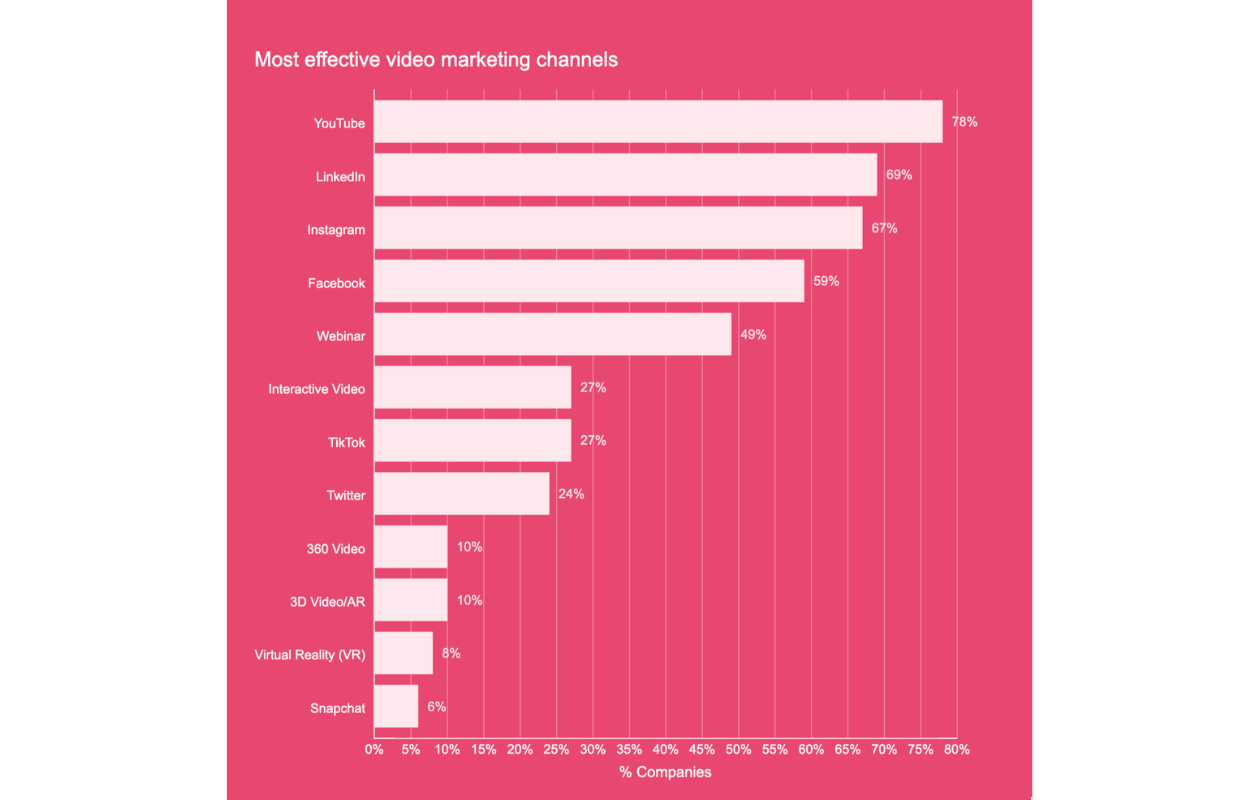 4. 8 compelling video content ideas for social media
With so many things on your daily to-do list as a social media manager, it's not uncommon to feel drained of energy and creative inspiration.
Luckily, we got you covered. We're here to share some refreshing and engaging video ideas for social media that will get your creative juices flowing once again.
If what you need is inspiration for a particular platform, say content ideas for TikTok videos for instance, we have an article covering that in great detail. We also have one on Instagram Reel ideas as well as LinkedIn.
Different platforms call for different types of videos, which is one reason why it's important to be present on as many platforms as it makes sense for your brand.
Regardless, today we're sharing 8 fresh ideas for video content that work across various social media channels:
4.1. Introduce your brand to the world
We typically don't get more than one chance to make a first impression, and that applies to brands as well as people.
If you're on social media on behalf of a brand or company and you haven't gotten around to properly introducing your brand to the world, put it all in a video and send it out.
It can be a highly-produced, elegant-looking video (like the one from Bic displayed below) or something simpler, more raw and authentic.
Typically, YouTube is where users expect to find videos with a higher production value, whereas Instagram and TikTok are go-to spots for raw, unedited videos.
The purpose of these introductory videos isn't necessarily to sell something, but allow your audience to become more familiar and connect with your product.
4.2. Host a live Q&A session
More and more people on the internet are drawn to candid content and a live Q&A session fits this pattern perfectly.
Most social media platforms, including YouTube, TikTok, Instagram and Facebook allow you to do livestreams and take questions from the audience in real time.
YouTube even has a new "Live Q&A" feature designed specifically to help creators better interact with users during livestreams.
The idea behind a live Q&A is to promote transparency and openness. This will help you connect with your audience and prove that your brand is authentic.
4.3. Join a challenge
With so many challenges popping up on social media every minute, it's very hard to keep up. But the upside is that you always have a variety of options at your disposal.
Challenges are a great way to exercise your creativity and connect with your audience, which will in turn have a positive effect on your reach, engagement and other key social metrics.
Here's an example of the famous brand Guess jumping on the "2022 season" trend on TikTok to showcase their best looks of the year:
4.4. Share client testimonials
Now this might be a tough one to pull off, but in the end it will be worth it. If your company or brand has a way of asking for and receiving client testimonials in video format, use them to generate more brand awareness and new leads.
You can either bring these success stories together into a longer compilation or, on the contrary, break them down into bite-sized, easily shareable social videos that you can distribute across different channels.
It's important that these testimonials look and feel authentic, not staged, and that they communicate clearly the benefits people are getting when using your product or service.
4.5. Show them how it's done
Any video that falls into the explainer category has a great chance to be a hit on socials. Tutorial videos are greatly appreciated across all age demographics, from 50 year olds looking up new cooking recipes to 15 year olds searching for step-by-step makeup tutorials.
Explainers should be at the top of every marketer's mind when it comes to content ideas for YouTube videos, as well as TikTok or Instagram Reels.
Why? Because they provide a lot of value to the user. How-it-works videos are instrumental in improving your customers' understanding of your product or service and they're also good at building brand credibility.
If you're looking for confirmation on the popularity of tutorial videos, know that according to Wyzowl's video marketing study, explainer videos were the second most created videos in 2022.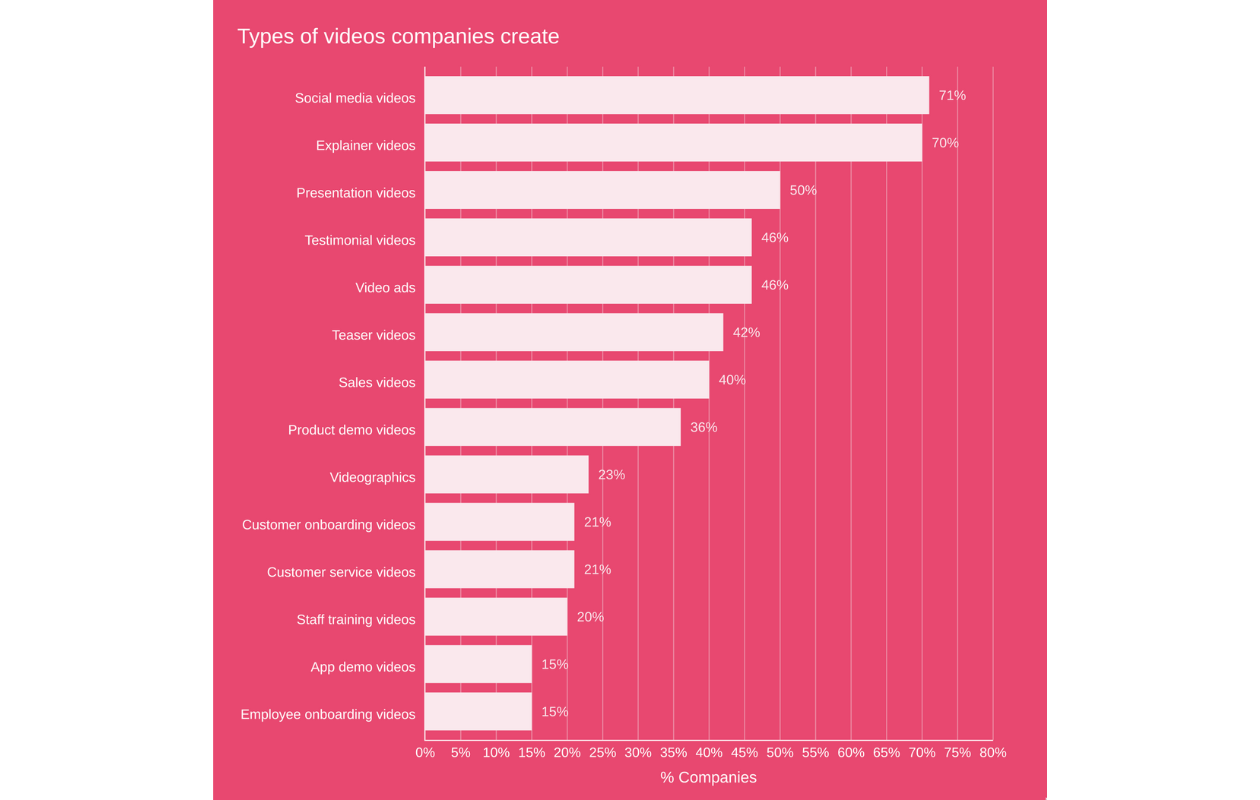 4.6. Leverage user-generated content (UGC)
When it comes to social media video content ideas, UGC is a golden ticket. As Fran Hale from The Drum suggests,
A powerful storytelling tool, UGC acts as the bridge between brands and their audience as it brings their community closer together and provides an increased sense of belonging and unity.
A lot of brands are tapping into the huge potential of user generated content to boost their engagement, grow their online community and make sure their followers feel seen, heard and included.
This is especially relevant when it comes to the Gen Z audience, who loves to actively participate in a brand's journey on social media, particularly when that brand presents itself as being authentic and approachable.
Thankfully, leveraging user-generated content on social media is very easy. Aerie, a US-based women's apparel brand, constantly encourages their followers to send photos of them wearing Aerie products and shares them on their feed:
4.7. Share some listicles
Listicles are a quick and simple way to create short-from, highly engaging video content for TikTok or Instagram when you're low on inspiration.
When it comes to this type of content, the possibilities are almost endless. Depending on your industry or niche, you can put together a top 5 or top 10 of different tools, tips, people, places, etc.
Listicles are very well received by users, because they offer a lot of easily scannable useful information in a short period of time.
4.8. Turn a blog post into a short video
Why spend more time brainstorming new short video content ideas for social media when you've got an entire collection of great ideas sitting in your blog?
Surely, this one only works if your brand already has a website and implicitly, a blog section. Provided that's the case, you can pick an article on your blog, break it down into a few essential bite-sized ideas and turn it into a video.
Not only will that drive more engagement to your blog but it will also make your content far more accessible and easily shareable.
At the end of the day, perhaps the best thing about video is that it tells a story. And who doesn't love stories?
So now it's your turn. Using these video content ideas we shared, which story will you tell first?