If you're a TikTok fan and you've been snooping around for entertaining videos that could raise a few good laughs, you might have gotten acquainted already with Ryanair's funny TikToks. If not, you have to check them out.
Being one of the most famous TikTok accounts, Ryanair's TikTok videos are solid proof that authenticity is the number one element that drives TikTok success.
Showing great skills in creating engaging content on a budget, Ryanair's TikTok strategy is an excellent inspiration source for brands thinking about jumping on the platform.
Let's uncover together the most effective tactics that brought Ryanair's TikTok popularity!
Insights about Ryanair's marketing strategy
1. What is Ryanair's social media strategy for TikTok
2. Ryanair's Instagram strategy explained
3. Ryanair's social media strategy for leveraging YouTube Shorts
1. What is Ryanair's social media strategy for TikTok
Ryanair as a brand has a very well-defined USP (unique selling proposition) - that of offering ultra-low-cost prices for flights across the world.
With a glimpse at Ryanair's TikTok account, it gets clear as daylight that the business's TikTok strategy is derived and perfectly aligned with its mission and mantra - that memorable experiences can equally be achieved on a budget.
Contrary to popular belief or expectations, there's no need for a brand to invest a giant marketing budget to become popular on TikTok. On the other hand, creativity is a must!
Ryanair's TikTok success is due to its understanding that authenticity is what reigns on social media these days and focuses on creating humanized content.
Rather than pushing hard sales, Ryanair's TikTok account aims to create funny and stimulating content with which its audience would resonate and engage.
Ryanair's TikTok videos integrate funny filters
Instead of turning to fancy settings or expensive collabs, Ryanair's TikTok strategy incorporates simple and humoristic effects, like the plane face filter for which the brand's TikTok videos are notorious.
This type of less polished content has proven to be effective for Ryanair, as it helped create a human connection and relationship with its audience, successfully contouring the brand's unique personality.
Having a quite different approach from most brands within its industry, Ryanair's boldness, originality, and ingeniosity were greatly appreciated by TikTok's user base.
These three key elements of Ryanair's TikTok strategy were the foundation pillars of its TikTok success, thanks to which the brand became one of the most famous names on TikTok nowadays.
From a performance perspective, Ryanair's TikTok account not only stands out from the crowd through its large fanbase and incredible view rate but also from an engagement point of view.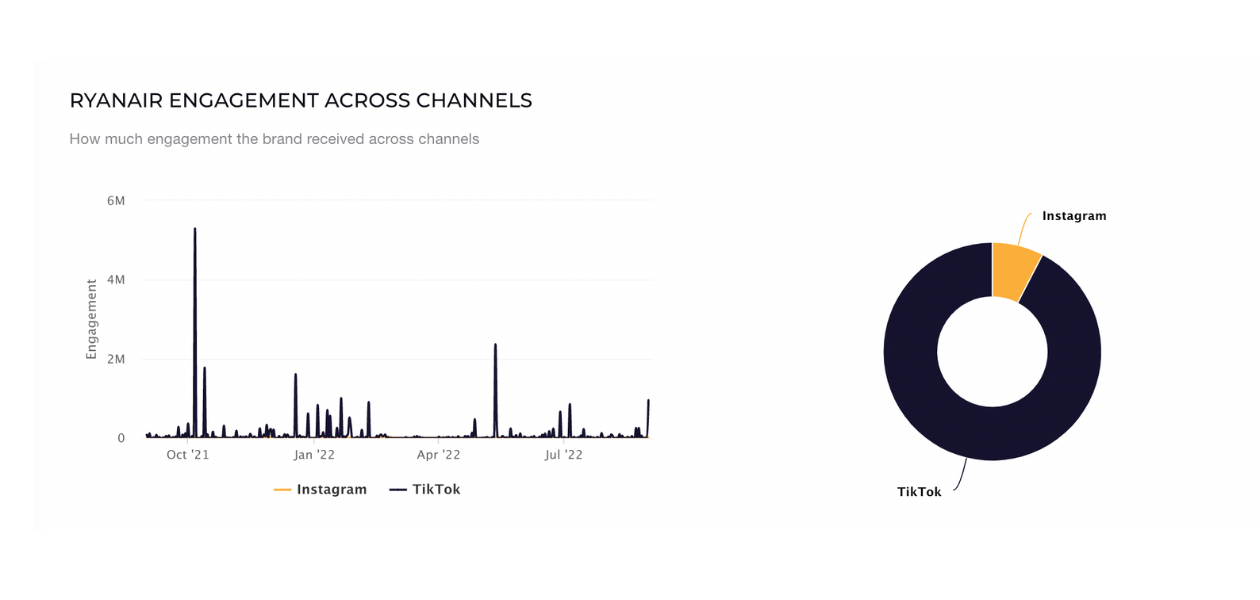 With an engagement exceeding TikTok's average values - recording an average engagement rate by views of 9.6%, Ryanair is the perfect example of how low-cost yet original creatives can turn a TikTok account into a star.
To check out the average TikTok engagement rates for different industries, you can take a look at our social media industry benchmark study here!
For more in-depth industry benchmarks, you can take a look and download our quarterly, free social media industry reports!
Through its recognizable videos and branded TikTok hashtags, Ryanair has earned tremendous brand awareness since joining the network.
Ryanair's TikTok marketing tactics make for valuable lessons for brands thinking about leveraging TikTok, the newest and fastest-growing social media platform, to their advantage.
Ryanair's TikTok content relies heavily on contextual marketing
What makes TikTok such a challenging platform for most brands is the need to create interest-grabbing content within just a few seconds.
Although it is far from being an easy job, Ryanair proves it's possible.
When deconstructing the brand's style of crafting TikTok videos, a creation pattern based on three pillars comes to light: Ryanair's TikTok videos are humoristic, captioned, and most of them under ten seconds.
As for Ryanair's creative strategy for its TikToks - the brand often takes inspiration from its community and on-point situations created at different moments in time.
Gaining insights into its customers' pains and dissatisfactions expressed through comments and reviews, and addressing them openly in its sassy style, is what shaped Ryanair's spicy brand personality, due to which the brand got its TikTok fame.
2. Ryanair's Instagram strategy explained
When communicating all over the brand's social media channels, Ryanair keeps the humoristic yet sassy tone that characterizes its TikTok account.
On Instagram, Ryanair went full-on memes, approaching this content type and theme on pretty much all of its creatives.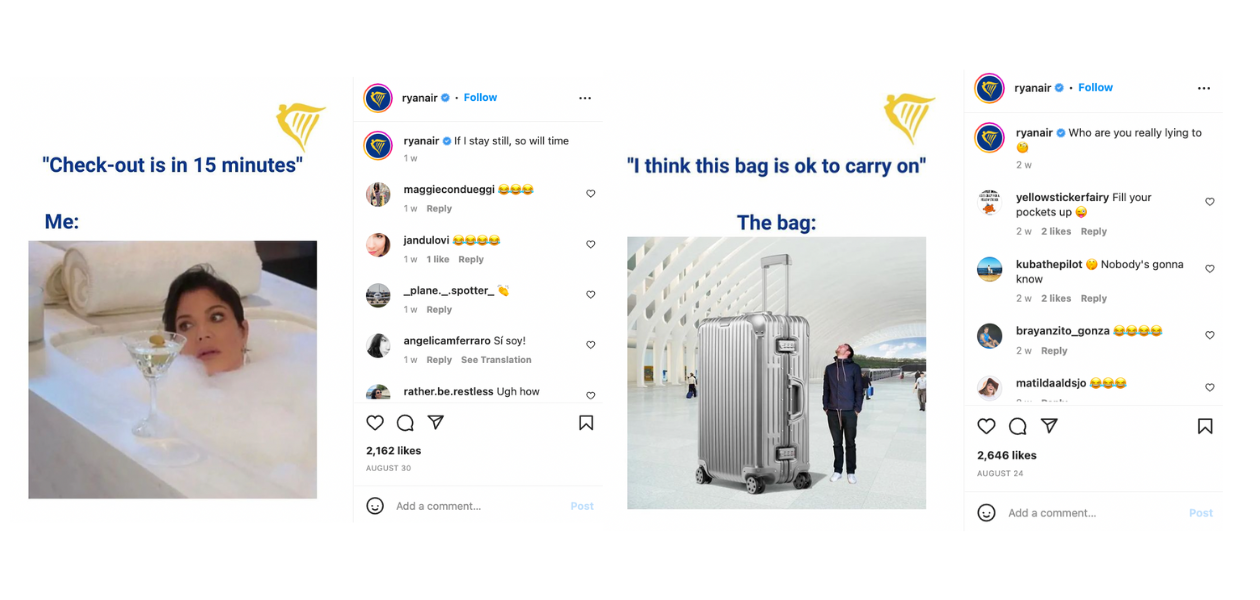 Nailing it on TikTok and learning how to use video content to their advantage gave Ryanair the confidence to also try playing with Reels, Instagram's newest and trendiest feature.
Extending their current Instagram content strategy, Ryanair's Instagram Reels are created with the thought of being short video memes that feature common situations during flights.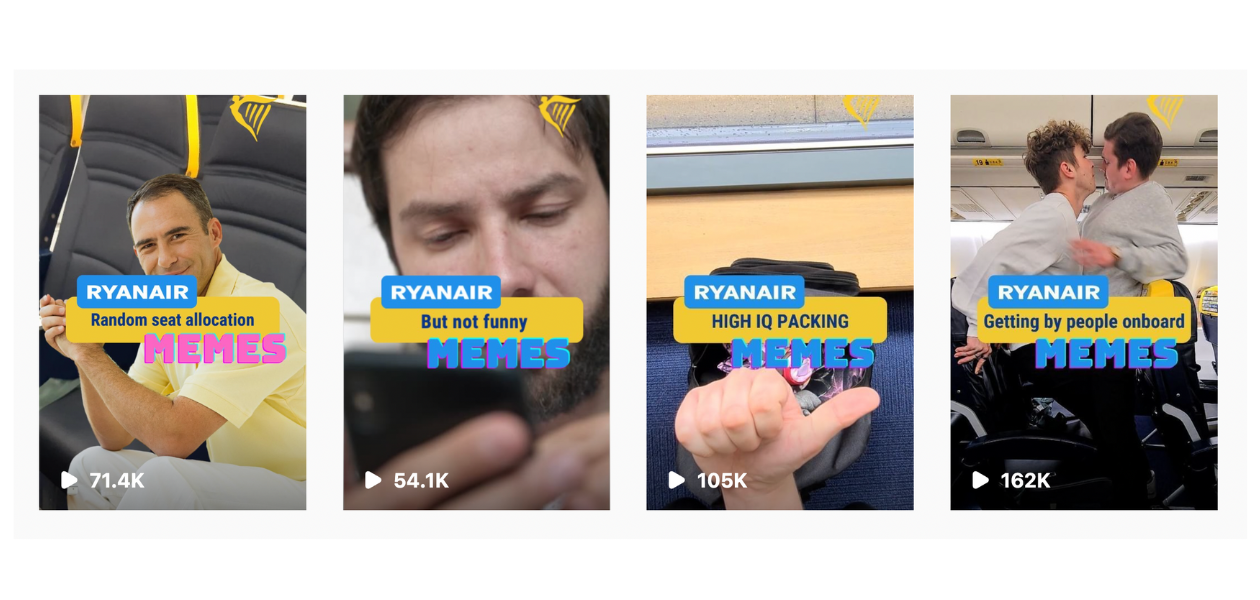 3. Ryanair's social media strategy for leveraging YouTube Shorts
First and foremost, besides understanding the importance of leveraging video content on social media these days, as this has become the user's new favorite content type, Ryanair also knows how to highlight its creative side.
By creating dedicated video content for each platform (including YouTube Shorts), Ryanair not only succeeds in getting the heart of every platform's target audience but also avoids falling short of becoming boring.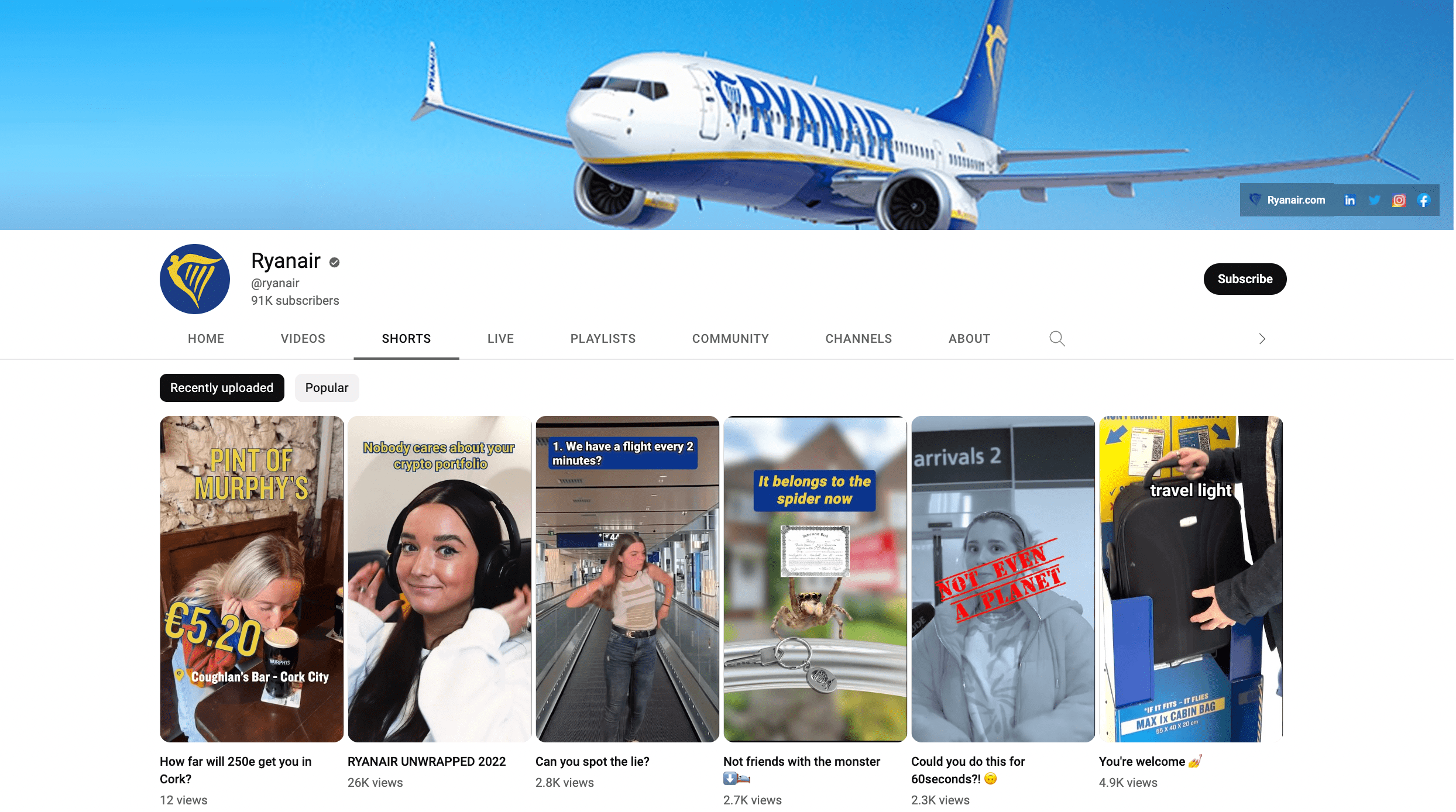 Final thoughts

Probably the most important lesson for brands doing social media marketing nowadays is that a loyal community is built through emotion-driven posts.
A key takeaway from Ryanair's social media strategy would be to approach content as a creator rather than a brand because it may inspire a more humanized vision and vibe.
Especially applicable in TikTok's case, but not only - people are looking to be entertained when scrolling through their social accounts.
Therefore, content that succeeds in doing so will always produce better results than those product and sales oriented.