Working in social media is not always smooth sailing. Frequent algorithm changes, demanding clients, and struggles with engagement are day-to-day challenges even for the top social media experts.
Somewhere along the way, you'll certainly encounter issues that set you back, take up a lot of time and energy to solve, and perhaps even impact your KPIs and ROI.
To solve those issues, or at least automate the process and reduce the time spent on them, you need to analyze the industry benchmarks and see how other social media professionals manage their time and resources.
So we looked at every aspect of being a social media manager: bottlenecks, problem-solving solutions, reports, metrics, strategies, and content ideas. And then turned the question on to you.
How do YOU juggle all of these? 🤹‍♂️
320 social media specialists, managers, directors pitched in, answered our questions and shared their expertise.
This is what we learned. ⇣
Social media issues and bottlenecks for businesses and how to fix them
Identifying your business' social media Bottlenecks
---
Struggling with getting traffic from social media? Here's the PDF version of this survey where more than 300 profesionals shared their thoughts and concerns regarding social media KPIs in 2020 👇


A. SUMMARY
In this study, you'll discover:

Social media professionals find it hard to increase traffic and engagement on social media - We look at what are the most common social media bottlenecks and how specialists overcome them.
Pharma & Healthcare, Oil & Gas, Banking, and Public Administration are considered the hardest industries to represent on social media - we try to understand if the industry can become a bottleneck and how specialists manage these tough sectors.
Reports are typically done once a month and take up to 4 hours - we try to understand how people manage reports in order to define best practices.
In their analysis, the main metrics to follow are: Engagement rate per post, Likes and Comments, Page/Fans Growth and Total Reach - we look into what defines a successful social media strategy.
Instagram is the platform on which social media specialists focused the most in 2019, and plan to invest the most in 2020, but there have been changes in strategies when it comes to the other platforms - we'll outline how specialists choose to divide their time between social media platforms.
Google, Facebook pages & posts, and Instagram pages & posts are the primary source of inspiration for social media content ideas - we look at what keeps experts up to date and helps them create fresh content.

B. KEY FINDINGS
The most common bottleneck is to get more traffic and engagement on social media pages, including profile growth (55%) and to get clients to understand certain social media needs and costs (54%).
When it comes to reporting, most people create a social media report for their clients once a month (51%) and spend up to 4 hours on reporting (55%). They also research their competitors monthly.
Social media professionals think Engagement rate per post is the most important metric (61.4%), followed by Likes and Comments in second place (48.7%), Total Reach in third place(43.7%)  and page/fans growth in fourth (42.4%).
Clients or Superiors are impressed the most by Page/ Fans Growth (61.8%), Likes and comments (52.5%), Engagement Rate/Post (52.5%).
Looking at the social media platforms that were in focus in 2019, compared to plans for 2020, there are obvious changes in strategy.
Instagram is by far the platform to which social media specialists give more attention in 2020, but a bit less attention than in 2019: from 71.5% to 68.6%.
Google, Facebook pages and posts, and Instagram pages and posts are the main source of inspiration for social media content ideas (over 50%).
Identifying your business' social media Bottlenecks
Bottlenecks can slow down your entire process. Most times, you know exactly where your time is going and what areas you could improve. But it's not always clear how to go about it.
However, you might also be spending a lot more time than necessary on certain processes without even knowing it. That's where other specialists come in.
We asked professionals to share some details about what difficulties they encountered, how they measure results, and how they overcome issues.
According to them, these are some of the most common bottlenecks have to do with:
Social media traffic
Communication with clients
Content ideas
Identifying metrics
Sales and return on investments
Monitoring campaigns and paid ads
Reports
Competitors
Finding the right social media platforms
Continue reading to find out if your social media process is optimized and how to fix the issues you may encounter.
1. Getting more traffic and engagement is the main bottlenecks (55%)
55% of the respondents thought that a primary concern is to get more traffic and engagement to their social media page, while 42.9% of them worry about organic traffic specifically. The growth of the page seems to take up a lot of their time, and often with no results.
While paid efforts are a quick fix for getting noticed, it doesn't assure constant traffic on your page long term. On the other hand, organic growth is much more difficult to obtain. So here is how some social media professionals handle the situation.

Lisa Dietrich, from Let's be crazy, gets the entire team to like, comment and share.
Most of the time, our posts won't get a decent amount of Facebook organic traffic. As you might know, there are several reasons but long story short, Facebook wants you to pay to play.

If a post won't get organic traffic, we'll first try to push it through engagement. That means we ask our team and partners to like, comment and share. Moreover, we use suitable Facebook groups to share the content there as well. Of course, we have to be careful and adhere to the group's rules.

For us, getting organic traffic on Facebook without any further engagement is rather contrary to the rule. That's why our engagement process always follows after publishing a new post.
But Facebook is not the only platform with this issue. In reality, the same may apply to all platforms: paid content is favored, while organic traffic is a struggle.

Arek Ponski, Digital Marketer & Founder of TeamBuzz.io, relies on groups for engagement.
The truth is, social media can make or break your business. With constantly changing algorithms on most of the social media platforms, it is getting harder to leverage their power to your business's advantage... Unless you decide to invest in PPC.

One of the most common bottlenecks that I often come across is trying to acquire organic traffic and generate leads from social media channels without paying for ads.

Getting your content in front of the eyes of your audience organically comes close to impossible unless you've managed to build a close community around your product or service.

Therefore, in my experience, building an engaged Facebook group or conducting regular Twitter chats are some of the best ways to take advantage of social media channels without spending a penny.
Kazik Rajnerowicz, Copywriter at Tidio, uses ads as a driving force to get products noticed.
It is extremely difficult to generate organic traffic and engagement on social media if you are a SaaS company. We all know that Facebook is fantastic for B2C situations. For instance, you can post a photo of your new product and instantly get tons of likes and comments.

But when you are selling something more abstract (a messaging app for eCommerce in our case), managing social media becomes tricky. The "general appeal factor" of our product is very low. Tidio offers a solution to a very niche problem - improving online communication between SMBs and their customers.

Online store owners are hard to come by, busy, and they don't usually share their know-how on social media. That's why we focus on paid campaigns. After trial and error, we've created some spot-on Facebook ads with a high conversion rate and run them on repeat. It is essential to know when your goals can't be achieved "organically" because of the nature of your product or customer base.
Iris De Geest, Content Marketer at Survey Anyplace, prefers to set up campaigns with promotional incentives.
The social media bottleneck we'd like to overcome is growing reach and followers for our company pages on Facebook, LinkedIn and Twitter. We've noticed that personal contact through personal profiles of our CEO and Sales staff on LinkedIn works much better to spread our communication than do our company pages.

I think this is due to the tendency of personalization: reliability and trustworthiness are important for people. They will believe and trust a post/message much more easily if it comes from an actual person than from a general company or brand - no matter how personalized the message is, or how familiar someone is to that brand.

Moreover, people want to network. When connecting to someone on LinkedIn, you further expand your network. This seems to be an extra motivation to follow a person, rather than the company.

Of course, it's a sign of trustworthiness too, if your brand has 1000+ followers. That's where we find our difficulty. Our representatives have a large amount of followers, which is good because we get our messages to our audience. But our company pages don't have that many followers, while they also function as a representation of our business.

I see two solutions:

go for paid advertising on our social media channels, but we are not a fan of this solution
set up a campaign with promotional incentives (win X if you follow us)
2. Communicating social media needs and getting clients to understand necessary costs is an uphill battle (54%)
The client-agency relationship is often strained, especially if either side fails to empathize with the other.
Keeping an open mind to better understand each person's role and needs is a key step moving forward. Yet, more often than not, these two sides do not see eye to eye and adopt a defensive attitude, instead of nurturing an atmosphere of trust.
So how do you approach clients differently?

The main issue we face is not being able to convince clients on what platforms to use automations tools on and on what platforms not to use them on. Some brands insist on using automation on Instagram, which is not that safe, while some clients stop us from using automation on Pinterest, which is relatively safe.

We usually show the negative examples and case studies on Instagram and positive case studies for Pinterest and leave it to the client to make the final decision.
Kasia Majewska, from Napoleoncat, is a strong believer of establishing the tone of conversations when pitching your customer care strategy.
While crafting a social media content strategy is a must, sadly most businesses don't plan ahead for how they're going to deliver their social customer service. Social media managers find it hard to convince the ones they report to that without a solid customer care strategy they are doomed to lose control of the conversation about their brand.

Luckily, data comes to rescue. According to BrightLocal, 88% of people trust online reviews as much as recommendations from family and friends. And 57% trust brands more if they have good ratings and reviews. Bain & Company reports that customers tend to spend on average 20-40% more on products and services when they get a positive response while interacting with a brand on social media.

What's more, bad news spreads fast and you don't want to ruin the brand's image with one faux pas, do you?
Sometimes the whys are not enough to convince the client or superiors; social media managers shouldn't forget about the hows. While pitching your customer care strategy remember about establishing the tone of conversations - the one that would match the brand personality and its target audience, deciding on standard response time - you should be quick, and concluding on when to take some queries off the social platforms.
3. Getting fresh content ideas is difficult for 42.9% of professionals
You've all seen it: the same content repeated over and over again across multiple brands. This is a clear indication that most social media specialists are sometimes struggling with new relevant content.
The truth is that it's impossible to always come up with that great big idea that instantly turns viral. But that doesn't mean that it's time to post what everyone else is posting.
According to our results, Google, Facebook pages and posts, and Instagram pages and posts are the main sources of inspiration for social media content ideas, each being chosen by 53.3%, 52.6%, respectively 51.8% of respondents.
Do your research, be aware of the industry and understand your audience. The reality is that honest, relevant content tailored to your audience is good enough, especially if its intent is to be useful.
To help identify the top content, specialized analytics tools offer a quick view of posts' newsfeed, where you can quickly sort posts by engagement and understand what types of content have a higher performance.
Aligning content collaboration and client feedback
But having all of these sources of inspiration can cause difficulties when you have multiple people collaborating on social media content, all coming in with different ideas.

Collaborating on social media content isn't that easy if you only use the features offered by the particular social network. Basically, it's impossible to work together on a post in real-time. Hence, you have to share your work progress via email or Slack which takes ages.

For that reason, we've decided to optimize this part of the social media process and started using Google Docs to collaborate on social media posts if needed. This way, we can speed up the creation process and easily work on the same post at the same time.
Accommodating content collaboration and feedback, as well as client input, seems to be a recurring issue.

Will Cannon, from UpLead advises to establish a clear and transparent social media approval system.
Often, it takes a lot of time to get input from all involved team members and/or the client. Far too often, you'll have to wait for one person's feedback or approval.

Hence, it happens that the posting schedule is delayed, again. This is really annoying and adds up to serious delays over time.Even if it's not your fault, it makes you look unreliable.

We've solved this problem by establishing a clear and transparent social media approval system. By using dedicated software, feedback tasks are always clearly assigned within the tool and also have a due date. This way, everybody always knows what's expected from him or her.
4. 37% of respondents have issues understanding and raising metrics
The value and power of a social media page is measured by a sum of metrics, but some are more important than others.
Understanding what each individual metric says about your social media business profile and how it can benefit your business is key in constructing a strong strategy.
The misunderstandings come when the metrics that are valued by social media professionals are not the same ones that impress superiors or clients.
Metrics important for social media professionals
When we asked professionals, Engagement rate per post was considered the most important metric, followed by Likes and Comments in second place, Total Reach  - third place and page/fans growth in fourth place.
To be precise, on a scale from 1 to 5, where 5 is the most important grade, this is how the metrics scored:

Engagement Rate per Post - 5 (61.4% of answers)
Likes & Comments - 5 (48.7% of answers)
Total Reach  - 5 (43.7% of answers)
Page/ Fans growth - 5 (42.4% of answers)
Reach Rate per Post - 4 (40.5% of answers)
Total Impressions - 3 (30.6% of answers)
Impression Rate per Post - 3 (29.7% of answers)
Metrics important for clients and superiors
When looking at the metrics that impressed clients and supervisors, it becomes clear that the star metrics remain the same one, but the order of importance differs.
Clients or superiors are impressed the most by Page/ Fans Growth (61.8%), Likes and comments (52.5%), Engagement Rate/Post (52.5%)
On a scale from 1 to 5, here is where each metric is assigned from a client's perspective:
Page/ Fans growth - 5 (61.8% of answers)
Engagement Rate per Post - 5 (52.5% of answers)
Likes & Comments - 5 (52.5%% of answers)
Total Reach  - 5 (48.4% of answers)
Total Impressions - 5 (33.5% of answers)
Impression Rate per Post - 3 (33.8% of answers)
Reach Rate per Post - 3 (29.5% of answers)
This means that it is important to have an open communication with your clients and superiors and explain why, for instance, the average engagement rate per post is more important than the number of fans or followers a page might have.
What to always include in a social media monthly report
Besides these key metrics, there is a lot of other data that should go into a social media report, to better understand how your strategy is performing.
While growth, reach and engagement are top of mind, information about the audience, the number of comments, the clicks and conversions are also important.
Not to mention side by side comparisons that show the monthly evolution of the page, as well as a competitor comparison.
5. Generating sales and providing social media ROI is a struggle for 35% of respondents
Translating a clear return on investment on social media actions is not a quick, clear cut process.
Clients will focus on conversions and sales after a campaign or activation, more than on simple brand awareness, and will actively seek out this information in your reports.
But the answers they need do not come overnight. Social media is a long-term game.

Alice Corner, Content Marketer at Venngage, pitches long term acquisition.
One of the biggest bottlenecks you have to tackle in Social Media Marketing campaigns is the time from implementation to conversion. Views and impressions may be instant, but actual conversions into users or customers can take much longer.

Whilst frustrating for clients and higher ups, people are very unlikely to buy into a new company or product the first time they learn about it. Avoid client frustrations by being upfront and honest about how long you'll need to see true ROI.

Social media marketing campaigns should always be pitched as a long term acquisition play. If immediate results are required, focus purely on engagement metrics such as number of followers, or visits to your website.
Ian J.H. Reynolds, from OnCourse, uses conversations to create conversions
Many companies run into a bottleneck they don't even understand they have: Authentic conversations on social media can lead to leads and the conversations can be nurtured just like a traditional lead would.

Folks who regularly engage with content should be treated as lead opportunities and someone that your company should keep on the radar. Put them in your CRM and send them a personal follow-up to get their opinion, then turn around and ask if you can share it.

If you treat social like an opportunity, it is – the cost per lead is lower than anything imaginable.
Vincent Bucciachio, founder of SociallyInfused Media, makes sure performance reports for social media campaigns are directly linked to the client's KPIs
Providing tangible ROI within any social media campaign can be difficult. Converting fans and followers into customers that actually purchase is a frequent topic of conversation for new and ongoing clients.

Solution: We ensure that our performance reports for our social media campaigns are directly linked to the client's goals and KPIs—we always manage their social media goals and tweak our tactics by analyzing their spend vs. the actual results.

We don't aspire to generic goals; they are always personalized to the individual client. Before launching a campaign, we define KPIs and put a realistic estimate on results in order to manage client expectations and, ultimately, have a direct bar to measure against.

Clients are much more communicative and patient when they understand what the exact goals are.
6. Monitoring results for organic and paid posts or ads (24.3%) and creating performing paid ads/posts (23.6%)
Creating and monitoring campaigns, be it paid or organic, can become harder as time goes by, especially if you work across multiple platforms. Logging into multiple analytics platforms, keeping track of all of the posts and centralizing all of the results can take up a lot of time.
And the more accounts you manage, the worse it gets. So looking at third party analytics apps that can gather all of your data in one dashboard and monitor your campaigns  - on all platforms and across a long period of time -  will help improve your time management.
In this case, automating as many processes as you can is the answer.

Matt Bentley, founder of CanIRank, agrees:
Social media can be time consuming, and with so many platforms to manage it can quickly become a full-time job.

Automating the process with a social media management platform is a life-saver!
7. Can industries be considered bottlenecks? Pharma & Healthcare, Oil & Gas, Banking and Public Administration are hardest to represent on social media.
Regardless of how many best practices are outlined by social media experts, the results will always vary depending on brand audiences and industries.
Because, after all, each industry has audiences with specific traits: education, interest, behaviour,  age, professional experience.
This might put certain industries in disadvantage. But are these industries actual bottlenecks?
34.5% of respondents think Pharmaceuticals and Healthcare are the hardest industries to represent on social media, while 30% of them have chosen Oil and Gas industry and 29.5% voted for Banking as the toughest industries to translate to social media.
But this doesn't mean that there's no chance of a good social media strategy for these industries.

A true social media expert will do one of two things when presented with a more challenging industry to represent on social media. They can decline to get involved and instead, refer this client to someone familiar with this industry, someone who works in this niche with multiple clients. Or they will take on this new client, knowing they will have to dig deep, go back to basics to create a social media marketing plan that works for that particular industry.

I would go ahead and take on this challenging client and start by doing research. I always start with a competitor analysis, comprehensive keyword research and a social media audit of their current marketing efforts. Once I have these pieces of content, I work with the client to define their social media goals, find their avatar and set their budget. 'Challenging' doesn't mean impossible in my book.

'Challenging' requires more testing and thinking outside the box! Last but not least, I would look to humanize this brand by finding opportunities to showcase the people behind the logo!
8. Most marketers create a social media report for their clients once a month (51%) and spend up to 4 hours on it (55%)
Spending too much time on reports is also a common bottleneck. Safe to say, if you optimize the amount of time spent on reporting and the frequency of reports you can free up a considerable amount of time, which you can use on other tasks.
While most people only take care of reports once a month (51%), there are still 23% of professionals who said they are focusing on reporting on a weekly basis.
But just because you need to create reports more often, doesn't mean it needs to take up more time.
Apparently, the industry's "normal" is to not spend more than 4 hours on your reports (55%). However, 31% of respondents still spend up to 10 hours on reports, while for 14% reporting eats up more than 10 hours of their time.
If this task requires this much time, it probably means that you're missing out on something. Regardless of the number of clients or reports you may need to generate, automation is clearly needed.
You already know what metrics to follow, so all that's left to do is research. Find a step by step guide on how to create an analytics report, and improve your process.
You can also turn to analytics tools that generate branded reports which can be used as they are, or at the very least need only minor tweaks before being sent off to clients.

9. Social media professionals perform a competitor research once a month (34%), or once a week (27%)
A competitor analysis is crucial both in reporting, as well as part of your research before and after launching a campaign ot activation.
However, numbers are useless if they're not integrated within a context.
To better understand what those numbers mean and how businesses actually stack up, professionals have to compare results with other big players in the industry: a complete competitor analysis.
It's no surprise that social media professionals choose to regularly perform a competitor analysis.
34% of respondents say they are analyzing competitor data monthly, while 27% choose to look at competitors on a weekly basis, even more often than performing reports.
10. Social media effort distribution on platforms in 2019 versus 2020: Instagram is the top platform
Another important aspect of a great social media strategy is understanding each social media platform and distributing efforts in accordance to a business' needs and goals.

Kas Szatylowicz, Content Manager at DigitalOlympus, likes to assess the pros and cons of all platforms beforehand.
Leveraging the amount of time and money spent on running social media accounts vs profits and benefits from doing that is what used to keep me up at night. Working in B2B, it's quite difficult to identify how important your social media content is for your potential customers. Sure, tweets and Facebook posts build credibility and trust, yet they are often too limited of a medium to convey something actually useful.

The most important step I took was to assess the pros and cons of all social media platforms and choose to only focus on those that were beneficial for us. That turned out to be only Twitter (we run regular Twitter chats). All other ones still exist but we simply don't put as much time and effort into running those profiles.

I know for a fact though (from previous B2B experience), that Quora is also a great social media platform for B2B companies to drive highly qualified leads and subsequent conversions. It's worth exploring in 2020.
In short, this has to do with both the platform's power of engagement, as well as the types of leads it might bring.
We asked professionals to tell us how they have used their social media resources in 2019 by platform, and to let us know on which platform they plan to focus in 2020.
We rounded up the numbers and got a clear view on how efforts and resources on each platform have changed, percentage wise:

Instagram: from 71.5% in 2019 to 68.6% in 2020. ⇩
Facebook: from 66.4% efforts in 2019 to 49.6% in 2020. ⇩
LinkedIn: from 27% in 2019 to 37.2% in 2020. ⇧
Twitter: from 17.5% in 2019 to 22.6% in 2020. ⇧
YouTube: from 14.6% in 2019 to 30.7% in 2020. ⇧
Pinterest: from 8.0% in 2019 to 18.2% in 2020. ⇧
TikTok: from 4.4% in 2019 to 18.2% in 2020. ⇧
Whatsapp: from 2.2% of marketers choosing it in 2019 to 10.9% in 2020. ⇧
An obvious trend is emerging: marketers have decreased their Instagram and especially Facebook efforts and have decided to include more platforms in their strategies, moving those efforts towards the other social networks.
C. METHODOLOGY
We, at Socialinsider, want to identify and understand the most common social media bottlenecks, as well as finding ways to combat the issues and help people optimizing their social media workflows and reporting.
General Sample - 320 marketers
The survey was running for approximately two months, from mid January 2020 until the beginning of March 2020, and the data was collected from the 320 marketing professionals around the world: social media executives (16,6%), social media managers (16,2%), head of social media (10,5%), account executives (2,6%), account managers (2,6%), marketing executives (7%), marketing managers, people working in top management positions or founders of companies and agencies (32,3%).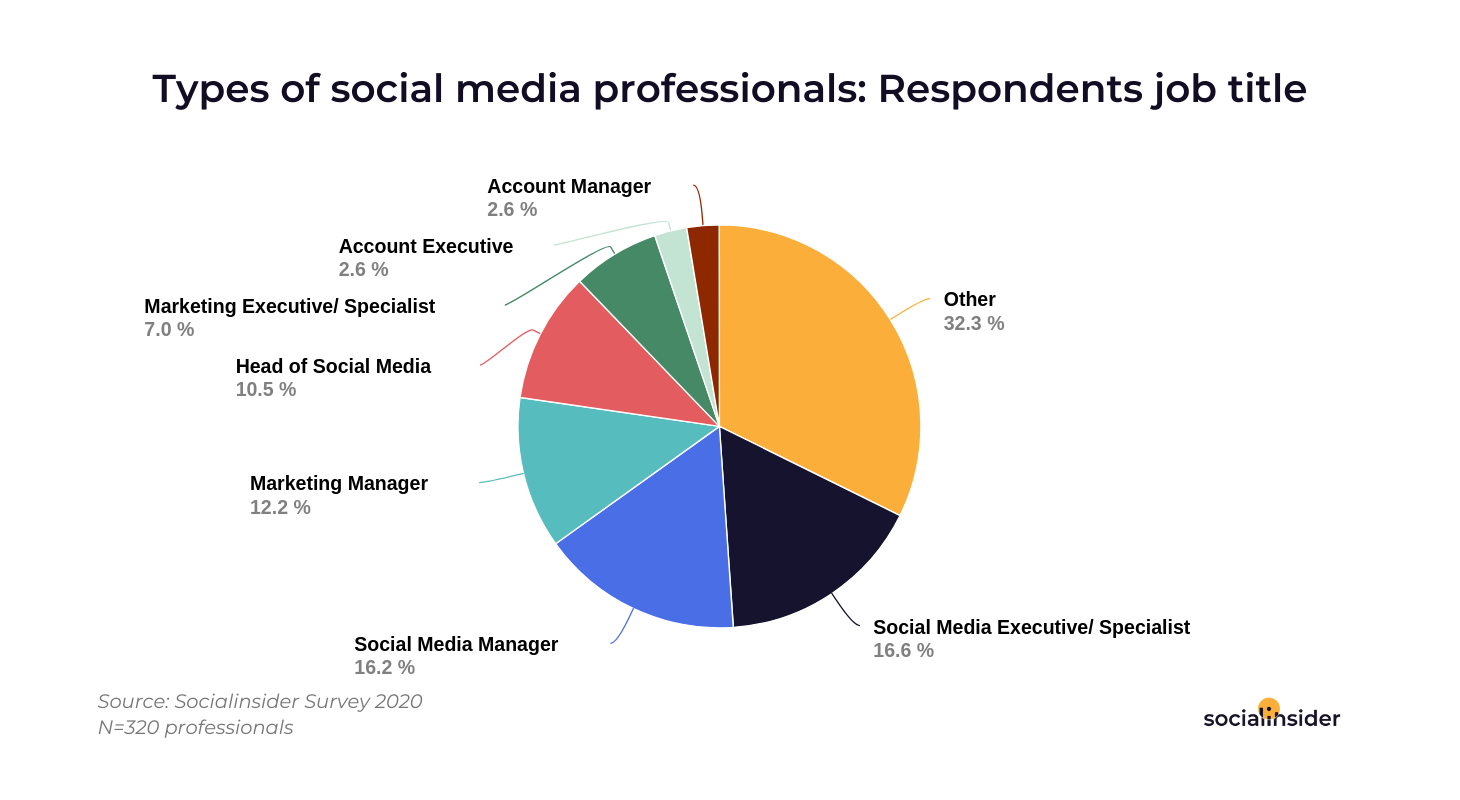 Our results are based on professionals working on the agency's side, freelancers, and as part of brands' in-house teams.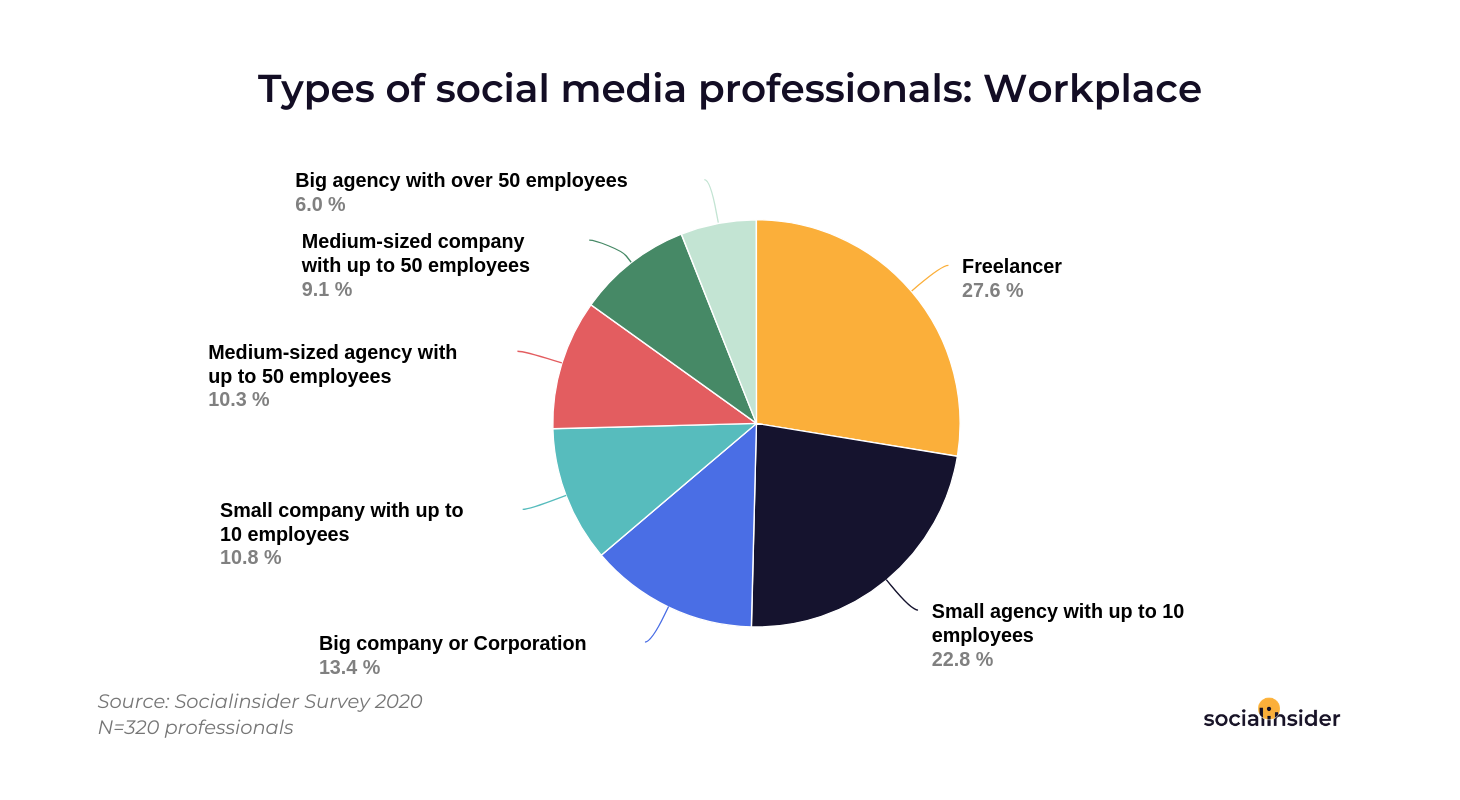 Data Collection
Data collection was done through the CAWI method (self-administered through a web link). The link was programmed on the 'SurveyGizmo' platform, shipped by the customer.
Thank you! ❤️
Special thanks to everyone who took the time to share their experience, either through the survey, either through direct quotes. We appreciate you sharing valuable knowledge and helping other social media professionals.
Related pages: