When starting a new marketing campaign, it is not really easy to go from zero to hero. It is more important to plan it thoroughly, to be efficient and keep an eye on the progress in the process.
Your marketing performance is what makes you focus more on the goals you've set and adjust your social strategy for better results.
Developing a marketing campaign analysis can help you keep an eye on the speed with which your brand is growing.
In what follows, we'll learn more about the use of marketing campaign analysis, why this is important and how to make sense of the data to improve your next campaign.
Developing a campaign analysis
1. What is a campaign analysis
A campaign analysis is the process through which you learn more about your audience and their reactions to your social media content, while also figuring out how you can keep them more engaged.
The main goal of a campaign analysis is to adjust your future campaigns based on your audience's preferences.
A marketing campaign analysis can be approached in different ways, depending on the result you want to obtain.
You can look at the broader marketing data while interpreting it, or you could analyze the results obtained through a marketing campaign analysis and see what you can change to get closer to accomplishing your goals.
2. Why is a campaign analysis important - 10 benefits of a campaign analysis
A marketing campaign analysis is crucial because it can contribute to the brand's growth. Here are some of the advantages of conducting a campaign analysis.
1.Evaluate your performance: A marketing campaign analysis allows you to assess the effectiveness of your marketing efforts. By analyzing data, you can determine what worked and what didn't work in your marketing campaign.
2.Increase ROI: By conducting a campaign analysis, you can determine the ROI of your marketing efforts. This is how you can understand more on the financial impact of your campaigns and allocate resources more efficiently.
3.Adjust your strategy : This type of marketing analysis offers you actionable insights on consumer behaviour, preferences, and trends. You can use all the data obtained through campaign analysis to refine your marketing strategy, being tailored to your target audience.
4. Achieve your goal: When you look at your campaign performance, you can assess if you achieved your campaign's objectives. If goals were not met, you can spot the areas for improvement and develop fresh strategies to meet future goals.
5.Reduce costs: An effective marketing campaign analysis can reveal areas of inefficiency in marketing spend. It is time to optimise your budgets and reduce costs by reallocating resources to high-performing social channels.
6. Stay ahead of your competitors: You can gain a competitive advantage by staying ahead of the competition with the insights you gain. A campaign analysis can identify unexplored market opportunities and help you develop innovative marketing approaches.
7.Find out customer insights: A marketing campaign analysis provides valuable insights into customer preferences and behaviour. It's time to use this data to create more personalised and relevant marketing messages, which can improve customer engagement and boost loyalty.
8. Spot the latest trends: You can use a campaign analysis to identify emerging trends in your industry. Staying ahead of the trends can help you adapt your social media marketing strategy to remain relevant to your customers.
9.Optimize your campaign: A campaign analysis triggers an ongoing optimization of marketing campaigns. As data is continuously collected, you can make real-time adjustments to improve performance, rather than waiting for the end of a campaign.
10.Plan your strategy ahead: The insights gained from campaign analysis can inform long-term marketing strategies. Brands can develop a roadmap for future campaigns, taking into account what has worked in the past.
All these benefits of conducting a marketing campaign analysis is vital for a brand's success. You can make informed decisions and maximize your marketing efforts.
3. How to create an efficient campaign analysis - A step-by-step guide
Developing an efficient marketing campaign analysis helps you create better marketing campaigns that increase your brand awareness and boost brand growth.
Here is our step-by-step guide on how to create an efficient campaign analysis:
1.Find everything there is to know about your audience to develop a marketing campaign accustomed to their needs;
2.Put together a list of actionable, realistic goals and set a deadline, but don't be to hard on yourself;
3.Check social media metrics and compare the results with your previous campaigns;
4.Develop a list of completed objectives and see whether you'll need to include more goals on your remaining list;
5.Check your last campaigns' social media performance and make up a report that you can later use as a guide in your marketing campaign analysis;
6.Adjust your strategy based on the results obtained with your last campaign analysis;
7.Add the actions you need to perform next in your current campaign to assure your success.
With this step-by-step guide on how to create an efficient campaign analysis, you know exactly what you have to do to improve your future social media campaigns and social strategy.
4. How to develop a campaign analysis with Socialinsider
Learning how to develop a marketing campaign analysis is crucial for a marketing manager and their team.
However, you have to admit when you need help, to make use of certain tools that could make you more efficient in your analysis.
Socialinsider can provide you with a wide variety of solutions when you conduct your campaign analysis, ranging from campaign reporting, social media analysis, social media reporting, competitive analysis & benchmarking and social listening.
Building a KPI analysis will help you make sense of the data you gather and improve your marketing strategy as you go.
With the right tools and the appropriate amount of data, you get the chance to make the best out of your campaign analysis and marketing strategy.
Depending on the social media campaign you develop, on every platform you have to analyze certain KPIs and get in-depth insights about them.
To understand more of this, I decided to analyze the brand Maison Margiela Fragrances. As a time range, I selected August 2021 - September 2023.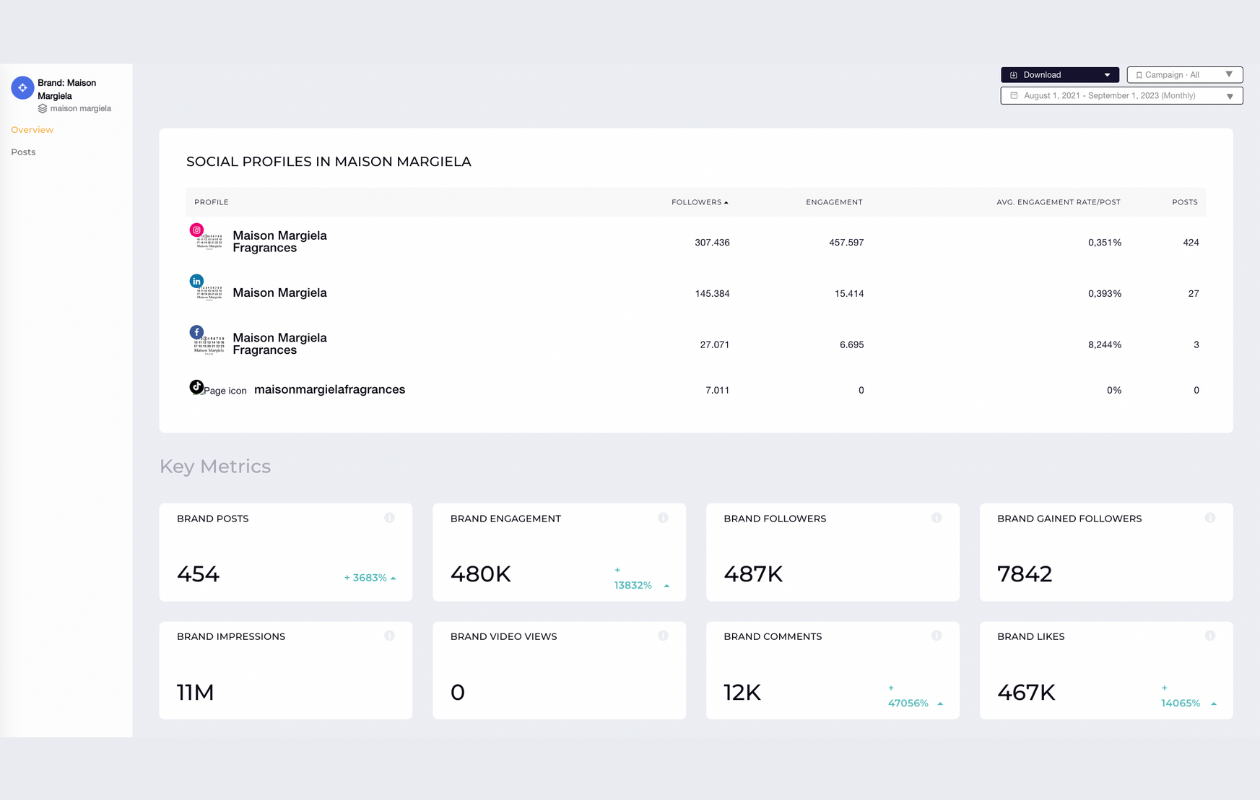 This brand has some extraordinary campaigns for their fragrances collections for REPLICA, a unique range of perfumes.
From the data we get here in Brands, it is clear that their social media campaigns are more efficient on Instagram.
Their follower count is constantly increasing and they've also got higher engagement compared to the rest of the social channels where they've built a presence on.
Do you wonder why that is possible? Well, the audience for Maison Margiela is different on every social media platform.
Here is a breakdown on Maison Margiela's audience for the last 2 years and 1 month. Their most loyal community is built on Instagram.
If they've seen that their audience is more engaged on Instagram, they decided to focus more on developing top-notch content for that platform.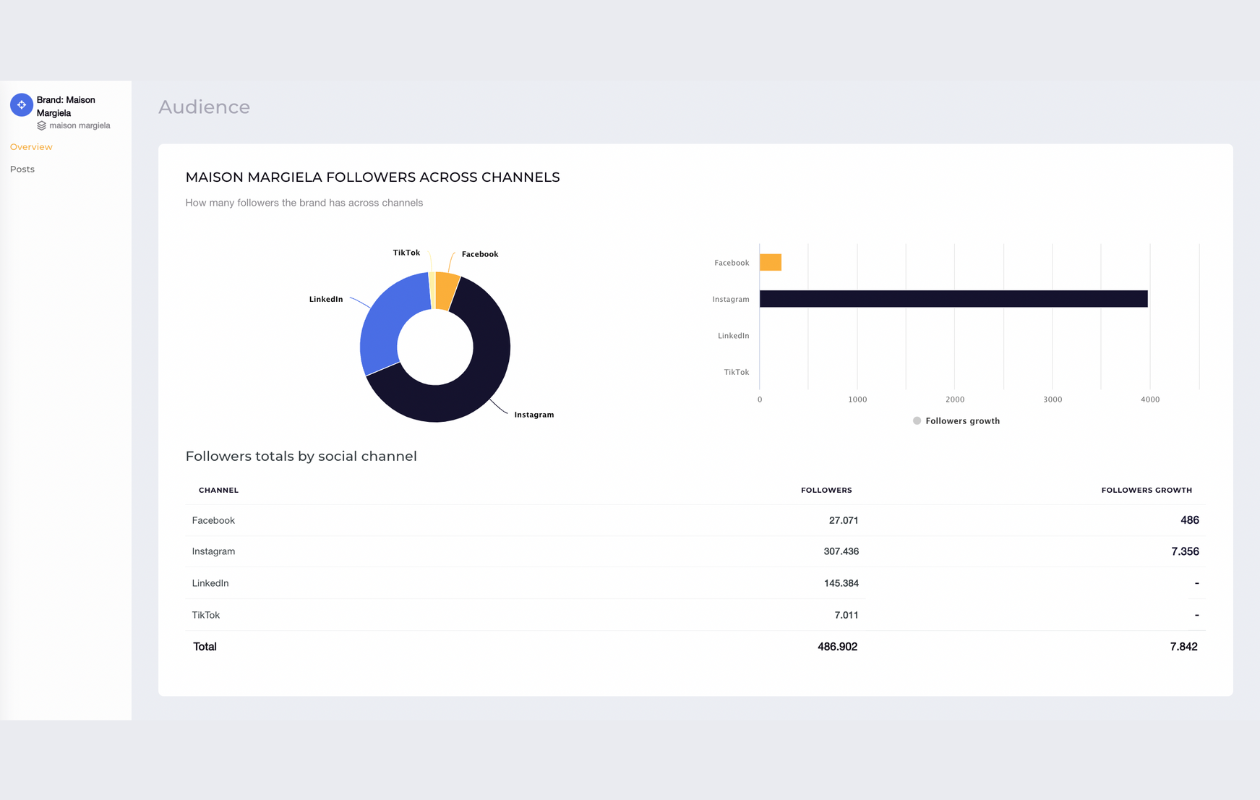 When looking at Posts, I discovered that they started their Instagram account in January 2021 and they have been heavy on quality content there ever since.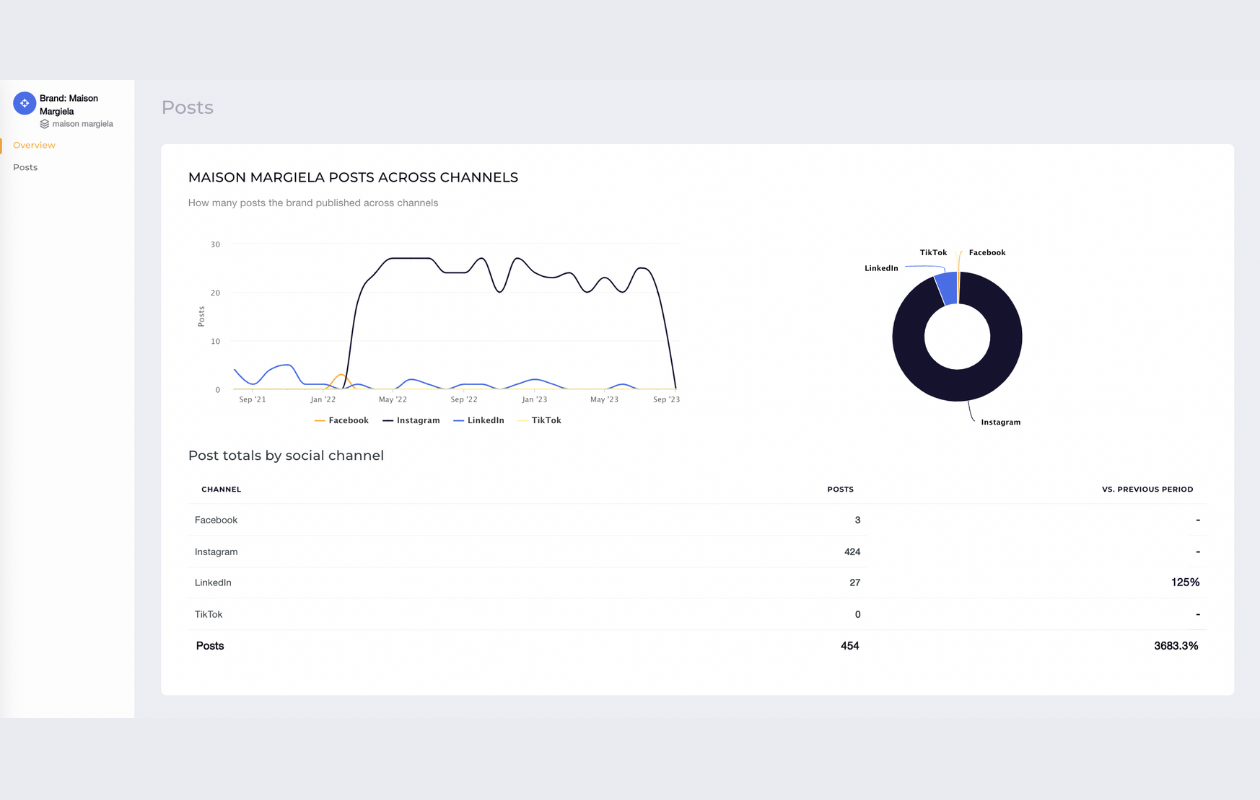 I analyzed their campaign about REPLICA fragrances and it is clear that when they've discovered the perfect campaign recipe, they kept on going using that same strategy over and over again for every perfume from this collection.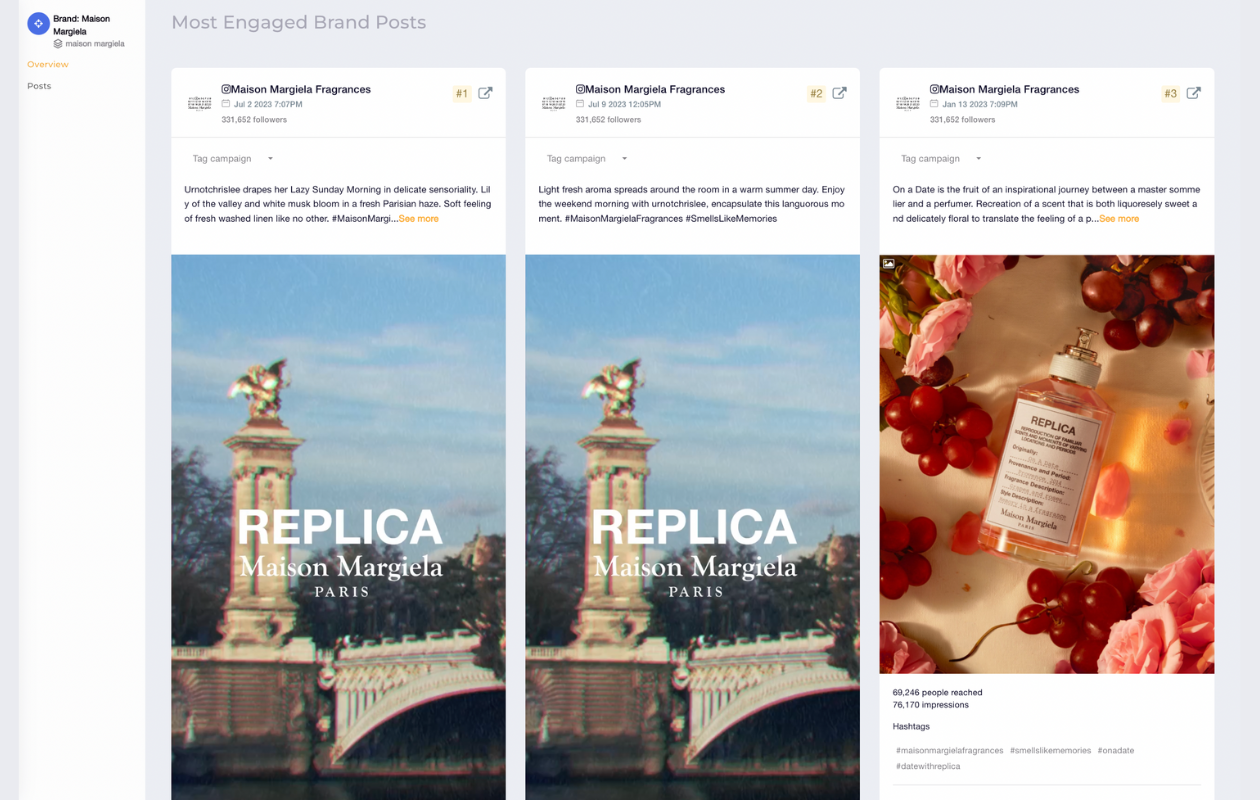 I added their branded hashtag in our AI Instagram listening tool, the hashtag #smellslikememories and I looked at the results. For reference, I chose the same time frame.
The story behind this hashtag is strongly connected to the story behind their line of perfumes.
Every perfume from the REPLICA collection is meant to take you back to a specific memory, while their specialists perfectly combine fragrant ingredients to transform a perfume into an experience.
This collection is very popular and a lot of clients are curious to test the new entries that offer unique experiences around certain moments, past or future, from their lives.
They even have a perfume that smells like clean ocean air. That's why people get tempted to try them.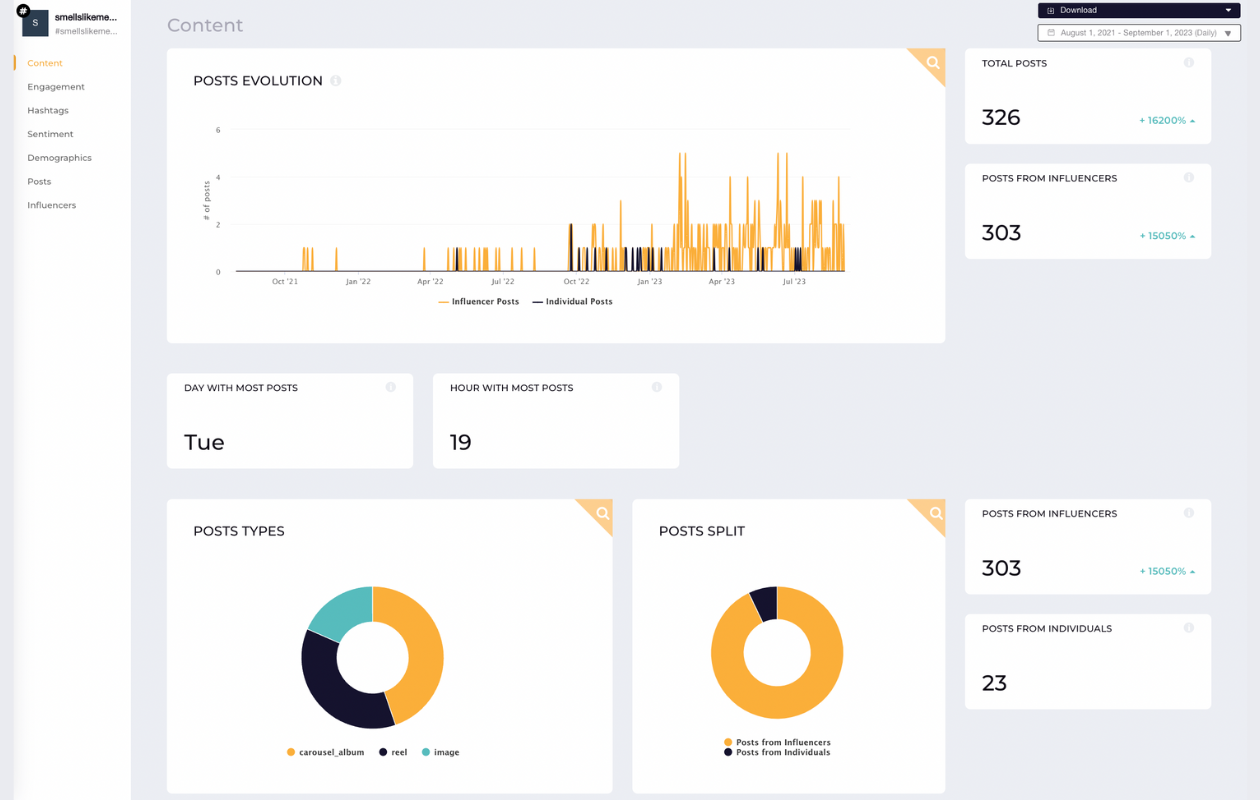 This hashtag was used in 253 posts on Instagram, mostly in Reels. The hashtag has been used in posts on several topics, ranging from luxury to fashion.
The most popular fragrances from the REPLICA collection are "On a Date" and "Lazy Sunday Morning", as the list of popular keywords below shows it.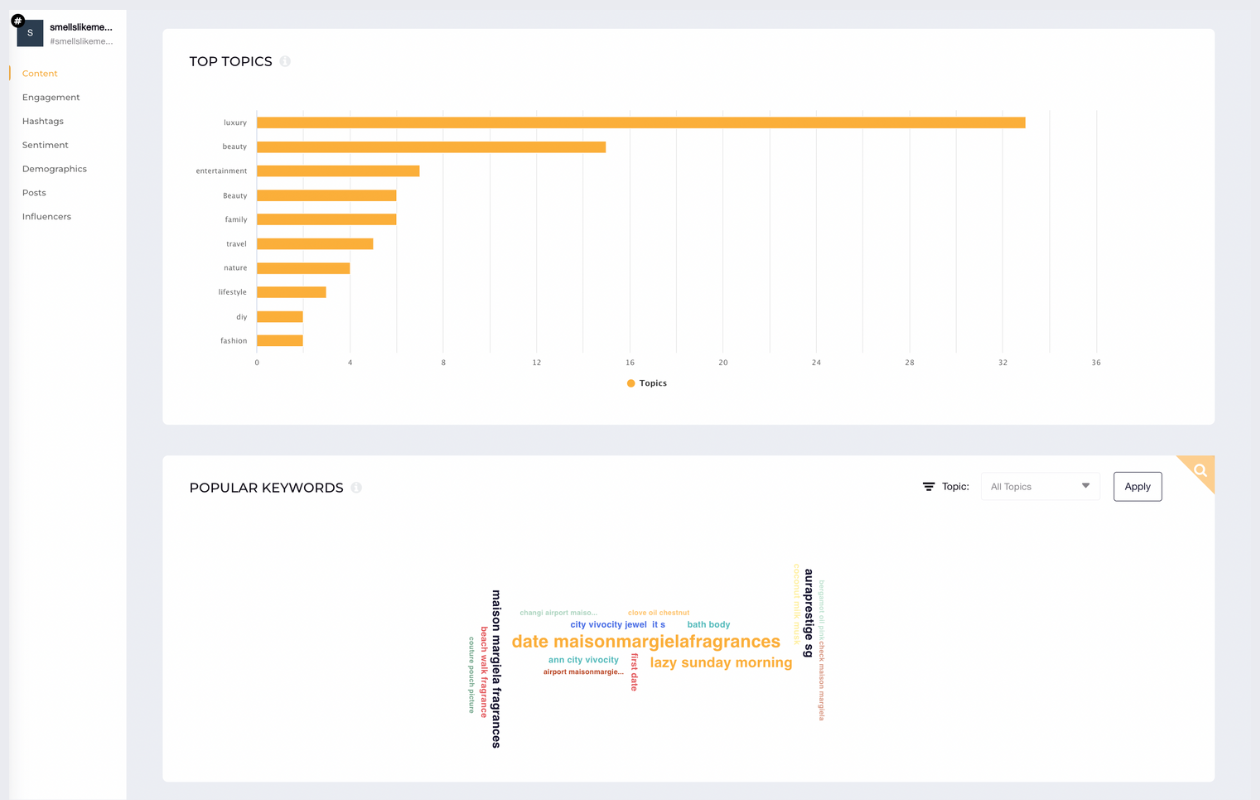 With our intelligent AI Instagram listening tool, I also managed to check the sentiment around this hashtag.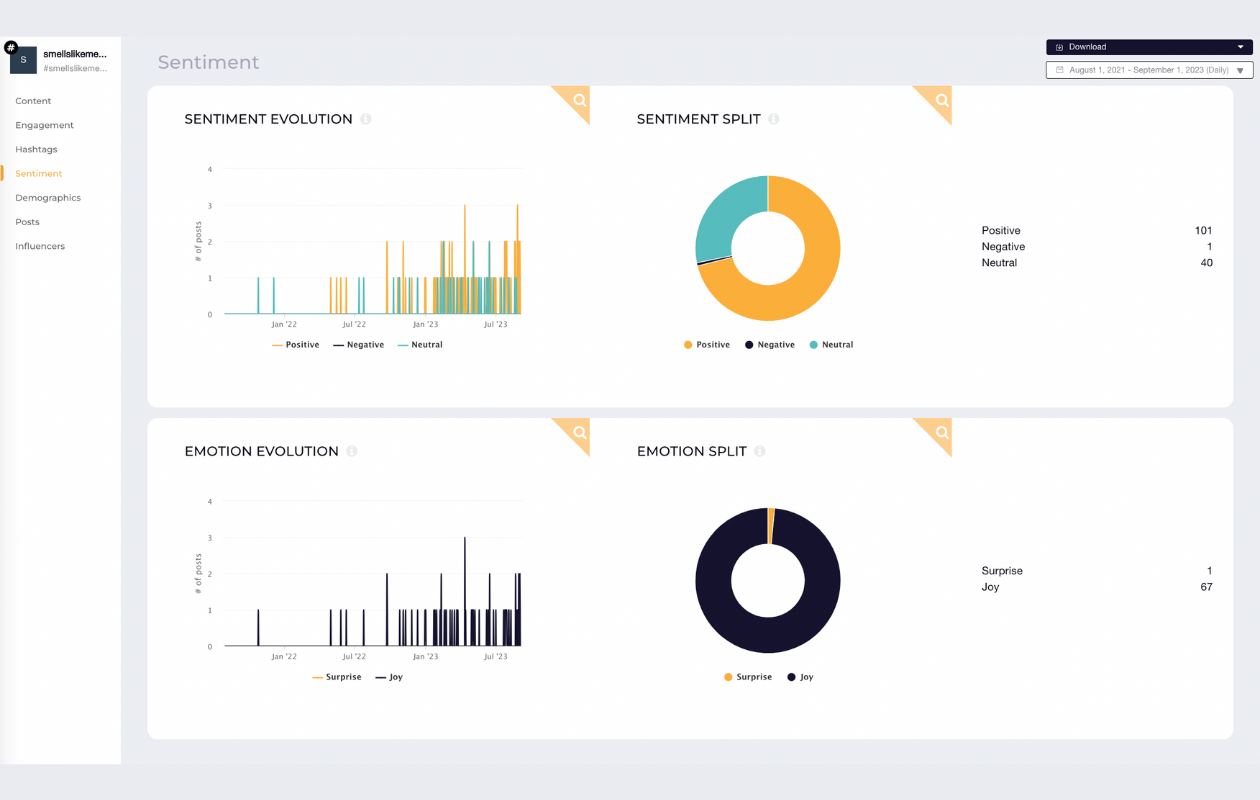 The dominant sentiment is positive, namely 101 positive posts using this hashtag. The emotion expressed is joy. This can only mean their audience is loyal and the feedback they offer this brand for their products is clearly a positive one.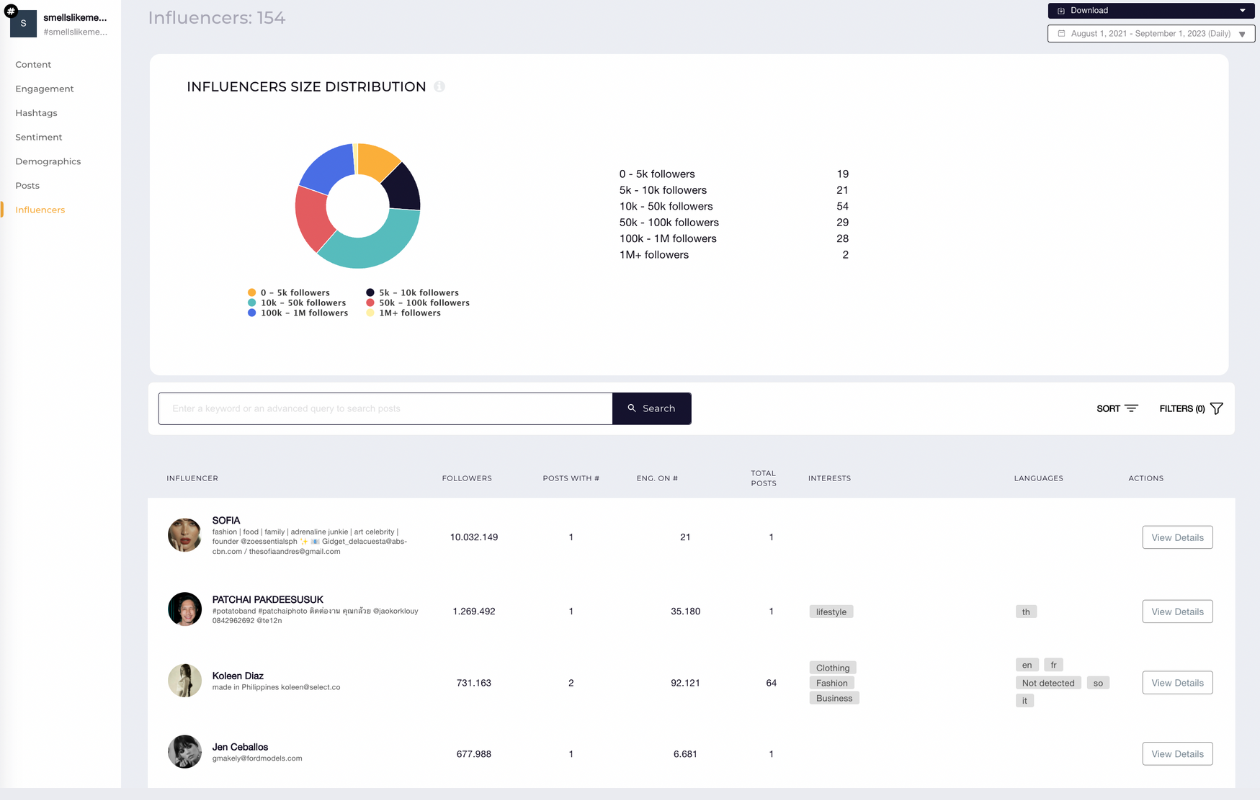 heart-warming story behind their products and how they transposed it in theri Reels and photos.
The emotion behind their posts got through to their followers. A lot of influencers with huge follower counts posted using the hashtag #smellslikememories.
The takeaway here is that developing a campaign analysis can be quick and easy if you use the right tools.
Through a marketing campaign analysis you can learn more about your audience, the topics they associate your campaign with, and their sentiment.
All these actionable insights help you adjust your marketing campaign strategy, pushing more content on a certain platform or creating more of a certain type of conetent depending on the engagement rate.
5. Top marketing KPIs to develop a campaign analysis
These are the top marketing KPIs to perform a campaign analysis:
-Engagement - Engagement is the strongest KPI to be measured in a campaign analysis, showing how your audience has interacted with your content.
Audience engagement also includes targeted clients' and prospects' efforts to interact with brand activations and campaign posts on social media.
-Audience reach - Reach is yet another key KPI to look out for when developing a marketing campaign analysis.You should check this metric especially in campaigns that rely on brand awareness.
-CPC/CPA - Cost per Click and Cost per Acquisition are KPIs you can measure during your paid social media campaigns.  A campaign focused on CPC requires a lot of effort because your content and CTA needs to be so strong that everyone clicks on the link and leads them to your website. When it comes to CPA, it shows the charge per acquisition per client.
-Lead generation - This is a crucial KPI to keep an eye on when developing your campaign analysis. Lead generation can help to build a client database. If the number of leads collected through your last campaign is high, then you can consider it a total success.
-ROI - This is one of the most important KPIs when looking at your campaign analysis. The ROI will show you the achievements you got after you invested in your marketing campaign.The higher the ROI, the closer your campaign gets to success.
-SERP ranking - SERP refers to Search Engine Rank Position and this rank position is where your brand's website organically appears on a search engine. The objective here is to improve SEO so much that Google sees your website as the main solution, based on keywords. SERP ranking helps you learn more insights for relevant keywords and spot your position and figure out how to rank higher.-
-Revenue - Every marketer would want to see an increase in revenue. A higher revenue means more sales and this is desirable after performing a campaign analysis.
Final thoughts
Analyzing the right marketing KPIs to develop a successful campaign analysis can help you get a grip of how you can adjust your future campaigns, getting better and better.
Make sure you know your audience and then establish your goals. Then you can go from there to develop a campaign analysis.
By performing a correct campaign analysis, you can develop a better marketing strategy and stay ahead of your competitors.
Frequently Asked Questions
1.What does a campaign analyst do?
Researches and develops targeted marketing campaigns and campaign strategies for a company. Develops marketing plans, coordinates with brand managers on campaign structure, ensures desired market segments are reached. Works with designers, publishers, merchandisers to ensure campaign success.
2. How to do a SWOT analysis for a campaign?
To conduct a thorough SWOT analysis, you need to gather and analyze data from both internal and external sources. Internal sources include your own campaign resources, capabilities, performance, and feedback. External sources include your competitors, customers, market trends, and environmental factors.
3. How do you structure a campaign?
Set goals and KPIs. Something to consider when setting up a campaign is what the exact goals are
Research insights and audience
Strategise for action
Allocate a budget and choose your media
Create your content
Execute the campaign
Evaluate the success
Reflect on the future.
4. How do you analyze the success of a campaign?
Return on Investment (ROI)
Return on Ad Spend (ROAS)
Customer Lifetime Value (CLV)
Conversion Rate
Average Session Duration
Cost Per Lead (CPL)
Cost Per Acquisition (CPA)
Website Traffic.