While so many brands are still hesitant about jumping on the wave and testing the waters with TikTok, the most popular social network right now, a few were bold enough to go all in.
Thanks to a consolidated TikTok-centered social strategy, a couple of brands really succeeded in making some noise out there and getting people's attention.
One of those visionary brands that accepted the challenge to unleash their creative side to benefit from TikTok's tremendous exposure and engagement potential was Duolingo.
With over 4 million followers on TikTok, Duolingo became a star on the platform.
The secrets behind Duolingo's massive TikTok popularity? Coming right up!
Duolingo's social media strategy
1. Duolingo on TikTok
Focus on being entertaining rather than promotional
Having an iconic, brand-centered, yet funny and engaging TikTok strategy is what got people to fall in love with Duolingo's TikTok account.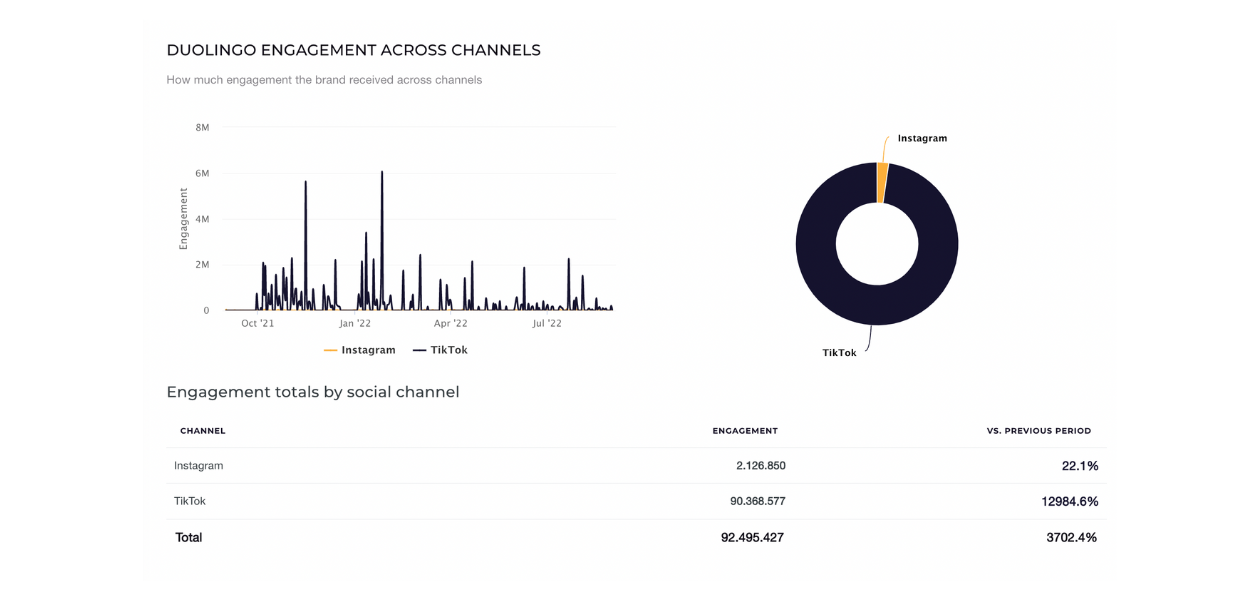 Behind Duolingo's huge TikTok success, there's a series of trial and error approaches.
The language-learning business kickstarted its TikTok presence by experimenting with educational content in its early days, teaching people how various words are pronounced in multiple languages.
However, what really put Duolingo on the map and started differentiating it from all the other brands trying to find that sweet spot content type that would impress the TikTok audience, was the entrance on the stage of Duolingo's owl mascot - Duo.
These days, Duo the green owl is featured in most of Duolingo's TikTok videos, trying to motivate students to finish their daily language learning sessions in a nonconformist yet funny way.
The sitcom that became the central character of Duolingo's TikTok marketing strategy was a key element in creating a more humanized brand image.
With nowadays' consumers wanting more bold, well-defined brand personalities, Duo the owl is an extraordinary representation of Duolingo's friendliness and outgoingness.
By switching the focus and spotlight from the brand's products to the TikTok audience's desire to be entertained, Duolingo made a breakthrough in social media achievement.  
What inspired Duolingo's current TikTok strategy was, first and foremost, a deep understanding of the platform's audience.
The brand gets and excels at TikTok marketing because it realizes that gen Z - TikTok's predominant audience - wants authentic POVs nowadays.
Jump on viral TikTok trends
One of the drivers of Duolingo's today viral TikTok account is its ability to jump into trends and integrate popular songs into its content.
A recurring theme in Duolingo's TikTok videos is the mention of the famous singer with whom the company's brand name has phonetic similarities - Dua Lipa.
Talking about contextual marketing done right, Duolingo is a great example.
Create exclusive content for TikTok
Despite TikTok being Duolingo's strongest social media platform, the brand has a dedicated social media strategy for each platform.
While Duolingo's TikTok presence gained momentum through its catchy videos, the brand knows better than just to start spreading those videos all over social media.
Most of the time, their engaging videos are TikTok exclusive, cross-posting very rarely.
To look at Duolingo's TikTok strategy from a more technical perspective, by analyzing and comparing the brand's first TikTok videos with the more recent ones, there's obviously not only a change in concept but also in the video's length.
If, in the beginning, Duolingo used to play with longer - up to 40 seconds videos - nowadays, the brand usually doesn't make TikTok's longer than 10 seconds.
Using on average six hashtags per video, Duolingo's most used TikTok hashtag is its branded one - #duolingo, created and used massively for brand awareness.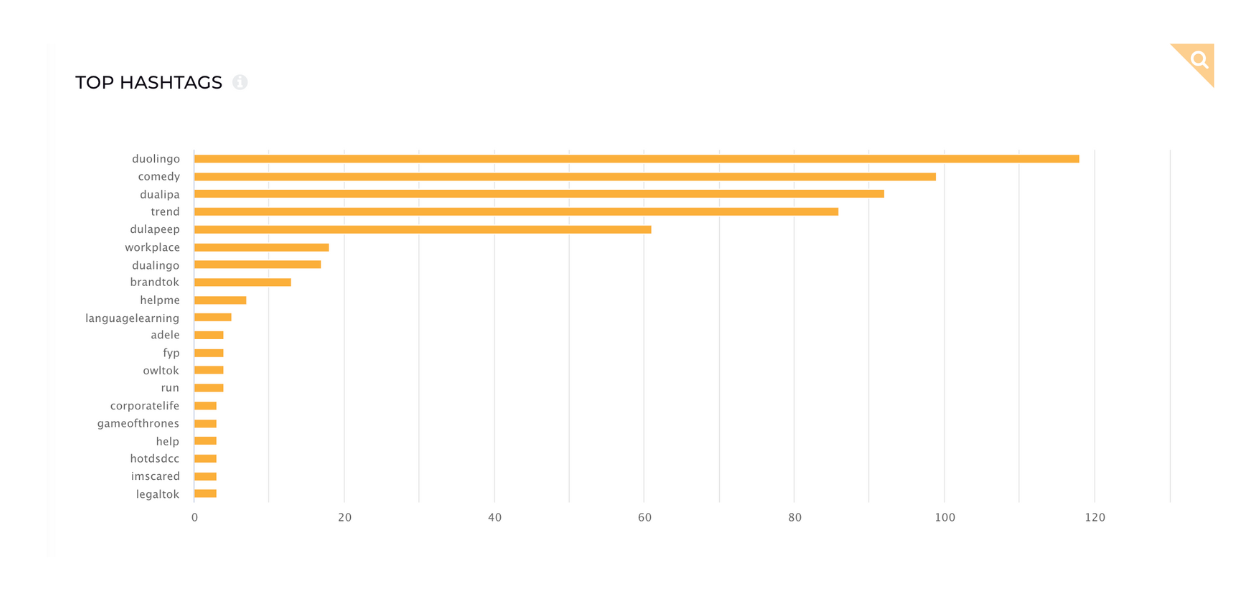 Besides the amazing number of video views each of Duolingo's TikTok gets, backing up the brand's ingenuity in creating appealing content are the stats showcasing Duolingo's TikTok engagement rate - which stands at an average of 16.5%.
To ensure you don't miss out on any of your competitor's TikTok marketing shifts and keep an eye on their TikTok metrics, you can perform an in-depth TikTok analysis using a social media analytics tool like Socialinsider.
Sign up here for a 14-days free trial!
2. Duolingo's TikTok vs. Instagram
Nowadays, the social media hype is divided between two elements: TikTok and its Instagram replication - Reels.
With its stellar TikTok account, Duolingo has proven its capacity to adapt and stay on top of the trends, trying to do the same on Instagram - despite not being the brand's focus platform.
Duolingo leverages diversified content, including Instagram Reels
On Instagram, Duolingo was not reluctant to try out the platform's new feature and started integrating Reels in its Instagram content strategy sooner rather than later.
This was a really smart choice, given that, according to data, Reels make for the best-performing content type on Instagram these days.
However, understanding how important diversity is on a platform like Instagram, Duolingo populated its feed with mixed content, integrating single images and carousels as well in its Instagram posting strategy.
Across multiple post types on Instagram, Duolingo preserves its friendly vibe and tone and puts forward its cute green mascot Duo.
In an interview, Zaria Parvez, Duolingo's global social media manager, actually offered insights into how the brand contours its tone and messages for different social networks.
"Instagram is how you would probably talk to a colleague, Facebook is how you talk to your like, grandma, and TikTok is how you talk to, like, a close friend."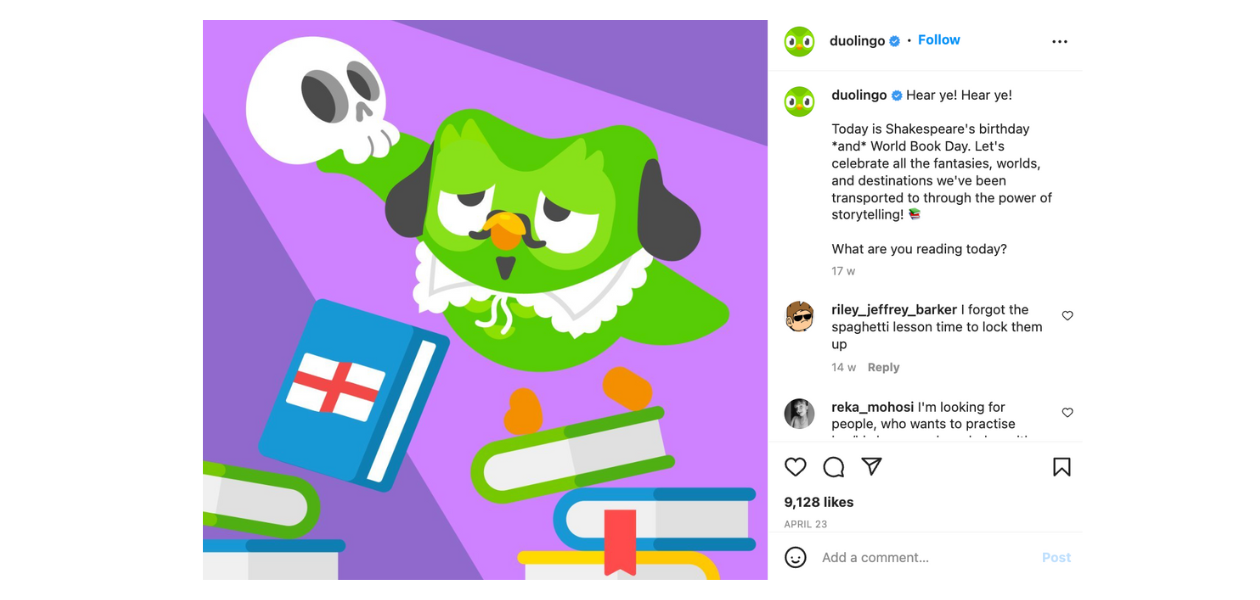 With Instagram engagement slowly decreasing according to our social media benchmarks study, Duolingo still registers engagement levels that are higher than the platform's average, of about 2.00%.
To see what's the average Instagram engagement rate for different industries, you can check our in-depth free social media industry reports.
Final thoughts
Besides its creative, outside-the-box TikTok strategy, Duolingo's overall social media strategy seems to be a strong consolidated one, as the brand's KPIs have emphasized.
Behind Duolingo's social media success, there's a deep understanding of each social platform's audience and its needs.
If we were to sum up, we'd conclude that Duolingo's marketing strategy for TikTok and its success relies heavily on three strong points:
it is original and creative;
it is authentic;
it is aligned with the brand's overall mission - that of turning the process of learning a new language into something fun and exciting.