Building brand awareness is not like building sand castles on a sunny beach (unfortunately).
After carefully organising all your departments, setting the marketing plan and starting working on it, you still need brand influencer campaigns to widen your horizon.
With the help of brand influencer campaigns, you can reach a lot more people, offering them a solution to their problems.
The size of your company does not matter in this case. The only thing that is mandatory is your desire to grow and your willingness to collaborate and trust influencers with your brand.
In what follows, we'll see what it takes to build and use brand influencer campaigns.
How to include brand influencer campaigns in your marketing strategy
1. How to develop a brand influencer campaign
Let's start with the beginning. First, it was light. And after hundreds of thousands of years of evolution, there was marketing. A few minutes later, influencers appeared.
And when marketers decided that they need to further develop their brand awareness and reputation, they decided to develop brand influencer campaigns.
Ok, I'm kidding. Maybe things didn't go exactly like this, but it's clear that brands had a need. And influencers were there to satisfy it and make things a bit simpler.
A brand influencer campaign is a collaboration between a brand and an influencer to promote their products and services.
Sometimes a brand influencer campaign is developed with celebrities or with creators who have hundreds of thousands of followers and a great visibility in the online world.
Developing a brand influencer campaign can be done either in house, planned and supervised by the marketing department of the brand, or with the help of an agency.
In what follows, we'll see how it works in both scenarios so you can choose the easiest way for your brand.
1.1. How to develop an in-house brand influencer campaign
As a brand, when you decide what's the right type of influencer to promote your new campaign, after you establish the influencer profile, you need to start searching.
Luckily, you have an entire marketing team and you can count on. Selecting someone who you can trust with this part of the process would be even more efficient.
When you want to establish an influencer profile that works for your brand, you will need specific tools.
There are a bunch of influencer marketing tools that can help you find the right people in your niche.
By using one of these tools, you will definitely ease your work and save many hours of manual search on Instagram and TikTok.
1. Micro, macro or nano-influencers?
When you get a list of influencers who are popular in your industry, it is time to categorise them  by the number of followers as macro, micro and nano-influencers.
Based on your budget and the type of marketing campaign you plan for your brand, you should decide what type of influencer suits you best.
With micro and nano-influencers, the prices are lower than with macro-influencers.
Even if micro influencers have a lower follower count, their audience can be relevant for you if they are popular in your industry.
Small brands choose to work especially with nano and micro-influencers because they are closer to their people, nurturing their small community and always engaging with them.
This way, their audience is more likely to take advice from these kind of influencers and test your new products or services.
What you should know is that macro-influencers earn $5K-$10K per post, while micro-influencers get $100-$500 per engagement.
You should choose according to your marketing campaign's plan.
2. Choose your influencers based on your target channels
Starting off, you need to have a clear picture of your audience and buyer persona. Then, you should think about the type of campaign you want to develop to know exactly what influencer can help you with the job.
You can choose between these campaign types:
Mentions
Sponsored content
Guest posting
Giveaways
Affiliates
Discount codes
The way you build the message you want to deliver to your audience is crucial. Think about the tone of voice you want to have and then what you want to transmit.
When designing the content for your campaign, together with the influencer, you should also have in mind the brand's values you want to reflect through your products and services.
Your campaign should be sprinkled with keywords to attract more people who are interested in those services and products.
3. Search for influencers and make offers for collabs
After you make up a list of influencers in your niche, you need to reach them out individually. Sending them a well-designed collab proposition is needed.
Make sure the message you send is clear.
Be specific when it comes to your requirements and tell them everything they need to know about your brand recognition, values, voice and the kind of community you want to build.
When you are trying to establish with what influencer you want to work, you have to think about this:
Is the content they post relevant for your brand?
Has the influencer worked with brands from the same industry as you in the past?
Does their personality and image they built online fit your brand?
Do their followers trust them?
Depending on the types of content you want them to create for your brand, the collabs you have can differ from one influencer to another.
It doesn't matter what industry or niche you're in, but the way you build credibility and trust through your influencer campaign is crucial. This is what will draw the audience towards your brand.
4. Manage your brand influencer campaigns
Now that you have established that a certain influencer is in charge of a particular social media campaign, you have to verify the details.
This way you make sure they respect the terms of the contract you both signed, especially when it comes to delivering content and acknowledging deadlines.
To ease your work, make sure the onboarding process runs smoothly and you offer them as many details as possible.
After finding THE ONE (or maybe several, who knows), it's time to talk money and sign a contract.
You should consider offering influencers you work with creative freedom. Don't try to micromanage your collaborations because this may discourage influencers from being themselves.
5. Track your results and adjust strategy if needed
After the campaign is close to an end, it's time to measure the progress.
To always keep tabs on the numbers, you should also check campaign analytics using a third party tool that comprises all the data in one place.
Based on the values of the most important metrics, like engagement, follower count and website traffic, you can adjust your marketing strategy for future campaigns.
1.2. How to develop an in-house brand influencer campaign
If you decide to build a brand influencer campaign with a marketing agency, it may seem simpler at first sight, but it could be less cost-effective.
When you develop a brand influencer campaign, usually you attribute this task to a designated person from your marketing department. This could be a job for your marketing assistant.
However, if your brand is still small and your marketing team is just you, it is clear that you need the help of an agency to put a brand influencer campaign in place.
When working with an agency, you have to follow the same steps I mentioned above for the in-house process. The important thing is constant communication.
You are not in charge with the direct communication with the influencer, instead the agency is.
The difference is that the back-and-forth process with the agency, when searching for the right influencers, may last longer.
So patience is key in this case. That is why you should plan your marketing strategy ahead and rely more on your in-house content before the campaign gets "fueled" by the influencer's magic.
The perks of working with a big marketing agency is that they have a portfolio with a wide range of influencers from several industries. You have a wide pool to choose from.
Another great advantage is that the agency will set up the collaborations and take care of the onboarding process for the influencer.
While the agency will communicate more with the influencer, you have to make sure they have a clear view about your brand's reputation and values.
At the end of the brand influencer campaign, you should ask the agency for a full analytics report, checking the performance of the influencer campaign.
2. The benefits of a brand influencer campaign
When you decide to give your marketing campaign a push with the help of an influencer, there is a wide list of benefits that emerge.
1. Influencer marketing increases ROI
This chart from Hubspot shows that influencer campaigns it's among the most popular marketing trends that bring higher ROI for a brand.
Brand influencer campaigns are not only situated in top 5 marketing trends, but this trend occupies the second position, increasing the ROI with 7%.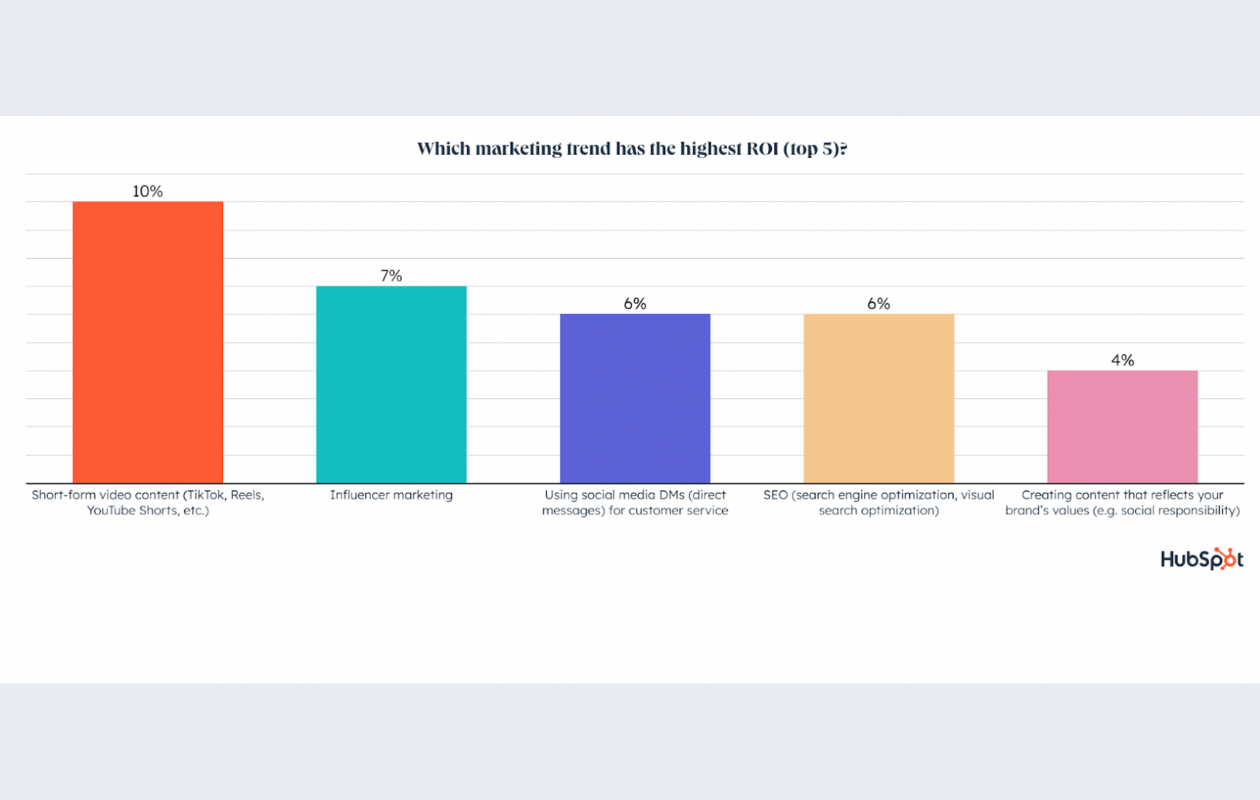 According to Hubspot, influencer marketing is the second best thing after short-form video content on Instagram, YouTube and TikTok.
This means that brands should definitely invest in influencer campaigns to grow the number of leads, increase the number of clients and efficiently boost ROI.
2. Brand influencer campaigns help you establish social proof
With the help of brand influencer campaigns, you generate more authentic content with which you can attract a wider audience.
Through the content the influencers create, you don't only reach more users, but you also increase brand awareness.
When a brand brags about its products and services, claiming they are the best of the best, you are not really convinced about their efficiency.
However, when a person you know and trust (an influencer) in the online world shows you testing the products and they argue the brand is life-changing, you are more inclined to believe them.
When a real person tests a brand's services and products and they are happy with the result and the needs it has satisfied, then you will definitely check that brand's website and even use the discount code.
3. Influencers bring more followers
Brand influencer campaigns are bound to increase a brand's follower count. And this is one of the important metrics you should keep an eye on. Always.
Everytime you check the progress of your new marketing campaign, you can measure part of its success through the number of followers.
Your influencers' followers will visit your brand's social media profiles and if your content is convincing enough and your products look like the best solution for them, they will hit the "Follow" button.
Ta-daa! Your influencer can easily bring you a lot of followers who are bound to interact with your social media pages and maybe even go to your website.
4. Influencer campaigns lead to more purchases
A Hubspot study from 2022 shows that 33% of Gen Z is likely to make a purchase after they've seen the product being advertised by an influencer.
This proves the efficiency of brand influencer campaigns, regardless of the industry you are activating in.
When it comes to younger audiences, influencers play an important role in the purchasing processes.
5. Influencers help you share more authentic content
Allow the influencer you are working with to be as creative as possible, showcasing their true self through your brand campaign.
This way, they will attract a lot of their followers to your social media profile via their authentic content.
When users see the creative campaigns, they will be more curious about your products and services and will even stalk you on social media for new launches.
3. Brand influencer campaigns vs user-generated content
After successful influencer marketing, there is something greater that can derive from the growth of follower count.
The users who buy your products after an influencer campaign and are satisfied with their purchase might become your fans.
And this is indeed marketers' wildest dream come true. These satisfied clients will most often then not take a picture or make an unboxing video with your products and post it online.
User-generated content is pure bliss. When your clients share their own experience with your brand, chances are more people would be curious to discover your services and products.
This is basically free advertising. Who doesn't simply love that?
User-generated content is not just advertising, but it is also a valuable statement showing that your products perfectly match with your clients' expectations.
By not disappointing clients, you get user-generated content that basically praise your brand for doing a good job.
The great part here is that user-generated content is free, while influencer marketing needs a budgeting plan.
After a user shares their story with your brand on social media, make sure you thank them in comments and you can even send them a private message where you can offer them a discount for their next purchase.
Also you should ask them if you can share their content on your brand's page and tag them.
Sometimes being nice means the world for people who use your products and services.
If you like the content they post and the results are great, you can even come up with a collab proposal.
Some brands make use of paid user-generated content to attract a greater audience.
When users see that a regular person used and liked a brand's products, they are inclined to try them too.
Paid user-generated content works well for small brands when building their social proof.
Now, if you are conflicted and you don't know what to choose or you think you should implement both, you will be able to decide after assessing your budget and needs.
Don't rush into anything until you discuss it with your team and take account of all the options you have.
4. How to track a brand influencer campaign's progress with Socialinsider
You have all the theory above, but in order to understand its utility, you certainly need some examples.
Below I've looked at some brand influencer campaigns for three brands, analysing one campaign for each of them.
With the help of a third-party analytics tool like Socialinsider you can easily track your influencer campaigns in the Campaigns section.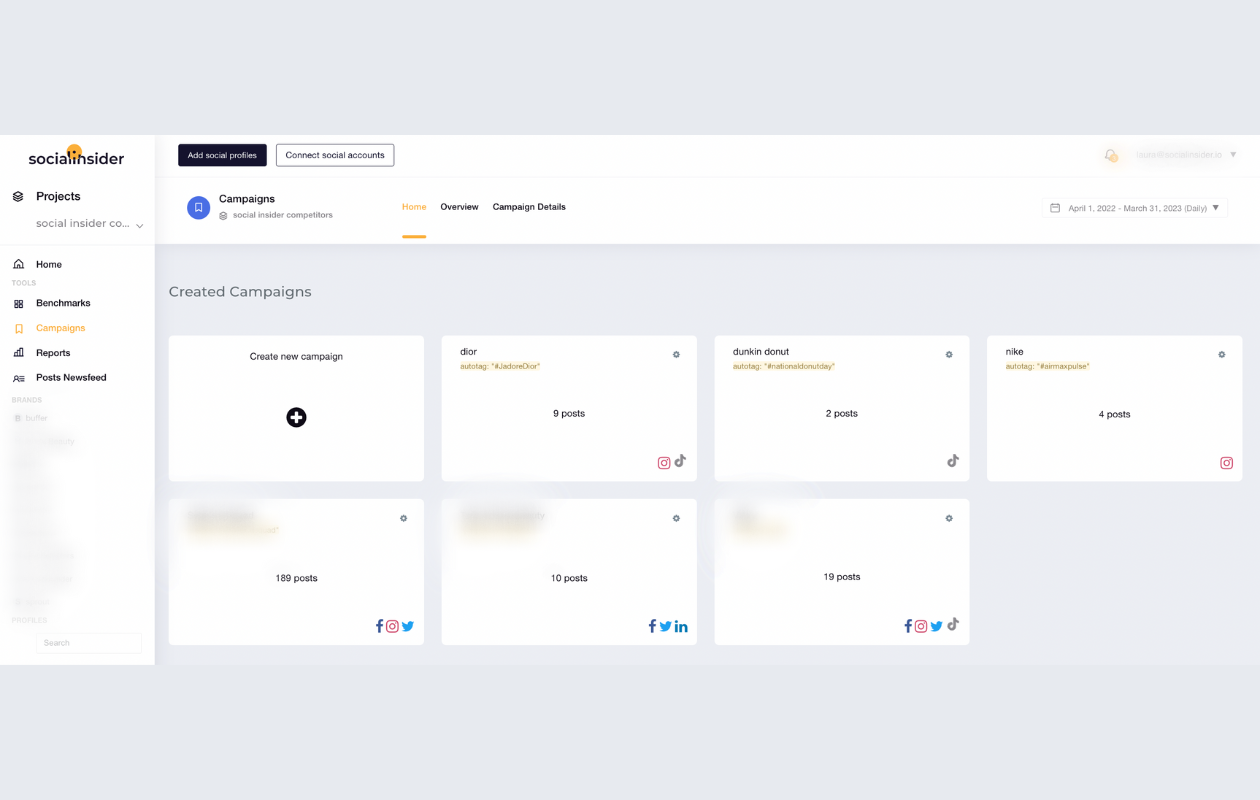 Here is an example of Dior's campaign with Charlize Theron for their well-known perfume called Jadore. The hashtag used by both the brand and the influencer was #jadoredior.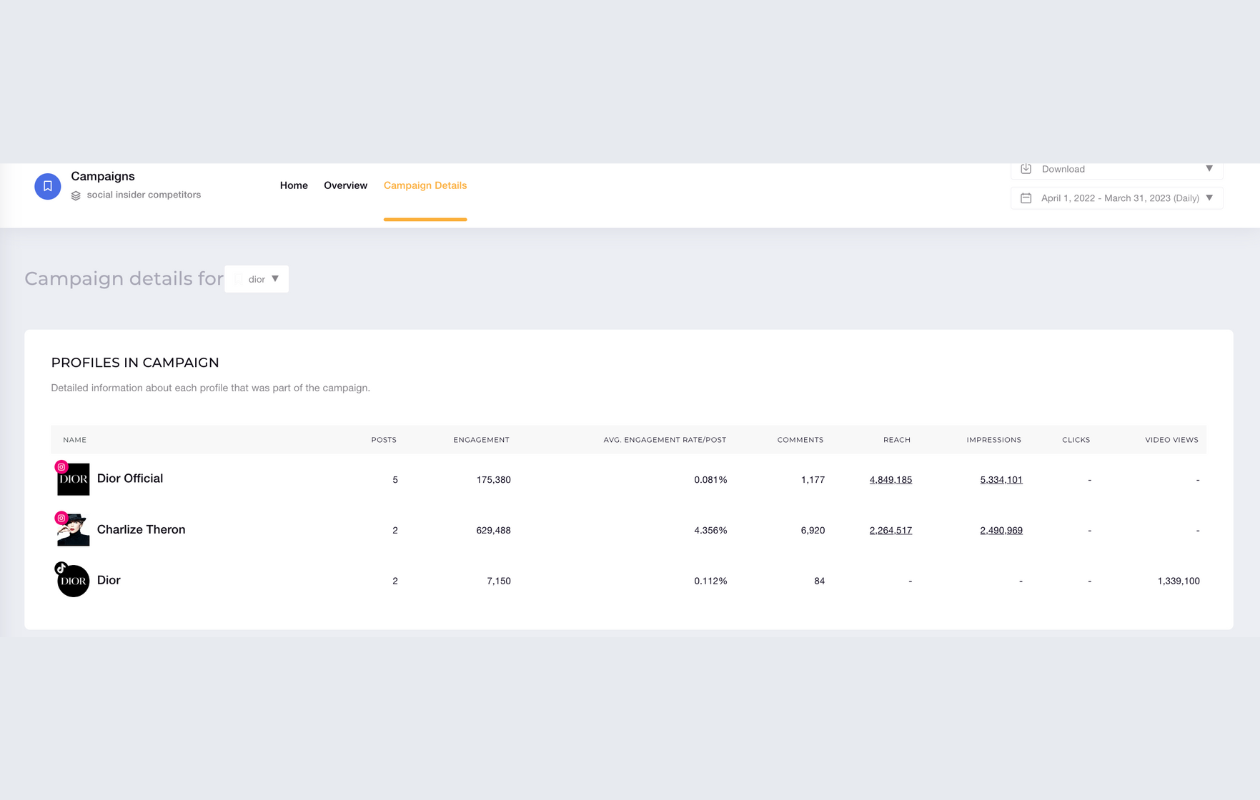 The first metrics that appear are the most important ones, like engagement, average engagement rate per post, comments, reach, impressions, clicks and video views.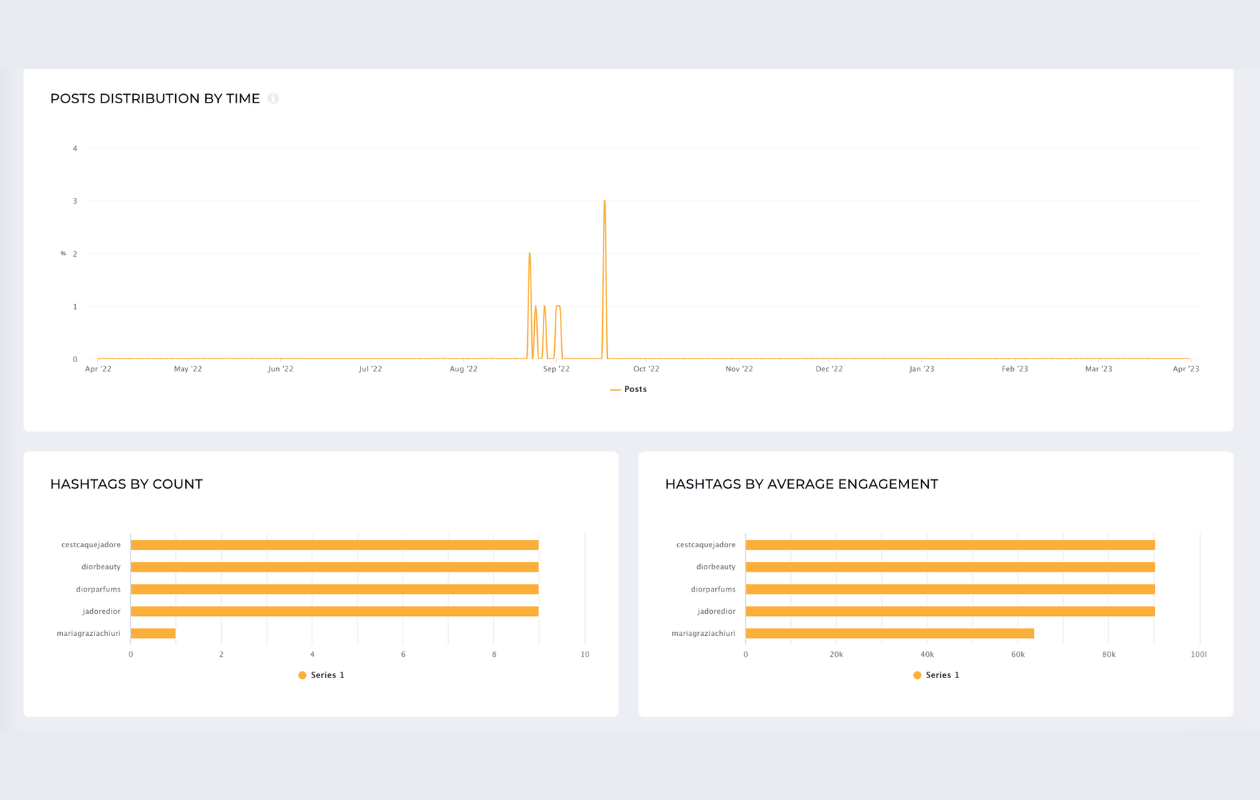 Here you can see the distribution of posts in time, depending on the timespan you select in the tool.
Moreover, you will also see the frequency of use for hashtags, looking at hashtags by count and hashtags by average engagement.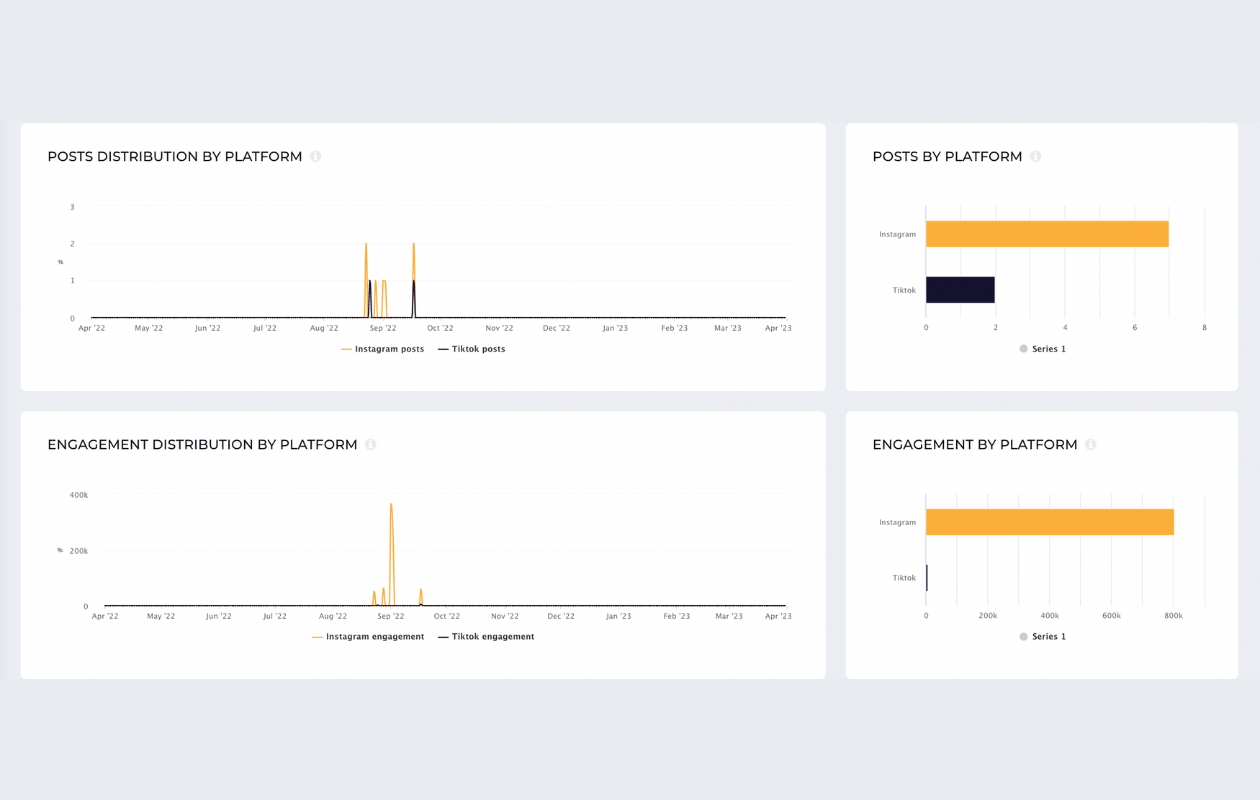 Here you can check the distribution of the posts from this marketing campaign #jadoredior. In the first chart, you see its distribution by platform on TikTok and Instagram.
Also there's a chart for engagement distribution by platform and you can separately see on which platform the brand had more posts and which ones were the most engaging.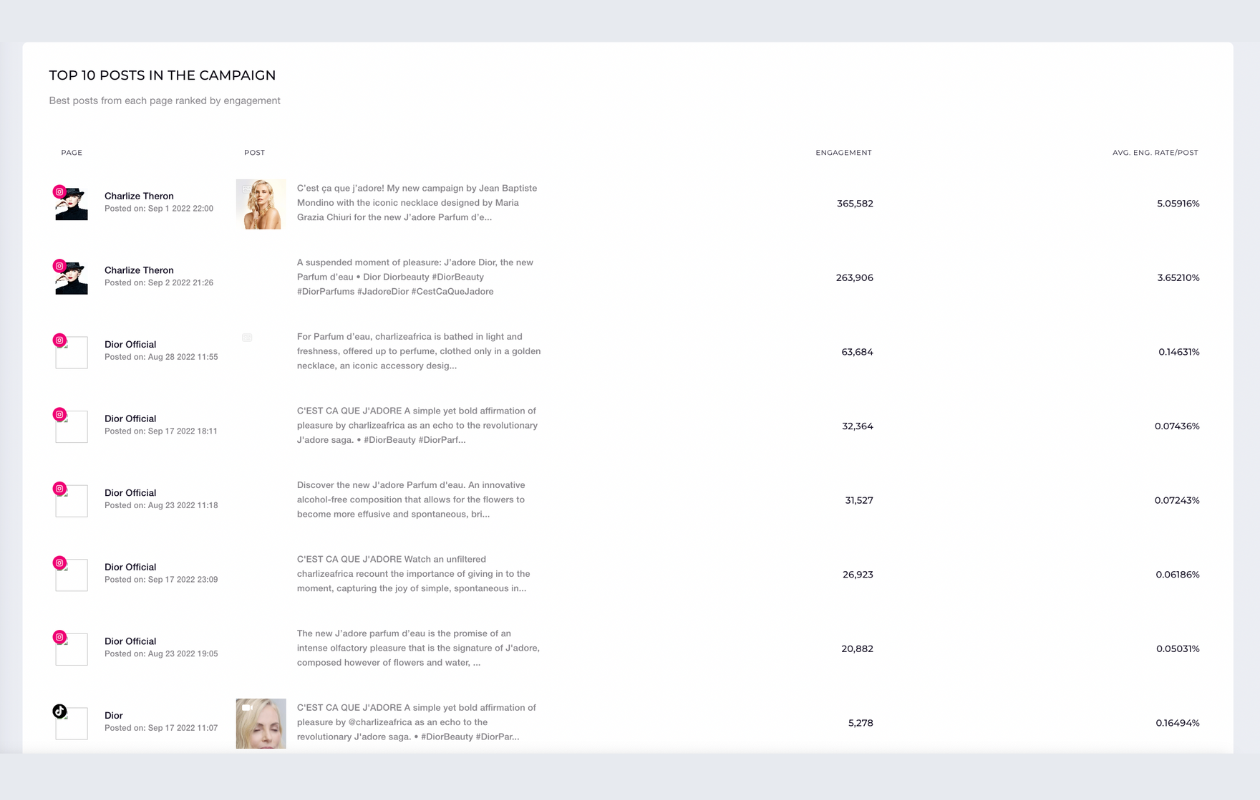 Finally, you get data about the top 10 posts in the campaign. The top was developed based on the highest engagement and average engagement rate per post.
5. 3 brand influencer campaigns to feel inspired
In what follows, we'll be looking at 3 brand influencer campaigns from 3 different brands, dior, nike and dunkin' donut.
Every influencer campaign used a certain hashtag to promote the campaign.
The campaign I looked up for this brand was the one with the hashtag #nationaldonutday. This influencer campaign was developed on both Instagram and TikTok.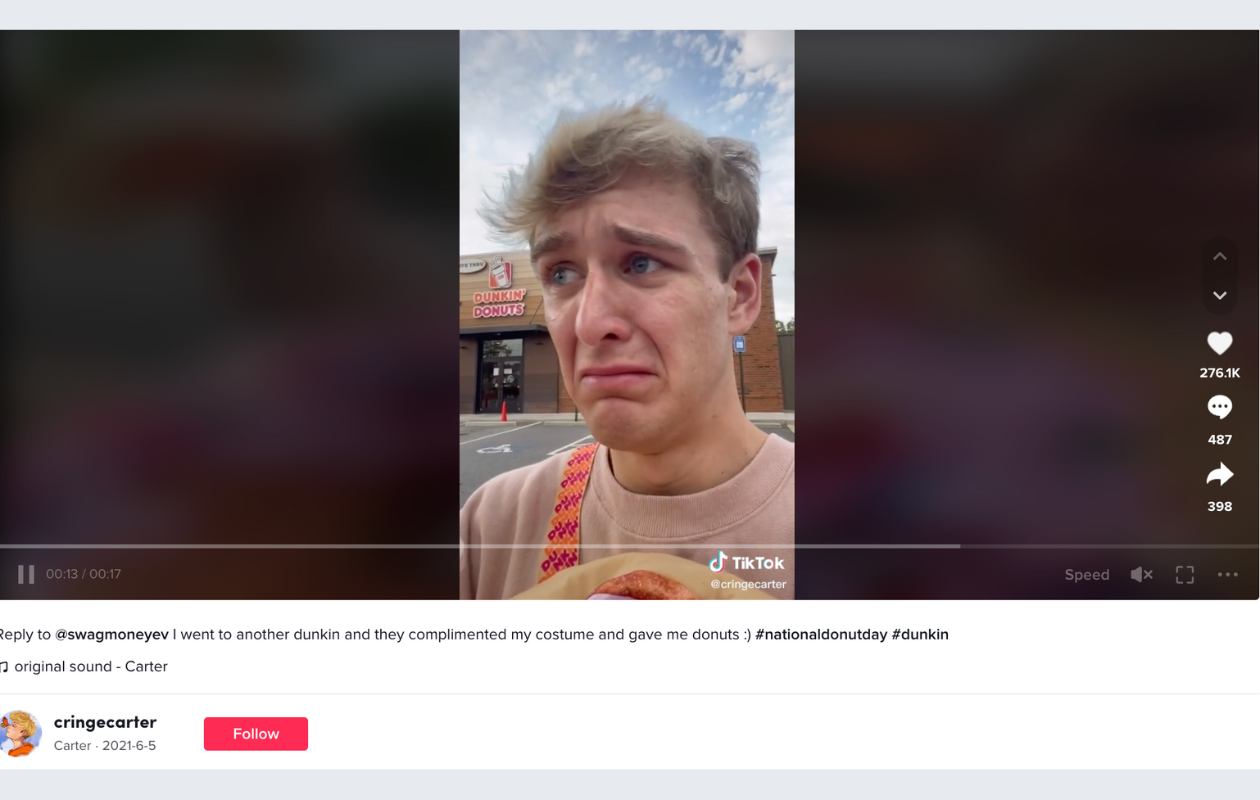 The influencer with the ID cringecarter has over 6.7 million followers. This is certainly one of the reasons why Dunkin' Donut knew that their partnership will bring them an even greater visibility.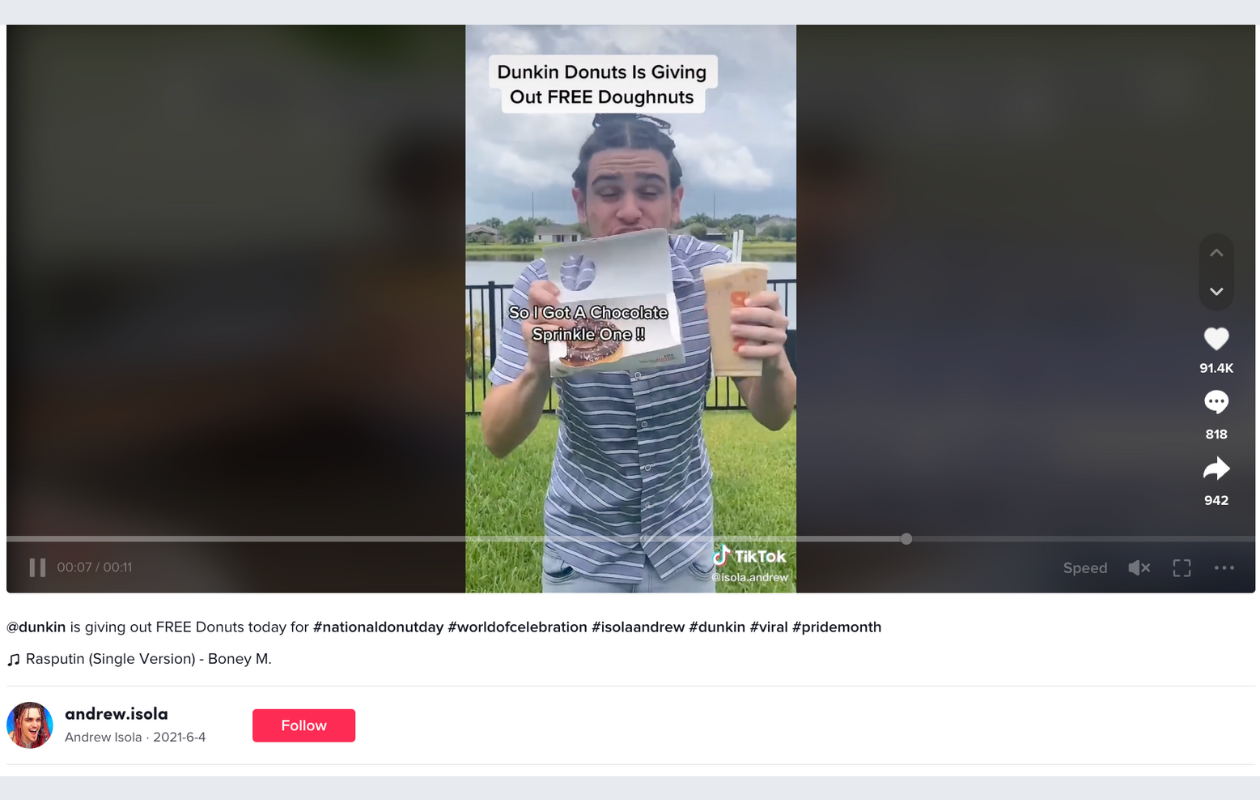 The influencer Andrew Isola has over 434.000 followers. This justifies the way his videos manage to increase Dunkin' Donuts' brand awareness even more.
Besides this campaign on National Donut Day, in June, Dunkin' Donut has an even more successful one.
The influencer campaign with Ben Affleck and Jennifer Lopez tops all others.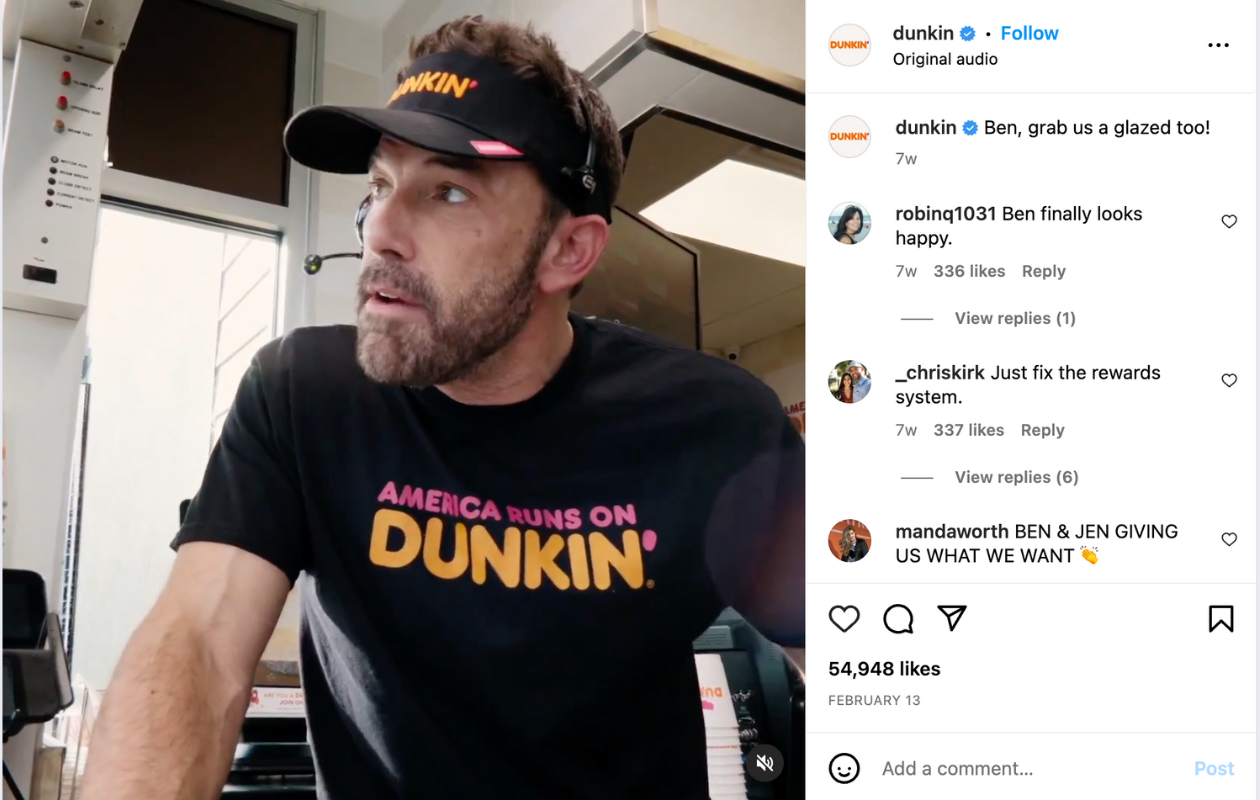 The glazed donut from Dunkin' Donut is already famous, but this campaign, where Jennifer Lopez asks for a glazed, made it almost as famous as she is.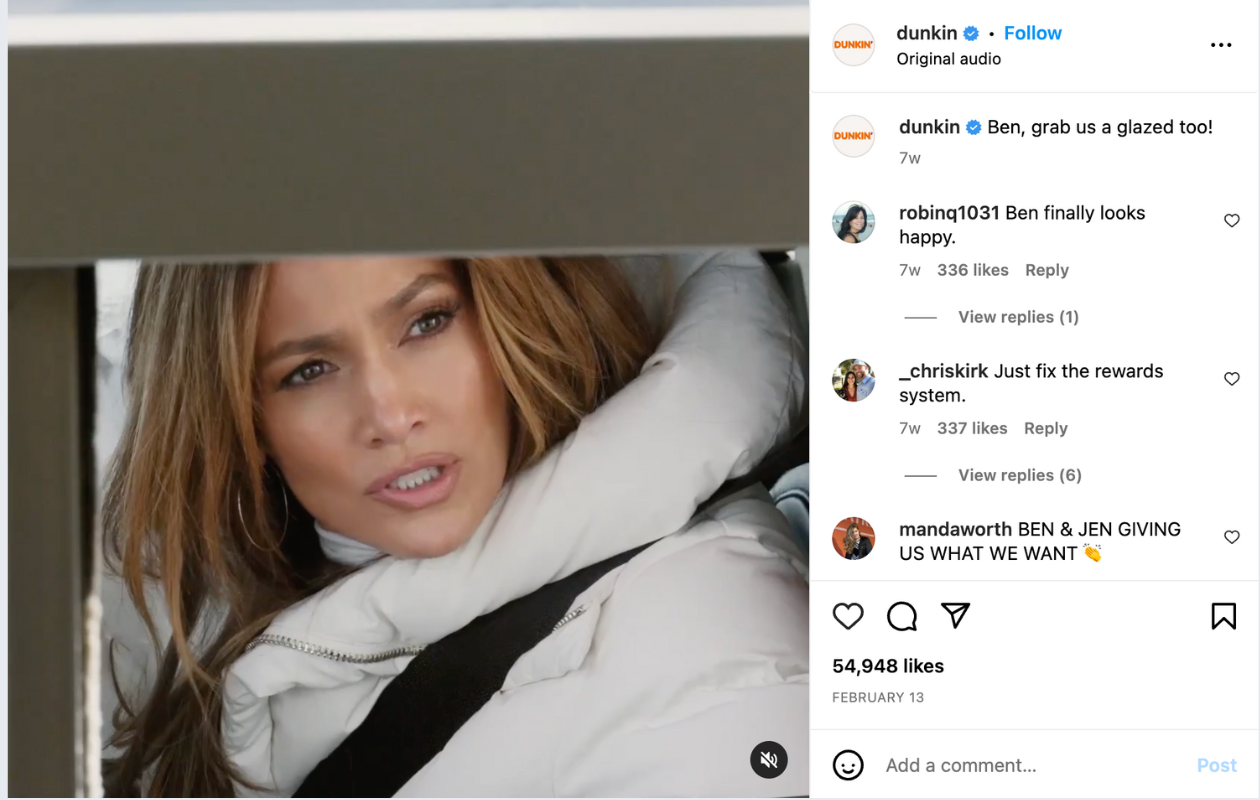 Before releasing these videos with Ben Aflleck, the donut brand showed their followers a sneak peak on Instagram.
The marketing campaign run smoothly and even users have admitted that this was a top marketing campaign.
Nike is one of the biggest brands that sells sports clothes and shoes. Along the years, they had numerous influencer campaigns with celebrities like Serena Williams and many others.
Lately, they've choose to focus their influencer campaigns on micro- and nano-influencers like sports people who have just started their career and winning prizes at sports competitions.
The Airmax Pulse campaign has gained a lot of popularity. Nike decided to work with both sports professionals and micro-influencers.
This Nike campaign started with a mind-blowing commercial.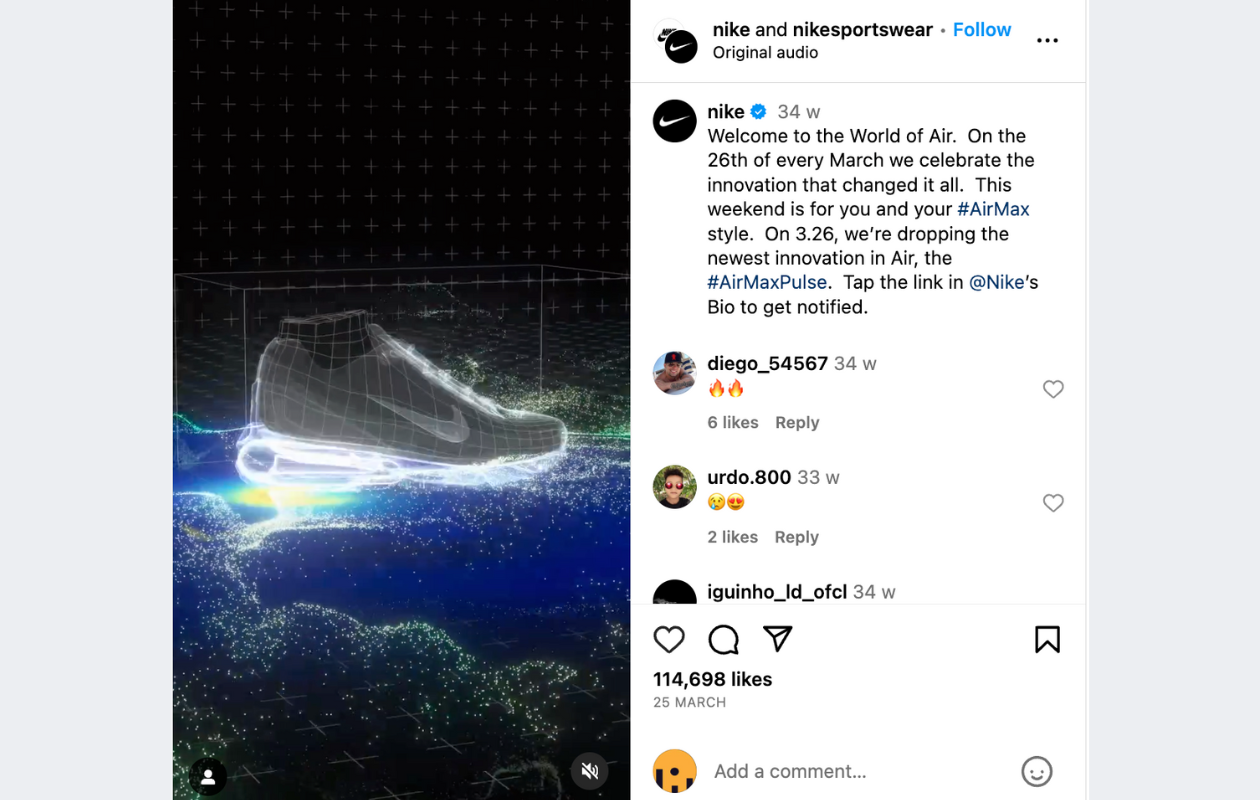 Kendy Cruzo is a health and fitness coach who has a little over 19K followers.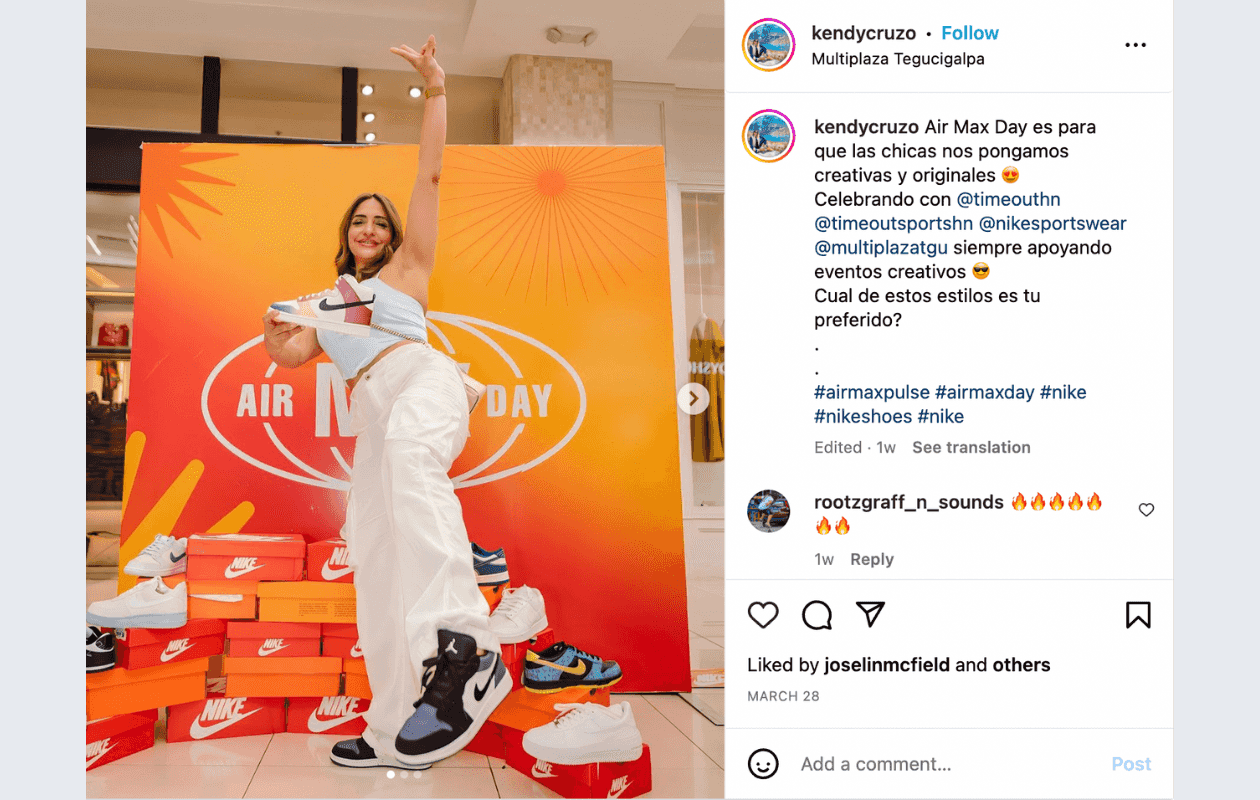 This sports brand has yet another type of social media campaign, where they showcase them wearing a full Nike outfit.
The videos showcase sports professionals like Smiriti Mandhana. She plays cricket and won the International Cricketer of the Year 2021. She has 7.7 million followers.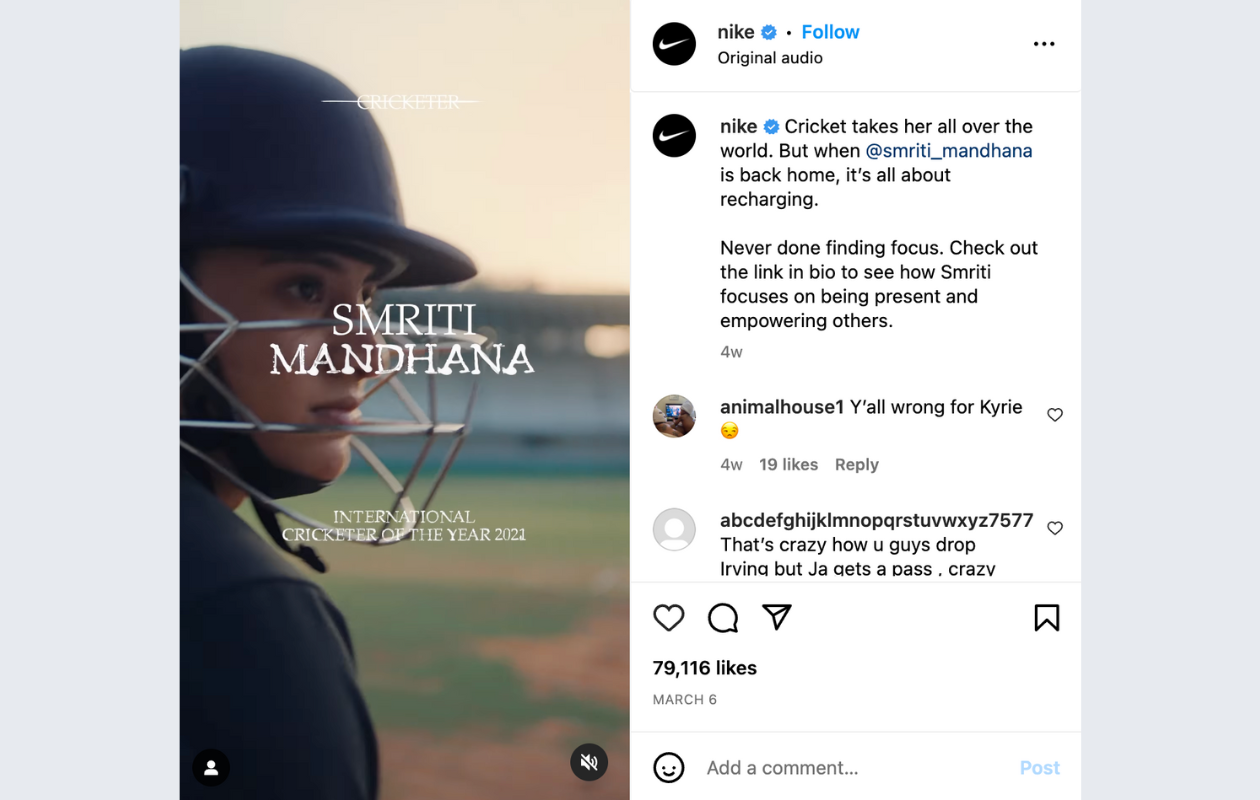 Another post is with Chris Focus who is a runner. The video is not only inspiring, but it also shows the best kind of shoes one could wear while running.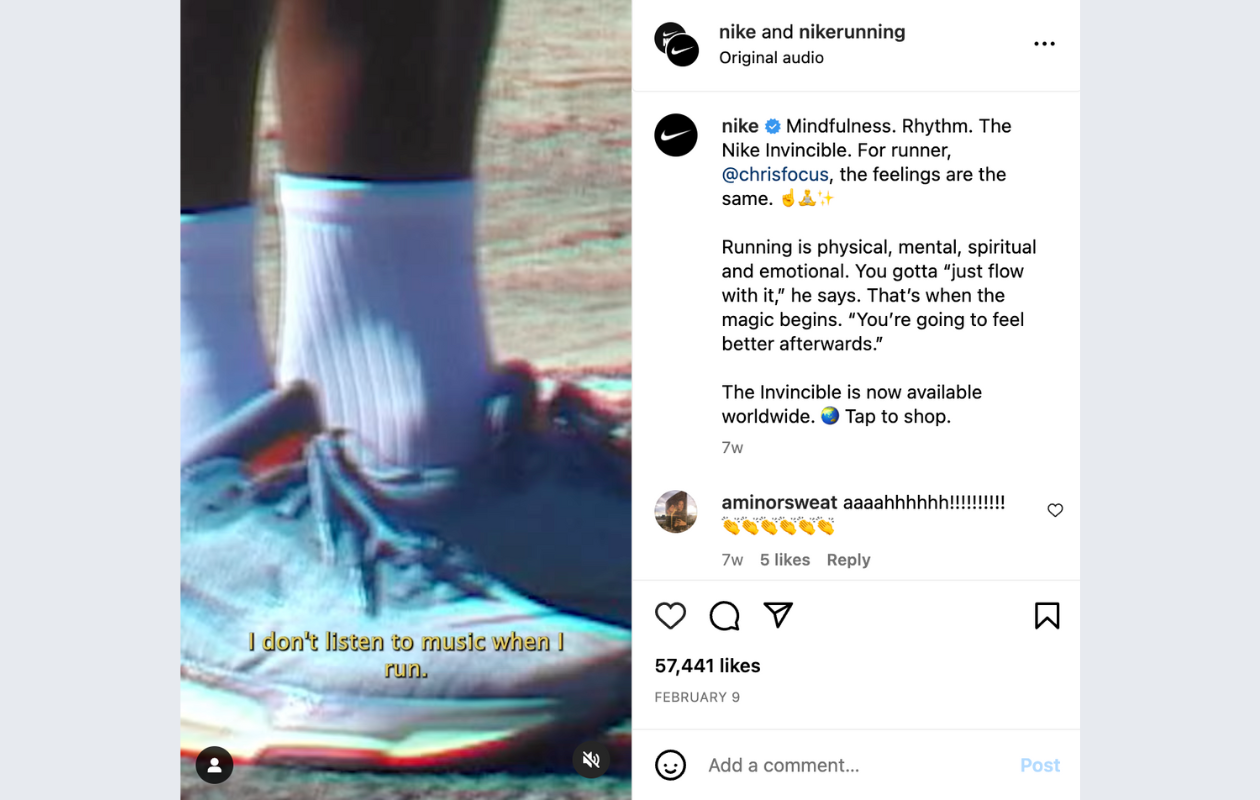 Even if Chris Focus has only 2.500 followers, he has a great impact on this Nike campaign.
Dior is one of the biggest brands of clothes and cosmetics. This brand has sales sky-rocketing and that's why it affords exquisite campaigns with celebrities like Charlize Theron, Robert Pattinson, Cara Delevigne and Anya Taylor-Joy.
Cara Delevigne is in charge of the jewelry campaigns, Robert Pattinson is on clothes and Anya Taylor-Joy appears in cosmetics campaigns.
For de #jadoredior campaign, Dior collaborated with Charlize Theron and the commercials for the well-known perfume got everyone's attention.
This is the original commercial for the Dior perfume, J'adore.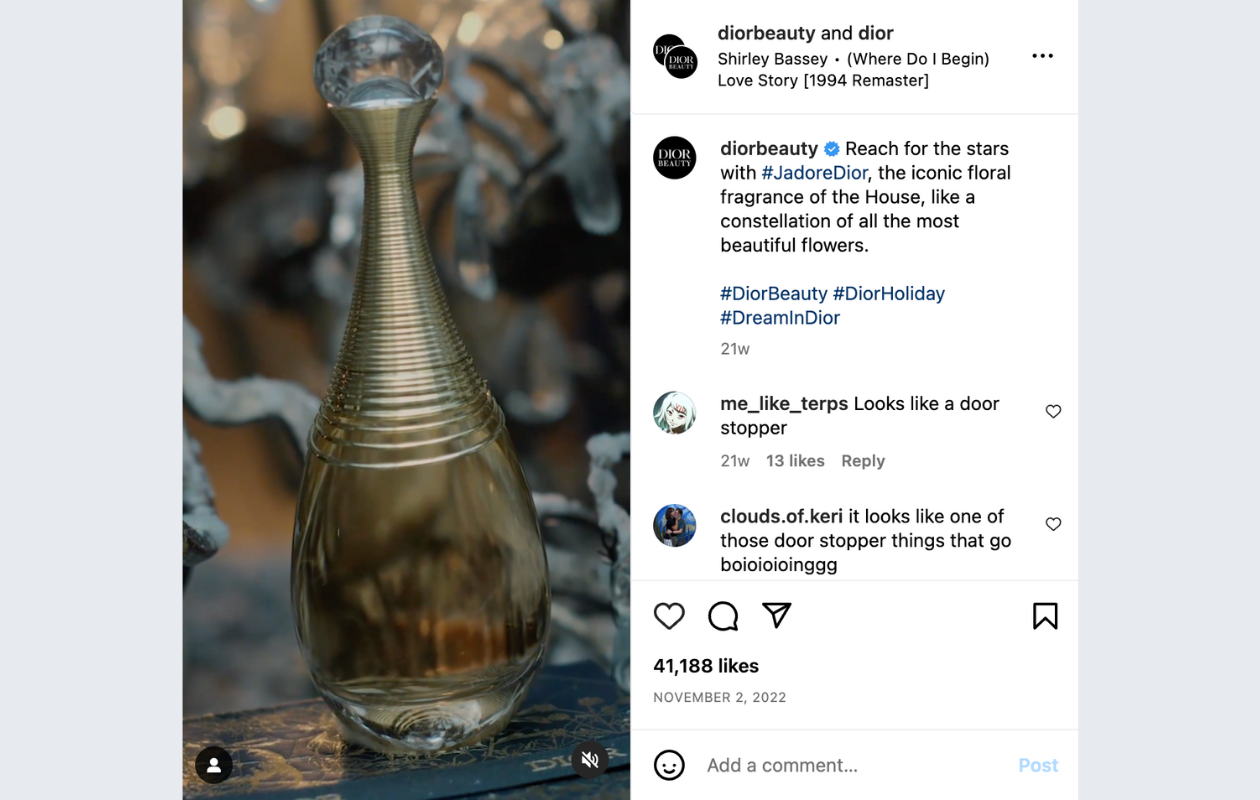 Charlize Theron is a distinguished actress. She is the ambassador for Dior and she has been advertising their marketing campaigns for quite a while.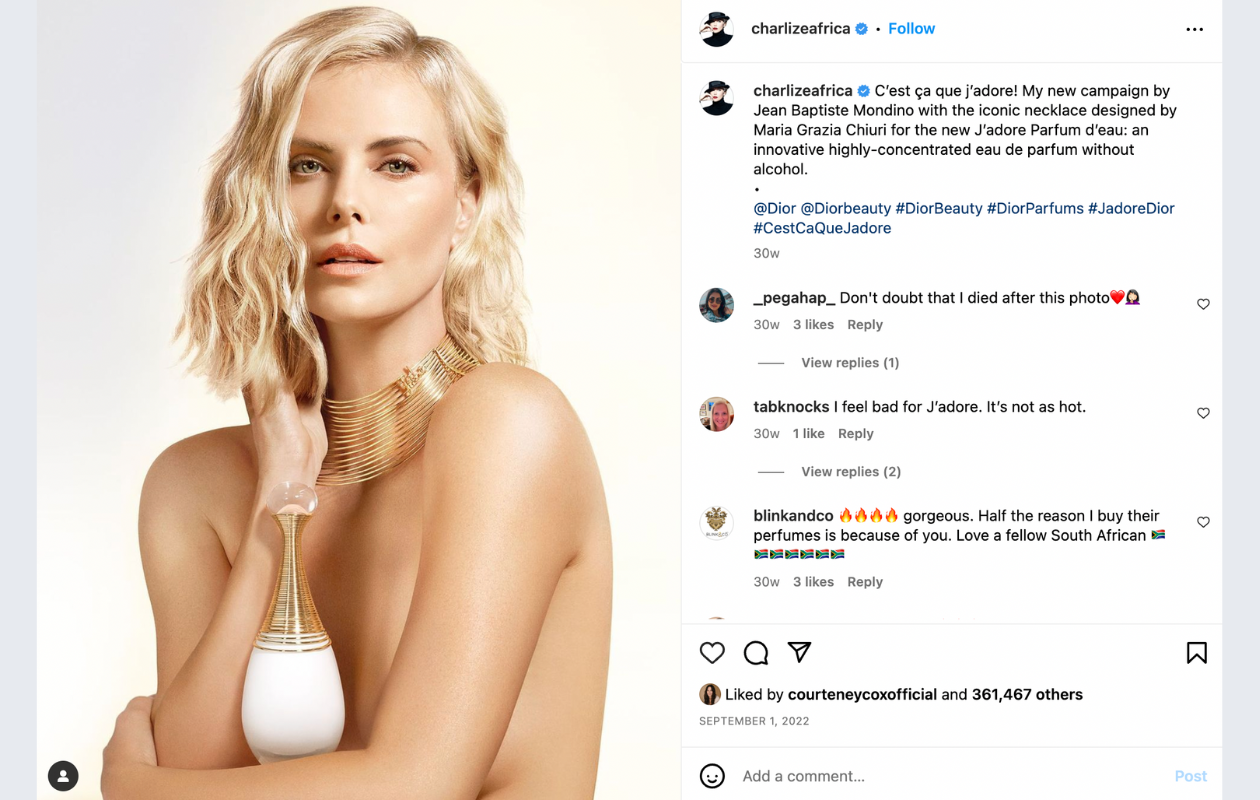 The star has 7.2 million users and it is clear that she contributed to the brand's reputation.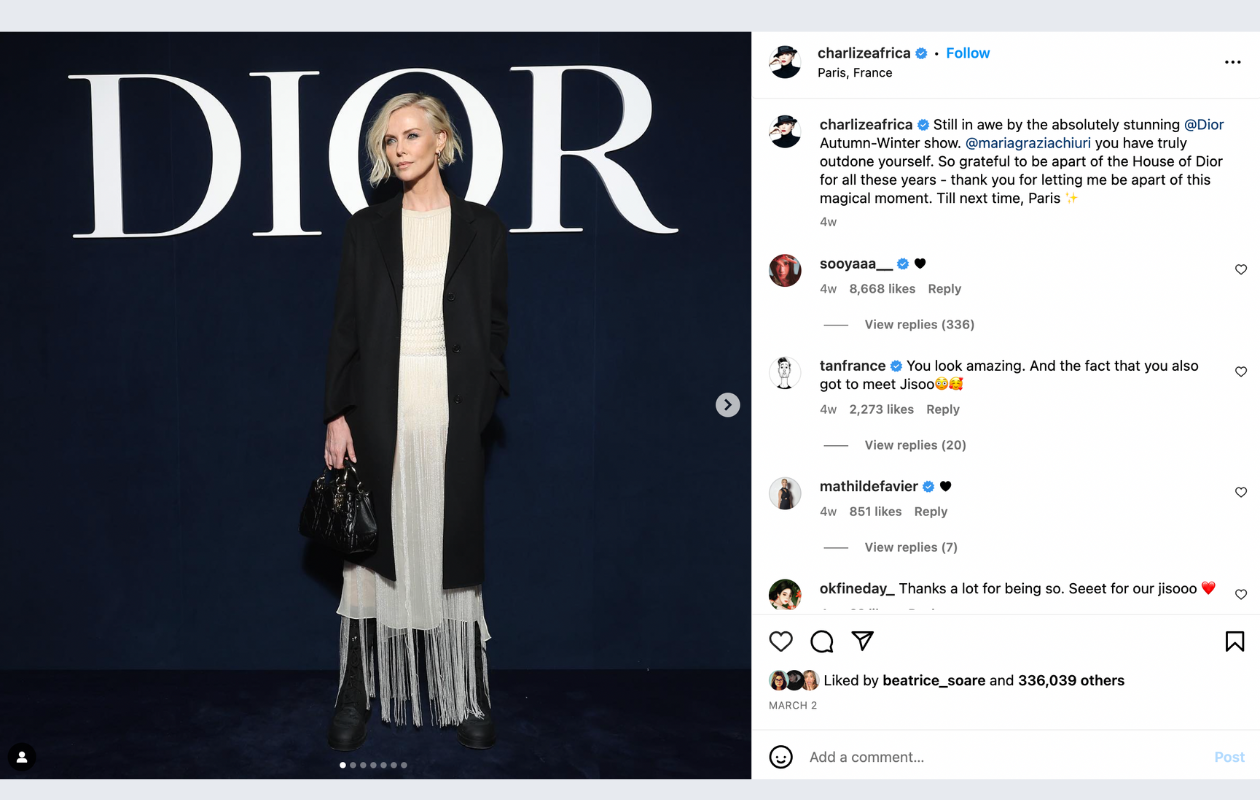 Final thoughts
Working with influencers and celebrities to empower your brand's growth is one of the best marketing strategies to use.
Depending on the influencer you choose, you will manage to give sales a boost and even get new leads, as a larger audience finds out about your brand.
These top-notch tips and influencer campaigns' examples can come in handy when you plan your next marketing campaigns.
Prepare to take over social media, when it comes to your industry, with the use of brand influencer campaigns.