Since the quick and undeniable success of TikTok, social media moguls have started rolling out new TikTok-inspired features.
While Instagram rushed to introduce Instagram Reels in 2020, YouTube delighted us with YouTube Shorts in the same year.
What are YouTube Shorts and how can brands leverage them to enhance their YouTube marketing strategy?
Continue reading to find out.
A complete guide to using YouTube Shorts
What are YouTube Shorts?
Known for its traditional horizontal long-term video formats, YouTube has been the original home of ongoing trends and entertainment since 2005.
However, the social media platform hopped on the new wave of vertical short-form videos by adding a new feature called YouTube Shorts.
In essence, YouTube Shorts is a vertical short-form content format that is more mobile-friendly.
How long can YouTube Shorts be? They can last up to 60 seconds.
With YouTube Shorts, you can specifically film, edit, add animated words and music, alter the speed, and combine numerous 15-second clips.
The same options are available to viewers as on standard YouTube, including the ability to like, dislike, share, and subscribe.
Shorts are visible if the viewer taps on the ''Shorts'' option at the bottom of the home screen in the app.
The benefits of leveraging Youtube Shorts for your brand
With 1.5 billion people watching over 30 billion Shorts monthly, their popularity and effectiveness are unquestionable.
Impressively, the numbers are still rising, so it would be the best time for brands to test this function.
By incorporating Shorts into their YouTube marketing strategy, businesses can communicate with their audience better and raise brand recognition.
Reaching all types of audiences, including more mature ones, is probably the key advantage of using YouTube Shorts for your brand.
Gen Z dominates TikTok's user base, but YouTube has a much wider range of content, attracting viewers of all ages from various businesses and niches.
The ability of Youtube Shorts to turn viewers into channel subscribers who are also immediately subscribed to your long-form content is another significant advantage for marketers. This entails greater reach.
How to make Youtube Shorts
If you're already familiar with TikTok, creating Shorts is very easy.
Choose the type of content you want to create
You'll first need to open the app and go to the home screen.
You can see the big plus sign + at the bottom, which says Create.
Choose between the following five options: Create a short, Upload a video, Go live, Go live together, and Create a post.
Tap on the first option ''Create a short'' and start recording by pressing the red dot.
In the top right corner, you can tap and choose the record time: up to 15 or 60 seconds.
There is also the option of uploading videos from your gallery in the bottom left corner.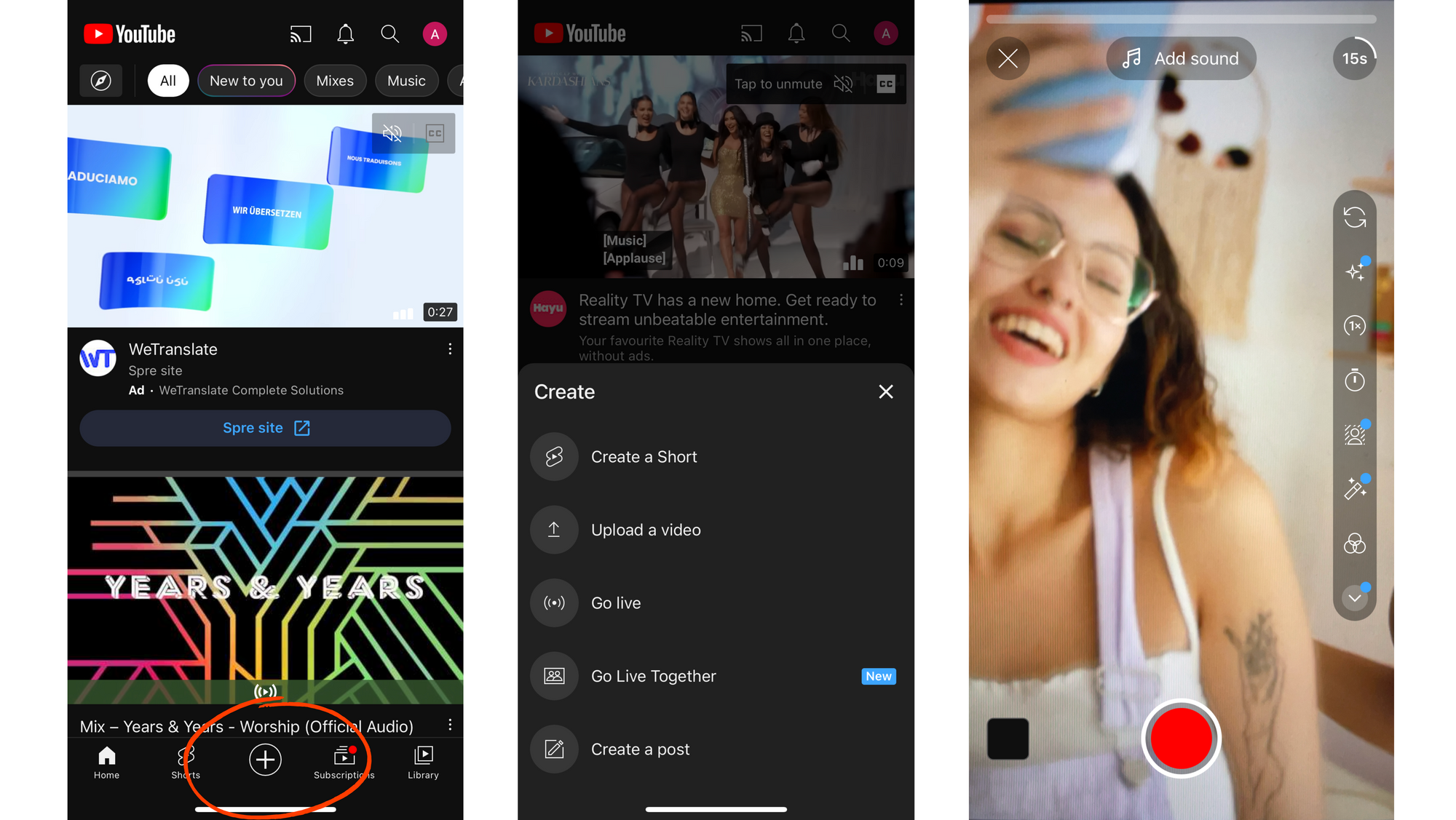 You can try many formats with this option: either posting one video from your gallery as ''Shorts'', combining more videos from your gallery, or combining some videos from your gallery with a recording from another segment live.
Easily choose from your gallery and then press the red record dot to film now to combine the two options.
To film various segments, you can pause by pressing the red record dot. Once you are ready, tap it again to restart filming from where you left off.
Edit your YouTube Shorts
To help with the creative process, YouTube Shorts disposes of a large variety of editing tools on the right side of the screen.
You can opt to use the following:
Flip: you can switch from the back to the front camera
Effects: add many effects while recording, such as old TV glitch, fisheye, or the trendy slow zoom-in
Speed: enables you to change the speed of your movie by going from 0.3x to 3x
Timer: setting a timer is the key to self-recording—start filming in 3, 10, or 20 seconds
Green Screen: enables background customization
Retouch: allows you to make small adjustments to the content of your footage
Filters: you can incorporate filters to change the tone of your video
Lighting:  you can enhance your content by making it either darker or brighter
Flash: allows you to activate or deactivate the flash for improved visibility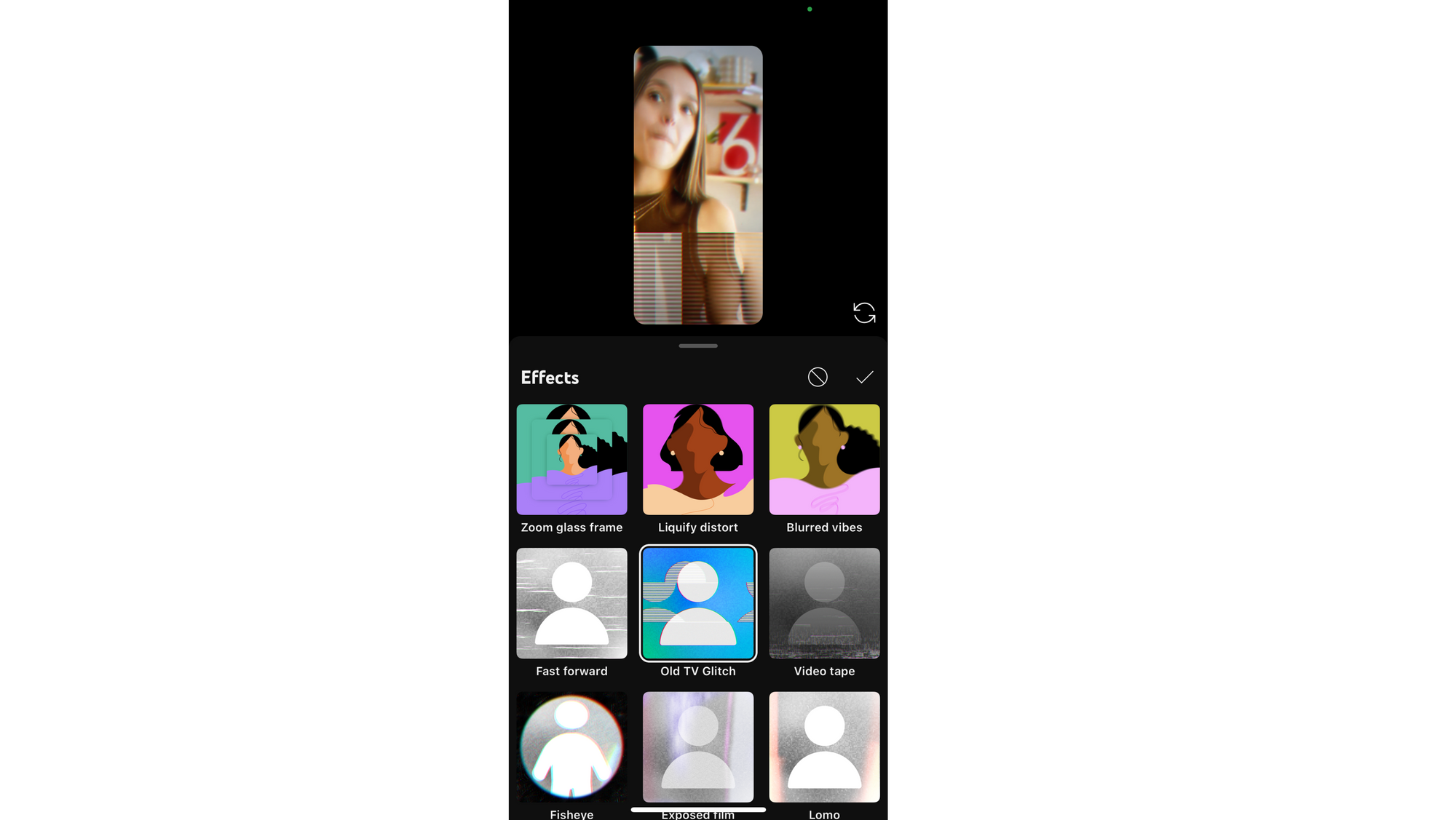 Another essential instrument for Shorts is music.
You can add any music by clicking on the top middle option that says Add sound.
Finish up your masterpiece
Are you done filming and adding effects?
Tap on the white check button on the low right—next to the record one—to see the masterpiece you made.
At the bottom, there are displayed five more options that allow you to add music or effects.
Some of the creative tools include text overlays and voiceovers.
After deciding on the final format of the video, tap Next on the top right of the corner and choose an outstanding caption or title.
You're now ready to post your Shorts video!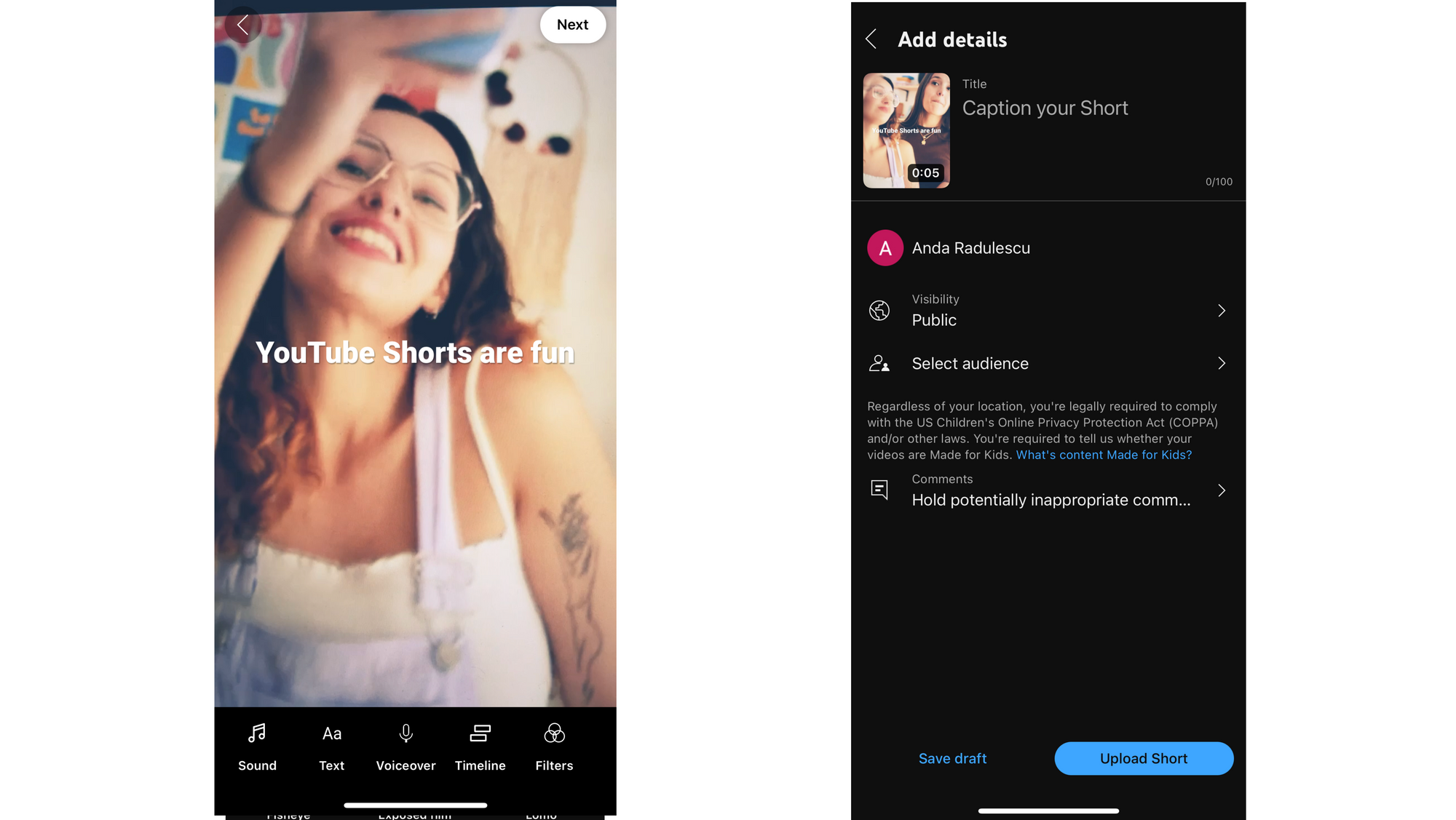 How to upload YouTube Shorts
Before uploading your YouTube Shorts, you can prevent specific audiences from seeing your content.
Moreover, you can make settings regarding the comments that you may receive. The settings can: Allow all comments, Hold potentially inappropriate comments for review, Hold all comments for review, or Disable comments.
Once you are happy with your work, click Upload Short to post it.
Remember that, if you're unsure about the final footage, you may choose to save it as a draft.
How do Youtube Shorts work?
To put it briefly, everything revolves around traffic and recommendations.
Every time the creator they are following posts on Shorts, subscribers are notified.
The amount of traffic depends on how engaged the viewers are.
If they decide to watch your video in its entirety rather than skipping it, there is a potential that YouTube will promote it.
Of course, comments and likes are also an important factor that influences the algorithm of YouTube Shorts.
8 best practices for using YouTube Shorts
Let's reveal a few best practices to help you build your brand and become a successful YouTube Shorts content creator:
1️⃣ Record your YouTube Shorts in 9:16
You should always shoot your Shorts in a vertical format.
It's not the best viewing experience when videos are shot in a horizontal format as there remains a vacant space above and below the video to fill the vertical area.
Keep things simple and stay vertical.
2️⃣ Hook your viewers in the first seconds
If many people continue to watch your Shorts video, YouTube will recommend it.
To make that happen, it's imperative to grab your audience's attention in the opening seconds of the footage and hold it there until the very end.
Use a phrase that will capture users' attention and get right to the point.
3️⃣ Leverage popular audios, hashtags & challenges
As with any social media algorithm, using popular songs, hashtags, and challenges is a terrific approach to increase views and engagement in your material.
Similar to TikTok or Instagram, YouTube Shorts has also added the audio library feature to help creators add more engaging and entertaining aspects to their videos.
You can either browse for sounds you want to use in your future Shorts or use one you hear in another video.
By pressing the song icon at the bottom right of the video, you can access a full collection of Shorts that use the same trending tune.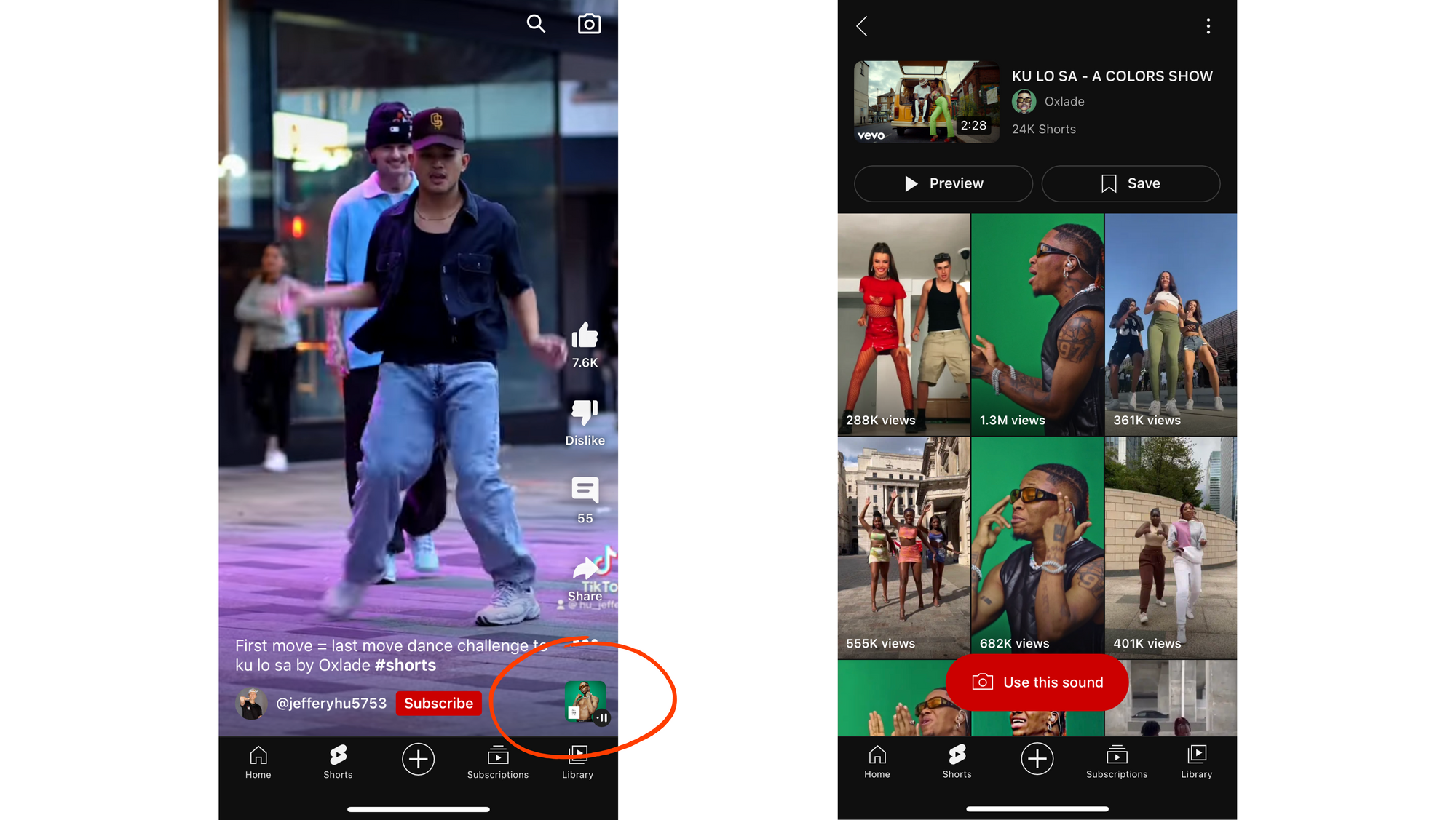 4️⃣ Get creative with your Shorts titles and captions
Both titles and captions are essential additions that help the app categorize your content and visitors find your Shorts.
For titles, you should keep it fun and try to summarize the information from your Shorts video.
And although your video is the most crucial component, captions are still displayed when Shorts appear in the YouTube home feed.
You can make the most of your 100-character caption limit by being concise. Tease the topic, use a humorous remark, or describe what the audience can anticipate.
An engaging title and caption can influence viewers' decision to watch your video or move on.
Remember that it is advisable to use keywords and hashtags.
5️⃣ Create an attractive thumbnail for your Shorts
Thumbnails are crucial because you can draw visitors to your video with them. An attractive graphic might help your video stand out from the crowd and increase views.
6️⃣ Be consistent with your YouTube Shorts
It's fair to assume that YouTube is prioritizing Shorts for performance and views, just as other platforms do.
Consistently producing YouTube Shorts will help you expand the audience for your brand.
Making a YouTube content calendar will help you prepare ideas and remain on schedule if you need help staying organized.
7️⃣ Remain relevant to your audience
It is important that you motivate and inspire your audience.
For that, you need to know your target audience pretty well.
And that because you need your audience to engage with your YouTube Shorts content.
And by using relatable events, trends, and surveys, you may establish a connection with your audience.
What also works for many brands are quick reviews, relevant stories, fun facts, insights, loop type of videos, behind-the-scenes, or how-to videos.
No matter which type of content you choose, it is important to remain aligned with the purpose of your brand.
Be authentic and understand your audience.
For more visibility, you might also think about working with YouTube influencers. However, keep in mind that you'll need to set up a sizable budget for YouTube influencer marketing as KOLs on this platform are usually more expensive compared to other networks.
8️⃣ Measure the performance of your YouTube Shorts
Developing a successful YouTube Shorts marketing strategy requires extensive testing.
And by constantly measuring your YouTube Shorts performance, you may identify the types of content that work well or that your target audience expects from you.
To gain insights regarding your content performance, you can use YouTube's in-app Shorts analytics.
You can either individually view your video stats or opt for an overview of your channel stats.
However, to get an even better understanding of their performance, brands can opt to leverage YouTube analytics tools.
Socialinsider, for instance, allows you to get an in-depth comprehension of your YouTube Shorts metrics by comparing your results with the ones of your competitors'.
You also have the option of downloading a report with all your Shorts performance insights from the Youtube analytics dashboard: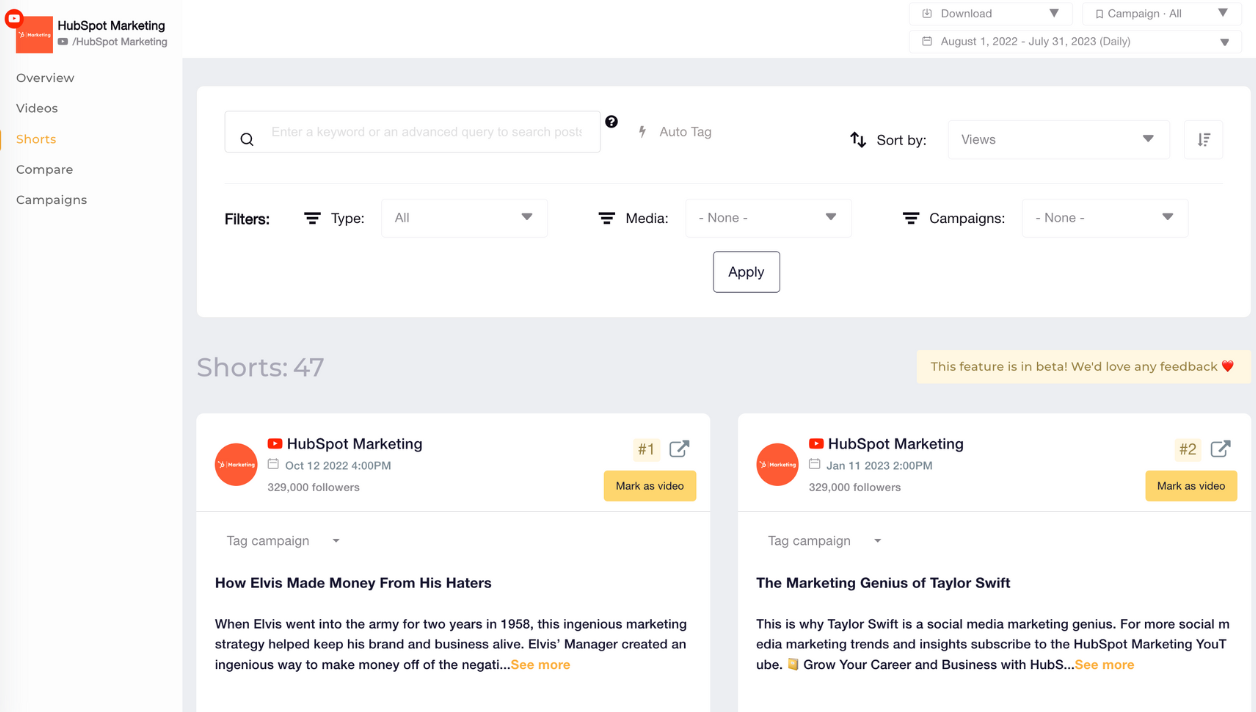 Final thoughts
Creating YouTube Shorts is not only fun and easy—but can help your brand achieve its marketing goals.
As long as you keep your usual content ideas in a shorter format and don't lose your brand essence, Shorts can bring a new audience that you get to keep forever.
In the long run, mixing long-form and short-form YouTube content can bring you the desired outcome.
With the insights we provided in this article, your brand is set to hop on the Shorts wave.