Ever since Instagram Reels' launch - as the platform's quick response to social media users' attraction to short-form videos, marketers have been caught in a Reels vs. TikTok battle, trying to identify the best-performing network of the moment.
To discover which of the two most popular social media platforms delivers the best results these days, we've analyzed 564,454 TikTok videos and 1,345,893 Instagram Reels, looking at several performance metrics, such as engagement rate, video views, and more.
Let's dive in!
TikTok vs. Reels - performance comparison
1. Compared to Reels, TikTok records an average engagement rate that's six times bigger
2. TikTok videos get 44% more comments than Instagram Reels
3. The number of TikToks posted is doubled compared to Instagram Reels
4. Accounts with small followings get a higher watch rate on Instagram Reels
5. TikTok vs. Instagram Reels demographics data
A. Summary
Here's a sweet taste of what's in this report:
What's the average engagement rate per post (by followers) on both Instagram Reels and TikTok: we uncover people's level of interest and interaction in TikTok vs. Reels.
Which platform has a higher watch rate - Instagram or TikTok: we show which type of content is more successful in making people watch more videos on social media.
How many videos are posted monthly on average on TikTok vs. Reels: the posting frequency is a great indicator of where the people's focus is at a particular moment.
B. Key insights
TikTok videos receive double the comments Instagram Reels get.
People post two times more content on TikTok than they do on Reels.
Women make up most of the user base on both TikTok and Instagram Reels.
1. Compared to Reels, TikTok records an average engagement rate that's six times bigger
Depending on the audiences they're trying to reach and their targeted marketing objectives aiming to accomplish, some brands might get a higher ROI from their TikTok marketing efforts.
At the same time, for other businesses, Instagram could undoubtedly remain the best-performing social media channel.
While TikTok is massively popular among Gen Z's users, according to data, Instagram still remains a more appealing platform for Millenials.
NOTE: Due to data security and legal infringements, TikTok does not display information about users below 18 years of age.
Obviously, creativity is the catalyst for achieving success on any social media network - there's no doubt of that.
However, when considering switching their social media strategy and focusing more on TikTok, brands ought to do their due diligence and research whether TikTok vs. Reels is likely to offer more marketing potential for a particular industry.
What's most important to be kept in mind when choosing a platform at the expense of the other is that while both TikTok and Reels compete for the users' attention on quite similar content, the two platforms' algorithms are still somehow different.
Ultimately, this is why the same piece of content can record very different results when cross-promoted on TikTok and Reels.
From an engagement rate standpoint, data confirmed that TikTok is the best-performing channel for short-form video promotion. In the Reels vs. TikTok engagement battle, the latter records about six times greater engagement.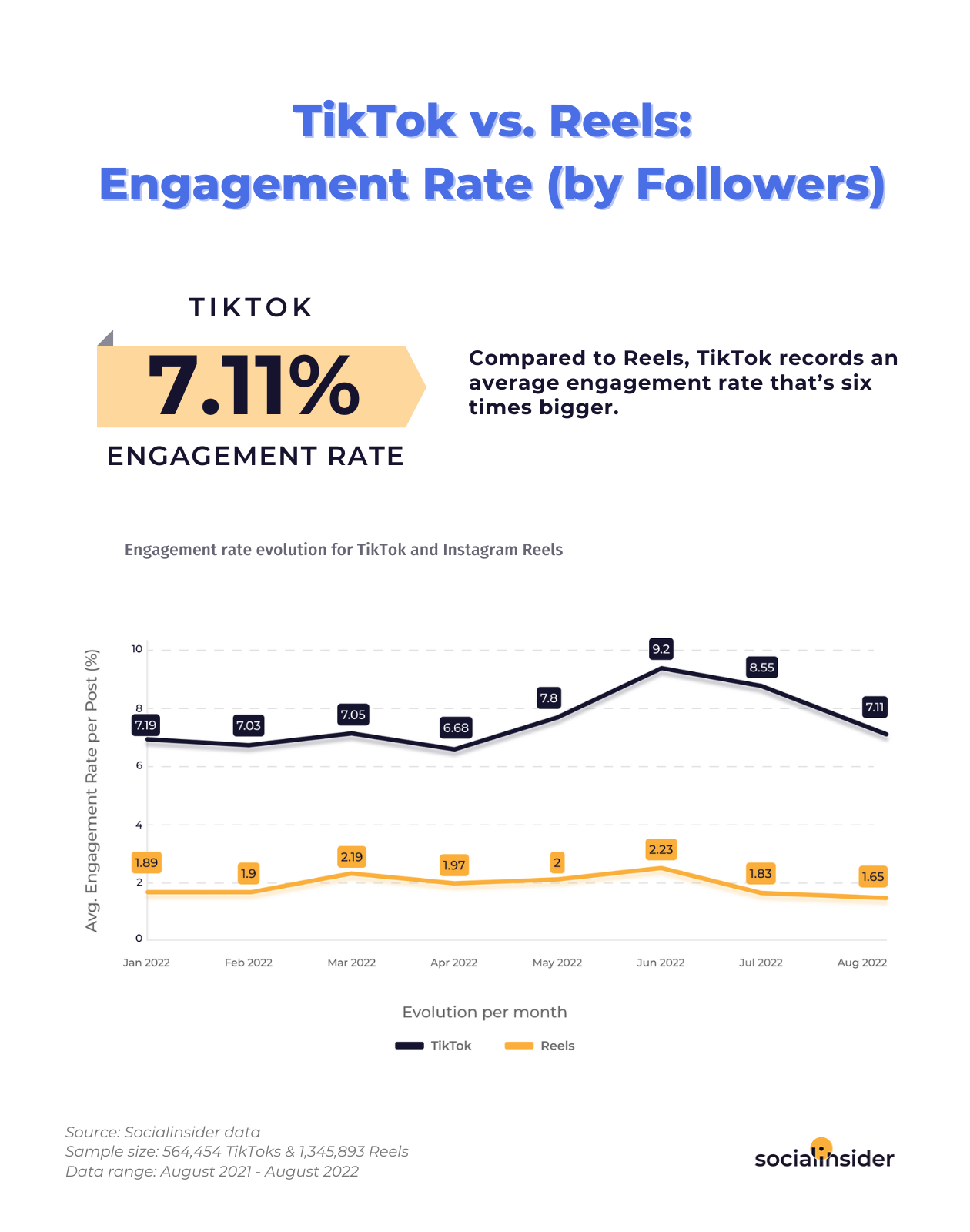 Undoubtedly, Tiktok is a great platform to leverage viral trends, being incredibly powerful for increasing brand awareness, thanks to its tremendous virality potential.
In addition, with a social media strategy centered around authenticity and adopting a humanized approach - like Duolingo, for example - Tiktok is unquestionably the most successful channel in generating rapid growth.
Considering Instagram's algorithm, Reels, on the other hand, are a very effective type of content for brands that have already established a large audience within the network, as it keeps the followers hooked through intriguing and teasing videos.
Back to the platforms' algorithms for a second - it's important to remember that while Instagram is still a follower-based channel, TikTok is a rather views-oriented one.
For this reason, using them complementarily and creating unique content for each, aligned with the individual's platform audience and design, is the best approach marketers and brands alike could have.
With YouTube entering the playground after releasing its own version of short-form video available content, as the users' attention span is obviously lower than ever, it's interesting to see what's the future of video content marketing in the years to come.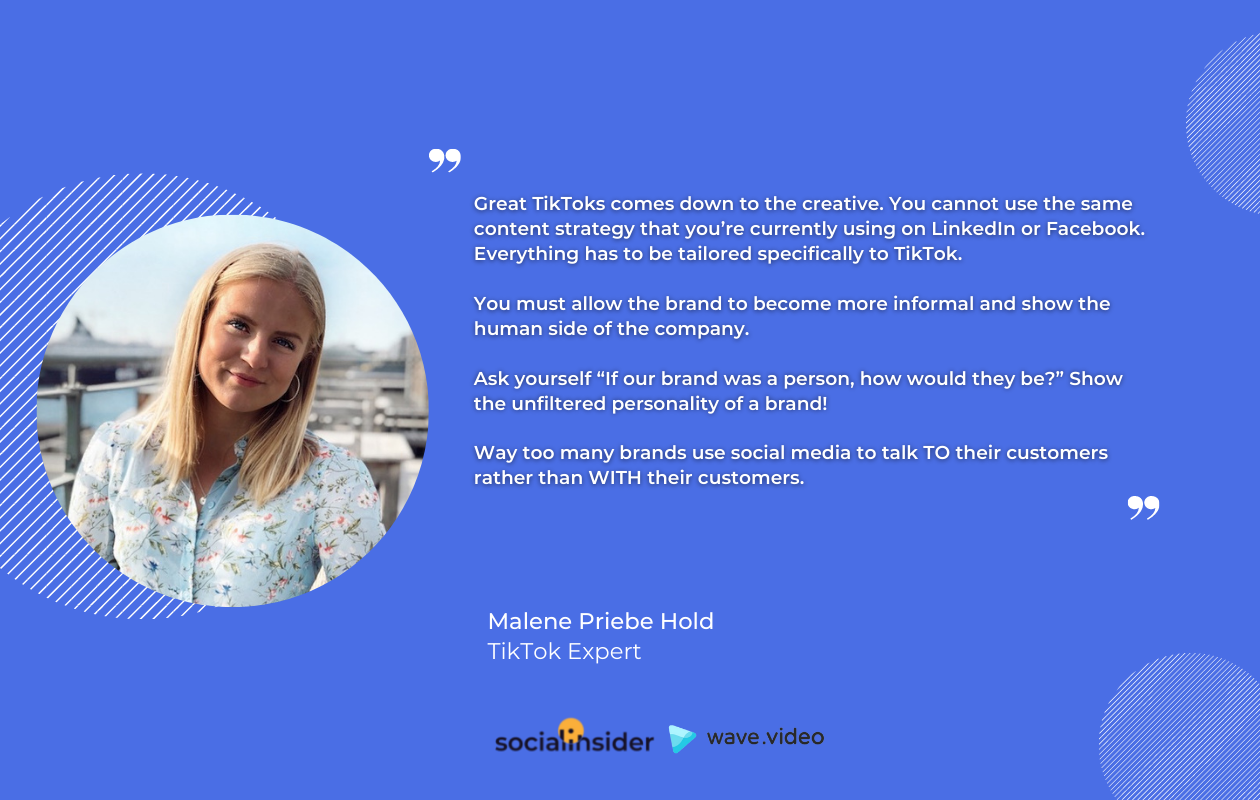 2. TikTok videos get 44% more comments than Instagram Reels
As mentioned earlier, engagement is probably the number one metric marketers look at when evaluating their brand's social performance.
Its relevance is based on the fact that it shows just how compatible a certain message and campaign was to a certain audience's needs, which is, in the end, what matters the most.
Integrating several KPIs when being calculated, engagement includes plenty of interaction types social media users have had with a particular piece of content.
Usually, hearts make for engagement's most significant share, being the easiest to earn.
However, while likes are always nice to get, comments are the ultimate indicator of the audience's interest in an account's posts, showing a deeper implication and connection with a particular entity.
If at a more general level, Tiktok tops Instagram Reels in terms of engagement with quite a significant proportion, it's interesting to see where both platforms stand from a comment rate perspective.
Although the numbers may seem pretty small when looked at separately, the extensive takeaway data has revealed that TikTok outshines Instagram Reels also when it comes to more active involvement, having an average comment rate that's almost double.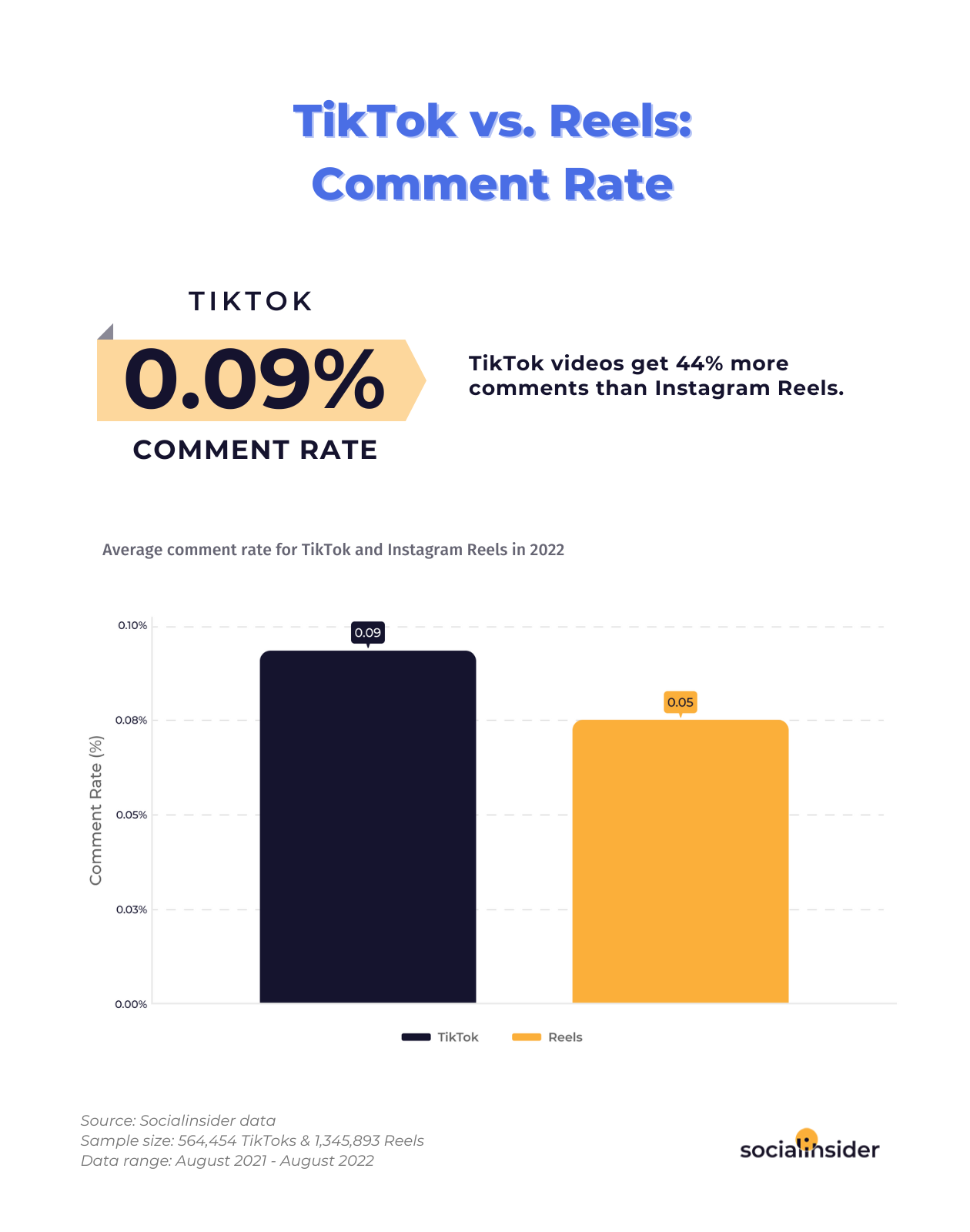 3. The number of TikToks posted is doubled compared to Instagram Reels
Besides its ingenuity in encouraging video content consumption, especially given its creative video formats launched recently, TikTok's newness is one of the key factors that attract social media users' attention and interest.
Thanks to a desire to keep up with the trends, there's an appetite for learning how this unconventional social channel works - that applies to both content creators and brands.
Since this can be achieved only through experiments - with different video concepts and posting calendars - that imply constant, active involvement and changes coming from the users, it's only natural for TikTok to record a significant activity level.
In Reels' case, on the other hand, given that Instagram has been a familiar network for a long time now for most social media enthusiasts, its new feature, although similar to TikTok, does not stir up the same high curiosity peaks.
Therefore, from a posting frequency point of view, the Instagram Reels vs. TikTok battle is gained again by the latter.
As shown by data, as time goes by, more and more creators and brands alike are increasing their number of videos posted on TikTok and Instagram Reels as well.
However, equally highlighted is that more resources are invested into TikTok, given that the platform records a posting frequency at least double that of Instagram Reels.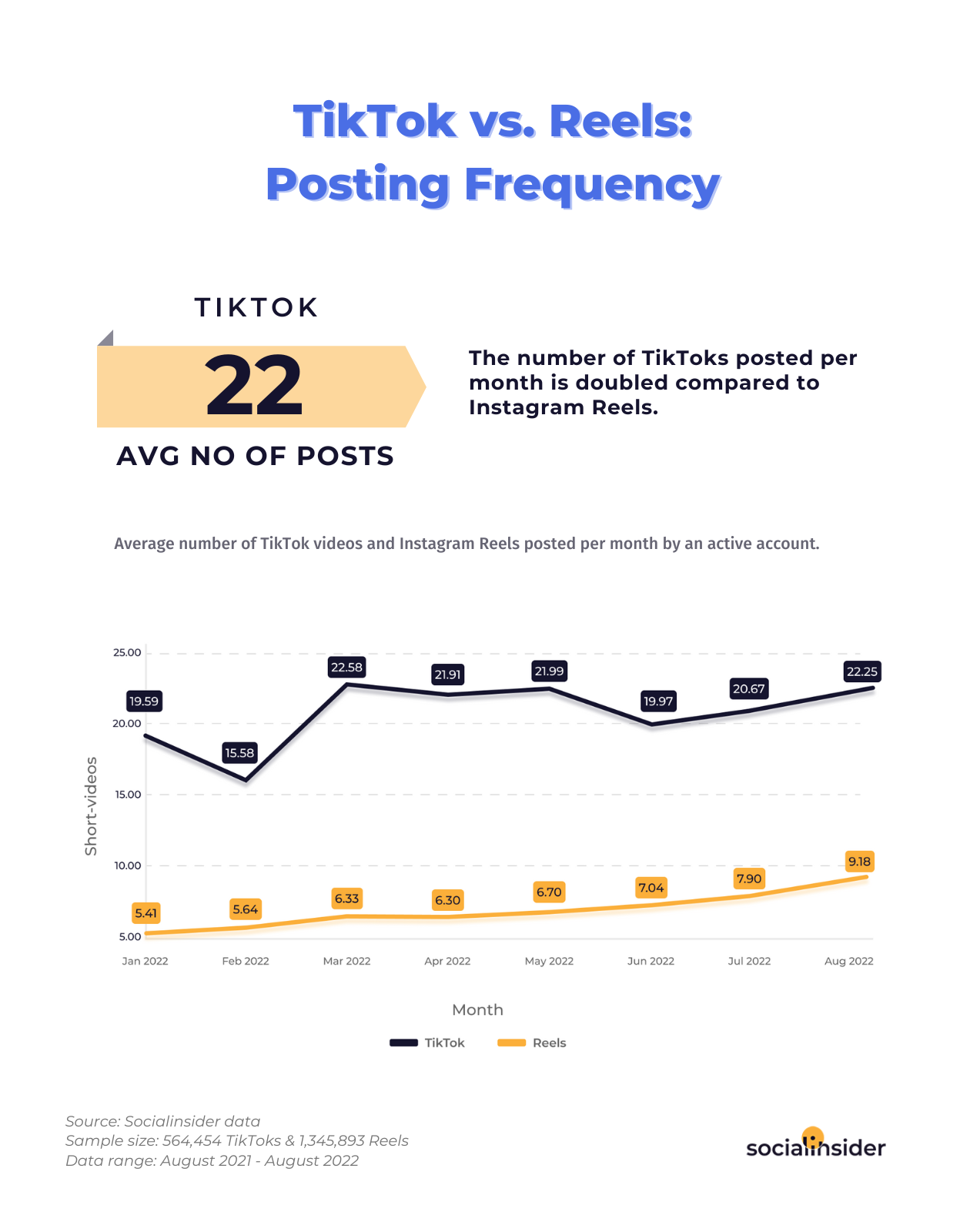 4. Accounts with small followings get a higher watch rate on Instagram Reels
As mentioned before, on TikTok, the video views metric is the best indicator of a channel's popularity, while on Instagram, the followers' base remains the reference point for establishing whether or not an account is famous enough to matter.
Considering this, it's also important to mention that Instagram's algorithm is known to be working in favor of small accounts, substituting with higher performance for the smaller follower base - which data demonstrated multiple times.  
For this reason, when comparing the same account sizes on TikTok and Instagram, the smallest accounts will appear to have a greater chance of getting a higher watch rate on Instagram Reels.
On TikTok, on the other hand, an account's following increase is directly linked to its increase in the number of views.
Consequently, when KPIs such as views and followers keep on adding up on particular accounts, TikTok will focus on boosting those as a reward for bringing value to the platform, gradually starting overperforming Reels from a watch rate perspective.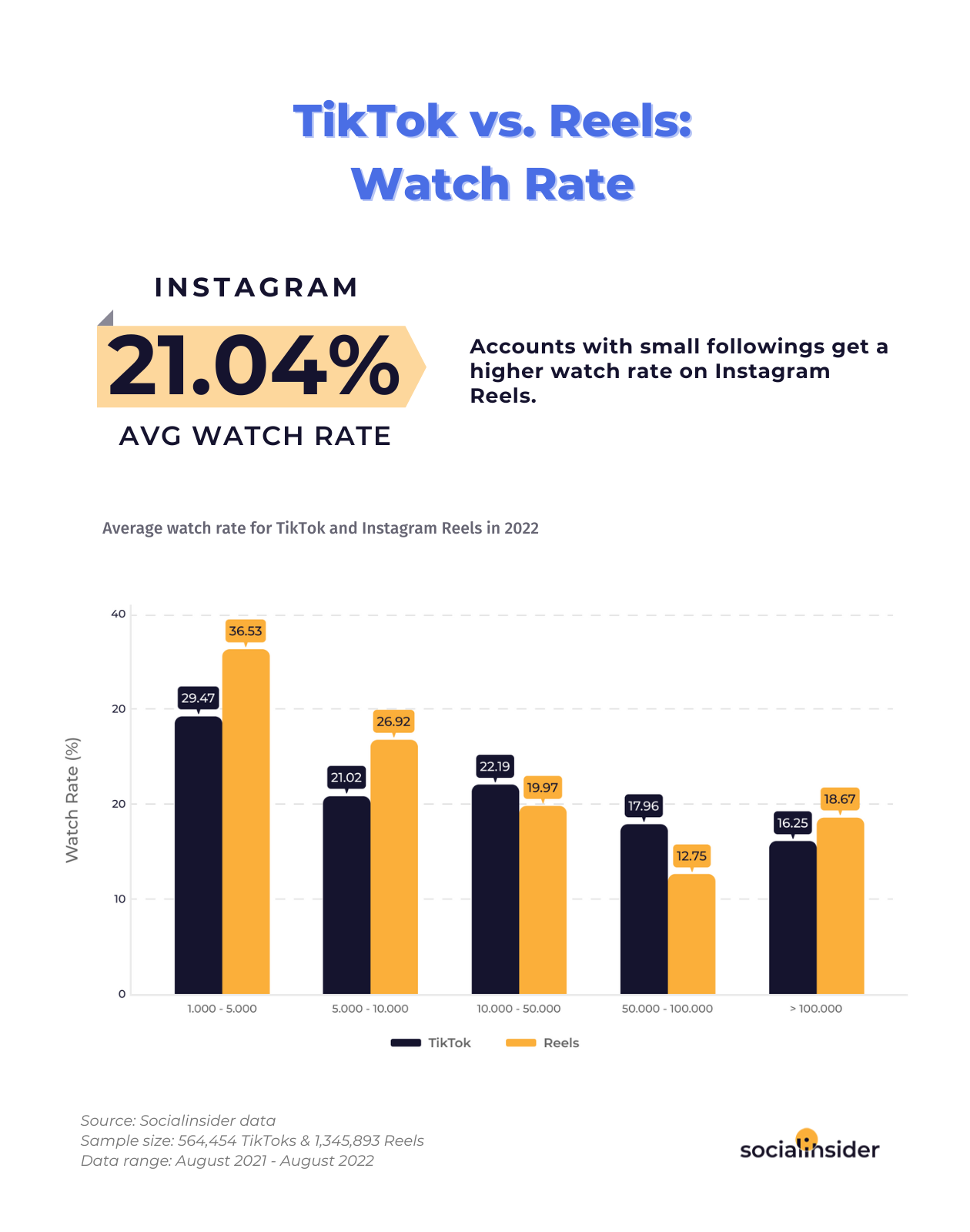 5. TikTok vs. Instagram Reels demographics data
While the first part of this study focused on discovering performance statistics for TikTok vs. Instagram Reels, to better make sense of the findings data has indicated, it's equally important to know what the extended picture looks like at the moment.
In terms of usability, TikTok has not yet exceeded Instagram's adoption, but it is, however, the fastest-growing social media platform of all time.
At the moment, there are about 68M TikTok accounts in the US alone, with this number continuing to increase at tremendous speed.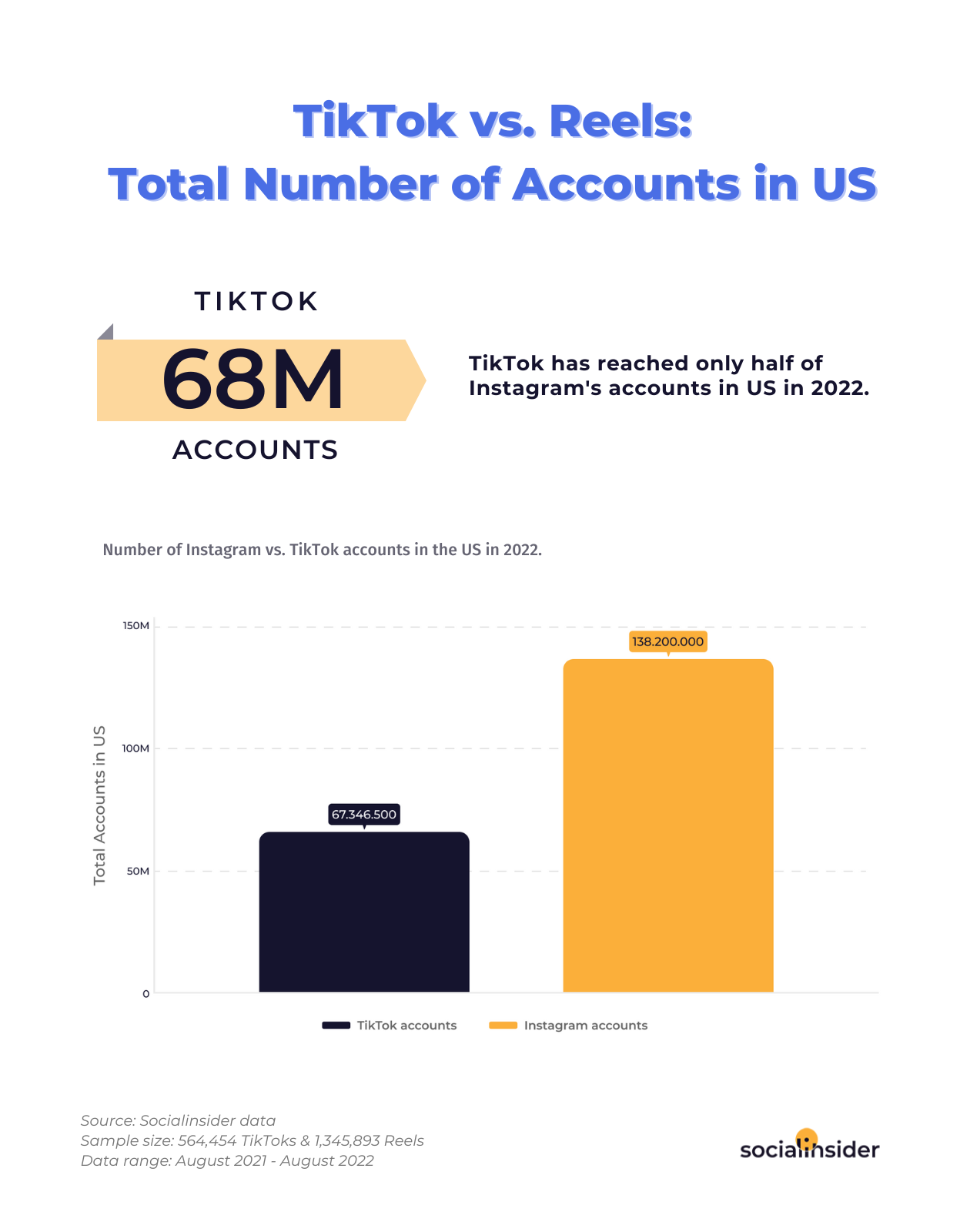 As for both networks' core user base, women make for the leading audience segment.
This is most helpful to know for brands interested in trying or already experimenting with ads on both TikTok and Instagram, and not only.
Businesses aiming to reach a certain target audience can greatly benefit from knowing the potential exposure of their social media marketing campaigns and therefore setting their campaign's objectives more accurately.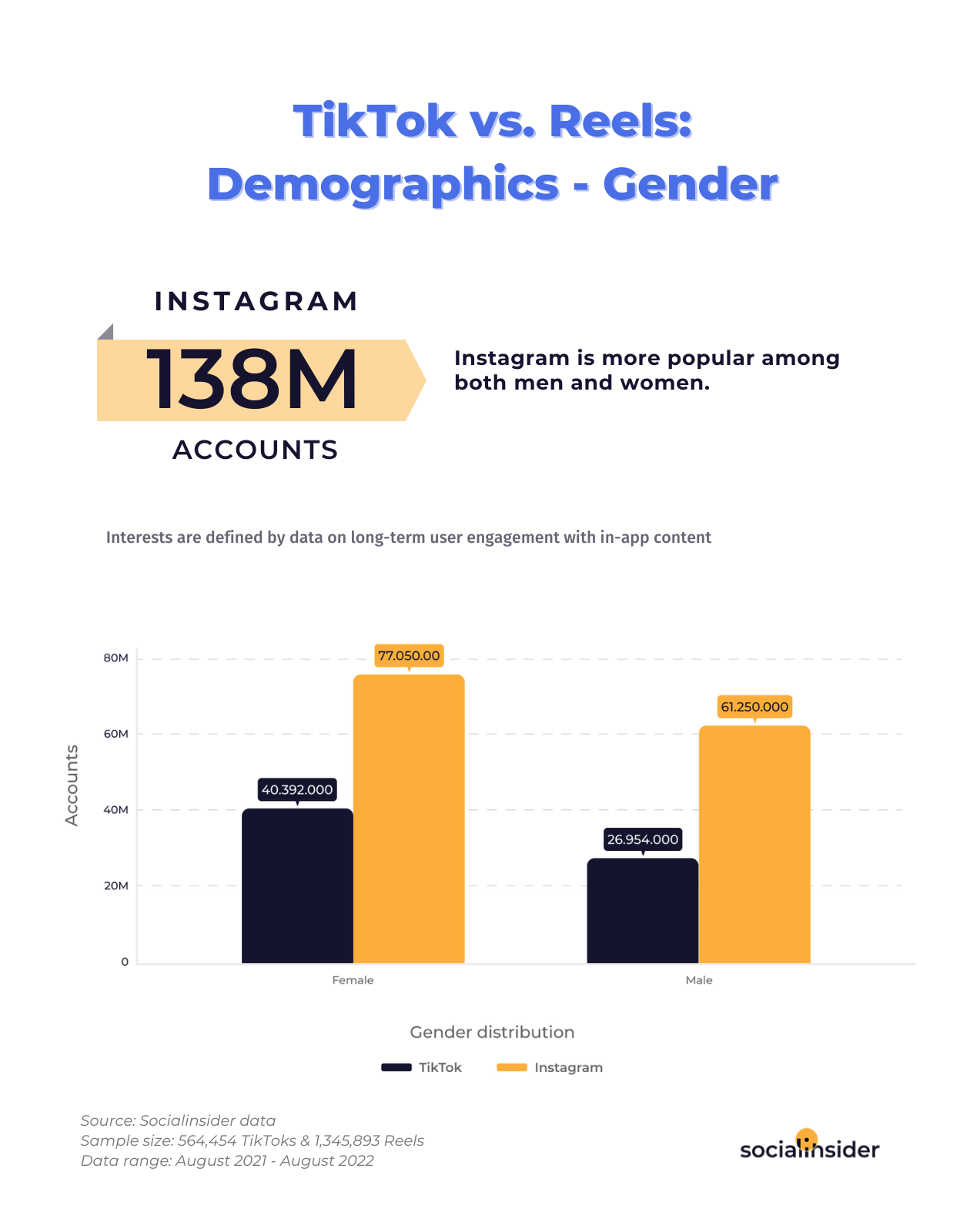 Lastly, for businesses within a certain industry that are wondering whether or not TikTok is the place to be right now, below you'll find the top interests on TikTok at the moment.
PS: Interests are defined by data on long-term user engagement with in-app content.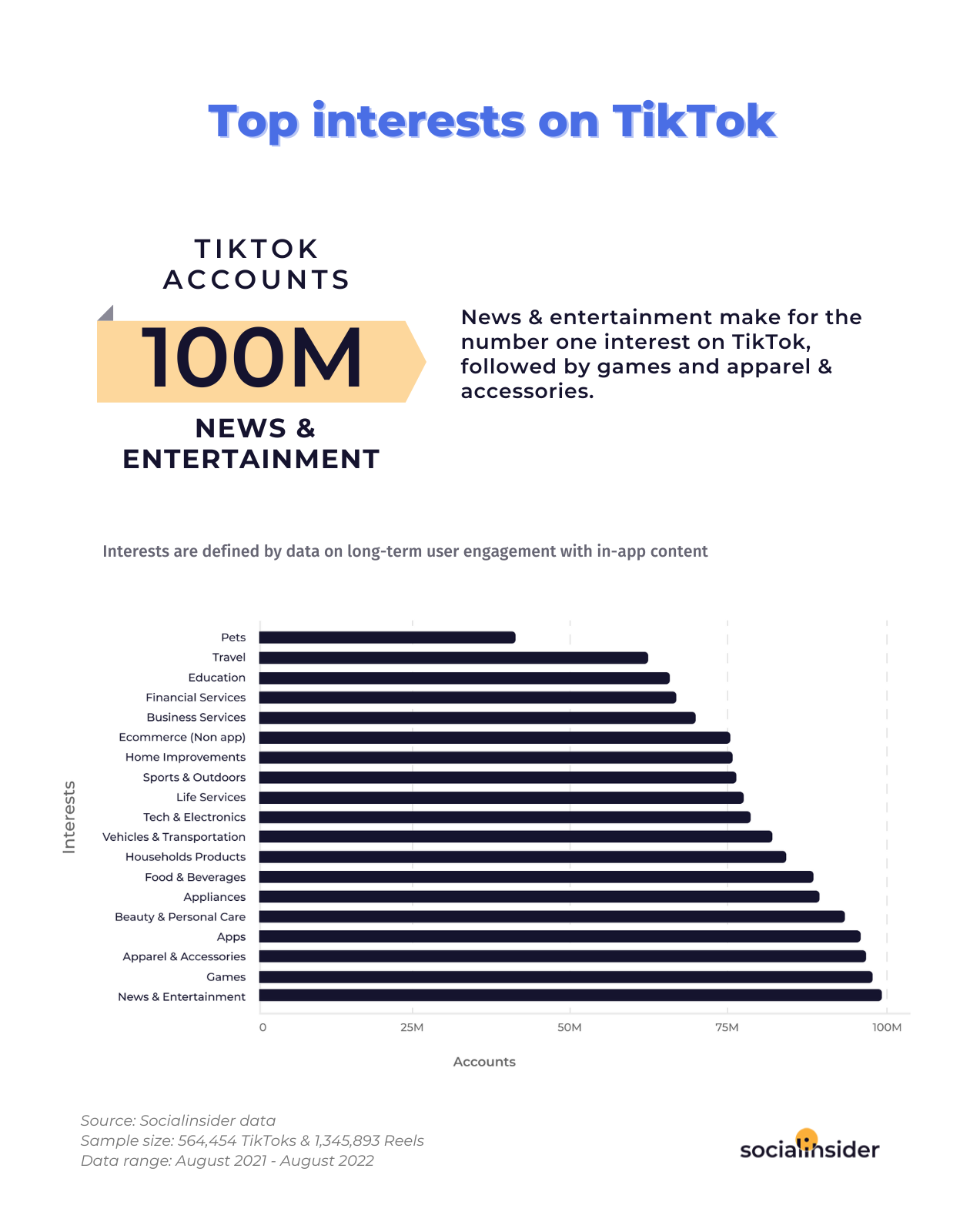 Methodology
The findings of this study are based on the analysis of 564,454 TikTok videos and 1,345,893 Instagram Reels published between August 2021 - August 2022.
TikTok's engagement rate per post (by followers) is calculated as the sum of likes, comments, and shares on the post divided by the total number of followers that page has. The result is then multiplied by 100.
Instagram's engagement rate per post (by followers) is s calculated as the sum of posts' likes and comments divided by the total number of followers that profile has. The result is then multiplied by 100.
The average watch rate represents the count of views in a given timeframe divided by the total number of profile followers multiplied by 100 to get a percentage.
The average posts per month metric is calculated as the total number of posts divided by the number of days in the interval of the selected time period.