Have you ever walked down the street and saw a group of youngsters wearing the iconic Adidas tracksuit?
I'm sure the answer is yes.

Everywhere you look these days - either on the street or social media - you'll see many Adidas sneakers, hoodies, and tracksuits that are worn in the name of fashion.

As a huge sneakerhead and Adidas lover, I couldn't stop and ask myself when did Adidas become more than just a sportswear brand?

This is due to Adidas' branding strategy, which is more than selling athletic apparel; it's about pitching a lifestyle.

Join me in my quest to discover how Adidas is approaching social media and what is the marketing strategy behind its success.
How Adidas wins people's heart on social media
1. Create a compelling tagline
I bet the moment you thought of Adidas, you visualized the famous logo and the iconic slogans "Impossible is nothing" or "Adidas is all in."

What happens in our brain that immediately associates a brand with abstract concepts?

The answer is simple. Adidas has a smart marketing strategy.

A great slogan makes the brand recognizable and helps create a strong relationship with consumers. It tells people what the brand is about. It defines the essence, the voice, the core values, and the brand's vision and mission.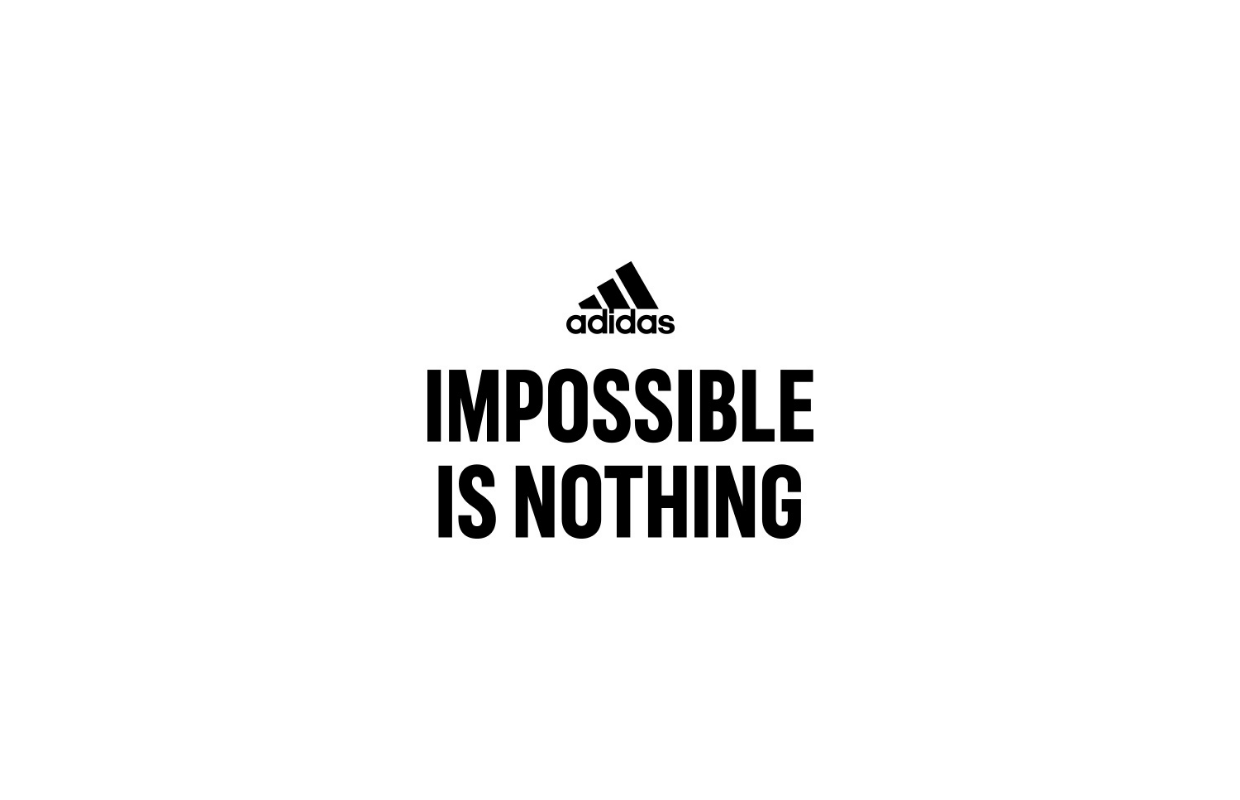 Adidas' taglines are one of the best advertising slogans of modern brands because they're simple, catchy, and speak to consumers directly.
But most importantly, they tell a story.
Like many other successful companies, Adidas had humble beginnings.
Founder Adi Dassler started working in his mother's kitchen in the '20s to achieve his ultimate goal: creating the best sports equipment for athletes.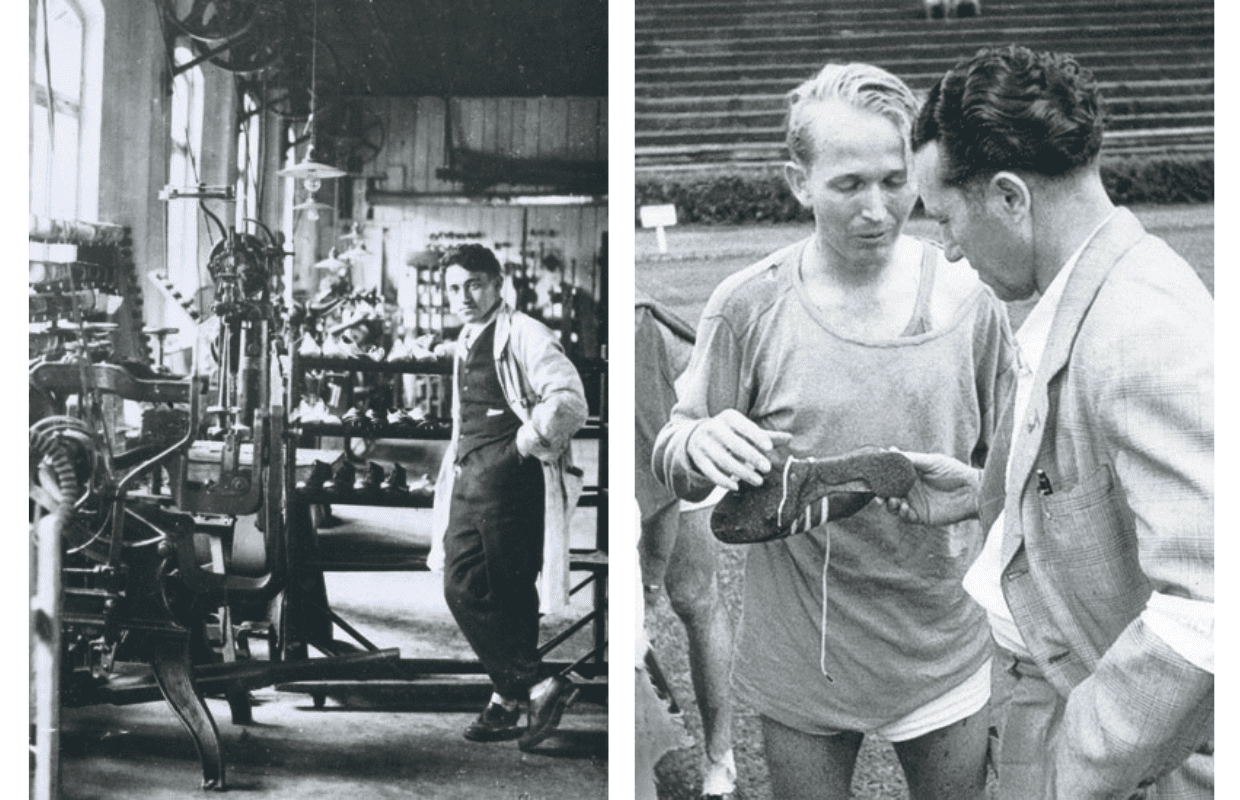 It was not until 1974 that Adidas became associated with the slogan "Impossible is nothing," which is derived from a quote by Muhammad Ali, the legendary boxer.

One of the most critical moves in Adidas' marketing beginnings was the partnership with Muhammad Ali in the '70s. If one of the most famous sportsmen in the world endorsed the brand, it had to be good, right?

Adidas used a smart brand endorsement and positioning approach when they launched the "Impossible is Nothing" campaign, featuring Muhammad Ali and his daughter, Laila Ali, in the first of the series.
In 2011, Adidas' slogan was changed into "All in," and in 2013, it became what we know today as "Adidas is all in."

The message behind the new slogan tells people that the brand is fully committed to what it does. It is also about encouraging people to be their best versions, giving it all to success. Quite empowering, right?
2. Build smart social media campaigns
Like most well-known brands, Adidas has a solid social media presence. Even though the brand has been around for decades and is a veteran when it comes to sportswear, it still needs to stay relevant in this ever-changing world.

How do they do that?
Through powerful social media campaigns.

Let's see what the most successful Adidas branding examples are and why!
2.1. Advocate for sustainability
Adidas publicly declared itself a brand committed to sustainability and creating changes in the sportswear industry through innovation and activation.

In a press release from January 2020, Adidas said that plastic waste is a big problem, admitting that it has personally contributed.

As a result, the brand started a massive social media campaign marketed with the message "End Plastic Waste."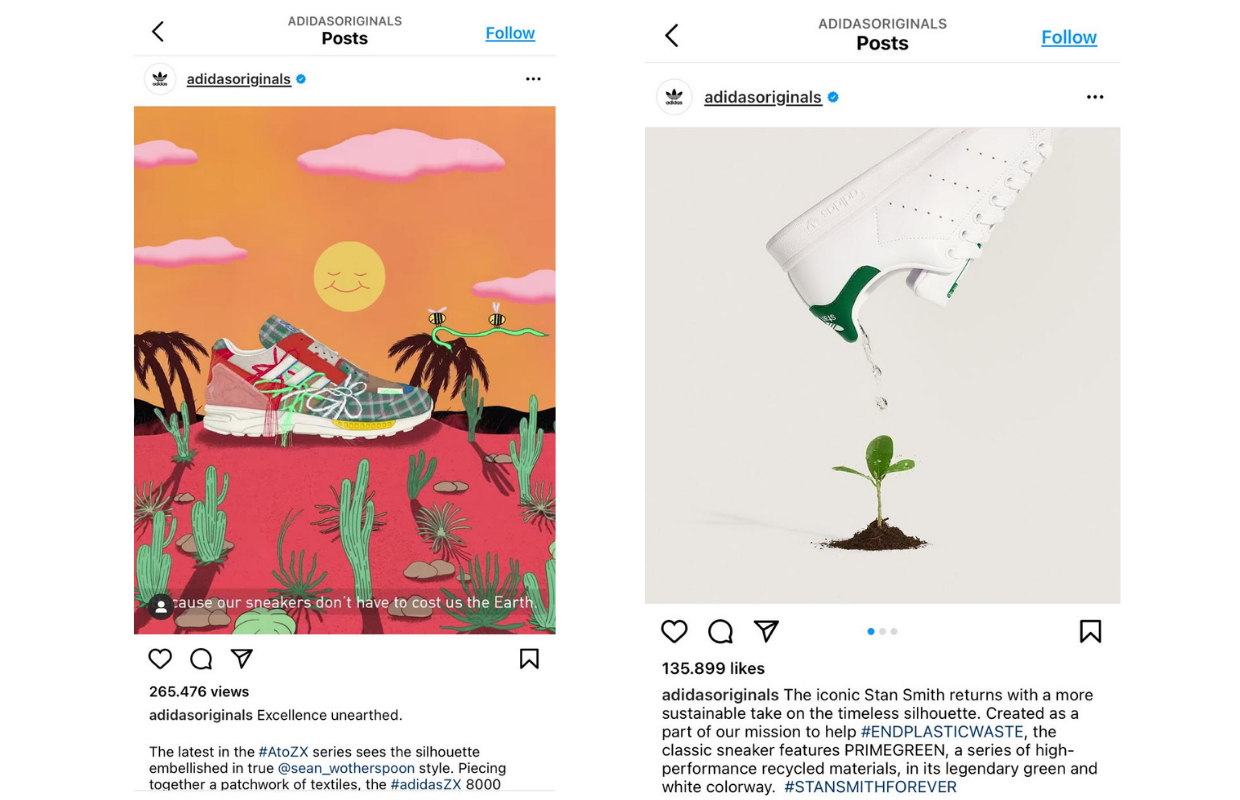 Adidas doubled the number of products made with recycled ocean plastic from 7 million in 2018 to more than 14 million in 2019.

The hashtag #endplasticwaste is in the top 10 most used hashtags by Adidas on its Instagram page and ranks 9th in top hashtags by average engagement.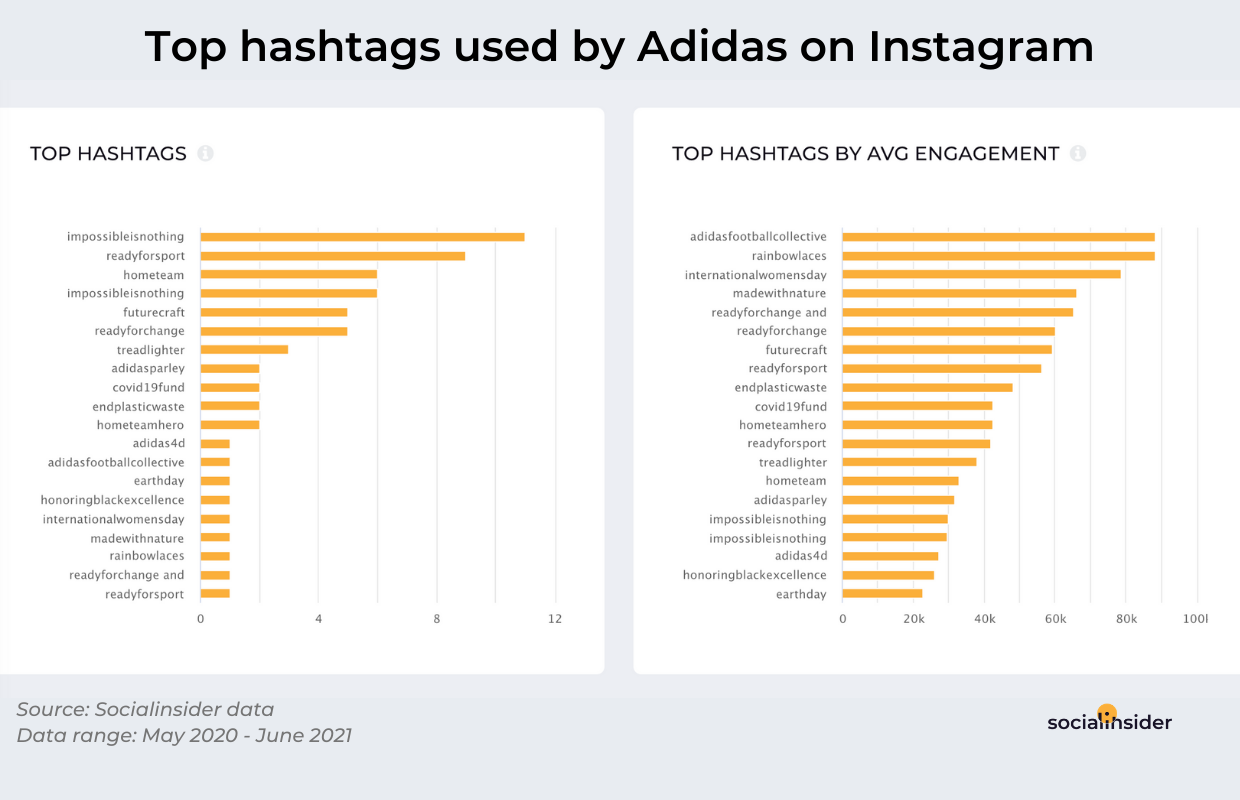 They even made a docuseries on their YouTube channel, presenting facts and their contributions to ending plastic waste.

Adidas' commitment to sustainable practices was later translated into one of their latest strategic business plans called "Creating the New." At the core of this business plan lies speed, which is mandatory in this fast-changing world.

The brand came up with a new high-tech 3d printing technique that aims to produce faster, without sacrificing quality and waste.
2.2. Stand for social causes
One of the quickest ways to establish trust and authority with your audience is through community involvement. Embracing inclusivity, diversity, and visibility shows the human side of your brand, helping your followers form an emotional connection with you.

As such, another impactful Adidas social media campaign was created around the Black Lives Matter movement.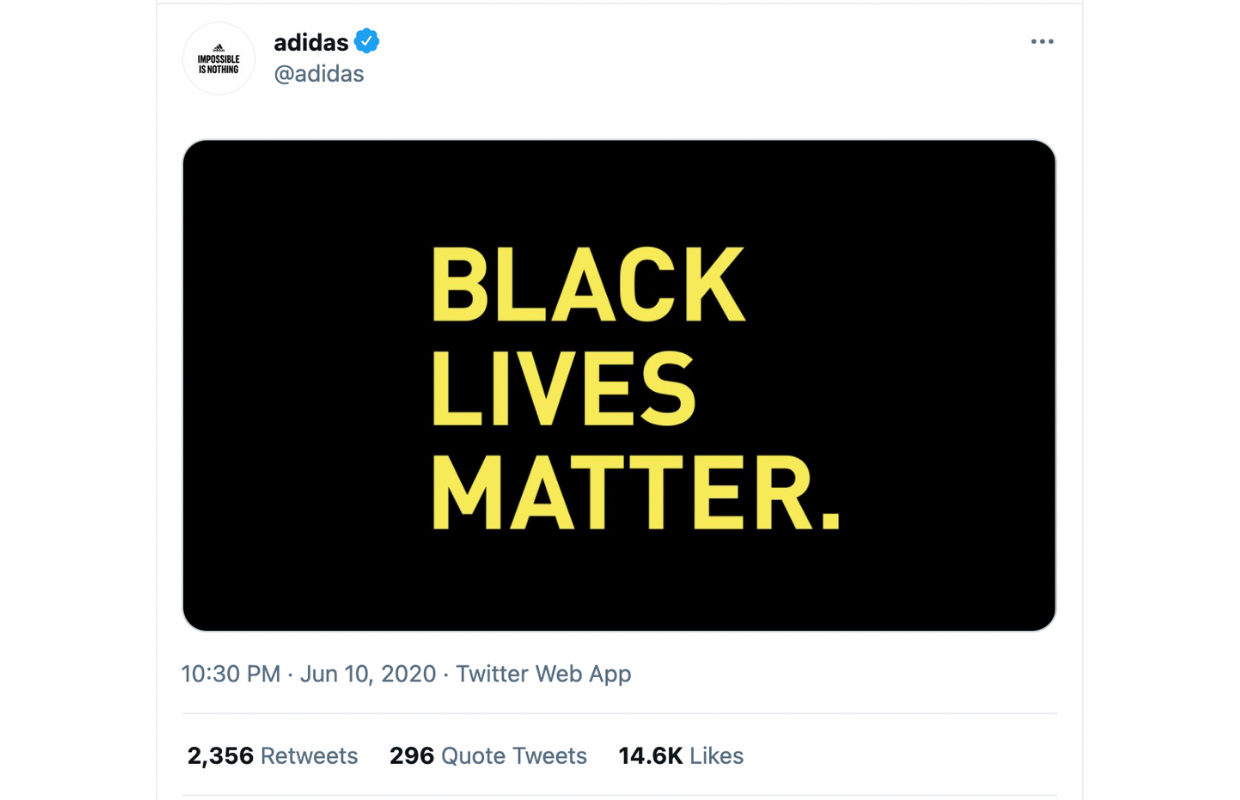 Following the death of George Floyd, the brand declared in a series of tweets that "it is time to own up to our silence."

Even though Adidas is more vocal about the Black Lives Matter movement on its social media profiles, the brand made the same statements about other races, ethnic categories, or minorities.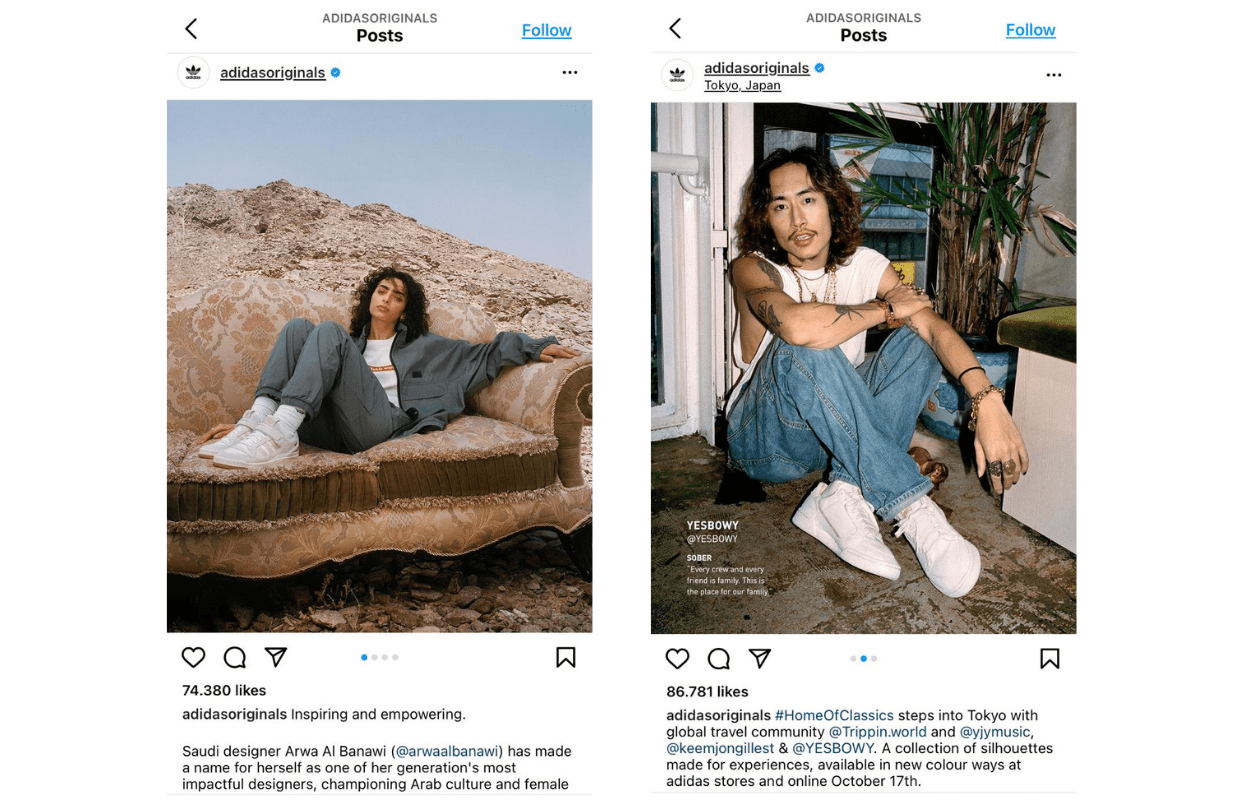 One of the best things about social media is that it brings people together; it has the rare ability to connect us to diverse perspectives, backgrounds, and cultures.

Gone are the days of staying neutral. Consumers today want brands to take a stand.

And Adidas understood that being involved in social causes is the future of social media. These campaigns spark conversations and dialogue and play an important role in engaging with your audience.
3. Partner with influencers
According to Influencer Marketing Hub, the influencer marketing industry is set to grow to approximately $13.8 billion in 2021.

Partnering with influencers is a social media strategy that every brand should adopt, not only for profit but also for humanizing the commercial message.

Adidas is a brand that relies heavily on fashion and style and is the go-to brand for influencer marketing basics. It sure knows how to create hype around its high-profile collaborations.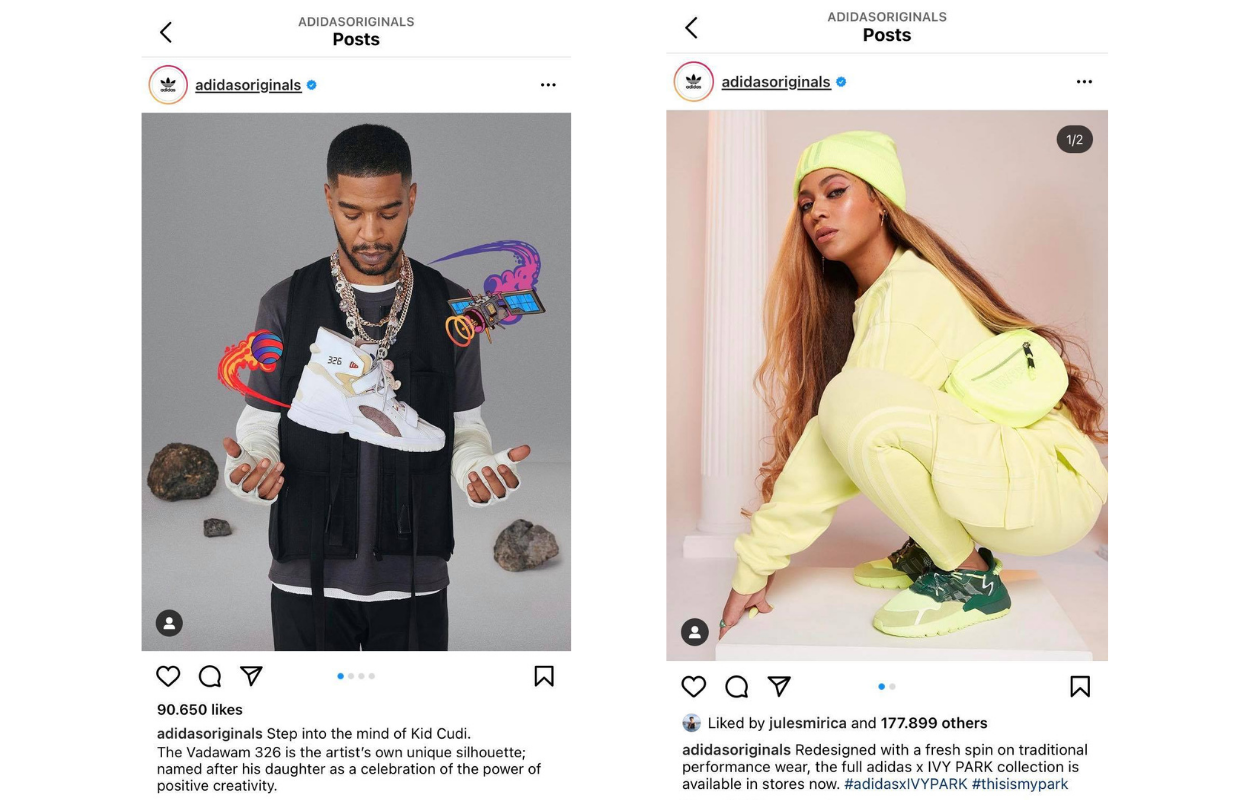 From partnerships with athletes and models to singers and designers, Adidas has carefully crafted a series of product releases that generated massive excitement.

Perhaps one of the most famous collaborations in Adidas' history is with Kanye West, which resulted in the Yeezy collection.
Adidas has thoughtfully created a smart social media strategy built on the rapper's wide fan base.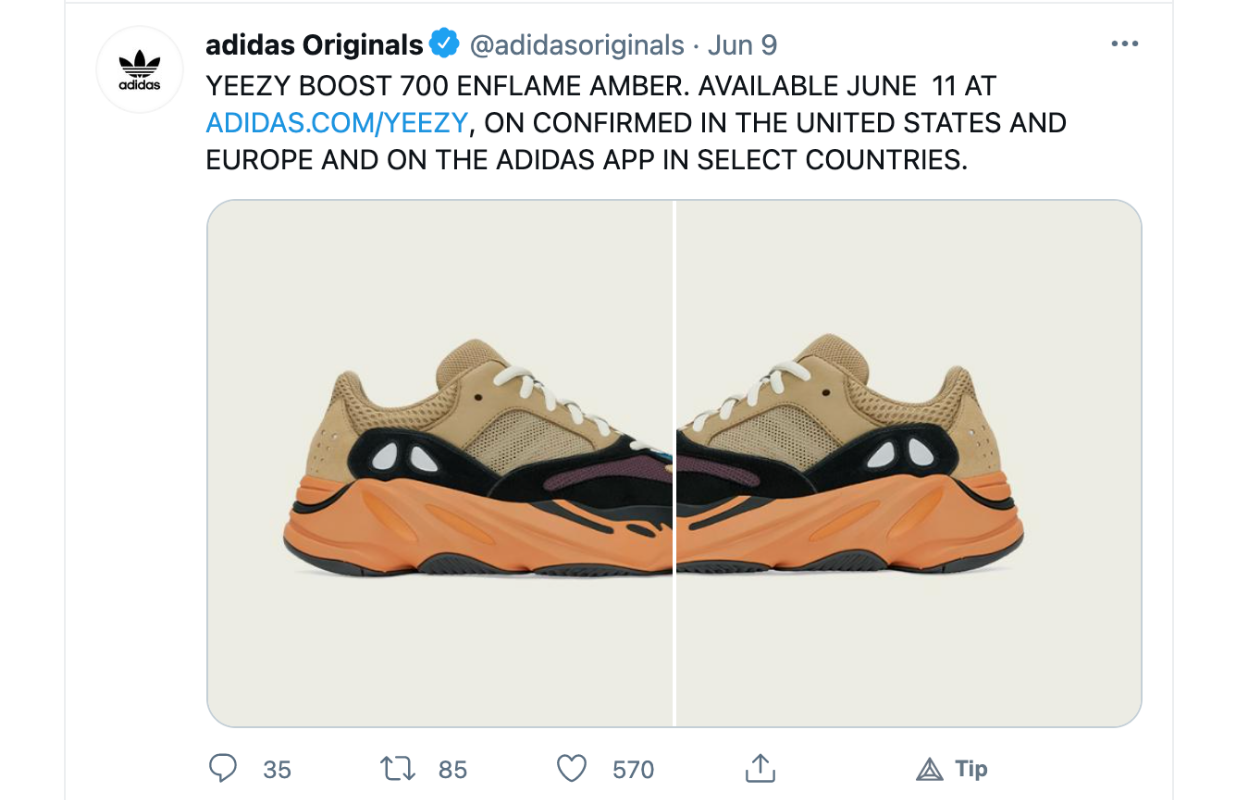 Another effective collaboration was between Adidas and Pharrell Williams, a worldwide known rapper and producer, with whom it launched a new series of sneakers.

Pharrell has 12.8 million followers on his Instagram page, which means that Adidas is exposed to millions of potential new customers.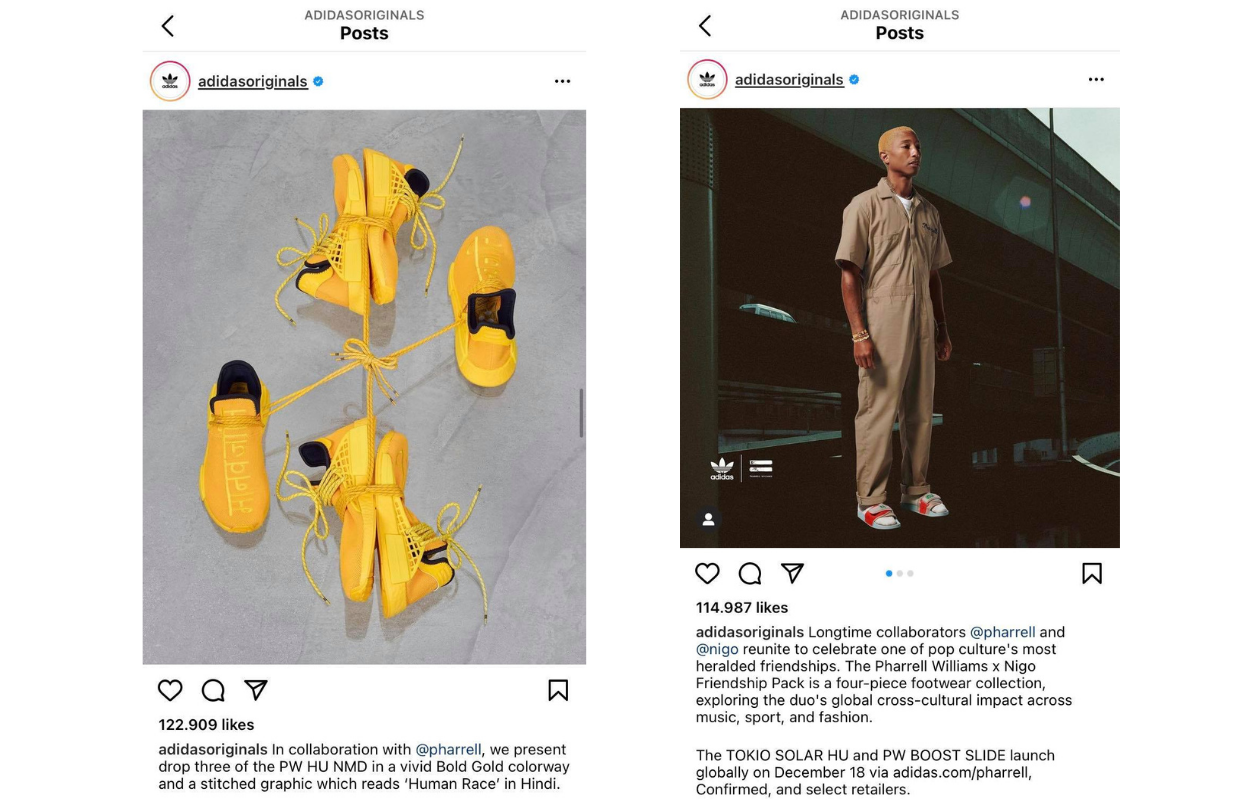 Adidas also partnered with Jeremy Scott, creative director at Moschino, for a funky and colorful line of sneakers that fans absolutely loved and that will be back in the autumn of 2021.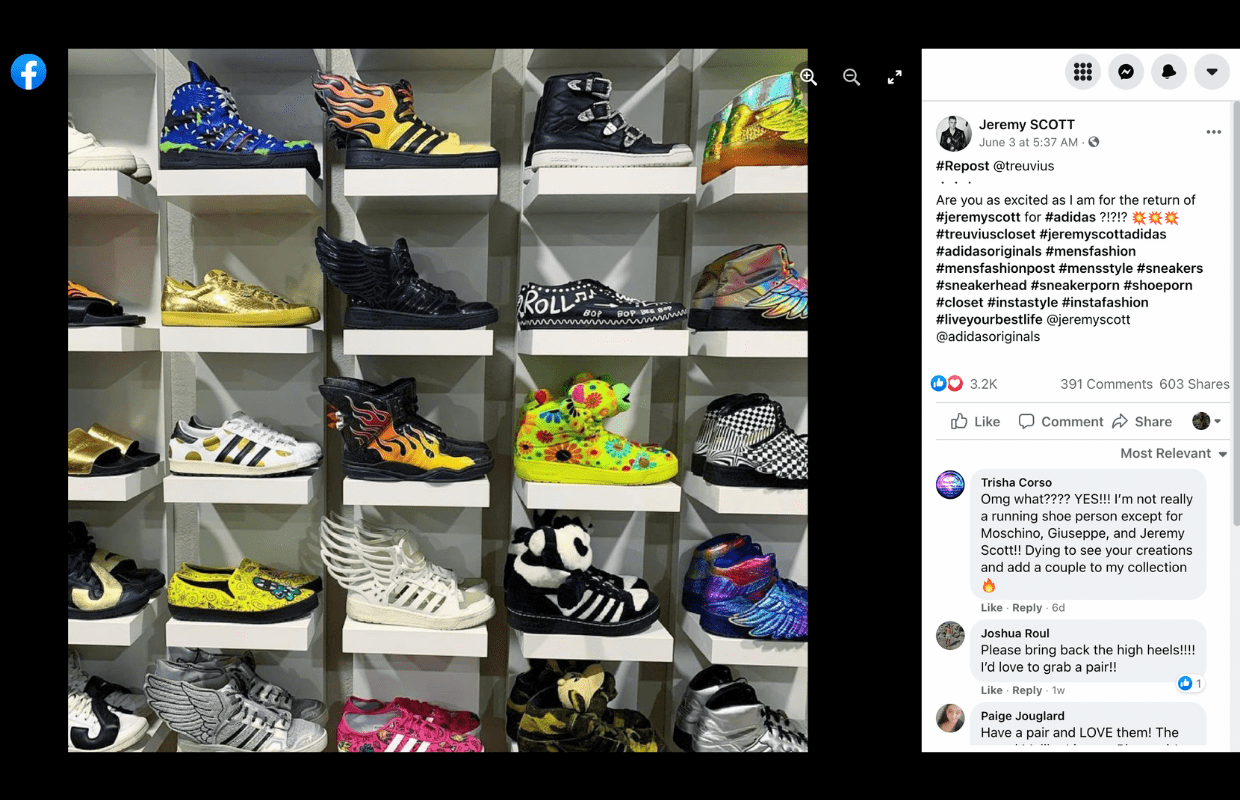 Jeremy usually reposts photos of fans showing off their collection of Adidas x Jeremy Scott on Facebook. This is a great way of engaging with your audience. You're not only generating excitement, but you're getting in touch with your fans and setting up the scene for them to have real conversations.
It's no secret that Adidas' target audience is mainly formed of young consumers who are into street fashion, which fits perfectly with these artists' fan base.
4. Inspire and empower women
Winning the female consumer continues to be one of Adidas' key advertising strategies. They have been investing in essential products, such as bras, tights, and running footwear.
This showed in Adidas' marketing strategy on social media. The brand has women dedicated official pages on all its social media channels with millions of followers.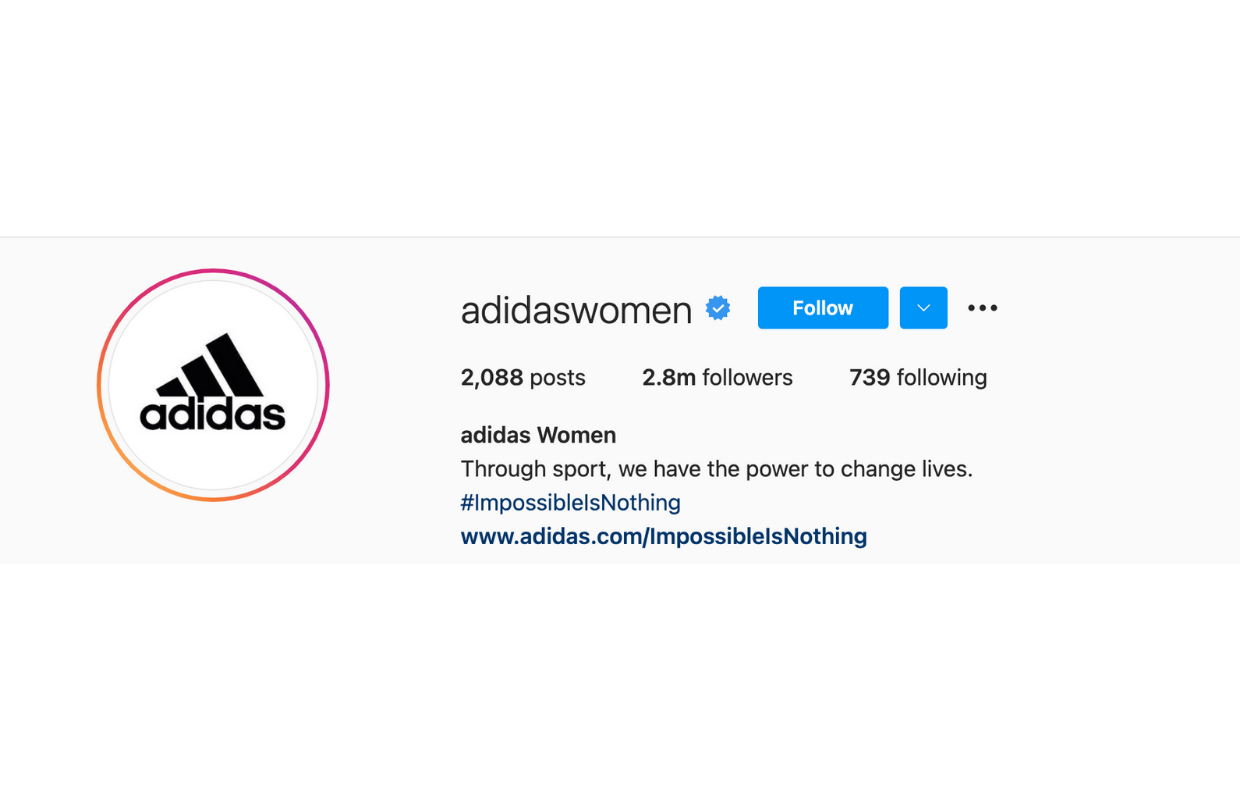 They've also worked on improving the overall apparel fit for women. In 2019, Adidas launched its first inclusive sizing collection that spans from sizes XXS-4X.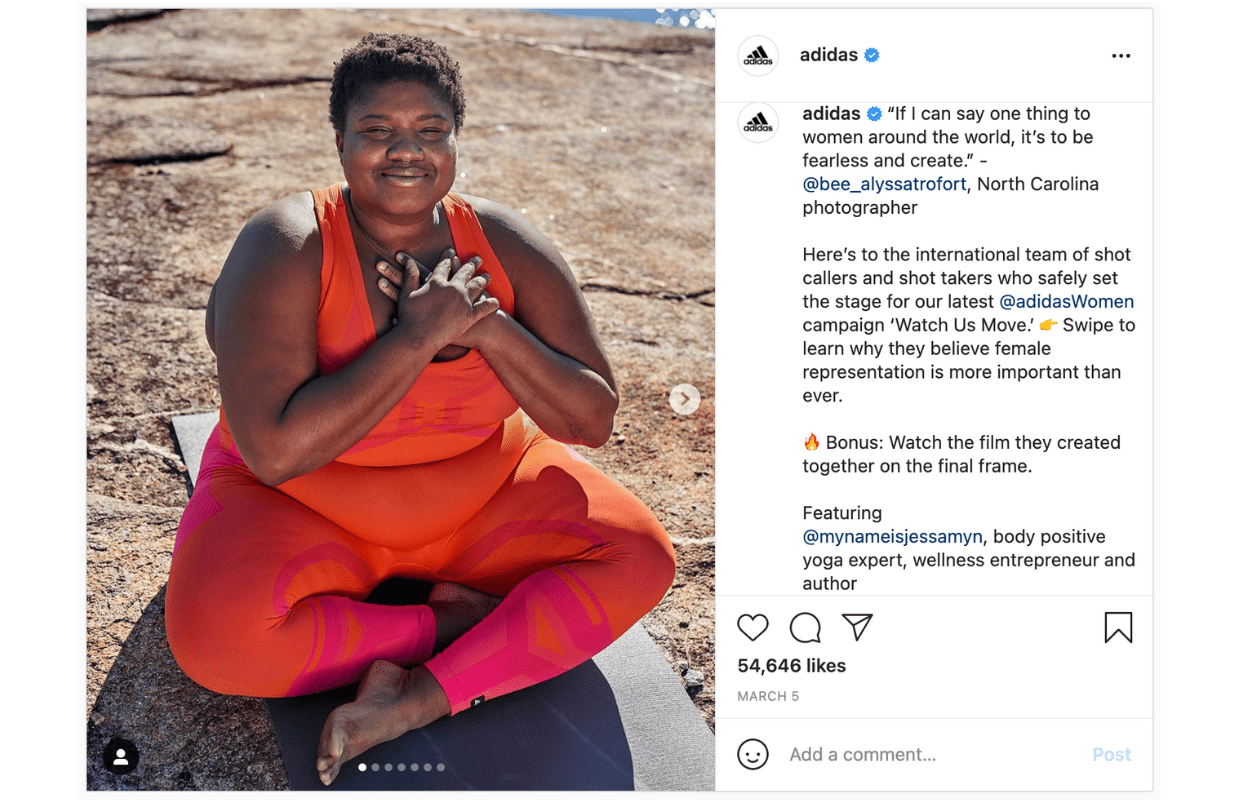 In collaboration with Stella McCartney, English fashion designer and daughter of Paul McCartney, Adidas created a post-mastectomy sports bra for women who have undergone breast surgery and wish to bring sport and fitness back into their lives.
One of the things I love most about Adidas is the "She Breaks Barriers" campaign, launched in December 2018.
This initiative began from a social media post in which Adidas asked athletes to share the challenges and barriers they face.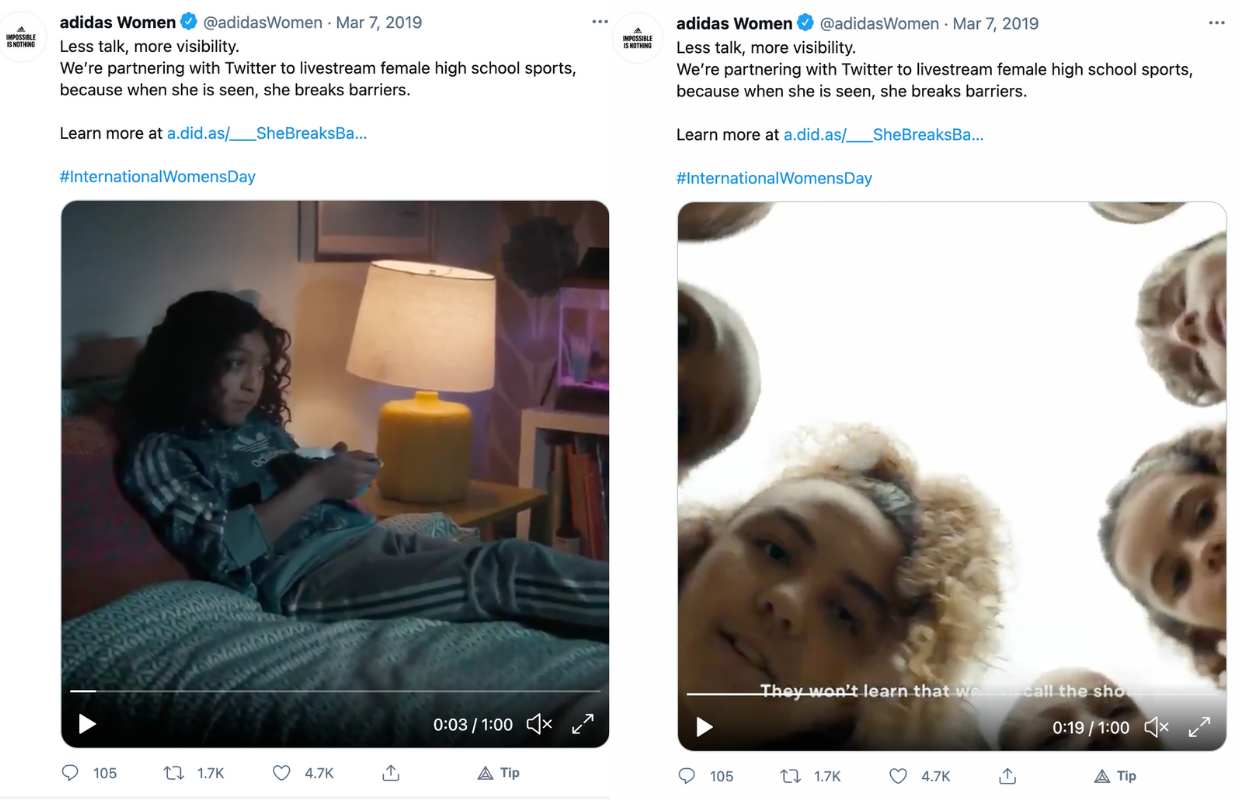 This Adidas campaign advocates for equal media representation for women. It is about removing stereotypes and addressing inequality for female athletes. And it came as a breath of fresh air in the world of sports commercials that is filled with testosterone.
To celebrate International Women's Day in 2020, Adidas partnered with IFund Women to create opportunity and visibility for women in the sports industry.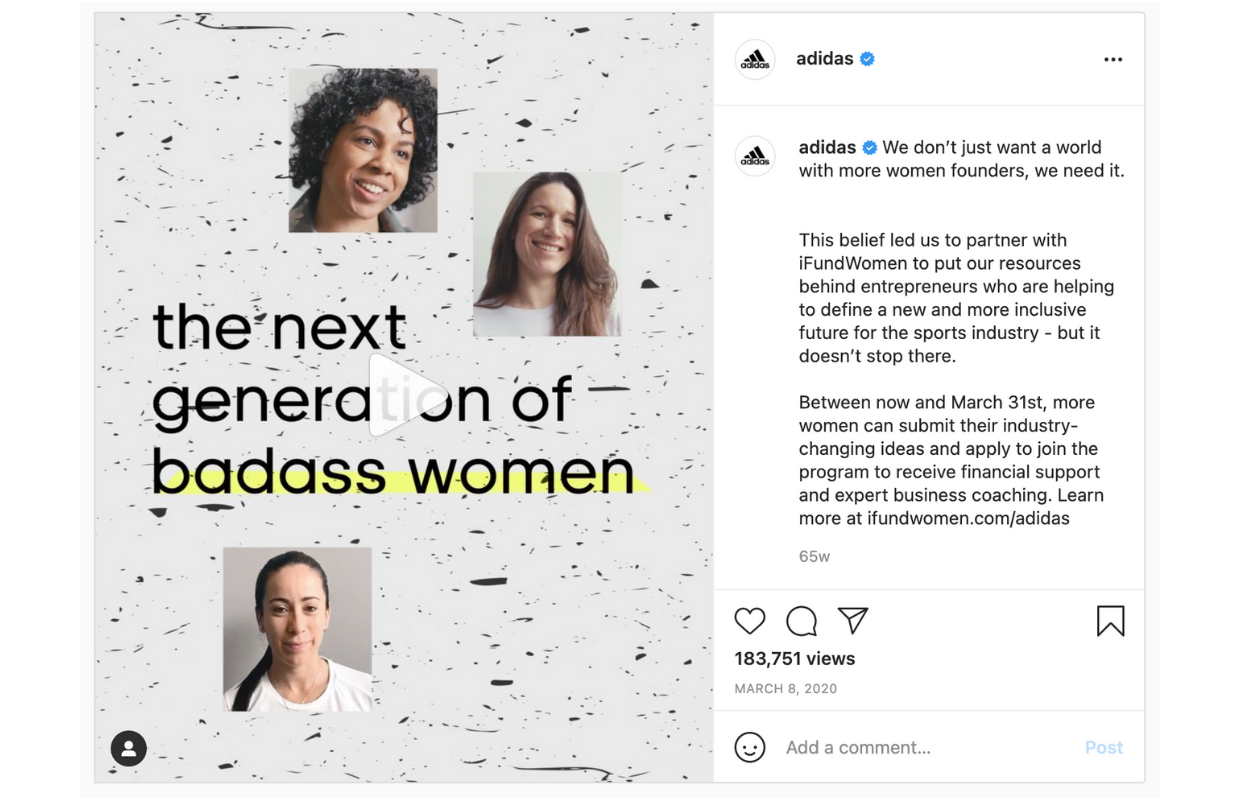 They have selected 10 women from across the globe to inspire other women to bring sports into their lives. Way to go, Adidas!
5. Adidas' social media data performance
Now let's talk numbers!

To give you a better idea of Adidas' strategy, I analyzed its Facebook and Instagram profiles with Socialinsider, a social media analytics, reporting, and benchmarking tool.
Adidas is one of the most followed sports brands online. It has social media profiles on all major platforms, such as Facebook, Instagram, LinkedIn, Twitter, YouTube, TikTok, and Pinterest.
Like many other brands, Adidas diversified its online presence by creating separate social media pages for different products that are targeted for different personas.
The picture below shows Adidas' main social profile followers (Instagram, Facebook, Twitter, and YouTube). Adidas has the most followers on its Facebook page (39 million), followed by Instagram, with almost 26 million followers.
Interestingly, Adidas Originals, a sub-division of Adidas that is dedicated to fashion and lifestyle, has more followers on Instagram than the main Adidas channel, with almost 35 million on Instagram and approximately 32 million on Facebook.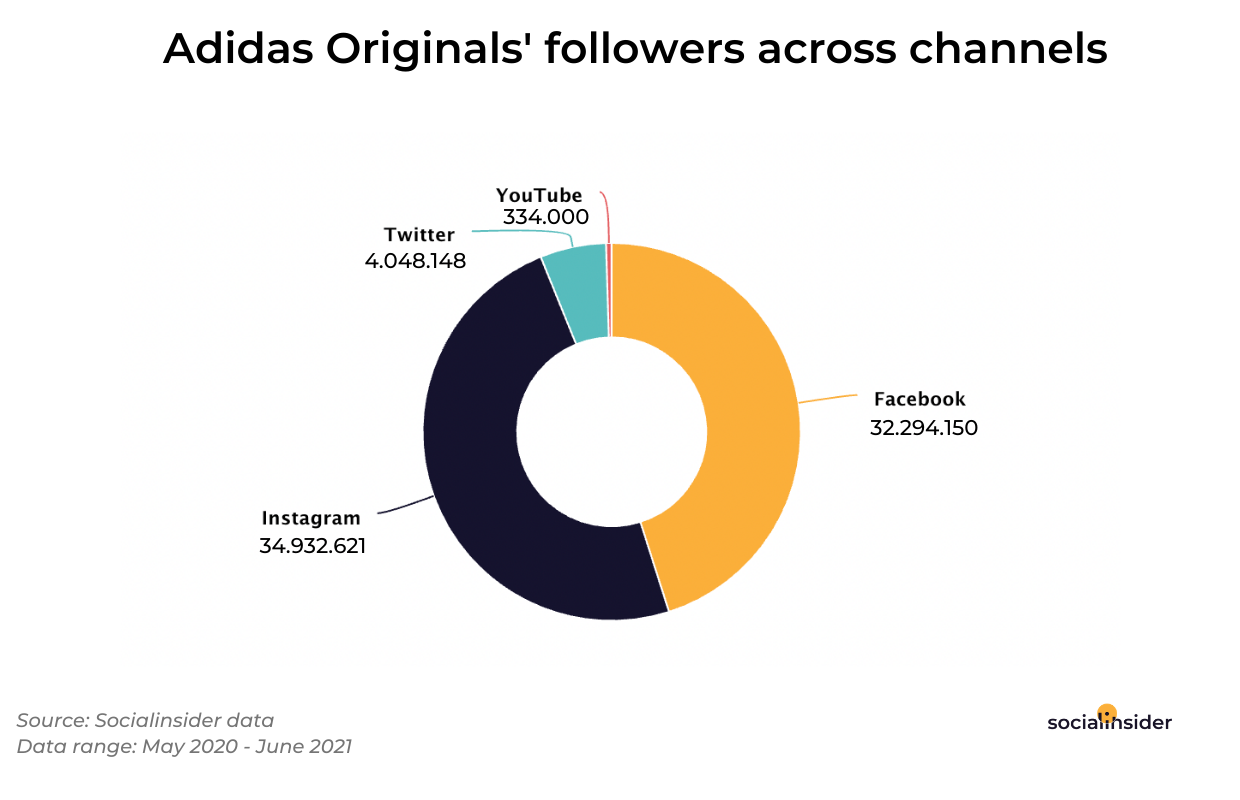 This discrepancy could be due to the fact that Facebook has been on the market longer than Instagram and seems to have bridged the gap between generations.

Even though it's still relevant, Facebook remains an excellent place to market, whether Instagram is more appealing to the young, which is the main target audience of Adidas Originals.

Does this mean that Facebook automatically generates more engagement just because it has more followers? Well, the answer is no.

The average engagement rate per post on Facebook is 0.010%, while the average engagement rate per post on Instagram is 0.249% for Adidas' main accounts.

Not surprisingly, the Adidas Originals accounts perform better than the Adidas main accounts.

The engagement of all the posts published by Adidas Originals on the profiles analyzed (Facebook, Instagram, Twitter, and YouTube) in the selected period is 19 million, while the engagement of all the posts published by Adidas on the profiles analyzed in the selected period is 4.7 million, which is almost four times lower.
I used Socialinsider's benchmark feature to see how Adidas performs on social media compared to other sports brands.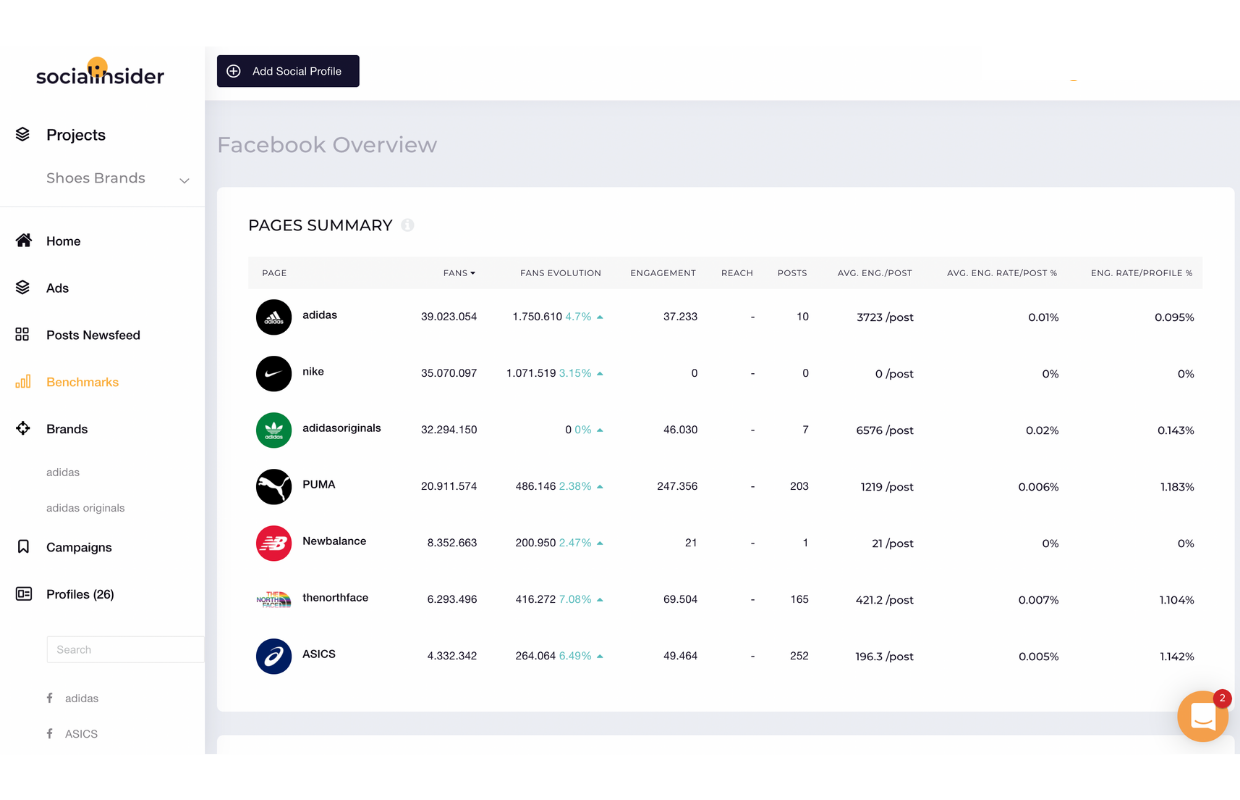 With this feature, you can see an overview of all the profiles added for every platform individually. For example, above you can see how Adidas ranks on Facebook compared to the other brands in the selected period.
You can also see important metrics for every platform, such as fan count, engagement, or top-performing posts. The image below shows a Facebook overview of all these profiles ranked by the follower count and the engagement in the selected time.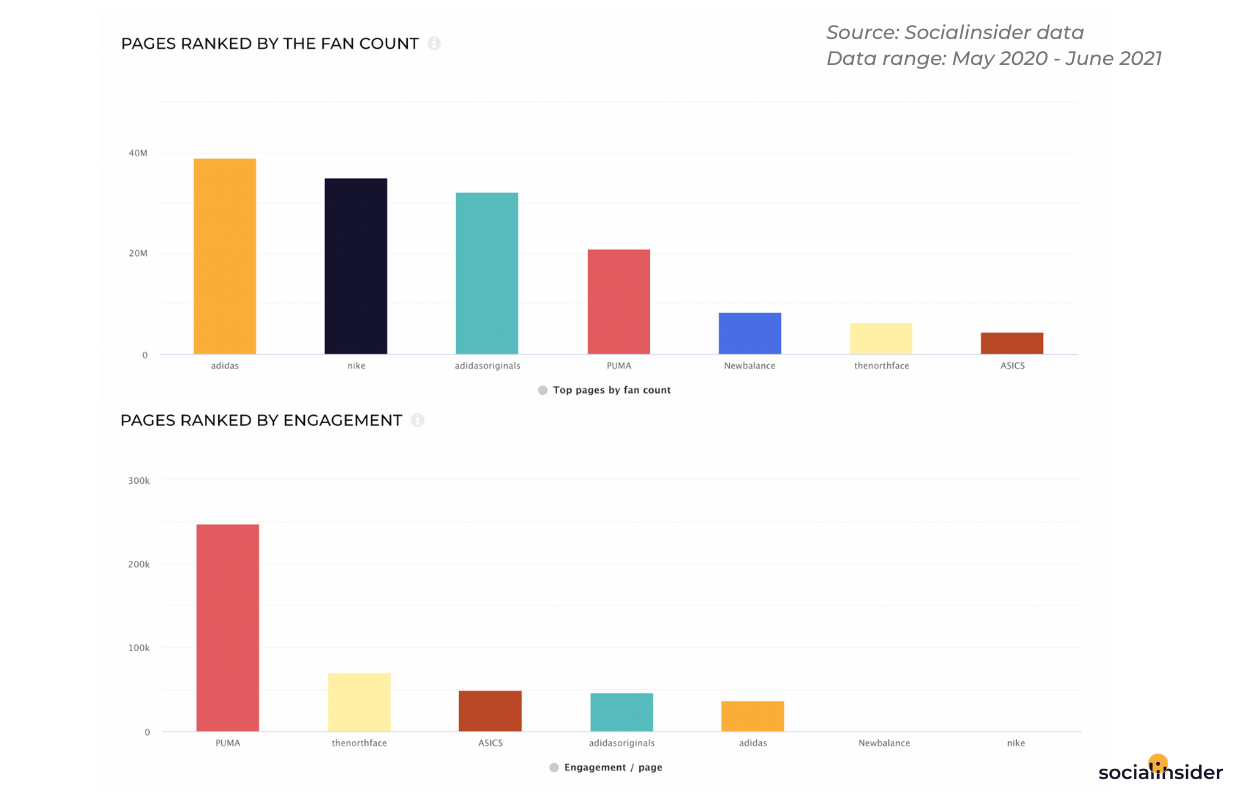 Continue reading: Data Proven Social Media Trends & Best Practices for 2021
Final thoughts

I presented and analyzed some of Adidas' most successful social media strategies that you can try in 2021. These examples are meant to help and inspire since they can be applied to every marketing strategy.

But don't forget that all your social media actions should match your brand's personality and business goals.

Even though it has a really strong competitor (Nike), Adidas didn't give up. Using solid influencer partnerships and artistic expressions, Adidas made the brand relevant again through smart marketing techniques.

This sets an example for everyone. If Adidas can do it, everyone can. And remember - Impossible is nothing!
---
Related articles: