I wonder how everything changed so much in the world: where are the old VHS tapes long forgotten?
But we live in other times now, things are continuously evolving, and we moved on from those tapes to a digital era, where we can watch anything we want in just a matter of minutes.
When it comes to cinema, Netflix is winning at social media, but it also wins people's hearts. If you don't know how the team does it, let's find out together.
As a movie lover myself and with a genuine interest in social media, I thought it would be nice to look at what Netflix offers. And this is how this article was born.
Now, with the Golden Globes and the Critics Choice Awards that just passed, and with the big night of the Academy Awards getting closer and closer, we can look at Netflix in a different light.

To give you a better idea of Netflix's strategy, I analyzed the social media profiles for Facebook, Instagram, and Twitter.
Let's see how they do it.
Netflix's Social Media Strategy
1.Content strategy
2.Social media campaigns
3.Promoting original content
4.Humor is everything
5.Netflix and its competitors
---
1. Content strategy
Since 1997, when Netflix officially launched, a lot has changed: we use the internet every day, we post various things on social media, we can talk to robots, and we can have cars that drive themselves. And the list could go on. But the movie industry is just as different now.

There is no surprise that Netflix knows how to do a good job. Its social media strategy is so good that we can all learn from the team.

Chances are the company probably has a specific audience in mind: one that appreciates humor a lot.
And when you say "humor" on social media, this usually means a bit of controversy and a lot of memes.

The well-deserved success Netflix has gained in the last years has been accelerated by the outstanding social media strategy.
Every day, new content is posted on the Netflix universe.
What's even more interesting is that they have different strategies for each social media platform.

On Facebook, you'll find a lot of videos from movies or shows. With more than 75 million likes, Netflix runs multiple regional accounts.
This is really interesting because splitting the content into regions helps them share only the most relevant content for each country, targeting the right audience.
If you ever wondered how to change the region for the Netflix's Facebook page you want to follow, this is how: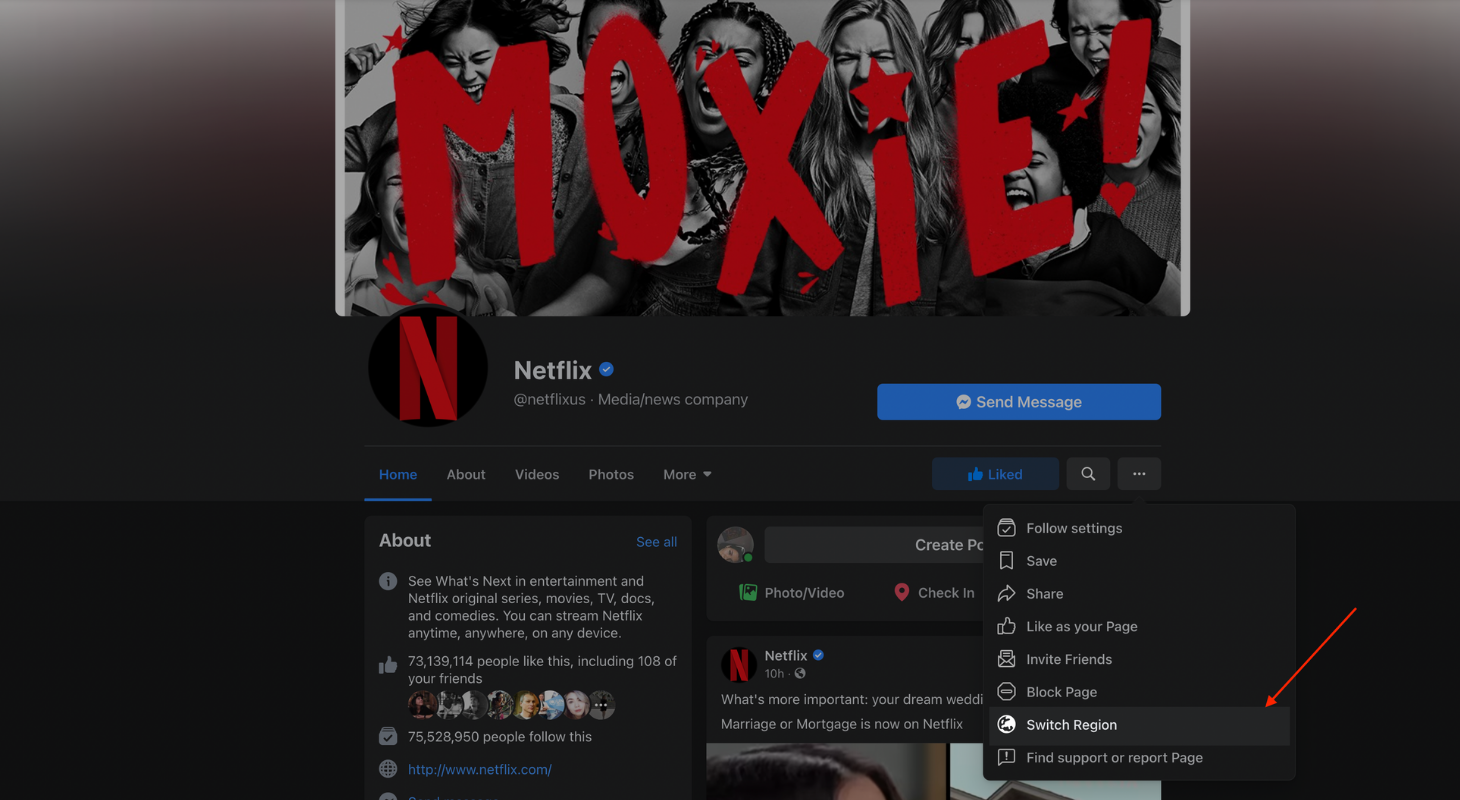 The videos that you will typically find on their U.S. Facebook page are related to the currently streaming movies and shows.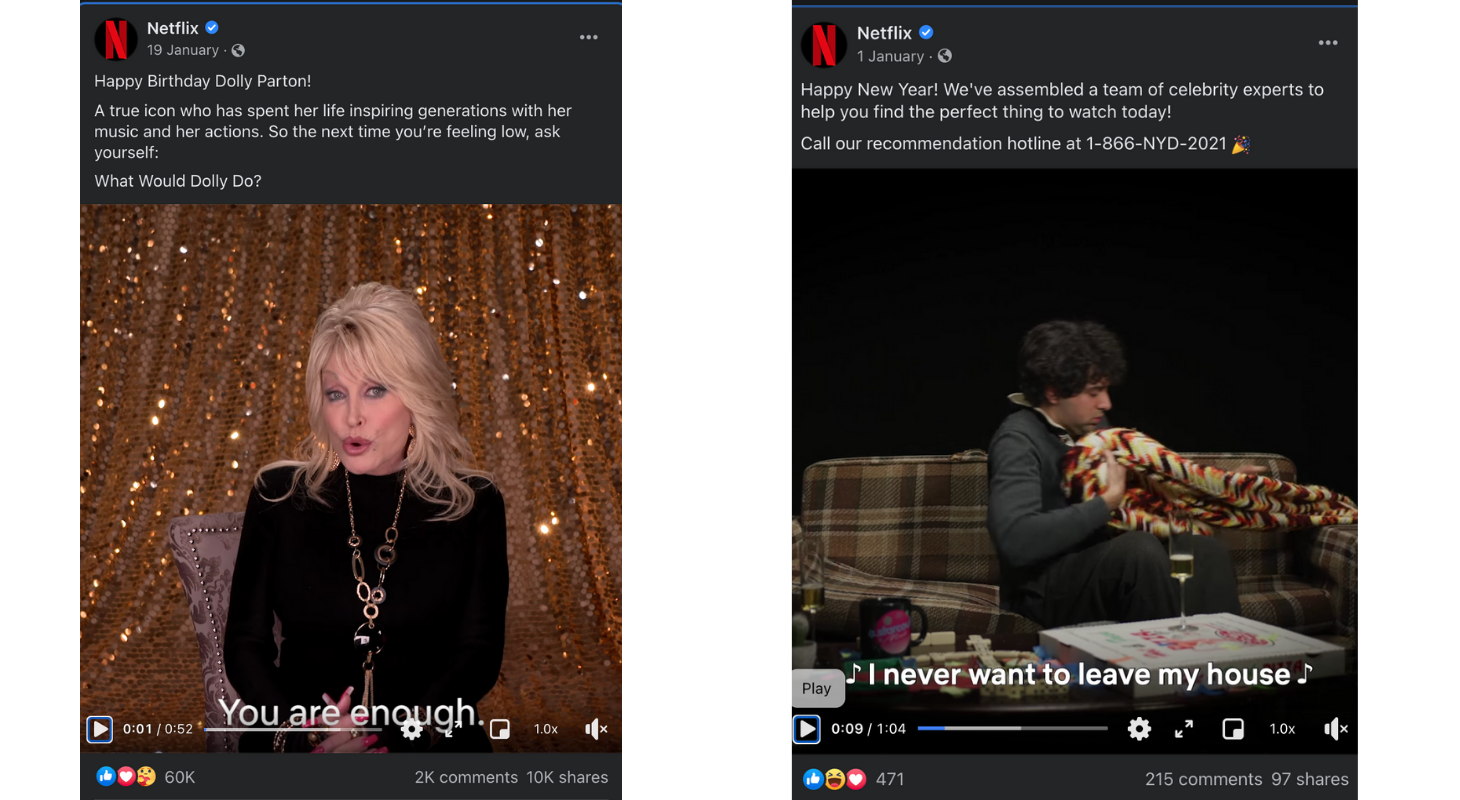 On Instagram, their content is pretty similar to what you find on Facebook, which means a mix of everything.

Their team is a big fan of carousels and it shows. Moreover, according to our study, carousels are the best type of content if you want to have more engagement and to gain more likes.
Also, if you want to increase your page followers, you have to post more carousel content. No wonder why Netflix is doing so well.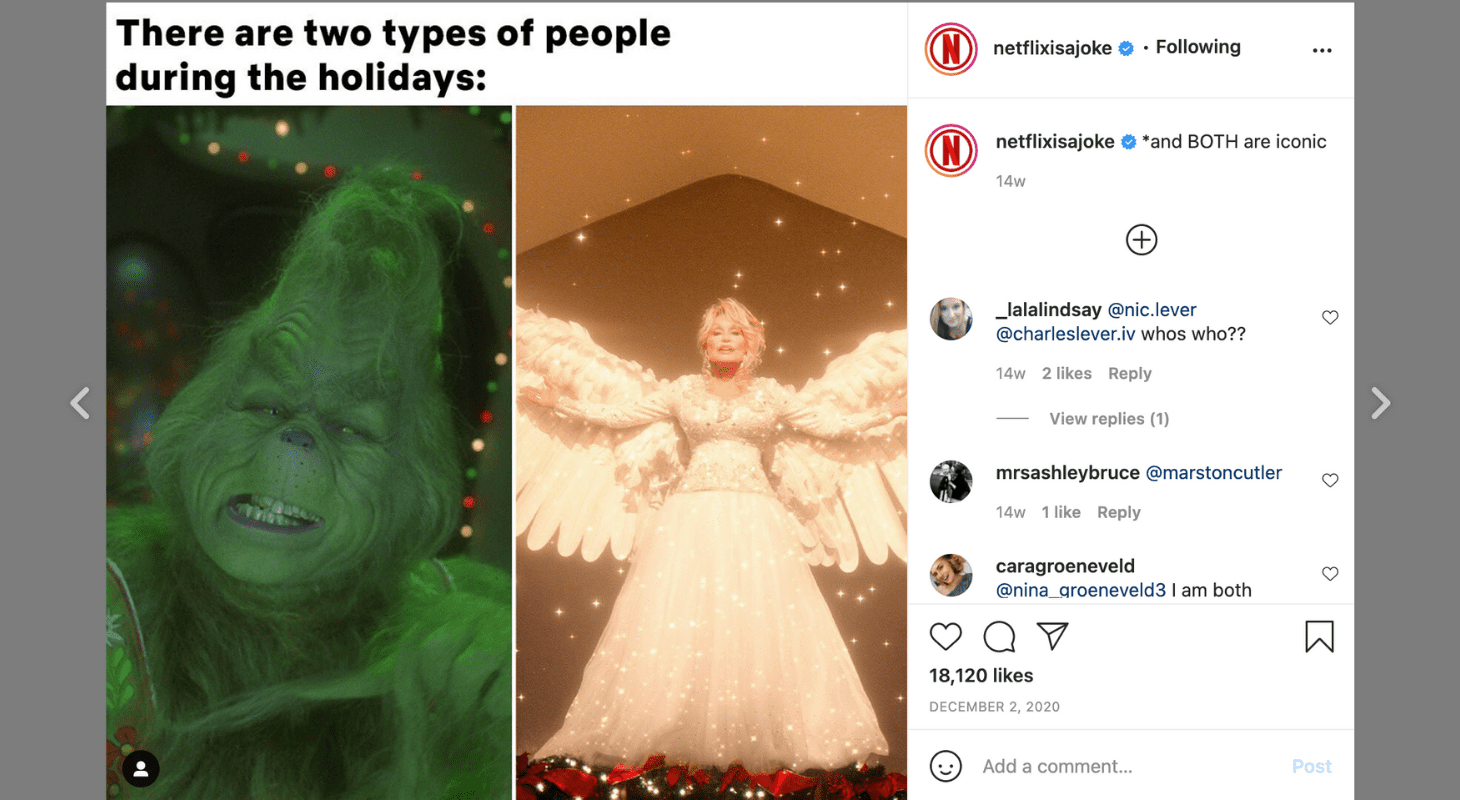 Twitter is my favorite part when it comes to Netflix's use of social media. Twitter has become their main meme page. This is also the platform where Netflix loves to engage with the audience.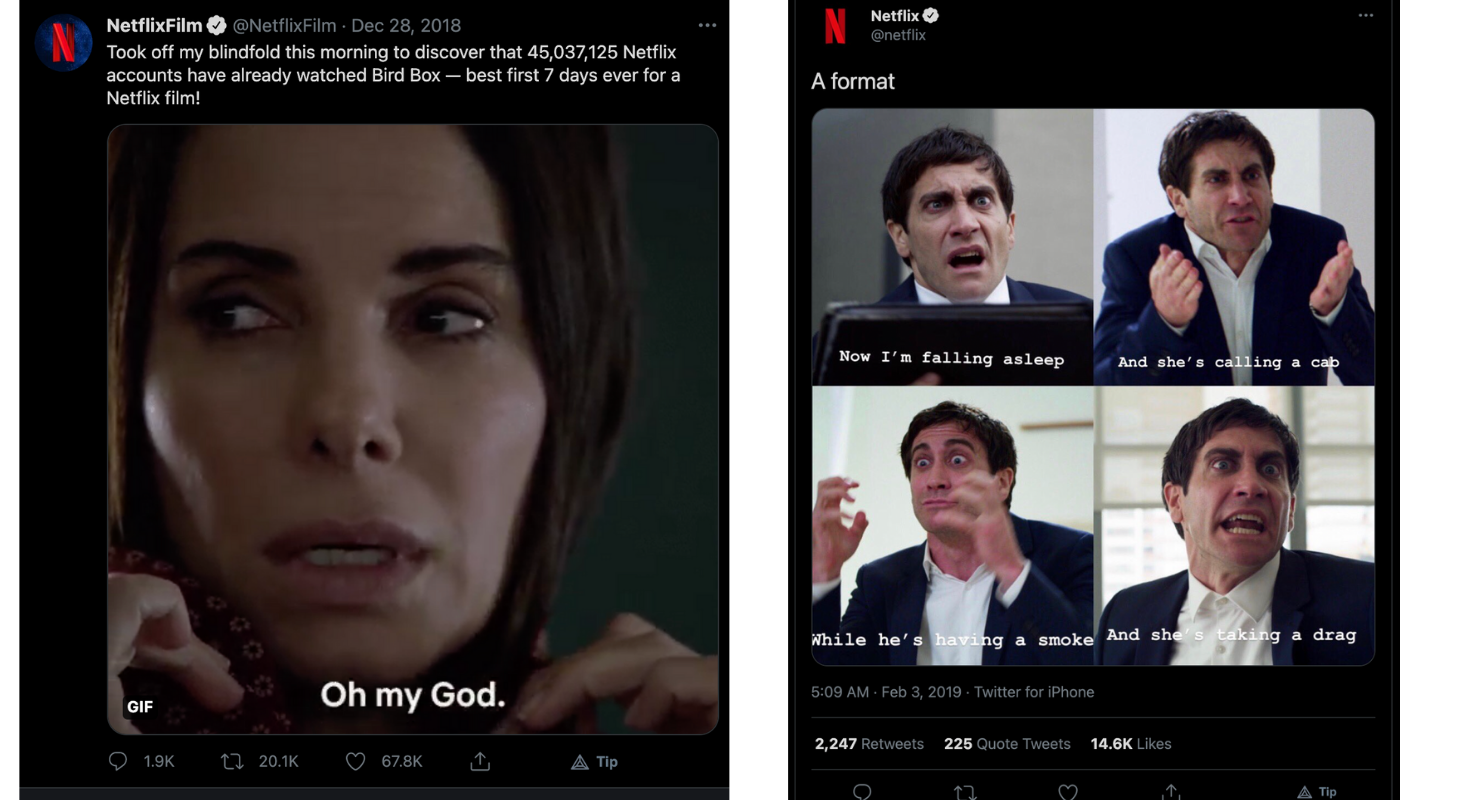 Even if Twitter seems to be dead for most industries, Netflix relies on it a lot.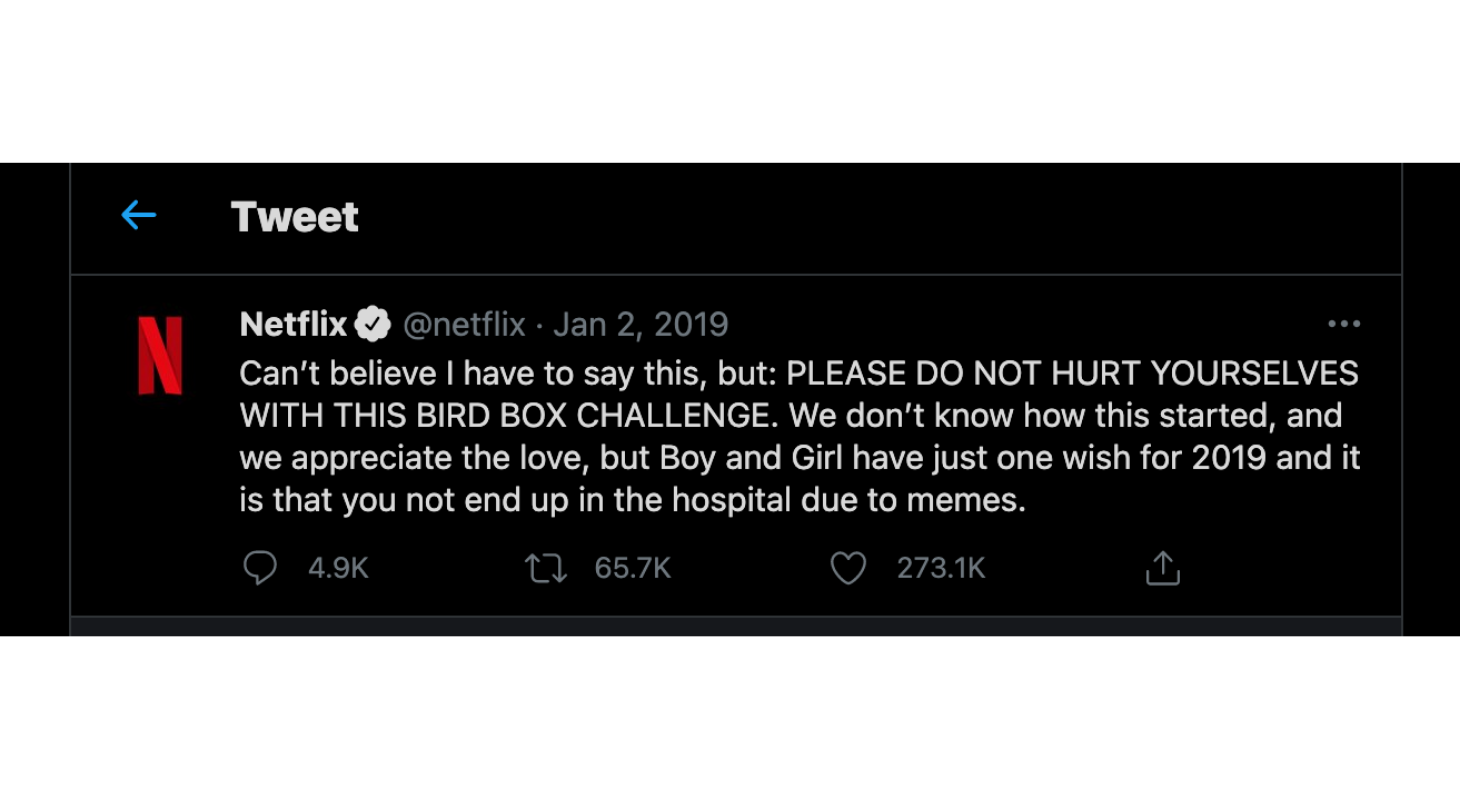 On Twitter, sometimes Netflix is the best friend who trolls you or the caring mother who only wants the best for you. The humor is always there, no matter what.
2. Social media campaigns
Netflix is excellent when it comes to social media campaigns. A more recent one, One Story Away, was launched in 27 countries and it celebrates the power of storytelling. The purpose? To inspire people.

Winning their fans with a sweet video montage with scenes from some of their original shows, this campaign is a way to remember that we all have to be united, especially in these rough times.
"The TV shows and films we watch bring out all sorts of different emotions, give us perspectives we've never seen before and even make us feel closer to each other." - Eric Pallotta, vice president, brand.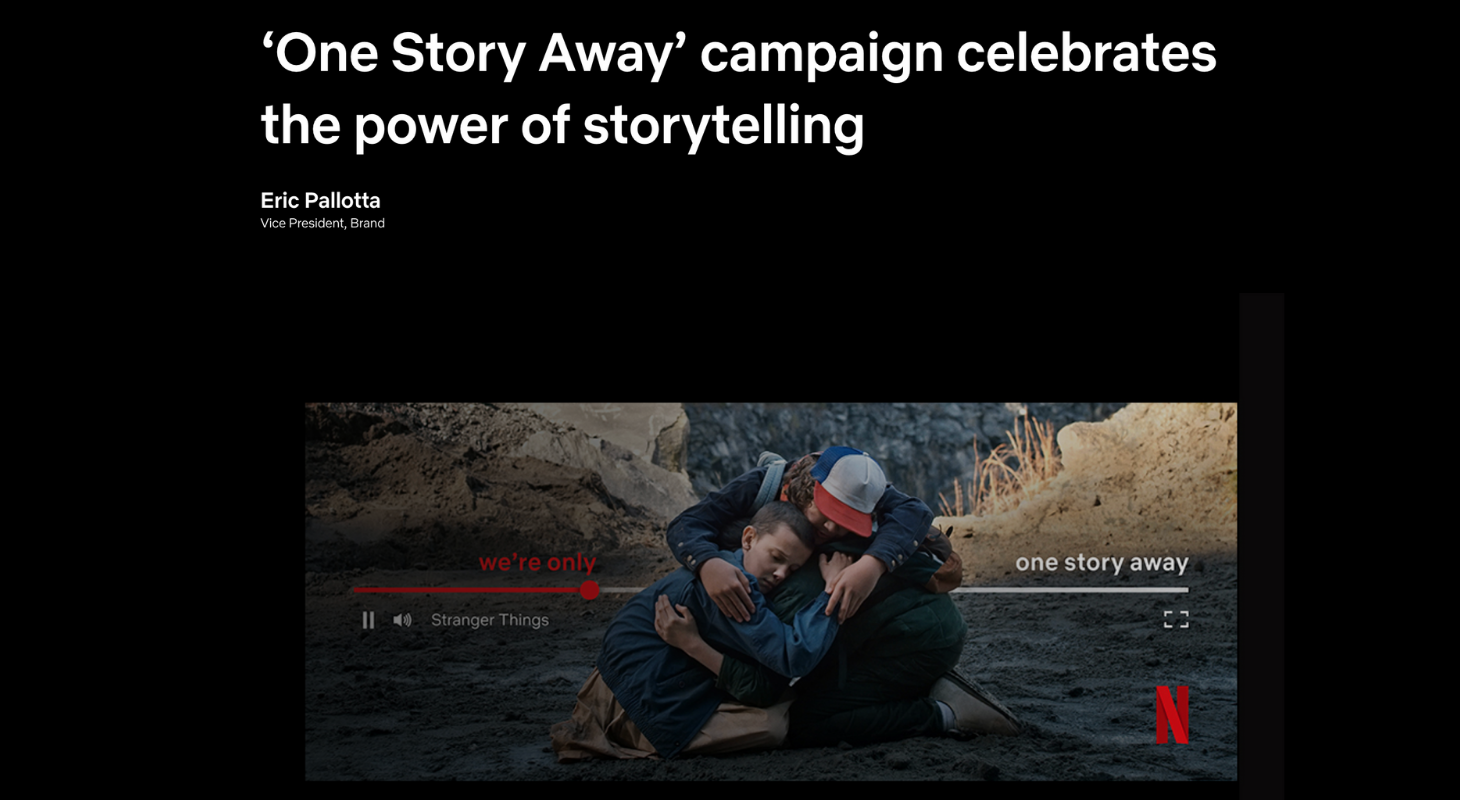 Another great campaign was April Feels Day. Launched right at the moment of a global lockdown, Netflix reminded us to spend some quality time with ourselves, to clear our minds, and to watch some of their content.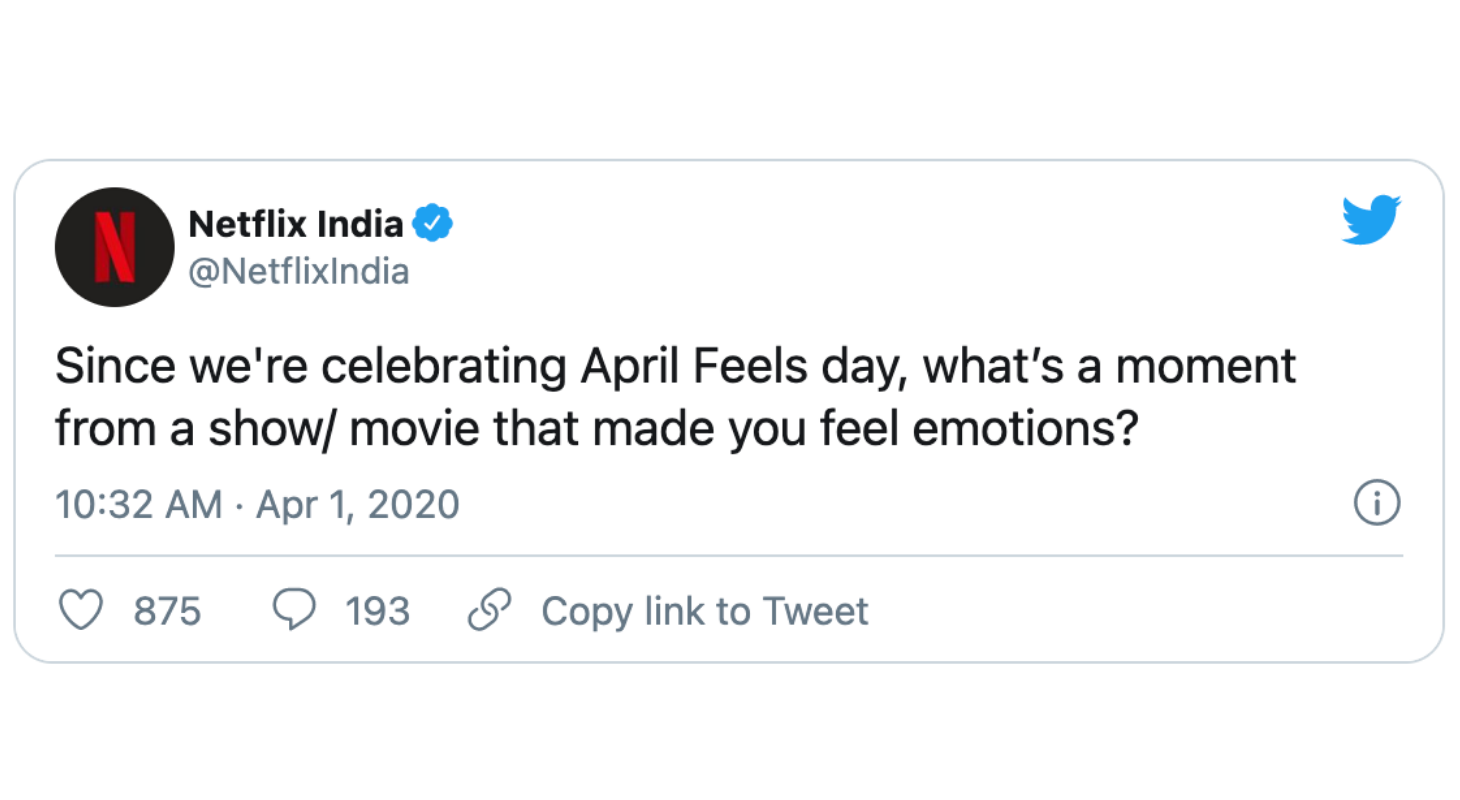 An honorable mention here should be mental health awareness.
When Netflix shows and movies started to spark conversations about mental health, they immediately took action.
The 13 Reasons Why campaign is meant to prevent unwanted things and to inspire young people to seek help if needed.
3. Promoting original content
Maybe you're not big on watching movies and shows, but a good social media strategy may change your mind. Netflix is the master at social media.
By trying to analyze the streaming giant from a marketing perspective, I realized that there is more than meets the eye. And that's exactly what I want to present.
Let's take the example of the very acclaimed show The Queen's Gambit. In its first 28 days, statistics say that the show was watched by 62 million households, becoming the most popular limited series ever on the platform.
It seems like nobody expected it to be this popular. Netflix barely mentioned the release of the show, but the moment people started to talk about it, the team took notes.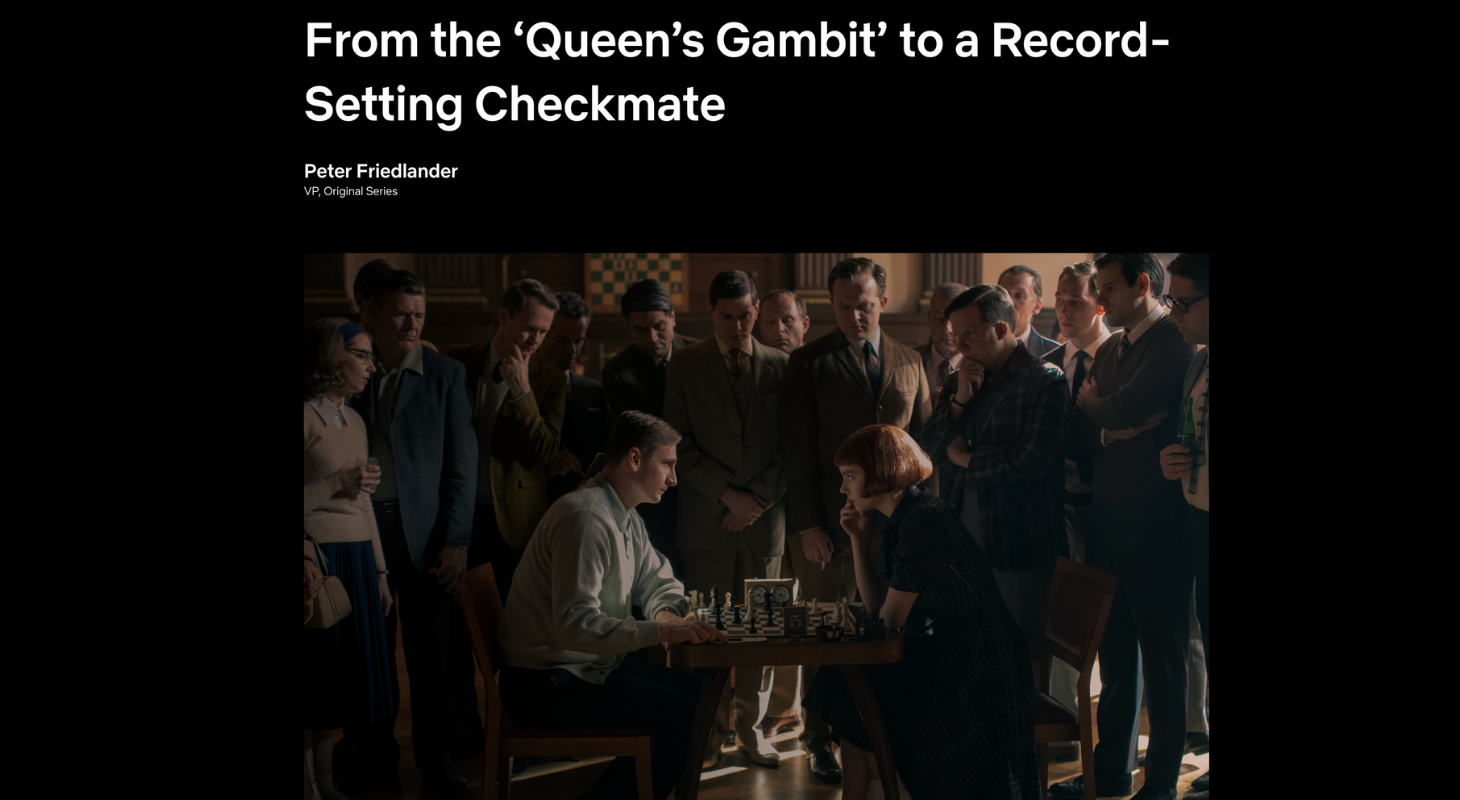 That's how The Queen's Gambit novel is now a best-seller, 37 years after it was published, and the show has caused a huge surge in chess set sales and online classes.
Plus, the amazing acting, costume design, and the entire aesthetic brought the show many awards and nominations along the way. Do I need to say more?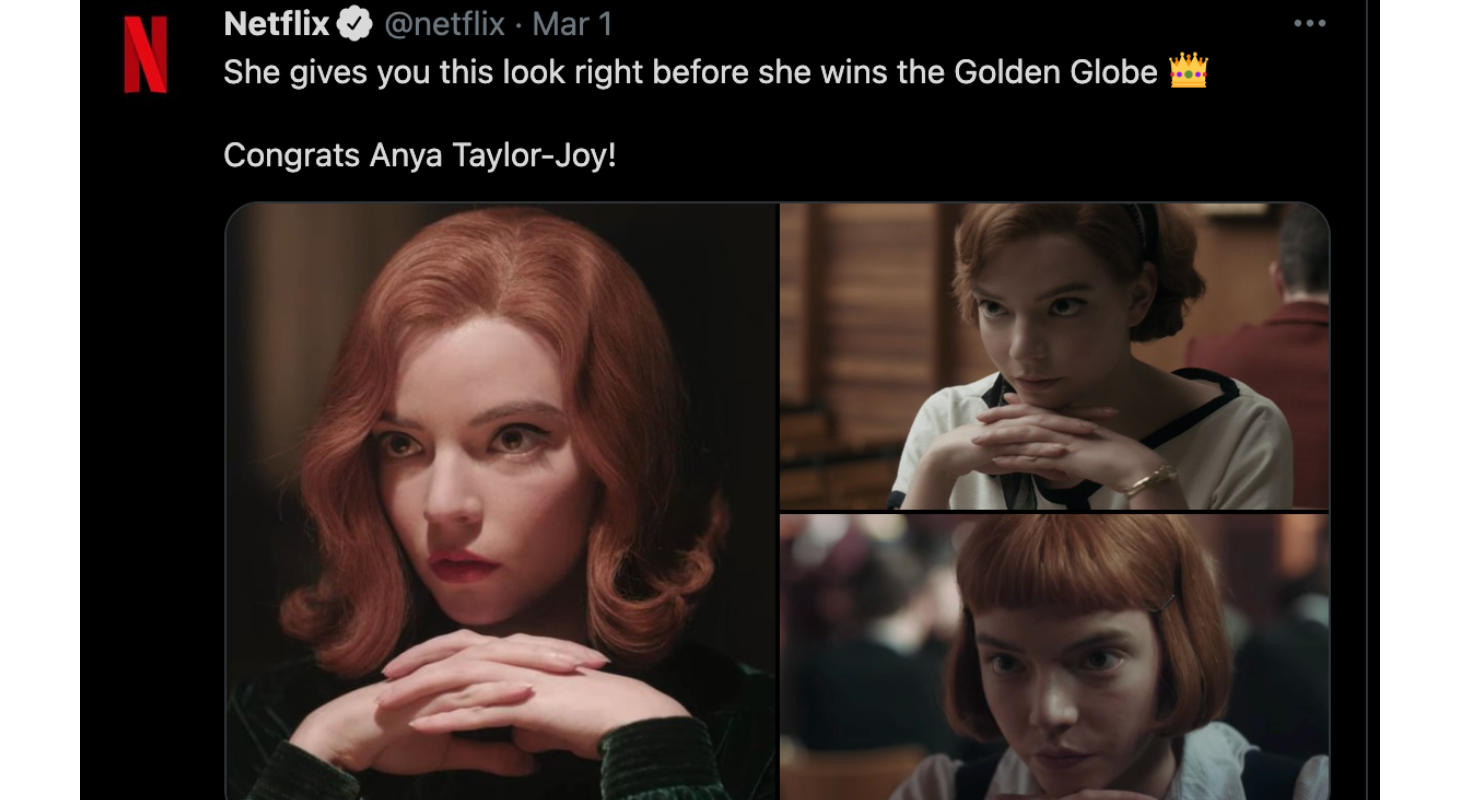 Malcolm & Marie, a very recent addition to the streaming platform, made everybody think of one thing only: mac and cheese.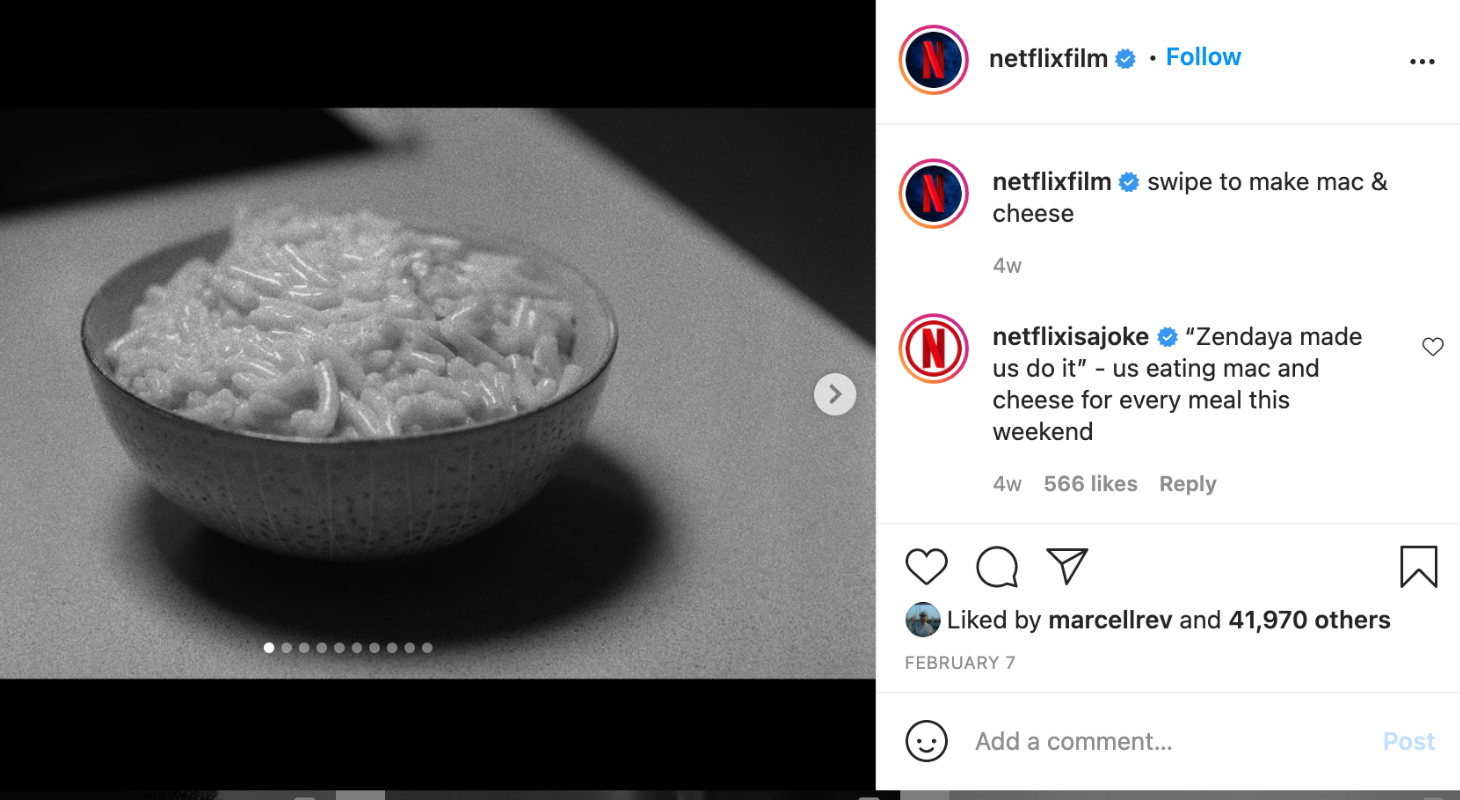 Some people can't stop thinking about how Malcolm eats his dinner, while others decided to spend some time in the kitchen themselves. The results are amazing.
4. Humor is everyhting
As I mentioned before, the streaming platforms's social media strategy contains a lot of humor. But the team knows exactly how to do it.
There are two main things that Netflix does better than others: engaging with the fans and listening to them.
There is no doubt that entertaining posts attract a lot of attention. Instead of boring photos, the Netflix team generated original and breathe taking content.
Safe to say, Netflix's social media accounts became meme accounts. But in this century, memes are a new language, so this is not a surprise.
Even in times of social distancing, Netflix decided to light people's hearts while also promoting one of their original movies.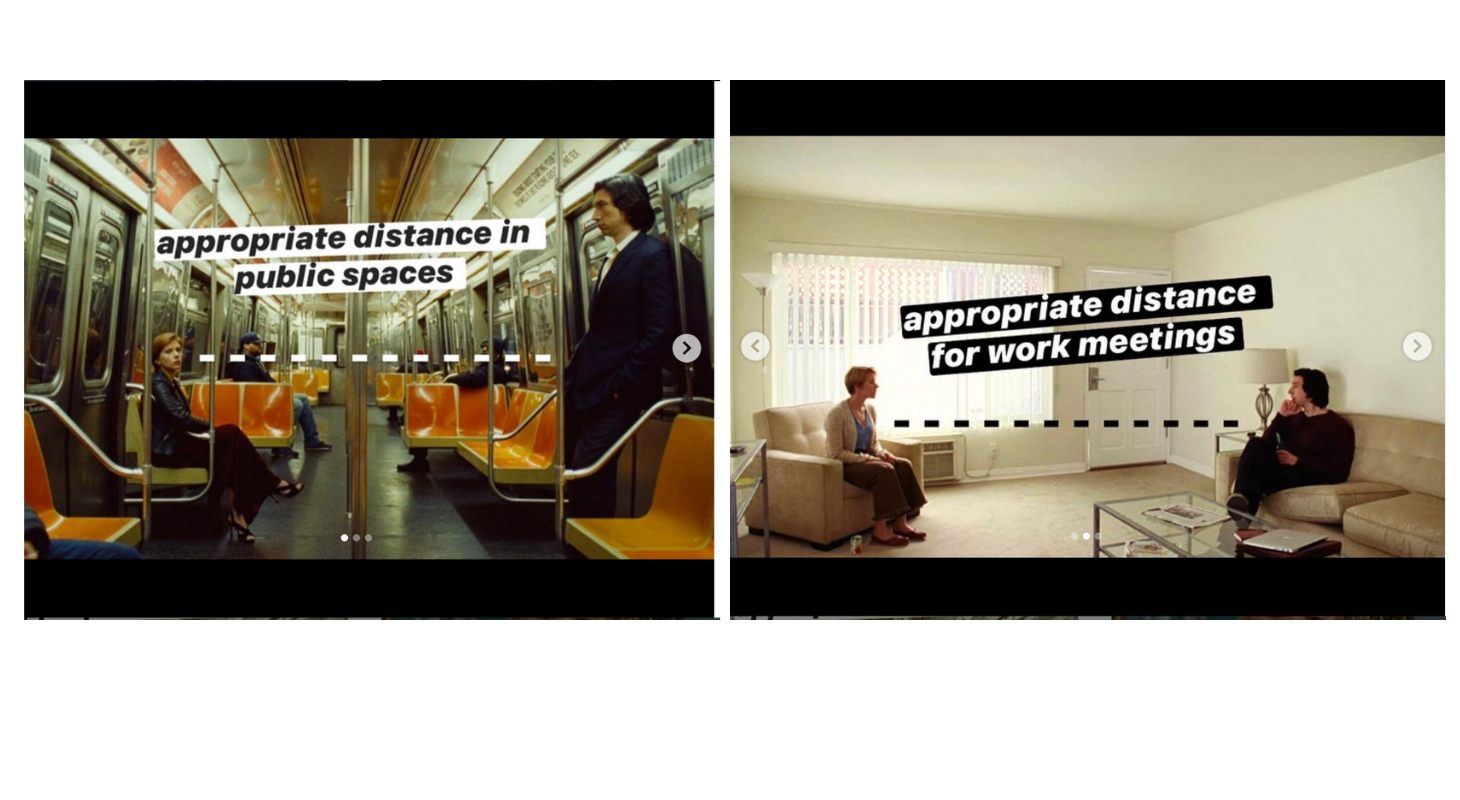 5. Netflix and its competitors
The legend says that people forgot about Netflix only when HBO released the last season of Game of Thrones. After that, things got back to "normal".

But Reed Hastings, CEO at Netflix, never considered HBO as a big competitor. He even said: "We compete with (and lose to) Fortnite more than HBO". Why? Because experience comes first. You are not competing just on content.

Netflix decided to empower its users. They even had the chance to experience new things: Black Mirror: Bandersnatch is a 2018 interactive film that caught everyone's attention.
Viewers are able to make decisions for the main character, and depending on the choice, the story changes. Netflix reported that there are five "main" endings, but this was very debatable when some fans claimed they found a secret ending.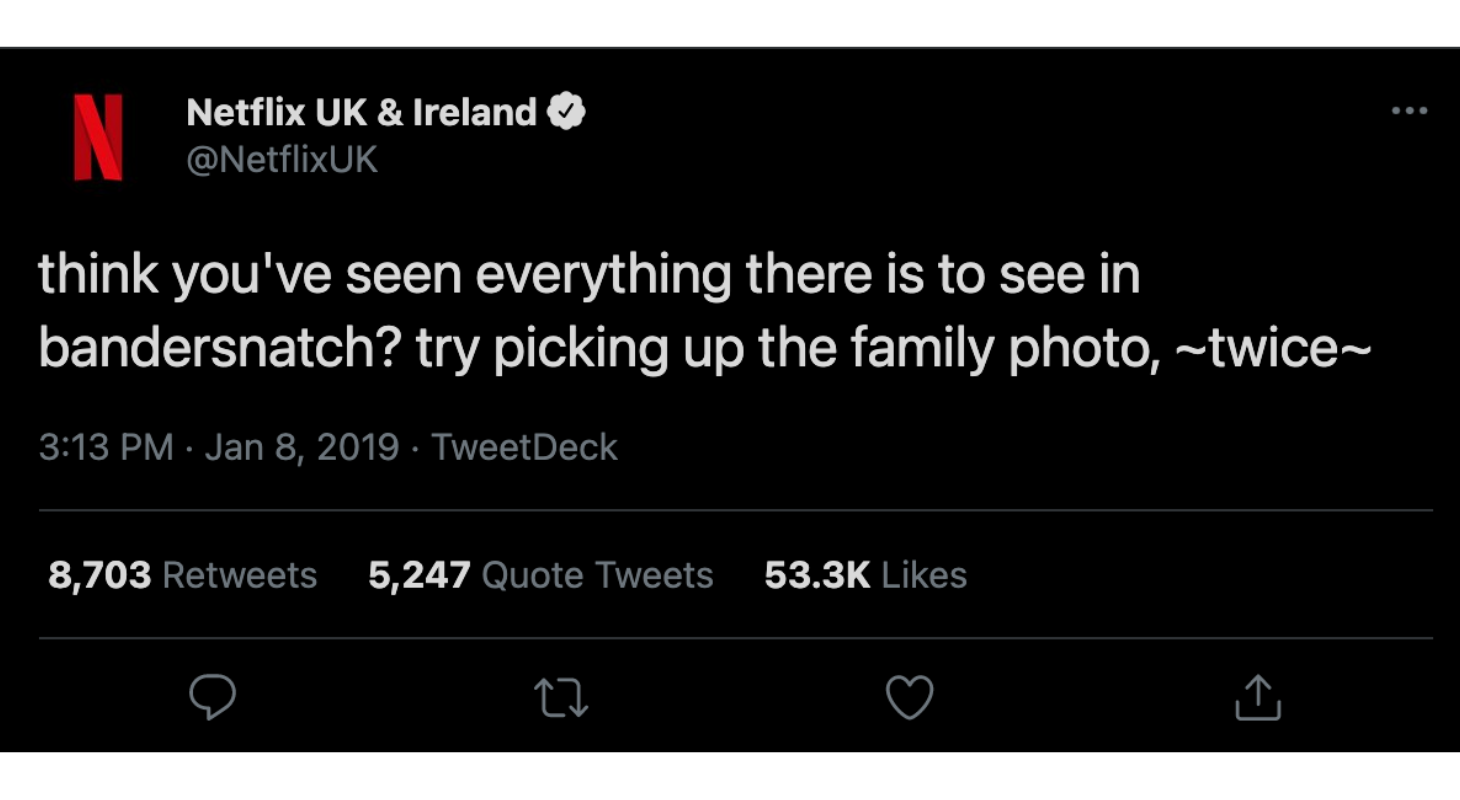 Can you guess what happened next? Even more people "played" what Netflix had to offer.

Trying to look at the performance on social for Netflix and some other streaming platforms, I used Socialinsider tool to make a better comparison.
Socialinsider is a social media competitive benchmarking, analytics, and reporting tool that provides a full view of your competitor's digital strategy for Facebook, Instagram, YouTube, Twitter & TikTok.
The picture below shows a Twitter overview of all these profiles ranked by the follower count and the engagement in the selected period of time (last 3 months).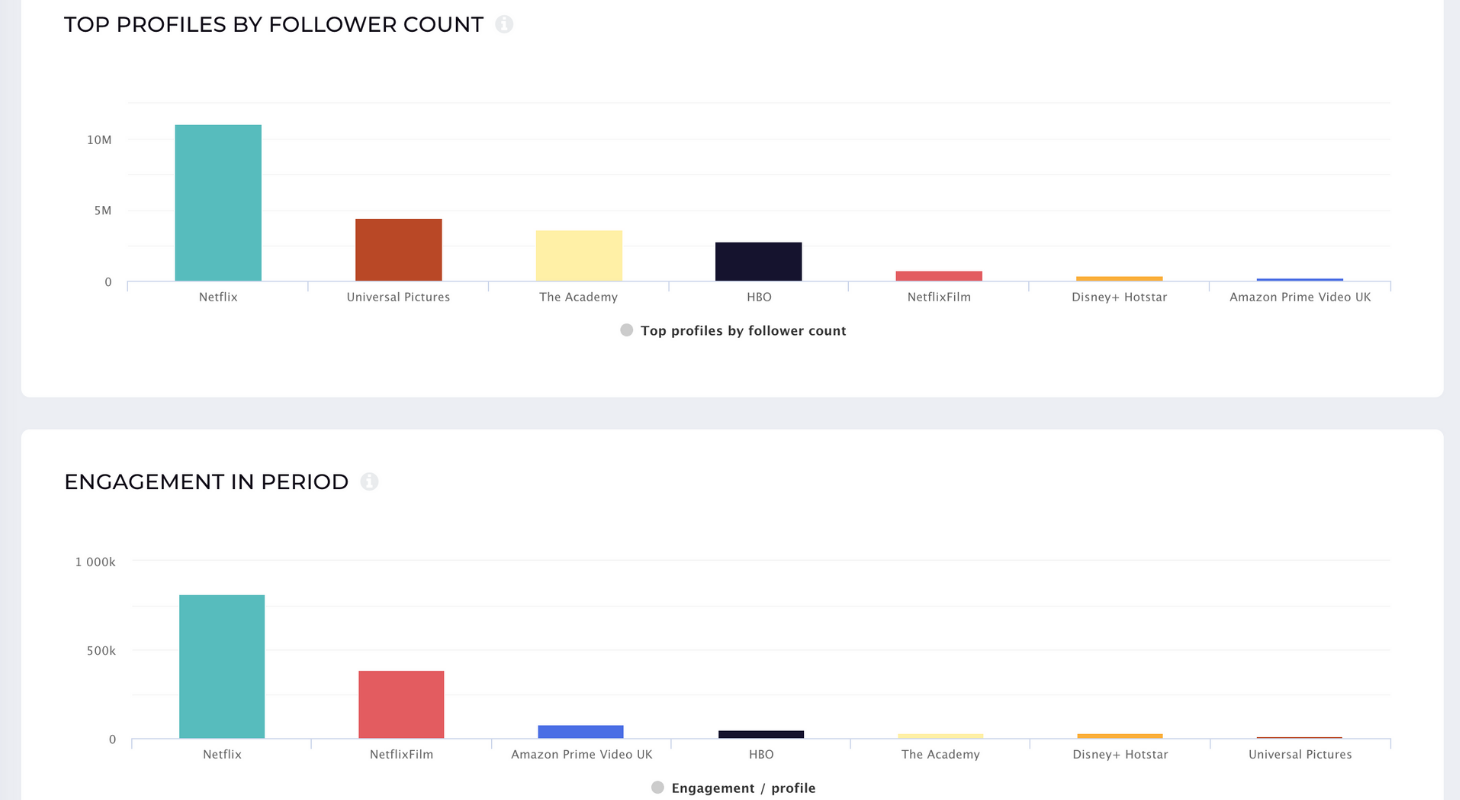 I added the social media accounts for Netflix and its other competitors on the market, and then I used the Benchmarks feature to take a better look at their performance.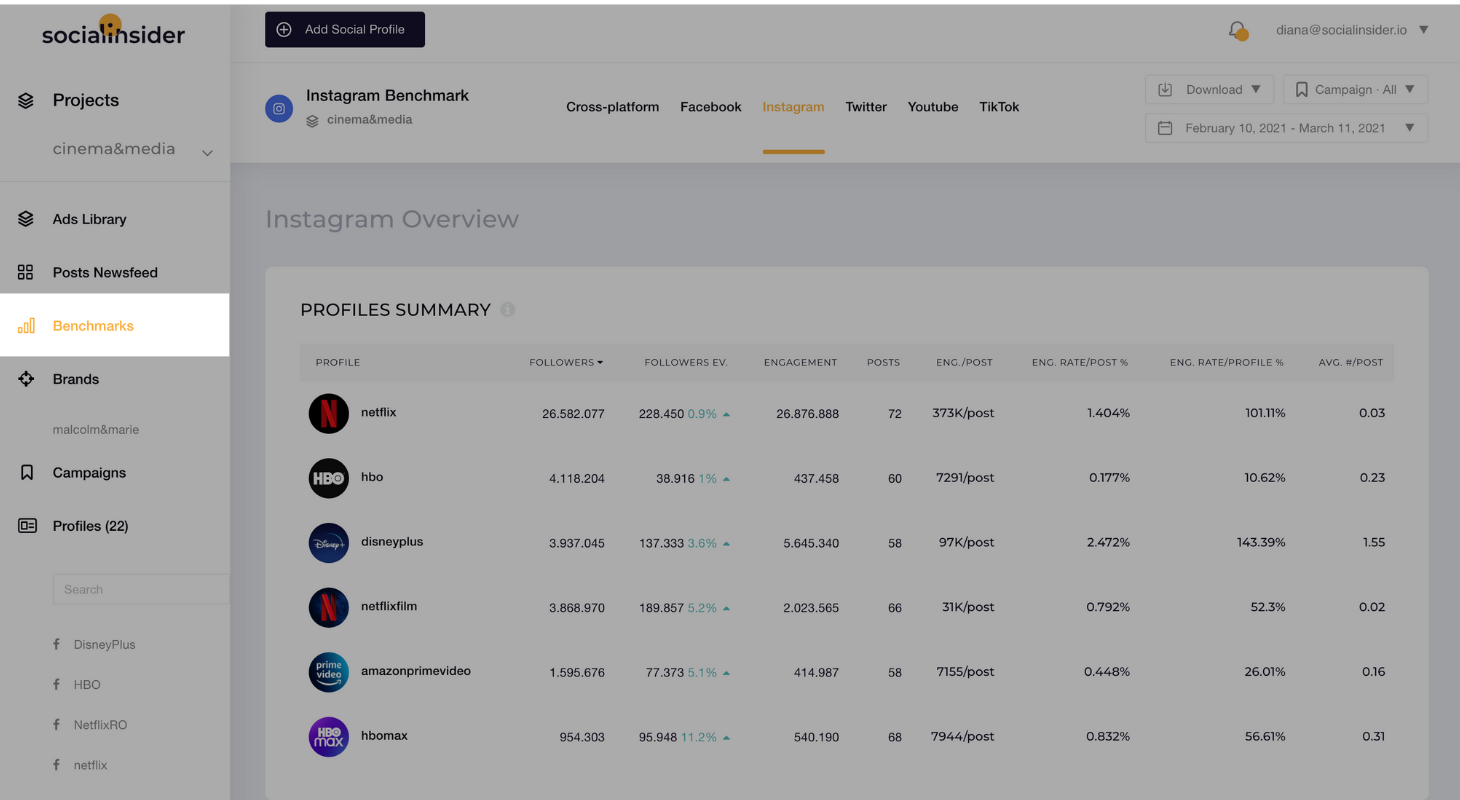 You can also compare some specific social media accounts. In the example below, you can see the comparison between Netflix's and HBO's Twitter pages.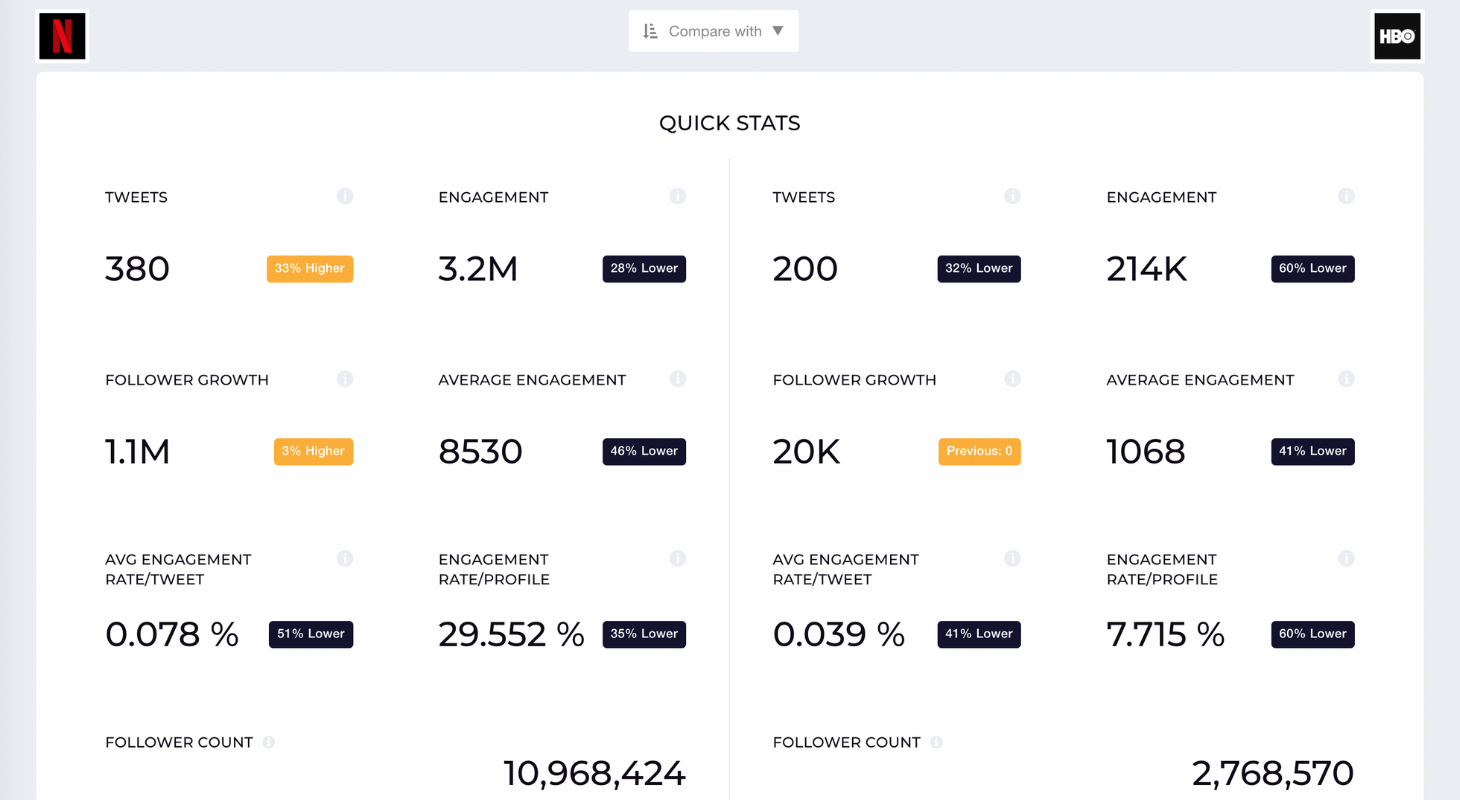 Another great feature that Socialinsider offers is finding out which are the most popular tweets from a specific page - in this case, Netflix's Twitter account.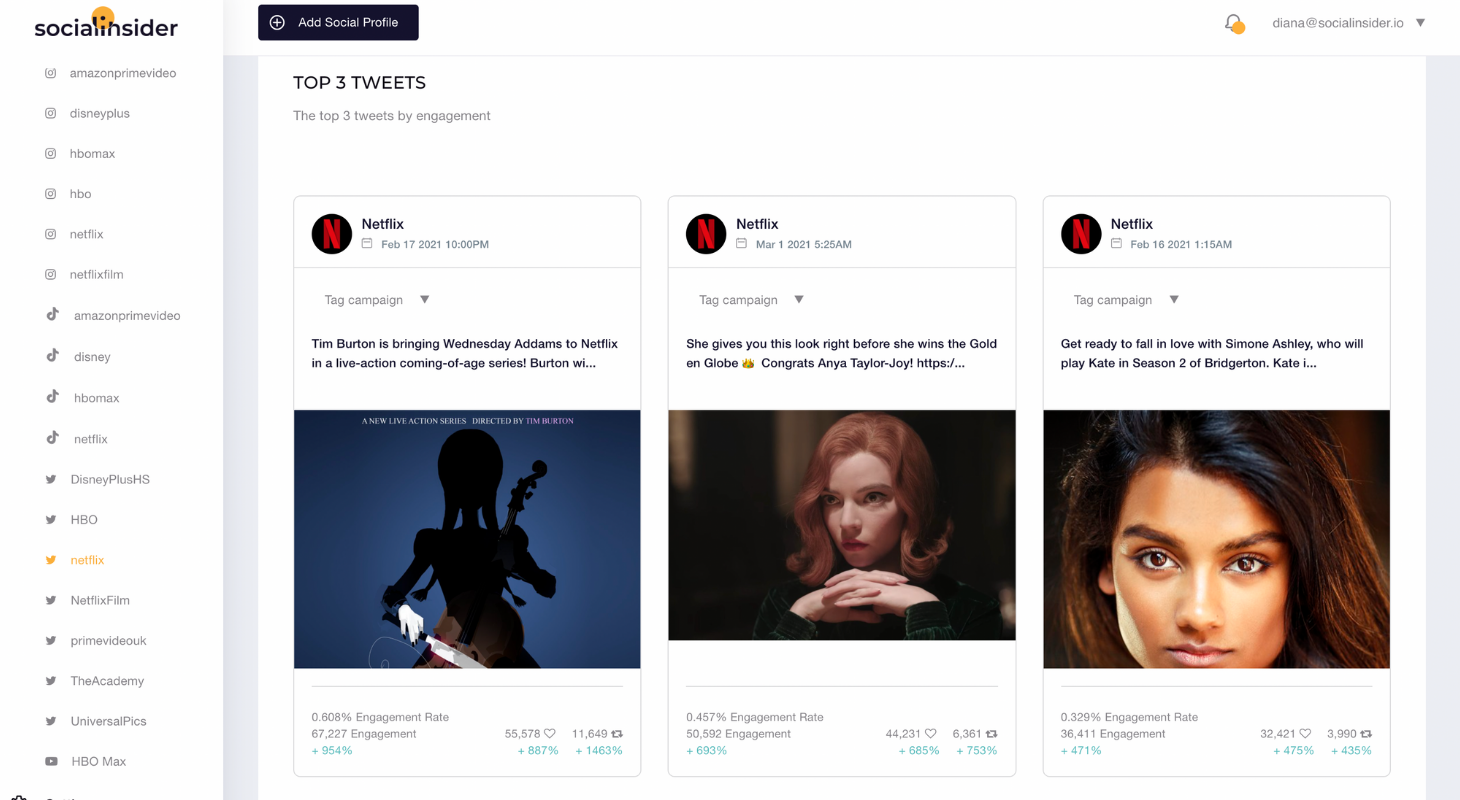 32,213 brands and agencies have already generated 35,929 social media competitive reports with Socialinsider.
Final thought
Writing this article was not only a very nice experience, but it also made me realize that a strategy on social media is more important than we might think.
Being a big company like Netflix, the team relies a lot on the performance on social because this way they can engage with their fans but also attract some more.
What can we all learn from this? Netflix is paying a lot of money to make its people happy.
The largest streaming platform in the world has the biggest crowd of fans in front of the screen.
But Netflix is not winning these people only through movies but also through social media.