A social media campaign strategy always comes before success, not only in the dictionary, but also in real life.
For marketers, crafting an effective social media campaign can be challenging. However, learning how to use the right features and tools could ease your work.
A well-researched social media campaign, with a content plan set in place and data about target audience can become a total blast. For the better, of course.
In what follows, you will learn everything you need to know about developing and implementing a social media campaign strategy that will get your brand in the spotlight.
Social Media Campaign Strategy - Tips & Examples
1. What is a social media campaign strategy
A social media campaign strategy is the plan you make when you want to take over the world (your industry's world), conquering social media.
Through your social media campaign, you promote your brand on different social platforms like Facebook, Instagram, LinkedIn, Twitter, TikTok, and others.
Your strategy should let everyone know you exist as a brand and you have something important to say.
A set of revolutionary ideas, raw but well-written content, that shows slices of life without filters will always draw people's attention. Pictures and words that trigger a sense of familiarity in users will always win.
That is why you should take your time when designing your social media campaign strategy to make sure you deliver content that meets their expectations.
The important thing about designing your marketing strategy is to keep it real. Do not exaggerate the outcomes you want to reach.
Otherwise you will be disappointed and consider that social media campaign a failed one.
Look at the data and see what you have accomplished so far, by checking analytics on all your social media platforms.
Develop a report, follow the patterns and try to learn more about your audience to see what makes their hearts twinkle.
The purpose of a social media campaign is to increase brand awareness, develop a loyal community, boost sales and track your evolution in time.
2. How to develop a social media campaign strategy
When designing a social media campaign strategy, among the first challenges that appear are finding a hard-working team, using social media as a business feature and increasing ROI.
The following step-by-step guide is meant to help lift the weight off your shoulders, offering you the structure for your future social media campaign strategy.
1. Establish your social media campaign goals
First things first! Grab a pen and some paper. I'm just kidding. Excel rules and no one knows how to handwrite.
When developing a marketing plan for a long-term or short-term campaign, you need to establish what goals you want to reach and what's your main focus.
If you coordinate a long-term social media campaign, then you can set bolder goals to attain. In case you plan a marketing campaign for the release of a new product, then you will see the results sooner.
While some brands want to generate more sales, others want to generate leads, increase traffic and grow their community. It's all about the way to shape your strategy.
2. Get to know your audience
You cannot attract new followers if you don't know what type of posts they like and what makes them engage.
Making assumptions about your community will not help you have a successful campaign.
You need to gather data about your audience and for this you should use a third-party analytics tool like Socialinsider.
This way, you will see what types of posts have higher engagement, higher reach, gather more interactions, what is the best posting time and in what industry they are interested in.
3. Find out more about your competition
While you are at it, analyzing your brand's performance using an analytics tool, you should as well develop a competitive analysis.
By using Socialinsider, you'll see it's a piece of cake to develop comparisons in Benchmarks.
You should look at what are your competitors' most popular posts, what engagement they have and how they increased their audience.
You should focus on putting your effort into social media platforms where your industry's community is underserved.
These are key metrics you need to assess, while also looking at their content. The content's quality can really be a game-changer. That is why you need to be creative, friendly and on-point with your content.
Besides performing an analytics review of your brand, you should also consider social listening. This process can really help you learn what are your community's priorities and expectations.
Via social listening, you will be able to build stronger connections with your audience, answering their queries and improving customer support.
4. Perform a social media audit
Once in a while, preferably every quarter or at the end of every year, it is imperative to develop a social media audit.
This will help you look at your brand's evolution on all social media platforms. A social media audit tool could come in handy, helping you find the answers for the most important questions.
Think about what is working and what needs improvement, on what social media platforms is your audience more active, and what's your competition doing. This way, you will know if your marketing campaign needs adjustments.
5. Pray for inspiration
When developing content for your social media campaigns, you are not always inspired. Inspiration is a process and you have to fuel it.
Take some steps back to see the bigger picture. Maybe this will help you come up with a useful idea for your social media campaign.
Inspiration is not a constant, but showing up is. As long as you work hard enough, the efforts will eventually pay off. Attentive research will help you put your mind at work.
Sometimes you need to search for inspiration and social media platforms are the best places to look. Scrolling through stories or posts can fuel your creativity.
6. Develop eye-candy content
Finally, when everything else is set into place, you can start writing content for your social media campaign.
Think about the right words and craft your texts. Then, you can schedule your posts depending on how long your campaign is going to take.
Keep in mind the fact that your content needs to correspond to your brand's mission and values.
Another important thing is to not post the same content on every social media platform. Edit your texts and accustom the images and videos to the appropriate sizes for every social channel.
7. Evaluate your campaign's performance and change your strategy if needed
After your social media campaign is over or after you are at least a few weeks into the campaign, assess your brand's performance metrics.
This way, you will see if your strategy worked. The most important social media metrics you have to look at are engagement, reach, impressions, followers' growth, gained followers and video views.
In case your metrics indicate lower values than before, maybe you should consider changing your social media campaign strategy.
3. 3 successful examples of social media campaigns
Starbucks - #PSL (Pumpkin Spice Latte)
We all know Starbucks and we probably all enjoyed at least one coffee from this coffee shop. Well, their marketing strategy is on point and we can all admit that they know how to sell their coffee.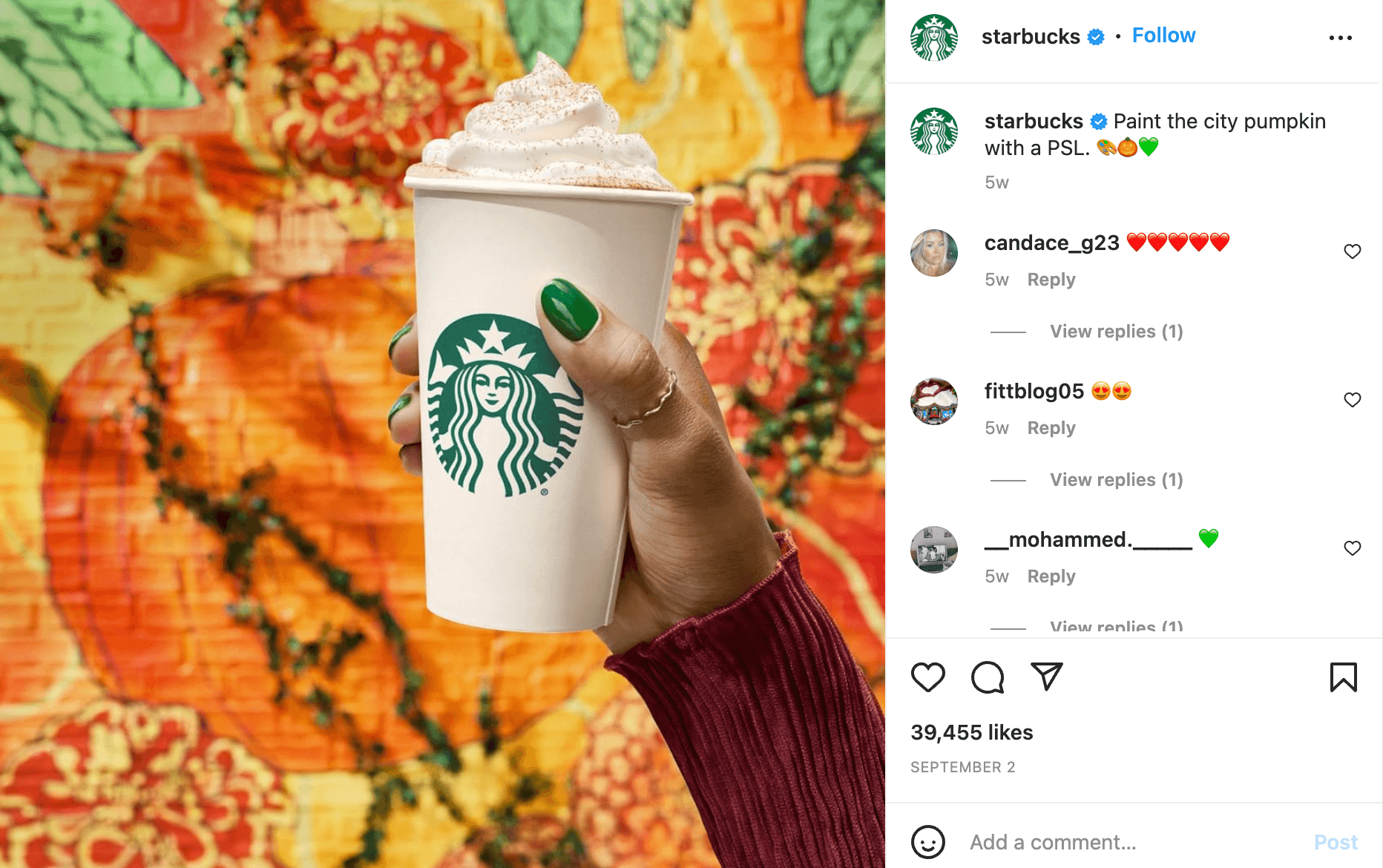 They have a designated campaign for every season of the year and when autumn hits, even before the first crisp leaves fall, it's Pumpkin Spice Latte all over again.
This fall drink appeared on Starbucks' menu starting in 2003. This beverage is now available in over 50 countries and generate more than $100 million in revenue every autumn.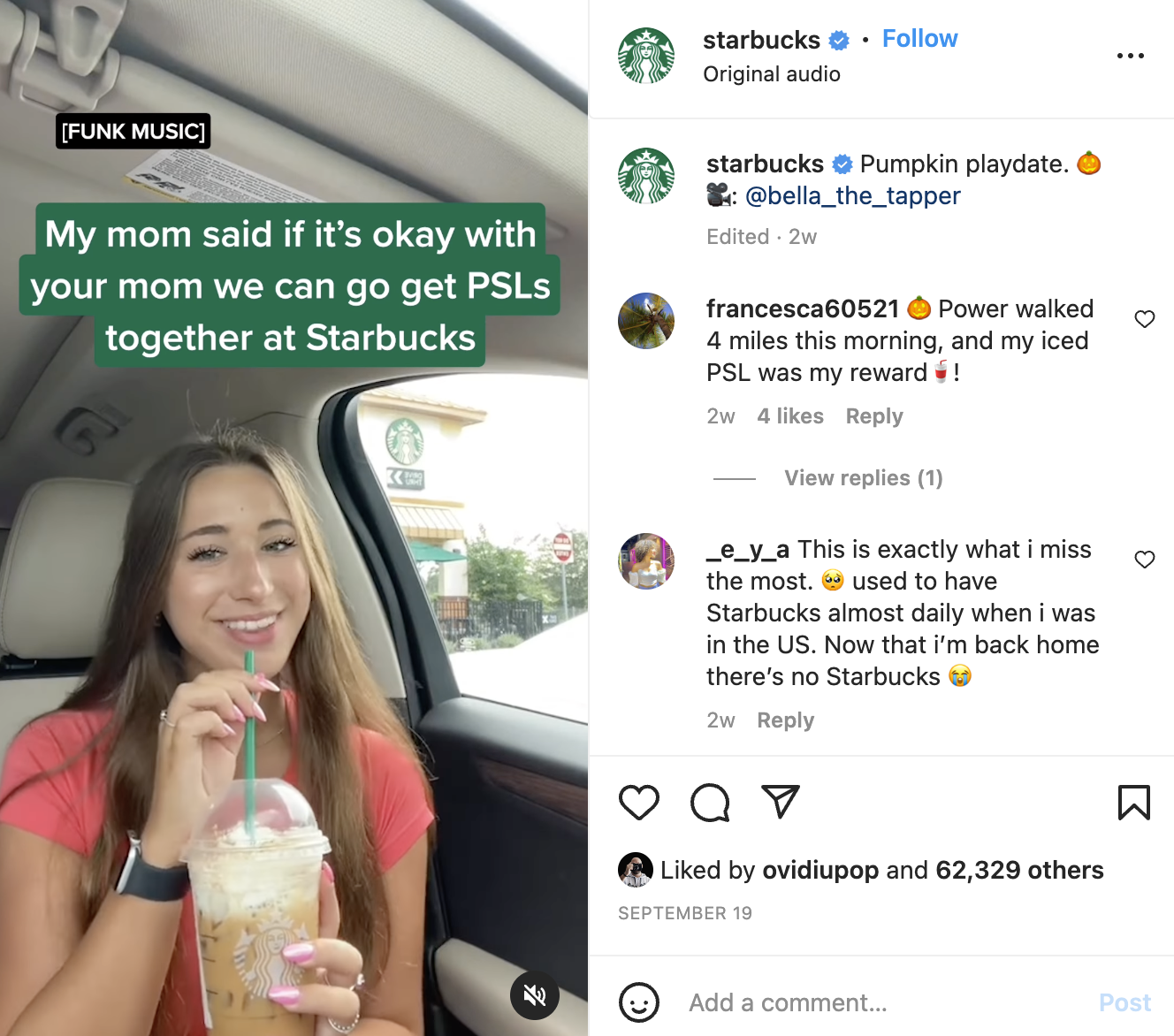 Their fall campaign is focused on offering customers a taste of the cool season coming.
The Pumpkin Spice Latte is just right for a windy autumn day, a sweater kind of weather. Since they rely on this, Starbucks also embraces all the customer-generated content.
Actually, they gain a lot of new customers due to really creative customer-generated content they take over from their clients.
Starbucks could brag about a really successful campaign when it comes to #PSL because all their customers tag them in their posts and use this hashtag.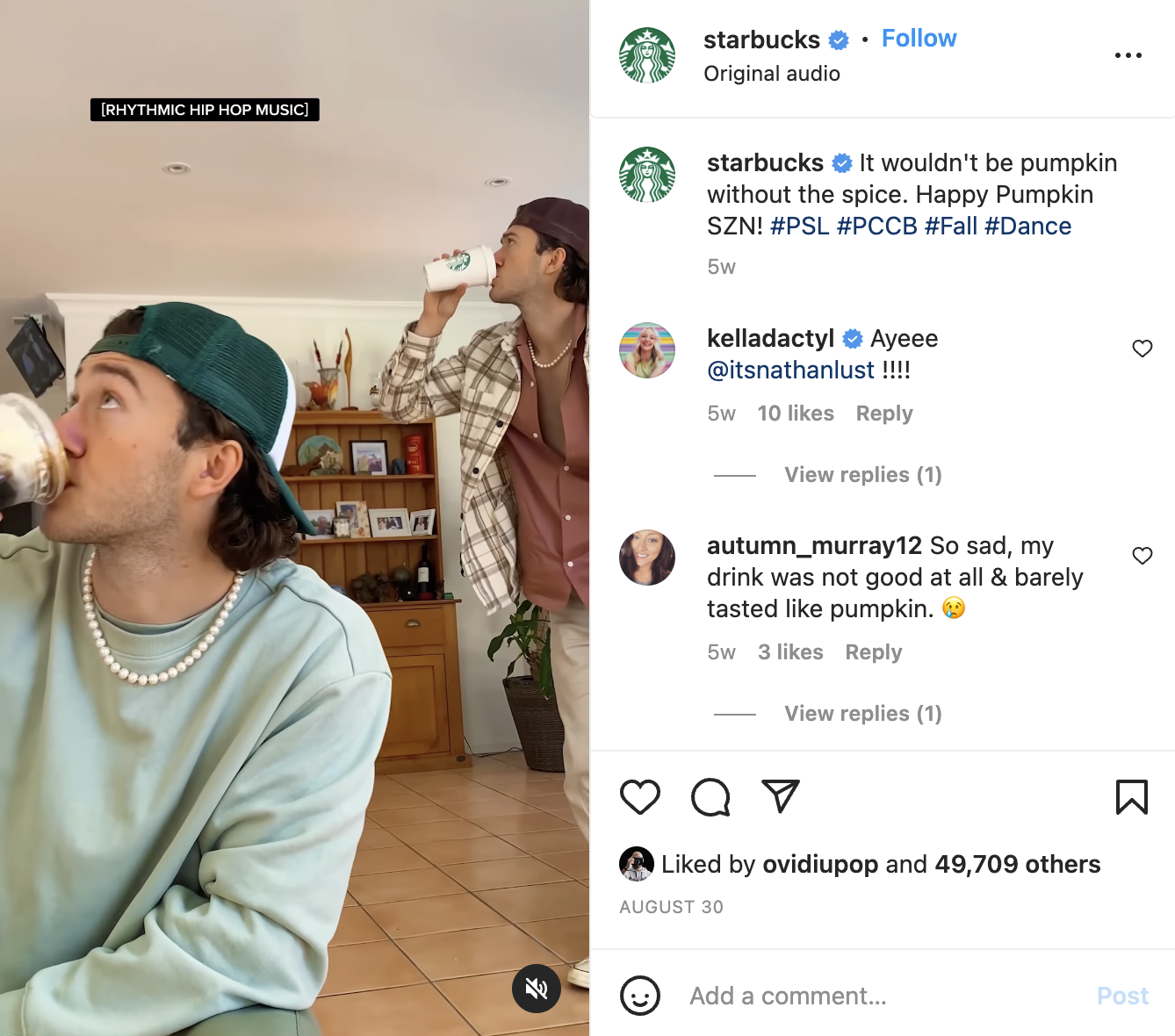 Customers have photographed and filmed themselves in so many creative ways that the brand could not resist posting their quality content.
From brides who couldn't get married without their Starbucks coffee to youngsters who became really enthusiastic about this drink.
Starbucks did not only empowered sales through this social media campaign, but they also increased their audience, and metrics like engagement, interactions and impressions from their followers.
For this fall campaign, a few Q&A's and posts with their baristas making coffee were enough to attract clients' attention. And this is how there appeared over 2 million posts with the #PSL hashtag.
Oreo - #oreoscope
Oreo has challenged users through their #oreoscope social media campaign which started in 2018. The main focus of this marketing campaign was to attract all those craving for sweets to transform their zodiac sign.
This way, they found out which is their favorite desert and what defines them as sweets' lovers.
Therefore, Oreo asked followers to interact with their Tweet by liking it. This way, they'd get an #oreoscope based on their personality analyzed due to their previous tweets. Pretty fun, right?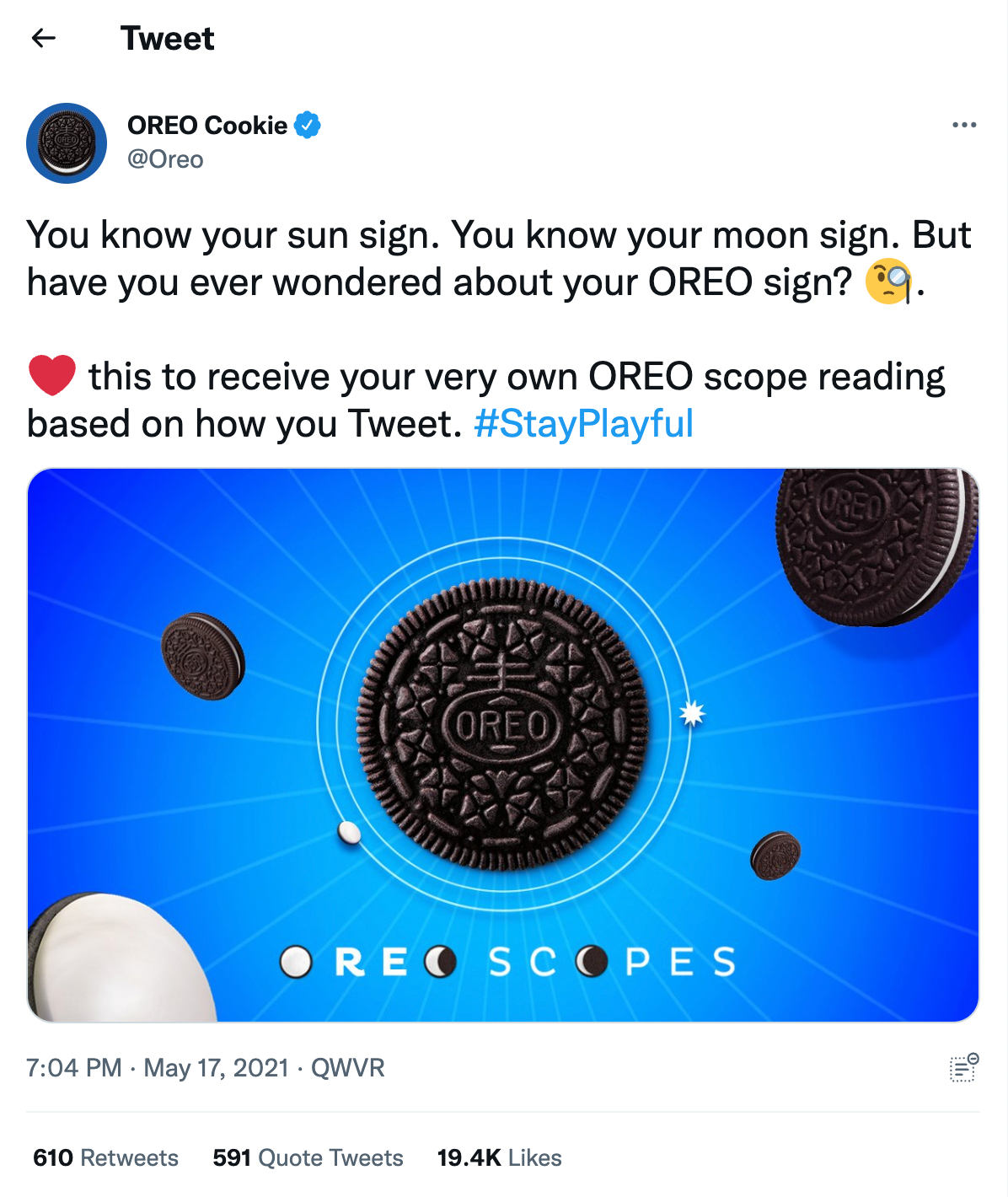 The #oreoscope was supposed to tell you what zodiac sign suits you based on your love for oreos and sweets.
This Twitter marketing campaign was a blast since it was something that people haven't seen before.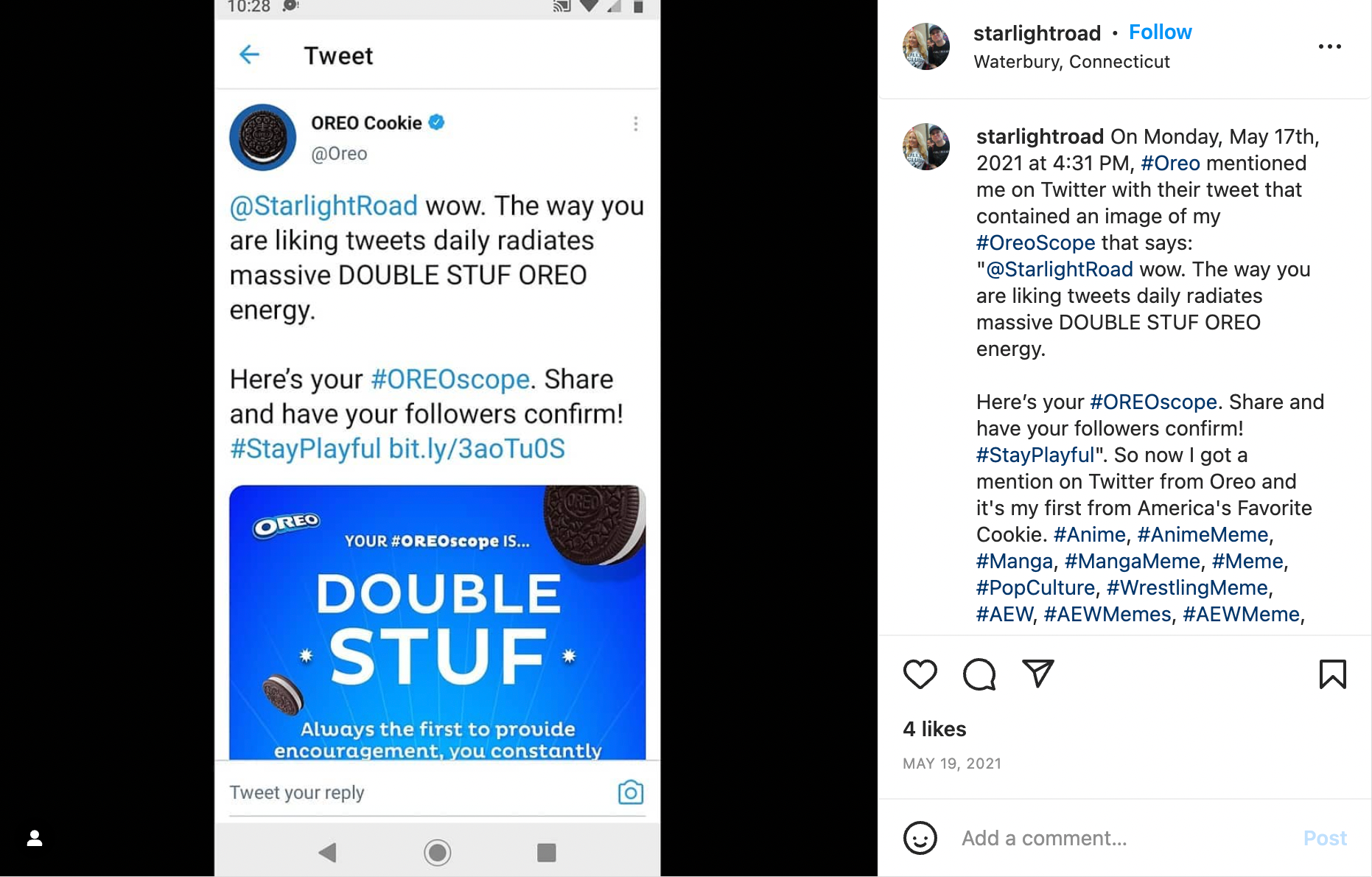 Therefore, it did not only help at growing their audience, but they determined them to engage more since everyone got personalized horoscopes.
The Oreo campaign #oreoscope gathered over 20.000 likes and people were thrilled by the idea.
This proves that the campaign was really effective, increasing brand awareness, engagement and followers' count.
Dove - #ReverseSelfie
Dove has a campaign that encourages women to give up on using filters and face apps, being proud of their #ReverseSelfieCampaign.
Using their products, women should feel empowered and more confident when it comes to their natural beauty.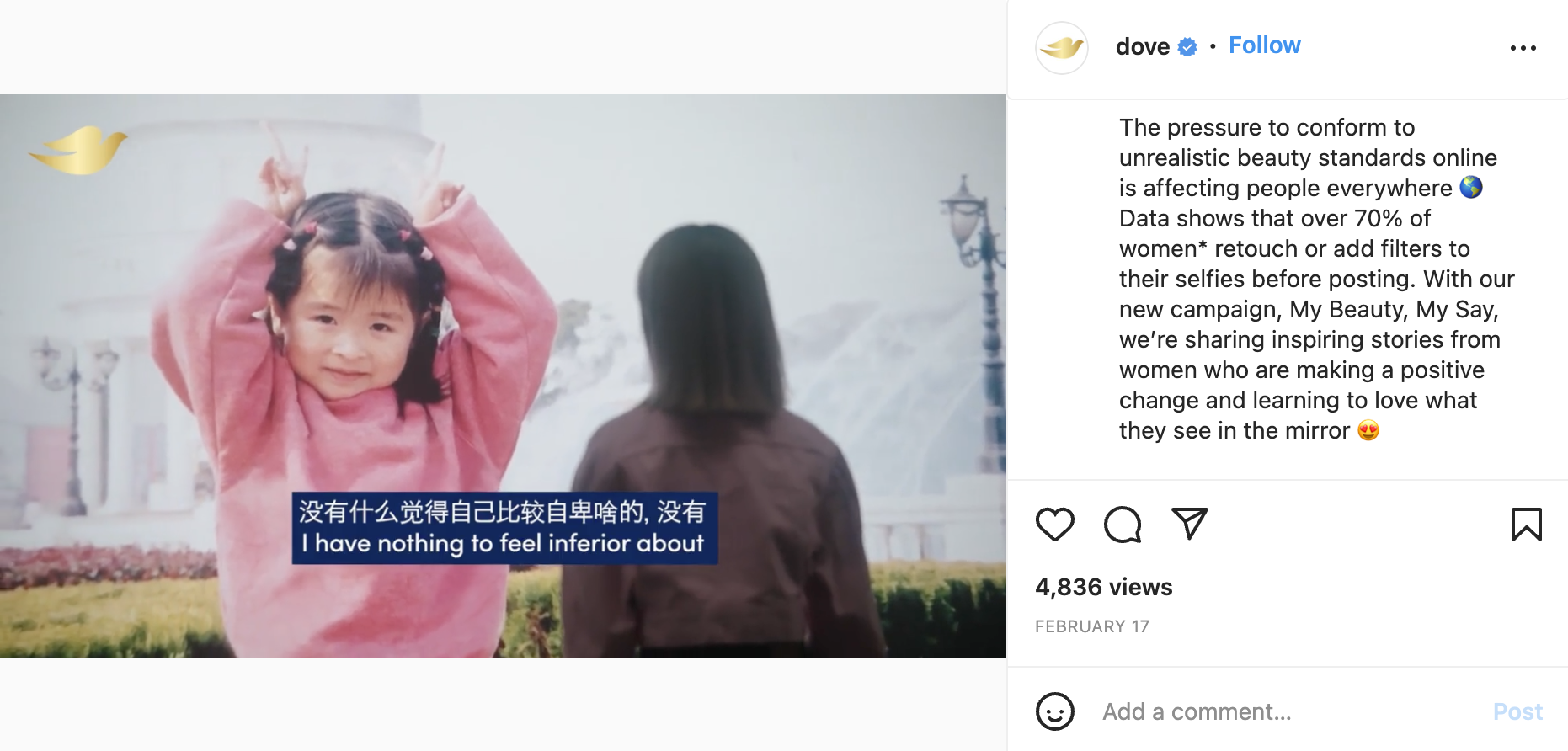 When little girls are inspired not to follow social media trends and instead be themselves, they grow into more confident women.
Dove highlighted that their goal is to determine little girls and women to feel more like themselves and forget about the society's unwritten rules related to beauty standards.
Beauty relies on healthy skin and Dove emphasized that this is one of their brand's values.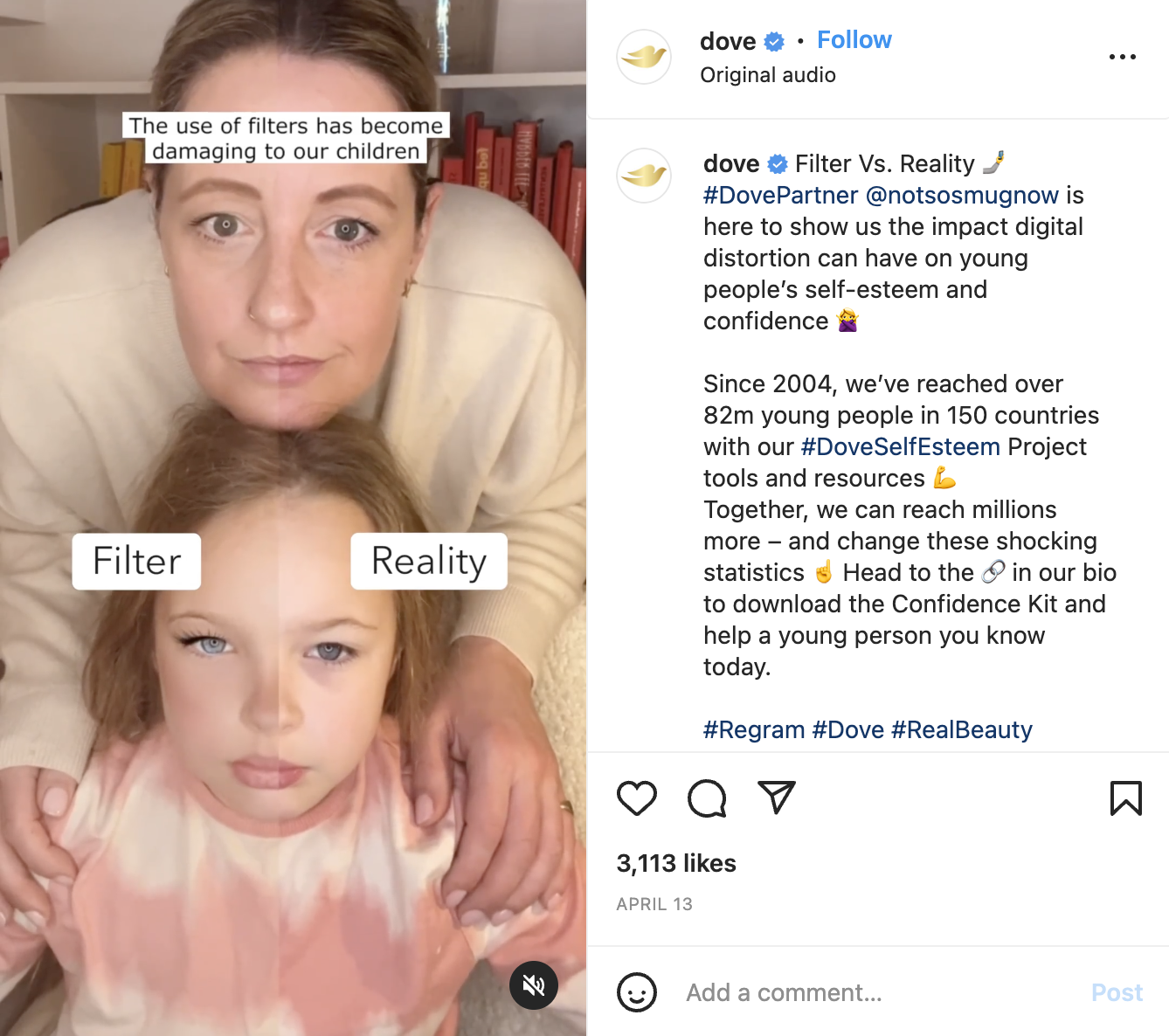 The company developed the social media campaign called Reverse Selfie Campaign to encourage women to forget about filters and features that make them look surreal.
They should expose their real selves in the pictures, being proud of how they look like.
This Dove campaign has helped the brand gain a lot of followers and even converted part of them into leads.
The study developed by Dove revealed that 85% of girls who post on social media have already edited their photos by the age of 13 and 25% of girls don't think they look good enough.
Some of the posts that performed better on their Instagram account were those with the hashtag #reverseselfie, getting over 200 k reactions from followers.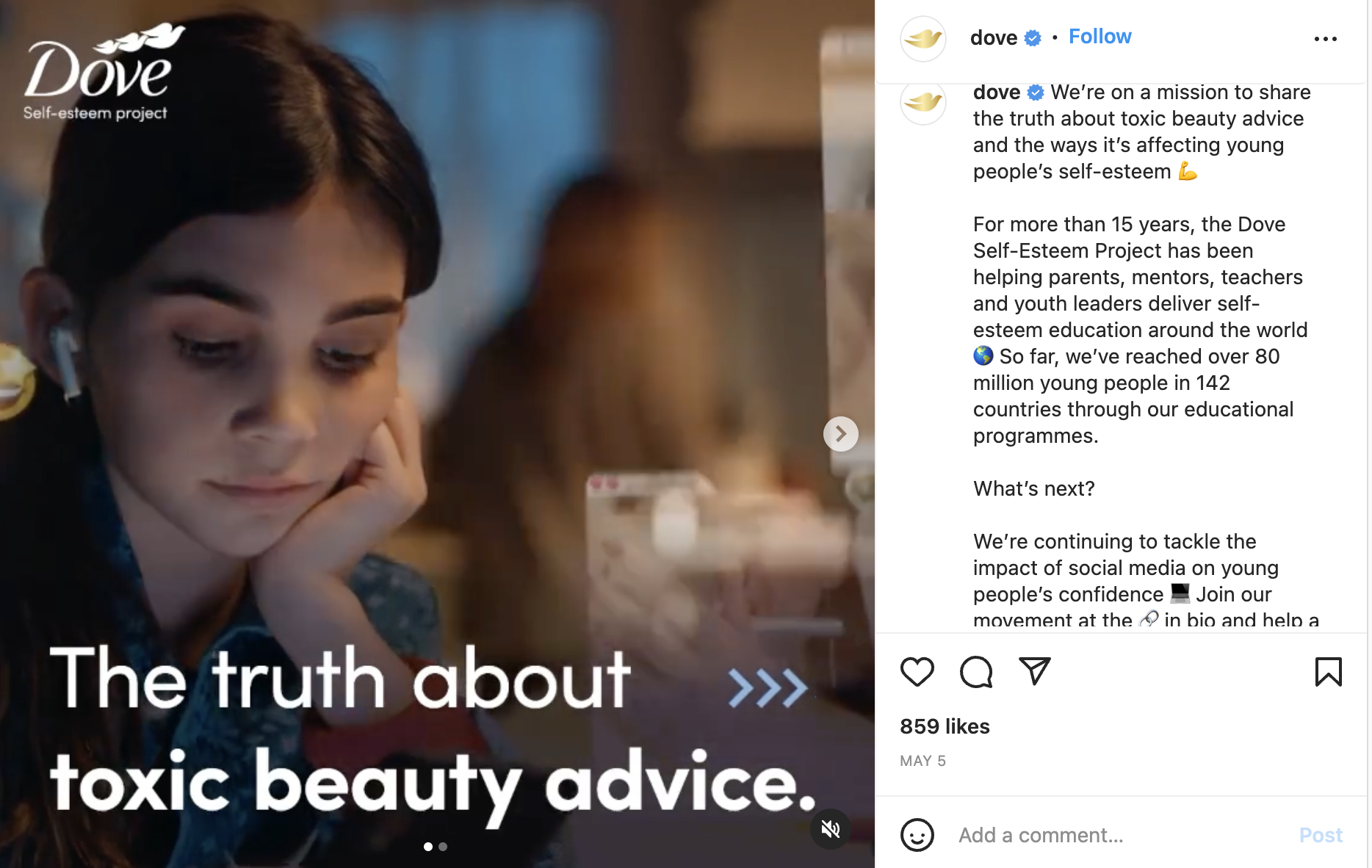 The engagement evolution increased, based on the analysis in Socialinsider. For the posts which are part of the social media campaign #ReverseSelfieCampaign, the impressions and interactions surpassed 1 million.
The content that performed better consists of photos, showing how real beauty and real skin should look like.
The beauty brand has increased brand awareness through its campaign, attracting more people who share their beliefs.
Final Thoughts
Hopefully these social media marketing campaigns inspire you to overlook your own strategy to make your brand stand out from the crowd.
Developing your social media campaign strategy can seem like a bumpy road, but if you are determined and ready to work on it, when you reach your destination, you'll have learned a lot.
You need a solid team and trustworthy people around you to design a social media campaign that could propel your business on the road to success.
The key to a successful social media campaign strategy is to practice what you preach and write quality content for your followers. This way, by being real, you will attract people drawn to the most important values in life.