In such a digitalized environment, where all the world's news is just one click away, be it on Facebook, LinkedIn, or why not, even Instagram, having a social media strategy is vital for all kinds of brands.
Let's not forget more and more consumers show us how strongly they are influenced by a brand's social media presence when making a purchasing decision.
Analyzing how big companies use social media campaigns to attract their customer's attention and loyalty is a strong starting point for every marketer.
How to develop a social media campaign strategy - 4 successful examples of initiatives
---
Get insights from your competitors (Pringles - #playwithpringles)
Ok, now's time for some roleplay. But don't let your mind fly too far, we're still talking about digital marketing here.
Let's say, for example, you're Doritos, one of the biggest producers of flavored tortilla chips, and you're thinking about running a campaign.
'Cuz the increased consumption of Netflix due to the pandemic must impact the market's demand on those munching goodies as well, right?
Now, before walking in the dark, until the idea of some successful social media campaigns pop in, you should scoop the perimeter a bit and ask yourself what are your competitors' approaches in these crazy times.
Let's be honest, wouldn't you be curious what major brands industry like Pringles would do? So, let's take a look at the angle taken by the company.
In the famous year of 2020, as a response and a bit of help in gathering people together for some fun after the lockdown and, through the social distancing scene, Pringles has launched #playwithpringles, a social media campaign massively oriented towards the digital native generation which exploded on TikTok.
Starting with the insight that people were already using the brand's cans in a lot of fun and creative ways, driven by the desire of creating a community and supporting conversations, they simply gave their audience what they wanted and needed.
The campaign's current iteration was called "What's your flavor?'' where the consumers were invited to dress up in their most glamorous one-color outfits to match their favorite flavored cans.

Partnering up with influencers to match the brand's personality, Pringles succeeded in reaching millions of people, therefore increasing their brand's awareness.
According to Mobile Marketing Magazine, the results were huge, giving the fact that it generated more than 279M videos from more than 343K user-generated entries, having an average engagement rate of 13%.
Therefore, it goes without saying why knowing your competitor's strategy before going to battle is crucial.
There's only so much attention a consumer can give to a brand, so when you come before them with the request of becoming your ambassadors, you have to choose wisely how you'll wrap it up.
Measure engagement by social channel (Apple - #shotoniphone)
We know, in such a crowded digital space, you have to be everywhere. Well, there's a yes, and there's a no to this, and each has its valuable arguments.
If you ask us, the correct answer would be: go where your audience is.
You may want to target new prospects, in which case, trying some new platforms is not wrong, but always keep in mind your business goals.
This would translate into: always prioritize those social channels and tactics that seem to give you more of what you need, be it social engagement or leads, which ultimately can turn into conversions.
Let's take a look at how Apple does it. We're pretty sure there must be some best practices to learn from the social media campaigns of one of the most successful brands in the world.
It's commonly known one of the iPhone's strongest points is the quality of its photos. This means a visual approach is vital when it comes to promoting this product. And if we're talking about visuals, what better platform to turn to, if not Instagram?
A few years ago, Apple launched what was supposed to be a regular user-generated campaign, meant to increase brand awareness and engagement, correlated with the launch of its newest iPhone at the time.
But eventually turned into one of the brand's most iconic initiatives, that is revived year after year.
We're talking about #shotoniphone. The brand's challenge for the community was to post all kinds of pictures taken with their iPhone's, while using the hashtag mentioned.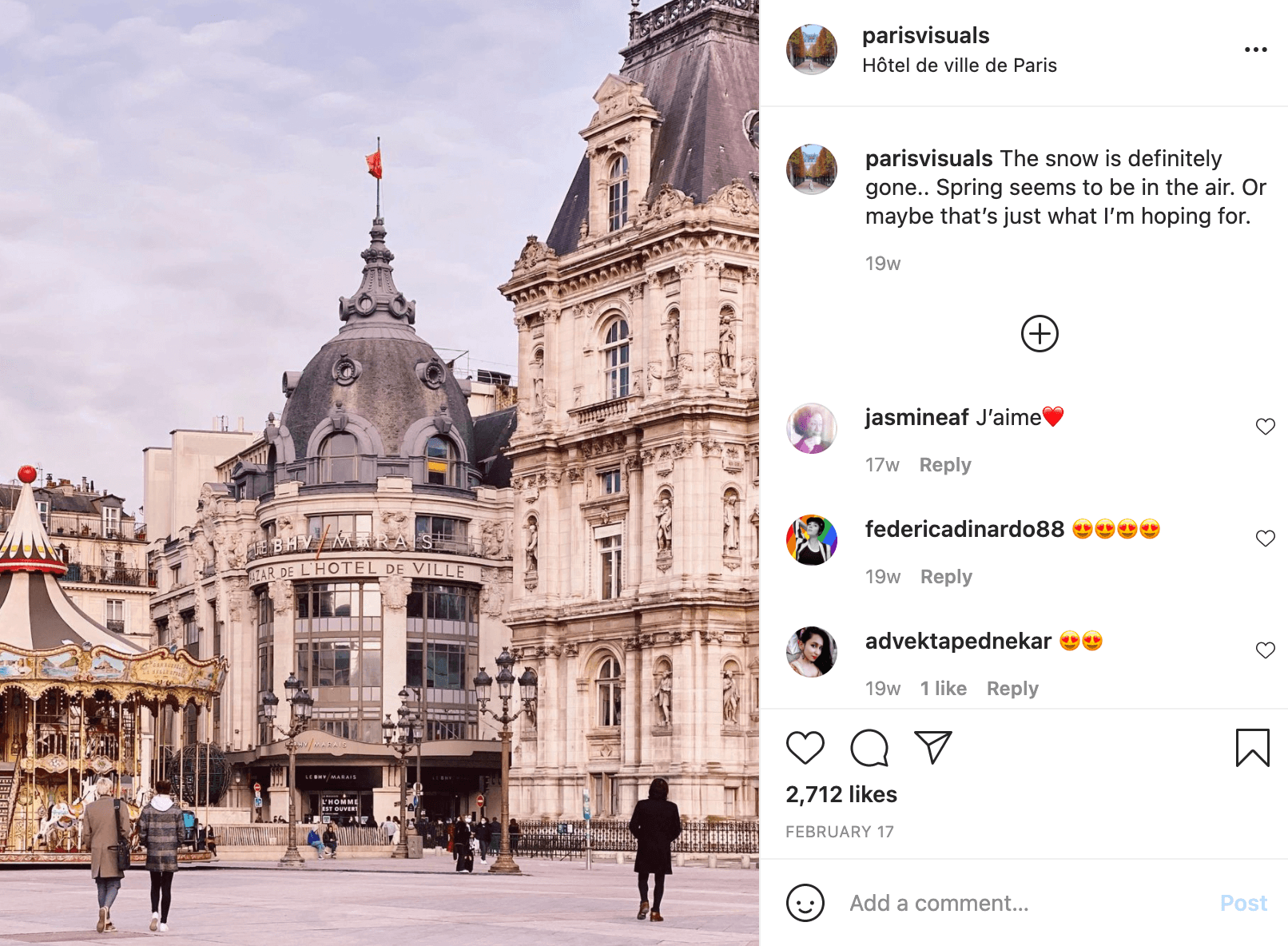 With this campaign, Apple intended to inspire, spark imagination, and creativity, which goes without saying that the brand does flawlessly.
This kind of approach has succeeded in showing its emotional side, to which people are attracted to more and more.
If we're talking about results, cuz' let's be honest, numbers are power when it comes to marketing, well, they went over the roof.
On Instagram alone, there are over 18 million posts including #shotoniphone.
Take a look here and enjoy the masterpieces created by Apple's winner selection for 2020's edition #nightmodechallenge.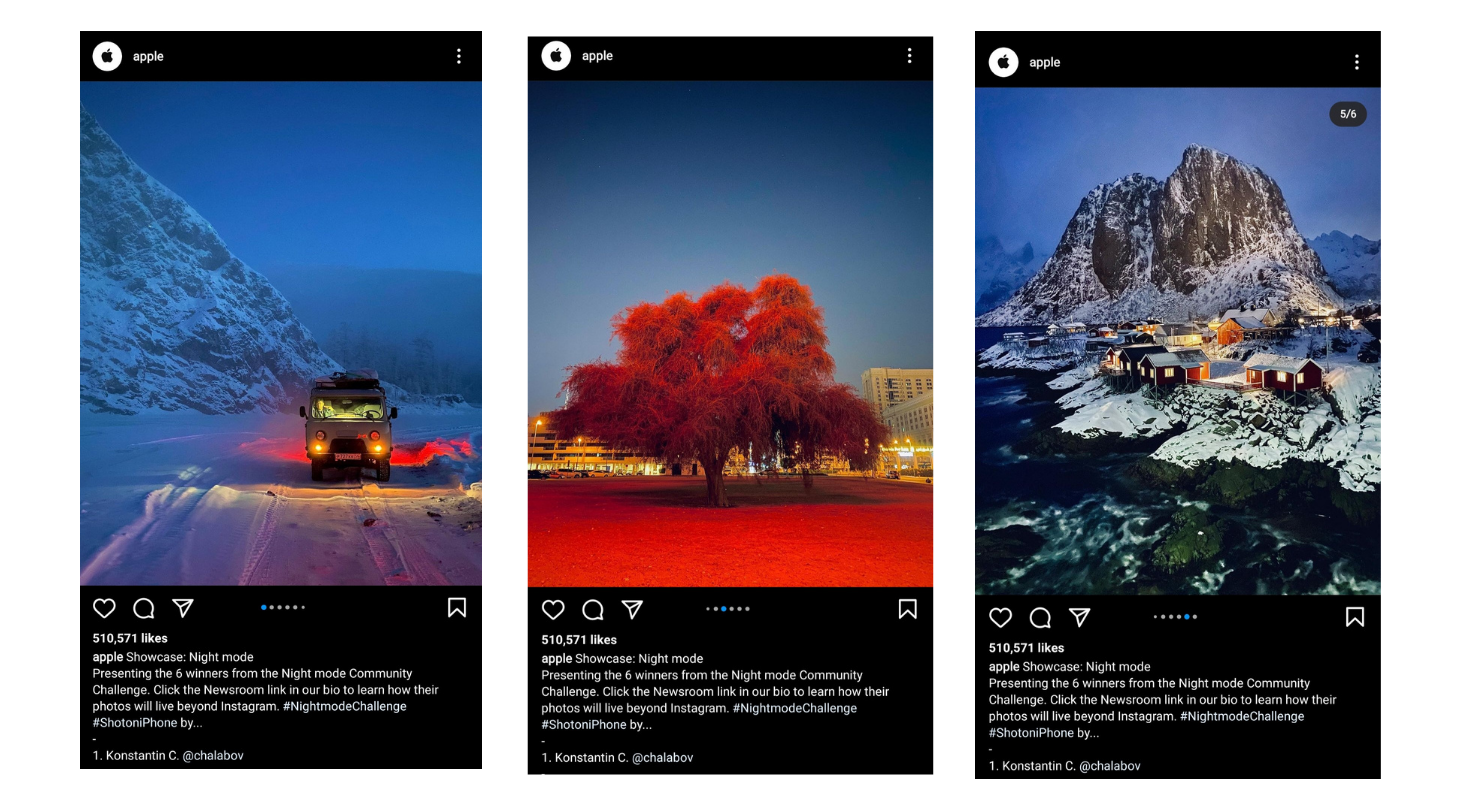 So, if you're wondering why you should measure engagement by social channel before developing a social media campaign strategy, we think the example above speaks for itself.
Compare your ongoing social media campaigns (Starbucks - "What's your name?")
Now that we've gone this far, a more in-depth analysis of your previous work should be the next step.
And remember, if you need a hand to help you out with social media campaign metrics, we always come to the rescue.
Anyway, if you've got a little tired after reading all this and started to think about having a cup of coffee, we understand and adapt accordingly.
So, without further introduction, we give you Starbucks, the massive coffeehouse chain.
By distancing themselves a bit from the classical, product-oriented type of advertisement, the brand went straight to their buyer's hearts with a socially meaningful movement.
#WhatsYourName was a social media campaign developed by the brand to support the LGBTQ+ community.
The central piece was a video released by the brand, on both TV and online, which presented the everyday's struggles of a transgender person.
Transitioning from one period to another in life, we have ,,James'', who through the most of the video is called by his birth name, ,,Jemma'', constantly being trapped in society's unbending patterns and conceptions.
Asked by the barista for writing it down the cup, he speaks out the name he identifies with, therefore finding his freedom and the power of being who he wants to be.
And so, Starbucks is turned into an open, warm, and truthful place where everyone will find a warmly welcome.
But wait, the campaign is much more than this, involving collaboration with Mermaids, a charity supporting the young transgender community.
Through launching and selling a limited edition of Mermaid-cookies, the brand has redirected a percentage of the profit to the NGO.
We decided to focus more on the online approach because the very insight that inspired the movement started online, based on discussions from the transgender community.
Furthermore, let's talk numbers a bit. In 2020 #whatsyourname on Instagram alone had a 600K engagement and an average post per day of 2.7.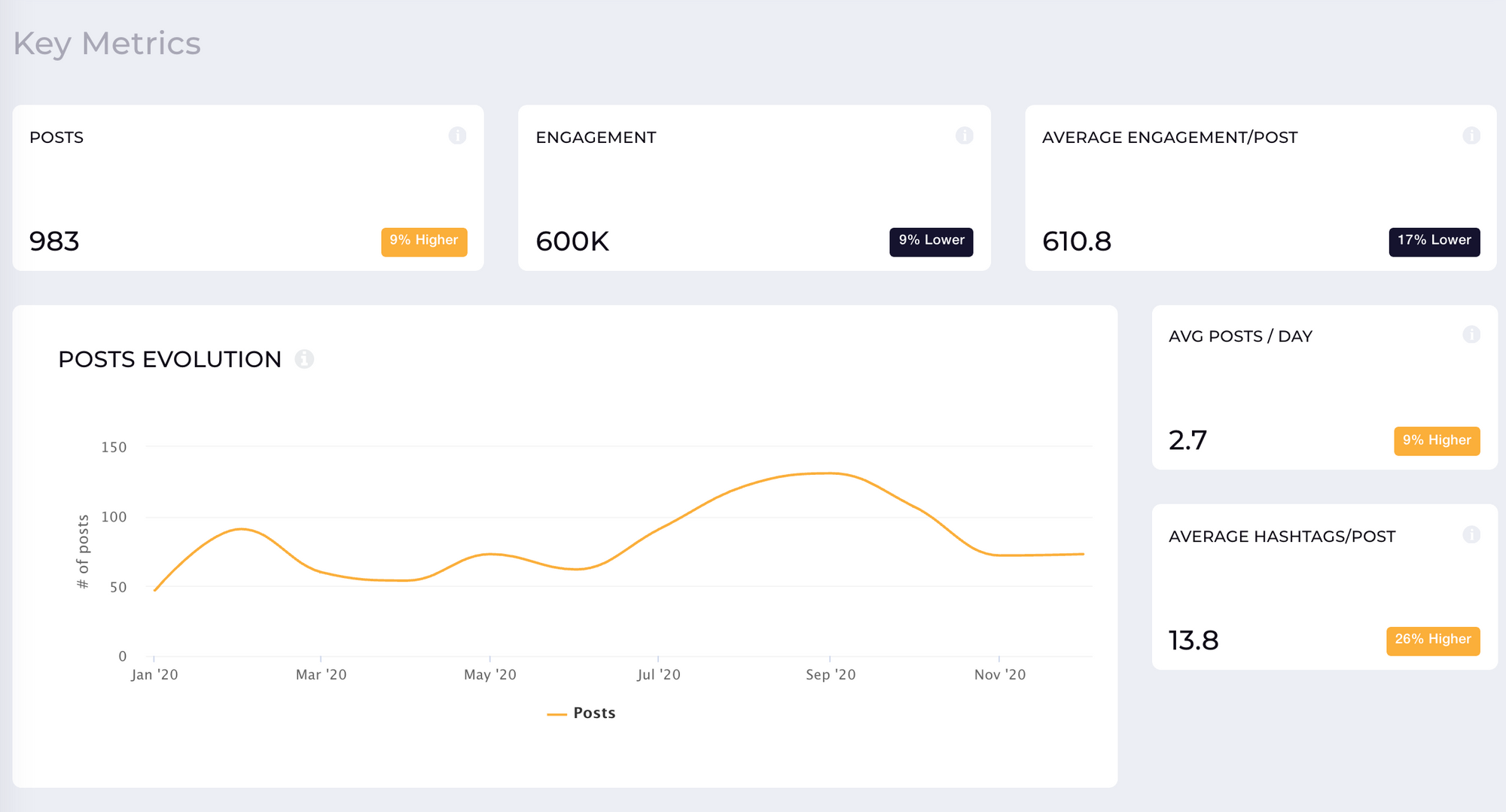 Now, let's get down to business and compare what we have with another successful social media campaign strategy signed by Starbucks.
April 2017 was the marked by the #unicornfrappucino. Available for only one week, the product gained massive popularity, again on the almighty platform of visual content - Instagram.
By creating a bit of FOMO and designing a product that is Instagramable-to-the-moon-and-back, Starbucks relied on the power of the people to spread the word. And it seems it was a smoking gun.
Going back to numbers, the overview of the hashtag on Instagram for the timeframe of April 2017 is composed of data with values like: 1499 posts, 131K engagement, and average post per day of 50.0.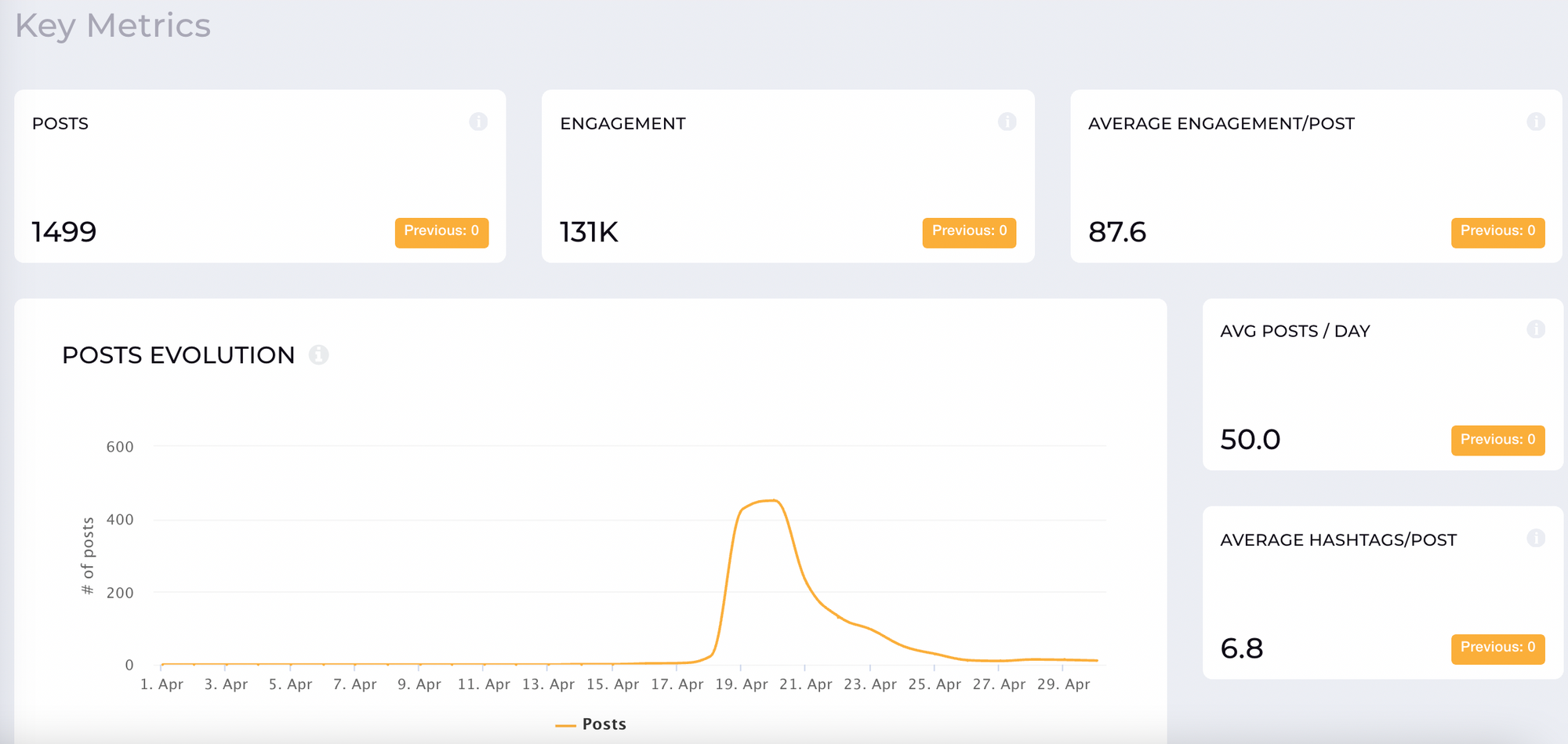 See where are we going with this? Learning from your previous social media campaigns gives you powerful insights for improving your next ones.
Seeing how shareable your messages are and how people respond to your presentation is a long but rewarding road to success.
Track your influencer's campaign (P&G - #distancedance)
Well, we decided to end this article with something that seems to be one of many marketer's favorite subjects nowadays: influencer marketing.
With this still being a hot topic in the industry, without further introductions, we present you a campaign that P&G succeeded to rock with.
In 2020, during the lockdown caused by the spread of COVID19, we saw a lot of dance challenges on TikTok, the newest rising social media platform, in which people tried, one way or another, to still stay connected and have fun.
Having the context and having the way, all that was left was to find the perfect execution for a successful social media campaign. Which the brand did by partnering up with Charlie D'amelio, one of TikTok's most-followed creators in the world.
To encourage people to stay home and stay safe, P&G, in collaboration with the influencer, launched the #distancedance challenge. In case you're wondering, we talk about TikTok, of course.
Needless to say, it was a major hit, in its first week reaching over 8 billion views and more than 1.9 million dances from people all around the globe according to PR Week.
The initiative raised many donations for Feeding America and Mathew 25, organizations that fight for supporting people who were massively affected by the pandemic, with P&G alone promising to donate for the first three million views.
Now, by looking at these numbers, if you were in P&G's shoes, wouldn't you want to be able to keep track of your influencer's campaign as well?
And the good news is that whenever you need to, there are plenty of analytics tools out there to help you be on top of that. The very numbers we provided for you were measured using Socialinsider.
Final thoughts
We presented and analyzed some successful social media campaigns meant to inspire and give you some best practices examples. Still, keep in mind your actions must sync to your brand personality and business goals.
Our advice is to always try to be as authentic as possible and stay true to your identity and customers. Besides that, the sky's the limit!
Related articles: