New to Facebook analytics? Or maybe you've started using it but haven't yet unlocked its full potential?
Consider this: Facebook analytics will change the way you do business. Understanding key insights is essential for every marketing strategy.
Today, we're going to go over the main advantages of using Facebook analytics, the best Facebook analytics tools to track your performance, and the most important Facebook metrics to keep an eye on.
Facebook analytics explained
1. Discover the advantages of Facebook analytics
With close to 3 billion active users as of Q4 of 2022, Facebook remains a giant of social media platforms, according to Statista.
Despite the disappearance of its free Facebook Analytics tool, the platform still manages to offer many other ways to collect valuable information.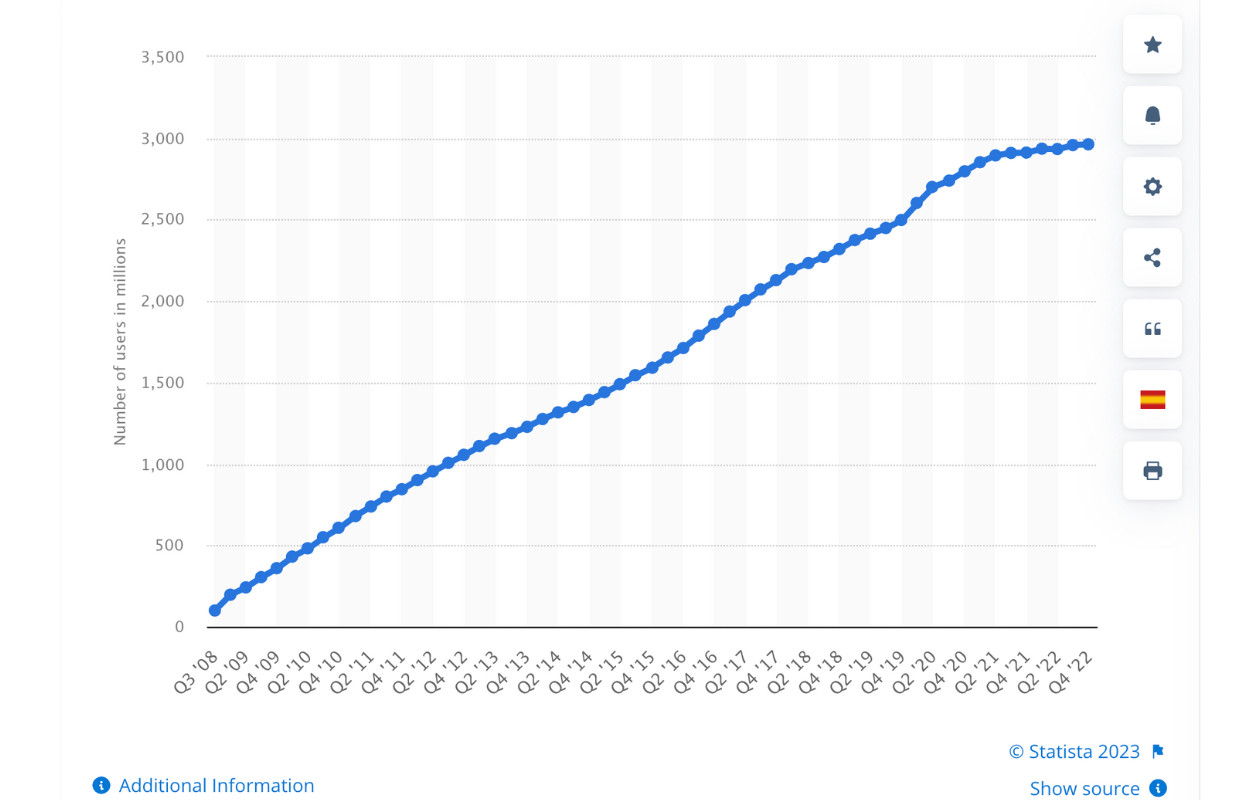 Through an in-depth Facebook analysis, you'll get key information that will help you improve your ROI by learning when, how, and why people engage with your content.
Tracking users' interaction with a brand on Facebook can provide many benefits. Below are some of the key advantages you'll get from Facebook analytics data:
Discover new ways to reach more loyal customers
Optimize conversions in new markets
Filter audiences to create targeted marketing or reach more people
Identify behaviors that drive retention
Track audience drop-off
Improve conversions
Maximize ROI
All of the above represent important insights that you'll gain through Facebook business analytics. Based on these, you can refine your social media marketing strategy to set it on the path to success.

Now that we've explored the benefits, let's see what Facebook analytics tools options there are on the market.
2. Choose the best Facebook analytics tools
With Facebook Analytics gone, Facebook encouraged its business page admins to use Meta Business Suite.
It is a multi-tool platform that allows marketers to manage their Facebook and Instagram pages at once and includes messaging, advertising, scheduling, and analytics.
To access the most important analytics data inside Meta Business Suite's analytics tool, you need to go to Insights, a dedicated space for metrics related to your audience and content.
The Insights tool is split into four key dashboards:
Overview - a one-page summary of all your Facebook profile analytics, such as page reach and page likes
Results - it shows you your page's reach over the course of each week
Content - it shows you how your posts performed
Audience - it gives you demographics of your current and potential audiences
Benchmarking - it shows you how you stack against your competition
Video - it offers an overview of your videos' performance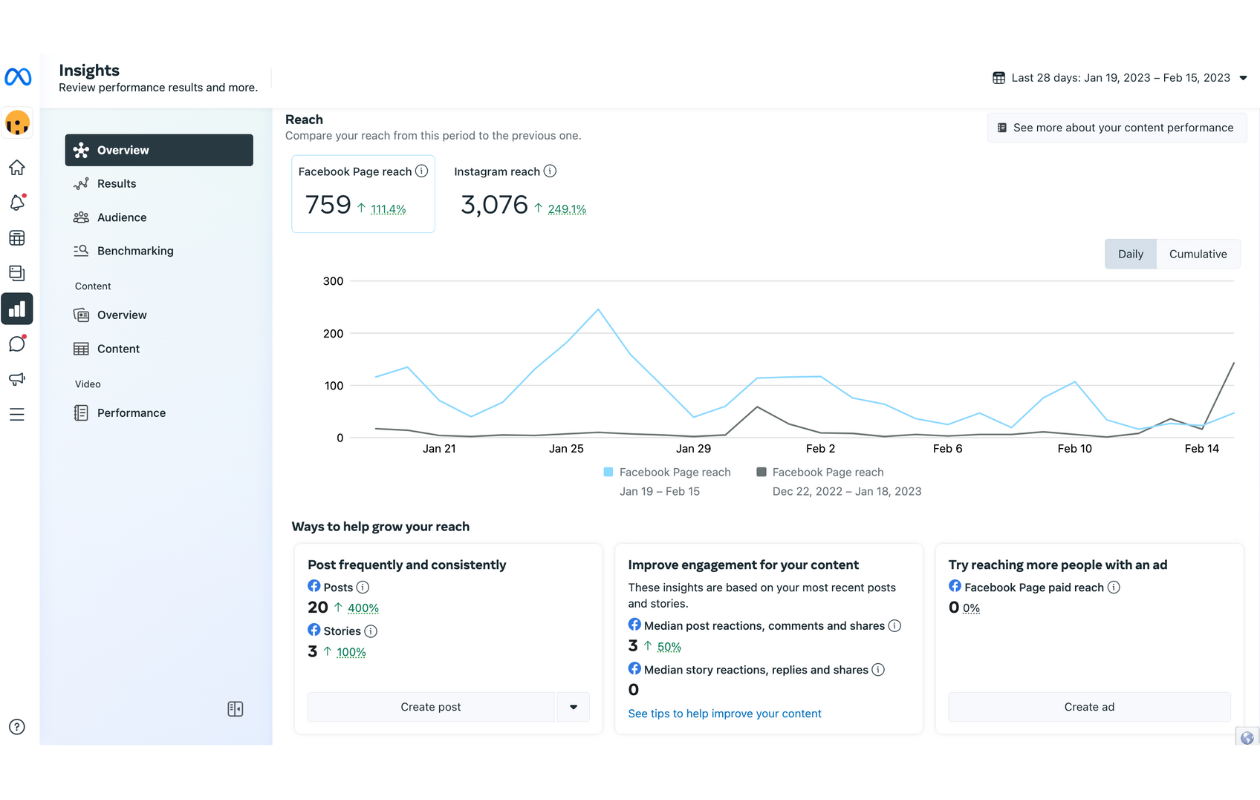 Socialinsider is a social media analytics tool that offers you a complete picture of your social media efforts across multiple platforms. It's also a great tool for performing an in-depth Facebook data analysis.
With Socialinsider, you can measure the performance of your Facebook account and track all the meaningful metrics, like engagement rate, reach, impressions, followers' growth, posts evolution, demographics, and much more.
Moreover, you can improve your Facebook strategies by comparing and benchmarking against top competitors, influencers, and top players from your industry.
This not only helps you save a lot of time but it simplifies your Facebook advanced analytics research and reporting work.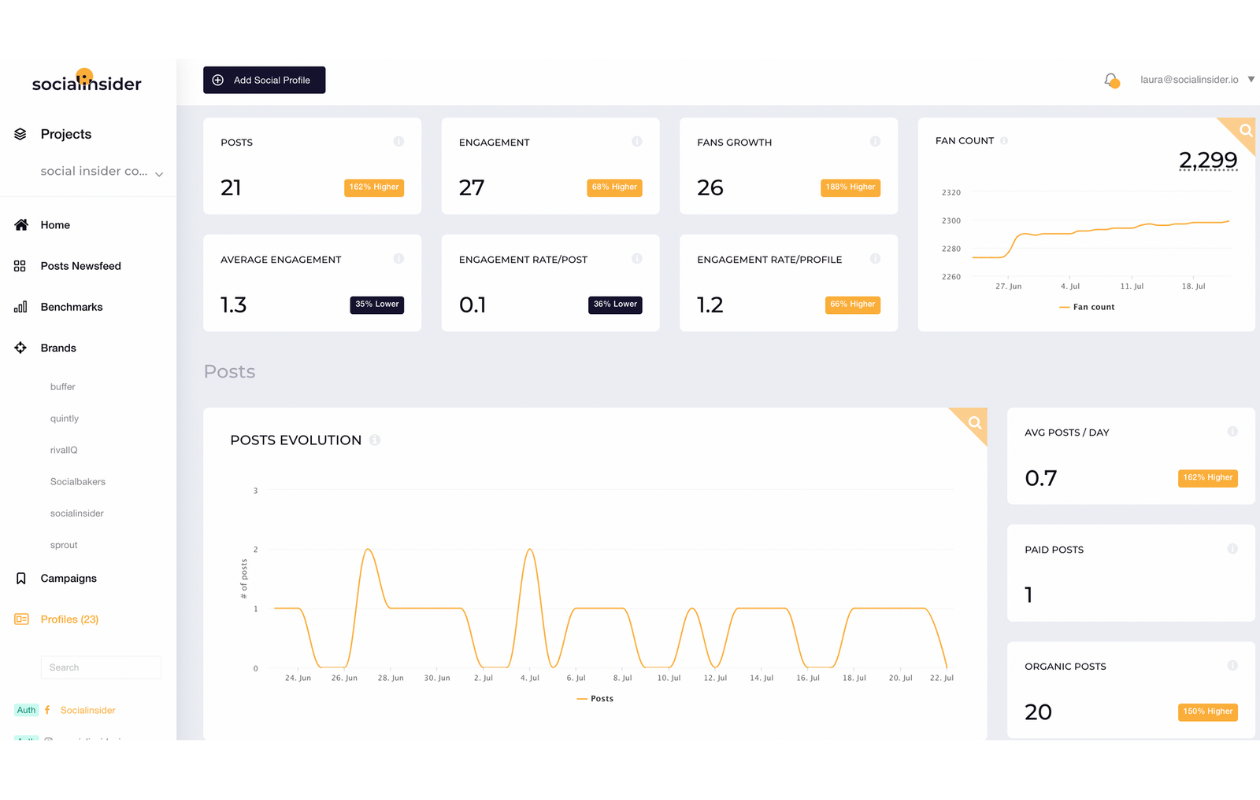 Using Socialinsider, you can:
Get all the Facebook analytics data in one single dashboard
Understand your Facebook's reach and engagement
Create Facebook benchmarks and compare with top competitors
Understand your videos' performance
Download Facebook analytics reports as in .xls, .ppt or .pdf formats
3. Key Facebook Analytics Metrics to Track
There are tons of ways people interact with a brand online: they might be visiting your page, watching a Live video, or clicking on an ad.
Understanding Facebook analytics helps you see the bigger picture and measure your performance properly.
This section outlines five different categories and key Facebook metrics every marketer should be tracking.
3.1. Facebook Page Analytics
Developing a marketing strategy that is bound to bring amazing results for your brand on the first try might be challenging, but not impossible.
If you know exactly what Facebook page analytics to track, you will be able to come up with a plan that will help you ace your game.
A series of Facebook analytics metrics will help you learn what changes you need to make to your profile to build brand recognition.
One of your main goals, through all your social media marketing, should be to convince people your products and services are exactly what they are looking for.
By marketing your products or services with a top-notch strategy, your audience will have higher expectations when looking at your content, hoping you practice what you preach.
Here are the most important Facebook Page analytics you should keep an eye on:
Engagement
Engagement is the go-to metric when it comes to tracking your users' active involvement and finding ways to nurture a loyal community.
Your engagement represents the total number of interactions your posts receive, including likes, comments and shares.
However, to have a deeper understanding of how much of your followers actually engage with your content, you can take a look at the engagement rate.
To calculate the average engagement rate per post by followers you need the sum of interactions, comments and shares divided by the number of posts, then all divided by the number of followers and multiplied by 100.
Tip: To have a peek at the average Facebook engagement rate for your niche and better understand your brand's performance, you can check out Socialinsider's free social media industry reports!
The key to doing Facebook marketing right is to constantly monitor what happens with your content, aka checking your analytics on Facebook.
This way, you will know what you need to improve about your strategy to attract more people who are interested in your niche.
If you want to gain competitive advantage, you could look at your competitors' engagement rate and best performing posts to obtain some strategic insights.
Reach
Another key Facebook metric to monitor is reach - a Facebook metric that helps you build brand recognition.
By looking at this social media metric, you will learn more about how many people see your content in their news feed.
Reach accounts for the total number of views your Facebook posts gather from all the users (unique users) that scroll past your content in their timeline.
Your posts can appear in people's newsfeed, even if they don't already follow your page.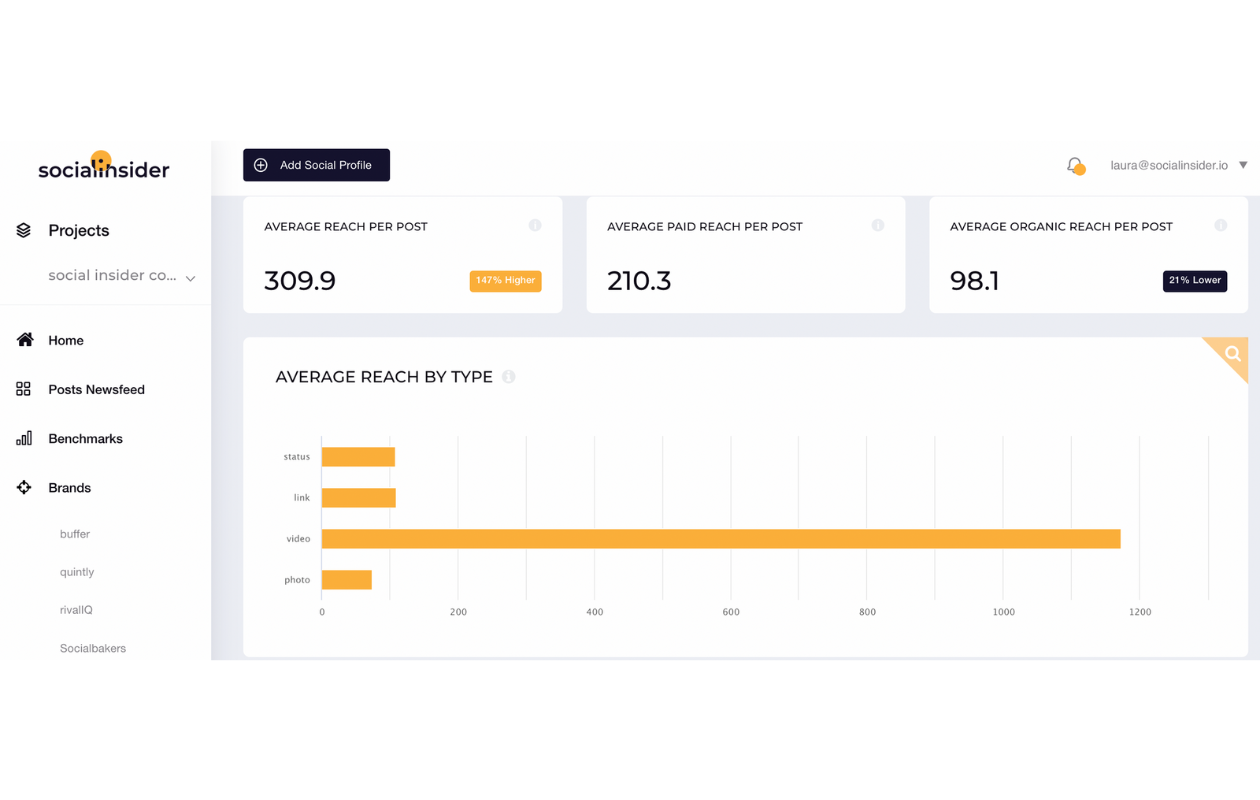 Whenever you want to boost the exposure you get beyond the limit of your organic reach, you can start experimenting with some ads.
They will push your content into more users' timelines, increasing your brand awareness.
When adjusting your current ads, you should rely on the insights gained from your Facebook analytics.
Regardless if you're doing paid Facebook marketing or not, your focus should always be on quality and informative content and creative visuals.

Impressions
Impressions account for the total number of times a user has seen your posts, counting multiple views from the same users.
This Facebook analytics metric is one to keep an eye on because it shows if your content strategy is efficient at increasing your brand awareness.
When your posts have been seen by a large number of people, it means they are good at stirring interest.
Facebook offers you an Insight button where you can discover plenty of other useful Facebook KPIs, but you're better off using a tool with a unified Facebook analytics dashboard, like Socialinsider.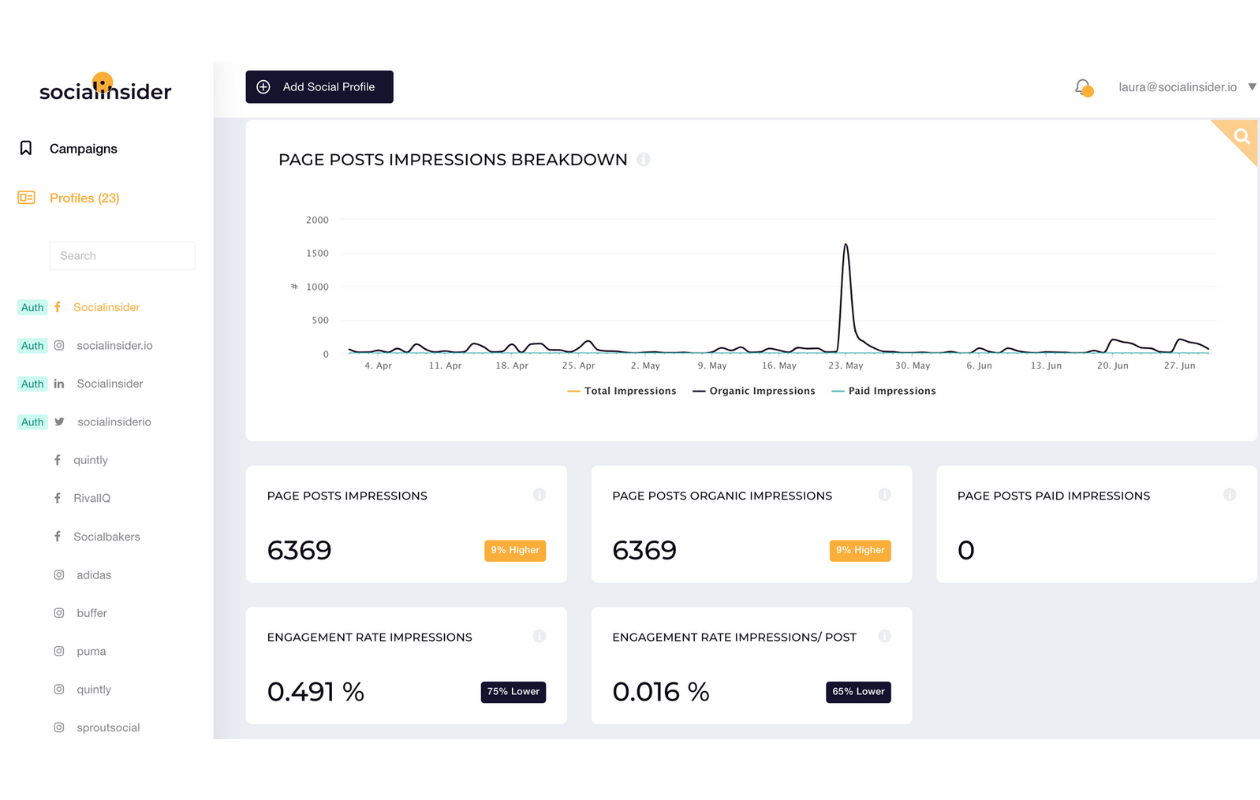 Page views
Another Facebook metric to keep in check is page views. Page views are the total number of views on your brand's Facebook Page.
There are many different ways in which users can land on your page. Some may search for your brand using the Facebook search bar after they've heard about it when talking with their friends.
Others may click on one of your ads and reach directly on your brand's Facebook page.
One thing to keep in mind is that your page can also be found and viewed by non-Facebook users. In these particular situations, users have to know about your brand first and search for your Facebook page in a browser.
Make sure you reach the right audience segment for your brand - that is likely to transform into prospective clients, when analyzing the Facebook page views KPI.

Fans growth
Building a community on a social media network can be somewhat of a challenge but also very rewarding. Challenges are the ones that make you step out of your comfort zone and help you become more creative.
Developing a brand and a name that relies on a series of values and ideas is tough in a world where you cannot claim the invention of the wheel.
Everything has been already said and shared by someone else as you were thinking it.
That is why you have to come up with a clever way of explaining your brand's philosophy without making it sound like all the rest.
To grow your brand means to grow your metrics on all social media pages so that everyone knows who you are and what you are good at. Fans growth also reflects the effectiveness of your content.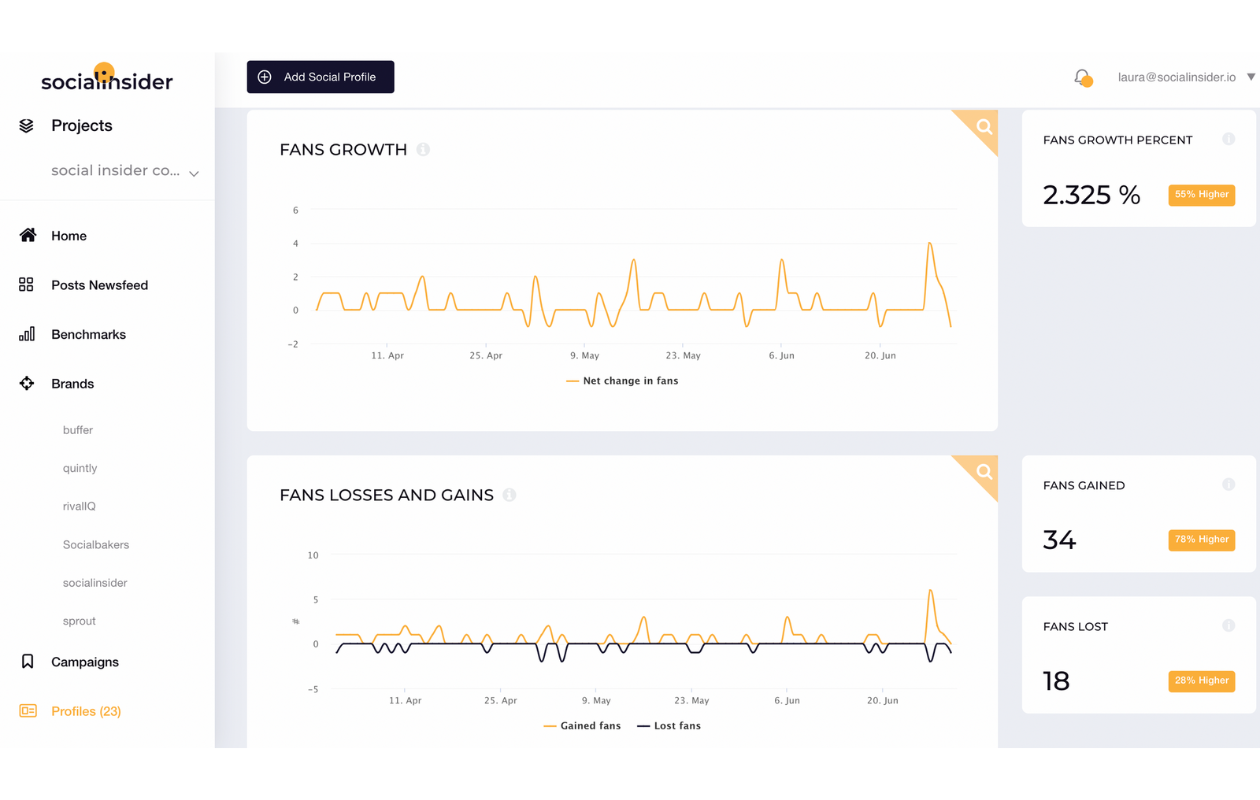 A higher engagement rate, more impressions, a loyal community and a reach that goes over the top surely reflect the growth of your brand in a determined period of time.
Increasing your Facebook community requires creativity, patience and a lot of work. Your page growth rate can be increased by using some simple tricks.
The Facebook metric fans growth, on the other hand, is a vanity metric that can be easily calculated using a Facebook analytics tool such as Socialinsider. This way, you will be able to keep an eye on the number of fans your Facebook page gathers.
As you convince more people that your brand is worthy, you will notice fans growth reach new highs.
Best posting time
Like any other social media platform, when it comes to posting times, you need to make sure your fans and followers are around, already scrolling through their feed when your post comes up.
Best posting time is an important Facebook analytics insight.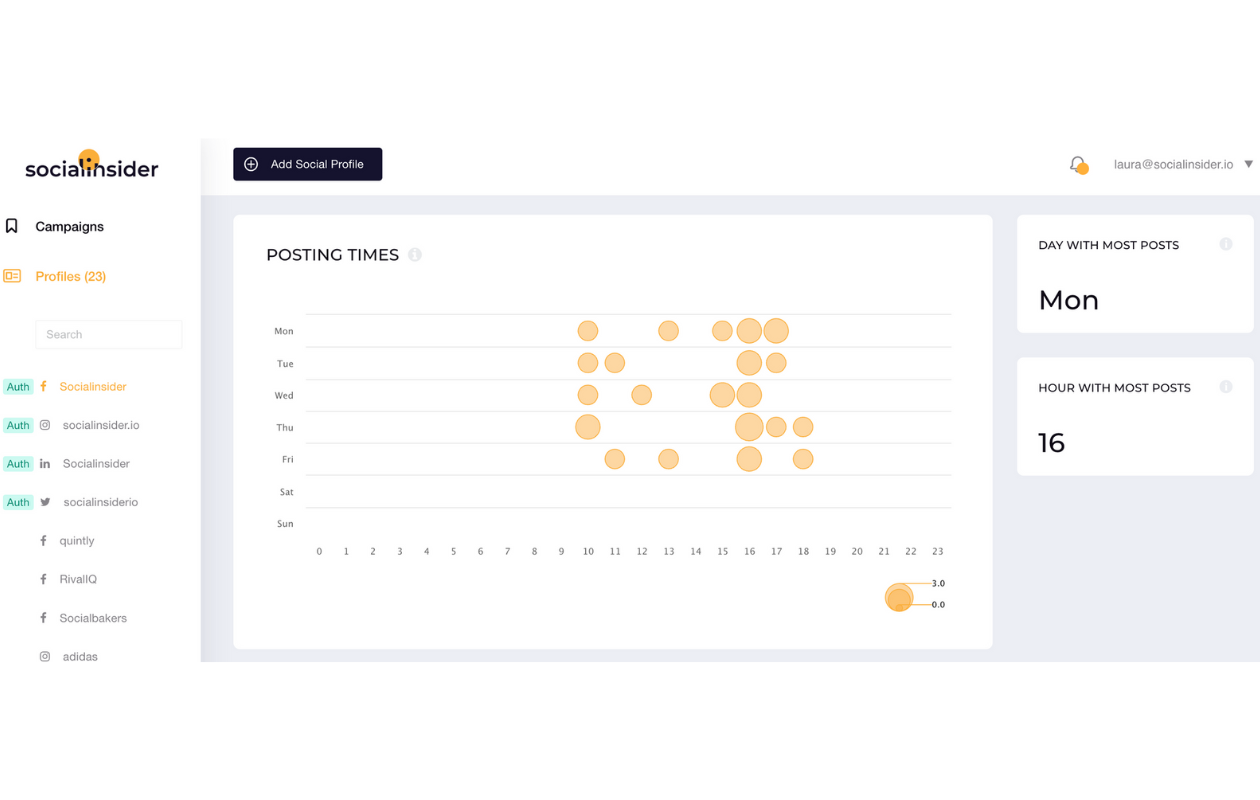 Since your content already needs to make the difference in order to stop users from scrolling and interacting with your posts, you should at least give it a head start by posting at optimal hours.
While the overall best time to post on Facebook is somewhere around 10.00 a.m. and 06.00 p.m, testing and improving your posting hour according to the results you get is mandatory.

Generally, posting in the afternoon will bring more post views while also increasing the number of impressions, but this rule is not set in stone.
To make sure your followers will like, comment and share your Facebook posts, you have to find out what's the best posting time on Facebook for your brand, niche and industry.
Post types
When examining your Facebook analytics, it's extremely important to find out which type of post is performing best.
Measure the engagement and reach of your posts to see what best clicks for your audience and adapt your content based on data.
To access more post insights, you could also use a third-party analytics tool. Socialinsider is a great idea if you need to check more metrics in one single dashboard and download a data-rich, presentation-ready report.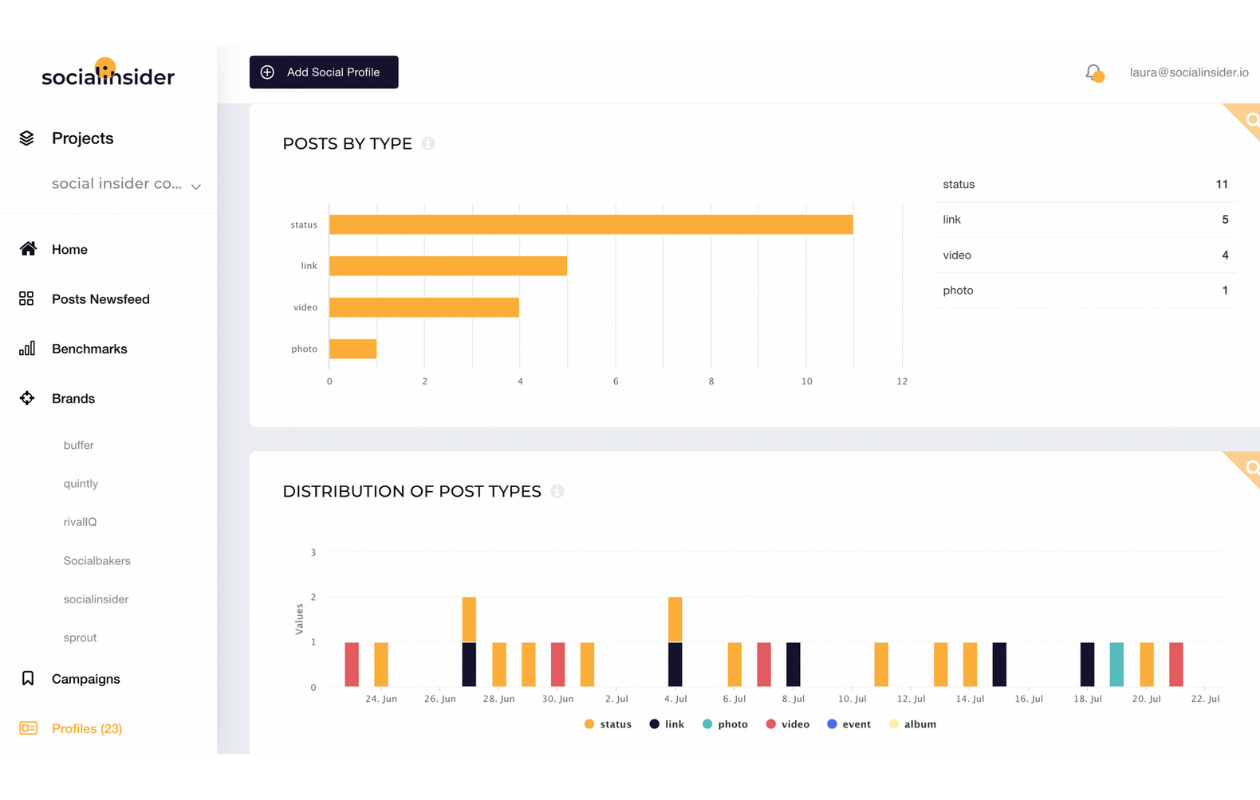 3.2. Facebook Audience Insights
Analytics tools and Facebook insights give you data about people's location, gender, age, interests, and education.
With that, you can target specific audience demographics through your marketing campaigns.
Age and gender
This is a pretty straightforward metric to track.
You can see the age and gender distribution of your fan base in Facebook Insights or through an analytics tool.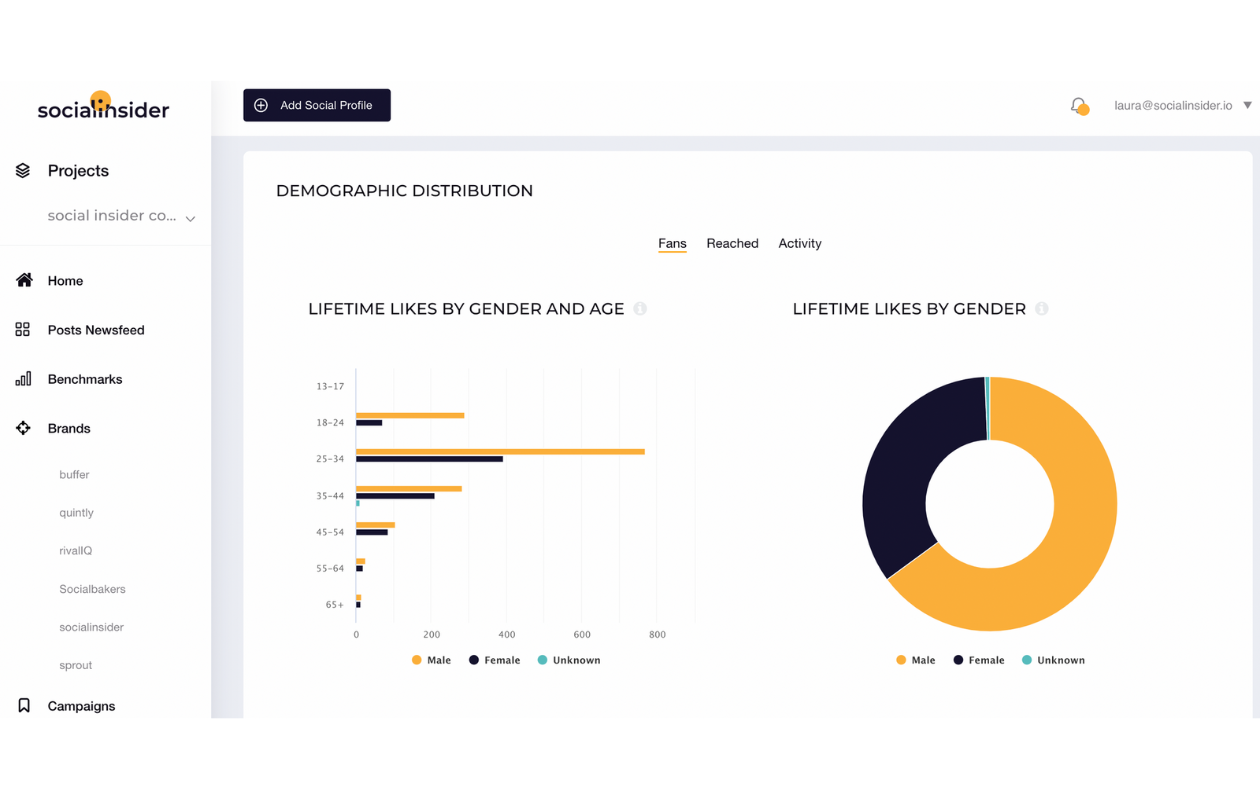 Location
Self-explanatory as it may be, the location metric is still important to mention. You'll see the top cities or countries for your audience and know exactly where your followers are coming from.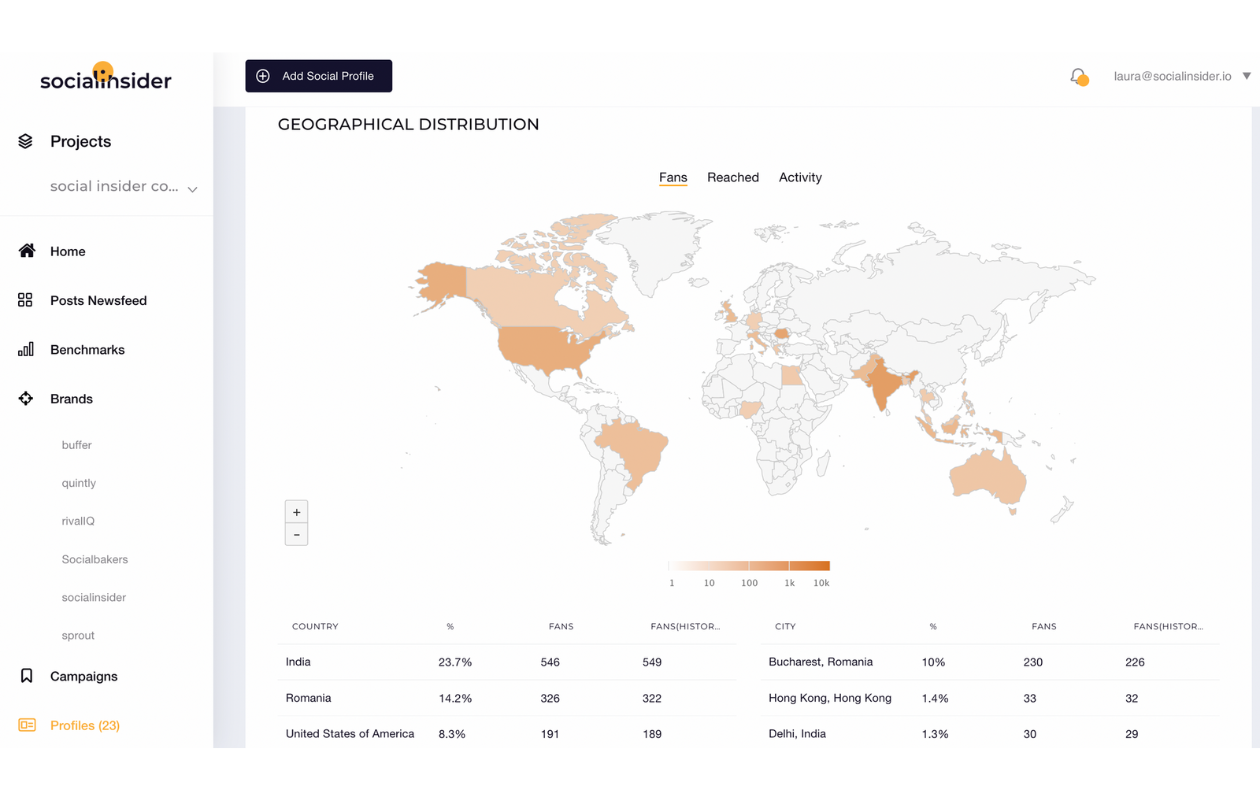 If you are a business with a local focus, make sure to monitor whether it's locals who are interacting with your content or not. Sometimes, casting too wide a net when it comes to your audience can hurt your social media efforts.
3.3. Facebook Video Analytics
Video engagement
Video engagement is a Facebook analytics metric that accounts for the number of interactions your video content receives from your audience.
When the content is highly valuable and attractive, the chances for your followers to slowly turn into brand ambassadors increase significantly.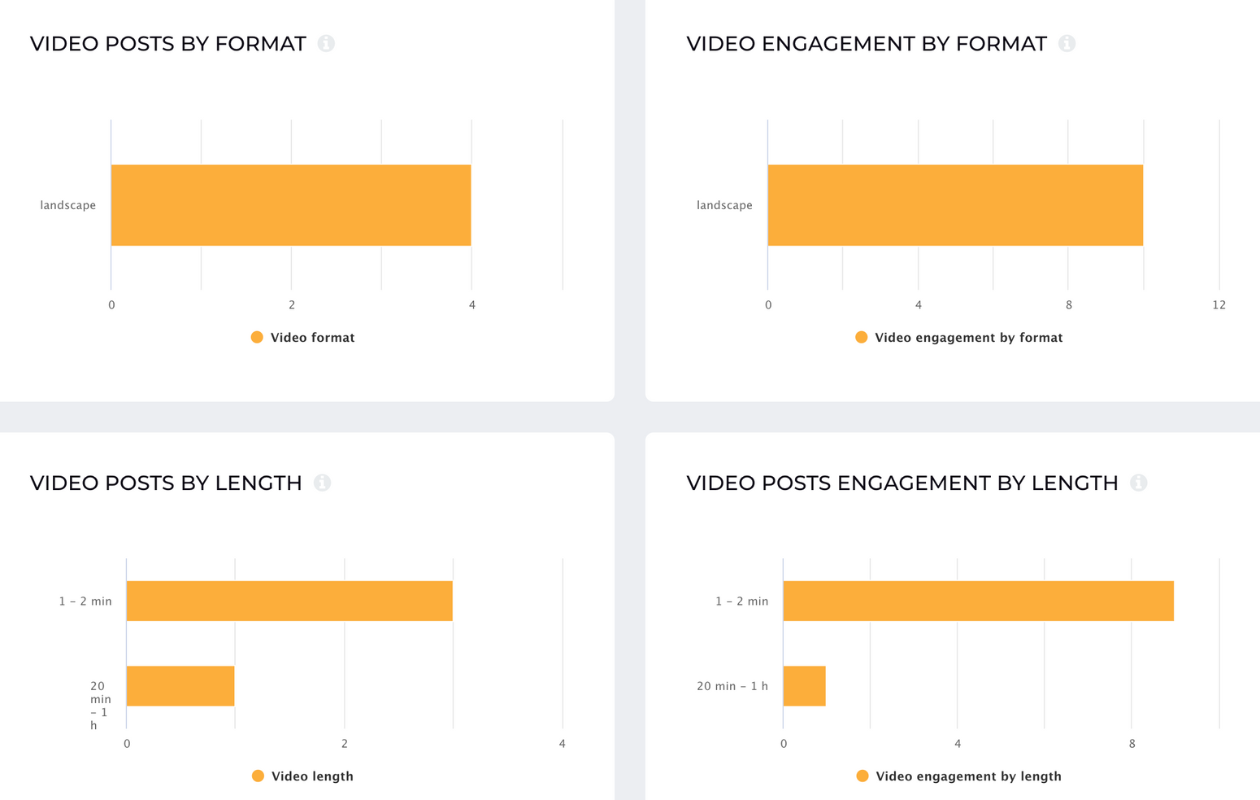 According to our social media industry reports, Facebook videos are the third most engaging type of content on this social media platform for most industries.
This is why you should invest more time and resources into developing and improving this content type.
We all know that looking at a video with catchy filters, cool transitions and interesting bits of information is more pleasant than reading an article.

All in all, video content is likely to increase the overall engagement on your page.
Audience retention
Audience retention is a Facebook insight that can help you get more in-depth information about your video content's performance.
This Facebook analytics metric shows how long people have watched your videos. The higher the time spent, the more they liked your content and resonated with it.
When your content tells a story and turns on the empathy switch for your audience, that is when you've won their hearts and trust.
Video views
Video content is the most appealing content type for social media audiences these days. To make sure your followers fall in love with your videos, your content has to be eye-candy.
Tip: Consider switching to vertical videos if you want to boost your video views on Facebook. Data suggests they're far more popular than landscape videos.
When the Facebook algorithm takes your video to people's feed, it happens because they may be interested in the field or industry you are activating in, based on their previous searches.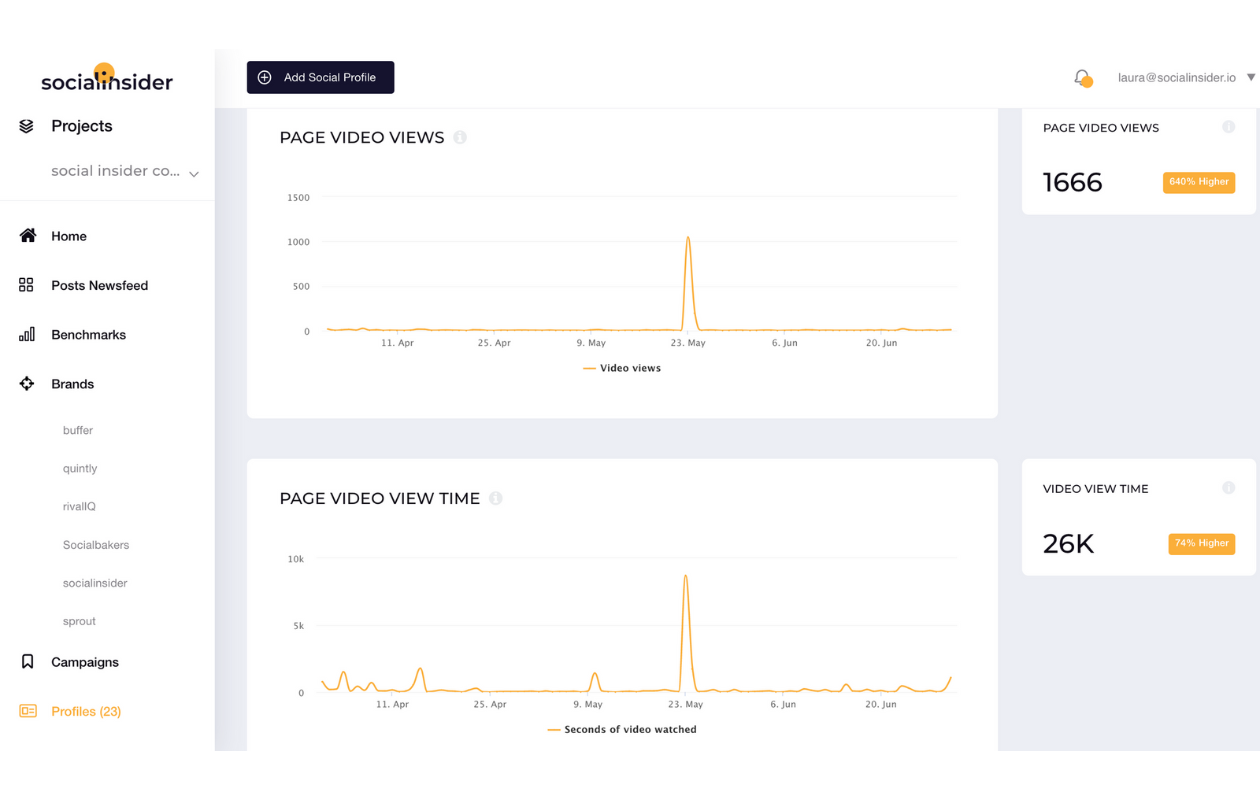 This means that you need your content to be creative, using a friendly tone and only compressed information to suit the attention span of your audience.
The number of views your videos gather tells you whether your marketing strategies are effective and your content is qualitative enough to meet your audience' expectations.
Video reach
Video reach represents the number of unique users your videos have reached.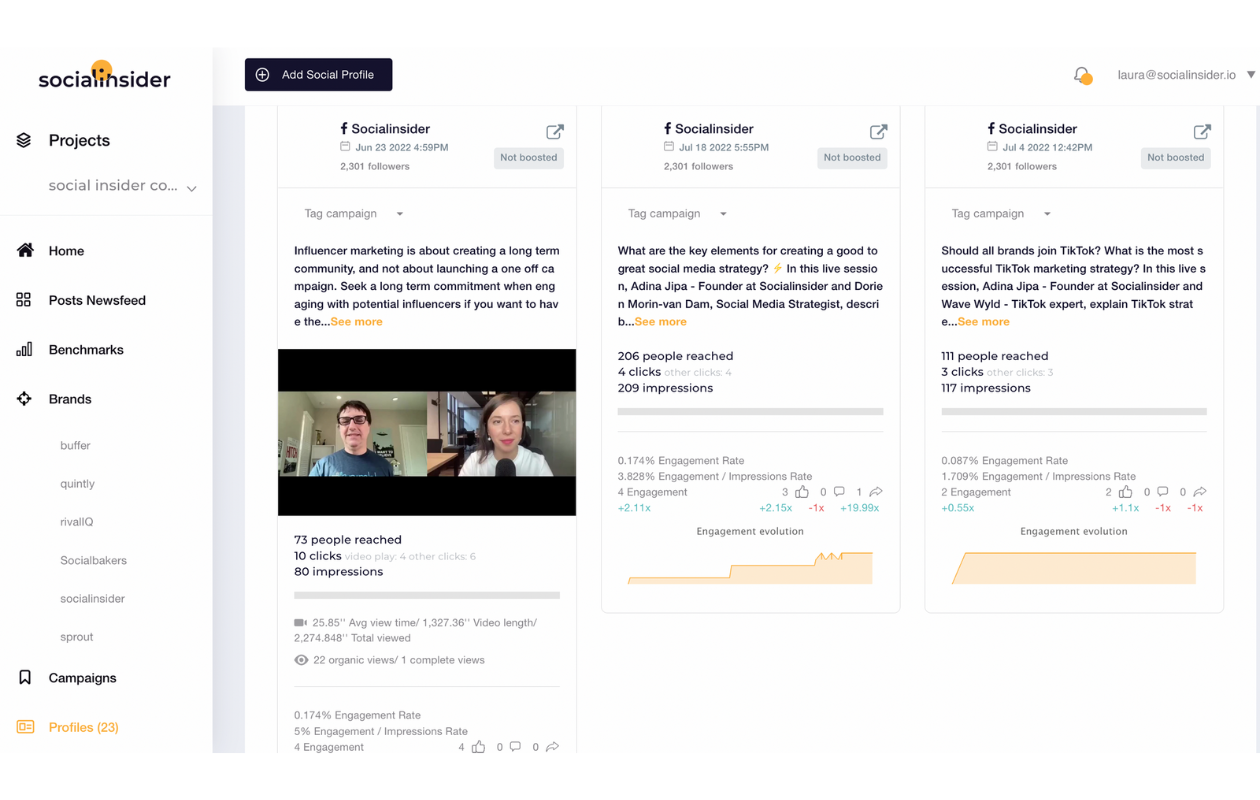 Average view duration
The average view duration insights can help you determine for how many seconds your audience has watched a video over a particular time period.
Catchy content and memorable information that appeals to their curiosity will make users watch your videos till the end and even maybe scroll down for more.
The reason why you need to track this Facebook video KPI is to find out in-depth info about the effectiveness of your content.
Average view duration helps you learn more about their attention span and how to accustom your content to their needs.

Not convinced? Have a look at our article on key Facebook metrics that will give you an overview of how your content and how it impacts your audience.
3.4. Facebook Ads Analytics
Whether you have quite a history in managing social media ads for your clients or your own brand, or you just started learning about the process of creating ad campaigns, you probably know Facebook is the social media platform with the massive ads orientation.
Tip: If you're unsure where to start, our latest article on Facebook Ads provides a bunch of useful tips and best practices to keep in mind when advertising on Facebook.
Since most brands (including your competitors) invest a lot of money into paid ads these days , if you're doing some paid advertising on Facebook yourself, you must certainly keep an eye on your Facebook ads analytics.
By constantly monitoring your Facebook ads analytics you may find yourself in the position to save thousands of dollars. Wouldn't that be great?
Now, let's take a quick look at what metrics you should be paying attention to when checking your Facebook ads analytics.

CTR or Click-Through Rate
The click-through rate metric is one of the most important Facebook analytics insights to look at when you analyze the performance of your work on Facebook.
Click-through rate (CTR) shows you how many Facebook users have clicked to get to your website after they've seen your ads.
This Facebook traffic analytics metric is calculated by dividing the total number of clicks by the total number of impressions. Your Facebook ads should drive users to search for more information about your brand.
When you produce clickable content, you've got greater chances to attract prospective clients.
A lower CTR means you may have a high number of impressions for your posts, but your content was not clickable enough to convince the audience to go to your website.
CPC or Cost per Click
Cost per conversion (CPC) is a really important Facebook analytics metric to look at if you decide to invest in a Facebook ads campaign.
To calculate it, take all the costs of the social media campaign you want to track and divide it by the number of conversions you got.
By relying on audience targeting, you can choose exactly who can see your Facebook ads to make sure you reach the right audience, who has a greater potential to buy from you.
If you're interested in doing Facebook advertising, you may want to know where the average Facebook CPC is located for various Facebook ads placement, to optimize your budget.
3.5. Facebook Group Analytics
Top contributors
Your top contributors are probably your most loyal customers, so it is really important to keep an eye on them and engage with them.
Establishing a close relationship with your top contributors can also lead to potential partnerships or influencer marketing opportunities.
New members
Facebook Groups' performance is usually measured by new members. Track how many people are joining your Facebook Group monthly to see where you stand.
Final thoughts
Monitoring social media analytics is essential for seeing the bigger picture of your social media presence.
Facebook analytics helps you understand, compare, and report your performance in the long term.
You learn how people engage with your business and what you can do to convert them at a higher scale.
Basically, you learn how to build a better, more relevant audience for your marketing campaigns.
With Facebook analytics, you can create a custom dashboard that features your favorite reports, so you can easily get to the information that matters.