You still haven't started using Facebook analytics? You started, but you haven't unlocked its full potential?
Take this for a fact: Facebook analytics will change the way you do business. Understanding Facebook insights is essential for every marketing strategy.
If you're not collecting data and insights from Facebook, you'll never be able to maximize your impact on this social media platform.
Facebook announced that its free Facebook Analytics tool will no longer be available, as of July 1, 2021. However, the platform still offers many other ways to collect valuable information.
Plus, there are tons of social media analytics tools, like Socialinsider, that will help you track your Facebook performance.
Today, I'm going to show you what are the main advantages of using Facebook analytics, what are the best Facebook analytics tools to track your performance, and what are the most important Facebook metrics.
Facebook analytics explained
1. Facebook analytics advantages
With almost 2.9 billion monthly active users, Facebook remains a giant of social media platforms, according to Statista.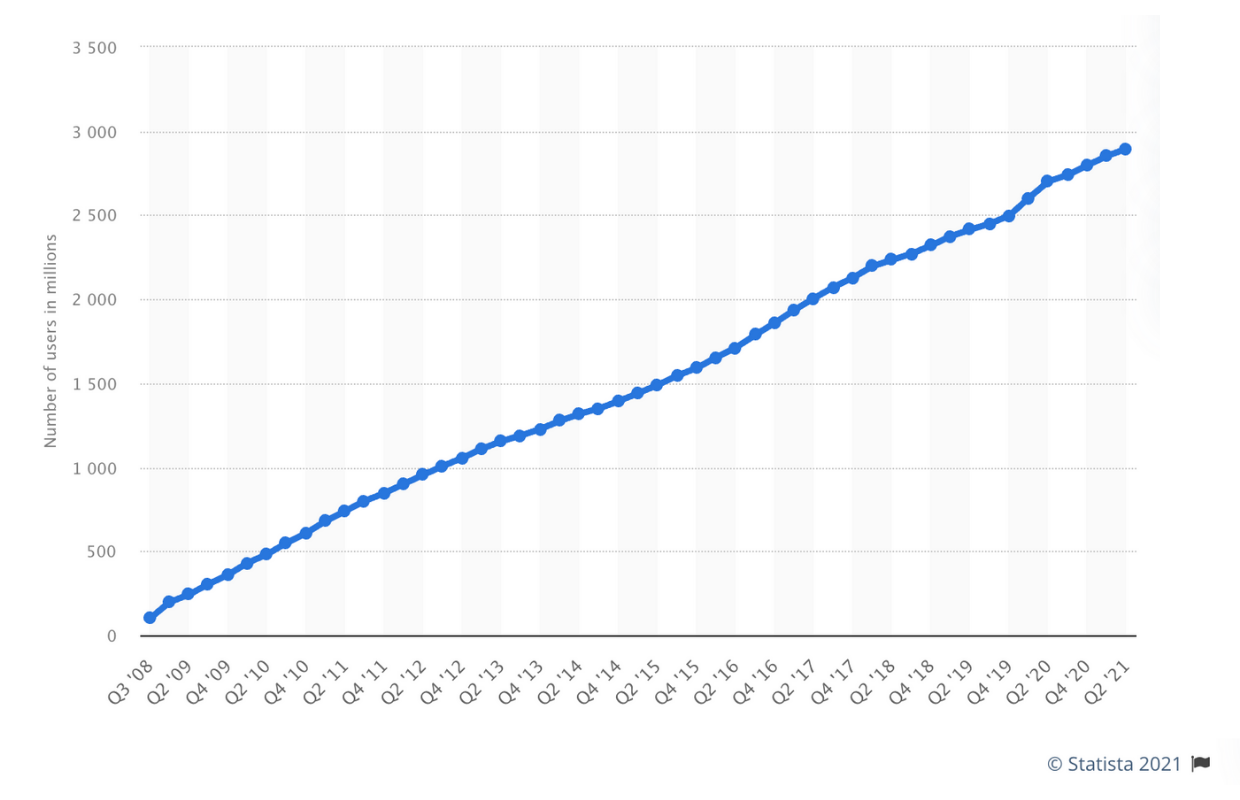 Monitoring Facebook analytics is crucial for every business, regardless of the type of advertising you invest in.
Through a Facebook analysis, you'll get key information that will help you improve your ROI by learning when, how, and why people engage with your content.
Tracking users' interaction with a brand on Facebook can provide many benefits.
Below are some of the key advantages you'll get from Facebook analytics:
Discover how to reach more loyal customers
Optimize conversions in new markets
Filter audiences to create targeted marketing or reach more people
Identify behaviors that drive retention
Identify audience drop-off
Capitalize your content
Improve conversions with your audience
All of the above represent important insights that you'll gain through Facebook analytics. Based on those, you can work on your social media marketing strategy for serious gains.
Now that we've walked through the benefits, let's see what Facebook analytics tools options are there on the market.
2. Facebook analytics tools
With Facebook Analytics gone, Facebook encouraged its business page admins to use Facebook Business Suite.
It is a multi-tool platform that allows marketers to manage their Facebook and Instagram pages at once and includes messaging, advertising, scheduling, and analytics.
But let's focus on Facebook Business Suite's analytics tool for now. To access it, you need to go to Insights, which is a dedicated space for metrics related to your audience and content.
The Insights tool is split into four key dashboards:

Overview - a one-page summary of all your Facebook marketing metrics, such as page reach and page likes
Results - it shows you your page's reach over the course of each week
Content - it shows you how your posts performed
Audience - it gives you demographics of your current and potential audiences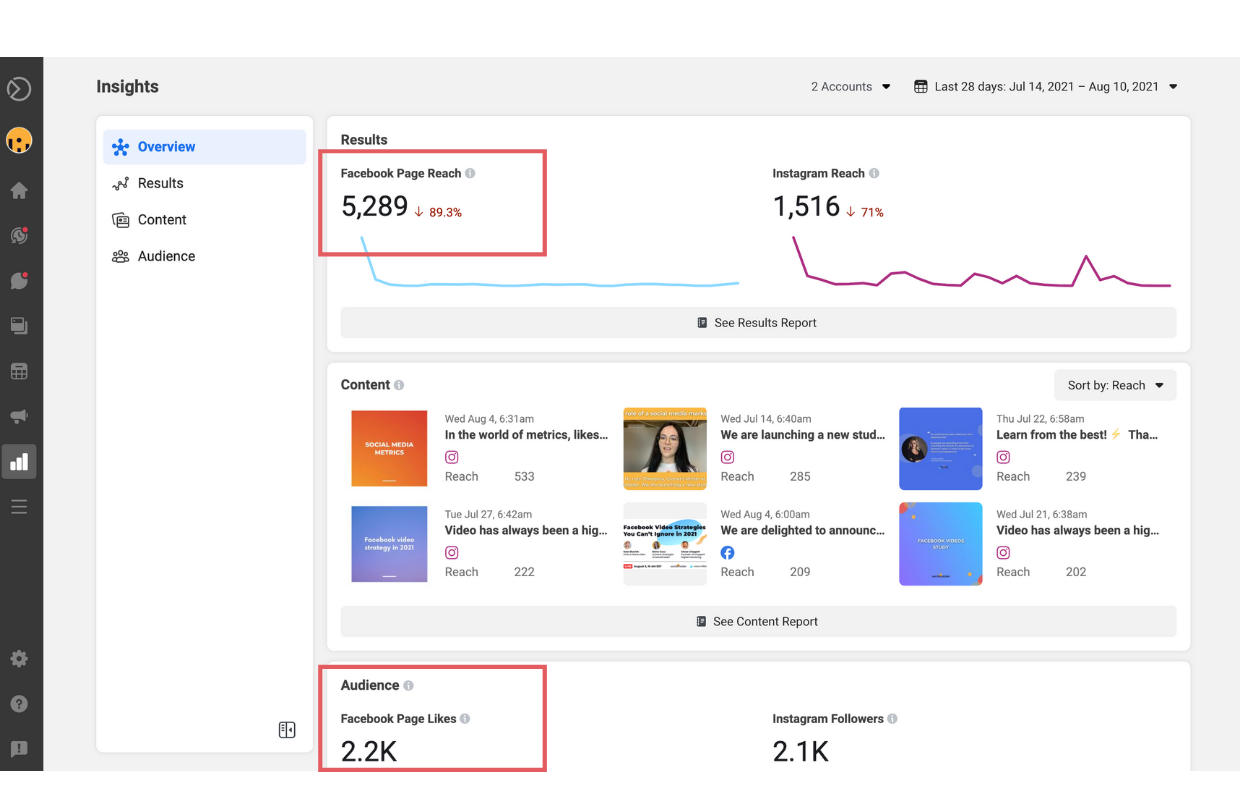 This is a Facebook analytics dashboard that you can access directly through your Facebook business page.
To do so, you simply need to go to Insights from the panel on the left side of your page.
With Facebook Insights, you can track business page user behaviors and posts performance. It also gives you basic Facebook metrics, like page views, page likes, reach for paid and organic posts, and insights about your competitors.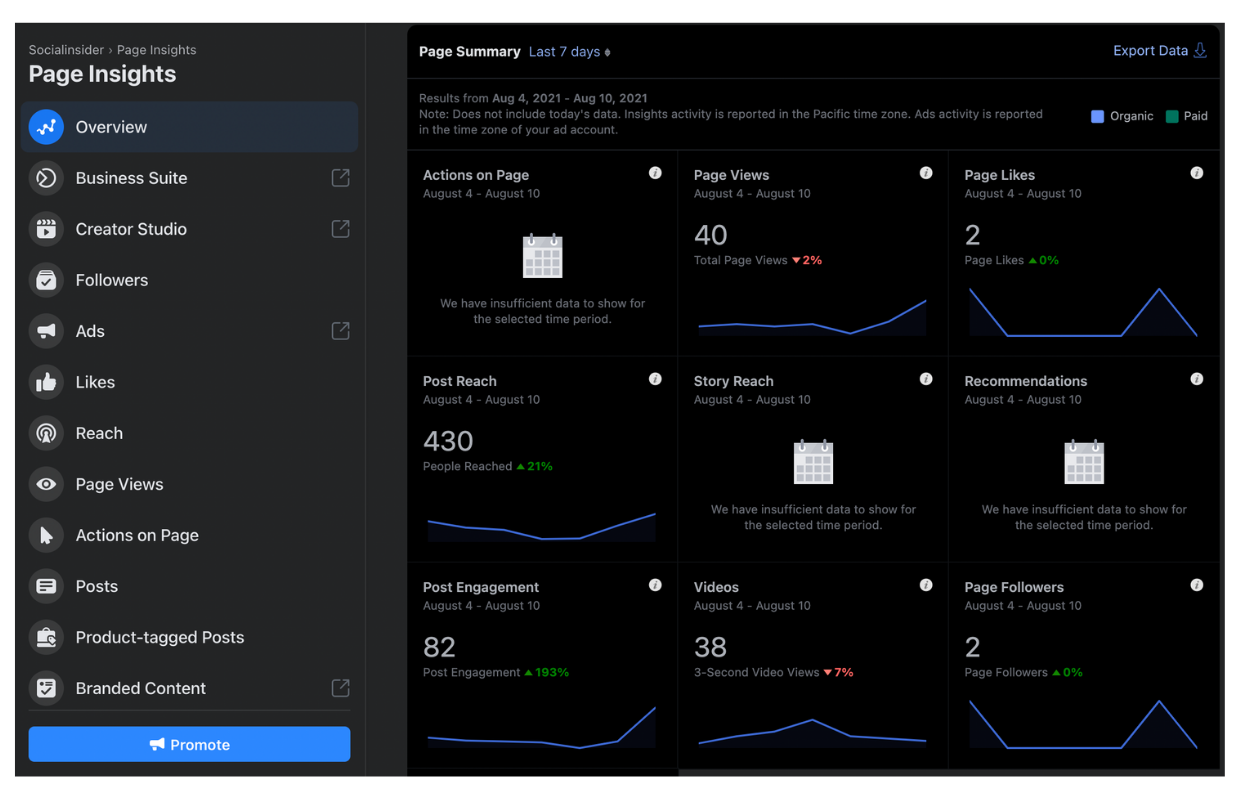 Keep in mind that Facebook Insights only allows you to see data from the past 7 days or 28 days.
Who gets to your website through Facebook content?
The Facebook Pixel will tell you that. You'll place the Pixel on the landing page.
Then, you'll see how your ads drive visitors there, and what those visitors do when they get to your website.
This is valuable information:
You can measure visitor engagement
You can compare the number of leads to the cost of the ads for that page, so you'll see how much each lead costs
You'll see what buttons the visitors click
The Pixel will show you the shopping cart activity
What will you do with all this information?
You'll compare it.
You will see how one ad performs in comparison to another.
Then, you'll make decisions driven by facts.
You'll see what works for your audience and you'll be able to convert them more.
Facebook Creator Studio is similar to Facebook Insights, except it gives you more in-depth analytics for pages, videos, and stories.
With this native app, you can measure:

Overall social media performance
Audience retention (gained vs. lost followers)
Videos' performance
Followers' activity
Stories' performance
Earnings from monetization tools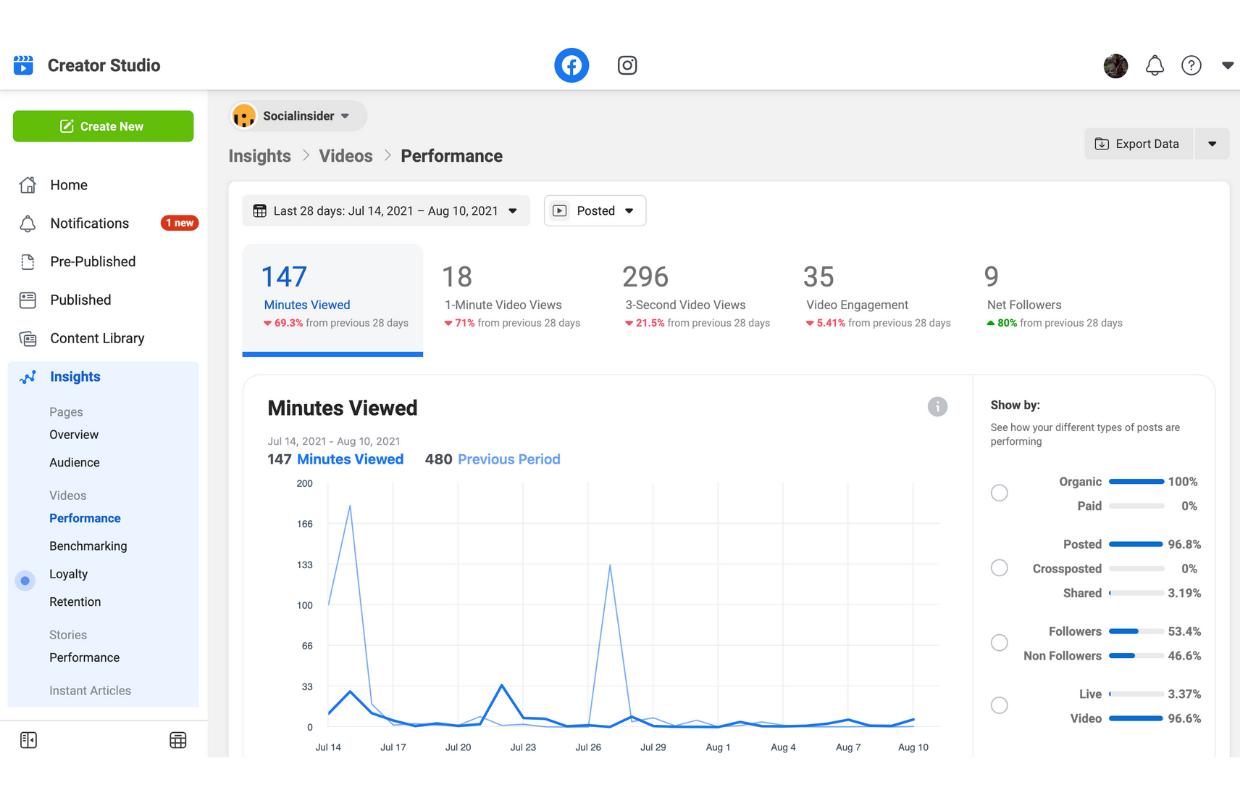 Socialinsider is one of those Facebook analytics tools that offers you a complete picture of your social media efforts.
With Socialinsider, you can measure the performance of your Facebook account and track all the meaningful metrics, like engagement rate, reach, impressions, followers' growth, posts evolution, demographics, and much more.
Moreover, you can improve your Facebook strategies by comparing and benchmarking against top competitors, influencers, and top players from your industry.
This not only helps you save a lot of time but it simplifies your social media analytics work.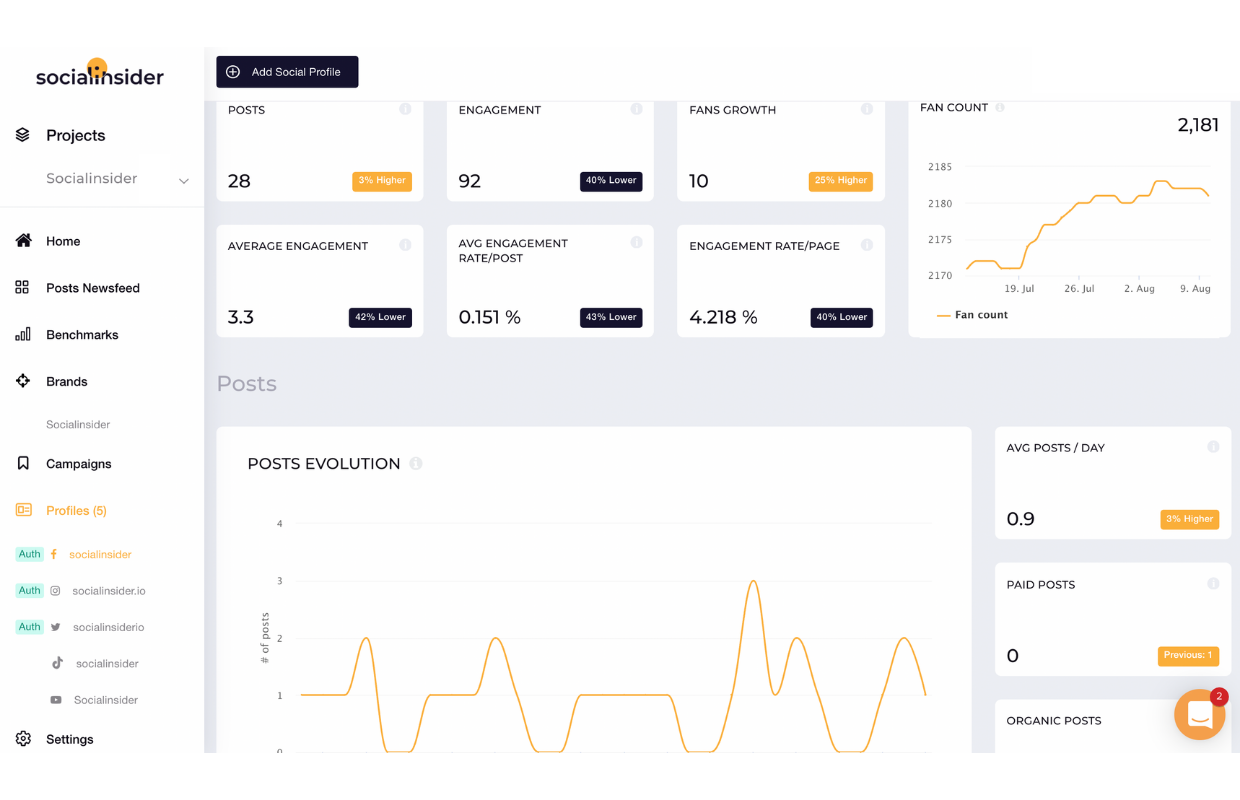 Using Socialinsider, you can:
Get all the Facebook metrics in one single dashboard
Perform straight to the posts analysis on Facebook
Understand your Facebook's reach and engagement
Create Facebook benchmarks and compare with top competitors
Understand your videos' performance
Download presentations - ready templates as Excel, CSV, Powerpoint or PDF
3. Key Facebook analytics metrics
There are tons of ways people interact with a brand online: they might be visiting your page, watching a Live video, or clicking on an add.
Having all the Facebook analytics tools mentioned above in mind, it's important for marketers to understand the behavior behind each of these activities.
This section outlines five different categories and key Facebook metrics every marketer should be tracking.
3.1. Facebook Page analytics
Engagement
The engagement metric shows you how people are interacting with your Facebook content.
If you want to measure your social media engagement, you simply need to gather all the likes, comments, and shares your posts are generating.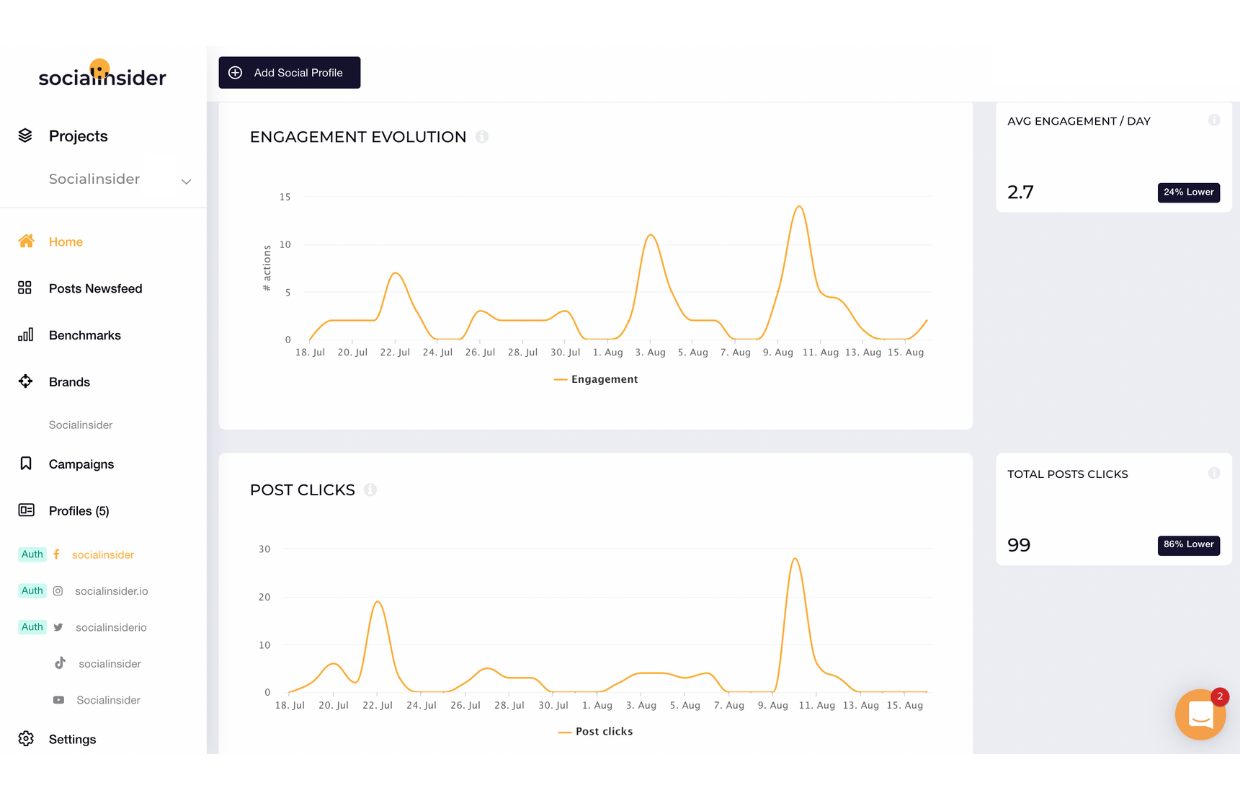 Reach
How many people saw your posts? This Facebook metric represents the total number of unique users who have seen your ad or content.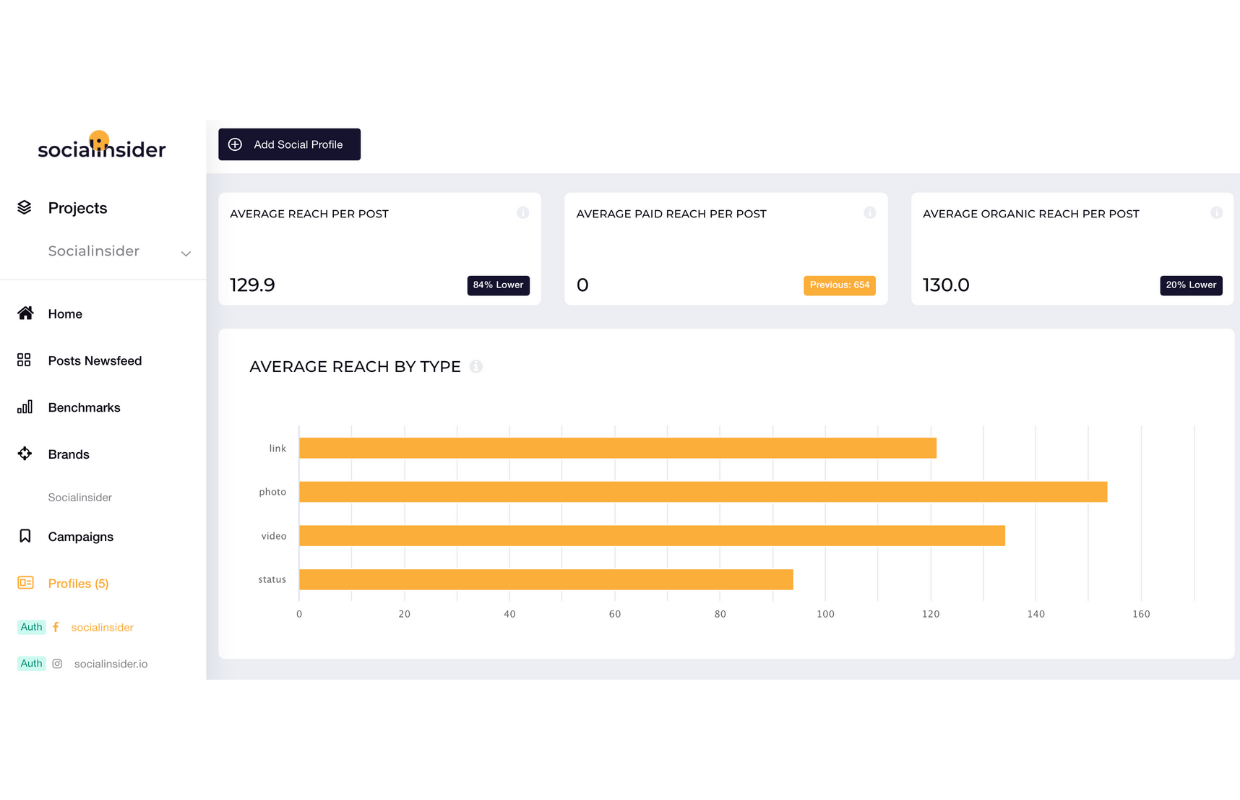 Page views
This tab will show you how many people viewed your Facebook business page, but also who viewed your page.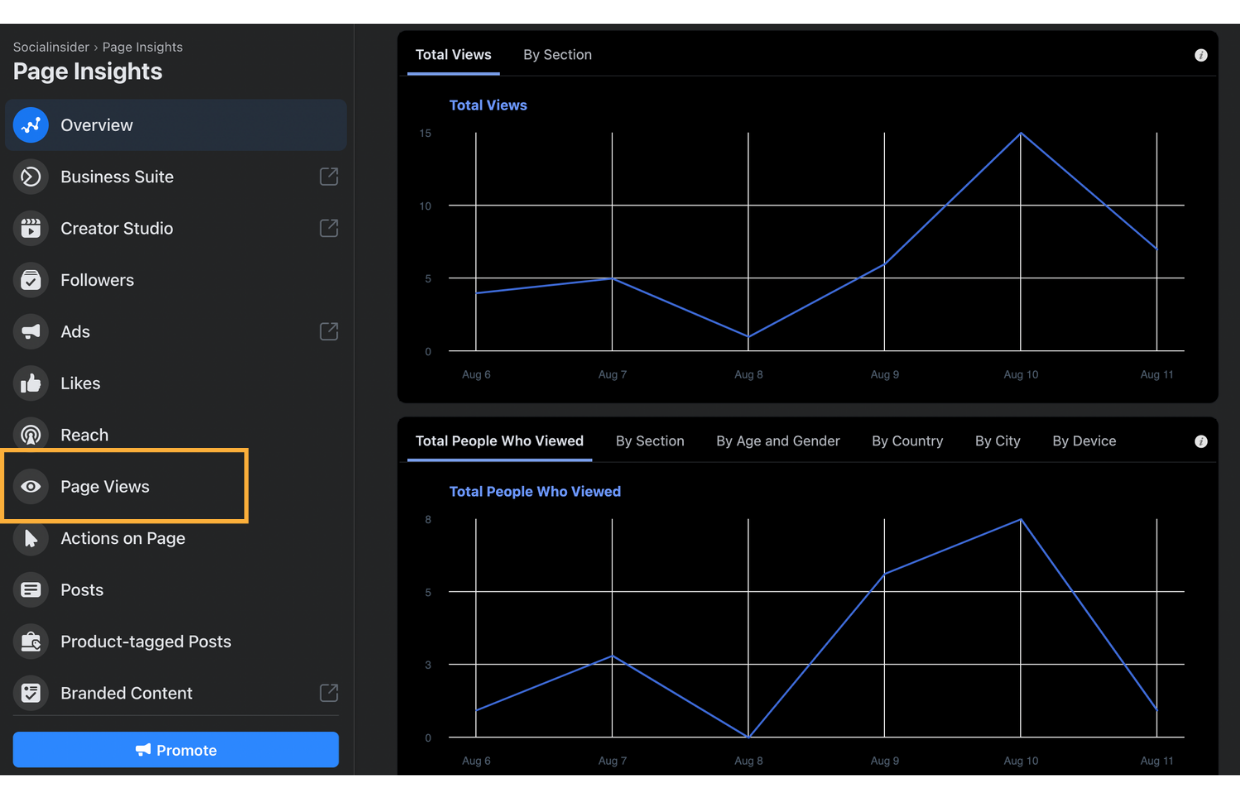 Post types
It's upmost important to know which type of post is popping off.
Measure the engagement and reach of your posts to see what best clicks for your audience and adapt your content based on data.
How to see post insights? Through a social media analytics app, like Socialinsider.
3.2. Facebook Audience insights
Analytics tools and Facebook insights give you data about people's location, gender, age, interests, and education.
With that, you can target specific groups of people through more effective marketing campaigns.
Age and gender
This is a pretty straightforward metric to track.
You can see the age and gender distribution of your fan base in Facebook Insights or through an analytics tool, like Socialinsider.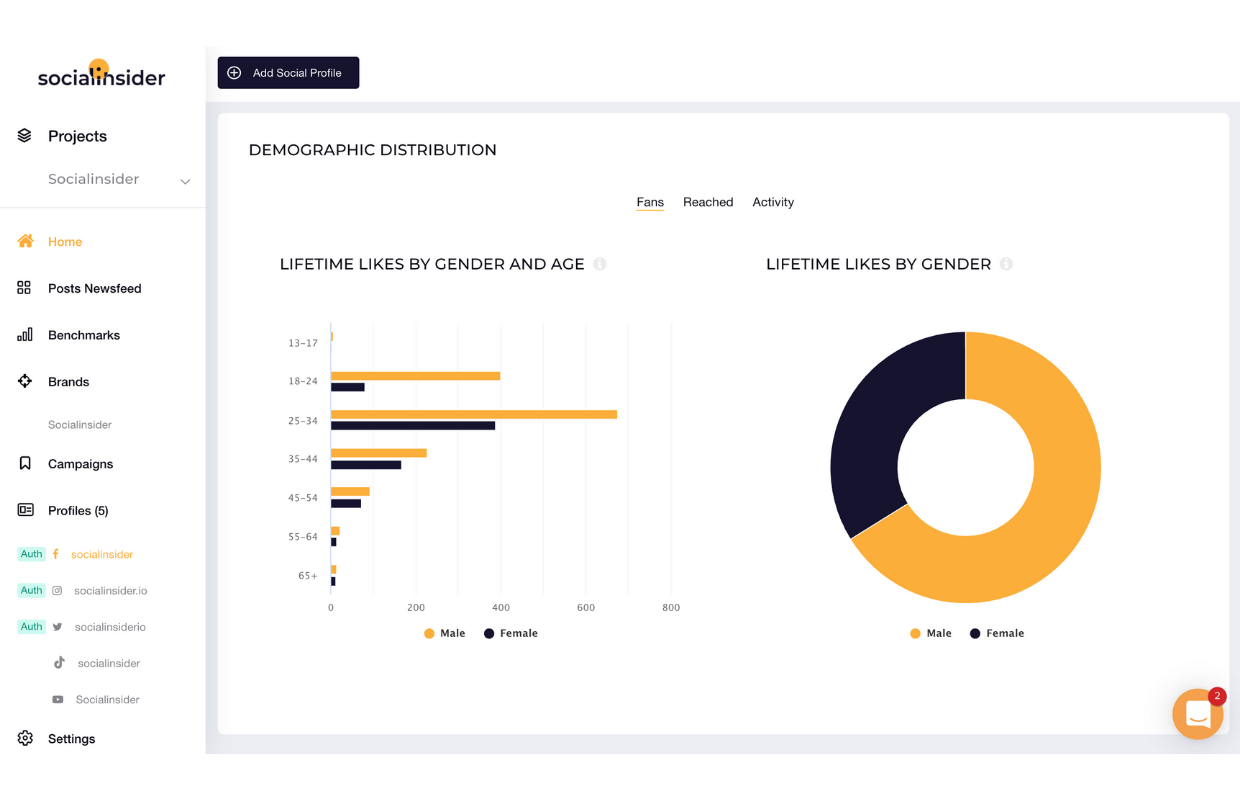 Location
Even though self-explanatory, the location metric is still important to mention.
You'll see the top cities or countries for your audience, so you'll know where your followers are coming from.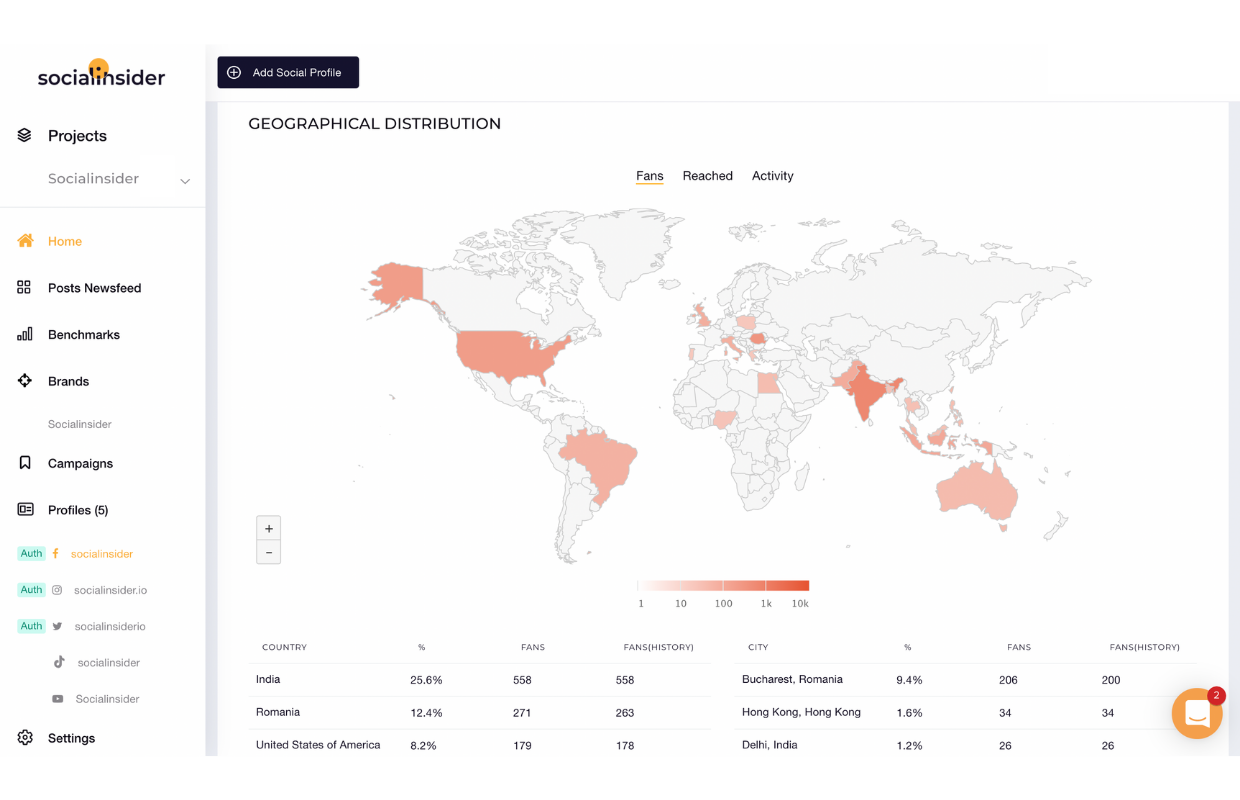 If you are a business with a local focus, make sure you monitor whether it's locals who are interacting with your content or not.
3.3. Facebook video analytics
Video engagement
See how many likes, comments, and shares your Facebook videos generated for a clear picture of your engagement.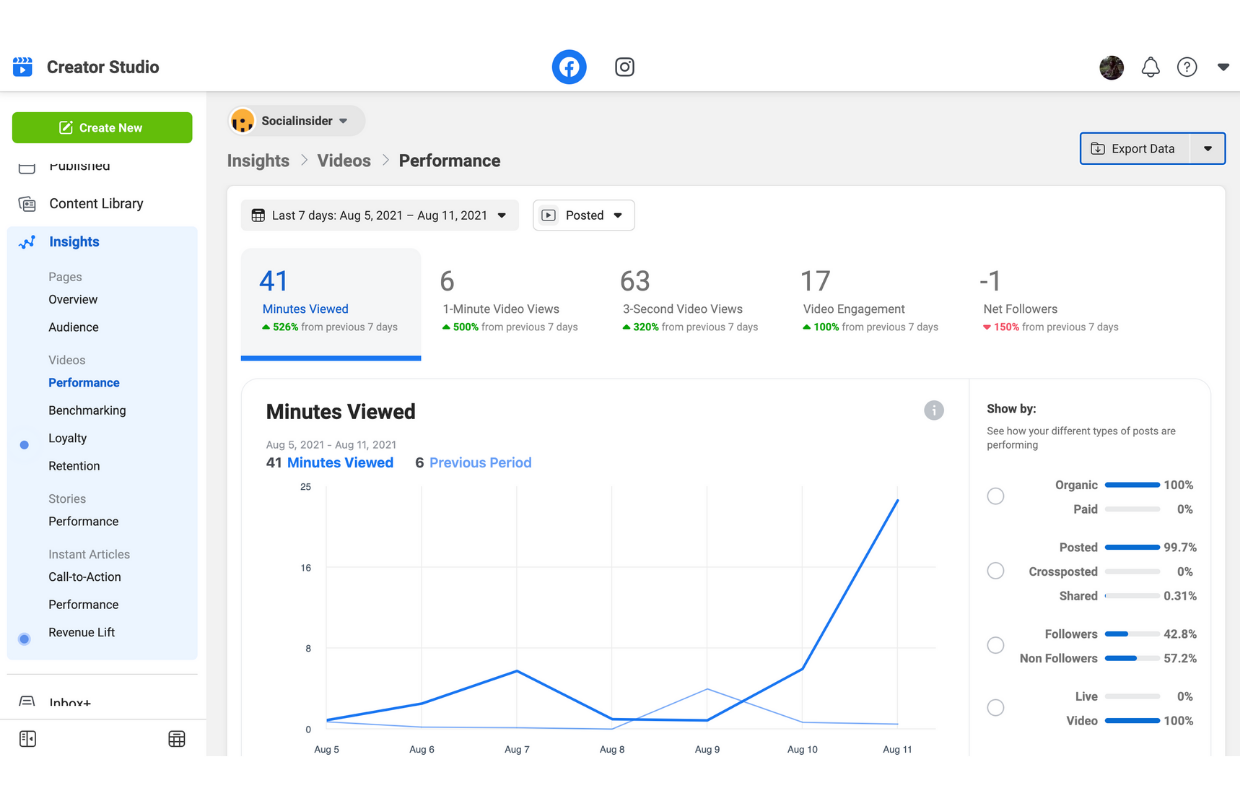 Audience retention
It tells you how much of your videos people are watching over time.
This way, you can evaluate your videos' quality, as you can pinpoint exactly where people clicked away.
Video reach
Track how many unique people your videos have reached with Socialinsider.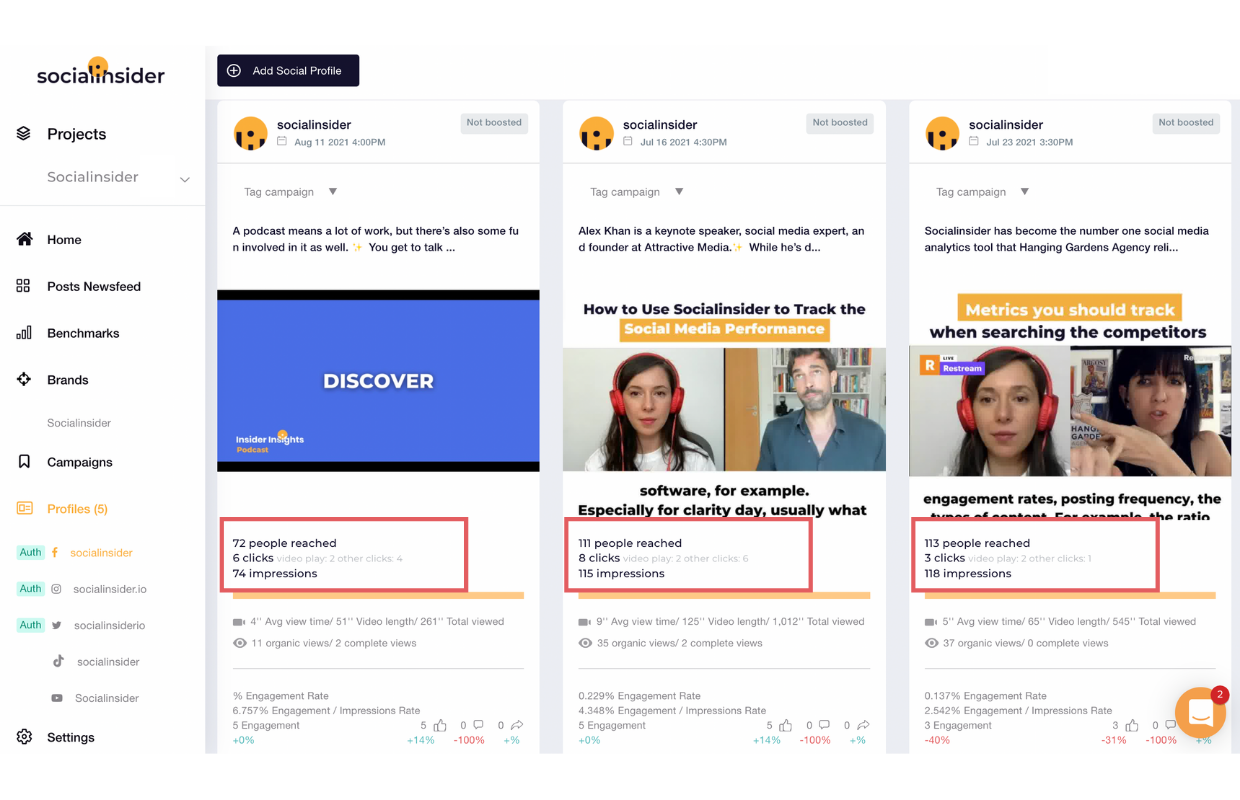 Average view duration
This Facebook statistic is really important as it gives you an overview of how your content is impacting your audience.
You can adjust your videos length based on the average view duration of your fan base.
3.4. Facebook ads analytics
CTR or Click-Through Rate
CTR takes the number of clicks a post gets and divides it by the number of impressions.
A low CTR means you have a high number of impressions and a low number of clicks – and that your content isn't resonating with the audience.
CPC or Cost per Conversion
Take all the costs of the social media campaign you want to track and divide it by the number of conversions you got.
For examples, if you spend $1,000 and get two conversions, your CPC is $500. If your profit is $300, you have some work to do.
CPM or Cost per Thousand Impressions
CPM is the amount you pay every time a thousand people scroll past your sponsored social media post.
3.5. Facebook Group insights
Top contributors
Your top contributors are probably your most loyal customers, so it is really important to keep an eye on them and engage with them.
Establishing a close relationship with your top contributors can also lead to potential partnerships or influencer opportunities.
New members
Facebook Groups' health is usually measure by new members. Track how many people are joining monthly your Facebook Group to see where you stand.
Final thoughts
Monitoring Facebook analytics is essential for seeing the bigger picture of your social media presence.
Facebook analytics helps you understand, compare, and report your performance on the long term.
You learn how people engage with your business and what you can do to convert them at a higher scale.
Basically, you learn how to build a better, more relevant audience for your marketing campaigns. With Facebook analytics, you can create a custom dashboard that features your favorite reports, so you can easily get to the information that matters.
---
Related articles