More and more brands are incorporating Instagram strategies into their marketing plans, and it leads to business growth! Videos, gifts, and photos are driving high engagement rates.
While visuals are infused in the majority of our social communications - be it a quick selfie or the latest pet videos, there's no denying that this rise in visual content flooding the social networks is remarkably prominent on Instagram.
Focusing your social media marketing strategy mostly on Instagram seems the way to go, as 71% of all US businesses are already using the platform.
And Instagrammers share 95 million posts per day 😳, so your job won't be easy. But it can be done if you learn some of the platform's tricks.
Here's how to incorporate an effective Instagram strategy to help your business boom in today's market.⇣
Steps for an effective Instagram strategy in 2020
Find out how to write the best posts ⇣
#1. Start with a compelling Instagram profile
Your Instagram business profile should be nothing like your personal Instagram account. And it is best that "you" appear rarely (if not at all) on the Instagram business page.  It's not about you, it's about the story of your brand.
To create a compelling profile, you must start by doing a little market research to see what the public is interested in.
Another important aspect is that you create messages that appeal to your core audience, so that you start growing an Instagram following that is actually made up of current or potential customers or clients.
Make sure your instagram audience matches your business' actual target audience.
#2 Craft An Attractive Bio
An Instagram business bio should prompt a customer into taking action while showcasing the personality of the company at the same time.
The bio needs to be interesting and informative at the same time. It should be able to hook followers. You need to convince Instagram users that adding you to their Instagram will enhance the content and value of their feeds.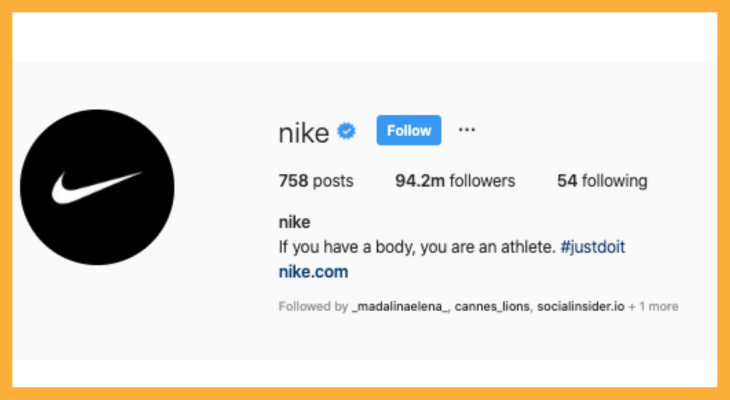 Provide details related to your business in concise. It should appeal to the Instagram community that you are targeting and must also reflect the tone of your shared images.
#3 Link To Your Site
It is only in the Instagram bio that you can place a clickable link, so make the most of it. Provide the link to your site on the space that lies directly underneath the description (on the top part of the Instagram page).
Including your website link is crucial to your Instagram marketing strategy. Make sure your URL is readable, as opposed to a series of random characters.
#4. Make your business easy to find by tagging your location
It's important that you your business remains accessible both online and offline.
This is where the location tag helps you pinpoint your correct address.
The location tag lets people know where to find you, but also brings more exposure by making you easier to find in Instagram searches when people are close by.
To find out more and learn how to implement it, read our piece on how location tagging can help businesses.
#5. Build an aesthetic Instagram feed, in line with your brand identity
Product images make an immense contribution towards online shopping. Instagram's visual platform can enhance this power many times over.
As much as 67% of total consumers take into consideration detailed imaging of products prior to making the buying decision, and they give it more priority than product ratings or information.
Do not hesitate to flaunt the aesthetics of your brand while showing off your products.
You can also post attractive infographics that match your design style. You can do so by using infographic design tools like Easelly.
#6. Respect your brand identity

You should be able to figure out your company's brand identity. Majority of your Instagram feed aesthetic will be based on the brand identity.
The reason why Instagram has become so huge is that it builds a global social network by connecting people via visual elements alone, making it a powerful medium of capturing and sustaining people's attention.
Include the tone and personality of your brand in the feeds. Add the brand value, and play on the tone of your brand. And, most importantly, be honest and human.
Writing long, irrelevant content is one one of the biggest Instagram mistakes you can make.
#7. Focus on the target audience
Cater to your target audience without making any compromise on your brand identity. Know that the Instagram feed primarily aims at current and potential customers.
Find out what about your product or brand attracts your target audience. And reflect this in the Instagram feed.
Don't compromise on the quality of your posts and messages and use this platform to bring your audience closer through conversations on shared values and visions.
#8. Stay consistent
Your business will only gain brand identity when you stay recognizable. Make sure that your Instagram profile image is kept consistent.
Add your profile picture's thumbnail in all your Instagram engagements and interactions. Give a professional and recognizable touch to your Instagram profile.
Never change your tone of voice or imagery, otherwise you risk creating confusion, why results in followers straying away.
#9. Research your competitors' strategies
You can study your competitors and get a feel of what they are promoting on Instagram.
Are they relying on user-generated content for their products or services? What type of content are they publishing on Instagram? How often? What's their hashtag strategy?
Gain new insights on what competitors are doing and new ways to improve your own marketing strategy.
Use tools like Socialinsider to study your competitors on Instagram and see what strategies they are using to reach their customers.
#10. Be creative with your Instagram captions
Creative and fresh Instagram captions are the key to attracting customers, but it is not easy to caption your image or videos all the time.
Timing matters a lot in business. Instead of rushing, you need to take time to caption the image to captivate your audience. Don't forget that users will probably spend only a few seconds to view your picture before moving on to the next one.
The most engaging Instagram posts have short and sweet captions, complemented by lots of eye-catching emojis.
Instead of unnecessarily stretching the caption, focus on delivering something clear and concise.
Add value to your text instead of quantifying it. You can use your creativity to make the image more engaging. Don't be dry, but take on a conversational tone if need be. Instagram users hate formality.
#11. Use strategic hashtags
Hashtags are used in Instagram for users to track the content they are looking for. You need to use your hashtags strategically so that more users can find your posts during their search.

Here are some practices that will help you make the best use of Instagram hashtags:
Incorporate as few as 2-8 hashtags in each post.
Opt for hashtags that are commonly and frequently searched for.
Incorporate hashtags that are exclusively relevant to your specified target audience - the clicks might be fewer, but the quality will be high.
In case of campaign or brand specific hashtag, create branded hashtags.
To implement your brand in a local area, opt for location-based hashtags.
Find out if it's better to use hashtags in the caption or in the first comment
#12. Create awesome Instagram Stories
Stories are the most popular feature on Instagram.
If you can tie narratives with the brand identity then they will automatically make your audience connect with you emotionally, and add meaning to the content you are posting.
Stories that you tell significantly contribute towards the creation of brand loyalty. But at the same time your Instagram feeds should reflect the purpose and image of your company (and brand) as it will create uniformity.
#13. Get your audience's input with polls in your stories
Some of the new Stories features can help bend the bridge between you and your audience., and one of them is definitely the poll feature.
People have become increasingly tired of the hard sell approach, so tailoring messages to their needs and interests is more important than ever.
And the simple way to do so is by simply asking them, with the help of polls. Ask for opinions by posting clear and stright-forward questions.
This can help you improve products, while making your audience feel directly connected to your business.
#14. Grow an engaged community
Since feeds on Instagram keep changing rapidly, chances are that your content will get buried in no time.
But there are several card you can play:
In fact, hashtags have big role to play in also placing your business into different communities on Instagram that are linked through a keyword, making your posts easier to discover.
Inviting Instagram ambassadors to share your product/brand on their feeds.
Creating a group of ambassadors to spread your brand's benefits to their followers will help you reach out to and win more customers.

Encouraging your followers on Instagram to post reviews and photos will also allow you to reach out to several other IG users.
As much as 78% of total consumers purchase products/services based on the social media of a brand, so having more people to share and praise your brand will give you a bigger opportunity to convince potential customers to purchase your product.

Sharing the tagged photos of your followers on your Instagram profile.
Adding the content of your users into your own Instagram feeds will promote good feelings that will later on get associated with the brand you are promoting.
#15. Work with influencers that connect to your brand
Since we're talking about brand ambassadors, it's also important to mention the incredible reach of Instagram influencers.
Working with Instagram influencer can grow your following exponentially and can bring overnight success to any Instagram campaign successful.
But there's a catch. You have to pick the right influencer for your brand. Someone that identifies with your values and bring over like-minded people to your page.
#16. Be aware of your most engaging Instagram posts
Always check the data to see what kind of Instagram content is most interesting for your audience.
Going back to check your analytics tools and finding connections between your most successful posts is also an easy way to find out what your followers like.
Engagement is king on Instagram, so take advantage of having a following that can point to into the right direction.
Check your posts' data with a free trial!
Wrapping Up
Finally, think outside the box! Don't hesitate to try out new things, but be mindful and aware of your audience's needs.
The newsfeed algorithm of all social media platforms keeps changing. So, whatever worked for you last week will probably not work for you the following week. Make sure you're up to date.
There are some things that you need to keep in mind, such as on-brand content, top-quality images, user-generated content, friendly and engaging posts, and trending topics.
The above-mentioned guide will surely help make your Instagram strategy for business a success.
Your turn. What are your best practices with Instagram strategies?
*Last update: October 2019.*

Start a free Socialinsider trial today and track your Instagram analytics!
---
Related articles: