Thanks to its ability of creating influencers, galleries for the user's preferred posts, for introducing stories, reels, shopping charts and many more, Instagram has quickly become everyone's favorite social platform.
Which means that an Instagram marketing strategy has also become crucial in every brand's communication program.
They can play with gifs, inventive photos and creative carousels, because all are driving high engagement rates. And let's not forget, of course, the most popular type of content these days, which is video.
Particularly in the last year when we all moved our lives online, there's no denying that this rise in visual content flooding the social networks is remarkably prominent on Instagram as well.
So, let's discover how to develop an effective Instagram marketing strategy that will help your business boom in today's market.⇣
Steps for an effective Instagram marketing strategy in 2023
1. Create an eye-catching Instagram profile and optimize your bio
The first step is to make sure your profile is optimized for your business and target audience. Your brand's Instagram profile should be nothing but about the story of your brand.
Don't be too formal, be social and friendly.
Another essential aspect you should focus on is your Instagram bio. The bio needs to be interesting and informative at the same time.
It should be able to hook followers. You need to convince Instagram users that adding you to their Instagram following will enhance the content and value of their feeds.
Here's Sue B. Zimmerman's Instagram profile. If you are on her profile for the first time, you will immediately know what type of content she posts, what you will learn, and if you want to follow her or no.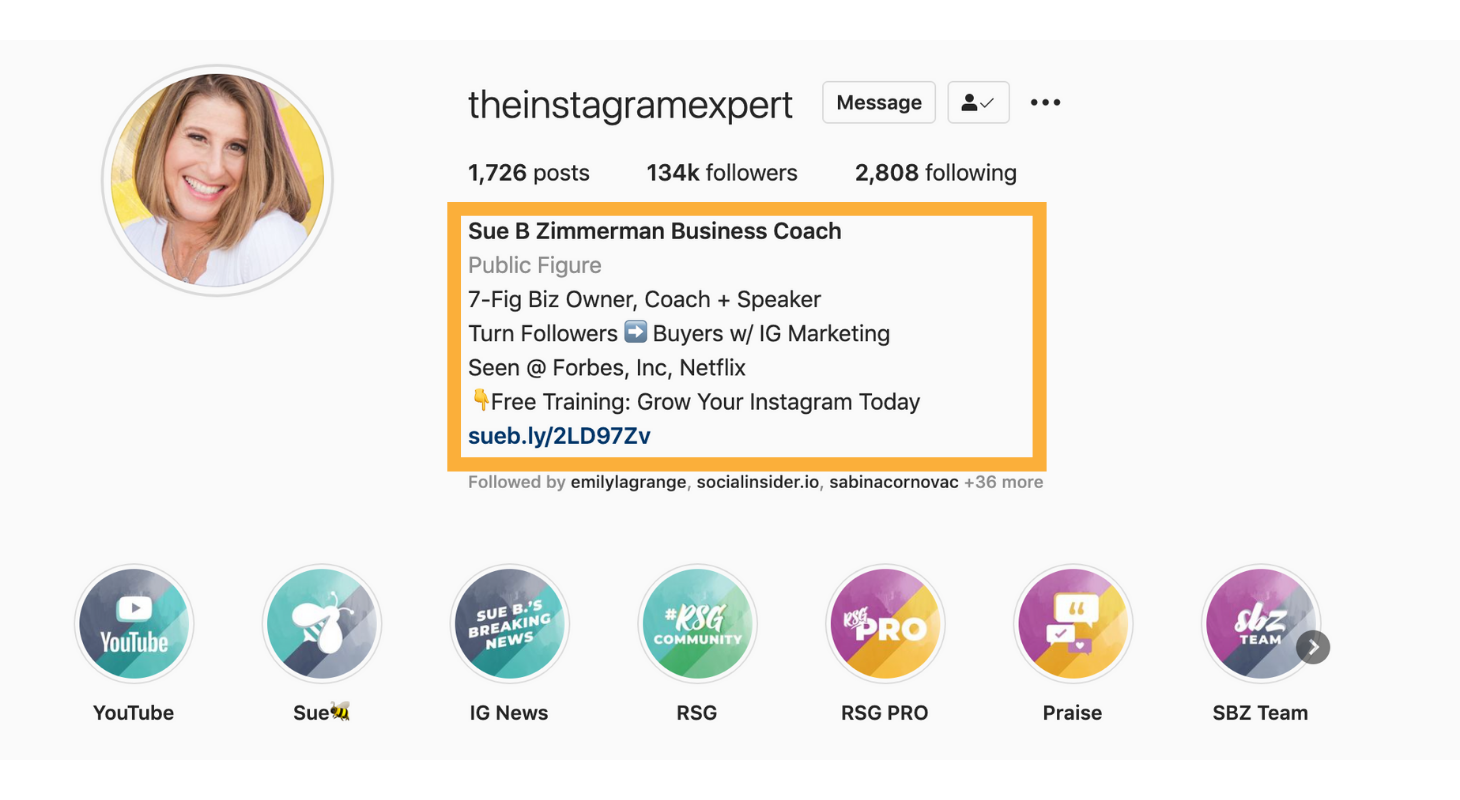 TIP! Your Instagram bio is the only place you can add a clickable link, so make sure you include a link to your website.
2. Make your business easy to find by tagging your location
Your business must remain accessible both online and offline.
This is where the location tag helps you pinpoint your correct address.
The location tag lets people know where to find you and brings more exposure by making you easier to find in Instagram searches when people are close by.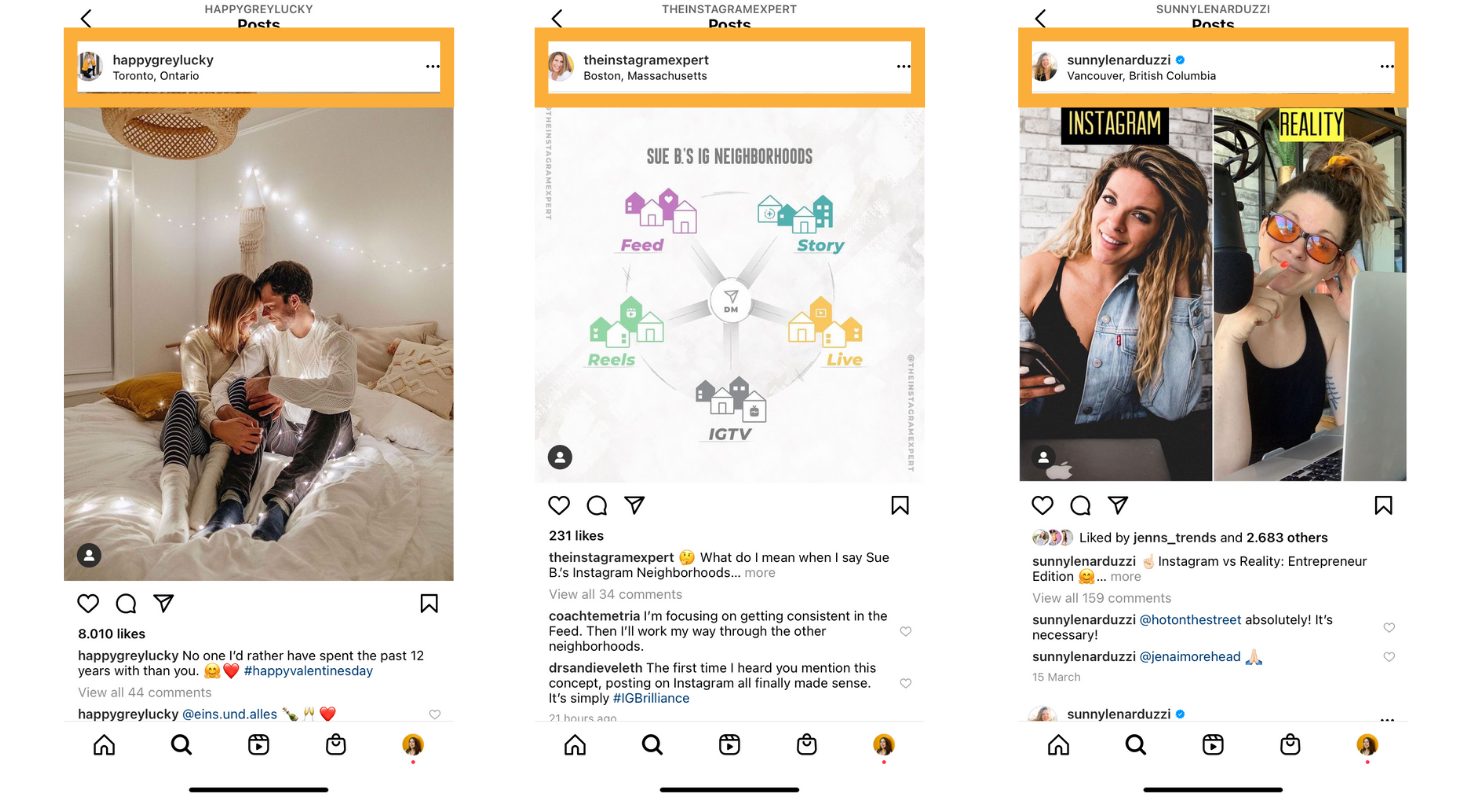 3. Build an aesthetic Instagram feed in line with your brand identity
Creating an aesthetically pleasing profile might be difficult, but it's still an essential Instagram strategy in 2022, and businesses should not skip this step.
For being a primarily visual platform, when it comes to Instagram marketing, one of the first things you should know is that quality of the materials, altogether with harmony of the colors and styles used is simply essential.
Product images make an immense contribution to online shopping, and Instagram's visual platform can enhance this power many times over.
Include the tone and personality of your brand in the feeds. Add the brand value, and play on the style of your brand. And, most importantly, be honest and human.
4. Get creative with captions
Creative and fresh Instagram captions are the key to attracting customers, but it is not easy to caption your image or videos all the time.
In a recent study that we've made at Socialinsider, we discovered that captions up to 10 words increase engagement on Instagram for businesses, especially when combined with carousel posts.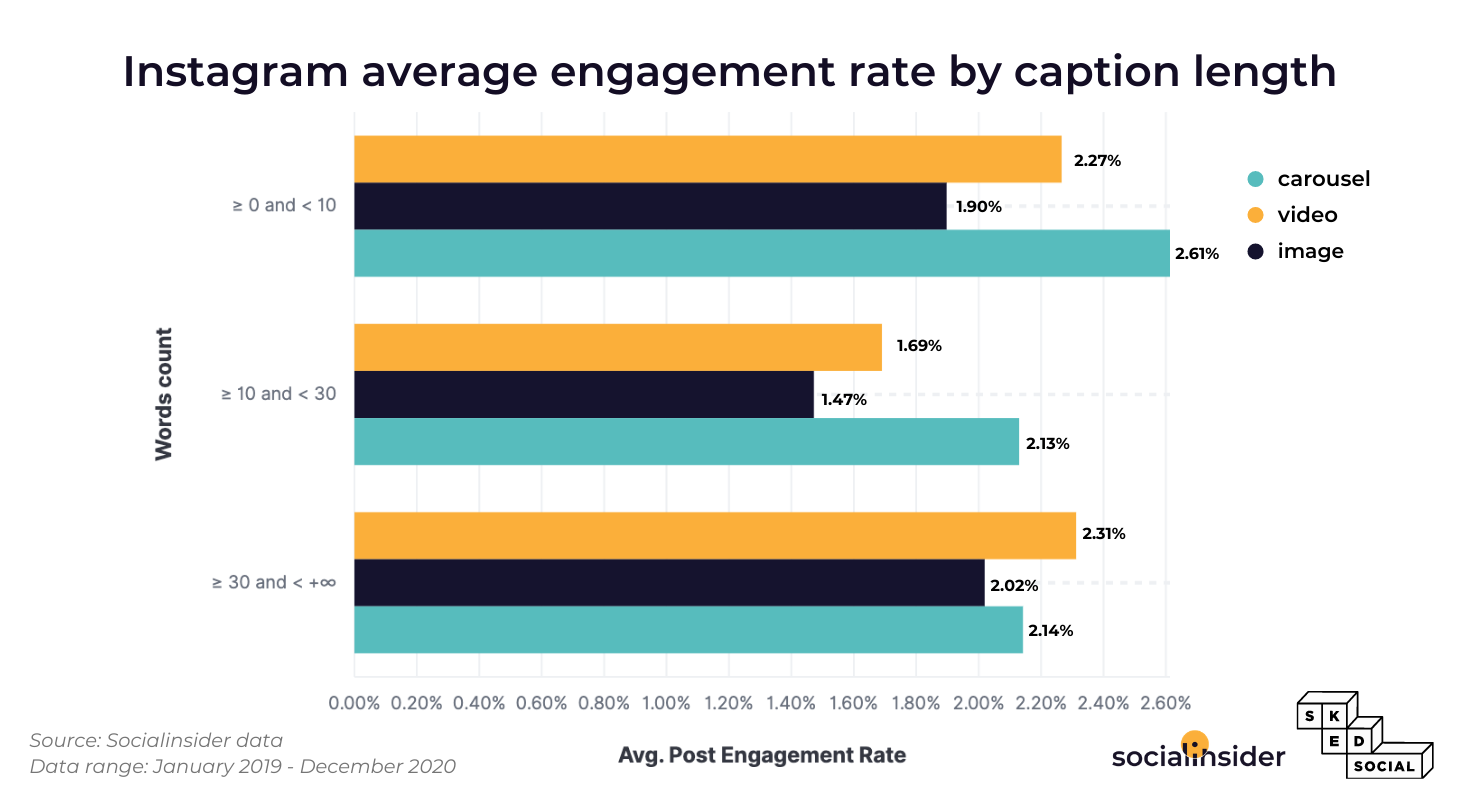 5. Focus on the target audience
In order to do Instagram marketing the right way, you have to find out what about your product or brand attracts your target audience, and reflect this in the Instagram feed.
Don't compromise on the quality of your posts and messages, and use this platform to bring your audience closer through conversations on shared values and visions.
6. Research your competitors' strategies
For a successful Instagram marketing strategy, a mandatory step that needs to be done is benchmarking.
Here are a couple of questions to have in mind when you study your competitors, in order to get a feel of what they are promoting on Instagram.

Are they relying on user-generated content for their products or services? What type of content are they publishing on Instagram?
How often?
What's their hashtag strategy?
Gain new insights on what competitors are doing and new ways to improve your Instagram marketing strategy.
Use tools like Socialinsider to study your competitors on Instagram and see what strategies they are using to reach their customers.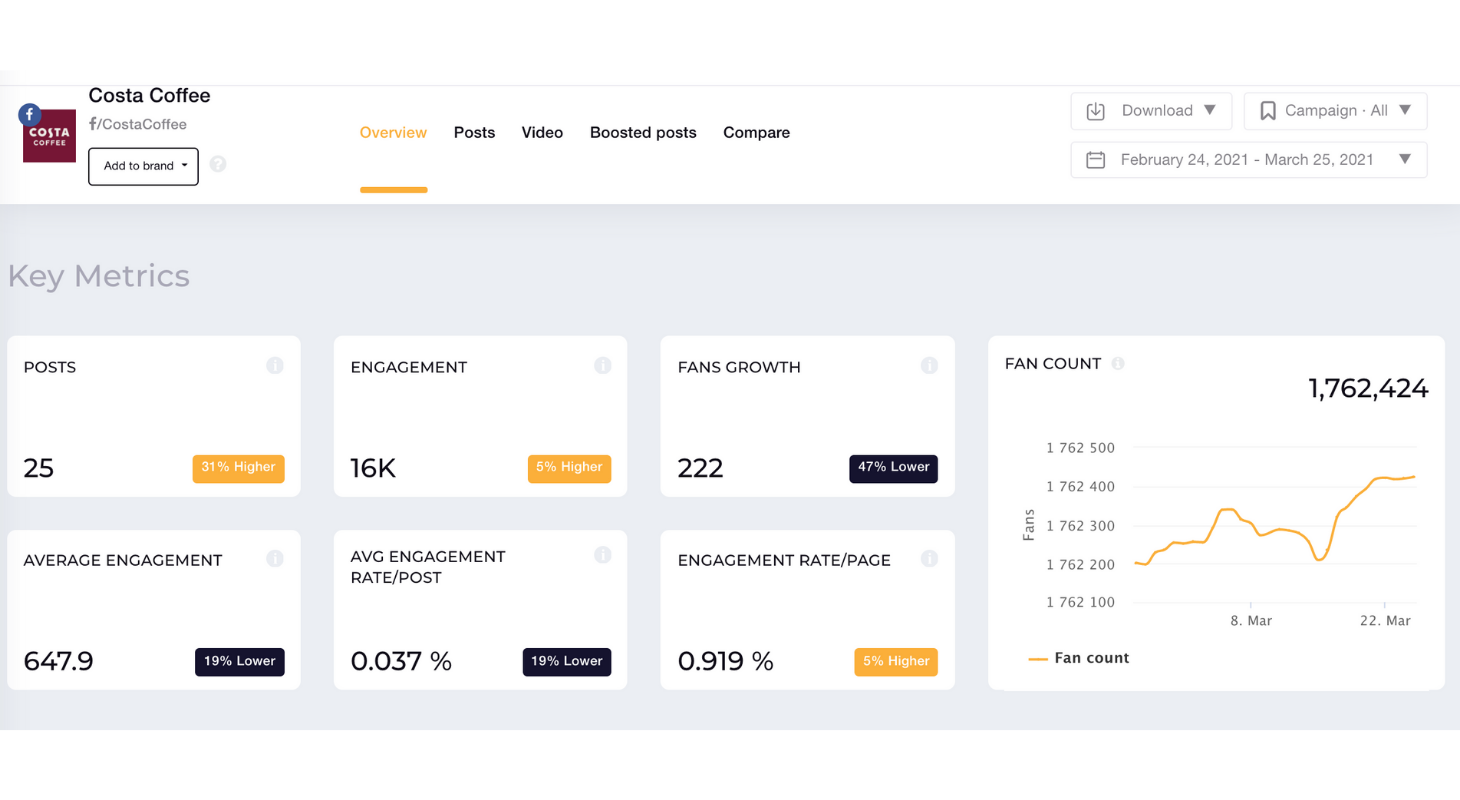 7. Use strategic hashtags
Hashtags are used in Instagram for users to track the content they are looking for.
You need to use your hashtags strategically so that more users can find your posts during their search.

Here are some practices that will help you make the best use of Instagram hashtags:
Incorporate as few as 2-8 hashtags in each post.
Opt for hashtags that are commonly and frequently searched for.
Incorporate hashtags that are exclusively relevant to your specified target audience - the clicks might be fewer, but the quality will be high.
In the case of a campaign or brand-specific hashtags, create branded hashtags.
To implement your brand in a local area, opt for location-based hashtags.
Find out if it's better to use hashtags in the caption or in the first comment.

8. Create more carousel posts
According to our Instagram engagement evolution study, we discovered that carousel posts led to a higher impression rate on Instagram, which means this type of content should have a special place in your Instagram marketing strategy.
Carousel posts are a great way to showcase a product, a new brand feature, a post with the team, etc.
You can add up to ten photos or videos in a carousel post so make sure you use all of them to highlight your brand's message.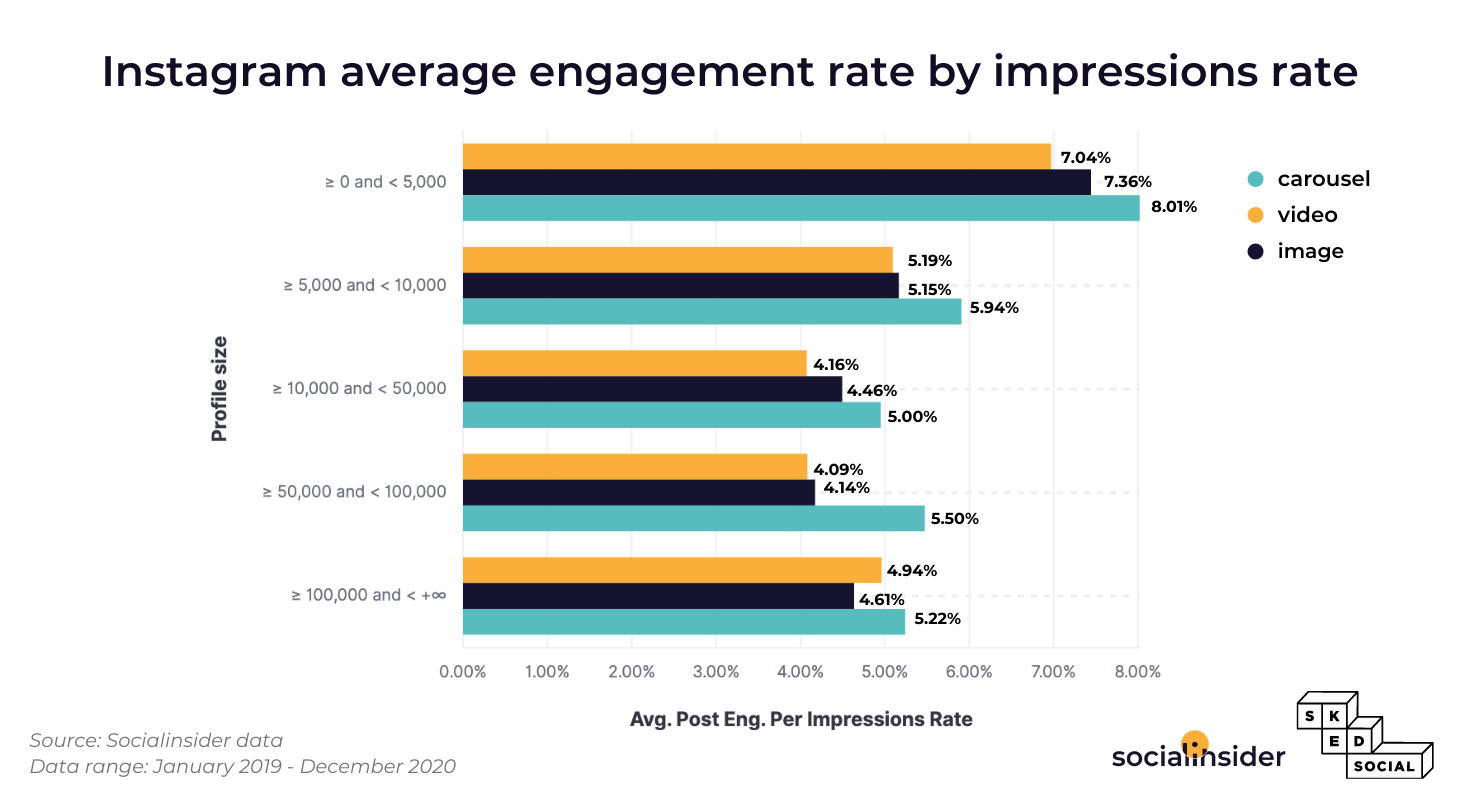 9. Create awesome Instagram Stories
Stories are the most popular feature on Instagram.
If you can tie narratives with the brand identity, they will automatically make your audience connect with you emotionally and add meaning to your posting content.
Stories that you tell significantly contribute towards the creation of brand loyalty.
But at the same time, your Instagram feed should reflect the purpose and image of your company (and brand) as it will create uniformity.
Play with the GIFs, add music to your Stories, mention people, add hashtags, etc.
Some of the new Stories features can help bend the bridge between you and your audience, and one of them is definitely the poll feature.
People have become increasingly tired of the hard sell approach, so tailoring messages to their needs and interests is more important than ever.
And the simple way to do so is by simply asking them, with the help of polls. Ask for opinions by posting clear and straight-forward questions.
This can help you improve products, while making your audience feel directly connected to your business.
10. Be aware of your most engaging Instagram posts
Always check the data to see what kind of Instagram content is most interesting for your audience.
Going back to check your analytics tools and finding connections between your most successful posts is also an easy way to find out what your followers like.
Engagement is king on Instagram, so take advantage of having a following that can point to into the right direction.
Check your posts' data with a free trial!
Final thoughts
Finally, think outside the box! Don't hesitate to try out new things, but be mindful and aware of your audience's needs.
The newsfeed algorithm of all social media platforms keeps changing. So, whatever worked for you last week will probably not work for you the following week. Make sure you're up to date.
You need to keep in mind some things, such as on-brand content, top-quality images, user-generated content, friendly and engaging posts, and trending topics.
The guide mentioned above will surely help make your Instagram marketing strategy successful.