Instagram has grown into one of marketers' favourite social media platforms. Instagram is no longer a platform used just for personal purposes.
This network has quickly jumped from being the platform where people posted selfies with silly filters to the one where brands promote their products and services.
And the truth is that, with a solid Instagram marketing strategy, anyone can do it. In what follows, we'll learn what it takes to craft flawless Instagram marketing.
Stick with me to find out more.
Steps for an effective Instagram marketing strategy in 2023
1. What is Instagram marketing
Instagram marketing is the practice of using this social media platform to promote one's services and products to increase audience, engagement, and brand awareness, while building a loyal community around a brand.
With a solid Instagram marketing strategy, you're one step closer to building a community who shares the same ideas and values, being more likely to become your customers.
Think about how your Instagram content can change the way people perceive your brand.
By developing content that is in line with your brand's long-term goal and values, you are more likely to convert your audience into your clients.
2. Why you need Instagram marketing
Social media marketing is your brand's way of blooming, of letting more and more people know about your products and services, increasing brand awareness.
Being one of the most popular social media platforms, Instagram is the right place to build an engaged community who finds you as a solution to their problems.
Instagram marketing is a great strategy that could help you fuel your brand's growth on every level.
By using a list of tips and tricks to follow when developing your Instagram strategy, you will not disappoint.
3. How to create an Instagram marketing strategy
Learning how to create an Instagram marketing strategy is something every marketer should have on their to-do list.
Following this step-by-step guide can help you set up a clear Instagram strategy plan for you and your entire team. These will help you stay ahead of your competition.
3.1. Optimize your bio and your Instagram profile
The first step is to make sure your profile is optimized for your business and target audience. Your brand's Instagram profile should be nothing but about the story of your brand.
Show your audience you are friendly and approachable to make them feel like they are getting help from a friend.
Another essential aspect you should focus on is your Instagram bio. The bio needs to be interesting and informative at the same time.
It should be able to hook followers. You need to convince Instagram users that adding you to their Instagram following will enhance the content and value of their feeds.
Since now you can add up to 5 links to your Instagram bio, you should really take advantage of that, including the links with the highest potential.
3.2. Make your business easy to find by tagging your location
Your brand is more than a logo people see online. To make it easier for people to materialize your brand's existence, you can tag your office location.
You should show availability both online and offline. The location tag lets people know where to find you and brings more exposure by making you easier to find in Instagram searches when people are close by.
3.3. Build an aesthetic Instagram feed in line with your brand identity
Nowadays people crave minimalist aesthetics and a well-organized Instagram feed.
When your Instagram posts' colours beautifully combine and complement, your audience will be more tempted to scroll through. Eye-candy aesthetic will steal the show.
We know that visuals are not everything. It is also the data you offer that matters, but the visuals have a greater impact, attracting users.
Focus on incorporating your brand's identity in your Instagram's feed design, too.
3.4. Get creative with captions
Creative and informative Instagram captions are the key to attracting your audience.
However, it is not easy to caption your image or videos all the time.
In a recent study that we've developed at Socialinsider, we discovered that captions up to 10 words increase engagement on Instagram for businesses, especially when combined with carousel posts.
Your caption should also include a CTA and it should be so engaging that it leaves the audience wanting for more.
3.5. Focus on the target audience
Learning how to use Instagram for marketing also implies learning about your target audience.
What service or product attracts your audience? By answering this question, you will know what to adjust to your services to draw them even more towards you.
Don't compromise on the quality of your posts and the messages you convey, and use this platform to bring your audience closer through conversations on shared values and visions.
Getting insights about your audience via Instagram analytics will help you provide them the solution to their problems.
3.6. Research your competitors
Looking at what your competitors are doing is mandatory when trying to understand how to market on Instagram.
You cannot only use them as a good source of inspiration, but it is also useful to see where you stand in your niche when benchmarking with them.
Here are a couple of questions to have in mind when you study your competitors, in order to get a feeling of what they are promoting on Instagram.
Are they relying on user-generated content for their products or services
What type of content are they publishing on Instagram?
How often?
What's their hashtag strategy?
To take an even closer look at your competitors' strategy, you should use a third-party analytics tool to research their performance.
A competitive analysis from time to time is always required, integrating it in your planning.
3.7. Use strategic hashtags
When it comes to Instagram hashtags, to hit the jackpot you need to research which are ones that are popular in your niche.
Your hashtags need to be part of your SEO strategy, including the main keywords in your hashtags.
Through hashtags, your content is easier to find, by strategically following into certain categories.
Here are some practices that will help you make the best use of Instagram hashtags:
Incorporate as few as 2-8 hashtags in each post.
Opt for hashtags that are commonly and frequently searched for.
Incorporate hashtags that are exclusively relevant to your specified target audience - the clicks might be fewer, but the quality will be high.
In the case of a campaign or brand-specific hashtags, create branded hashtags.
To implement your brand in a local area, opt for location-based hashtags.
Find out if it's better to use hashtags in the caption or in the first comment.
When searching for the right hashtags, you will also discover new Instagram trends. Make sure you perform hashtag research that will help you find out more about the latest trends and find a way to integrate them.
3.8. Create more carousel posts
The most engaging types of posts on Instagram are Reels, and for some industries they are at war with carousels, taking turns in dominating the top.
Carousels offer you the chance to sum up a big chunk of data in a more visual manner, by uploading up to 10 photos and videos.
You can use them to showcase a product update, to present a new feature, a list of tools, a bunch of photos with your team and more.
According to our Instagram engagement evolution study, we discovered that carousel posts led to a higher impression rate on Instagram, which means this type of content should have a special place in your Instagram marketing strategy.
3.9. Create more Reels
When learning how to market on Instagram, you should keep in mind the fact that Reels are the most engaging type of content.
With an engagement rate per post of 1.23% on average, Reels are definitely the best-performing content type on Instagram at the moment.
Moreover, based on our latest Instagram benchmark study, we found out that Reels have had a 57.4% YoY growth in usage.
This is a sign for you to develop a Reel strategy, posting as many Reels as possible, based on the latest trends.
To find Instagram Reels trends, you have to go to the discover section and do an extensive research by scrolling through the latest Reels that are suggested there for you.
3.10. Create eye-catching Instagram Stories
Instagram Stories are the most popular feature on Instagram.
If you can tie narratives with the brand identity, they will automatically make your audience connect with you emotionally and add meaning to your posting content.
Stories that you tell significantly contribute towards the creation of brand loyalty.
But at the same time, your Instagram feed should reflect the purpose and image of your company (and brand) as it will create uniformity.
Play with the GIFs, add music to your Instagram Stories, mention people, add hashtags, etc.
Some of the new Stories features can help bend the bridge between you and your audience, and one of them is definitely the poll feature.
People have become increasingly tired of the hard sell approach, so tailoring messages to their needs and interests is more important than ever.
And the simple way to do so is by asking them about their opinions, with the help of polls. Post clear and straight-forward questions.
3.11. Use Instagram analytics to find out more about your performance
Another key idea to keep in mind when working on your Instagram strategy is Instagram analytics.
It is important to use an Instagram analytics tool to find out how your content performs and how you can adjust your current strategy based on data.
Engagement is king on Instagram, so take advantage of having a following that can point to into the right direction.
Check your posts' performance by signing up for a free trial!
3.12. Interact with other brands & profiles
We know that a little party never killed nobody, but neither did interacting with your competitors.
Make sure you engage with other brands and other profiles on Instagram, by commenting on their posts or interacting with their stories.
By interacting with others, you increase your brand awareness since more users will be shown your comments and interactions.
Do your best to write engaging comments that will stir conversations. You never know where inspiration may come from.
3.13. Engage with your audience
When your audience interacts with your Instagram posts, you should respond as quickly as possible.
Also make sure your DM box is not full of unanswered queries. It is best if you try to answer users' questions before they pile up and transform into complaints or bigger problems.
Pay attention to users' comments because they may reveal some of their problems and pains for which you can provide a solution.
This is the way to build real connections with your audience, showing them the human side of your brand.
Empathy unites people and genuine empathy coming from a brand wins people over.
3.14. Follow trends & use memes
Trends come and go, but your community will stay if they see your value and acknowledge you are relevant.
And to stay relevant, you need to follow trends. To be aware of all the trends that appear, you need to hit that "Discover" button as much as possible.
There you will find out more about the new trends and new trending audios that you can use in your Reels.
Trends can sometimes emerge in the form of new hashtags that can offer your posts the boost they need, propelling them in more users' feeds.
Trends also refer to trending memes. And we know that new memes appear every week, with every big event there is.
Make sure you are anchored in every day's news to not stay behind and use the latest trends.
3.15. Use Instagram ads
When you think your Instagram posts could have reached a wider audience, it means that you should give them a little boost using Instagram ads.
Ads help you get to a lot more users with your posts. This can have a greater impact on your marketing strategy.
There are two ways in which you can use ads on Instagram: you either boost a post or you design an Instagram ad campaign.
Before designing your ad campaign, think about what your target audience wants and then establish what your campaign's goal is.
At the end of your campaign, make sure you check your campaign's performance and see what can be adjusted for the next one.
3.16. Don't send people to your website
Morgan Sutton, who is an Instagram expert, spilled the tea in one of her recent Reels. She said that it is best if brands don't use a CTA that sends people on their website.
Instead of doing that, they should think of crafting a CTA that makes people engage more with the brand's content.
It is best to focus on what you can achieve on Instagram instead of wanting to convert your audience into customers.
By keeping the content interesting, you make them wanna find out more about your products and services.
4. Instagram marketing advantages
Using Instagram for marketing means finding new effective ways to boost your business' growth.
Here are some of the advantages that Instagram marketing can bring for your brand:
A bigger and more engaged user base - On Instagram every business has the chance to reach and interact with more users, since this platform has over 2 billion accounts.
Strong organic reach - Your posts have greater chances to perform organically since a larger audience can see your content without the need for you to pay for ads.
Advanced targeting options - This platform provides brands with a lot of options to target their ads for their audience.
Increased brand awareness - With the high chance to reach so many users, you clearly manage to increase brand awareness.
Ability to track your results - Instagram features in-built analytics that helps you get a sense of what is working for you and what not, so you can make the necessary changes.
More opportunities to engage with customers - You can engage with your audience and clients via comments, likes and direct messages, offering them more details about your products, services and promotions.
5. How to do Instagram marketing with Socialinsider
Keeping an eye on your Instagram analytics is crucial when planning your Instagram strategy.
To have access to in-depth data, you need a third-party analytics tool which provides history data and individual metrics for your posts.
Socialinsider is an analytics tool which offers a detailed analysis and reporting for Instagram, Facebook, Twitter, TikTok and LinkedIn.
However, Socialinsider is more than an analytics tool. It is also specialised on competitive analysis, social media reporting, campaign reporting, creators data, cross-channel data and social listening.
With the data provided via Instagram analytics, you can get a lot of data about Reels, demographics and you can also develop a competitive analysis.
First, let's see the top metrics. I added Semrush's Instagram account in Socialinsider and I selected to look at the last 3 months.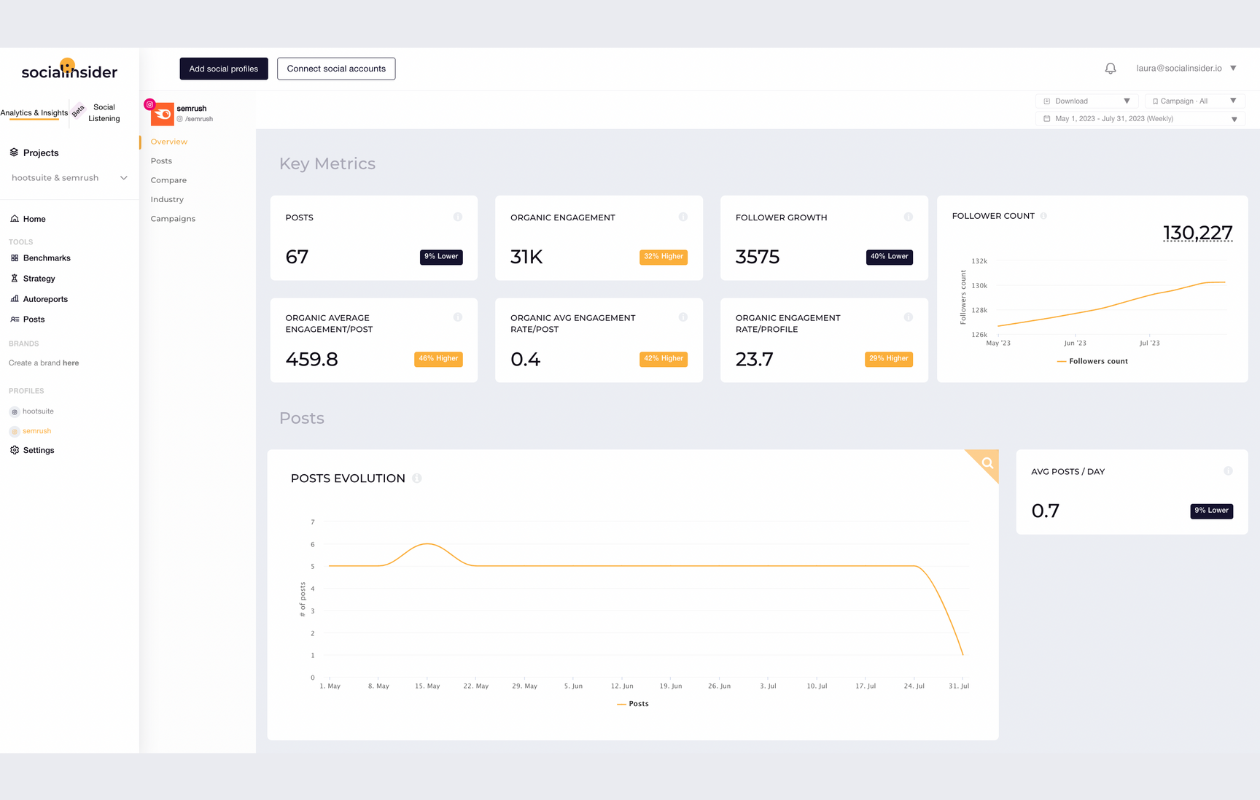 In the section Key Metrics, you can see the number of posts, followers growth, organic engagement and follower count.
By scrolling down, you'll get metrics split on categories like Posts, Estimated insights, Followers, and Engagement. Every section features a list of other useful metrics that can help you develop a complete report.
If you want to benchmark your brand's performance against your competitor, you can use the Benchmark feature.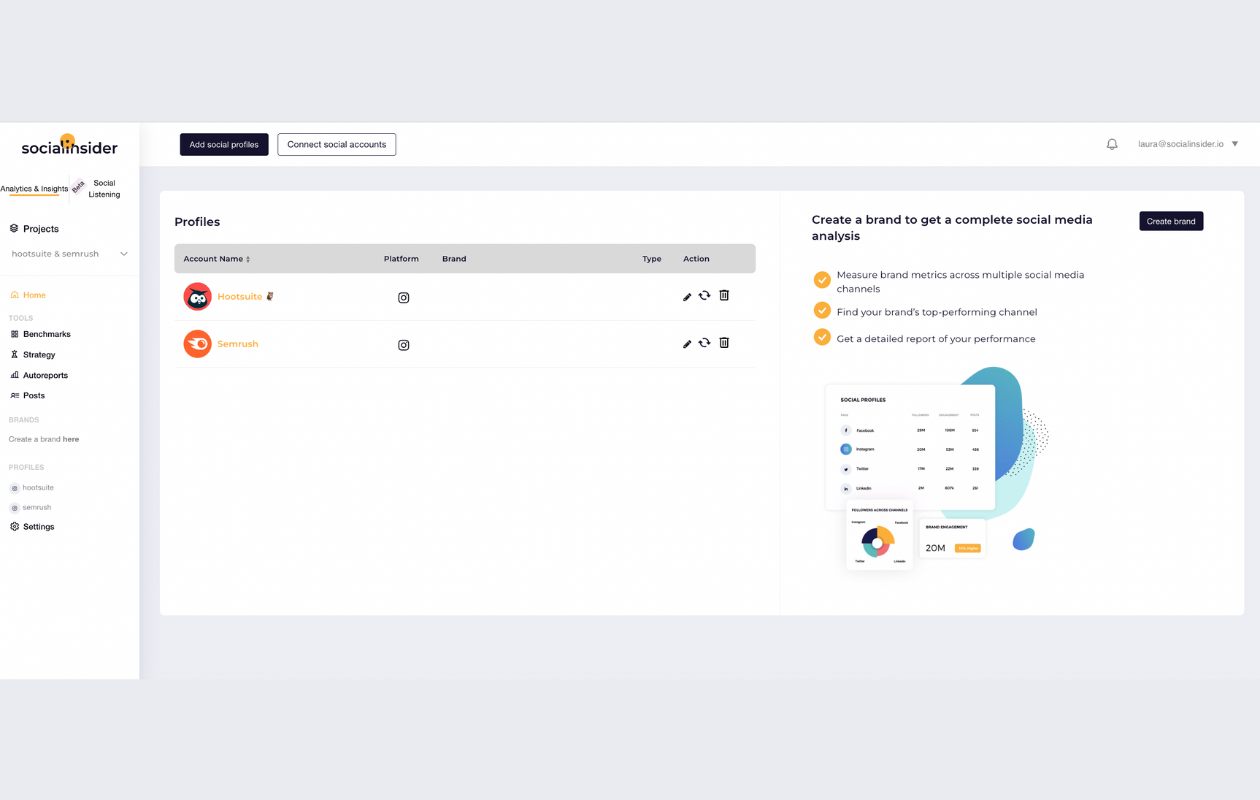 I compared the Instagram performances of Hootsuite and Semrush. And this is what I got.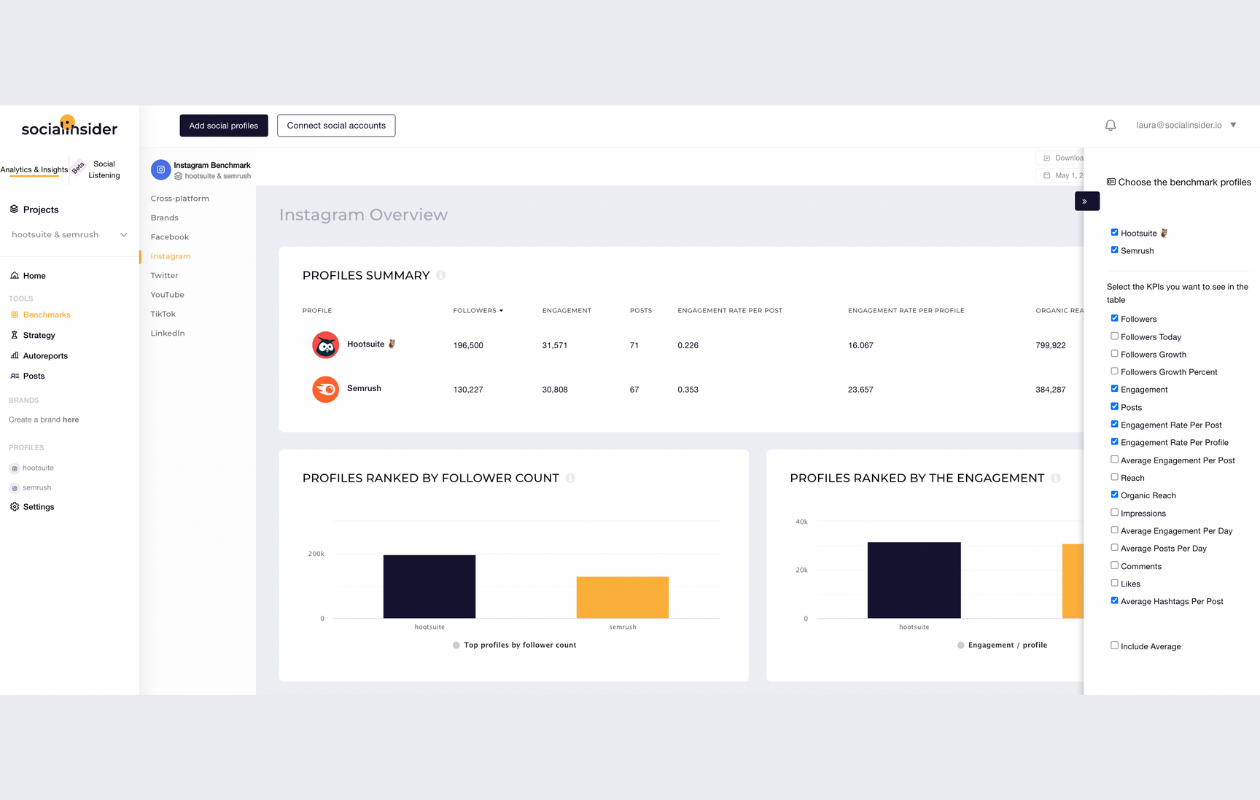 In the Profiles Summary section, you get the main metrics, like followers, engagement, number of posts, organic reach, engagement rate per post and engagement rate per profile.
By further scrolling, you will get a comparison between the two brands for metrics like follower count, engagement, average engagement per post, total followers gained, distribution of engagement, distribution of followers, top 3 posts for each brand and more.
All this data can help you thoroughly plan your Instagram marketing to produce content that suits your audience needs and increase brand awareness, when it comes to your products and services.
Final thoughts
Finally, think outside the box! Don't hesitate to try out new things, but be mindful and aware of your audience's needs.
The newsfeed algorithm of all social media platforms keeps changing. So, whatever worked for you last week will probably not work for you the following week. Make sure you're up to date.
You need to keep in mind some things, such as on-brand content, top-quality images, user-generated content, friendly and engaging posts, and trending topics.
The guide mentioned above will surely help make your Instagram marketing strategy successful.
Frequently asked questions
1.How do I promote my Instagram marketing?
Ramp up your content production.
Cross-promote your Instagram posts on other social media platforms.
Focus on content that includes people.
Use branded and industry hashtags.
Tag brands, followers and locations when you can.
Publish Instagram content on-site.
2. Why Instagram marketing is the best?
Instagram is a right platform to reach a large audience, since it has over 2 billion active users. Instagram is the second most visited social media platform after Facebook. That is why this network is a valuable marketing tool for businesses worldwide.
3.How to get 1,000 followers on Instagram?
There are more ways through which you can increase your Instagram followers to 1K:
Buy Instagram Followers
Use the right hashtags
Optimize your bio and captions
Know your audience
4. How do you attract customers on Instagram?
Tag people and locations in your Instagram posts
Choose your hashtags wisely
Encourage user-generated content
Cross-promote your Instagram posts on your other social media profiles
Spotlight your Instagram on your website
Include the link in your marketing emails
5. How many followers on Instagram do you need to make $1000 per month?
To earn $1,000 a month, you will need at least 10,000 followers. With quality content, a marketable niche, and good engagement, you can earn $1,000 or more monthly with 10,000 Instagram followers.